Costa Rica is a wonderful country.
With the Caribbean Sea to the east and the Pacific Ocean to the west, you've got tropical beaches, national parks, wildlife and adventures waiting to be explored. Our first stop was San José, the capital.
Arriving to sun, pelting rain followed shortly afterwards, before clearing again. Changeable weather can be par for the course depending on the time of year you visit, although you shouldn't let that put you off.
We only had a short time in San José, but made the most of the cultural city before heading eastwards to the coast.
Being big animal lovers, thrill-seekers, and fans of picturesque beaches, we loved what Costa Rica offered us. From pristine coastlines and zip-lining high up in the canopy to watching sloths hanging out up in the tress, we thoroughly made the most of our stay.
We ended up using a mixture of overland transport, from inexpensive local public buses for short (ish) journeys and more expensive shared shuttles to a coach for onward travel into Nicaragua.
Now, let's jump into the nitty-gritty detail of our fortnight in Costa Rica.
We chose a mixture of accommodation from hotels to lodges, costing around $40-$100 a room per night for two people.
Similar to other posts such as my Chile budget guide, I'll reference costs in US dollars (or the native currency). Why? Because the majority of readers are from the States. The Costa Rican Colón (CRC) is the official currency – at the time of writing this, $1 equates to around 0.0016 CRC. Yep, you read that right. So, $10 is about 6210 CRC.
As always, I paid for everything myself – this a comp- and press-free budget guide.
Background
My husband and I reached Costa Rica six weeks into a year-long global tour. After hopping on and off the Amtrak across the USA from San Francisco to Chicago and then down to Texas, we left for Central America. There, we spent a couple of months travelling upwards, ending in the Belizean paradise of Caye Caulker before catching a boat to Mexico.
Costa Rica felt like our first proper taste of adventure. Not that we didn't do tons of cool stuff in the USA, but we'd both holidayed there a handful of times before. Costa Rica was brand new. Here's a rundown of where we went and for how long:
San José: 2 nights
Tortuguero: 3 nights
La Fortuna (Arenal Volcano National Park): 3 nights
Santa Elena (Cloud Forest): 3 nights
Tamarindo: 4 nights
What's Included in This Post
The budget breakdown you're about to read covers accommodation, transportation, activities, food, and miscellaneous costs. The two weeks we spent in Costa Rica flew by, and we wished we'd had more time to explore. Nonetheless, what we did fit in was awesome, from nighttime forest walks and animal spotting to taking in the breathtaking scenery of the Cloud Forest.
Read on for where we laid our heads each night.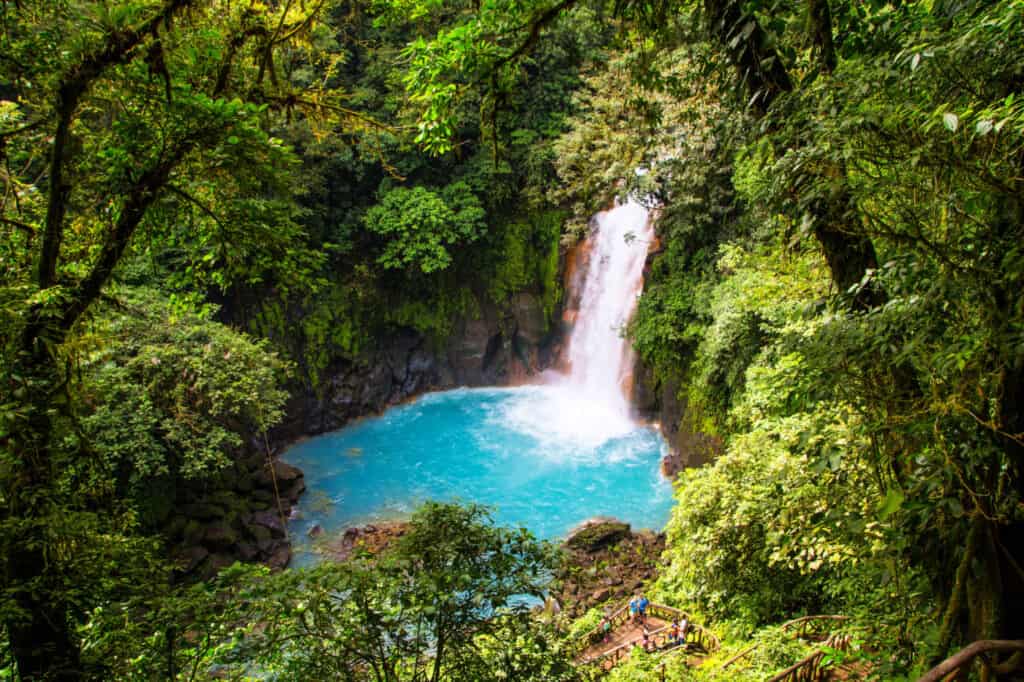 How to Save Money on the Cost of Accommodation in Costa Rica
As always with travel, it's possible to cut your accommodation costs down to zero if you have the time and patience to seek out an offer.
Housesitting is a great option for free accommodation. This is where you'll take care of somebody's house while they're away, and usually look after their pets, too. It's best for long-term travellers or retirees as you can't pick and choose dates and destinations, so you need to have a lot of flexibility as to where you go and at what time of year. If you do have that freedom, it's a wonderful way to cut down your travel expenses, soak up some home comforts, and live like a local for a while. I have friends who have housesat in castles before! For free! Trusted Housesitters is the best site for getting started with housesitting, as they have the highest number of listings.
I'm suspecting, though, that for most of you, you're not interested in the free accommodation and just want somewhere clean, safe, and affordable to rest your head each night. If that's the case, there are several options available for you.
The first of these are hostels. In Costa Rica, you'll come across hostels all over the country, finding them on tiny islands, in large cities, and even in the national parks. They're one of your best options for saving money.
And, of course, there are always hotels, which will usually come in at around $30-$70 a night for a decent, clean, mid-range property in a central location. I always use Booking, as they have the most accommodation options for the cheapest prices.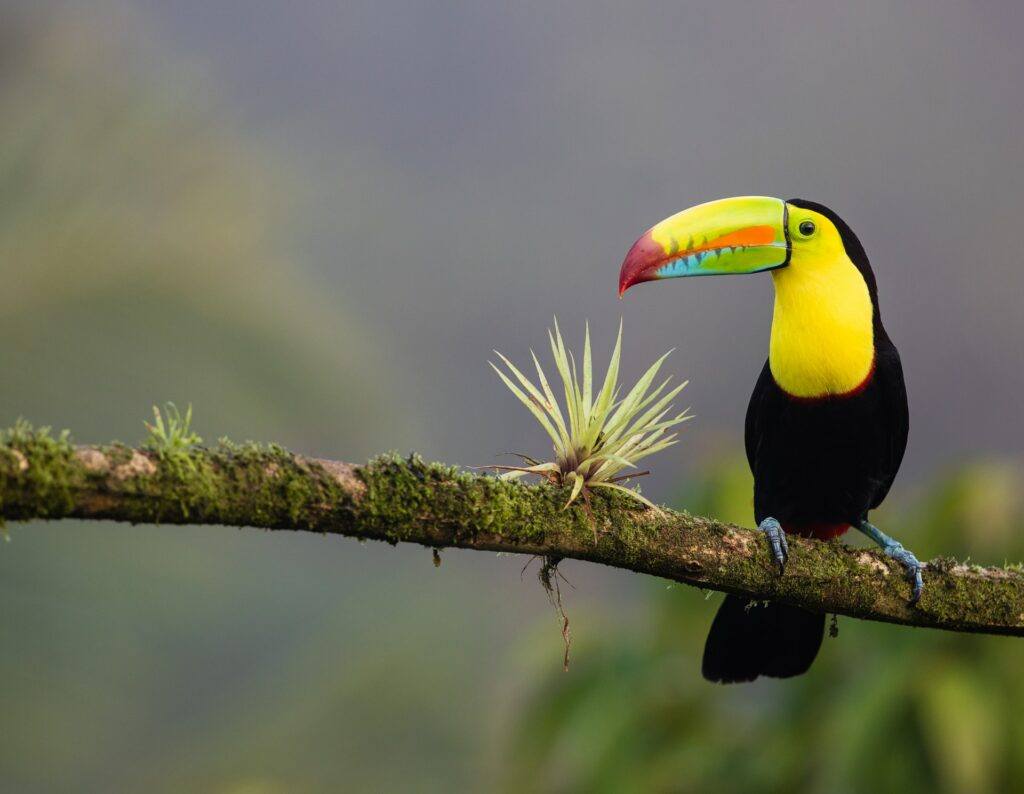 The Cost of Accommodation in Costa Rica
One word: research. It may sound obvious and it's definitely time-consuming, but we found some gems by trawling hotel websites, other people's blogs and general Googling. As much as we could, we opted for accommodation with breakfast included in the price (usually super tasty and plentiful) to save a few dollars that way, or else tried to pick somewhere with a kitchen for us to prepare our own food on a budget.
Right, here are the places we stayed in Costa Rica:
San José: Situated just a stone's throw from sprawling Parque Metropolitano La Sabana in the centre of the city, this comfy and spotless apartotel with traditional decor offered us plenty, from 'do anything for you' staff and an outdoor pool for dipping to an included brekkie. At $69 a night, we both agreed this was value for money, considering the room had aircon and a flat-screen TV. Oh, and for just $7 a night more, we could have had a substantially bigger studio room with a kitchen and dining area – worth keeping in mind if you prefer to cook.
Tortuguero: Surrounded by lush green vegetation less than 50 metres from Tortuguero beach and under half a kilometre from the National Park, this stylish hostel with wonderfully friendly staff cost us $40 a night for a double room. Our spacious digs had a comfy bed and the all-important mosquito net, plus a garden view and terrace. And the communal areas featured a kitchen for whipping up a simple breakfast (it cost $6 a person otherwise) and sheltered outdoor spaces with hammocks for lazing.
La Fortuna: With glorious volcano views from the array of windows, this capacious standalone wooden lodge with air conditioning was a steal for $50 a night with an included breakfast. Located just 2.5 kilometres from Tabacon Hot Springs and eight from La Fortuna waterfall, the scenic spot was also super close to Arenal Volcano National Park.
Santa Elena: We loved this family-run treetop lodge on the outskirts of Santa Elena with oodles of character and a balcony for gazing out to the ever-changing views – mystical clouds one minute, blue skies the next. A colourful bedspread, eyecatching artwork and wooden furniture created a rustic yet charming vibe. Surrounded by greenery, watch out for the monkeys and tropical birds, and make the most of the top-notch included breakfast with plenty of options. We happily paid $73 a night for this property that focused on sustainability and was close to Monteverde, too.
Tamarindo: Green is my favourite colour, so I loved this stylish sage-hued family-owned hotel just a five-minute amble from the beach, with an on-site pool if we fancied a dip before wandering down to the ocean. Each room was individually decorated in pastel shades – ours (Tree House I Studio) came in at $86 a night, which we felt was incredibly well-priced. Breakfast was included in the rate, and our bright and airy room featured air-con, a kitchenette, a balcony with seating, and a large walk-in rain shower to enjoy – bliss. Oh, and the lovely staff offered complimentary use of bikes and surfboards.
OUR TOTAL COST OF ACCOMMODATION IN COSTA RICA CAME TO $971. THAT'S AN AVERAGE OF $64.73 PER DAY, OR $32.37 EACH.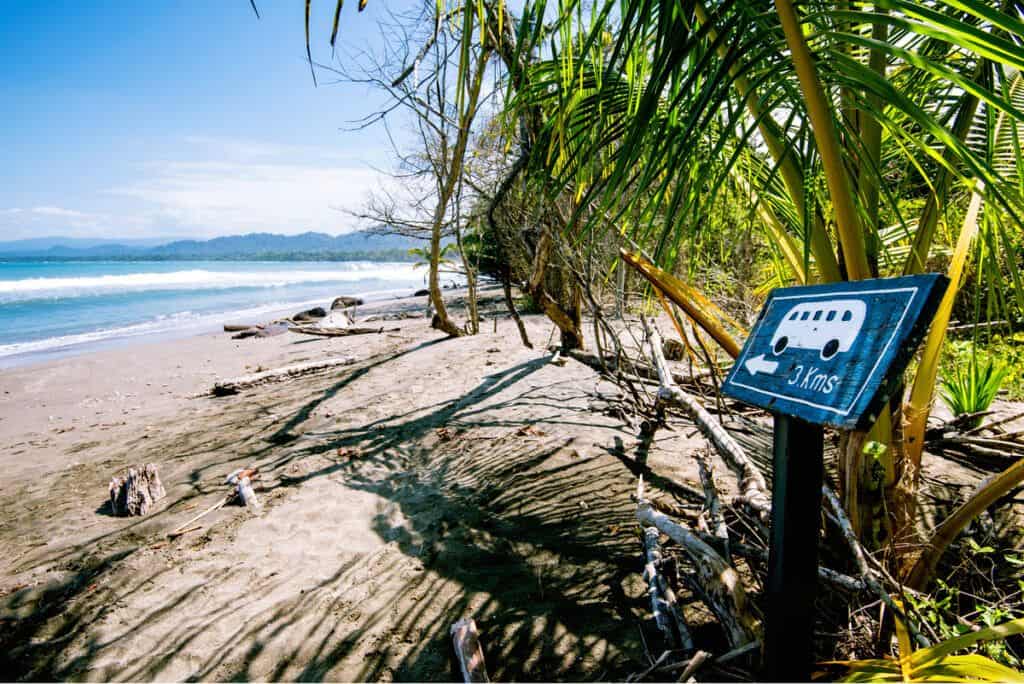 The Cost of Transportation in Costa Rica
There was a mixture of transport options in Costa Rica, from flying to local buses. Roads were often bumpy, meaning not particularly comfy journeys, so if you have extra cash, hopping on a plane may be a good option. For example, from San José to Tortuguero you'll pay around $100 each way with SANSA Airlines and you're in the air for a mere 30 minutes.
However, we didn't really fancy forking out that much, so for that journey we took the longer but much cheaper option of several local buses and then a boat (there aren't any roads in the Tortuguero area, only waterways).
Small shared shuttles were another option – pricier but also more direct than local buses. We chose these on several occasions when we weighed up the length of time it would have taken by local bus and the number of changes.
So, here's our journey breakdown:
Local bus from San José airport: $0.75 per person
Local bus from San José to La Pavona (via Guapiles/Cariari): $6 per person
Return boat from La Pavona to Tortuguero: $5 each way per person (you may have to pay a bit extra for luggage depending on how much you have)
Shuttle from La Pavona to La Fortuna: $50 per person
Jeep – Boat – Jeep from La Fortuna to Santa Elena: $25 per person
Shuttle from Santa Elena to Tamarindo: $55 per person
OUR TOTAL COST OF TRANSPORTATION IN COSTA RICA CAME TO $293.50. THAT'S AN AVERAGE OF $19.56 PER DAY, OR $9.78 EACH.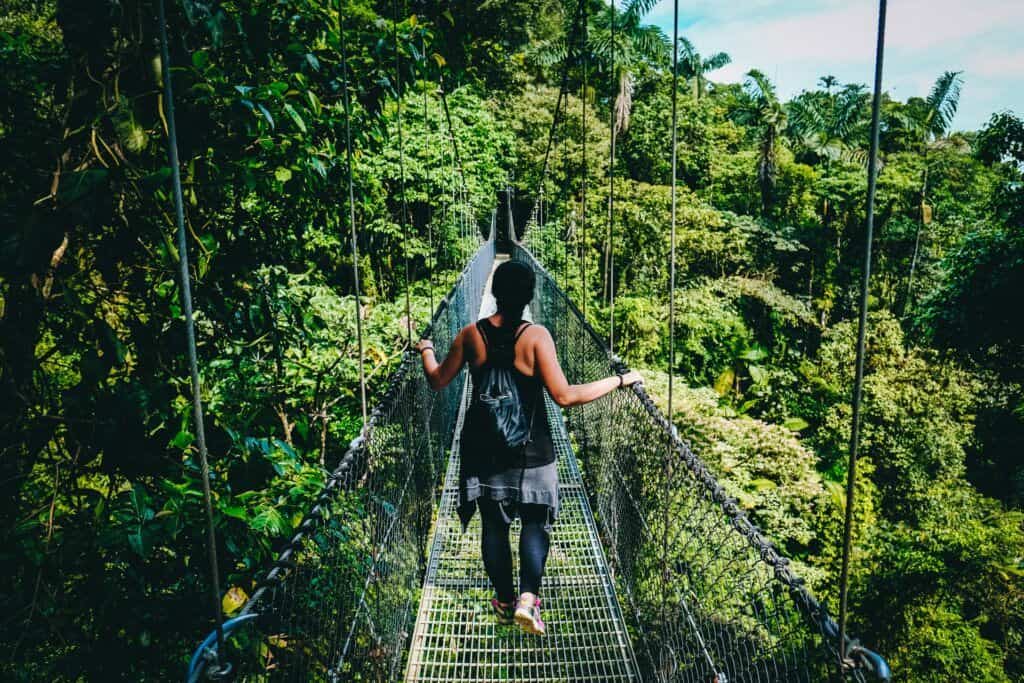 THE COST OF ACTIVITIES AND ENTRANCE FEES IN COSTA RICA
Turtle spotting, jungle scenery, hurtling along a zipline Superman-style, lazy beach days… What a mixture we experienced in Costa Rica. Keen to find out details? Carry on reading for the lowdown.
Tortuguero National Park entry fee: $15 per person. The protected area covered 19,000 hectares/46,949 acres and was a lush mass of flora and fauna. The highest point was Cerro Tortuguero, towering over the rainforest. Known as 'Land of Turtles', spot nesting Green turtles from mid-July through mid-October.
Full day tour, Tortuguero National Park: $80 per person. We loved our canoe tour, day walk and nighttime turtle spotting (all guided) and would highly recommend if you want to do a bit of everything. If you're a fan of turtles but don't fancy the other aspects, there were dedicated evening tours for around $30 per person.
Arenal Volcano National Park entry fee: $15 per person. Once we were in, it was time to hike. Although we couldn't scale the volcano or peer into its crater, there were tons of walks to enjoy, from introductory Los Heliconias to moderate Las Coladas which ended at the base of the volcano. Arenal hasn't been active since 2010, but there were still opportunities to see some amazing sights, from lava strewn viewpoints to an array of birds. Post-visit, we heard about another more strenuous walk we wished we'd done to lesser-known dormant Cerro Chato, complete with a crater and an emerald green lake. Another time…
La Fortuna Waterfall, La Fortuna: $18 per person. Administered by a local non-profit, this more than 200-foot waterfall was a spot for swimming (although pretty bracing), chilling, and taking in the scenery. Note: take proper footwear.
Tabacon Thermal Hot Springs (with dinner), Arenal: On the outskirts of Parque Nacional Volcán Arenal sat this luxe (and sustainable) landscaped jungle resort complete with truly natural hot springs. Our budget wouldn't stretch to staying there, but we did treat ourselves to a day pass. Other springs in the area were less expensive, but after some research, we splurged at this romantic spot. We spent a lazy day exploring the five springs and thermal river heated by the volcano – temperatures ranged from 77 °F (25 °C) to 122 °F (50 °C). Relaxing isn't the word…
Selvatura Park Cloud Forest ziplining, Monteverde: $55 per person. What a fab albeit slightly scary tour! High up in the canopy we went, ziplining through the forest, at quite a speed. When I say scary, that doesn't mean we didn't feel safe, because we totally did. We went across one line together and horizontally (like Superman) across another. One cable was a kilometre long, and in total across the 13 cables, we ziplined about 3.5 kilometres. A real thrill, and a must for adventurers. Oh, take a ride on the Tarzan swing…if you dare. And definitely wander along the treetop walkways – there, we spotted a coati hunting a tarantula.
Nighttime Cloud Forest guided walk, Santa Elena Reserve: $100 per person. This was another splurge, but we wanted a private tour just the two of us rather than a group one, so we went for it. Group tours were about half the price. Our guide Henry was ace. He took us through the Cloud Forest and spotted animals and reptiles we never would have seen without him: a grey two-toed sloth hanging from a tree high above, a raccoon poking its head out of a nook, a salamander with big eyes relative to its body, diligent tree cutter ants, a sleeping toucan, kinkajous, scorpions, and a vivid green viper curling down a branch. The forest felt alive and full of noise, and despite the pitch darkness, it wasn't at all eerie. Perhaps we would have felt differently had Henry not been with us!
We also enjoyed these free activities:
The freebie sights of San José, including colonial-style Casa Amarilla and Parque Metropolitano La Sabana.
Lazing on the tropical paradise beaches of Tamarindo (including the one named after itself and Playa Langosta), swimming, and wandering along the shores. Oh, and we used the complimentary surfboards from our first-rate hotel.
OUR TOTAL COST OF ACTIVITIES IN COSTA RICA CAME TO $566. THAT'S AN AVERAGE OF $37.73 PER DAY, OR $18.87 EACH.
THE COST OF FOOD COSTA RICA
After enjoying an included and filling breakfast at most places we stayed, we only paid for lunch, dinner and drinks. We're big fans of sampling local food, and being on a budget we did that mainly at street food stalls and 'sodas' – dinky family-run gems serving tasty and traditional food at low prices.
Welcoming and comforting, we feasted on authentic plates for $2-3 per person for lunch (usually something like empanadas filled with white Costa Rican cheese). And for dinner, we spent around $7 each (sometimes less). Do try the daily specials, as well as staple dishes such as Gallo pinto (rice, beans, egg and plantain – usually for breakfast but we had it for lunch a few times), casado (rice, beans, salad and meat/fish), arroz con pollo (chicken and rice), sopa negra (black bean soup), and sopa mariscos (seafood soup – best eaten in coastal Pacific towns). Everything was hearty, filling, and yummy.
Average daily food cost: $19.00 per day, or $9.50 each
Drinks:
Our beverages of choice were mainly water and beer: simple. The cerveza of Costa Rica? A brew called Imperial. One and a half litre bottles of water from a shop were around $1.50 and half-litre domestic beers were $2-3 a pop in a restaurant (cheaper if we bought them from a supermarket).
Average daily drink cost: $5.50 per day, or $2.75 each
OUR TOTAL COST OF FOOD AND DRINK IN COSTA RICA CAME TO $367.50. THAT'S AN AVERAGE OF $24.50 PER DAY, OR $12.25 EACH.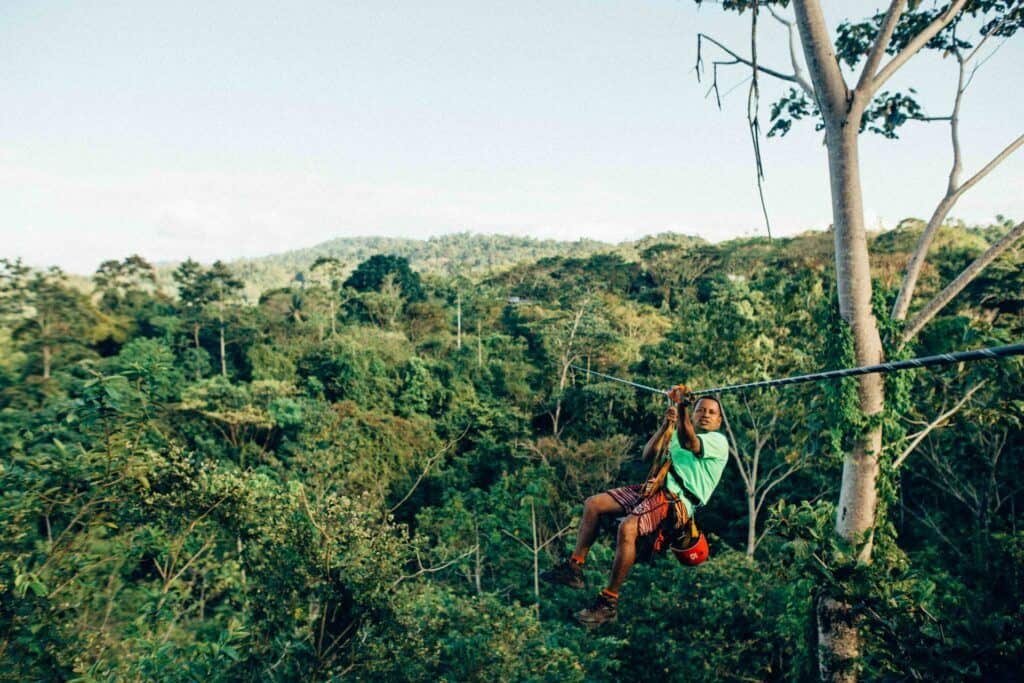 MISCELLANEOUS EXPENSES IN COSTA RICA
If you've read any other posts on Never Ending Footsteps, you'll know that I'm a great believer in travelling with travel insurance. I've seen far too many Go Fund Me campaigns from destitute backpackers that are unexpectedly stranded in a foreign country after a scooter accident/being attacked/breaking a leg with no way of getting home or paying for their healthcare. These costs can quickly land you with a six-figure bill to pay at the end of it.
In short, if you can't afford travel insurance, you can't afford to travel.
Travel insurance will cover you if your flight is cancelled and you need to book a new one, if your luggage gets lost and you need to replace your belongings, if you suddenly get struck down by appendicitis and have to be hospitalised, or discover a family member has died and you need to get home immediately. If you fall seriously ill, your insurance will cover the costs to fly you home to receive medical treatment.
I use SafetyWing as my travel insurance provider, and recommend them for trips to Costa Rica. Firstly, they're one of the few companies out there who will actually cover you if you contract COVID-19. On top of that, they provide worldwide coverage, don't require you to have a return ticket, and even allow you to buy coverage after you've left home. If you're on a long-term trip, you can pay monthly instead of up-front, and can cancel at any time. Finally, they're more affordable than the competition, and have a clear, easy-to-understand pricing structure, which is always appreciated.
With SafetyWing, you'll pay $1.50 a day for travel insurance.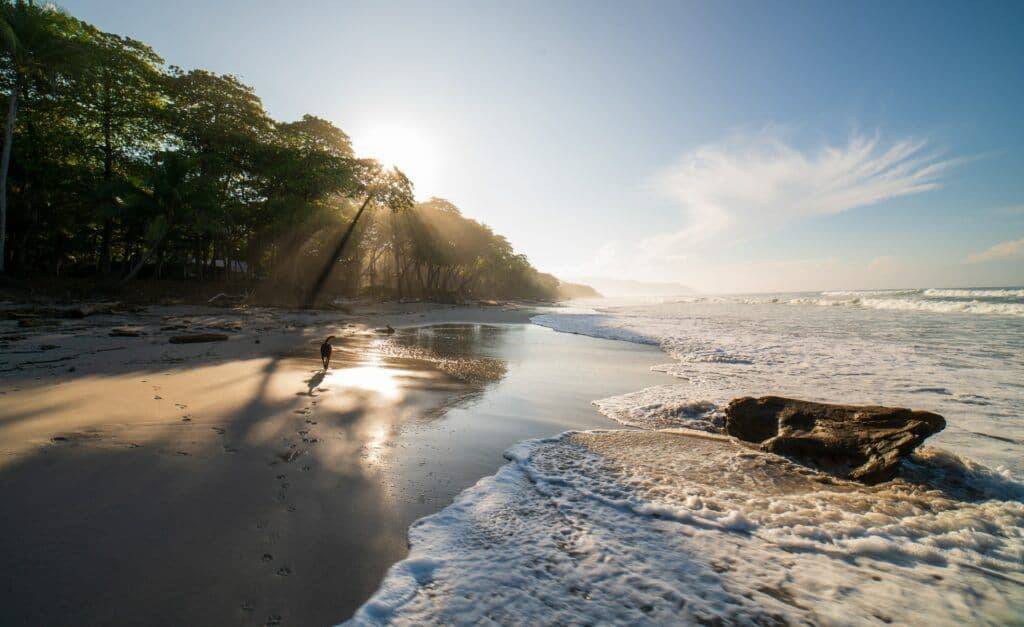 HOW MUCH DOES IT COST TO TRAVEL IN COSTA RICA?
Our daily spends per person:
Accommodation: $32.37 per day
Transport: $9.78 per day
Activities: $18.87 per day
Food and drink: $12.25 per day
Miscellaneous: $1.23 per day
Grand total spent in Costa Rica: $74.50 per person per day.
We left the scenic shores of Tamarindo relaxed and revitalised after four nights chilling and catching rays. But Costa Rica is so much more than that, as you've no doubt realised by now…
HOW MUCH DID YOU THINK IT WOULD COST TO TRAVEL AROUND COSTA RICA?