I can't speak highly enough of the month I spent travelling in Guatemala.
Home to volcanoes, lakes, rainforests, colourful architecture, and ancient ruins, there's an unbelievable amount to see here, in such a small country. Throw delicious street food and lovely locals into the mix and you've got all the ingredients for a life-changing adventure.
From the colourful city of Antigua and the awe-inspiring Tikal to the beauty of Semuc Champney and the adrenaline rush that comes from hiking up an active volcano, Guatemala truly has something for everyone. I couldn't get enough of this country and can't wait to return.
I found Guatemala to offer up great value for money, too — much cheaper than Belize and Costa Rica — with an array of accommodation to suit all budgets. My husband and I stuck to hotels and guesthouses on a mid-range budget, which worked out to between $25 and $50 a night, and we stayed in some truly wonderful properties.
In this post, I'll be referencing costs in U.S. dollars, purely because most readers are from the States. The Guatemalan Quetzal (GTQ) is the native currency, and at the time of writing this, $1 equates to around 8 Quetzales – so it's not too tricky to convert.
A quick note before we continue: I paid for everything in the article myself – this is a comp- and press trip-free post.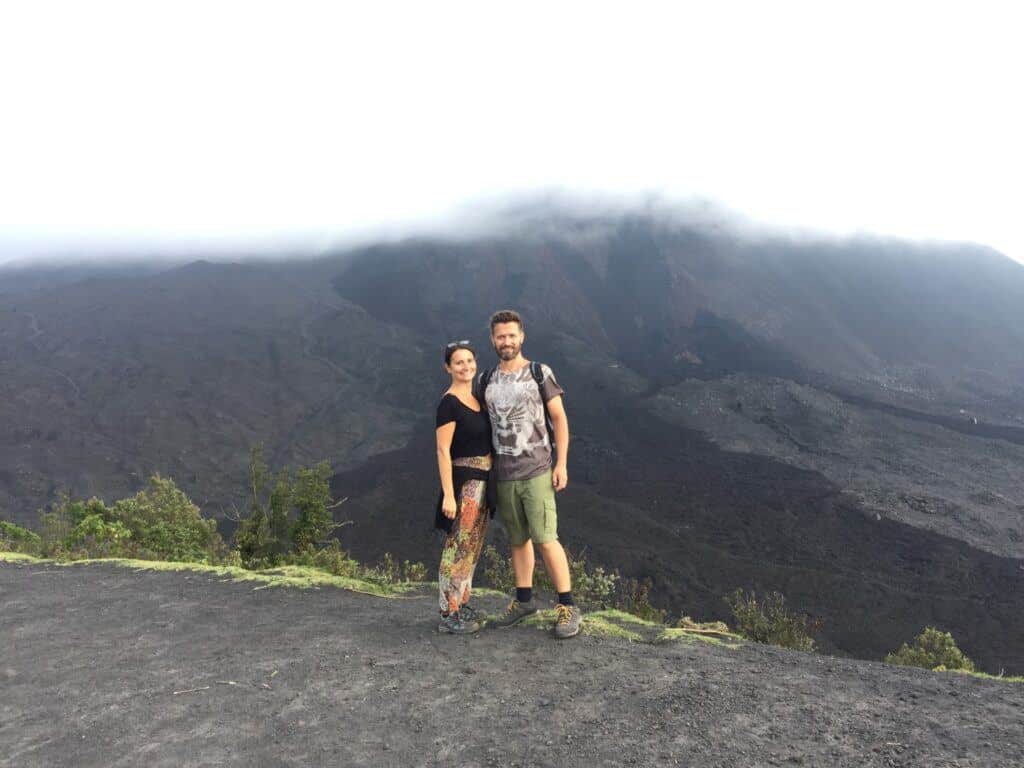 Background
Guatemala came near the start of my year-long travel extravaganza, in October. Like I mentioned earlier, we'd been in Nicaragua beforehand, and the States before that, which is where the whole adventure began.
It's a joy to be able to write about my travels: it brings back such happy memories. But I have to say, our journey into Guatemala from Nicaragua was not my most favourite part of the 12 months. We opted for a small, cheap shuttle van (along with six other people), and what should have been an already punchy 20-hour journey turned into a 29-hour slog.
So when we got to Guatemala City, we weren't in the best of spirits to say the least. But that changed quickly after a sleep.
Now we've got the basics and some scene-setting covered, let's get started. Here's a quick rundown of how I recommend spending two weeks in Guatemala:
Guatemala City: 2 nights
Antigua: 4 nights
Lake Atitlan: 3 nights
Semuc Champney: 2 nights
Flores: 2 nights
WHAT'S INCLUDED IN THIS POST
The budget breakdown that follows covers accommodation, transportation, activities, food, and miscellaneous costs.
Flight costs will vary of course, depending on where you travel in from. We recommend using Skyscanner to check availability and costs.
We booked some transport and activities online, but found local travel agencies offered much cheaper prices. Shop around, and haggle a little if you feel comfortable. But equally, online booking works well, too.
We got a lot for our money in Guatemala and managed to fit loads in, from day trips to evening ones, and even a nightclub! More on that later…
Carry on reading to get the Guatemalan lowdown.
How to Save Money on the Cost of Accommodation in Guatemala
As always with travel, it's possible to cut your accommodation costs down to zero if you have the time and patience to seek out an offer.
Housesitting is a great option for free accommodation. This is where you'll take care of somebody's house while they're away, and usually look after their pets, too. It's best for long-term travellers or retirees as you can't pick and choose dates and destinations, so you need to have a lot of flexibility as to where you go and at what time of year. If you do have that freedom, it's a wonderful way to cut down your travel expenses, soak up some home comforts, and live like a local for a while. I have friends who have housesat in castles before! For free! Trusted Housesitters is the best site for getting started with housesitting, as they have the highest number of listings.
I'm suspecting, though, that for most of you, you're not interested in the free accommodation and just want somewhere clean, safe, and affordable to rest your head each night. If that's the case, there are several options available for you.
The first of these are hostels. In Guatemala, you'll come across hostels all over the country, finding them on tiny islands, in large cities, and even in the national parks. They're one of your best options for saving money.
And, of course, there are always hotels, which will usually come in at around $30-$70 a night for a decent, clean, mid-range property in a central location. I always use Booking, as they have the most accommodation options for the cheapest prices.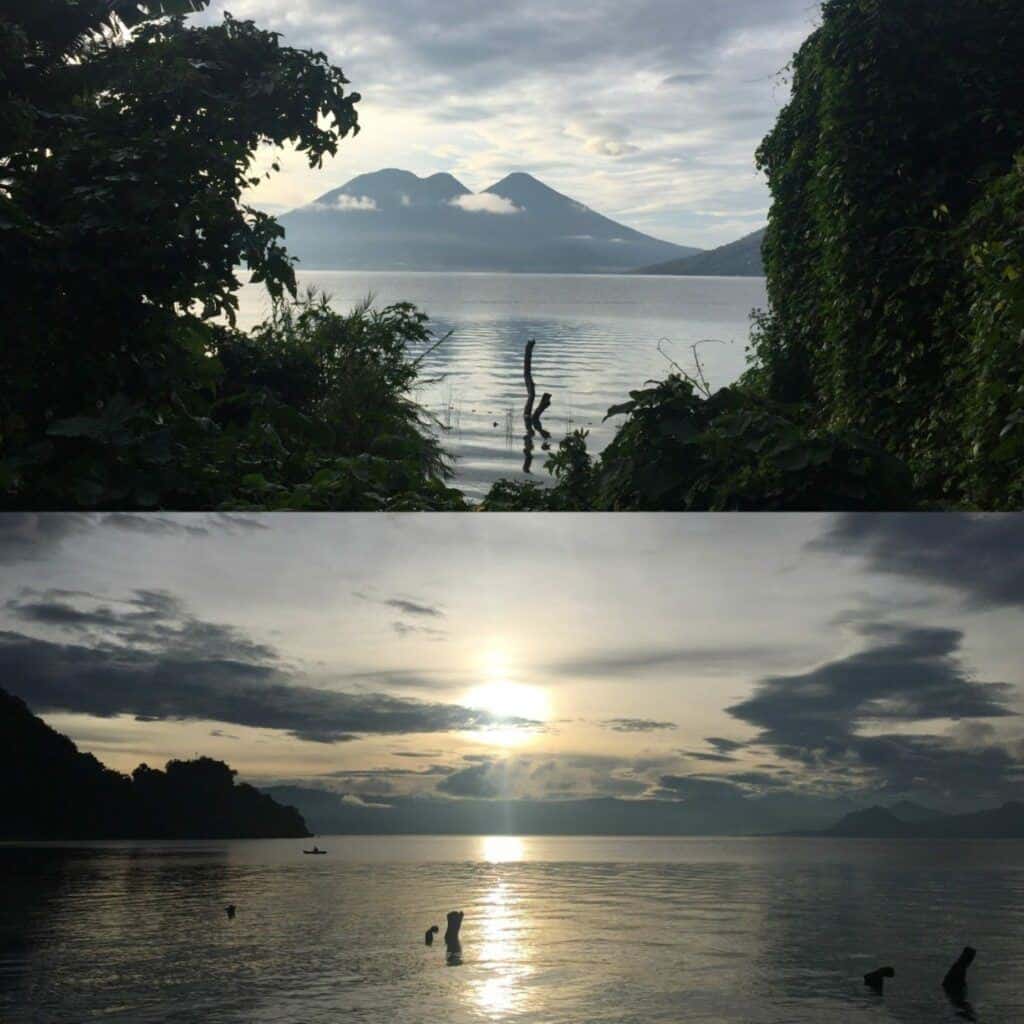 The Cost of Accommodation in Guatemala
Like I mentioned earlier, places to stay in Guatemala were top value. From lakeside properties to city pads, we experienced an eclectic mix.
For the most part, the hotels and guest houses we stayed at didn't include breakfast, as there was an extra fee of between $4-$8 per person for that. For that reason, we generally picked something up while out and about.
Continue reading for specific places we stayed in Guatemala.
Guatemala City: We pushed the boat out here and stayed at this stylish boutique hotel for $71 a night per room. One of the main reasons was safety. Let's get that bit out of the way first.
Virtually every visitor to the capital has the same question in their head: "Is Guatemala City safe or not?" Historically not so much, but these days there's no reason not to check it out as long as you have your wits about you and stick to the "safer" zones.
On that, the city is divided into many zones. We opted for Zone 10, one of the "safe" ones. We headed into Zone 1 – the historic centre – during the day for a wander, but don't recommend staying there, as it can be a little sketchy. It's fine to explore during the day, though.
Back to our snazzy boutique digs. Just a couple of kilometres from Museo Popol Vuh with its collection of Mayan art, our double featured wooden floors and modern decor. There were just 15 bedrooms split across two levels, plus a bar and a dinky garden area. Friendly and helpful staff topped things off.
Antigua: For our four nights here, we stayed at this colourful and happy spot for $53 a night. Super central, it was just one avenue away from Parque Central (Plaza Mayor), the meeting hub of the UNESCO city. Thoughtful, above and beyond service coupled vibrant murals on our bedroom walls and throughout the property made for an uplifting stay.
Lake Atitlan: Our first two nights were spent at this eco-friendly hideaway in San Marcos on the shores of the lake. With 10 individually designed rooms, we opted for Luz. Admittedly not the cheapest at $50, but we wanted for nothing. We enjoyed a large, cool space with funky wooden furniture, high ceilings and a little sitting area. And we were surrounded by thriving gardens filled with colourful flowers and banana trees.
For our third and final night by the lake, we hopped on a boat eastwards for the 45-minute ride to Panajachel. Our onward travel to Lanquín was from here, so we thought it made sense to stay there for a night, and we also wanted to check out another part of the magical lake.
Just outside the centre of town and very reasonable at $26 a night, we checked in at this value-for-money hotel, where our room had tiled floors and an eye-catching bedspread. Simple, clean, and well-located, it was ideal for one night.
Semuc Champey: Okay, so prepare yourself for a bit of a mission to get here, but it's worth it. We travelled to Lanquín via shuttle: it had been a long – and bumpy – day. And then, another bus ride, plus a half an hour guided hike to get to this peaceful rainforest getaway. But, we had help with our luggage, and when we finally made it, we were so pleased we made the effort. And just $25 a night, too. Think rustic charm, and if that floats your boat, this place is for you.
Lovely Mike owns the tranquil spot in the Guatemalan jungle. There was a communal kitchen (and a well-stocked pantry full of ingredients for guests to buy) – a rarity in Guatemalan hostels. But there was also an on-site chef if you prefer your meals prepared for you, making the most of the abundant fruit and veg grown in the gardens.
A quick housekeeping note: check the latest time the hostel will let you arrive. As it gets darker, that hike gets more dangerous. You'll need to factor that into your travel schedule.
We could get to the river directly from the secluded hostel, and a waterfall and natural swimming pool were nearby to enjoy (season dependent). And the glorious aqua pools of Semuc Champney were just 2.4 kilometres away.
Flores: This dinky town is situated on the edge of Lago Peten Itza, about an hour and a half south of Tikal. We chose to stay across the lake from Flores at this waterside property, and loved the peacefulness. But it was still only a short boat ride from the town. Great value as well at $49 a night.
When we arrived in Flores we were boated across for free, and the super hospitable staff just got better and better, going the extra mile to help us with trips and give us info. Our room was colourful (there seems to be a theme!) and comfy, and we loved being right by the water.
OUR TOTAL COST OF ACCOMMODATION IN GUATEMALA CAME TO $628. THAT'S AN AVERAGE OF $48 PER DAY, OR $24 EACH.
THE COST OF TRANSPORTATION IN GUATEMALA
We travelled by shuttle bus through Guatemala. Perhaps not the most comfortable option, but certainly the cheapest. These small white buses were for tourists – different to the colourful chicken buses and collectivos that predominatly transported locals around.
That's not to say you can't use chicken buses and collectivos as a tourist – we occassionaly did when we weren't going far and just wamted to jump on and off. They were super cheap, too.
To reiterate something I mentioned at the start: shop around for transport prices – there were deals to be had. In general, we booked our transport through travel agents (there were plenty), but in some of the more remote places like Semuc Champney, our hostel booked shuttles for us. It wasn't a case of simply jumping on: we booked specific days and times in advance.
Also, something we were becoming used to by that point in our travels was to keep in mind that the shuttles often took much longer than advised. The roads were in quite poor condition at times; it was slow going and bumpy.
The trick? Don't rush. If you try to cram too much in too quickly and are relying on onward connections (and shuttles arriving when they say they will), you're going to feel stressed. And you'll also miss connections.
Here's a breakdown of our journey costs:
Shuttle bus from Guatemala City to Antigua: $12 per person.
Shuttle bus from Antigua to Lake Atitlan (Panajachel): $12 per person.
Boat from Panajachel to San Marcos: Q25 per person
Return boat from San Marcos to San Pedro: Q28 per person
Boat from San Marcos to Panajachel: Q25 per person
Shuttle bus from Panajachel to Lanquín: $30 per person
Shuttle bus from Lanquín to Flores: $25 per person
There are other modes of transport if shuttle buses aren't for you, such as a private car. And there was Uber in Guatemala City and Antigua.
OUR TOTAL COST OF TRANSPORTATION IN GUATEMALA CAME TO $180. THAT'S AN AVERAGE OF $13.85 PER DAY, OR $6.90 EACH.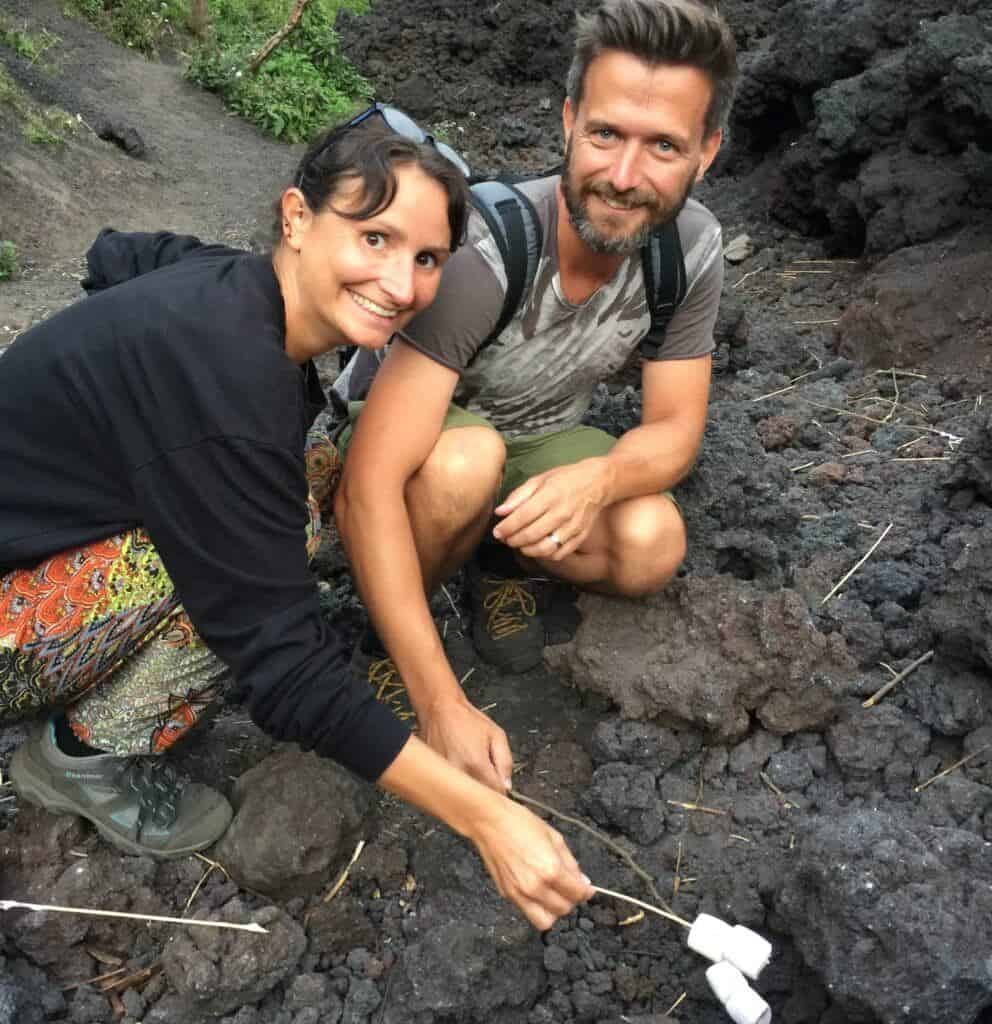 THE COST OF ACTIVITIES AND ENTRANCE FEES IN GUATEMALA
Oh my, Guatemala has some great activities on offer, from volcano trekking and swimming in the jungle to exploring ancient ruins.
Here are some options we loved, with costings:
Museo Popol Vuh, Guatemala City: Q45 per person. Home to a major collection of Mayan art, we took in pre-Columbian and colonial pieces.
Pacaya volcano trek, Antigua: $20 per person (included transportation, the entrance fee, and obligatory guide). The walk was so worth it – amazing views throughout, and petrified lava. Touching it felt hot, and we toasted marshmallows! If you do a sunset tour as we did, make sure you have a torch, or download one to your phone – it was dark by the time we walked back down. And be sure to take plenty of water. Also, we found the hike to be medium difficulty, in case you're wondering if it's for you. As always, shop around the travel agencies when you get to Antigua. Oh, and just a note that tours don't always run, depending on volcanic activity.
Finca Filadelfia coffee plantation tour, Antigua: $20 per person. We enjoyed a tour of the plantation just north of the city, where we heard all out about the bean and roasting process, and sampled some of their rather wonderful products.
Mayan Kitchen Cooking Class, San Pedro Lake Atitlan: $35 per person. Westwards around the lake from San Marcos, we learned all about Mayan cooking. This was right up our street – we love to cook and we love to eat. Venturing to the local market to buy ingredients with our guide Anita, we then went back to her kitchen. There, our group whipped up regional plates such as pepián, tortillas, and guac.
Natural pools, Semuc Champney: $20 per person. (including Q50 entrance fee to the National Monument). Cascading down one after the other, the turquoise pools were begging to be jumped in – and we did. A 45-minute trek through lush jungle to the scenic natural wonder, we recommend you wear proper shoes (not flip flops like we foolishly did). We walked via an impressive viewpoint ('El Mirador') before spending a few hours chilling and swimming down at the water. We decided against tubing, but that was on offer for Q50 if the mood takes you.
Jorge's Rope Swing, Flores: Q25 entrance per person. Eastwards of our hotel, we chilled on the hammocks and braved the swing into the lake – a fab way to spend an afternoon.
Tikal Mayan citadel: $12 per person (shuttle and guide) and $22 / Q150 per person entrance fee. We marvelled at these ancient ruins as we toured the site with our informative guide, exploring the archaeological remains of the ancient Maya civilization. A cultural and natural preserve, the area was declared a National Park in 1955 and designated UNESCO in 1979.
We also loved a range of free activities, including:
Wander the cobbled roads of Antigua: Despite the city's somewhat touristy feel, we loved, loved, loved it – so attractive. It had a holiday vibe to it, and we wiled away time strolling the maze of streets, dipping in and out of the many chocolate shops.
Cerro de la Cruz, Antigua: Up we went to the 'Hill of the Cross' viewpoint, and boy were we hot by the time we reached the top 20 minutes later! The spectacular vistas were worth it, though.
Amble the shores of Lake Atitlan: North west of Antigua, this crater lake was surrounded by natural beauty. Hills dotted the landscape and volcanoes loomed in the background. The word Atitlan is a Mayan for 'the place where the rainbow gets its colour'.
OUR TOTAL COST OF ACTIVITIES IN GUATEMALA CAME TO $278. THAT'S AN AVERAGE OF $21.40 PER DAY, OR $10.70 EACH.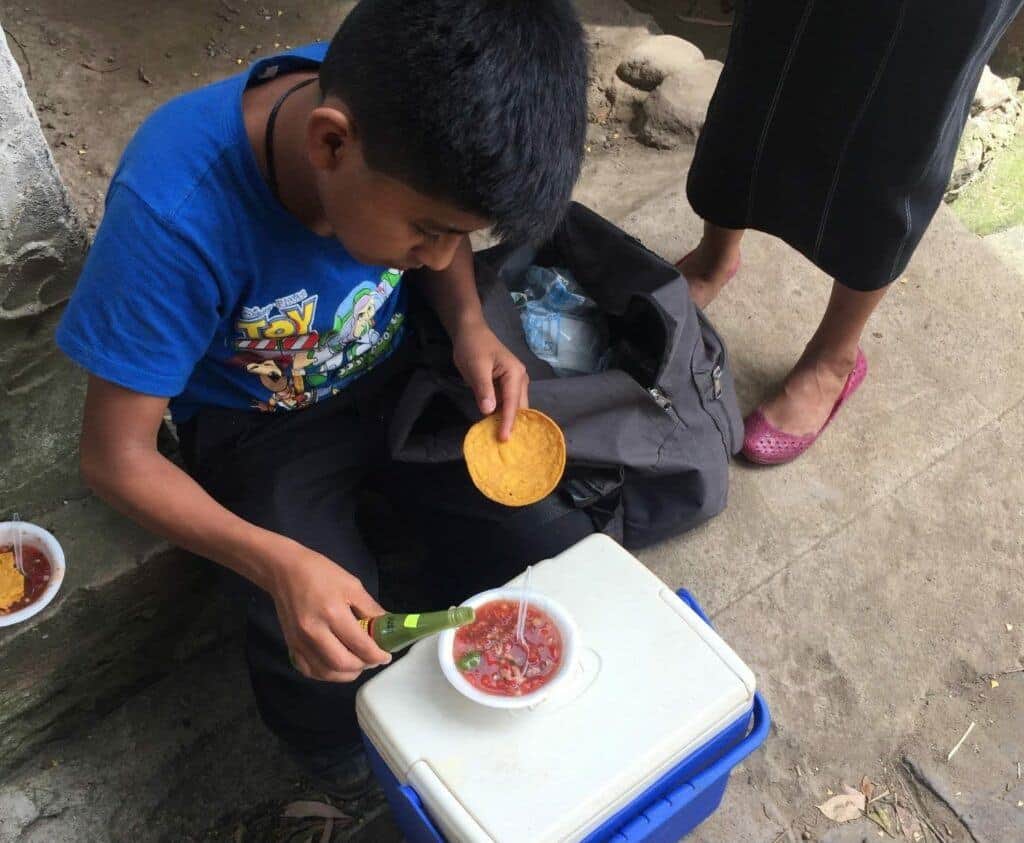 THE COST OF FOOD GUATEMALA
Being total foodies, my husband Ryan and I are always excited to try new cuisines. Guatemalan food ticked that box – a whole new experience for us, that we found to be cheap and tasty. We mainly ate street food and at budget-friendly local restaurants. But of course, if you have the cash to splash, there are more expensive options.
In Guatemala, Mayan culture merges with Spanish heritage, making the local cuisine flavoursome. Here are a handful of dishes we ate across our fortnight, with an average price.
Breakfast:
Known for its coffee culture, we started most days with a brew. There were many cafés to try; we generally picked a different one each day or so. Fernando's Kaffee – also a roastery and chocolate shop – was a quality choice in Antigua where we paid Q11-Q14 per cup. We pulled up a pew in the pretty courtyard garden, or got a takeaway and sipped as we strolled.
To eat, we didn't always feel hungry and a coffee did the job. On other days, we opted for tasty fresh fruit. That set us back just a $1 or so for both of us from the market. And if we were feeling hungry, a traditional Guatemalan brekkie of 'desayuno tradicional' did the job nicely.
Desayuno tradicional: Featuring scrambled eggs with tomato, avocado, black beans, plantain, and tortilla, if you're wondering if it was filling, it was! The average price was $4 a person. We mostly shared this hearty plate of food.
Lunch:
Noodle tostadas: This street food dish consisted of a crisp tortilla topped with guacamole, chopped tomatoes, salsa, onions and noodles – double carb me up! These came in at around $1 and were super tasty. One of the most authentic places we enjoyed the snack was Lake Atitlan, where a young boy carrying a cooler stopped us as we wandered the narrow maze of pathways surrounding San Marcos. He offered to make us a portion from scratch while we watched – enterprising or what? A flavour bomb, too.
Pupusas: Half-moon shaped tortillas filled with shredded meat, beans and cheese then fried, these filling snacks came in at about $1.50 a portion and were yum. Served with salsa and cabbage, they served us well for dinner sometimes, too.
Empanadas: Crisp pastry filled mainly with veggies such as potato and spinach, and topped with guacamole, tomatoes, onion and coriander, these were moreish and gone in seconds. Price-wise, they were around $1.50 a portion.
Dinner:
Chicken pepián: Super delish, this spiced stew fused Spain and Maya and was packed wth fruit and veg such as squash, carrot and pear. Served with rice or tortilla, it set us back about $3 a portion.
Kak'ik: We loved this dish of Mayan spiced turkey soup sprinkled with coriander. Costing around $3 a pop, it was a cheap and flavoursome bowl.
Grilled Meats: We devoured the likes of chorizo and thin slices of steak for no more than a couple of dollars a portion. Filling and delicious – what more needs to be said?
Average daily food cost: $12.80 per day, or $6.40 each
Drinks:
We drank lots of bottled water throughout our stay, plus coffee, beers, and the odd mezcal here and there. A large water cost us about $1. Bottles of local beer came in at about $1.50 a bottle, and mezcal around $4 a shot – sip don't down!
One recommendation that I have to mention: Café No Sé in Antigua for mezcal, and the fab staff who let me get behind the bar after I'd had a few. Oh, and that was where our nightclub adventure began.
A few sheets to the wind, and having been recommended by a friend, we headed slightly out of town to La Piscina – an outdoor club in a disused swimming pool where we danced the night away. Saturdays only, factor that in if it sounds like your kinda thing. We woke up late the following day and it was a mad rush to catch the shuttle we'd booked, but it was totally worth it.
Average daily drink cost: $10 per day, or $5 each
Tasty and excellent value for money, we thoroughly enjoyed the food and drink of Guatemala.
OUR TOTAL COST OF FOOD AND DRINK IN GUATEMALA CAME TO $296.40. THAT'S AN AVERAGE OF $22.80 PER DAY, OR $11.40 EACH.
Cost of Travel Insurance in Guatemala
If you've read any other posts on Never Ending Footsteps, you'll know that I'm a great believer in travelling with travel insurance. I've seen far too many Go Fund Me campaigns from destitute backpackers that are unexpectedly stranded in a foreign country after a scooter accident/being attacked/breaking a leg with no way of getting home or paying for their healthcare. These costs can quickly land you with a six-figure bill to pay at the end of it.
In short, if you can't afford travel insurance, you can't afford to travel.
Travel insurance will cover you if your flight is cancelled and you need to book a new one, if your luggage gets lost and you need to replace your belongings, if you suddenly get struck down by appendicitis and have to be hospitalised, or discover a family member has died and you need to get home immediately. If you fall seriously ill, your insurance will cover the costs to fly you home to receive medical treatment.
I use SafetyWing as my travel insurance provider, and recommend them for trips to Guatemala. Firstly, they're one of the few companies out there who will actually cover you if you contract COVID-19. On top of that, they provide worldwide coverage, don't require you to have a return ticket, and even allow you to buy coverage after you've left home. If you're on a long-term trip, you can pay monthly instead of up-front, and can cancel at any time. Finally, they're more affordable than the competition, and have a clear, easy-to-understand pricing structure, which is always appreciated.
With SafetyWing, you'll pay $1.50 a day for travel insurance.
HOW MUCH DOES IT COST TO TRAVEL IN GUATEMALA?
After adding everything up, here are costs per person:
Accommodation: $24 per day
Transport: $6.90 per day
Activities: $10.70 per day
Food and drink: $11.40 per day
Miscellaneous: $4 per day
Grand total spent in Guatemala: $57 per person per day.
Our Guatemalan expedition was full of fun and adventure and great value for money, to boot. Varied and beautiful landscape, a range of sights, flavourful food, and a mixture of quality and reasonably-priced places to stay.
HOW MUCH DID YOU THINK IT WOULD COST TO TRAVEL AROUND GUATEMALA?
Related Articles on Guatemala

🐒 Sunrise at Tikal: A Travel Highlight
😂 The Belize-Guatemala Border and the Worst Bribe Attempt Ever
Photo of the Guatemala hike from: Sergiy Borakovskyy/Shutterstock]