Cyprus is such a diverse country. With its stunning beaches, ancient ruins, vibrant culture, and rich history, Cyprus is truly a destination everyone should experience!
To give you a quick history background, because I think it's important to understand the culture of the country, Cyprus was originally part of the Greek city-states that once dominated the Mediterranean region. In 1960 they declared their freedom from under the British empire and became an independent nation.
However, this did not last too long as the Turks invaded the country in 1974, thus dividing the island into two parts: Greek Cyprus and Turkish Cyprus. This is why you'll find that there are many influences from both cultures throughout Cyprus.
While I don't recommend too many places on the Turkish side, just due to the number of activities one can do, I would highly recommend visiting the capital city of Nicosia. This is a great way to experience Turkish-Cypriot culture and the numerous historical sites that make up this amazing country.
On the Greek side, there are plenty of things to do and places to go. From stunning beaches like Nissi Beach and Ayia Napa to breathtaking ancient ruins like Kourion and Choirokoitia – you'll seriously have so much to do.
Luckily, the country is quite small, you can get from one side to the other in about four hours so with 10 days you will have plenty of time to explore all the nooks and crannies of this beautiful country.
With my 10-day itinerary, you can easily adjust and fine-tune the days to suit your needs as the area is small and accessible. Depending on where you prefer to fly in or out from will dictate which way around your route goes!
A few things you need to know. While there is a public transportation system I would highly recommend renting a car. It's just so much easier to navigate in and out of the little towns I know you will want to see. Plus, you won't miss out on any sightseeing opportunities!
However, renting a car in Cyprus was the most expensive car rental I've ever had. Granted, it was during Covid and I didn't plan ahead at all and just showed up expecting a rental car, so for those planning ahead – you will find much better deals.
Now let me tell you about the best places to see and experience over 10 days in this magical little country!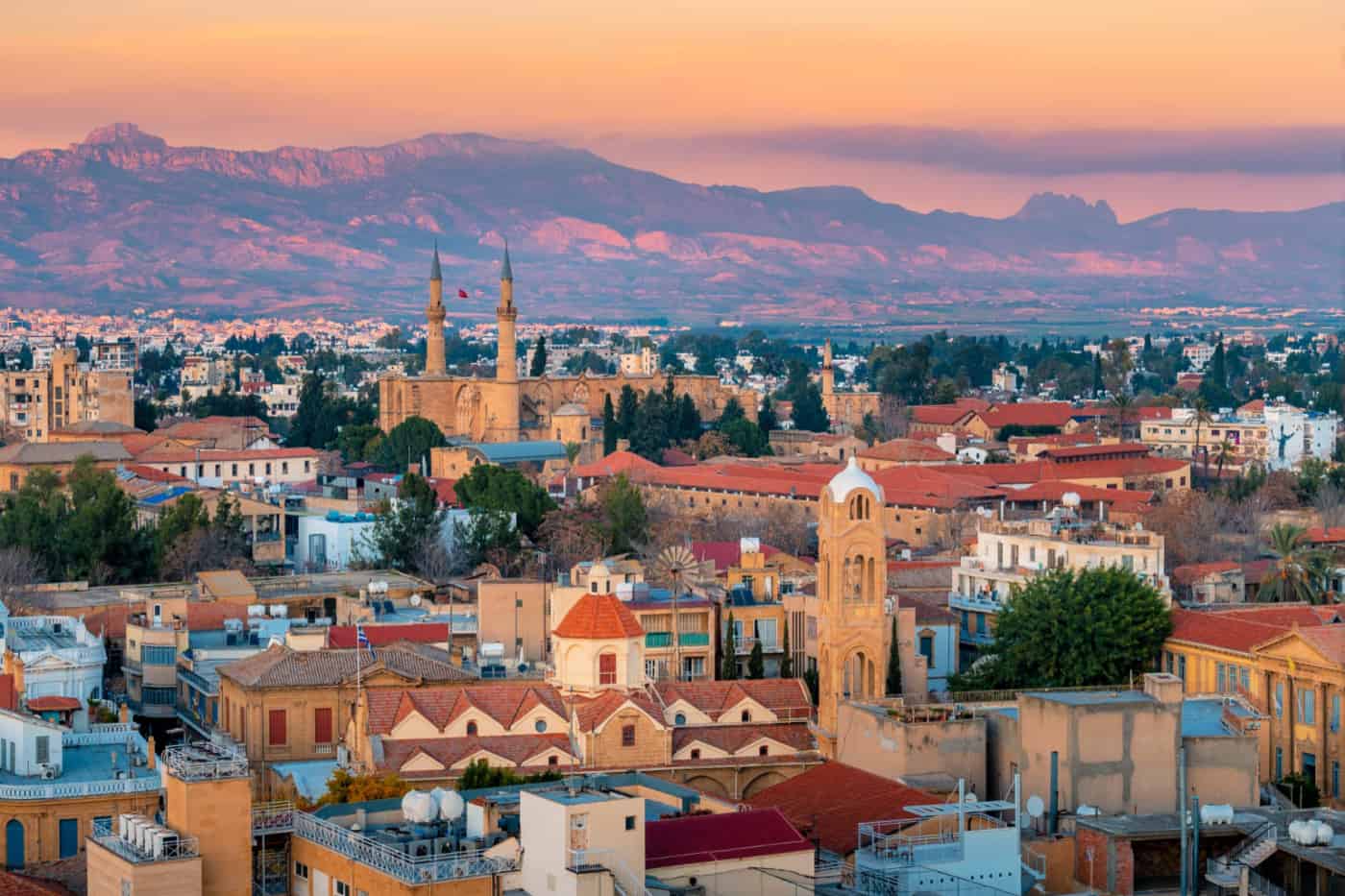 Day 1: Nicosia
Now, let's start this great journey to the often overlooked capital of Nicosia!
Situated in the heart of Cyprus, Nicosia is an eclectic and captivating city that you must visit if you are eager to learn more about its culture and history. Despite not having a direct waterfront view, this city offers a wealth of insights into the rich past of this Mediterranean island nation.
Fun Fact: Nicosia is the only capital in the world that is still split between two countries. This city is like a pocket size of the entire Cyprus experience, here you can explore some of the most interesting places from both cultures and have an amazing time!
The northern side of the city is filled with old Ottoman-styled buildings and mosques, while the southern side is more modern. Because the Turkish side is considered its own country, you will need your passport to get out of the Turkish checkpoint and into the Greek side.
One of my favorite places to visit in Nicosia is Laiki Geitonia (the traditional Turkish quarter) – an area filled with narrow alleyways, unique shops, and street art that tells stories of its past.
Other attractions in Nicosia include the Venetian Walls which were built between 1567 and 1570, the Archbishop's Palace, and plenty of museums such as the Cyprus Museum and Leventis Municipal Museum.
Be sure to take a walk around this city – you never know what interesting things you'll find!
Nicosia is the perfect place to start your Cypriot diet with the plethora of cafes and restaurants offering a variety of culinary delights. Whether it's traditional Greek or Turkish food, you will find plenty to enjoy!
I highly recommend heading to Pieto, it's one of the cutest little coffee shops that offer delicious food options as well as an open and airy outdoor ambiance. And for those who are vegan, you have to try Elysian Plant-Based Kitchen Bar & Brunch Nicosia. It will blow you away.
Where to Stay in Nicosia
This boutique hotel in Nicosia is the perfect place to rest your head on the first night of your trip. With stunning views over the city, it was the perfect place to relax and explore all that Nicosia has to offer.
You're going to love the soaking tub that is strategically placed to give you the best views out of your balcony. And every morning the complimentary breakfast will give you the perfect start to explore this amazing city.
It's located in the heart of Nicosia, close to all the major attractions, like St. John's Cathedral or Kyrenia Gate. It's also within walking distance of some of the best restaurants and bars in town, so you won't have to worry about finding something delicious to eat.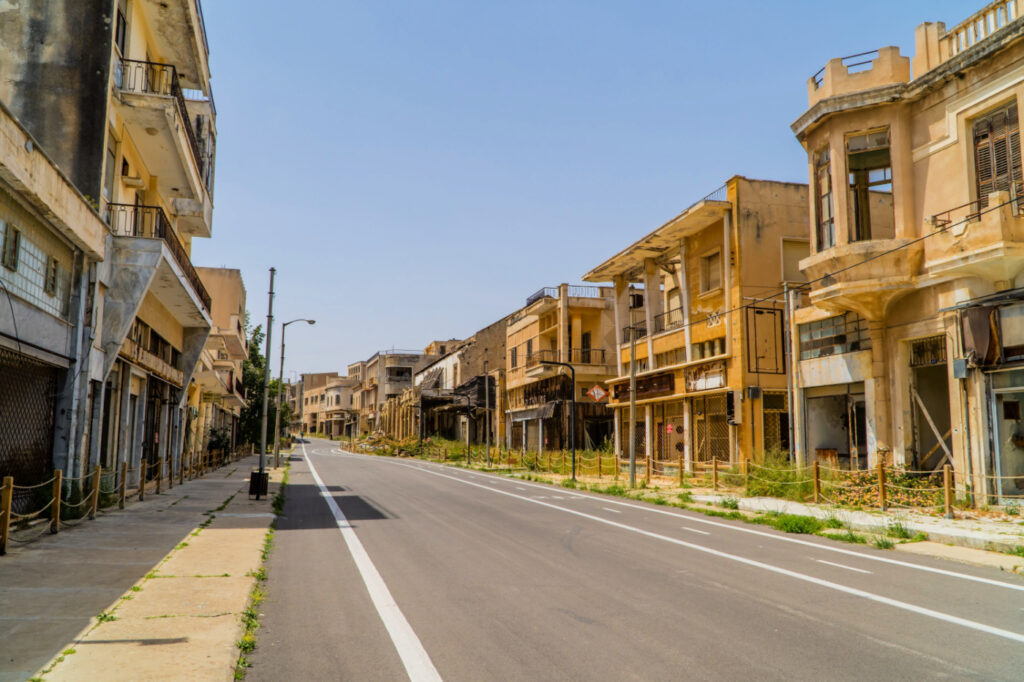 Day 2: The Ghost Town of Famagusta
Wake up early to go grab your rental car and head out for the day to visit the ghost town of Famagusta. A lot of people have no idea this place exists or don't make the time to go and explore it. But personally, I think this is one of the most unique places in Cyprus
Famagusta is a city in Northern Cyprus, located on the east coast of the island near the Mediterranean Sea. This city has an incredible history dating back to antiquity and is home to some beautiful architecture, including old Venetian fortifications that are still standing today.
You can find yourself walking through the abandoned ghost town of Varosha, which is filled with empty buildings and ruins that were left behind after the Turkish invasion in 1974. A lot of people don't know this, but the city was once an incredibly popular tourist destination, but now it's an eerie reminder of what used to be.
It's crazy because once you see the stunning beaches you'll understand why this was once one of the most popular tourist spots in Cyprus. Before the invasion, it was the home of many different celebrities such as Elizabeth Taylor, Brigitte Bardot, and Richard Burton.
After the Turkish invasion, it was completely abandoned and has been that way ever since it's actually illegal to enter the town and you are only allowed to view it from afar.
It's quite a tragic story, one of those "well if I can't have it, no one can" kind of stories. However, it's still an interesting experience if you manage to make the trip out there and view this ghost town for yourself.
When you're done exploring, I recommend heading to Ayia Napa for the night and getting some rest before a few days of fun in the sun!

Day 3: Relaxation in Ayia Napa
Ayia Napa is by far my favorite place in Cyprus, and I'm sure if you ask anyone else who's been here they will say the same. This coastal town is famous for its beautiful beaches, lively nightlife, and variety of activities to do during the day.
Ayia Napa is the perfect place to spend a few days as it offers everything from gorgeous beaches where you can lounge and soak up some sun, to exciting nightlife with plenty of bars and clubs. During the day, there are tons of water sports activities such as jet skiing or banana boating that you can do if you're the adventurous type.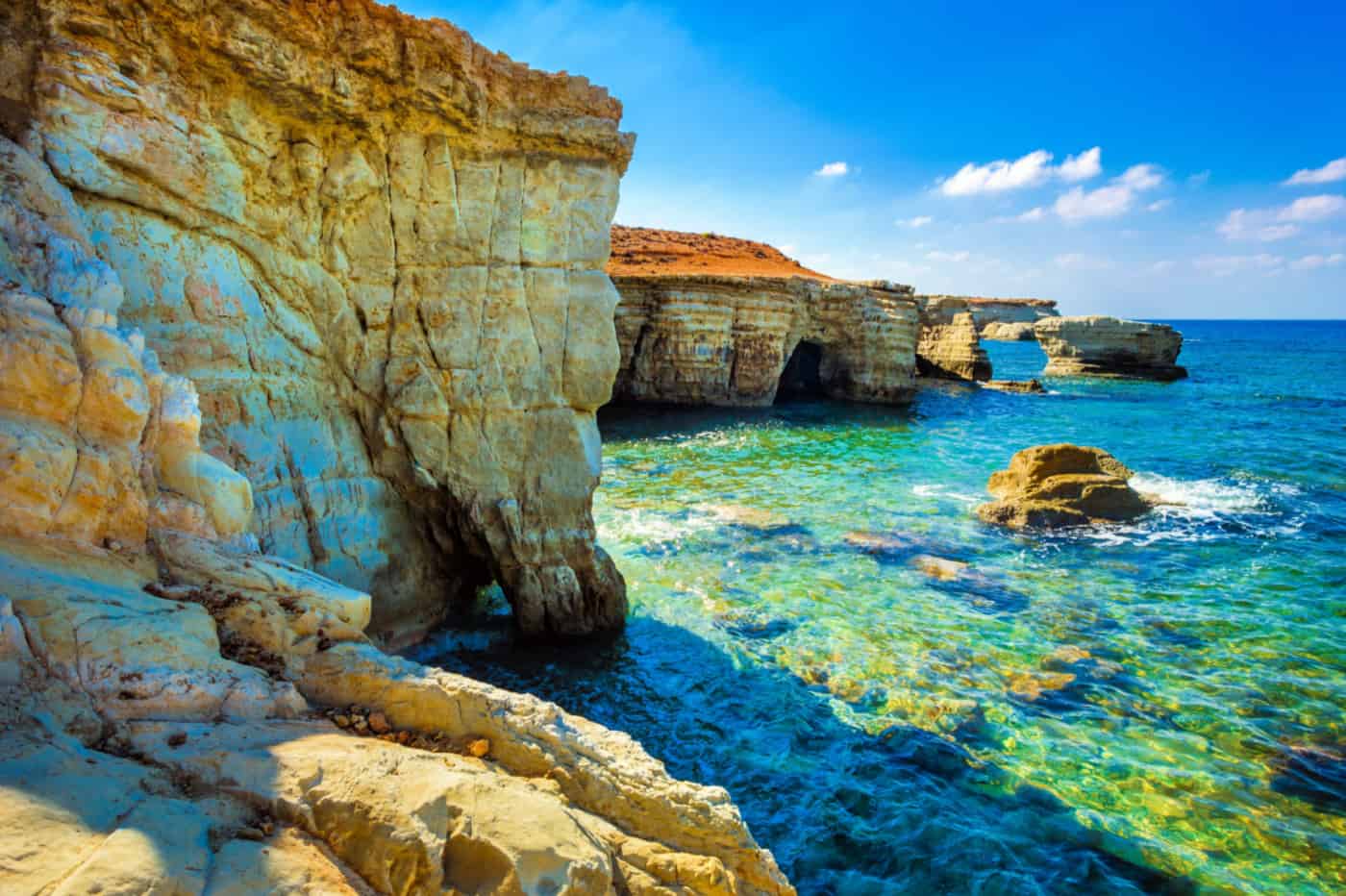 Ayia Napa Sea Caves
Kick off your morning by heading to one of favorite things to do in all of Cyprus. The Aiya Napa sea caves are set up along the coast and offer breathtaking views of the Mediterranean Sea.
The imposing rock formations protrude from the sea and numerous caves and passageways are scattered among these unusual cliffs, making them even more intriguing.
Exploring the Ayia Napa sea caves is a must-do while visiting this beautiful coastal town. Not only are they ideal for snorkeling and swimming, but legend has it that ancient pirates once used them to store their stolen treasures and even as hideouts!
Fishing, diving, swimming, and cliff jumping are all popular in this area; however, if plunging from a height is something that excites you, be aware that there's only one well-known spot that allows it safely. The jump itself is around 10 meters tall so it's a thrilling experience.
The water is calm and warm and maybe the clearest water I've ever seen so bring your swimsuit and go exploring!
Nissi Beach
When the afternoon rolls around, head to Nissi Beach for some serious relaxation. Here, you'll experience a serious amount of beauty — lush waters, soft white sand –- and the vibrant nightlife that the city has to offer. It's a little slice of paradise where you can relax or let loose!
If you're looking for an exciting night out in Ayia Napa, look no further than Nissi Beach! Not only does the beach have a live music and club scene that usually involves live DJs and soapy foam parties, but it's also popular with both travelers and locals.
Where to Stay in Ayia Napa
This adults-only hotel in Ayia Napa is the perfect getaway by the sea. Offering luxurious rooms and stunning views over the sea and surrounding area, you're seriously going to feel like you're in heaven.
My favorite part of the hotel is the stunning infinity pool that looks over the beach – the perfect spot to relax and take in all of Ayia Napa's natural beauty. As the sun is setting, head to the sky lounge terrace to sip on a cocktail or two and take in the breathtaking views.
The hotel is located just a few minutes walk from the center of town, so you can easily access all the buzzing nightlife that Ayia Napa has to offer. With plenty of restaurants, bars, and clubs nearby, it's great for a girl's trip or a romantic getaway.
Day 4: More Ayia Napa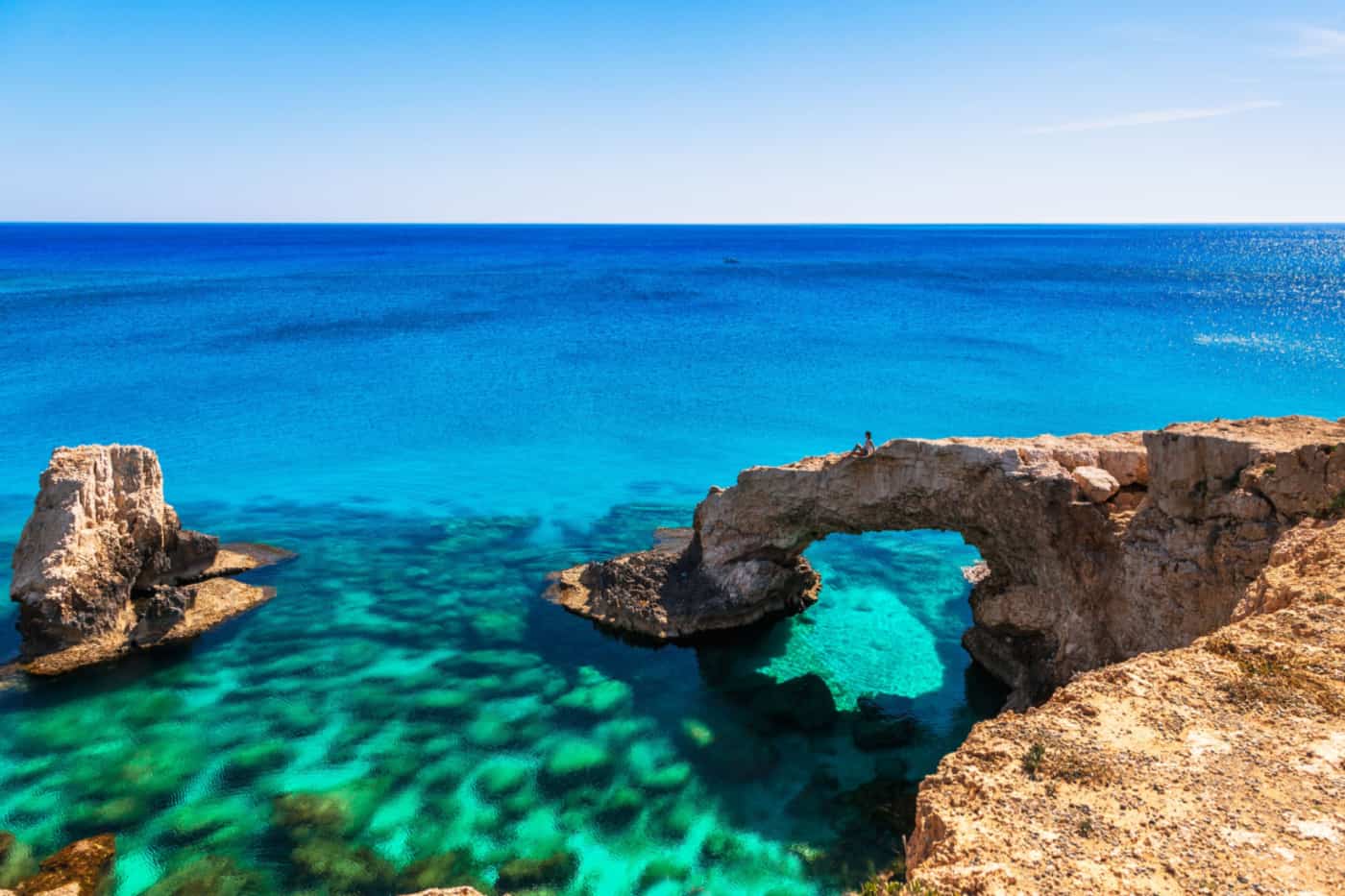 Cape Greco
If you're a fan of the water, particularly swimming, Cape Greco National Park should be your number one destination in Ayia Napa. Its crystal clear blue waters and delightful natural rock formations are simply heavenly! All in all, it is undoubtedly one of the most sought-after places to visit throughout Europe
This picturesque spot is a haven for outdoor enthusiasts and adventurers seeking to take part in activities such as cycling, hiking, cliff jumping, swimming, or snorkeling within the sea caves of the rock. It's no coincidence that it has become so popular!
There are local rumors regarding the Ayia Sea Monster, known to locals as the Friendly Sea Monster. The creature is not a threat and if you have the luck of crossing paths with it, all that awaits you is an immense sense of admiration along with a remarkable story. Unfortunately, or maybe fortunately, I'm not sure—but I didn't see this "friendly sea monster"
The Blue Lagoon
The Blue Lagoon is the epitome of paradise. From its crystal-clear waters to its gentle rock formations, this picturesque spot provides some of the most remarkable snorkeling and swimming experiences around in an idyllic setting. Soothed by the sun's warm rays, it truly feels like a glimpse into heaven on earth!
If you're feeling adventurous, rent a motorboat or open-air go-kart buggy to explore the best spots of Cyprus. You will see these everywhere and they look so fun! Or if you'd prefer a more leisurely experience, take advantage of renting bikes and wend your way along tranquil pathways towards the lagoon's shoreline.
Day Three: Your Final Day in Aiya Napa
Kamara Tou Koraka
Watching the sunset from Kamara tou Koraka in Cyprus is undoubtedly one of my most cherished experiences. This site can be easily added to an expedition heading towards Cape Greco or leaving after a day of swimming. You will be rewarded with spectacular views of the bright blue sea and horizon when you reach this natural bridge high up on a rock formation.
The iconic bridge is closed to foot traffic due to too much tourist activity over the years, yet it still makes a beautiful backdrop for pictures and unparalleled views. It's conveniently close to other noteworthy attractions nearby so check it off your list if you're in the area! Plus, many of those sites are within walking distance – making them easily accessible.
Kalamies Beach & St. Nicholas Church
Kalamies Beach is an idyllic destination with its inviting, crystal-clear waters and untouched shoreline. What makes this beach truly remarkable however is the St. Nicholas Church situated on a stretch of land that stretches into the sea; its white walls and bright blue dome add to Kalamies' authentic Greek charm! You'll immediately feel like you're in Santorini.
After an afternoon on the beach, you have to go to Kalamies Beach Restaurant, the atmosphere is exactly how you would imagine a seafood restaurant in the med to be! Try out their delicious seafood; ranging from succulent lobster and oysters to delectable mussels – or go for the feta-stuffed calamari which is truly Mediterranean! Ugh, yum!!
Whew! That's a lot I know, but all of these activities are close to one another and three days is the perfect amount of time in Ayia Napa to discover all that it has to offer!
Day 6: Larnaca
Today you are off to Larnaca, the ancient city of Phoinikos. While this is mostly just a stop along the way here you will find the iconic 18th-century Larnaca Fort, still standing guard over the deep blue harbor that was once home to the world's oldest civilization.
As one of Cyprus's most popular tourist attractions, it provides visitors with a taste of Vinci's 'Last Supper' restoration and the Neo-Byzantine church of St. Lazarus adds to the city's cultural charm.
In addition to its mesmerizing monuments, Larnaca is home to a world-famous salt lake, where you can watch flamingos flying in formation from one end of the lake to the other from September to March.
Aside from its captivating natural beauty, the Larnaca Salt Lake is further graced by an iconic mosque – Hala Sultan Tekke. I'm especially drawn to this stunning compound because of how it seamlessly blends in with the tranquil atmosphere that surrounds it.
When you're done there, take a walk to the Larnaca Marina and marvel at its yachts. This is a popular spot for locals and tourists alike who want to take advantage of the incredible seafood restaurants by the marina.
Where to Stay in Larnaca
Spread out for the night in the heart of Larnaca in this luxurious boutique hotel. Boasting stunning views over the city and sea, you're going to adore your stay here.
This chic apartment-style hotel also offers a rooftop, perfect for cooling off on a hot day or admiring the sunset in the evening. And after some rest, why not explore all that Larnaca has to offer? The LIV URBAN Suites provides all of their guests with free bikes, so you can explore the area in style.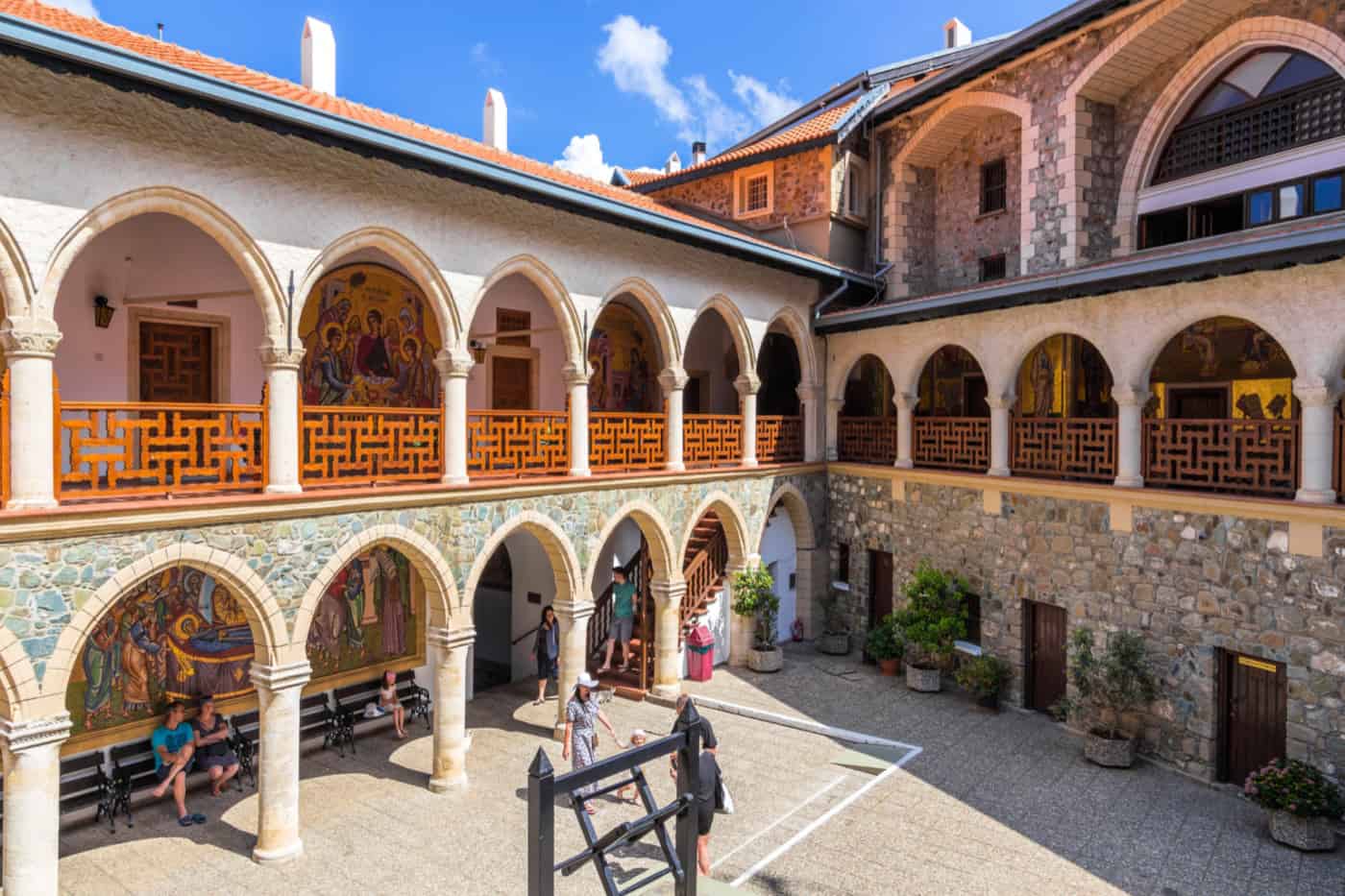 Day 7: Lefkara and Troodos National Park
Today we are heading to Paphos but we have a few amazing stops along the way. The drive from Larnaca to Paphos takes one and a half hours if you take the coastal route, which is stunning but we are going to take the scenic route inland which is a little longer – two and a half hours.
The first stop is Lefkara. This tiny village with its traditional architecture is a must-see when visiting Cyprus. Here you can buy handmade lace and silverware that has been crafted here for centuries. Take a stroll down the cobblestone streets and admire the stunning views of the surrounding mountains. It's such a cute little village to stop and have a coffee or lunch at one of the local restaurants.
The next stop is Troodos National Park which is about an hour from Lefkara. Here you can explore the stunning mountain landscapes and take part in activities such as hiking, cycling, and horse riding. This vast nature reserve is home to some incredible wildlife and a great place to get away from it all.
Troodos is the largest mountain range in all of Cyprus, so you can spend quite a few hours exploring. Visit the Kykkos Monastery, which is the most important monastery on the island and a major pilgrimage site.
The Millomeris Waterfall trail is also a great way to take in the beautiful scenery and it's perfect for a picnic lunch. If you're feeling up to it, they have a few different winery tours available, as well as the chance to explore some of the fascinating Neolithic ruins in the area.
After spending time in Troodos National Park, head back down the mountain and continue your journey towards Paphos. As night falls, take in a stunning sunset from one of the many rooftop bars or restaurants before heading back to your accommodation to rest up for the next day.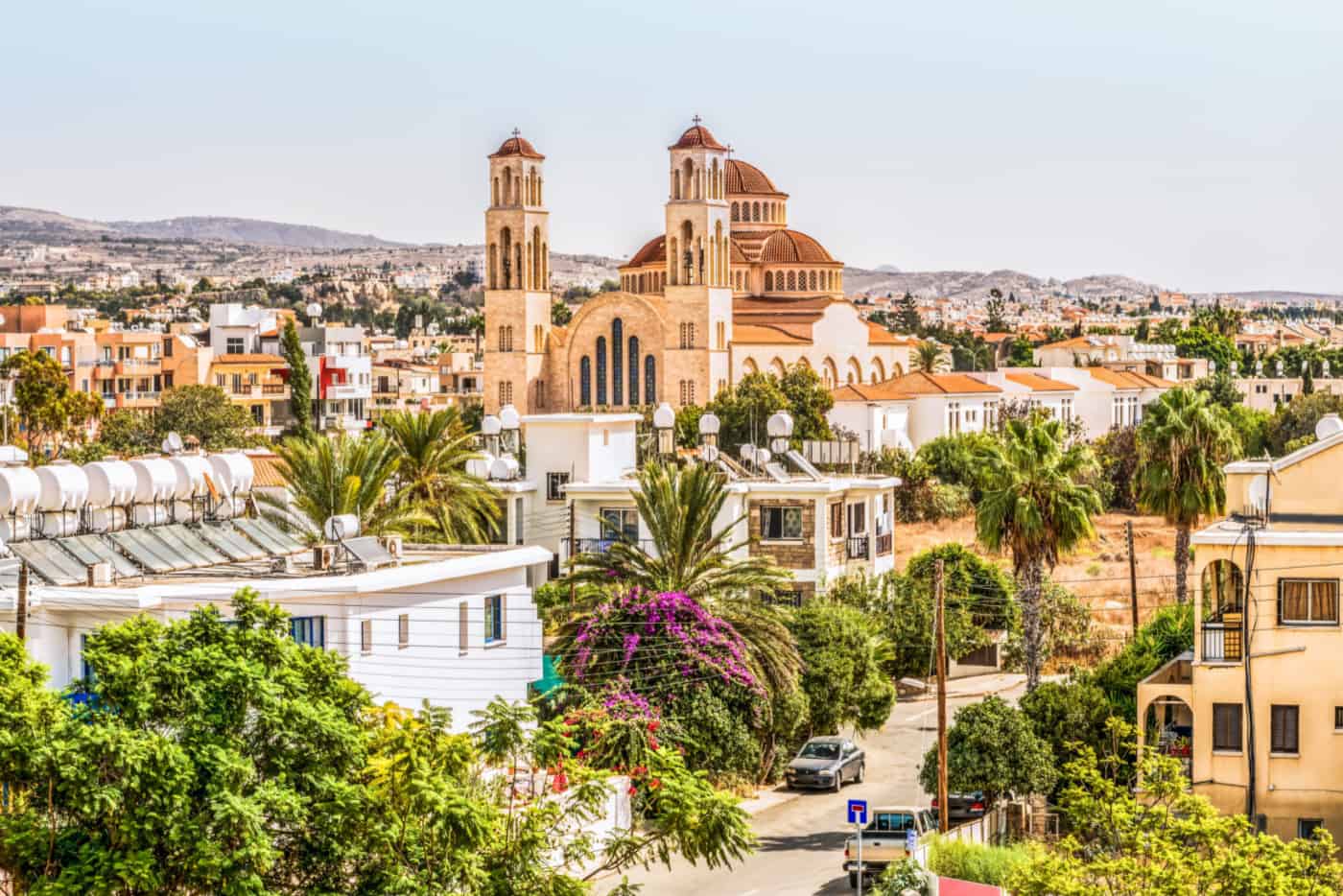 Day 8 to 10: Paphos
Paphos is the perfect place to wrap up your ten days in Cyprus and you won't be short of things to do here. There is something for everyone, whether you like relaxing on the beach, exploring historical sites, or shopping and nightlife.
Paphos is known as the birthplace of Aphrodite, the Greek goddess of love and beauty. According to legend, Aphrodite emerged from the foam off the nearby rocky coast and stepped ashore at Petra tou Romiou (Rock of the Greek) near Paphos.
Paphos and Ayia Napa have one major similarity- everything is within a half-hour drive, which gives you the ability to craft your days however you'd like! I've organized some must-do activities below by day according to their proximity to make it easier for travelers but feel free to get creative in how you spend your day!
Kato Paphos Archaeological Park
This is an important archaeological site located in the southwestern part of Cyprus. It was declared a UNESCO World Heritage Site in 1980 and is home to some of the most celebrated monuments of the island, including the Tombs of the Kings, Odeon Amphitheater, and the Agora.
The site is also home to many other important monuments, including the Asklipio of Aphrodite, Roman villas and baths, as well as ancient temples dedicated to various gods. Take your time wandering around this incredible site and admire the ruins of an era gone by.
Tombs of the Kings
Located inside the park is this UNESCO World Heritage Site where you can explore the tombs carved into solid rock. The tombs were created during the Hellenistic and Roman periods, and their walls are covered with intricate carvings. It's seriously insane being able to walk in and out of these tombs from so long ago.
Admire the beauty of these majestic structures and take in the incredible views from this site! Be sure to also check out some of the smaller tombs nearby, which are often overlooked.
Petra Tou Romiou
After a morning of sightseeing, this is a fantastic place to visit and the most famous beach in Cyprus. It's known as the birthplace of Aphrodite and has huge rocks jutting out into crystal-clear waters. You will be able to just feel the love of aphrodite as you enjoy the beautiful beach.
Take a dip in these waters or just relax on the beach and admire the stunning views. It's a little bit south of town, so pack a lunch and some snacks to enjoy at the beach. If you're feeling adventurous, take a hike up the cliffs to get an even better view.
Paphos Harbourfront
No trip to Paphos is complete without a visit to the beautiful harbourfront. Here you can take in stunning views of the Mediterranean Sea, explore some of the restaurants and shops, and pick up souvenirs to take home. I love coming here at sunset to enjoy the beautiful golden hour over the harbor.
At night, it transforms into a buzzing hotspot with plenty of bars and clubs for you to enjoy. Whether you're in the mood for a casual evening or an epic night out, there's something for everyone here.
The EDRO III Shipwreck
Much further North in Paphos, the shipwreck is a great activity to start your day at!
The Shipwreck is a unique and fascinating sight that is a must-see during a trip to Paphos. The shipwrecked freighter is located off the coast of the city, just a few kilometers away from the harbourfront.
It was originally built in England in 1933 and launched as a cargo vessel under the name "EDRO III". After being damaged in a storm, it sunk off the coast of Paphos and is now an amazing dive site and home to a variety of marine life.
Coral Bay
On the way back from the shipwreck, Coral Bay is the perfect place to enjoy an afternoon. It's a stunning beach and resort located on the southwest coast of Cyprus. It's known for its crystal clear waters, white sand beaches, and relaxed atmosphere.
The waters around Coral Bay are ideal for snorkeling and scuba diving, you will find plenty of colorful marine life to explore. The color of the water here is actually insane. You're going to love it! After a day at the beach, head into town and enjoy some traditional Cypriot cuisine or sample some of the local wines. You're gonna be in heaven!
Blue Lagoon
I know, I've said this a lot—but you have to see the Blue Lagoon in the south of Cyprus.
The lagoon has some of the most stunning views in Cyprus. The water is incredibly clear and blue due to its depth, making it an incredibly picturesque spot. There are plenty of activities to try nearby such as kayaking, stand-up paddle boarding, fishing, and scuba diving.
This is a great spot for swimming and snorkeling, as the lagoon is full of exotic fish and secluded coves perfect for exploring. It's also close to some of the best restaurants in the area making it a great place to spend an afternoon.
I highly recommend this boat tour if you are heading out to Blue Lagoon! Enjoy the breathtaking coastal sceneries of Cyprus, experience a captivating narrative about the Edro III cargo ship's transition into a tourist attraction, and be mesmerized by Aphrodite's Bath in Botanical Garden. It's the perfect way to see so much of what this area in Cyprus has to offer.
Avakas Gorge Nature Trail
If laying by the beach isn't quite your thing and you prefer to do some exploring, then the Avakas Gorge Nature Trail is perfect for you.
Avakas Gorge is renowned as one of the most remarkable natural spectacles in all of Cyprus. This 8km East-West limestone canyon stands out on the island with its deep and narrow cliffs, located in an area known as Peyia Forest.
Despite being just two kilometers inland, the gorge is so intricately carved into the white limestone hills that its exact location remains a secret to those standing along the coast. Hidden away within these majestic cliffs lies an intimate valley in all its splendor.
Follow the trail through pine forests, limestone cliffs, and crystal-clear waters and take in some breathtaking scenery.
Where to Stay in Paphos
This studio apartment is an incredible option for your stay in Paphos. Located directly across from the beach, it's perfect for those wishing to spend most of their time in Paphos relaxing and soaking up the sun.
The studio is a little bit on the small side, but because there is so much to do in Paphos, you're not likely to be spending too much time in your apartment. There is a kitchenette and all the amenities you need for a comfortable stay, plus you'll have plenty of opportunities to explore.
You can spend your morning walking the promenade and admiring the beachside views, then head to one of the many things on your itinerary and explore all of its historical wonders. In the evening, why not enjoy a romantic dinner at one of the many restaurants along the coastline?
Phaedrus Living Seaview Studio Suite Lighthouse 52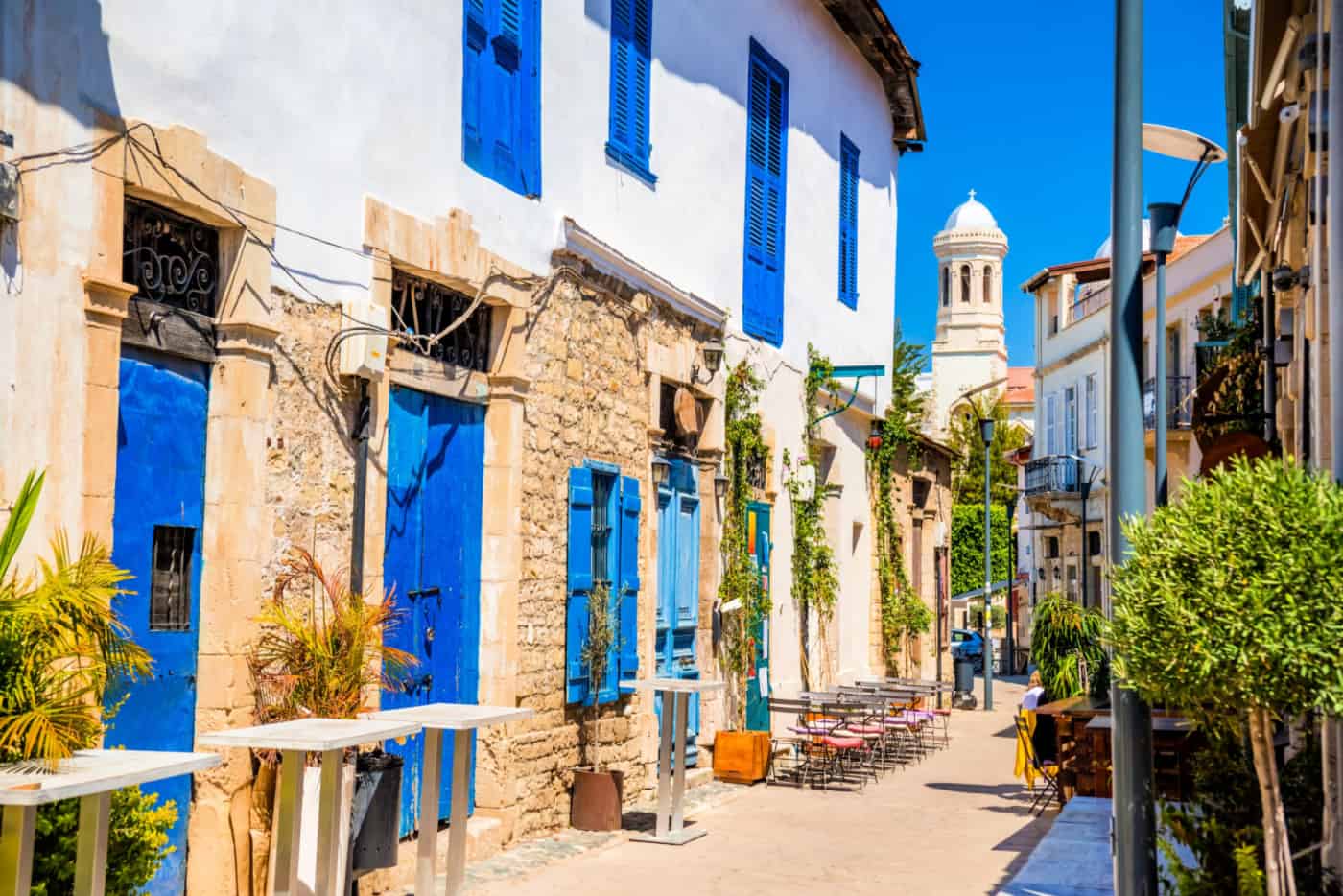 There you have it – 10 days of sightseeing, exploring, and relaxing in Cyprus! From its historical ruins to its beautiful beaches and vibrant nightlife, this is a country that you are absolutely going to fall in love with!