Iceland is one of the most visually spectacular countries I've ever been to.
From the breathtaking landscapes to the welcoming locals, the wonders of this country were obvious from my first cold steps on Icelandic terrain.
During my time spent traveling in the Land of Fire and Ice, I stood in awe at waterfalls streaming from towering mountains, explored a volcanic crater-turned-lake, mere steps away from an active geyser, skipped over black sand beaches, and crunched our way across turquoise glaciers.
But today, we're here to talk about the prices.
Iceland has a reputation for being expensive — one of the most expensive countries in Europe, in fact — and things have only grown worse in these latter days of the pandemic. Most shockingly of all, accommodation that I stayed at in 2022 has now doubled in price[!]. It really is quite shocking.
But you know what? This is the case for practically every single major tourism destination right now, in Europe and further afield. Prices everywhere are skyrocketing, but there are still some ways that you can keep your costs down.
I'm going to be sharing all of those with you today.
The most expensive time of year is mid-June through to August, so you can expect prices to double again during these summer months.
Once you leave Reykjavik, however, you'll find prices on food and accommodation dip to a more comfortable level. And with free activities scattered all over the island, there's plenty of ways to keep your costs even lower.
So how much does it cost to travel in Island? In this article, I'm going to be sharing exactly how much you can expect to spend in 2023.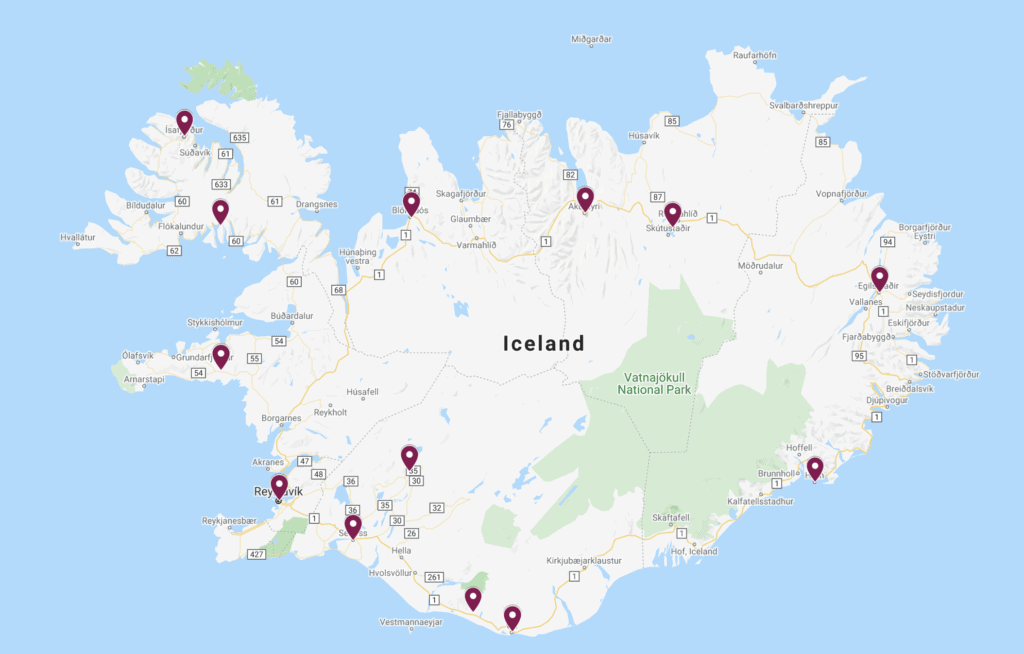 The Ultimate Iceland Itinerary
Before I start diving into the nitty-gritty details of costs, I want to first go over where I visited in Iceland and how you can spend two weeks seeing the most epic parts of the country.
Iceland, fortunately, is one of the easiest countries to plan a road trip in. Why? Well, there's essentially only one road!
That is, of course, an exaggeration, but the Ring Road of Iceland is the main road in the country and it encircles the entire island. Taking a road trip, then, is all about circling your way around the country and choosing the most epic spots. Here's what I recommend — taking a counter-clockwise route from Reykjavik:
Day One: Reykjavik
Day Two: Selfoss
Day Three: Vík
Day Four: Höfn
Day Five: Egilsstaðir
Day Six: Mývatn
Day Seven: Mývatn
Day Eight: Akureyri
Day Nine: Sauðárkrókur
Day 10: Ísafjörður
Day 11: Staðarhólskirkja
Day 12: Midhraun
Day 13: Reykjavik
Day 14: Reykjavik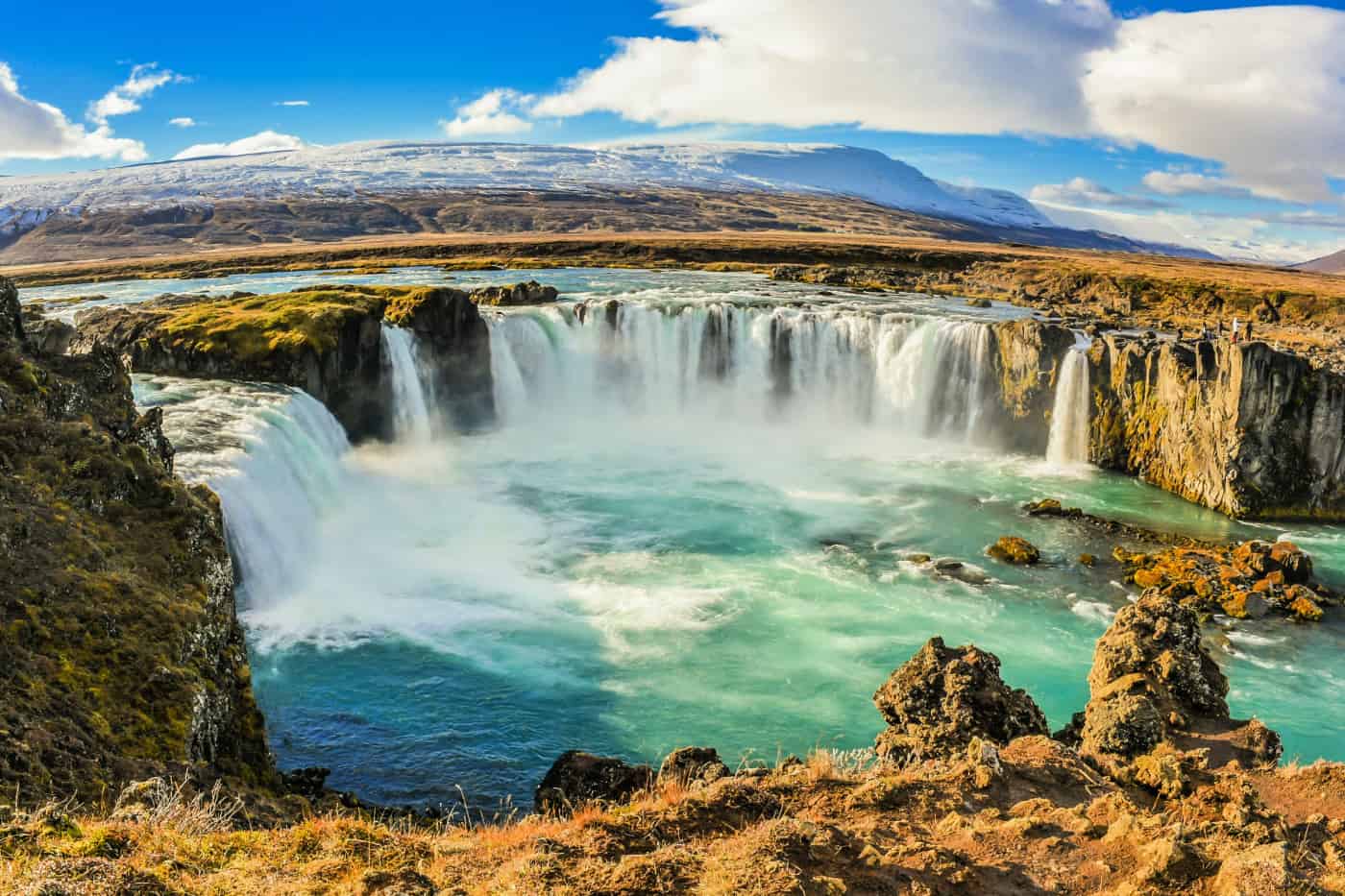 How to Save Money on the Cost of Accommodation in Iceland
As always with travel, it's possible to cut your accommodation costs down to zero if you have the time and patience to seek out an offer.
Housesitting is a great option for free accommodation. This is where you'll take care of somebody's house while they're away, and usually look after their pets, too. It's best for long-term travellers or retirees as you can't pick and choose dates and destinations, so you need to have a lot of flexibility as to where you go and at what time of year. If you do have that freedom, it's a wonderful way to cut down your travel expenses, soak up some home comforts, and live like a local for a while. I have friends who have housesat in castles before! For free! Trusted Housesitters is the best site for getting started with housesitting, as they have the highest number of listings.
I'm suspecting, though, that for most of you, you're not interested in the free accommodation and just want somewhere clean, safe, and affordable to rest your head each night. If that's the case, there are several options available for you.
The first of these are hostels. In Iceland, you'll come across hostels all over the country, finding them on tiny islands, in large cities, and even in the national parks. They're one of your best options for saving money.
Hostels in Iceland are on a par with the rest of Northern Europe, and you can expect to spend around $25 a night for a dorm bed for a well-reviewed hostel in Iceland, with the price increasing to slightly about $50 a night for the absolute best of the best.
When it comes to private rooms in hostels, you can expect to spend around $70 a night for a clean, basic room in a good location, so if you're travelling with friends or with your partner, you may find it cheaper to grab some privacy over settling for two beds in a dorm room. $100 a night will get you an exceptionally well-reviewed private room in a hostel or hotel.
I use HostelWorld to find the cheapest hostels, as they tend to have the greatest number of listings at the lowest prices.
But what about the hotels? That's what most of you are interested in learning about anyway!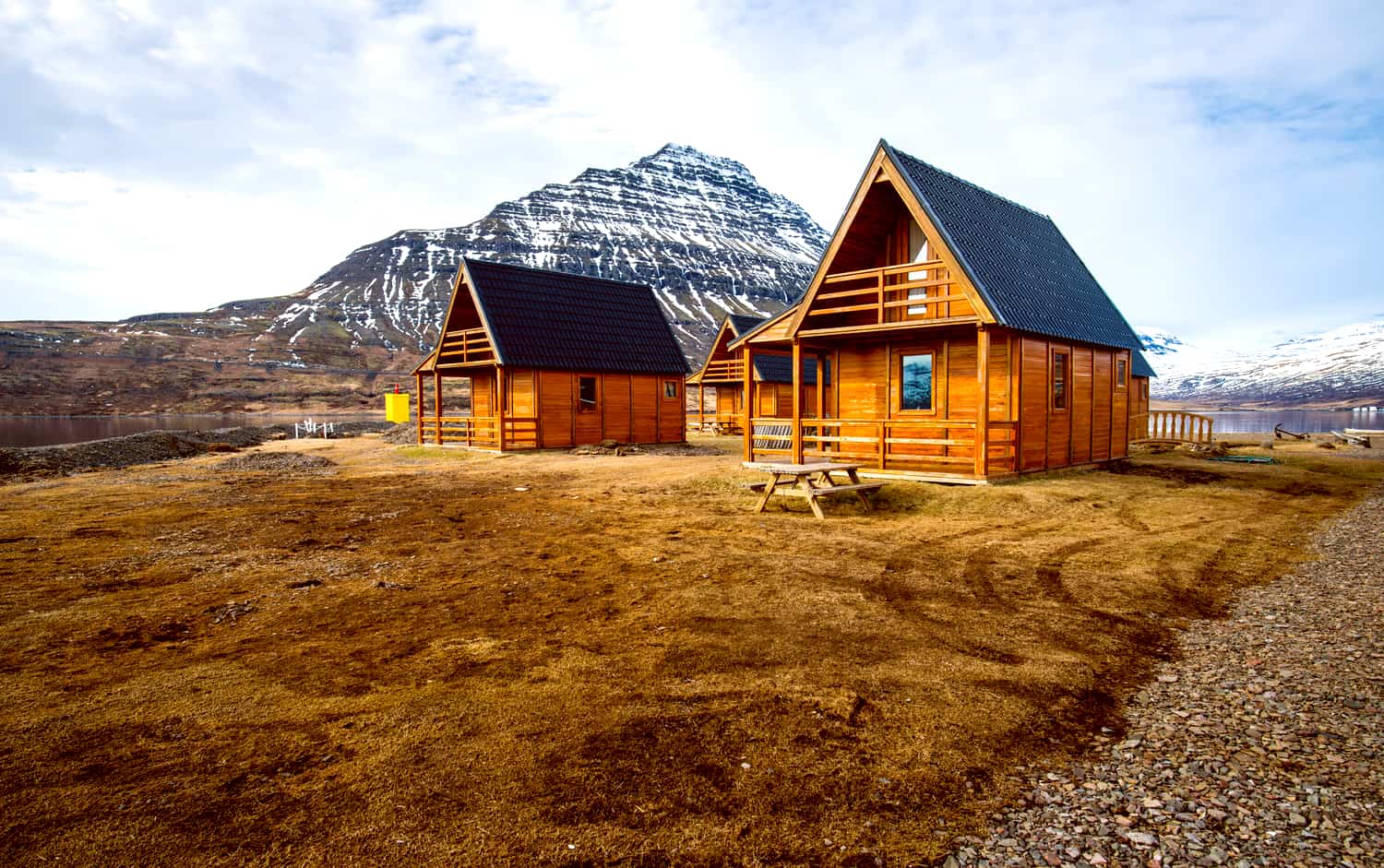 The Cost of Accommodation in Iceland
In this section, I always like to share my favourite accommodation for a destination: where I chose to stay, how much I paid for it, and what I thought about the property. Here's my choices for Iceland:
Reykjavik: Freyja Guesthouse (€126 per night for a deluxe double room)
Not only is this guesthouse one of the highest-rated properties in Reykjavik on Booking, but it's also one of the most affordable options, too. And I loved this place. It's in the perfect location for exploring Reykjavik, right around the corner from the iconic Hallgrímskirkja church, is run by the most incredible family, and there are even free bikes for guests to use at any time. Plus, it's super-COVID-friendly, with sanitiser and wipes available for everyone, along with very thorough cleans of the rooms. This place offers exceptional value for money in Iceland.
🇮🇸 Don't forget to check out my post on the 19 Best Things to Do in Reykjavik!
Selfoss: Ásahraun Guesthouse (€117 per night for a, um, barrel)
Now, I don't know about you, but whenever I come across the opportunity to sleep in an unusual-style of accommodation, I always leap at the chance. Life is too boring to spend every night in a hotel, right? … Right? So that's what brought me to Ásahraun Guesthouse, where you can stay in a, um, barrel. Yes, you read that correctly. But in all seriousness, it's such a cool spot and way, way nicer than you're expecting. Just like Freyja Guesthouse, it receives a score of 9.5 on Booking, and it's for the incredible set-up you get here. You'll be in the cosiest barrel-style room, have access to a hot tub (if you're lucky you might spot the Northern Lights from it), be immersed in nature, and have the loveliest owners to ensure you have the best stay ever. I would't be surprised if this ended up being the accommodation highlight of your time in Iceland.
Vík: Guesthouse Galleri Vík (€252 per night for a double room)
This is such a wonderful place to stop for the night, and we were so glad we chose to do so. Cosy, comfortable, clean, with a welcoming owner who provides you with homemade waffle dough and a waffle iron, along with homemade jam so you can put together a delicious breakfast. The guesthouse itself is in a great location in Vik, right in the centre of town and within walking distance to that beautiful black-sand beach.
Höfn: Old Airline Guesthouse (€141 per night for a double room)
Now, I'm not going to say that my favourite thing about this guesthouse is the fact that it had a washing machine and dryer, but I will tell you that it was very much appreciated after several days of road-tripping! The accommodation itself is in the heart of Höfn, close to all of the best restaurants (I recommend Pakkhús for dinner; it's the best restaurant in town!) as well as a supermarket and petrol station. The room was clean, spacious, and bright and while we didn't meet the staff, we were overall happy with our stay.
Egilsstaðir: Hotel 1001 Nott (€216 per night for a double room)
This was one of priciest places we chose for our road trip but the beautiful location and epic views from the room made it more than worth it. You're nestled in between the mountains and the lake here, with hot tubs to take a dip in (I recommend doing so at sunset) and even a waterfall to stroll to. You'll eat on-site while you're here, but the meals are fantastic (reindeer burgers for dinner, anyone?) This would be a particularly wonderful option if you're in Iceland on a romantic getaway.
Mývatn: Vogafjós Farm Resort (€159 per night for a double room)
Mývatn doesn't have much in the way of accommodation, and what it does have doesn't receive the greatest reviews. This property stands out from the crowd, then, and we loved loved staying there! You've got cosy wooden log cabins to stay in, helpful staff who can help you make the most of your time in the area, and you're just 10 minutes from the local thermal pools. Throw in an excellent restaurant and you've got yourself an excellent stay in Mývatn.
Akureyri: Hafdals Hotel (€212 a night for a twin room)
This hotel is just outside of Akureyri — a five-minute drive to the centre — but it's worth staying a little way out of town because it lands you with some spectacular views instead. You'll be looking over the city, gazing out at the fjords, and admiring the river while you stay here, in a clean and modern hotel, with a lovely owner, and a delicious breakfast. This is a great place to base yourselves while day-tripping around the north of Iceland, too.
Sauðárkrókur: Karuna Guesthouse (€94 a night for a twin room)
We considered staying in Blönduós for this night, but the accommodation was so poorly-rated there, that we decided to opt for Sauðárkrókur instead. And what a great idea! This guesthouse felt like a steal — it was the cheapest place we stayed in on this trip, but it was by no means the worst. In fact, we had the best sleep of our trip in those comfortable beds (plus blackout curtains — always appreciated!) The owner was wonderful, the free food left out for breakfast was so appreciated (freshly baked bread!), and the views across the fjords were magnificent. All in all, a great place to stay.
Ísafjörður: Tangs (€220 a night for a 4-person apartment)
If you plan on venturing into the Westfjords, this is the place to stay! It's an apartment, rather than a hotel, and located in the centre of town within walking distance to everything. The place is clean, spacious, and stylishly-decorated, and even offers up free bicycles for guests to use. And trust me — as somebody who has stayed in over 100 Airbnb apartments over my years of travel — this apartment has one of the best-equipped kitchens I've ever come across. Oh, and having a washing machine and dryer were a huge bonus after many days on the road!
Staðarhólskirkja: Miðjanes Reykhólahrepp (€81 a night for a double room)
This cosy guesthouse and working farm (wait until you taste the fresh milk from the cows!) was such a lovely place, with beautiful views over the ocean — great for sitting in the living room and bird-watching. You've got access to a communal kitchen and living room, which resulted in so many new friendships, and the owner has tons of useful advice on where to go and what to do. It's a little isolated, so soak up those peaceful vibes, because you'll be heading back to Reykjavik in just a couple of days!
Midhraun: Lava Resort (€135 per night for a double room)
This is the cutest collection of cottages ever! You'll be staying in beautiful surrounds in an adorable cottage, with plenty of nearby trails to wander along while you're here — I recommend the one that takes you out on to a nearby lava field. The cottages have plenty of amenities with fully-equipped kitchens, plenty of storage space, and a laundry room to get any washing done. It's perfect location for exploring everything the peninsula has to offer!
My average cost for accommodation in Iceland was €134 a day.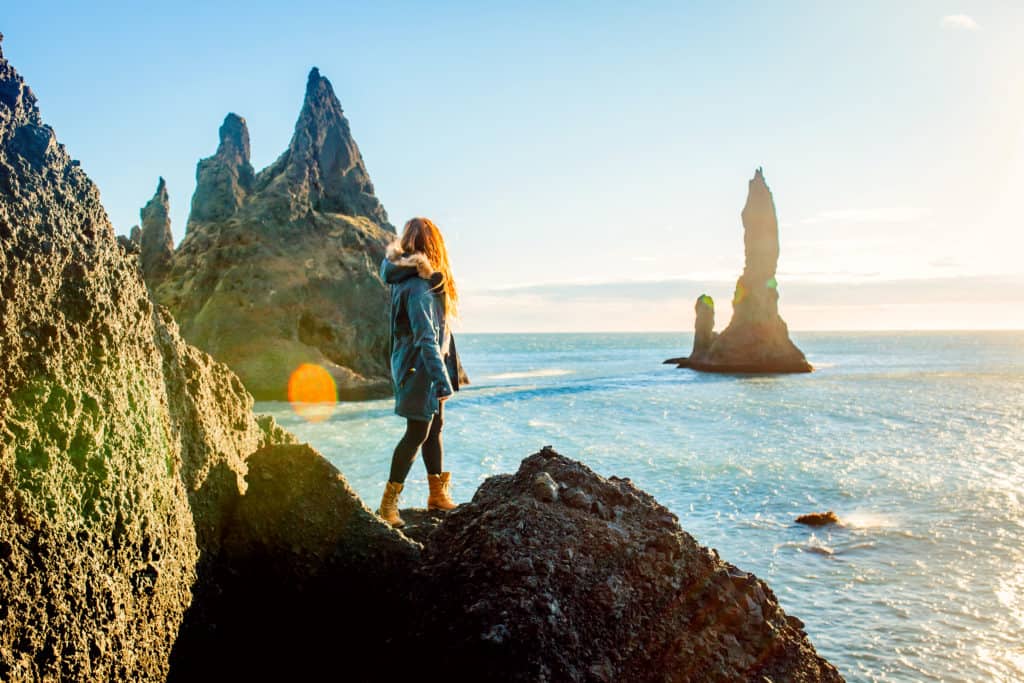 The Cost of Transportation in Iceland
Let's talk first about the costs involved in getting to Iceland. For all of my North Americans and Europeans out there, you'll most likely be pleasantly surprised by the prices.
When you check flight prices on Skyscanner, you'll be greeted by a wall of IcelandAir flights. And the great news about that is that IcelandAir offers up free stopovers in Iceland whenever you opt to fly between Europe and North America. I utilised this when flying from Washington D.C. to London several years ago and it was epic. I was able to stop in Iceland for three days on my way over at no additional cost, so I used that time to explore the Golden Circle.
If you're planning a trip to Iceland itself, know that you'll be looking at around $400 for return flights from the east coast of the U.S. to Reykjavik.
If you're in Europe, flights are inexpensive. From London, you'll be looking at around £70 return. For other major flight hubs within the continent, such as Paris, Madrid, Milan, and Berlin, flights will usually be around €150 return — not too bad at all!
Don't forget to have a quick check of Secret Flying before you book your flights either — there may be a bargain up for grabs that coincides with your travel dates!
But what about transportation within Iceland?
Iceland is made for road-tripping. If you're planning on spending a week or two within the country, it's the absolute best way to get around. Renting a car within the country is inexpensive and navigating is easy — you simply follow the iconic Ring Road around its 1,300 kilometres — or 828 miles — until you end up back in Reykjavik. The roads are well-paved and there's hardly any traffic, which makes for an incredibly easy road trip.
I used RentalCars to find my car in Iceland; they check prices across all of the major hire companies to surface the cheapest options out there. Within Iceland, you can expect to pay between €28 and €45 a day for a rental, which really isn't too bad at all. If you're not having any success with RentalCars, take a look at the Iceland-basedNorthbound, as you can sometimes pick up a deal through there.
Self-drive tours are popular within Iceland, although I don't personally believe they're necessary — it's so easy to drive around Iceland on your own!
With these self-drive tours, you essentially pay for somebody to put together an itinerary, get you a rental car, book your accommodation for you, and even provide you with breakfasts. But there's plenty of itineraries available online for free (I shared mine in the previous section!), it's easy to find your own rental car online, and it's better to head out to local restaurants to try the breakfasts anyway. Icelandic Nordic Visitor has dozens of self-drive itineraries to sign up for — a 7-day self-guided tour starts from €1135/$1210.
If you're considering a self-drive tour, I'd urge you to save your money and use it on nicer accommodation.
If you can't drive, or don't want to, there are buses and tours that can help you see the country without needing your own set of wheels. Straeto gives some great bus routes for traveling in and around the capital city. See below for a variety of transportation options:
Here are some typical prices for transport in Iceland:
Flight from Reykjavik to Akureyri: $61
Flight from Reykjavik to Seydisfjordur (EGS): $89
Bus from Reykjavik to Stykkisholmur: $14
Strætó Bus app fare per month: $10
3-day bus pass in the Reykjavik area: $3.50
1- day bus pass in the Reykjavik area: $1.50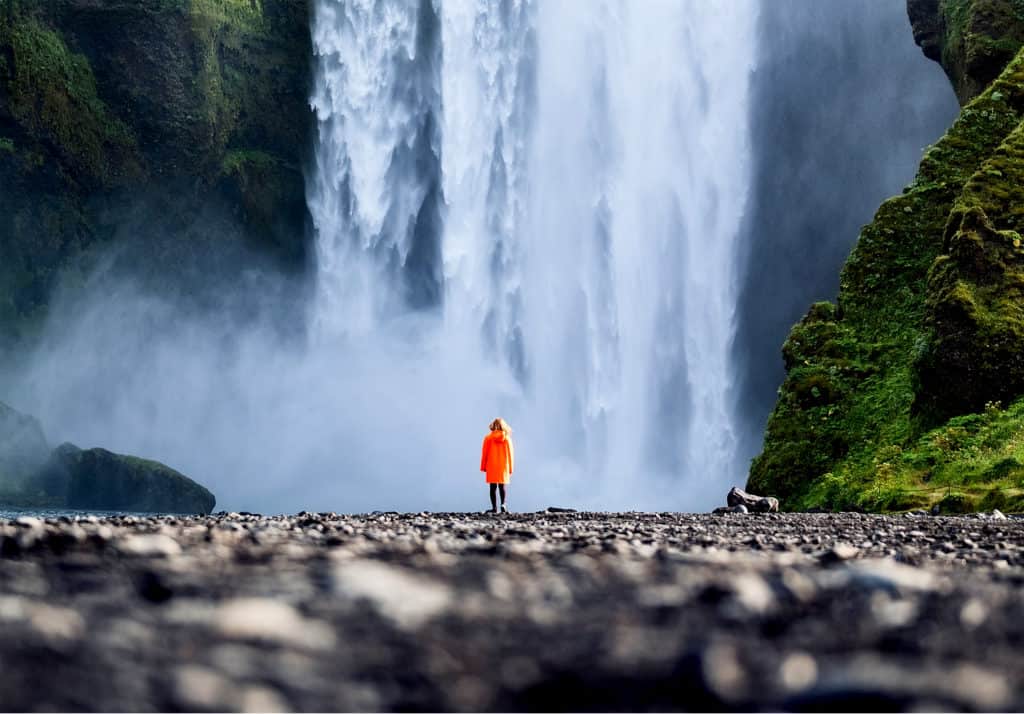 The Cost of Food in Iceland
We all must eat and thank goodness for that because both the traditional and contemporary cuisine in Iceland is top notch. I know, I know — Iceland doesn't have the best reputation for cuisine, with rumours abound of fermented shark and smoked puffin, but dig a little deeper and you'll find plenty of treats.
First and foremost, you can't leave the country without eating a hot dog. That's right, a hot dog. This popular street food has made a tasty name for itself in Iceland and you'll find them everywhere. It's a dish that's cheap, good, and easy, but you can also find them dressed up or offered vegan in restaurants all over the country. 
If you plan to eat out, breakfast will be your cheapest meal, from €9 to €15, depending on how hungry you are. A coffee runs around €4 while a croissant is €5. However, be aware, lunchtime and dinnertime prices rise significantly. 
Dinnertime will be your most hefty splurge, where you can expect to spend anywhere from €25 to €40. However, don't let that deter you from sampling the culinary masterminds that reside in Iceland. 
Icelandic Fish and Chips in Reykjavik is a great joint to get a feel for Icelandic fare with their fish and chips running for €22. 
Reykjavik's Islenski Barinn, or the Icelandic Bar, is where you'll want to go to if you're craving a local vibe with traditional Icelandic eats. Yes, it's a bar but no, you won't find your typical boring bar food. From lamb and salmon hotdogs to shark bits, reindeer and vegan burgers, you can expect a more upscale pub experience. However, prices are doable, starting at €14 for a meal.
When it's time to treat yourself, find Von Mathús in HafnarfjordurIf. The terrific thing about Von Mathús is you get to soak up the classy and contemporary setup and splurge on the delectable food, without the wild prices of a fine dine. The menu isn't hefty, but it'll do the trick. You can dip into some ceviche for €19 or opt for a snack from from €5. They also enjoy their happy hour; it's practically all day (11:30 am to 2 pm/4 to 8 pm). 
Speaking of happy hour, it's kind of a thing in the capital. Loft Hostel is most popular thanks to the rooftop terrace that yanks locals and visitors in from the street, begging them to sip for a few. They have beer deals from 4 to 8 pm daily.
Vedur Bar & Café is a classy establishment that loves sharing their discounted beverages. So much in fact their "happy hours" stay happier longer. Every day from noon to 7:35 pm (yes, they are precise on their cutoff time) followed by cocktail hour from 7 to 9 pm, patrons file in to enjoy the offerings. You should also know, Thursdays are a special day at the Vedur, where bubbly flows for only €7.
Of course, if you opt to not drink, it will lower your costs. Alcohol is on the steeper side in Iceland, especially if you are buying it full price in a pub. Your best option? Load up at the grocery store where imported beers run about €4 and it's €3 for local brews, while the average midrange bottle of wine goes for approximately €15. 
If you have access to a kitchenette in your hostel, or a whole kitchen situation in your Airbnb, then buying food at the market is the cheapest overall option. Groceries are comparable to what you might spend in the U.S. For example, a gallon of milk in Iceland is approximately 643 Kr, about €5, a pound of chicken fillets is 911 Kr, or €7 and a dozen eggs are 675 kr, or about €5. Whenever possible, shop at Bonus, it's easy to find (bright yellow) and offers the best discounts on food. 
The average price for eating out in Iceland is €77 a day
The average cost of food when cooking at home in Iceland is: €14 a day
The average cost of food when combining both eating out and cooking is: €46 a day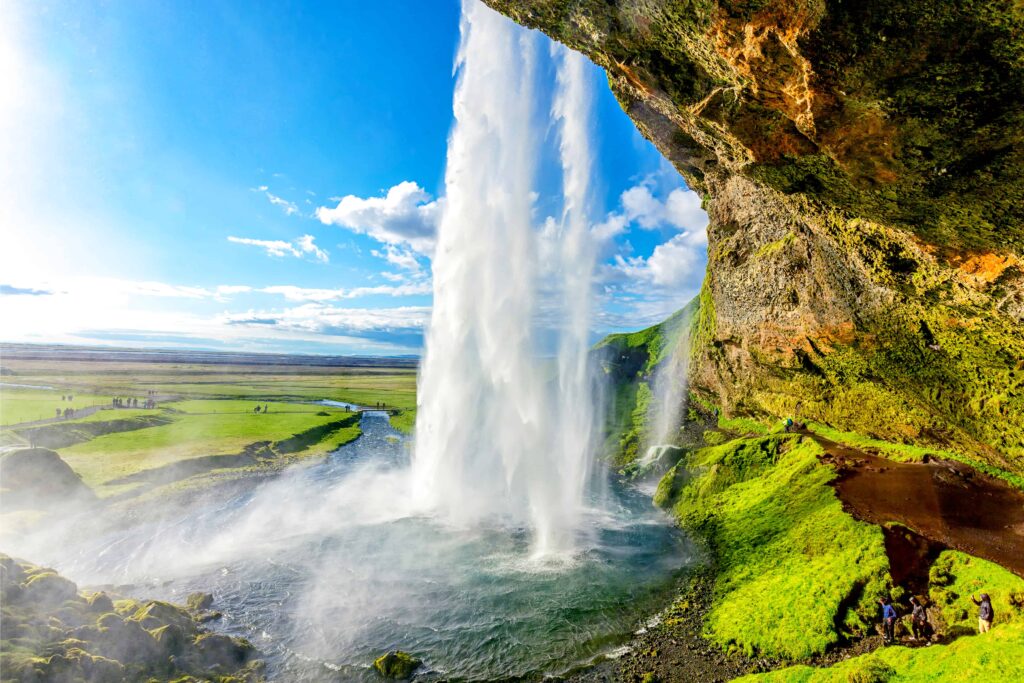 The Cost of Activities in Iceland
This is Mother Nature's playground, making outdoor activities and sightseeing unending.
That, on top of the nightlife, daytime biking adventures, and strong gastronomic scene, make it easy to keep busy.
The first thing you'll want to do when you arrive is head to the Blue Lagoon. One of the biggest tourist attractions in all the land is the Blue Lagoon. It's worth the dip, but expect to share the experience with many others. It's popular for a reason!
We opted for the $75 package that includes a silica mud mask, free drink (we chose champagne!), and towel. If you're not into commercial tourist activities, fear not: solitude (and free hot springs!) is not hard to find as long as you're up for the adventure.
Reykjadalur Hot Springs requires an hour-long hike to get to but once you arrive you have a whole river to soak in. Grotta Lighthouse Footbath is in Reykjavik and is easy to access but note the word "foot" in the name: it's not very deep but it is unique!
There's a surplus of day trips available to visitors from Reykjavik through Get Your Guide for those of you who are short on time. Some of the best options for seeing the country from your base include:
South coast day trip – €91
Lava tunnel caving – €89
Golden Circle day trip – €64
Snæfellsness Peninsula guided tour – €91
Ice cave day trip – €230
One of the most memorable moments from our trip was hiking the Sólheimajökull Glacier, where we were able to propel down crevasses and drink the most delicious 400-year-old water.
Biking is also a fun and trendy way to sightsee in the capital and if you are feeling rather adventurous you can book a tour to navigate the more distant terrain on two wheels. Reykjavik Bike Tours offer guided day trips to the Golden Circle, Coast of Reykjavik and Westman Isles, to name a few. Prices for bike rentals start at $27 while guided tours start at $58.
And, of course, the Northern Lights.
I can't write an article on Iceland and not highlight the lights! We went in late September with the goal of seeing the decorated night sky. It was quite the gamble but a gamble we won. Soaking in our hot tub at the Airbnb, we were able to gaze up in awe at the illuminating fluorescent swishes dancing above us. It was most certainly a moment to remember.
If you can, book your trip during the months of September to March and hunt down those lights. You won't regret it!
Driving the roads of the countryside in Iceland is one, if not the best, way to see and feel the essence of the country. Beginning in Reykjavik, the Golden Circle is a 190-mile circle of sorts that offers a wealth of natural beauty. Big ol' blocks of ice, more commonly referred to as glaciers, black sand beaches with natural ice sculptures the size of me, funky moss, and tiny elf houses line the route around the circle. It's an endless intake of unbelievable wonder.
Whatever you do, don't forget your camera because you can expect a photo op around nearly every bend in the circle.
The great thing about the Land of Fire and Ice is the best things are often free. Soaking in the natural beauty is the best way to experience the country on a budget, whether by car, bicycle or foot.
Even walking out of your hostel can be a beautiful experience with the right vantage point.
The average cost of activities in Iceland is: $29 per day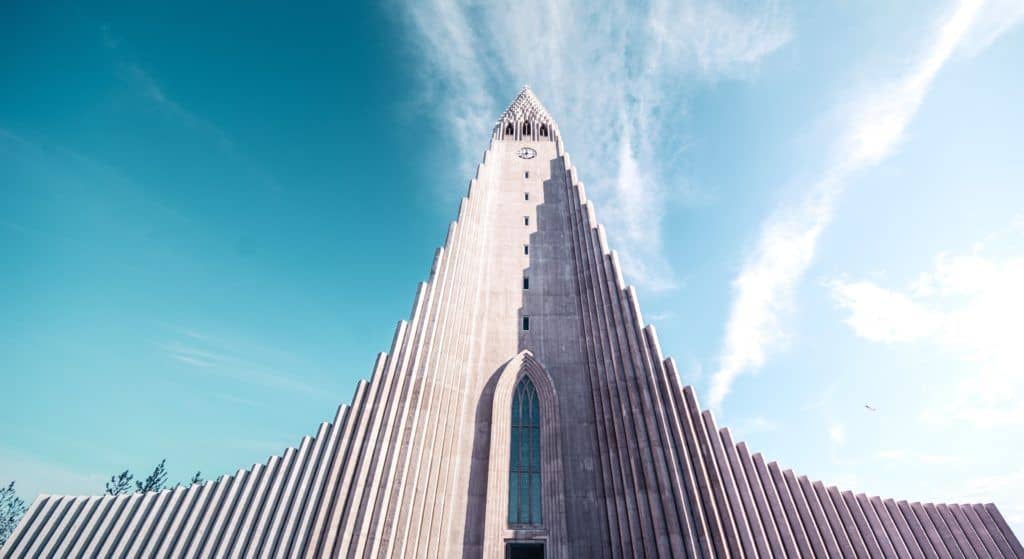 The Cost of Travel Insurance in Iceland
I'm all about ensuring that every single one of my readers understands the importance of travel insurance. When you work in the travel industry, as I do, you're inundated with news of destitute backpackers on GoFundMe who fell ill while travelling, didn't have travel insurance, and now can't afford the hundreds of thousands of dollars needed to be airlifted home for medical care. It happened to an old school friend of mine just this year. In short, if you can't afford travel insurance, you can't afford to travel.
Travel insurance will cover you if your flight is cancelled and you need to book a new one, if your luggage gets lost and you need to replace your belongings, if you suddenly get struck down by appendicitis and have to be hospitalised, or discover a family member has died while you're overseas and need to get home immediately. If you fall seriously ill, your insurance will cover the costs to fly you home to receive medical treatment.
I use SafetyWing as my travel insurance provider, and recommend them for trips to Iceland. They're one of the few companies out there who will actually cover you if you contract COVID-19. On top of that, they provide worldwide coverage, don't require you to have a return ticket, and even allow you to buy coverage after you've left home. Finally, they have a clear, easy-to-understand pricing structure, which is always appreciated. A two-week trip to Iceland costs $21 with SafetyWing.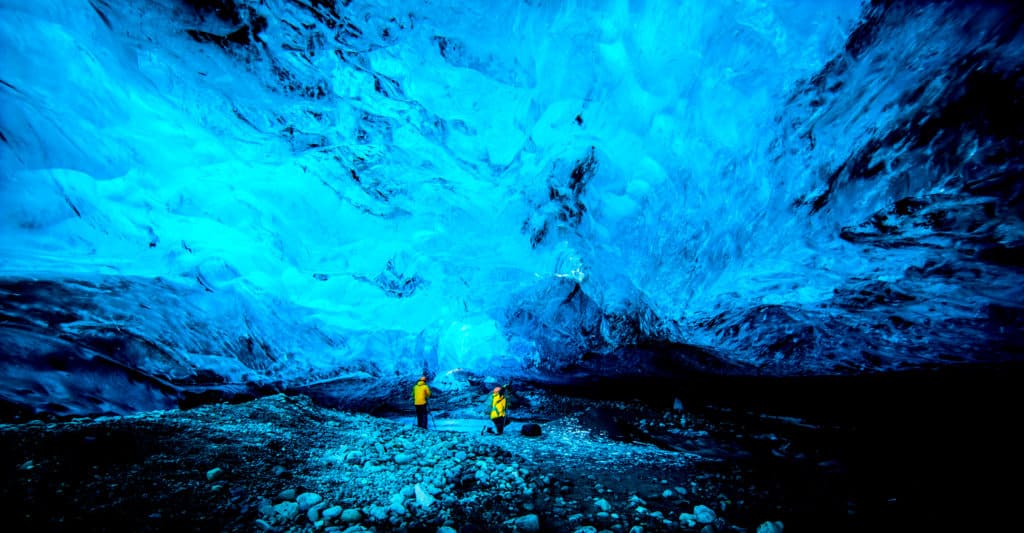 How Much Does it Cost to Travel in Iceland?
So how much can you expect to spend on an incredible trip to Iceland? At the end of these budget breakdowns, I always like to pore over my receipts, tally up my every expense, and tell you guys exactly how much my travel adventures cost.
A two-week long road-trip in Iceland, during which I was travelling on a mid-range budget and moving almost every day, came to the following:
Accommodation: €134 per day ($143/£115/19,500kr)
Transportation: €19 per day ($24/£17/3,000kr)
Food: €39 per day ($46/£33/6,000kr)
Activities: €20 per day ($24/£17/3,000kr)
Total amount spent per day: €212 per day.
That works out to: $226, £182, or 30,700kr per day.
Sure, it's not the most inexpensive vacation option out there, but I promise you that Iceland is so, so worth it.
So what do you think? Is Iceland more or less expensive than you expected? Have the prices put you off or made you all the more determined to get over there? And, as always, let me know if you have any questions and I'll reply to them all in the comments below!
Further Reading