Iceland is an incredible travel destination. A small nation located in the North Atlantic Ocean, Iceland is one of the most sparsely populated countries on earth. It has a population of just over 300,000 with the majority of inhabitants calling Reykjavik, the capital, home.
Iceland is a quirky and charming country. Outside of the capital, its seaside villages and towns are known for their colorful buildings, winding roads, and welcoming attitudes. But one of the things Iceland is most famous for is its dramatic and diverse landscapes. Travel throughout Iceland and you'll see some of the most breathtaking scenery on earth. From towering waterfalls and winding canyons to massive glaciers, black sand beaches, and hot springs around every turn, you'll never tire of staring off into the distance in Iceland.
If you're not sure what to include on your Iceland itinerary, you're in luck! I've done a lot of the work for you and have narrowed it down to the top 22 things to see, do, and experience in Iceland (with a few bonus things to do thrown in).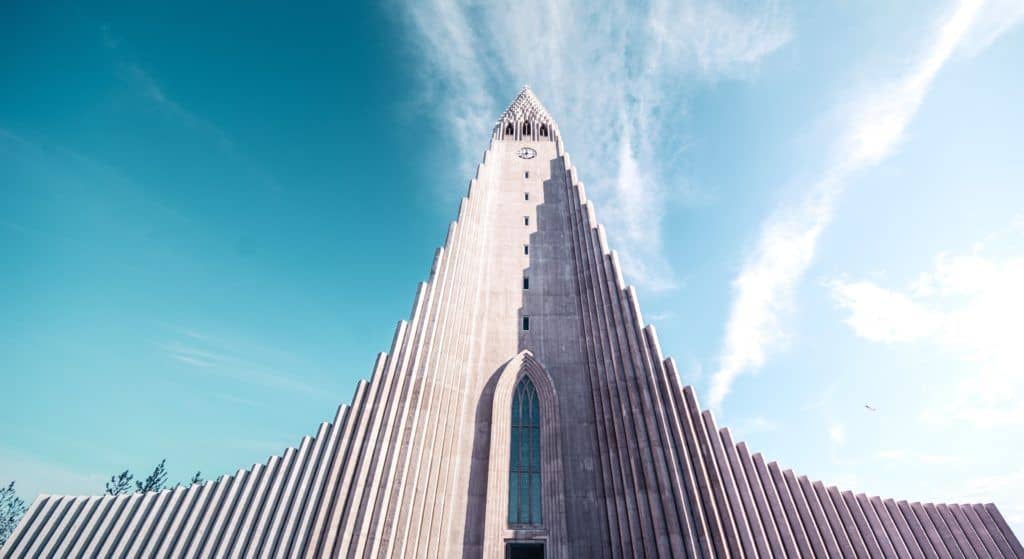 Explore Quirky, Cool Reykjavik
Reykjavik is one of the coolest cities in the world. It is the capital and largest city in Iceland and is home to approximately two-thirds of Iceland's population. A small city bursting with life and culture, Reykjavik is the place to go if you're looking for good shopping, a lively night out, and to experience some traditional Icelandic fare.
During the day, a must when in Reykjavik is a visit to marvel at Hallgrimskirkja. This spectacular church stands 244 feet tall and towers over the city. From almost every corner, you can see its distinct curved spire and side wings. For one of the best views in the city, climb to the top of the observation deck and stare out over the colorful houses and shops of Reykjavik.
Feeling a little peckish? Head over to Baejarins beztu pylsur! This hot dog stand is a staple of Reykjavik and has welcomed famous visitors from all over the world. Everyone from actors and musicians to former-US presidents have been seen stopping by this stand to see what the fuss is about
Cap off your day of sightseeing in Reykjavik with a stop at the Sun Voyager. This large steel sculpture is located on Reykjavik's waterfront. It is one of the most recognizable sculptures in the city thanks to its unique shape and amazing mountain backdrop.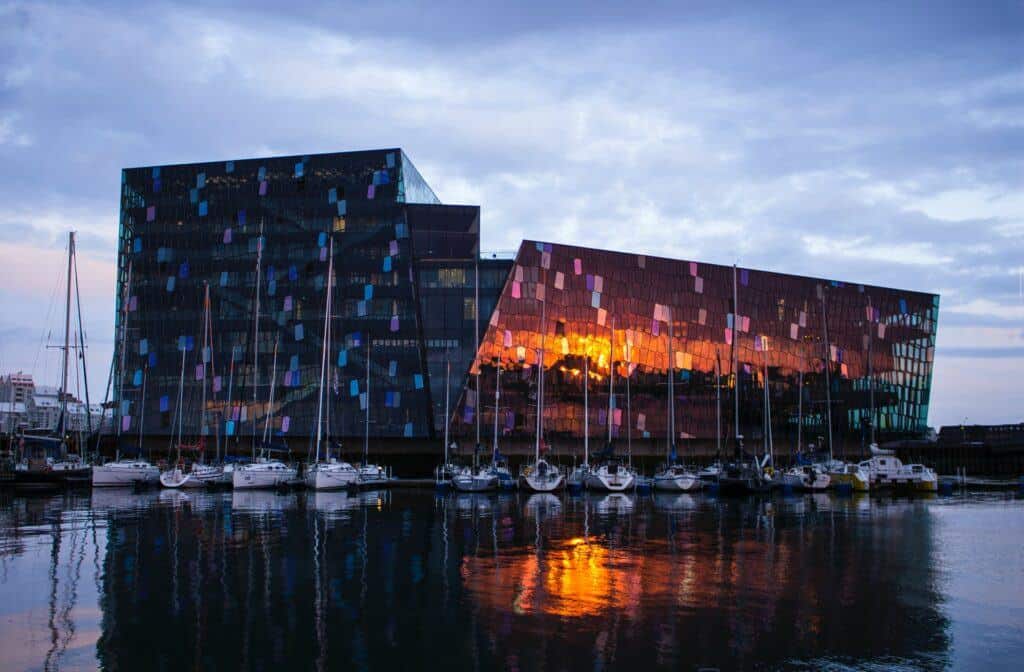 Go Out in Reykjavik
Yes, Reykjavik technically appears on this list twice. But, for a small city, Reykjavik is packed with fun, interesting and unique things to do.
To really experience Reykjavik, head out for a night on the town. The city has a vibrant and eclectic music scene and there are concerts hosted almost every night, including at Harpa, one of Reykjavik's most striking landmarks. While drinking and dining can be expensive, it's well worth it to experience this incredible capital after dark.
For a truly unique experience, I recommend a visit to Magic Ice Reykjavik. This art gallery meets bar is made of crystal-clear ice. Upon entering you'll be given a winter poncho and gloves to keep warm while you sip their signature cocktail.
Microbar, the first craft beer bar in the capital, is also a great option. This hip hideaway brews its own beer on-site and has a great selection of Icelandic and international labels available.
For a romantic night out, Snaps Bistro Bar is the answer. This downtown French bistro has a menu packed with high-quality wines and meals made with grade-A ingredients.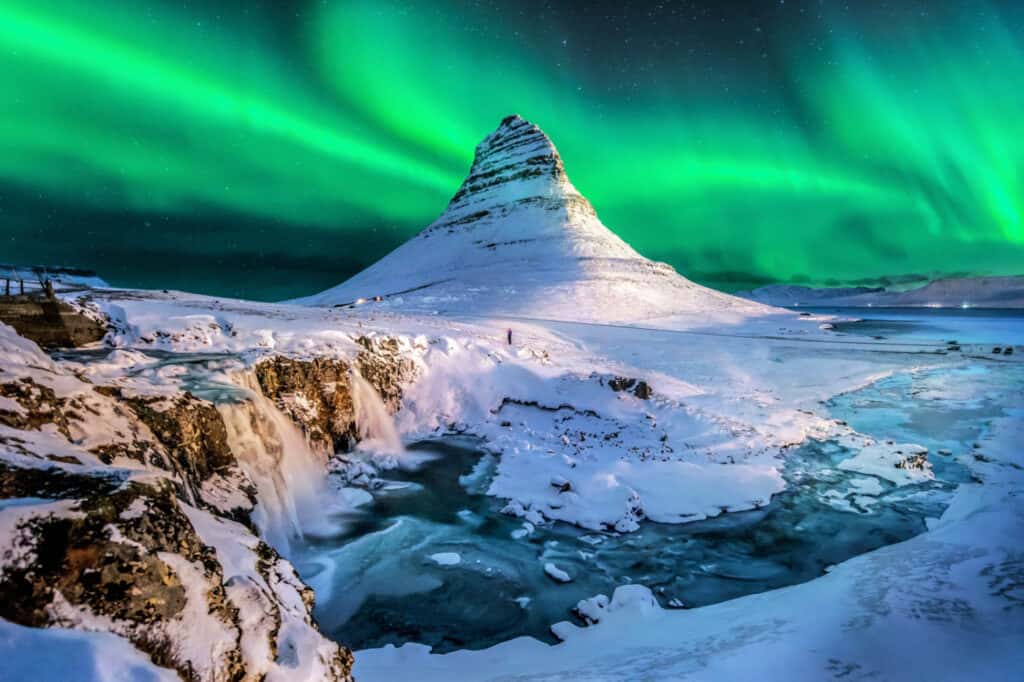 See the Northern Lights
In my opinion, no trip to Iceland is complete without seeing the Northern Lights or Aurora Borealis. When the conditions are right, these colorful ribbons of light dance across the skies putting on an incredible show. The best thing about chasing the Northern Lights is that they can be seen from almost anywhere – from the center of Reykjavik to the Icelandic Highlands. The lights are most visible between September and April when the nights are long, dark, and crystal clear. So, if you're visiting at that time of year, keep your fingers crossed and your eyes peeled for this magnificent natural wonder.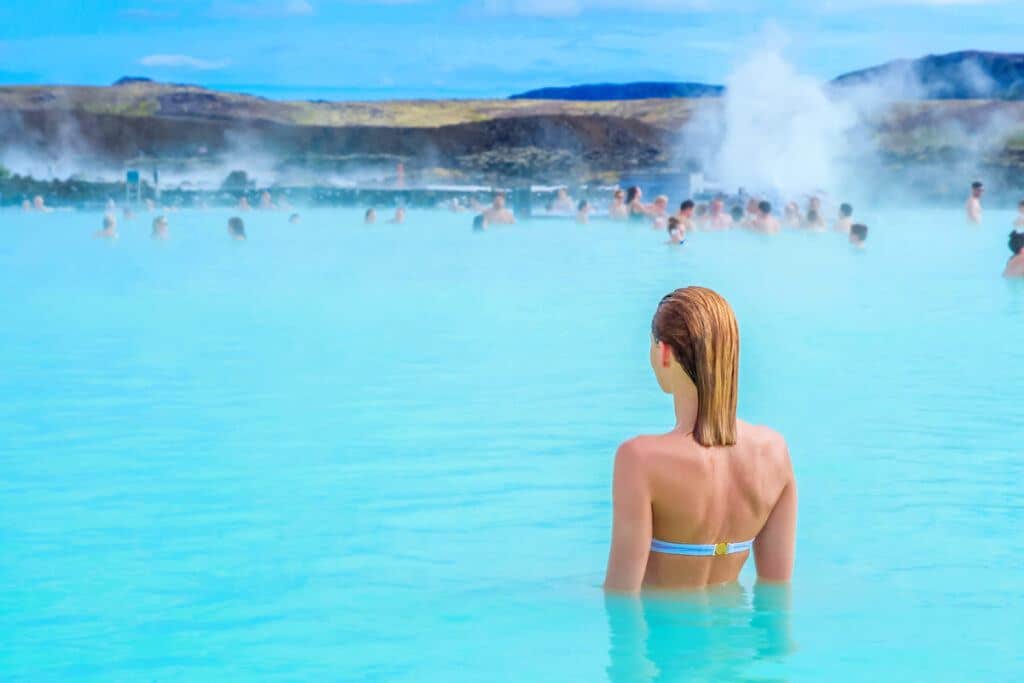 Relax in a Hot Spring
Another activity unique to Iceland that can be found throughout the country is hot springs! The country literally has geothermal energy seeping out of its cracks, and in almost every corner of this energy is being used to heat hot springs where you can rest and relax in warm Icelandic waters.
The most famous hot spring in Iceland is the Blue Lagoon. Located in Grindavik on the Reykjanes Peninsula, the Blue Lagoon is an outdoor pool, health center, and spa in the center of a lava field. Its milky blue waters are rich in minerals and great for your skin. A visit to the Blue Lagoon doesn't come cheap, but it is an experience you don't want to miss in Iceland.
Just outside of Reykjavik, but worlds away are the Reykjadalur hot springs. The definition of off-the-beaten-path, this Steam Valley is a 1.86-mile hike up and over hills and down through valleys. Once at the center, you can strip down to your bathing suit and soak in the stream, whose waters are the perfect warm temperature. Free to enjoy, the Reykjadalur hot springs are a must for adventure travelers looking to rest and relax away from the crowds.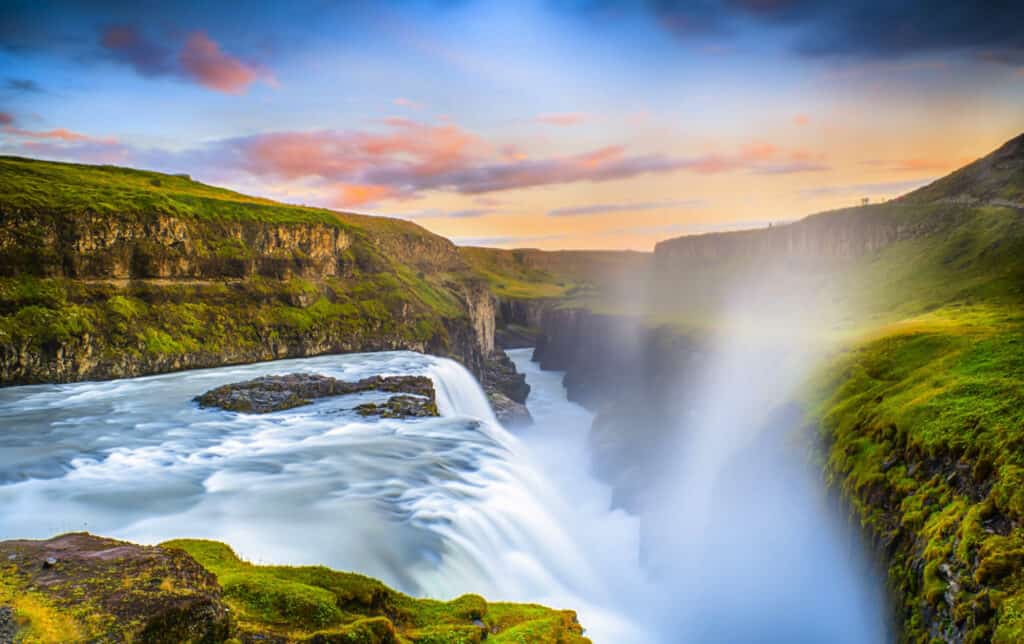 Drive the Golden Circle
The Golden Circle is one of the most popular things to do in Iceland. This 190-mile loop will take you from Reykjavik out into the southern part of Iceland to see three of the country's most popular natural attractions.
Your first stop on the tour is Thingvellir National Park. The only UNESCO World Heritage Site in Iceland proper, this spectacular park is one of the oldest in the country. It is approximately 93 square miles of dried magma fields with moss-covered rocks, waterfalls, craggy canyons, and winding paths. One of the most unique things about Thingvellir is Silfra, a giant fissure that separates the North American and Eurasian tectonic plates. This is the only place in the world where you can dive in and swim, snorkel, or scuba dive the crystal-clear waters between two continents.
Up next is Gullfoss, a 104-foot-high double waterfall that surges into the White River. A powerful sight, Gullfoss has one of the largest volumes of falls in all of Europe. Walk down the stairs and along the narrow path and stand next to the falls to see and feel just how powerful this natural wonder is.
The third stop on the Golden Circle Tour is Geysir. It is located within the Haukadalur Valley, home to a myriad of hot springs and geysers. Strokkur is the most famous because every 5-10 minutes it shoots a stream of boiling water up to 65 feet in the air. No matter how many times you see it happen, you won't be any less impressed by this incredible act of nature.
Officially, the Golden Circle includes the three main attractions listed above, but there's so much to see, if you have the time, including Kerid Crater, a small volcanic crater that you can walk around and into; Skalholt, a historic church; and the Helgufoss and Thorufoss waterfalls.
You can drive the Golden Circle on your own or join a tour. I recommend the Full-Day Golden Circle Tour with Kerid Crater because more is always better in Iceland.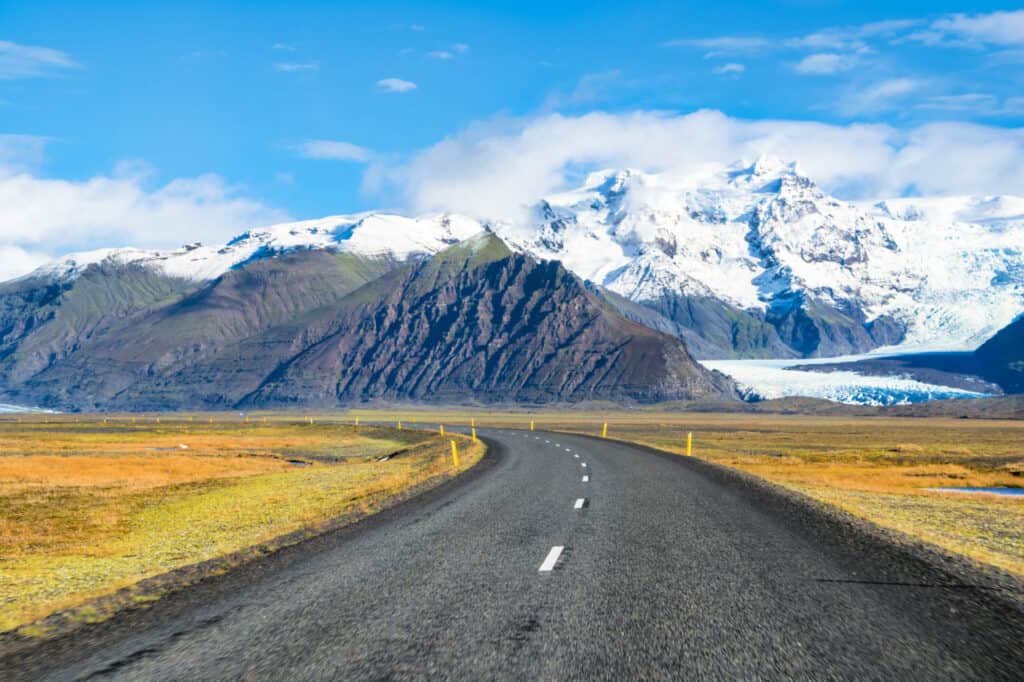 Go Even Bigger and Drive the Ring Road
If you've got the time and curiosity to see more of Iceland, the Ring Road is the perfect road trip for you! Officially called Route 1, the Ring Road is Iceland's main highway road. It is an 825-mile circuit that takes you along the coast of South Iceland, through the East, and around back to Reykjavik. The drive skirts around the Icelandic Highlands and doesn't include the North, but it will take you through some charming villages, past Iceland's most popular tourist attractions, and will show you breathtaking natural scenery.
The Ring Road can technically be driven in as little as 24 hours. But what's the point if you don't stop along the way? For the best and most enjoyable experience, I recommend you carve out a week to drive the route. This will give you ample opportunities to stop and explore. 
Many of the activities and attractions mentioned on this list can be reached via the Ring Road, so make sure you're taking notes as you go!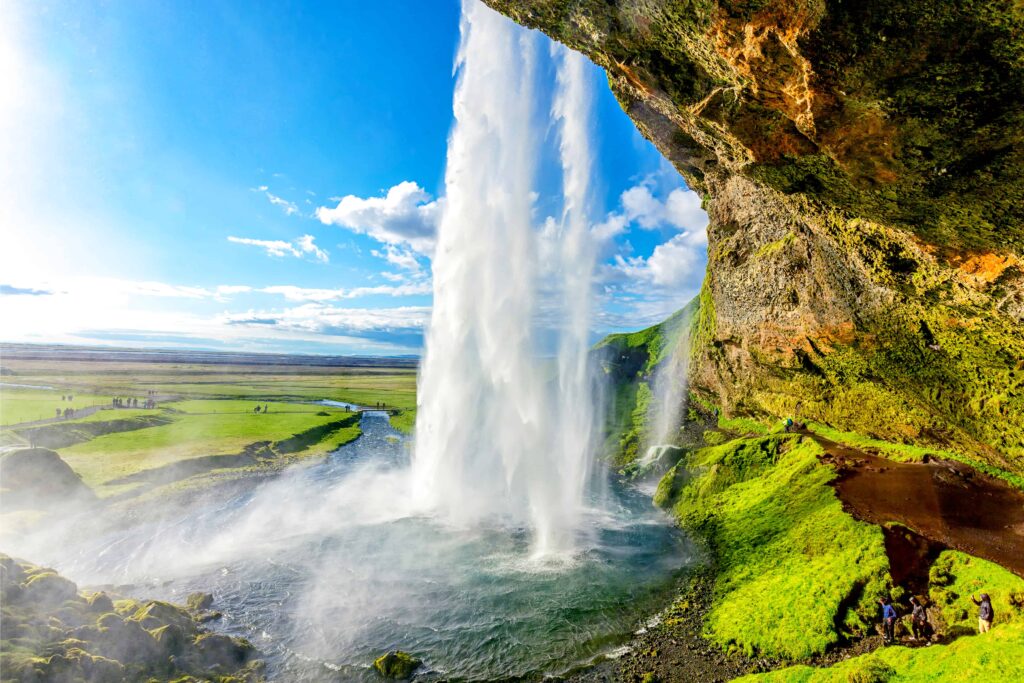 Walk Behind Seljalandsfoss
Seljalandsfoss is a spectacular waterfall located in South Iceland. Close to the Ring Road and the Golden Circle, this waterfall can easily be reached as part of a day trip from Reykjavik.
With a chute of water cascading nearly 200 feet down to a river, the Seljalandsfoss waterfall is an impressive attraction. But the best thing about this waterfall is that you can see it from all sides thanks to a pathway that circles the falls. Trek along the trail and you'll be able to walk behind the falls into a small cave carved into the cliff. From behind the falls, you can gaze out into the horizon. With the stark contrast between colors and the incredible views, it's no wonder that this waterfall is one of the most photographed attractions in Iceland.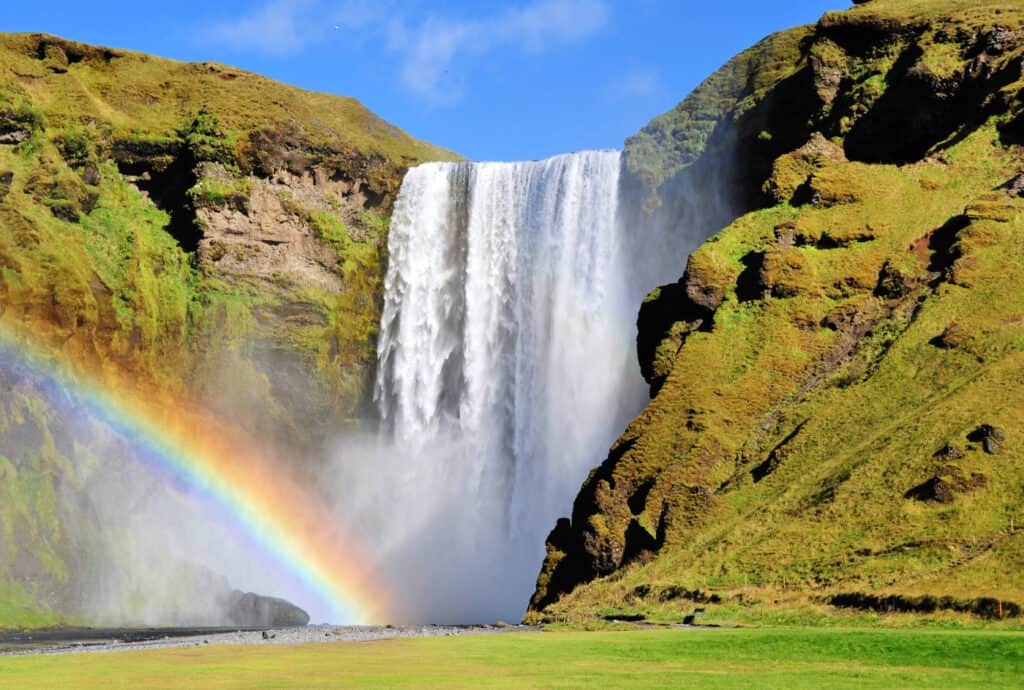 And Check Out Skogafoss
Another waterfall that is well-deserving of a place on your list is Skogafoss. Located in Southern Iceland, Skogafoss is one of the biggest waterfalls in the country. It stretches 82 feet across and has an impressive 200-foot drop. Not only is this waterfall powerful, but it has quite a magical element to it too. Thanks to the spray it generates, you'll be treated to at least one rainbow every time the sun shines.
Skogafoss is also a great destination for hikers. There's a trail that leads up the eastern side of the falls, giving you amazing views along the way. The trail also connects you with the famous Fimmvorduhals Hike which winds its way between the Eyjafjallajokull and Myrdalsjokull glaciers.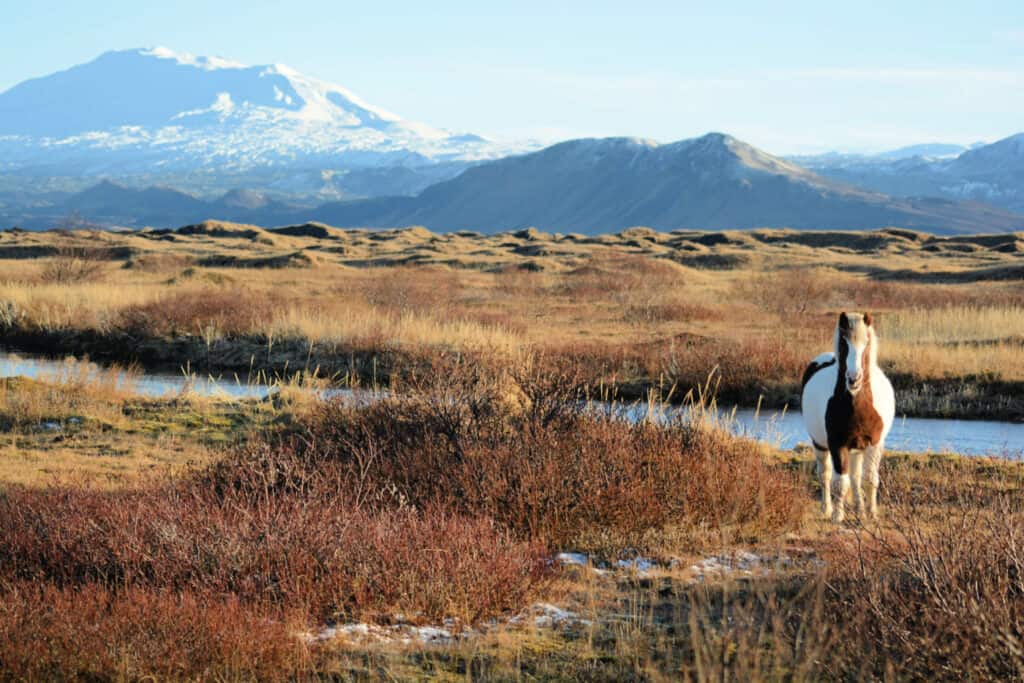 Marvel at Hekla
Less than 100 miles from Reykjavik is Hekla. A stratovolcano in Southern Iceland, Hekla is one of the most active volcanoes in the country. Since 874, this small but mighty volcano has erupted more than 20 times. And many scientists predict we're due for another! Based on different monitoring techniques, authorities believe Hekla has been ready to erupt since 2006. Resembling an overturned boat, Hekla is a beautiful natural attraction that deserves a photo or two.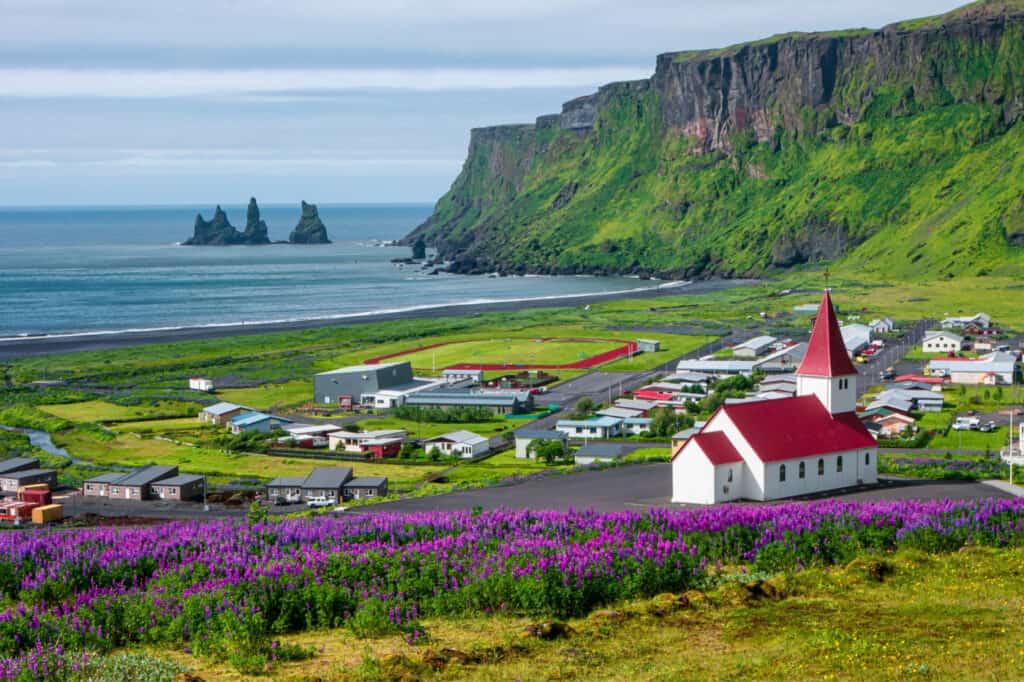 Visit Vik
Vik is a small town located in Southern Iceland. It is a remote seaside village that is more than 30 miles from the closest town. A slight detour off the Ring Road or Golden Circle, Vik is a charming destination known for its intense black sand beach, Reynisfjara, towering waterfalls, relaxing hot springs, and a myriad of birds and wildlife.
Vikurkirkja Church is the most popular attraction in Vik. It was built in 1934 and sits atop a vibrant green hill with craggy mountains in the background. 
Vik is also home to Dyrholaey, a rocky peninsula that juts out into the sea and offers magnificent views of the coast and beyond.
For an adrenaline-pumping adventure, Myrdalsjokull Glacier covers an area of nearly 370 miles and is a popular attraction for walking, climbing, and sledding in winter.
Visit Vik on your own or join a guided tour to make the most of your limited time in Southern Iceland.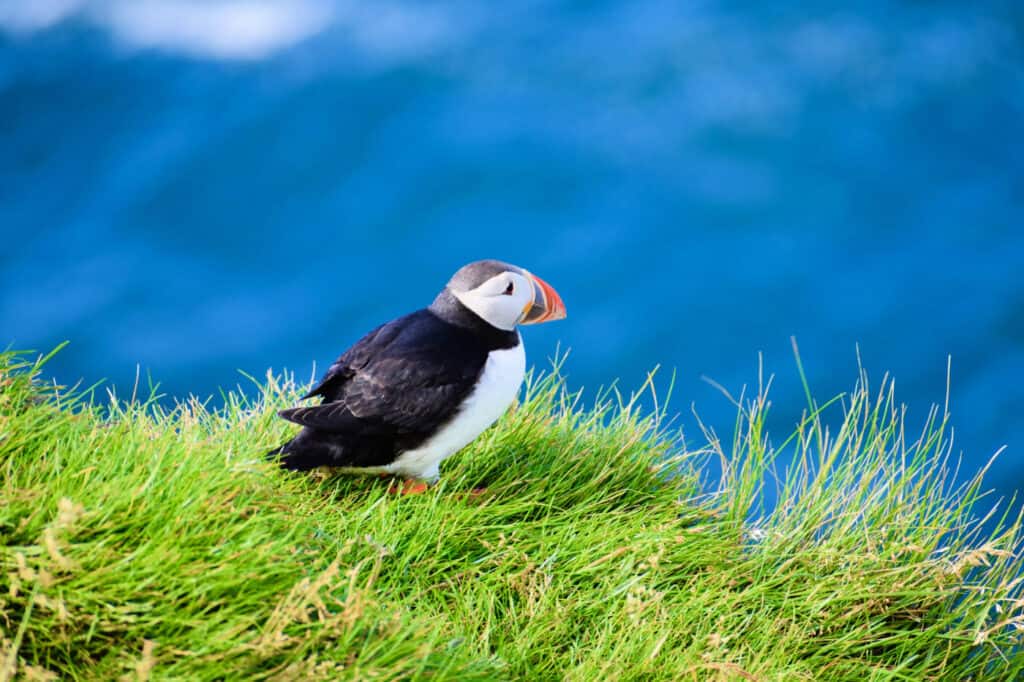 See the Puffins on Heimaey Island
Iceland is one of the few places where you can see puffins in the wild. Located off the southern coast of Iceland, Heimaey Island is the largest and most populated island in the Vestmannaeyjar archipelago. It measures just 5.2 square miles and is home to a population of 4,414 people and about 8 MILLION puffins. These colorful birds flock to Heimaey Island every summer and can be found covering almost every inch of its coast. Whether you choose to explore the island on foot or cruise around by ferry, you're guaranteed to see these unique critters.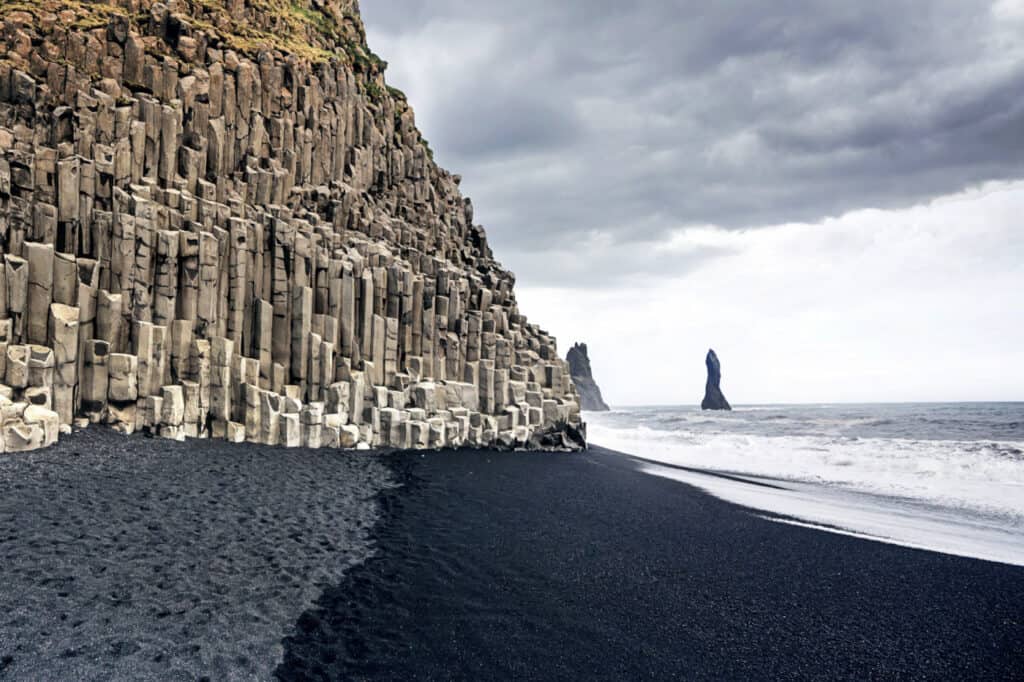 Walk on the Black Sand Beaches
Iceland's beaches are unlike anywhere else in the world. Instead of golden sands, many of its shores are covered with inky dark sand and pebbles, giving them an otherworldly feel.
The most popular black sand beach in Iceland is Reynisfjara Beach near Vik. Thanks to the bright white waves that crash into the black sands, pushing spray up the basalt column cliff, Reynisfjara Beach was ranked one of the 10 most beautiful non-tropical beaches in the world. Beautiful, yes, but take care when exploring Reynisfjara Beach. This black sand beauty has "sneaker waves" that come out of nowhere and have been known to sweep unsuspecting explorers out to sea.
Djupalon Beach is another dramatic black sand beach that is not to be missed. It is located on the Snaefellsnes Peninsula in Western Iceland and has many brackish pools and rock formations, including the famous rock arch Gatklettur, which you can explore. You'll feel like you've stepped out of this world and into a lava wonderland while visiting this stunning black pebble beach.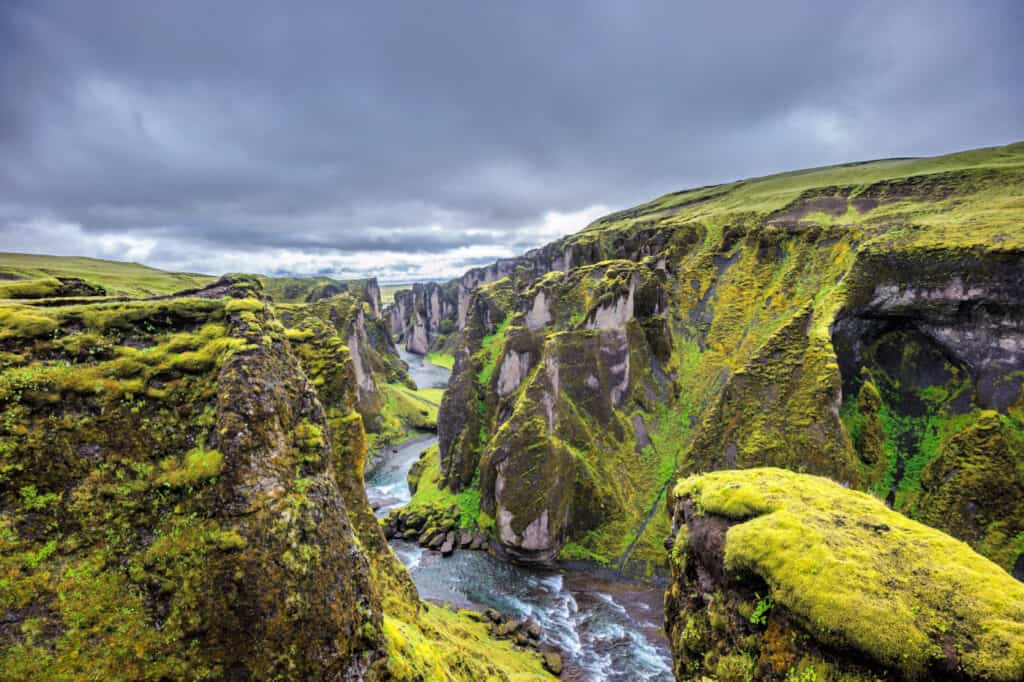 Hike Fjadrargljufur Canyon
If you're into hiking, a visit to Fjadrarfljufur is a must! This deep canyon is in Southern Iceland. Its walls stand 328 feet tall and this twisting and turning canyon stretches 1.24 miles. For the most incredible views, hike the path from the parking lot that leads you to the top of the canyon. Along the way, there are several viewpoints where you can stop, snap a photo, and marvel at the canyon's amazing beauty.
If you're looking for a bit more of an adventure, you can hike the bottom of the canyon. This route isn't for the faint of heart. It'll require you to navigate streams and cross uneven terrain. Whether you choose to see the canyon from above or below, you'll be in for an amazing experience.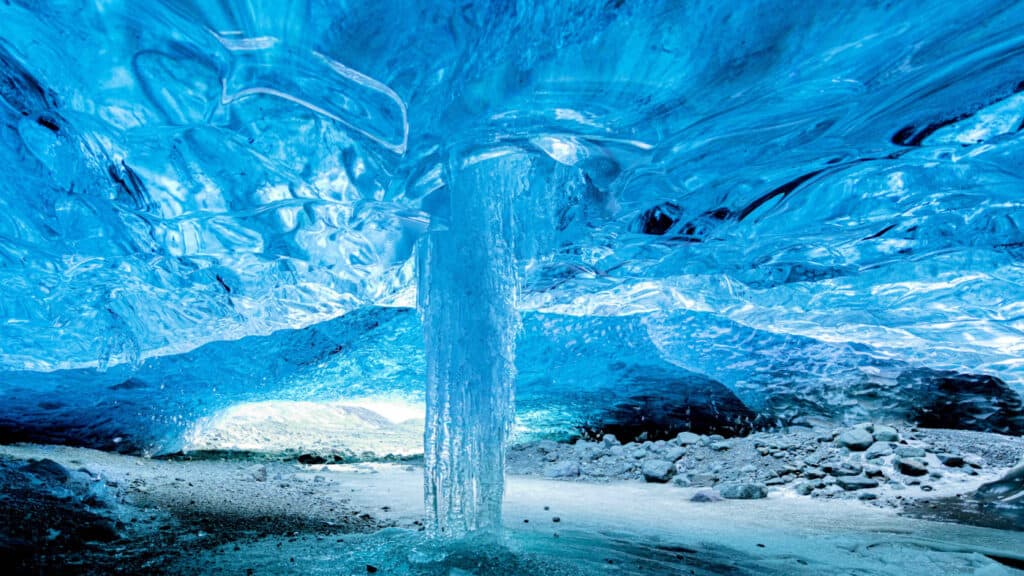 Visit Vatnajokull National Park
I don't know about you, but when I was in Iceland, I couldn't get over just how beautiful the natural scenery was. From the waterfalls and beaches to the mountains and valleys, everywhere I looked the views were breathtaking. And the same can be said for Vatnajokull National Park.
Vatnajokull is the second largest national park in Europe. It stretches 5,460 square miles in Southern and Eastern Iceland and covers 14% of the country. Established in 2008, the park is home to many great natural attractions that I promise you won't want to miss. Vatnajokull Glacier is the second largest glacier in Europe with an average ice thickness of 1,250 feet. The glacier itself is incredible, but I highly recommend you join a guided tour and explore the icy blue caves that run beneath the surface. 
Back above ground, the Jokulsarlon Glacier Lagoon is a must. It is the largest glacial lake in southeastern Iceland and is famous for the small icebergs that float along the water's surface. For a truly magical experience, I recommend that you take a boat tour and cruise in and around these ever-changing natural sculptures.
At Diamond Beach, large chunks of glistening ice wash up on the shores giving it the illusion that the sand is dotted with diamonds. Against the backdrop of the black sand, these ice formations shine bright giving you the feeling that you're walking through a magical wonderland.
Vatnajokull National Park is also home to Dettifoss, the largest waterfall in Iceland. Dettifoss is said to be one of the most powerful waterfalls in Europe with a tremendous cascade of water that crashes at 6,186 cubic feet per second. Whether you choose to pop by for a pic or hike the loop around the falls, a detour to Dettifoss is well worth the effort.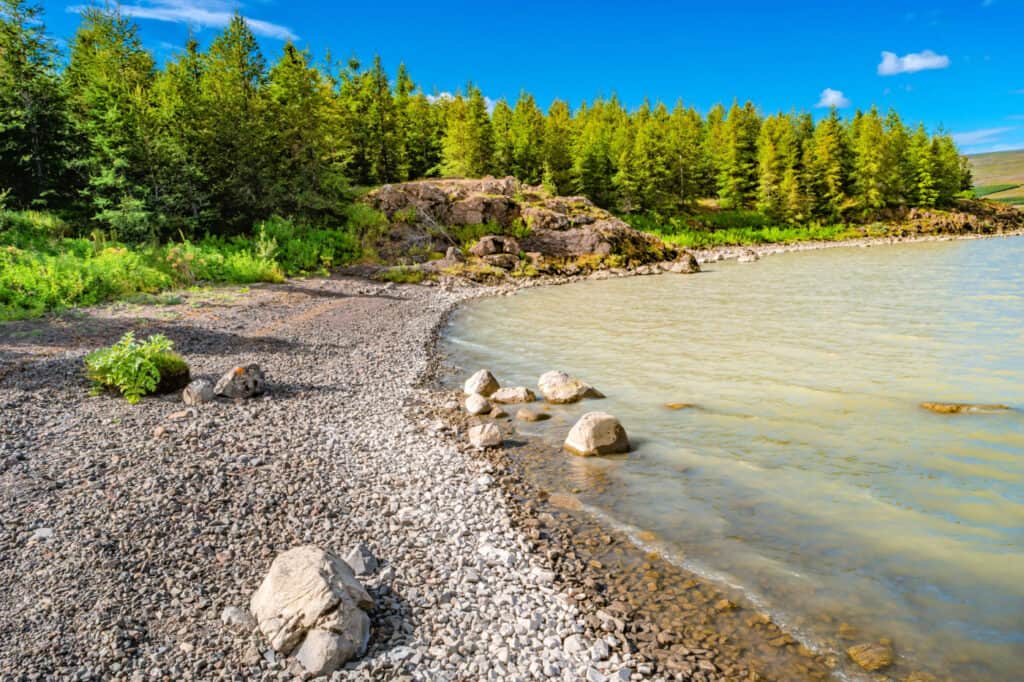 Visit Eastfjords
Eastern Iceland is one of the most overlooked and underrated areas of the country. But making the trek out to this remote wonderland is well worth the effort.
The Eastfjords are a 75-mile stretch of coastline that runs along eastern Iceland. The area covers approx. 8,773 square miles but is home to just 3.2% of the population. This part of the country is bursting with charm thanks to its colorful fishing villages, fantastic natural scenery, and unique wildlife.
Eglisstadir is the largest city and unofficial capital of the area. It's where you'll find restaurants, museums, shops, and hotels, as well as petrol stations and grocery stores. Hikers, bikers, and outdoor enthusiasts flock to the area to explore Hallormsstadarskogur, Iceland's largest forest, and Lake Lagarfljot.
Another popular Eastfjords destination is Seydisfjordur. This small community is connected to mainland Europe and the Faroe Islands via ferry. This fishing village was the setting for the Icelandic Nordic Noir thriller, Trapped, and is rich in natural beauty. 
Explore Myvatn
Myvatn is a stunning lake in North Iceland. Not far from Akureyri, it is the fourth largest lake in the country and is famous for its robust bird population. More than 115 species of birds call the area home, making it a must for bird watchers and nature enthusiasts.
Aside from marveling at the amazing views, one of the best things to do near Myvatn is to visit the Myvatn Nature Baths. This natural spa, which is considered a northern equivalent to the Blue Lagoon, consists of three natural steam baths and a geothermal bathing pool that ranges in temperature between 38-40C. There's no more relaxing way to spend the day than by soaking in the scenery in Myvatn Nature Baths.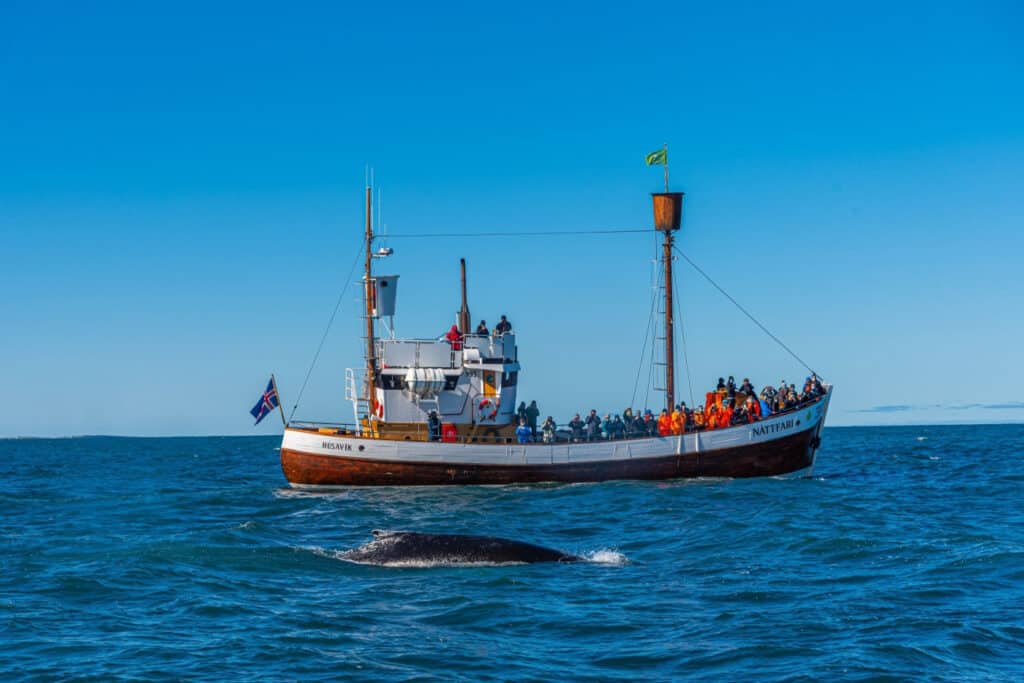 Go Whale Watching in Husavik
Yes, that's right. The town from the epic film Eurovision Song Contest: The Story of Fire Saga is a real place! Located in North Iceland, Husavik is home to approximately 2,500 people. It is a small town that can easily be explored on foot, and it has a good number of charming restaurants, shops, and cafes.
Husavik is the whale-watching capital of Iceland. In the summer months, there is a 95% chance that you'll spot at least one type of whale swimming in the cold arctic waters off the coast. With 23 species, including blue, humpback, fin, and minke whales calling the Icelandic waters home, you'll want to keep your eyes peeled and your camera handy when heading out on the open ocean.
Back on dry land, you can learn more about the local whale and dolphin populations by visiting the Husavik Whale Museum. Located near the harbor in the town center, the Husavik Whale Museum is dedicated completely to these massive and majestic mammals. Browse through their exhibits and you'll learn all about these creatures, their habits, and why they call this cold paradise home.
The Geosea Sea Baths are a unique feature only found in Husavik. Warmed by underground heat, these seaside pools are the perfect place to recharge after a day of exploring. You'll absolutely adore lounging in these warm and mineral-rich seawater pools as you gaze out at the midnight sun or northern lights.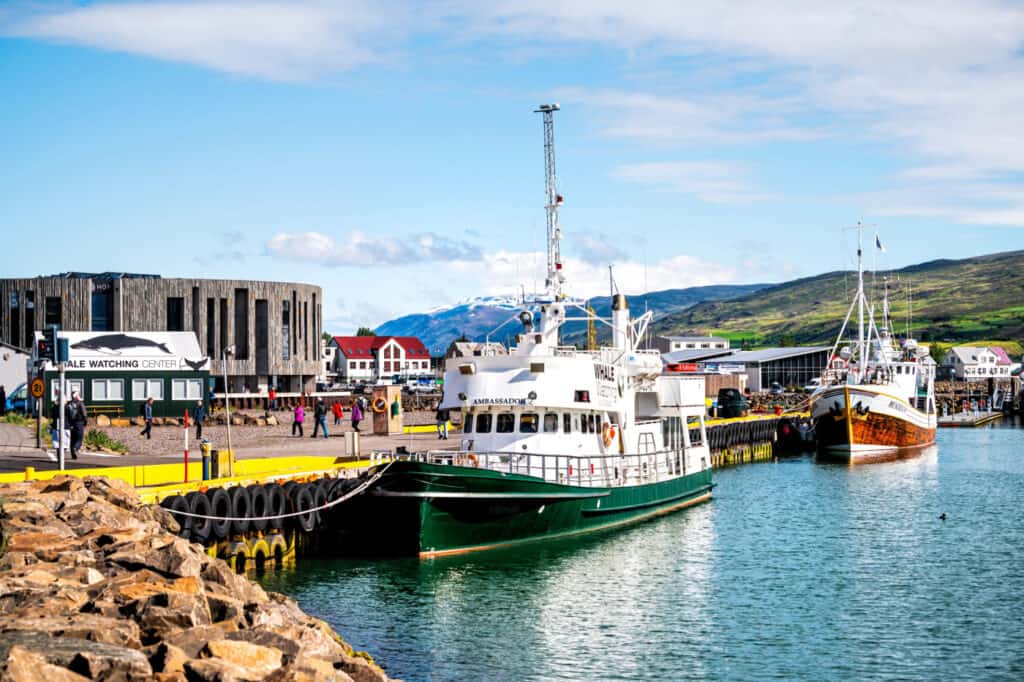 Visit Akureyri
Akureyri is a picturesque seaside town located in North Iceland. It is the largest town outside of the southwest region and is considered the unofficial capital of the north. Tucked away near fjords, Akureyri is a charming village known for its colorful and eclectic buildings, its winding streets, and its welcoming vibes.
Hafnarstraeti is the main shopping street in Akureyri. It is the perfect place to pick up a souvenir or find the ideal Icelandic sweater to take home with you.
I'd also recommend you explore Listagilid. Known as the art canyon, Listagilid is where you'll find delightful arts and crafts shops, and a myriad of unique and interesting galleries.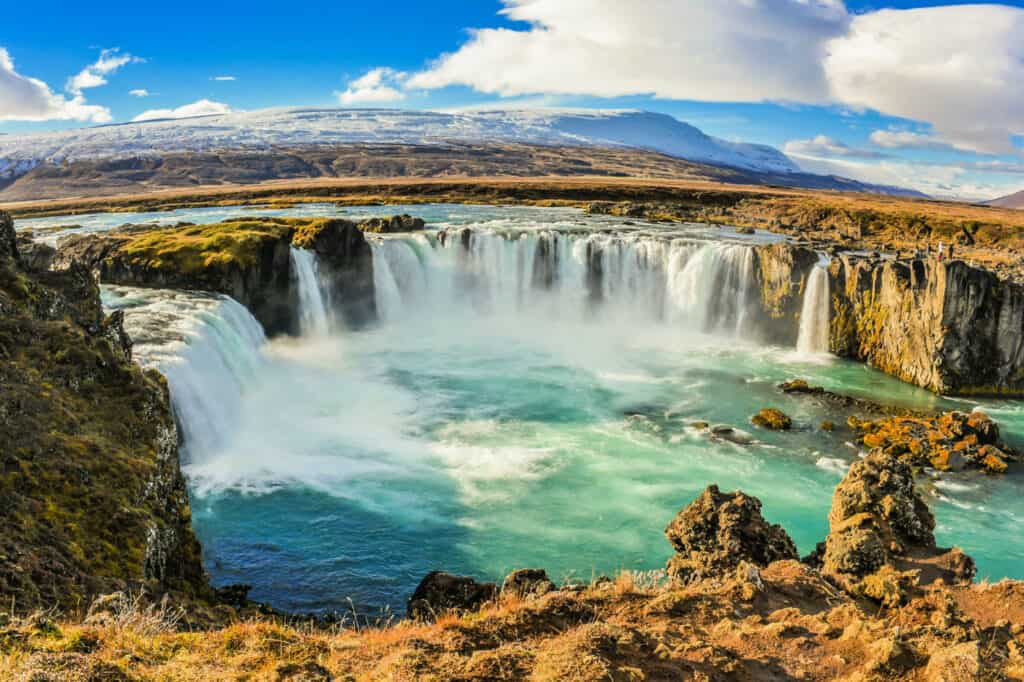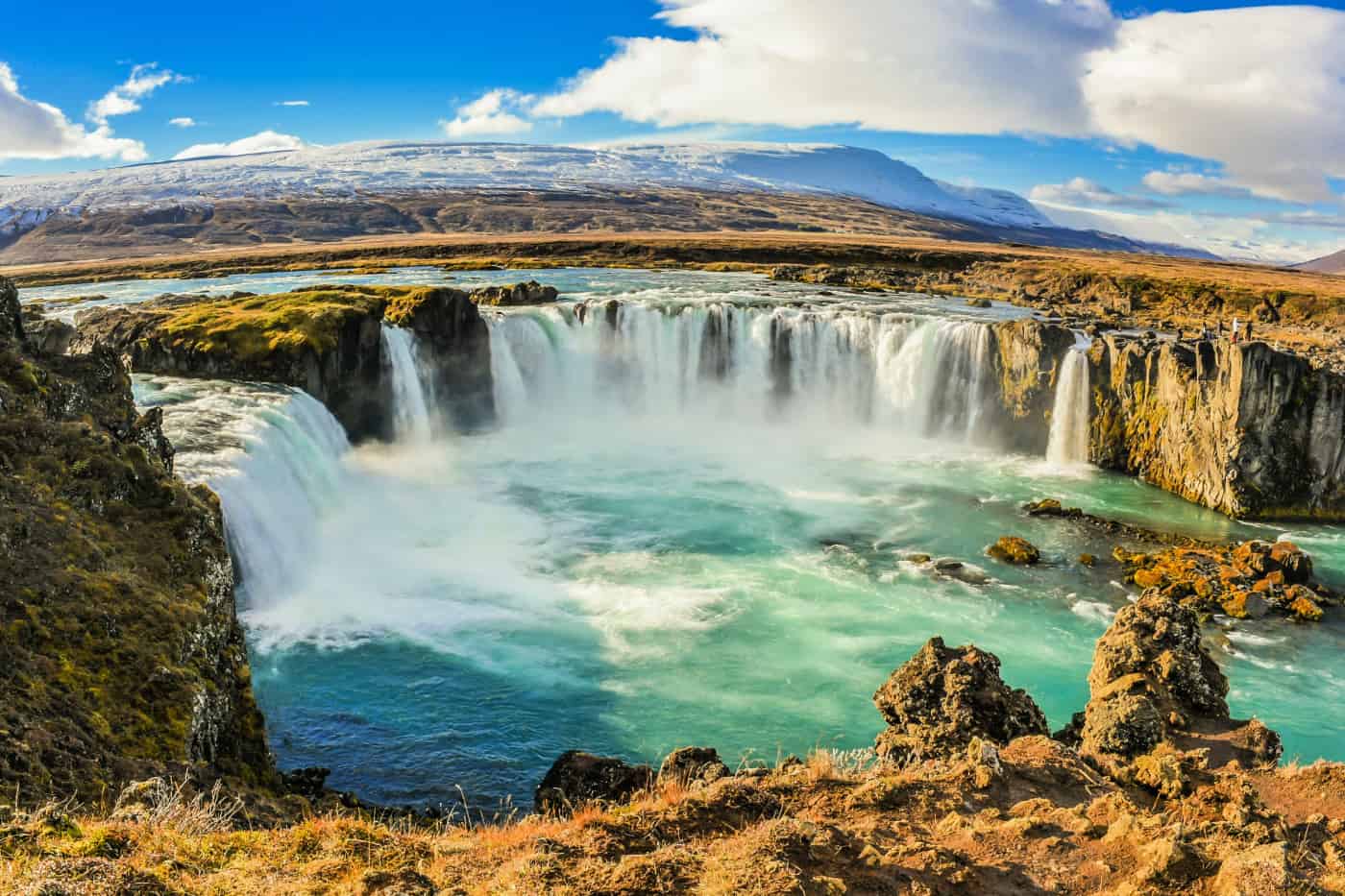 See Godafoss
Another day, another waterfall. Honestly, seeing the different waterfalls across Iceland was one of the best parts of my trip. No two were the same and each was just as (if not more) spectacular than the last.
Godafoss is the fourth largest waterfall in Iceland. It stands 39 feet tall and stretches an insane 98 feet wide. If looking at the waterfall isn't enough for you, there's a 1.8-mile hiking look that takes you around the waterfall area and lets you get up close and personal with this magnificent beauty.
Hike the Highlands of Iceland
The Icelandic Highlands is one of the largest and most overlooked areas in the country. They extend more than 15,000 square miles and touch nearly every region. Almost completely uninhabited, the Highlands of Iceland is a great place to visit if you're looking to get away from the crowds and enjoy relaxing silence while being surrounded by unbearable beauty.
A must-see sight in the highlands is Thorsmork, a nature reserve characterized by its strange landscapes and unique flora and fauna. It is a first-rate hiking destination and there are many marked and unmarked trails snaking throughout.
Landmannalaugher is a geothermal area that is next to a lava field. It is surrounded by colorful striped cliffs and mountains and is unlike anywhere else in Iceland.
Hveradalir is one of the largest geothermal areas in the country. Marked and unmarked trails cross this hot spring valley, which shows off the area's incredible arctic vegetation. 
Visit the Westfjords
Drive all the way west and you'll find yourself in the amazing Westfjords. This area is often overlooked in favor of more famous regions, but it offers just as much in terms of dramatic natural scenery. From mountains and waterfalls to hot springs and coastlines, the Westfjords has an abundance of things to see, do, and experience.
Hornstrandir Nature Reserve is one of the least populated areas in Iceland, outside of the Highlands. It is a magnificent nature reserve where you'll find colorful flora, rich fauna, cute creatures like the Arctic fox, a variety of birds, as well as seals.
Need more waterfalls on your list? Dynjandi is a hidden gem in the Westfjords. It stands approximately 328 feet tall and its waters cascade down a series of steps along the cliff face. The contrast of the bright white water next to the black rocks and green moss makes it a truly stunning sight.
Another Westfjords must-see is Raudasandur beach. Located just beneath the Latrabjard bird-watching cliffs, this beach is unlike any other in Iceland. Depending on the conditions, its sands appear to be bright colors ranging from red and orange to pink and gold. This is the perfect place to stop for lunch, even if it is a little off the beaten path.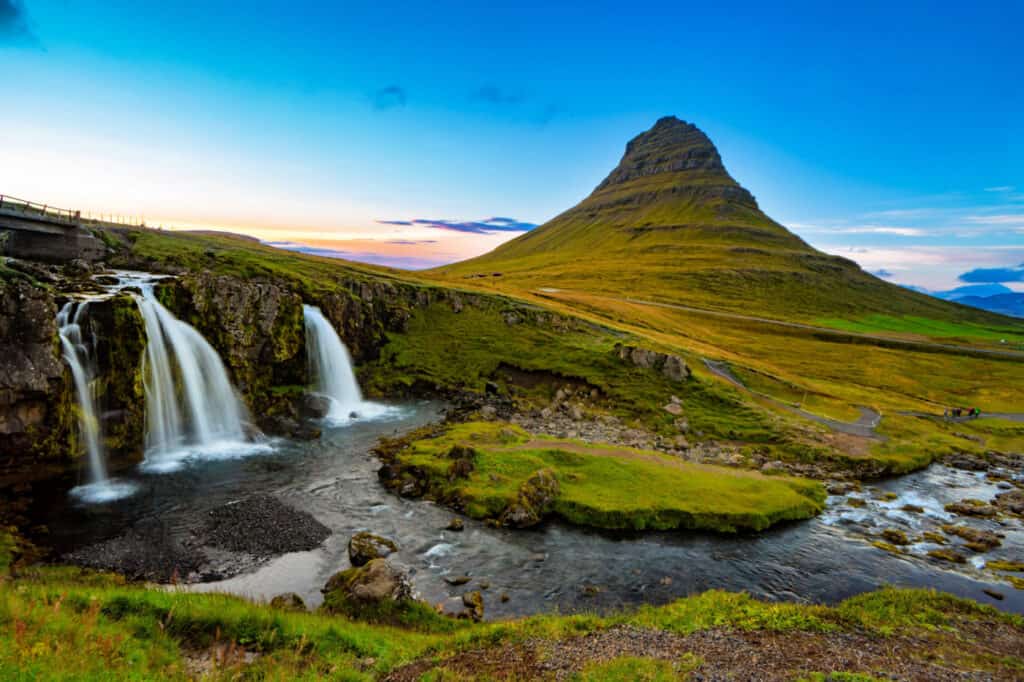 Explore the Snaefellsnes Peninsula
The Snaefellsnes Peninsula is in Western Iceland, 97 miles north of Reykjavik. It can be visited as part of a grand Iceland Ring Road adventure or can be reached in as little as two hours as part of a day trip from the capital. The Snaefellsnes Peninsula is often known as Iceland in miniature because it's where you can see volcanoes, glaciers, lava fields, waterfalls, beaches, and charming villages all in one go. It is a great option if you're short on time and want to see all the amazing natural attractions that Iceland has to offer.
Kirkjufell is arguably the most famous attraction on the Peninsula. This arrow-shaped mountain was featured in an episode of Game of Thrones, and since then it has been wowing visitors with its striking natural beauty. Standing 1,519 feet tall, Kirkjufell is a popular stop for photographers who love to capture the mountain with the northern lights or midnight sun illuminating the background.
Across the street from Kirkjufell is Kirkjufellsfoss. This small waterfall cascades down a hillside across two tiers. Not the most impressive waterfall in Iceland, but one of the things I liked most about Kirkjufellsfoss was that you could walk up and down each side and even walk across the top, giving you a real appreciation for its power and beauty. Kirkjufellsfoss is also where you can get that truly iconic photo of Kirkjufell mountain. Stand on the far side of the falls and you'll be able to get a spectacular shot of the waterfalls in the foreground with the mountain towering behind.
Snaefellsjokull is the third of the three national parks in Iceland. It covers roughly 65 square miles and is home to the 7,000-year-old Snaefellsjokull glacier volcano. The volcano stands 4,744 feet tall and can be seen from as far away as Reykjavik on a clear day. The natural beauty found in this park has been inspiring writers, artists, and creatives for hundreds of years, so you know it's well worth a place on your Iceland itinerary.