More than anywhere I've visited on my travels, the Cook Islands meets my definition of paradise. And yes, that's including the Maldives! Honestly, guys, I don't know if I'll ever visit anywhere as breathtakingly beautiful as Aitutaki.
The entire country is gorgeous. Rarotonga and Aitutaki are stunning, ringed by turquoise lagoons and swaying palm trees, offering little to do but relax. It's quiet in the Cook Islands, and everything happens slowly. Island time is definitely a thing here. No matter where I went, I found that the locals were so welcoming and friendly, greeting me with hugs and always putting in the effort to get to know me better. And you know what, it's really easy to visit on a budget.
Here's how I did it.
How to Find Cheap Flights to the Cook Islands
My Australian and Kiwi readers are in luck: flights to Rarotonga from major Australia and New Zealand airports are pretty affordable at around $200 for a one-way ticket; $400 return.
I paid $200 for a one-way ticket from Auckland to Rarotonga with Jetstar.
If you're currently bumming around Southeast Asia, hitting up the Cook Islands won't break the bank, either. You'll be looking at around $200 to get to Australia, bringing your total to $400 for a one-way ticket to paradise. Flexibility is key here; if you don't mind when you fly, who you fly with, or on what date, you'll find it far easier to pick up a bargain.
Furthermore, if you're planning on taking a round-the-world trip, you should be able to work the Cook Islands into your itinerary without a problem. Roughly 95% of the backpackers I met in the Cook Islands were there as part of their round-the-world ticket, so it's definitely a popular stopover.
For the rest of the world, I recommend hitting up Skyscanner and Adioso to find the cheapest flights to Rarotonga.
Plan to Spend Your Trip as Offline as Possible
Free Wi-Fi does not exist in the Cook Islands, so I really do recommend planning to spend the vast majority of your time in the country offline. If you have to be online, you'll have to either opt for the despicable Zenbu, who charges $15 per 100 mb, or Bluesky, who are just as bad. Every restaurant, cafe, and guesthouse uses one of those two providers. Most of the connections are barely usable, and if you can get online, prepare for speeds to be slow. You can pick up a local SIM card for $25, but data rates still start at $10 per 100 mb.
Visiting Rarotonga on a Budget
I was surprised by how easy it is to visit Rarotonga on a budget. Hostels exist, public buses are cheap, you can find street food, and tours aren't crazy-expensive. You really don't have to work all that hard to save money.
Accommodation Options
Let's take a look at a map of Rarotonga.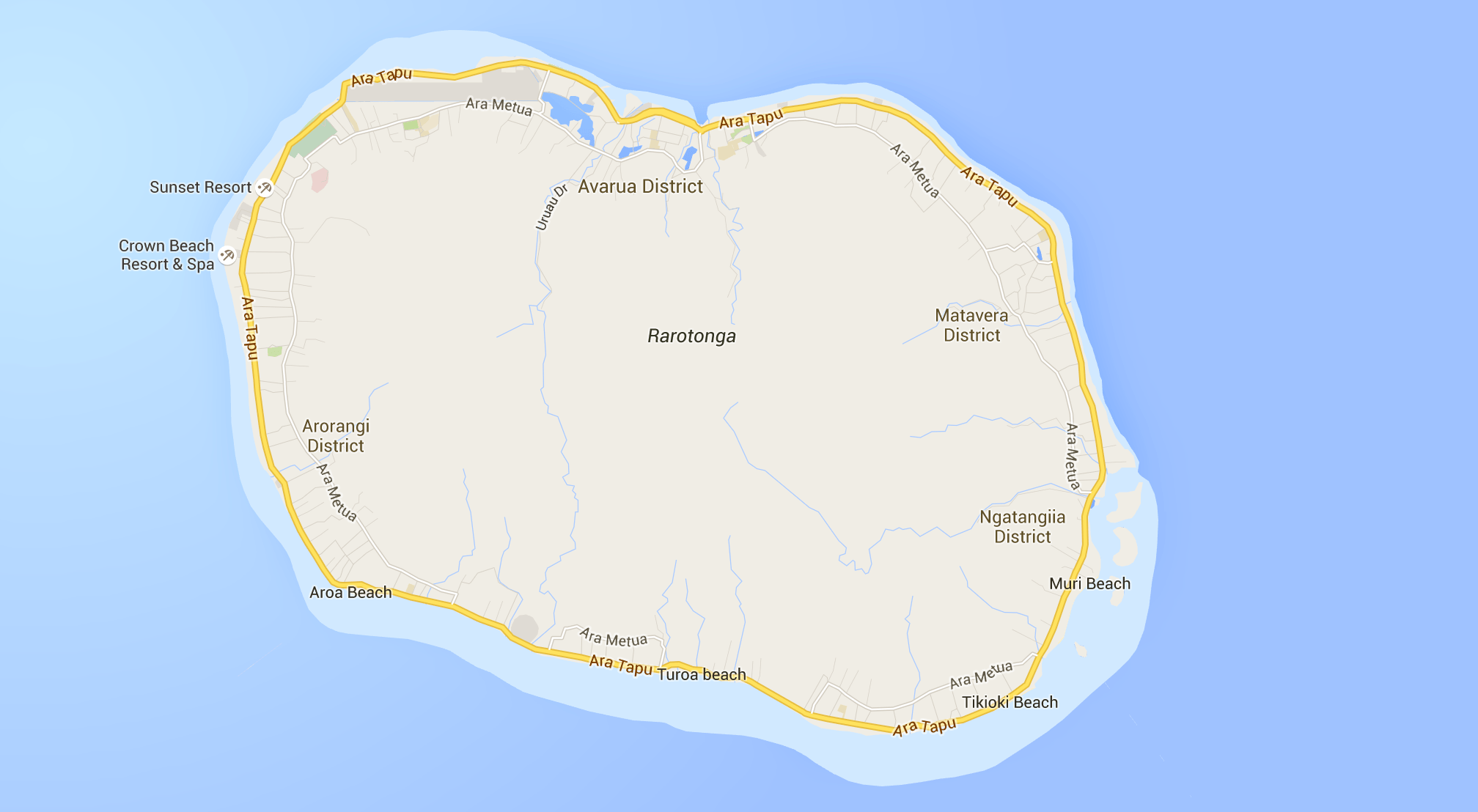 When it comes to accommodation, if you want to visit Rarotonga on as tight a budget as possible, your best option is to stay in a hostel: I was thrilled to discover that there are several on the island! The cheapest ones are found in the Arorangi District, in the southwest, where the beaches are nice, but there isn't a whole lot else there. In comparison, Avarua, in the north, is the capital city and has tons to do, and Muri Beach, in the southeast, has the best beaches on the island. You're far from both, so will have to take a bus or hire a scooter to get to either of them.
I stayed at Rarotonga Backpackers, which cost $25/night for a dorm and $35 for a private single room (all prices in the article are USD). The staff were fun, it was easy to meet people and make friends, and there was a nice swimming pool, barbecue, and a gorgeous beach out the back. I thought it was great value for money!
As an alternative, Backpackers International is by far the cheapest hostel on the island, with dorms coming in at $14.50 a night and private rooms at $32/night for a double.
For my second stint in Rarotonga, I opted to stay at Raina Beach Apartments in Muri and loved it, although it was much pricier at almost 60 USD a night. Muri is the most expensive area in Rarotonga and this was one of the cheapest places I could find. Having said that, my apartment was *huge*, with an enormous balcony overlooking the lagoon, a fully-equipped kitchen, and plenty of space to work from, so it didn't feel like I was being ripped off. It was in a great location, had lovely staff, and plenty of cheap eats nearby: it was great! If I'd been travelling with somebody else to split the costs with, I'd have happily stayed here the entire time.
Getting Around the Island
As you can tell from the Google Maps screenshot above, Rarotonga only really has one major road, a loop that traces the coastline for 20 miles, so walking everywhere isn't a possibility. Taxis are expensive and there are only a few on the island; I didn't see a single one while I was there.
The cheapest way to explore Rarotonga, then, is by bus. There are three buses in the entire country[!], and in Rarotonga, one of them runs clockwise and the other anti-clockwise. A single ticket is $3.40 or you can buy 10 rides for just over $20. The rides are transferrable so it's worth getting 10 of them and sharing them around if you won't be around for long enough to use them all.
I also recommend taking the bus over the airport transfers offered by the hostels and guesthouses to save $10-25 each way. I didn't find any accommodation that offered a free airport transfer, so if you're not in a rush to get to your hostel, it's worth waiting around for a bus.
The Cook Islands is somewhat famous for their motorbike driving licenses, which make for a kickass souvenir. A 10-minute riding test and $20 is all it takes to get yours, and this then allows you to hire scooters and ride around the islands. It costs around $15 a day to rent a scooter, or $7 for a bicycle if, like me, you're scared the former will end your life.
Eating Cheaply
It's far easier to eat on a budget in Rarotonga than it is in Aitutaki, thanks to the street food carts and night markets you can find dotted around the island. Look for small shacks selling fish sandwiches by the side of the road for the best bargains, and if there's a queue of locals outside, it's a sign it'll be delicious.
If you spend any time in Avarua, the row of shacks pictured above is the place to be for enormous seafood platters for $7-10. They're located alongside the lagoon close to the market and have tons of options.
In Muri, The Mooring Cafe is always full of locals and super-popular for lunch. The fish sandwiches ($8.50) are so delicious that I ate there everyday. Muri's night market is your best option for dinners, offering generous portions of local dishes and live music on most evenings.
What to Do While You're There
If you're on a strict budget and don't want to spend much money on activities, there's plenty to keep you busy on the island for free. Sunbathing on the beach is, of course, what most people come to the Cook Islands for and most guesthouses will have snorkels you can use out in the lagoon, too.
The centre of Rarotonga is all about the mountains, giving you tons of options to hike up to viewpoints all over the island. While you should hire a guide if you want to walk across the centre of the island, it's not necessary if you just want to get up high. Some of the easier (2-3 hour round trip) hikes are the Wigmore Falls track, the Avana Valley track, the Turangi track, and the Raemaru track.
One of the best ways to explore the Cook Islands is by water, and a lagoon cruise in Muri is the way to go. Captain Tamas runs tours of the lagoon and is the highest rated company on TripAdvisor. I didn't take a cruise in Rarotonga because I didn't have enough time to fit one in and felt I'd got my lagoon fix in Aitutaki, but that's who I would have booked with if I had.
How to Get From Rarotonga to Aitutaki and Back
There's only one way to get from Rarotonga to Aitutaki and that's to fly with Air Rarotonga, and their prices are ridiculous. There are no ferries.
The best advice I can give is to book as early as possible, as in, as soon as you book your flights to the Cook Islands. I booked my flights less than two weeks before arriving and still ended up paying $200 each way. For a thirty. minute. flight. A quick look at Air Rarotonga's website shows the prices drop the further out you book, with flights in a few months' time coming in at $120 each way. Still pretty expensive, but more affordable than a $400 round-trip!
The other alternative is to just turn up in Rarotonga, head to the Air Rarotonga office and book through them. There are reports of people getting fares for half the price by booking last-minute, but you do run the risk of there being no availability on any of the flights. Or the flights being really expensive.
How to Visit Aitutaki on a Budget
Aitutaki is paradise, and paradise doesn't come cheap. From my initial research, I could immediately tell that this was going to be a splurge destination, but once I arrived, it actually wasn't too bad at all.
Accommodation Options
There aren't any hostels in Aitutaki, but there are a few affordable guesthouses. I stayed in a few different spots around the island and my favourite was Gina's Garden Lodges. For $50 a night, I had an enormous bungalow with five beds — a bargain if you're travelling with a group of friends! Gina was lovely, even giving me a huge hug when she sent me off at the airport, and the bungalows were peaceful and surrounded by jungle.
The cheapest option on Aitutaki is Josie's Beach Lodge, where doubles start at $25 a night, but you'll have to share a bathroom. I couldn't find much information about them anywhere online — there's no website, no reviews, and no photos — so gave them a miss. If you want to give it a go, you can book by emailing: [email protected]
Getting Around
Aitutaki is much smaller than Rarotonga and you can easily explore the entire island in half a day. Bicycle rentals are either free to use from your guesthouse (although likely to be awful — my hands were sore for days afterwards), or around $5 a day. Scooters are $25/day. There aren't any buses or taxis on the island.
You'll need to organise an airport transfer with your accommodation, which will come to around $10-20 each way depending on how far you're staying from the airport.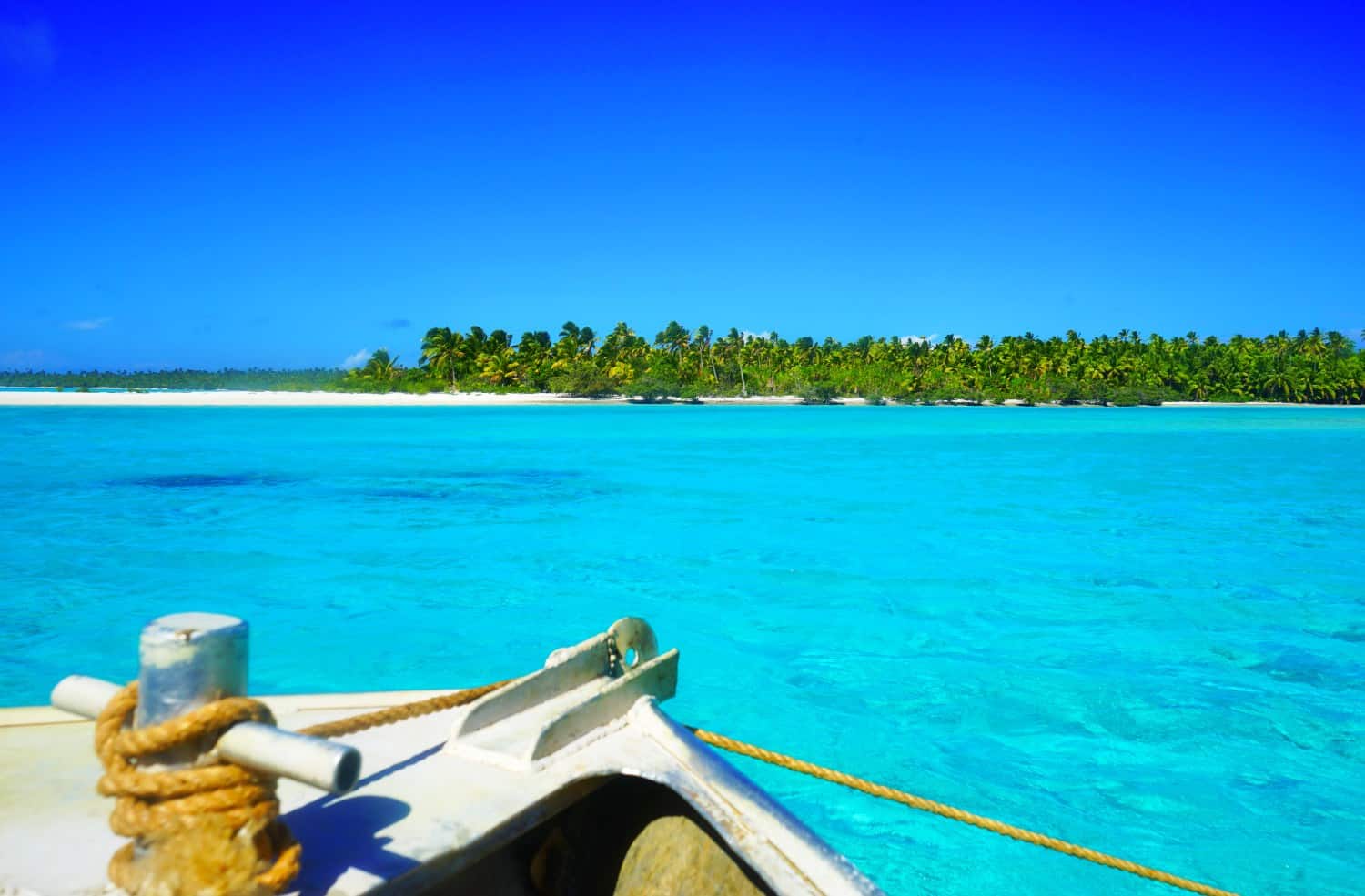 What Can You Do There?
The one thing I recommend that everyone do in Aitutaki is take a cruise of the lagoon — it was one of the highlights of my five years of travel! I went with Teking Tours and was thrilled with my experience. They're one of the more affordable options on the island, with a full day cruise coming in at $70.
Other than that, know that Aitutaki is small and if you plan to spend more than three or four days there, you're likely to get bored. You can traverse the island within a couple of hours by bicycle, hike up to one of the viewpoints (my favourite was Piraki Lookout, but Maunga Pu was great, too), or sunbathe on the beach (and I actually found the beaches to be better on Rarotonga).
Read more: You Have to Take a Lagoon Cruise of Aitutaki.
How to Save on Food
If you're planning on saving money by cooking, expect to live off of crap food. In Aitutaki, especially, where cargo arrives only once every three months, it's hard to find good eats as a tourist. In grocery stores, expect to find rows of tinned food and bags of chips and candy, and no vegetables or fresh meat/fish. If you want fresh food, you'll either have to befriend a local or find out when the market runs and hit it up in the early hours of the day.
When it comes to eating out, lunches will set you back around $15 a meal and dinners $20. An easy way to cut down on costs is to eat vegetarian, which I did for much of my time there. In most restaurants on Aitutaki, the vegetarian options were only around $10.
Paradise Isn't as Expensive as You Think
Before I came to the Cook Islands, I was under the impression that somewhere so isolated and beautiful would only be for the rich. But just like in the Maldives (and Bora Bora — more on that soon!), I was thrilled to discover that budget travel is a real possibility. Stay in hostels, eat street food, rent bicycles, and there's no reason why you can't average around $50 a day while you're there.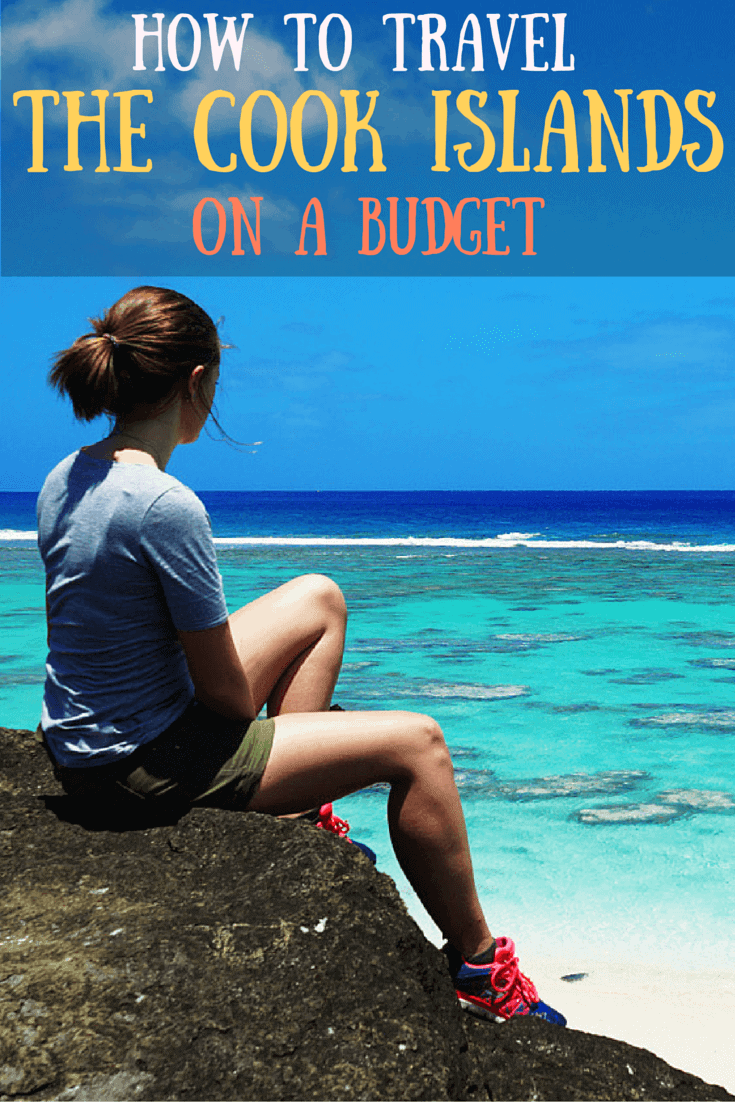 ---
Thanks for reading!
Never miss another post again! Subscribe to my newsletter and receive twice-monthly updates sharing my latest blog posts, stories I don't publish anywhere else, and advice on how you can live a life of travel, too.