Located in Southern Utah, Bryce Canyon National Park is home to some of the most unique landscapes and terrain in the United States. This park is a must see for any nature enthusiast. Its unique rock formations and high vantage points (the park sits at over 9,000 feet in elevation) provide breathtaking views for all visitors.
The park is open year-round, 24 hours a day and gets over 2 million visits per year. Peak season for Bryce Canyon is from May until September where the weather is usually mildly warm (ranging from 60-80 degrees). If you want to avoid these crowds, try visiting during the off months from October to April. There is also a free shuttle service during peak season for those not wanting to drive into the park themselves.
One of the most notable sights to see is the Bryce Amphitheater, which is home to countless rock spires (also known as hoodoos). It's named an amphitheater because of the bowl shape of the mountains, which is formed from the seasonal rain and melting snow each spring. The amphitheater is one of the most sought-after views of the park, and many vantage points focus on getting sweeping views across the bowl.
If you're looking for a scenic drive, Highway 63 (also known as the Bryce Canyon Scenic Drive) cuts through the main part of the park and offers 15 different vantage points along the way for you to stop and take in the scenery. There are also other seasonal activities (ranger programs, horseback riding, etc.) offered throughout the year. Be sure to check out the visitors' center for activities going on while you're visiting the park!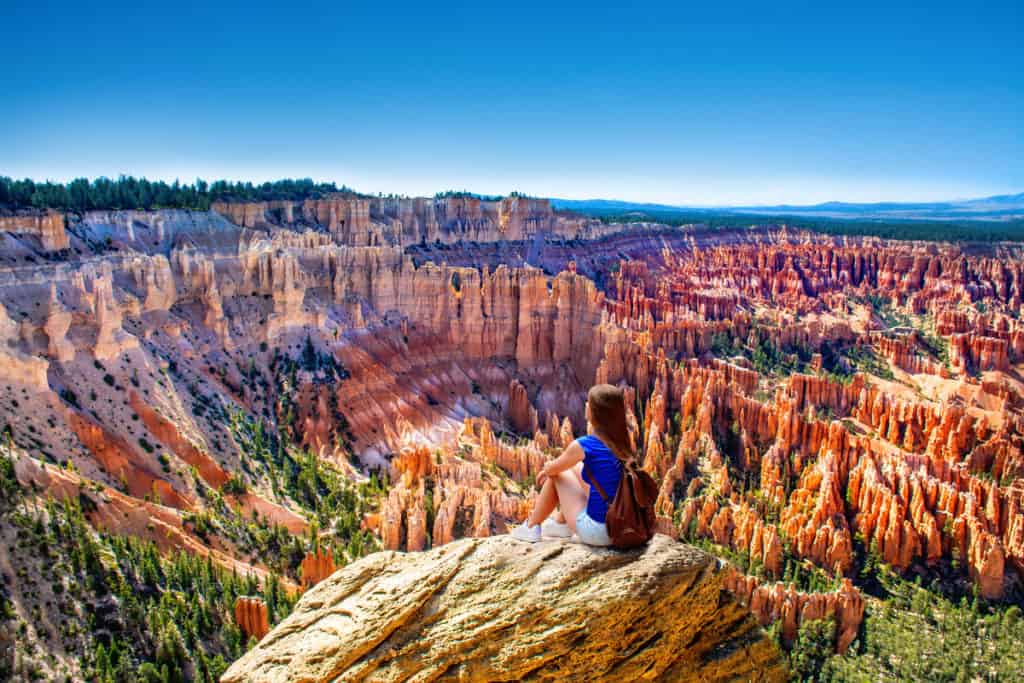 Before Entering the Park
There are a few things to be aware of when planning your trip to Bryce Canyon National Park. First, the seasons and weather associated with each one should be one of the main factors in how you prepare for your trip. Summer months are beautiful in the park with temperatures often in the 70's and 80's. Summer rainstorms can come on fast and quickly though, and lightning is a factor when in the park. Before visiting be sure you're aware of lightning safety tips and what to watch out. At the elevations you'll be hiking, you want to be careful, just in case!
During the winter months temperatures frequently drop below freezing and you'll see snow covering some of the hoodoos. Additionally, while the park is accessible year-round, during the winter some roads and trails will close due to weather conditions.
As a general note, when visiting Bryce Canyon keep in mind that because of the high elevation of the park the temperature will be colder than the surrounding area. When visiting the park pack layers that will help you stay comfortable in a variety of temperatures.
Bryce Canyon National Park offers a variety of accommodations both inside and outside of the park. There is one lodge located within the park for those interested. However, it is in high demand and typically fills all rooms well in advance. There are also campsites and RV sites available for those interested in camping in the park. For those not looking to camp in the park, you'll find more traditional accommodations in the towns surrounding Bryce Canyon.
Day 1
Getting into the park and navigating through it is quite simple. Utah State Route 12 takes you into the park via Bryce Canyon City. Outside of that there is only one main road running through the park and one minor road that runs through the northeast corner of Bryce Canyon. To get to your first destination, you'll actually take that minor road. Follow State Route 12 and go east until you find the Mossy Cave Trailhead on the right side of the road.
As a reminder, you'll be at around 9,000 feet and may need to monitor or conserve your efforts if you aren't used to this kind of elevation. Feel free to adjust the itinerary to fit your needs.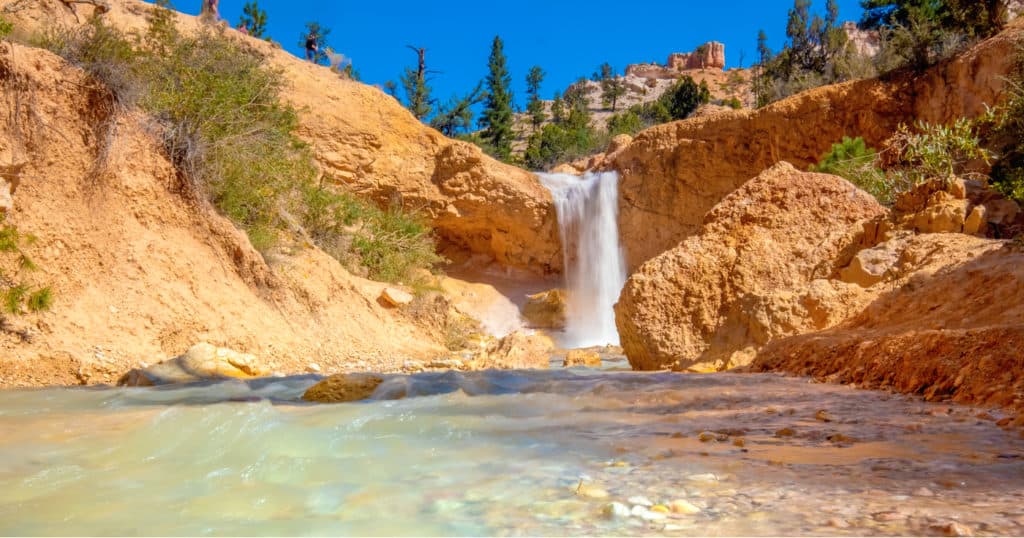 Stop 1: Mossy Cave, Turret Arch, and Little Windows Trail
Length: 1 mile
Elevation gain: 118 feet
Type: Out and back
Difficulty: Easy
Estimated time to complete: 30 minutes
While only a mile long, there are quite a few sites to see on this popular stop. You'll find multiple waterfall views as well as some of Bryce Canyon's famous hoodoos. Around 0.3 miles into the trail, look for a short climb to the windows. It's a bit of a scramble, but a fun view from the top if you're up for it! Even if you pass on that, there are a number of great places to stop and take photos. This is a popular place to stop among people just in Bryce Canyon for the day, so expect crowds if you arrive too late.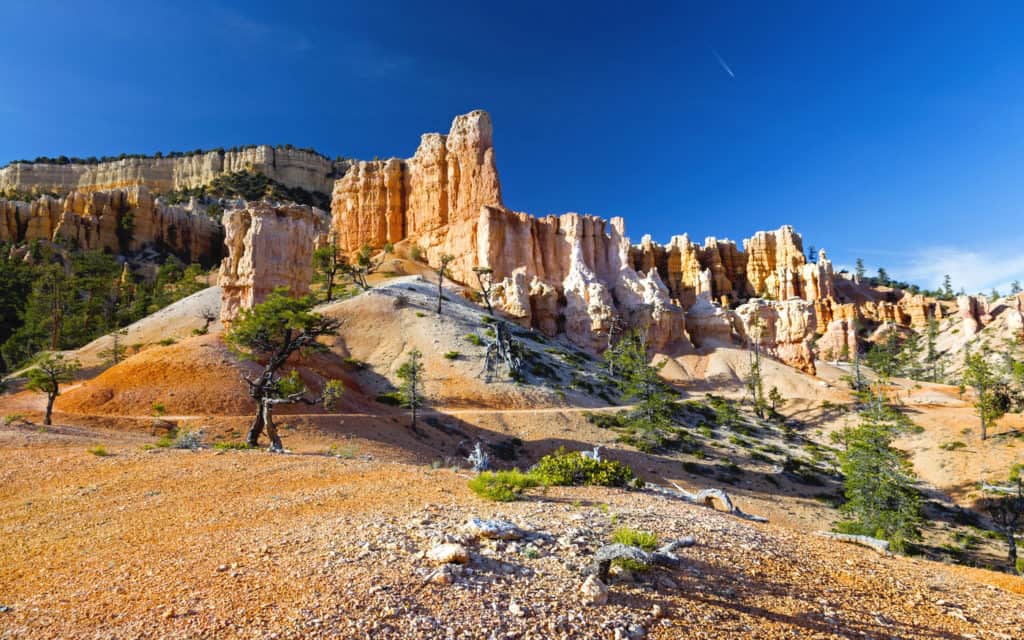 Stop 2: Fairyland Loop Trail
Length: 7.8 miles
Elevation gain: 1,545 feet
Type: Loop
Difficulty: Moderate
Estimated time to complete: 4 hours and 15 minutes
Depending on your plans for the day, you can take switch this trail with Mossy Cave Turret Arch so you can do it first thing in the morning. It will require some backtracking, but you may want to go that route instead. If you arrive a little later in the day, you may just want to plan your day around this one hike and head to Mossy Cave tomorrow or skip it entirely. Bryce Canyon Scenic Drive will take you to Fairyland Road, which will deposit you at the trailhead.
If you opt to do this hike second and parking is an issue for you, you can park in the area of the North Campground or even the general store and get onto the Fairyland Loop via short access trails from the parking lot. Since it's a loop, you can hop on wherever you please and just finish where you started! Whatever your plans end up being, this is one of Bryce Canyon's most popular hikes for a reason. While challenging, the views are worth the effort and there is only about 2.5 miles of uphill with the rest being downhill or flat.
Day 2
While the first day only calls for two hikes, you'll have an easy time filling your day with just those two! Today you'll be continuing down Bryce Canyon Scenic Drive. If you chose to camp at the North Campground or stay at the Bryce Canyon Lodge, you can sleep in as you're right next to today's first trailhead. You can also use your extra time to stop by the Bryce Canyon National Park Visitors Center if you want to learn more about the park or pick up some souvenirs!
Stop 1: Tower Bridge Trail
Length: 3.4 miles
Elevation gain: 826 feet
Type: Out and back
Difficulty: Moderate
Estimated time to complete: 2 hours
Located halfway between the North Campground and the Bryce Canyon Lodge is the Tower Bridge Trailhead. Look for the general store if you get confused by the maze of roads in this area, as the trailhead is just past the general store area. This out and back gets busy, so get there early! The out portion of the trail is a gradual decline and the hike back, a gradual incline.
The cliché, "it's the journey, not the destination," applies here. Tower Bridge itself is a fun sight, but the views along the way are what make the effort worth it. If you beat the heat, you can take your time to enjoy the desert views.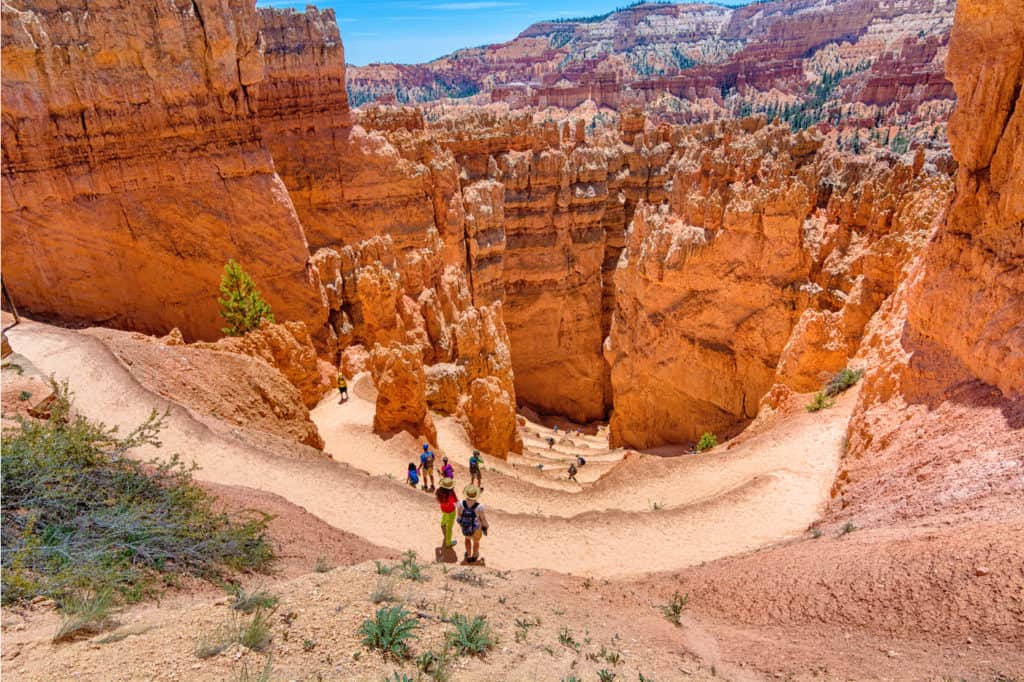 Stop 2: Navajo Loop and Queen's Garden Trail
Length: 2.9 miles
Elevation gain: 646 feet
Type: Loop
Difficulty: Moderate
Estimated time to complete: 1 hour and 40 minutes
One of the most popular loops in the park, hands down. This is not something you want to skip. If you're short on time or tired, you can opt to hike the Rim Trail from Sunset Point to Sunrise Point as an out and back. This mile-long stretch of the trail encompasses some of the highlights of the full version in only half an hour with nearly zero elevation gain. If you have the time and endurance, adding the Queen's Garden and Navajo Loop sections will only enrich your experience on this hike.
Some of the best views in all of Bryce Canyon National Park are on this trail, so you really want to prioritize spending time here.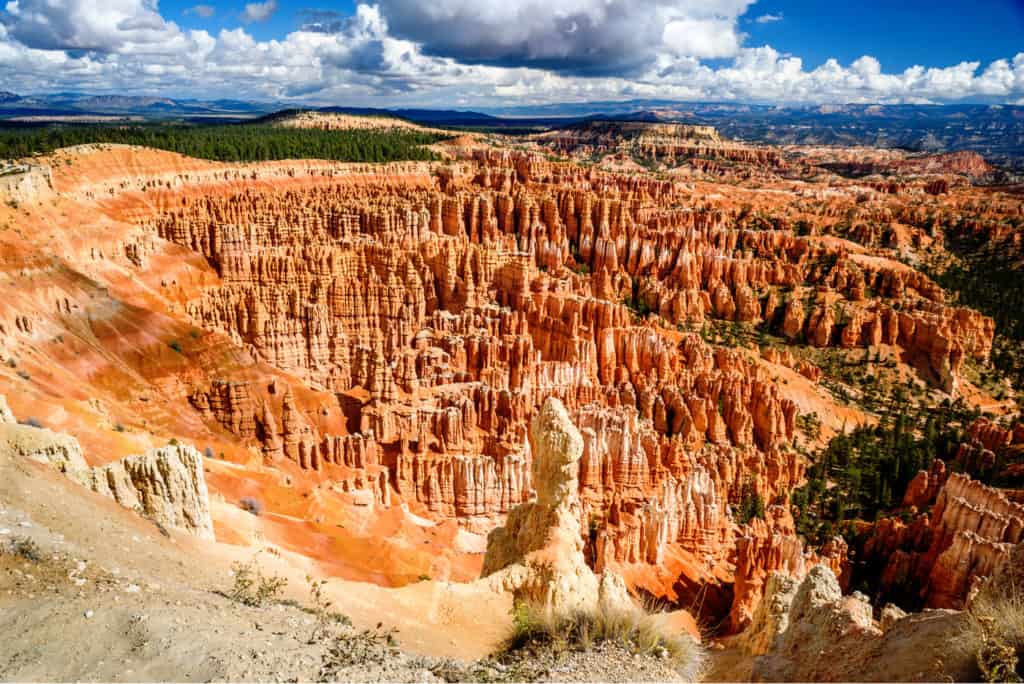 Stop 3: Lower, Mid, and Upper Inspiration Points
Length: 0.6 miles
Elevation gain: 134 feet
Type: Out and back
Difficulty: Easy
Estimated time to complete: 20 minutes
Significantly shorter than the previous 2 hikes, this packs a punch in a very short time. You can continue walking the rim trail after Upper Inspiration Point until you feel like turning around, should you feel this trail is too short to end your day on. All the main attractions of this trail though are in the 0.3 miles out (and you get to see them again on the way back).
All the same lodging recommendations from yesterday apply here too. You can also consider the Sunset Campground as an option which will put you just a bit closer to the start of the final day.
Day 3
Continue down the Bryce Canyon Scenic Drive for the first stop of the final day. Today will take you to the very end of the Bryce Canyon Scenic Drive, so if you're going to be shorter on time, keep the drive back in mind.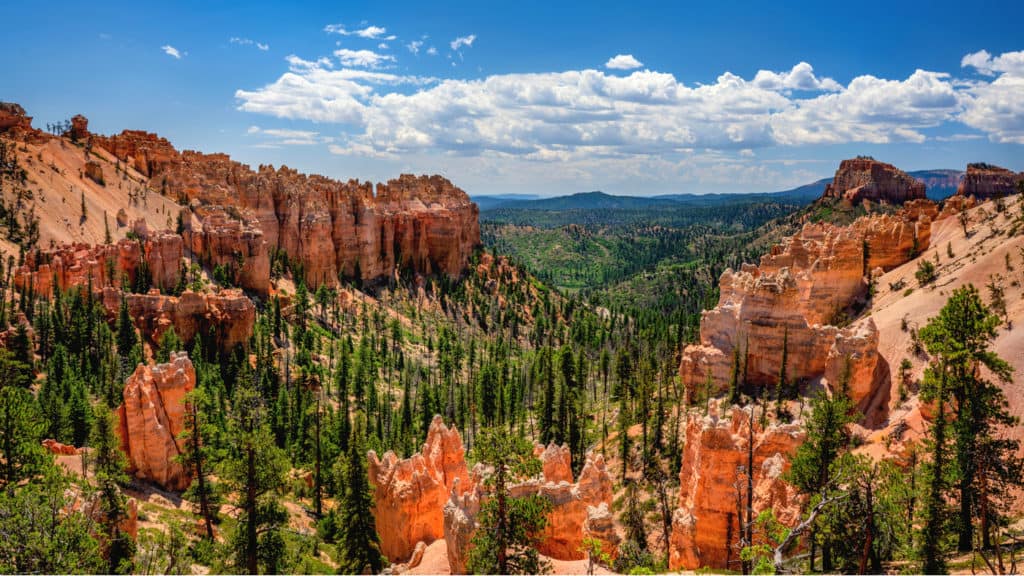 Stop 1: Sheep Creek and Swamp Canyon Loop
Length: 4.5 miles
Elevation gain: 892 feet
Type: Loop
Difficulty: Moderate
Estimated time to complete: 2.5 hours
While not the most appealing of names, this trail has plenty to recommend itself by! For starters, this isn't as heavily trafficked as some of the previous trails you've hiked, so if you get there early enough, you can be one of only a few on the trail. Also, if you're early enough, you may be able to spot some wildlife! Look out for elk if you hit the trail early.
You can go either way on this loop, but most hikers choose to go counterclockwise. Just over a mile into the trail there is a split as the Swamp Canyon Trail connects to the Under the Rim Trail. Continue straight as the left turn takes you the wrong way on the Under the Rim Trail and substantially increases your hike's length! About 2.3 miles in is something similar. Take the hard left onto the Sheep Creek Connecting Trail as you'll get off the Under the Rime Trail at this point.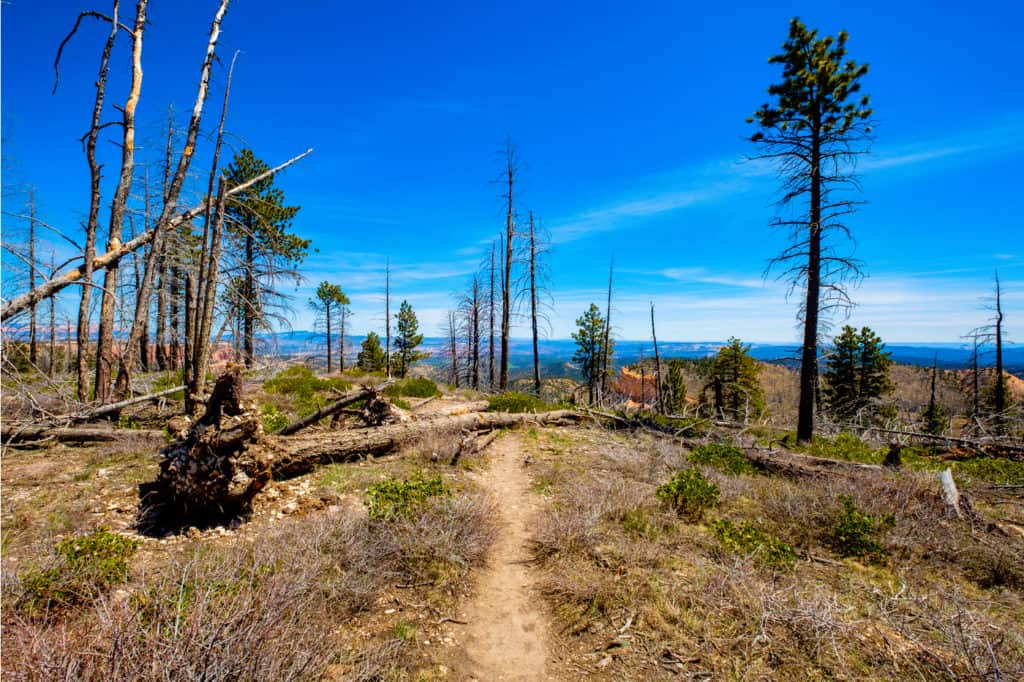 Stop 2: Whiteman Bench to Mud Canyon Spring
Length: 1.7 miles
Elevation gain: 423 feet
Type: Out and back
Difficulty: Easy
Estimated time to complete: 1 hour
Another unappealing name for another enjoyable trail! This is quite lightly trafficked, as trails at the far end of Bryce Canyon tend to be. The normal turnaround point is about 0.8 miles in by the Swamp Canyon Campsite. However, if you take a left at the T in the trail and follow the Under the Rim Trail for another 0.3 miles or so you'll see the Mud Canyon Butte to your right. From there, you can head back the way you came. Expect to add 15 to 20 minutes to your total time if you choose this option.
Being that this one of the more unique trails in the park, you're likely to have the trail more or less to yourself and come away with an experience that few who visit Bryce Canyon National Park can say they've had!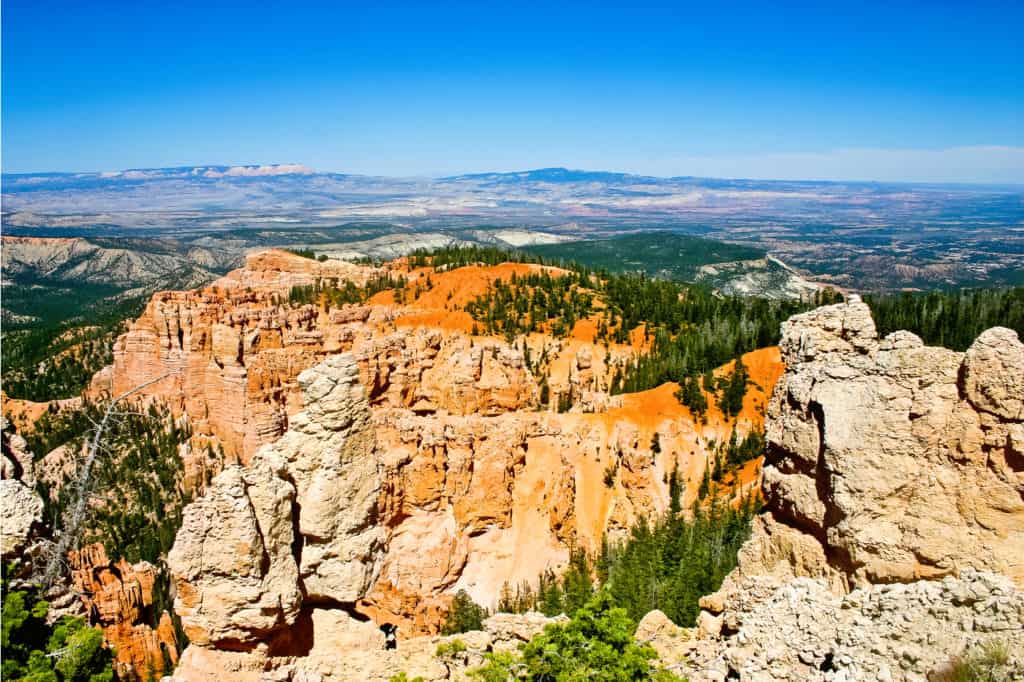 Stop 3: Rainbow Point, Yovimpa Point, and Bristlecone Loop
Length: 1.3 miles
Elevation gain: 121 feet
Type: Loop
Difficulty: Easy
Estimated time to complete: 40 minutes
At this point, you're at the end of the road (literally and figuratively)! This is as far as you can drive in Bryce Canyon National Park and offers quite a few views in just over a mile as reward for the gas you spent. While you can go left or right from the trailhead, most hikers opt to go left.
There are three distinct photo opportunities here at both Rainbow and Yovimpa Points as one just past the Bristlecone Loop Benchmark. About 0.5 miles into the trail, you'll find a fork. If you go take the left and complete the furthest version of the little loop at the Bristlecone Benchmark, you'll find a good spot to take photos. Hikers of all ages and skill levels can appreciate this final stop.
There is an unofficial fourth stop on this itinerary, and it's the drive back on the Bryce Canyon Scenic Drive. With 15 popular photo stops, you have time to get to all the stops you might have missed or passed by on the way in. If you plan to take your time on the drive, you may consider skipping stop two if you expect to need more time to drive back. Once you reach the entrance/exit of Bryce Canyon, you'll find Utah State Route 12 immediately past Bryce Canyon City and can be on your way to your next adventure!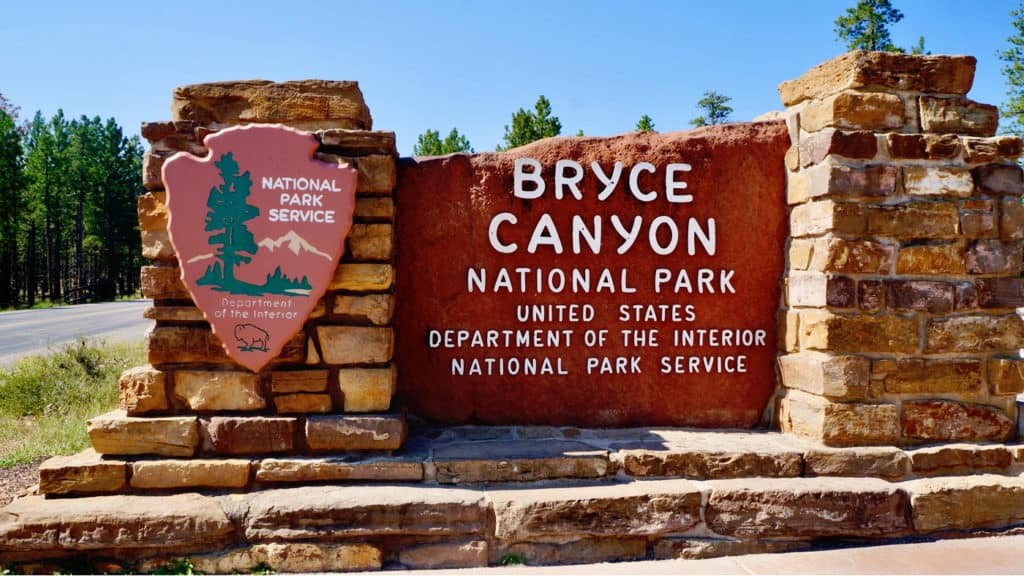 Hopefully this itinerary has helped inspire your next adventure to the heights of Bryce Canyon National Park. We can't wait to hear all about it!