America is home to some world class cities, from New York to Chicago and LA, yet no city in the country is like Boston. From its starring role in the American Revolution to its present-day success as a sports-mad city, Boston mixes amazing history, beautiful architecture, international dining and plenty of live events.
If you're a history buff, then you're going to have your work cut out trying to tick off Boston's smorgasbord of historic attractions. If you love food, then you will find every cuisine under the sun represented within the city boundaries. With Boston's fresh seafood being a major part of any restaurant menu.
Walking around Boston creates a sense of happiness few cities can replicate. Whether that be through the fact that the city immediately feels like home or because all locals have bought into the culture of Boston, creating such a dynamic place to be.
But let's get down to business and dive into all you need to know to spend the best three days in Boston.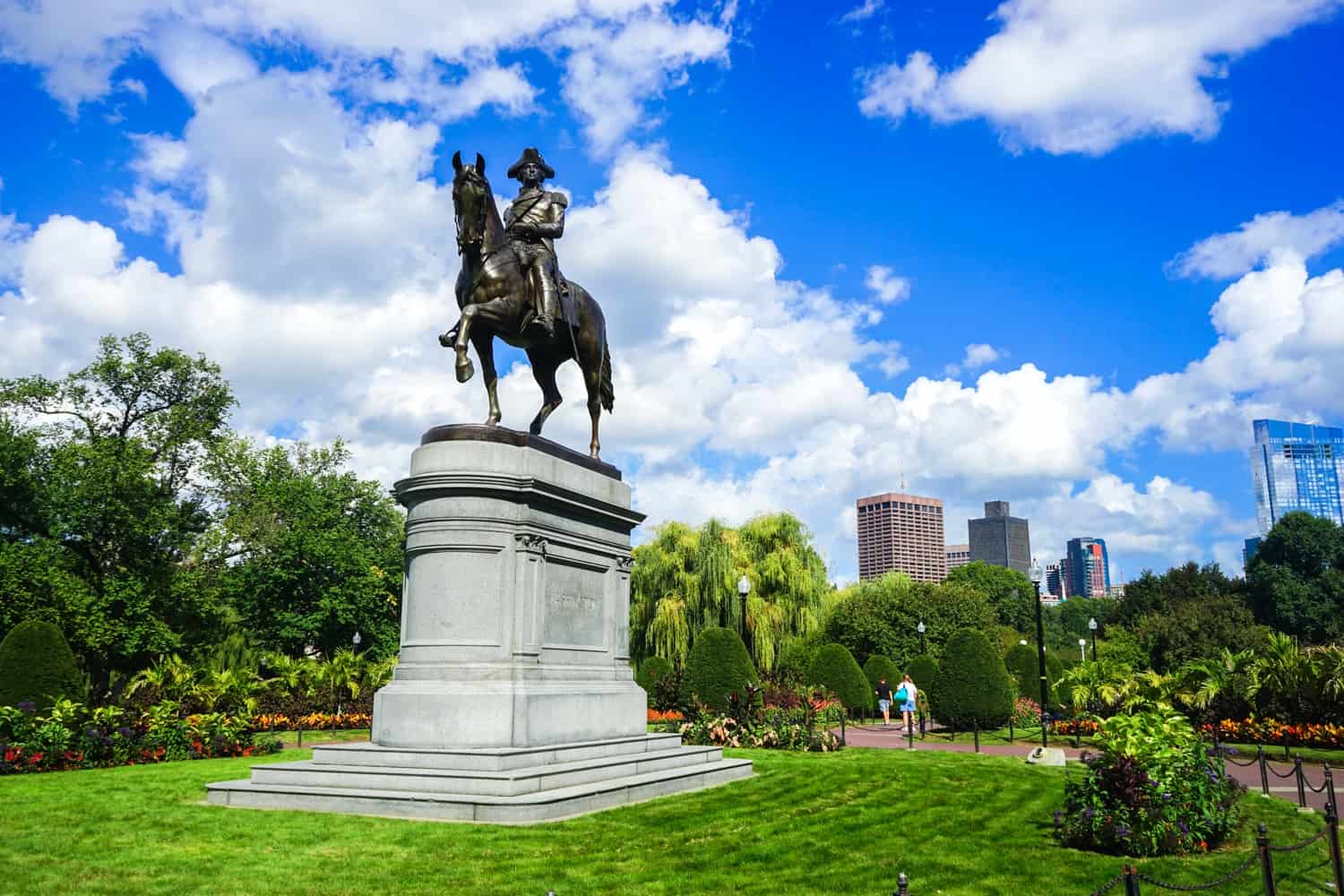 Where to Stay
Boston has a great public transport network, meaning you can save on accommodation by staying further out in the neighborhoods and still easily find your way downtown.
But to have the best activities and restaurants within walking distance, try to situate yourself in Boston's North End, the stunning Beacon Hill or around Boston Common and the Downtown Crossing.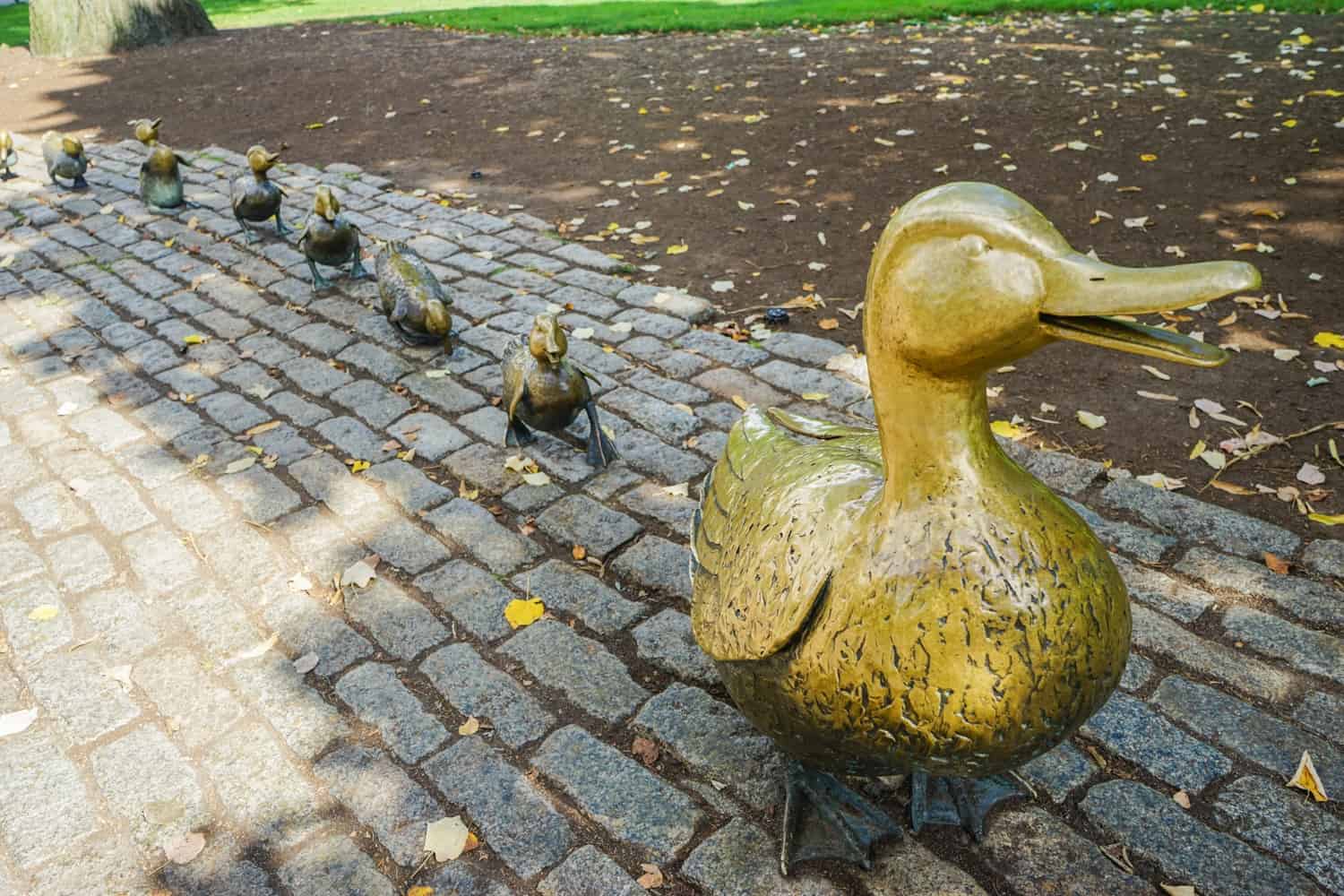 When to Go
Boston has two distinct periods of the year where it comes to life. Those being the late springtime and the fall. In the spring, the city wakes up from its cold winter slumber; the patios are packed with patrons and the duck boats are back. The gardens are full of life and exploring the city on foot elicits smiles, not dread. While in the fall, the excitement rises as the Red Sox fight for a spot in the playoffs and the leaves turn auburn, creating a different hue across the city.
For three days, winter is a great time to explore Boston. Its many cozy cafes become even more inviting, and a walk around the city is fresh and beautiful. With the added benefit of cheaper room rates.
As for the summer, temperatures can reach the mid-80s (30c) bringing plenty of opportunities to explore local parks and beaches, however, it is also peak tourist season.
Day 1: The Freedom Trail
What better way to get your bearings and also take a deep dive into the history of Boston than by completing the city's iconic Freedom Trail? Tick off one of the best things to do in Boston on day one as you walk along the 2.5 mile (4km) historic path.
The trail follows the footsteps of the Founding Fathers and takes you on a journey through time. With Boston having so much beautiful, old architecture, it is easy to jump into the old era and get lost in the adventure.
The best spot to begin the tour is in the Boston Common, seeing as it is the oldest public park in the entire country. Begin by walking through the North End, where you will find the King's Chapel Burial Ground along with the old and new State House. Following this is the site of the Boston Massacre, an important trigger for the Revolutionary War.
The path can be completed as a self-guided tour as the trail is well-marked and easy to follow along with having many informative signs throughout. You can use this Google Maps interactive map of the trail. To make things even more informative, we recommended splurging $15 for the 2-hour audio tour. Walk at your own pace and enjoy great insights into the 16 original sites along the Freedom Trail.
You can take as long as you like to complete the tour, some stroll through in just a couple of hours while others stop and read every bit of information that they can get their hands on.
Lastly, you can join a guided group tour complete with a tour leader draped in 18th century clothing for added effect.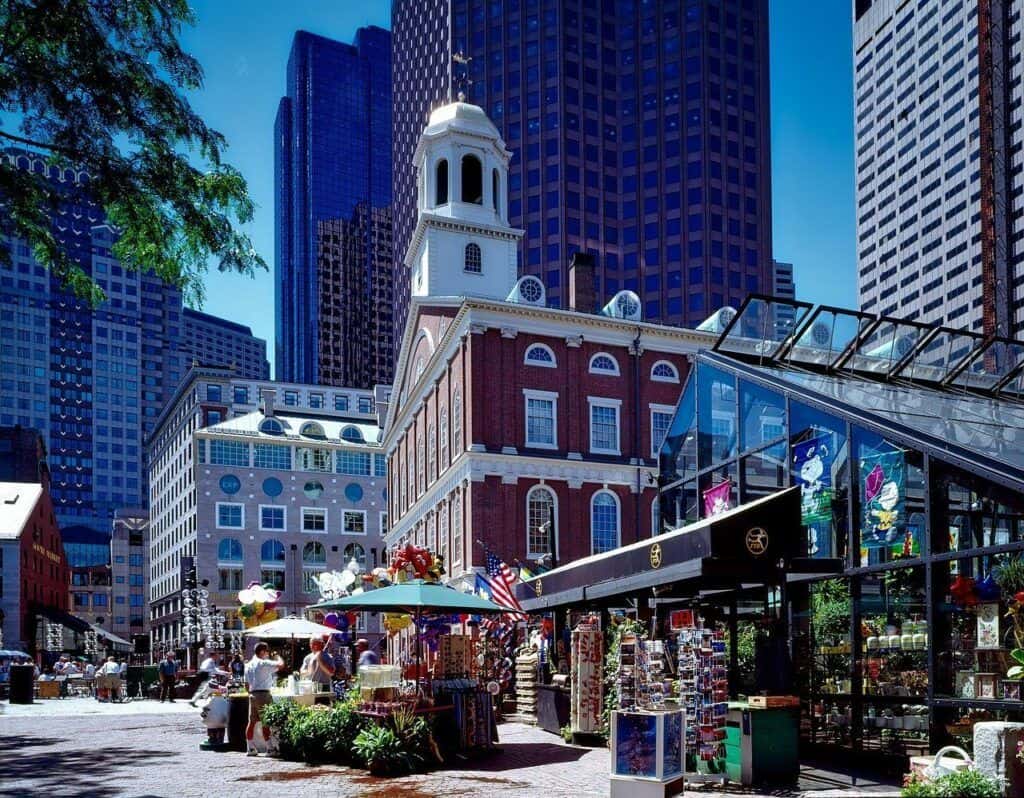 Whenever you're ready, begin your afternoon by further exploring another historic part of Boston, the Faneuil Hall. In Boston's North End, the hall has been an important meeting place and a local market since the mid-18th century and is home to present day Quincy Market.
At Faneuil Hall you will have a variety of options, from quick eats and a Samuel Adams brewery, to boutique stores and places to grab a souvenir or five to remember Boston by.
Keep in mind that Faneuil Hall is on the Freedom Trail and is also a great place to rest and relax if you don't feel like returning after.
After enjoying a nice dinner, it is time to hit the town for a night of fun and dance with friends and family. Boston's nightlife doesn't play on the same level as Miami or Nashville, however, with their many vibrant social spaces, brownstone bars and chill hangouts, it is a great city to enjoy a beer in.
For an all-in-one establishment, go to Jillian's in the Fenway neighborhood for a night of varied fun and dancing. Jillian's is split into three distinct and separate floors. The first floor is Tequila Rain, a youthful nightclub where it is Spring Break all year long. The second floor brings the billiards, where you can shoot pool into the early hours. Lastly, the third floor has a series of bowling lanes and a bar serving all the drinks under the sun. For a memorable night, experience all floors at once.
Where to Eat
For lunch, save some beer money for later by dining at one of the best restaurants in Boston for those on a budget. Within the downtown area, you will find Gene's Chinese Flatbread Cafe serving local suits and inner-city university students with delicious hand-pulled noodles, spicy soups and their famous beef flatbread sandwiches. For around $10, you can leave satisfied with a full belly, ready to tackle the rest of the day's adventures.
For dinner, it is time to treat yourself with dinner at Yvonne's. In Downtown Crossing you will find a restaurant who has taken over the mantel from Locke-Ober, a famous Boston establishment that came before. Yvonne's serves international cuisine, social plates and huge feast platters, including their mouthwatering 2-pound (0.9kg) Niman Ranch ribeye. You can wash it all down with their delightful craft cocktails. Arrive early and you can enjoy these drinks at the restaurant's stunning library bar.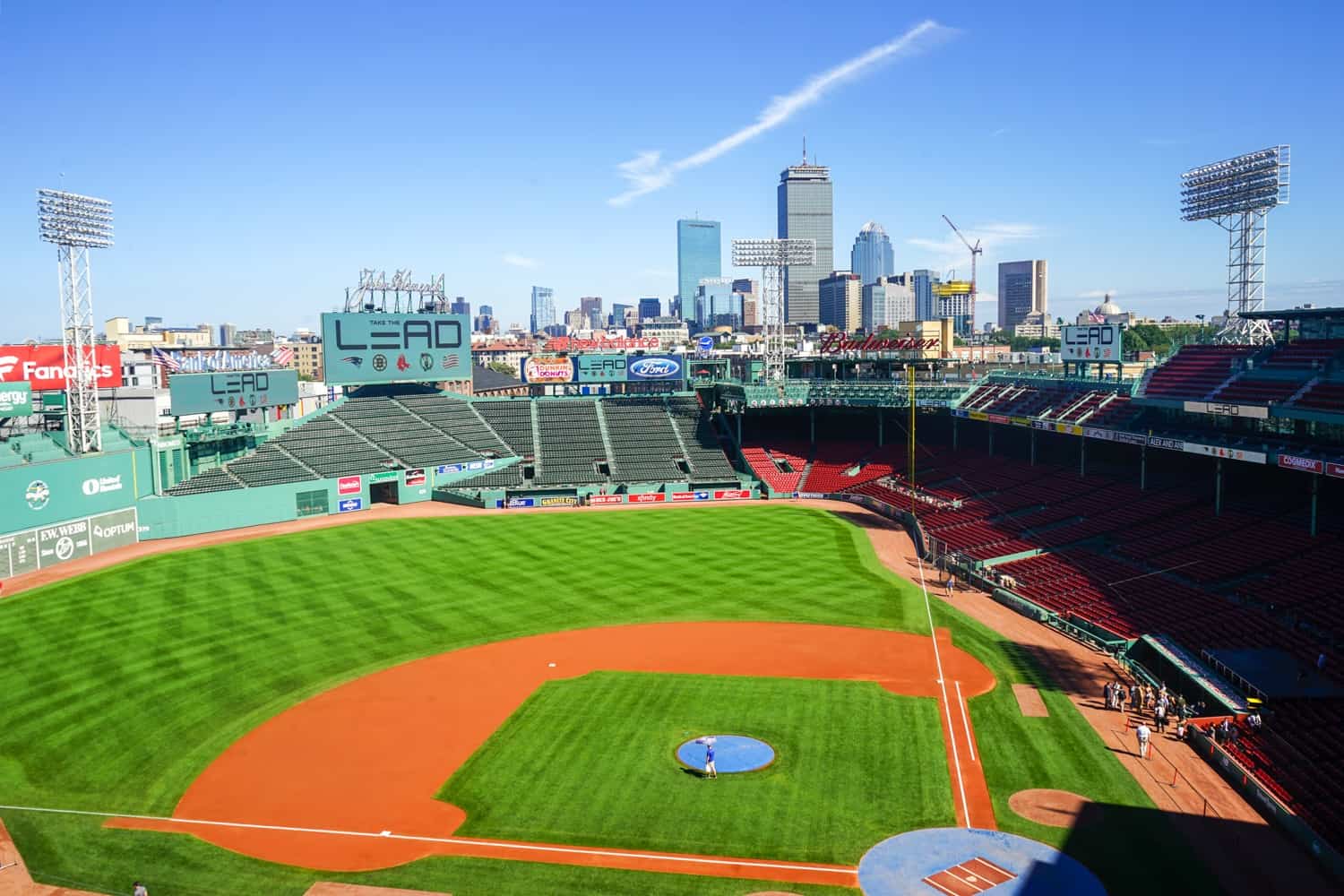 Day 2: Museum Hopping & Baseball
Boston's history is unmatched by other cities in America, so there can be no surprise about how many great museums you can visit here. Boston is also home to several world-class galleries. After exploring the Freedom Trail on Day 1, today is all about venturing to the best museums and galleries in the city.
Begin at the Isabella Stewart Gardner Museum, a museum named after the avid traveler who purchased the building in the late 19th century. The museum began as a place to house the immense collection of art and artefacts she gathered on her adventures. Isabella led tours of the museum until she passed in the 1920s. Since it has risen to become one of the best museums in the city and the home of a famous heist. To this day, 13 frames hang empty on the wall and the original $10 million reward remains to be collected.
Next up is the Museum of Fine Arts, the 14th largest of its kind in the entire world. The MFA has an incredible collection of almost 500,000 pieces of art from each corner of the globe. Exhibits include work from ancient Egypt all the way up to contemporary pieces. With rotating exhibits, be sure to explore the Museum of Fine Arts' website to see what events may be on during your time in Boston.
By this time of day, you'll be ready for a bite to eat. Although we have a great recommendation for lunch near the museums below, why not tick off multiple restaurants on a historical walking food tour? On this 2-hour tour, you will walk 1.5 miles (2.4km) and enjoy 5 or 6 stops around the culinary neighborhood of Fenway. The walking food tour includes a stop at Boston's iteration of the Time Out Market, a chance to learn plenty of local Boston history and try a bevvy of classic New England dishes from scallion pancakes sandwiches, to brown butter soft serve ice cream.
Once lunch is complete, it is time for one last stop on a day of history and museums, a tour of the historic Fenway Park. Regardless of whether you are a baseball fan, there is something truly iconic about this stadium and its connection to the local community. Built in 1906, you can take a fascinating tour inside 'America's most beloved ballpark' and the home of the Boston Red Sox.
With so much history occurring inside the fall walls, you can feel the hair stand up on the back of your neck as you get the chance to walk out onto the hallowed turf. Smell the fresh grass and gaze up at the huge Green Monster, and wonder how players manage to send a baseball over it. Along with visiting the bullpen and the Red Sox Hall of Fame Wall, you will get to sit in the same seats that fans sat on the very first day the stadium opened.
Depending on the time of year, this would be the perfect opportunity to stick around and return to Fenway for a live baseball game. Mingle with passionate local supporters and experience America's pastime at a historic venue.
If it is basketball or hockey season and you want to watch some live sport, then head to the north end of downtown Boston to watch the Celtics or the Bruins go to work at TD Garden.
Alternatively
If you want to combine a bit of adventure with your day of history, then trade museums and Fenway Park for a leisurely hike on the Battle Road Trail. Only a half hour drive out of downtown Boston, the Battle Road is a five mile (8km) path that features the location of the first shot of the American Revolution.
Today the Battle Road Trail is a path through forests and riverside wetlands that are so pristine that you'll forget that this road was the place of Paul Revere's famous ride, while the stone walls you walk by once protected the Minutemen fighting against the British.
Along the way, break up your stroll by reading the historic markers, and watching the presentations in the visitor center, which is open between April and October.
Where to Eat
Boston is home to many cafes and brunch spots that will make your mouths water. But Stillwater is the perfect place for breakfast on day two and comes with a convenient location.
In Downtown Crossing, opposite Boston Common, Stillwater is a relative newcomer to the breakfast scene in Boston. However, it has quickly made a name for itself. Serving elevated down-home dishes like hot honey chicken and biscuits along with their specialty Okie eggs benedict, there's no better place in downtown Boston to start day two than right here.
If you decide not to join the historic walking food tour, then you won't have a shortage of lunch options in the Fenway neighborhood. For those looking to save on a few dollars, then you can't go wrong with a stop at El Pelon Taqueria. Serving delicious Mexican street eats that won't burn a hole in your pocket, El Pelon is a huge favorite for Red Sox fans grabbing a bite before the game.
For dinner, load up at Saus Boston, a simple eatery that offers the best Belgian fries in town, not to mention their inspiring (yes, inspiring) amount of sauces on offer. But it doesn't just end at fries, stick around for the mouthwatering veggie burger featuring Saus Boston's signature secret sauce. Before finishing up with a chocolate peanut butter sweet waffle for dessert, yum!
Day 3
A trip to Boston would not be complete without making your way to the other side of the Charles River and exploring Cambridge, the home of Harvard University.
In order to get to Cambridge, you can jump on Boston's public transport and be there in around 20 minutes. But a trip to Cambridge is also a great opportunity to walk or cycle along the Charles River. Since you don't have all day, stick to cycling by jumping on one of Boston's Bluebikes, a local bikeshare program.
Stick to the Esplanade with will take you on a 17-mile stretch along a popular pathway where you will have views of the river, Boston's famous Back Bay brownstone buildings, and soon enough, a beautiful view of central Cambridge.
Once the u-shaped Harvard Stadium comes into view, you will know it is time to switch over to the other side of the Charles River and begin exploring. Soon you will arrive at Harvard Square, with college students, street musicians, and colorful stores surrounding you.
If the idea of learning more about Harvard excites you, you can sign up for a free walking tour that explores the people, ideas and places that have put the university on the world stage.
Or you can walk around campus at your own pace, exploring Harvard Yard, before venturing down tree-lined paths, passing libraries and stunning Georgian architecture. There are several museums and galleries well worth visiting, including the Peabody Museum of Archaeology and the Harvard Museum of Natural History. But if you only have time to wander through one, go to the Harvard Art Museum, for work complete by luminaries such as Van Gogh, Picasso and Rembrandt.
After making your way through Harvard and Cambridge itself, jump on the bikes again and make your way into Somerville. One of the best Irish pubs in America awaits.
The Burren is not only a great place to enjoy lunch or a late afternoon snack alongside a cold pint of beer, but it is home to some amazing live music that creates an atmosphere unlike any other in Boston.
On a weekend afternoon, you will find a combination of Irish, indie and jazz music playing inside the Burren and out on the patio. The tunes get more thrilling throughout the day, especially inside as the musicians are sitting in a booth much like you will be. It creates a familiar vibe where the musicians and patrons are all in it together.
With live music at any night of the week, you can switch out any of the previous nightlife activities with a night at the Burren and not be disappointed.
Where to Eat
Waking up on the last day of your time in Boston can be a struggle. But with so much left to explore start your day off strong by dining at the North Street Grille. What started as a place to bring the community together for amazing food created from sacred family recipes has grown to become the go-to brunch spot for Boston residents. Begin your day by seeing what all the fuss is about. Try their sweet and salty sandwich or their scrumptious burrito pancakes, with a side of refreshing Moscow mule mimosas.
If you don't have lunch at the Burren, then your lunch spot while touring Harvard University should be Cafe Luna. Known as one of the best breakfast cafes in Boston, Cafe Luna also puts on a delicious and healthy lunch spread. Our pick is the colorful roasted beet salad topped with grilled salmon or crab cakes, although you can't go wrong with the harvest chopped salad.
Final Thoughts
Boston offers travelers a brilliant mix of fascinating history, leafy walkable streets along with live music and sports. Visitors to Boston look forward to eating out, trying cuisine from around the world before indulging in a unique home-grown culture.
From the Freedom Trail and multiple exciting museums to Cambridge and Boston's nightlife, it is a hard place to top. Overall, Boston is a great city to be in, at any time of year, and this 3-day itinerary will help you see it all like a local.