With a legendary history, diverse religions and cultures, and an exquisite natural landscape, Israel packs a lot into a pretty small package.
Within a few hours on the road, you could make your way from a Middle Eastern desert into a lush farming region, and from a snowcapped mountain to the coastline of the Mediterranean Sea.
On top of its gorgeous landscape, Israel is known for being one of the most important religious sites for Jews, Christians, Muslims, and the Baha'i people, home to incredible biblical sites mentioned in the Old and New Testaments. Not to mention, the country boasts sixteen cultural and geographical UNESCO World Heritage Sites.
Although much of the small country is disputed, its small area size makes it one of the easiest countries to tour. Distances between cities are short, road infrastructure is excellent, and public transport is efficient. Setting aside two weeks in the Holy Land is enough time to get to know a few cities well or explore the entire country, as long as you have a well-planned itinerary. And that is where I come in:
I've used my experience traveling the country to curate the perfect fourteen-day Israel itinerary for you to follow on your next trip. The itinerary starts in the sun-drenched city of Tel Aviv, which is where all international flights arrive. From there, it loops the country from south to north, stopping at the most beautiful places, exciting cities, and historic landmarks along the way.
Keep in mind that this trip is packed to the brim with activities, so feel free to pick and choose which adventures you would like to leave out and include a few more down days. After all, you're on vacation!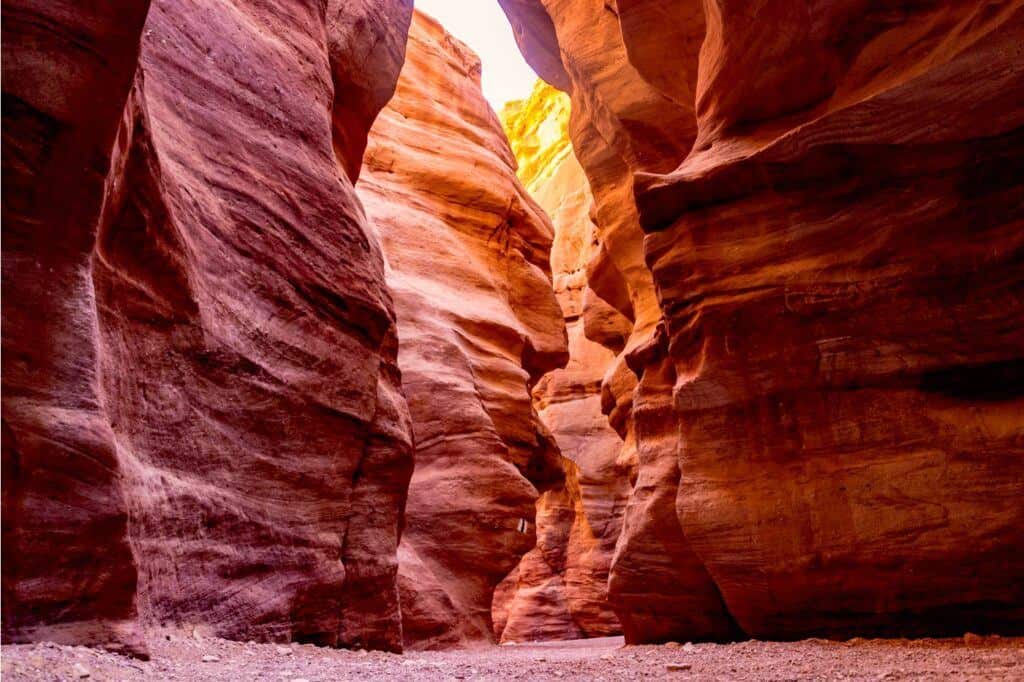 Why I Love Israel / Things to Know Before You Go
I have spent my fair share of time in Israel, visiting family and friends and touring the incredible country. It's one of my favorite places to visit, not just because of the people but because of the hot Mediterranean climate, fantastic food, and abundant history. Every trip opens up a new world of knowledge and education for me – Israel really is a place of eternal learning.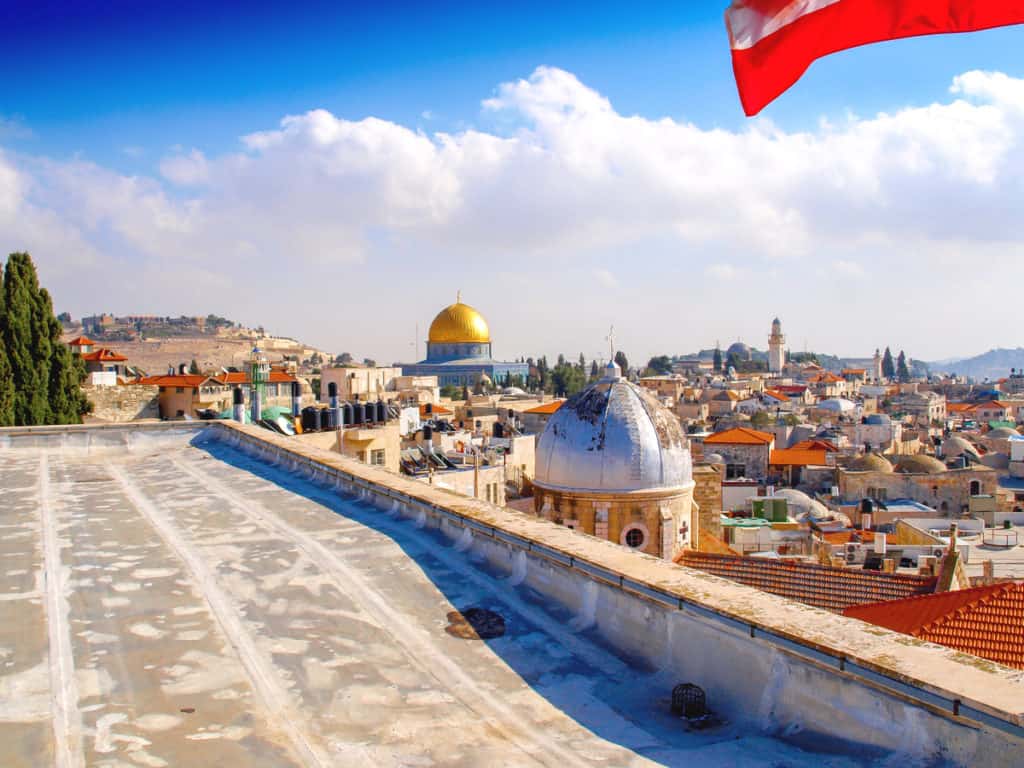 Religion and Culture
The first thing you should know about the country is that it is a holy region for Jewish, Christian, Muslim, and Baha'i religions. While the majority of the country is Jewish, many cultures and religions coexist in this tiny Middle Eastern country. With a diverse population and religious following, you must visit the country with an open mind and remain respectful of the different religions and cultures wherever you go.
There are few places better for archeologists in the world, and Israel is packed with hidden treasures, ancient shipwrecks, millennia-old lost cities, and burial sites. The entire country is layered with buried treasures, and new archeological finds and digs are constantly popping up.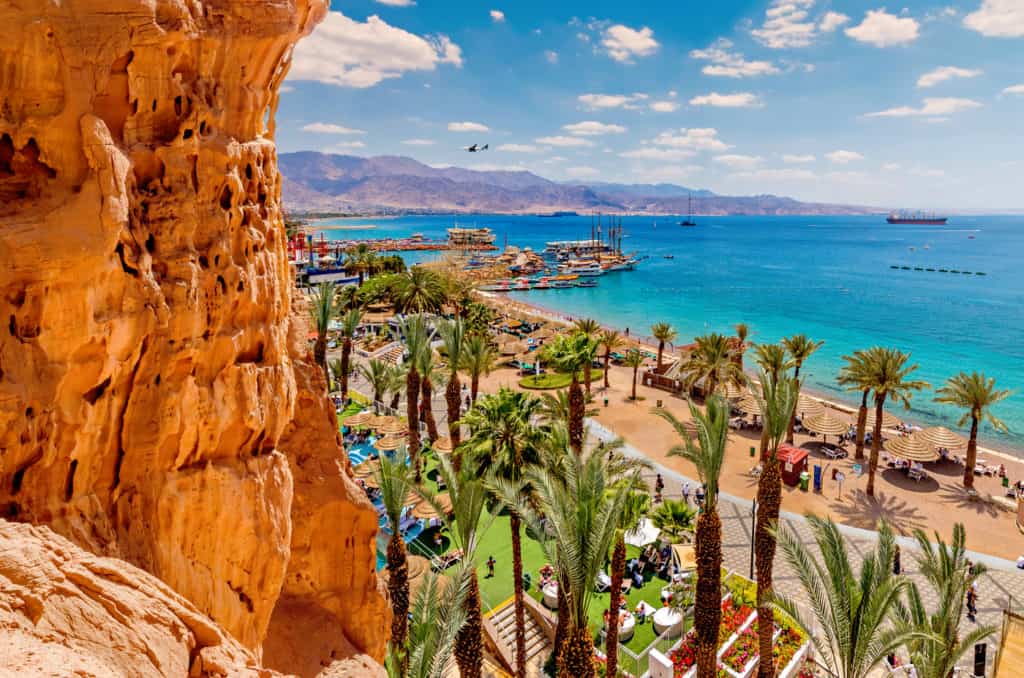 Expenses
Israel is one of the most expensive countries to visit in the world, and it certainly isn't a budget holiday destination. In fact, Tel Aviv is consistently rated in the top three most expensive cities to live in in the world, behind only New York and Singapore.
Food, accommodation, transport, and entertainment are costly. However, there are ways to budget and bargain along your journey. So, read up on bargaining etiquette before arriving, and make sure you budget well for the trip.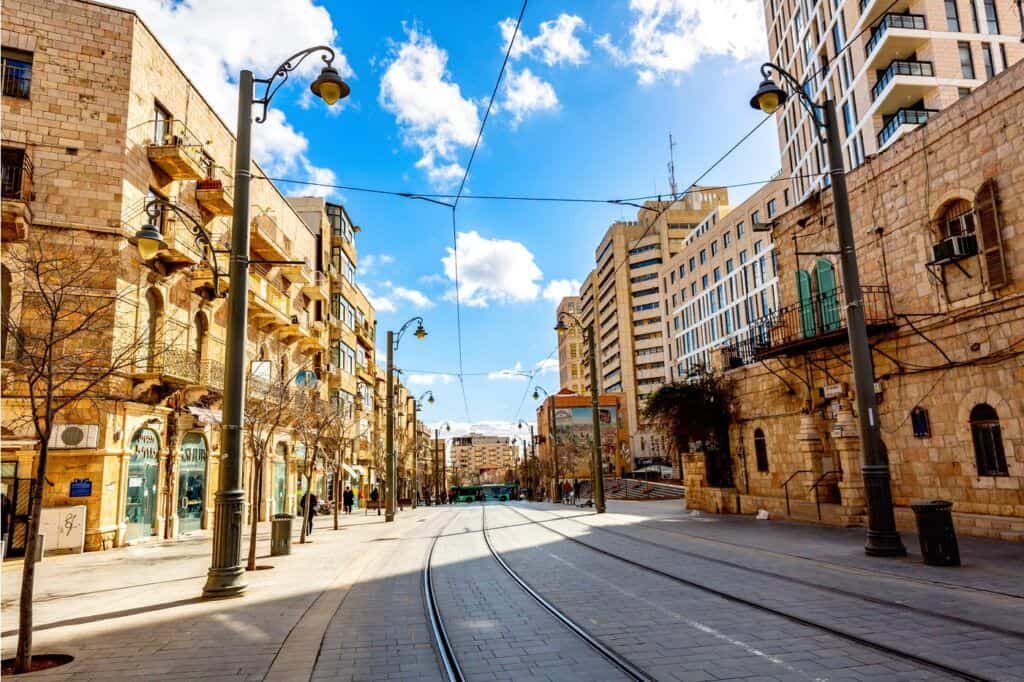 Shabbat
Every Friday evening, the country comes to a standstill for about 24 hours until Saturday evening. Known as the Jewish day of rest, all shops, restaurants, and public transport close up for the day. Consider this when planning your itinerary, and add a beach day or rest day if you visit over a weekend. I've been stranded with no transport one too many times before, so learn from my mistakes and plan your day accordingly!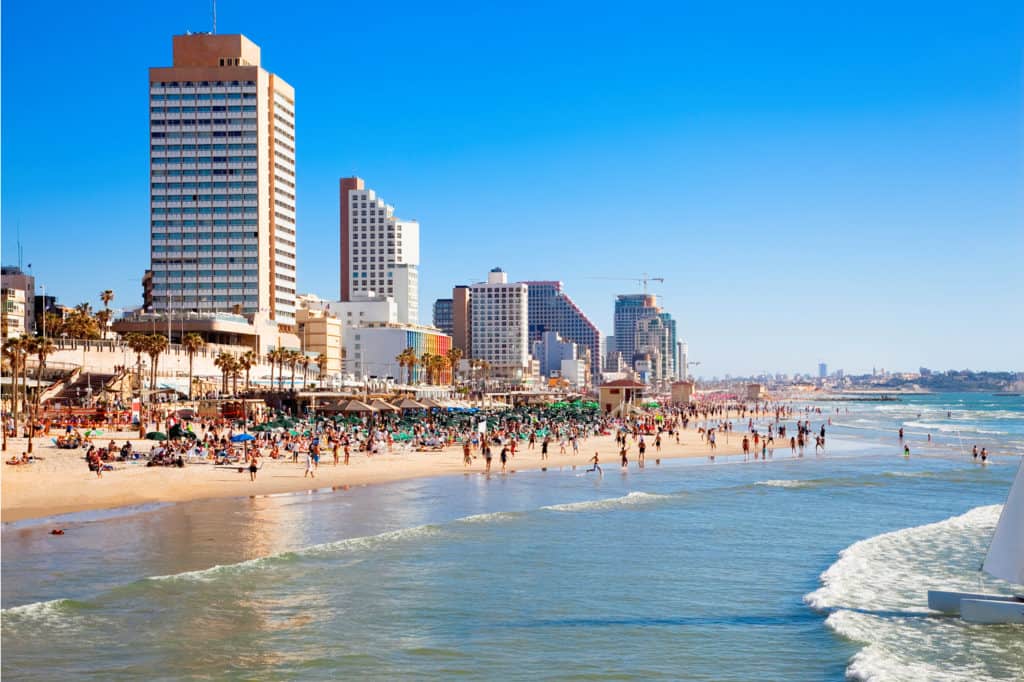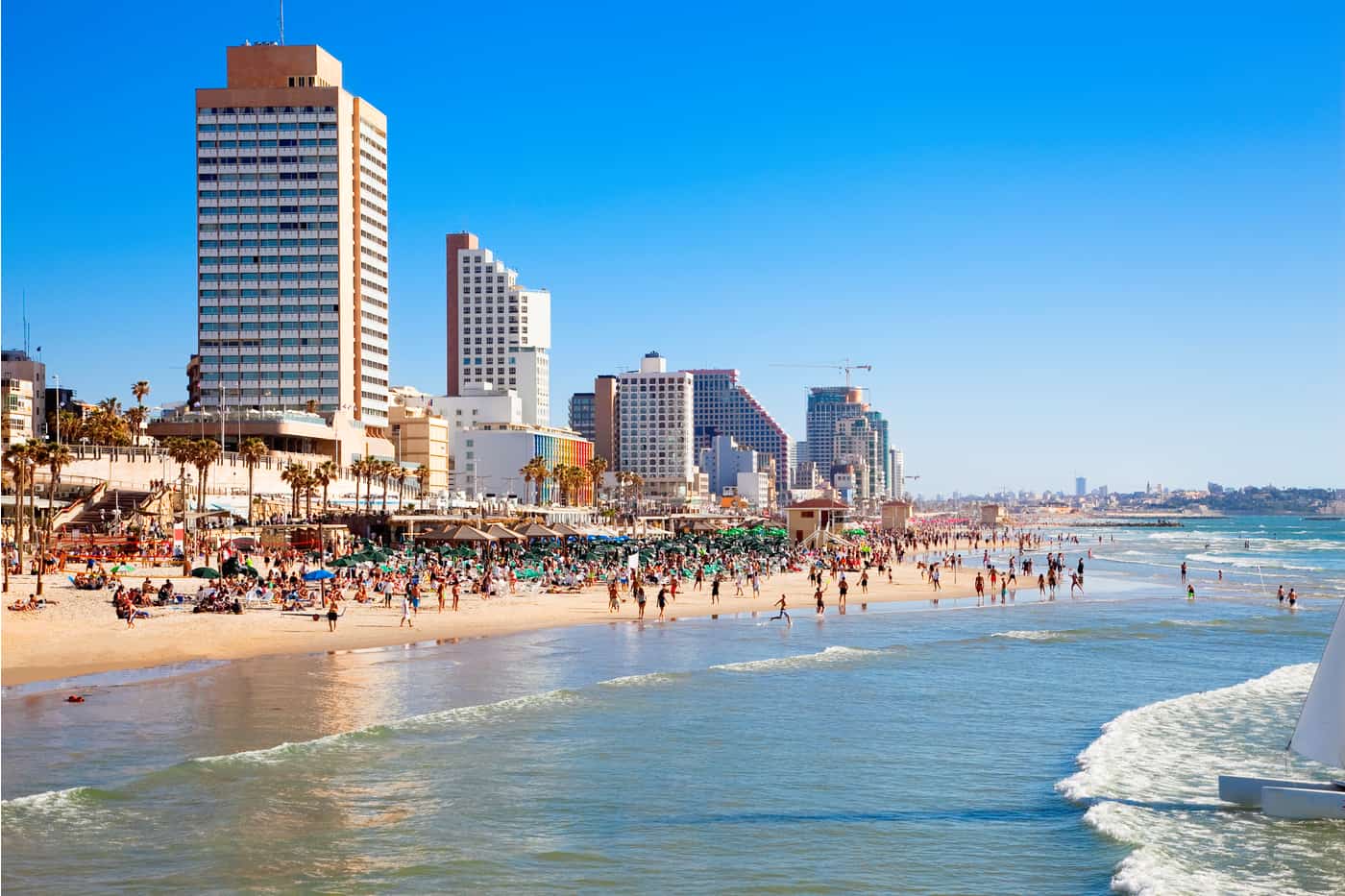 Day 1 – Gather Your Bearings in the Wondrous World of Tel Aviv
You've just arrived in Israel. Chances are you've had a bit of a journey to get there, not to mention the stress that the intense security checks at the airport can cause. Because of this, I recommend taking it easy on your first day.
You'll likely fly into Tel Aviv, which is home to Israel's only international airport. Tel Aviv is a bustling metropolis set along the Mediterranean coastline, with as much high-tech industry as it has historical importance.
Whenever I arrive at a new place, I first like to gather my bearings and explore the area around my accommodation on foot. Walking is the best way to see a city with fresh eyes, allowing you to see parts of a city you would otherwise miss if traveling by car.
One of my favorite neighborhoods to stay in Tel Aviv is Neve Tzedek, which was the first Jewish neighborhood to be built outside of the old city of Jerusalem. The historic district has recently been restored and is one of the most trendy areas in the city. The Vera or The Levee are two gorgeous hotels in Neve Tzedek worth every penny.
The area is also home to some of Tel Aviv's famous Bauhaus buildings, an architectural style for which the city is famous. Just about every street you walk down is lined with mid-century modern buildings and historic synagogues.
Just a 13-minute walk from Neve Tzedek, you'll find one of Tel Aviv's most famous and busy markets, called the Carmel Shuk. This is one of my favorite places to pop past for fresh fruit and vegetables. However, since you'll be on the move, I recommend tucking into some authentic Mediterranean street food at this bustling marketplace. The market opened in 1920 and is a vibrant spot to haggle with vendors and purchase some knick-knacks to take home to your family and friends.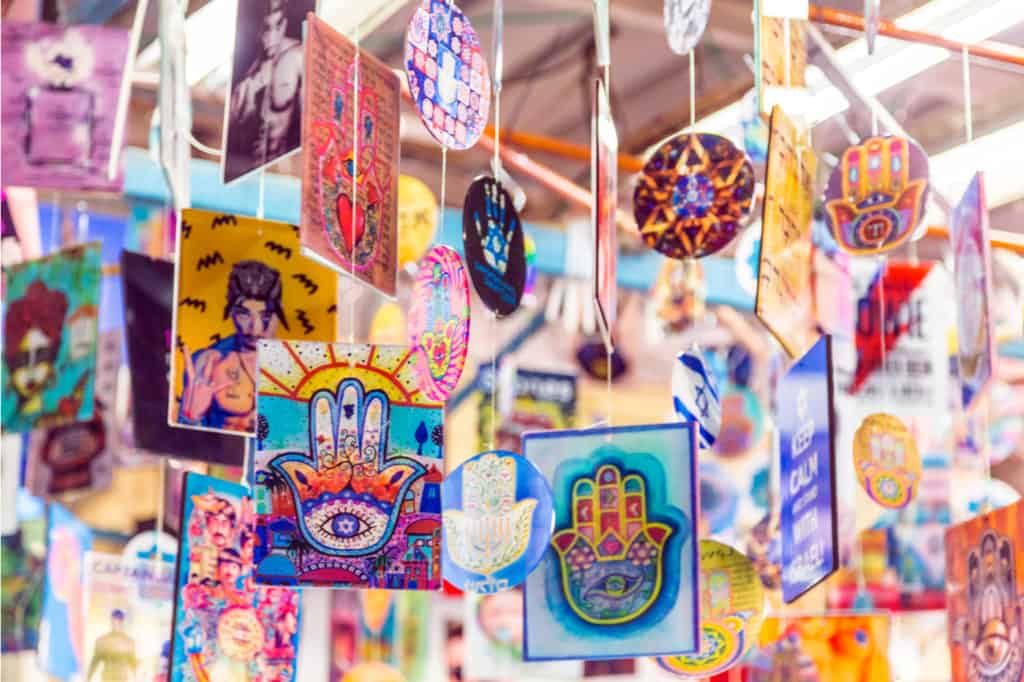 Day 2 – Explore Florentin
On your second day in Tel Aviv, begin your day with breakfast at your hotel before venturing back into the city. Start at the Florentin neighborhood in south Tel Aviv. Located right by the old Hatachana Railway Station that connected Jaffa and Jerusalem in the 1800s, Florentin is a dynamic area with a ton of character.
Florentin is known for its vibrant local art scene, with buildings, garages, and walls covered in street art. The area attracted a wave of bohemian artists, who saw an opportunity in the crumbling walls in the 90s.
The street art here is typically politically motivated, showcasing political viewpoints and arguments through the medium of art. It's a fascinating place to visit whether you're interested in art or not.
Hatachana was the first train station ever built in the Middle East, replacing the routes of camels for trains to haul freight from the Jaffa port to Jerusalem. It remained abandoned until recently, when it was fully refurbished and reopened as an entertainment complex.
On your last night in Tel Aviv, enjoy a casual meal at a street-side restaurant before hitting some of Tel Aviv's best bars. If you would rather have a more formal, fine-dining experience, OCD Tel Aviv is a high-end restaurant you won't forget. After a much-needed meal, Dizengoff Street in central Tel Aviv is a hot and happening nightlife area packed with bars and nightclubs.
If you need help figuring out where to start, this full-day Jaffa and Neve Tzedek walking tour will show you the main attractions in these trendy neighborhoods.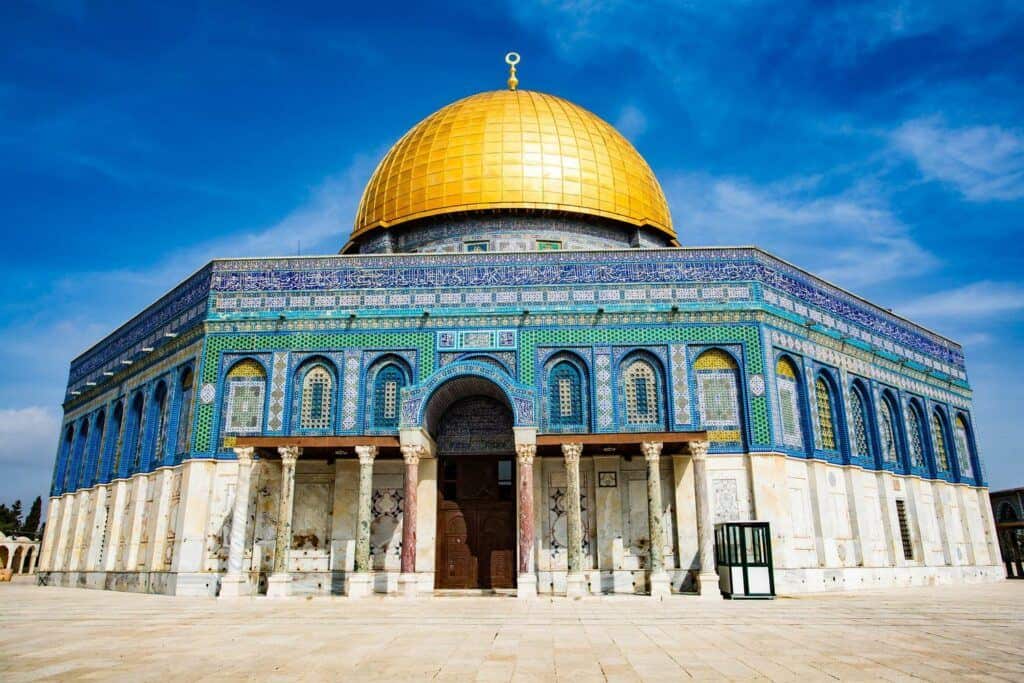 Day 3 – Walk the road of history in Jerusalem
On the third day of your trip, wake up early and catch a train to Jerusalem. The journey from Tel Aviv to Jerusalem takes one hour or less and is a comfortable trip.
Jerusalem is one of the most biblically important places in the world, packed with archeological wonders, biblical history, and historic buildings. After checking into Lifta Boutique Hotel and Spa or Albi Hotel in West Jerusalem, catch a quick tram into the Old City for another day of walking and exploring.
The city is split up into four quarters: Jewish, Christian, Muslim, and Armenian. Each quarter has its own charm, history, and culture and is best explored on foot (in fact, most of these small cobblestone streets and alleyways are only accessible to walkers).
Small winding streets make it easy to waste time walking around in circles in Jerusalem. This tour allows you to customize the itinerary to fit in all the major attractions without getting lost. Make sure your guide takes you past the Dome of the Rock, Via Dolorosa, and the Church of the Holy Sepulcher, some of the city's most significant attractions.
Once you've experienced the narrow streets and vibrant culture in the Old City, one of the best activities to do in Jerusalem is to tour the Western Wall tunnels. The Western Wall was part of the original Temple Mount, one of the most important remains from the Second Temple of Jerusalem, which was destroyed around 2000 years ago.
Today, this temple wall is still the most critical site for the Jewish people, and you're bound to see many religious and secular Jews pray at the wall. The tunnels under the wall reach almost half a mile long and show a big part of the hidden temple that tells an incredible story of the Jewish nation.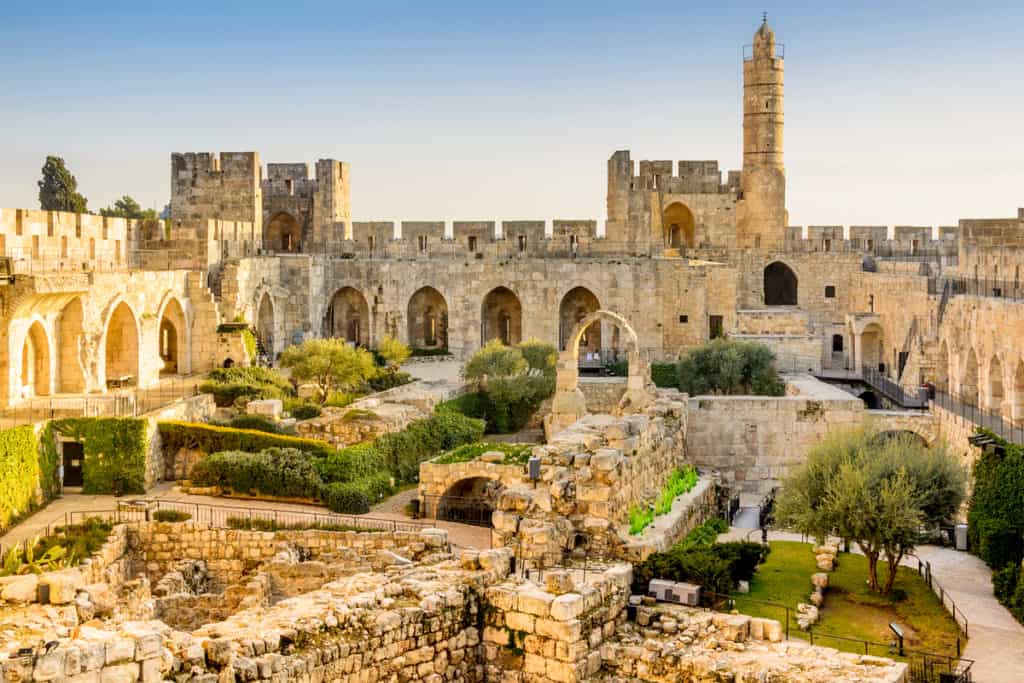 Day 4 – Visit some markets and museums in Jerusalem
I advise spending, at the very least, two days in Jerusalem. On your second day, pay a visit to the Mahane Yehuda Shuk, which is Jerusalem's most famous market. Over 250 vendors sell fresh fruit, vegetables, nuts, meats, wines, and liquors brewed in the area.
If you're staying in a hotel and fresh produce won't carry well in your suitcase, there are also vendors selling clothing, handmade shoes, houseware, and, as always, tourist knick-knacks.
Mahane Yehuda Shuk is also a great place to grab a casual bite to eat, boasting some of the best falafels and hummus in the world. For a sit-down dining experience, Racmo is the oldest restaurant in the city and serves incredible Mediterranean cuisine.
Now it's time to soak up your daily dose of culture and education. Jerusalem is home to tons of incredible museums, so you'll have to pick and choose what interests you most. I advise prioritizing Yad Vashem, which is the world's most impressive Holocaust Museum.
I'm a firm believer in learning about the history of a nation when visiting new places, and I cannot recommend this heart-wrenching museum more. It's important to take the good with the bad, even while on vacation.
To lighten things up a bit, head to The Israel Museum to view some incredible global art and archeological findings. The museum was founded in 1965 and is best known for its fine art, Jewish art, and for housing the most extensive collections of biblical artifacts. Whether you join a guided museum tour or walk around on your own steam, this is a great spot to learn about the country's history and people.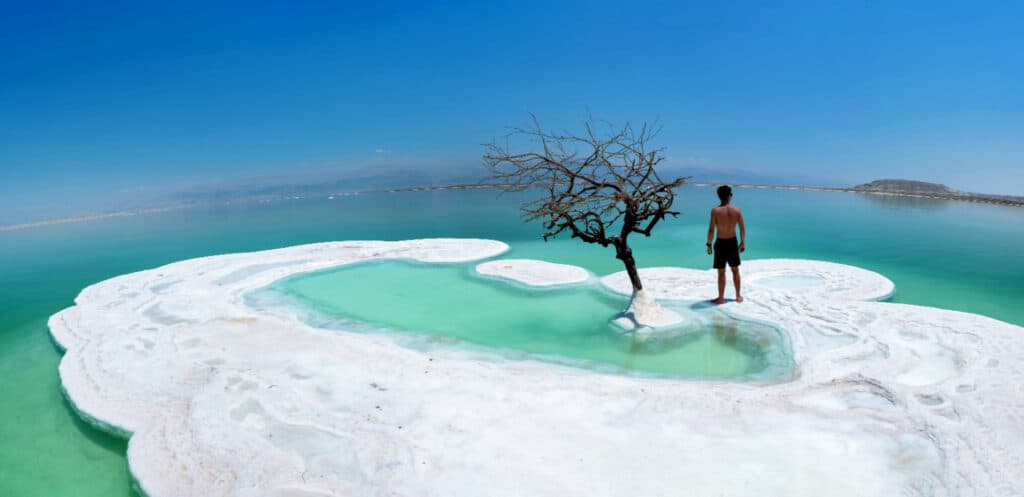 Day 5 – Float away your troubles at the Dead Sea
After a good night's rest in Jerusalem, take a morning train to Ein Gedi on the central coast of the Dead Sea. This journey will take about an hour and fifteen minutes via train or car. Ein Gedi is an archeological hotspot and nature reserve west of the Dead Sea, attracting close to a million visitors each year.
To start your day with a bit of activity, take a 20-minute train ride south of Ein Gedi to Masada National Park, a park with as much natural beauty as it has historical wonder. Perched on top of an isolated rock in this park, the Masada Fortress is an incredible historical ruin with a tragic history. You can take a cable car to the fortress or embark on a hike along the rocky cliffs.
After a bit of physical exercise and learning about the fortress, make your way to the Dead Sea for a relaxing end to the day. Named the Dead Sea because of its high salt content, this inland sea is a natural spa rimmed by salt crystals and mineral-rich mud that will leave your skin feeling softer than you thought possible. It's one of the most spectacular places to relax and will be all the more satisfying after the Masada hike.
Glamping 420 is a gorgeous place to stay on the northern banks of the Dead Sea, for those up for a unique accommodation experience.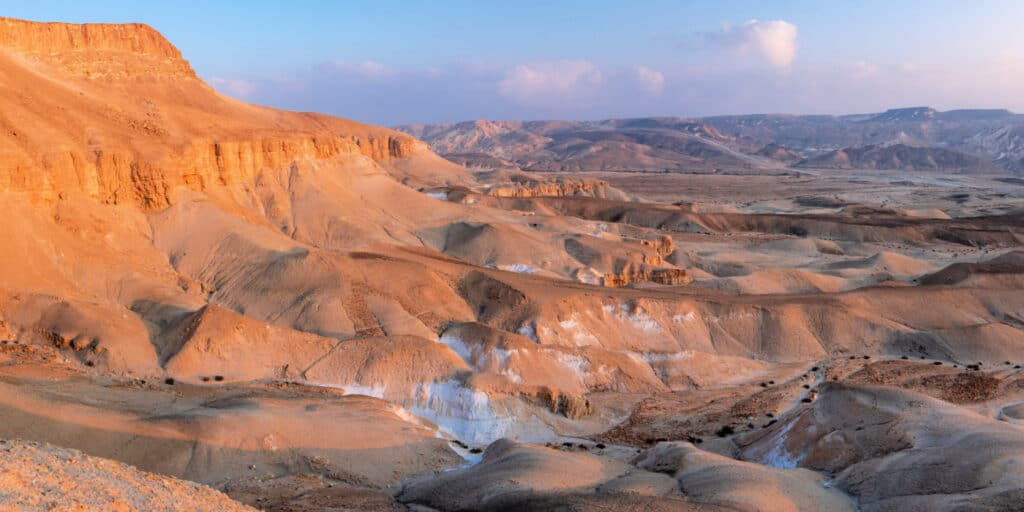 Day 6 – Live like a Bedouin in the Negev Desert
Desert is a huge part of Israel's landscape, stretching over 60% of the country. The main desert here is called the Negev, which covers just about the entire central and southern part of the country.
A drive from Ein Gedi to the heart of the Negev will take between an hour and a half to two hours, depending on where you go. If you're short on time, one of the best spots to visit is Advat National Park, one of Israel's many UNESCO World Heritage Sites. In the third century BC, the park housed a city that served as a caravan station on the famous incense trail between Petra and Gaza.
The park is located in the heart of the Negev Desert, on a hilltop above the Tsin Stream watercourse. You can spend some time exploring this ancient city, walking through the ruins of villas, bathhouses, Roman burial caves, and churches that once stood proudly in the desert.
Have you ever driven in a jeep buggy through neverending sand dunes? This is another one of my favorite activities to do in the Negev, and there are plenty of places to hop onto a jeep tour nearby.
While this might be the most expensive hotel in the article, a stay at the Six Senses Shaharut in Arava Valley truly is an experience you will never forget. Live like an Arabian king in this five-star hotel in an oasis in the middle of the desert.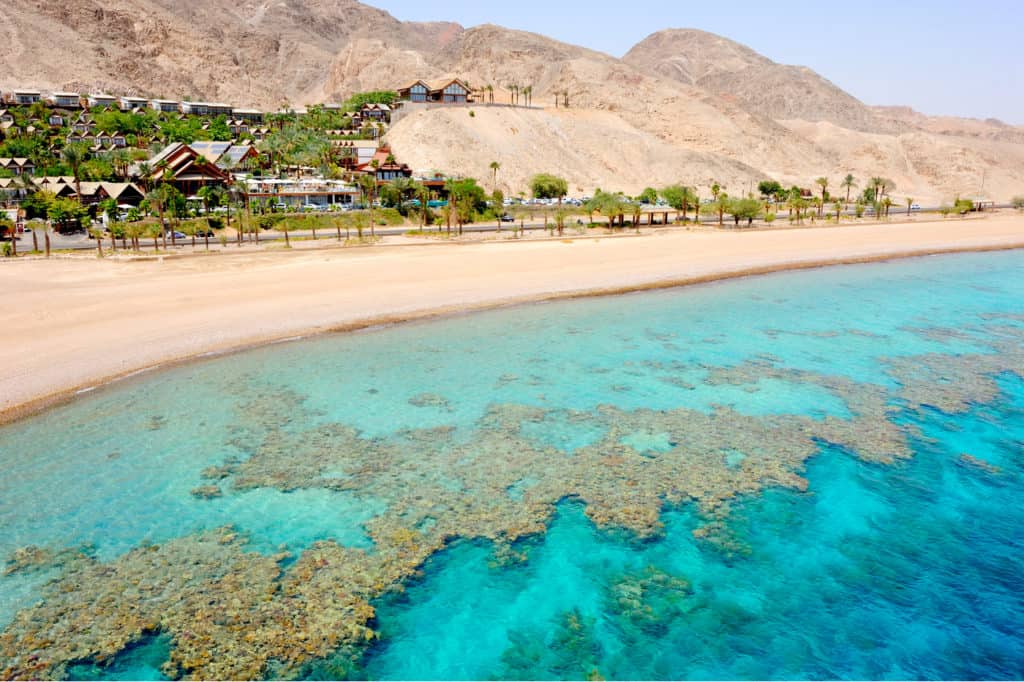 Day 7 – Check out incredible coral reefs in Eilat
A two-hour drive through the Negev Desert will get you to Eilat, Israel's southernmost town, and a tropical beach resort. Eilat is one of those bizarre places you won't believe exist until you visit it.
The city is a major port of the Red Sea, with a history dating back to the 7th century BC. While it is packed with archeological digs and a political history documented in many modern books and Hollywood movies, I recommend visiting for the coral reefs.
Despite the desert landscape it sits in, Eilat has some of the world's most incredible underwater coral forests and dive sites. Coral Reef Beach, Migdalor Beach, and Princess Beach are some of the most popular dive and snorkeling sites, teeming with coral and colorful sea life. Join this snorkeling tour for the opportunity to explore the underwater world in Eilat.
Relax on the beaches, lay by the hotel pool at Royal Beach Eilat by Isrotel Exclusive, and enjoy the sunshine, which is abundant in the region, year-round.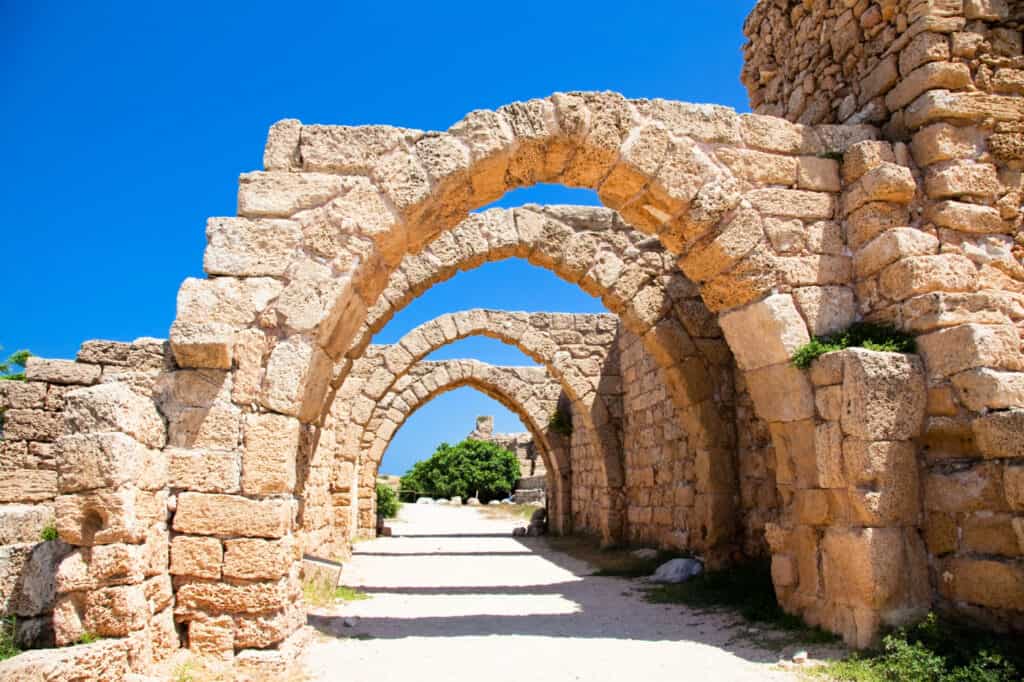 Day 8 – Explore the ancient deserted city of Caesarea
Day eight calls for a road trip as you venture back through the Negev Desert and into northern Israel. The drive from Eilat to Caesarea will take around four and a half hours, so get comfortable and download your favorite tunes for the journey.
I've been visiting Caesarea since I was a child, yet I never really knew how historically significant the ancient deserted city was until recently. Located between Tel Aviv and Haifa on the Mediterranean coast, Caesarea is an abandoned village that was once a Herodian fishing port in 25 BCE.
Ancient harbor ruins meet gorgeous beaches at this impressive archeological site, which reveals how advanced the ancient population who lived here really was. Today, it's an affluent neighborhood that blends modern infrastructure and lavish homes with historical wonder.
Enjoy a meal at the harbor and marvel at the century-old stone walls and amphitheater that still stands today.
Just a twenty-minute drive inland, Zichron Yaakov is a small, charming residential area. Cobblestone streets, boutique vineyards, and gorgeous shops and restaurants characterize the town, which sits on a hill overlooking the ocean.
After strolling the high street and enjoying a meal at Nili Wine House, Spend a night at the Yama Wine Spa and Suites in Zichron Yaakov or Dan Caesarea Resort in Caesarea.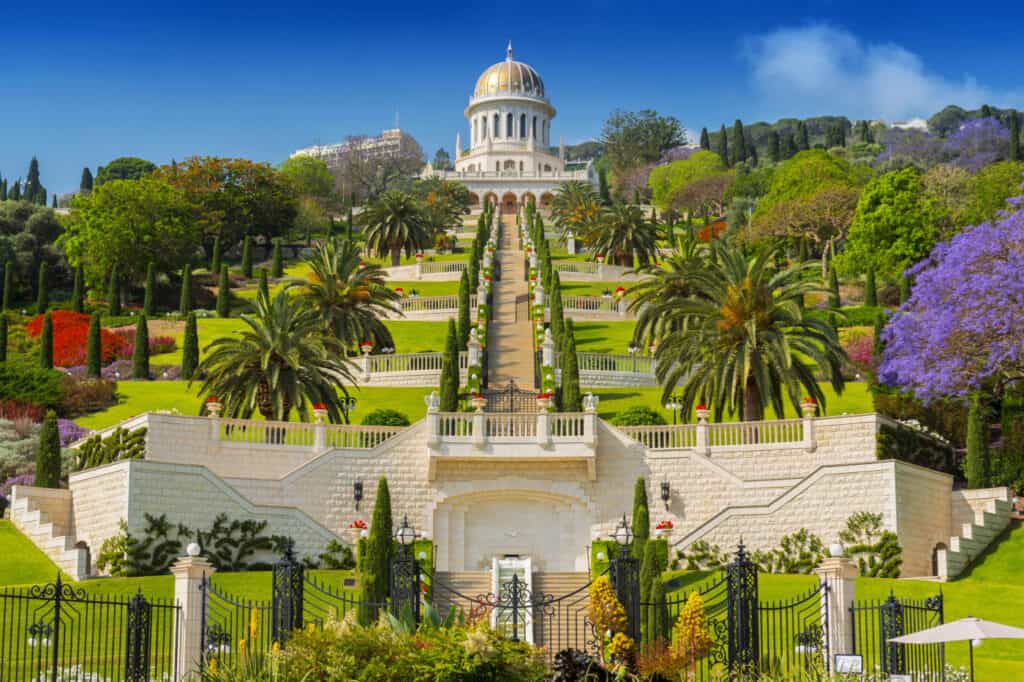 Day 9 – Learn about the Baha'i culture in Haifa
Haifa is one of the biggest cities in the country, located about 30 minutes from Zichron Yaakov. The Mediterranean port city is a metropolitan hotspot for tourists and students yet is most well known for being the home to the Baha'i faith.
The Baha'i Gardens are the official burial place of the founder of this minority religion, making it the landmark of the faith. Thousands of Baha'i pilgrims visit the city each year to pay respects to their religious forefathers and culture.
Located on the hilly Mount Carmel above the city, The Holy Shrine of Bab sits within some of the most beautiful gardens in the country. Lush gardens aren't exactly plentiful in this dry Middle Eastern landscape, and the Baha'i Gardens are one of the most beautiful sites in Israel.
Because of its hilly location, the garden is made up of different terraces, flowerbeds, lawns, and trees fixed with fancy fountains and white marble railings. Any full-day Haifa tour will take you into the gardens. However, I advise spending the morning enjoying a relaxing yet educational walk through the gardens while temperatures are still cool. The sunrise over the Mediterranean doesn't hurt, either.
Afterwards, head into the city for brunch, some shopping, and exploring the city and harbor before getting a good night's rest at the Schumacher Hotel Haifa.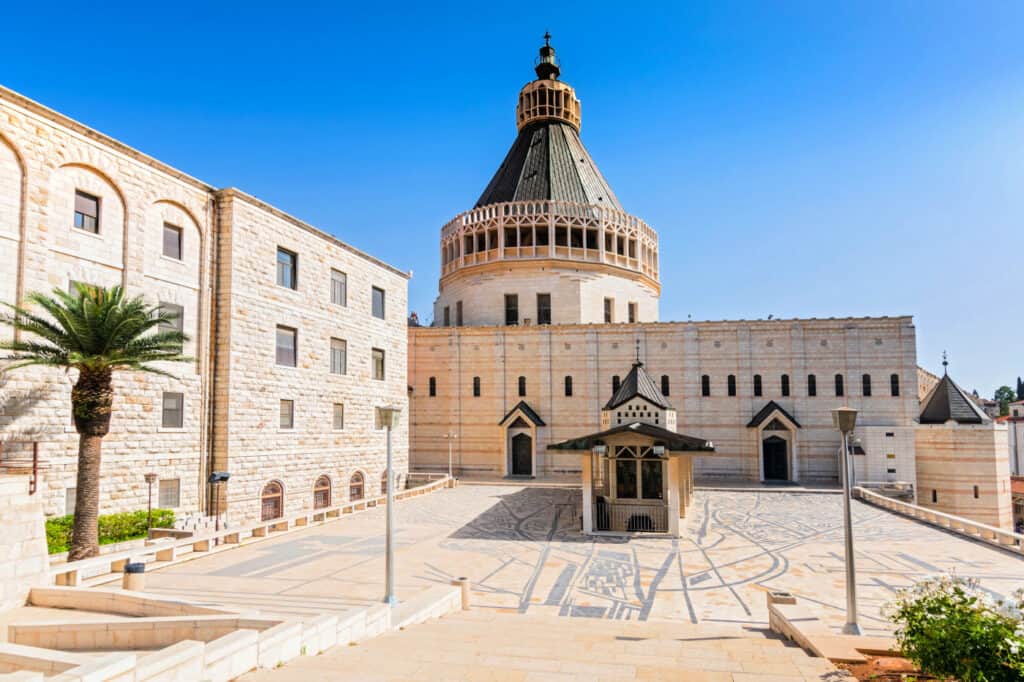 Day 10 – Walk in the footsteps of Jesus in Nazareth
Nazareth is one of the most biblically essential sites for the Christian faith, home to incredible Ottoman architecture and ruins and the largest church in the middle east. Today, the city is the most prominent Arab city in Israel, overflowing with culture, religion, and traditions.
The city is a melting pot of history, with well-preserved remnants of the Stone Age, Bronze Age, Iron Age, Romans, Byzantines, Crusaders, and Ottoman empire. This makes it an incredible place to learn about the history of the region. Spend a full day exploring this multifaceted city, enjoying traditional Arab delicacies and meals along the way.
In the afternoon, take a short drive to Mount Tabor, just south of the city. This unassuming mound is believed to have been where Jesus Christ spoke with Moses and Elijah and is now important for Christian Pilgrims.
If you're looking for somewhere to stay in the area, Michel House in Nazareth will exceed all of your expectations.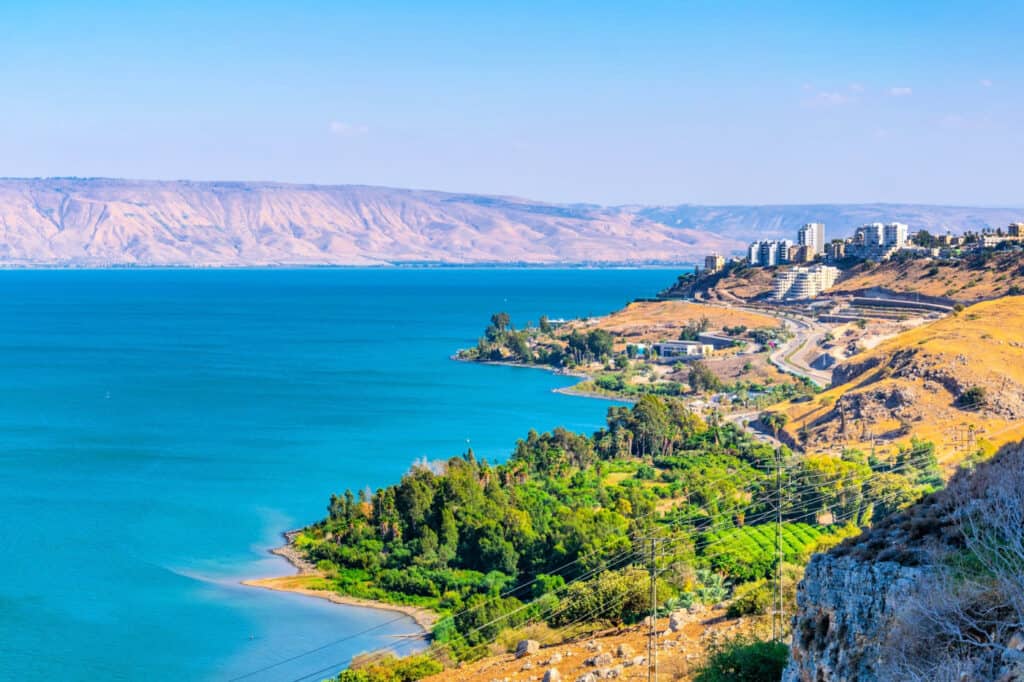 Day 11 – Spend a day by the Sea of Galilee
Along Israel's northern border with Syria, the Sea of Galilee houses several important religious Christian sites where episodes of the bible took place, including Capernaum, Tabgha, Cana, and the Mount of Beatitudes. Because of this, the ancient sea is a spiritual destination for Christian pilgrims who visit to experience the place where Joseph and Mary once lived.
The sea is actually a freshwater lake and is the lowest freshwater lake on the planet. Also known as Lake Tiberias or Kinneret, the lake is surrounded by farmland and hills; it's a beautiful place to enjoy a relaxing day by the water.
The warm water supports a range of flora and fauna, which has helped found a successful commercial fishing industry in the area. With around 27 species of fish (19 of which are native to the lake), the Sea of Galilee is as much a natural wonder as it is a historical one.
Located in the north of the country on the shores of the Sea of Galilee, Kibbutz Ein Gedi is the oldest still operating Kibbutz in Israel today. A kibbutz is a type of settlement only found in Israel, which provides housing, food, and healthcare to those willing to volunteer their time and energy to work for the kibbutz in the form of a social contract. Spending a night at the Ein Gedi Kibbutz Hotel is one of the most authentic ways to experience life in Israel.
Alternatively, the town of Tiberius, which borders the lake, is not especially beautiful. So, why not spend a night at Villar at Rosh Pinna, just twenty minutes north of the lake?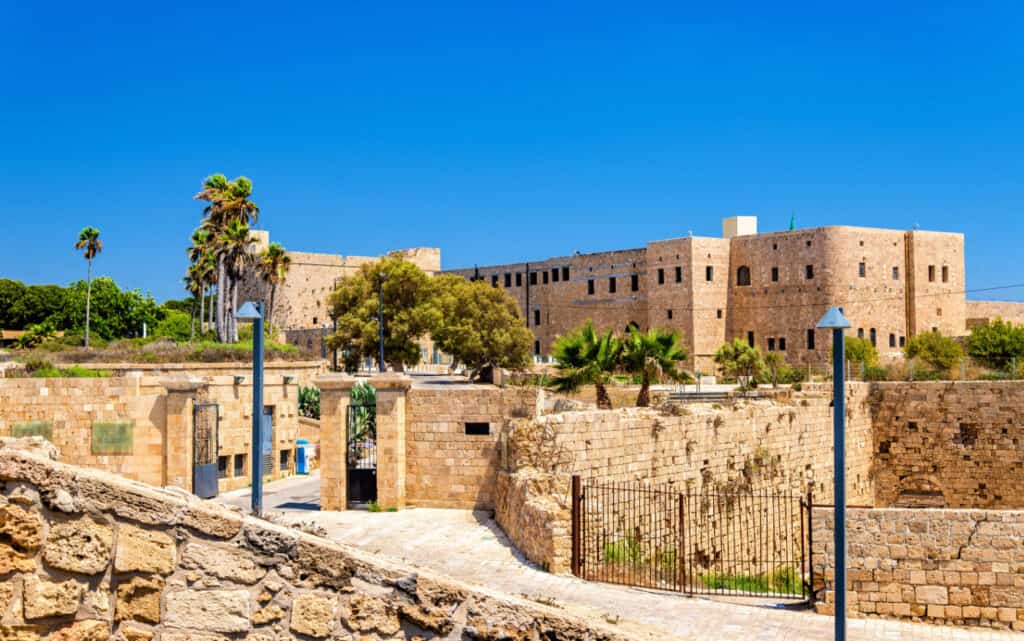 Day 12 – Explore Acre (Akko) in the North of Israel
Acre (also known as Akko) is another archeological port that will blow you away with its unique past. The city is built around a natural harbor in the northern part of Haifa and was the country's most important coastal trading point. It used to be located at the end of an important trading coastal road during the Early Bronze Age before being abandoned for a few centuries.
It's one of the oldest continuously inhabited settlements on the whole planet, yet it has experienced a lot of destruction, archaic Crusader battles, and natural disasters. Today, the city is home to Jews, Muslims, Christians, and Baha'i people, blending the best of the best of Israel's distinct cultures and traditions.
A few of the most impressive sites in the city include Hospitaller Fortress and the Templar Tunnels. The Hospitaller Fortress housed the Order of the Knights of Saint John, who were a military order of monks during the time of the Crusaders. The role of these knights was to protect and provide aid to those seeking refuge in the Holy Land. The Templar Tunnels are a series of secret underground passageways built to connect the Knights to the port of Akko.
After learning about the Crusaders in Israel, head to the port to enjoy a freshly caught seafood meal. There are plenty of great places to stay in Acre, and I recommend Alma, The Efendi Hotel Akko, or Arabesque Arts and Residency for a luxurious stay.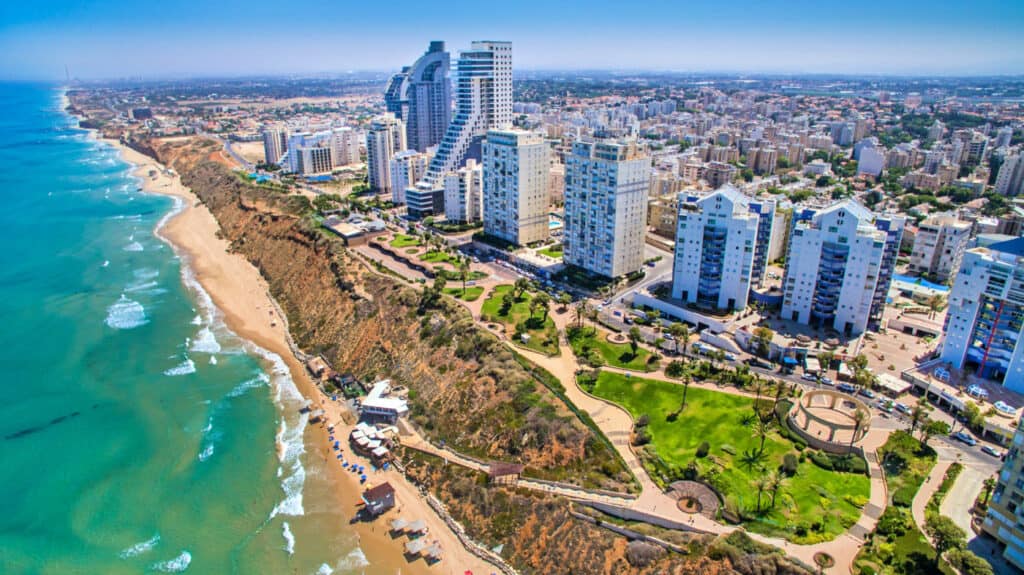 Day 13 – Experience a traditional Jewish Shabbat in Netanya
Whatever days Shabbat falls on during your two weeks in Israel, use this time to do exactly what the day was created for – rest. Netanya is a high-rise city located about halfway between Haifa and Tel Aviv.
It's a popular place for vacationers who visit for the pristine beaches, great food, and relaxed atmosphere. Take advantage of the 'day of rest' and spend a day enjoying the beach. Make sure you sort yourself out with food before Shabbat kicks in, as most Jewish-owned restaurants will be closed for the day.
Israeli Jews are incredibly friendly and will gladly invite you into their homes for a Shabbat dinner. Experiencing the wholesome atmosphere of a family dinner is always special when you're on the road, and listening to the Shabbat prayers is a memorable experience if you aren't familiar with them.
Suite Caesar – Neot Golf in Netanya is an excellent option for accommodation if you're traveling with kids.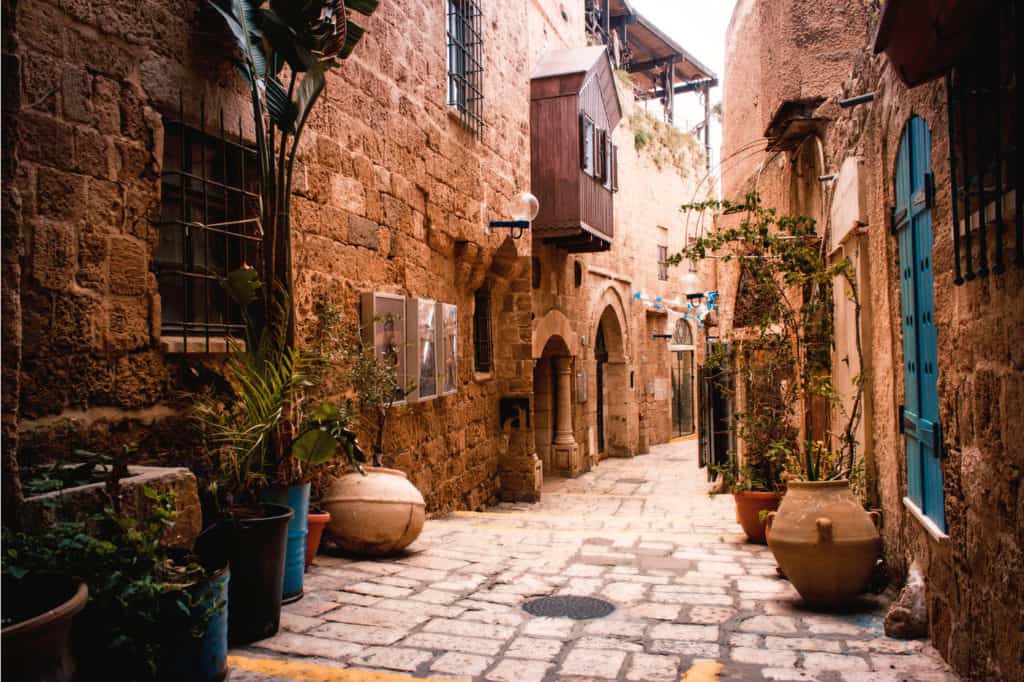 Day 14 – Enjoy a traditional meal at Jaffa Port
On the last day of your Israeli adventure, head back to Tel Aviv – Jaffa to explore the most historic parts of the city. This part of the city is built around an ancient port mentioned in the biblical stories of Jonah, Solomon, and Saint Peter, as well as the mythological dramas of Andromeda and Perseus.
Today, it's one of Israel's mixed culture cities, home to Arab and Jewish communities. It's no secret that I love a walk, but Jaffa might be one of my favorite places to explore on foot. From the Jaffa Flee Market to the hidden beach coves to the still-standing ancient harbor, this city beautifully blends old with new and will make you feel like you've taken a step back in time.
This is also a great spot to do some last-minute shopping for your friends and family back home, with boutique stores, art galleries, and tourist shops lining the cobblestone streets.
If you spend a night in Jaffa before flying out of Ben Gurion Airport, make sure you hit the main center, which is packed with bars and casual street-side restaurants. Shaffa Bar, Beer Bazaar, and Akbar will ensure you finish your Israeli adventure off with a bang!
Casa Nova: Luxury Suites and Boutique Apart-Hotel is a gorgeous hotel with a rooftop deck overlooking the ocean in Jaffa, perfect for watching the sunset for the final time on your Israeli vacation.
It will take you just 45 minutes to get to the airport on the bus, or half an hour by car, making Jaffa the perfect final Israeli destination before you head back home.