Compared to other North African destinations like Egypt and Morocco, Tunisia just isn't on many people's radars. Admittedly, it doesn't have the incredible wealth of ancient wonders that Egypt does, nor does it boast the unique labyrinthine medinas of Morocco. What Tunisia does have, however, is more of a road-less-traveled vibe. 
Particularly in the capital of Tunis, the relative lack of tourism means you tend to get hassled less than you do in Cairo or Marrakesh. The lack of energy devoted to fending off wheeler-dealers means you have more time to just take in the sights and sounds around you, chomping down on a street snack while musing over the mix of medieval Islamic and French colonial architecture.
Of course, this underdeveloped tourism industry has its downsides, too. While I managed to pack a lot into my Tunisia itinerary, there were several things I wanted to do but ended up skipping just because the logistics were so complicated. I've heard amazing things, for example, about overnight tours into the desert from Douz, a tiny town known as Tunisia's gateway to the Sahara. There are also the fascinating former Berber habitations in Ksar Ouled Soltane and Chenini, now best known as Star Wars filming locations. Due to the limitations of public transport, you risk wasting whole days getting from A to B – which I just wasn't willing to do!
Even without these stop-offs, I still found plenty to entertain myself over 10 days in Tunisia.
A Quick Word on Language
Tunisian Arabic is spoken throughout the country, but there's also a strong undercurrent of French in the major cities. Tunisia was a protectorate of France for 75 years, up until 1956, and the after-effects are still evident today. As a result, you'll find that many locals will resort to French if they can't get their point across in Arabic. English, on the other hand, is very rarely spoken.
If you're like me and long ago forgot any Francais beyond 'Bonjour,' 'Merci' and 'Du vin, s'il vous plait,' you'll probably find yourself mostly employing hand gestures – or, of course, the unreliable joys of Google Translate. Even if you find this slightly embarrassing, let me set your mind at ease: I don't think I had a single interaction where a taxi driver, market stall proprietor, or street food vendor wasn't up for a game of charades. In other words, the people are generally pretty chill!
Local Customs
Despite being one of the more progressive countries in the Arab sphere, Tunisia still has a few conservative rules. One of the most frustrating (if understandable) for a tourist is that non-Muslims are not allowed to enter any of the prayer rooms of mosques – and in some cases even the courtyards are off-limits. This means you'll often have to resign yourself to gazing at the exterior beauty of these buildings while wondering what further wonders are hidden inside, behind the beautifully decorated walls.
Like in Egypt, it is not illegal for visitors or locals to buy or consume alcohol, but it isn't something you find on every street corner or at every restaurant. Mostly, the sale is limited to luxury hotels and supermarkets like Monoprix. Remember that Friday is the Islamic holy day, which means it's the day when all the alcohol 'caves' roll down the shutters. If you were planning on trying some of the local vino, bear that in mind.
Despite Friday being the holy day, it is still Sunday that acts as the day of rest. Souks are half shuttered, restaurants take the day off and generally, everything has reduced hours or doesn't open at all. Plan accordingly!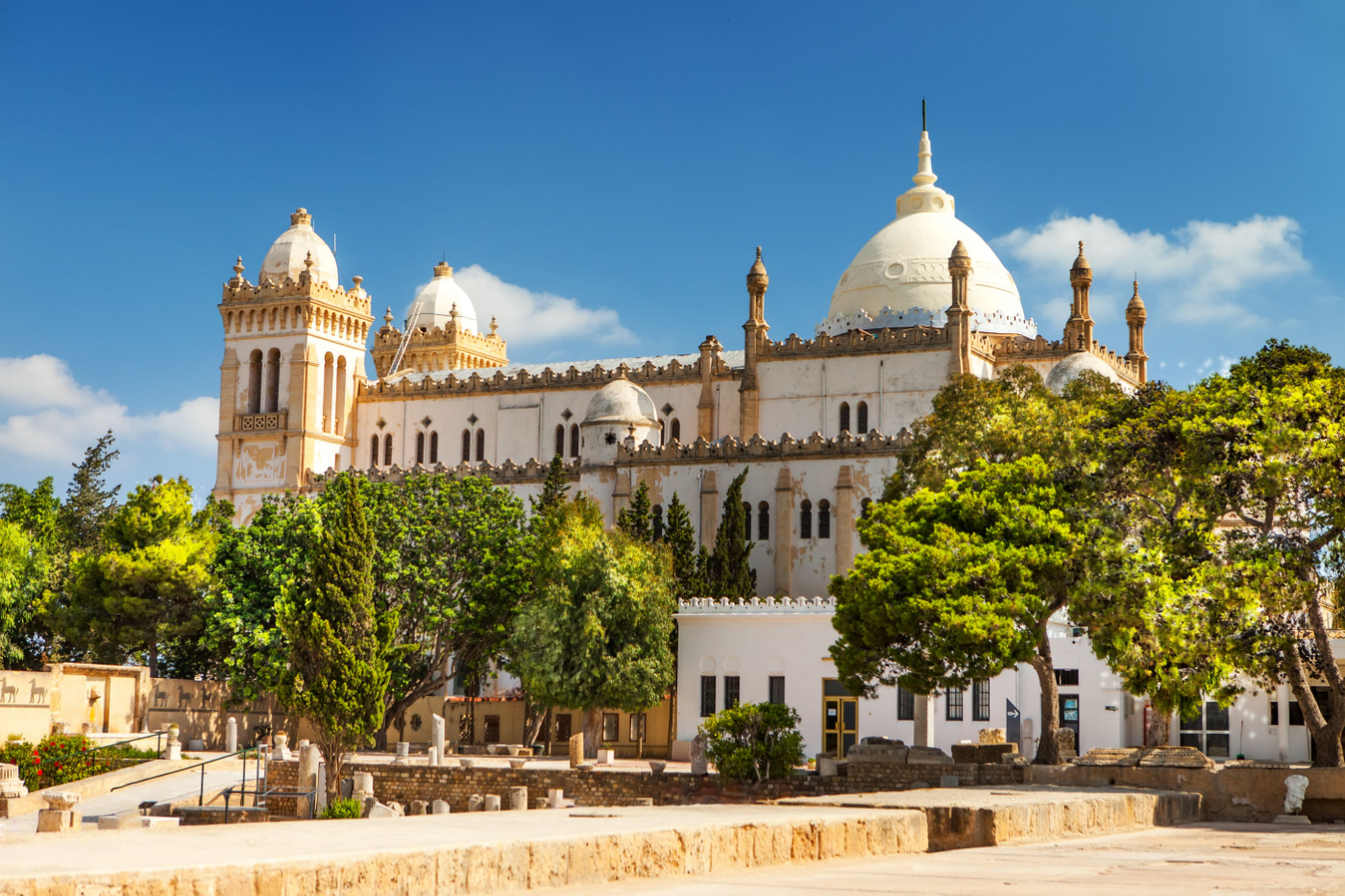 Day One: Ruins of Empire
Most international flights to Tunisia arrive in the country's capital, Tunis. This modern-day city is built atop the same land that once held the center of one of the ancient world's greatest powers, the Carthaginian Empire. Thousands of years ago, Carthage flourished here, spreading its civilization and commerce along the North African coast, across Mediterranean islands, and into southern Spain.
Following a bitter war with the Romans for control of the Mediterranean, Carthage was eventually decimated. Legend has it that the victorious Roman general, Scipio Africanus, sowed salt into the earth so the city would never again provide fertile soil.
This fascinating history provides the background to one of Tunisia's most famous attractions, the ruins of Carthage, a UNESCO World Heritage Site. The area includes not just partial remnants of the Carthaginian past, but also the Roman city that flourished a bit later.
I'm going to be brutally honest up front: these ruins are far from the most impressive reminders of the ancient world you'll ever see. Having said that, I would still recommend visiting if, one, you are a history nerd like me, and two, if you quite enjoy absorbing the atmosphere of a city by traversing its streets.
A ticket for the Carthage ruins gives you access to a variety of locations, including the Sanctuary of Tophet, covered with stelae and thought to have been the site of ritual sacrifice, and the District of Roman Villas, which provides some idea of ancient town structure. The Roman Theater of Carthage is largely a reconstruction, and really a minor entity if you compare it to the many existing, incredibly preserved Roman theaters elsewhere.
Easily the most impressive of all the ruins in Tunis is the Baths on Antoninus, a sprawling complex that once housed palaestras (gyms), frigidariums (cold rooms), caldariums (hot rooms), and tepidariums (warm rooms). There's nothing complete here, but there's enough left to create much more of an atmosphere and a sense of the past.
The ruins of Carthage are fairly randomly ticketed. I wasn't quite sure what to make of the fact that a patch of stone foundations in a bit of dried-out earth (some sort of craftsmen's quarter, according to a plaque) was behind a barrier, while the half pillars, fallen walls, and rather well-preserved underground rotunda of the Basilica of Damus El Karita were completely free to enter, just off the highway.
Modern Carthage itself is a rather pretty suburb, containing not only the presidential palace but also a few residences that clearly belong to some of the country's most important folks – at least judging from the military presence. Just wandering through the area, you'll come across little patches of ancient stonework, stuck between costly villas and modern roads.
End your day with a little schlep up to Byrsa Hill for some lovely views over the city.
Where to Stay in Tunis
I stayed in a five-star gem. The Dar El Jeld Hotel and Spa is located in the Tunis Medina, inside a wonderfully renovated residence. Waking up to gorgeous views of the city from the rooftop terrace was one of the highlights of my trip – and the in-house hammam didn't hurt either! There really isn't a better place in the city to stay for comfort, convenience, and buckets of Tunisian charm.
Day Two: Sea, Sand, and Sidi Bou Said
White buildings with bright-blue doors and shutters, perched over coastal views. No, this isn't the Greek isle of Santorini, it's Sidi Bou Said, at once one of the prettiest and most touristy areas of Tunis. Expect to pay top dollar for almost everything here, from beverages to trinkets.
The only exception is perhaps bambalouni, one of the most recognizable local foodie specialties. This giant donut is first deep friend, then not so much sprinkled as thoroughly dunked in sugary goodness. It's not the healthiest snack, but it's absolutely delicious and costs just a single dinar.
The start of the Sidi Bou Said area has a couple of stalls with people selling tat and trying to thrust unwanted 'gifts' upon you that they will then want money for. Politely wave them off and begin wandering the streets.
Sidi Bou Said is a fairly small area, but charming, with characterful double doors and mashrabiya (projecting windows enclosed by carved wood latticework, allowing people to look out while preventing others from looking in).
There are a couple of cafes here, too, expensive by local standards, but boasting some lovely views if you care to venture up to the terraces. The local tea, heavily sweetened with French-style mint sirop and often served with a handful of pine nuts (pignons) or almonds (amandes), is from my observation pricier than the coffee, not just here but everywhere in Tunisia.
While you're in the area, don't miss Ennejma Ezzahra Palace. Built by French painter and musicologist Rodolphe d'Erlanger as an homage to Arab-Islamic architecture. Of course, it's nowhere near as historic or amazing as Granada's Alhambra Palace, but it's still an impressive work of art.
From the terrace in front of the main door, you can look down through blooming bougainvillea at a small harbor and compact beach. If you're looking for some sun, sand, and possibly a bit of surfing, this was the cleanest of the beaches I visited in the Tunis metropolitan area. You will have to brave the 350 steps, however, which aren't so bad on the way down, but on the way up…
By way of comparison, the longest stretch of sandy seaside at La Marsa, which could be lovely, is rather sadly spoiled by lots of pieces of plastic trash, washing up with every wave. If you like a bit of property spotting, the area just a bit further inland from the coast contains some of the most ostentatious modern villas I saw in Tunis.
There are two other beachfronts to just quickly mention. Further west of La Marsa, Gammarth is the heart of the seaside resort town. During high season, the bars are buzzing and hawkers offer camel rides across the sands.
Along the eastern side of Tunis, La Goulette is where cruise ships visiting the area dock. While it's not a particularly attractive or interesting area, it does feature ramshackle seafood restaurants with sea views that are much frequented by locals, as well as an impressively domineering fort, built during the very brief stint Spain controlled the coast – if only it was open to the public!
If you want to experience the local metro service, the TGM (Tunis' oldest line) runs all the way from La Marsa, past Sidi Bou Said and the Carthaginian Ruins, through La Goulette, and finishes up at the end of the downtown area. The section along La Goulette is particularly scenic where it crosses the Lake of Tunis.
It is perfectly possible to combine the Carthaginian ruins and Sidi Bou Said into one day, but it will be a lot to cover, especially if you walk between the sites rather than hiring a driver or taking a series of taxis. On the other hand, if your capacity for ruins is fairly small, it's not unrealistic to cram it all in.
Day Three: Downtown Tunis
Right in the center of town is where you'll find more of the real flavor of the Tunisian capital.
I started off in the medina, whose enticing winding streets are filled with numerous cafes, souks, and stalls selling, well, pretty much everything. This hive of activity all grew up around the anchor of the Ez-Zitouna Mosque (literally Mosque of the Olive), originally built in the 7th century but completely reconstructed in the 9th. Today, its (much newer) minaret looms over the medina, calling folk to prayer. Entry, however, is forbidden to non-Muslims, so you'll have to head to the terrace of the Cafe Panorama if you want a glimpse inside.
Make sure you don't forget to try some Tunisian specialties while you're in the medina. A few alleyways house small eateries where you can grab one of the most popular foods with locals: baguette farcie, a half-French, half-Arabic invention that consists of flatbread stuffed with cheese, mixed veg, and either chicken or jambon, before being baked. It's heaven!
The Tunisians seem to love their filled breads, because two of the other most common foods I found everywhere were variations on a similar theme. The makloub is essentially folded-over flatbread cradling similar fillings to the baguette farcie (you can ask for it to be spiced up with some harissa), while fricassee is a deep-fried roll containing olives, boiled eggs, canned tuna, and potatoes. Given the penchant for baked bread and ubiquity of stone ovens, it's not surprising to also see pizza being sold at many stands.
Once a gate to the medina and now a monument marking the meeting place of Islamic and French Tunis, Bab Al Bahr is set in a square lined by a couple of cafes where you can stop for a coffee boost and a bit of people watching.
That done, it's time to enter the former French quarter. Buildings here bear the hallmark of European architecture, with grand mansion blocks adorned with Belle Epoque excess. The most notable structure is the Cathedral of Saint Vincent de Paul. Completed in 1897, it's a hodgepodge of architectural styles – the designer clearly just picked his favorite ideas and smushed them together – with a sculptured figure jutting prominently out from the façade to embrace the sky.
South of this, the Municipal Market is a paradise of fresh produce. The main hall features all manner of fruit and vegetables, while smaller sections branching off contain areas dedicated to fresh seafood (including fish and octopus), meat and chicken, and local cheeses and pickles. This area is complemented by the spice market, just a few steps away, filled with sacks of colorful powders.
This will probably put you in the mood for some dinner. Finish your day with a meal at Fondouk Al Attarine, which serves up all the classics of Tunisian dining inside a former caravanserai. The setting is absolutely gorgeous: a glass-enclosed courtyard ensconced in foliage. Try the brik (a savory pastry filled with a runny boiled egg, meat, potatoes, and veg), followed by the fish couscous.
Disappointingly, the Bardo Museum, said to contain one of the best collections of ancient mosaics anywhere in the world, was closed when I visited – and has been closed ever since the onset of Covid. Although the Tunisian government has said it's undergoing renovation, there's also no word on when it will reopen. If you are luckier than me and visit Tunisia when it has finally begun welcoming people back, the Tunisians we spoke to were full of praise.
Day Four: Westward, Ho!
Now, you've explored what Tunis has to offer, it's time to venture out of the capital and into other territories.
To the west are a pair of former Roman settlements that are located not far from one another. By public transport, they're not the easiest places to reach, so it might be worth investing in a tour as I did. Otherwise, you'll have to rely on a combo of bus and taxi.
Dougga is another of Tunisia's UNESCO World Heritage Sites. For those of a romantic temperament, there's plenty of scope for gazing misty-eyed at the extensive ruins and imagining the buzzing metropolis that once would have existed. Amidst the remnants of temples, bathhouses, and public latrines are a couple of standouts: the 19-tier restored theater, which could once hold 3,500 people, and the Capitol, which retains its grand portico intact.
While Dougga was a settlement long before the Romans elbowed their way in, there are precious few buildings to attest to that fact. An exception is the Libyco-Punic Mausoleum, a solid block of tiered stone adorned with griffins. It is one of just a handful of examples of Royal Numidian architecture that can still be seen today anywhere in the world.
Just over an hour's drive from Dougga is Bulla Regia. Just like Dougga, Bulla Regia has a history of Berber, Punic, Numidian, and Roman habitation. While the ruins of the Memmian Baths are impressive, what makes this site unique is its belowground halls, built around open courtyards. These subterranean sections of Roman villas were where the rich retreated during the hot summer months. Thanks to their location, they have been fantastically preserved.
The most amazing features are the almost perfect mosaics, many of which have been left in place (others have been removed from the Bardo Museum). These artworks give their name to most of the houses here, including the House of Amphitrite, which contains an imperious-looking nude woman (perhaps Amphitrite, the wife of Neptune) attended by crab-like centaurs and dolphin-bestriding cupids.
Return to Tunis for a hearty helping of ojja, a hearty tomato-based stew with eggs, peppers, and harissa that can be leveled up with some slices of merguez (a kind of spicy sausage).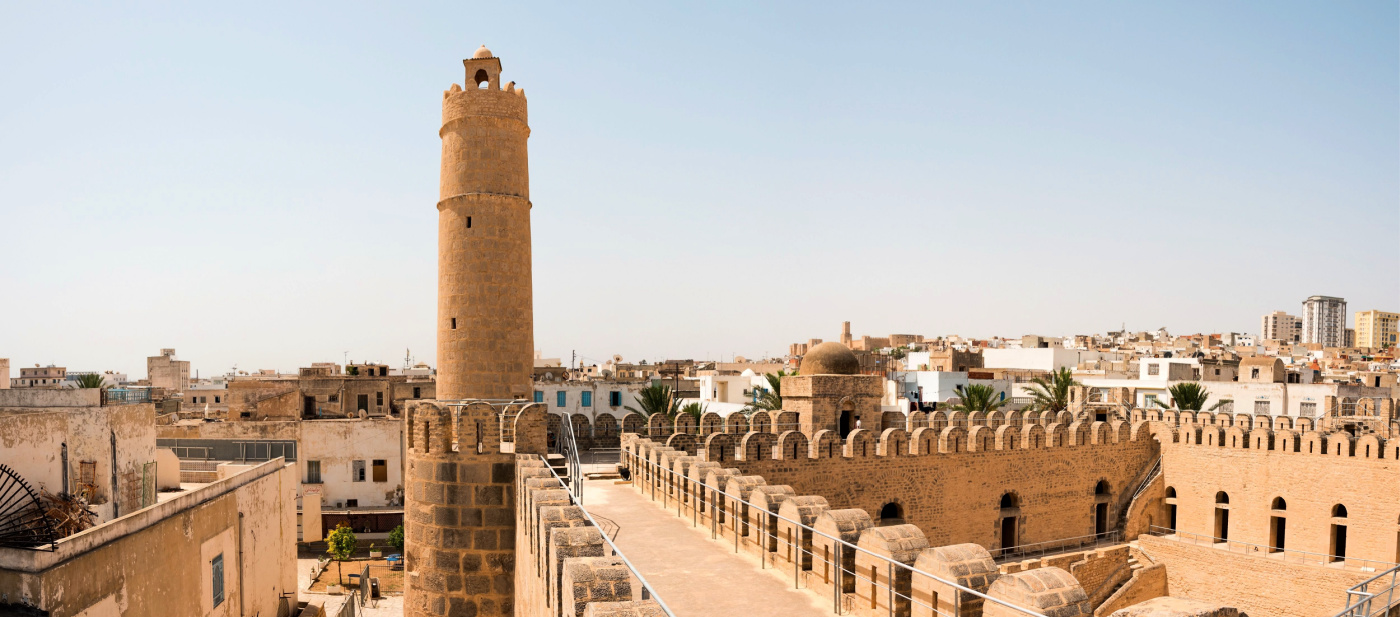 Day Five: Second-Best Sousse
While Tunis is by far the most modern of Tunisia's cities, you wouldn't be doing the country full justice by just staying in the capital for your whole trip. Hop on one of the two morning trains heading to Sousse and expand your horizons southward. The trip takes just under 2.5 hours.
It is possible to do a day trip tour from Tunis that manages to squeeze in Sousse alongside nearby El Jem and Kairouan all at once. However, it's a lot of driving for very little time in the towns. Instead, I recommend spreading out your trip so you don't have to feel like you're rushing the entire time.
Tunisia's third-largest city, Sousse is a good place to base yourself for exploring the surrounding region. It was actually an earlier Phoenician colony than Carthage known as Hadrumetum, though it was later superseded in influence and power. Today, Sousse shares the distinction with Tunis of having its medina awarded UNESCO World Heritage status.
There are some really interesting comparisons to be made between the medinas of Tunis and Sousse. While both have a similar array of stalls, Sousse's sellers are much more insistent, perhaps because the medina is smaller and more wholly geared towards tourism – in Tunis, the medina seems to have more alleyways that are just for locals shopping for socks, underwear and tea kettles.
On the other hand, Sousse's medina still has most of its encircling defensive structures intact, with the sandy-colored walls firmly delineating the area from the rest of the city. The imposing kasbah (fortress) now plays host to the Sousse Archaeological Museum, the best place to see recovered Roman mosaics (at least until the Bardo reopens).
The oldest remaining part of Sousse's medina is the ribat, a compact, square fortification. I puffed my way to the top of the tower via a narrow spiral staircase and was rewarded with panoramic views over the rest of the medina.
Opposite the ribat is the city's preeminent religious edifice, the Great Mosque of Sousse, which looks more like another defensive structure than a mosque, particularly as it lacks a minaret and the beautiful decorative geometric patterns you would usually associate with an Islamic place of worship. Non-Muslims can go no further than the courtyard, but you can peep into the prayer hall from the doorway.
The medina can be chaotic, but if you want some rest and relaxation, Sousse is home to a strip of coastline that features the soft, sandy Bou Jaafar Beach. Grab a beer or some wine from the nearby MG Magasin General and kick your feet up for an hour or two.
Where to Stay in Sousse
Dar Lekbira Boutique Hotel was only opened at the tail end of last year. As you would expect from a brand-new property, everything is shiny and clean. The building itself has been nicely renovated, though the furnishings tend towards the louder side of the spectrum. But hey, I'm not opposed to a little bling-bling!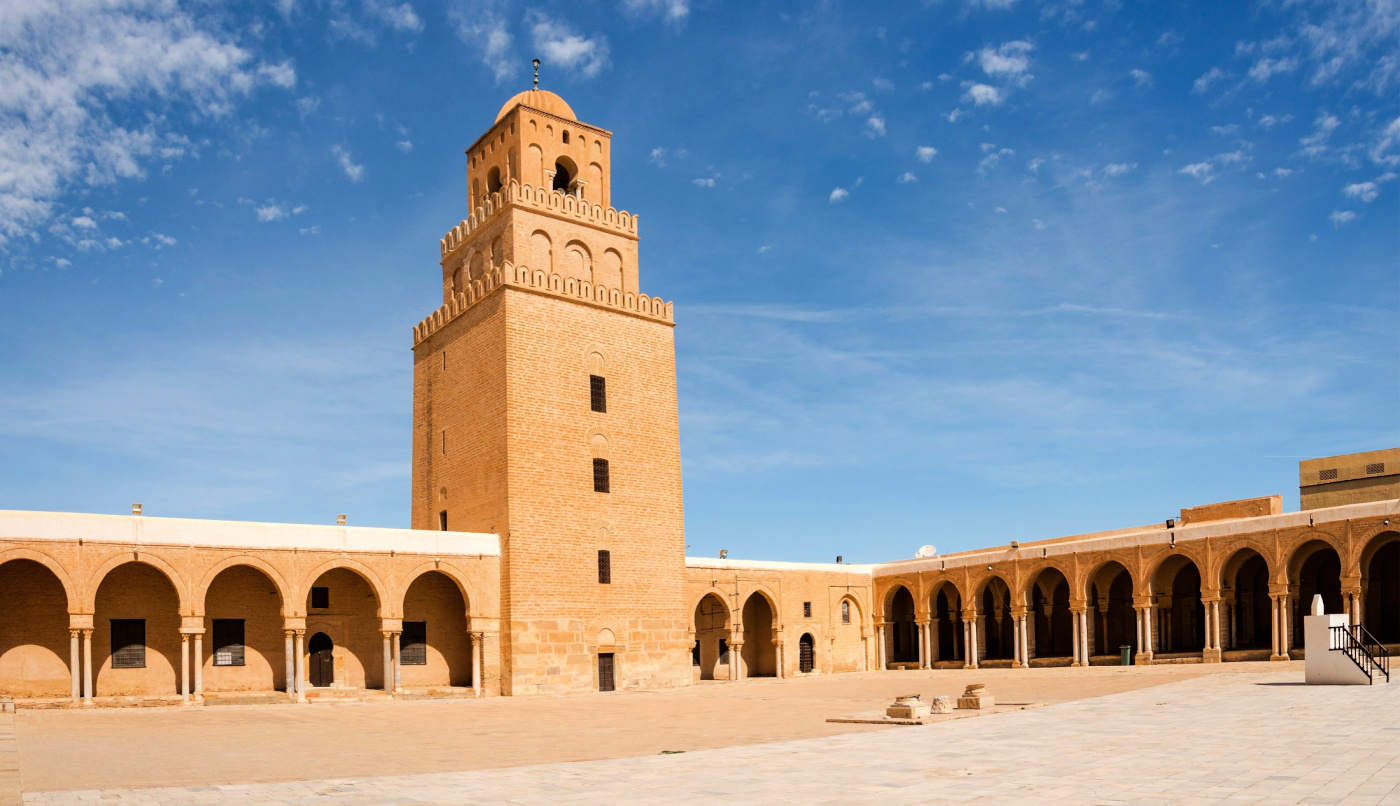 Day Six: Kairouan
Just to the west of Sousse, Kairouan was founded in 670 CE as a military post by a general of the Rashidun Caliphate. The Great Mosque, which is the city's jewel, was first constructed at this time, before being rebuilt in 836 by the Aghlabid dynasty, the same powerful family who gave Sousse its Great Mosque.
While the exterior of Kairouan's mosque appears just as forbidding and unadorned as Sousse's, the inside is another story. Marble and porphyry columns line the hypostyle that leads to the prayer hall, which has two beautiful wooden doors barring entry to non-believers (like other mosques in Tunisia, no non-Muslims allowed). The boxy minaret, on the other hand, definitely looks like something out of a fortress.
A short walk away and just a few decades younger, the Mosque of the Three Doors may not look like much, but it is thought to be the oldest example of a mosque with a sculpted façade still in existence anywhere in the world. An interesting historical tidbit maybe, but it's not as impressive as the Mosque Sidi Sahbi (Mosque of the Barber), which exhibits some beautiful tilework and stucco design in the publicly accessible courtyard.
Kairouan is pretty easy to reach from Sousse if you don't mind an adventure on a lounge. These minivan taxis are a cheap way to traverse the country where train and bus lines fail. It's not an easy system to work out alone, but if you ask your hotel to help you, you shouldn't have any problems getting an idea of the schedule.
Day Seven: A Jem of a City
El Jem is mainly famous for one thing: its enormous amphitheatre, which was possibly only rivalled by Rome's Colosseum when it was whole. Built in the 3rd century CE, it was able to hold 35,000 people.
Part of the building has since crumbled away, but there's still most of this impressive ruin left to explore. Clamber up through the tiered seating to feel the full size of the space, then head down to the underground to see where the behind-the-scenes action happened.
The ticket to the amphitheater also includes access to the nearby museum, which has its own collection of beautiful mosaics, salvaged from various Roman sites.
Getting to the city is pretty easy from Sousse. Just hop on one of the trains heading towards Sfax. The trip takes just over an hour. Since there's not much else to see in El Jem and the train schedules are heavily skewed towards pre-noon travel, I recommend visiting the amphitheater in the morning, before returning to Sousse for lunch.
After lunch, you can explore the area around Monastir. While technically a separate city, Monastir is connected to Sousse by the Sahel Metro, which means it takes just half an hour to get from one downtown to the other.
Monastir is a beach resort area with several narrow strips of sandy stretches abutting Mediterranean waters. Despite being a little too closely hemmed in by the nearby road, Qaraiya Beach is still a very scenic location to kick off your shoes and go for a paddle, particularly because it's overlooked by the impressive remains of the city's ribat. This fortress is more striking than the one in Sousse and boasts a watchtower that you can climb for great views over the surrounding area.
If you've got a little spare time on your hands, pay a 20-minute visit to the Mausoleum of Habib Bourguiba. Just a short walk from the ribat, it's a dazzling monument to the father of Tunisian independence. When the sky is cloudless, the golden central dome and gold-tipped minarets glitter cheerfully in the sun. Habib Bourguiba is a beloved figure in Tunisia not just because he was a tireless agitator against colonial rule or because he was elected as the country's first president, but also because of his many social reforms, promoting universal education and women's rights. It's worth going just to pay homage to the man and his ideals!
Return to Sousse for your final night.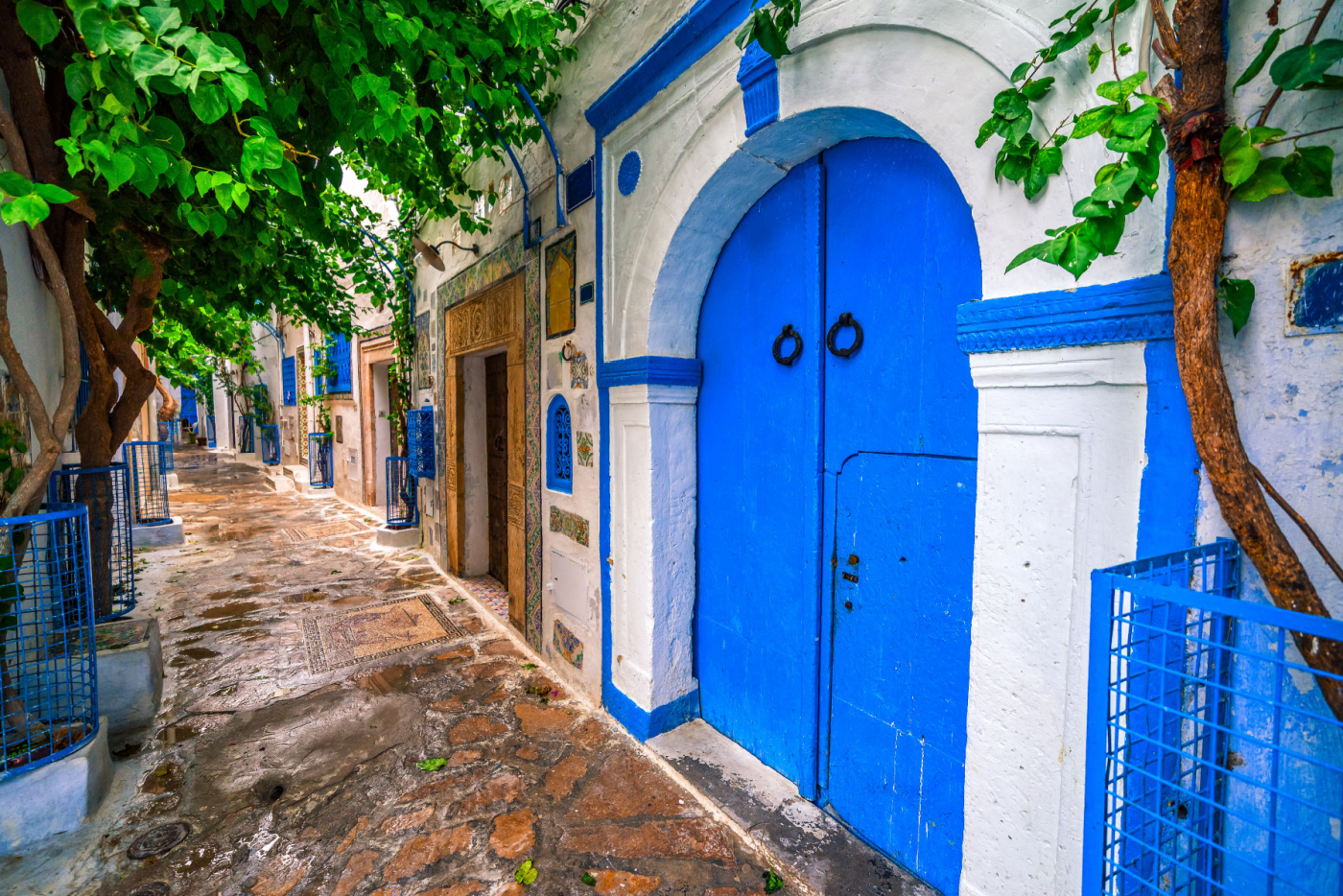 Day Eight: Lazy Days
After several madcap days of touring a country, it's always nice to take a day or two just to kick back and relax.
Hammamet is Tunisia's original resort town. A former fishing village, it transformed over the course of the 20th century to become a destination for glamorous holidays, with film star Sophie Loren and fashion designer Elsa Schiaparelli both once owning houses here.
Today, there are a number of five-star resorts lining the sandy shores, including many with private beaches that are adults only. The waters lapping the coast are deliciously warm, though some parts of the beach are definitely better tended than others. Pick your spot wisely and while away the day with a bit of sun worship.
Where to Stay in Hammamet
If you're going to stay in a hive of beach resorts, you may as well throw yourself fully into the experience. The Royal Azur Thalasso has several outdoor swimming pools, easy access to a private beach, and lots of dining options, from al fresco terraces to the ridiculously overdone indoor restaurant. I rarely go for 5-star excess over characterful boutiques, but when I do, this is the kind of over-the-top-ness I enjoy.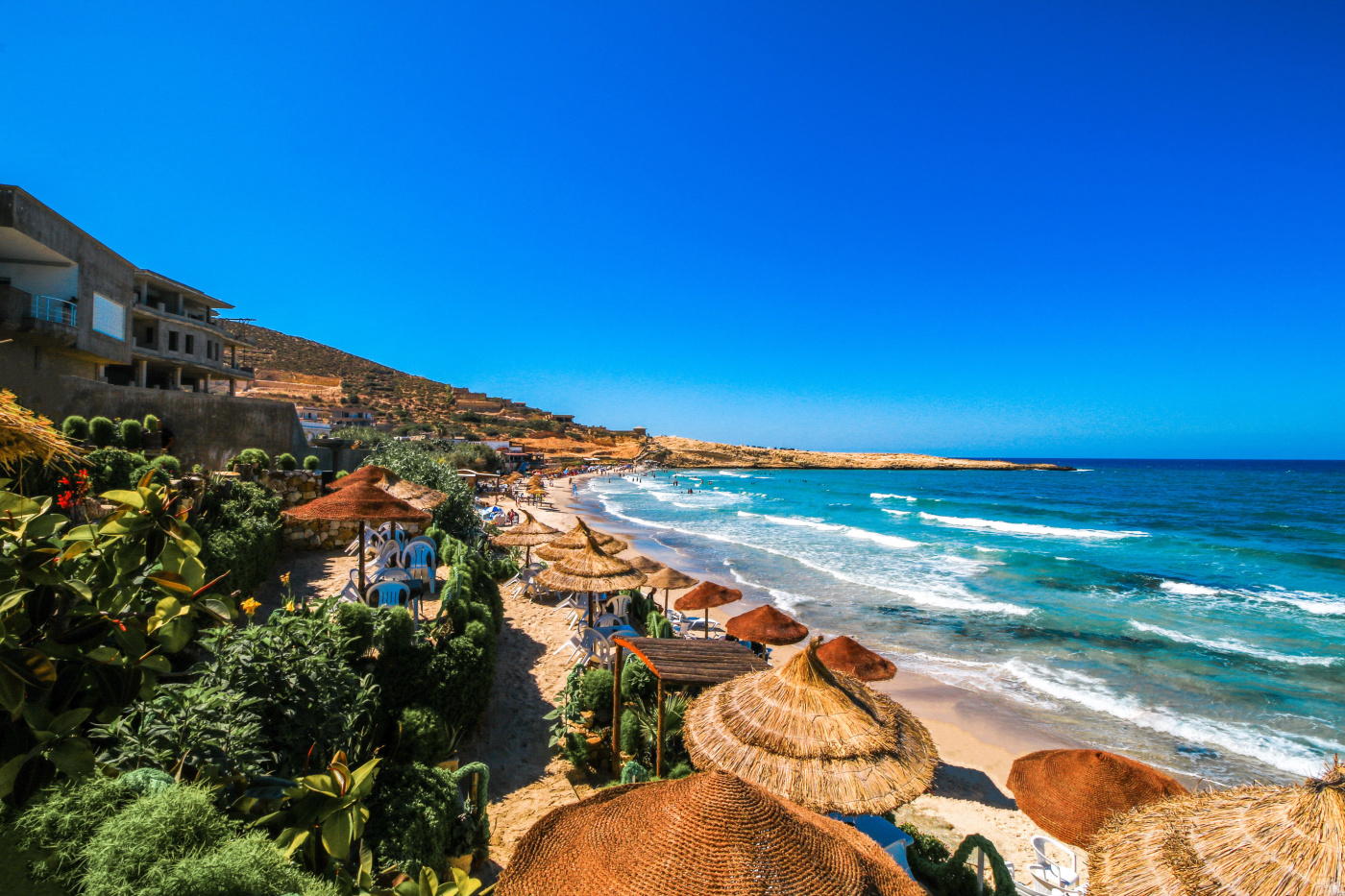 Day Nine: Beside the Beach
If you want to break up your beach time with some cultural curiosities, Hammamet is home to a small medina that is filled with bright-white houses and dominated by the sandy-colored 13th-century kasbah. To be honest though, the vibe is very much a Disneyland version of Tunisia, especially after having visited much more interesting medinas elsewhere in the country.
Which reminds me, you can actually go to what is purported to be North Africa's oldest amusement park along this slice of coast, dubbed Carthage Land (of course). If you're traveling with kids, bumper cars, log flumes and roller coasters might be a welcome addition to your trip.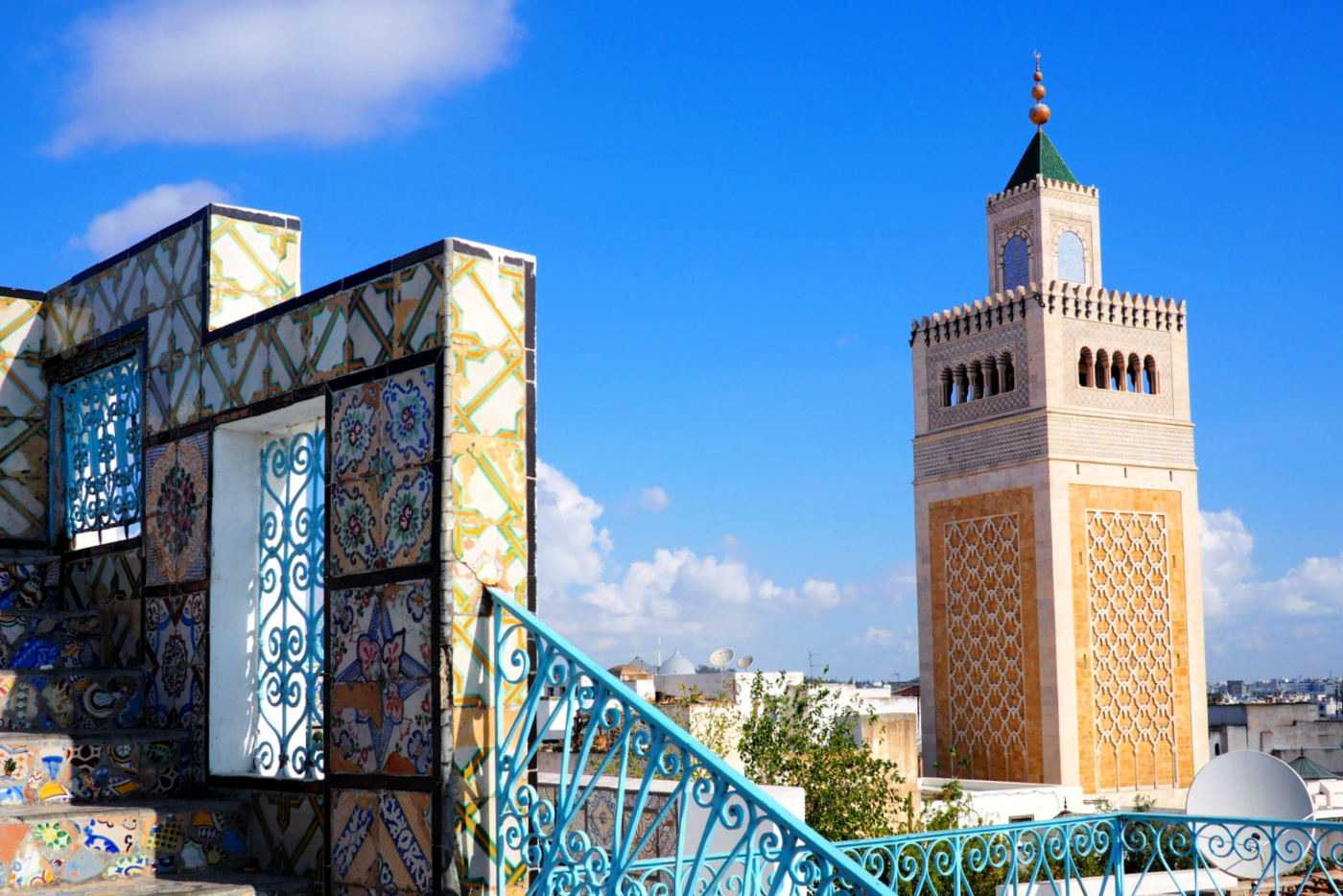 Day Ten: Tunis Revisited
Catch the train from Hammamet back to Tunis. There are infrequent direct trains into the city center, but you may also have to change at the suburban railway town of Borj Cedria. Either way, the journey should take you between 1.5 and 2 hours.
If you've got a little time before your flight, head back into the medina for any of the local specialties you didn't manage to try the first time around. One for the vegetarians, kafteji is essentially a mix of fried vegetables (eggplants, bell peppers, potatoes, tomatoes, zucchinis) that are often served as a side, though I prefer it stuffed in whatever flatbread the seller has got handy!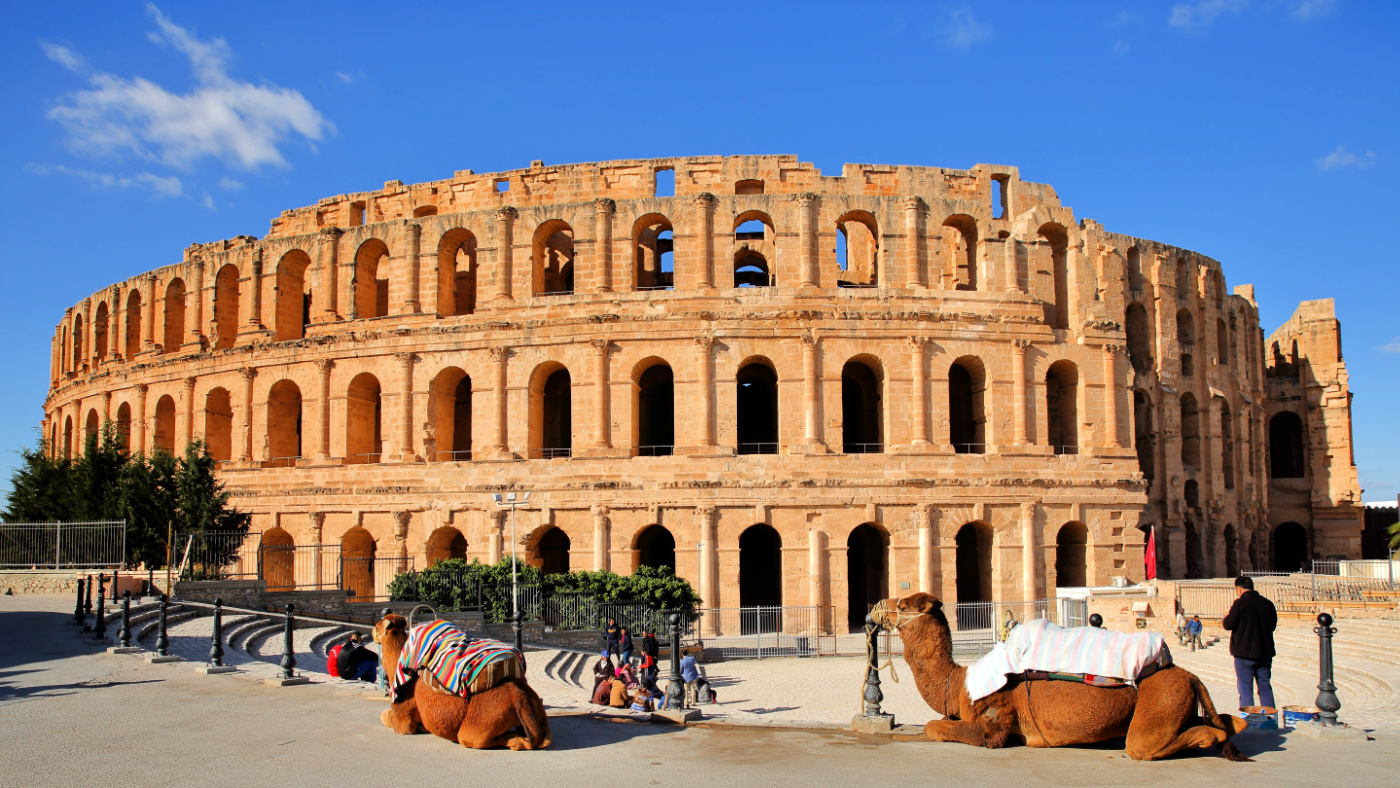 And That's How to Spend 10 Days in Tunisia!
Tunisia may not be the first country that springs to mind when you think of North Africa, but it makes for an interesting alternative to the more commonly visited countries of Egypt and Morocco. With Roman ruins, sandy beaches, and lots and lots of stuffed-bread specialties, Tunisia has plenty to recommend itself to visitors looking to take the road less traveled.