I've been visiting Phnom Penh for ten years now.
I first stepped foot in this vibrant city way back in 2012 and most recently returned in 2023: yes, it's certainly changed a lot since that initial visit! But that's been one of the great joys of my regular trips; seeing how this city has grown and evolved into somewhere that's a hell of a lot of fun to spend time in.
Phnom Penh is a city that's steeped in history, and it's important to take the opportunity to learn more about the atrocities that have taken place in its past. I always urge visitors to visit the Killing Fields and Tuol Sleng Genocide Museum, as difficult as the experiences may be, because it's so important to remember and honour the millions of Cambodians who were murdered by the Khmer Rouge.
But at the same time, Phnom Penh is so much more than its past and it's thrilling to dive headfirst into its exciting present, too.
In 2023, Phnom Penh is a bustling city with all the endearing chaos that's common in Southeast Asian cities, but with its own unique spin on it all. You might be surprised to learn that this is a destination with chic, high-end rooftop bars, hipster cafes serving avocado toast and flat whites, and some seriously modern accommodation options. As you explore the city, you'll encounter world-class museums, elegant temples, and bustling markets, then get to relax from it all alongside the chilled-out waterfront.
I love this city and it's taken me a decade to put this guide together, simply because I wanted to ensure I could do it justice.
Without further ado, then, here are the best things to do in Phnom Penh:
Wander the Waterfront, By Day and By Night
One of my favourite places to hang out in Phnom Penh is Sisowath Quay. There's always something going on. And as somebody who has an inexplicable passion for all things flag, I can't deny that I enjoy walking beside the water and naming the country each one belongs to.
At Sisowath Quay, locals and travelers unite to enjoy a vibrant waterfront. In what is already a bustling city, this stretch of pavement might just be the most happening part of town.
Throughout the day, you'll spot locals strolling up and down the boardwalk with friends, families, and pets. Interspersed between them, you'll encounter vendors selling everything from trinkets and handcrafted goods to street eats and cold drinks. You'll find plenty of green space, shady trees, and park benches, too, on which to sit and enjoy your treats. 
The waterfront is a great place to come for a morning stroll, coffee in hand, but it's at sunset when things really get going. The nearby bars and restaurants light up and fill with patrons, aerobics classes take advantage of the cooler weather, and kids get football games kicked off. It's a fantastic place for people-watching and I highly recommend spending an evening hour soaking it all in.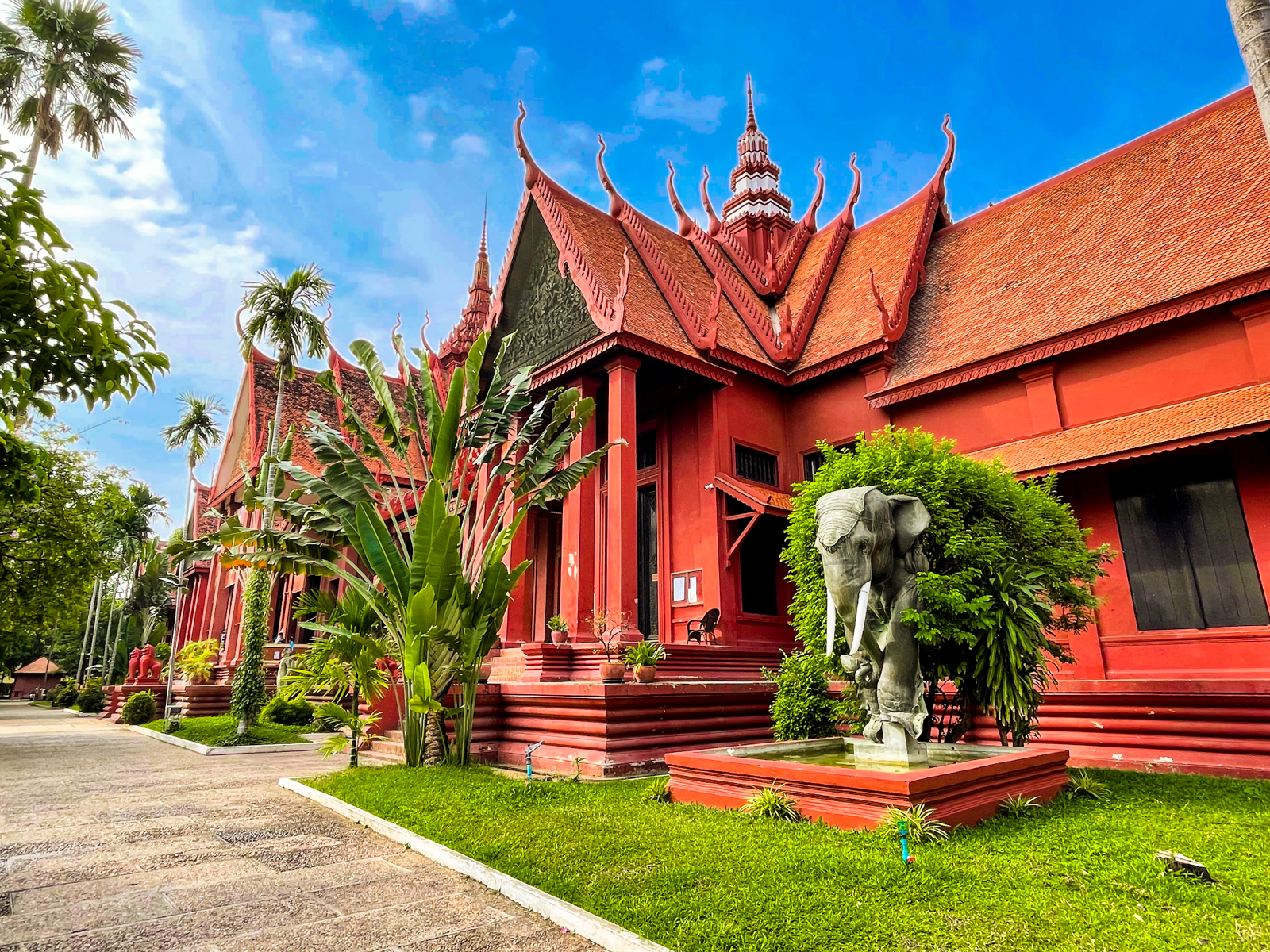 Hit Up the National Museum of Cambodia
Now, I'm no museum fanatic.
And yet, I highly recommend spending an hour or two at the National Museum of Cambodia. I was unexpectedly impressed by all of the jewels it has to offer visitors.
Once inside the terracotta-coloured building, you'll make your way past 2,000 Khmer artifacts, dating from the 4th Century to the modern era. This is one of the largest collections of Cambodian relics in the world — they have another 14,000 lurking in the basement! — and I found it fascinating to see them up-close.
Yes, you'll see plenty of examples of these treasures while you're at Angkor Wat, but here, you can get within inches of the impressive sculptures; most aren't behind glass either. Most impressive is the bronze statue of Vishnu from the 11th century; a whopping two-metres in length.
As you pass from room to room, you'll encounter hundreds of examples of Khmer creativity, including ancient sculptures and statues, pottery, ceramics, and tools, plus ethnographic art, traditional transportation methods, and even the world's longest hand-woven scarf. Most of the items have a short description in English, but don't expect to learn a huge amount from these — instead, consider renting an audio guide for $5 or a human one for $10.
If you're not that big on museums, I still recommend heading to the grounds to admire the rust-coloured architecture: you can walk around the exterior of the building without having to pay an entrance fee. Amazingly, we ran into a couple of workers in the garden who were carving similar statues to the ones we'd seen inside the museum.
There's also a cafe on-site that we stopped at for a fresh coconut before heading back out onto the busy streets of Phnom Penh.
Entrance to the museum comes in at $10 per person, which is relatively expensive for Cambodia. If you're keen to learn more about the country's history, though — and especially through its ancient sculptures — I think you'll find the entrance fee worth it.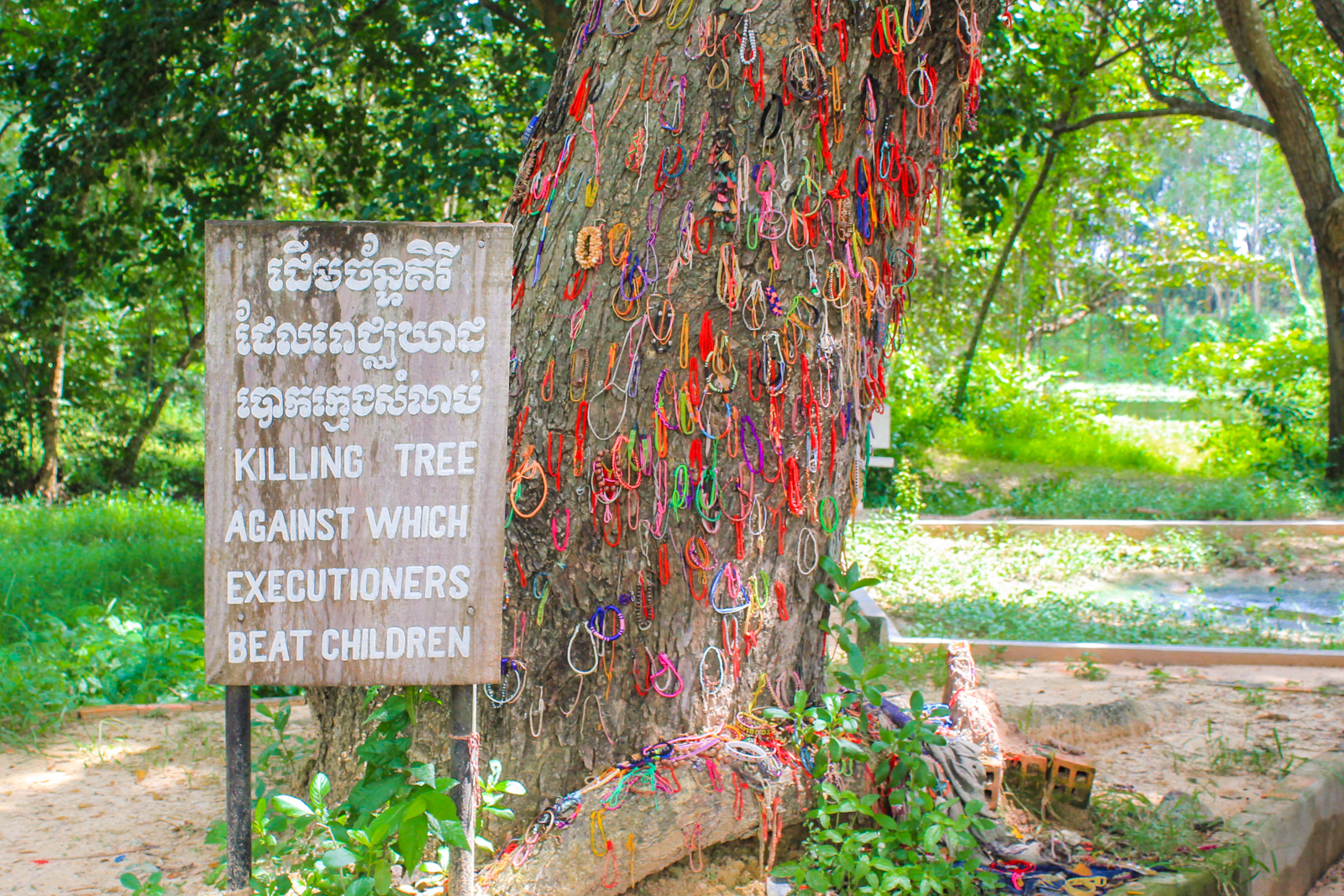 Pay Your Respects at the Killing Fields
I wasn't sure if I wanted to go to the Killing Fields.
It sounded like a challenging, confronting experience, and the prospect of learning about such atrocities left me feeling uncomfortable.
But travel isn't always sunshine and rainbows. In order to understand Cambodia beyond its fun-filled attractions, you must first expose yourself to the country's tragic history. It's such an important visit.
In case you're not up on your history, let me give you a brief introduction to the Khmer Rouge, who ruled Cambodia between 1975 and 1979. During their regime, they implemented a brutal and radical social experiment aimed at creating a classless, farming-based society. That vision led to one of the deadliest genocides in modern history.
The Khmer Rouge forcibly evacuated people from cities and towns, abolished currency, religion, and personal property, and imposed harsh agricultural labour on the population. Intellectuals, professionals, and anyone perceived as a threat were killed. Nearly a quarter of Cambodia's population perished due to execution, forced labor, or starvation beneath their rule.
The Killing Fields is where these brutal murders took place. It's located 17 kilometres, or 11 miles, outside of the city. I recommend hiring a tuk-tuk driver for the day to take you to both here and the Genocide Museum in one somber morning.
As you can imagine, this makes for quite a difficult experience, but it's only through learning about these experiences that we can ensure they never happen again.
When you arrive at the site, you'll be handed a headset. Then, you'll embark on a self-guided experience through the fields, stepping over recently-emerged bones and tattered clothing; yes, really. Your audio guide will provide expert narration and firsthand stories of some who managed to survive the atrocity. I still get chills when I remember some of the narratives I heard; particularly the part where they play the music that would have been amplified across the Killing Fields, drowning out the sounds of executions.
This Killing Field is just one of many around the country. In fact, more than 20,000 mass graves have been discovered across Cambodia, with an estimated 1.7 million people buried within them. It's chilling and devastating, but visiting will help you understand Cambodia's past while ensuring you admire its resilience and growth since.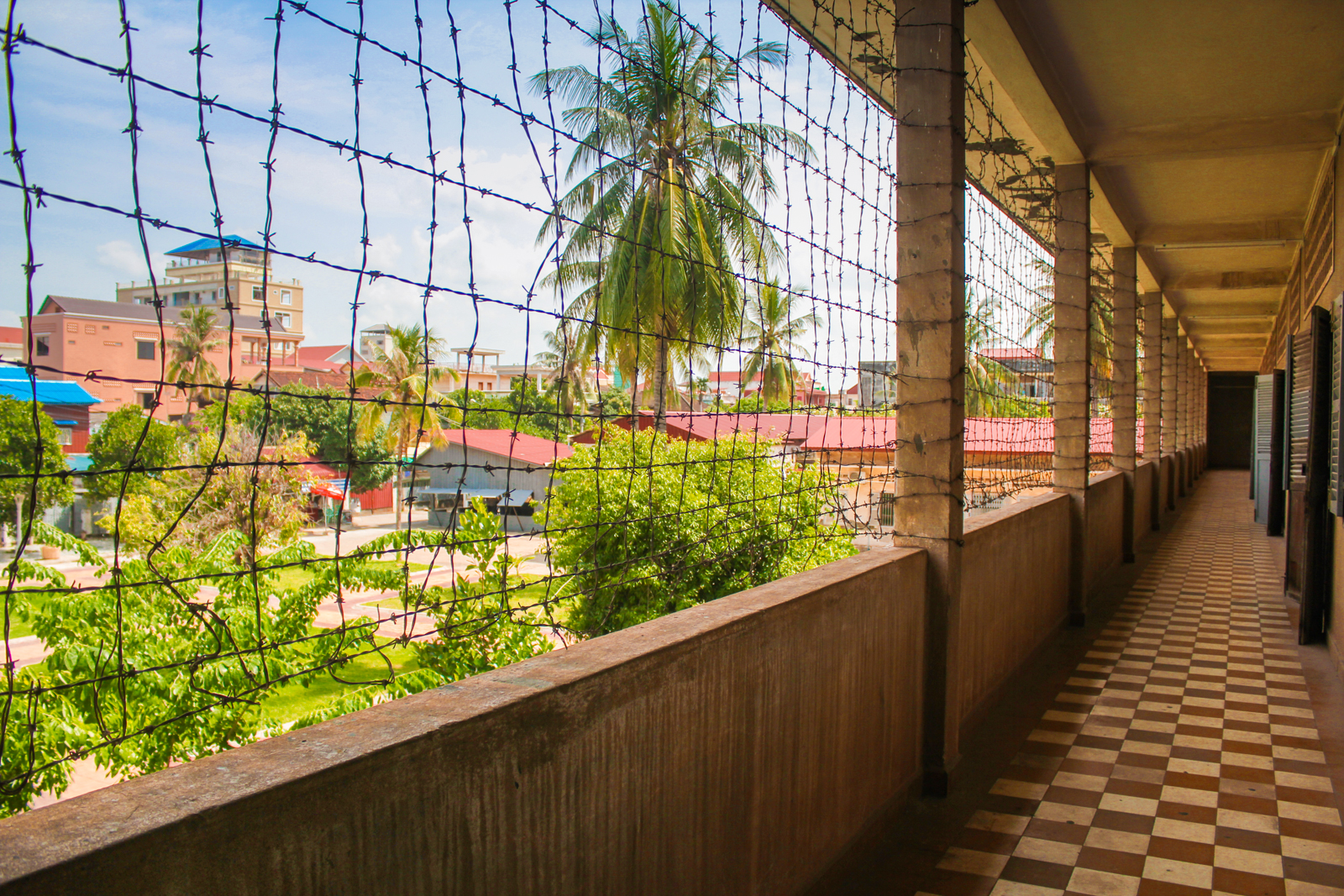 Then Venture Over to the Tuol Sleng Genocide Museum
The horrors committed by the Khmer Rouge weren't limited to the Killing Fields. That's why it's just as important to spend an hour or two at Tuol Sleng. Most people visit the Killing Fields first, then make their way over to S-21, which is the alternative name for this infamous security prison.
Horrifyingly, this complex was originally home to a high school; its open courtyard once filled with happy, playful children. Little did anybody know that it would soon be transformed into a detention centre, where tens of thousands of Cambodians were interrogated, tortured, and killed. The prisoners here included teachers, doctors, lawyers, and even Khmer Rouge members who fell out of favour. The conditions were deplorable and torture methods brutal. Today, S21 Prison stands as the Tuol Sleng Genocide Museum, preserving the harrowing history of the Khmer Rouge era and serving as a reminder of the evils that took place during that time.
The museum pulls no punches, and neither should it, with the prison remaining much the same as it was during the height of the atrocities. It was within this building that over 17,000 people were locked up, while only a handful made it out alive. Some of those that did make it out now work at the museum, including one soul who was rescued at the 11th hour after Vietnam invaded.
As you explore the museum and prison, you'll walk by cells fitted with iron beds where prisoners were executed, with their specks of blood remaining on the surfaces to this day. There's also a display of hundreds of portraits that puts faces to the genocide victims. It's a heart wrenching experience that, alongside the Killing Fields, helps you understand the brutality of the Khmer Rouge.
You can hire any tuk-tuk driver in Phnom Penh to take you to both the Killing Fields and Tuol Sleng and can expect to pay between $20 and $30 for a four-hour trip to both places. Alternatively, you can book in advance on GetYourGuide at a price of $20 per person, which includes a tour with a knowledgeable guide around both sites.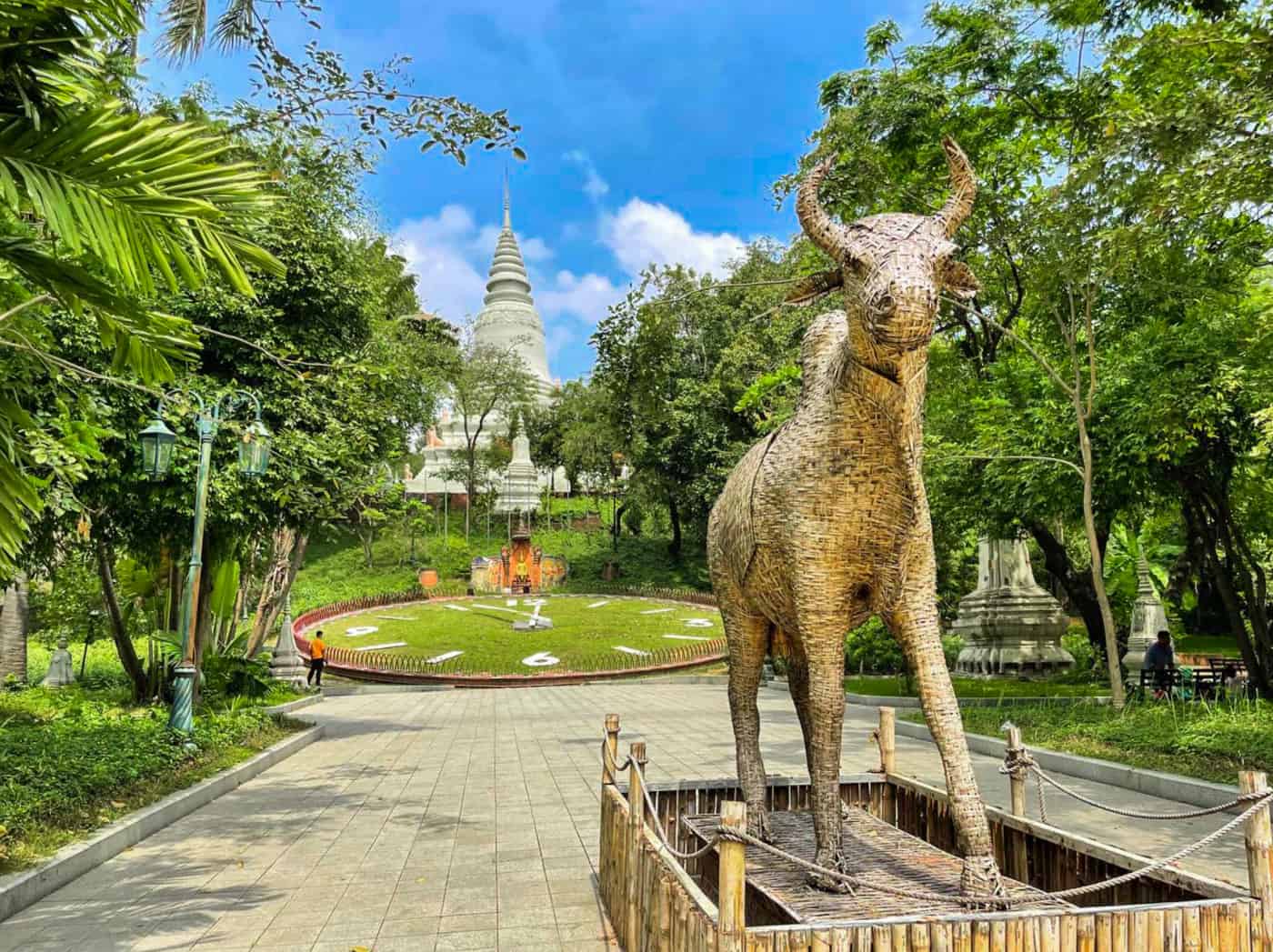 Summit Wat Phnom
Phnom Penh is a decidedly flat city, making it a pleasure to walk around — if you don't mind the heat, that is.
But there's one part of town that breaks the plane and that's Phnom Penh. Wait, what? No, I'm not talking about the city, but rather the hill that the city was named after. To be fair, it's more of a knoll than a hill, but that mighty elevation change of (ahem) 46 metres, or 150 feet, still helps it stand out against the broader city skyline.
And atop the hill, you'll find Wat Phnom Daun Penh, a rather impressive temple that dates back to the 1300s — it's one of the oldest, and most important, in the city. You'll pay just $1 to go inside, so there's no reason to skip out on the experience; it's definitely worth the money. The painted ceilings inside are particularly impressive, as are the numerous Buddha statues, but I most enjoyed soaking up the peaceful vibes as I wandered around the exterior.
If you like your wildlife, watch out for Giant hornbills while you're here; these sizeable birds grow to over a metre in length, with a wingspan of up to almost two metres! There's normally a dozen or so hanging around the complex to take photos of, and they're a big draw for the bird enthusiasts in town. Even if you're not a fan of birds, keep an eye out for them: they're said to bring good fortune to anyone they fly over.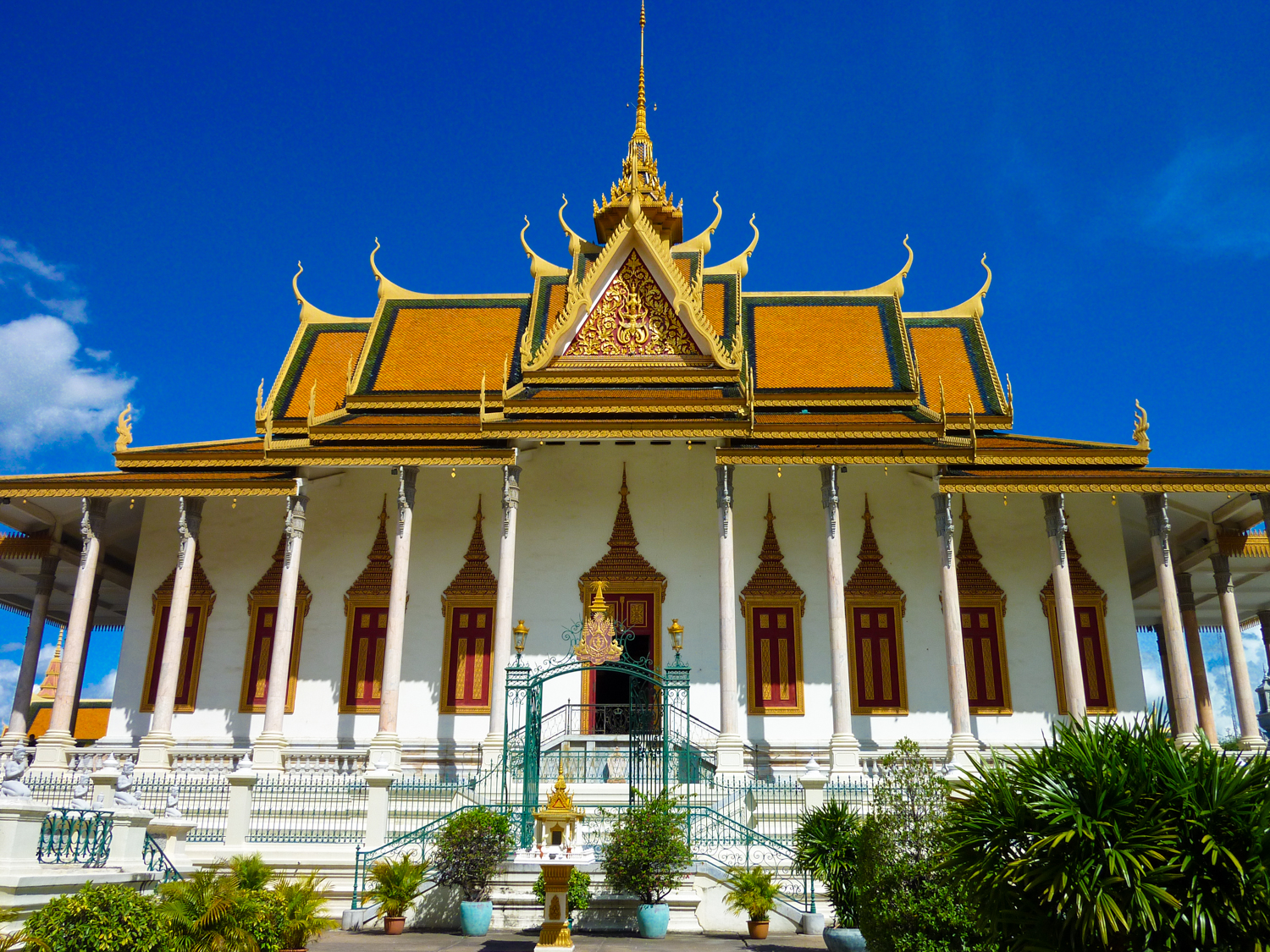 Explore the Royal Palace of Cambodia
It's hard to avoid the Royal Palace. This grandiose residence has been the official home of Cambodia's royal family since the mid-19th century and its central location means you'll find yourself passing by on a near-daily basis.
Is it worth the $10 entrance fee? To me, it was. This complex has so much to see, from its landscaped gardens to its opulent Throne Hall. One area you can't access is the western reaches of the palace: that's where the King's residence, the Khemarin, is found, as well as Villa Kantha Bopha, where foreign guests stay when they visit. If the blue flag is flying, it means the king is home!
You can expect it to take around an hour to see everything, and if you haven't yet encountered a lot of Khmer architecture across Cambodia, you'll find the buildings particularly impressive. Most are wowed by the Throne Hall, while one of the most unusual structures is the entirely-iron Napoleon III Pavillion, which was gifted to Cambodia by France in the 1800s.
Oh, and there's one more structure that I haven't yet mentioned.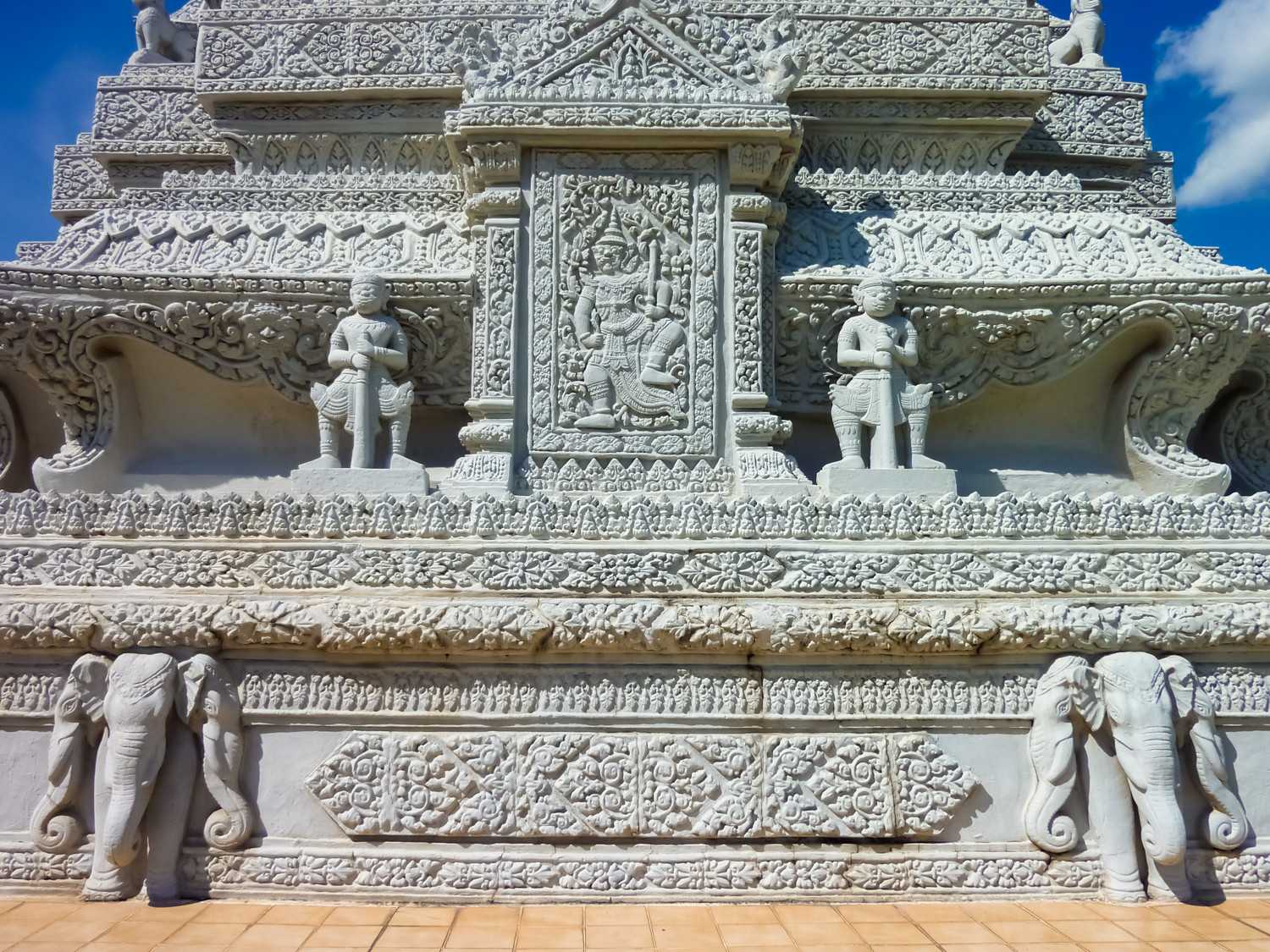 Your $10 entrance fee also gives you access to the Silver Pagoda. For many people, this structure is what makes the entire cost worth it. The elaborate temple gets its name from its floor: it's blanketed in over 5,000 silver tiles, weighing over six tons in total! While most are covered to protect them from damage, you can catch a sneak peek of them at the entrance.
The temple's main hall houses some beautiful artwork, but the most impressive parts of the interior are the Emerald Buddha, a small but significant statue in the centre of the room, and a human-sized, solid gold Maitreya Buddha (the successor to Buddha) that's encrusted with over 20,000 diamonds!
Several things to keep in mind as you plan your visit to the Royal Palace: you need to cover up, which includes your knees, back, shoulders, and elbows. If you don't, you can purchase clothing at the entrance for $3. Additionally, the opening times are a bit odd here: 8 – 11 a.m. then 2 – 5 p.m. — it gets busiest on a Sunday, so try to time your explorations for an alternative day of the week.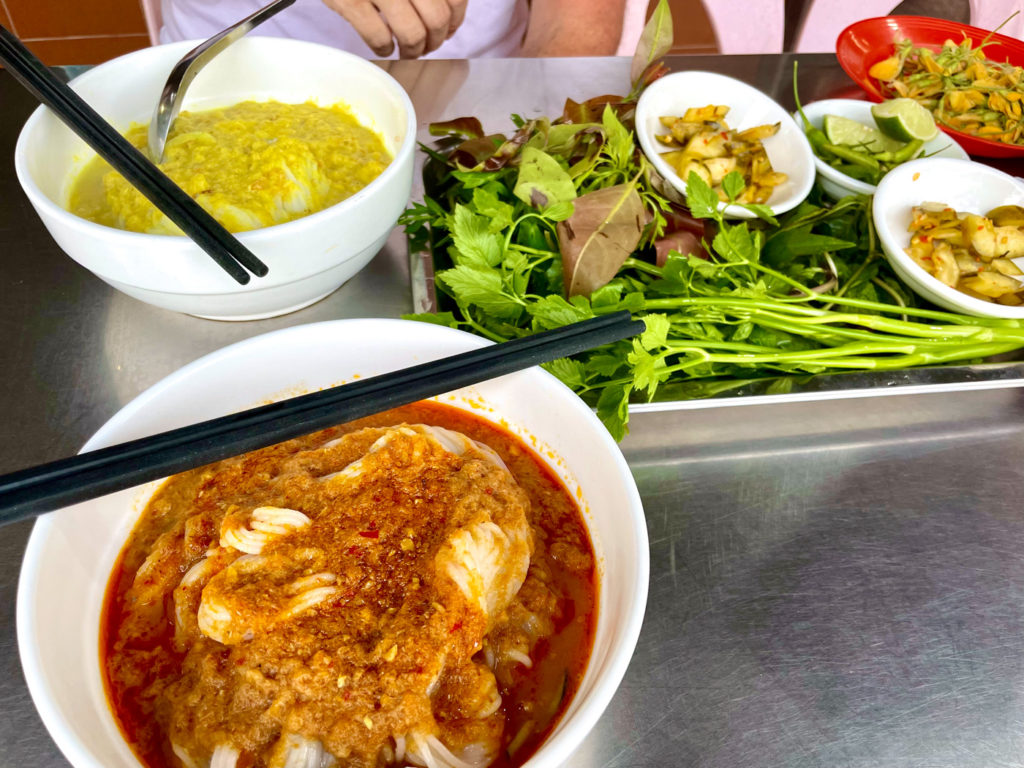 Head to Sophath for Breakfast Noodles
Forget eggs, toast, cereal, or bacon; in Phnom Penh, you should be eating noodles for breakfast.
My absolute favourite spot for num banh chok, otherwise known as Khmer noodles, is Sophath. This unassuming restaurant opens early, at 7 a.m., and closes at 8 p.m., so you don't technically have to go there for breakfast. In my opinion, though, it does make for a particularly local way to start your day and isn't that why you travelled to Cambodia?
English isn't spoken by the staff, but don't let that put you off visiting. Instead you'll be greeted by two vast steaming vats and invited to pick the one you want. Dave and I went for one of each — with little idea of the differences or what was in them — but both turned out to be amazing. If I had to choose just one to recommend, it would be the green-coloured rather than the red, but if you're there as a party of two or more, it's worth sampling some of both.
So what even is num banh chok? Well, it's a typical breakfast dish here in Cambodia and one of the most beloved. It's all about the noodles; they're handmade daily and gently fermented, giving them such a light, fresh texture and taste. Fill the bowl with a coconut-based fish curry that's packed full of tons of spices and you've got an interesting, flavourful breakfast. Accompanying the dish is a selection of fresh herbs, edible flowers, and other, less identifiable leaves — add them all to your bowl; they're fantastic!
We paid less than $2 for each of our soups and rated it as one of the best meals in the city.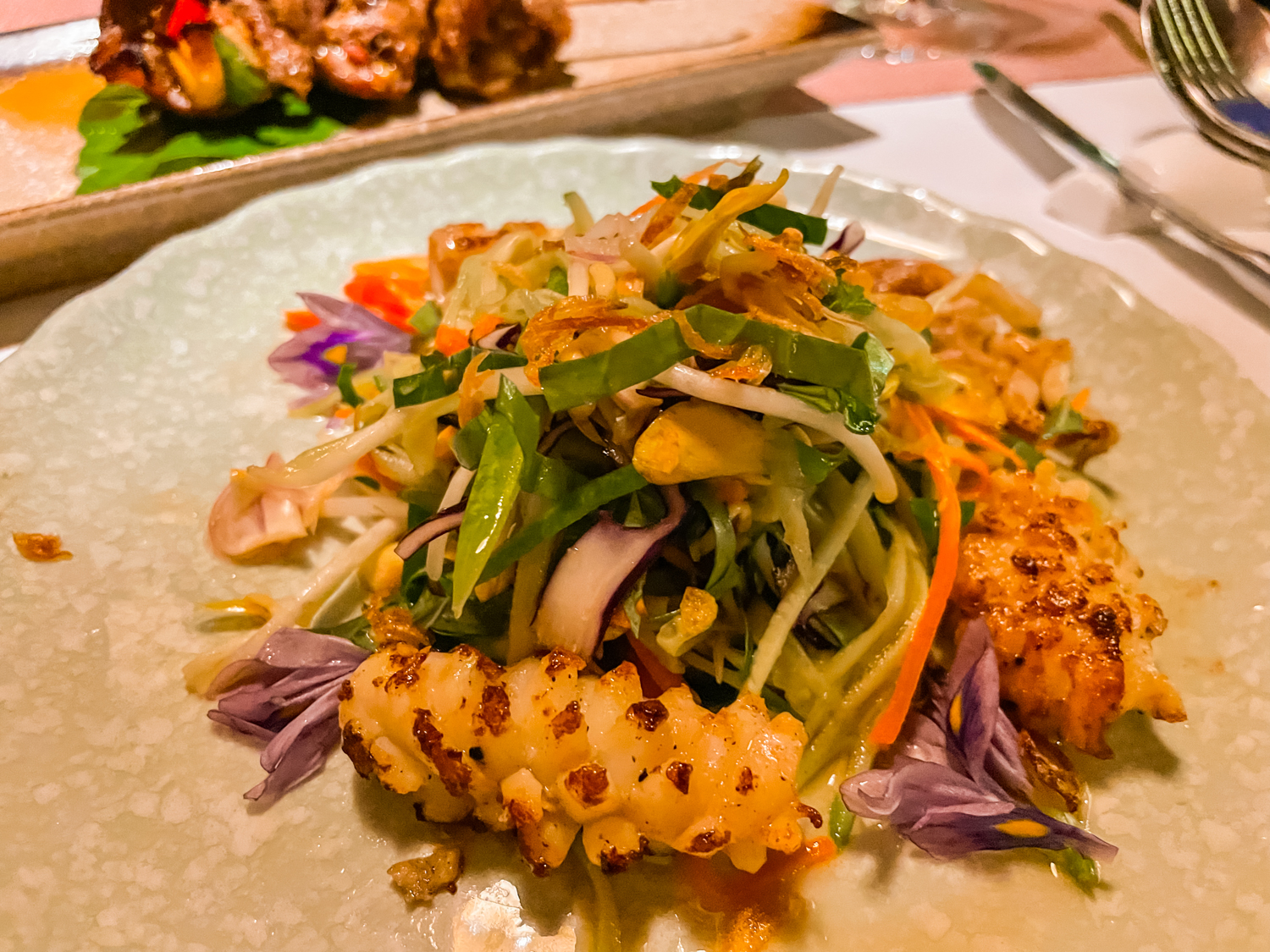 Then Pair it With a Taste of Fine Dining at Malis
I couldn't stop laughing.
It was the most contradictory of days. After having breakfast at Sophath, Dave and I decided to opt for dinner at Malis. And what is Malis?
Well, it might just be one of the priciest restaurants in the city.
So while we spent just $2 for breakfast, we then ended up spending a whopping $150 at dinner! It felt like a ludicrous day for our finances.
In our defense, though, it was Valentine's Day and we wanted to do something special. And as much as I adore the street food and cheap eats of Cambodia, I wanted to experience something even more interesting. Because who says that this country can't develop its own fine dining scene?
Malis serves up some of the best food in Phnom Penh, taking you by the hand and introducing you to their special, experimental takes on Khmer food. You'll encounter everything from baked goby river fish in a salt crust to deep-fried crabs from Kep; Mekong lobster to chicken curry steamed in a lotus leaf.
The biggest stand-out dish for me, however, was the Kampot pepper crème brûlée. I love me a crème brûlée and I couldn't get enough of those sweet flavours combined with the spicy green peppercorns.
Dave and I splurged and opted for seven-course tasting menu, which comes in at $66 per person. Ours featured beef skewers with peppercorns and pickles, grilled squid and cucumber salad (pictured above), bamboo shoots and smoked fish, Kep flower crab fried rice, Saraman beef curry, Morning Glory, and the aforementioned Kampot pepper brûlée. We also ordered a baked goby as an extra because it looked so, um, interesting. That one's in the photo below, along with the view from our table of the cosy exterior.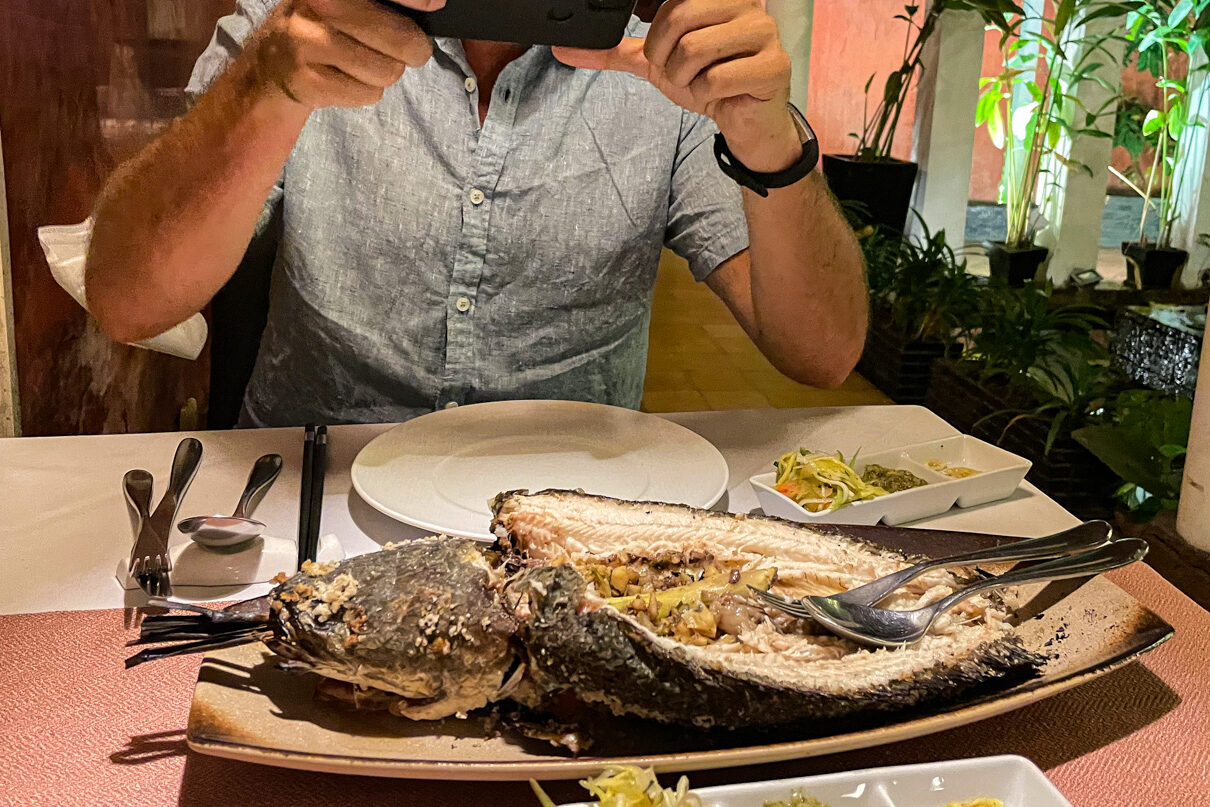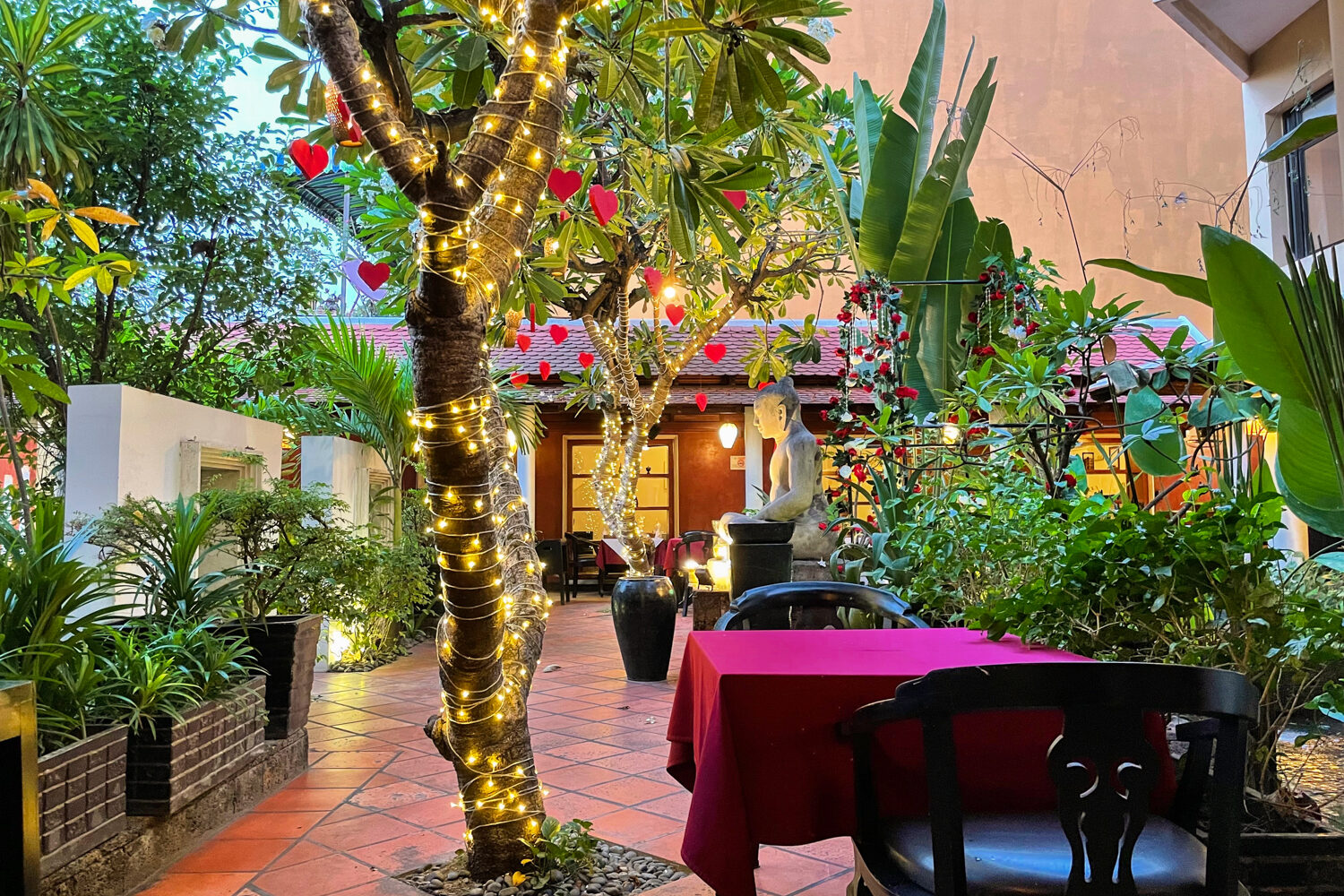 I do want to mention, too, that if you don't opt for the tasting menu options, you can visit this excellent restaurant for far less.
As an example, the crab fried rice is priced at $18, fish amok is $11, Takeo pork is $14, and roasted Angkor-style chicken is $28. Yes, it's pricey for Cambodia, but it's also an interesting experience and not one that visitors may necessarily associate with the country.
If you're celebrating a special occasion while you're in Phnom Penh, this is a great place to do so.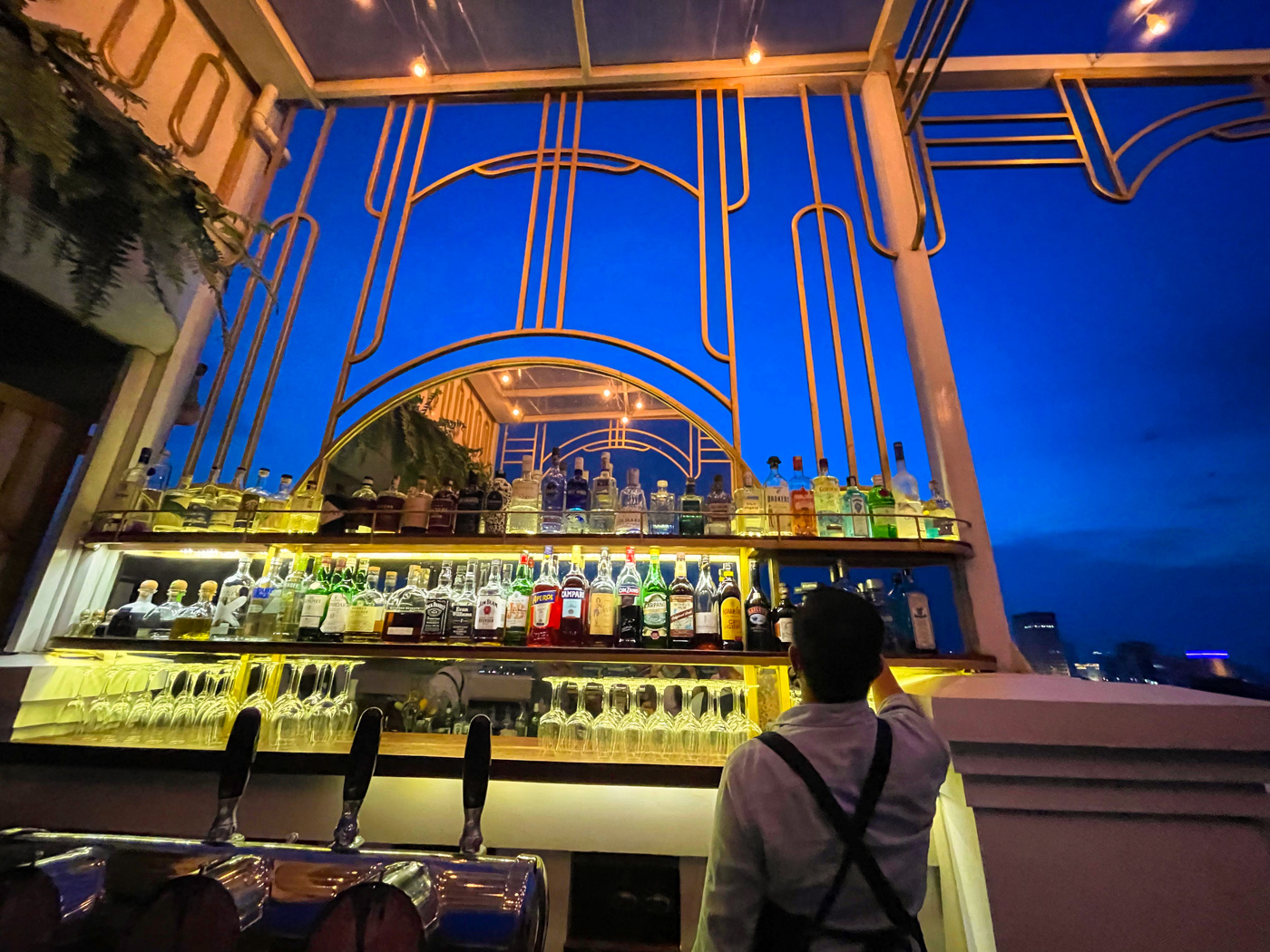 Hit Up One of the City's Rooftop Bars
One of my favourite things to do in Phnom Penh is hunt down a rooftop cocktail bar from which to watch the sunset. Juniper Gin Bar is one of the highest-rated options in the city and for good reason: their cocktails are fancy, tasty, and inexpensive.
We may have visited every single evening that we were in town.
Their Happy Hour cocktails are great value for money: between 5 and 7 p.m., they're priced at just $3.50 each! There's seven different gin and tonics on the menu, too (choose the Mekong Dry for a local twist).
Some of my stand-out tipples included the Watermelon Felon (gin, lemongrass and watermelon syrup, lime, and fresh mint), Summertime Sally (gin, elderflower liqueur, raspberry syrup, jasmine flower, and lime), and French Heist (vodka, blackberry liqueur, orange bitters, and lime).
The staff here are lovely, the drinks are excellent and good value for money (even non-Happy Hour drinks are priced at around $5 or $6), and the views are impressive.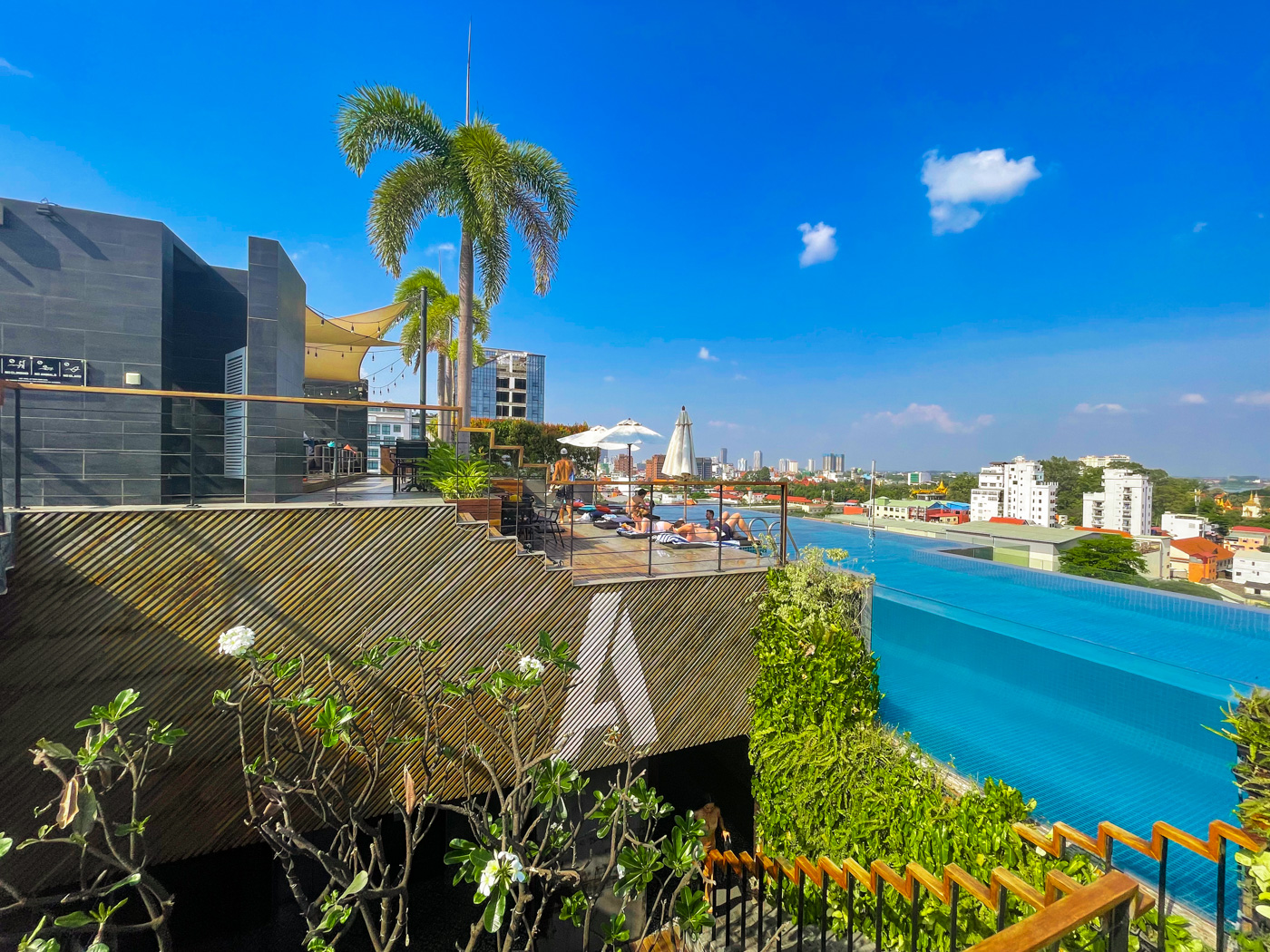 Speaking of Rooftops… Grab a Day Pass for a Swimming Pool
Phnom Penh is a hot and sweaty city and what that means is that a swimming pool is an excellent place to be.
Dave and I chose to stay at Aquarius Hotel while we were in town, primarily because its swimming pool looked like it was next level. It costs $70 a night to stay there (and I have a full review of the property at the end of the article), but if your accommodation budget doesn't stretch that far, never fear: if you visit and spend $12 on food or drinks in the restaurant, they give you free access to the pool for the day!
Oh, and because I was just talking about rooftop bars, Aquarius also has a great one, with 2-for-1 cocktails between 5 and 7 p.m., panoramic views, and free-to-use pool tables.
This set-up is pretty common in Phnom Penh, so there's plenty of places where you can slip in to cool off if your accommodation doesn't come with a pool. Patio Hotel and Penh House both have similar-style rooftop pools and charge $10 per person for a day pass.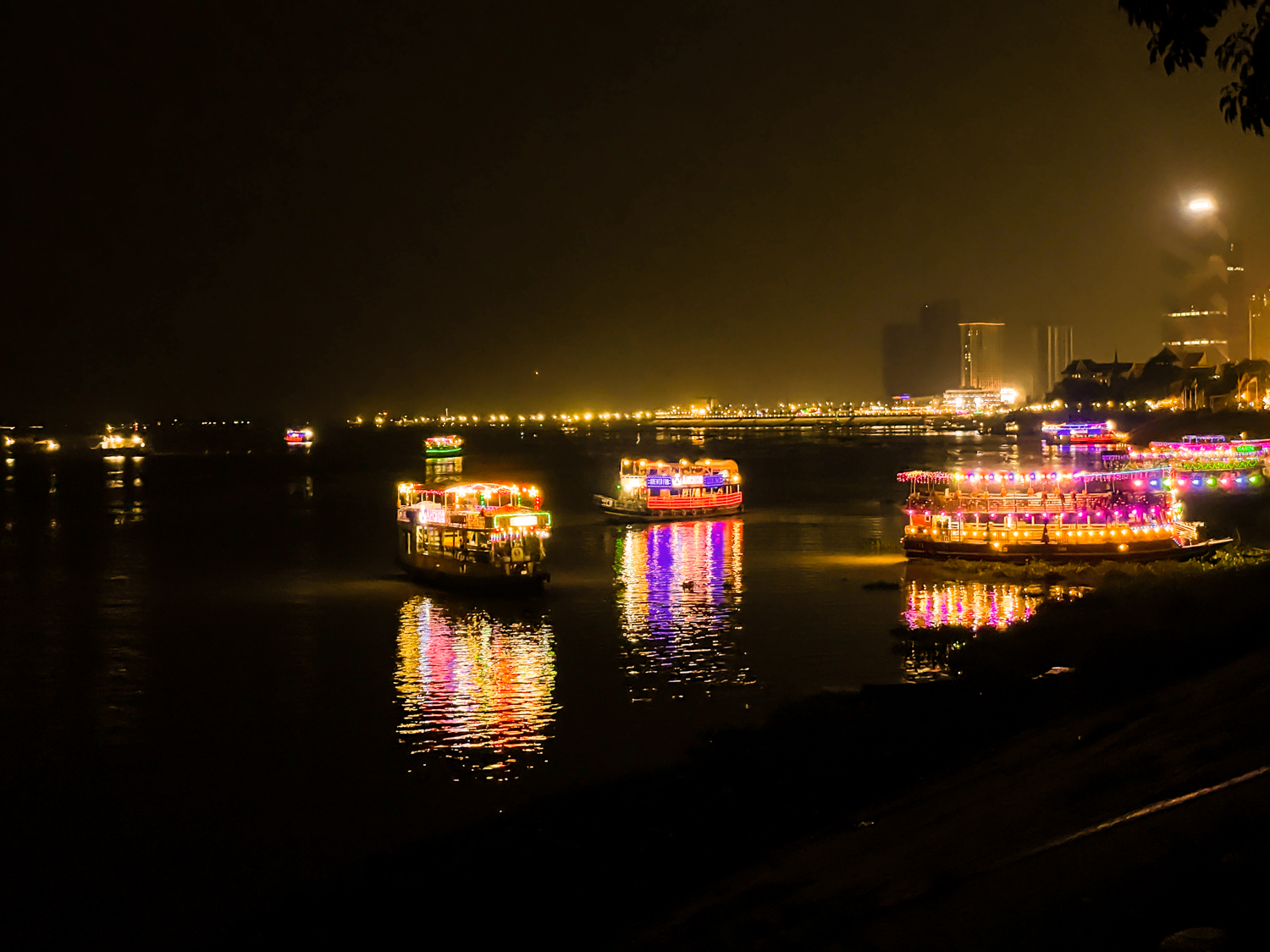 See the City By Sunset River Cruise
I love the Mekong River.
This extensive stretch of chocolate-brown water has captivated me for years, whether I've been tackling its waters by slow boat in Laos or crossing its waterways by scooter in Vietnam. And then it was Cambodia's turn.
There's an abundance of options for getting out on the water in this city. From Sisowath Quay, you'll have no shortage of private boats ready to take you on a tour, but be sure to have your haggling skills ready (we managed to negotiate them down to $5, but anywhere between $5 and $8 is likely a good deal).
You can also book a cruise in advance online if that's more your jam. A cheap and cheerful cruise costs $8.60, while a ride with unlimited beer comes in at $23.
It's in Phnom Penh where the mighty Mekong meets the tremendous (lol) Tonle Sap and a sunset river cruise will enable you to traverse both of these iconic waterways. Along the way, you'll get to see the sights of the city across the full spectrum of grandeur: from the Royal Palace to humble floating villages.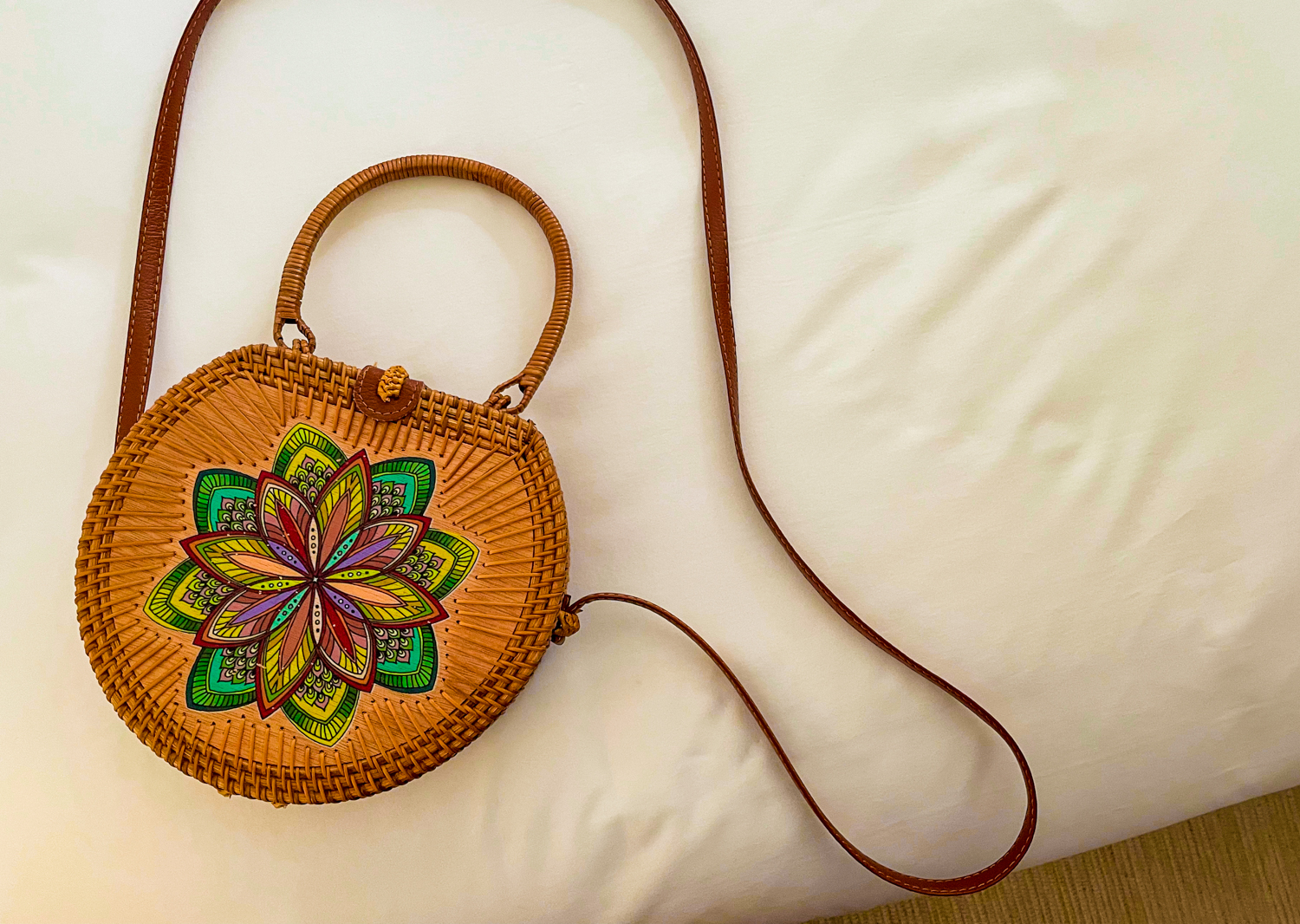 Hunt for Bargains at the Russian Market
While I'm talking about haggling skills, I can't write about Phnom Penh without mentioning a couple of its markets.
The Russian Market, originally known as Psar Toul Tom Pong, gets its name from the large number of Russian expats who would peruse the stalls in the 1980s. Don't expect cheap vodka and Soviet-themed accessories here, though, as this busy spot is Cambodian through and through. And it's very popular with tourists.
If you love collecting souvenirs on your travels, this is the place to come. I'm so happy with the bag I bought from the Russian Market — pictured above — and I get compliments every time I leave the house with it: it's so unusual-looking! Of course, I then become that annoying person who gets asked where something is from and unhelpfully answers, "Cambodia!"
You'll also find clothing and accessories here, along with jewellery and souvenirs, plus some authentic local handicrafts. I bought a ton of friendship bracelets at the market on my first visit to Phnom Penh so that I could fit in with my fellow backpackers, a fridge magnet for my eventual home, and a silk scarf for my mum as a travel gift.
Because of the low prices, this is an excellent spot for changing up your travel wardrobe if you're on an extended trip through the region. Dave even visited while we were last in town to get a hole in one of his shirts repaired!
It's best to visit the market in the morning (it opens at 6 a.m. and closes at 4:30), as the stalls have little ventilation, so it becomes a bit of a hotbox by the afternoon.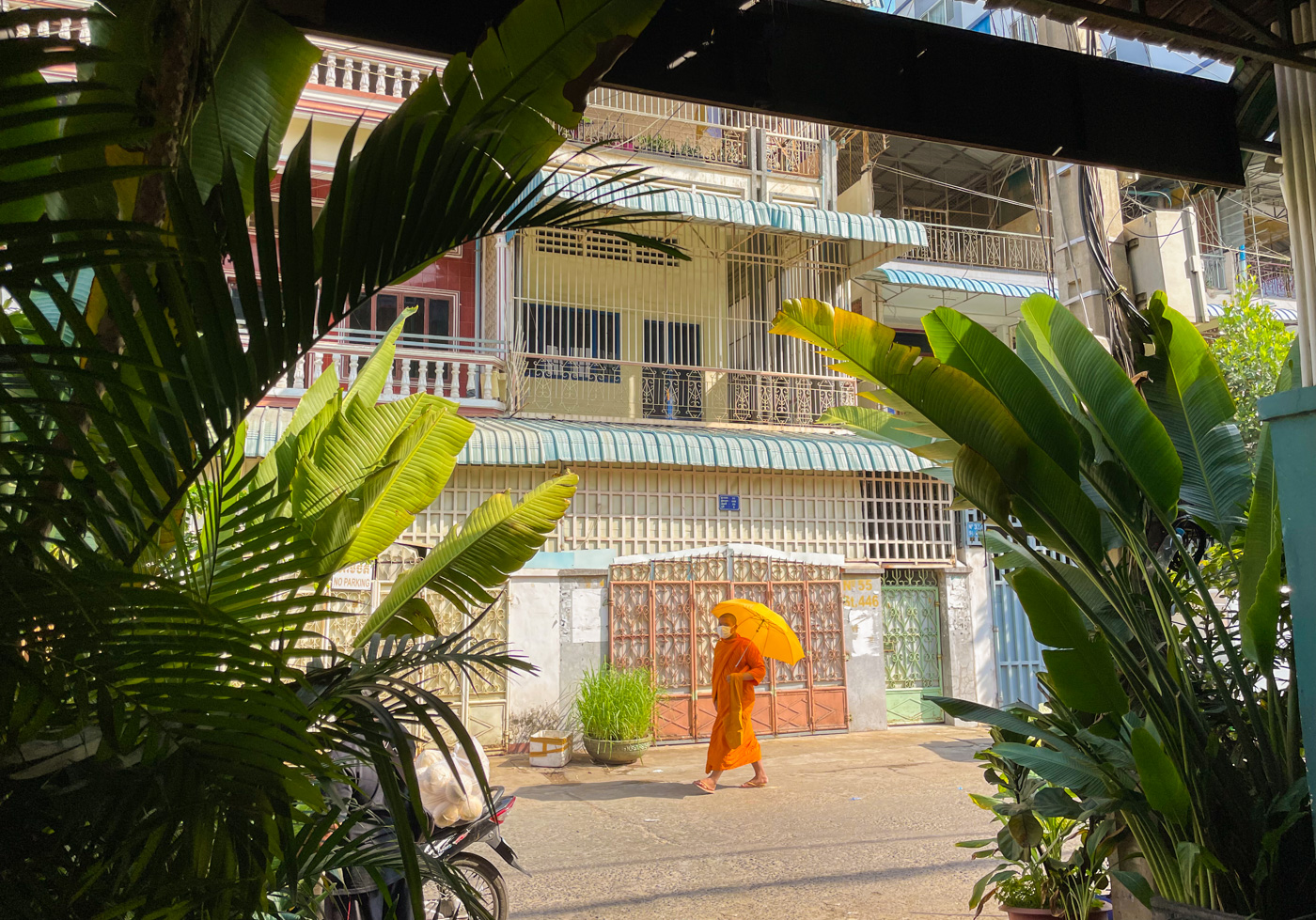 Explore the Hipster Neighborhood of Toul Tom Poung
The Russian Market is the beating heart of Toul Tom Poung, which is one of Phnom Penh's coolest neighbourhoods. This is where you'll encounter vegan brunches, oat flat whites, craft beers, boutique stores, and a surplus of digital nomads.
Toul Tom Poung is a classic rags to gentrification hipster story witnessed in cities throughout the world, but this district has a wonderful Cambodian twist. Head to Penh Lenh to pick up some beautiful jewellery made by local artisans (including welded bracelets!),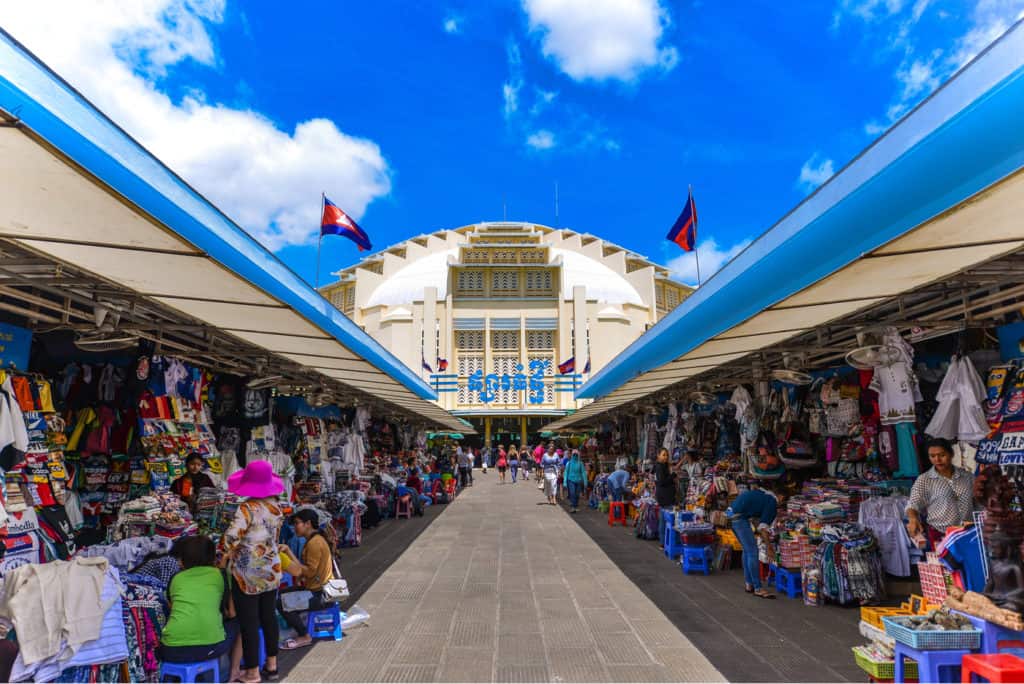 Visit the Central Market
Known locally as Phsar Thmey, the Central Market was the largest in Asia when it first opened in 1937. The market was created by French architects who added another unique chapter to Phnom Penh's diverse buildings.
The Central Market is a great place to go in your first few days in the city. Here, you can put on a range of hats, from sitting back and enjoying the local culture to putting your haggling skills to the test. The market opens every day from 7am to 6pm, and quickly fills with a boisterous crowd.
Phsar Thmey takes all the qualities of an exciting market and brings it inside to create a layout similar to a mall. As you wander along, you'll be able to shop for a wide range of clothing, jewelry, shoes and gifts. There's also a section dedicated to fresh produce, spices and seafood. Half way through, take a break by sampling the market's specialty dish, creamy coconut pudding.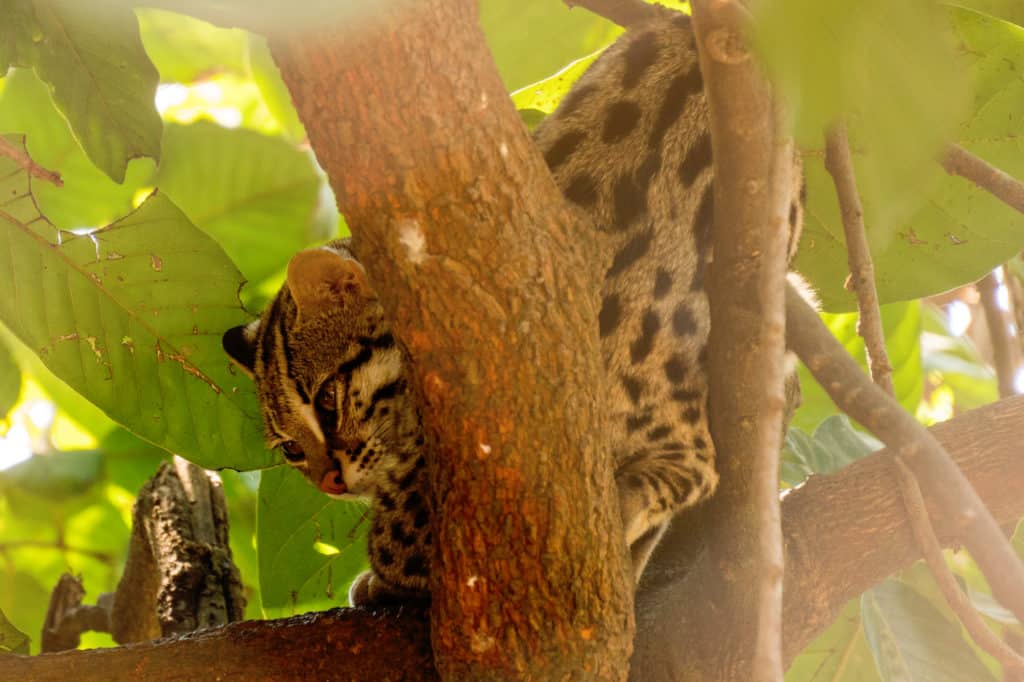 Tour the Wildlife Rescue Center
An hour south of Phnom Penh, the Wildlife Rescue Center is Cambodia's largest zoo. It first opened its doors in 2000 and is more of a sanctuary than a traditional zoo. Here, animals can enjoy a safe refuge and a habitat protected from illegal poachers and wildlife traffickers.
The Wildlife Rescue Center, which also includes Phnom Tamao Zoo, covers an extensive 2,965 acres of land within a larger 6,200 acres of protected forests. The mass of space allows for each animal to enjoy plenty of room roam among a landscape tailored to its needs. One of the first parts of the center you'll see are the resident crocodiles, followed by rambunctious gibbons, monkeys and deer. Following that is a highlight of the experience, the sun bear enclosure, the largest of its kind in the world.
Beyond the animals, the center is a spectacular place to explore. You'll be surrounded by undulating mountains with the acreage also containing ancient temples including Thmor Dos and Phnom Tamao.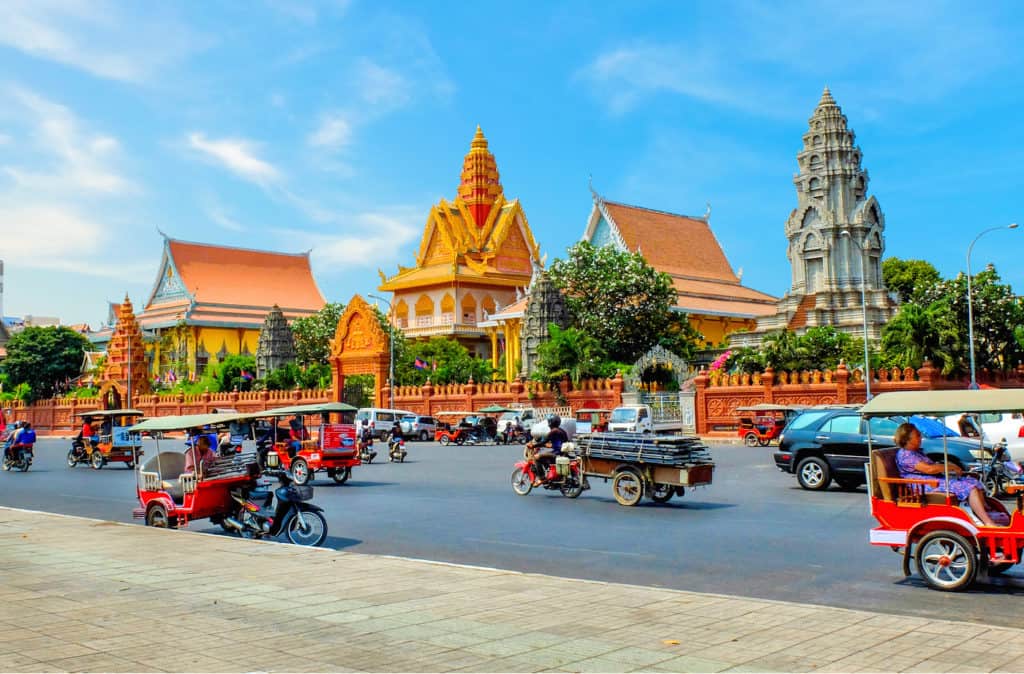 Visit Wat Ounalom
As the headquarters of Buddhism in Cambodia, the Wat Ounalom complex is the most important in the country. The temple was first established in the 15th century and its captivating stupa even features eyebrow hairs from Buddha himself. At its height, the temple was home to over 500 monks. Despite immense damage suffered during the era of the Khmer Rouge, including relics and statues, the temple has recreated its princely beauty.
The sprawling complex features 44 buildings. The main temple, built in 1952, is a faithful re-creation of the original 15th century shrine. It combines three levels with a startling collection of iconography, scripture and artifacts based on the life of Buddha. Behind the main temple is where you'll find Chetdai. This Angkorian-era stupa is home to Buddha's eyebrow hair. But it's also beloved for its four bronze statues featuring Buddha facing north, south, east and west.
Last up is the Monastery of the Supreme Patriarch, where you'll discover a beautiful image of Samdech Huot Tat who was executed under directions from Pol Pot.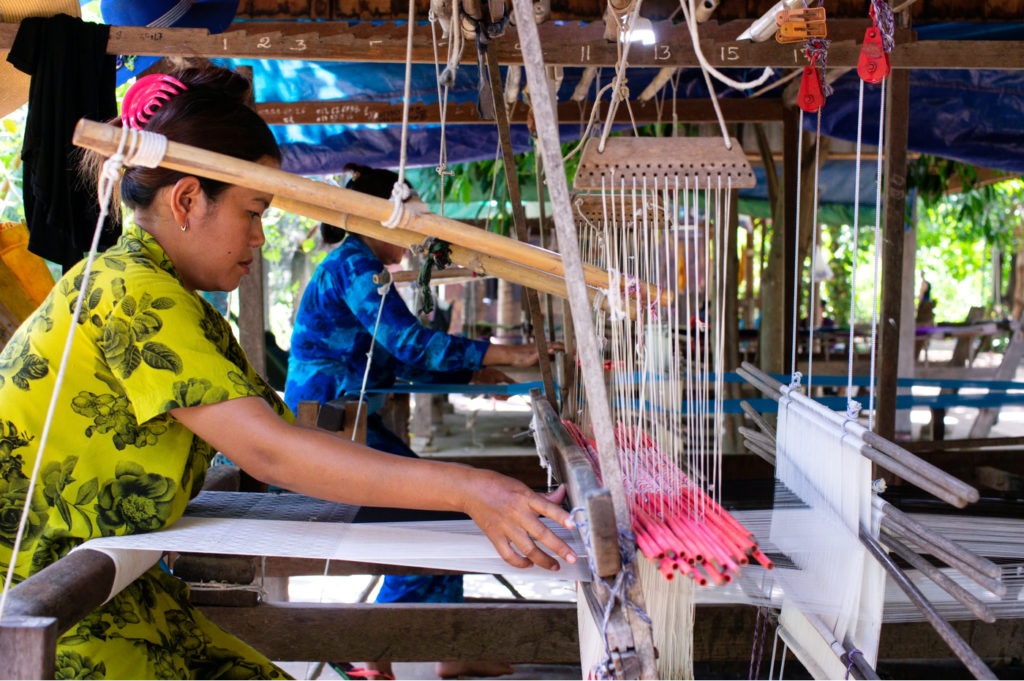 Take a Trip to Koh Dach
For an easy day trip from Phnom Penh, make the brief journey to Koh Dach. Under 4 miles (6km) from downtown, Koh Dach is an island on the Mekong River where rural life still holds sway. Koh Dach is otherwise known as Silk Island, whose residents still take part in Cambodia's rich silk weaving history.
In order to reach Koh Dach, you'll need to take a short tuk tuk ride to the waterfront, where a brief ferry ride will shuttle you north along the river to Silk Island. After jumping off the ferry, you'll feel a world away from the bustling streets of Phnom Penh. Here, life is simpler and quiet. Local streets are laden with hanging silk that's been freshly dyed and the soft noises of handmade looms weaving the silk rings through the air.
After a leisurely stroll, head to the Silk Weaving Centre and Village. This is the place to get an in-depth look into Cambodia's silk heritage and learn the process from start to finish. To explore the rest of the island, hire a bike at the ferry terminal and ride along the road that circumnavigates the island. Ride past tranquil rice paddies and peaceful woodlands, with the Mekong rolling along.
Take a Cooking Class (Frizz Restaurant)
If you're a foodie, then many highlights of your travels will revolve around local cuisine. Enveloped by Thailand and Vietnam, it's easy to overlook Cambodia cuisine in favor of the more renowned dishes in either country. But Cambodia food has a unique charm and one that is worthwhile exploring.
For those that have spent time in Vietnam, you'll see a lot of similarities in the local cuisine. Remember, not only do they share a border, but a part of southern Vietnam was once Cambodia. Both countries were also colonized by France, leading Cambodia to also have delicious num pang pate (banh mi).
Traditional Cambodian meals feature rice, a lot of rice. In fact, nyam bai howie nov? (have you eaten your rice yet) is a common greeting. The staple will then be complemented by three or four other dishes, such as soup, a fish paste and spice paste along with freshly caught fish.
To experience cooking Cambodian cuisine firsthand, join the cooking class at the Frizz Restaurant. You'll begin with a visit to the local market before making and tasting your creations.
Feast at the Night Market
Speaking of local dishes, if you've rather skip to the end product then get along to Phnom Penh's exciting Night Market. You'll find the market along the riverfront lit with bright bulbs dangling from the many stalls. The Night Market shines like the North Star and immediately you'll know that this is the place to be.
The sounds and aromas of the market will hit you long before you step inside. But rather than be taken in by the first stall slinging delicious and authentic Cambodian cuisine, take some time to get the lay of the land. The market is large, with a wide variety of vendors serving everything from your simple noodle dishes and meat and veg options to more adventurous meals.
Vegetarians will be well represented at the market, with no shortage of options and tofu being the main protein. Once you've picked out your vendor (those busy with locals are worth the wait) you simply grab a tray and point to your chosen dish or load up yourself. The food is dirt cheap and you'll either pay per dish or by weight.
With your food in hand, things get even more memorable. In the center of the market there are a slew of mats. Here, locals and travelers congregate in the communal space and enjoy their meals. Just remember to take off your shoes.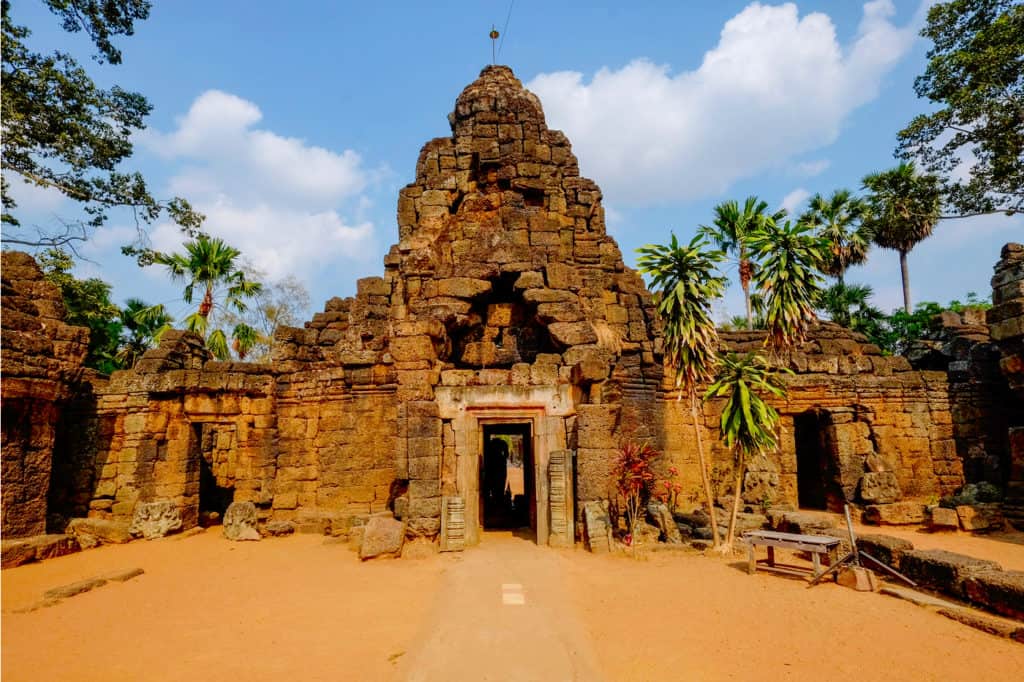 Day Trip to Tonle Bati
Under 20 miles from Phnom Penh, the beautiful waters of Tonle Bati will put a wide smile on your face. Popular among local weekend warriors, Tonle Bati is the place to go to relax and rejuvenate, away from the busy city. If you've grown a bit weary or need a well-earned break, then you'll feel invigorated chilling by the lake.
On weekends, crowds gather on the elevated bamboo pavilions that jut out across the water. Families come together and catch up with the young ones jumping off the edge over and over again. Join them for a swim, paddle out on the lake or explore the local village which has its own fascinating history.
Tonle Bati is home to the Ta Prohm of Bati. The elegant temple is where you'll find the Jayabuddhamahanatha statues and beautifully landscaped gardens. Further out is the village of Dok Por. Here, you can visit the 11th century temple of Phnom Chisor. The 461-step hike is worth the sweat thanks to panoramic views and historic architecture.
Watch Some Live Kickboxing
A thrilling way to spend the evening in Phnom Penh is to get along to a kickboxing event at the city's Olympic Stadium. Fights occur 3 to 4 times a week, providing plenty of ways to fit the exciting event around your schedule. After another tuk tuk ride through town, you'll arrive at the arena for an inexpensive night of beer, kickboxing, and gambling. In no particular order.
The arena packs out for each event, creating an atmosphere that is just as entertaining as the fight. Many of the kickboxing events are on TV, so if you've ever dreamed of being seen on a Cambodian television, then sit on the black couch in the center of the stands. You'll be right behind the kickboxers and no doubt looking great.
With a crowd and the sticky Cambodian evening, you'll want to stay refreshed. Thankfully, you can grab a beer or two to keep you cool. Just be careful as they're only 25 cents each.
See Traditional Khmer Dancing
Siem Reap may be the center of traditional Khmer dancing, but Phnom Penh has a number of ways to experience this age-old art form. One of the best ways to watch tradition dancing in the city is at the Cambodian Living Arts' theatre show. The institution is at the forefront of keeping this heritage alive and not only puts on marvelous shows, but trains everyone from musicians to singers and dancers.
The show is held daily within the Cambodia National Museum. The performances begin at 7pm and run for an hour. Each performer is armed with props to elevate the experience, allowing them to take you on a journey from the historic capital city of Angkor to rural villages and modern cities. All told through music, song and captivating dance.
Other options include the Sovanna Phum Arts Association. Shows occur each Friday and stood at 7.30pm and include Apsara dancing, folk music and puppet theater.