From the abundant Amazon Rainforest to the vibrant Galapagos Islands and the bountiful Andes Mountains, you will not run out of sites to see and adventures to take in Ecuador. It is a dream destination for nature lovers thanks to its plentiful flora and fauna. Ecuador may be one of the smallest South American countries and is perhaps overshadowed by its Latin neighbors, yet it is rich in biodiversity and true earthly potency.
Much like its other South American counterpart countries, colonial structures still stand, providing history buffs with a feast for knowledge. It is a great place to visit all year round as it enjoys a perpetual springtime climate. From rainforest to shrubs, to tectonic activity, to marine life, Ecuador has it all. Here is an extensive list of things to do in the country. Adventure awaits you!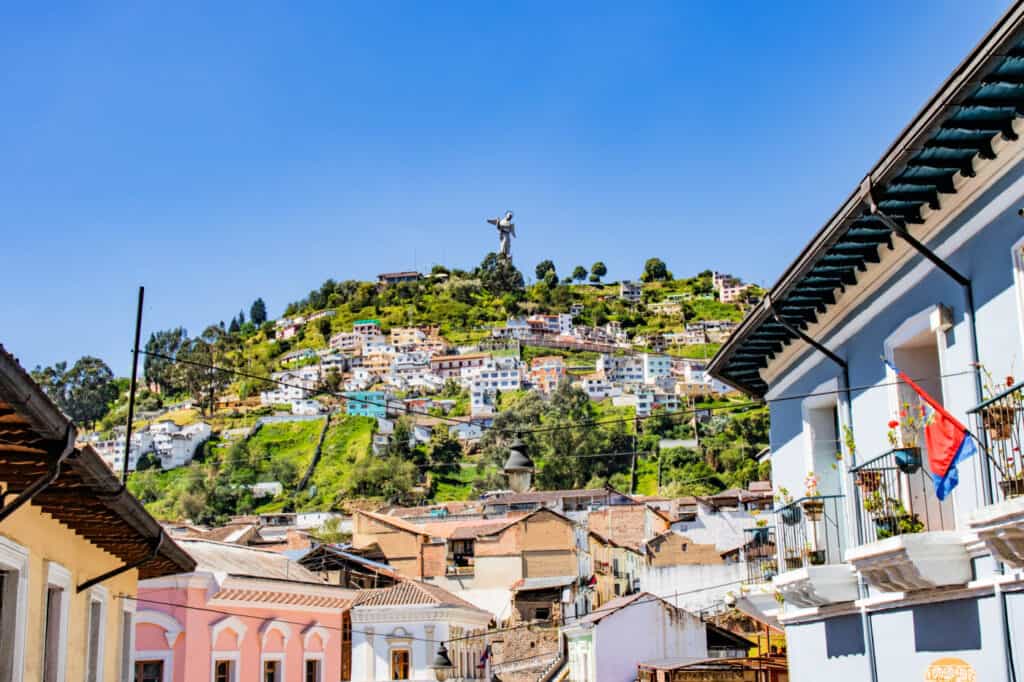 Quito: The Colonial Capital as a Base Point
As I did previously on my travels to Ecuador, use Quito, the capital colonial city, as your starting point. It rests at 2,800 meters above sea level which makes it the second-highest capital in the world.
Recognized as a UNESCO World Heritage site in 1978, it is situated between mountain peaks. Modern apartment buildings and modest concrete homes creep up the slopes, and busy traffic-filled commercial thoroughfares are lined with shops. On Sundays, the city transforms into a peaceful neighborhood, with churchgoers and market shoppers.
The Old Town is particularly lovely as it is packed with colonial monuments and architectural treasures: 17th-century facades, picturesque plazas, and magnificent churches.
When I visited the city, I was particularly struck by its high altitude and was short of breath a few times when traveling up to high places. Other altitude sickness symptoms include dizziness, headaches, and tiredness.
Walk down Calle García Moreno. It is a historic street in Quito known for its seven stone crosses and one presidential assassination. Calle de La Ronda is a gorgeous street lined oneither side with small colonial buildings. It was historically a popular place for artists and musicians to live. For a boho hip evening, visit the Casa de Art Museum, enjoy live music, and get a bite to eat at a restaurant on the artsy strip.
The Best Lookout Spots of the City
Quito is truly an impressive capital due to its geographical location above sea level and its cocooned position by neighboring volcanic mountains. Here is a list of jaw-dropping viewpoints dotted around the city, with a touch of history and adventure accompanying an awe-inspiring panorama.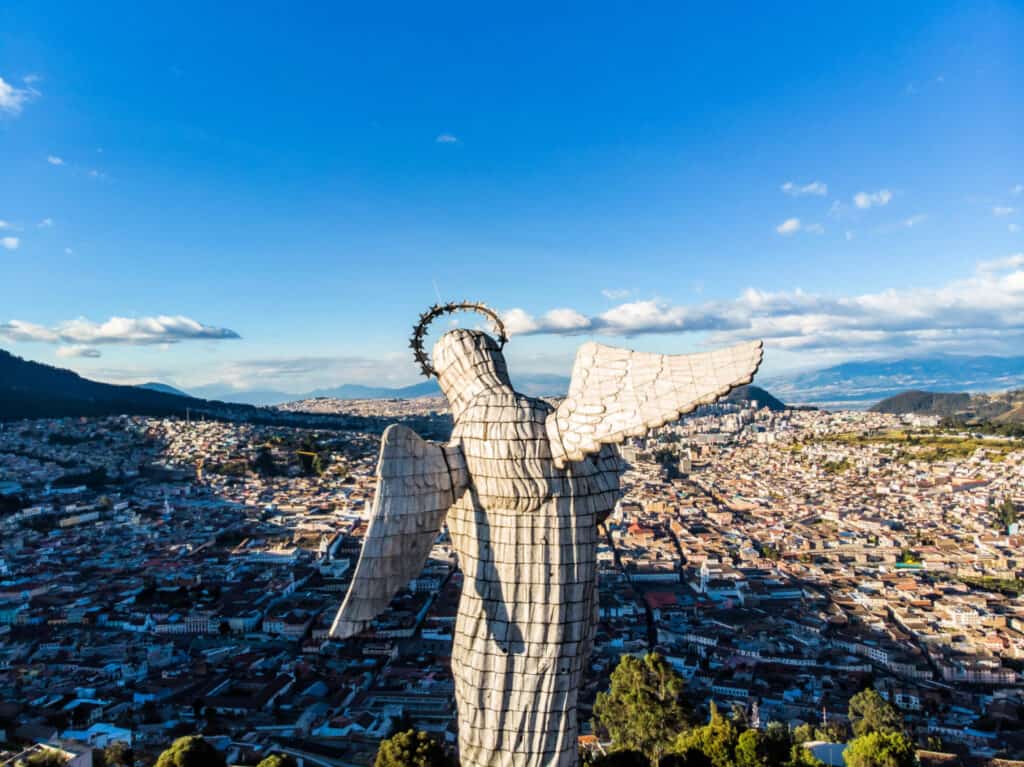 La Virgen de El Panecillo
La Virgen de El Panecillo is not only the world's tallest mosaic aluminum statue (41m tall), but it is also the world's tallest image of a winged Virgin Mary. Completed in 1976, the Virgin Mary is adorned with a crown of stars and angelic wings.
You can see her from afar, or go to where she resides. From the summit, which is a short volcanic hill doubling as a stellar observation point of the statue, there are marvelous views of the sprawling city and the surrounding volcanoes. It is the hill that sits in the middle of Quito.
Climb steep steps up to the base of the Virgin statue for an even loftier outlook. The best time for viewing is early morning before the clouds begin to appear.
The Virgin de El Panecillo is the iconic symbol of the city, and her wings are symbolic of her guardian angel status. Wherever you reside in the city, La Virgen de El Panecillo will leave a divine impression on you (it certainly did on me), with its colossal presence keeping safe watch of the capital city.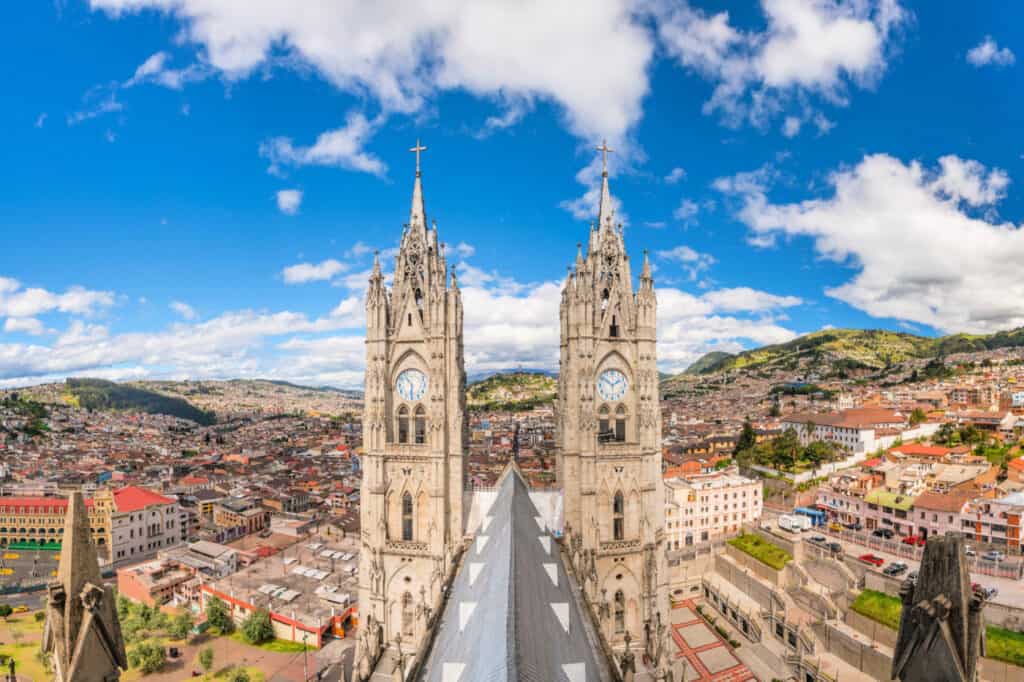 Basílica del Voto Nacional
This particular Basílica has stunning colonial architecture, both in its exterior and interior. It is the largest neo-gothic basilica in all of Latin America. Due to its impressive size, it is perhaps the most marked presence of old Quito.
Its Gothic style is particularly interesting – the gargoyles decorating its exterior represent all the diverse animal kingdoms residing in Ecuador (iguanas, turtles, toucans).
Climbing the bell towers and spire requires navigating steep steps not for the faint of heart. You will be astonished by the vast expanse of the city dwellings alongside the mountains and volcanoes.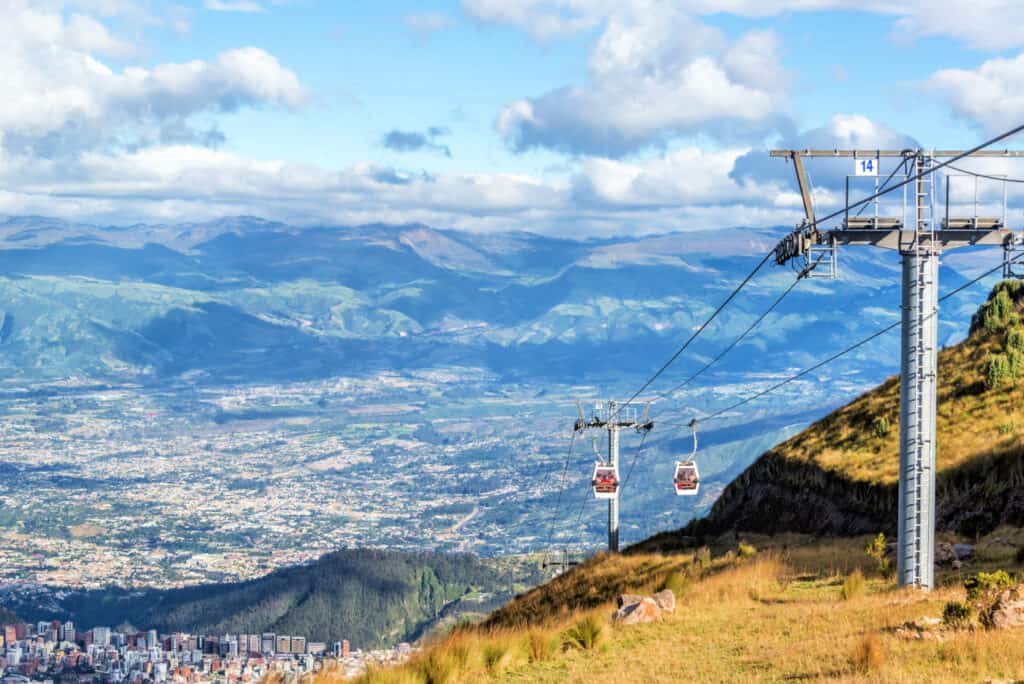 TelefériQo
TelefériQo isa cable car that whisks travelers halfway up the side of the Pichincha Volcano. Essentially it is a sky tram, one of the world's highest aerial lifts. You are rewarded with a stunning view of Quito from the top of the cable car line, as well as stunning views of the nearby valleys and cliff edges.
On clear mornings (which is the best time to take a ride) you can see up to five snow-capped volcanoes! Make sure to bring a warm jacket when heading up there, as due to the altitude, it will be windy and quite chilly.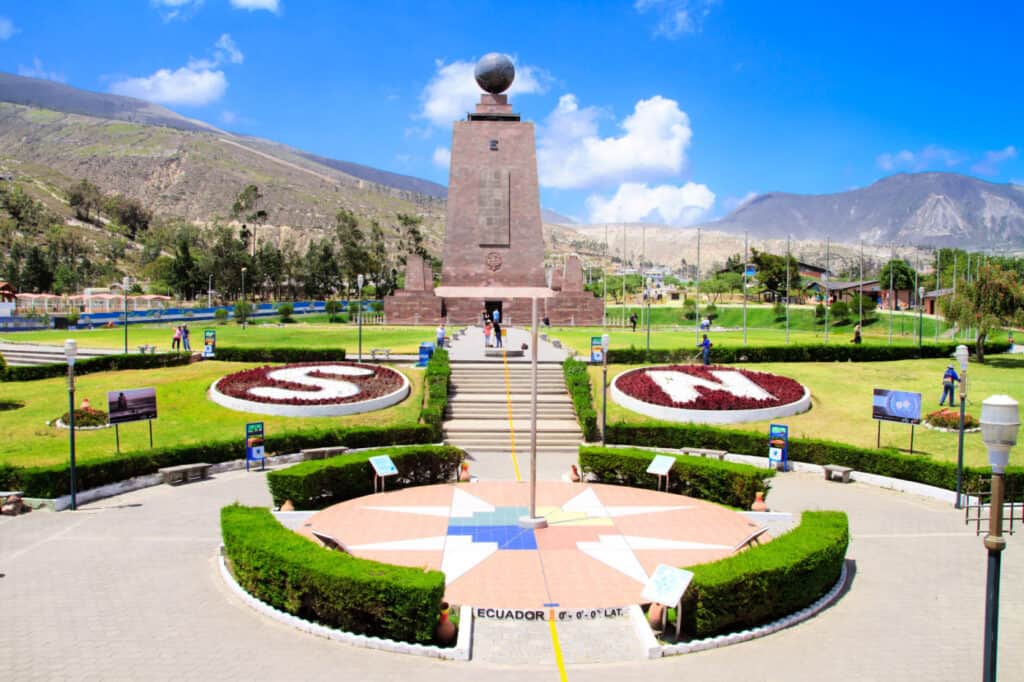 Stand on the So-Called Equator Line at The Mitad del Mundo
While you are still in Quito, you should make your way to the Mitad del Mundo which translates to Middle of the World, as it sits on the equator line. There is a monument that marks this geographical diversion, previously found by the French Geodesic Mission which believed this was the line dividing the northern and southern hemispheres in the 1700s.
You can also climb the trapezoid stone memorial (for free) for yet another mountainous view of the rest of the area.
There is not only the center line to step over with its overarching monument (which is a perfect photo op), but there are interactive exhibitions and museums that introduce the indígena peoples of Ecuador. If you are still looking for more to learn and explore, there is a small planetarium and a museum dedicated to craft beer on-site. Lots to see here!
Intiñan Solar Museum – the actual latitude with 00*00*00*
Walk 500 meters after the roundabout from the Mitad del Mundo venue and on your left you will be directed towards the Intiñan Museum. You can see indigenous artifacts whilst actually standing in the presence that constitutes the parallel latitude of 0*, according to GPS.
Tour guides show various science and nature experiments that you are in fact geographically centered in the perfect middle of Earth. If that is not enough to say you stepped foot on the equator line, you will get a passport stamp to memorialize your visit to Latitude 0.
You can discover more about the cultures of the indigenous people of Ecuador, the different tribes and their fascinating rites. The meandering museum has outdoor exhibits of astronomical geography and highlights the importance of Ecuador's geographical location.
Take the Tren Crucero for a Luxury Exploration by Train
Visitors can hop on the Tren Crucero in Quito to make a four-day journey to Guayaquil, traveling in style through various terrains and landscapes. The route is designed for stops at artisan markets and plantations. You can visit Ecuador's famous rose gardens, and mountain vistas, with planned overnight stays at quaint guest houses along the way.
It is an exceptional journey through the Ecuadorian highlands and coastal regions. You can choose from different coaches, which are typically designed in a particular architectural style. Alongside jaw-dropping landscapes, you'll stop to visit the colonial towns dotted across the avenue of volcanoes and enjoy the picturesque colors of the coastal cities.
Offering a 5-star personalized service, the train is plush and comfortable with plenty of large windows and sitting areas from which to relax and watch the world go by. Traveling in style with Tren Crucero, you will be presented with an immersion in culture, customs, and traditions aboard a luxury, distinctive train.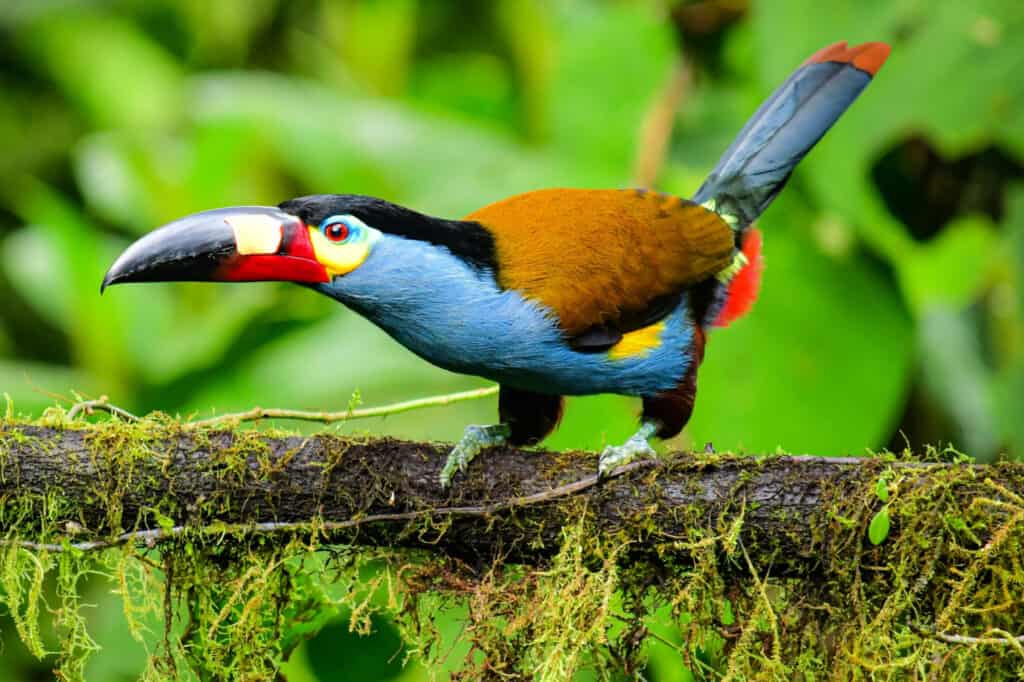 Bird Watch or Have Close Encounters with Butterflies in Mindo, The Cloud Forest
Mindo is within a cloud forest a few hours away from the capital. It is a unique ecosystem with persistent low-lying clouds that deliver a lot of moisture, supporting a thick, lush green canopy. The Cloud Forest is a hotspot for birdwatchers, an ideal stop-off location between traveling throughout the country.
You can go horseback riding or board in an ecolodge dedicated to birdwatching. Guides are extremely experienced in pointing out endemic bird species: hummingbirds, toucans, and the giant antpitta.
Alternatively, take up residence in Mashpi Lodge, an urban retreat destination. It sits overlooking the rolling hills and valleys of the 3,200-acre Mashpi Reserve in the cloud forest.
Mindo is home to orchids, bromeliads, and butterflies. Butterfly farms are an absolutely wonderful place. Visit the gardens, and admire the diverse species up close by putting a slice of banana between your fingers and having a close encounter with these beautiful butterflies.
At Mariposario de Mindo, there is a stunning kaleidoscope of colors and butterfly species. Be sure to visit in the warmest part of the day, around 11 am, when butterflies are most active. If it's raining, the butterflies will be peacefully dormant.
Zipline with Mindo Canopy Adventures
If you are more of an adrenaline junkie, try ziplining through the cloud forest. I engaged in ziplining here when I went to Ecuador and it was one of the best activities I did!
It is run by highly skilled technicians as the instructors emphasize safety through their double cable safety system. The process is thoroughly explained and safety equipment is given: helmets, huge, protective gloves, and a harness to wear.
There is some hiking and climbing steep steps between zipping across the cloud forest, so a basic level of fitness is required. Nevertheless, during the climb up to the top zipline and especially when gliding across the forest, soaring views of the lush green canopy are a sight to see.
Have a browse online for which tour operator to book with, and don't forget to compare prices. A tip for when suspended mid-air, and once you're approaching the finish line, is to significantly lean back. This is to prevent any injuries from striking yourself or your vehicle.
For adrenaline-filled fun, fly at speed through the sky and over forests from one point to another, and marvel at the impressive cloud forest vista.
Lodge and Tour The Amazon Rainforest
Although not as vast and expansive as the rainforest in Brazil or Peru, the Ecuadorian Amazon is a wonderful place to reconnect with yourself and with the elements. Start in Tena, the location I chose, which can be reached by a four-hour coach journey from Quito.
The Amazon holds thousands of different species of animals and plants, beautiful landscapes woven together by rivers, lakes, seemingly infinite chunks of dense rainforest, as well as some of the world's last remaining indigenous tribes. Once you have arrived in the rainforest, you may partake in various adventures: multi-day kayaking, canoeing, and guided excursions venturing deep into the sprawling Amazon.
There are many different lodging options with different amenities (some with tours included, or you can opt to stay with a family), all around the areas of the Amazon. Choose a lodge deep within the rainforest (close to Cuabeno or Yasuní). Visitors will be staying in comfortable wooden eco-ledges which are furnished with both single and double beds and can accommodate up to three people in one room.
Alternatively, you can board at Sinchi Warmi Amazon Lodge in Puerto Misahuallí. This is an exotic jungle hideaway run entirely by indigenous Kichwa women. You will be humbly immersed in culture and history, as well as placed within a pure, nature-filled environment.
You will be cut off from bustling civilization and wrestle with the fears of land completely off-limits, for a few days. Its warm climate and geographic conditions make it one of the most richly biodiverse rainforests.
One must know before venturing here that for hiking, it will most probably be raining, and the terrain is extremely muddy. Do not be dissuaded, you will probably be accustomed to it a few hours into exploring, and the gunk that will stick to your clothing will be fondly remembered as one of the many highlights of your trip!
By night, fall asleep to the humming of cicadas and the soothing sounds of the jungle. Boarding in the Amazon Rainforest is a once-in-a-lifetime experience, one which you will never forget.
Try Chontacuros (Grubs) and Lime-Flavored Ants
In the diverse Amazon, there is a certain type of ant species (Myrmelaschista schumanni) which are endemic to the South American continent. They produce a substance that is used to kill plants to create a nest site. This natural herbicide (formic acid) tastes lemony-flavored. If you are feeling particularly brave, savor the citrusy insect – you may enjoy yourself!
Or, if you are a fearless warrior and want to try as many new things as possible, muster up the courage to taste a generously sized white grub. Ugh! In true Ecuadorian fashion, they are roasted over a charcoal fire and seasoned with various aromatic herbs and spices. I tried them when in the country and honestly they were not the worst thing in the world! The grubs, fried and crispy, tasted like bacon but had a lot more of a chewy consistency.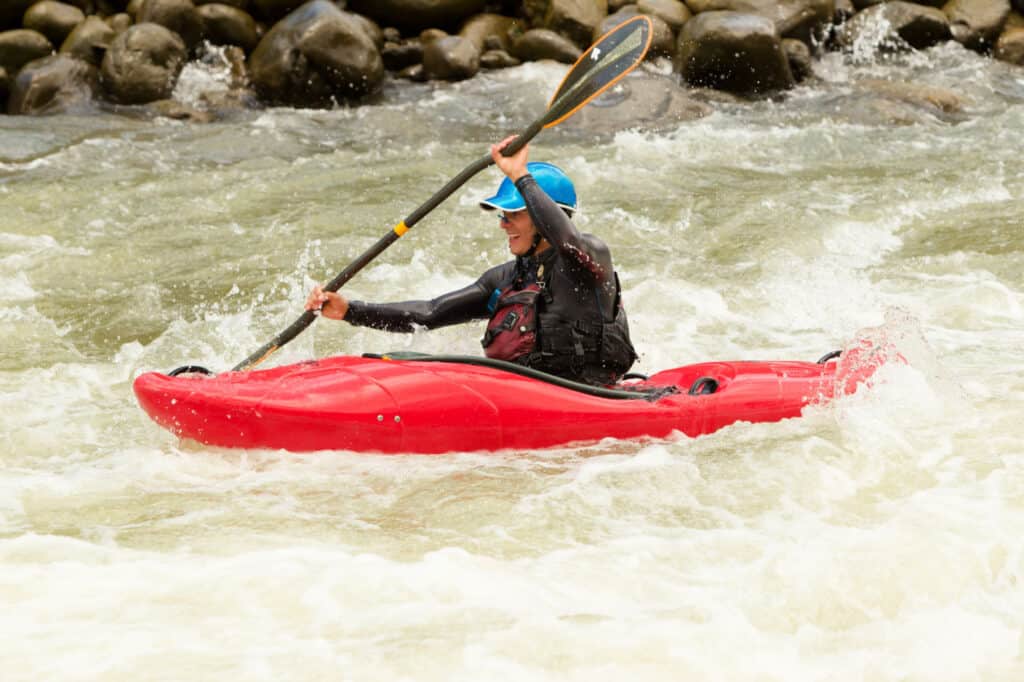 Whitewater Kayak in Tena
The spectacular jungle rivers offer amazing views and a chance to entertain yourself with water sports. Whilst you are in the water, you may be lucky enough to spot some rare and colorful wildlife.
Trips and tours vary hugely in budget online, yet if you fancy rafting the white waters, make sure your instructors are certified. Kayak Ecuador is a great option, with many different tours of various lengths. You will get in-depth river classes with demonstrations of the correct technique, and a sumptuous lunch on the riverfront, with juicy mangos and empanadas.
You will have an enormous amount of fun, rafting in the middle of the jungle (how incredible does that sound!) November to March is the time to take advantage of the best water levels and escape from the cold winters in the North. Be sure to bring a bathing suit!
The Ultimate Adventure-Land: Baños de Agua Santa
Baños de Santa Agua is wedged between the Amazon and Andes, the Western convergence of superabundant flora forest and mountain. Locals call this sacred place the 'Gateway to the Amazon'.
There are plenty of activities for an adventure: hiking, bungee jumping, mountain biking, and exploring waterfalls. Perhaps the most exhilarating part is how locals take you there by canyoning. This is a unique activity where you will be swinging on ropes and traversing bridges, which will give you a dynamic and incredible view of the area.
Baños, meaning baths, is the apt word for the location. Aside from waterfalls, you can find many natural thermal baths heated by the Tungurahua Volcano which towers over the city. Stay in the most delightful hostels and get the best service for an extremely affordable price.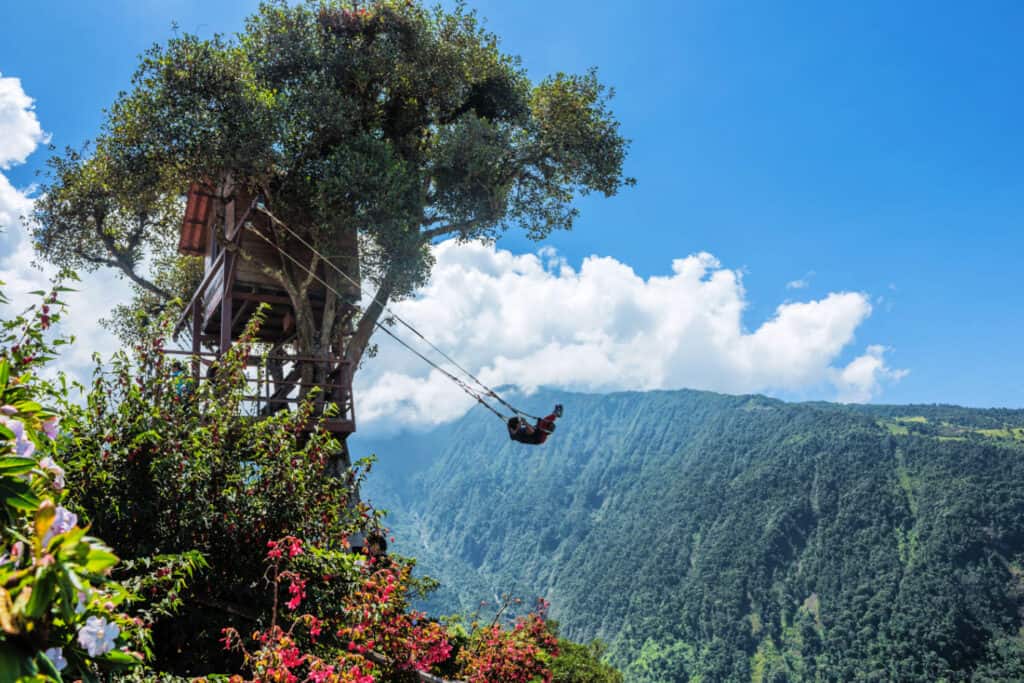 Swing to the End of the World at Casa del Arbol
For thrill-seekers, move to and fro in the middle of nowhere, from a tree house. Perched on the hilltop behind Baños, Casa del Arbol is a must-do activity in the adventure hub.
The swing costs $1 and transportation (bus, shuttle van) is needed. The reinforced structure of the house and trees is close to Tungurahua Volcano, and on a clear day, you can see it clearly as you oscillate mid-air. The volcano has been active since 1999 and climbing has been prohibited since then.
The swing takes you out over the edge of the mountain for an inspiring scene. The securely fastened seat belt helps you gain confidence for more of a swing. As you patiently wait in line for your turn, the grassy viewpoint is perfect for a photo op. At the side of a misty mountain from the tree house, it seems like you are on the edge of the world.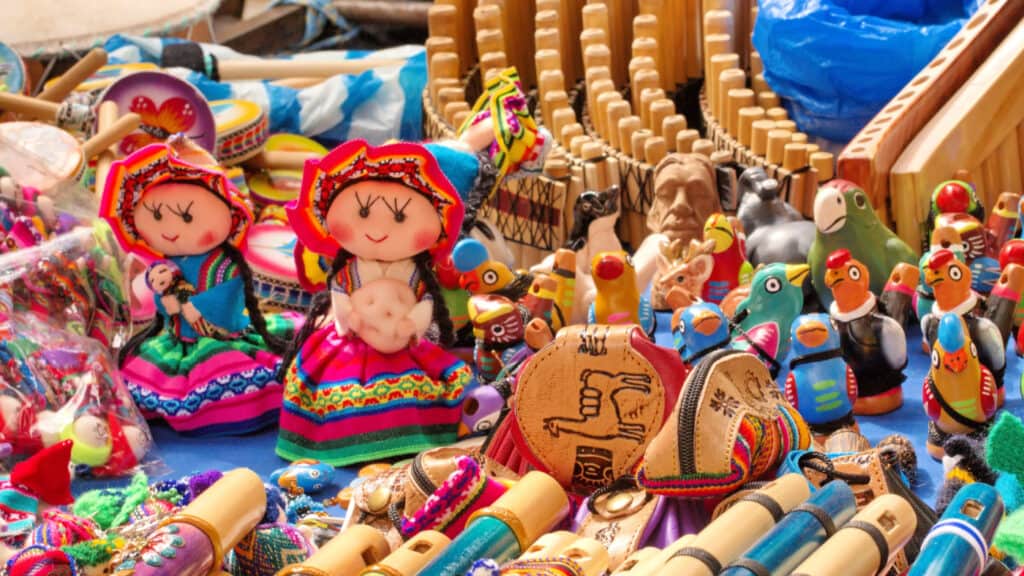 Otavalo Market Day
Otavalo Market is one of many colorful markets that you will find in South America. It is the largest artisan market of its kind on the continent. Jewelry, art, raw cacao, leather goods, clothing, and textiles are sold. From fresh and organic fruit and vegetables to alpaca sweaters, you can find products of a high standard in Otavalo Market.
It is located on the Plaza de Los Ponchos, which is quite a fitting name because there are so many well-made ponchos you can buy here! A top tip is to bring plenty of coins and cash. It is open every day of the week, but is most popular on the weekends.
Located 2 hours by bus from Quito, if you are coming for the day, you'll need to start early. For pickup and drop off and private transportation, I recommend this day trip to Otavalo from Quito. The market dates back to the pre-Incan period when locals bought, sold, and traded woven products. 
I bought an embroidered blue and black mini backpack that I have brought along with me on my travels, for which I haggled. Haggle away and have a great time shopping for valuable Ecuadorian artisanal items. The day trip does sell out at times, so I recommend booking in advance. You can check availability for the tour below:
Tour the Galapagos Islands
Small, undisturbed beaches and humpback-whale-filled waters on Ecuador's pacific coasts lead to the Galapagos, where wildlife we only see in a National Geographic catalog roam freely in a naturalist paradise. The Galapagos Islands are a chain of volcanic islands on the eastern side of the Pacific Ocean, 600 miles (965 km) off the coast of mainland Ecuador.
Among the islands, there are the Santa Cruz and Isabela Islands where you will find various bird species: blue-footed boobies, albatross, and frigates. From marine iguanas to Galapagos penguins, to playful sea lions and giant tortoises, the Galapagos Islands are indeed biodiverse.
If visiting between June and November, there is a chance to see humpback whales. You can go snorkeling, swimming, or scuba diving, to see the rich colorful tropical fish and other marine life.
Galapagos cruises will take you around the 19 islands of the archipelago. Fresh-faced and curious Charles Darwin was mesmerized by the Galapagos Islands' vibrant native wildlife. You can too be easily impressed by flamingo-dotted salt lagoons, or dive alongside penguins as falcons swoop overhead.
Try Encebollado and Encocado Fish Dishes on the Seashore
Ecuador's coast boasts countless relaxed beach towns, perfect for a getaway. If your trip allows you the time, head there for a few days and bask in the healing sun.
Encebollado is a fish soup dish synonymous with Guayaquil and is a popular hangover cure. Eat this delicious dish with a side of plantain. Encocado on the other hand is a coastal dish that uses fresh coconut to make a stew usually with shrimp and other seafood. A Yummy medley of tuna, red onion, yuca (white root) and coriander, it is absolutely zingy and delicious!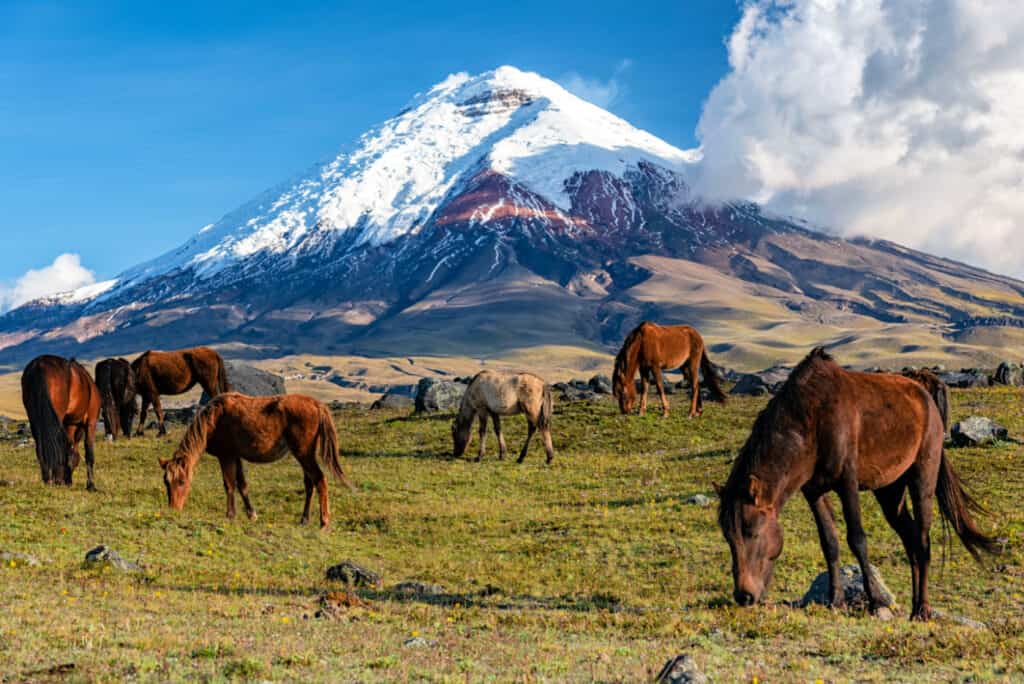 Hike or Horseback Ride Cotopaxi and its National Park
The perfectly conical Cotopaxi volcano is marvelously beautiful. It is the second-highest active volcano, an icon of the Andes Mountains. Its natural beauty has enticed hikers to explore its wonders. The snow-capped peak almost appears as a guardian of the city.
You can plan a day trip to the summit. Summiting Cotopaxi is physically demanding, freezing, and for some, vertigo-inducing. Be sure to be accompanied by a guide, and good gear: rip-free ropes, harnesses, an ice axe and warm clothing.
Trot on horseback in Cotopaxi National Park. Of course, it would not be Ecuador without wildlife such as the Andean condor, a white-tailed deer, little red brocket deer, and wily colepo (the Andean fox). The vast terrain also offers a good look at the paramo (Andean grassland) and the views are sublime. If you are staying close to Quito, definitely add this to the itinerary.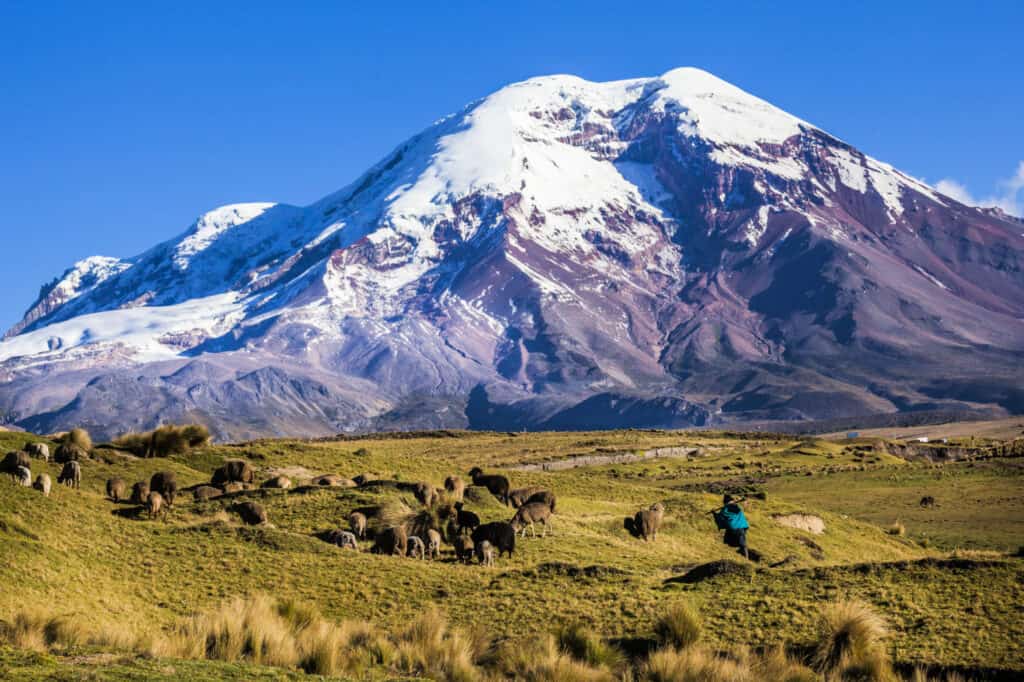 Chimborazo
Chimborazo is Ecuador's highest volcano in the Andes which is at the farthest point from the earth's center. When measuring the height from the earth's center, rather than sea level, it clocks in even higher than Everest. This is because of the equatorial bulge (the earth is a tad wider around its midsection caused by the earth's rotation).
It is a challenging high-altitude ascent requiring technical ice-climbing gear. You need at least two days to complete, with an overnight stay. It's also possible to take a short day hike towards the summit.
Chimborazo is within the Reserva de Producción de Fauna Chimborazo (fauna-production reserve) as it is home to hundreds of vicuña, a wild relative of the llama. It is easy to spot their elegant silhouettes in the mist. Glacier-clad, the inactive stratovolcano anchors the southern end of the country's 'Avenue of Volcanoes'.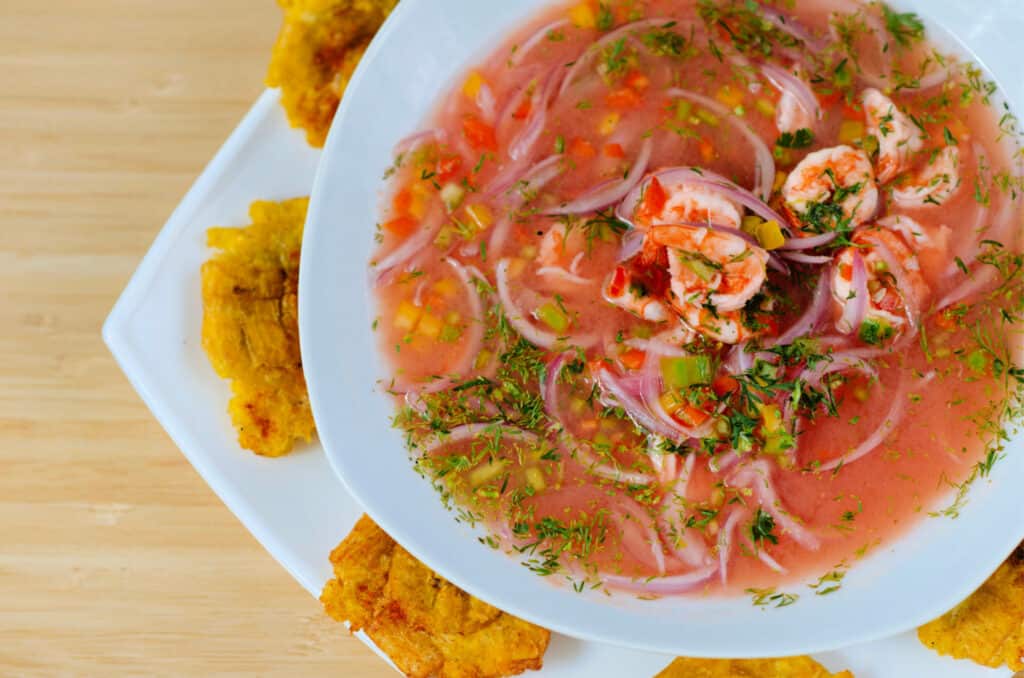 Relish Tangy Ecuadorian Ceviche
Ceviche is a staple seafood dish in many Latin American countries. Ecuadorian ceviche is more like a soup than a salad. It comes served in a bowl. The sauce is heavily citrus-flavored and tomato-based. Some recipes use ketchup (called salsa de tomate) in place of fresh tomatoes with yellow mustard.
It is served with chifles (thinly sliced plantain chips) instead of tortillas or corn kernels and is not accompanied by chili. Some restaurants serve the fish dish with canguil, essentially a type of popcorn. This should be added a few pieces at a time as it soaks up the juices and quickly turns soggy.
The types of fish include shrimp, seabass, shellfish, octopus, or todo mixto. It is always adorned with fresh lemon, salt, pepper, and onion base. It's wouth-wateringly inviting for seafood lovers!
If you are more adventurous, try Cuy, a guinea pig, roasted on a skewer, rotisserie-style over an orange flame.
Mama Cacao: From Raw to Ready-To-Eat
Ecuador produces 70% of the world's highest-quality cacao, making chocolate a delicious export. There has been a long history of cacao making in the Amazon's pungent, densely sprouting life force. Fine chocolate has found a top-quality niche in Ecuador's fertile cacao farms, and their commodity is indeed transported around the world to enjoy.
In Quito, the República del Cacao, just a block away from the Plaza Mayor, you can taste-test to your heart's content: classic chocolate or specialty bars with chiles, tropical fruits, and rose petals.
There is a local chocolate factory that offers regular tours and experiences to try your hand at making chocolate. On your tour, you can learn the basic mechanisms of making cacao, with a friendly guide. From the bean's inception to the bitter enriching product, carefully presented in a green leaf, ready to be consumed. Check availability for said chocolate lovers tour below: