The pristine island of Boracay rose to fame thanks to its stunning white sand beaches and crystal clear water. It was a party haven, a place to make memories under the starry sky. But in the case of Boracay, there is too much of a good thing and the island was shut to travelers in order to let the natural world recover.
Now open, and ready to welcome you, Boracay is a tamer but more sustainable version of its former self. The gorgeous beaches remain and the ocean is once again teeming with exotic marine life and colorful reefs with incredible underwater clarity.
It's an island that balances outdoor adventure, with relaxing and rejuvenating experiences, befitting of such a beautiful part of the world. To have you prepped for the best trip, here's our guide to the best things to do in Boracay!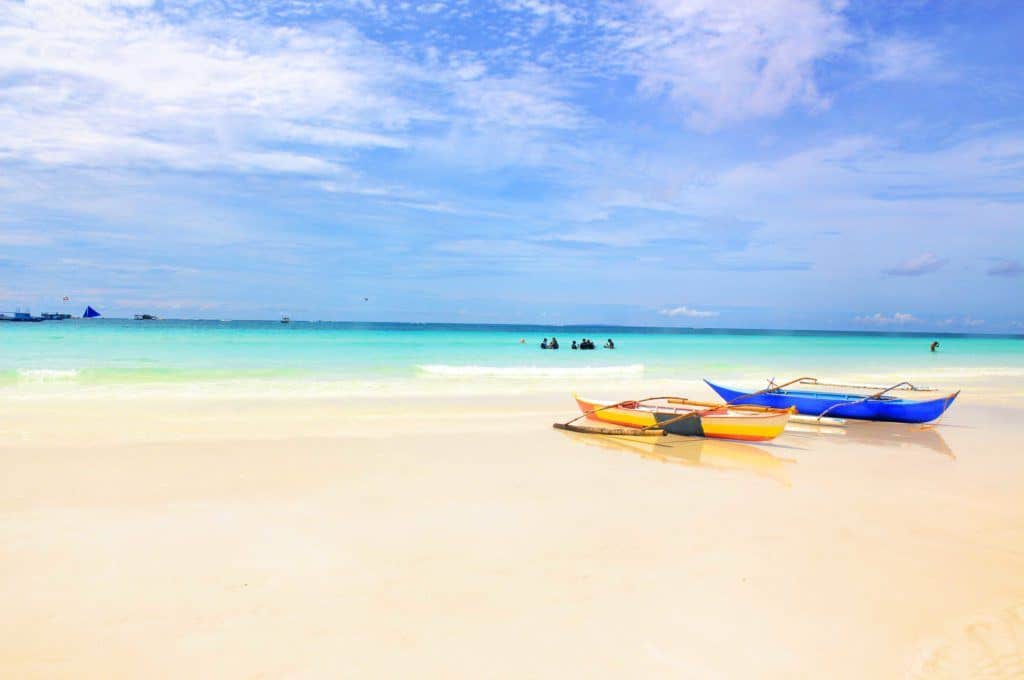 Spend a Day — or Three — on White Beach
Serene white sand beaches aren't rare in the Philipines. In fact, they're par for course. So what makes White Beach the most famous in Boracay, and one of the top in the island nation? The soft, powder-like sand drifts up between your toes as you step along her majestic shores. While the turquoise water glistens under the bright sky, the sand steals the show.
After Boracay was shut down to revitalize the island, a new decree was put it place to protect the sand under law. Today, you can't even build sand castles. This won't take away from the experience, it only helps to showcase the beauty of White Beach even more.
White Beach is a lengthy 2.5 miles (4km) long. It's broken up into three sections, the first with high-end resorts, the second with beachfront restaurants and bars. Lastly, the third is quiet and family-friendly. Somewhere in between, your paradise awaits.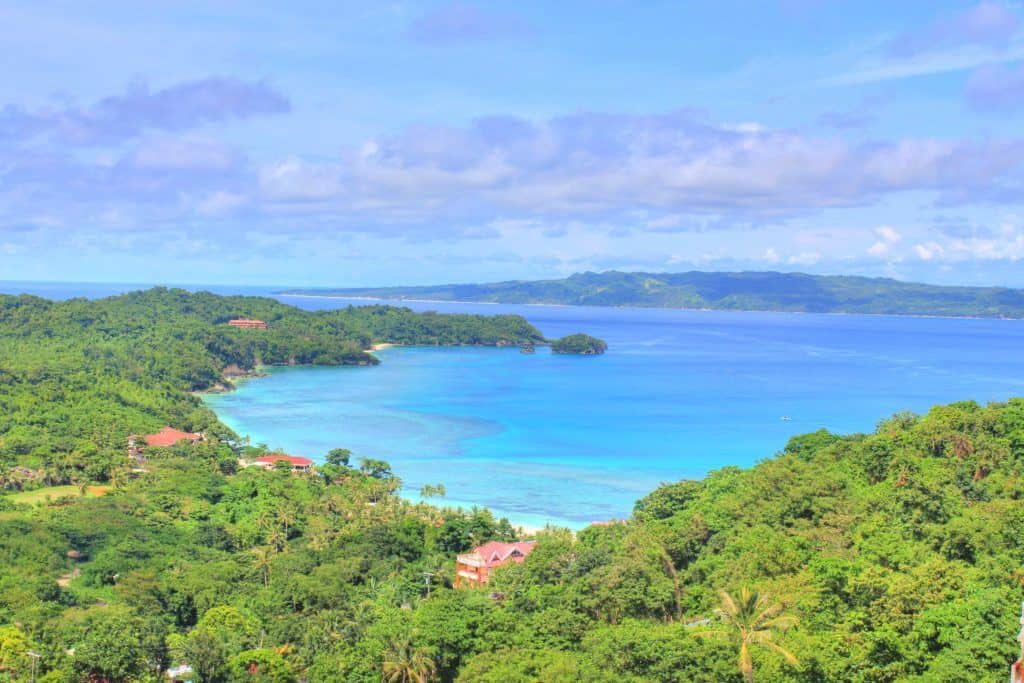 Take a Hike to Mount Luho
Encased in beautiful beaches and almost entirely flat, you'd be forgiven for thinking the Boracay is not for hiking. But there is one exception. Mount Luho. More of a hill than a towering mountain, the peak is still a lovely distance above the Sula Sea and the winding coast.
The trail is mostly made up of stairs that guide you to the summit 370 feet (112m) above sea level. Along the way, you'll hear monkeys play in the distance and a great number of birds traversing the canopy.
Despite its diminutive stature, Mount Luho has three viewing platforms in which to admire the beauty of Boracay. The main one is the Mount Luho View Deck, which has three levels of its own. The first level has an Insta-worthy heart exhibit for photos over Boracay Beach. The second has a bar and snack shack with the top level offering an expansive platform providing panoramic views.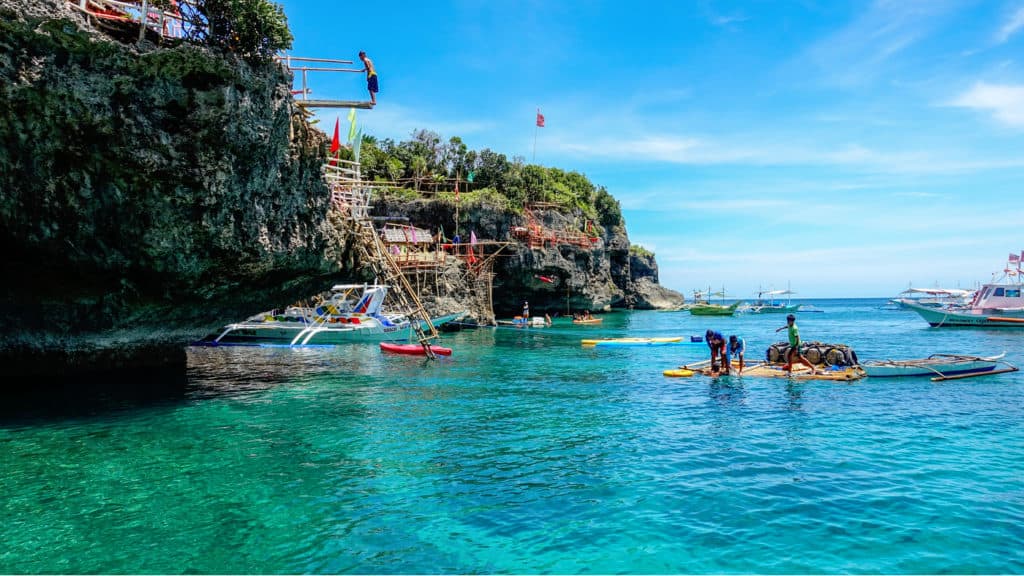 Cliff-Dive at Ariel's Point
Travelers can reach the exciting destination of Ariel's Point via a memorable journey on traditional outrigger boats. The trip will take around 40 minutes, guiding you south from Boracay to the northern tip of Panay Island. As you get closer to the point, you'll see several diving boards jut out of the cliff above the sparkling sea.
Ariel's Point has developed a reputation among adventurers and thrill-seekers. There are five heights from which you can dive and complete the hair-raising experience. The highest platform is 50 feet (15m) above sea level, with the shortest 10 feet (3m) above.
With lifeguards looking on, feel free to begin small and work your way up to more terrifying heights. However, the thrill of cliff diving is present from all platforms, with the jagged rock behind you and nothing but the sea and beautiful horizon to the front.
Cliff diving isn't the only exciting part about a trip to Ariel's Point. Beneath the surface, you'll find an underwater world teeming with beautiful fish and vibrant corals. Swim and snorkel or explore via kayak and stand-up paddleboards.
Relax at Ilig-Iligan Beach
After a thrilling day at Ariel's Point, you'll be seeking some R&R by the water. One of the best ways to do this while getting away from the crowds is to visit Ilig-Iligan Beach. On Boracay's north coast, the idyllic beach is a tranquil experience from the get-go.
Devoid of major developments, the soft white sand feels a world away from some of the more popular spots. While there are some local restaurants inland, you'll want to pack everything you need for a complete beach day. So you can enjoy nothing but sun and the warm sand beneath your feet.
Elevating the beach's beautiful views are the several small islands just offshore. On a calm day, it's possible to swim out there and discover your own private paradise. Or, if you have snorkel gear, dive into the colorful scenery hiding under the electric-blue water.
Explore the Motag Living Museum
Where most museums would be satisfied with a line of exhibits and bright displays, the Motag Living Museum is well, alive. Run by locals, the museum helps to show Boracay's agricultural heritage and what life in the island's original villages was like long before the first traveler arrived.
Say goodbye to stuffy inside exhibits. At the Motag Living Museum, you can watch fascinating live presentations of everyday local life. Explore traditional homes and the work that goes into farming the surrounding landscapes, from rice milling to plowing.
Rather than just reading some interesting facts on a plaque, you can interact with the villagers, ask questions and dive deeper into the matter at hand. Take a journey into the past and see just how far Boracay has come.
Towards the end of the experience, you'll be able to try some authentic Boracay cuisine, including plenty of produce grown in the surrounding fields.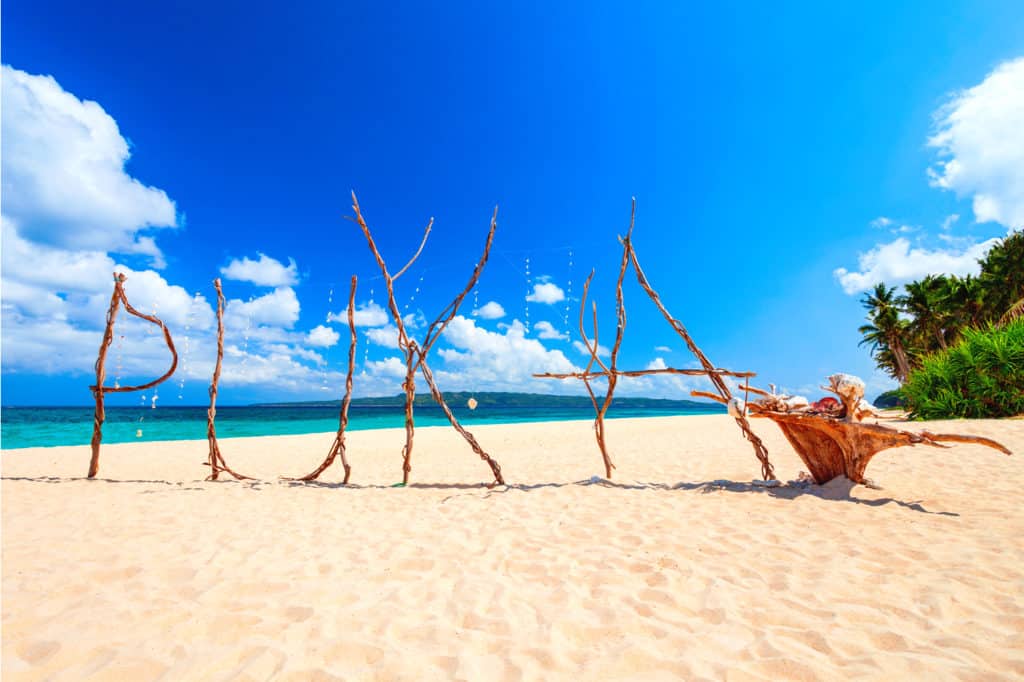 Do Some Island-Hopping
Boracay is an idyllic paradise, enveloped by white sand beaches straight out of a fairytale. One of the best things to do in Boracay is to jump between a bunch of them, while stopping by the many islets just minutes from the coast.
Each morning, several boats depart from White Beach to explore the best spots on the island. You'll find no shortage of options to choose from. It's a wonderful way to plant your bum on some of the more remote beaches on the island without having to worry about a thing.
Hop from one beach to another with a refreshing beer ready to go at each one. In between destinations, admire the gorgeous coastline while making memories with your best friends.
On this unforgettable island-hopping tour, make your way to Crocodile Island for some snorkeling and Puka Beach for some sun tanning. Enjoy a fresh seafood buffet for lunch with picture-perfect island views.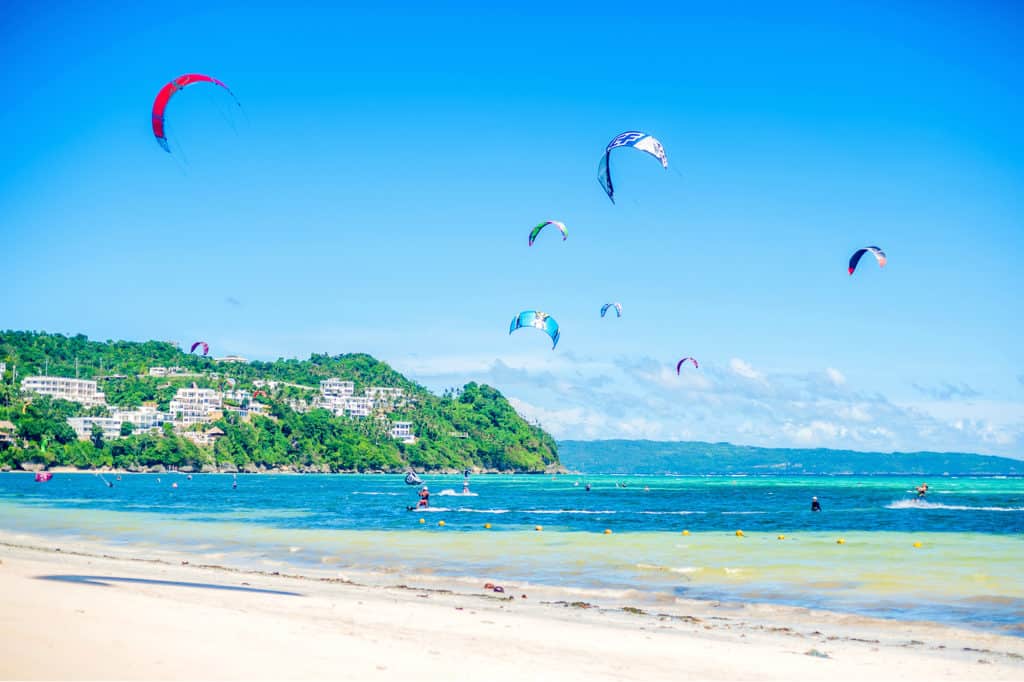 Try Kite-Surfing
Like any island paradise worth its salt, Boracay is teeming with water adventures. Perfect for first-timers and exciting for veterans who have been there and done that, the gorgeous Bulabog Beach is the place to kite-surf in Boracay.
From the minute you pass the swaying palm trees and onto the sandy shores, you'll feel the strong wind whip through your hair and push you back a step. The sand sweeps around your ankles and for many, it's not the beach for a day of reading.
Under a mile from White Beach, it's a simple walk to arrive at this kite-surfing mecca. Behind the beach you'll find a row of rental outfits ready to set you up for a day on the water, whether that be for a lesson or with your own gear.
When you're ready to go, set yourself up and let the wind do its thing, as it guides you from one end of Bulabog Beach to the other.
Join a Cooking Class
For some, the memories stemming from photographs or a cute souvenir from the local market are enough to commemorate your travels. But for the foodies among us, there's something unsurpassed about bringing the flavors of a local cuisine back home.
Filipino cuisine is aesthetically colorful and is packed with a sweet, yet salty and tangy taste. Like most of Asia, rice is the staple, but the local cuisine combines it with a variety of spices, seafood and lean meat. The amazing part of Filipino food is how each flavor stands out on its own, without being combined into one superior taste.
There's no shortage of classes around the island, with all accommodations able to hook you up with a local experience. When provided with a choice, it helps to embark on a morning cooking class. In this cooking tour, you'll join your chef at a morning market to pick out your fresh ingredients before learning all about Filipino cuisine.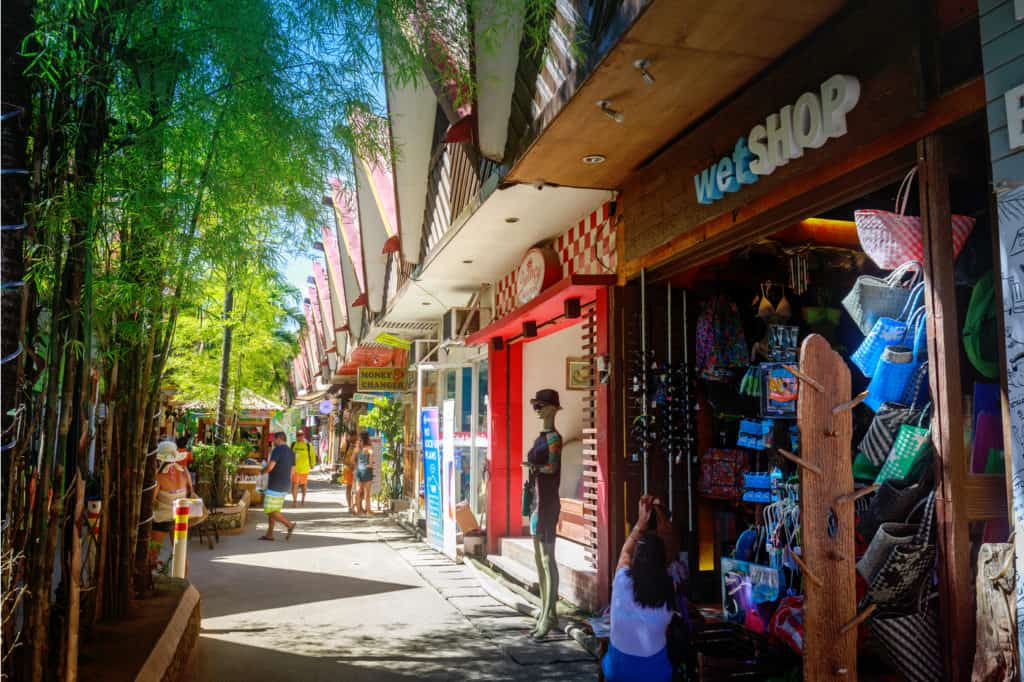 Go Shopping at D'Mall
More island bazaar than mall, D'Mall is the place to go for some retail therapy while on Boracay. Behind Station Two, on White Beach, the mall has everything you need for a day of browsing from endless local boutiques to charming souvenir stores and food stalls to keep you fueled.
If you're searching for your next favorite swim suit or a fresh pair of flip-flops, you'll find them here. While you can let your inner-child out while perusing a variety of inflatable water craft and elaborate buckets perfect for your best sandcastle yet. But you can't leave without picking up a fridge magnet souvenir for your folks back home.
The open-air mall is teeming with the smells of food shacks cooking up classic local dishes and even popular international eats like tacos. Whether you're shopping or sunbathing on the beach, D'Mall is a great place to go for simple cheap eats that you can have on the run.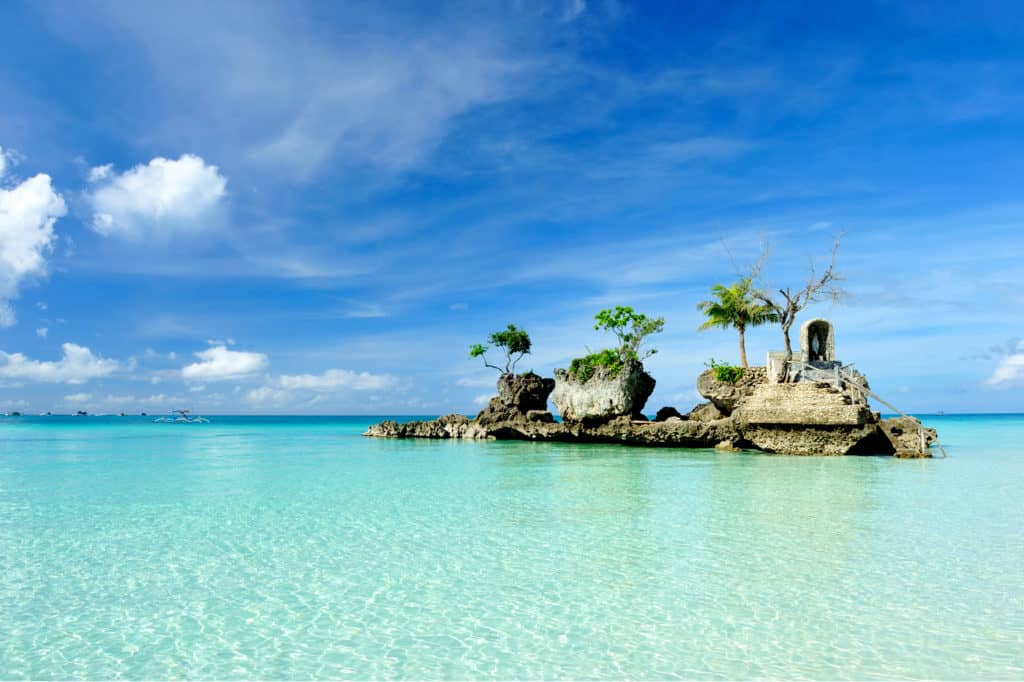 Take a Trip to Willy's Rock
To the end of White Beach, you'll find a popular natural landmark and one of Boracay's most unique attractions. From the sand, you can easily spot the volcanic island off in the distance, standing quietly above the ocean, adorned with several trees.
From Station 1, you can take the brief trip to Willy's Rock by swimming in the shallow waters. Or, if the tide is out, you can make your way there on foot. The tiny island now features its own staircase cut into the ancient rock and it even has its own Catholic statue.
It all combines to make Willy's Rock a photographer's dream with its cragged edges jump out of the blue water and the palm trees somehow finding life where not much else has. Naturally, it's a popular tourist spot, but come early morning you can enjoy it before anyone else.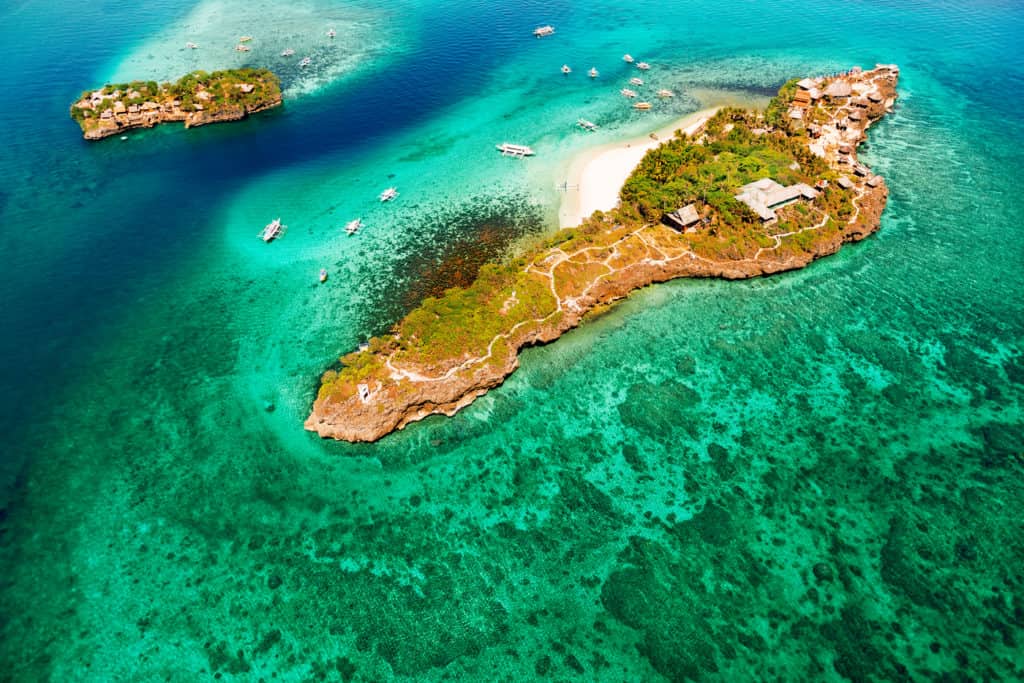 Visit Crocodile Island
Although it's a popular stop-off on Boracay's many island-hopping tours, you could easily spend a whole day on Crocodile Island. Now for those fighting demons, as you worry about running into some giant salt-water crocs, you can put the demons to rest. The island got its name from its "striking" resemblance to the animal.
The crystal clear water that envelopes the island is protected. Complete with your snorkeling or scuba diving gear, you can explore the unspoiled haven teeming with every tropical fish under the sun and a variety of intricate corals.
Away from the major hubs on Boracay, you'll be undisturbed by fellow travelers as you navigate the beautiful world beneath the surface. Common species you'll swim by include lionfish, moray eels and angelfish.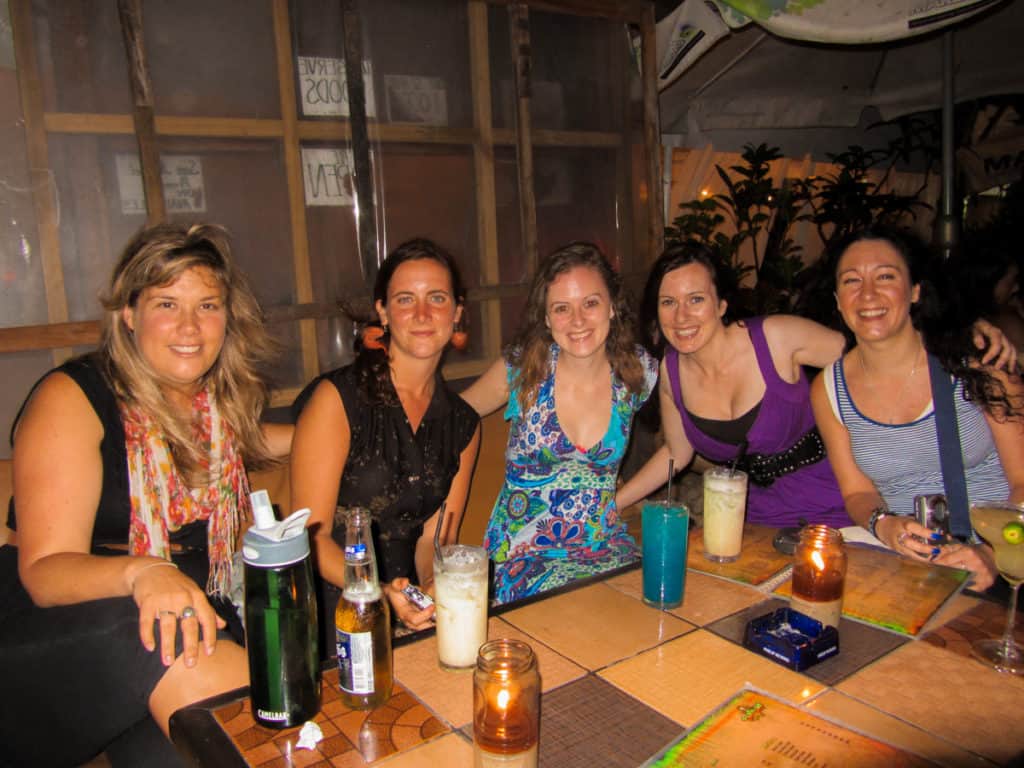 Sip Cocktails at Golden Hour
No time on Boracay would be complete without watching the sun go down by the ocean with a tropical cocktail in hand. In fact, it's probably how you'll spend every evening. As you should in paradise.
Most of Boracay's top spots, including White Beach, face west with nothing but the South China Sea in the vast distance. From any of the beachfront bars and restaurants along the island's main drag, you can witness a perfect conclusion to the day.
From the initial burst of warm colors, you'll be hooked in. Waiting patiently for the canvass to become even more spectacular. It happens ever so slowly until you blink and it's all right there before you. With your traveling crew, or new friends from the hostel dorm room, savor the sight as the color explodes into nothing, making way for bright stars.
Aside from cocktails, an unforgettable way to experience a Boracay sunset is on the water. On this sunset cruise, paddle-board and snorkel before kicking back on your boat for the evening's performance.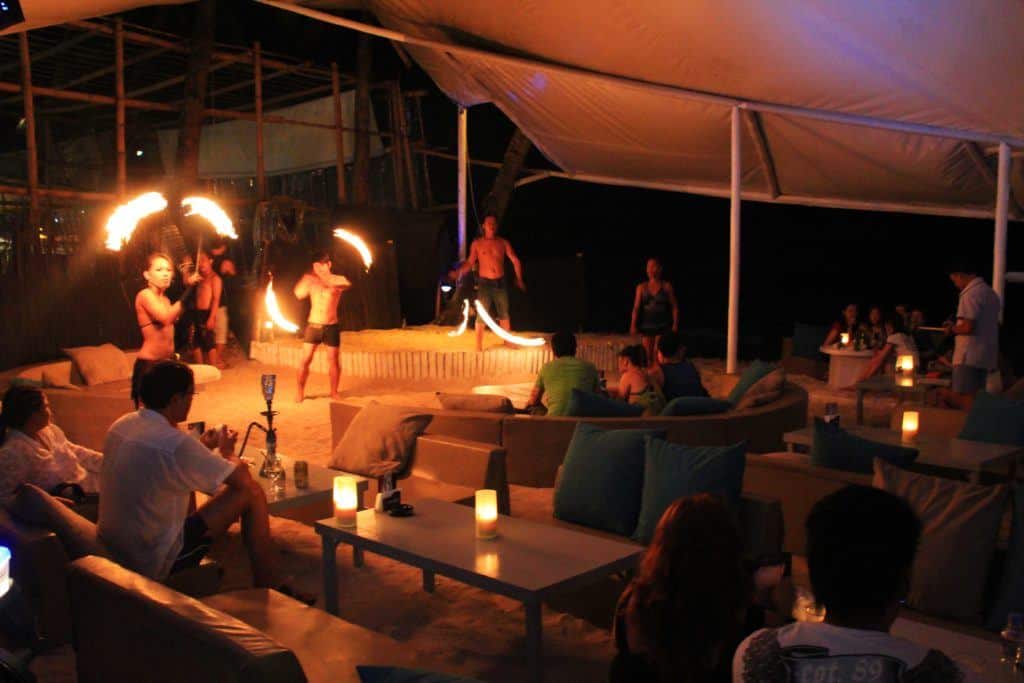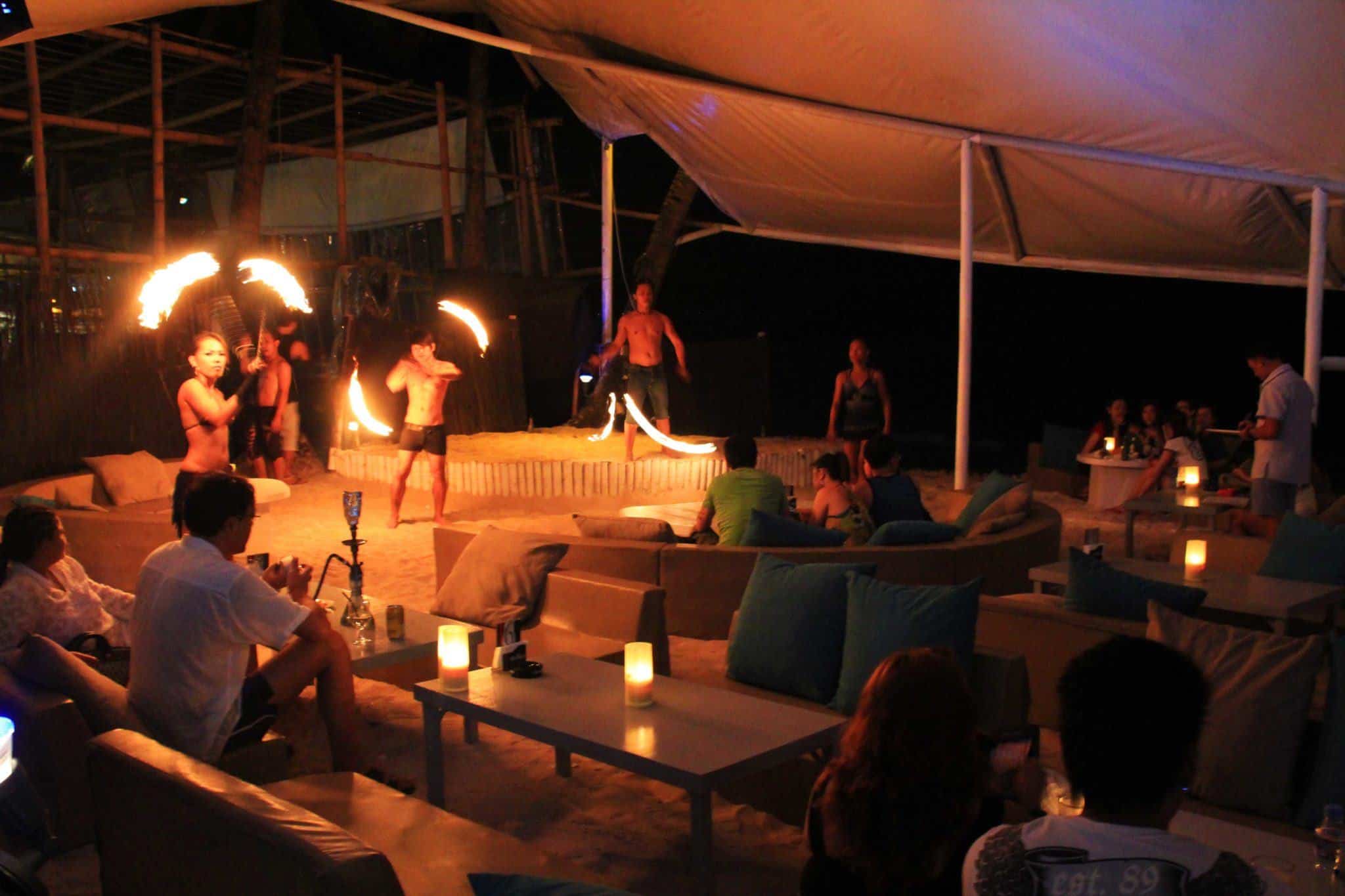 Experience the Nightlife
With the sunset in the rearview mirror, it's time to get out on the town and see what adventures await. Boracay was once a backpacker and party haven. Since it's reappearance from lockdown, it may be tamer, but night owls will still have a wonderful time.
The hub of Boracay's nightlife can be found along White Beach. Station 1 and 2 have the most happening scenes where you'll find large open-air bars, seating on the sand and even some exciting fire shows on the beach. Those wanting to shake their hips will find a number of dance clubs, including Paraw Beach Club.
As for solo and small group travelers, a Boracay pub crawl will take you to from low-key bars to pumping clubs while you meet travelers from all over the world. Those seeking a chill evening can skip the first two stations and head to Station 3. Here you can relax and chat over a drink with the sound of crashing waves in the distance.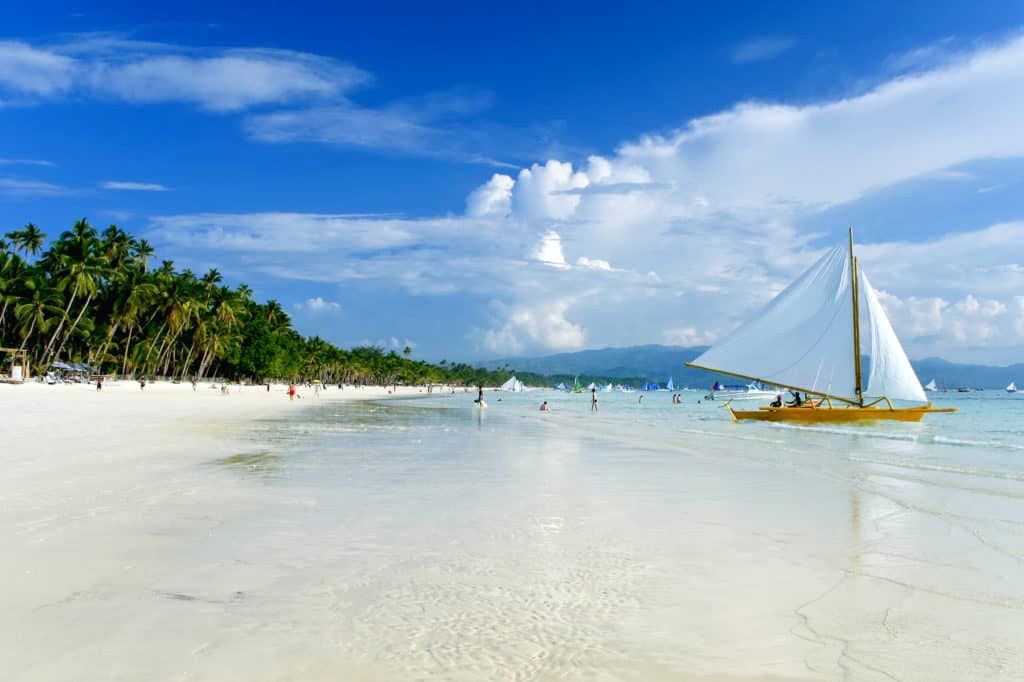 Sail a Traditional Paraw
For generations, Boracay residents have used their paraws to sail around the coast, to fish and to explore neighboring islands. The vessel is a small boat with two sails and an outrigger on either side. The sails triangular shape stands out on the water and its nimble size makes for some fast and exciting sailing.
With the water lapping the boat right beneath you, there's something spectacular about exploring aboard a paraw. It's rustic and without the pressing sounds of engines. One of the best things to do in Boracay is to enjoy a private sail along the coast aboard the authentic vessel.
You'll find plenty of them set up and ready to go along the island's west coast beaches. Whether you're after a short cruise in front of White Beach, a sunset experience or an adventure around the island, your local captain will provide.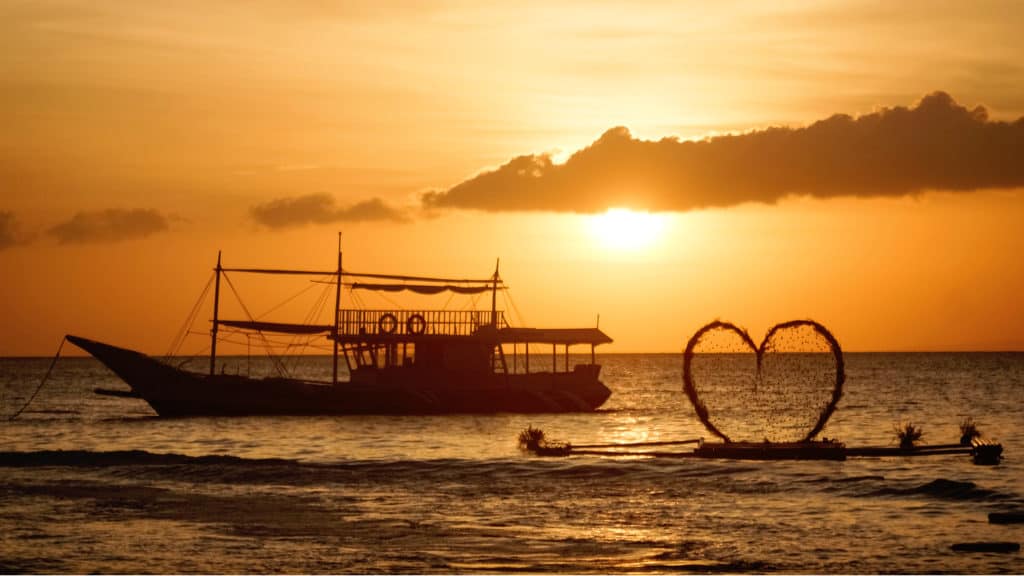 Date night at Balinghai Beach
Tucked away from the boisterous atmosphere found elsewhere in Boracay, Balinghai Beach is an exclusive haven away from it all. At high tide, the sand is swallowed up by the water, which rises to the edge of the limestone cliffs complete with ocean-side cottages.
From White Beach, the resort is only a 15-minute ride away or you can hire a paraw for a unique arrival. Balinghai Beach isn't open to the public. It's owned by a resort with the same name and requires an entrance fee. However, this fee is a credit for Balinghai Resorts beautiful beachfront restaurants.
Make the most of the exclusive experience by arriving early. Aside from relaxing on the quiet shores, you can indulge in a spa experience within one of the cliff-side cottages. As the sun goes down, make use of your credit by enjoying a romantic dinner by the ocean, taking in unrivalled views of the evening's sunset.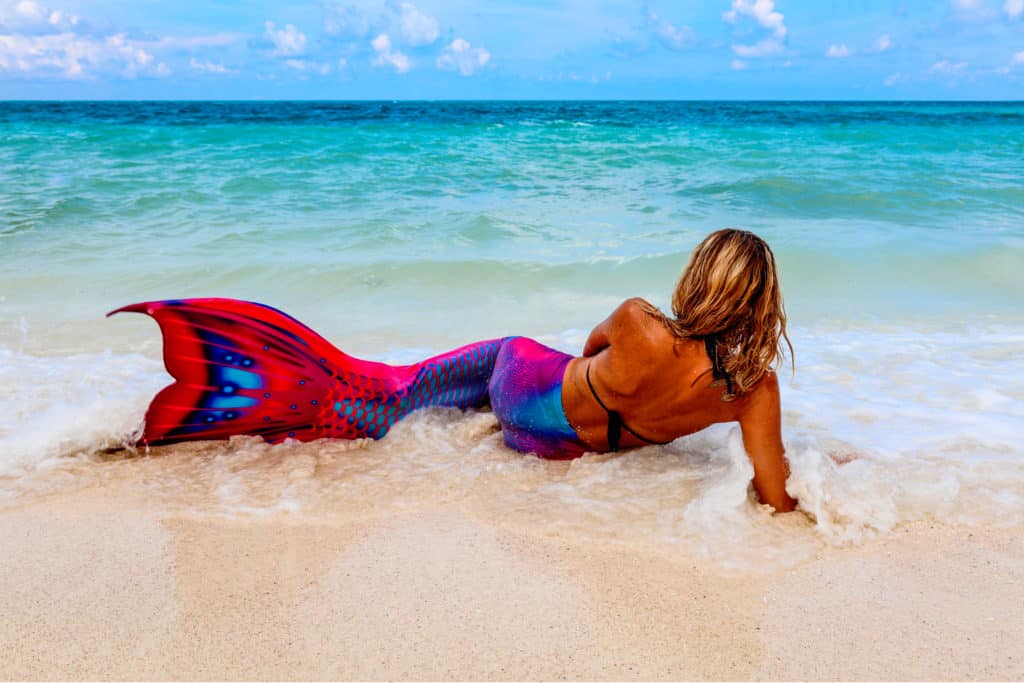 Be a Mermaid
From Ariel's Point to being Ariel herself, there's no shortage of things to do in Boracay. The island is home to a mermaid experience that allows travelers to finally fulfil their dreams of being a majestic human/fish. At the Philippine Mermaid Swimming Academy, beginner mermaids can learn the tricks to the trade from pro instructors.
The academy has three levels. It all begins will proper breathing techniques, and getting familiar with your new tail. The next two levels expand on these skills, teaching you how to properly use gear, do tricks like handstands, and hold your breath for longer. You'll even be shown how to apply waterproof makeup to take your mermaid experience to the next level.
If you've been inspired to make your life as a mermaid a full-time job, then the academy and the International Mermaid Swimming Instructors Association can make that happen too!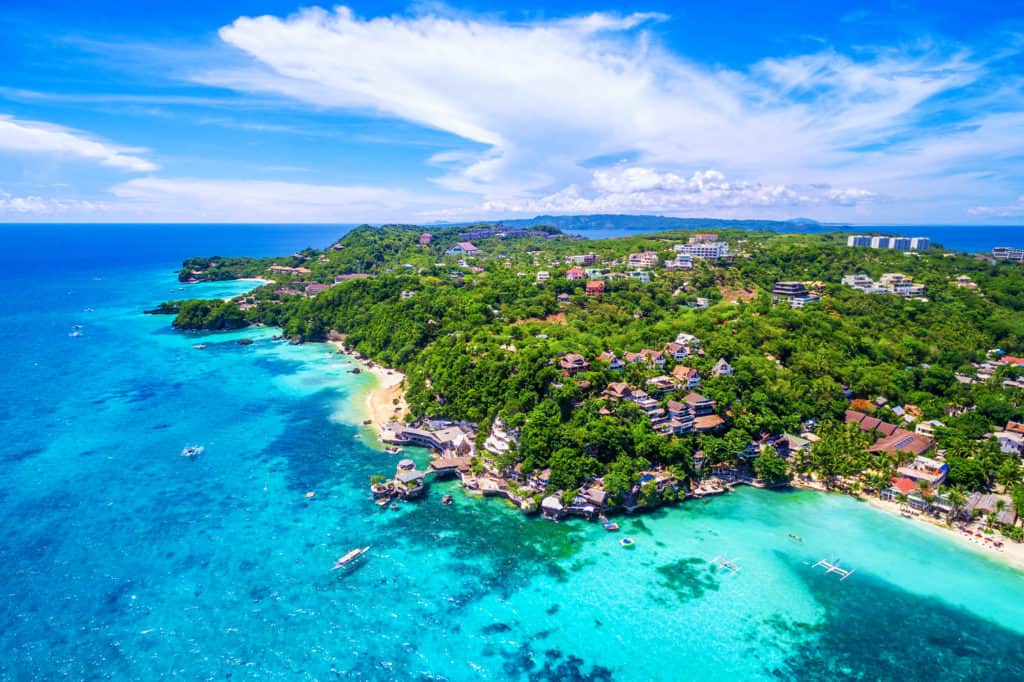 Take to the Skies
So far you've explored beaches, islands and tiny mountains on foot, so why not take to the skies and see it all from above? With the help of a helicopter experience, you can enjoy some of Boracay's best vistas without lifting a finger. Choose between three different flight options, with a hotel pickup.
After taking off from the helipad, soar up into the heavens to appreciate the thin island and her delightful coastlines. See the paraws and island-hopping boats cruise over the aqua-colored sea heading to tiny islands that are just a speck compared to Boracay. Then, look down on sparkling white sand beaches, with locals and travelers like ants meandering along.
Helicopter tours will go for around 30 minutes, which is enough time to experience all the hotspots on the island from the sky. After you touch down, you'll have a new appreciation for the island's alluring scenery.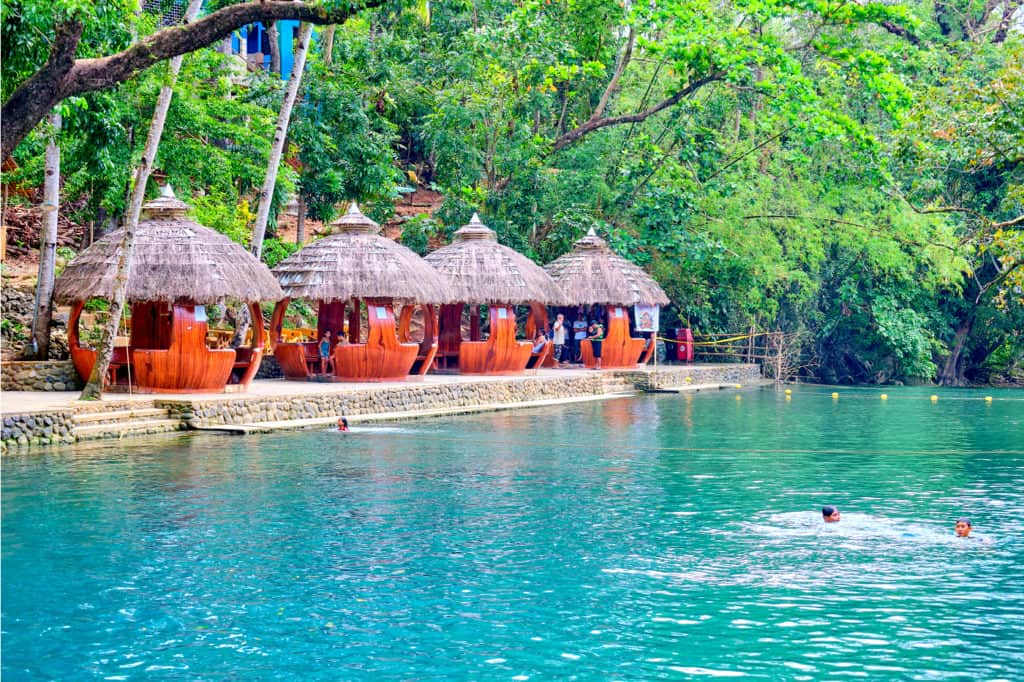 Day Trip to Surrounding Provinces
As you're filling up the Boracay itinerary, you may want to leave a day spare to venture off the island to nearby provinces. Boracay is a part of Aklan, but the majority of the province is on the island of Panay.
In Aklan, you can explore the coastal town of Caticlan, known as the gateway to Boracay, Here, you'll find beautiful white sand beaches, the crystal clear water of the Sanga-an River while being just a short ride from the Northwest Panay Peninsula Natural Park.
Speaking of nature, the neighboring province of Antique is home to whitewater rafting and tubing along the scenic Malumpati River. Afterwards diving into the refreshing Malumpati Cold Spring or warm up at Kawa Hot Bath.
Last up on your adventure into the provinces are Capiz and Roxas City. Featuring ornate colonial architecture, you'll find plenty of interesting history here, including the Santa Monica Church and at the Punublion Museum.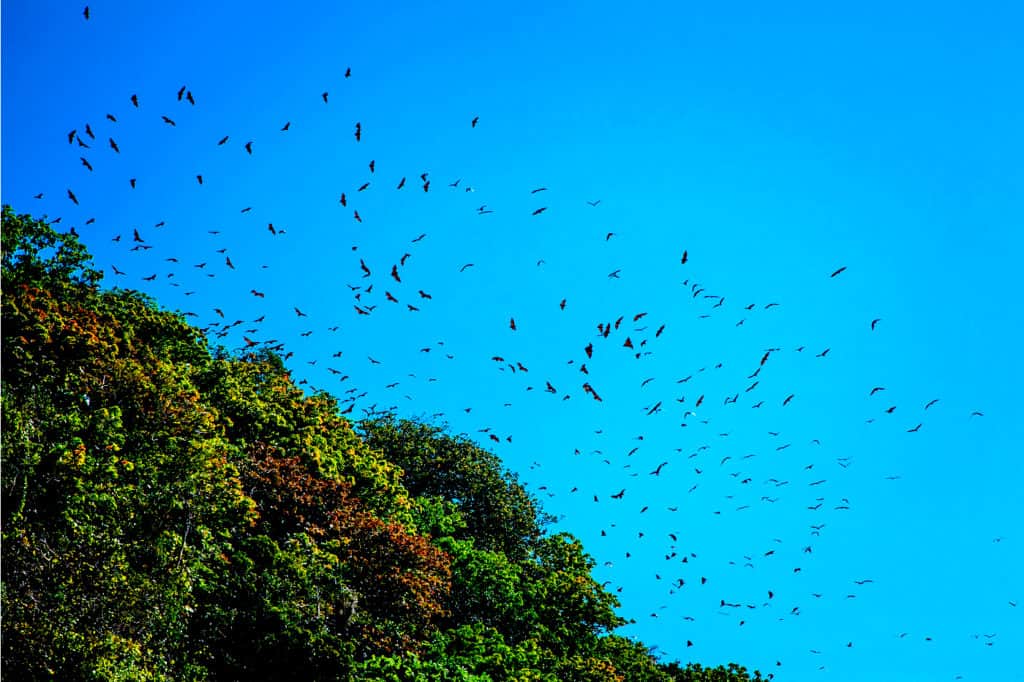 Explore the Boracay Bat Cave
On the northwestern end of Boracay, there's a cave home to the island's native flying foxes. Reaching the cave is an adventure in itself and requires a walk through the dense coastal forest. Soon the trees make way to giant boulders, with the cave plunging down.
While a lot of caves will feel cold owing to their lack of sunlight and the surrounding rocks soaking up any heat, this cave is quite different. As soon as you walk inside, you'll be hit by the cave's humidity. Above you will be a series of stalactites dangling from the ceiling like frozen icicles.
Of course, the star of the show are the old world flying foxes which have inhabited the cave for centuries. The best time to arrive and see the bats in person is at dusk. Keep in mind that these fully grown fruit bats can grow to a formidable size.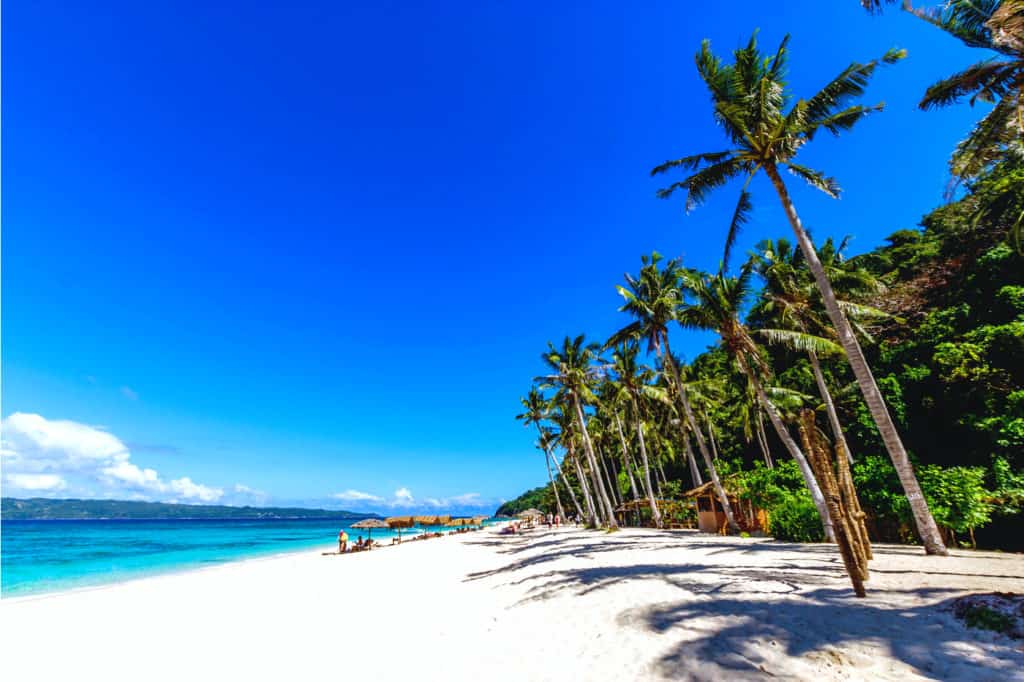 Sunbathe at Puka Beach
Named after the puka sea shells that once inhabited the beach, Puka Beach is one of the best on Boracay. It's a popular stopover on the island-hopping tours owing to its unspoiled scenery and views of the neighboring island of San Jose.
Beyond those that arrive for a short while on their tour, you'll likely spend the day with few others. So bring along plenty of sunscreen, a great book and some snorkeling gear for an idyllic afternoon.
The sand here isn't as soft as White Beach, owing to the amount of shells that once called the beach home. Today, you can still walk along Puka Beach searching for the perfect shell, one that will find its way onto a beautiful necklace.
With its position on Boracay's north coast, you'll be in the perfect spot come dusk to see the flying foxes soar out of the nearby cave into the darkening sky.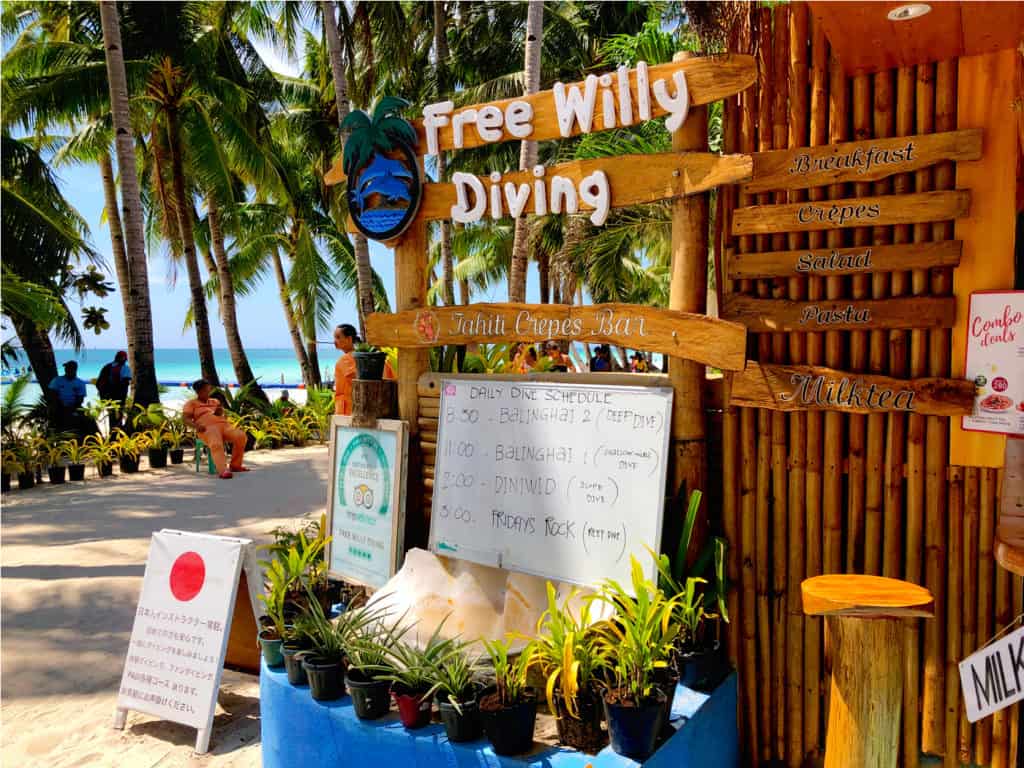 Go SCUBA Diving
After all of your snorkeling experiences, you may be ready to go the next step and scuba dive. For those that are ready to get the PADI certificate, Boracay's pleasant water conditions make for a magnificent spot to learn all the skills.
There are a number of PADI certified diving outfits along the streets behind White Beach. Take your time to compare the differences between each one to see which suits you best. Most will begin in either an on-site pool or shallow coastal waters before bringing you up to speed and embarking on an open water dive.
The beauty of scuba diving is its exclusivity. Once you're comfortable with the gear, you can dive and explore where snorkelers can't. Boracay offers exceptional visibility, often as far as 160 feet (50m) and with mild currents, you can explore without too much worry.
Scuba divers will not only get up close to beautiful tropical fish, but swim with reef sharks, large tunas and manta rays.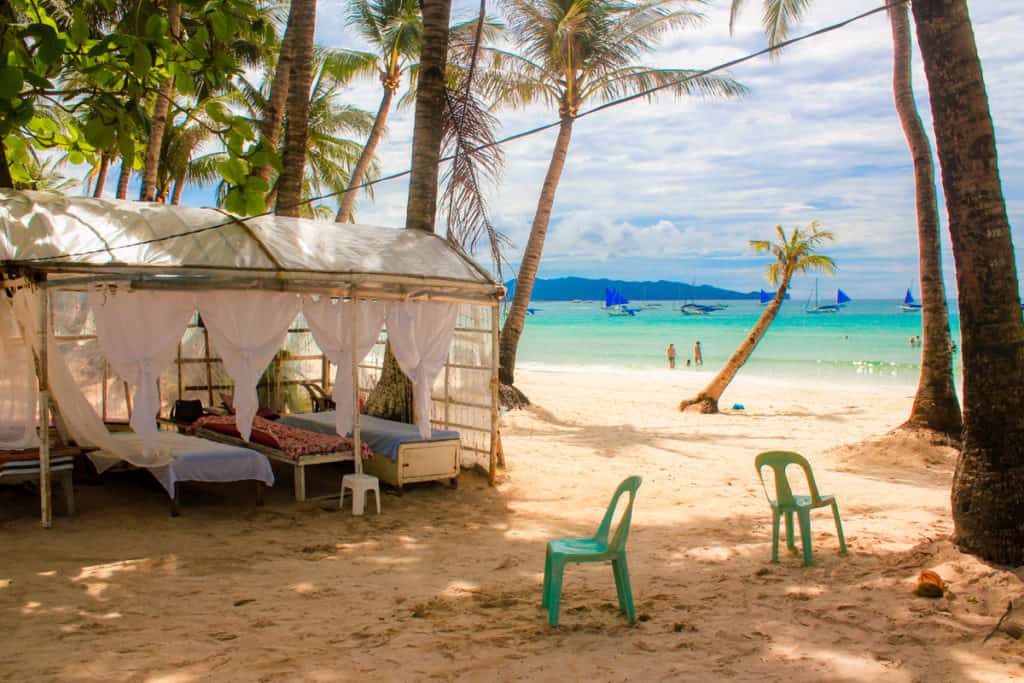 Have a Massage
Among all the action, the sailing and scuba diving, Boracay offers plenty of opportunities for R&R. Seeing as it is your vacation, why not indulge in the ultimate form of relaxation and book a massage. Along the island's main drag, visitors will find a great collection of local and budget-friendly spa houses, perfect for rejuvenating the mind, body and soul.
Counting them all is a task in itself. But to pick one, find a parlor with a bed by the beach. These offer the tranquil sounds of crashing waves as the masseuse slowly brings your muscles back to life.
For something up-scale and exclusive, Boracay is home to several high-end resorts along its coastline. Many operate like beach clubs, asking for a fee in exchange for food and drink credit. Most also provide wonderful spa treatments that are worth every penny.
But the ultimate Boracay detox can be had at Tirta Signature Massage. Combining a Swedish massage with foot reflexology and an aroma massage, all the body's toxins will be released through the lymph nodes. It's a thorough and purifying experience that will have you ready to attack the rest of your travels.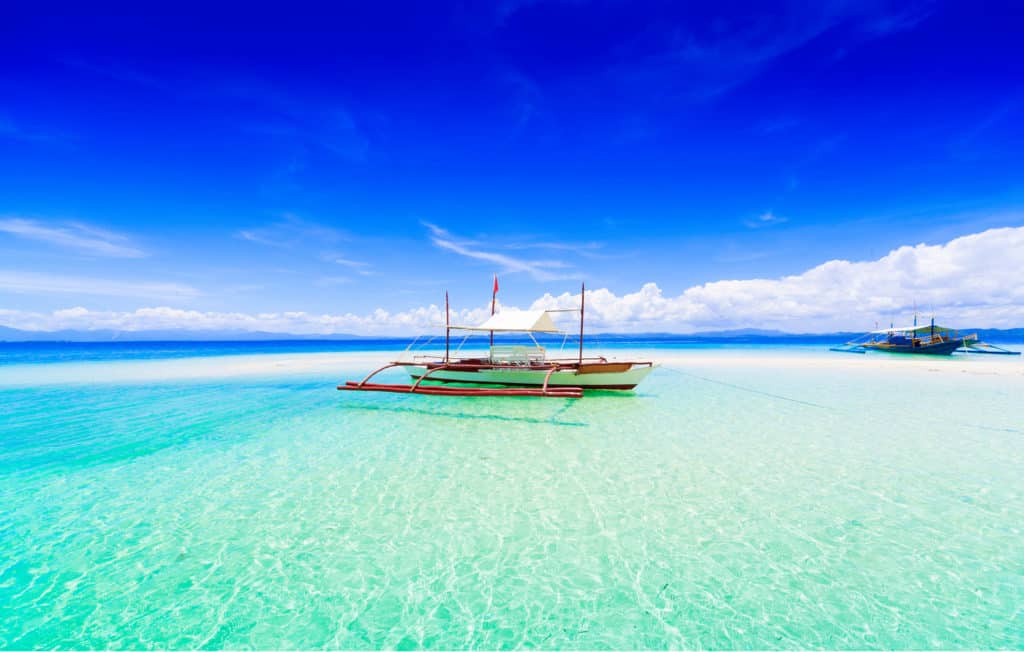 Try all the Water Sports
We've touched on paraw sailing, kite surfing, snorkeling and scuba diving, but in truth we have only scratched the surface. Boracay lives up to its reputation as a tourist mecca by offering a seemingly unlimited list of water sports that will take your day at the beach to the next level.
Begin with a classic, the jet ski. From in front of White Beach you can zip along the coast reaching crazy speeds. Enjoy the views that zoom past you as you try to attempt a donut across the turquoise water.
Along the way, you'll spot a variety of inflatable crafts being towed across the sea by speed boats. Join them by jumping on a banana boat or fly fish and superman across the water as the boat tries its hardest to tip you overboard.
Across the island on the windy east coast, watch the kite surfers below as you soar up into the sky while para-sailing. Enjoy stunning views of Boracay and the many neighboring islands.
Lastly, for something more relaxing, jump in a sea kayak or SUP and explore the nearby waters. Extra points awarded for those who venture out for a sunset paddle.