Koh Chang was the first Thai island I visited and it was the perfect introduction to this part of the world. I was hoping to discover something close to paradise and I certainly found it.
Spending my days lying on Lonely Beach and working on my tan, my evenings were spent watching the sunset and drinking 500 buckets at any one of the bars lining the beachfront.
Those are some of my fondest memories of Koh Chang.
The sunsets differed every night, but each one was stunning and had me excitedly reaching for my camera. I took over 200 sunset photos while I was there and these are some of my favourites.
My first sunset on Koh Chang. Stumbling over rocks on our way to the beach, I stopped to catch my breath and as I looked towards the sea this was the sight that greeted me. A stunning sunset that left me feeling relaxed and at ease. Little did I know, the best was yet to come.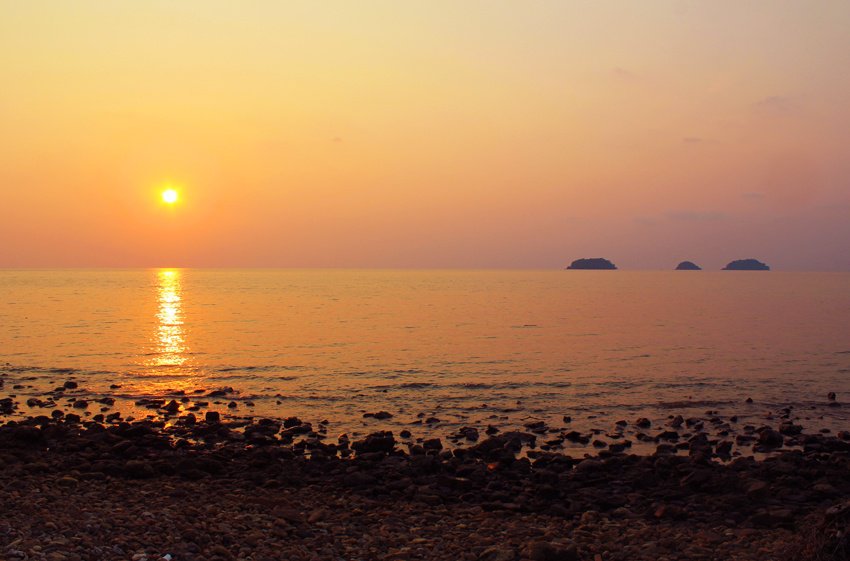 This bright red sunset was seen from my favourite bar in Koh Chang: Sunset Bar. Given the name, it is one of the best places to watch the sunset on the island and this one didn't disappoint.
I distinctly remember gazing out towards the horizon, lost in my thoughts as I heard backpackers in the distance eagerly discussing their upcoming trip to Australia. According to my original plans, I should have been in Australia on a Working Holiday Visa at that very moment. As I looked around, I smiled to myself. I definitely made the right decision to stay in Thailand.
This golden sunset was the perfect way to end a day relaxing on the beach. Watching the silhouettes of fishing boats slowly making their way back to shore added to the feeling of tranquility.
One of my favourite places to watch the sunset is on the beach! Even though it was too cloudy on this particular night, I love the pink hue of the sky while the sea reflects a neon orange.
Walking back to my guesthouse after a day spent sunbathing on the beach, I couldn't help but take a photo of this intense orange sunset through the trees.
With so many clouds in the sky, I was disappointed with the sunset on our final night. I shouldn't have been though – within 30 minutes of the sun sinking below the horizon the clouds had turned a bright pink, slashed with blue streaks of sky.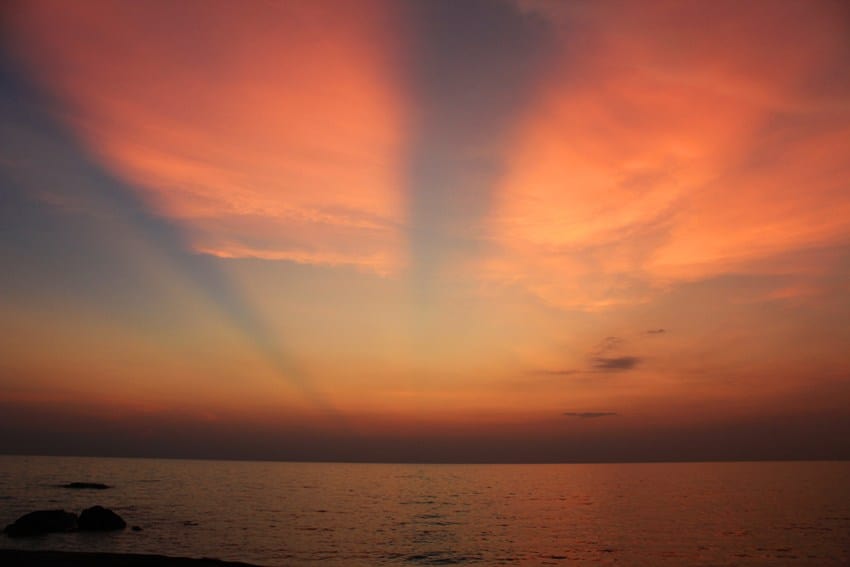 And finally, the photo that I feel perfectly sums up Koh Chang – the warm orange glow of the sun, hints of purple in the sky and one of the many palm trees leaning out towards the ocean.
I thought I had seen some amazing sunsets around the world on my travels, but they were nothing compared to the ones I experienced on Koh Chang.
If you love watching sunsets then head to Lonely Beach. You won't be disappointed.