Muscat is a city with a very long history. In fact, archeologists have discovered evidence that people have been living in the area since 6000 BC, though it wasn't till later that the area grew in prominence, in large part thanks to its coastal location.
It was its maritime promise that first attracted the attention of the Portuguese, who held sway over the city for two centuries, building a couple of notable forts that can still be seen today, perched atop cliffs, guarding the old harbor.
In contrast to these very noticeable symbols of Oman's past are the modern monuments built to emphasize its future. These draw on traditional Muslim design but utilize the most up-to-date structural innovations.
Largely, these bold steps are the work of the late sultan, Qaboos bin Said, who was a beacon of forward-thinking light in an often depressingly conservative part of the world. Indeed, Muscat's foremost architectural marvels, the Sultan Qaboos Grand Mosque and the Royal Opera House, were both commissioned by him and given as a gift from this benevolent leader to the nation.
Compared to other Middle Eastern countries, most locals and expats living in Oman will tell you, quite rightly, that the sultanate is one of the more progressive places you can visit.
Certainly, there are still restrictions regarding consumption of alcohol and proper attire (more on that at the bottom of the page), but on the whole, women are afforded a great deal more freedom. The country has a lax view of Islamic prohibitions on things like the cohabitation of unmarried men and women.
Oman is also unlike neighbors, such as the UAE and Saudi Arabia, in that it has consciously attempted to curb the unfettered growth of skyscrapers to preserve the country's native aesthetic. In fact, there is a law banning buildings over a certain height, which is why Muscat's tallest structure is the modestly tall 90-meter-high minaret of the Sultan Qaboos Grand Mosque.
For visitors, this creates the strange impression of a city that has at once modernized and yet seems not to have grown up, literally. Of course, there are flashy malls with all the most desirable fashion brands – no one could deny that Muscat has its haute couture and mod cons – but these are held in check by a desire to preserve a certain respect for the nation's heritage.
Perhaps this is why we can't recommend Oman enough as a place to visit. The truth is it is woefully underexplored, but hopefully this Muscat itinerary will help open your eyes to the wonderful mixture of history, modernity and natural splendor that awaits.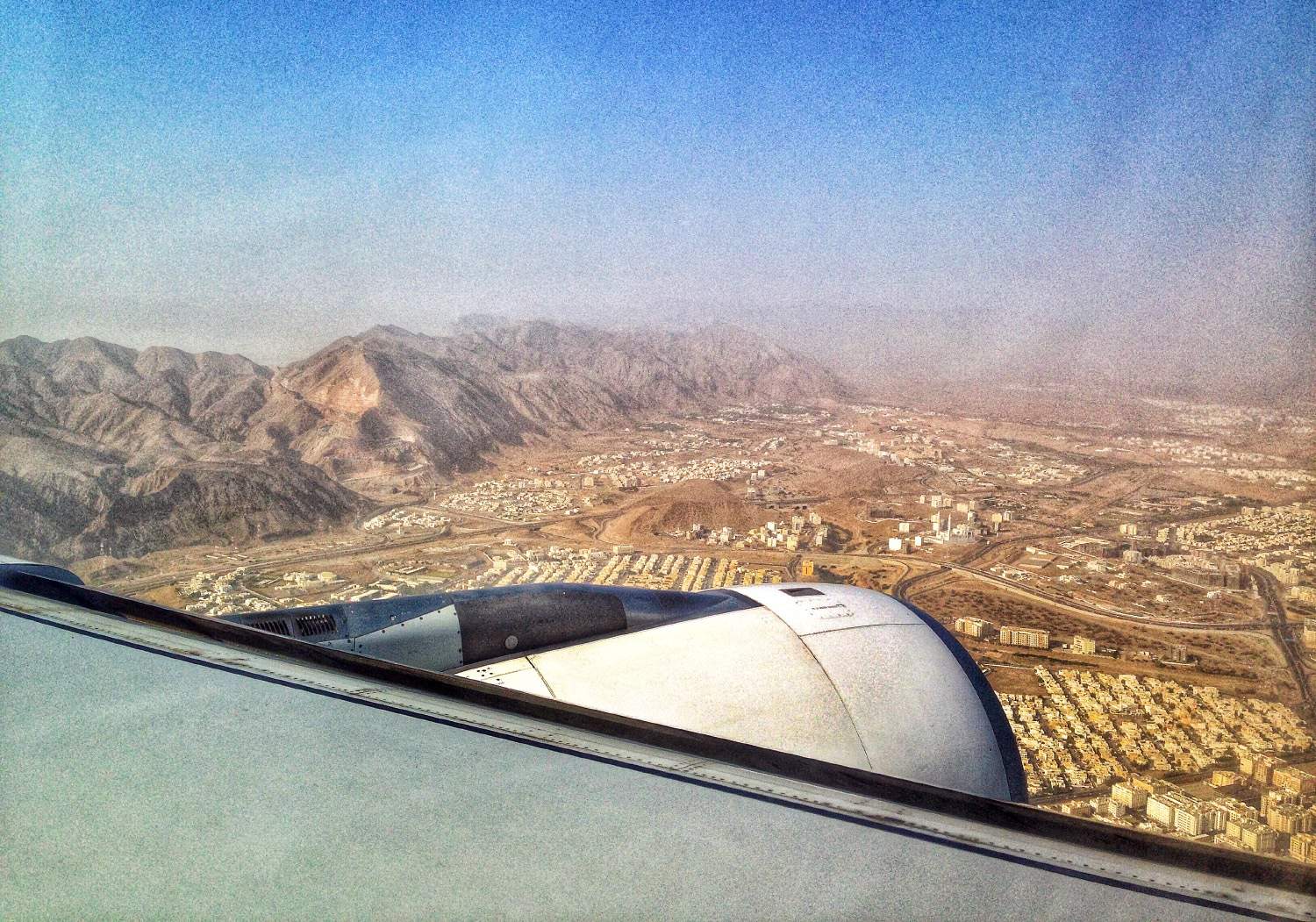 How Many Days to Spend in Muscat
Muscat can probably be explored in a day, possibly a day and a half – though of course, if you want to spend some downtime relaxing on the beach, three days could fly by in an instant! However, the Omani capital is a great base to make day trips into the less-developed interior of the country, where some of the most interesting historical sights lie.
Bearing that in mind, we would suggest spending three days in Muscat, with the first day devoted to exploring the city itself; ranging from the old town center in the east to the modern hub in the west.
The second day can be used to travel inland, towards the impressive forts of Nizwa, which will give you a glimpse into the conflicts and culture that have defined Oman. As part of this excursion, you can also check out some of the country's most impressive natural monuments, such as the mountain of Jebel Shams and Oman's answer to the Grand Canyon.
Finally, finish up your trip with a day devoted purely to getting a taste of the wild beauty of the country with some hiking and swimming in the nearby Wadi Shab and Bimmah Sinkhole.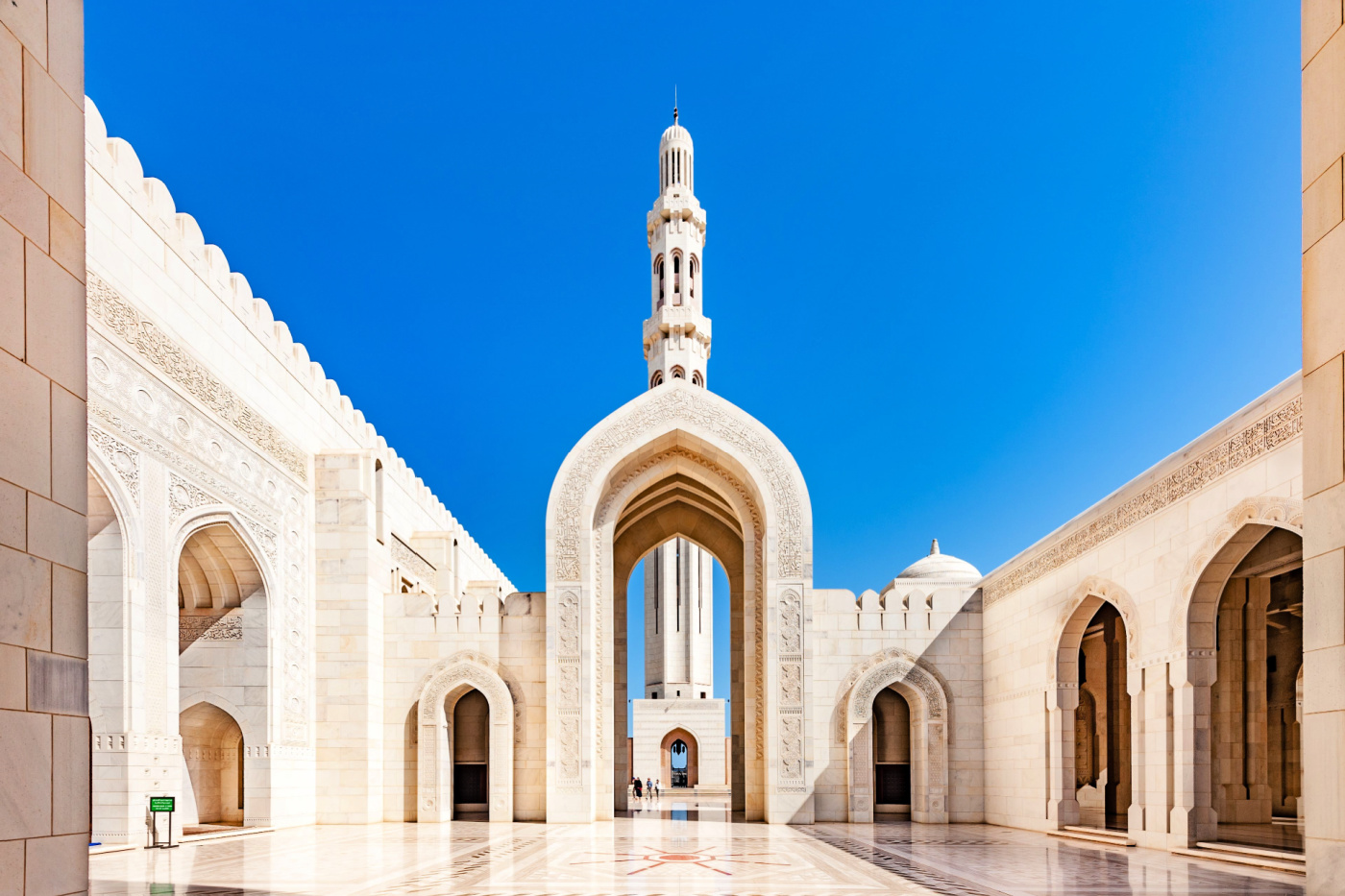 Day One: From Mosque to Mutrah
Rather than delay pleasure like a child hoarding sweets, we often prefer to start city visits with a trip to the most impressive attraction. In the case of Muscat, this is the Sultan Qaboos Grand Mosque, which rises out of the landscape like a frosting-covered cake.
Approximately 300,000 tons of sandstone were used to construct this beauty, which is not only the largest mosque in the country, but also has the tallest structure in Oman. The 90-meter-high central minaret is flanked by four further minarets at each corner of the building. This quintet is meant to represent the five pillars of Islam: faith, prayer, almsgiving, fasting (particularly during Ramadan) and pilgrimage (notably to Mecca).
This is not a centuries-old mosque of historical importance like you can find elsewhere in the world, but it is an apt symbol for today's Oman. The building was opened in 2001 to coincide with the 30th year of Qaboos bin Said's reign and was given as a gift to the people from the sultan. Its design draws on traditional Islamic concepts, nodding to the nation's age-old culture, while at the same time showing off all the grandeur and modernity that the architects could muster.
Entrance is completely free, as is normal for most mosques. Make sure you dress appropriately before leaving your hotel, as visitors are expected to wear loose-fitting clothes that cover the arms and legs, while women must cover their hair.
Surrounding the mosque are some well-kept, if rather staid gardens. You can wander through these for a quiet moment of contemplation or hurry on towards the giant latticed dome. As you stroll about the exterior, keep an eye out for the numerous examples of Arabic script carved into the geometric patterns that adorn the walls and elegant arches.
There are also many nods to the different Islamic aesthetic traditions that have flourished throughout history, from Egypt to Persia. Realistically, these are going to be hard for you to spot on your own, but we found the volunteers on-site very friendly, helpful and happy to answer a whole heap of questions while also highlighting some of the subtleties that we would definitely have missed on our own.
We have to confess to only sparing a brief moment for the women and children's prayer hall, preferring instead to focus our attention on the piece de resistance: the main prayer hall, which can accommodate 6,500 worshippers.
You'll have to remove your shoes and store them on one of the shoe racks before entering – which only seems respectful, not just because the building is a mosque, but because you'll be stepping across a carpet that allegedly took 600 Khorasan weavers four years to complete. That incredible amount of time is perhaps not surprising considering the carpet is composed of 1.7 billion knots and weighs a total of 21 tons.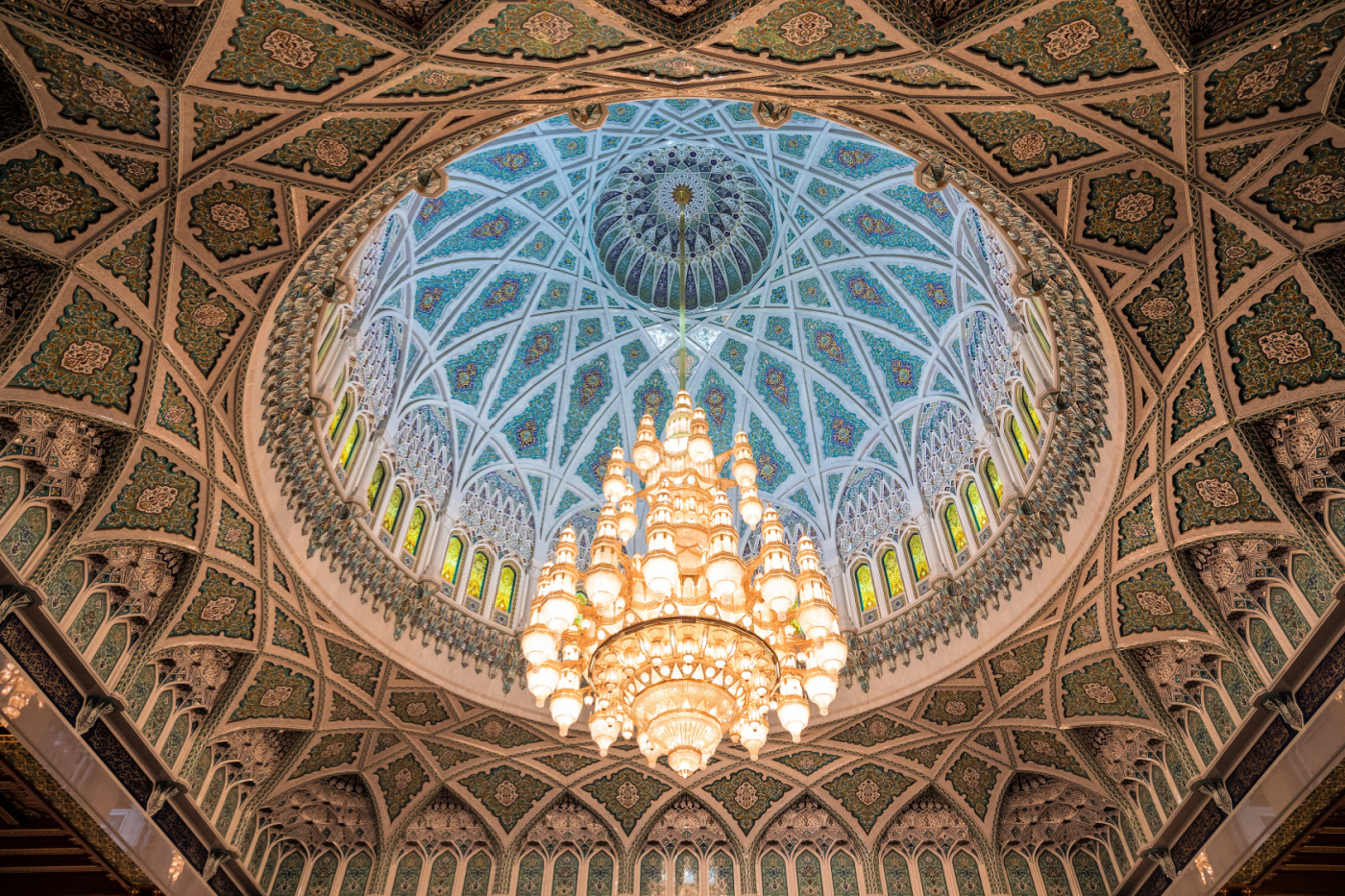 Those are some impressive figures, but the truth is you probably won't be looking down but up, at what is the world's second-largest chandelier. This dazzling light fixture, masterminded by Italian company Faustig, is made up of 600,000 gold-trimmed Swarovski crystals.
These glitter off the turquoise geometric designs and stained-glass windows that line the dome. Worthy of the ballroom from Beauty and the Beast, this fairytale chandelier is mirrored by 34 miniature versions that are dotted throughout the hall.
Immediately facing the main doors to the prayer hall is an elaborate mihrab (a niche indicating the direction of Mecca), featuring honeycomb vaulting and brilliant blue ceramic tiles.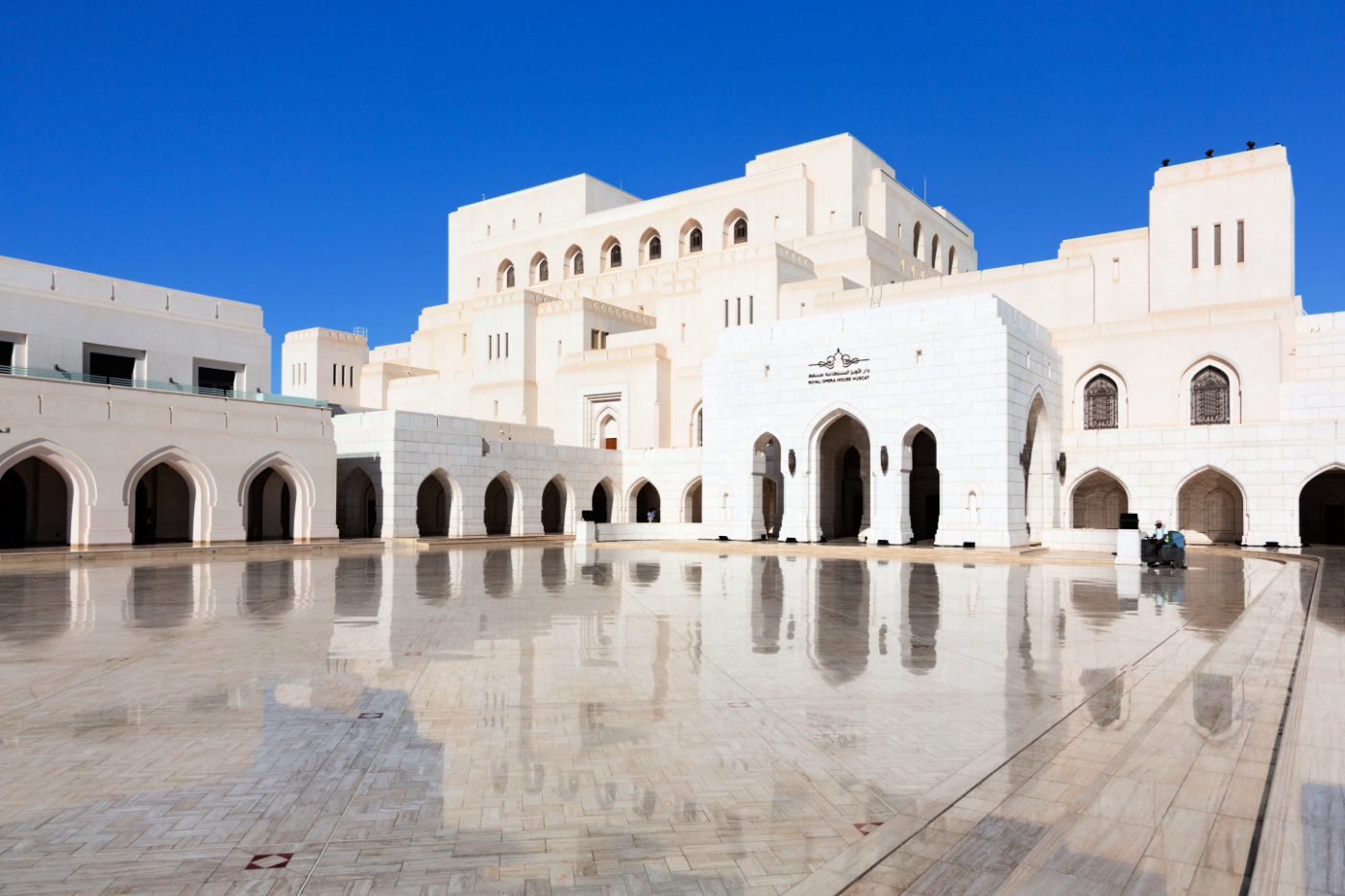 The Sultan Qaboos Grand Mosque is located in the modern part of Muscat where some of the city's trendiest shopping malls have their addresses. Also situated in the new area, slightly further east, is the Royal Opera House.
Even if you're not a fan of this form of musical drama, the building itself is a grandiose stunner. Like the Sultan Qaboos Grand Mosque, it's a vision in white on the outside, while the inside features gleaming creamy marble accented with elaborately carved wood – we were particularly impressed by the fabulous high ceiling.
You can explore the opera house on one of the daily tours, but if you are an opera fan, book a ticket for an evening performance. The dress code is strictly business suits, dinner jackets or dishdashas for men, while women are expected to wear evening dress, lending a wonderful sense of occasion to the visit.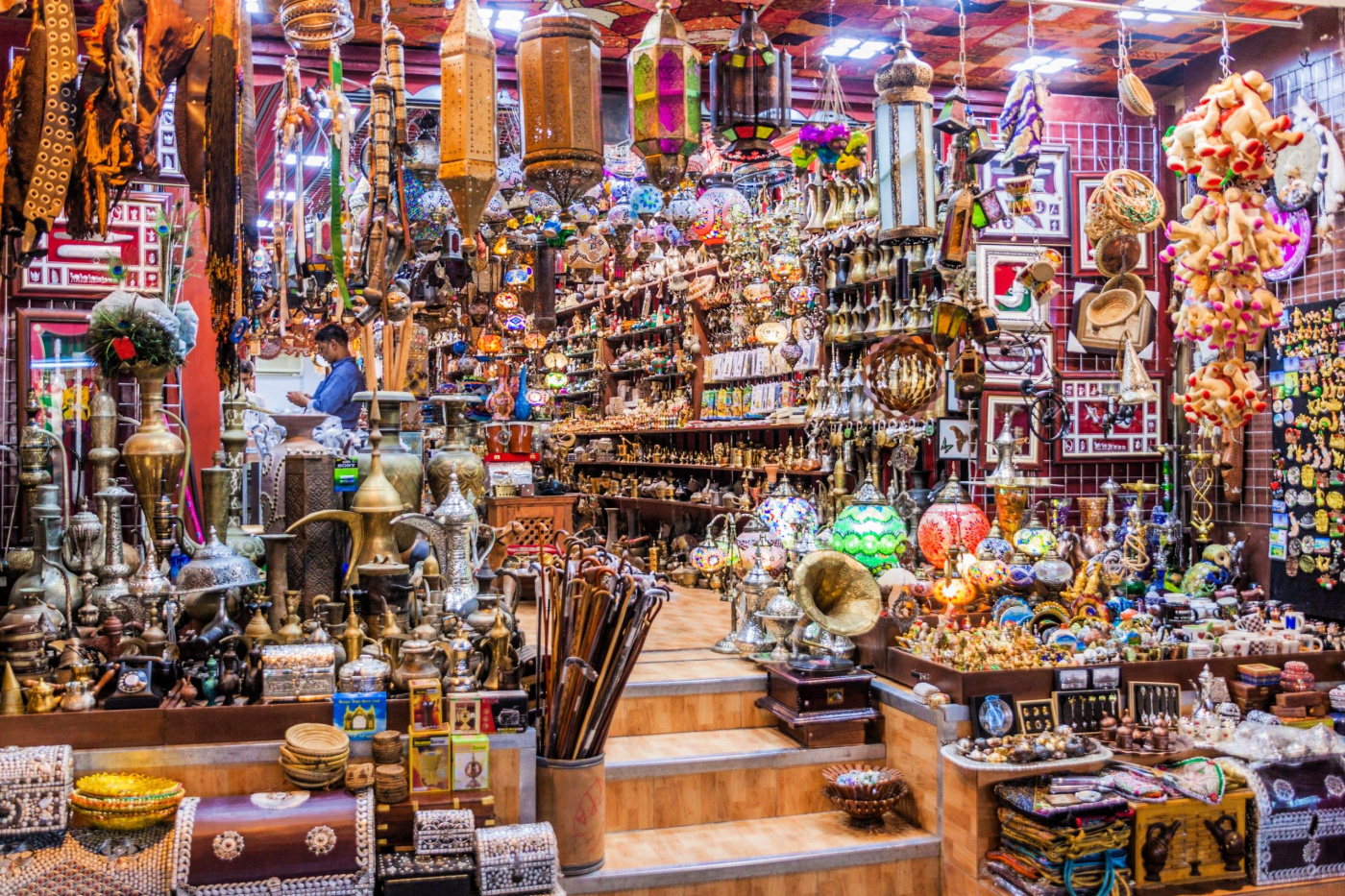 Now you've seen some of the highlights of modern Muscat, it's time to head over to the older parts of town. Oman was famous in the olden days for its frankincense. Today, this can still be purchased in Muttrah's souk, a market filled with tourist souvenirs as well as numerous herbs and spices. 
Even if you have no intention of buying a thing, it's still worth venturing through the maze of stalls to experience the Middle Eastern tradition of the bazaar.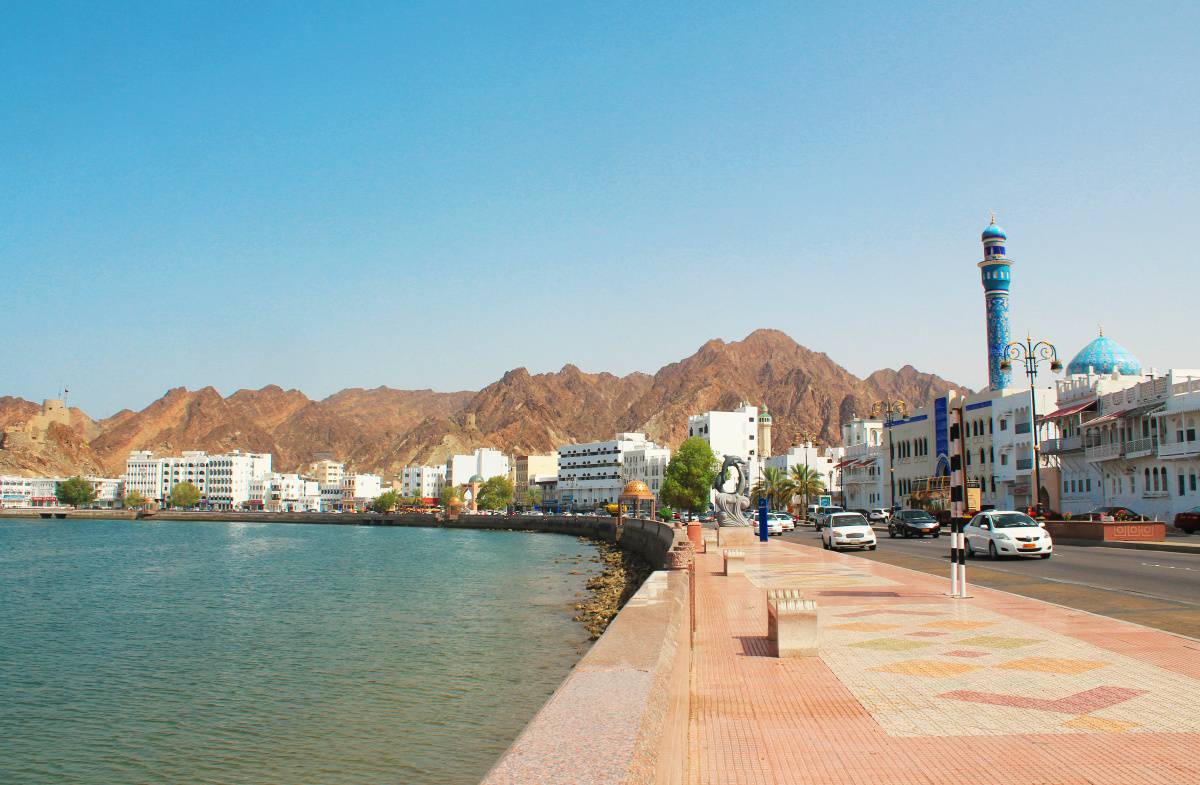 Much more relaxing, however, is a stroll along the Mutrah Corniche. This promenade provides pleasant walks beside the sea – somewhat disrupted by the busy main road that lies beside it.
If you head to the western end of the corniche in the mornings, you can watch locals haggle over freshly caught seafood at the Muttrah Fish Market. Though there's been a fish market here for many years, it has recently been relocated into a thoroughly modern structure, designed by a Norwegian architectural firm.
Keep traveling east and you'll come to the area that's known as Old Muscat. This is where the city first began to germinate, but today it feels much sleepier than the more modern Muscat where the grand mosque and opera house are located.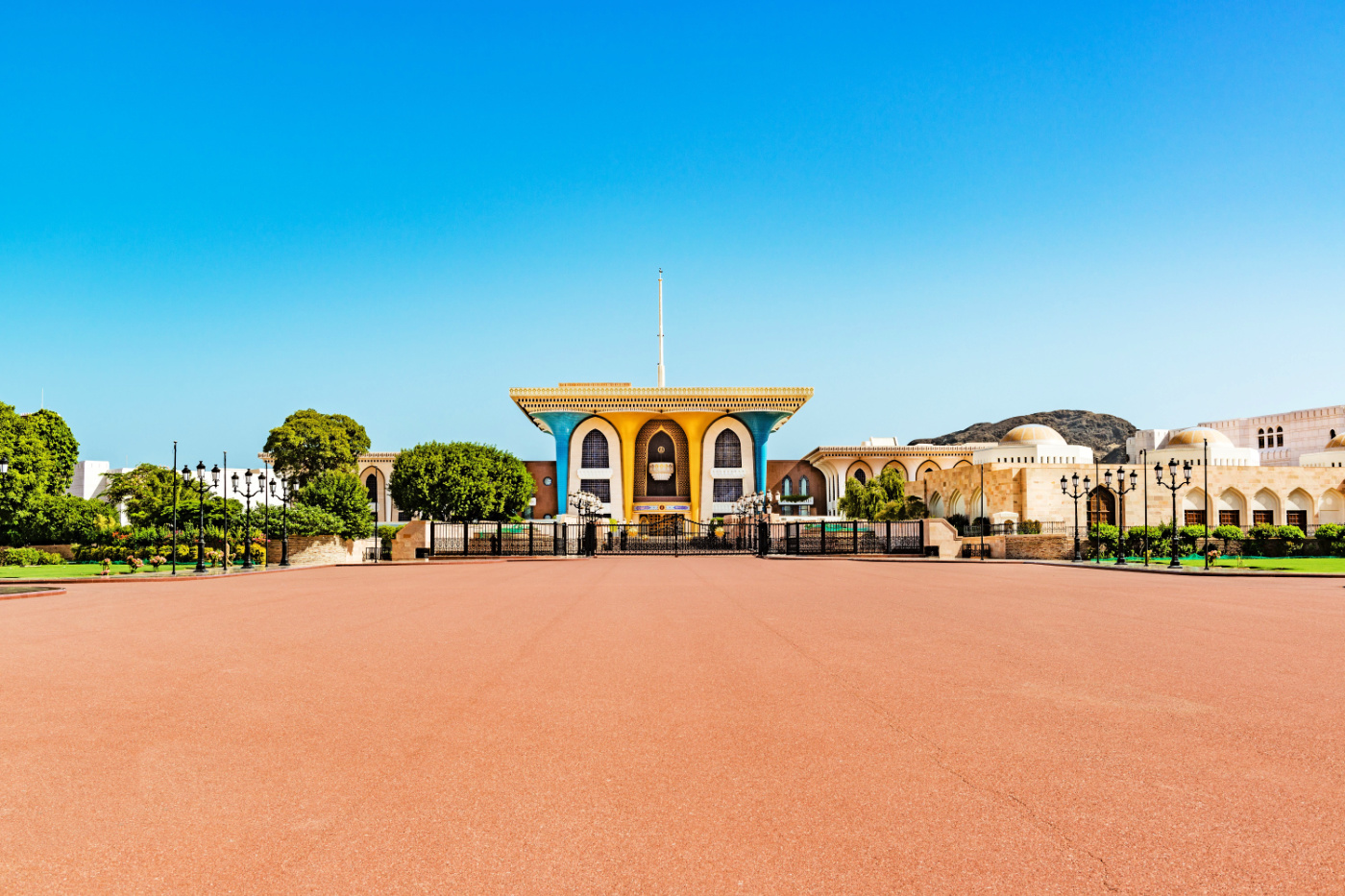 This area contains some of the country's best museums, a couple of 16th-century forts from the Portuguese occupation (Al Mirani and Al Jalali) and the quirky Al Alam Palace. Take a quick pic of the bizarre yellow-and-blue royal structure with its pavilion-esque façade through the railings (it's closed to the public), before heading to Bait Al Zubair.
This privately owned museum offers glimpses of Omani culture, with displays of traditional handicrafts, household items, clothing, jewelry and other assorted pieces of history, as well as an exhibit that illustrates a traditional Omani dwelling.
For almost two decades, the Bait Al Zubair was Muscat's best window into the past. It is admittedly a bit of a hodgepodge, which we found charming, but others might describe it as chaotic.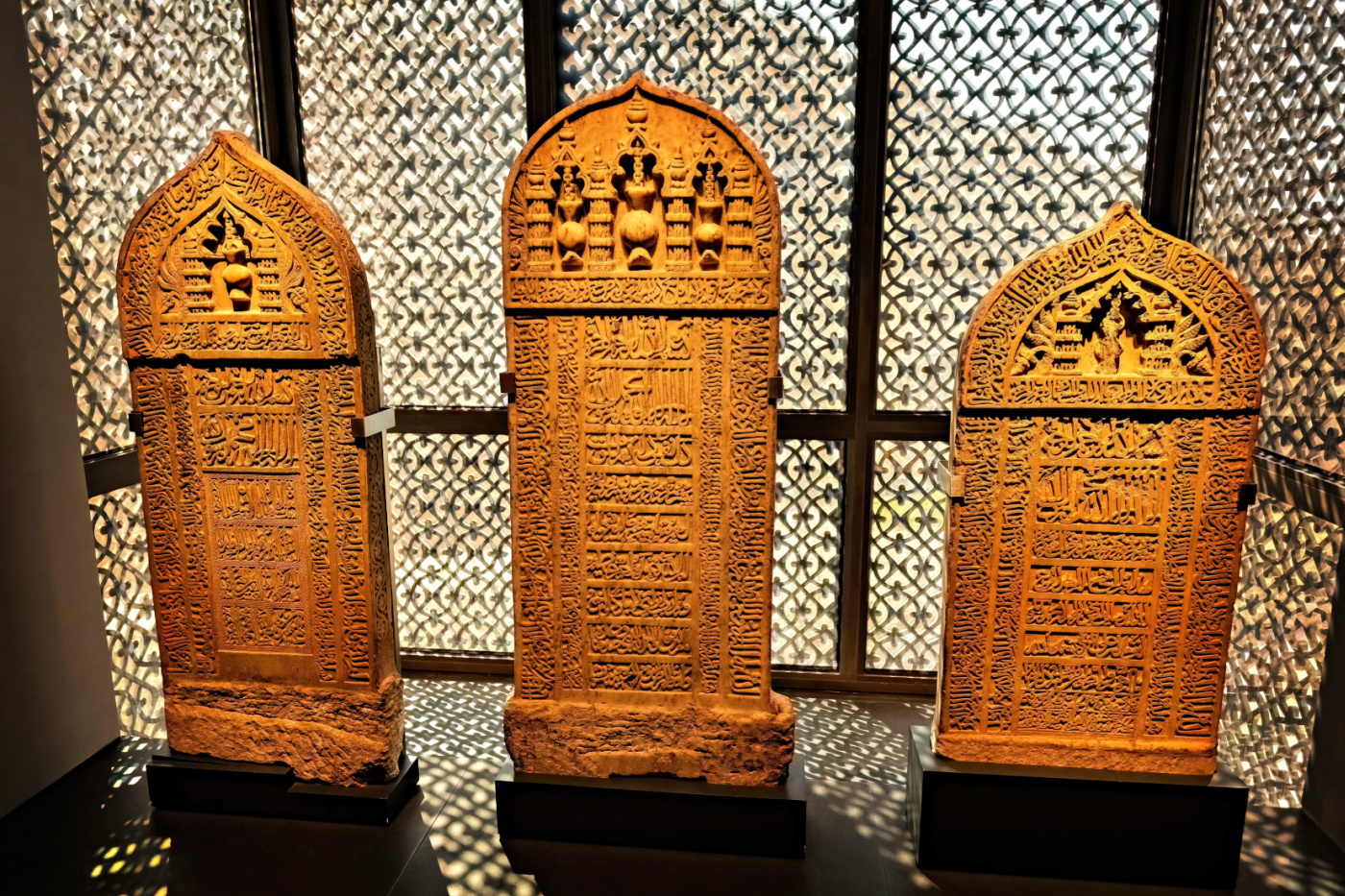 In 2016, however, the government unveiled a new, shiny white building to act as the official storyteller of the nation. The National Museum is a much grander, arguably more sterile affair, which has been very carefully curated along different themes, such as Omani seafaring and weaponry through the ages.
Don't forget to eat! Many Omani dishes center on rice and meat or fish, such as makbous (mixed rice with your choice of meat/chicken/fish) and shuwa (meat marinated in local spices).
We enjoyed munching on some great examples of these dishes at Ubhar, a slightly ugly but undeniably delicious restaurant. You won't want to miss out on the excellent date cake, especially as dates are something of a national treasure in Oman.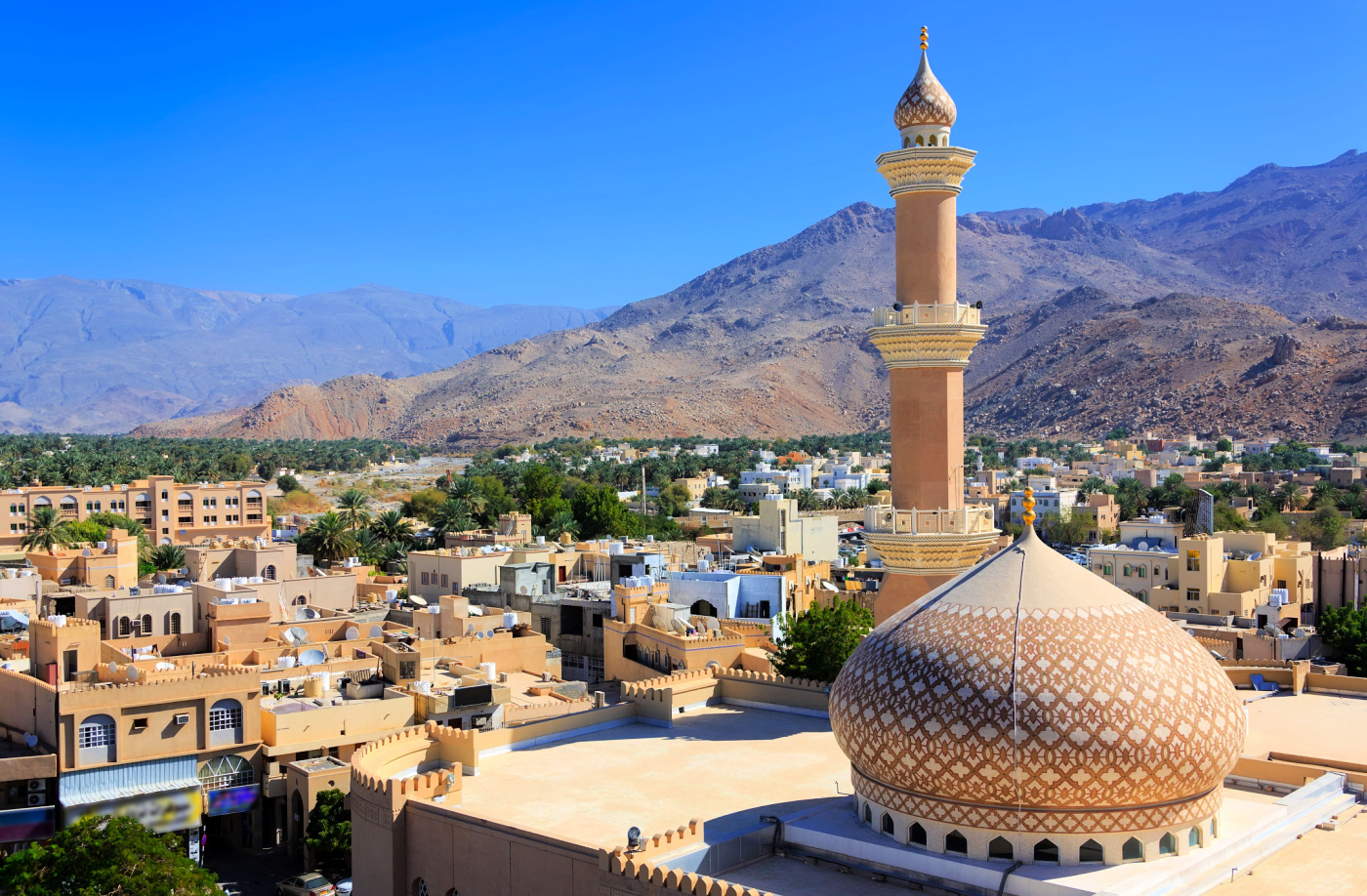 Day Two: Heading Inland
Now you've seen some of the highlights of the capital, it's time to explore other parts of the country. Not so long ago, the city of Nizwa was seen as a kind of counterweight to Muscat. Where one was on the coast and more liberal, the other was inland and staunchly conservative. While some remnants of that dichotomy still exist, Nizwa today has thrown open its arms to international tourists, letting the outside world see more of a traditional way of Omani life.
Nizwa was at one time the capital of Oman. It has always been an important place because of its location between the country's coast and its interior. Coming upon the city, we were enchanted by views of its sandy-colored structures, which seem to whisper of a different age – though on closer inspection, you'll see plenty of newer buildings mixed in, too.
The city is presided over by a 17th-century fort, built by Sultan bin Saif, the man who drove out the Portuguese invaders from Oman. The castle's battlements provide panoramic views of the surrounding area, though its most impressive feature is the huge round tower, which was (and still is) amply furnished with cannons for defense. 
Nizwa Fort is one of several military constructions that dot this region, a testament to how important former rulers thought it was to keep a tight grip on the gateway between the different parts of Oman.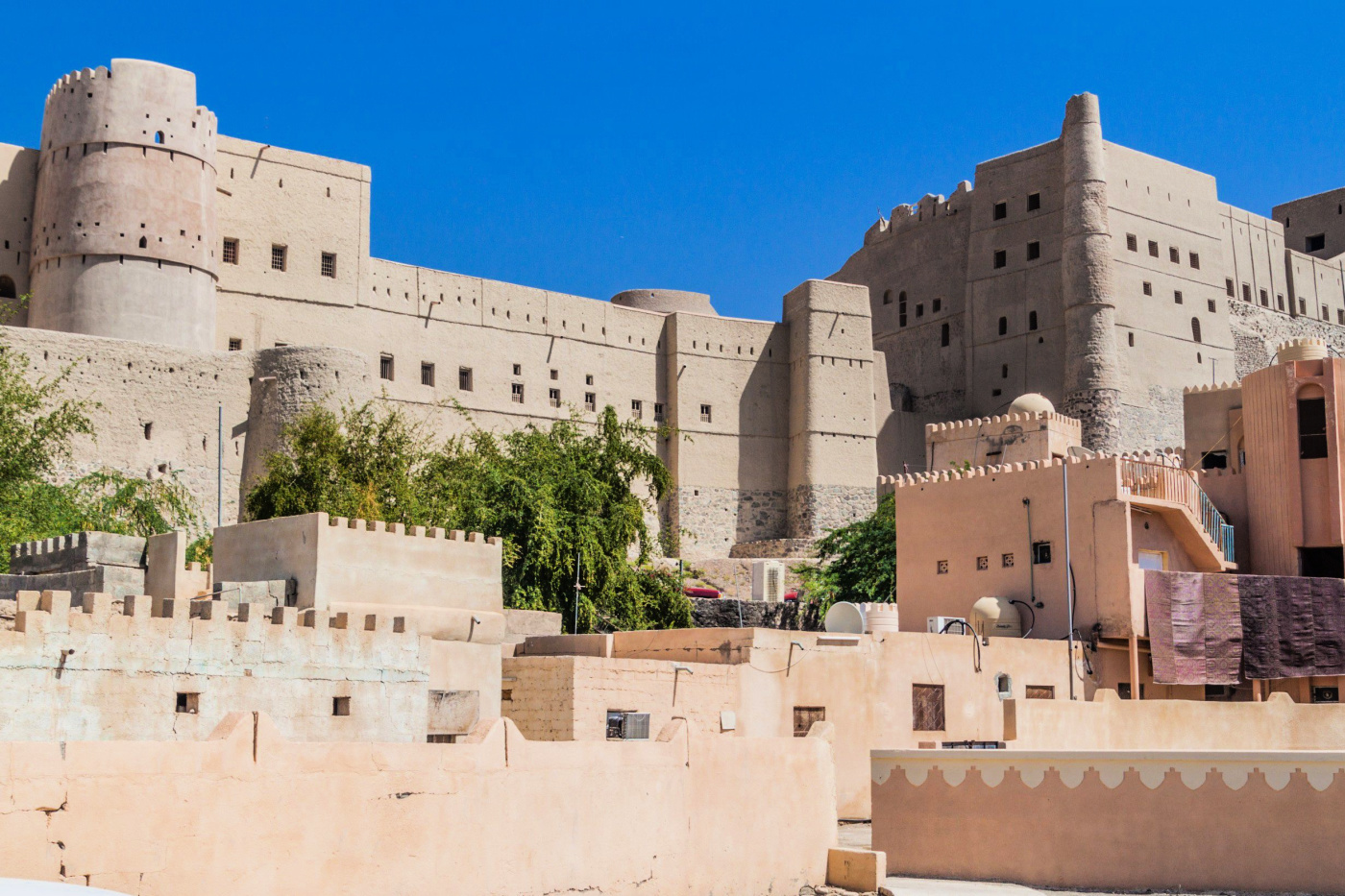 Half an hour's drive from Nizwa, you can also find the forts of Bahla and Jabreen, each with their own points of interest. In fact, some tours will combine all three into a single day trip for you, if you don't want to drive yourself.
Bahla is the only one of the region's castles that has been included on UNESCO's World Heritage Site list, perhaps because it is the oldest. Frankly, it's pretty incredible that its mud-brick walls, easily damaged by rainfall, have survived this long.
Over the centuries, the various people in possession of the building have had to rebuild sections as they collapsed, leading to a mishmash of styles from different eras, spread across different levels.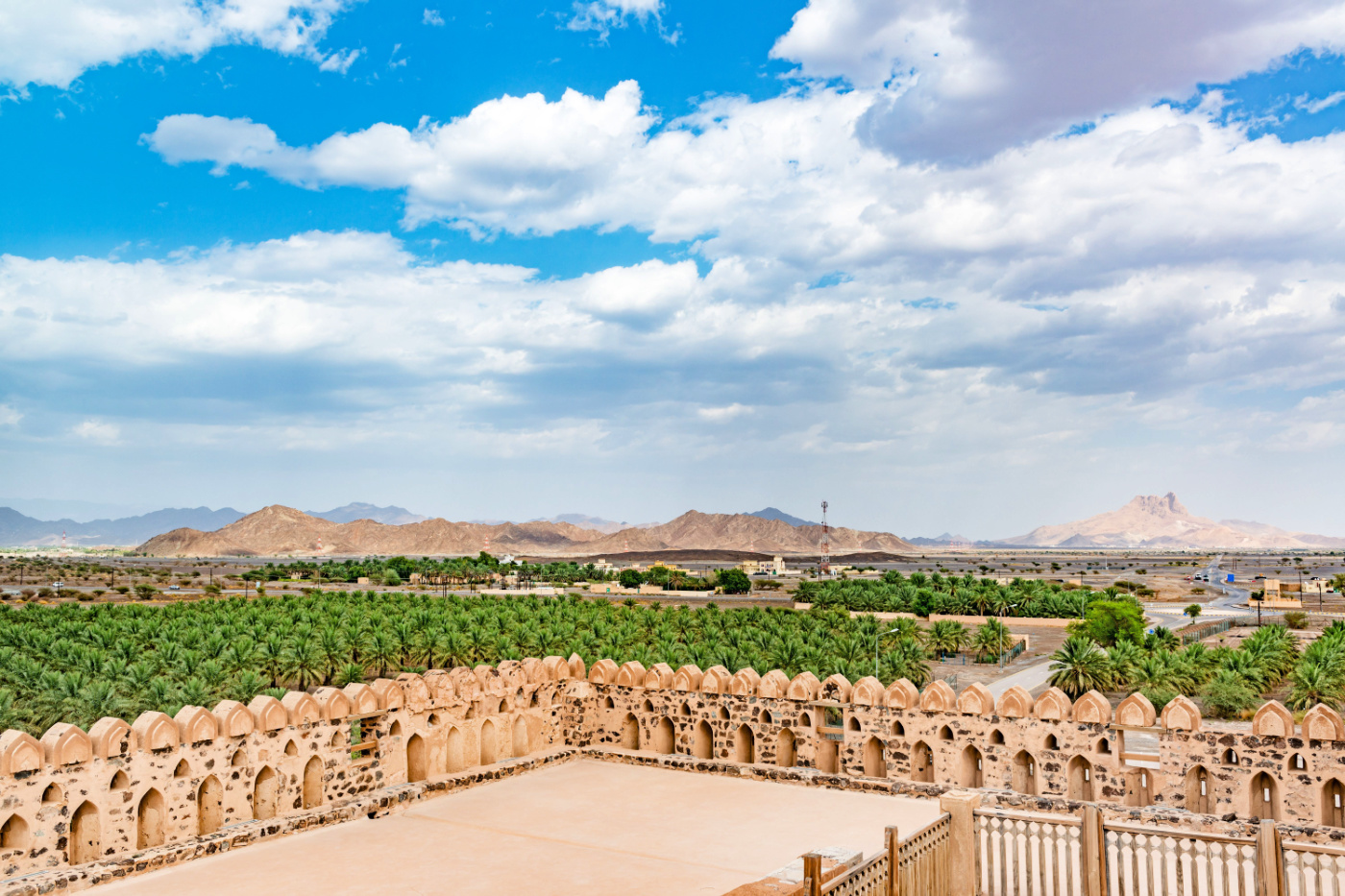 Jabreen is another beast yet again. Dating from the late 17th century, it has been carefully restored to provide a pretty good idea of how livable these types of fortifications must have been in the past. The rooms have been furnished with cushions and carpets, while the windows display intricate geometric patterns. From the battlements, appreciate the commanding position the castle commands, ruling over the surrounding plans.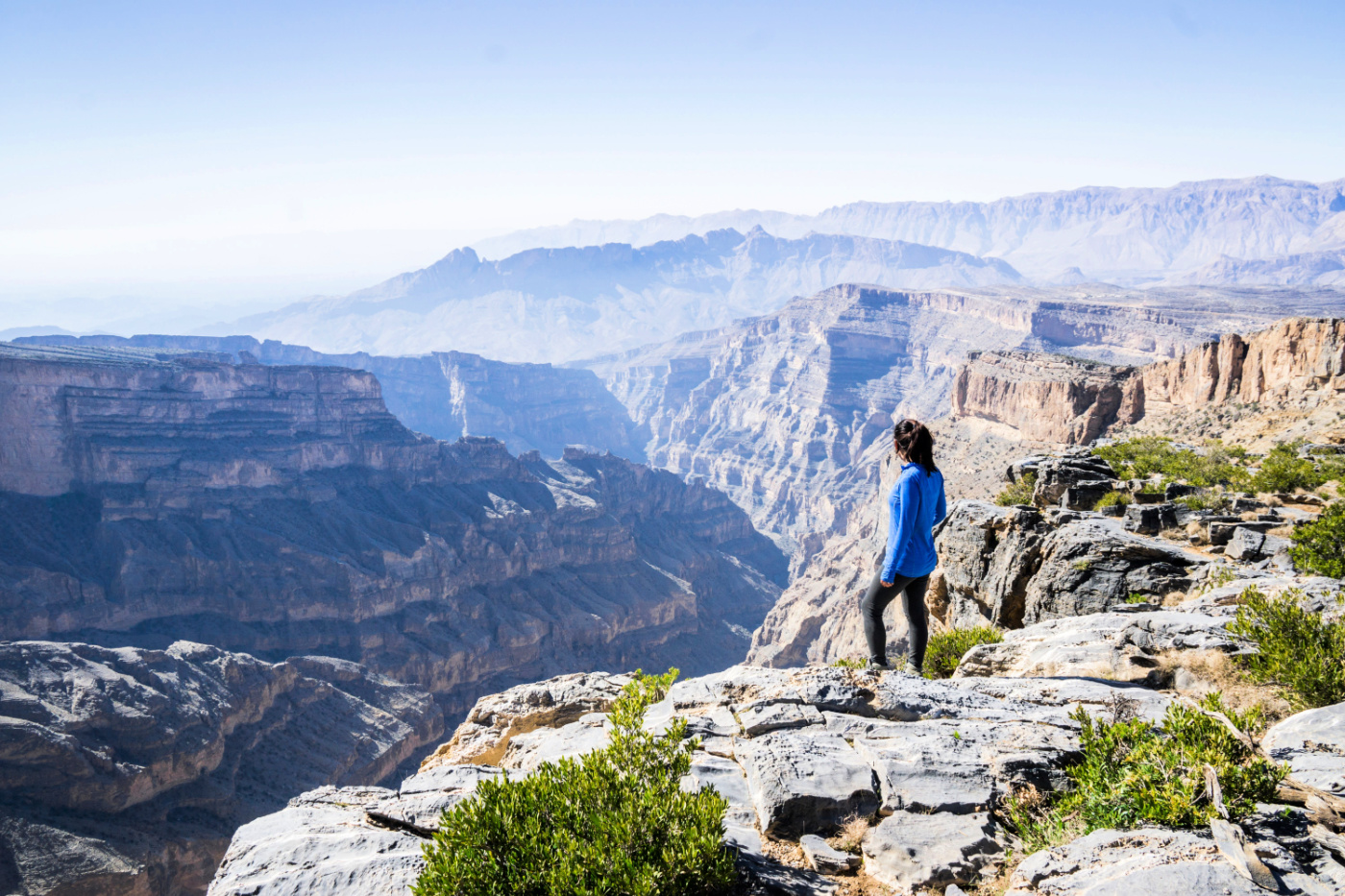 As an add-on to your day, you can also visit Jebel Shams, Oman's highest mountain, which looks out on the nation's answer to the Grand Canyon. It's hard to capture how impressive this enormous chasm is – though we did see a fair few people trying to do so by getting precariously close to the cliff edge.
It's possible to walk along the top or descend into the canyon and hike along the wadi (valley) floor. Just bear in mind this is a fair few hours' drive from Nizwa and Muscat along winding roads, so should probably only be attempted if you have ample time and aren't prone to car sickness.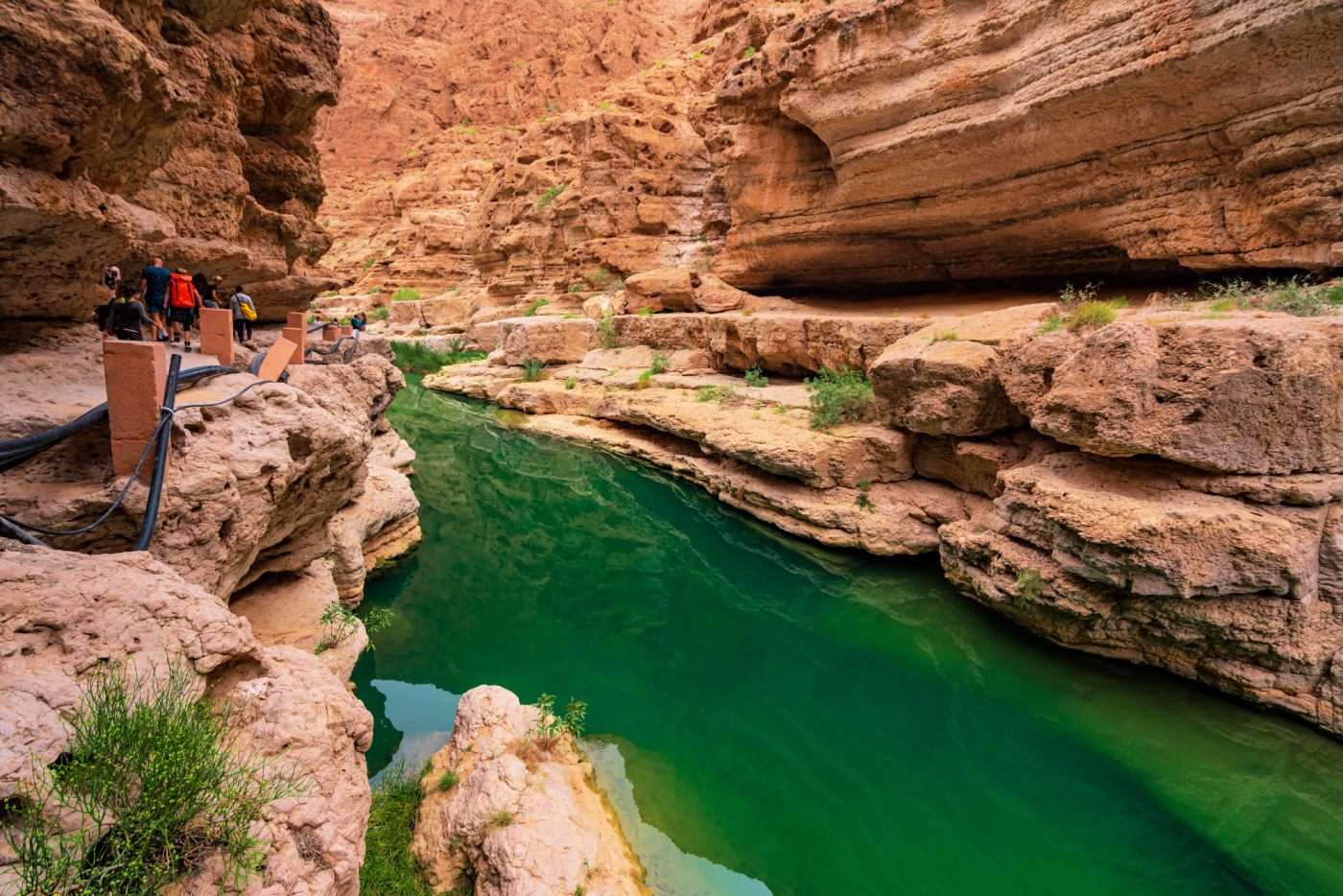 Day Three: Swimming the Wadis
Day three is all about communing with nature while doing a little physical activity. Just over an hour and a half from Muscat, further along the coast, is the famous Wadi Shab, a natural gorge filled with crystalline water. Oman has many wadis, but this is one of the most popular due to its particular beauty and easy-to-reach location.
It's perfectly possible to drive out here yourself, and there's on-site parking to make your journey as easy as pie. However, there are also tour companies that will combine a trip to Wadi Shab with a visit to Bimmah Sinkhole into a full-day tour for you, if you don't fancy making the excursion yourself.
After you arrive at the parking lot, you will need to take a short, quaint boat ride on a little skiff to get to the start of the hike to Wadi Shab. Make sure you have a couple of rials to give to the boatmen to pay for your passage. These guys are here for most of the day to ferry visitors back and forth, but make sure you check when they clock off so you don't get stranded!
Once you've made it to the other side of the lake, you'll then set off on a hike through palm groves, sandy plains and boulder-strewn streams. If you have a backpack you don't mind carting about, it's a good idea to bring along a couple of different kinds of shoes: some sturdier footwear for the more challenging parts of the hike and a pair of flip flops or water shoes for when you have to traverse the streams.
Don't worry about getting lost, as there are red and black arrows painted onto the rocks that indicate the way to go. In any case, it's all fairly straightforward and you probably won't be the only one making the trek.
The wadi consists of several different pools, but you are only allowed to swim in three. They aren't connected, so you'll have to stroll over scree to get between them. Once you get to the last pool, make sure you look out for a small crack at its end. You can swim through this to reach a little cave with a modest waterfall, which is definitely worth doing if you want some proper Indiana Jones cred.
If you're like us and find yourself bewitched by the beautiful setting, you can easily spend a few hours just floating for hours, taking a well-earned break after the past two days of tramping through city streets and desert forts. You can even pack a picnic so you don't have to worry about leaving to grab some grub. Just make sure you set aside enough time for one final stop.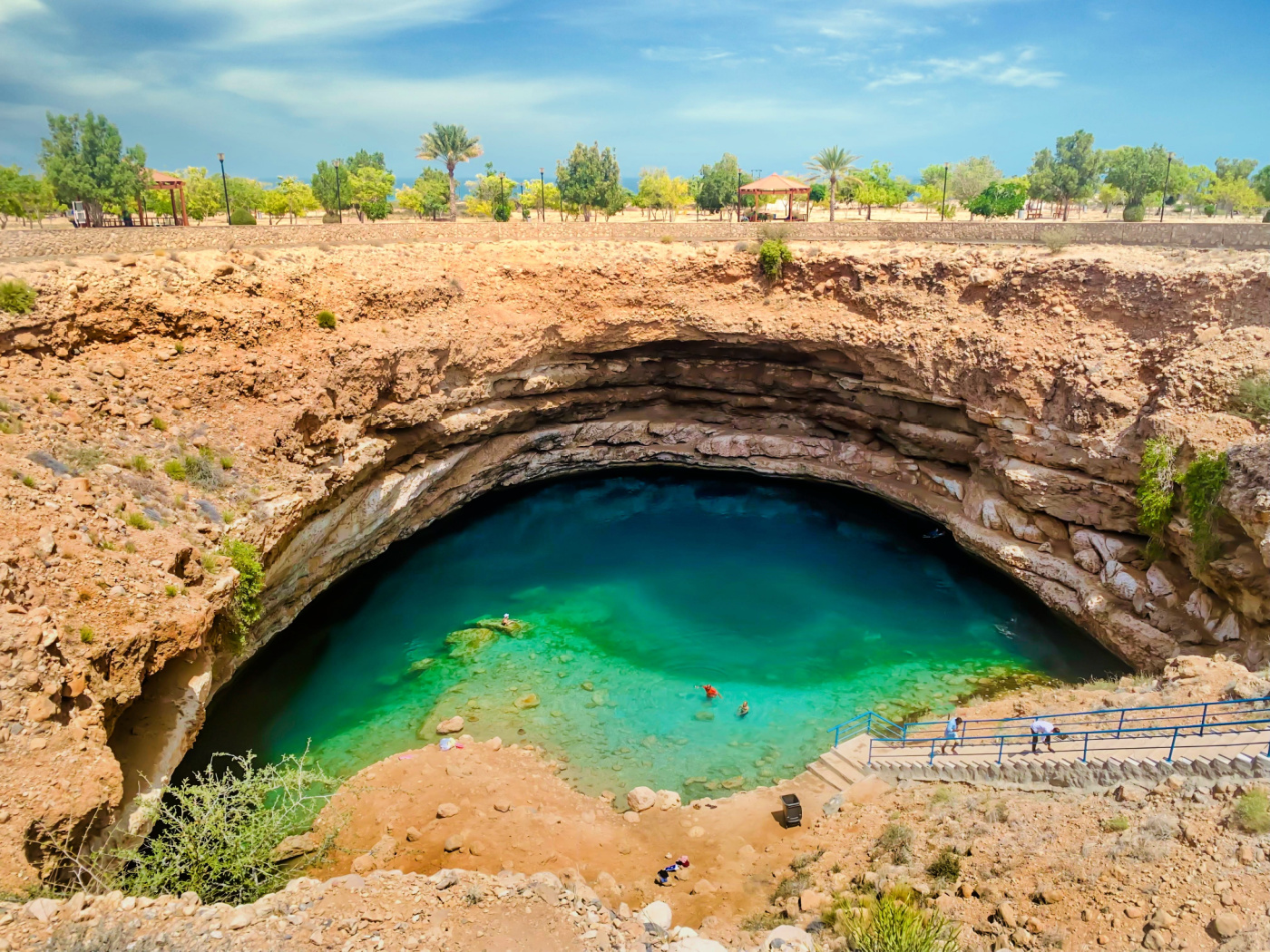 Between Wadi Shab and Muscat is the Bimmah Sinkhole. This geological quirk is a turquoise pool of water that was created after the earth suddenly collapsed. A staircase has been built into the rock so that you can now more easily walk into the crater for a swim.
If you haven't already eaten, the area around the pool has been set up with picnic tables, shaded by palm trees. While not as impressive as Wadi Shab, it's worthwhile making a small detour for a quick peek.
Speaking of swimming, we haven't managed to squeeze any beach time into this Muscat itinerary. However, if you do want to catch some rays, Oman's capital has kilometers and kilometers of long sandy stretches. Qurum Beach is particularly popular with locals and tourists. While it certainly isn't as beautiful as some beaches you'll find around the world, it also doesn't feel as heavily commercialized – though you can still find plenty of cafes along the coast if you want to grab a bite.
What to Know Before You Go
Local Laws in Oman
We've already sung the praises of how progressive Oman is relative to the rest of the Middle East. However, 'relative' is the key word here. Oman is still a Muslim country and does have strict laws regarding behavior, though many of these are relaxed for visitors. Generally, the attitude of the locals is one of 'live and let live'.
For instance, alcohol is largely prohibited, though it can be purchased and consumed within certain licensed hotels and restaurants. You are expected to dress modestly, covering your arms and legs, but wearing a swimsuit on a public beach (providing it isn't overly skimpy) would be fine.
The law states unmarried couples cannot cohabit in a hotel room, but everybody turns a blind eye when people actually do it, to the extent that many Omanis don't even realize it's actually illegal and not just socially frowned upon.
Having said all this, it's always best to play it safe when visiting a foreign country, even if – as in the case of Oman – some of the overtly Islamic laws are almost never enforced. It is also advisable not to overdo the public displays of affection, as a courtesy to local customs.
Where to Stay
Most of the available accommodation for short-term stays is located in the new town, though you can find a couple of rustic places in Mutrah and Old Muscat, as well as some four-star and five-star hotels beside the beaches.
For modern comfort at a reasonable price, the Citadines Al Ghubrah is an excellent option. Each room comes equipped with a little kitchenette if you want to do your own cooking, but we just relied on the morning buffet for most of our in-hotel eating. 
One of the highlights is the outdoor rooftop pool, which is great for cooling off in the summer. Plus, the location is right next to tons of downtown restaurants, as well as the Sultan Qaboos Grand Mosque and all the modern malls.
If you want something with a little more ambiance to it, we can also heartily recommend the Fort Guesthouse in the Mutrah district. The rooms are perhaps a little on the cozy side, but the decoration is much more unique and emblematic of Oman than some of the more mod-con options in town. 
The staff are super engaging, which adds to the whole 'staying with locals' kind of vibe. Essentially, it's what the name suggests: a friendly guesthouse rather than a more formal kind of hotel.
The Best Time of Year to Visit Muscat
Try to avoid traveling to Muscat (and Oman generally) during the month of Ramadan. Not only are local laws more strictly observed and policed during this time, but it can also be a massive inconvenience going anywhere, since normal opening hours go out the window and everything is less reliable. Bear in mind that the dates of Ramadan change every year, so make sure you check before you book your holiday.
Even in the winter, temperatures in Oman are usually over 70 degrees Fahrenheit (20 degrees Celsius). There are also very few rainy days, even during the wettest season. In the summer, however, it can get a little too swelteringly hot for comfort.
This makes mid-autumn through to early spring the best time to drop in on Muscat. From October to March, you'll still get plenty of sun and time to bathe on the beach, but without any of the discomfort associated with doing tourist activities in temperatures exceeding 90 degrees Fahrenheit (30 degrees Celsius).
How to Get Around Muscat
Muscat stretches out along the coast, clinging to the sea. Imagine that instead of a circular donut of a city, you have one that's pulled out like a spaghetti noodle. In essence, this means it's hugely impracticable to walk between areas because the distance is pretty far – and the city is not designed for pedestrians.
At the same time, public transport is a bit of a headache for tourists, not because it's especially hard to navigate, but because the bus routes between the main places you'll want to visit can take up to four times as long to travel as if you were in a taxi – and if you only have three days, you don't want to waste a significant chunk of them on a bus.
OK, you might be thinking, I'll splurge for a taxi – and indeed, these aren't super expensive in the grand scheme of things. However, they are not metered, so you kind of just have to negotiate your fare beforehand and hope you're getting a reasonable deal.
The government has talked about introducing metered taxis, but so far, no concrete action has been taken. However, if you're staying at a hotel, you can always inquire at the front desk about what's reasonable, or even ask them to order a taxi for you with a pre-agreed price.
Really, though, the easiest thing to do is rent a car! Preferably, you'll want a 4×4, as you'll need a reasonably heavy-duty vehicle once you head out of the city on your day trips. This option comes with its own problems, because from our experience, Omani drivers are pretty aggressive when it comes to getting where they want to go as fast as possible.
That's not to say you're taking your life in your hands by taking to the road, just be aware that people aren't so much interested in observing social niceties as they are interested in being time efficient.
If you want to hop between the forts around Nizwa or stop off at Bimmah Sinkhole on the way back from Wadi Shab, a rental just makes everything so much easier. And anyway, isn't there something romantic about driving out into the dune?
Plus, if you need to stop at any point, every side of the road is essentially a pull-off, since everyone seems to just take off into the desert whenever they want a break.
Safety Advice
Oman is renowned as one of the safest places to visit in the Middle East. It's also one of the most progressive when it comes to women's rights, though female visitors should still be cautious during the evening and ensure they dress appropriately. Petty crime is not unheard of, but certainly rare.