As you read these words, I'll be sitting 40,000 feet up over the Pacific Ocean — most likely fretting about the turbulence — on a 30-hour travel day that will see me venturing from Bristol to London to Seoul to Auckland.
Yes, you read that correctly.
I'm heading to New Zealand.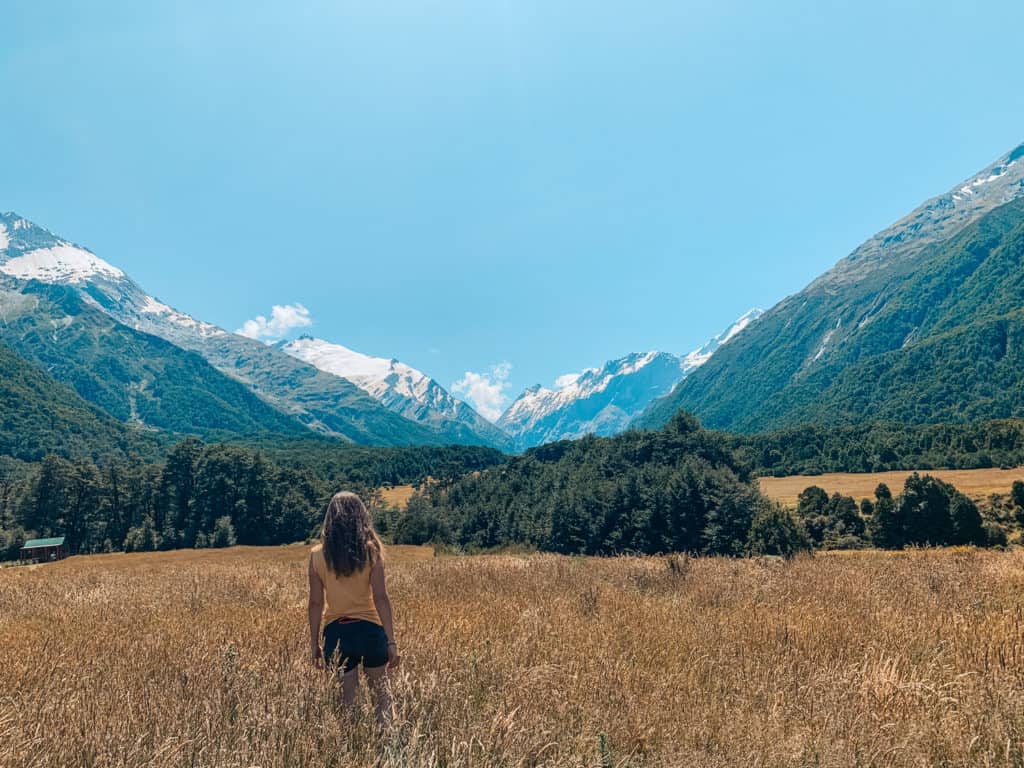 But how can you do that? Aren't the borders closed?
Six weeks ago, I was granted a critical purpose COVID-19 visa for New Zealand, due to being in a relationship with a Kiwi dude. It's a sort-of partner visa; a way to bypass the COVID-19 restrictions if you're deemed to have a valid reason to do so.
So what's your reason?
Well, you see, I'm kind of moving to New Zealand.
Wait, what?
I know.
Like, moving moving?
Yeah, I think so.
But what about Bristol?
Despite the many compelling reasons to stay in the U.K. (of which there are zero right now), I'm heading south to safer shores.
It's no secret that I possess an erratic immune system — it's been misfiring ever since I contracted mono — and I've been sheltering in place since March because of it. I don't have a life in Bristol right now — I've left the house maybe 20 times total over the past nine months.
I've seen friends less than a dozen times, meeting up for socially-distanced drinks in the park, but as the weather cools, those meet-ups have evaporated. I haven't been inside a cafe, restaurant, store, or supermarket since February.
I've been on a couple of day hikes.
And that's it.
Sounds pretty crappy.
Yeah, it's been rough. I'm very lonely and very sad. I do the exact same thing every single day, and I've been doing it for months on end. Lying on my bed, sitting on the sofa, staring at the walls. With winter, Brexit and bigger waves on the horizon, coupled with recent rumours that people in their 30s can't expect a vaccine before 2022, if they can have one at all, I was starting to sink into a deeper depression.
So many times over the years I've believed I've hit rock bottom, only to discover it had a basement.
And right now, I can barely find the light.
I've stopped writing. I've gained 20 lbs. Most days, I open a bottle of wine at 3 p.m. and continue drinking until I go to bed. "I know I've gotta get sober at some point," I tell Dave, "But I'm only happy when I'm not."
And I know it's been just as hard for everyone as it has for me. I recognise I'm one of the most fortunate people on the planet right now, to even have the ability to travel to New Zealand, where so many people are currently dreaming of moving.
So, that's really it? You're leaving England for good?
Well.
You see, back in January of this year; back when things were normal — of course, normal for me means being urgently hospitalised with symptoms of rabies on New Year's Day — Dave and I formulated a plan.
We'd been in New Zealand for a month at that point and had been loving every second. We were so much happier than we'd ever been in Bristol, where we'd struggled to make friends and find a community. We decided, then, that 2020 was going to have to be the decider: we'd give Bristol one more year, during which we'd catapult our lonely bodies into every social situation going and make a true, concerted effort to transform this place into a home.
If it didn't work out, we'd look at moving to New Zealand or Australia.
We didn't want to waste precious years of our lives trying to force a city to work for us only to turn to each other in a decade and realise we were still dissatisfied.
Obviously, we weren't able to work on building those friendships this year, so in a way, the pandemic has only accelerated our decision-making process.
Because I love New Zealand; it's one of my favourite places on the planet, and the pandemic has only shone a brighter light on its compassionate shores.
Dave and I have regularly considered moving there in the past, but always decided it was too far away from the rest of the world. We're travel writers! Being a 24 hour flight from Europe, the Americas, and Africa makes for an expensive and frustrating career.
But, uh, well, the ability to travel isn't so much of a deciding factor right now.
Soooo, are you moving or not?
Basically, we're treating the next 6-12 months as a test run.
There's a few places we're considering as potential home bases. Wellington, Wanaka, and Nelson are the top three, but having not spent significant amounts of time in any of them before, we need to try them on for size.
Plus, there's figuring out the logistics of moving to New Zealand: it's not going to be as simple as when I moved to Portugal. Back then, I landed in Lisbon and decided to stay and that was that.
Initial research has brought up several snags, one of which could land us with a hefty — as in, high five figures — tax bill. We need to figure that shit out first.
So, it's not for definite definite, but we're here to try it out.
So what now?
I've been issued a 12-month visa and as soon as we arrive, I'll be applying for permanent residency. If my application is successful, it should be approved within a year. That will give me the ability to live and work in New Zealand for the rest of my life.
It's going to be a tough process, as anyone who's applied for a partner visa can attest. I need translated criminal records from Portugal. To arrange for a chest X-ray in a pandemic. Offer up WhatsApp messages and emails between me and Dave. Share the entire timeline of our relationship — covering all the hotels we've ever stayed in and the flights we took together, as our unconventional life means that that's the only evidence I have that we were *living together* for the past nine years.
But I'm getting ahead of myself.
First, I need to prepare to spend the next two weeks holed up in a hotel room.
Ah, quarantine.
Yup. Quarantine. Government-mandated quarantine. Guarded-by-the-military quarantine.
Not that I'm complaining. I wish we had it in the U.K. rather than relying on people to properly self-isolate, which most still aren't doing.
So how does it work?
Once you've booked your flights to New Zealand, you make a reservation for yourself in a Plague Hotel. Several dozen hotels across New Zealand have been converted into quarantine facilities, and we'll be assigned to one of them. I won't even know where I'll be spending my two weeks until I get off the plane — I could even be chartered down to Christchurch!
And so begins two weeks spent locked up in a hotel room.
Sounds really boring.
Yeah, for sure, but isolation in New Zealand will be much the same as my life in Bristol; just in a smaller space and without me needing to cook.
You're served three meals a day while you're there and allowed to exercise outside with a chaperone once a day. You can even order Uber Eats to your hotel room. There'll be daily health checks with a nurse and I'll get a COVID test on days three and 12.
And then, providing I don't accidentally contract COVID on the flight, freedom.
Sweet, COVID-free freedom.
And one major dilemma.
What to Do About My Blog?
In the midst of this pandemic, I shuttered this blog. It was for good reason: Never Ending Footsteps is all about helpful travel guides, observations, and resources.
During a pandemic, I didn't know how to produce that useful information anymore. Everything I share here is going to be automatically out of date: restaurants and guesthouses have all closed down; what recommendations are worth making now? Who wants to read about how to spend two weeks in Rajasthan when we're all stuck inside our houses for the foreseeable future?
In some respects, this should be easier to manage when I arrive in New Zealand. This country has brought the pandemic under control multiple times, and as I write this now, there are 55 active cases; all of which are quarantined; most of which were caught at the border.
Coming from the U.K., where cases are currently hanging out at the 25,000 per day mark, it's peculiar and comforting to see hour-long press conferences being held in New Zealand for a single case.
And if New Zealand continues to remain in control of the pandemic, it means returning to a life much the same as my one pre-COVID. Restaurants, bars, cafes, concerts, cricket games, and more. Dave and I are planning on buying a car and spending the next six months road-tripping around the country from top to bottom. It should, in theory, give me a hell of a lot to write about.
But.
I need to be sensitive to the situation for the rest of the planet; for most of you guys. To jump back into normality and share nothing but virus-free experiences would be tone deaf. I'd feel like I was bragging; being the actual worst. I'm hyper-aware of my privilege right now and struggling to figure out how to handle it.
You know, on one hand, this is my job. I've built a career around travelling and sharing it online. It would feel weird to slink into the shadows and travel for months on end while taking a vow of silence online; sharing nothing at all through fear of the backlash. Still, I'm considering doing it.
Because on the other hand, I really don't want to piss anyone off by sharing my new life in New Zealand.
I stumbled across a random forum thread the other day that was bitching about travel bloggers who were travelling during the pandemic. To my surprise, the vast majority of commenters weren't calling them irresponsible, but were instead saying they were unfollowing because seeing it made them feel bad. They didn't want to be reminded that they couldn't travel; they didn't want to see other people out there exploring because it only showed them what they were missing out on.
So I don't know. I've always wanted this blog to be a source of silliness and joy, where you can read about me messing up, explore the planet through my eyes, and treat it as a source of escapism. I don't want it to make people feel bad!
I need to find a balance, so that's what I'll be experimenting with over the coming weeks and months.
I'll be writing about the stuff I think you guys will find interesting here on Never Ending Footsteps: travelling during a pandemic, what mandatory isolation is like, how it feels to enter a busy restaurant for the first time in nine months, whether I experience anxiety over heading to a gig again. And I'll produce guides to some of my favourite places, too, so that when the pandemic is over, my site will be crammed full of resources for New Zealand travel.
So there you have it!
Next stop: Auckland.
And hopefully an enormous sigh of relief.
I'm happy, I'm excited, I'm grateful, I'm fortunate, and, as always, I'm nervous.
More to come next week!