New Zealand is my favourite country in the world. I love it. The mountains, the glaciers, the beaches, the volcanoes, the wildlife, the fiords, the rolling hills, the friendly locals. I love it so much that I'm currently considering trying my hand at a Working Holiday Visa so that I can have a stint living there for a few years.
Here's what made me fall in love with New Zealand.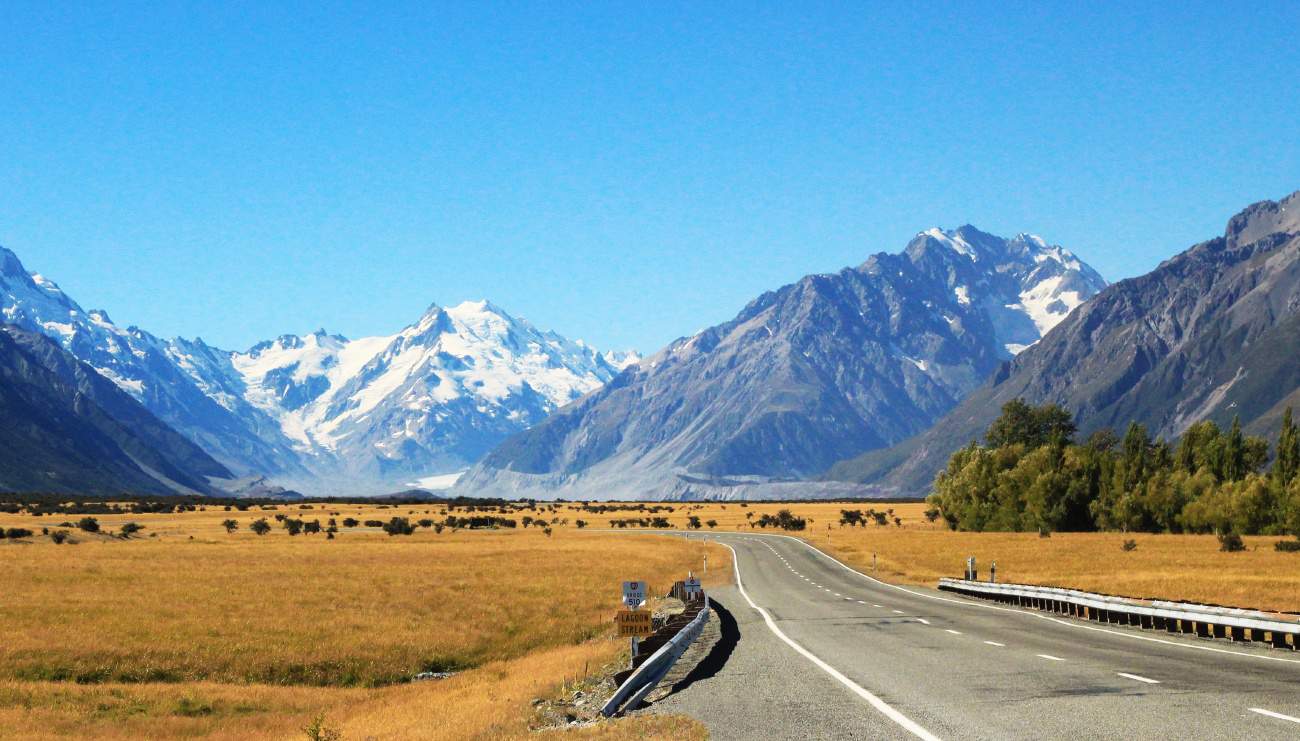 The Glorious Weather
Before arriving in New Zealand, Dave had gone to great pains to prepare me for the bad weather we'd be encountering in the country. Even though we'd be there from January to March — the Southern Hemisphere's summer — it was likely we'd be confronted with cold weather and rain on a near-daily basis. I rushed around Melbourne shopping malls a few days before heading to Auckland, stocking up on thermal clothes, rain jackets, thick socks and fleeces. I expected a New Zealand summer to be much the same as an English one — a pinch of sunshine and a handful of misery.
Over two months, we had two days of rain. Two! No matter where we went, confused locals spoke in awe of the incredible weather and how rare it was. Dave said it was one of the best New Zealand summers he'd experienced. Part of it was due to our incredible luck with timing — we hiked the Tongariro Crossing in gorgeous weather when a few days either side saw torrential downpours and the hike closed to visitors. Often we'd wake to rain on the day we were leaving a place but find our next destination bright and sunny. The weather gods took good care of us.
The beautiful weather enhanced my experience in New Zealand — I didn't have to cancel any of activities I'd planned for and, when I was on such a tight schedule, a couple of days of rain could have meant no Tongariro Crossing hike, no stargazing in Tekapo, no beach day in Raglan, no paddleboarding in Abel Tasman or no glacier hiking on the west cost. When so many of New Zealand's biggest draws involve being outside, the weather makes and breaks your experiences. I'm so pleased it made mine.
The only downside is that I'm now convinced it never rains in New Zealand and the weather will forever be incredible.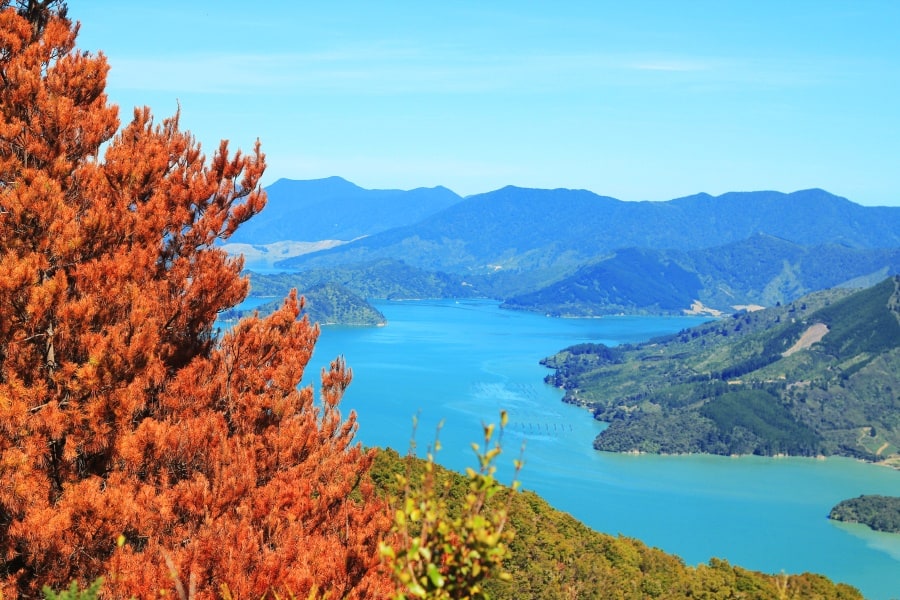 My Transformation into a Hiker
I'd always avoided exercise. Aside from a brief stint where I got into running and ran every day for three months, managing only to build up my distance to two miles before I realised I wasn't cut out for it, I've spent a lot of time sitting. I therefore wasn't planning on hiking in New Zealand until Dave made an offhand comment about how I was so unfit I wouldn't be able to handle all the activities he was planning to do.
I wouldn't be able to handle them? I'd show him! 
From that moment, I did everything possible to build up my fitness levels. I walked everywhere. I went on hour-long walks. I bought hiking boots. I worked on the mental barriers I was convinced had prevented me from making much progress in my running career.
I arrived in New Zealand and after three days in the country, I hiked 18 kilometres in Paihia. The most I'd ever hiked before was something like six. I tripled my personal best and didn't die! The euphoria I felt when I was finally able to ease off my hiking boots and celebrate my success was addictive, and I began to believe I could handle the next two months.
I fell and sprained my ankle a week before I was due to hike the Tongariro Crossing but lied and said it wasn't that bad. I hiked in agony because I was determined to follow through on my plan. I then continued to hike throughout New Zealand — a three day hike on the Queen Charlotte Track that caused my calves to seize up, a nerve-wracking hike on a glacier for the first time, and countless mini-hikes to waterfalls, geysers, beaches and mountains.
Hiking in New Zealand led to me developing a love of something I'd always feared. It allowed me to see the most spectacular parts of the country — unsurprisingly they're rarely accessible by road. It showed me that when I set my mind to something, I can do so much more than I thought.
Beaching Around in Raglan
One of my favourite memories from my time in New Zealand was the day I spent relaxing on the black sand beaches of Raglan. It was one of my first experiences of New Zealand beaches, and was so far removed from the ones I usually hang out on in Southeast Asia.
Sometimes the best experiences are the simplest. In Raglan, I could feel myself unwinding and my worries drifting away in a matter of minutes. It's rare for me to ever experience pure relaxation so it when it does happen, I bounce around in euphoria and soak it all in. Dave and I grabbed our beach towels, tip toed across the scorching black sand, and read our Kindles as we sunbathed all afternoon. Occasional breaks were taken in the icy cold ocean, many words were spoken about how I wanted to stay forever, and lots of sunburnt limbs were soothed that evening.
Raglan was the first place I fell in love with in New Zealand, and that makes it all the more special to me.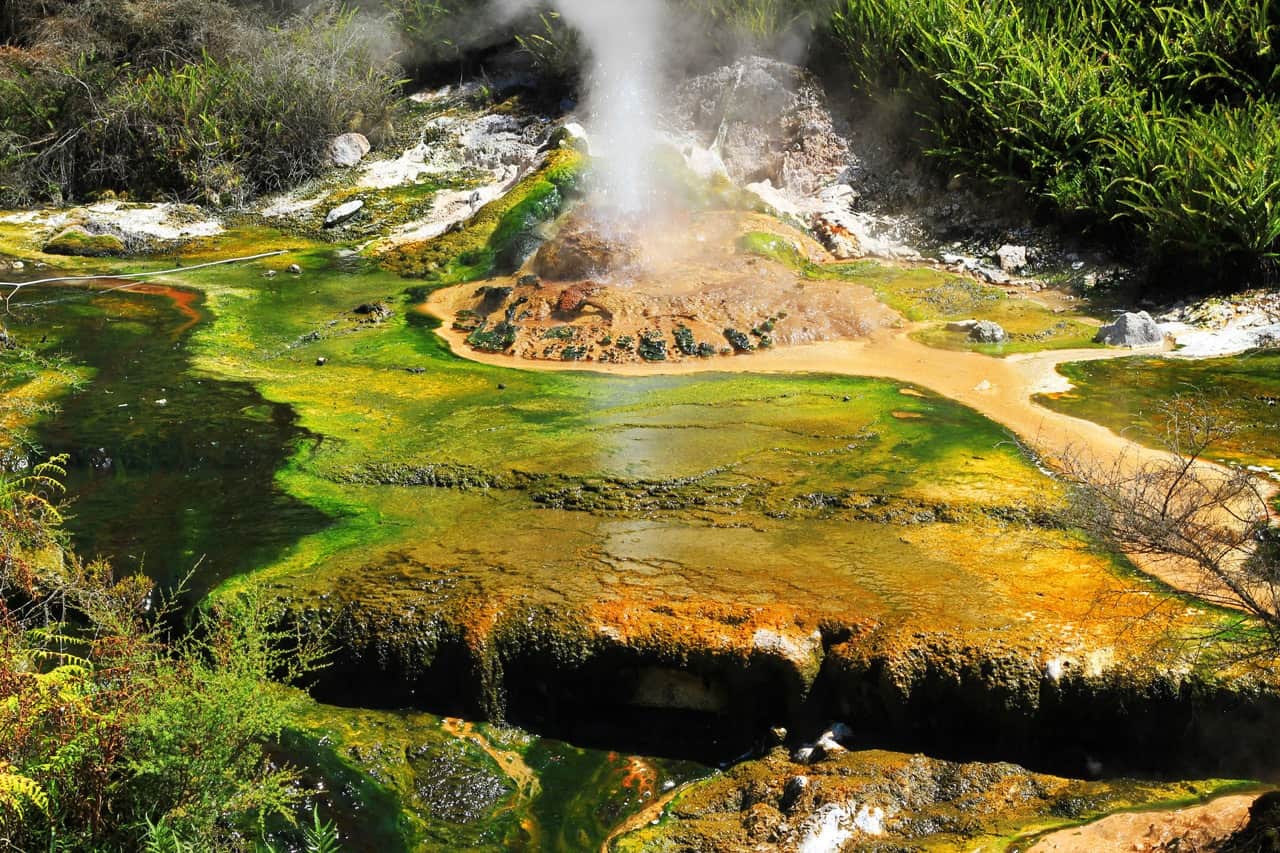 Geothermal Fun in Rotorua
Despite Rotorua smelling of rotten eggs, I loved every moment of my time there. In and around the city, you'll find bubbling mud pools, gushing geysers, thermal lakes, massive craters, hissing steam from the vents at the side of the road and some of the craziest colours I've ever seen. It was like a mini-Yellowstone without the thousands of tourists.
In Waimangu Volcanic Valley, I visited the largest hot spring in the world — the never-ending plumes of steam giving it the name Frying Pan Lake, I wandered next to a cyan lake surrounded by glowing white cliffs — colours I'd never seen in nature before, and I took a cruise across a lake to see an enormous crater in the mountains and dozens of erupting geysers. My favourite part? The vibrant mix of colours.
Seeing Glowworms Without the Crowds
I didn't enjoy my tour I took of the glowworm caves in Waitomo, but that's not to say that seeing the glowworms isn't worth it. Dave and I drove down to the glowworm caves one night and crept along the hiking trails with only our phones for light. When we stumbled upon the glowworms, I finally found a distraction to ease my terror that I was going to be attacked by a madman in the bushes.
Fluorescent glowworms were scattered across the cave walls, illuminating the dirt track and tricking my mind into thinking that I was gazing up the night sky. We switched off our phones and as the darkness deepened, the glowworms became more and more noticeable, with trees and bushes looking as if they were littered with fairy lights.
It was an incredible, magical experience. Several times I had to remind myself that the lights were real, that the glowing lights were insects. See the glowworms independently — they're worth it.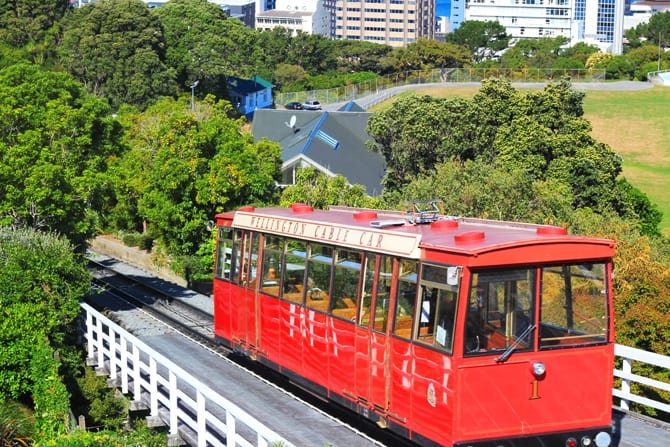 A Sense of Normality in Wellington
I loved Wellington despite not liking big cities very much, and it was mostly due to the sense of normality I experienced there. In Wellington, I got to catch up on my work, and spend my time doing as I would in a place where i lived
One particular day — our final day in Wellington — was one of those perfect days where everything falls into place and all you can do is think about how you've made all the right decisions to have ended up exactly where you are.
After a morning spent wandering through Te Papa — one of my favourite museums ever — Dave and I spent a sunny, wind-free afternoon strolling along the waterfront, stuffing our faces with bread and oils and mushroom soup, drinking cider and people watching. We took the iconic red cable car up to the Botanic Gardens at the top, and once we arrived, spent the rest of the afternoon exploring the gardens, watching a cricket match and sunbathing on a spare patch of grass. It wasn't anything incredible, but that sense of normality gave me an insight into what my life would be like if I lived in Wellington. It wasn't awful.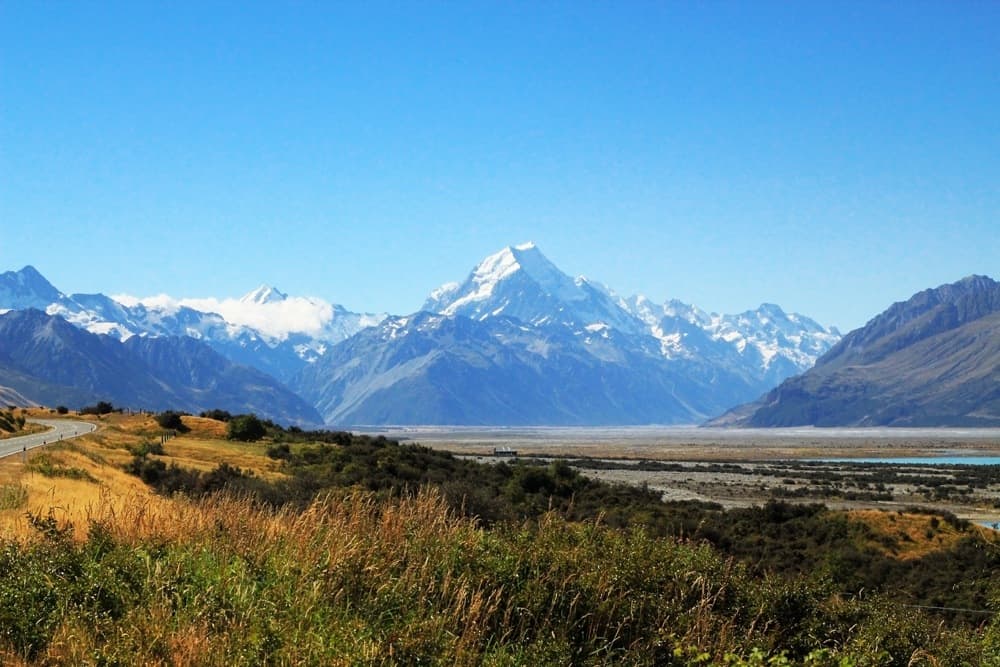 Driving to Mount Cook, Stargazing in Tekapo
Craving some alone time, Dave and I took a road trip to Mount Cook, one of the first sights we hit up in the South Island. The drive was spectacular — my favourite in New Zealand. The route we took was quiet, meaning we could regularly pull over and stand in the middle of the road to take photos. The scenery was all cyan lakes, snow capped mountains and yellow meadows. Mount Cook itself was spectacular, and we both wished we'd opted to stay closer by, but the drive ended up being one of my New Zealand highlights.
In Tekapo later that evening, as the sun began to set, we got in the car once more and drove to a nearby clearing where there was little light pollution. I spent my entire pre-travel life in London, pretty much on the M25, and had never seen more than about three stars in the sky. Now, whenever I visit somewhere without light pollution, I can't stop staring at the sky in awe. Snuggling under Dave's arm on the shore of Lake Tekapo and watching hundreds of stars twinkle above us was the perfect introduction to the South Island.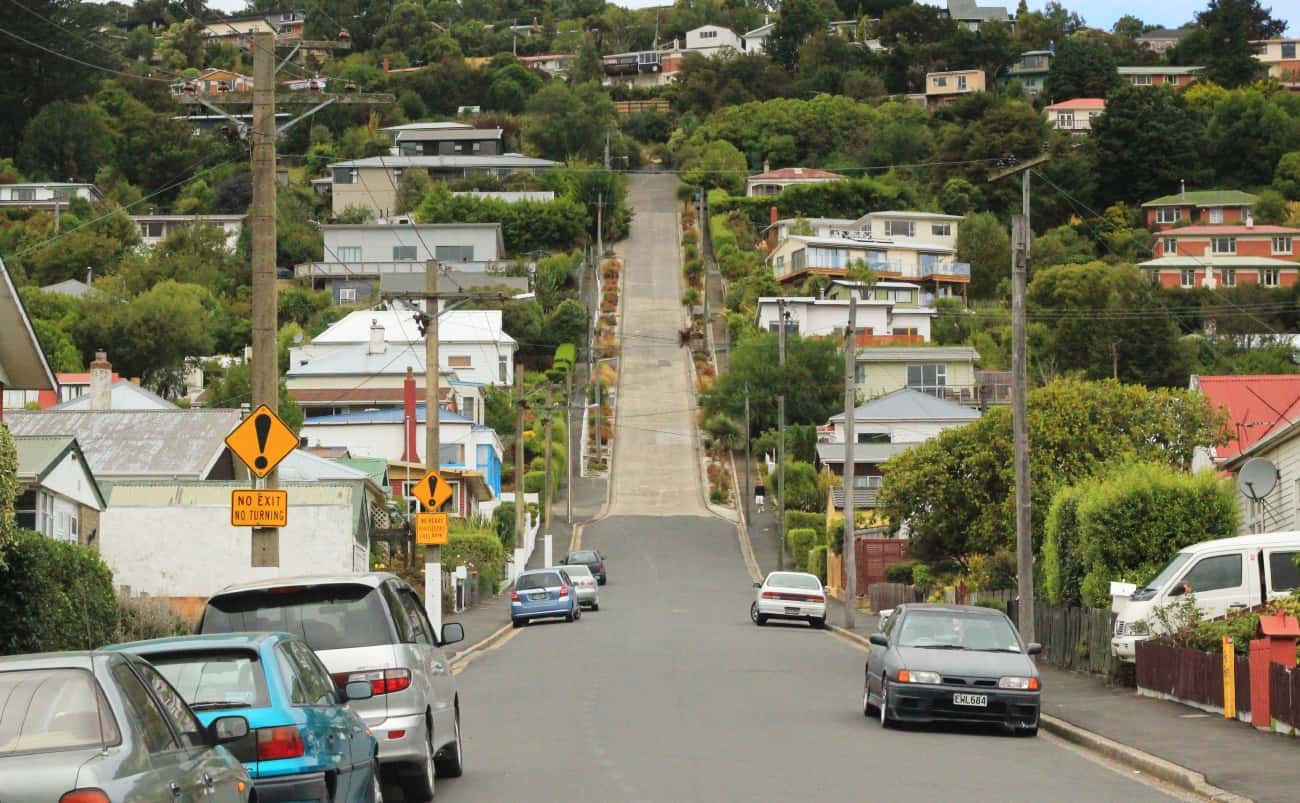 Running up the Steepest Street in the World
One of the few things I knew about New Zealand before arriving was that it was home to Baldwin Street: the world's steepest street.. I was thrilled when Dave let me know that we'd be visiting and immediately announced that I was going to sprint up it. It wasn't until we arrived that I realised quite how steep it was…
I huffed and puffed my way to the start of the incline with Dave creeping along beside me in the car.
"Ready?"
"Ready!"
Propelling myself forward, I began to take large strides uphill. Bouncing and leaping like a frog in a sock, I stumbled from side to side, bumping into walls and cars, tripping under my feet.
"You're not going to make it," Dave said.
"You're right."
I clambered back in the car and we drove to the top of the road. I had half-run, half-been driven to the top of Baldwin Street. Success!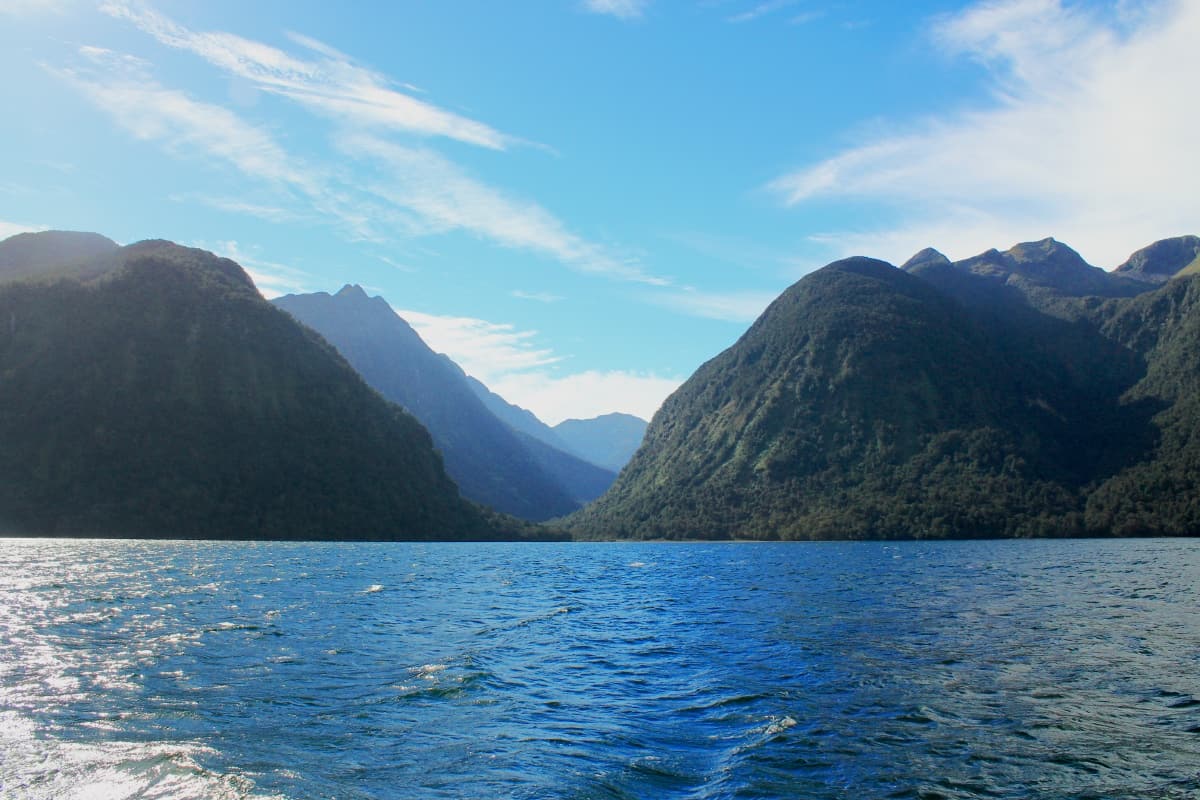 Spending the Night in Doubtful Sound, Learning How to Fish
Most visitors to New Zealand opt to head to Milford Sound — one of New Zealand's most famous attractions, but Doubtful Sound was much more my style. We opted for an overnight cruise and didn't see another boat for the next 24 hours. At Milford Sound, we were in a line of boats that took the same route up and down the sound, and spent zero time alone. At Doubtful Sound, we had just 10 people on the boat. At Milford, it was more like 100.
It was at Doubtful Sound that I developed a love of fishing — something I never thought I'd find exciting! I cautiously whipped my rod towards the water and eyed up Dave in a jealous rage as he caught fish after fish after fish. He even caught a shark! Eventually, my time came.
I shrieked and tried to throw the rod into the water when I felt something pulling on the line. I had to enlist the help of Dave to actually turn the… turny-handle-thing because I wasn't strong enough. But it still counts. I caught a fish. So satisfying. That evening, we cooked up our catches and spent the night talking and drinking wine and eating so much delicious fish. Waking up early the next morning to watch the sun rise was another magical experience.
If you're wondering whether you should visit Doubtful Sound or Milford Sound, go for Doubtful. It was far, far more impressive!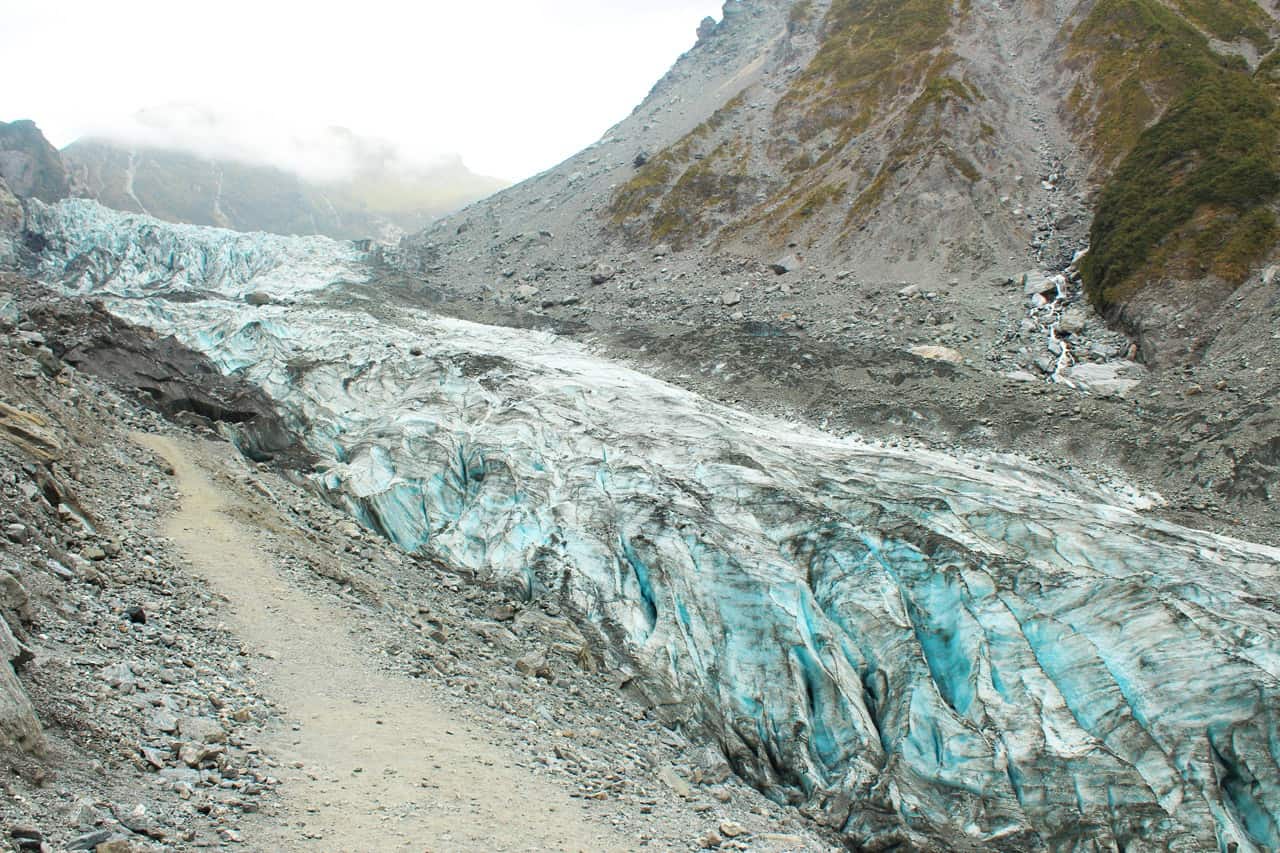 Walking on Fox Glacier
"Ouch!" I stabbed my finger with a crampon as I struggled to attach them to my feet. Why had I been excited about doing this? I was about to walk on a glacier for the first time, and it was only now that I found myself getting nervous.
Luckily, I had nothing to worry about. Hiking across ice took a little getting used to, but after practicing for a few minutes, I had it sorted. Stamp with the crampons, prod with the pole. Attempt to stay upright and don't fall down a hole. Although the glaciers look dirty from afar, up close they were an amazing shade of light blue. It was so beautiful.
My biggest highlight? Filling a water bottle with fresh glacial water and drinking it throughout the whole hike. Refreshing and delicious!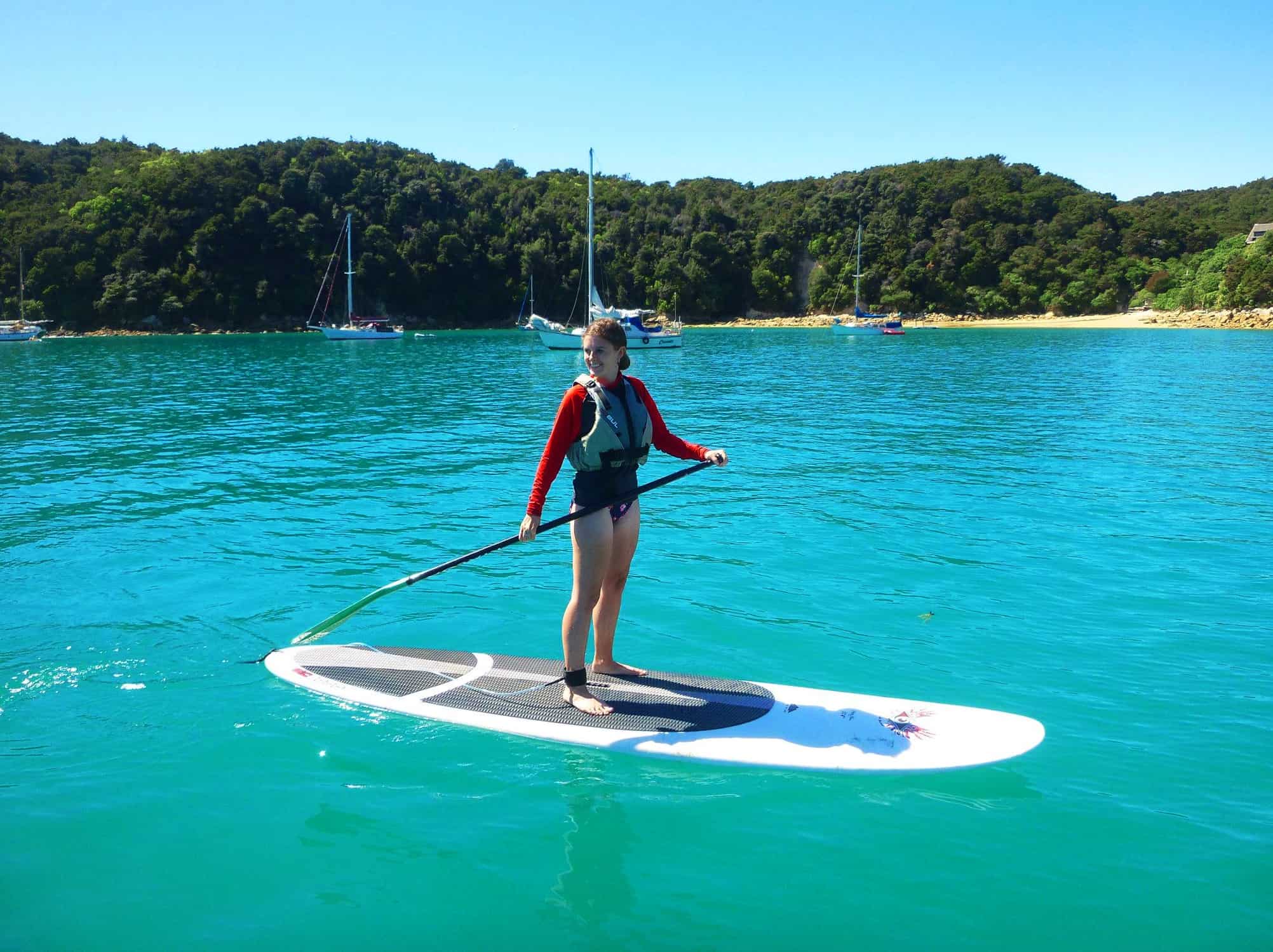 Paddleboarding in Abel Tasman National Park
I don't know why I get so nervous before undertaking a new water sport challenge. While I have very little balance on land, on water I can balance like a pro.
Paddleboarding in Abel Tasman National Park was just as fun as I when I took my first surfing lesson. I found my balance immediately and stayed upright for the hour long lesson. The bays we paddled through had some of the clearest water I've seen, and you could spot stingrays swimming underneath our boards several metres down. The water was calm, paddleboarding was an amazing workout, and I got to explore Abel Tasman from the water.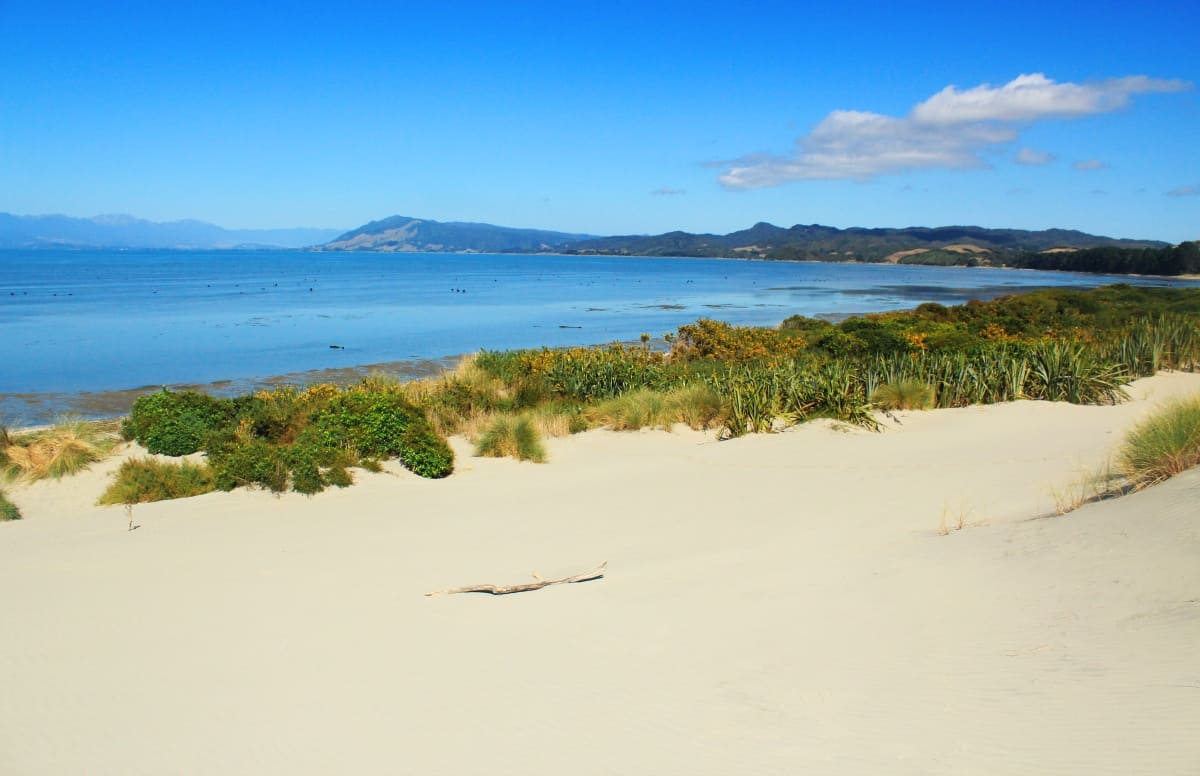 Stood up at Farewell Spit
We'd been waiting for an hour when we realised our tour guide wasn't going to be picking us up. We'd arranged to spend the day touring Farewell Spit — the spit of sand that stretches 30 kilometres into the ocean at the top of the South Island. You need to be part of a tour group to explore the spit, so we'd booked ourselves on one. That decided not to show up. Without telling us.
Still, being stood up turned out to be the best thing that could have happened. Dave and I jumped in our car and drove as close to the spit as we could. We discovered sand dunes as far as we could see, where we sat and took photos, made sand angels and sunbathed. We walked along the waters that lapped up against the sand, pointing out strange looking birds and flowers. We found a beach with ten metre high dunes and took photos of each other racing down the sand to the ocean. So, we didn't get to walk on the spit, but we did get to discover another beautiful part of New Zealand.
The one thing that stands out to me is how my highlights in New Zealand fall into two separate categories. There were the highlights of the countries that would make anybody's list — hiking the Tongariro Crossing, walking on a glacier, camping in Doubtful Sound, and running up the steepest street in the world. Then there are the personal moments that meant so much because I got to share a special moment with Dave — sunbathing on the beach in Raglan, drinking cider and eating bread in Wellington, spending a day exploring Farewell Spit.
I could say something sappy here about how travelling with Dave makes me… somethingsomethingsomething
But I won't.
Instead, I'll just say that New Zealand is the best, and I love it.
Save This to Pinterest