I love Singapore. 
Known for its architecture, high-tech green spaces, historical shophouses, and multicultural heritage, Singapore is an travel gem that offers an incredible blend of old and new. 
As someone that has been to Singapore numerous times over the years, I've truly seen this little red dot (the nickname given to Singapore by foreigners and locals alike) blossom into a vibrant city that's constantly reimagining, evolving and reinventing itself.
From world-class museums to culinary delights, lush greenery to architectural wonders, there's so much I love about this incredible Garden City. 
In this specially curated guide, I've put together a four-day Singapore itinerary with the best activities, dining options, and hidden gems to discover on your Singaporean adventure. 
How long should I spend in Singapore?
Four days is the perfect amount of time for you to spend in Singapore.
Why four days?

Well, there are four distinct must-dos when it comes to what you can go about exploring in Singapore.

You've got culture, heritage, architecture and of course, not forgetting Singapore's island of fun – Sentosa.

With the cultural aspect, you can immerse yourself in the various cultural districts of Singapore such as Chinatown, Little India, and Kampong Glam.

For heritage, you can't go to Singapore without visiting the Civic District. It's packed with not just historical but also architectural gems, fascinating museums, and more.

Incredible architecture is aplenty in Singapore and one day needs to be dedicated to visiting the premier horticultural destination, Gardens by the Bay, and admiring the extravagant Marina Bay Sands which towers over the lion city.

While you're in Singapore, one day also needs to be devoted to Sentosa which has everything from Universal Studios to Adventure Cove Waterpark, to beaches and the S.E.A Aquarium.

Excited to see what you can go about doing in Singapore? Let's get to it!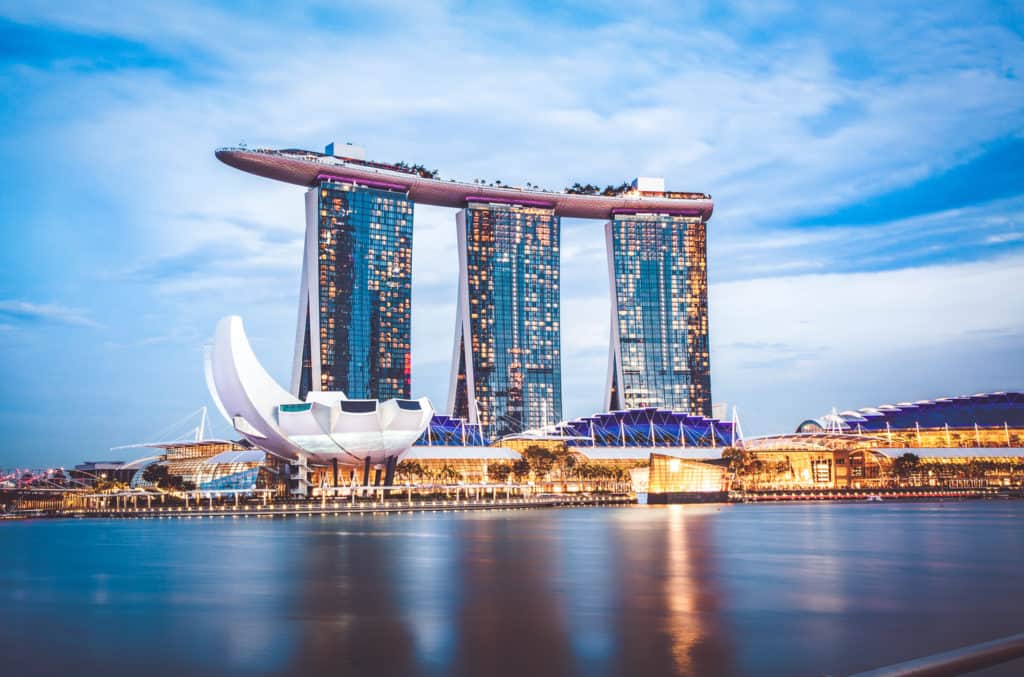 DAY ONE: EXPLORING SINGAPORE'S ARCHITECTURAL HIGHLIGHTS
On day one of your four-day itinerary, you'll want to begin your trip in Singapore exploring the Marina Bay area.
Here's where you'll find one of the world's most recognizable skyscrapers – Marina Bay Sands and Singapore's scenic paradise and nature park, Gardens by the Bay. Additionally, this is also the spot to soak in some incredible views, go shopping, and pop into some cutting-edge exhibitions.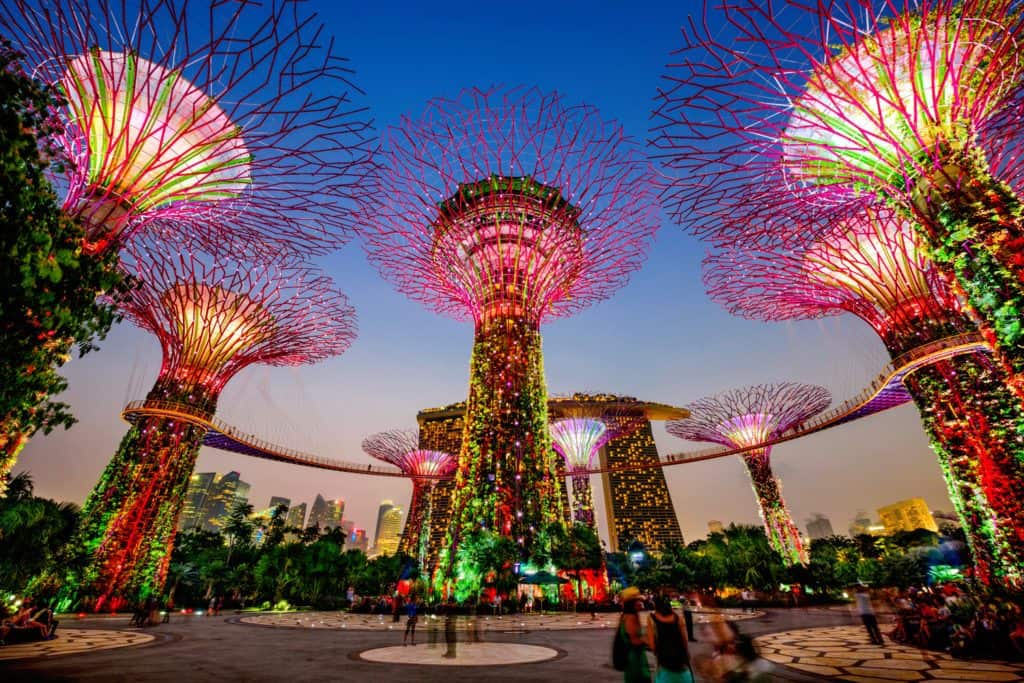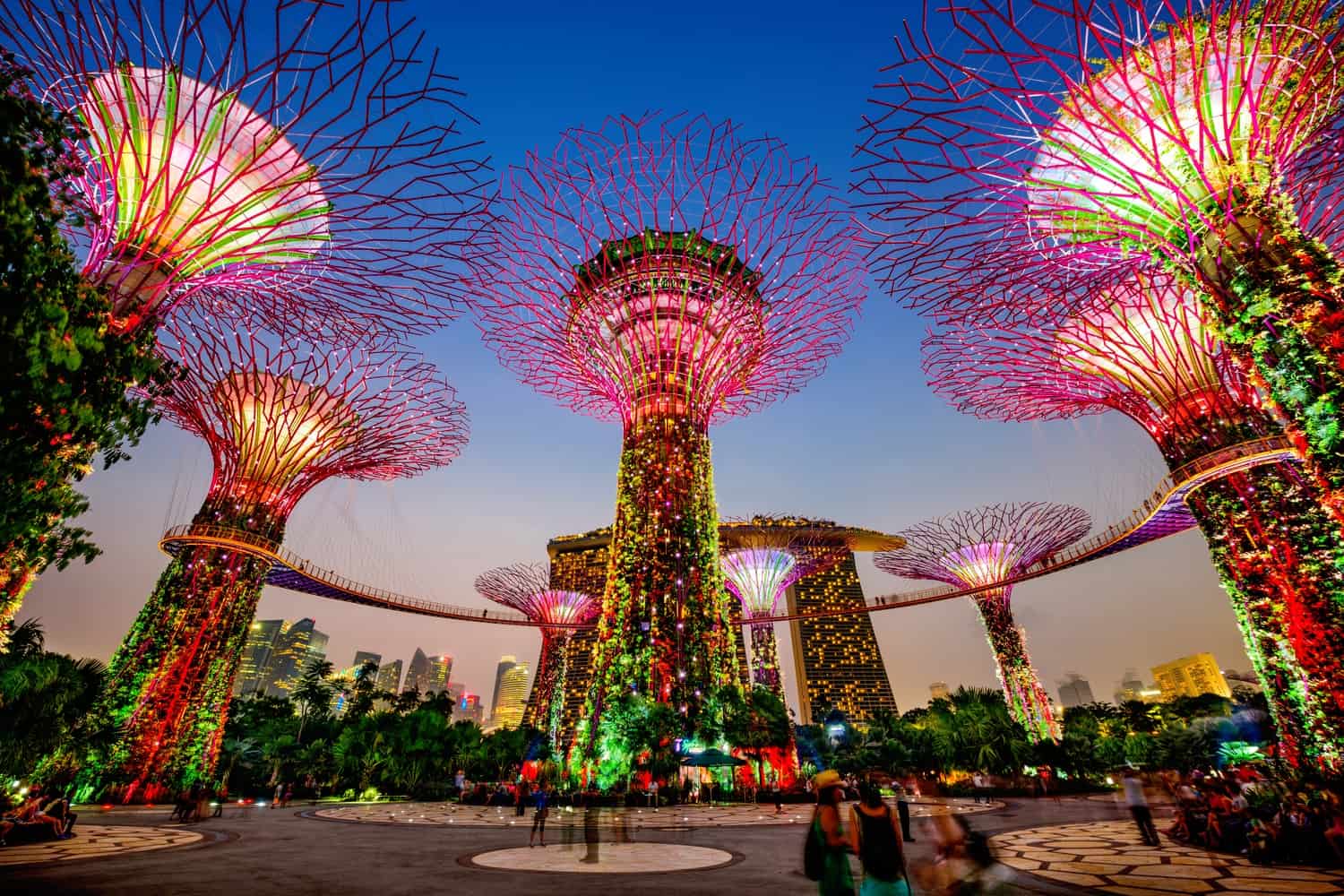 I recommend starting your morning at Gardens by the Bay. Not only will you beat the crowds, but it's also generally a little cooler in the morning – especially if you plan on walking outside in the OCBC Skyway and Supertree Observatory area.

Wander through the cooled Cloud Forest, and a world of perpetual spring at the Flower Dome. There's usually always some sort of exhibition happening here, so make sure that you buy tickets in advance and check it out!

Most individuals tend to give the Floral Fantasy attraction a miss because it's not one of the main attractions, but I highly recommend heading there – especially if you want to capture some great imagery.

The Floral Fantasy attraction is pretty incredible and offers a magical escape with suspended bouquets and creative floral arrangements amongst diverse garden landscapes.

Once you're done exploring the outdoor area, you'll want to head to the OCBC Skyway and Supertree Observatory. While it's great visiting the observatory in the morning, you're more than welcome to also head there in the evening.

Then, there's an incredible Garden Rhapsody show with music and lights that's absolutely amazing. I went there once during the Christmas period, and they even did the lights to Christmas music! A truly unforgettable experience.

If you want to continue soaking in the greenery while exploring the outdoor section, there are plenty of gardens to enjoy in the Gardens by the Bay area, including the new outdoor garden attraction – a horticultural garden that's inspired by the concept of Japanese zen gardens.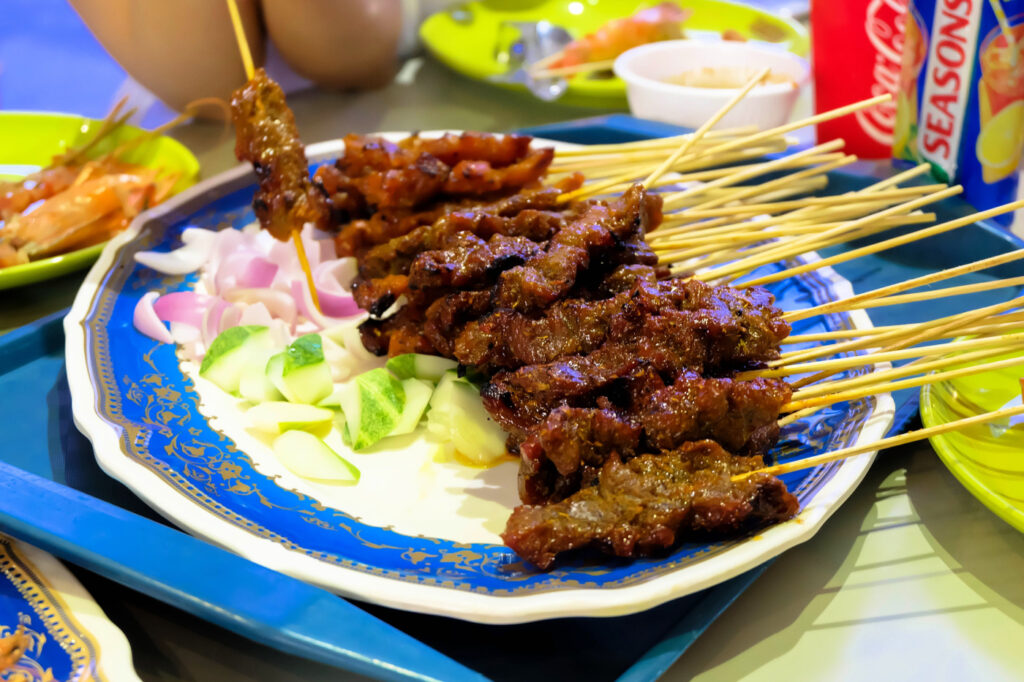 Hungry? Your next spot is Satay by the Bay.
Sandwiched between Gardens by the Bay and Marina Barrage, here's where you'll get your first taste of Singapore's amazing local food.
I recommend getting some Satay while you're here and trying signature dishes such as white bee hoon (seafood with vermicelli noodles in a delicious gravy) at the Marina Live Seafood & Steamboat stall. If you've got room, the BBQ chicken wings and a freshly squeezed juice are also a must-try.
Once you're nice and full, I recommend heading to the Singapore flyer where you'll get a 30-minute ride of picturesque Singapore. Just sit back and relax as you get ready to take some images of Singapore's skyline.
When purchasing your ticket, you may be wondering if it's worth it to also add on the Time Capsule option. For me, I think that if it's your first time, it's worth it to learn more about Singapore's past, present and future.
After soaking in some views, take your time walking around the Marina Bay area. While there are some great places to take in views of Singapore, the Marina Bay area is personally one of my favorite places – especially around the river.
While you're walking along the area, don't forget to check out the Esplanade, a futuristic waterfront arts venue that's meant to resemble a durian – a popular fruit in Singapore.
Once in a while, there might be the occasional outdoor performance that's free, but it's also worth buying a ticket and checking out one of the concerts or festivals that might be occurring during that time.
If you're interested in learning more, there's also an Esplanade tour which allows you to experience the sublime acoustics of the Esplanade Concert Hall as well as pick up nuggets of information about the Esplanade's architecture and history.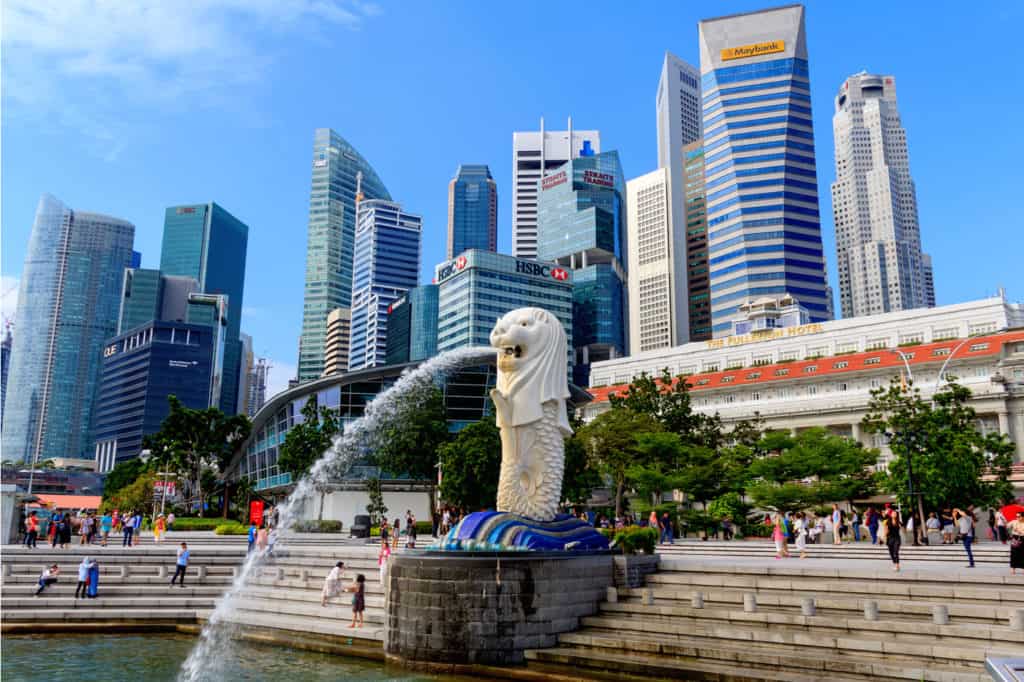 While you're in the Marina Bay area, you can't miss a picture with the Merlion at the Merlion Park.
There are two Merlions here – the original 8.6 meter tall Merlion along with a two-metre tall Merlion version.
Quick tip: Around this area, there's typically a small food trolley that's selling ice cream sandwiches. This isn't just any normal ice cream sandwich though! It's actually a brick of ice cream wrapped up in a slice of bread: a treat that's definitely worth it, especially on a hot day.
Regardless of whether or not you're an art enthusiast, I always recommend individuals heading to the ArtScience Museum. There are always new exhibitions there, but I've personally been to the Future World exhibition and found it pretty magical.
There's also a new VR Gallery and Cinema within the ArtScience Museum which consists of immersive experiences from some of the world's most renowned artists and scientists.
As evening rolls around, it's time to explore the famous Marina Bay Sands. In this integrated resort, you'll find everything from a casino to luxury shopping, and plenty of restaurants.
The shops and restaurants at Marina Bay Sands open till pretty late so if you'd rather take some time walking around the area before heading to Marina Bay Sands, that's absolutely fine as well.
When it comes to food, there's a variety of options to choose from here. If you'd like something on the fancier side, there's CUT by Wolfgang Puck and Japanese delicacies from Waku Ghin. Otherwise, there's also a food court, and casual restaurants such as Din Tai Fung.
Do note though that the restaurants here can get REALLY busy, so it's recommended to either dine earlier or later, try not to come here during dinner time or you'll be waiting in line for ages.
If you'd like to take in more sweeping city views, end off your evening and head to CÉ LA VI for some delicious handcrafted cocktails. Just know that if you'd like to head there, you'll need to make a reservation in advance.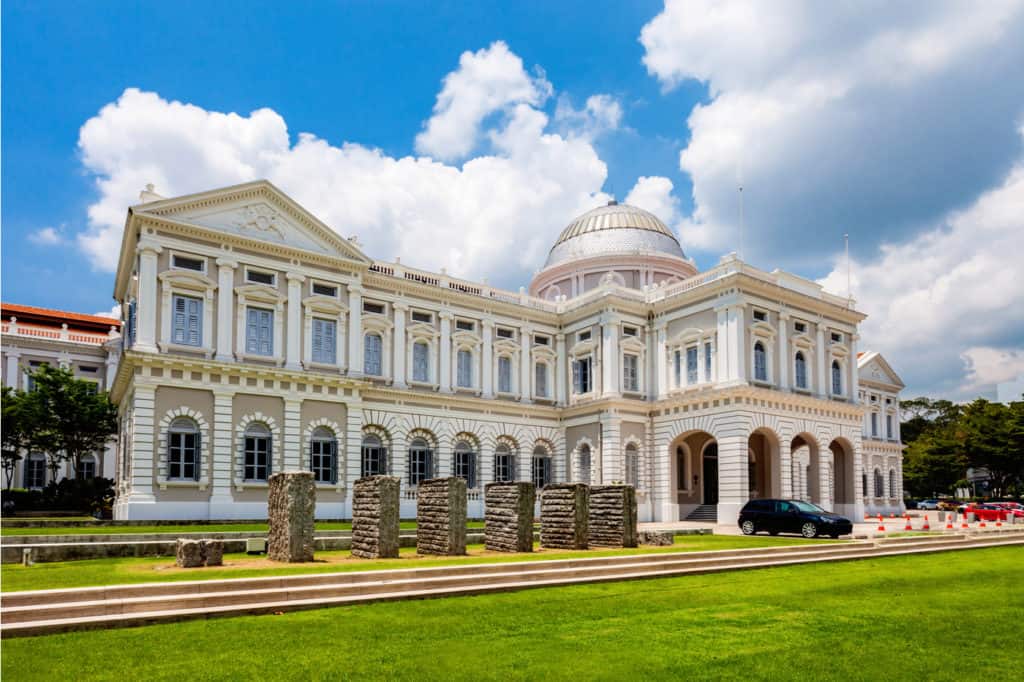 DAY TWO: MUSEUMS AND A SPRINKLE OF SHOPPING
Today, it's all about exploring the Civic District where Singapore's past and present intersect. In this area, you'll see colonial buildings and museums amongst skyscrapers and shopping malls.

In my opinion, one of the best museums in the world is the National Museum of Singapore. Its history dates back to 1849 and I've spent hours exploring the exhibitions within the museum.

Some of the exhibitions that you shouldn't miss in the museum include the Surviving Syonan exhibition which showed how the people of Singapore responded to the Japanese occupation, and Story of the Forest – a breathtaking digital presentation.

There are also other rotating exhibitions within the museum so there's always something new to discover within the museum.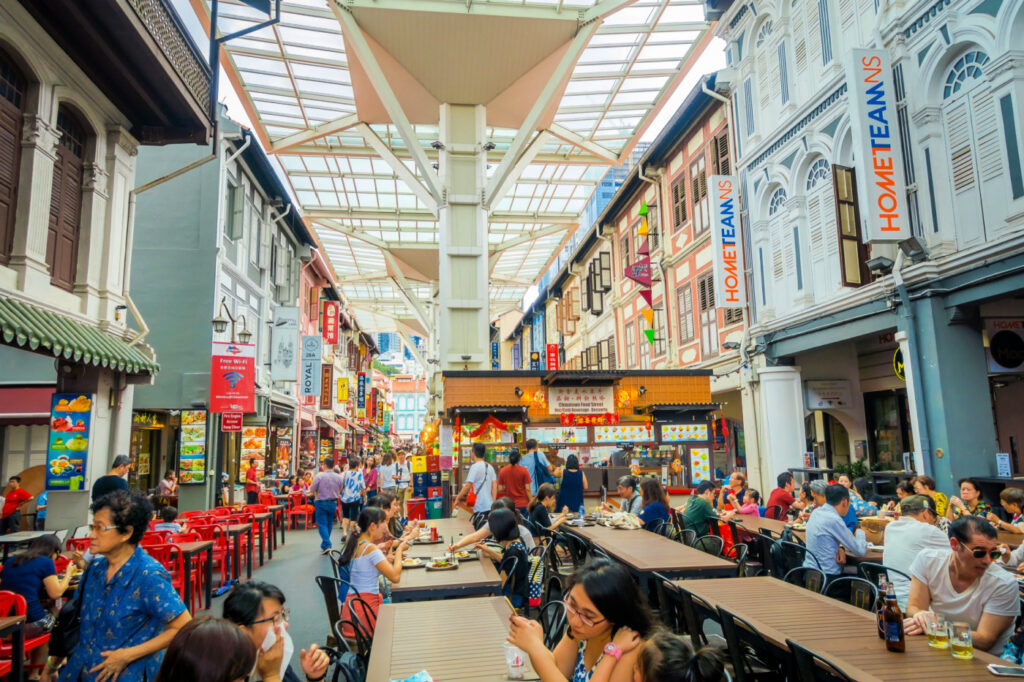 Alright, now it's lunch time. We're heading to Lau Pa Sat!
Another fantastic place to enjoy some Singaporean local food, Lau Pa Sat is extra special because you're doing so within a monumental structure.

That's right, Lau Pa Sat is actually a heritage site as it used to be Singapore's first wet market over 150 years ago. Since then, it's been beautifully restored.

Some of the best local favorites to enjoy there include Hainanese chicken rice, fishball noodles, bubble tea, and thunder tea rice. They've even got a bakery for you to get some sweet treats and non-local food such as acai bowls and more.

If you're not keen on getting food at Lau Pa Sat, another great place to head to is Chijmes. Boasting beautiful courtyards, there's a wide array of restaurants here and it's in a gorgeous historic building complex. In the afternoon, head to the National Gallery Singapore – a national museum and public institution that's dedicated to both art and culture.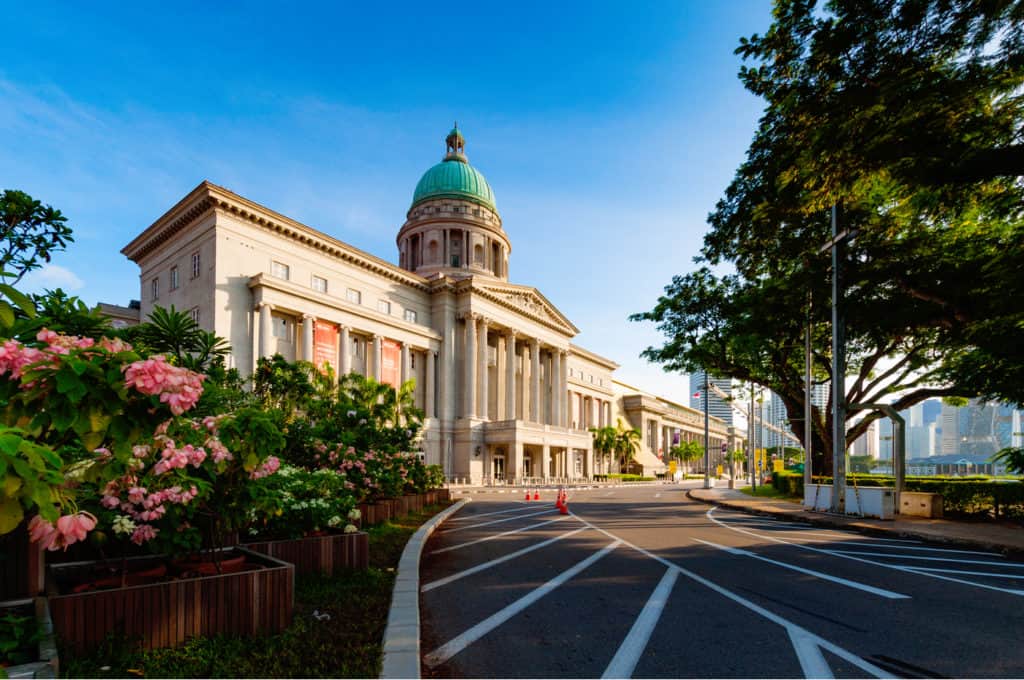 As far as architecture goes, I've got to say that the National Gallery of Singapore is absolutely mind-blowing.

The gallery integrates both the former Supreme Court and City Hall buildings and has a beautiful mix of contemporary architecture; offering a masterful balance between both heritage and modernity.

You could easily spend hours walking through the gallery as it has more than 8,000 artworks from across the region. These artworks span from the 19th century to the present and there are plenty of exhibitions and activities to explore.
Once you're done exploring the museum, just a quick five-minute stroll will take you to Thian Hock Seng Temple. It's worth a look if you're already in the area and is Singapore's oldest Chinese temple.

If you're a history buff or curious about oriental culture this temple is most definitely a must-visit.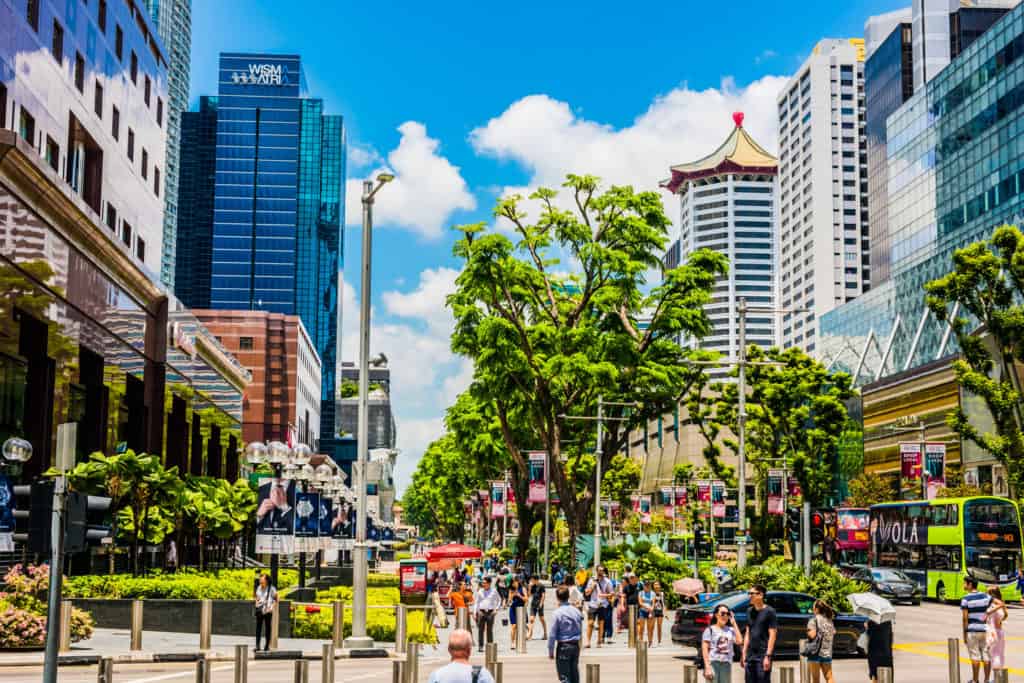 While there's shopping everywhere around the world, let's just say that Singapore's Orchard Road is of a different caliber of its own.

To head to Orchard Road, you can either take an MRT or a cab, but it's not too far from the Civic District. There, you'll find all sorts of shopping malls, from ones that house expensive shops, to the more affordable and more.

Tip: Typically, in the malls on Orchard Road (such as ION Orchard and Takashimaya) the more luxury boutiques are on the upper floors while the more casual and affordable shops are on the lower floors.

Food-wise, you'll be absolutely spoiled for choice. There's everything here from hawker centers to world-class Michelin-worthy restaurants.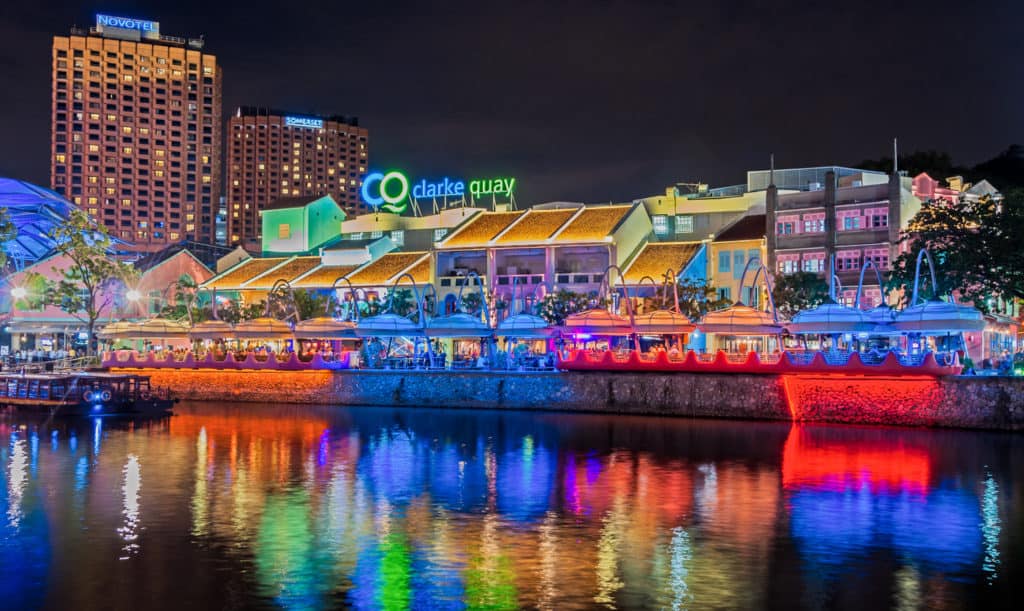 If you're feeling adventurous in the evening, you can easily take a quick taxi ride to Clarke Quay and experience Singapore's nightlife. The quay has everything from bars to nightclubs, and even spots to enjoy a round of mini golf.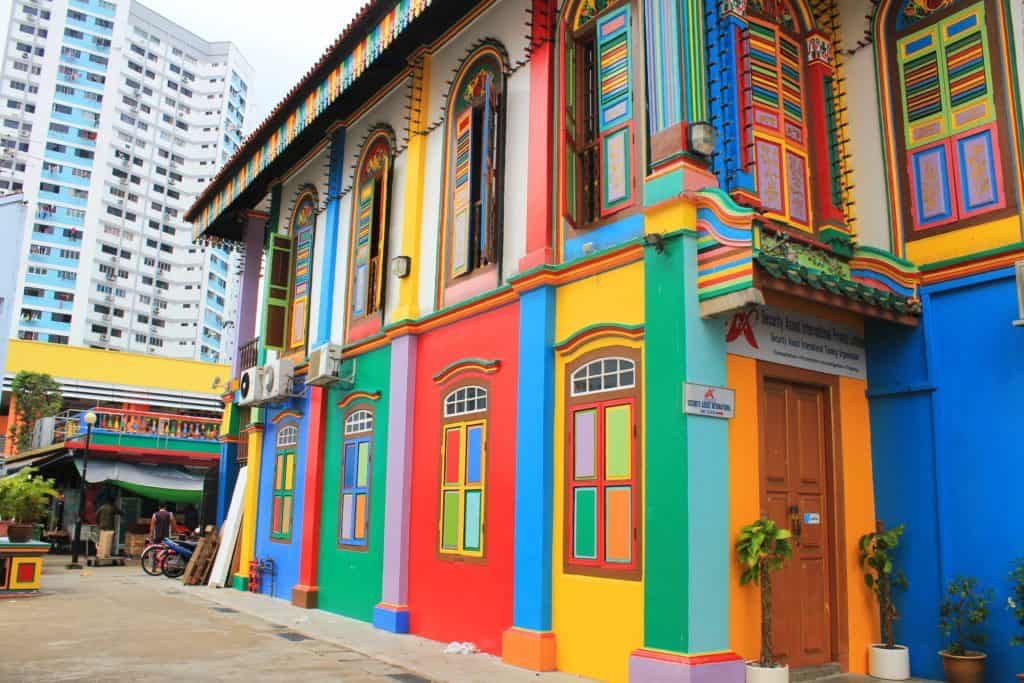 DAY THREE: IMMERSING IN SINGAPORE'S RICH CULTURE
On day three, you'll be heading to the three cultural gems of Singapore – Chinatown, Little India, and Kampong Glam.

What I love about Chinatown is its tapestry of cultural diversity. Where else in the world would you find a Buddhist temple, a mosque, and a Hindu temple all along a single street?
While there's plenty to explore from Telok Ayer Street to the Buddha Tooth Relic Temple & Museum, you've got to check out the Chinatown Heritage Centre. It's within three beautifully restored shophouses on Pagoda Street and has exhibits showcasing the lives of the earliest residents of Chinatown.

For lunch, head to Chinatown Food Complex. It's Singapore's largest hawker centre that consists of over 250 vendors. While it's exceptionally busy, it's a great place to try everything from the famous Liao fan Hong Kong Soya Sauce Chicken Rice & Noodle to Chendol (a sweet dessert) and more.

Tip: On this day, you'll be heading to Kampong Glam and Little India which has PLENTY of amazing food. My suggestion is not to eat a full meal in Chinatown so you can try out dishes and snacks at Little India and Kampong Glam.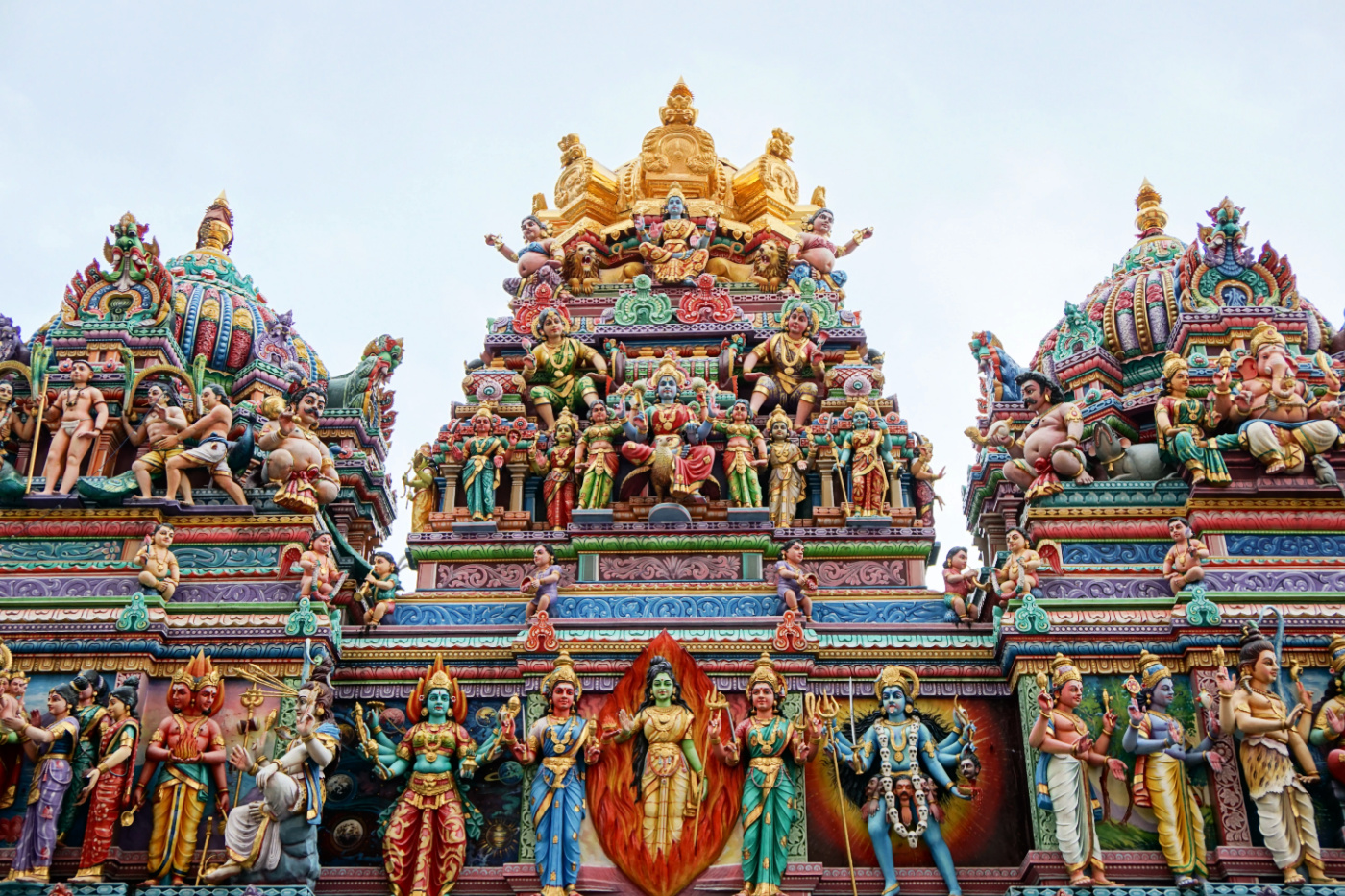 Done exploring Chinatown? It's time to head to your next destination, Little India!

You'll feel like you've been transported to the streets of India with its colorful stalls selling fresh flowers, along with its vibrant culture.

There's plenty of delicious Indian food to enjoy here along with visiting the Sri Veeramakaliamman Temple, one of the oldest Hindu temples in Singapore. If you've always wanted to go to a shopping mall that's open 24 hours and has everything you could ever imagine (including cars!), Mustafa Centre is the place for you.

Some other great spots to explore include Tekka Market, The Little India Arcade, and The Indian Heritage Centre.

Tekka Market is known as Singapore's most culturally rich market and it's not hard to see why. When you're there it's likely you'll hear a variety of different dialects and languages being spoken at once.

It's also the largest wet market in Singapore with 284 stalls and has late operating hours – that's right, you'll be able to pop by Tekka market even in the late afternoon!

Oh, and did we mention? It's a 3-in-1 destination as there's also a food court and shopping area, definitely a must-visit when you're in Little India. 

Tip: Most places in Tekka Market only accept cash so make sure that you've brought enough cash with you – especially if you'd like to do some shopping.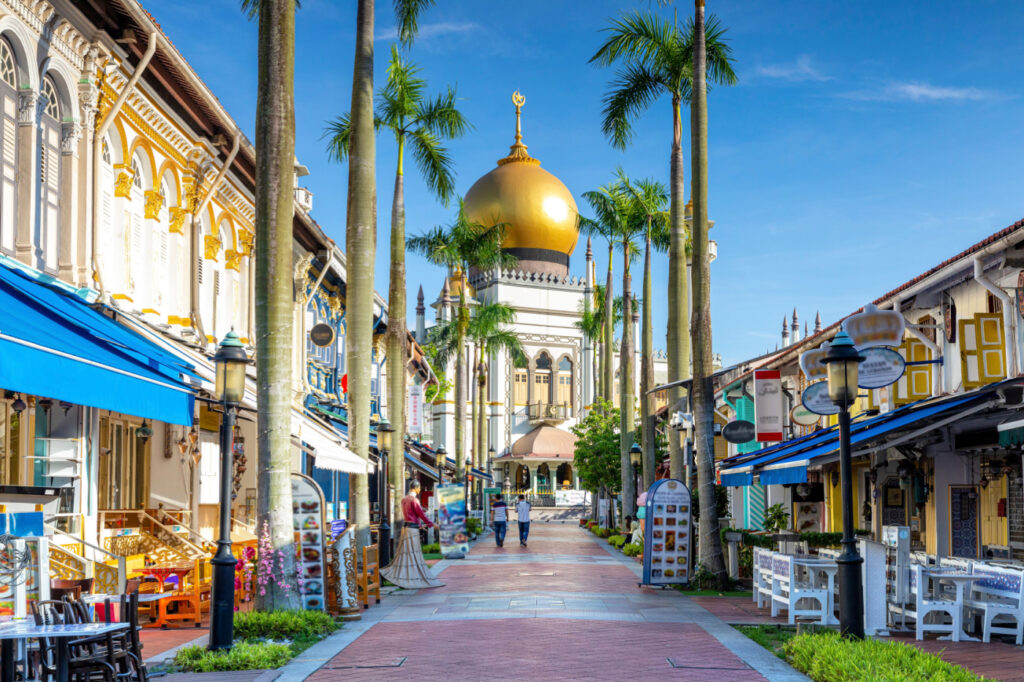 To end off the day, you'll be heading to Kampong Glam to experience Maly Culture.

There's so much to discover here from the biggest mosque in Singapore (Sultan Mosque) to Arab Street; the heart of Singapore's Islam Community.

Similar to Chinatown and Little India, Kampong Glam also has a Malay Heritage Centre – a great place to learn more about the Malay's roles in Singapore's society.

My personal favorite place to head to Kampong Glam, however, is Haji Lane. This narrow lane has some incredible graffiti and houses shops, stalls, cafes, and restaurants.

If you stay till the evening, Haji Lane also comes alive with bars. Bar Stories, in particular, is a great bar to visit in Haji Lane. What's unique about this bar is the fact that there's absolutely no menu! Just tell the bartenders what drinks you like, and they'll whip something up for you.

For dinner options within the area, I recommend Zam Zam Singapore for some Indian Muslim food or Warong Nasi Pariaman.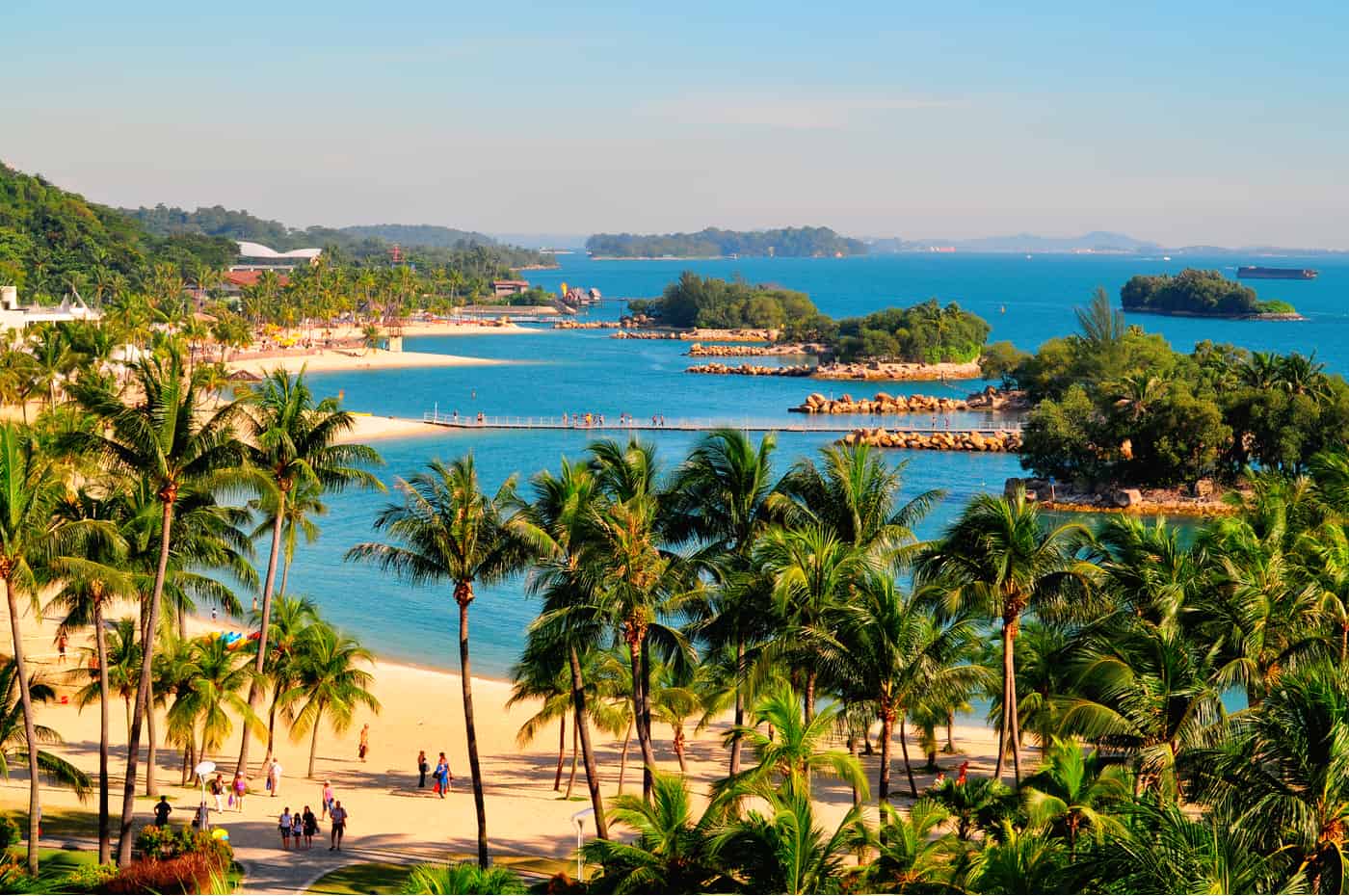 DAY FOUR: HEADING TO THE ISLAND OF FUN
Today, you'll be spending the entire day at the island of fun, Sentosa. There's so much to do here, and it really depends on what you're looking for.

Here, I've just put together a few highlights and places that I would personally recommend, but you're more than welcome to amend the itinerary depending on what your interests are.

To get to Sentosa, you can either head there by monorail or cable car. I highly recommend the cable car and you can take it from Mount Faber.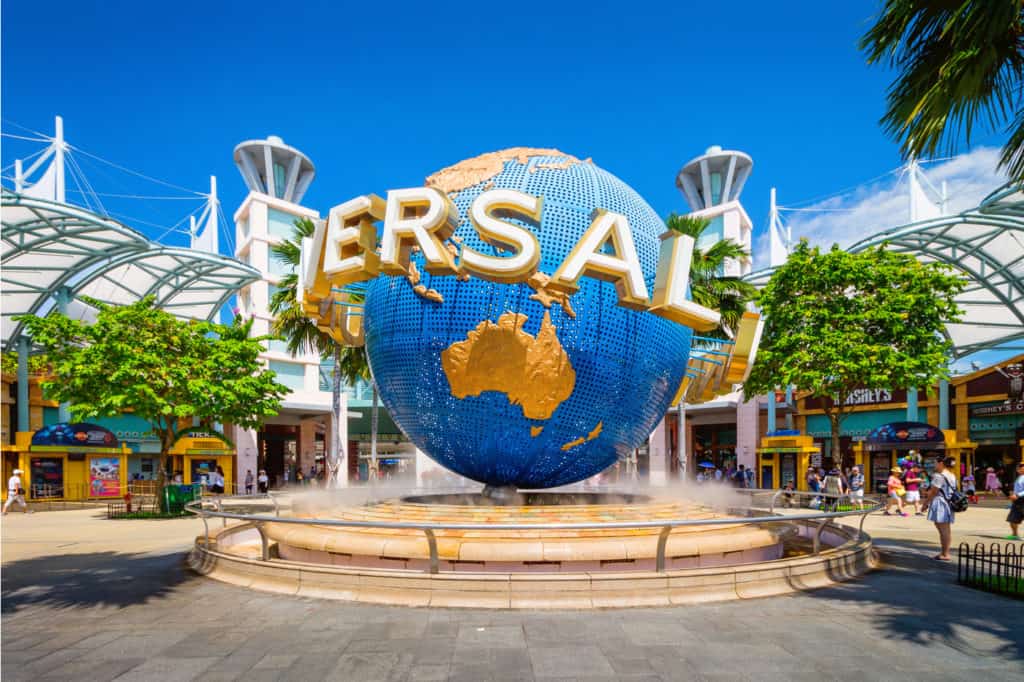 Ideally, you should start your morning at Universal Studios. Not only can you beat the crowds to the rides, but it's also a little less hot than when the afternoon arrives.

If you're someone that likes rollercoasters, Battlestar Galactica should be your first stop. The Jurassic Park Rapids Adventure is also a lot of fun – but you will get wet!

For indoor rides (perfect for escaping the heat), Revenge of the Mummy, Transformer The Ride and the Shrek 4-D Adventure are all great choices.

Tip: I do recommend getting the Express Passes if you can. The unlimited ones especially will allow you to ride all of the rides as many times as you'd like. Otherwise, lines can get long at Universal Studios, and it can also get really hot!

Once you've gotten your adrenaline pumping, head to the S.E.A Aquarium next. It's absolutely beautiful, and you'll get to see the 10,000 aquatic creatures that reside within the glass walls of the aquarium.

For dining options, you've got quite the pick. You can either head to the beach area and enjoy some sharing platters and Mediterranean treats at FOC Sentosa, or there are also casual restaurants and cafes dotting the Sentosa area.

Once you're nice and full, head to the Fort Siloso Skywalk for some breathtaking views along with visiting the Southernmost Point of Continental Asia on Palawan Beach. You'll have to cross the rope bridge to get there, which is always an adventure of its own.

End off the day with an exhilarating zipline at Mega Adventure Park and racing each other at the Skyline Luge Singapore.

For stunning views, you can try and take the zipline around sunset to capture some fantastic photos. The luge is also open fairly late, and there's something special about zipping down the track when it's evening.

To get to the luge you'll also have to hop on the Skyride, which features amazing views of its own. Remember, there are four different trails at the Luge so make sure that you're zipping down all of them!

For dinner, you can either head to Quayside Isle – a tranquil waterfront area that has plenty of restaurants, or heading to the Sentosa Boardwalk and grabbing some casual bites there.

Oh, and if you're in Sentosa I do recommend checking out Capella – a luxury 5-star hotel that's a vacation paradise. Bob's Bar in Capella is especially a nice treat, as you can enjoy the sea breeze while sipping on an alfresco Panda Spritz.

Here are just some of the other attractions that you can also consider heading to in Sentosa:
Adventure Cove Waterpark
Sentosa Musical Fountain
Sentosa Nature Discovery
Wings of Time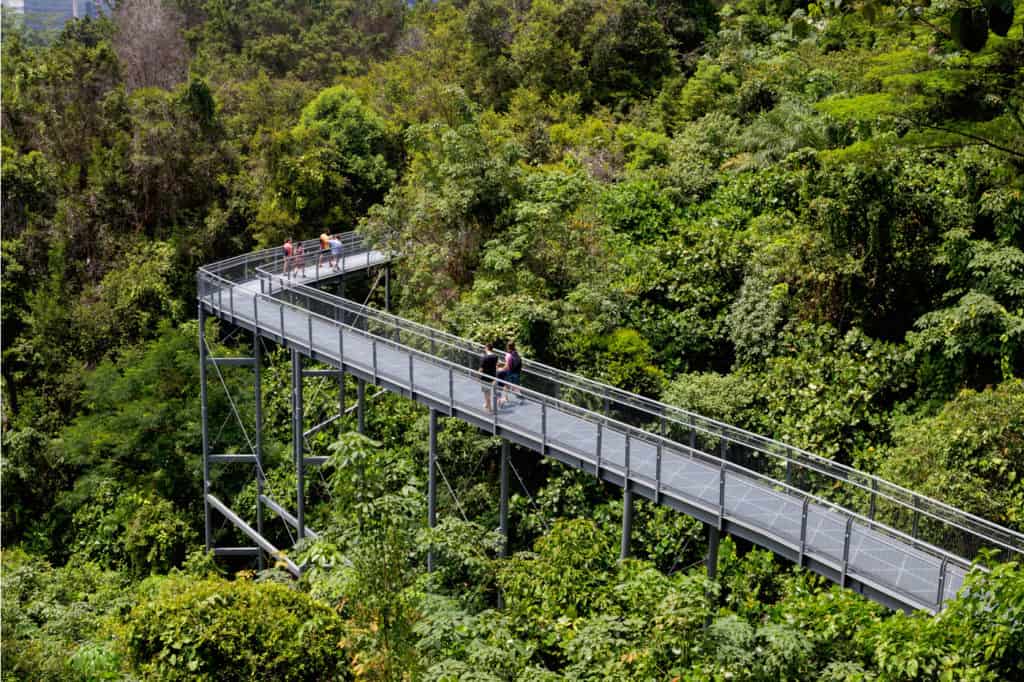 WHAT TO KNOW BEFORE YOU GO

Where to stay in Singapore

So, where do you go about staying when you're in Singapore?

I recommend staying at the Four Seasons Hotel Singapore. Not only is it in a convenient location that's close to plenty – such as Orchard Road and the Singapore Botanic Gardens, but the guestrooms are also spacious, elegant, and comfortable.

What really does it for me with the Four Seasons Hotel Singapore, however, is the service. Everyone is extremely welcoming, and the staff always goes above and beyond to cater to my needs. In a place like Singapore where there are so many hotels to choose from, this really makes a huge difference.

Best time of year to visit

Unlike other countries, Singapore only has one type of weather throughout the year – tropical. If I had to pick the best time of year to visit, however, I'd say March through to August. During this time, you'll experience the least rainfall and it's also relatively low in humidity.

January through February is good to visit if you don't mind the rain and just want to experience a cooler temperature in Singapore. During these two months, the temperature can sometimes dip to 24 degrees!

Getting around Singapore

The island nation of Singapore isn't massive, and transportation is modern and accessible.

While you can walk to most locations, it can be quite hot and humid in Singapore, making it not the most pleasant experience.

With that in mind, here are three transportation options that you can opt for: 
The MRT (Train system)
What's great about Singapore is that there are stations at almost every major business and tourist hub in the city. Navigation is quite simple with maps at each station alerting you to the direction of travel and color (line) of each platform.

If you ask Google Maps for directions to a given destination, it can even guide you to the right station/platform.

With tickets, you can either purchase it per trip or you can go to the ticket counter and request an EZlink card. Once you've gotten the card, you can top these up with cash/ credit cards at every station.

Grab
If you're used to Uber, you'll soon find out that it doesn't exist as a brand in Singapore because the Singaporean government purchased the Singaporean implementation and rebranded it to Grab.

You can download this app from the App Store on your phone and sign up for an account before departing to Singapore. Similar to Uber, you'll just key in your destination and the app will offer you many options/tiers for a fixed price. The cars are often new, and fares are relatively affordable.

Taxis
Not really the recommended transportation choice, but it can be convenient. You will, however, have to share the address of your destination with the Taxi Driver and they can be a bit more expensive than Grabs.

In comparison to the other methods, however, this is the easiest method to get you from your Airport to your hotel. Simply look for the signage directing you to the Taxi Stand when you exit the customs/baggage pickup.

Phone Coverage in Singapore:
Flying over from an international destination can always be painful when you want to use your phone internationally. What is easy is that in Singapore you can buy a 14-day tourist SIM Card from any 7-11 in the country and self-register for 100gb for that period of stay.

It's called the Singtel Hi!Tourist SIM Card and it'll cost you $12 SGD. You can use Whatsapp as per normal to communicate, and that way you avoid expensive roaming charges.
Customs
There aren't any customs or requirements you need to be aware of before you arrive in Singapore. The first language of the country is English but here is a quick rundown on some things that will help you stress less during your stay:

Bartering (Haggling on price) is not a common-place way to do business.

Tips are not required.

Ordering (Food) at the counters of a restaurant is uncommon; most will be table service and many more are now using QR codes on your table/menu as a self-service way to order/request food and drinks.

The city and other parts of the island nation are exceptionally safe.

Chewing gum is indeed banned and littering carries a heavy penalty.

Train stations have marked in/out sections at the stations when waiting for doors to open.

Typically, you stay on the left side of escalators.

Zebra-crossings and green-walking signals do not automatically grant you right-of-way on streets so remain alert and cautious as you cross the roads.

You do not need excessive volumes of cash in Singapore as most places will accept Credit Card however there are some special tips we recommend:


Ask the counter if they accept "Pay Wave" as some venues (rarely) will not accept VISA/Mastercard.

Use cash only in places where you cannot use your debit/credit card


Specifically, when dining, you will generally observe either a (++) or a note mentioning subject to GST and service fee. Basically, most dine-in venues will charge +18% (10% service fee, 8% GST) on top of the stated fee. This is not automatically captured within the $ value on the menu.

Note that scams with purchases are uncommon in Singapore, you are generally considered safe from fraudulent charges.
AND THAT WAS SINGAPORE!
I hope that my passion for Singapore came across in this article because I absolutely love Singapore.

Every single time I've been to Singapore, I always felt like I've been able to discover something new. It's definitely one of my favorite cities in the world and I hope that you enjoy this wonderful Garden City as much as I do.