Otherwise known as the "Pearl of Africa", Uganda has so much to offer. It might be a bit less touristy and sought-after compared to its popular neighbours Kenya and Tanzania, but that's part of its charm. When it comes to scenery, culture, wildlife, adventure, and people, Uganda hits the right notes every time.
I visited Uganda on vacation while living in Tanzania, and I didn't really know what to expect. But I was quickly drawn in by how comfortable I felt. Not to mention, everywhere I turned there was something beautiful to see.
Uganda is one of the few places in the world that you can see endangered mountain gorillas in the wild. And seeing these these animals up close in their natural habitat is a life-changing experience. Furthermore, compared to gorilla trekking in Rwanda, the costs of a tour and permit are much cheaper in Uganda.
Besides gorilla trekking, Uganda is home to some incredible national parks. It's also the perfect place for adventure enthusiasts — from bungee jumping to white water rafting, there's tons of things that you can easily cross off the bucket list here.
All in all, I'd say Uganda is a top-tier budget destination for the region, especially given that the cost of some of the activities that you can engage in are significantly more affordable than they might be in other destinations. With that in mind, what are you waiting for? East Africa's best kept secret has gems just waiting to be explored and adored.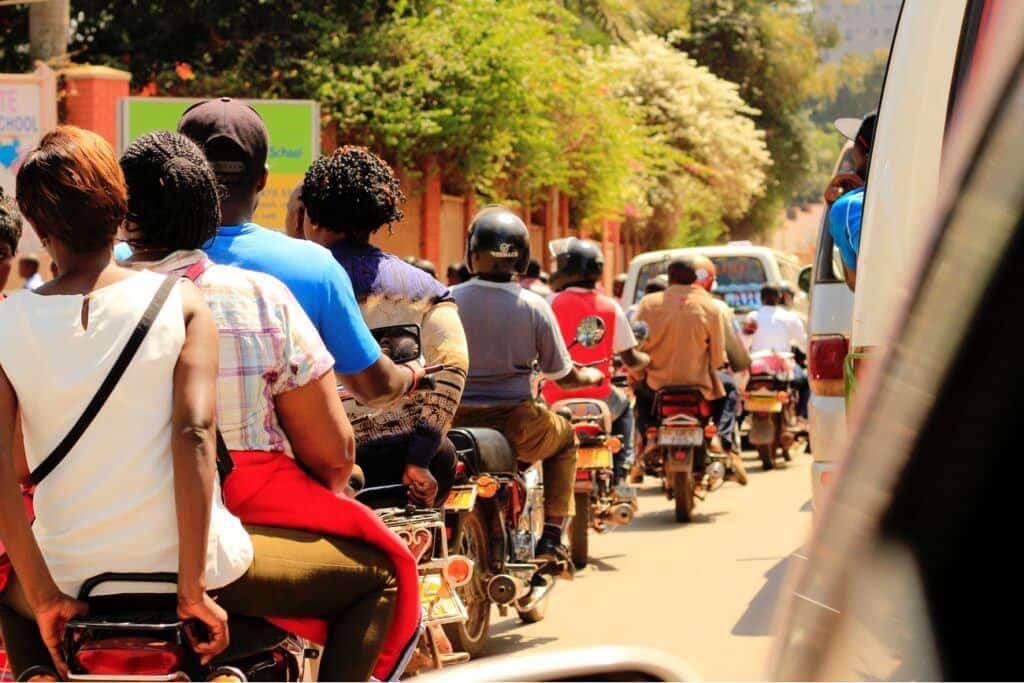 What's Included in this Post
This budget breakdown covers how much I spent on accommodation, transportation, activities, and food while I travelled around the country.
I've not included my flights into and out of Uganda as this is going to vary significantly based on where you'll be arriving from.
The amounts in this guide are listed in U.S. dollars, simply because the vast majority of my readers are from the U.S. I also included some prices in Ugandan shillings (UGX), as this is the local currency that you will use the most.
Okay — let's get started!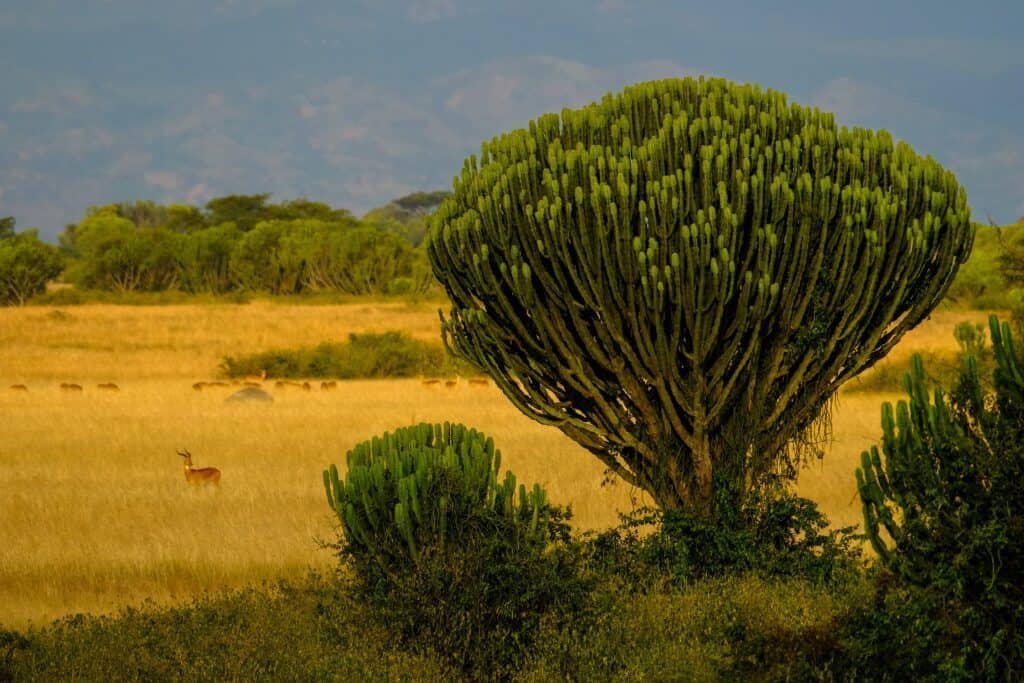 The Cost of Accommodation in Uganda
Budget accommodation is easy to find in Uganda. The best accommodation options in Uganda are hotels and guesthouses, with the occasional hostel.
Ugandan hotels are priced pretty reasonably and you can expect to pay around $15 – $20 for a place that has all the basics. On the other hand, higher-end stays might cost you more in the $50 – $100 range, but you will only really find places like this in the larger cities and more popular destinations. If you're planning on doing a safari of some sort and staying in one of the lodges, then expect to pay upwards of $500+ per night.
Here's a list of my favourite accommodation options in Uganda :
Kampala — TGS Homestay ($30 a night): As you start your Uganda travels in Kampala, there's no better place to stay than here. Not only are you within walking distance from good restaurants, supermarkets and malls in Kampala's city centre, you're also in good hands thanks to the kind and generous host. Emmanuel will do everything he can to make your stay worthwhile. Whether you need an airport pick-up, local sim card, bus tickets or recommendations—he'll help you with anything. The rooms and common areas are also kept clean and tidy. So you can comfortably gather with other travelers, or cook your own food in the kitchen if you don't feel like eating out. The shared kitchen also offers unlimited tea, coffee and drinking water for your convenience!
Jinja — Jinja BaseCamp ($15 a night): A trip to Uganda would not be complete without some time spent in Jinja, also known as East Africa's adrenaline capital. Here you can do white-water rafting along the Nile River or bungee jumping. With all this adventure around you, stay at Jinja BaseCamp for a comfortable and rejuvenating rest. The value is excellent for what you get, which includes an outdoor pool, breakfast, and clean rooms. Surrounded by lush nature in a serene environment, but still close enough to Jinja centre, you can easily settle into relaxation mode before and after your daily activities. The standout of this place though, is the friendly staff who are attentive and create a warm environment for guests to feel at home right away.
Gulu — Northern Pearl ($22 a night): Gulu is a relaxed city in northern Uganda, and it's a great stop along the way to exploring some of the country's most exquisite natural beauty and wildlife at Kidepo Valley National Park. That being said, there's not many options of places to stay. Look no further than Northern Pearl, a sweet hotel in Gulu with comfortable rooms and a restaurant serving up delicious, quality Indian food. The owner and staff are incredibly welcoming and if you're there on a Friday night, you can also enjoy a comedy show!
Fort Portal — Dutchess Hotel and Restaurant ($27 a night): Fort Portal is a beautiful town in western Uganda that is surrounded by the Ruwenzori Mountain range. A good launching point for nearby adventures and activities is this hotel located just outside the city center, but close enough to walk into town. It's a comfortable hotel with clean rooms, friendly staff and is known for its restaurant that serves some of the best food in town (so you'll never go hungry!). Whether you want to explore by foot, bicycle or car, the staff will help you sort out any travel arrangements. This hotel also makes an effort to reduce their ecological footprint by using more solar heaters and local fast-growing wood to make furniture.
Mbarara — Nyore Hillside Retreat ($51 a night): If you've included Mbarara in your itinerary, then you have to stay at this gorgeous natural haven. Enjoy the lush countryside and majestic green rolling hills by day and then be prepared to watch the stars in all their glory as day turns to night. Besides the idyllic location, the food is exceptional and cooked to order. They even grow and roast their own coffee beans! The staff are always willing to help and make any arrangements necessary to ensure your stay is memorable, including guided hikes of the area.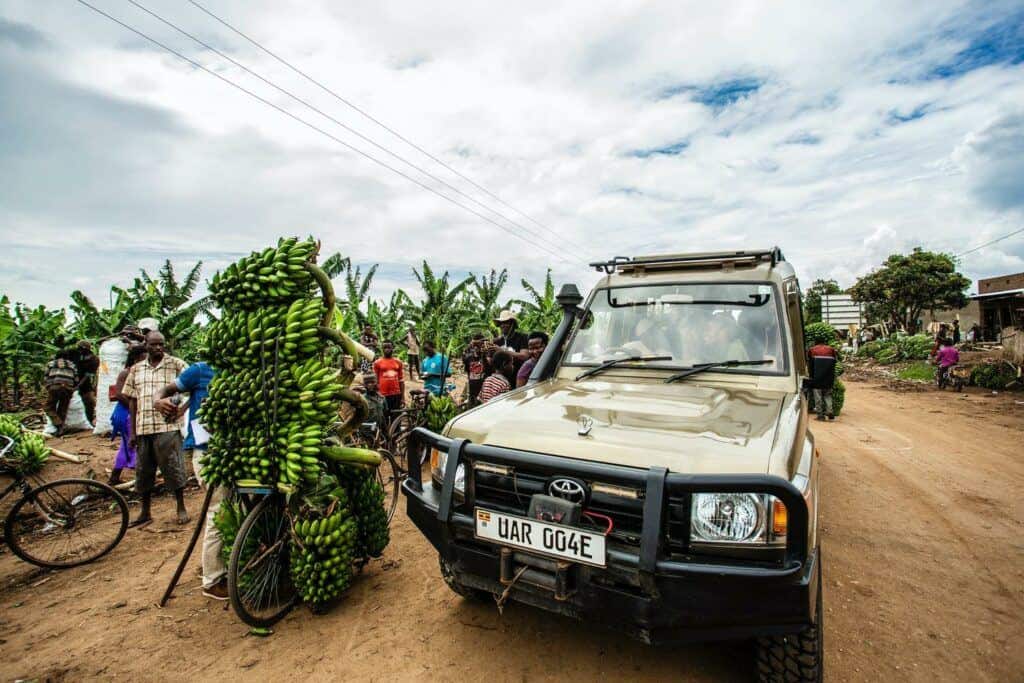 The Cost of Transportation in Uganda
If you're planning on traveling extensively throughout Uganda, then you'll likely be taking buses or minibus-taxis to get from city to city. Otherwise, when you're in a city, boda-bodas (motorcycle taxi), minibus-taxis or walking will be your main way of getting around.
Here are the most common forms of transportation in Uganda:
Bus: There's plenty of bus and coach services in the country to help you travel around the country. Nearly all towns and cities in Uganda are linked by bus. Plus, this is a very affordable and convenient way to get around. Just be prepared to take the bus with low expectations. Getting from place to place might take longer than you expect because of road conditions and
The bus companies most commonly used for long-distance travel include: Horizon Coaches, Easy Coach, Link Bus Services, Post Bus, and Global Coaches Uganda. Most of the common bus companies offer busses travelling to cities like Mbale, Mbarara, Gulu, Fort Portal, and Jinja. On average, a one-way bus fare to most places will cost around 40,000 – 60,000 Ugandan shillings ($11 – $16).
The main way to book bus tickets is by either going to the bus station physically or calling the bus company directly. When you're taking the bus, the most reliable time table of departure times will be at the bus station in whatever city/town you're leaving from. I would recommend going to the bus station the day before to purchase your ticket as some of the more popular routes sell out fast!
Minibus-taxis: There's never any shortage of minibuses in Uganda (also referenced as Matatus). You'll notice these blue and white vans as soon as you arrive. They are one of the most common, and most affordable means of getting around, especially within a city or town. However, unlike busses, they don't run on a set schedule; but rather, they leave when full. In this case, full often means packed like a can of sardines. So be prepared to feel crammed in. Most routes cost 1000 Ugandan shillings ($0.28).
Boda bodas (Motorbike Taxi): Taking a Boda Boda is one of the most popular (and most exciting) ways to get around in Uganda. That being said, riding one should be approached with caution, and don't do it unless you feel comfortable. Either get the number of a driver that your accommodation recommends or use a mobile app such as SafeBoda where the drivers are properly trained on road safety and always carry a helmet for the passenger. This also takes away the pressure from negotiating prices with the driver because it's all taken care of in the app! Rides usually start at around 1,500 – 17,000 Ugandan shillings ($0.42 – $5) depending on the distance.
Taxi: Also known as 'Special Hires' in Uganda, private taxis are a comfortable and reliable way of getting around and may be helpful in some cases. Though, this will be on the pricier side in comparison to the other methods of transport. If you are going to take a private taxi, ensure you take a trusted driver, preferably recommended by your accommodation, and negotiate the fare before getting in. The taxi starting rate is around 4,500 Ugandan shillings ($1.30) and then 2,000 shillings ($0.56) for every 1km. If you were interested in hiring a car for a day, the price can range from $50 – $100.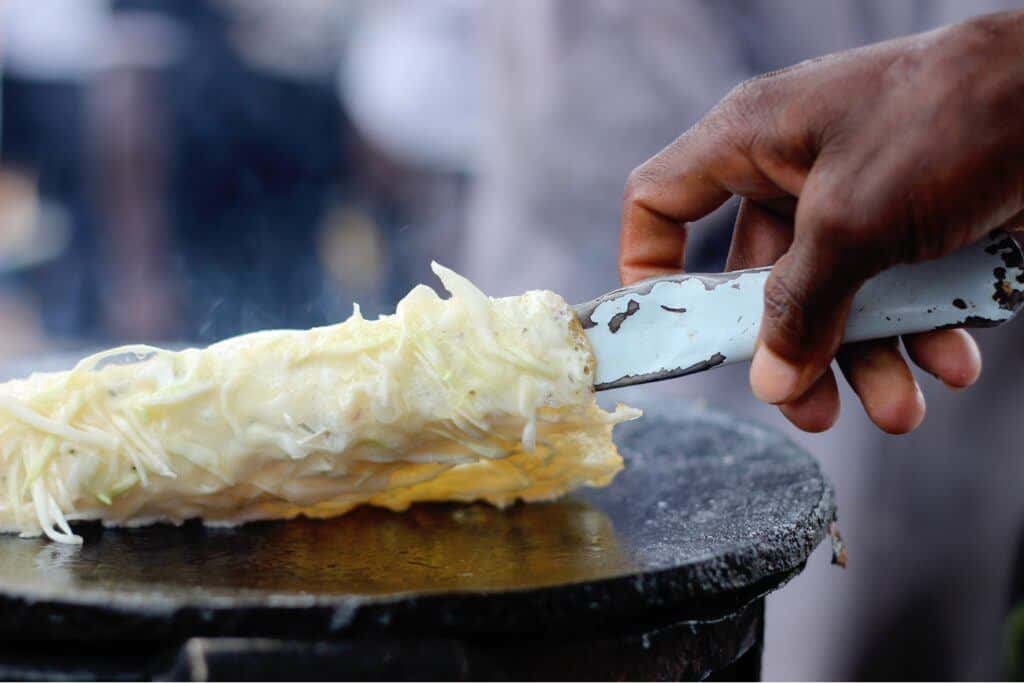 The Cost of Food in Uganda
You have plenty of food to choose from in Uganda, from local eats to western fare — take your pick, and all at reasonable costs! When it comes to local cuisine, some of the most popular Ugandan dishes include matoke (bananas), cassava (manioc), sweet potatoes, white potatoes, yams, beans, peas, ground nuts (peanuts), cabbage, and pumpkin.
A standout street food for me was Rolex, a popular choice amongst locals and travellers for an easy snack. Rolex is made by mixing chapati with fried egg to make an omelette and then rolling cabbage, tomato and onion into it to form a wrap-like shape. Simple, yet so delicious.
When eating from local stands or at inexpensive restaurants, an average meal will cost around 8,000 – 10,000 Ugandan shillings ($2.30 – $2.82). So if you decide to eat mostly local fares, you can easily spend around 20,000 – 25,000 Ugandan shillings ($5 – $7) per day. Not bad at all!
But if you're like me, and want to integrate some variety in your meals throughout the day, then there's plenty of mid-range restaurants serving up delicious eats. One of my favourite things to do in bigger cities is go cafe-crawling. Kampala has a vibrant coffee culture scene and some of my top picks included Cafe Javas and Prunes. When eating out at a more mid-range or western style cafe, you might expect to spend around 30,000 – 50,000 Ugandan shillings ($8 – $14) per meal.
If you have access to a kitchen during your stays and want to shop at the markets or local grocery stores, then you'll probably average around 50,000 Ugandan shillings ($14) for a bill that includes some protein, fruits, veggies, and whole grains.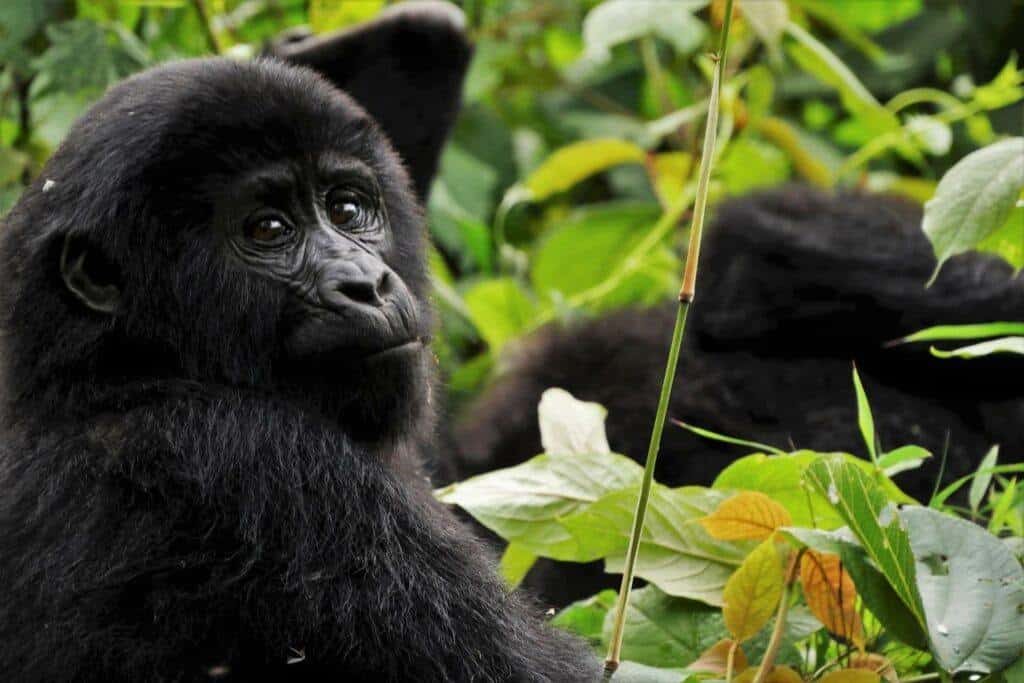 The Cost of Activities and Entrance Fees in Uganda
Now, I don't know about you, but when I was planning for my trip to Uganda, I simply had one thing on my mind: gorillas.
This region of Africa is the only place in the world where you can find wild mountain gorillas, and they're still a rare breed: just 800 of these beautiful animals remain in the world.
If you have the means, I would also put gorilla trekking at the top of your Uganda experiences list. Keep in mind that the best time of year to go gorilla trekking is in June, July, or August for peak weather conditions.
Hands down, one of the best places to experience adventure is in Jinja. Also known as the adrenaline capital of East Africa, you can partake in some dare-devil activities like bungee jumping or you can take a boat ride to see the Source of the Nile, which is the starting point of the longest river on earth.
I did a one-day tour from Kampala to experience some of Jinja's top sights, including the source of the Nile, Mabira Forest, and Sezibwa Falls. This was a great way to experience Jinja with a short amount of time, and I would definitely recommend it.
Then when it comes to national parks and wildlife, you have plenty of options to go on the safari of your dreams. Notable parks include Queen Elizabeth National Park, Murchison Falls National Park, and Kidepo Valley National Park.
Below is a breakdown of some of the costs you might expect for the top attractions in Uganda. Keep in mind that this mostly consists of just entrance fees. For safaris or trekking, your final prices will change depending on the company you hire and the length of stay.
Here's a breakdown of some popular attractions in Uganda and their respective costs:
Kidepo Valley National Park: $40 per person, per day
Mountain Gorilla Trekking (Bwindi Impenetrable Forest National Park): ~$970 per person for a 1-day tour with another person
Queen Elizabeth National Park: $40 per person, per day
Murchison Falls National Park: $40 per person, per day
Ziwa Rhino Sanctuary: $50 per person for 1-2 hours
White water rafting on the Nile River: $125 per person (Half-Day Rafting)
Bungee Jumping: $115 per person
1-day Jinja Tour (incl. source of the Nile Tour): $145 per person
Miscellaneous Expenses in Uganda
A local SIM card: I don't know about you, but one of my least favourite aspects of arriving in a new country is having to figure out how to get connected. Specifically: buying a local SIM card so that I have data to use while I'm in the country.
There's locating a store that will sell you one, language barriers to deal with, various forms of ID you might need to bring, scams to navigate, and… well, it's a headache.
This year, I started using Airalo, which sells local e-SIM cards for travellers. What that means is that you can buy your SIM card online before you arrive in Uganda, and then as soon as you land in the country, you can switch on your data and start using it. It's worked flawlessly for me and I'll never go back to physical SIM cards. You'll pay $9 for 1 GB of data or $35 for 5 GB of data and can top-up instantly on your phone through the Airalo app.
The Cost of Travel Insurance in Uganda
If you've read any other posts on Never Ending Footsteps, you'll know that I'm a great believer in travelling with travel insurance. I've seen far too many Go Fund Me campaigns from destitute backpackers that are unexpectedly stranded in a foreign country after a scooter accident/being attacked/breaking a leg with no way of getting home or paying for their healthcare. These costs can quickly land you with a six-figure bill to pay at the end of it.
In short, if you can't afford travel insurance, you can't afford to travel.
Travel insurance will cover you if your flight is cancelled and you need to book a new one, if your luggage gets lost and you need to replace your belongings, if you suddenly get struck down by appendicitis and have to be hospitalised, or discover a family member has died and you need to get home immediately. If you fall seriously ill, your insurance will cover the costs to fly you home to receive medical treatment.
I use SafetyWing as my travel insurance provider, and recommend them for trips to Uganda. Firstly, they're one of the few companies out there who will actually cover you if you contract COVID-19. On top of that, they provide worldwide coverage, don't require you to have a return ticket, and even allow you to buy coverage after you've left home. If you're on a long-term trip, you can pay monthly instead of up-front, and can cancel at any time. Finally, they're more affordable than the competition, and have a clear, easy-to-understand pricing structure, which is always appreciated.
With SafetyWing, you'll pay $1.50 a day for travel insurance.
How Much Does it Cost to Travel in Uganda?
It's time to tally up all of my expenses to see my total travel costs! It might seem like the total average amount is high, but that's because you're likely to experience some activity that adds on to the final amount spent. Uganda is a good country to spend more on experiences anyways!
Accommodation: $25 per day
Transportation: $15 per day
Food: $20 per day
Activities/Entrance Fees: $145 per day
Average amount spent in Uganda: $205 a day!