I'd been dreaming about visiting Cairo for years.
What can I say? I love spending times in bustling cities that are packed to the brim with ancient architecture, numerous UNESCO World Heritage Sites, and vibrant, unfamiliar cultures. I had a feeling that Cairo would check every single one of those boxes.
And did it? Yep!
Cairo is known as the City of a Thousand Minarets and because of this, the streets are always loud and busy, full of movement and colors; just how I like them. Every corner has a mosque around it, and the call to prayer rings out loud and proud, five times a day, continually inviting you to stop and reflect.
And the sights? I'm sure you can imagine how impressive they are. Getting to see the Pyramids of Giza for the first time was the most breathtaking experience, and who wouldn't be blown away by the majesty of sailing down the Nile at sunset?
I fell in love with Egypt from the moment I stepped foot on its dusty shores, and subsequently decided to dedicate a significant portion of my travels to exploring it more. As I write this now, I've been fortunate to have now spent an incredible six months travelling across the country, with two of those spent basing myself in Cairo.
And so, today, I'm excited to start kicking off my Egypt coverage by sharing how to spend three days in chaotic, charming Cairo.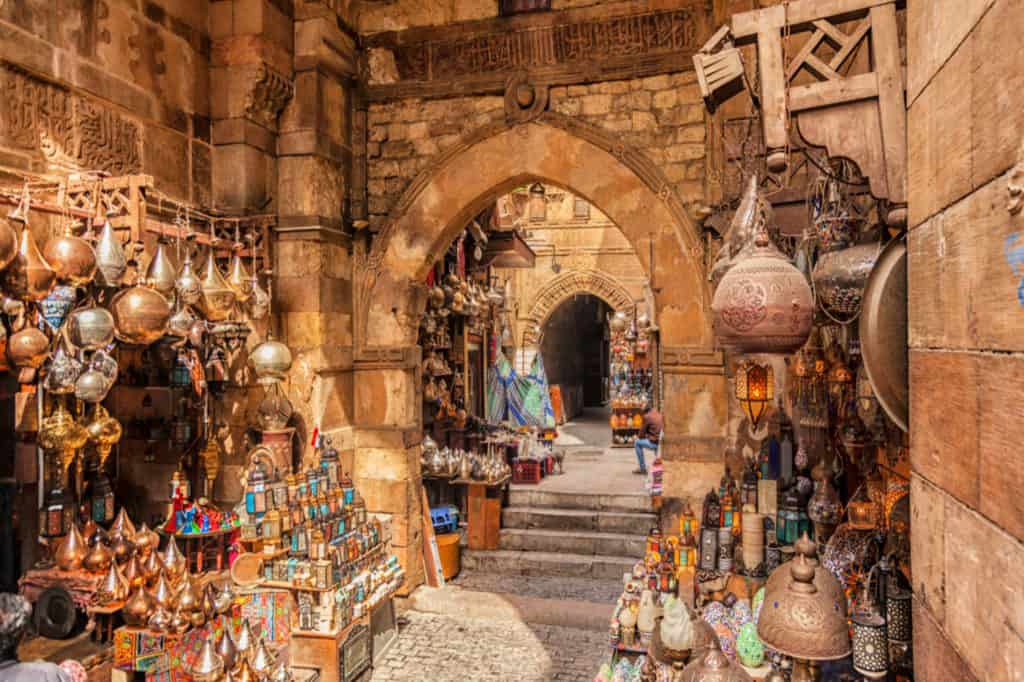 Why You Should Absolutely Visit Cairo
Before we jump into my itinerary, I want to first share a little more about what makes Cairo so special.
In my opinion, this city is works well for so many types of trips and travelers. For all of my backpackers out there, you can easily experience the city on a shoestring, paying as little as $4 a night for a hotel room, plus mere cents for your meal. But there's also a wide selection of luxury options dotted across the city — some five-star hotels are as little as $120 a night! — if you want to experience Cairo's grander side. If you have the budget, it's well-worth splurging a little in this city.
In terms of neighborhoods, you've got a true spectrum of experiences to dive into. From the center of Cairo, which brings the local vibes and is always loud and crowded, to the more affluent neighborhoods, like Zamalek, which offers up hipster cafes, delicious brunches, and a much more tranquil atmosphere. It's worth hitting up as many of Cairo's neighborhoods as you can, as they all have something different to offer. Zamalek, though, was an easy favorite for me.
You guys know that I love to explore a city's streets on my feet, and I found wandering the alleyways of Cairo to be fascinating. It's true: I've done some of my best people-watching while in Cairo. As you meander through the city, you'll run into a vast array of street vendors around every corner, and you'll find you can't venture more than a few feet without coming across the next cafe. I quickly learned that Egyptians absolutely love their tea, or shai, and they'll sit and sip it from tiny Arabic tea cups, with mounds of sugar, for hours while playing backgammon.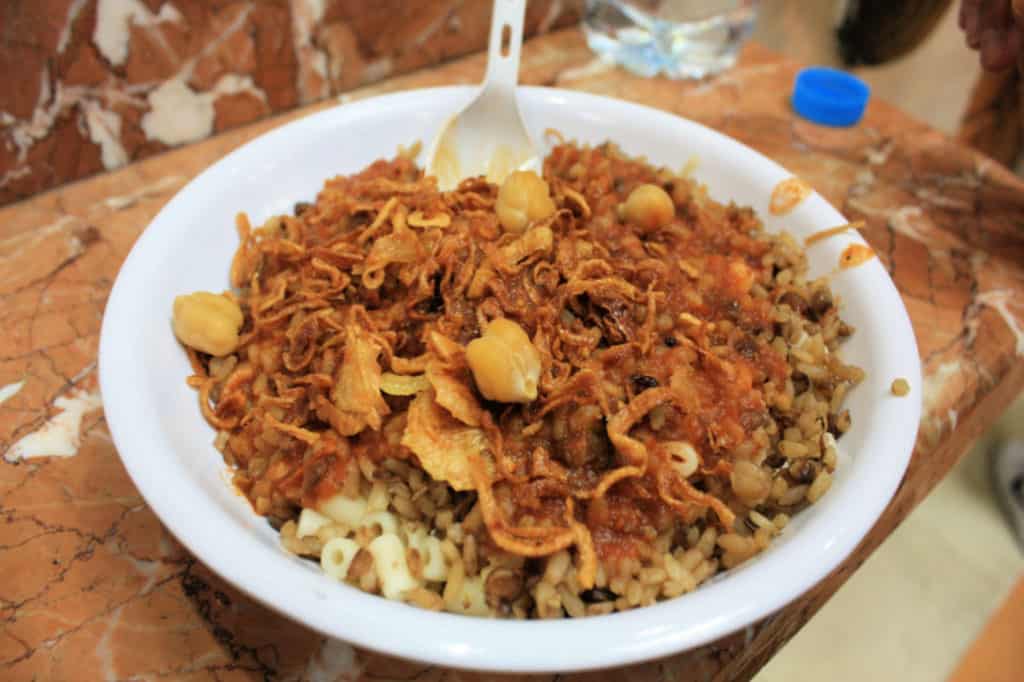 And speaking of street vendors: to my great delight, I discovered that Cairo is home to some incredible dishes, like the iconic koshari, which attempts to marry as many carbs as possible (rice, pasta, lentils, chickpeas, tomatoes, and fried onions) into one hearty dish. You're going to love it.
Unsurprisingly, food is super cheap in Egypt, so if you're eating from small, local restaurants you can easily get a meal for less than a dollar or two. Look for where the locals are eating to ensure you avoid food poisoning.
With all that being said, Cairo is intense. I can't deny that. I think if I'd rocked up in this city as my very first solo travel destination, I'd have likely panicked, turned around, and hopped on the next flight out of there! The streets are always loud and overcrowded, it's dirty and dusty, the roads are manic, and you have to haggle for everything. Ten million people call Cairo home, and sometimes it can feel as though they're all squeezed down the same street that you're on. And yes, you will experience harassment as a woman.
I don't recommend that you head to Cairo as your first ever city break, but if you're brave enough to take it on, I guarantee you'll leave culturally enriched and in awe of this incredible city.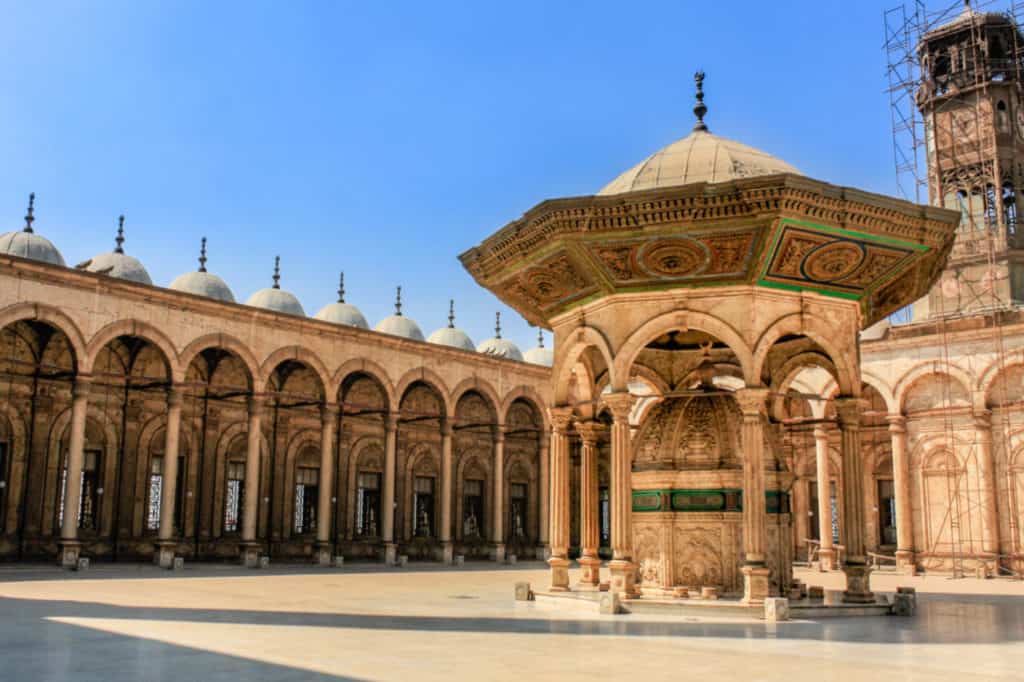 How Many Days Should You Spend in Cairo?
I mentioned above that I spent two months living in Cairo, so my love for this city is clear. However, visiting a city as a tourist is different to living there; that's why I believe three days is the perfect amount of time to spend in town.
With three days, you'll be able to see the vast majority of the attractions. Day one will be allocated to the city center, day two will be all about the Pyramids and the Nile, and day three will focus on the Islamic side of Cairo.
And beyond that? Even I can hold up my hands and admit that Cairo becomes a bit stressful and overbearing if you stay for much longer, so get your three days under your belt, and then venture off to explore more of wonderful Egypt.
That's enough of my waffling! Let's jump into how to spend three days in Cairo.
Day One: Visit Zamalek and the City Center
I mentioned above that Zamalek was my favorite neighborhood in Cairo, and I recommend basing yourself in this area while you're in town. I stayed at the gorgeous Houseboat65 Hotel and loved it. It's a houseboat! On the Nile! How cool is that? There's nothing quite like sitting beside this mighty river, sipping your morning tea and watching the boats pass by.
If you do decide to stay in Zamalek, your first activity is going to be particularly accessible: exploring, um, Zamalek! Simply step outside your front door with a camera in hand, and get ready to discover one of the city's coolest areas.
Zamalek is also referred to as Gezira Island, and is one of the most modern, hipster neighborhoods of Cairo. As the name implies, it's located on an island in the middle of the Nile, just a bridge-crossing away from the rest of the city. As you wander the area, you'll come across cute cafes selling cappuccinos and iced lattes, and boutique shops with organic skin products and local produce wrapped in fancy boxes. The streets are leafy and peaceful; quiet and orderly — at least by Cairo's standards!
The main reason why I recommend traveling to Zamalek first is precisely because of all these reasons: Cairo can be a shock to the system, so kicking off your explorations in a laidback area of the city makes a hell of a lot of sense. Think of it as dipping a toe into the waters of Egypt: start peacefully and then work your way up.
So what should you look out for while you're in Zamalek?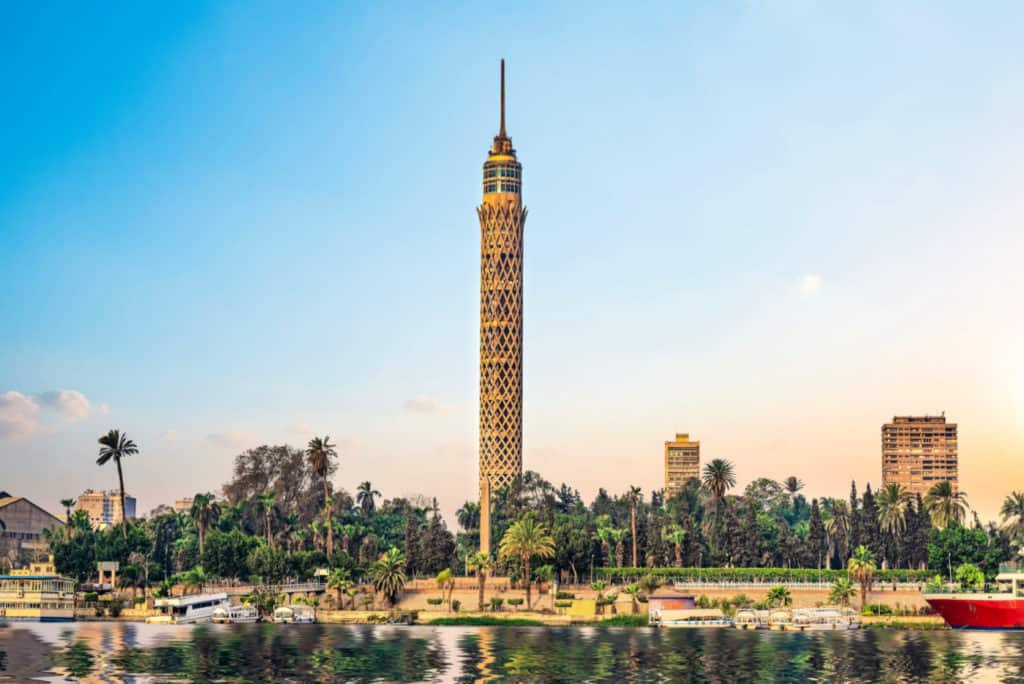 The island isn't very big, and you could explore most of it by foot on your first morning in town. Make sure you catch a glimpse of the 614-foot tall Cairo TV Tower on the southern part of the island. You can go to the top for a fee too! Aside from that, there are a few museums and culture spots worth visiting, like the Museum of Modern Egyptian Art and Cairo Opera House.
If there was one neighborhood that I would safely say you can explore alone in Cairo, it's Zamalek. It's here where you can confidently get lost in its winding streets, where you'll discover hidden art galleries, quirky shops, and stunning views of the Nile along the way.
Numerous foreign embassies and consulates are in Zamalek, so don't be surprised if you walk past grand buildings with guards outside them every once in a while. I always love the architecture of embassies when I travel.
Next, hop in an Uber and get yourself to Downtown Cairo. Be prepared for a total change in atmosphere. Whilst Zamalek is quiet and fairly empty, Downtown Cairo is absolutely wild! It reminded me of the chaos of Old Delhi, India. The streets are always full of crowds and there are cars tooting their horns everywhere — it's far from tranquil!
But the liveliness of this neighborhood of Cairo is energizing and contagious.
Start in iconic Tahrir Square, which has been the epicenter of many of the protests and uprisings, like the Egyptian revolution in 2011, when thousands of Egyptians took to the streets to stand against President Hosni Mubarak and his government.
It was also the site of the 1919 Egyptian Revolution, after which it was given its current name, which translates to Liberation Square, although it wasn't officially changed till 1952.
The square isn't the prettiest, and there's a huge roundabout in the center that is jam-packed with cars at all hours of the day, but you can't visit Cairo and miss such a historically important spot!
There's also a statue of Omar Makram in the square and most importantly the Egyptian Museum of Antiquities that has artifacts spanning over 200,000 years of Egyptian history.
Walk to the end of Talaat Harb Street from Tahrir Square and you'll find yourself at Talaat Harb Square. The square has a statue of Talaat Harb, an Egyptian entrepreneur, and was once a prominent spot for shopping and entertainment.
Most of the famous buildings are now in disuse, like the Groppi tearoom and Cafe Riche, but they stand as a testament to Cairo's colonial past and are prime examples of French neoclassical architecture.
From here, there are many streets leading off the square that are lined with busy cafes and some of the city's best restaurants. Stop for a tea before you continue exploring!
After that, I'd recommend allowing a bit of time to stroll around the center and get a bit lost. The city center is safe and always busy, so you don't need to worry about getting stranded anywhere.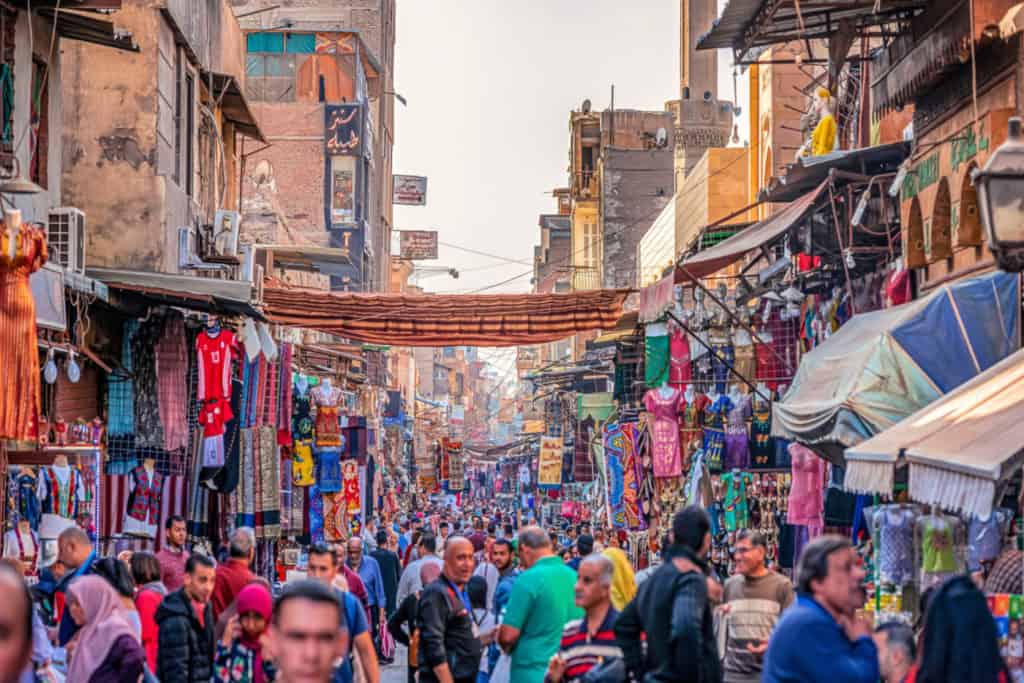 The truth is that most of Cairo's best attractions aren't on the map. They're hidden down unexpected streets and in unexplored corners of the city. They aren't the Pyramids (although the Pyramids are amazing, don't get me wrong), they're the ancient arches that appear as you turn a corner and seem to be of no relevance, the breathtaking carvings on stone walls, and stunning doorways weathered by time.
Cairo was founded in 2,000 BC and since then it has been reigned by countless monarchs and an array of empires, from the Romans to Sultans. Its long and varied history has left imprints on every corner of this mesmerizing city. To find Cairo's essence, you'll need to put your must-see list aside for an hour or two and allow yourself to just explore, with no agenda!
Another of the most fascinating things about Cairo is the culture. It's so different from Western culture that everything will seem unfamiliar. At the start, it's hard to see any order in the chaos that characterizes most of Cairo's neighborhoods.
But, if you stop and observe you'll start to notice that Egyptians are respectful, dignified people who follow strict cultural norms.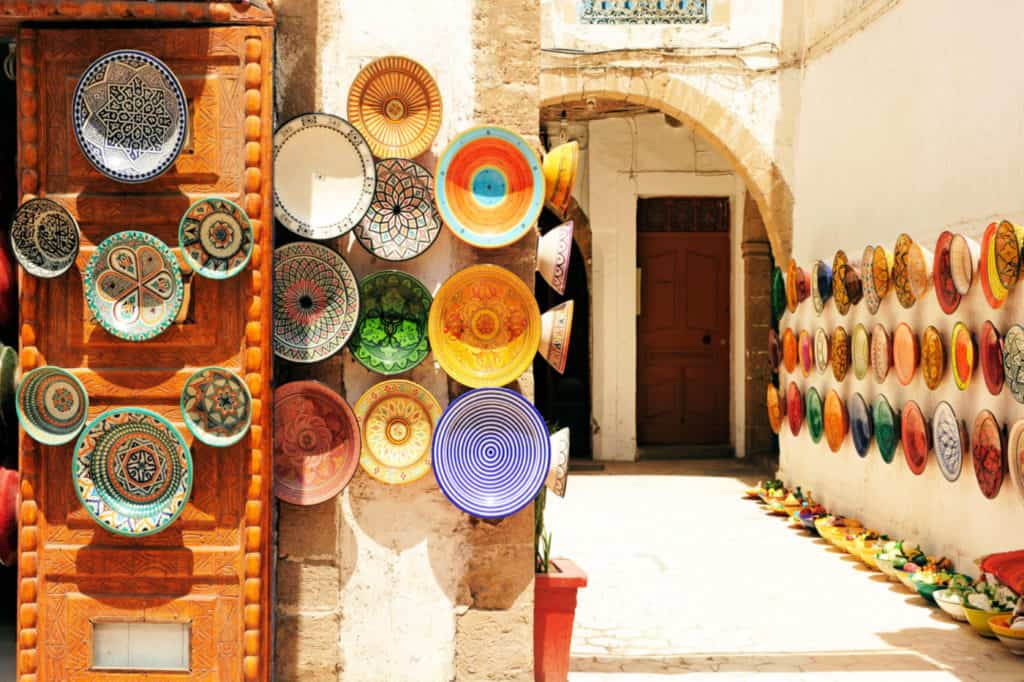 Something else you'll start to realize is that, as a tourist, you're never getting the local price. Egyptians will start at the highest (almost quite ridiculous) price they think they can get away with, and then it's totally down to you to haggle your way out of it.
To tell the truth, even after haggling, you'll probably still be paying at least twice what the locals are, but now you can say you shopped like a local!
If you were raised in the West, you've probably never haggled before and it can feel a bit uncomfortable and unfamiliar at the start, but it's the Egyptian way: challenge yourself and give it a go!
It's handy to learn some of the arabic numbers and sentences like "ma3andeesh floos" (well-pronounced in this video), which translates to "I don't have any money", before you go. Don't take yourself too seriously when you haggle and it'll often turn into a humorous negotiation between you and the vendor.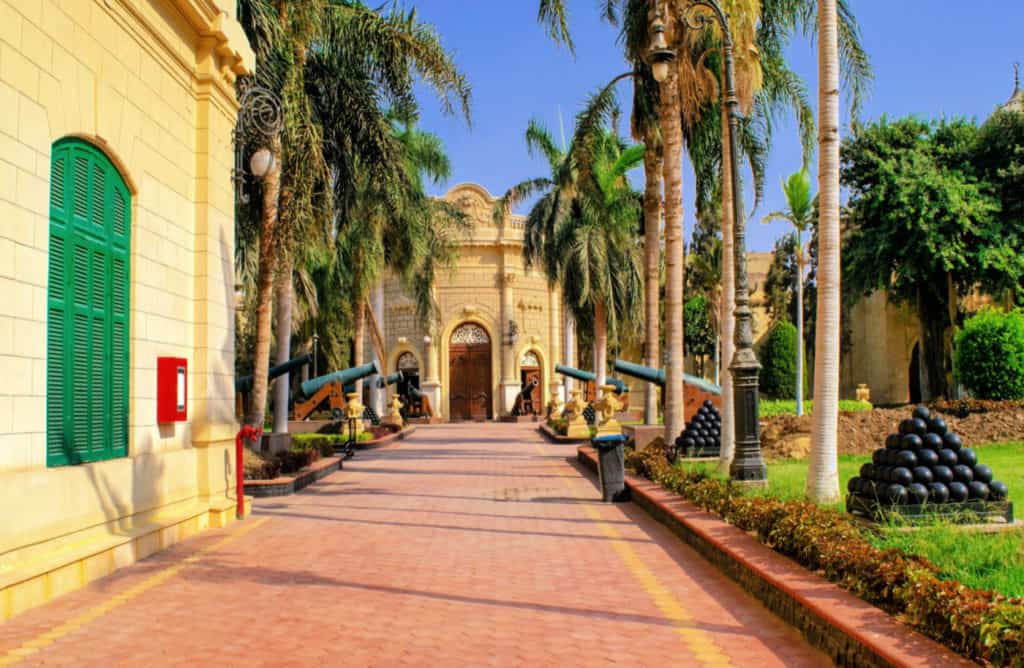 Before leaving Downtown Cairo, make sure you visit the Abdeen Palace. It's just a five minute drive away from Tahrir Square! The palace is grand, enormous, and has spectacular ornaments in every corner – history fans will especially love it.
Construction of the Abdeen Palace began in 1863 and continued until 1874. It was built where the ruins of Abdeen Bay's old house stood. It is now the main office and official residence of the president. There are numerous museums on the bottom floor of the palace that you can venture into, like the Arms Museum.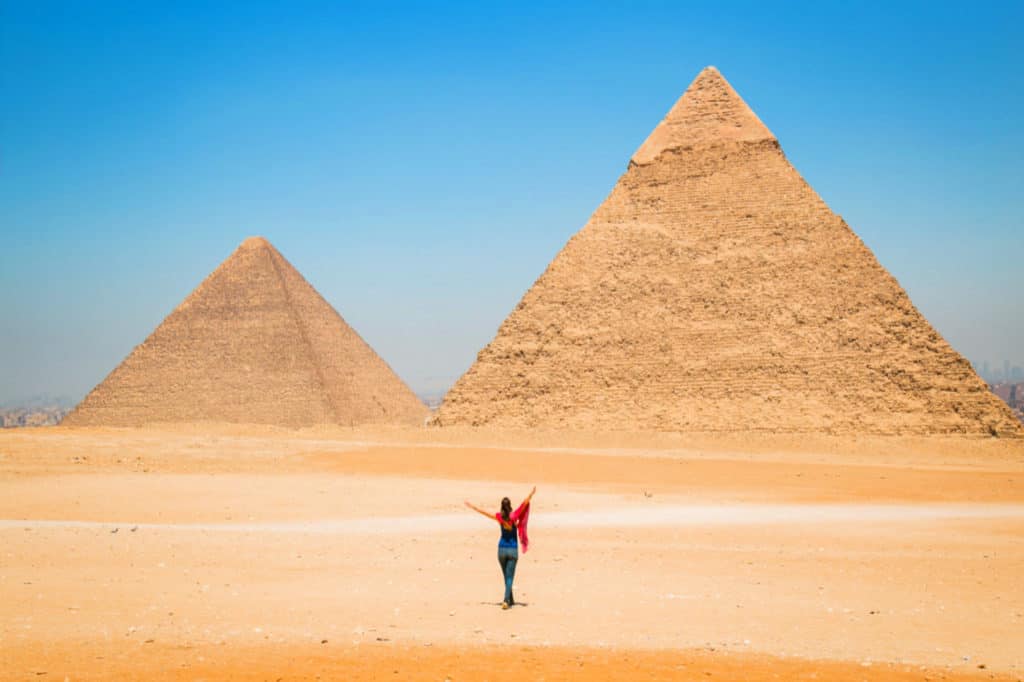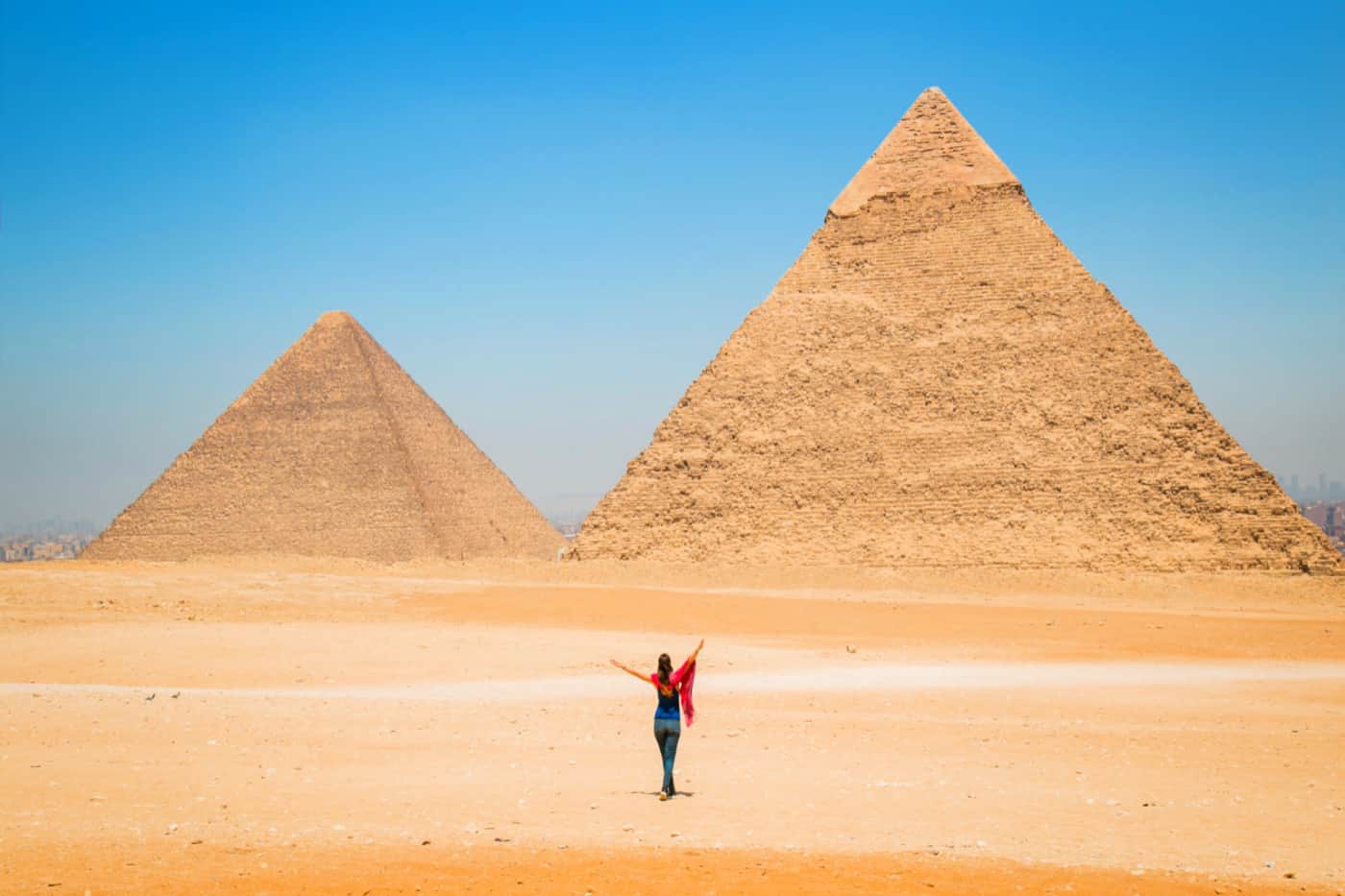 Day Two: The Main Attractions
Let's be honest, no one comes to Cairo without going to the Pyramids. They are the most famous and world-known attraction the city has to offer. You might be surprised to hear that the Pyramids aren't actually in Cairo, they're just outside in the nearby city of Giza. Of course, that does explain why they're called the Pyramids of Giza.
Still, they're close-by: it'll take you about half an hour to an hour to get from central Cairo to the entrance of the pyramids.
I suggest setting off early (around 7 a.m.) for a number of reasons.
Firstly, you'll miss the crowds that arrive later on in the day in their hundreds, forming long queues at the ticket office and crowding around the Pyramids and Sphinx. The pyramids aren't quite as majestic when there are groups of shouting friends and herds of tourists with selfie sticks. May I present Exhibit A?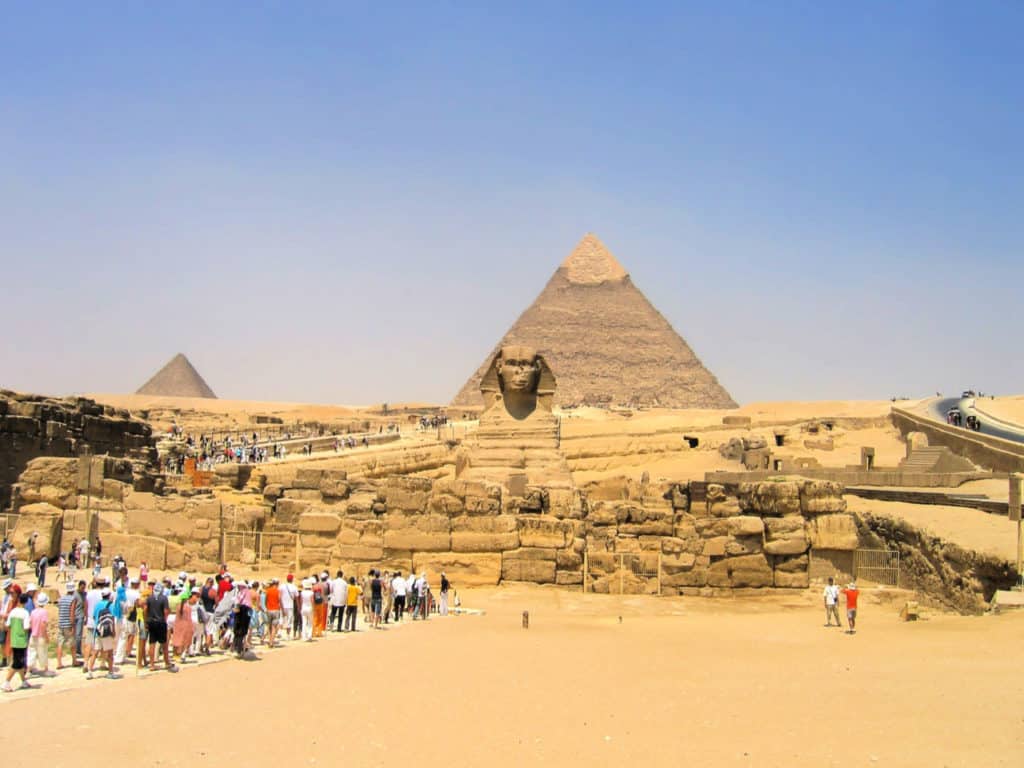 But more than anything, I suggest getting there early because of the sun. There is absolutely no shade at the Pyramids of Giza. You are surrounded by desert sand and not a tree in sight. It gets very hot and after an hour walking around in the afternoon sun you'll start to feel tired, sunburnt, and frustrated. Do yourself a favor and come early!
Once you've got your tickets, step onto the barren trail that winds its way between the three Pyramids (that are surprisingly far apart from one another) and the Sphinx. The sheer size of these incredible structures, built in 2550 BC, will leave your mouth hanging open. It's amazing to think you could once scramble up the giant rocks and enjoy the views from the top!
Each stone that makes up the pyramids is about the same height as you, and you'll find yourself scratching your head and doing a lot of unresolved mental mathematics as you try to figure out how they got there.
The Sphinx is equally as impressive and huge. There's something captivating about this mythical creature's poised position and on-guard appearance. You'll have a great time taking silly pictures of yourself with the sphinx too!
Needless to say, remember your camara. The pyramids are a haven of picture-perfect views and magnificent travel photo opportunities.
There are a few things you need to be wary of when you visit the Pyramids, and a few things you should know that you likely haven't been told about.
My first piece of advice is that you bring water; lots of it. There are no cafes or restaurants super close to the pyramids, and there's nothing but stone and sand inside, so bring everything you need with you.
If you're going later in the day, wear a hat and sensible clothing to protect you from the sun, especially if you're going in spring or summer.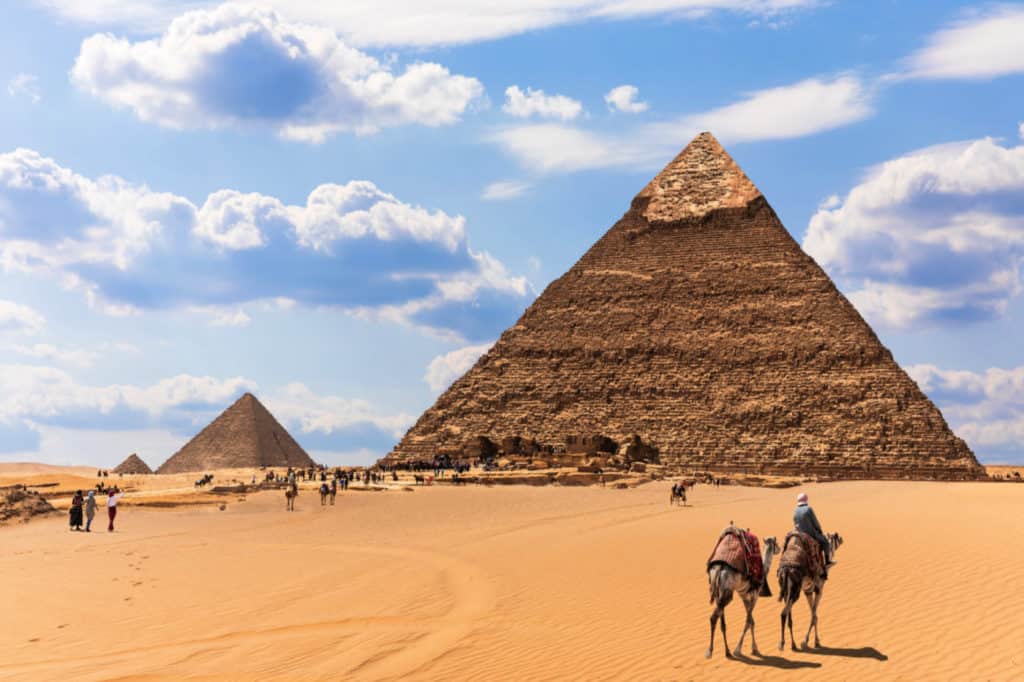 You can go to the Pyramids independently, but there aren't any information plaques around the site, so you won't learn much about the history or importance of the site. I'd suggest going on this guided tour at a price of $35, so you can get all the inside information about this World Wonder from a local and knowledgeable tour guide.
Now, here are the strange and unexpected things you should be aware of. One, you're going to be approached by men offering you camel rides all the time. Seriously, all the time. They can be quite insistent, but don't let it ruin your experience, just walk away.
Secondly, don't just hire anyone who calls themself an official guide to show you around. There are lots of cunning fake guides at the Pyramids; make sure you're actually getting an official guide or go with the tour guide company I recommended.
All that said, enjoy! This is one of the coolest places on earth, so relish every second of it.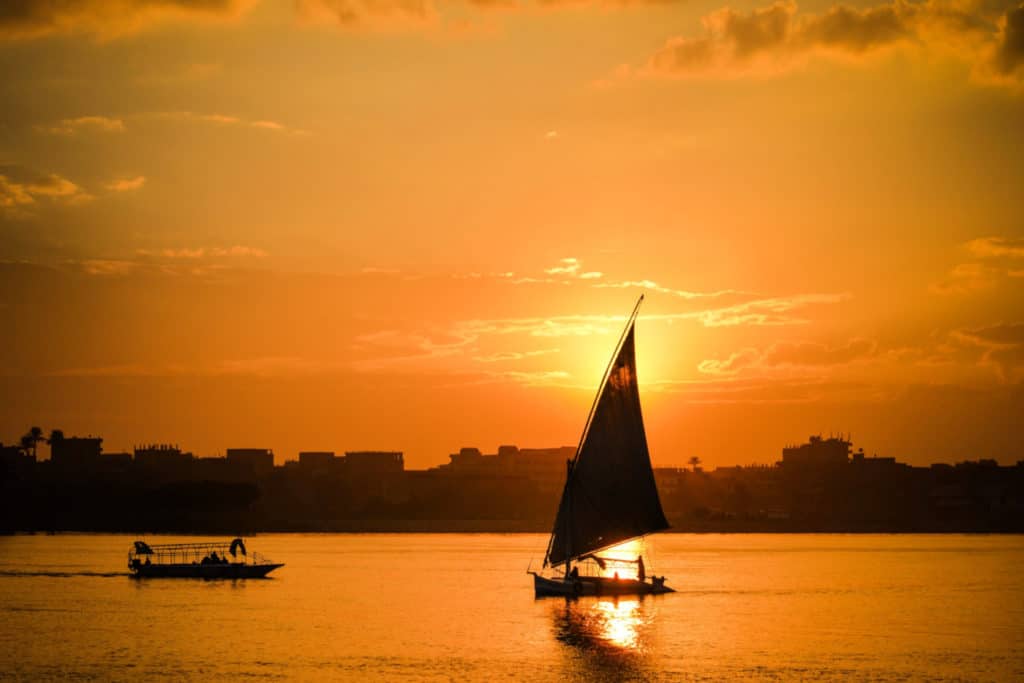 After an exciting day at the Pyramids, go on a cruise down the Nile in the evening! You might not know this, but Egypt is the birthplace of belly dancing.
Egyptian celebrations are often accompanied by belly dance music and big events, like weddings, often hire a belly dancer to get the crowd dancing! Belly dancers are treated with respect and revered by locals.
River cruises down the Nile come with dinner and a belly dance show, and they're one of the most iconic experiences the city has to offer. Dine on traditional Egyptian dishes whilst a belly dancer in beautiful attire twirls and shimmies in between the tables. It's a one-of-a-kind experience, and you'll pay $30 for the best cruise in town.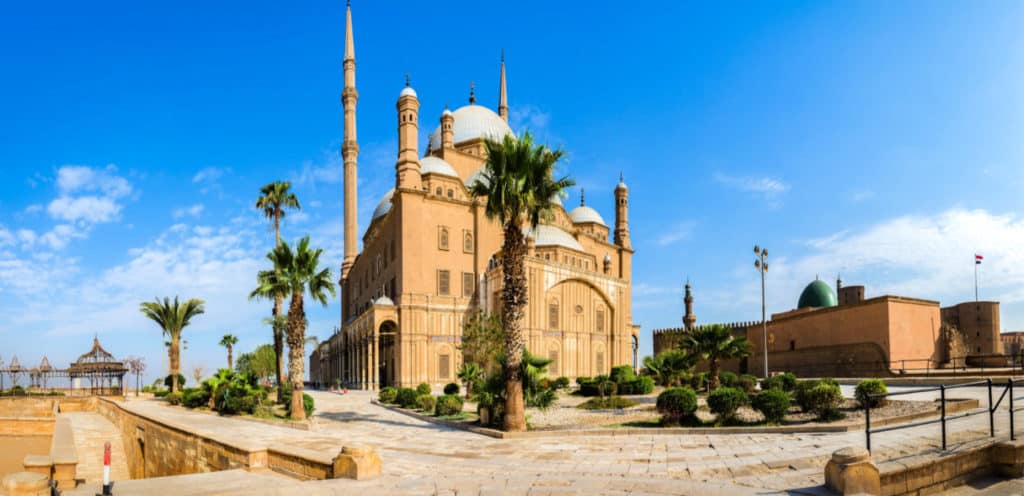 Day three: Experience Cairo Like a Local
Kick of your third morning in town by hitting up the Cairo Citadel, which is also known as the Citadel of Saladin. The citadel is located in the area of Cairo known as "Islamic Cairo", which is yet another one of my favorite parts of this wonderful city. You'll find it atop of Mokattam Hill, where it has towered over the area since the Middle Ages.
The citadel was named after An-Nasir Salah ad-Din Yusuf ibn Ayyub, or Saladin for short. He was a famous warlord and strategist who later became the Sultan of Egypt and overthrew the Fatimid Dynasty, establishing the first Ayyubid Dynasty in the country in one fell swoop.
It was back in 1176 that he ordered the construction of the citadel to protect what is now modern-day Cairo from the Crusaders, and to serve as the heart of the Egyptian government.
A hell of a lot has happened since then, but the citadel is still one of Cairo's most important monuments. It's even a UNESCO World Heritage Site!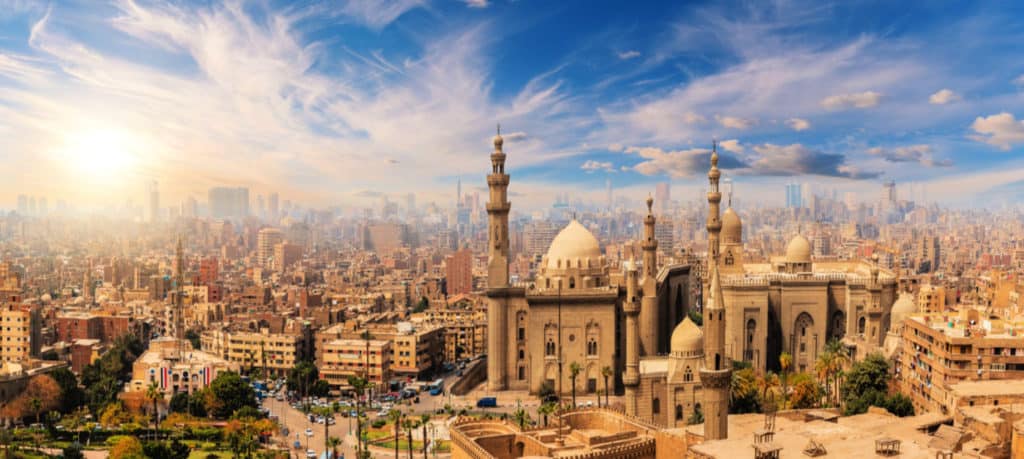 The citadel is a complex that comprises four museums and three mosques, so you could easily lose an entire day to wanderings around here. If you only have time for one — or aren't much of an architecture enthusiast — go for the Mosque of Muhammad Ali (no, it's not named after the boxer!)
The Mosque of Muhammad Ali is the largest in the space, and the most impressive, so it's definitely the one to prioritise.
Personally, I loved all three mosques and recommend making time to explore all of them. You've got the Al-Nasir Muhammad Mosque and the Mosque of Sulayman Pasha al-Khadim remaining. The former was the royal mosque for the city, where the sultans of Cairo undertook their Friday prayers, while the latter is It is the first mosque in Egypt that displays an Ottoman architectural style.
There's three museums within the citadel, too — the National Military Museum, the Al-Gawhara Palace Museum, the National Police Museum, and Royal Carriages Museum. Trust me when I say that none of them are particularly great, so you could easily skip over them all without needing to feel guilty about doing so.
From the top of the hill there are spectacular views of Cairo below, so before you leave the grounds, make sure you take all the beautiful photos.
After visiting the notorious Cairo Citadel, head deep into the heart of Old Cairo to El Moez Street. The street starts at Bab el Fotouh where it has its north entrance, and ends at the south entrance at the Tentmakers' Market.
You'll see this street referred to as many names: Moez Street, El Moez Street, Al Moez Street, Al-Muizz li-Din Allah al-Fatimi Street, Al-Muizz Street… know that they're all referring to the same place in Cairo.
Prepare to be swept away by crowds of people walking in between stalls and let your senses be overcome by the noises and smells that fill the air.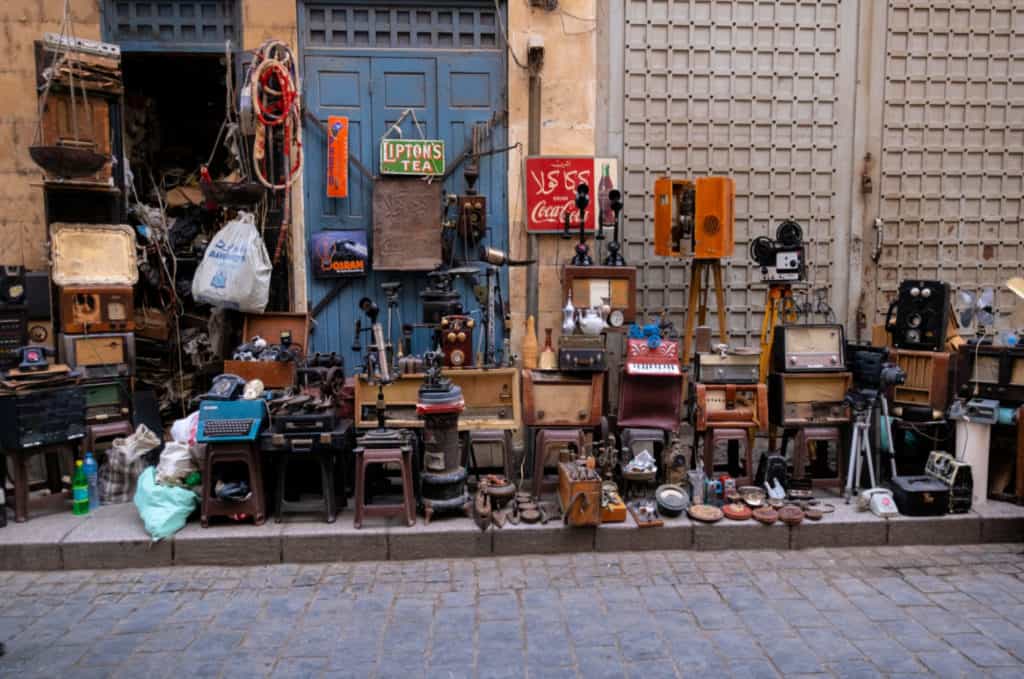 Moez Street is definitely not one for people who hate crowds and shy away from busy streets, but it is one of the most beautiful and intriguing places in the city. Aside from that, it has an authentic, local feel to it. There are few tourists around, and that's how you know you've come to one of Cairo's true gems.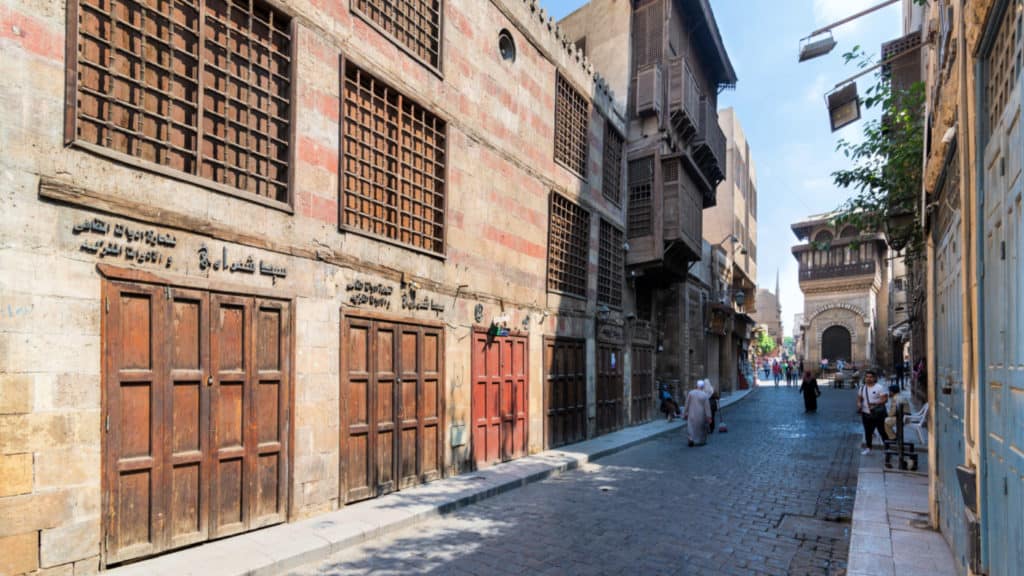 The street was named after Al Moez Ldin Allah Al Fatimi, the fourth Caliph of the Fatimid Dynasty who reigned from 953 to 975. There are numerous historical buildings along the street, and arches and mosque minarets around every bend.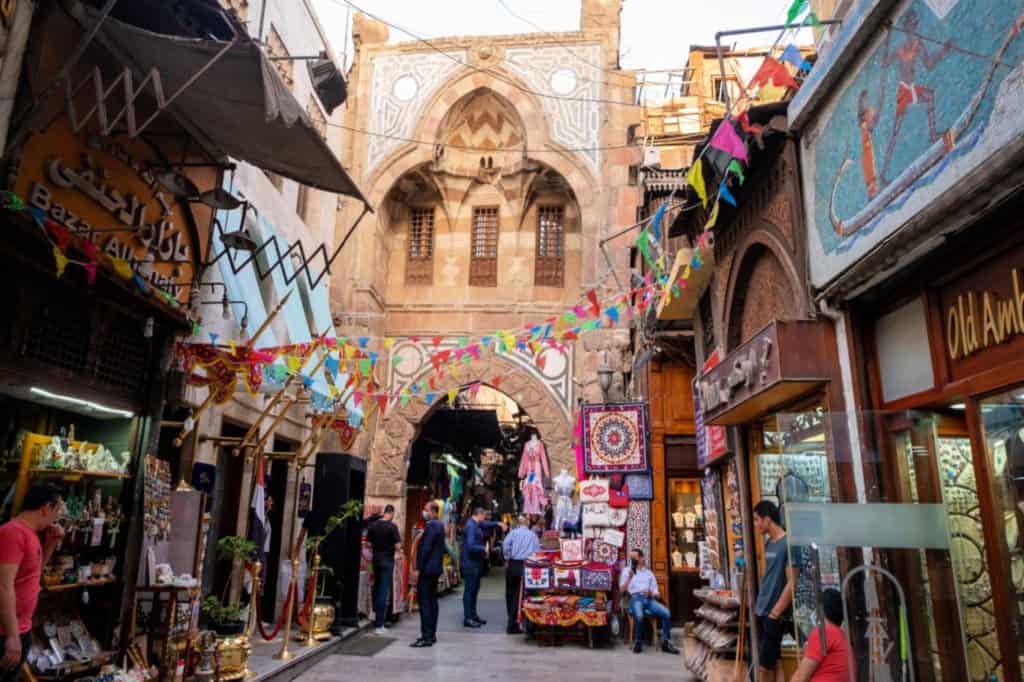 Stalls line both sides of Moez Street, and little crafts stores are built into the old buildings. Watch craftsmen at work embroidering intricate tapestries, making candles using traditional methods that have been employed for centuries, and shaping leather into stylish bags. It's the best place to buy souvenirs!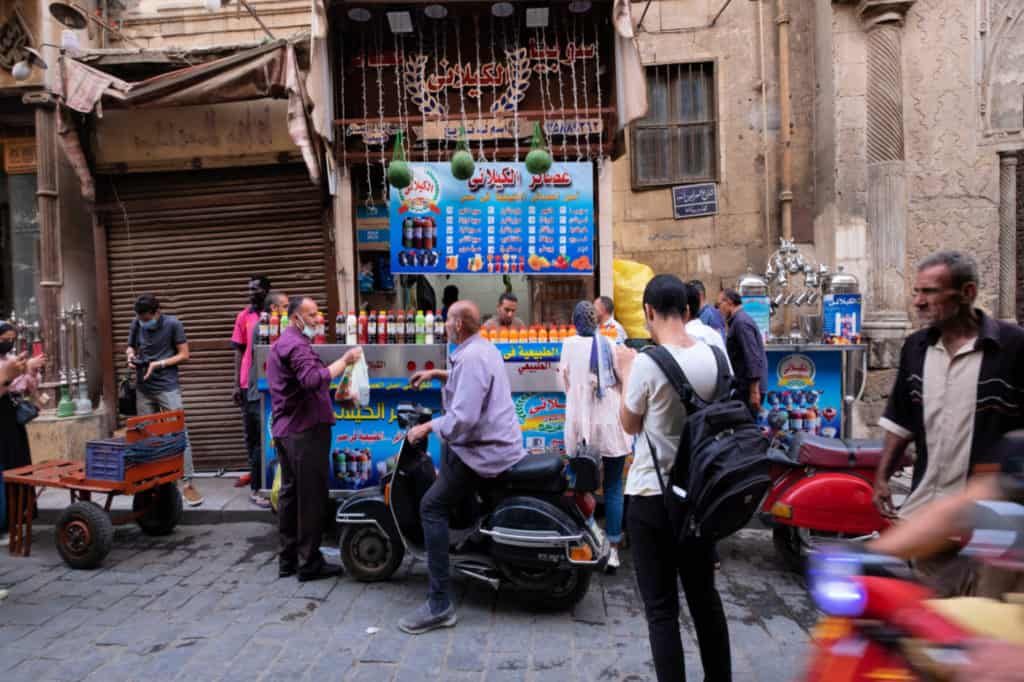 Food stalls waft the smell of falafel into the air, and there is an invigorating buzz about the place. Get lost in this dizzying maze of colorful stalls, stunning archways, and breathtaking historical buildings.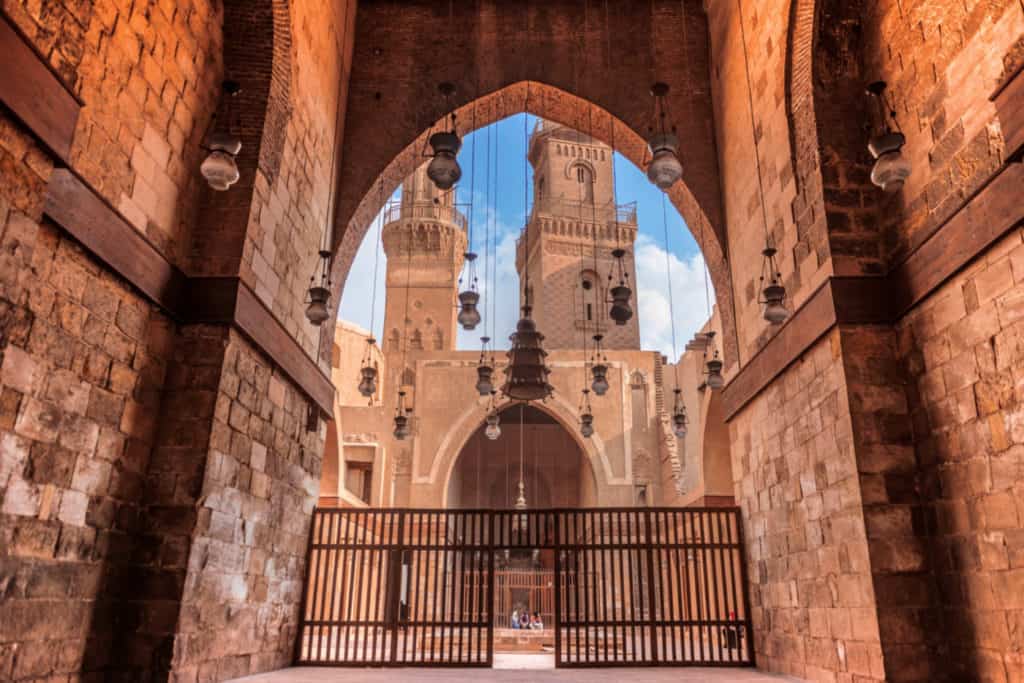 The UN reported that this street has the greatest concentrations of medieval architectural treasures in the world, and when you get there you'll quickly understand why. Stunning mosques line Moez Street and silence the rush of people every time a call to prayer begins.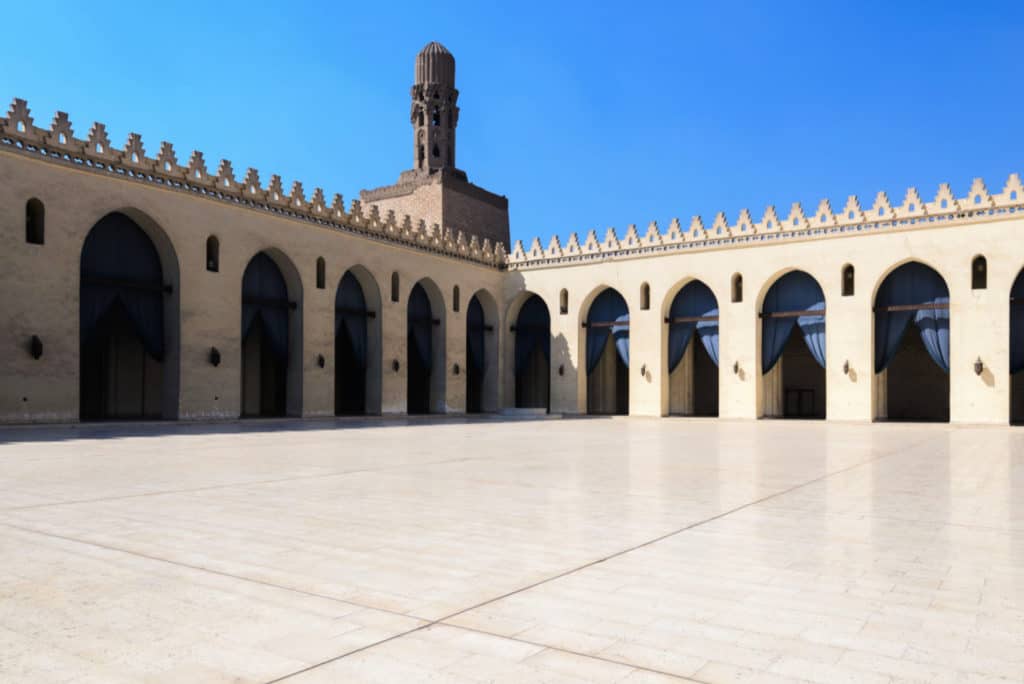 Buildings worth keeping a lookout for, and going into, include the Al Hakim Mosque that was built in 992 AD, the Ottoman-era Sulayman Agha Al-silahdar mosque, and the Beit El Seheimy museum, which perfectly replicates residential Ottoman architecture.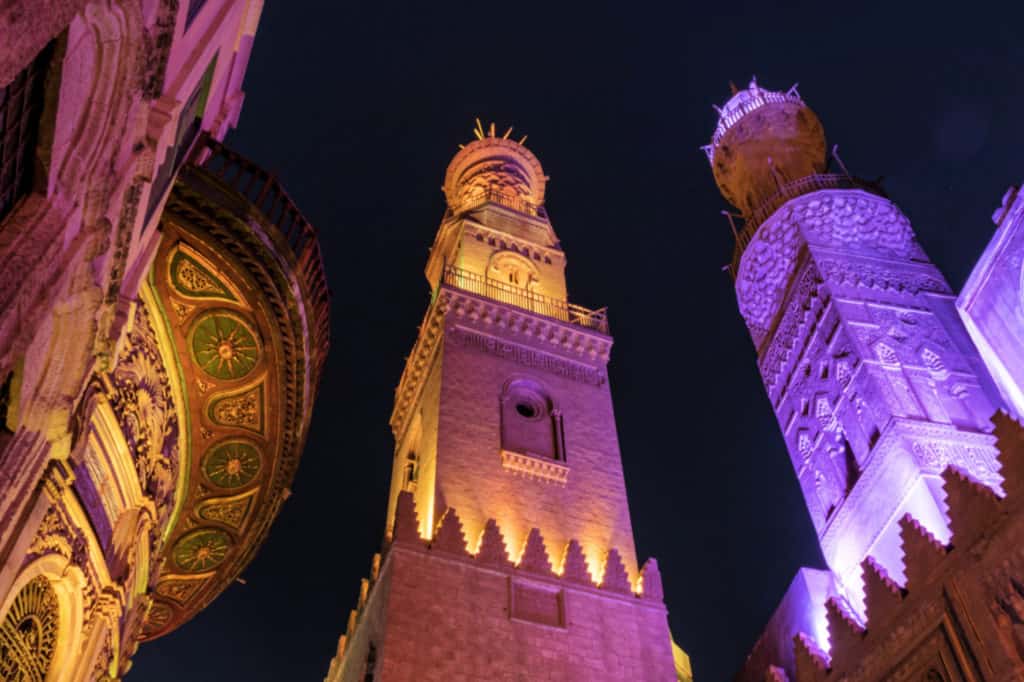 You could spend days at Moez Street, so you'll have to be selective about what buildings and mosques you go into. Follow your intuition and decide for yourself which you think are the most impressive! Most are free. Remember to cover up and bring a head scarf if you're a woman.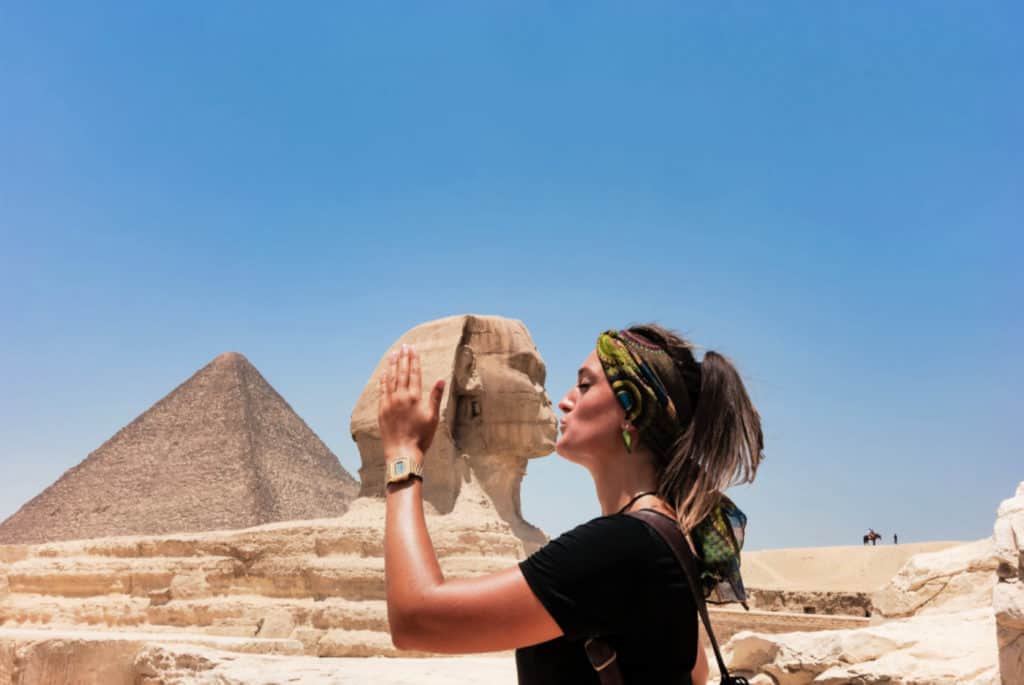 What to Know About Cairo Before You Go: How to Stay Safe
Cairo is pretty safe. In fact, Egypt has a lower crime rate than the United States on a number of crime indexes. They have lower rape statistics, gun crimes, and murder rates than New York for example.
I never worried about being mugged whilst I was there, unlike my experience in cities like Chicago. Cairo is objectively quite safe. Of course, there is a difference in the experience men and women will have in Cairo, and it's considerably more polarized than in other cities.
If you're traveling alone as a woman you won't necessarily be unsafe, but you will receive a lot of unwanted attention. Out of respect to the country's culture and religion, I also recommend wearing long trousers and tops.
Like all cities, Cairo is less safe at night. Stick to busy roads with lots of lighting and try to avoid going out alone at night, especially if you aren't sure where you are.
My top three safety tips are:
Put your passport and money into an anti-theft bag and hide it around your waist, below your clothes.
Sew a pocket into your waistband that can fit your credit card and a bit of spare cash for emergencies.
If you're worried someone is following you, lean against a wall and pretend to be tying your shoes, that way they will walk past you and you can change your route.
Overall, Cairo is safe and you shouldn't have any problems. Use your logic and follow these tips and you'll have a safe and fun time on your trip.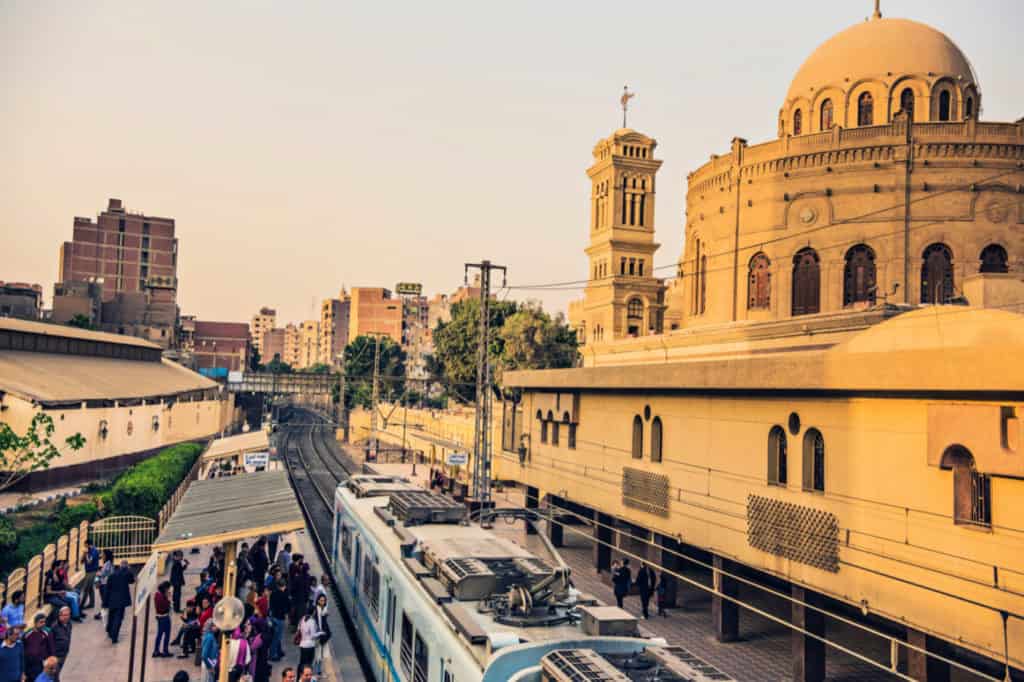 How to Get Around Cairo
Most big cities have great public transport, with easy to navigate timetables and clearly mapped metro lines that get you from A to B quickly and efficiently. Well… Cairo is an exception.
Whilst public transport in Cairo is very cheap, it's far from easy to navigate. As a general rule, Google maps doesn't work across Egypt. There were various times where I followed my map to a Movistar or H&M that didn't exist, and, according to the locals, had never existed, despite the fact that it was very much real on the map. So imagine how unreliable the bus schedules are!
Cairo also has a metro line, but it gets very cramped and unpleasant, especially on a hot day! I lived in Cairo for three months, but I only took the metro once – telling my local friends (who never use the metro, by the way) that I wanted to experience Cairo like a "local." They laughed, but finally agreed to come along.
We jumped on, sweated and struggled for air before hopping off just 15 minutes later, a fair walk from where we wanted to be. I never got the metro again.
If you're only in Cairo for three days, don't bother trying to figure out the public transport unless you're determined to do so – you will waste hours of your time.
You'll be surprised to know that the best way to get around Cairo, and the way that all my Egyptian friends who had lived there their whole lives get around, is by Uber. Yes, Uber! I was shocked too. But the app is fast, super cheap, and reliable.
In Egypt Uber also has a scooter option, so you can hop on the back of the driver's motorcycle (they bring a spare helmet, don't worry) and get to where you want to be in no time.
I wouldn't recommend renting a car in Cairo either. The roads are absolutely crazy. There are always long lines of traffic and unexpected road users, like donkeys pulling carts with young children on them.
Apart from anything else, Egyptians don't often use the pavement, so there's always people appearing out of nowhere, crossing the road in a hurry, or just walking along the motorway as if it's the most normal thing in the world.
Unless you're a confident driver, or you think that using the local public transport is a must when you travel, then get an Uber. It won't cost much more, especially if you're a group, and you'll save yourself a considerable amount of time and energy.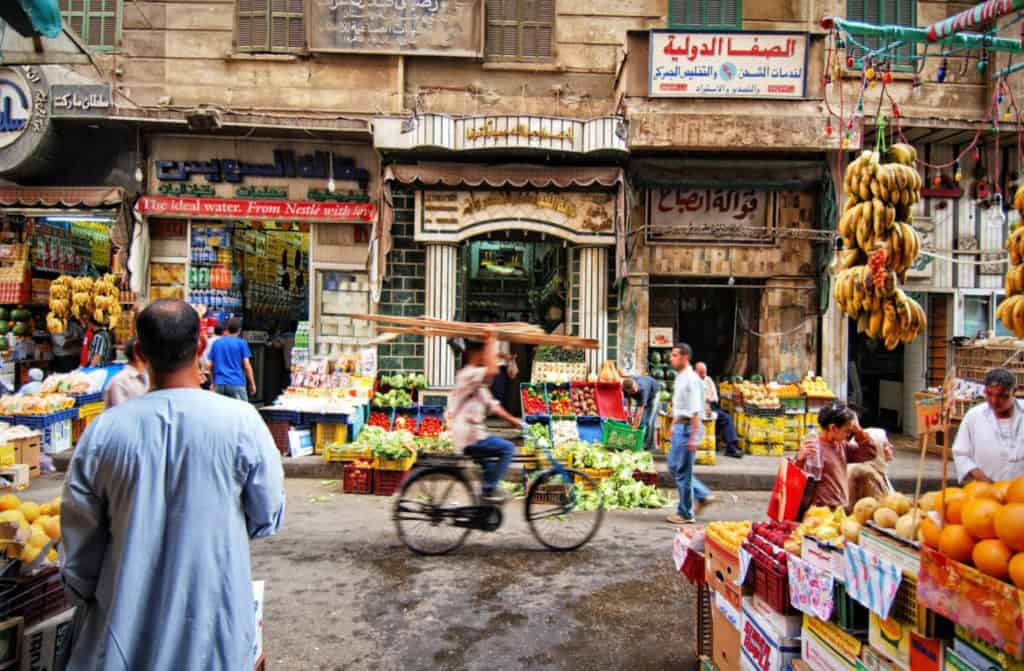 The Best Time of Year to Visit Cairo
The best time of year to visit Cairo is from October to April. During these months the city experiences its most mild and pleasant temperatures. Cairo has warm and sunny winters with cool, but far from freezing cold, nights.
One thing to bear in mind if you come during the winter months is that December and February are very touristy. If you can, come in October or November, or early spring.
Summer is the worst time to visit the city because it's scorching hot. That isn't an exaggeration, temperatures can soar above 102°F, though they tend to stay around 94°F. Once May arrives, all you'll want to do is stay indoors with the AC on full blast – it's far too hot to do anything else.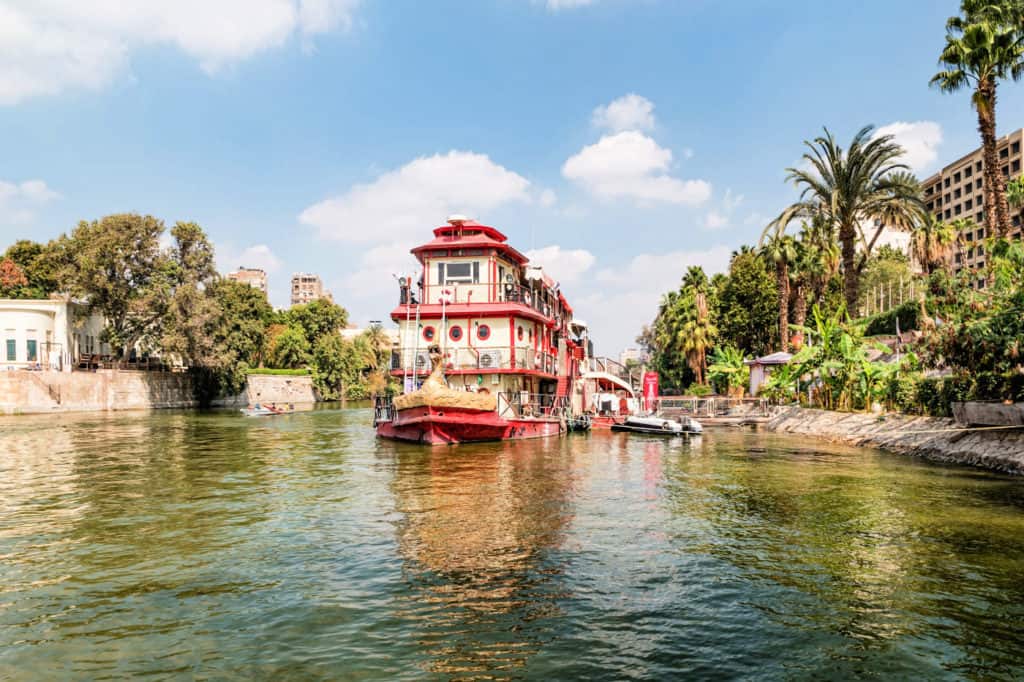 Where to Stay in Cairo
There's plenty of accommodation options in Cairo, from a $15-a-night guesthouse that overlooks the Pyramids, to internationally renowned hotels. So however you want to travel, whether it be luxury or budget, you'll find it in Cairo.
But where do I recommend that you stay?
I stayed at Houseboat65 Hotel and loved that it offers something a little different. Imagine waking up along the Nile in a little home that is just for you, yet still a part of a friendly and welcoming hotel! You get the best of both worlds: the privacy and intimacy of an apartment and the perks and great service of a luxury hotel.
I particularly love the views of the Nile from the rooms. You'll feel like you're in a dream as you sit on the water's edge, sipping your morning coffee and watching little boats float by. It's also the perfect place to escape the noise of the city without compromising on location!
This stunning property gave me the perfect balance between modern and traditional. I relished all the well-thoughtout details around the property and was delighted by the undeniably Egyptian feel of the place.
The colorful carpets, low-down coffee tables, and stunning decorations made it feel warm, welcoming, and homely. It's the perfect place to relax after a long day exploring Egypt's most fascinating city.