Hungary is such an underrated country.
Whenever people discuss their favourite places in Europe, I rarely hear Hungary receiving so much as a mention. Everyone's always so focused on Paris and Rome and London and Madrid. Having now spent two weeks travelling within Hungary, though, I can now tell you that opting to skip over this Central European country is a huge mistake, and Budapest has just as much to offer as the more well-known capital cities of Europe.
Hungary has a ton to discover for those who make the effort to visit, and I count it among my favourite countries in the continent.
When I first travelled to Hungary, I was just one month into my round-the-world adventure and I'll be honest with you and confess that I wasn't impressed. I chose one of the worst spots around Lake Balaton to base myself and Budapest just didn't grab me — probably because it was 35°C when I visited.
When I returned two years later, however, I fell head over flip-flops in love with Budapest, stumbled upon the beautiful city of Eger, and discovered that Hungary is a country that more people need to visit.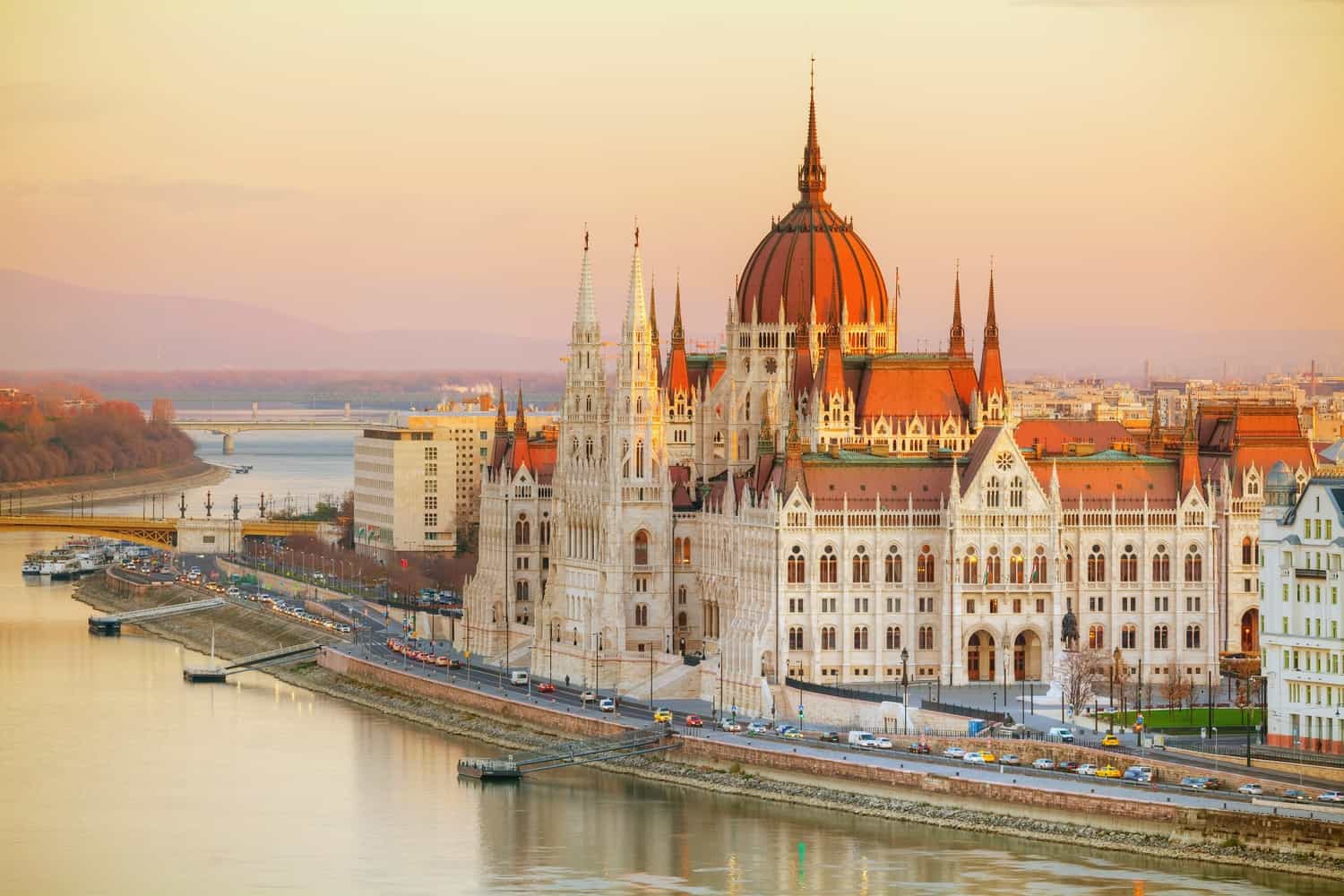 So what's so special about Hungary?
Well, you've got incredible Budapest, to start with, and I'm sure you'll be spending plenty of time there. It's one of the coolest cities in Europe, with world-class architecture, dozens of activities to keep you busy, and an incredible bar scene.
Hungary is also home to an extremely underrated wine region, has access to the largest lake in Europe, as well as the world's largest thermal lake, and has dozens of colourful old towns to wander around. There's delicious local food, easy-to-use transportation, and some seriously welcoming locals. On top of that, it's still far cheaper than most Western European cities, so you can get a hell of a lot of value from your money.
I've been taking note of every single cent I spend while travelling the world, because I want to prove that travel isn't just for the rich and privileged. I want to show that it's possible to see this planet on a budget, while also giving a realistic look at the prices you can expect to come up against. In Hungary, this was no different.
I visited Hungary first as a solo traveller on a tight backpacking budget, then later as part of a couple, aiming for a mid-range stay that focused on receiving good value for money. After taking both of these trips, I'm excited to share how you can get the most for your money in this country.
Here, then, is exactly how much you can expect to spend on a trip to Hungary.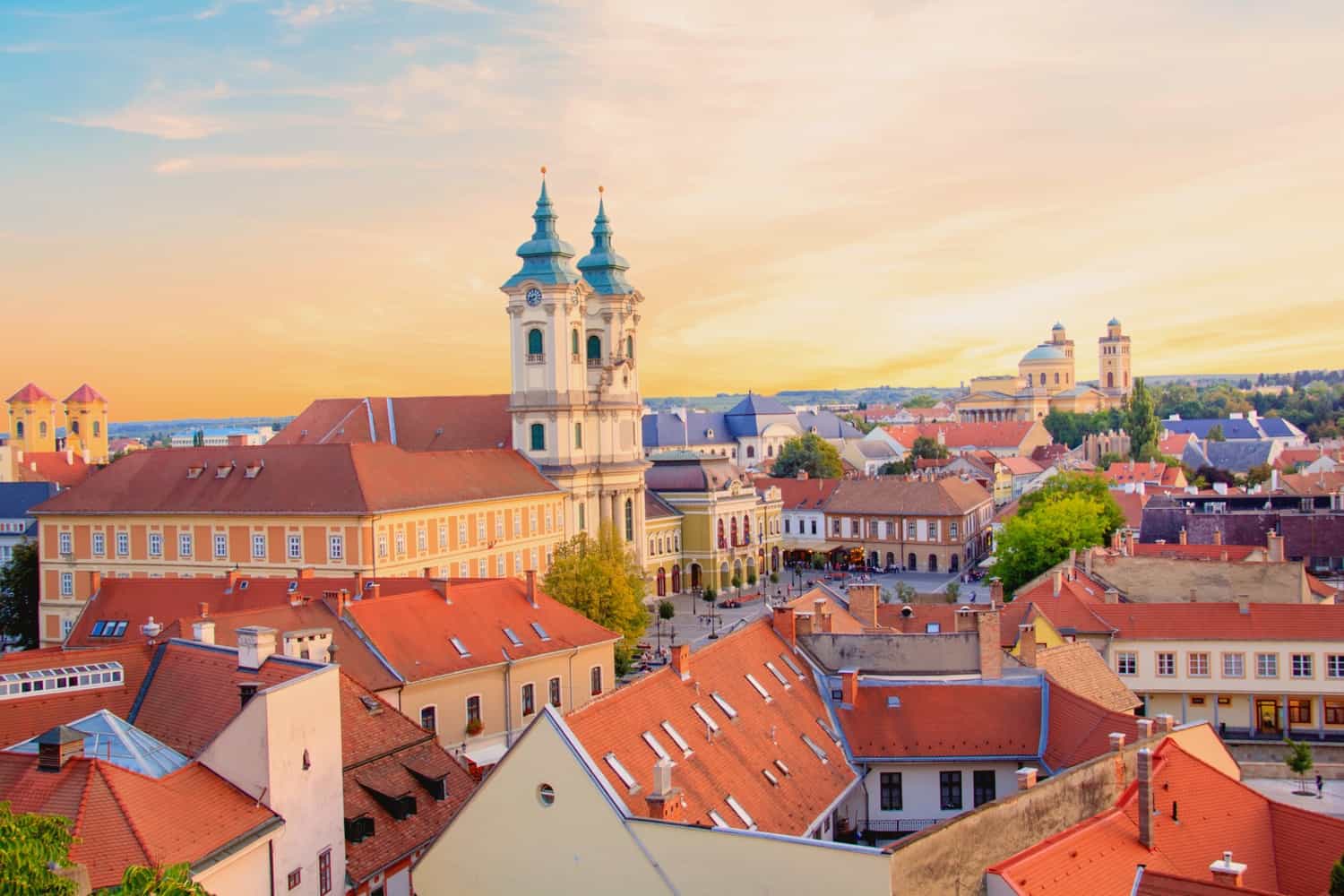 How to Find Cheap Flights to Hungary
If you're European, you won't have too much difficulty finding a cheap flight to Budapest. With so many budget airlines operating across the continent, you can likely score flights to Hungary for as little as €50 each way. Still, it's always worth checking the overland options, too, as the trains, buses, and coaches can sometimes be cheaper.
For anyone in North America, Oceania, Asia, and elsewhere, my first recommendation is Secret Flying and my second is Skyscanner.
Secret Flying is my number one flying trick and it's rare for me to ever travel on a flight that wasn't found through that site. And no — they're not paying me to say that. Secret Flying is a flight deals website that shares dozens of great options for routes that have recently gone on sale. It's thanks to Secret Flying that I flew from Lisbon to Cape Town for €280 return, London to Los Angeles for $120 one-way, and Singapore to London for $120 one-way. In short, regularly checking flights from your home country to Europe on Secret Flying will help you save a lot of money.
I'll confess that Budapest isn't one of the major airports in Europe, so deals to Hungary are tougher to find than to somewhere like Paris. Still, in the past couple of months, Secret Flying has unearthed deals like $486 return from NYC to Budapest and 630 CAD return from Toronto to Budapest, so it's definitely worth taking a look to see if there are any bargains.
First, check Secret Flying deals to Europe as a whole from the U.S., Canada, Australia, or wherever else you're from. You'll likely be able to pick up a flight for somewhere within Europe for as little as €350 return. From there, you can then use Skyscanner to find return flights between that destination to Hungary.
If Secret Flying doesn't have any great deals showing, or you want to get to Budapest with the least amount of hassle, you can use Skyscanner from the get-go. After eight years of continuous travel, it's my favourite way to search for flights, and I love that you can search for flights departing from across an entire country to Hungary. You can even search for travel dates across an entire month to ensure you're flying on the cheapest possible days.
As always, the more flexible your plans, the easier you'll find it to save money on flights. If you're happy to fly into and out of different airports, you may be able to pick up a better price (flying into Vienna and out of Zagreb, for example), and if you're happy to visit at any time of year, you'll be able to pick and choose the cheapest options, too.
The Cost of Accommodation in Hungary
There's great-value accommodation available in Hungary, whether you're a backpacker on a super-tight budget, part of a couple on a mid-range-priced vacation, or a luxury traveller looking for an affordable getaway.
One of the cheapest ways to explore Hungary is by staying in a hostel. I've stayed in several as I've travelled around the country, and was impressed with the quality of the hostels, as well as the number of options to choose from. One of the more notable hostels in Hungary is Maverick City Lodge (dorms starting from 5,000 Ft [€16/$18] a night), as it consistently receives the best reviews of any hostel in the city. It's in an amazing location, in the centre of the fabulous Jewish Quarter, is clean and modern, and perfect for solo travellers, as there's so much going on for socialising.
If you're all about the tight budget and spending as little as possible in Hungary, there are slightly more affordable options for hostel living around the country. Note: I only recommend properties that are rated above 9/10 on Booking.
The cheapest dorm bed in Budapest comes in at 3600Ft/€10/$12 a night at the exceptionally well-reviewed Central Market Zen Hostel, and the cheapest private double room in the city comes to 5,700Ft/€16/$19 a night at Vajda 15 Budapest.
In Eger, you'll pay just 5960Ft/€18/$21 a night for a dorm bed at the excellently-reviewed

Lokomotiv Motel

, or 6040Ft/€19/$22 a night for a private double room at

Cecey Vendégház

, so there's no real reason to stay in a dorm here unless you're craving the social aspects.
In Lake Balaton, there aren't any decent hostels, but you can stay in a cheap private double room at Glázer-Szálló for just 6250Ft/€20/$22 a night.
If you're on an even tighter budget, you might want to explore some options that'll land you with free accommodation while you're in Hungary. You've probably heard of Couchsurfing before, but if you haven't, it's a website where you can connect with locals and sleep on their sofas. It doesn't cost anything to do so, and is a great way to gain an insight into Hungarian daily life — something that's tough to do if you're hanging out in a dorm room with other travellers.
Housesitting is another option that allows you to spend some time in Hungary without having to spend money on accommodation. After signing up for the site, you'll be able to apply for housesits and look after locals' homes (and usually their pets) for free. This is a great option for a whole range of travellers, although it's best for those of you who don't have fixed travel dates, as it's rare to find a housesit that perfectly coincides with specific travel dates that are perfect for you. I've had friends score housesitting gigs for anywhere from remote farms to enormous castles, so this isn't an option that's just for the budget travellers!
And finally, while we're talking about free accommodation options, you could also take a look at WorkAway in Hungary. Through this site, you'll work with locals in exchange for lodging and often food, often helping out on organic farms or local hostels. This is a great opportunity to spend an extended amount of time in the country while keeping your costs extremely low.
Okay, but what if you're not a budget traveller and just want to stay in a lovely, well-reviewed hotel or guesthouse that's good value for money and has all the things you need from a place to lay your head? I've got you!
I visited Hungary on a mid-range budget with my boyfriend and was surprised by how much I could get for my money. For around €40 a night, you'll be able to stay in an excellently-reviewed apartment or double room, in a central location with friendly staff.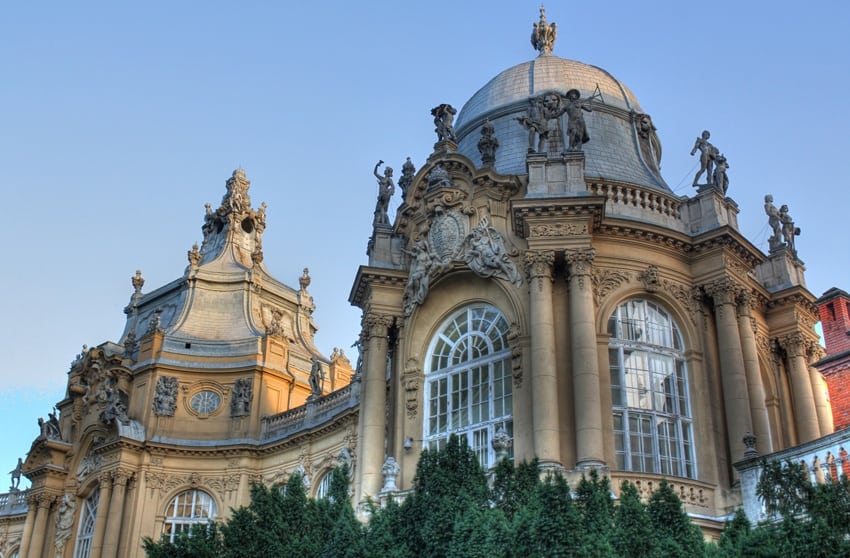 The Best Hotels and Guesthouses in Hungary
As I mentioned above, I've visited Hungary a couple of times, both as a solo female who was travelling on a tight budget and as part of a couple that was looking for all things hotel-shaped and mid-range.
I always like to share which accommodation I stayed in on my travels, as well as recommend alternatives when mine sucked. Everywhere I recommend below has excellent reviews and offers great value for money.
Here's my list of my favourite accommodation options in Hungary:
Budapest: Anabelle Bed & Breakfast ($81 a night) receives an average rating of 9.5 on Booking, which makes it one of the best places to stay in the city. It's located right in the heart of Budapest in a peaceful neighbourhood, close to many of the tourist attractions, a metro station and supermarket, as well as a 10 minute walk from the bus station.
Eger: Hungária Vendégház (€44 a night) receives an average rating of 9.6 on Booking, and reviewers regularly declare it the best B&B they've stayed at in the country. You stay here for the friendly owners and generous breakfast — the hosts are only too happy to recommend restaurants and attractions to check out while you're in town, and you'll feel as though you're staying with family rather than in a B&B. The guesthouse is located close to downtown but in a quiet neighbourhood, which is an added bonus in my eyes. I wouldn't stay anywhere else in Eger.
Debrecen: Boutique Hotel Kristály (€60 a night) is one of the best value properties in more-expensive Debrecen. Still, you receive great value for money at this lovely boutique hotel. It's around a 20 minute walk to the centre of town from the hotel, you'll have access to a small spa and fitness centre, and the breakfasts are plentiful. Altogether, this is a simple, clean, and modern place to base yourself while exploring Hungary's second-largest city.
Heviz: Villa Lux (€42 a night) is another great value accommodation option in Hungary. It's a 15-minute walk to the lake with several great restaurants nearby. You'll have speedy Wi-Fi (a rarity for Balaton), comfortable surroundings, and a great breakfast to fill you up before a day of relaxation.
Pecs: Zsinkó Villa (€51 a night) is a small guesthouse with a handful of well-equipped bright and airy rooms and apartments to stay in. This is a great option if you prefer to cook your own food as you travel, as you'll have access to a kitchen while you're staying here. It's beautifully decorated and receives an average rating of 9.9 from 100 reviews on Booking.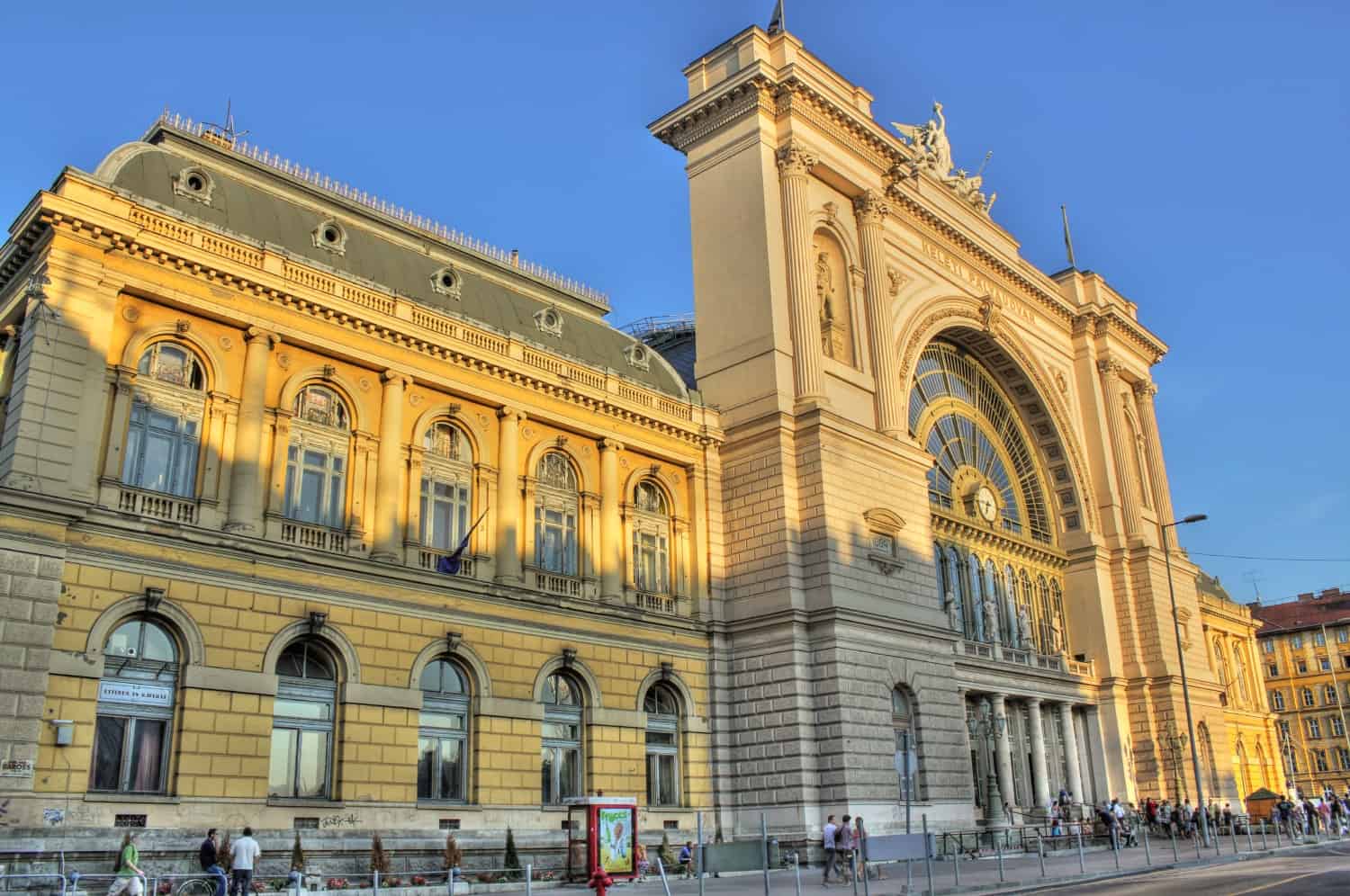 The Cost of Transportation in Hungary
Over my two weeks in Hungary, the method of transport I enjoyed the most was the train.
The return train ride from between Budapest and Eger was very comfortable, with the one from Balatonelle to Budapest being slightly less so (it was in August and the carriage was hot). Still, it was cheap, comfortable enough, and an easy way to buy tickets and get around. You can buy train tickets online and in advance through the MÁV-START website.
In general, you'll score the cheapest deals by either buying online or in person from ticket offices in the stations.
Surprisingly, the buses in Hungary are usually more expensive than the trains. This is mostly because the buses go to more places and are often just as fast as the train in Hungary. Availability is quite low in high season, as the locals prefer to travel by bus over train. You can view an up-to-date schedule and buy tickets in advance through Volanbuz.hu. It's definitely worth comparing the price of the bus and train before you book, as you may find they vary significantly.
Renting a car is also an option, as driving in Hungary isn't very intimidating. The roads are well-maintained, the local drivers are respectful, and car hire is inexpensive. You can expect to pay around €8 a day for a compact or economy car hire. I always use RentalCars.com to find the best prices on car rentals, and highly recommend them.
Keep in mind that there are tolls on every motorway in Hungary, and you'll need to buy a toll pass in advance in order to avoid a fine. It costs €11 for a 10-day toll pass, and you can buy them on the national toll payment website.
What about flying?
There are just under 10 airports in Hungary, with the main ones being Budapest and Debrecen. Domestic flying is usually more expensive than travelling by overland, and while it seems like it could save you time, remember to account for the time it takes to get to the airport, check in, and reach your destination once you've landed. An hour-long flight can turn into a four-hour journey, in which case you'd likely be better off taking the train or bus.
When it comes to getting around the cities and towns you visit there are plenty of options. Budapest has an extensive metro system that covers much of the city, but it's also quite walkable if you feel like exploring above ground. There's also a tram service, which I much prefer as you can see more of your surroundings as you travel around, but if you're prone to motion sickness you might want to avoid it.
To give you a good idea of how much you can expect to spend on transportation in Hungary, here's a list of journeys you might decide to take while you're in the country:
Single train ticket from Budapest to Eger: 2725Ft (€8/$10)
Single bus ride from Budapest to Lake Balaton: 3395Ft (€11/$12)
Return train ticket from Budapest to Vizegrad: 2240Ft (€7/$8)
Return train ride between Budapest and Esztergom: 2240Ft (€7/$8)
Return bus ticket between Budapest and Eger: 5450Ft (€17/19)
Return train ticket between Budapest and Pecs: 7900Ft (€25/$28)
A one-way ride on the Buda Castle funicular: 1000Ft (€3/$4)
A single ride on Budapest's metro: €1
How Much Does Food Cost in Hungary?
Hungary is exceptionally affordable when it comes to eating out and buying groceries, so you won't need to budget a huge amount for food. As an example, a three course meal at a decent, mid-range restaurant will set you back just €15 each!
In general, you should expect to spend the following on each meal:
Breakfast: €2 each for bacon and eggs; €6 each for something in a hipster cafe.
Lunch: €5 each for a set meal in a traditional restaurant.
Dinner: €5 each if you're on a budget, €12 each for a mid-range restaurant, €25 each for something high-end.
To save money on food, take your eating to the streets. In Budapest, there are plenty of market halls to make this possible — Central Market Hall is a great option for cheap eats, as is the Downtown Market on Hold Street. There, you'll be able to score a meal for as little as €2.
There are several food and drink experiences in Hungary that I highly recommend you seek out.
The first of these is the ruin bar scene in Budapest. I can't tell you how much I adore the ruin bars. Found primarily in the Jewish Quarter, these quirky buildings have been transformed from once-derelict spaces into eclectic rooms crammed full of all kinds of treasures. At Szimpla Kert — my favourite ruin bar — you'll find a haphazard array of torn-up sofas, old chairs, and benches thrown together around unsteady tables. The front half of an old car was being used as a table; bathtubs and dentist chairs as seats. Rooms were filled with sewing machines, birdcages, typewriters, and old film projectors showing Russian cartoons and silent movies. From the ceiling hung a mixture of mismatched lampshades and smashed chandeliers. I highly recommend checking one out while you're in town. When the beers are €2, it's hard to find a reason not to.
When it comes to food, goulash (€6) is likely the first dish that comes to mind. This Hungarian classic blends a meat stew with the perfect amount of paprika, and is fantastic to eat during the winter months. There are plenty of other traditional foods that don't get a look-in, though — aim to try €7 Fisherman's Soup (a spicy paprika-filled soup made with fresh fish from the Danube), €5 Hungarian Lecso (similar to ratatouille, this is a vegetable stew that all my vegetarians out there should aim to try), and €1 langos (deep-fried dough with an assortment of delicious toppings — the traditional version is topped with garlic, sour cream, and cheese).
For drinks, aim to try a €3 froccs (a cocktail of wine and soda — perfect for hot summer days) and €3 palinka (a traditional local brandy).
You should usually aim to tip around 10% in Hungary, although this is often added to your bill at the end of the meal.
Here are some more examples of what you can expect to pay for food in Hungary:
Combo meal at McDonald's: €3.80
Pint of draught beer: €1.30
Glass of wine in a restaurant: €2.10
A cocktail in a fancy bar downtown: €4.25
Coffee in an expat area of town: €2.00
Litre of milk: €0.75
A loaf of bread: €1.80
A dozen eggs: €1.25
1 kilogram of tomatoes: €1.40
1 kilogram of potatoes: €1.25
A bottle of wine: €3.50
A 1.5l bottle of water: €0.70
A 30 cm pizza: €3.80
A gyros for lunch: €2.20
A three course meal and wine in a high-end restaurant in Budapest: €30 each
How to Save Money on Activities in Hungary
While Hungary is very affordable when it comes to accommodation, transportation, and food, the activities are where you're likely to spend the vast majority of your forints. Still, there are plenty of free activities to take advantage of.
Free walking tours are one of the best ways to kick off your explorations of a new city. These are based on donations, so you can give as much or as little as you want for a two-hour overview of the main tourist attractions. There are several free walking tours in Budapest. Some of these will give you a general view of the city, and others are focused on the Jewish district and city's communist past.
Visit Heroes Square. One of my favourite areas of Budapest is Heroes Square, and I love to visit just as the sun is setting.
Explore Buda Castle. You'll have to pay to go inside the castle, but I personally didn't find it to be worth it. Instead, you should wander the grounds and gardens, and snap photos of its exterior.
Admire Budapest's Parliament building. You have to pay to explore the inside of this beautiful building, but I think it's just as impressive from the outside. I especially love taking photos of it from Fisherman's Bastion in Budapest.
Relax beside Lake Balaton. If you decide to visit Europe's biggest lake, you'll quickly learn that it's a popular vacation spot for locals in Hungary. While you're there, do as they do and admire Tihany Abbey, lay out beside the water, and go for a hike in the hills surrounding the lake.
Drink wine and gaze at the architecture in Eger. I didn't spent a single cent on activities while I was in Eger, and that's because I was having such a wonderful time simply wandering aimlessly down narrow alleyways. The architecture is gorgeous in this city, and you'll be content just to take photos of the beautiful buildings while you're there. It has one of my favourite old towns in all of Europe!
So, which activities in Hungary are worth the splurge?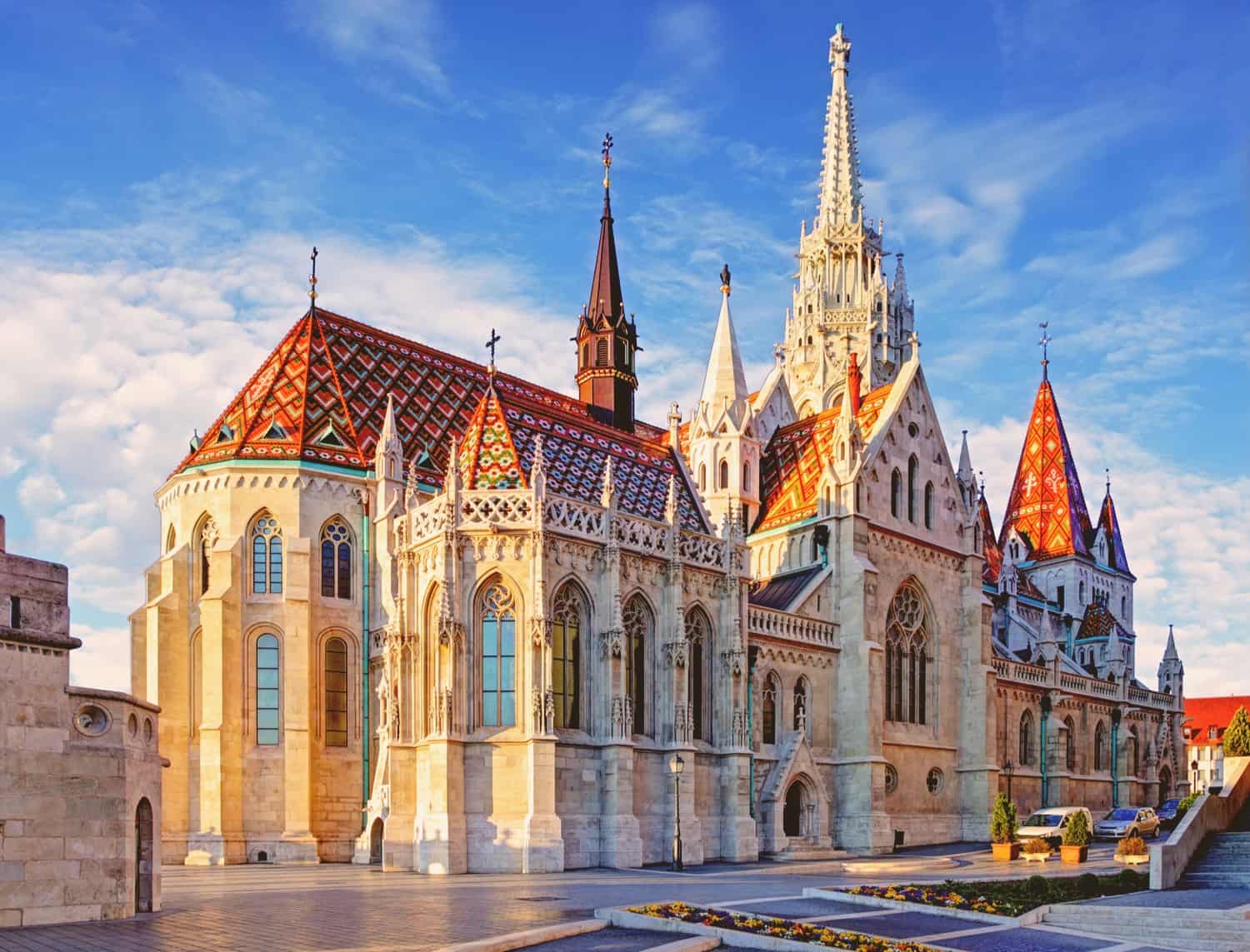 Miscellaneous Expenses and Information for Hungary
I always like to include a little section in these budget breakdowns to cover all those bits and pieces that don't neatly fit into anywhere else.
Hungary guidebook: When it comes to travel in Europe, I believe that Lonely Planet's are king. The Lonely Planet guide to Budapest and Hungary includes some of the best travel itineraries for the country to help you plan the perfect trip, recommends restaurants for local experiences, includes a whole wealth of cultural insights to help you better navigate the country, and so much more. If you're going to get a guidebook for your time in Hungary, this one is the best. As an added bonus: the paperback copies look so beautiful on bookshelves!
Travel insurance: I'm all about ensuring that every single one of my readers understands the importance of travel insurance. When you work in the travel industry, as I do, you're inundated with news of destitute backpackers on GoFundMe who fell ill while travelling, didn't have travel insurance, and now can't afford the hundreds of thousands of dollars needed to be airlifted home for medical care. It happened to an old school friend of mine just this year. In short, if you can't afford travel insurance, you can't afford to travel.
Travel insurance will cover you if your flight is cancelled and you need to book a new one, if your luggage gets lost and you need to replace your belongings, if you suddenly get struck down by appendicitis and have to be hospitalised, or discover a family member has died while you're overseas and need to get home immediately. If you fall seriously ill, your insurance will cover the costs to fly you home to receive medical treatment.
I use SafetyWing as my travel insurance provider, and recommend them for trips to Hungary. They're one of the few companies out there who will actually cover you if you contract COVID-19. On top of that, they provide worldwide coverage, don't require you to have a return ticket, and even allow you to buy coverage after you've left home. Finally, they have a clear, easy-to-understand pricing structure, which is always appreciated.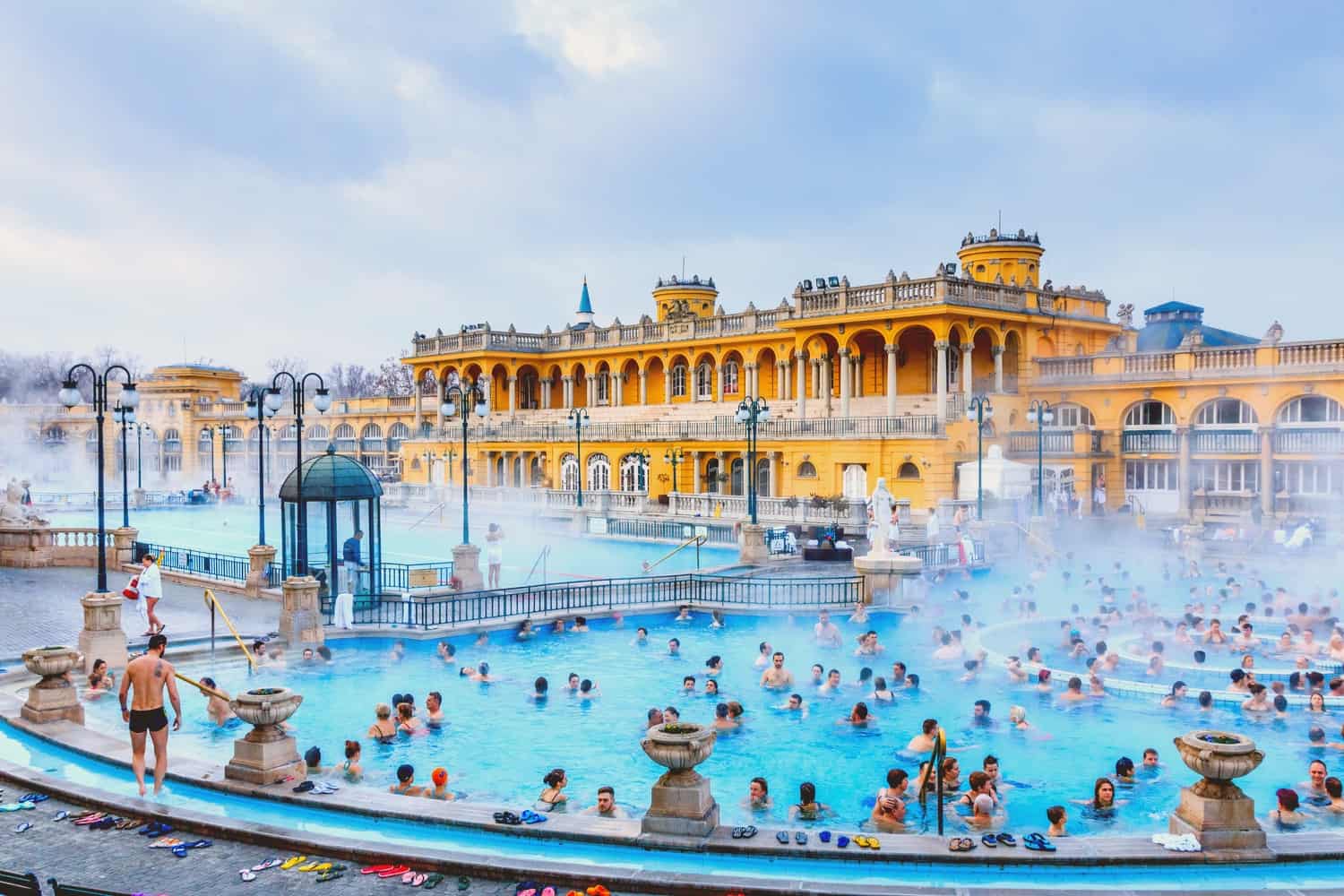 How Much Did I Spend in Hungary?
To round off this article, I've pulled up my travel expenses from Hungary to share exactly how much I spent while I was in the country. To make it easier for you guys, I'll share both my budget breakdowns from my solo trip as a backpacker and my mid-range adventure as part of a couple.
How much I spent as a solo backpacker in Hungary:
Accommodation: €11 per day
Transportation: €3.13 per day
Food: €12.05 per day
Activities: €2.86 per day
Total amount spent: €29 per day
How much I spent as part of a couple on a mid-range budget:
Accommodation: €23 per day (my share of the cost of the room)
Transportation: €4.50 per day
Food: €27 per day
Activities: €4.17 per day
Total amount spent: €59 per day
And that's it for my budget breakdown of how much it costs to travel in Hungary! I hope you've found this post useful when planning your own Hungarian adventure, and feel free to drop any questions you may have in the comments below :-)
Related Articles on Hungary

🇭🇺 25 Things to Do in Budapest
🍷 Exploring The Stunning Town Of Eger And Not Drinking Its Wine
[Photo of Budapest parliament via: photo.ua/Shutterstock; photo of Eger via: Datsenko Maryna/Shutterstock; photo of Tihany via: ZGPhotography/Shutterstock; photo of Budapest market via: vitfoto/Shutterstock; photo of Lake Heviz via: Melinda Nagy/Shutterstock; photo of Mathias Church via: TTstudio/Shutterstock; photo of Szechenyi Baths via: Izabela23/Shutterstock]