Albania is one of the most underrated travel destinations in Europe. Filled with stunning outdoor adventures such as day hikes to enchanting villages like Theth, an underrated cuisine containing delights like Byrek, and a dark history that is still evident all over the Balkan country to this day.
Spending two weeks in Albania really opened my eyes and showed me that there's more to Europe other than the popular countries and cities. I kicked my trip off from the north of the country in the interesting city of Shkodër and slowly went down the west coast before crossing the border into Greece. This was nowhere near enough time, as I would have loved to see what the eastern region of Albania had to offer.
My two weeks in Albania were arguably one of my favorite trips to date because I managed to see so much and meet the friendliest of people. Taking the bus from Montenegro to Shkodër, I didn't know what to expect. After a few days of taking on breathtaking hiking trails, I knew this trip would be one to remember.
After Shkodër, I ventured to the capital Tirana to learn about Albania's past communist rule and how society has changed since those times. Following my stop in Tirana, I took a bus to Berat, a city famed for being the city of a thousand windows because of the old Ottoman houses being perched up on a hill.
My last stop was Gjirokaster, loved for its stone buildings and unique architecture, and wow, was it impressive. The charm this place has is unlike anywhere else I have ever been.
It's important that you choose the right time of year to visit Albania. The country gets extremely hot summers and cold winters, but it depends on where you're going. The west coast is the hottest region in the country, with Sarandë being the warmest city. If you can, try to visit Albania in the shoulder season months of April and March, the weather is nice then and not too hot.
Albania is one the cheapest places in Europe, which is great for the everyday traveler because you get more bang for your buck.
During my trip, I stayed in either guesthouses or private rooms in hostels and used public transport to go everywhere. I found the further south you go in the country, the more expensive things start to get; this is where all the stunning beaches are, so more tourists go there. But don't worry; it's never too overpriced.
One thing you'll come to realize when you're in Albania is how good the food is. The cuisine has a blend of Balkan and Mediterranean influences with flavorful tastes and is quite rich. Eat as much Byrek as possible in Shkodër, feast on Petulla in Tirana, and have your first-ever Cevapi in Berat.
Using Albanian public transport is an experience in itself. The main way to get around is by taking minivans as there's no national train line, but often the bus drivers won't leave until the bus fills up, and there's barely any AC on board, so you'll often be stuck in 35-degree heat on a crammed bus waiting for the last seat to fill.
You can't leave Albania without sampling some Rakia for yourself, an anise-flavored liqueur made with fermented grapes or plums, depending on the distiller's choice. This stuff is sold everywhere, from the side of the road by locals to high-end bars. It's super strong, so be careful when choosing your portion sizes.
I have written this article to fill you in on the cost of travel in Albania. This Balkan beauty is a very affordable destination to visit. You get great value for money, whether it's food, tours, excursions, or accommodation. What you would spend on a week in western Europe would last you a month in Albania; that's how cheap it is.
You can easily get by on 30 euros or less in Albania, depending on what you like to spend your money on. I only spent around 20 euros on some of my travel days without even watching my cash.
So, without further ado, let me show you how much your travel expenses for Albania will be. It's time to start planning your vacation of a lifetime.
The Cost Of Accommodation In Albania
Albania has accommodation for every type of budget, from boutique apartments in Tirana at $35 a night to private villas overlooking the city of Berat for $54. Whatever city you visit, bargains are waiting to be snapped up.
Apartments and guesthouses are in abundance in Albania, and they're very affordable, especially when you compare them to some big-name hotel chains. That's why I mostly opted to stay in them, plus a lot of the time; complimentary breakfast was served, saving me money on an extra meal every day. It was the same in most hostels too.
Everyone has their own style of accommodation they like to stay in, so I'll go through each one in detail to give you a better idea of what to expect when you're in Albania.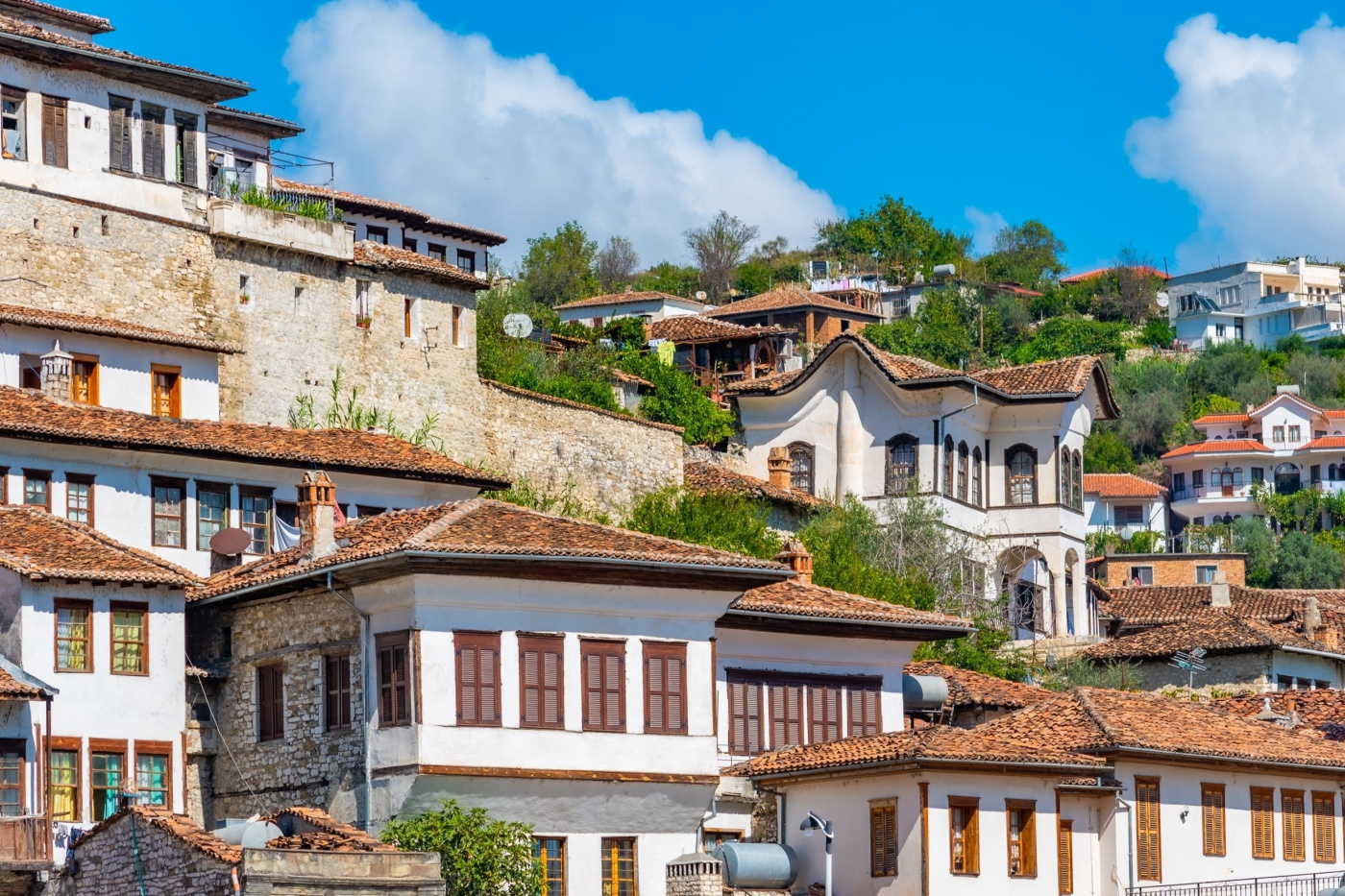 How To Save Money On Accommodation In Albania
Let's start with saving money on accommodation in Albania for budget travelers. Anyone who's a backpacker will be happy to know that there are countless ways to save yourself some dollars on places to stay.
Couchsurfing is a phenomenon that has always been around but recently has gained huge interest from backpackers in particular. It's a cool concept that allows travelers and locals to connect on a platform where travelers can request to be hosted by someone living in the city they're visiting.
Often, the host will offer up their couch or sometimes even a spare bedroom if you're lucky. And the best thing is, it's absolutely free. As well as that, you get to learn firsthand about a new culture that you wouldn't discover if you were staying in a fancy hotel alone.
Maybe you're thinking about volunteering somewhere; if so, you need to look into WOOFING. It's an interesting website with a huge catalog of volunteering opportunities available worldwide in various regions. Whether it's working on a local family-run farm or a sustainability project in the countryside, you'll find all sorts of exchanges there. A lot of the time, your meals and accommodation will be included too, so you won't have to spend a dime.
House sitting is another excellent way of finding somewhere to stay for free. Log on to the house sitting website, type in the city you're visiting, and apply to look after somebody's home as well as their pet when they're on vacation. More often than not, you can find yourself staying in mansions with ample swimming pools, which isn't anything to complain about.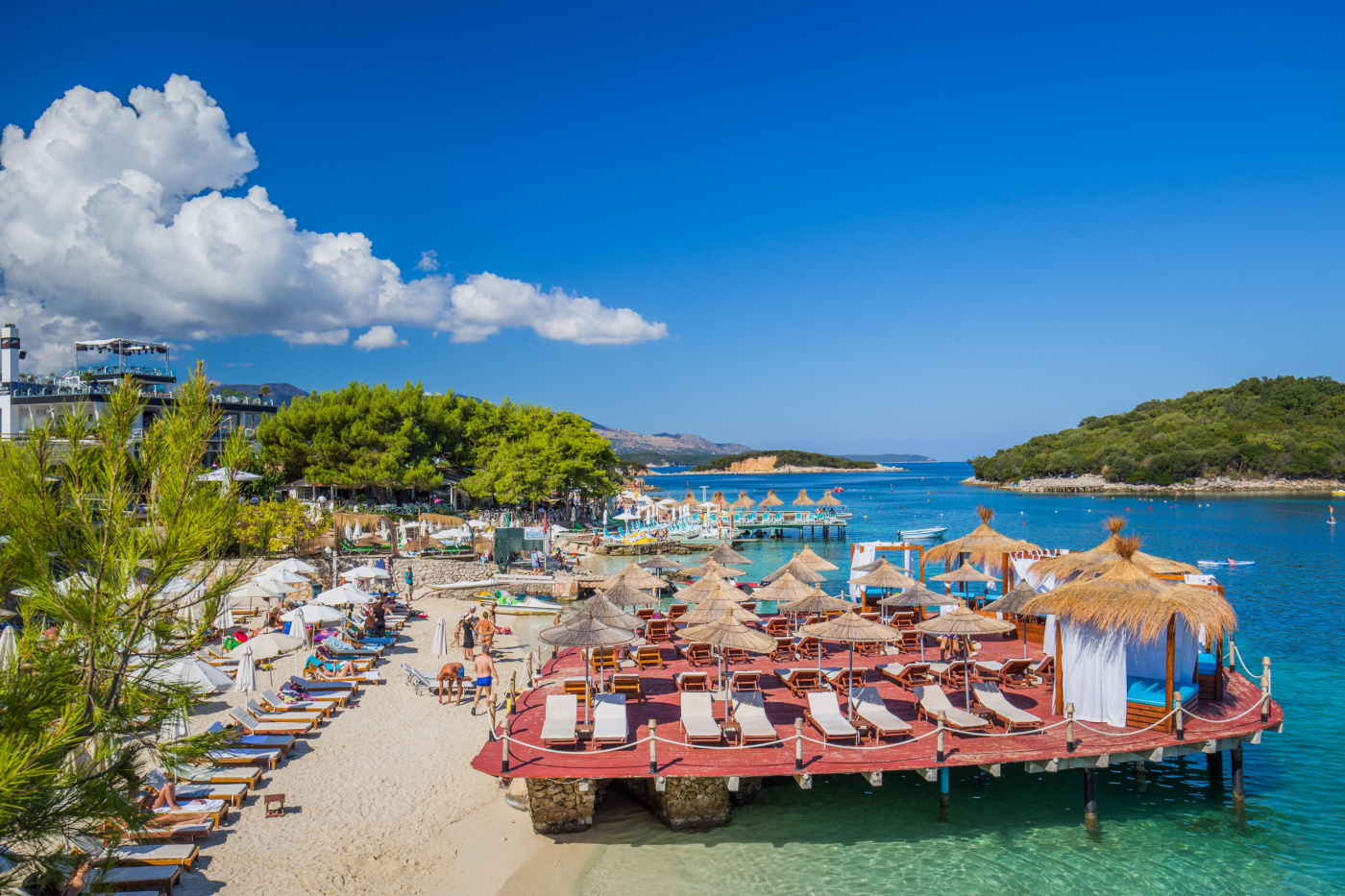 Hostels In Albania
A popular way of saving money on accommodation in Albania is bunking in a hostel. If you're willing to share a room with five or six other people, you can easily cut your costs in half. You'll be surprised how cheap hostels are.
There are hostels in all of the major cities in Albania, and they have a different vibe from the ones in western Europe. In places like Amsterdam or Prague, you'll find most of the time they're filled with young groups of friends, whereas in Albania, it's mostly solo travelers staying in hostels, so you have much more of a chance of meeting like-minded people.
Here are my Albania hostel recommendations you need to check out for your trip.
Hostels in Albania are extraordinarily cheap and provide guests with modern places to stay. On average, you'll spend between $12 and $16 per night on a bed in a dorm room or $30 and $43 for a private room.
The Best Hotels To Stay in When Traveling In Albania
The alternatives to hostels in Albania are guesthouses, apartments, and hotels, and they're still affordable. Since Albania isn't a hugely popular travel destination, I was able to book some of the guesthouses I wanted to stay in on the day of check-in, which gave me tremendous flexibility for planning my days ahead.
Booking.com is hands down the best and cheapest tool to use when booking a place to stay in Albania. There are so many options there, like you wouldn't believe. As I love finding great value accommodation options, I always use the website's "top reviewed" filter, which gives me an insight into the properties that people enjoyed their stay at, so I don't end up somewhere below standard.
I have listed my Albania accommodation recommendations below.
The average cost of a mid-range hotel per night in Albania is $27
The Cost Of Transportation In Albania
Albania isn't the biggest country in the world, but getting from A to B can be a nightmare at the best of times. Public buses are what most travelers will take, and it's what I used during my trip, but if you have another way, I would recommend you take it.
The bus system in Albania operates a kind of make it up as you go like arrangement. They'll cram as many people on as possible, stop to pick up their friends along the way completely off-route and drive like they're in Mario Kart.
While bus fares are cheap, the drivers will also have different prices for each person; for example, if you're the last person to arrive, nine times out of ten, you're getting charged more than the first person.
Barely any information about bus schedules is online, so you have to show up at the station and hope for the best. Although this sounds like a bit of an adventure at the start, it can be a pain after a while.
I inserted a price list for the popular bus journeys when I visited in 2022, but this might have changed since.
Shkodër to Tirana with a local bus – $3.76
Tirana to Berat with a local bus – $3.76
Tirana to Sarandë with a local bus – $12.90
Tirana to Gjirokaster with a local bus – $9.68
Berat to Gjirokaster with a local bus – $9.68
The alternative to buses is hiring a car since there's only one major airport in the country and no train line. Many government travel warning websites will tell you to avoid hiring a car because the roads in Albania are poor, but honestly, I didn't find them that bad. If I were to return, I would look into a car rental. Many of the guesthouses have free parking available, and fuel is generally cheap.
See below for the average car rental prices in Albania.
Car Wiz – Tirana – $37 a day
Sur Price – Shkodër – $60 a day
Sur Price – Sarandë – $49 a day
Uber has not yet established itself in Albania, but taxis are readily available and quite cheap. Always negotiate a price with your driver before you get in the cab, as some drivers are notorious for scamming tourists. If you're going to the airport, ask your guesthouse owner to organize it for you and get them to agree on the price, so you don't get ripped off.
There aren't many domestic ferries you can take in Albania, but if you are interested in going to either Greece or Italy, some routes are available from Durrës and Sarandë. Prices vary depending on the time of year, but to get the cheapest tickets, head down to the port the day before and enquire.
The average cost of transport per day in Albania is $6.
Food In Albania
Albanian food is highly underrated. I only knew a little about the cuisine before I arrived in the country. But after meeting up with a local from Couchsurfing, he showed me some of the most delicious dishes to sample, and wow, were they amazing.
If you're confused about what you should try, stick to the basic snacks like Cevapi and Byrek. After you're fed up with them, then branch out and try to get adventurous with things like Tava e Kosit and Speca të Mbushura.
Wherever you go in Albania, the food is affordable, even in touristy areas. Still, to give you a better idea of what to expect, I'm going to do a full breakdown of typical breakfasts, lunches, and dinners.
Breakfast Prices In Albania
Byrek – Arguably, the most well-known food from Albania is Byrek. This tasty breakfast snack consists of layers of dough with selected fillings such as ricotta cheese, spinach, onions, tomatoes, or meat. You can easily get your hands on Byrek at a bakery for around a dollar.
Flija – Similar to Byrek, but with a twist, Flija is another scrumptious breakfast bite that's made with multiple layers of pancakes and drenched in cream, sour cream, and butter. Be warned; you need to have a big appetite to get through a serving of this. A slice of Flija usually costs between $1.00 and $1.50
More typical breakfasts in Albania
Fergese (bell peppers, onions, spices, feta cheese, and tomatoes) at a cafe – $3 to $4
Trahana (wheat flour and yogurt made into chunks the size of pasta) at a local eatery – $3 to $4
Petulla (fried dough) at a street food stall – $2
Lunch Prices In Albania
Fërgesa – Every restaurant will have Fërgesa on their menu. It's one of the country's signatures that's almost like consisting of tomatoes, peppers, onions, spices, and cottage cheese. Don't forget to order yourself some bread for dipping. Fërgesa will typically cost about $3 to $4 with a side of bread.
Imam Bajalldi – Originating from Turkey but making its way to Albanian shores decades ago during the Ottoman period is Imam Bajalldi. It's a simple recipe with stuffed eggplant filled with cheese, onions, tomato puree, and parsley. A serving of Imam Bajalldi is priced between $3 and $4.
More typical lunches in Albania
Tavë Kosi (lamb and rice bake) at a typical Albanian restaurant – $4
Kackavall ne Furre me Domate (baked cheese with tomatoes) in a locally owned dining venue – $3.50
Dinner Prices In Albania
Cevapi – You can't leave Albania without sampling some Cevapi; it would be a sin. This meal is eaten all over the Balkans, but the way the Albanians prepare it is special. It's made by grilling minced meat and rolling it into pieces of finger-sized sausage. The meat is then put into a certain type of bread and sprinkled with onions. A full Cevapi should only cost a maximum of $4.
Tave Mishi – Dinner for two, anyone? Tave Mishi is a massive spread of meat that usually comes out for big occasions. There's just about everything in there, from lamb to sausage. If you order Tave Mishi at a restaurant, a side of lemon will be served alongside it for some added flavor. The price of a platter of Tave Mishi varies, but expect to pay between $6 and $10, depending on how much food is on it.
More typical dinners In Albania
A plate of Qofte (meatball-based dish) in a restaurant – $3 to $4
Peshk dhe Perime ne Tave (fish and vegetables) at a seafood eatery – $5 to $6
Alcohol in Albania is cheap. A locally brewed beer only costs around $2, and for imported ones, it's $3 to $3.50. On the days you don't find yourself drinking beer, you'll probably be drinking Rakia, a locally distilled spirit drank by Albanians on every occasion, whether it's to wake up or to celebrate somebody finishing their exams. Shots of Rakia only cost about a dollar, but go easy on that stuff because it's distilled at home usually, which means they can make it as strong as they way; after a couple of them, you'll end up not remembering your name.
Different Food Budgets For Albania
You could easily get by on less than $10 a day on food in Albania if you don't drink alcohol, especially if you only eat two times a day. Of course, there are high-end restaurants where you can spend copious amounts of money, but if you're just sticking to local eateries, you'll spend very little.
In Albania, I don't recommend getting your own ingredients and cooking your own food just because eating out is cheap. Obviously, if you have some sort of allergies to certain foods, well then you should go about doing some shopping. If that's the case, you could spend $10 to $15 on supplies in a supermarket.
Even though alcohol in Albania is cheap, it will still add a bit to your budget. If you like to have a drink after a day of exploring, you'll spend at least $15 a day between food and a couple of beverages.
We all love to treat ourselves sometimes, but if you're someone that luxurious restaurants are your guilty pleasure, you could spend anything for $60 and up.
The average cost of food per day in Albania is $10.
The Cost Of Activities In Albania
There won't be any time to be bored in Albania with so many fun and exciting activities to do. Many of the sights throughout the country are either free or only cost a couple of dollars, but if you're looking to do some guided tours, they'll set you back quite a bit.
From treks like the Gamti Mountain hike to Kruja Castle, I managed to see as much as I could but promised myself I wouldn't rush as I wanted to enjoy myself.
Here's a full list of activities you shouldn't miss in Albania.
Day Trip to Bogë and Theth National Park from Shkodër – $77.20 per person – Go deep into the Albanian Alps through Theth National Park in search of the picturesque village of Bogë. Soak up alluring mountainscapes and immerse yourself in the Balkan countryside.
The Gamti Mountain Hike – from Tirana – $85.77 per person – Take on one of Albania's most impressive hikes, the Gamti Mountain Hike. Follow an experienced guide as they take you through the challenging trek one step at a time. As you reach the top, you'll be treated to a fabulous view of the crystal clear, ice-blue Bovilla Lake. This one's a popular one, so do book in advance! You can check availability using the widget below:
Osum Canyon and Bogove Waterfall Tour from Berat – $75.05 per person – Visit the largest canyon in Albania, Osum Canyon, which is 76 kilometers long. Experience natural beauties such as Bogove Waterfall, a natural pool, clear waters, skyscraping cliffs, and more. To top it all off, indulge in a lovely Albanian picnic lunch provided by your guide.
The Blue Eye and Lekuresi Castle Tour From Saranda – $63.26 per person – No doubt you've heard about Albania's national symbol, the blue eye, a clear freshwater spring where you can see from a depth of over 50 meters. This tour takes you to see it for yourself as well as making a stop at the Lekursi Castle, embedded within rolling hills. You'll even be able to spot the island of Corfu from the top on a clear day.
Old Baazar and Cfaka Walking Tour In Gjirokaster – $16.08 per person – Roam through Gjirokaster's famous old town in search of the delightful Old Bazaar, where you can pick yourself up some souvenirs. See the well-known Zerzebili Bridge before stopping by the ancient district of Cfaka, lined with Ottoman buildings housing cute bars, bakeries, restaurants, and corner stores.
The average cost of activities per day in Albania is $20.
The Total Costs of Your Albania Trip
And that's all of your expenses for traveling to Albania. Now, we need to determine how much the total costs of your trip will add up to.
Accommodation: $12.54 a night for a budget traveler + $27 for a mid-range traveler
Transportation: $6 per day
Food: $10 per day for a budget traveler + $60 for a mid-range traveler
Activities: $20 per day
Total expenses for each day – $48.54 (budget traveler) or $113 (mid-range traveler)
Albania is one of the most underrated destinations in Europe, but get there soon, as it's starting to get a bit more attention in recent years, and soon it will end up as popular as places like Croatia.