Posted by
February 2, 2012
in
The Philippines
|
28 comments
on
With just five days left in the Philippines before my visa was due to run out, I knew I wanted to spend my final days lying on a beautifully secluded beach, working on my tan and sipping fresh pineapple juice.
I wanted somewhere similar to Boracay but without the tourists.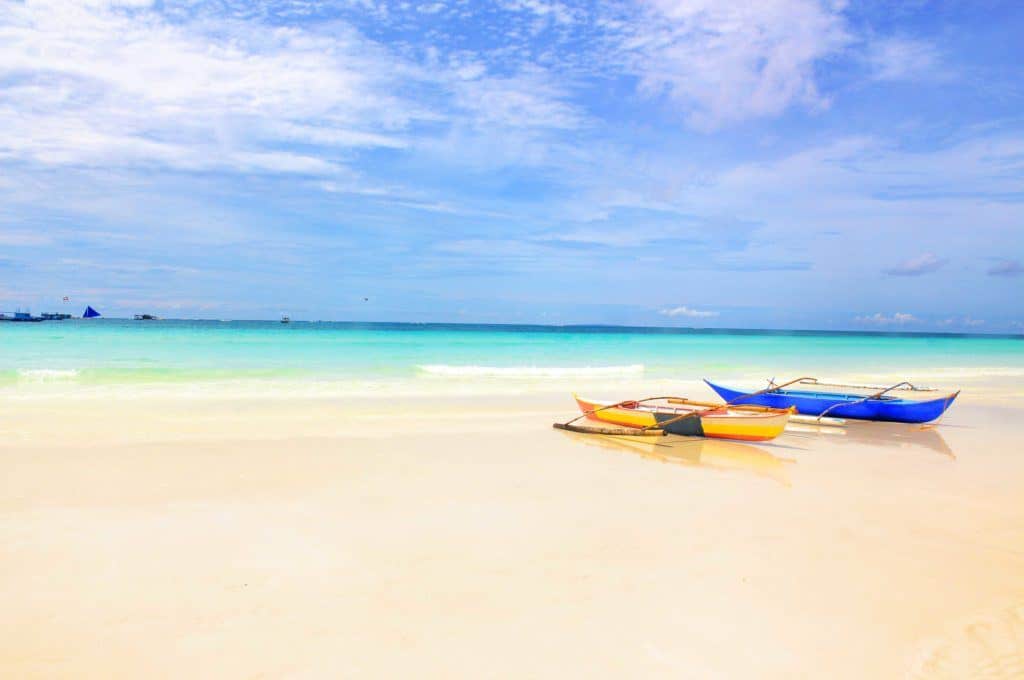 Fortunately, my travel companions had the same idea and as my laptop had recently broken I relied on them to research the prettiest beaches in the Philippines. They came to the conclusion that Coron had the best beaches and we booked our flights for the next day.
After a terrifying flight where the propellers on our plane seemed to stop entirely mid-air, and where I was 100% convinced I was about to plumet to my death, we landed at Coron airport and were immediately shoved into an overpacked, overheated jeep having no idea where we were actually being driven to…
Next was an hour of driving through Jurassic Park-esque scenery where Jen and I clutched at each other in fear as the jeep slowly crawled over creaking "bridges" – essentially two flimsy planks of wood thrown over a raging river, and which threatened to snap in half at any minute.
I wiped the sweat out of my eyes and grinned through gritted teeth, enjoying the adventure and simultaneously wanting it to stop. 
The jeep reached an area with roughly ten wooden huts, screeched to a halt and the driver motioned for us to get out with no explanation. We piled off with our bags as the jeep then sped off into the distance, its tyres kicking up a mixture of gravel, mud and dust all over us.
Under the sweltering heat and humidity, we stumbled along the dirt track for what felt like hours – desperate for a sign of humanity.
We eventually found a small sauna disguised as a guesthouse where we decided to stay. It was kept at a permanent temperature of 40 degrees celsius, and the owner appeared to be completely off his face on acid.
At least it was full of Christmas cheer.
As I collapsed in my bed, drained and dehydrated, I decided that beach time was definitely needed so found the owner to ask where the nearest beach is.
What I got in return was a blank stare and a handful of brochures. Upon enquiring further I found out that there were in fact no beaches in Coron town.
The beautiful beaches of Coron that we had read so much about were a 1500PHP($35) and 30 minute boat ride away…
Not being able to afford $35 a day just to get to a beach and with just four days left in the Philippines, I decided to give up and booked my flights out of the country – I would find my beach paradise elsewhere. 
Moral of the story: Don't trust somebody else to do your research for you! 
Disheartened by the whole experience but not wanting to leave Coron having seen absolutely nothing, I suggested staying in Coron for at least one day – We told the hostel owner we wanted to rent a boat for the day so that we could find a secluded beach to relax on.
At 7am, we arrived at the crowded boat dock and fought our way through the hoardes of people until we spotted the hostel owner frantically waving to us from a small boat.
He pulled us on board and introduced us to the other people who were part of our group tour. 
A group tour was definitely not what we had signed up for. 
I dismissed my growing concern and thought of the wonderful beaches that were in my future. It was going to be a good day. 
I allowed myself to relax as we glided past dramatic limestone peaks and secret islands with powdery white sand beaches.
This is precisely what I had come here for. 
The boat slowed to a stop and our tour guide pulled out a bag of snorkelling gear and announced that the first stop on our itinerary would be snorkelling at Siete Pecados for 10 minutes and at a price of 100PHP.
Pathetically, seawater brings my face out in a rash so I declined the opportunity to participate and instead tentatively asked the tour guide where the beaches were in the itinerary.
"Beaches?", he said in confusion. "We stop at a beach for 10 minutes for lunch. Many more things to see."
He reeled off a huge itinerary of things – all of which consisted of snorkelling in different lakes.
This was not turning out as I had expected. 
I dismissed my overwhelming feeling of disappointment and decided to make the most of my time in this beautiful part of the world.
Sitting back I smiled as I listened to the gentle splash of water against the side of the boat and watched my travel companions snorkelling in the distance.
We reached Kayangan Lake and unsurprisingly we had to once again pay an entrance fee – although with views like this it was definitely worth the 200PHP:
We spent the morning and early afternoon visiting lake after lake after lake – each with its own entrance fee and each one looking exactly the same as the last.
After six hours of sailing our tour guide announced that we would be heading to a beach. Finally!
From a distance he pointed out the tiny beach to us – it looked perfect.
Bobbing closer and closer, my eyes began to focus and I saw tour boat upon tour boat upon tour boat, the beach was jam-packed with tourists and the sea was just as bad.
Not exactly the beach paradise I had in mind when we decided on coming to Coron.
I jumped out and leaped up to the beach, laid down my towel and finally started to relax. I was optimistic that soon the boats would drift off and we would end up with the beach to ourselves – everything would work out in the end.
Ten minutes later I opened my eyes to see our tour guide looming over me ordering me to pack up and get back on the boat so that we would be able to make it to Barracuda Lake for some more snorkelling.
It was unfortunate that my last destination in the Philippines was spent on a group tour I didn't want to be on, going to places I didn't want to go to – especially after I had such an incredible time in Boracay and Bohol.
Although I was glad to leave Coron behind on this occasion, I intend on returning to Palawan in the future and hopefully next time I'll have a completely different experience.
Have you ever been disappointed with a place you arrived at with high expectations?
Posted by Lauren.