Laos is such an underrated country.
Sure, it doesn't have Thailand's beaches or Cambodia's Angkor Wat, or even Vietnam's food scene, but what it does have is beautiful scenery, friendly locals, wonderful architecture, and a laidback vibe. And seriously — I highly recommend visiting. Too many travellers overlook Laos, and that's a huge mistake.
And hey, it's inexpensive, too. While Laos is marginally pricier than Thailand, Vietnam, and Cambodia, it's nothing that's going to break the bank.
If you're wondering how much it costs to travel in Laos, this is the post for you. I've been tracking every single cent I've spent while travelling around the world since 2011 and today, I'm excited to share how much I spent on my trips to Laos.
Let's get started.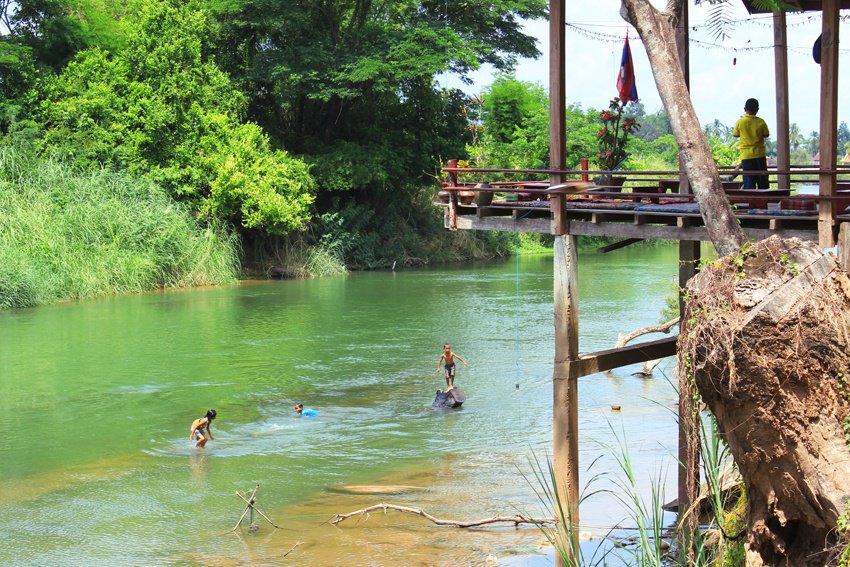 What to Know About Money in Laos
Laos' currency is called the Kip (LAK) and one U.S. dollar is typically worth, um, 11,600 kip. There's no need to worry too much about the conversion, however, as U.S. dollars are widely accepted throughout the country, as well as Thai Baht. You won't have to pay with kip too often.
Yes, most people use U.S. dollars in Laos, so don't be surprised to see many prices quoted in USD, although both currencies are accepted everywhere. In convenience stores and markets, you'll most likely be quoted in kip. The ATMs dispense kip and can be found almost everywhere.
You can't take any kip outside of Laos, so make sure you exchange any before leaving the country or you'll be stuck with them. This also means you won't be able to exchange your money into kip before you arrive in the country. But no worries — U.S. dollars will be more useful in Laos.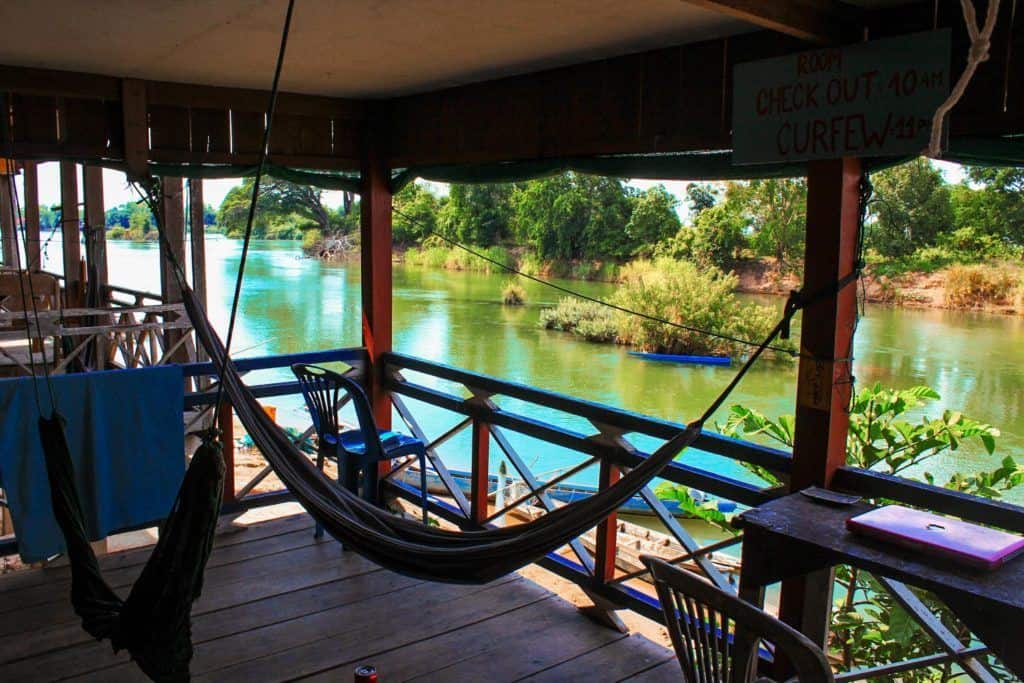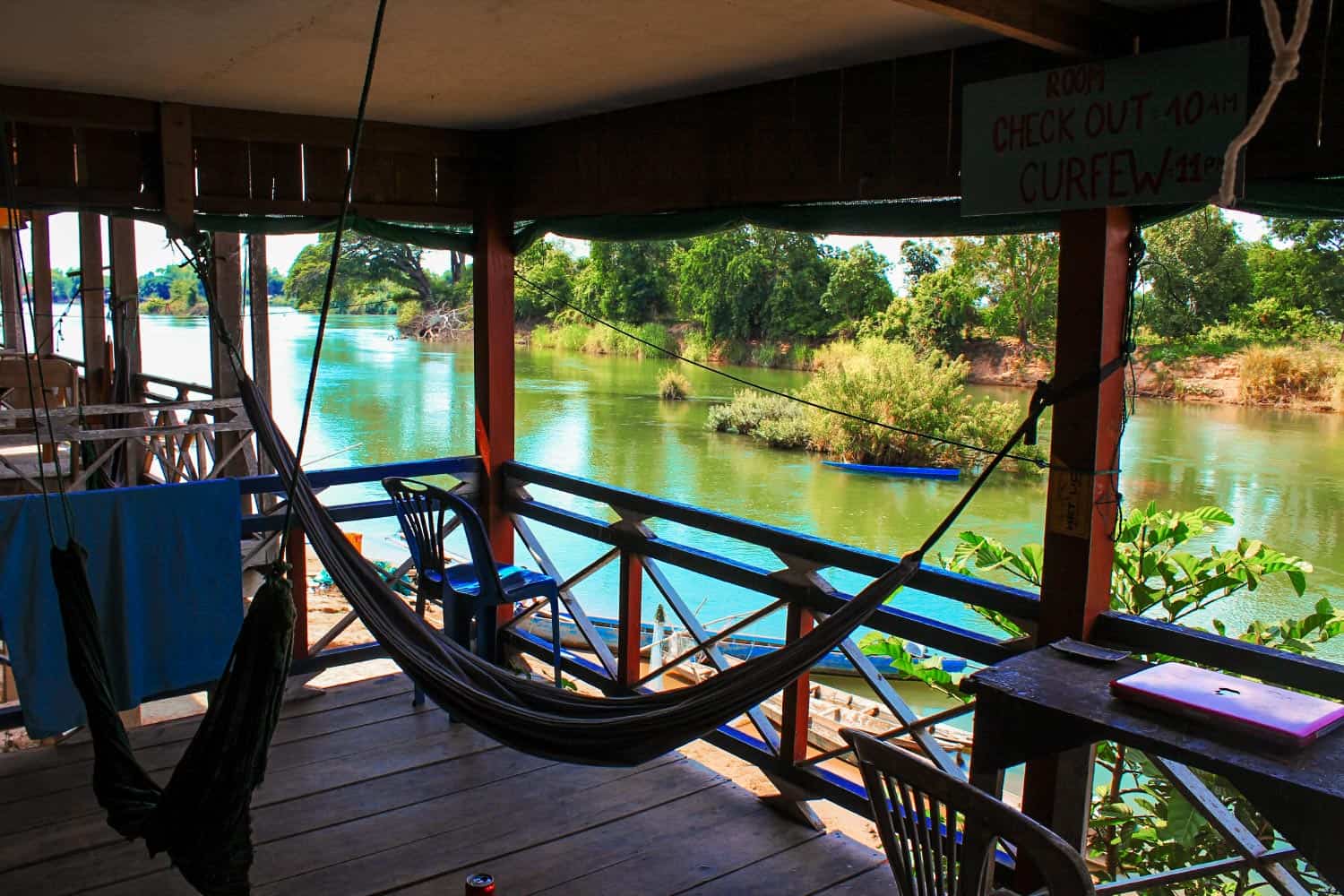 How to Find Cheap Flights to Laos
If you'll be entering Laos from anywhere outside of Southeast and East Asia, you'll be doing so via an indirect route. Yes, direct flights to Laos simply don't exist from Europe, the Americas, Africa, and Oceania.
To find cheap flights from any of these regions, then, my first recommendation is Secret Flying and my second is Skyscanner.
Secret Flying is my number one flying trick and it's rare for me to ever travel anywhere on a flight that wasn't found through that website. It's a flight deals site that shares some of the absolute best prices for airfare that's recently gone on sale. It's thanks to Secret Flying that I flew from Lisbon to Cape Town for €280 return, Rome to Japan for €350 return, London to Los Angeles for $120, and Singapore to London for $120. In short, regularly checking flights from your home country to Southeast Asia will help you save a lot of money.
First, check Secret Flying deals to Southeast Asia as a whole from the U.S., Canada, Australia, or wherever else you're from. You'll likely be able to pick up a flight to somewhere within the continent — most likely Bangkok, Ho Chi Minh City, Kuala Lumpur, or Singapore — for as little as €350 return. From there, you can use Skyscanner to find flights to Laos.
Of course, if Secret Flying doesn't have any great deals showing or you want to get to Laos with the least amount of hassle, you can use Skyscanner from the get-go. After 10 years of continuous travel, it's my favourite way to search for flights, as I love that you can search for flights from an entire country to Laos and that you can search for travel dates across an entire month to ensure you're flying on the cheapest days.
As always, the more flexible your plans, the easier you'll find it to save money on flights. If you're happy to fly into and out of different airports, you may be able to pick up a deal (flying into Luang Prabang and out of Vientiane, for example), and if you're happy to visit at any time of year, you'll be able to pick and choose the best prices, too.
The Cost of Accommodation in Laos
Fun fact: the cheapest accommodation of my life was somewhere I stayed in Laos. I spent a whopping 75 U.S. cents a night to stay in a place that was… admittedly very, very grim.
When it comes to saving money on accommodation, let's start with the options for budget travellers. And if you're backpacking through Southeast Asia and, you'll be impressed by how little money you can spend in this country.
The first option is hostels. Laos has hostels in all major tourist destinations, and they're one of your best options for saving money while still making friends. I always recommend staying in hostels if you're going to be travelling solo!
Hostels in Laos are similarly priced to elsewhere in Southeast Asia, so you can get by on not very much at all. You can expect to spend around $5-10 a night for a dorm bed in a decent hostel, and $15 for a private room, so if you're travelling as part of a couple, you may find you end up spending similar amounts for a private room, as opposed to going with two beds in a dorm.
Housesitting is an option if you're going to be trying to save as much money as possible but want to stay in nicer accommodation. The best option for Laos is Trusted Housesitters, and there are usually a couple of options up for grabs in the country — although not a huge amount. Housesitting allows you to stay in somebody's house for free, usually while taking care of their pets, and is a fantastic way to spend more time in Laos without breaking the bank.
Finally, when it comes to free accommodation, you could also check out WWOOFing. You'll receive free lodging and food in exchange for working on a local organic farm for a few hours every day. You'll likely make tons of new friends, learn a new skill, and see a side of Laos that few travellers get to experience. WorkAway is another option in Laos that'll give you a free stay in exchange for a more diverse choice of work (think: working with handcrafted jewellery, volunteering at a butterfly park, and helping to run an off-the-grid jungle farm).
Okay, but what if you're not a budget traveller and just want to stay in a lovely, well-reviewed hotel or guesthouse that's good value for money and has all the things you need from a place to lay your head? I've got you! I've visited Laos on both a mid-range and high-end budget, and was blown away by how much I could get for my money. For around $60 a night, you'll be able to stay in a seriously impressive hotel.
Fan rooms are always cheaper than air conditioned rooms, so if you're looking to save a little money and it isn't too hot while you're in town, go for the fan option — it'll be about 40% less.
A note that you should ignore any accommodation-based touts. If somebody greets you off the bus or boat and tries to convince you to check out their guesthouse, do not do so! I made this mistake in Luang Prabang and ended up staying in a place that was ranking 1298 out of 1350[!] on TripAdvisor.
The Cost of Transportation in Laos
Laos a small country, but getting around can be a pain the ass. Literally, if you're planning to do so by bus. And it can be time-consuming as hell if you decide to opt for the accurately-named slow boats.
If you're on a tight budget, overland travel is always going to be least expensive, so I recommend travelling by bus or by boat, depending on where you're heading. Most people get around the country by bus, as it's affordable and easy to book online through 12Go Asia. The buses are generally high-quality, although the roads can be poor, so expect a bumpy journey at times.
If you're travelling in a group, you may find it more affordable to hire a private taxi through 12Go Asia and split the cost between you. If a bus is $15 each, for example, and a taxi is $100 and there's four of you, it's probably worth paying the extra $10 to have a more comfortable journey.
If you have a little more cash to splash and want to cut down on some of those long, tiring travel days, you can opt to fly between destinations. I took a flight between Luang Prabang and Pakse to skip a 22-hour bus ride and it was more than worth the $80 I spent. It was only two hours by plane!
I wouldn't recommend hiring a car in Laos. The roads are bad and dangerous, it's tricky to get your hands on a Laotian driving license, and so it simply isn't worth the effort and hassle it'll take to get it all set up. Take the bus instead, or fly if you're short on time.
Within each individual destination, you'll find many of them to be extremely walkable, so you can save on transportation by travelling with your own two feet. Tuk-tuks are known as jumbos in Laos, and are a good option if you're heading somewhere that's too far to walk — expect to pay a few dollars for these. And negotiate! Always negotiate down to around 50% of the original fare. If in doubt, walk away. If you've gone too low, they'll let you leave.
The primary way to get from city to city is by bus.
Vientiane to Luang Prabang: Overnight bus, about 10 hours for $10 – $15 (87,000 to 131,000 Kip)
Pakse to Savannakhet: 5-hour bus ride on a local bus for $5 (44,000 Kip)
Savannakhet to Muong Khong in southern Laos: 8-hour bus ride on a local bus for $9 (78,500 Kip)
Here are some typical overland transportation costs you'll come up against while you're travelling in Laos. All prices are correct as of January 2023:
Vientiane to Luang Prabang: $15
Luang Prabang to Vang Vieng: $17
Pakse to Don Det: $11
Luang Prabang to Vientiane: $21
Luang Prabang to Nong Khiaw: $10
The Cost of Food in Laos
Laotian food is often overlooked by travellers in Southeast Asia; mistakenly viewed as being bland and boring in comparison to fiery Thai dishes and complex Vietnamese soups. Don't buy into the rumours: there's plenty of delicious dishes to sink your teeth into in Laos. Also, baguettes!!!! The bread in Laos is some of the best I've ever had.
When in doubt, hit the streets for a tasty inexpensive treat. Street food is nearly always delicious and costs just a dollar or two. It makes saving money on food incredibly easy. If in doubt, look to the locals. They aren't going to eat at places that will make them sick, so if you see a popular spot with a line of hungry people, that's a good sign you should grab some of whatever they're eating.
And as for restaurants, they're everywhere and reasonably affordable compared to the street food goodness. A two-course meal with a beer will come to around $10.
Speaking of beer, you can usually grab a can for around $1 — less if you're buying it from a convenience store — so drinking is fairly cheap.
Laos' tap water is unfortunately not safe to drink, so you'll want to either buy bottled water or use a Steripen to safely purify the tap water and cut down on plastic. night market buffet luang prabang all can eat
In Laos, I don't recommend cooking your own food, unless you have a strict dietary requirement. Buying ingredients for meals is simply too expensive — you can spend $10-15 on ingredients for a dish that you can get for $1 on the streets.
In general, I'd recommend expecting to spend around $7 a day if you're on a tight backpacker budget, $15 a day if you'll be occasionally eating in restaurants, and $50 a day if you plan on eating at higher-end restaurants.
The Cost of Activities in Laos
There's so much to keep you entertained in Laos, and many of the activities are free or inexpensive. In fact, I spent hardly any money on activities and entrance fees in Laos because there was so much to do that didn't cost a Kip!
If you're heading to Laos, you'll mostly likely be spending some time in Luang Prabang: one of my favourite spots in the country! There's lots to keep you busy while you're in town.
The temples in Luang Prabang are seriously beautiful, dwarfed only by the French colonial architecture within its Old Quarter — aim to spend several hours just wandering through town, soaking up the vibe and taking dozens of photos.
Set your alarms for 5 a.m. one morning so that you can witness the magical morning alms giving ceremony. Be wary of any locals that approach you during the ceremony and try to get you to participate — this is a scam! A, um, scam that I fell for.
When the sun starts to set, head up to Mount Phousi for the best view in town!
In terms of activities that cost money, you won't want to miss Kuang Si Falls, which are pictured at the top of this section. You'll pay 20,000 LAK ($2.50 USD) to enter, and a few dollars for the tuk-tuk there and back, but it's more than worth the money.
Elsewhere in the country, you'll want to head to the ridiculously chilled-out 4,000 Islands in the south of the country. Here, your main activity will predominantly be lazing in a hammock and watching the Mekong drift by. Before you head to the islands, I highly recommend a few days in the Boloven Plateau, which you can reach from Pakse. It's a remarkably relaxed part of the country and well-worth exploring.
Something I love to do when I travel is take tours! I always book mine through GetYourGuide or Viator, no matter where I am in the world. Here's an idea of the costs you can expect to be up for with these tours: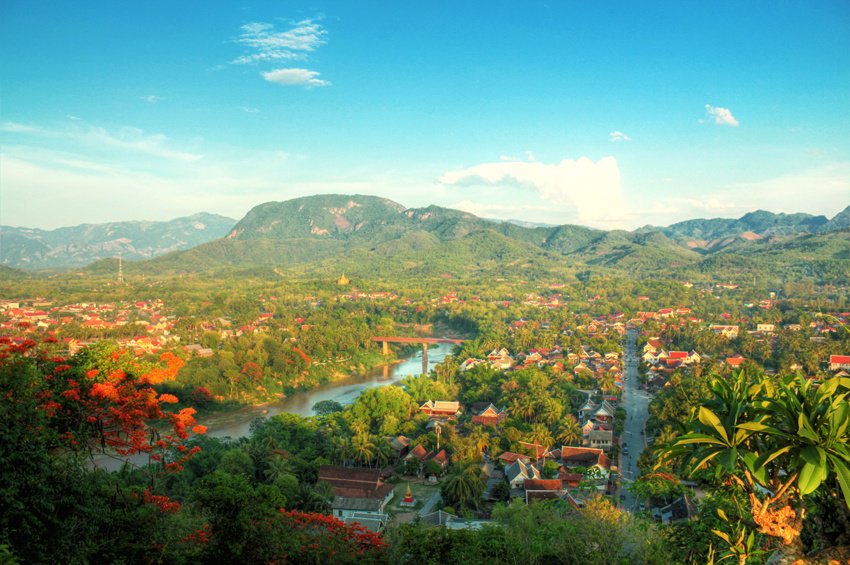 Miscellaneous Expenses for Laos
The Laotian visa: You can grab a 30-day tourist visa when you arrive for $50, providing you're from a visa-exempt country. You can also buy a visa online for the same price from the official government's website. I crossed the border into Laos from Thailand and it was a quick, hassle-free process. Just remember to have some spare passport photos on you, as you'll need two. I had to pay $1 at the border to get some taken, as I'd lost all of mine.
A Laos guidebook: A guidebook will give you an in-depth look into Laotian culture, suggest the perfect itineraries for the amount of time you have, and offer recommendations for where to eat and what's worth doing. I always opt for Lonely Planet guidebooks and their freshly-published Laos offering is fantastic at $18.
A Laotian SIM card: I don't know about you, but one of my least favourite aspects of arriving in a new country is having to figure out how to get connected. Specifically: buying a local SIM card so that I have data to use while I'm in the country.
There's locating a store that will sell you one, language barriers to deal with, various forms of ID you might need to bring, scams to navigate, and… well, it's a headache.
This year, I started using Airalo, which sells local e-SIM cards for travellers. What that means is that you can buy your SIM card online before you arrive in Laos, and then as soon as you land in the country, you can switch on your data and start using it. It's worked flawlessly for me and now, I'll never go back to physical SIM cards. You'll pay $9.50 for 1 GB of data for Laos and can also top-up through the Airalo app.
Just make sure you have an e-SIM compatible phone first — all recent iPhones and most Androids are.
If you don't want to go down the e-SIM route, you can pick up a SIM card when you're in the country. I recommend Unitel — you'll need to show your passport in order to get set-up, so don't forget to bring that with you. Speeds are slow and coverage is patchy, but it'll still do the job.
Travel insurance: If you've read any of my other posts on Never Ending Footsteps, you'll know that I'm a great believer in getting travel insurance. I've seen far too many Go Fund Me campaigns from destitute backpackers who are unexpectedly stranded in a foreign country after a scooter accident/being attacked/breaking a leg with no way of getting home or paying for their healthcare. If you can't be treated in Laos, where the healthcare isn't amazing, you'll potentially need to be airlifted to Thailand, Singapore, or Hong Kong. These costs can quickly land you with a six-figure bill to pay at the end of it.
In short, if you can't afford travel insurance, you can't afford to travel.
Travel insurance will cover you if your flight is cancelled and you need to book a new one, if your luggage gets lost and you need to replace your belongings, if you suddenly get struck down by appendicitis and have to be hospitalised, or discover a family member has died and you need to get home immediately. If you fall seriously ill, your insurance will cover the costs to fly you home to receive medical treatment. As somebody who developed an autoimmune disease that's known to be one of the most painful conditions in the world while travelling in the U.S., I strenuously recommend taking this seriously.
I use SafetyWing as my travel insurance provider, and recommend them for trips to Laos.
Firstly, they're one of the few companies out there who will actually cover you if you contract COVID-19. On top of that, they provide worldwide coverage, don't require you to have a return ticket, and even allow you to buy coverage after you've left home. If you're on a long-term trip, you can pay monthly instead of up-front, and can cancel at any time. They're the only travel insurance company I've found that covers travellers while riding scooters in Southeast Asia. Finally, they're affordable, and have a clear, easy-to-understand pricing structure, which is always appreciated.
How Much Does it Cost to Travel in Laos?
With all that being said, how much can you expect to spend on a trip to Laos? How much should you budget if you plan to visit for a week, two weeks, or even a month?
I always end my budget breakdowns with the daily costs of my cumulative time spent within a country, as I know it'll help you better plan out any upcoming travel expenses.
From my time in Laos, travelling on a mix of a backpacker budget with occasional mid-range splurges, I averaged:
Accommodation: $147
Transportation: $55
Food: $17
Activities: $15
Visa: $50
Total amount spent: $24 per day
Is the cost of travel in Laos more or less than you expected? Sound off in the comments below!