Something you might not know about me is my love for a certain Spanish island.
I first traveled to Mallorca when I was just 12 years old, and my family instantly decided it was one of our favorite places on the planet. We've returned year after year ever since, staying in different villages and towns on each and every visit. I've taken seven trips to the island in total, and I now know this island like the back of my hand.
And yes, it's still one of my favorite places in the world.
I'm on a mission to ensure that every visitor to Mallorca falls as deeply in love with the island as I have, so today, I'm thrilled to be sharing all of my favorite spots with you all.
The largest of Spain's four Balearic Islands, Mallorca, offers up an impeccable balance of culture, beaches, mountains, and food. It's main city, Palma, has all the qualities of a classic Spanish capital, thanks to its ancient castles and cathedrals. But as you move beyond Palma? That's when the qualities of Mallorca become even more clear.
If you took out the dozens of charming villages that coat the countryside, Mallorca's landscapes would be rugged. But the fact that you get to enjoy both within the UNESCO listed Serra de Tramuntana will have you ready to book your flight ASAP.
Mallorca is, of course, surrounded by the Mediterranean. Away from the inland, you'll have a long list of golden beaches, luxurious marinas and scrumptious food until you drop.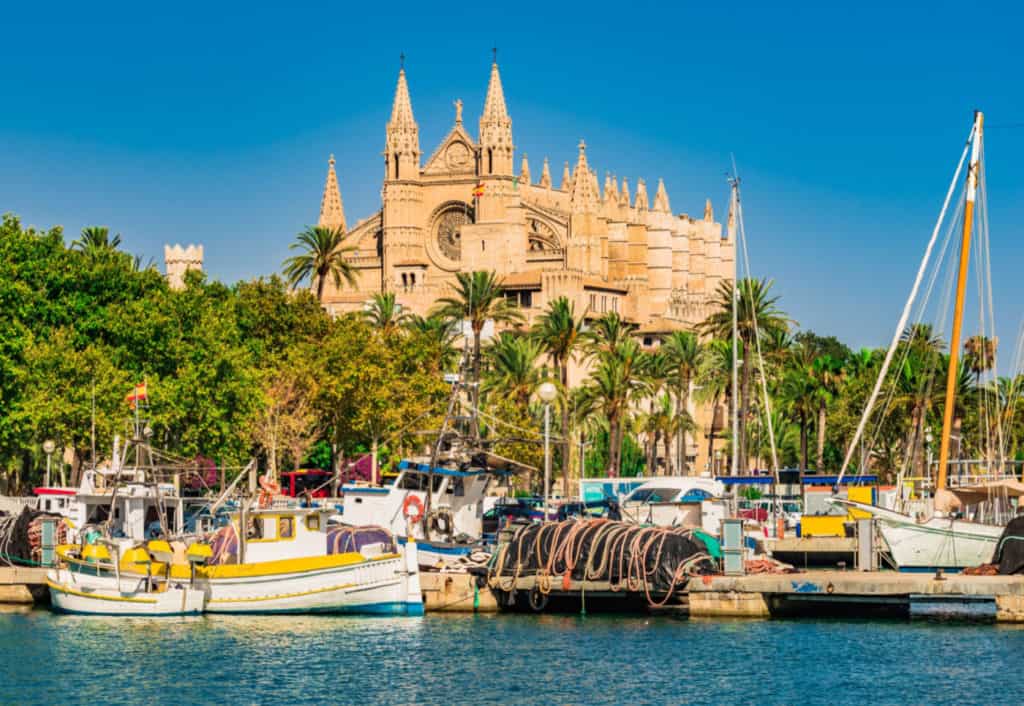 Explore Palma
Time in Mallorca is often split between the gorgeous mountains in the island's north and on the many beaches that envelope them. But to begin your journey through Mallorca, begin in Palma. Not only is it the largest city in Mallorca, but it's a popular base for exploring what is a surprisingly spread out island.
You could spend multiple days exploring the lively capital city of Palma, which harbors over half of Mallorca's residents. Spanish culture and traditions are alive and kicking here with long afternoon siestas and late dinners. Color and flavor are found in abundance and it's easy to find yourself falling in love.
The main areas to explore in Palma are the Old Town and Santa Catalina. Reasons for exploring the former are self explanatory, with Santa Catalina finding prominence on the back of its popularity among youthful locals.
As you meander down the city's historic streets, you'll inevitably stumble upon Palma's two major attractions, its castle and cathedral. When you add on Palma's seaside location, lively evening affairs and the beautiful Mediterranean, you can see why it's the perfect spot to kick off your Mallorca adventure.
To make things easy, you can jump between 20 attractions in Palma with this 24 or 48 hour hop-on, hop-off bus pass.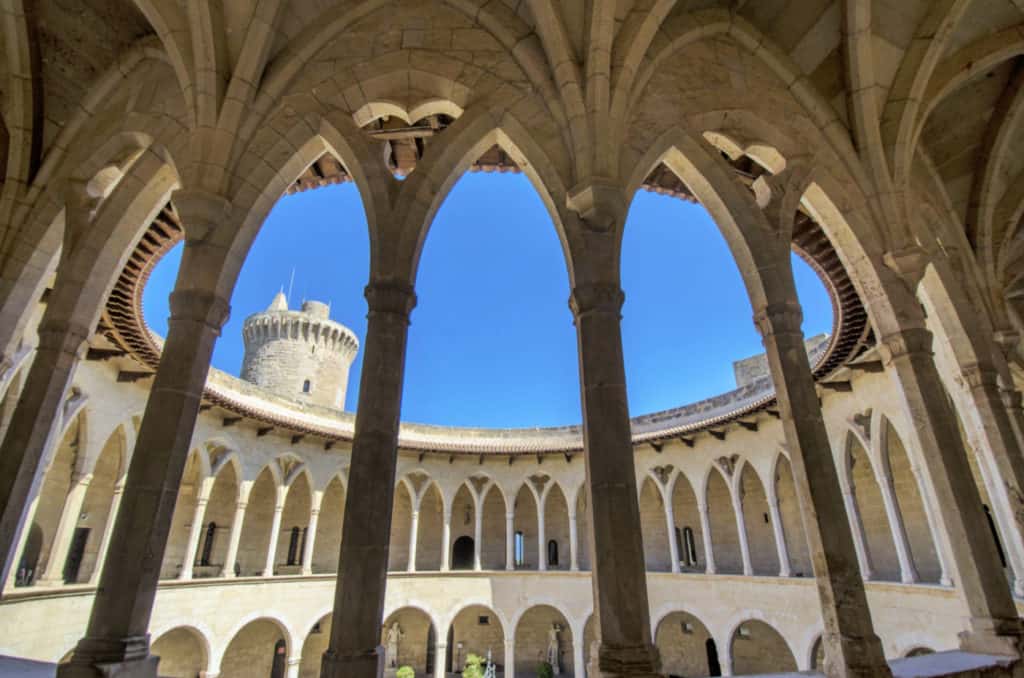 See the Views From Bellver Castle
There are a handful of magnificent castles in Mallorca, providing travelers with a window into the past. The best of them can be found in Palma, the Castell de Bellver. Under heavy influence from the East, the Bellver Castle has a unique circular layout, reminiscent of the Roman Colosseum.
Construction on the Bellver Castle began under the reign of James II and took much of the 14th century. So much so that James never spent a night in the castle, with the ensuing three kings of Mallorca making a home here over the following decades.
You may be thinking, well, what happened after that? The royal residence embarked on a completely different journey when it reopened as a military prison in the early 18th century. Many French soldiers found themselves behind bars after the Battle of Bailen, so too compatriots after the Spanish Civil War.
The Bellver Castle has continued to change its stripes, spending time as a currency factory and even as a private residence. But it still remains a spectacular piece of architecture. You'll be able to explore the onsite history museum, but the real highlight is walking to the castle's viewpoint for amazing city and coastal views.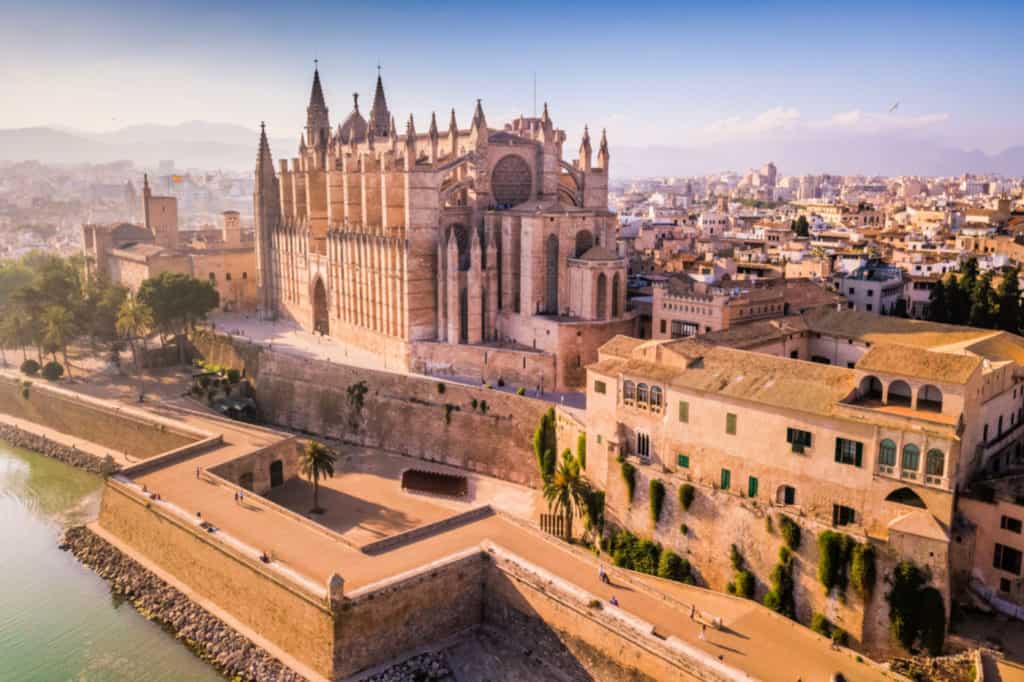 Follow It Up With Palma's Cathedral
Known simply as La Seu, the Palma Cathedral began life like many cathedrals in Spain, as a mosque. Conquerors came and went, slowly transforming the space into an eye-catching cathedral over the course of many centuries.
The careful and tireless transition has led to one of the most memorable sights in Mallorca. It stands on the edge of the Bay of Palma, with its lights reflecting off the water as the stars sparkle above. While the views from the water of the Palma Cathedral will keep your camera busy, it's what's inside that will get you the most excited.
The enormous structure spans almost two acres, with its nave rising to over 140 feet (44m). On either side are sparkling stained windows with the central fixture dating all the way back to the late 14th century. It provides the interior with an awe-inspiring glow and is thought to be one of the largest on earth.
As you continue to explore the historic Palma Cathedral, you'll have the chance to see the enormous triangular pediment that showcases the Last Supper along with the canopy, designed by Antoni Gaudi that hangs above the cathedral's altar.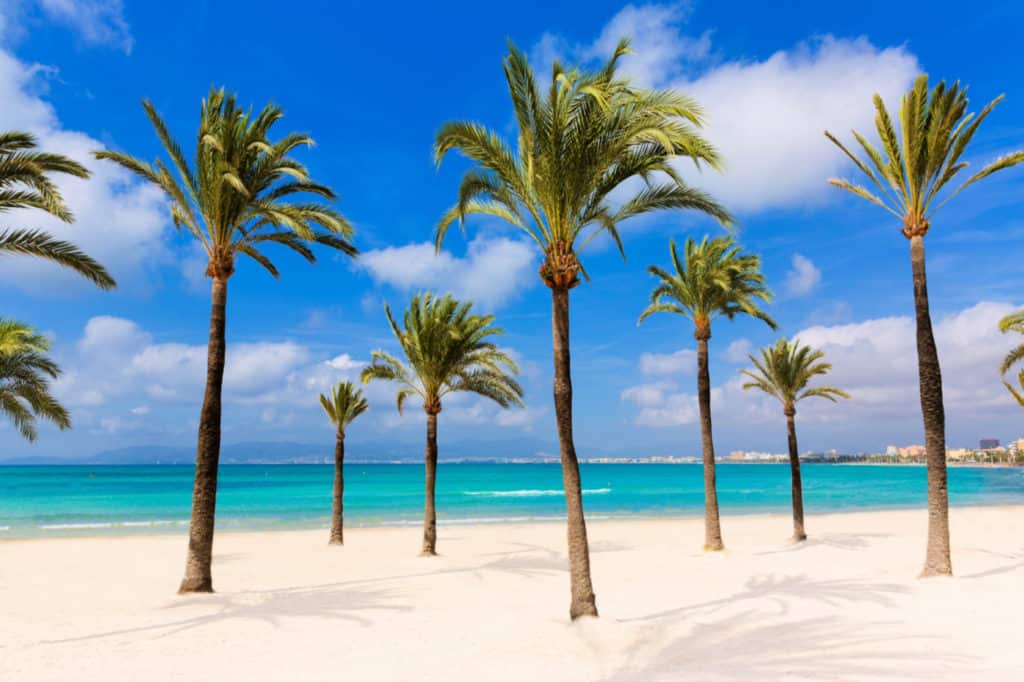 Sunbathe Along the Southern Coast
By now, you know that Mallorca isn't lacking in the history department. But it is an island in the Mediterranean and the golden beaches are a major reason it's such a beloved destination.
You can head in all directions to find yourself a patch of powdery sand and blue water, but your first port of call should be the southern coast. Southeast of Palma, the coastline offers the greatest collection of glistening beaches, towering cliffs and coves on the island of Mallorca.
You'll find exactly what you're looking for here, whether it's a boisterous beach day, or a quiet escape from the bustle of Palma. If you're after the latter, then make your way to Cala Blava. It offers a small cove devoid of large crowds. The swimming is calm, sand soft and the views back to Bay of Palma will have you smiling every time you look up.
The most popular beach along this stretch of coast, however, is El Arenal. This is a great place to go for a surf or swim with the waters offering just enough action without scaring the younger kids. You'll be able to rent sunbeds, umbrellas and gear. There's also a boat club if you fancy gawking at some luxurious yachts.
Explore the Old Town in Alcudia
From the south to the north, we turn our attention to one of the most interesting historic towns in Mallorca. Alcudia is packed with notable buildings, important monuments and fortifications, all the while surrounded by lush green pines, the turquoise Mediterranean and the rolling northern hills.
Much of the fortifications you'll discover in Alcudia were designed to keep pirates at bay during the Middle Ages. Along the ancient walls that surround the town, you'll find ramparts that lead to memorable views of the town and coast. The predictably narrow streets guide you by cute shops, tapas bar and town squares, while the fabulous farmers market in the Old Town runs on Tuesdays and Sundays and is perfect for loading up the picnic basket.
But Alcudia isn't just palatial Renaissance homes, walls and 15th century churches. Alcudia harbors some beautiful nature including at La Albufera. Here, you'll discover a natural preserve one that 200 bird species call home throughout the year.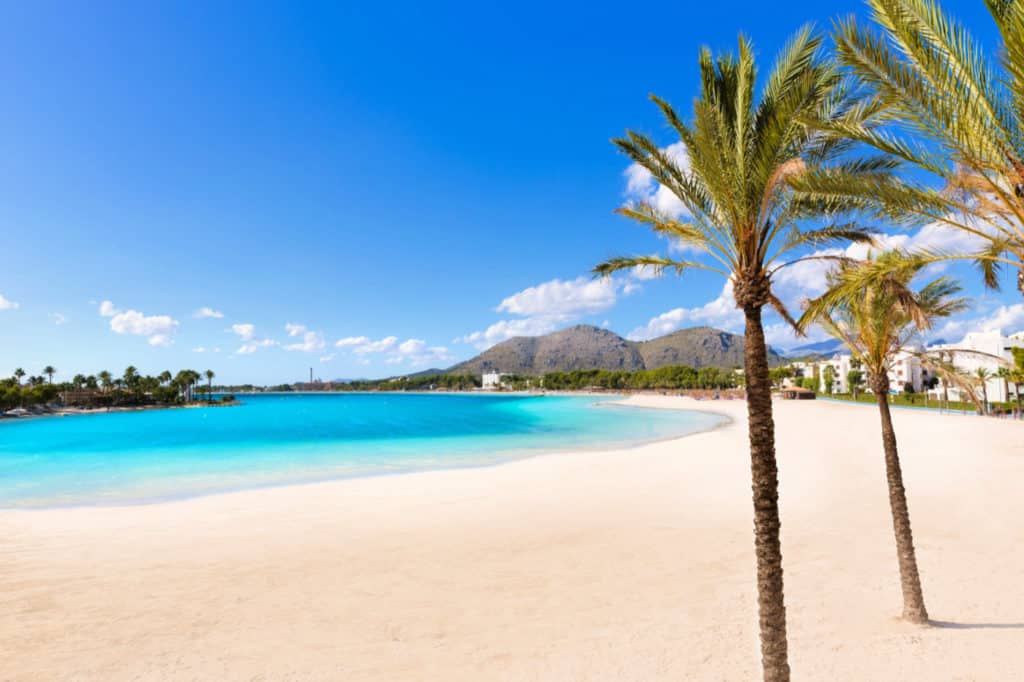 For more sand and sun, make your way to the water's edge and lay down on the beach at Puerto Alcudia. The many coves come with baby blue water and amazing clarity. Whenever you're feeling peckish, simply wander to the nearby waterfront promenade for a beautiful stroll with the sea on one side and restaurants on the other.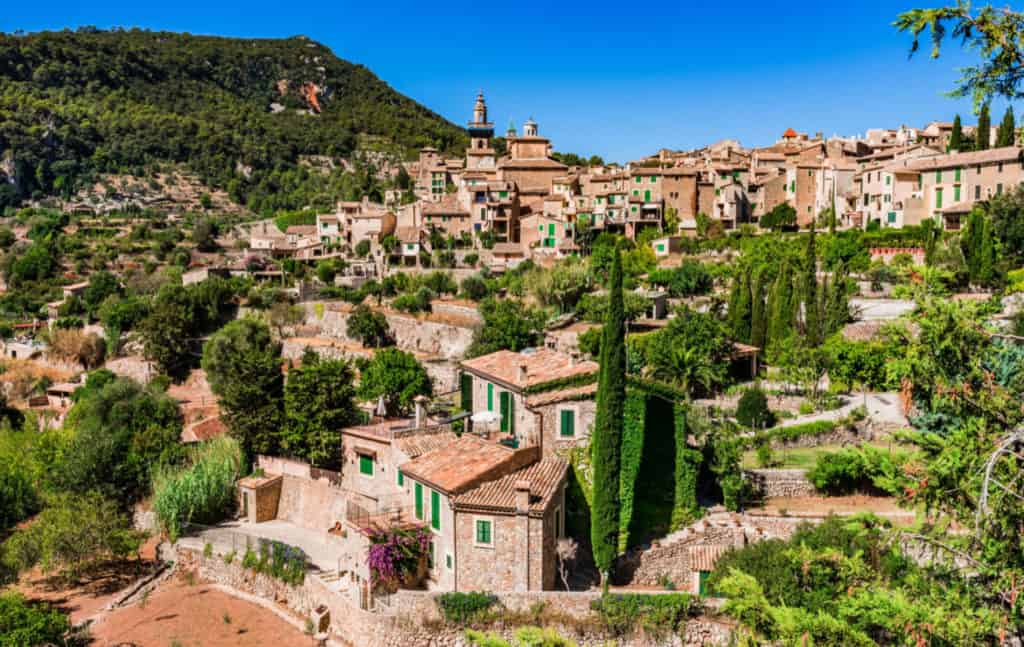 Head to the Mountains and Visit Valldemossa
It doesn't take long for the mountains to greet you as you make your way north of Palma. Brimming with beautiful mountain villages, this region is a lovely complement to your time in the city and along the golden coast. Valldemossa is one of those villages, a historic town that you must add to your Mallorca itinerary.
Valldemossa is a village brimming with tales from the past. Its old buildings remain as charming as ever as they sit atop a hill overlooking the northwestern edge of Mallorca. It's a town of two sides, offering travelers a spectacular location to enjoy the Tramuntana Mountains before the winding roads lead them down to the Mediterranean Sea and the quaint fishing town of Port de Valldemossa.
Life in Valldemossa is slow. You'll wake up to the sounds of silence with the sleepy village taking a minute to get rolling. But soon the community gathers in Plaza Ramon Llull, a leafy, central square surrounded by now vibrant cafes and bakeries. From there, thin pedestrian-only streets guide you from A to B pass stone centuries-old stone structures including the Real Cartuja de Valldemossa.
The monastery was built in the 14th century and has been a fixture in the Valldemossa skyline ever since. It replaced a Moorish alcazar and was home to Carthusian monks for over 400 years. Today, visitors are welcome to explore several rooms and the surrounding grounds.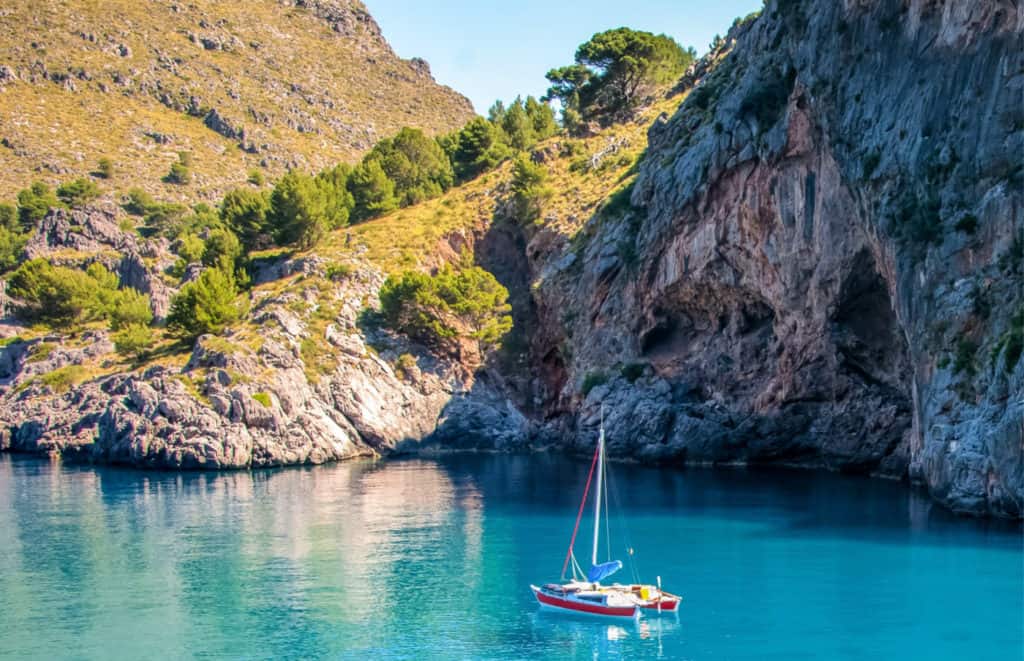 Go for a Sail
Engulfed by the Mediterranean Sea, Mallorca offers limitless opportunities to experience life on the water. The most popular spot to jump on a boat and go for a sail is in Palma. Not only will you be able to explore the beautiful Bay of Palma and check out the city skyline, you'll also have easy access to the stunning southern coast.
On this catamaran cruise you'll jump on board the luxurious catamaran Oasis and watch the hulls splice the Med as you make your way out of the bay into the wide open sea. As you cruise along the coast, you'll have several opportunities to jump off the catamaran and into the refreshing sea.
Some of the stops include a cave such as La Cueva Verde where you can enjoy some delicious Iberian ham and a drink in your private spot before continuing on to a series of beautiful golden beaches. Along the way you can snorkel, kayak and try your hand at stand up paddleboarding before sampling the chef's mouthwatering bbq lunch, tapas and canapes.
Mallorca is also known for its dolphins, so be sure to keep an eye out for them as you cruise along!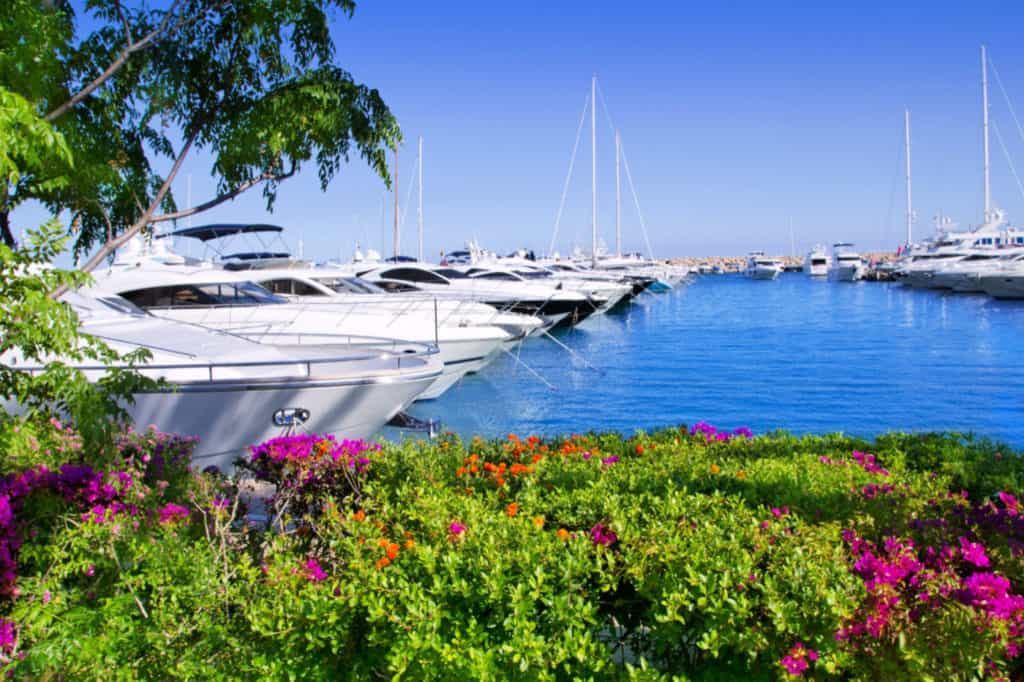 Enjoy the High Life at Puerto Portals
Speaking of enjoying the finer things in life, you can keep the ball rolling with a visit to the alluring Puerto Portals. The charismatic town is renowned for its resorts and has long been the chosen destination of wealthy travelers and even the Spanish royal family.
It may not be your style or even suit your budget, but much of the glitz and glamour of Puerto Portals can be experienced on foot. Think of it as an even smaller version of Monaco. As you wander along the waterfront, you'll pass upscale marinas where 40-foot yachts and ocean-going motorboats dock. Back on the street, you'll spot every kind of sports car parked in front of famous stores and renowned restaurants.
After soaking in the sun and daydreaming about jumping onboard one of the many luxurious yachts, take your pick of mouthwatering restaurants, each with their own sun-swept patio. Under the warm Spanish sun, enjoy Michelin-starred dining at Baiben, traditional Spanish cuisine at Restaurant Flanigan or kick back at the relaxed Tristan Bistro.
Life here isn't just for the rich and famous. Food aside, Marineland Mallorca is a beloved family attraction. Featuring water slides, animal exhibits and an aquarium, it's a popular place to take the little ones.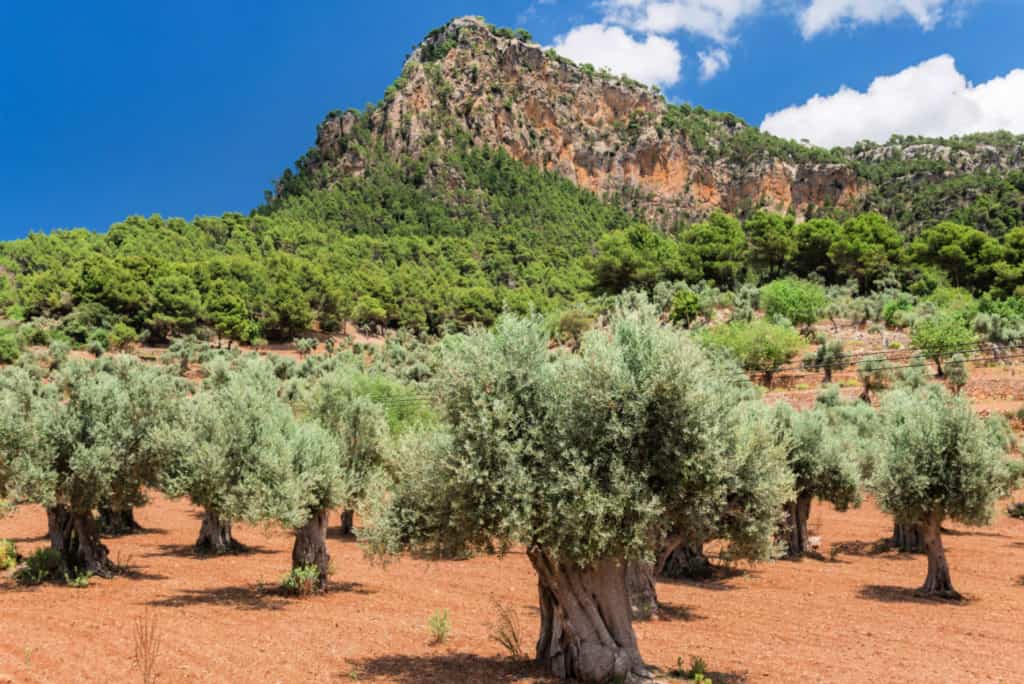 Sample Genuine Olive Oil
When shopping for cooking oil, it's often a battle of saving money or splurging on olive oil. It's a back and forth battle. But even if we choose the more expensive (and yummy) route, it's still only a small glimpse into the world of genuine olive oil. You know, the kind you can drink straight from a cup!
Nestled in the Tramuntana Mountains is an estate known as Son Moragues, home to a vast grove of around 10,000 olive trees. The know prominent olive oil farm was once the home of Grand Archduke Ludwig Salvator, but it's now known for its authentic olive oil.
Guests will have the chance to explore the estate on a trio of different tours, one that helps to establish not only the quality of the produce, but explore Spain's olive oil culture and the interesting history of Son Moragues. As you explore, your expert guide will peel back the curtains on the estate's sustainable olive production, while you'll also have the chance to sample the end result.
It all comes to a head when you experience a group picnic boasting plenty of olive oil and a charcuterie board laden with delicious homemade goods.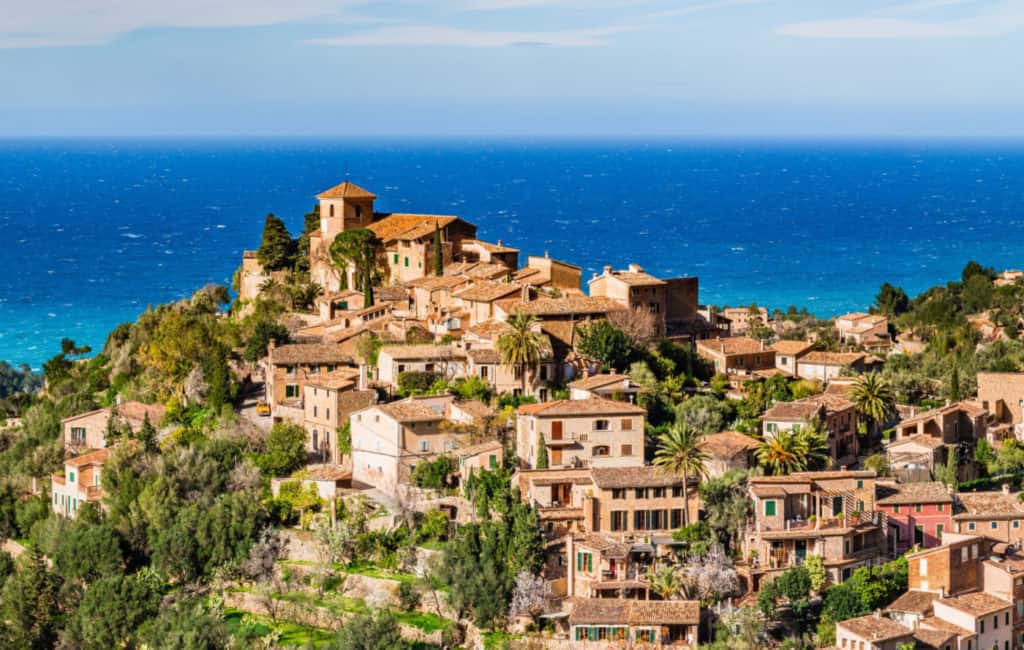 Spend a Day in Deia
Just 15 minutes north of Son Moragues is the magical village of Deia. Throughout history Deia has been a place for artists, writers and other creatives. It's been described as a place that does not inspire, but rather it's beauty is a place where the inspired can put their ideas to work.
You won't then be shocked to hear the Andrew Lloyd Webber created some of his greatest Broadway hits right here, so too David Bowie, the Rolling Stones and the Beatles. Yet with only 700 residents, it's not a cosmopolitan city teeming with celebs and paparazzi. Its tranquility is immediately noted.
Life here rolls along slowly, even by Mallorcan standards. The surrounding mountains form something akin to an amphitheater, providing excellent views from wherever you are in the homely hillside town. In combination with the cobblestone streets and Renaissance architecture, the Tramuntana Mountains are UNESCO World Heritage, listed as a cultural landscape.
So, despite its history and grandeur, it doesn't fall into the category of a tourist trap. The nearby beaches cut into sandstone cliffs and deliver blue-soaked waters. Away from town, you can hike to the top of the Tramuntanas or down into the Barranc de Biniaraix, a vast canyon. Elevated restaurants not only serve up heightened cuisine but provide front row seats to the spectacular sunsets.

Take a Road Trip
OK, it may on take six hours to drive around Mallorca, but with its twisty, narrow roads, gorgeous coastline and mountain scenery, having your own car is the best way to get around. For the most part, traffic isn't awful either.
So why am I telling you this? Well, it's all a long-winded segway into your next adventure: the Sa Calobra. The Sa Calobra is a part of the island's MA10 road which connects a part of Escorca to the gorgeous beach of Cala Tuent and, later, Sa Calobra. Between either destination is 8 miles (13km) of narrow, winding roads without a line splitting the lanes.
Throughout, there are 12 curves of 180 degrees (or more!) including one iconic turn known as the Nus de Sa Corbata that is just shy of 360 degrees and sees the road curve under itself. The difficult road will take all of your concentration, so be sure to count your lucky stars if you end up in the passenger seat and are able to enjoy the stunning vistas.
I always say that the journey is more important than the destination. But along Sa Calobra, both are equal. After the memorable drive to the coast, you'll arrive at Sa Calobra. Here you'll find a beach that is as narrow as the road but leads to rocky cliffs on either side and an unforgettable sunset spot.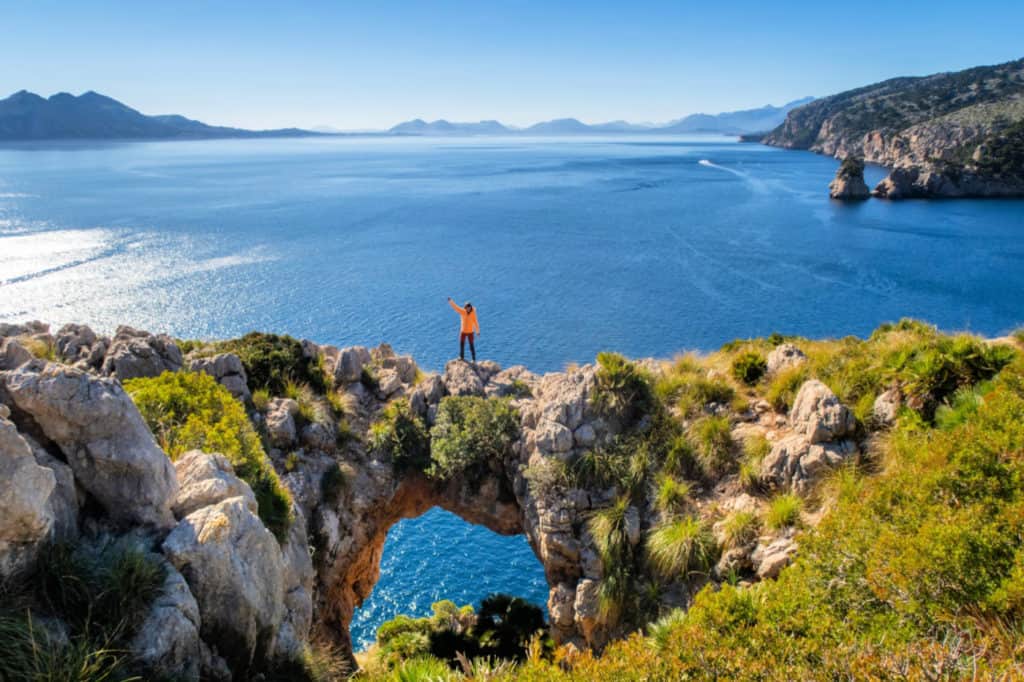 Take a Hike
You'll no doubt find plenty of hiking opportunities around Mallorca, especially when visiting towns perched on the edge of the Serra de Tramuntana. The range of mountains and craggy coastal cliffs help to show that this tight, compact island remains packed with adventure.
Around Mallorca you'll find rocky gorges to venture into, casual coastal paths to follow and, of course, some leg-burning, sweat-inducing hikes to towering peaks. If you want to plan ahead and include a hike or two on your trip to Mallorca, then these are a few you should consider:.
Soller isn't just known for its train journey, town square and parishes. Lying in the foothills of the island's biggest mountains, it's a hub for hikers. Two popular hikes are moderate loops to the small mountain villages of Fornalutx and Biaraix. Both take around 3 hours, so pack lots of water and leave plenty of room for tapas along the way.
Puig Major is Mallorca's tallest mountain. However, it's a military zone and thus inaccessible. Puig de Massanella, which stands at 4,475 feet (1,364m) is the perfect back up. It's a long 10 mile (16km) loop with over 3,500 feet (1088m) but all the effort is rewarded with a trek through thick oak forest, which soon makes way for panoramic coastal views.
But for a true challenge, how about the Dry Stone Route? Spanning 84 miles (135km) this is Mallorca's ultimate adventure. Beginning on the coast, it makes its way through the Tramuntana Mountains along a series of ancient pathways.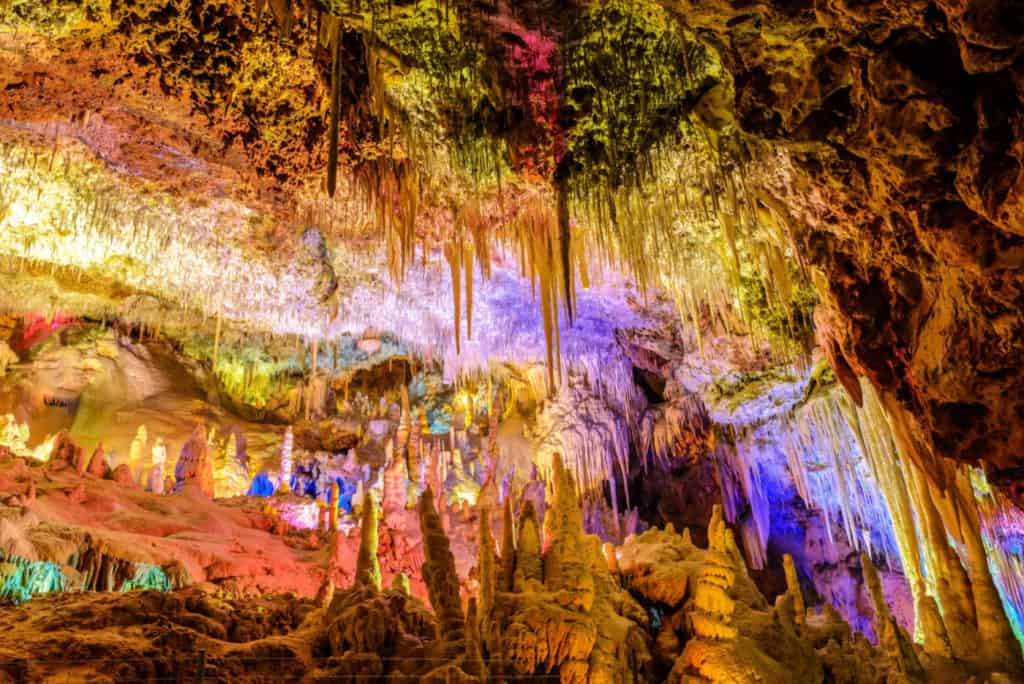 Check Out the Cave of Hams
On Mallorca's east coast, near the town of Porto Cristo, is a captivating underground labyrinth. Known as Cuevas dels Hams aka the Cave of Hams, this subterranean attraction dates back 10 millions years. Yet it was just over a century ago that eyes were laid upon it for the first time.
Since that fateful day in 1905, the caves have become one of the most interesting things to do in Mallorca. But don't be alarmed, it's not a cave full of ham. In fact, it received its name thanks to the vast mass of stalagmites and stalactites that stand and dangle like fish hooks (ham means fish hook in Mallorquin).
Lorenzo Caldentey, whose father discovered the caves, is credited with turning it into an accessible destination. He created a light show that not only allows you to discover the cave's 15 different areas and the beautiful underground lake known as the Sea of Venice but experience what is called Magical Mozart. This is a cave experience accompanied by musicians play on a rowboat as it floats across the lake.
On this Cave of Hams experience you'll discover over 2,700 feet (850m) of the cave while enjoying the tunes of Mozart on the Sea of Venice.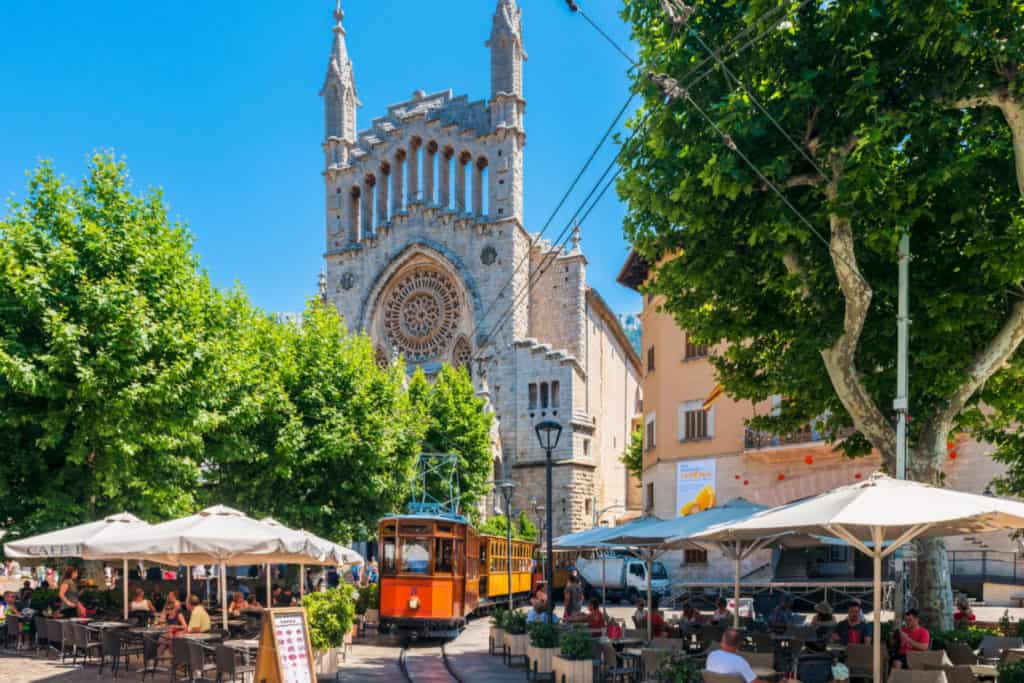 Take the Train to Soller
Getting around Mallorca on four wheels may be the easiest and often the most scenic, but it's not the most unique. That title goes to the train journey between the capital city of Palma and the country town of Soller. Riding onboard a 1912 locomotive, you'll journey into the Tramuntana Mountains towards your memorable destination.
The train remains much as it always has, with lacquered wooden ceilings, gilded sconces and a mix of leather and metal seats. The 60-minute journey begins at the historic Palma de Mallorca station (one worth checking out ahead of time) and takes you through fields of farms, carob and almond trees with stops at even smaller towns along the way. It provides a unique look at life in Mallorca, one that existed when the train was in its infancy.
Once you've arrived at Soller, take the afternoon (and even an extra day) to explore yet another example of Mallorca's small town beauty. You'll discover more tightly packed streets, parishes from the 1300s, and the town square that looks straight out of a Disney film. You can also go a little further and visit UNESCO Jardines de Alfabia, a palace surrounded by mesmerizing grounds.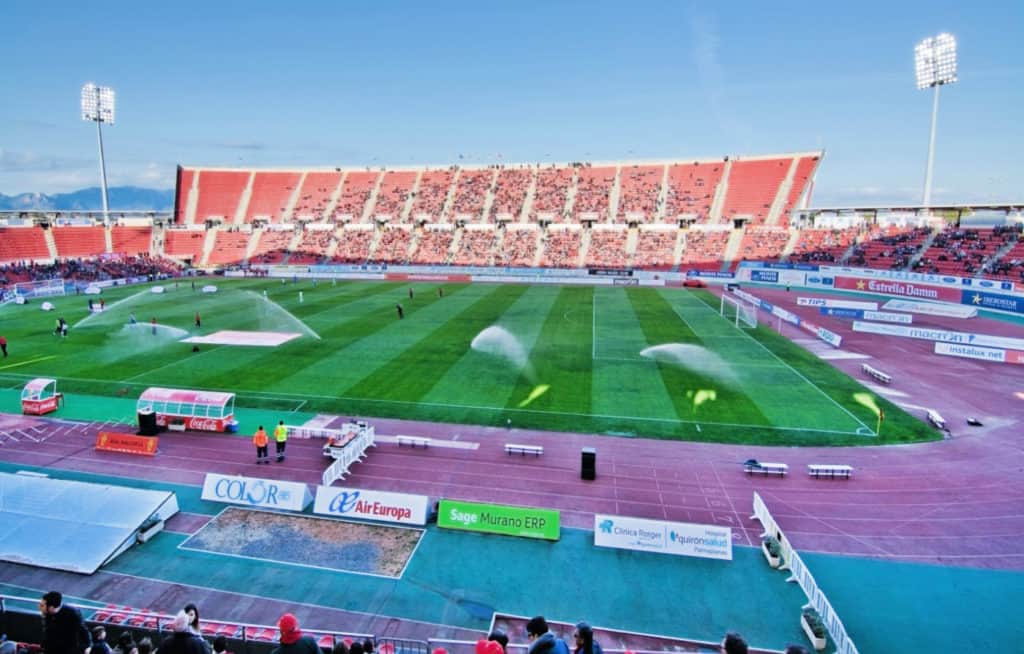 Watch RCD Mallorca Play
Sun, sand and history may have been the motivation for visiting Mallorca and many of the stunning Balearic Islands. However, that doesn't mean life here doesn't share many similarities with that on the Spanish mainland. If you enjoy live sport, then why not check out some La Liga?
RCD Mallorca is the biggest of the island's two clubs and is based out of Palma. After seeing the cathedral and castle, make your way to Son Moix, the home stadium which has a capacity of over 23,000 fans. This may be small by La Liga standards, but the island team has a long history in the top flight of Spanish football. Who knows? You may even get to see Barcelona or Real Madrid after a day at the beach!
Getting to the stadium isn't a big task. It lies just over two miles (3.5km) north of the city center with regular buses running on game day and taxis also lending a hand. Home games do have a great atmosphere, but as the stadium doesn't regularly sell out, you can often pick up tickets at the gate. But if you want to do it ahead of time, you check out their website.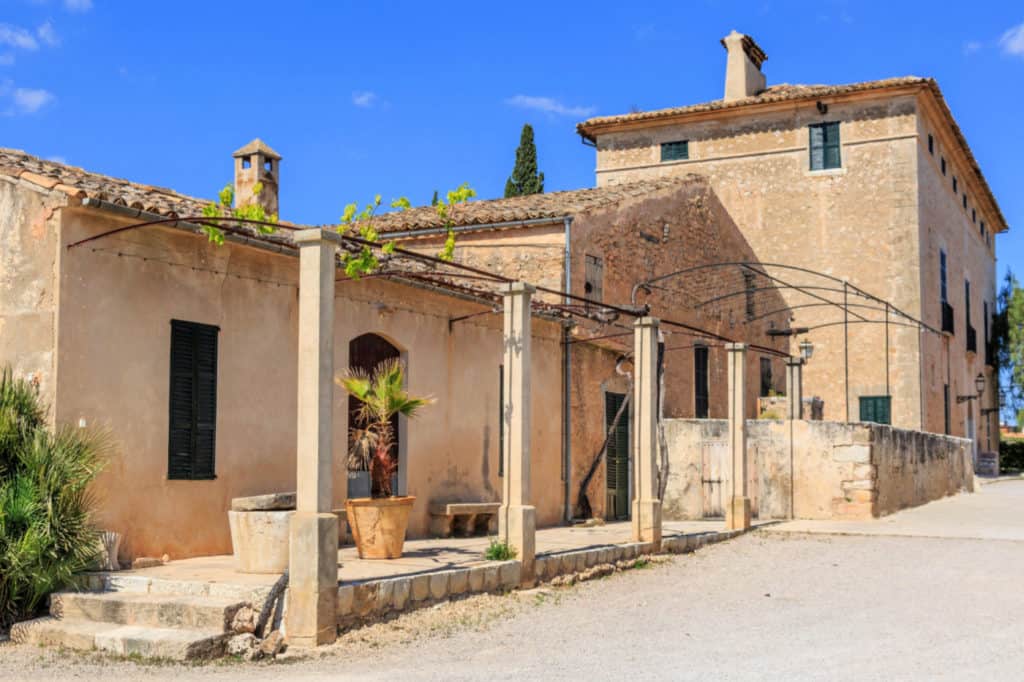 Sample the Local Tipple
Spain is the second largest producer of wine on earth, with much of that hailing from the rich Iberian Peninsula. But that hasn't stopped Mallorca from getting in on the action. The rolling hills in the interior and towards the north offer the right climate for wine growing, which means no time on the island would be complete without checking out the many vineyards.
You may have a hard time visiting all 70 of them, so let us help you break it down to just a handful. Our top pick is the historic (and still family-owned) Bodega Ribas. This beautiful winery dates back to 1711 and, for over three centuries, it has been at the core of Mallorca's grape growing. You'll find the winery in the charming village of Consell and visitors will be able to take a tour behind the scenes before settling in the beautiful courtyard for some samples and, yes, plenty of tapas.
Other hits include Ramanya Wine Cellar and the Bodega Can Majoral. The former offers a stunning desert-like setting and delicious wines. However, it's the museum that is the highlight. Inside you'll find traditional farming equipment, historic carriages and pottery. As for Bodega Can Majoral, this is an organic winery that offers 200 lucky souls that opportunity to join their annual full moon harvest.
Prefer to explore Mallorca's wine region alongside an expert guide? Check out this small group tour.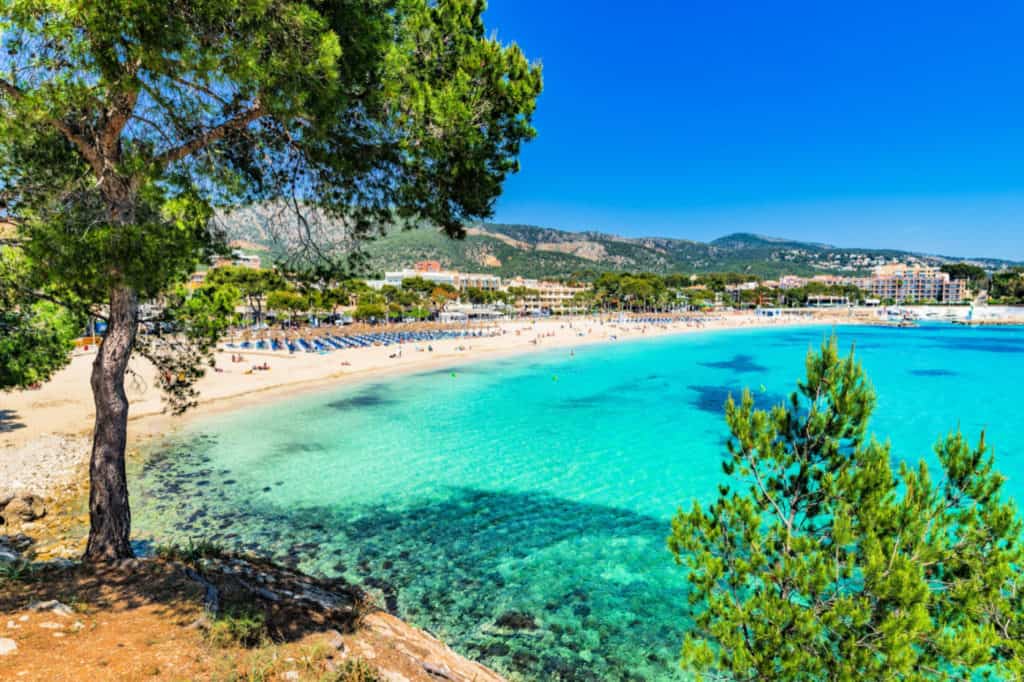 Explore the Calvia Coast
Ok, so you've ventured down the thrilling, hair-raising road to Sa Calobra, however, you'll be happy to know that the fun isn't over yet. An exciting follow up to that epic drive is one along the Calvia Coast. The drive may not feature as many hairpin turns, but it's the stops along the way that makes it worthwhile.
The spectacular road runs for just over 30 miles (50km) along the southwest coastline. It begins just out of Palma, claiming beach after stunning beach along the way. Because of that, we recommend a few days to see it all and be sure to pack an extra set of sunscreen.
Beaches to add to your Calvia itinerary include Playa de Palmanova and Cala Vinyes. The former runs for over half a mile (1km) as it curves around the golden coast. This is a popular beach among families thanks to its range of amenities, not to mention the lifeguards and water sports offerings.
Cala Vinyes is a little more remote, being a small slit of sand perfect for bidding adieu to the world. Relax under the umbrella, sip sangria and tuck into a good book.
Visit Mondrago Natural Park
You've seen the towns, the squares and taken the car down the Sa Calobra, so now it's time to experience the best nature that Mallorca has to offer. The Mondrago Natural Park is an untouched paradise and one of the island's top treasures. Visitors will uncover a world of diverse animal and plant life along with beaches that are as beautiful as any, just without the crowds.
Near the town of Santanyi, the park spans 700 hectares along Mallorca's southwest coast. With regular buses and road access, it's an easy place to reach. But you quickly feel like you're away from the rest of the island. Thanks to Mallorca's great year-round weather, there's never a bad time to visit. In fact, the changing but relatively mild seasons help to create a diverse landscape and a mix of mountains, dunes and cliffs.
There are four easy hiking trails through the park. Each help to showcase a different aspect of Mondrago from the mountains to the coasts and even its history, which includes military buildings, pirate hideouts and ancient waterwheels. Birdwatchers can pass up an opportunity to visit. It's the best spot on the island with the chance to see peregrine falcons, vultures, turtledoves, and kestrels.
Whenever you need to rest, wander down to the many coves where you can relax on sparkling white sand as the Med rolls in and out.