Andalusia is unlike anywhere else in Spain, and it's one of my favorite regions. The second-largest autonomous province in Spain boasts sandy beaches, snowy mountain peaks, Europe's only true desert, as well as enormous, vibrant cities, and quaint whitewashed towns perched atop cliffs.
As amazingly diverse as its geography is, this is only secondary to the fascinating history and culture of the region, which owes as much to the Islamic caliphates that occupied the area for centuries as it does to the Spanish kingdoms that later flourished. This melting pot of influences is most notable in the stunning architecture of the numerous cathedrals and alcazars (fortresses), which blends Moorish aesthetics with the Gothic and Baroque ideals of Western Europe.
It's not just the buildings that have their own flavor: the food, too, has its own unique specialties, many involving fresh fish from the extensive coastline or cooling dishes designed to take the edge off the heat.
Personally, I'd recommend kicking off your Andalusia adventure in either Seville or Malaga, as these cities have the two best-served airports in the region. As the route we're going to outline is essentially circular, it doesn't particularly matter where you choose to begin, but we're going to start in…
Day One: Seville
Seville is Andalusia's largest city and sometimes described as the hottest place in continental Europe. Even in October, we were sweating after just an hour of scuttling about streets filled with food markets, tapas bars, and pretty palacios.
Fortunately, many of the older landmarks were designed to ameliorate the heat, including the Royal Alcazar. This extensive complex was built on the site of a former Muslim fortress by Pedro I, a great admirer of Islamic design, who decided to construct a luxurious residence for himself using the principles of Moorish architecture. We were particularly overawed by the Salon de Embajadores (Hall of the Ambassadors), a room of intricately carved walls crowned by a golden, domed ceiling that dazzles today just as much as it must have impressed foreign dignitaries hundreds of years ago.
The palace also boasts extensive gardens as well as a café where you can dine on simple snack fare amidst ostentatious peacocks, which freely wander the grounds. Make sure you book your ticket in advance, as queues during high season can last hours – and believe us, you don't want to be standing for that long under the blazing sun!
Just next door to the Royal Alcazar is Seville's principal religious edifice, the Cathedral of Saint Mary of the See. A solid beast of a building that seems to sprawl outwards in a slightly higgledy-piggledy way, what you see today is the result of successive additions, from original mosque elements like La Giralda (once a minaret now a bell tower) to the Gothic vaulted ceilings and detailed carvings framing each of the many entrances.
While it makes sense to take in both the palace and the cathedral at the same time due to their proximity, we ended up exhausted just because there's so much to absorb and explore. Fortunately, the nearby streets of the Barrio de Santa Cruz are the perfect retreat for some tapas and a glass or two of tinto de verano. This mixture of red wine and lemon soda is like sangria but more commonly drunk by the locals – its origins lie in the neighboring city of Cordoba (more on that later).
Where to stay in Seville: We opted to go for the newly opened Querencia de Sevilla, right in the heart of the city. Everything was tastefully decorated with modern fixtures, and the view from the roof is truly spectacular.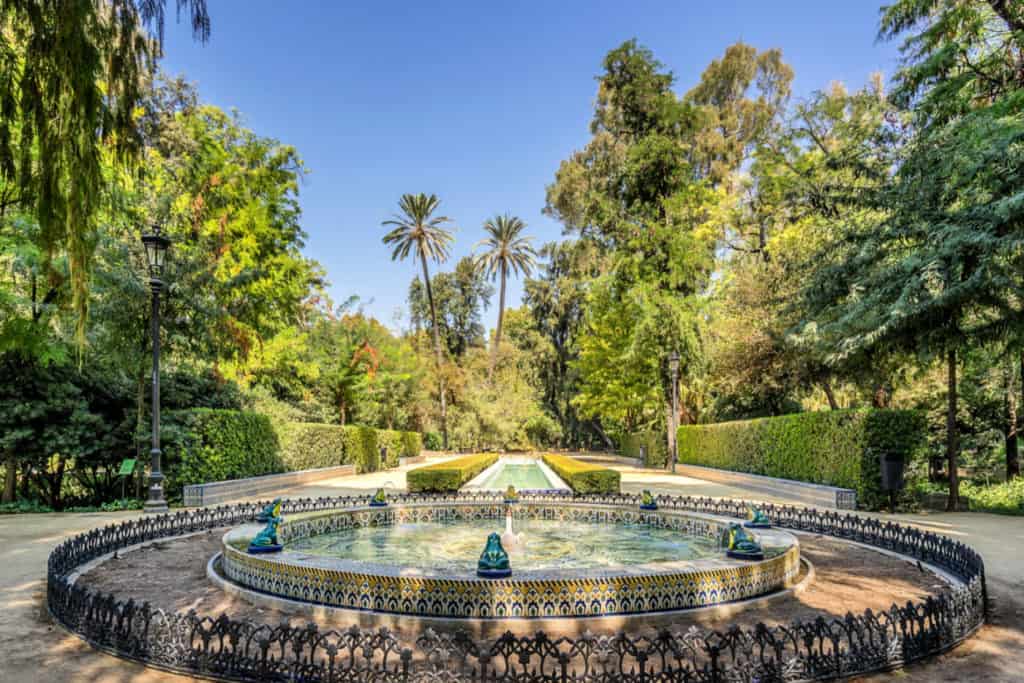 Day Two: Seville
If you're like us, you'll want to take your second day in Seville a little slower. That means leisurely strolls through Maria Luisa Park, more than 30 hectares of greenery that includes the hemispherical Plaza de Espana. Built in 1929, this grandiose building is adorned with brightly colored azulejo tiles, complemented by pavilions depicting different provinces of Spain. Both the plaza and park often host festivals, concerts or food fairs, so make sure you check the calendar.
From here, you can head north along the Guadalquivir River, passing the Palacio de San Telmo on your right, then the 13th-century Torre de Oro on your left. You can't go into the former because it's now a government building, while the interior of the latter isn't worth the fee, but both have exquisite exteriors. After about 20 to 30 minutes, you'll reach the Plaza de Toros, Seville's principal bullfighting ring – a pretty impressive arena, even if you find the brutality of the sport a little hard to stomach.
Head north and east to reach the Setas de Sevilla (Mushrooms of Seville), more formally known as Metropol Parasol. It's a striking backdrop from a distance, but we couldn't help but notice that up close it all looks a little dilapidated. Still, it's worth paying to go up top and see the views from the aerial footbridges. Underneath is a produce market where you can sample some local goodies – though we found it a little overpriced and sterile compared to the markets in Feria and Triana, where we were shoulder to shoulder with locals buying their jamon and queso.
Round out the day with a trip to an evening of flamenco, which is found in abundance in the Andalusian capital. There are a lot of options in Seville, so it might be worth saving some time and booking a show through a reputable tour company so you know what you're getting beforehand.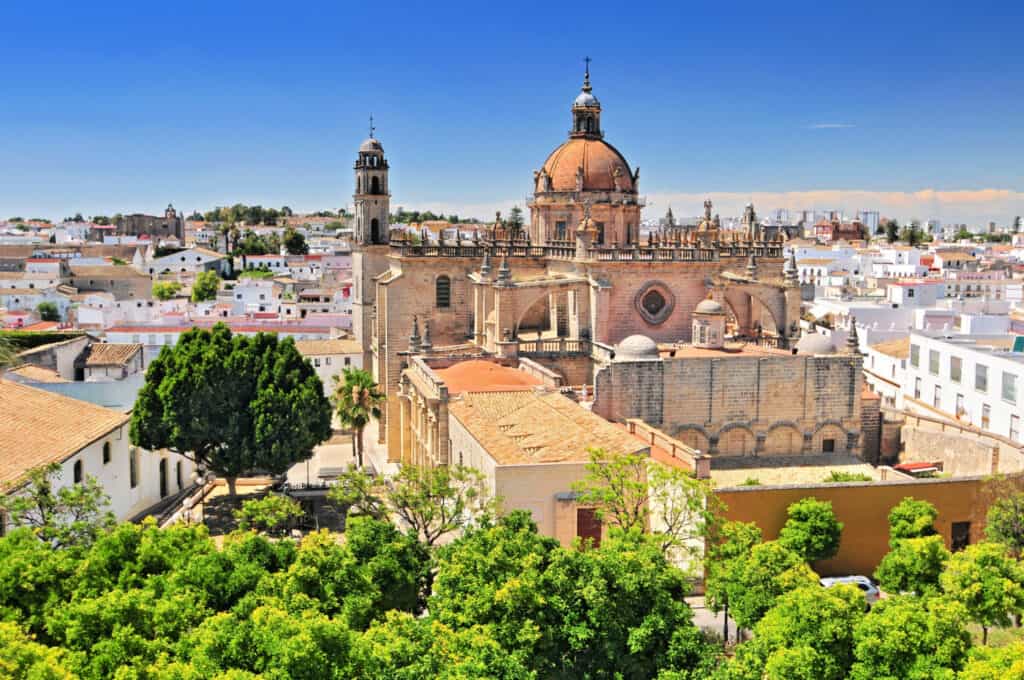 Day Three: Jerez
Just one hour away from Seville by car or train, Jerez de la Frontera is most famous for its namesake alcohol: sherry. The city is filled with atmospheric tabancos where you can try the fortified beverage. Our favorite was probably Tabanco el Pasaje, mainly because it also stages flamenco shows (there's something of a rivalry between Seville and Jerez as to which city is the true home of the traditional Spanish dance form).
If you're a sherry newbie, a great place to start is Bodegas Fundador, the city's oldest sherry maker still in existence, which offers tours and tastings. Alternatively, the Bodegas Tradicion combines sherry tastings with a collection of beautiful artworks by Spanish masters like Velasquez and Goya.
The second thing Jerez is renowned for is its horse-riding school, more formally known as the Royal Andalusian School of Equestrian Art. Living up to its grand name, the complex has enough attractions to occupy most of a day, from the grand rooms of the Palacio del Recreo de las Cadenas, through a museum that details the history of horse breeding and riding (with a particular focus on the Andalusian tradition), ending up at the training grounds, where you can witness the horses being put through their paces. The cherry on top is an equine ballet show that takes place several nights a week (just bear in mind that this is a separate ticket to the general visit tickets).
If you still have time, you can visit the intimidating 11th-century alcazar (fortress), Jerez's oldest building, which occupies grounds that also contain a 12th-century mosque-turned-chapel and a modest palace. A few steps away is the city's cathedral, admittedly not in the top five of Andalusian religious buildings we visited, but still boasting an impressive façade.
Where to stay in Jerez: We stayed in a modern, privately owned apartment in a fantastic location, hosted by the lovely Juan and Amelia. Admittedly, the combination of cake on arrival and a hot tub on the patio may be making us slightly biased in their favor.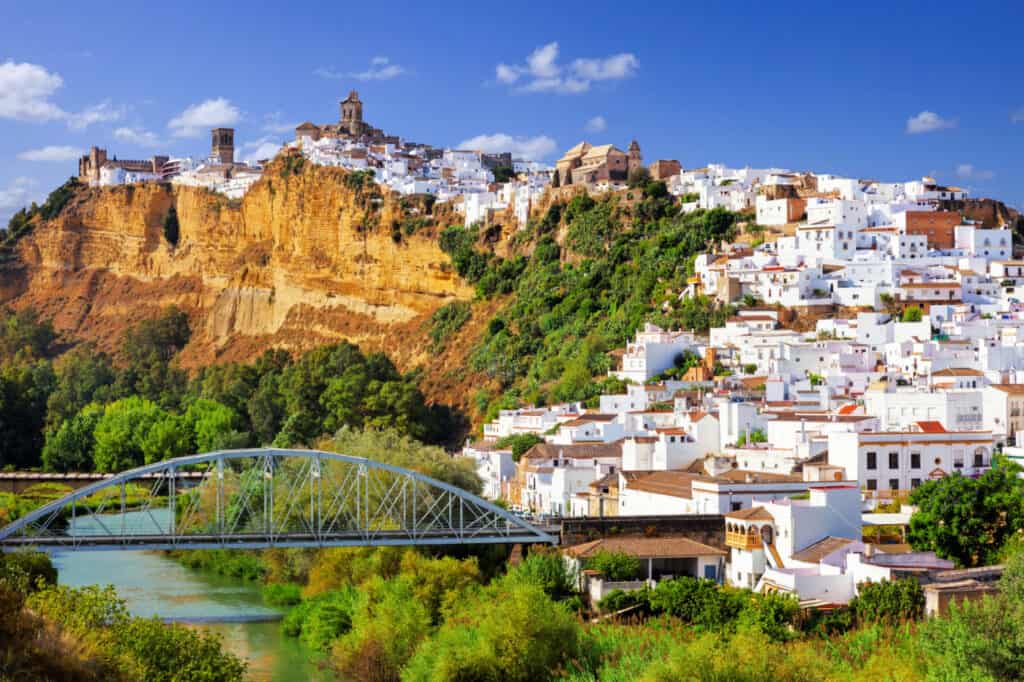 Day Four: Arcos
Jerez is a good base from which to make a couple of day trips, including to one of the most beautiful of the so-called pueblos blancos (white towns), Arcos de la Frontera.
This cute little spot of winding alleyways is dramatically perched atop a cliff. From certain angles, it almost looks like the Church of San Pedro is on the verge of tipping right over the edge.
After cramming our first few days with activities, we spent most of our time in Arcos just enjoying the quiet streets, visiting the compact basilicas, and gazing down on the gentle pastoral views below. While for such a small place there are a fair few tourists, the locals are genuinely friendly and chatty. Plus, there are some delightful little restaurants where you can dine al fresco.
As an added treat, don't miss out on the little cakes made by the nuns at the Convent of Mercedarias Descalzas. These are sold through a little hatch to keep the sequestered ladies from profane eyes, adding a piquancy of mystery to the palate.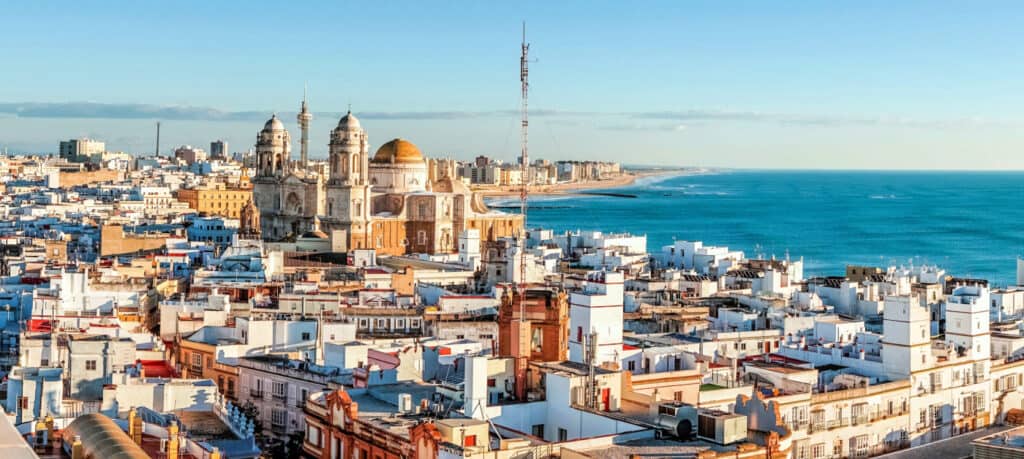 Day Five: Cadiz
One of the glorious things about being in Andalusia for two weeks is the diversity you can experience. Having spent a few days in the interior, we were ready for some coastal breezes!
Cadiz is another easy day trip from Jerez. A little strip of a peninsula encircled by sea, it was first settled by the Phoenicians 3,000 years ago. You can see some of the remnants of this civilization at the Museum of Cadiz, alongside evidence of the later Roman occupation.
Get your bearings by heading to the Tavira Tower, one of the best viewpoints in Cadiz, where you can gaze down on the entire city, including the trio of golden domes that mark out its distinctive cathedral.
Next, head to La Caleta beach and enjoy a walk along the sands, which are sandwiched between two of the city's castles. It's a much smaller area than the Playa de la Victoria, but it's also much closer to the town center if you don't want to catch a bus to the suburbs.
Don't miss out on the Mercado Central, where you can buy fresh fish, fruit, and vegetables – or do what we did and dine in on some tortillitas de camarones (shrimp fritters) and a glass of albarino.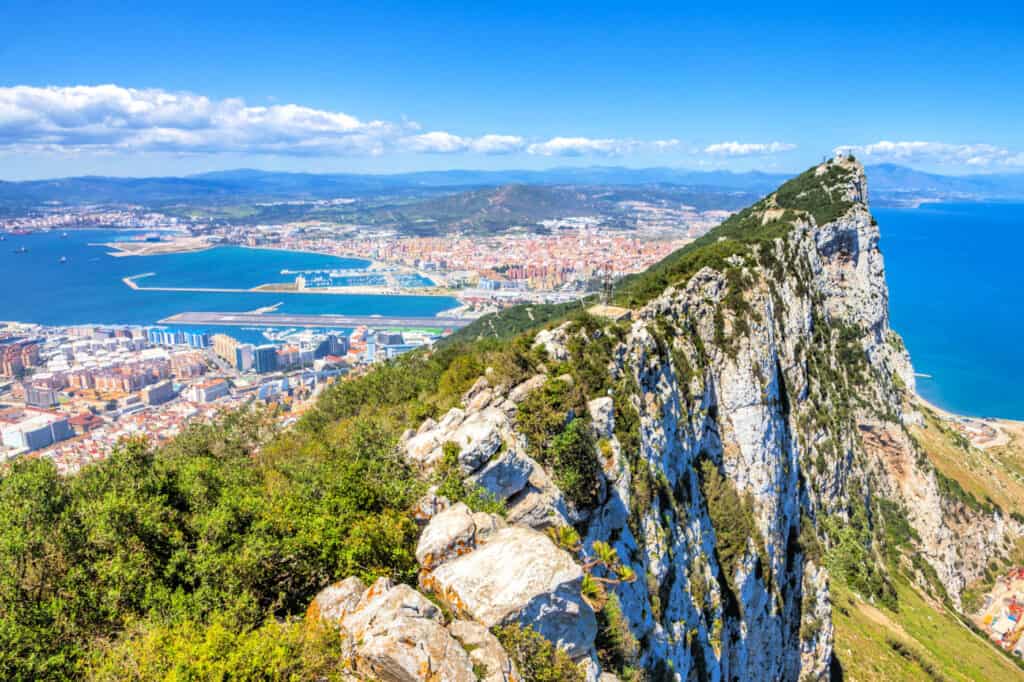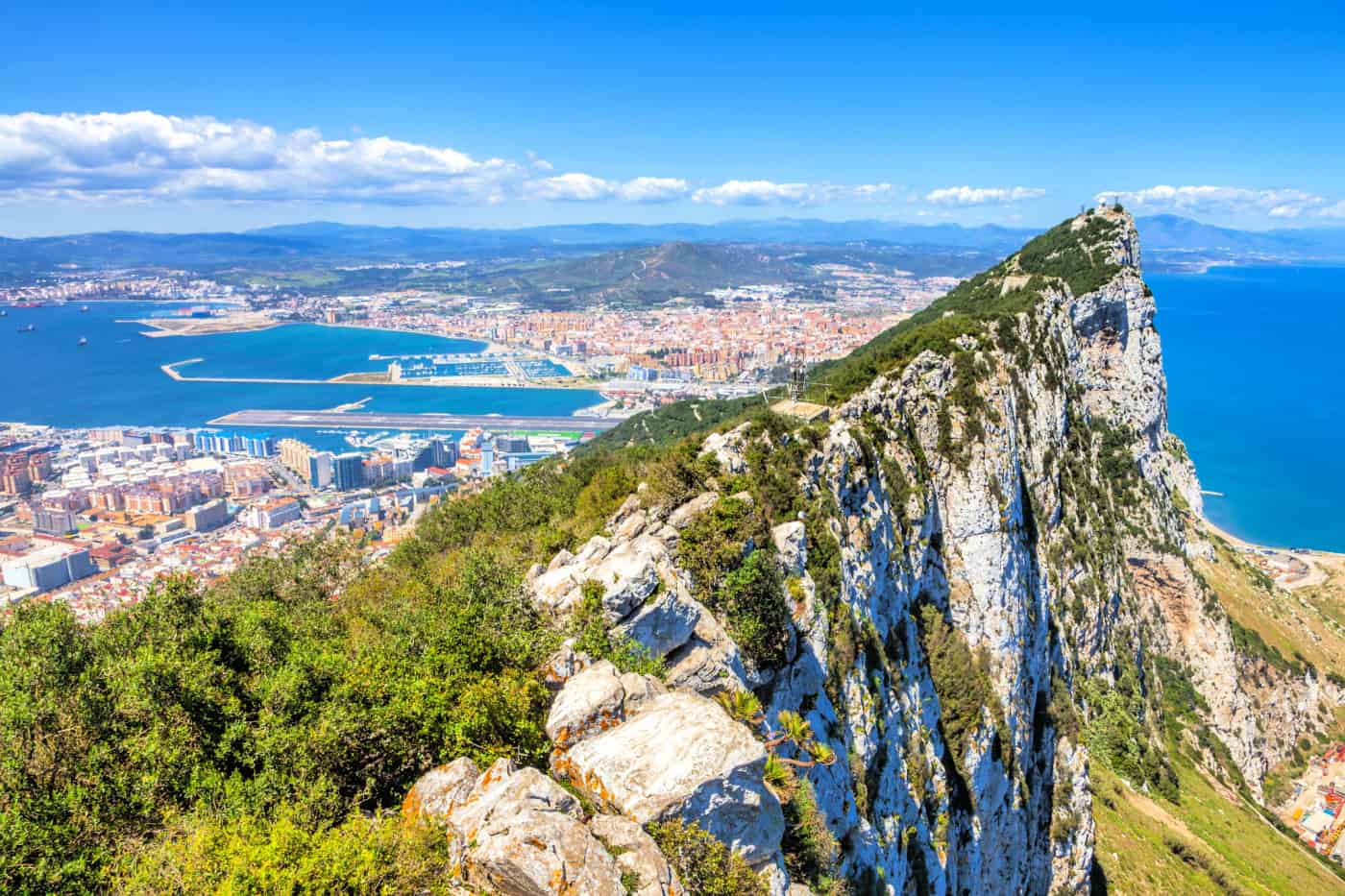 Day Six: Gibraltar
If you don't have a car, this section of your journey can be a little tricky, since going from Jerez to Gibraltar involves a series of buses. No matter whether you drive or ride, your endpoint will be La Linea, from where you can traverse the border into Gibraltar on foot. You'll have the unusual experience of entering a territory by crossing a plane runway.
Gibraltar is a funny old place. A little dot of the UK at the tip of southern Spain, here you'll hear English bandied about more than Spanish and see pubs dot the main square and principal thoroughfare.
The famous Rock of Gibraltar is also an oddity, jutting out of a flat landscape like a rebellious bit of earth that refuses to conform to its surroundings. We decided to scale this beast on foot, though you can also ride up on the cable car. At the top, we were greeted by the locals: Barbary macaques, who run wild (well, semi-wild) – just make sure not to get too close or you may lose your phone!
Atop the Rock are the ruins of a Moorish castle, while inside the rock are a series of tunnels, carved into the mountain by the British Army. You can walk through some of these, which contain exhibits about their historical use during World War II.
Where to stay in Gibraltar: Accommodation options are sparse in Gibraltar, but we found The Elliott Hotel serviceable. It has a nice rooftop pool and is right in the heart of the action.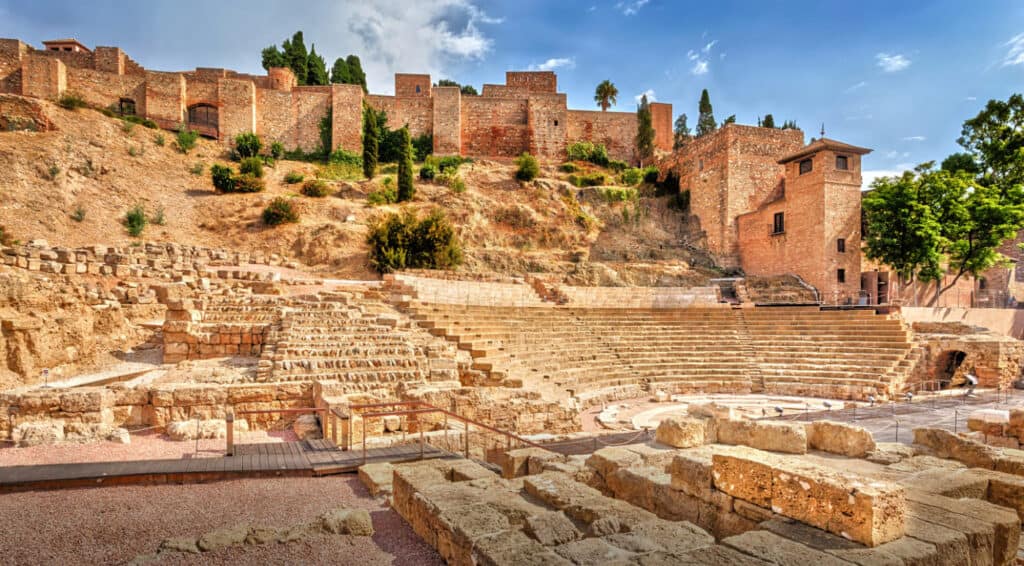 Day Seven: Malaga
If you didn't get a chance for some beach time in Cadiz, you'll get a second chance in Malaga. The 1.2-kilometer Malagueta is just 15 minutes' walk from downtown, so you can pop over at any point when you need a break from sightseeing to enjoy some rays while sipping beer at one of the chiringuitos (local beach bars).
Aside from its soft sands, Malaga is also famous as the birthplace of Picasso. There's a lovely museum dedicated to his work, which gives a good overview of his life and art. Devotees can also visit the Casa Natal where Picasso was born, but frankly it's a little underwhelming. We'd recommend instead spending your time absorbing the ambiance of the neighborhood from which the Spanish artist emerged, including the Plaza de la Merced, a pretty square where you can chow down on local specialties like fried fish and sardine skewers.
Malaga is also home to a couple of stately defensive structures that provide some of the most beautiful views in the city: the Alcazaba, one of the best-preserved Moorish fortifications in all of Spain, which towers above an Ancient Roman theater; and the remains of the Castillo de Gibralfaro, whose majestic ramparts overlook the bullring and the cathedral.
Where to stay in Malaga: You'll find La Casa Azul easily because (as the name suggests) the facade is a lovely bright blue. The interior is as charming as the exterior, with lots of quirky little touches and some unique pieces of furniture. We took advantage of the proximity to the beach for a late-night swim.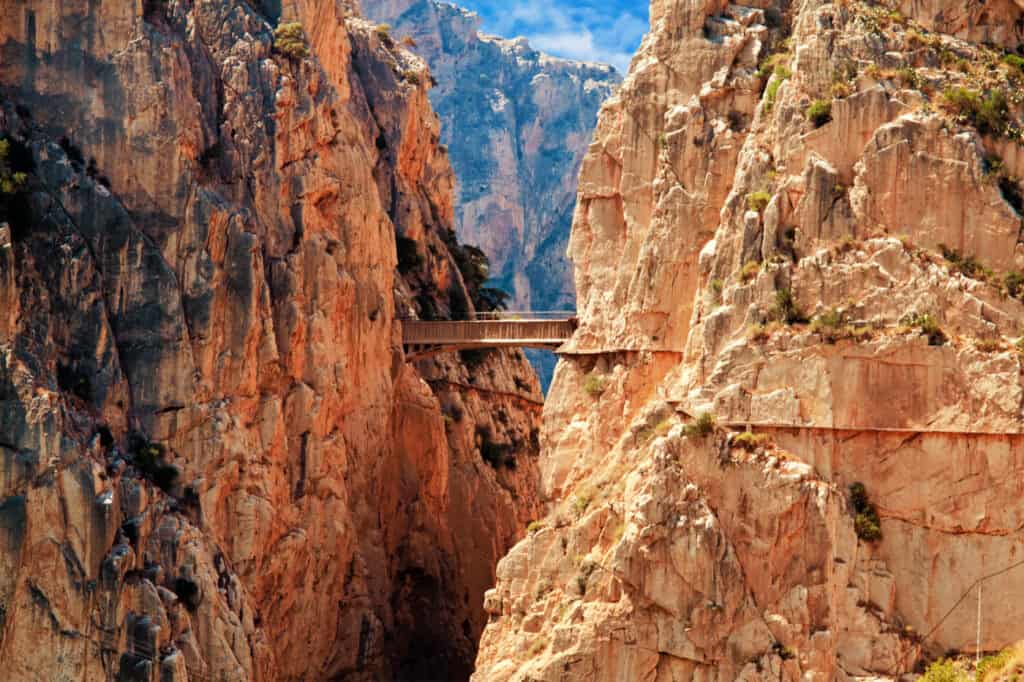 Day Eight: Caminito del Rey
Malaga is a good jumping off point to reach one of the most unusual experiences Andalusia has to offer, the Caminito del Rey. Literally meaning 'King's Little Walkway,' it's a suspended wooden trail that hugs cliff sides around the Gaitanes Gorge.
This current 8-kilometer path was only opened in 2015. The original route, built in the early 1900s as a way to construct a hydroelectric dam, fell into disrepair years ago and you certainly wouldn't want to be utilizing it today – we can say that with certainty since remnants of the old route are still visible today.
We recommend taking a guided tour, as this simplifies your transport to the Caminito and includes an expert who can tell you all about the history of the walkway. It takes about 3-4 hours to traverse the entire route, which is fairly flat and suitable for people with limited hiking experience.
Once you return to Malaga, you can spend a bit more time exploring the city or hop on the high-speed train out of town to Granada. This line only opened in 2022, but has dramatically cut the time it takes between the cities to a mere 1 hour and 12 minutes.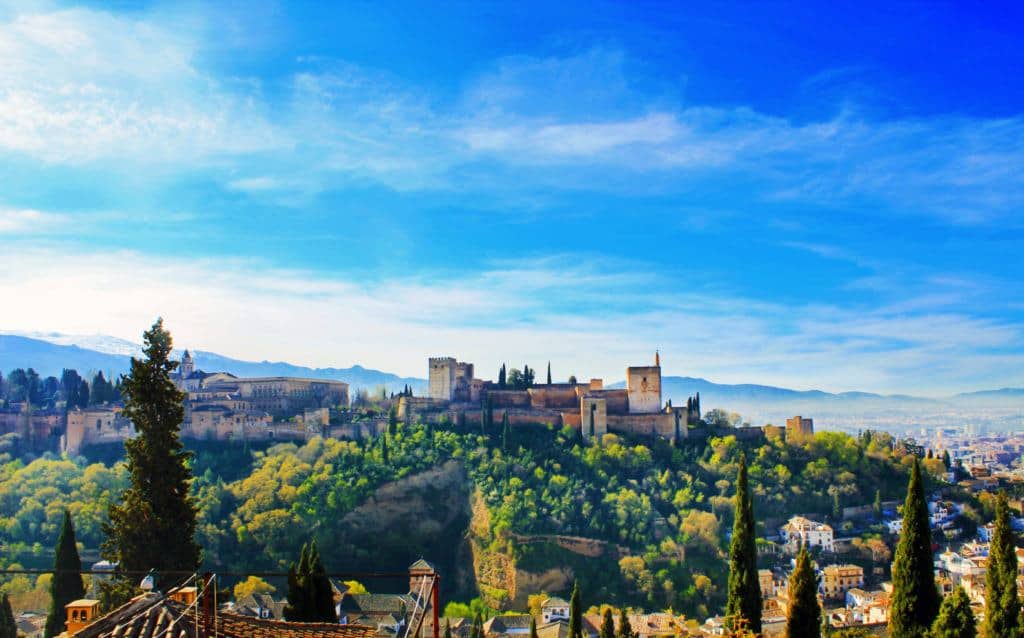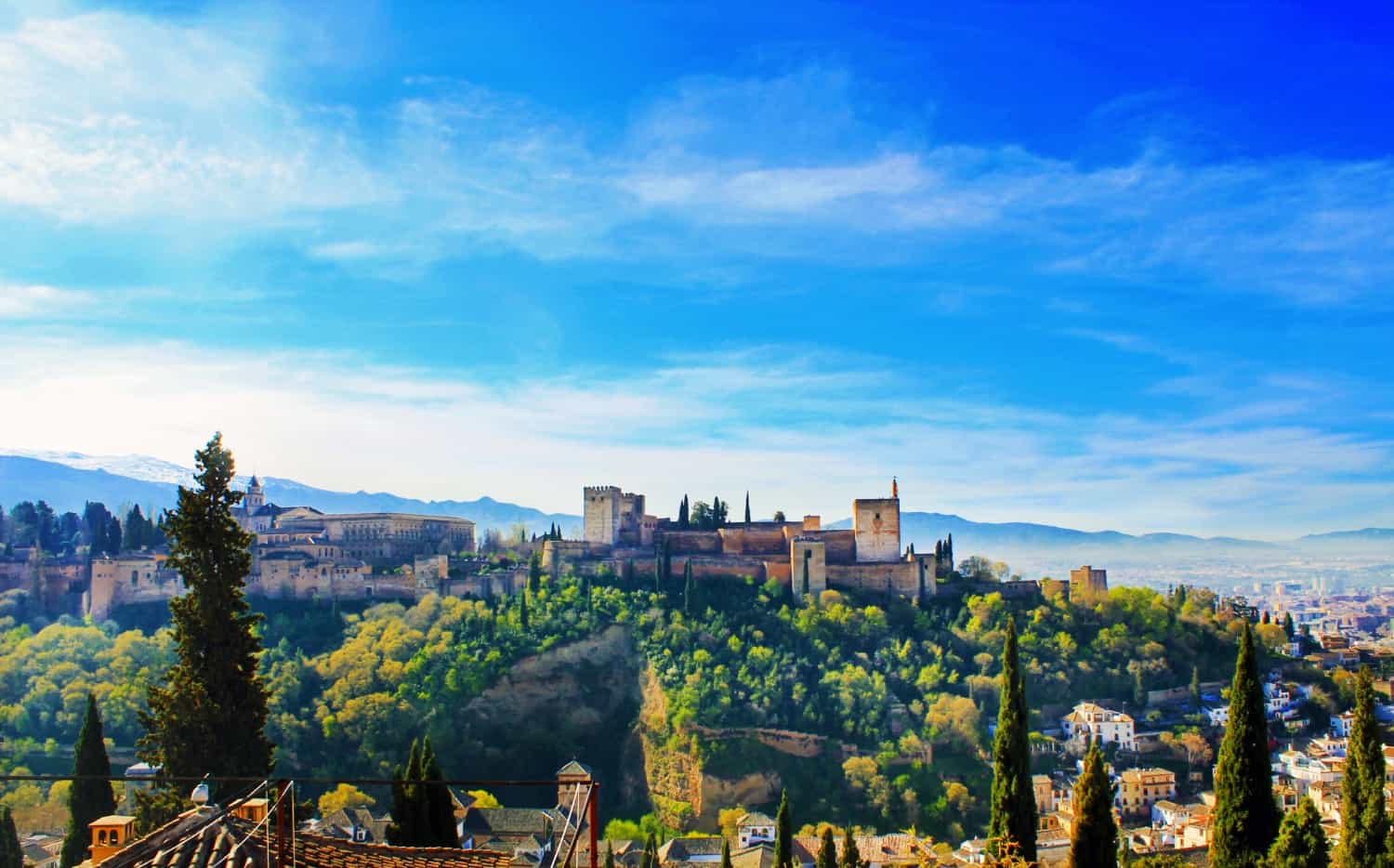 Day Nine: Granada
We're just going to come out and say it: Granada is our favorite city in Andalusia. First off, the Alhambra complex is justifiably acclaimed as one of the most incredible experiences you can have in Spain. It feels like almost every inch of the Nasrid Palaces has been carved with the distinctive geometric patterns of Islamic architecture, from the honeycomb vaulting of the Hall of the Abencerrajes to the Courtyard of the Myrtles, where the tranquil pool reflects back the surrounding architecture so that everything appears doubled.
One of the joys of visiting the Alhambra is you don't just get to see the exquisite interiors of the palaces. You also get to explore the ramparts of the forbidding Kasbah fortress, which has fabulous views of the city, as well as gardens of the Generalife and the Renaissance palace of Carlos V.
It's an enormous amount of space to cover, enough to occupy a leisurely traveler a whole day. We, however, wanted to squeeze in a visit to Albaicin as well. Granada's charming, old Moorish quarter is built into the hill facing the Alhambra and consists of whitewashed houses split by charming, winding streets that still contain an echo of their medieval roots. The area today is dotted with cute little churches, hidden cafes, and the unmissable Mirador de San Nicolas, where you can get the best view of the Alhambra in all its glory.
Once you've walked your legs off, duck into Jardines de Zoraya, a restaurant with a beautiful courtyard, delicious octopus salad and a slightly upscale air. If you still haven't managed to catch any flamenco yet, regular shows also take place here in the evenings.
Where to stay in Granada: Simple but with a fun vibe, we were first drawn to the Oripando Hostel because of its location, but staying there in a private room, we also appreciated its completely chilled atmosphere and quirky backpacker aesthetic.
Day Ten: Sierra Nevada Mountains
Spend the morning getting out of Granada and into the nearby Sierra Nevada Mountains, which lay claim to having the largest mountain in mainland Spain, Mulhacen. We weren't quite that ambitious and opted instead for the Los Cahorros pathway, which starts from the village of Monachil, easily reachable from Granada by a 45-minute bus.
This well-traveled trek covers waterfalls, canyons, and some very exciting (in a rollercoaster kind of way) hanging bridges. Don't fret about getting lost, as the circular route is easy to follow and only takes about 3 hours to complete – just enough time to build up an appetite for lunch!
There is still one further thing you can't miss while you're in Granada: its cathedral. While from either the Alhambra or the Albaicin it's clearly visible, from the ground it's easy to stumble upon it by surprise, hemmed in as it is by the surrounding streets. Inside, a gleaming white nave leads you towards the absolutely stunning cupola: a symphony of stained glass, painted saints, and gilt-encrusted pillars.
Abutting this is the Royal Chapel, the final resting place of the so-called Catholic Monarchs, Isabella of Castile and Ferdinand of Aragon, whose marriage and subsequent reconquest of Andalusia from the Moors united the land and created the footprint for modern Spain.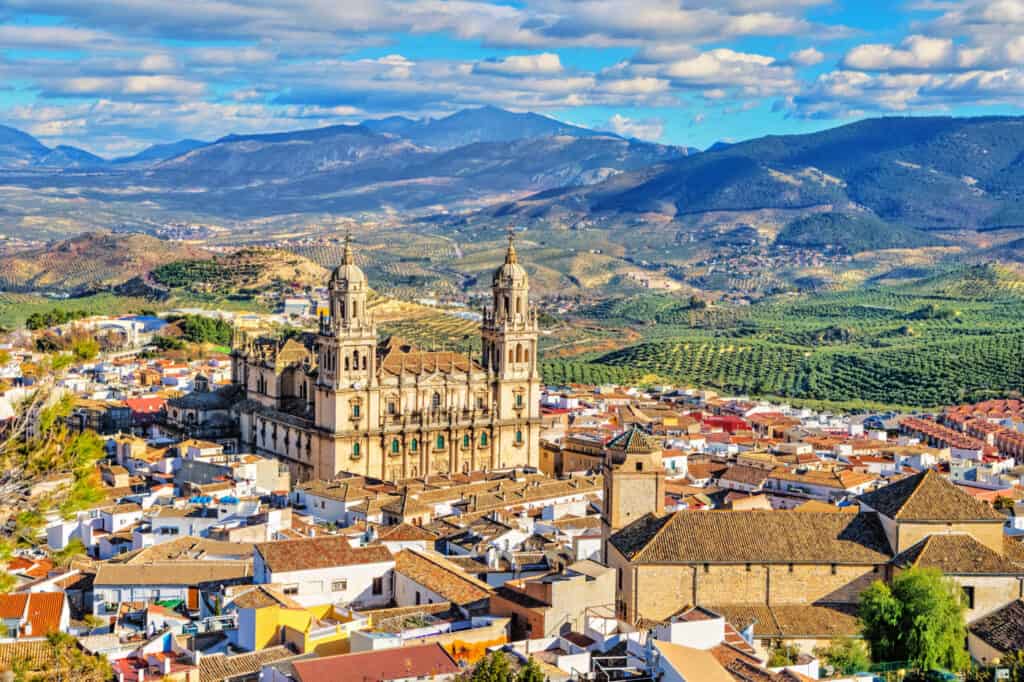 Day Eleven: Jaen
There are just two things you really must do in Jaen: visit the cathedral and visit the castle. To be blunt, this city is not somewhere you will put down as one of the best places you visited on your Andalusia itinerary. The reason we still recommend you stop off here is: one, it's a good midway point between Granada and Cordoba (it's a 60-minute bus ride from Granada and a 95-minute train ride to Cordoba); two, from here it's a convenient day trip to Ubeda and Baeza (see below); and there, we already mentioned that cathedral, right?
We saw a lot of amazing religious edifices in Andalusia, each with its own unique attributes. The somewhat box-like Jaen Cathedral stands out not just because of the intricately sculpted frontal façade, nor because it is the cathedral equivalent of Mike Tyson in terms of pure solidity and intimidation, but mainly because it seems to absolutely dominate the rest of the city in a way no other cathedral that we visited in the region quite does.
For an idea of just how striking it is, walk up to the Castillo de Santa Catalina, a reasonably picturesque ruin where you can gaze down upon the entire city – and really see how commanding the cathedral is.
Where to stay in Jaen: Did we mention that the Castle of Santa Catalina also houses a hotel? Everywhere else we visited, we stayed near the center of town, but here we decided to escape the hubbub and treat ourselves to the well-appointed comfort of the Parador de Jaen.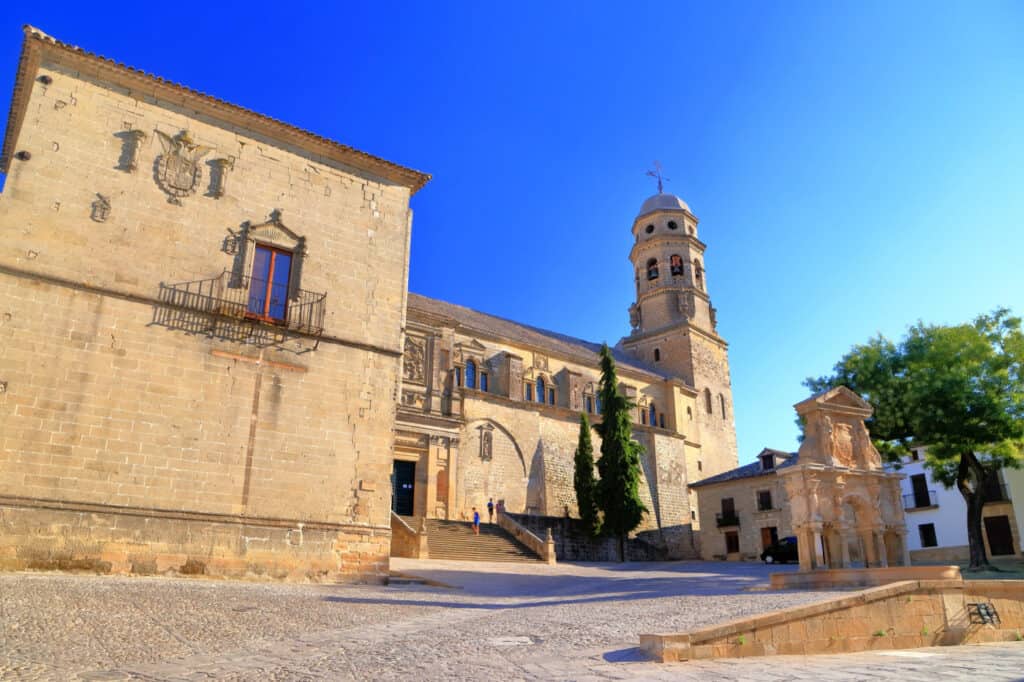 Day Twelve: Ubeda and Baeza
It really couldn't be easier to get from Jaen to Ubeda and Baeza, as regular buses service the whole route. This pair of towns have been recognized by UNESCO as models of Renaissance architecture in Spain, which makes them feel more Italian than the rest of Andalusia. Being slightly off the beaten track, they're also a chance to escape some of the metropolitan crowds.
The charm of visiting the old quarters of these two places is that you can lose yourself idly strolling along cobbled streets lined with houses made from yellow stone, ducking your head in wherever you fancy. Just make sure you don't miss some of our favorite parts: in Ubeda, the El Salvador Chapel (which packs design details into almost every available space, both inside and out) and the Palacio Vela de los Cobos (its quaint library would look perfect in any house); in Baez, the Jabalquinto Palace (the fabulous façade now conceals a university) and the Fountain of the Lions.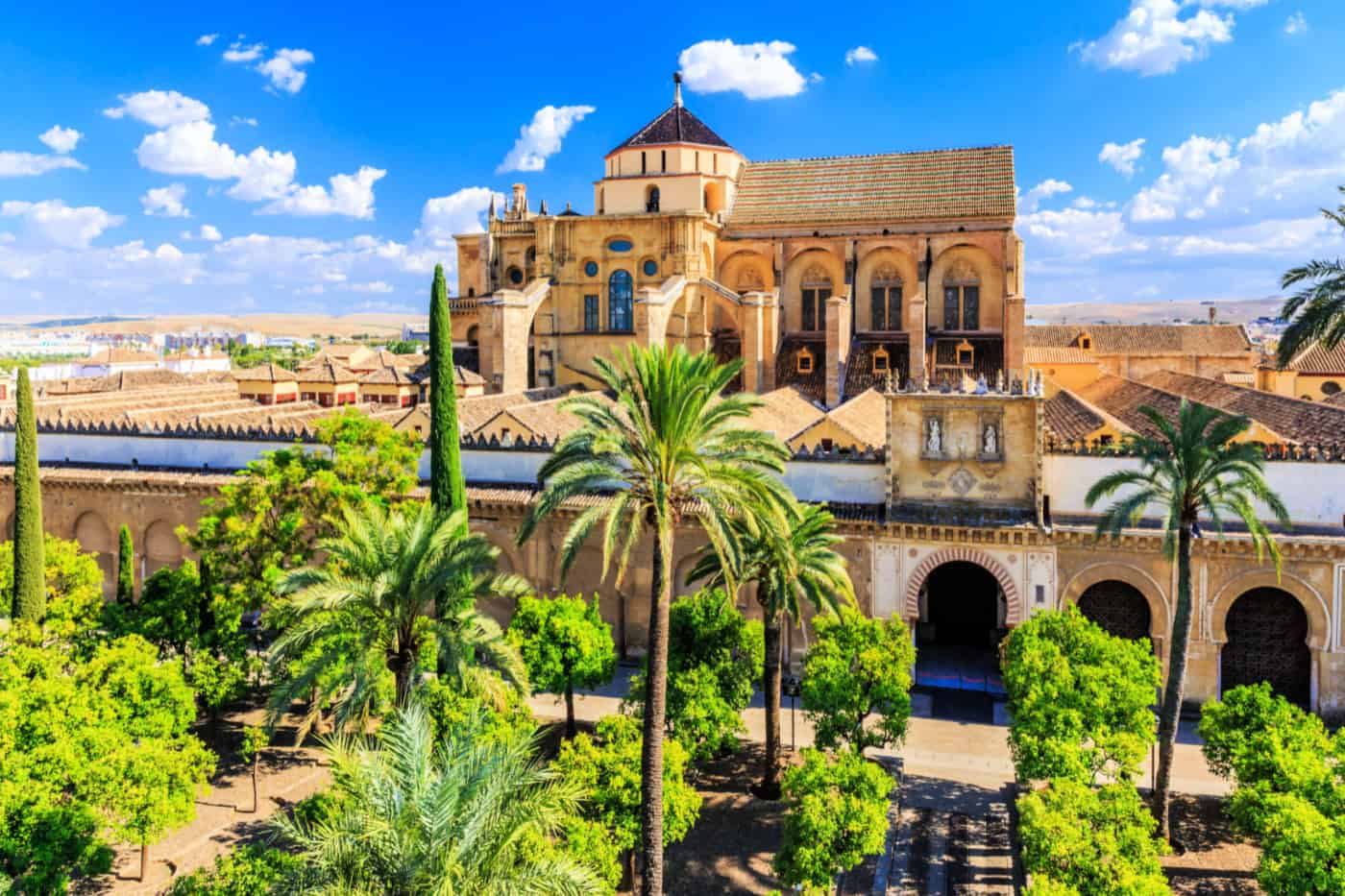 Day Thirteen: Cordoba
Many of the Christian places of worship in Andalusia are built over, or adapted from, former mosques. The Mezquita, however, is the most unusual fusion of Christian and Islamic architecture we've ever seen.
The original mosque was built on the site in the late 8th century and gradually expanded by successive Muslim rulers of the region. When Cordoba was reconquered by Ferdinand III of Castile in 1236, the mosque was made into a cathedral, with numerous chapels built into the original Moorish design, which was thought too splendid to do away with entirely.
What this slightly dry historical information translates into is one incongruous masterpiece. The main hall is filled with row upon row of double-tiered arches from its days as a mosque, while each side of the enormous room is lined with chapels dedicated to various Christian saints. Set into one wall is the mihrab, covered in glittering, golden-tinted mosaics, indicating the direction of Mecca. Right in the heart of the structure, however, is the main chapel, a ridiculously ostentatious structure, stuffed with marble and detailed wood carvings, that wouldn't feel out of place in Versailles.
Outside, the Patio de los Naranjos (Courtyard of the Oranges Trees) is itself a pretty space to sit awhile, gazing at the minaret-turned-bell-tower that strikes upwards into the sky.
Considering the Mezquita's reputation as a symbol of Cordoba, it's appropriate that most of the other things you'll want to see are all nearby. Just steps away is the Roman Bridge, crossing the city's branch of the Guadalquivir River. Follow the waterway north, past some scenic old windmills, and you'll come to the Alcazar de los Reyes Cristianos. Unlike some of the other alcazars we've already mentioned, this one's history as a fortress has been almost entirely supplanted by its current capacity as a pleasure garden where you can escape into a green oasis for an hour.
End the day at the Plaza de la Corredera, where you can munch some croquetas and try salmorejo, an Andalusian version of gazpacho. The square is always abuzz with activity, as the beautiful buildings that surround it still function as apartments for long-time local residents, who often walk their dogs across the expanse while children engage in games of football.
Where to stay in Cordoba: As you might have gathered, we are obsessed with the Mezquita, and the Ermita Suites are right next door. The apartments here are like something out of an interior design magazine, and the clean, predominantly white décor is faultlessly chic.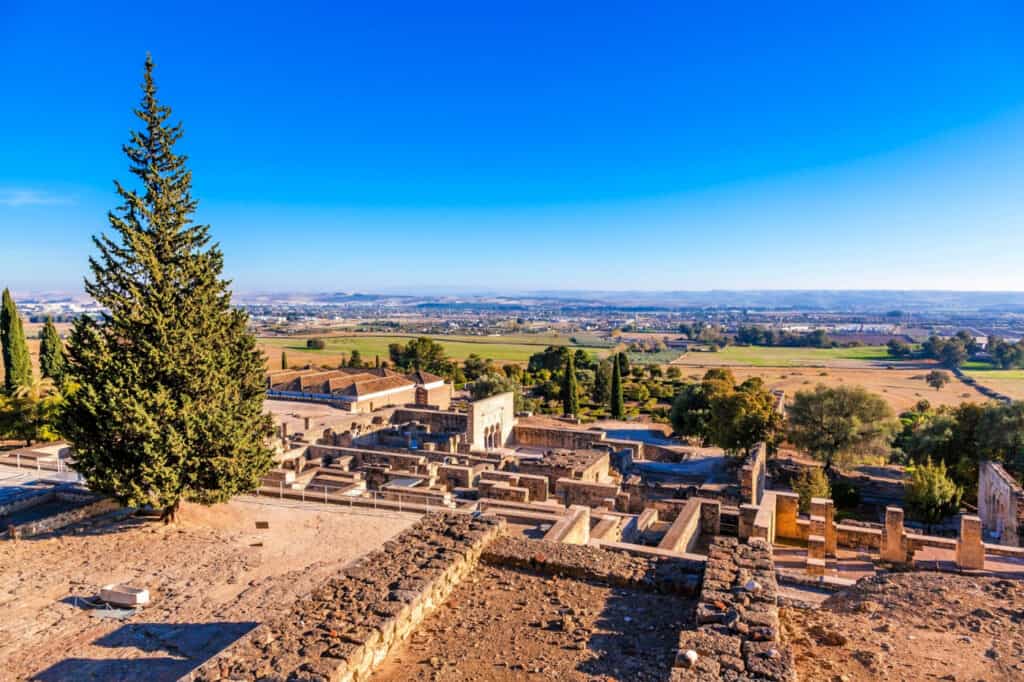 Day Fourteen: Cordoba/Seville
It's less than an hour on the train from Cordoba back to Seville, so if you've got time to squeeze in one more activity before your flight, visit the UNESCO World Heritage Site of Medina Azahara. Located just outside Cordoba, it's about a 25 to 40-minute drive, depending on if you take a car or local bus. If you're worried about the logistics, you can also visit as part of a guided tour.
A guide might be wise, since most of the site is now mere ruins, with only a handful of areas having so far been pieced back together. On our visit, we could see just how painstaking the ongoing restoration is for the people tasked with revitalizing the faded glory of what was once a symbol of the wealth and might of the Caliphate of Córdoba.
Why visit if it's mostly ruins? Because it's not difficult to imagine just how opulent the place must have been once upon a time. Make sure you take the time to watch the informative introduction video and wander the museum of recovered artifacts before hopping on the shuttle bus to the archaeological site, as this will really help with reconstructing the fragments of sand-colored bricks and pillars into the fabulous palace-city they once formed.


And That's How to Spend Two Weeks in Andalusia!
This is really just a taster of what Andalusia has to offer. We could have included the breathtaking clifftop town of Ronda (which we covered here in an earlier post); the Tabernas desert, a picturesquely barren expanse used as a filming location not just by Spaghetti Western pioneer Sergio Leone but also Games of Thrones; or the Doñana National Park, a wetland reserve with beautiful walks and myriad birdlife.
For people who love their beach time, 14 days in Andalusia might be better spent in the resort paradises of Marbella or Nerja. In our (perhaps controversial) opinion, however, a beautiful beach is a beautiful beach anywhere in the world, but the Cathedral of Seville, the Alhambra of Granada, the charming towns of Arcos de la Frontera and Ubeda, the Mezquita of Cordoba, the Sierra Nevada Mountains and the precarious walkway of the Caminito del Rey are all utterly unique.