Georgia has probably been on the list of every up-and-coming travel destination for the past ten years. While never reaching the acclaim of its more western neighbors, the country appeals to travelers with its stunning mountain landscapes, underrated wine region, and fascinating mix of influences that have created the cocktail that is Georgia today. I have personally traveled to most of the country's main attractions and it is near the top of my list of destinations to return to. However, the main reason it comes up on travel websites and blogs is its affordability. This caucasian nation has nomads and tourists alike raving about the economical experience of travel.
Highlights for me were Gergeti Trinity Church in Kazbegi with incredible snow-capped peaks in the distance, the Tuscan-like setting of Sighnaghi, and the surreal marionette show at the Gabriadze Theatre in Tbilisi. The Stalin museum in Gori, the birthplace of the leader himself, was an incredibly interesting look at a complex man who is one of the 20th century's most influential figures.
The city of Kutaisi is a joy to explore. One of the oldest areas of residence in the entirety of Europe, the whole thing feels like one big village as opposed to a city. Finally, cap it off with a relaxing couple of days at the shores of the Black Sea in Batumi.
I've found though that affordability itself is an extremely relative concept. If you are coming to Georgia after a visit to see the northern lights in Iceland, things will feel like they cost peanuts, and if you are coming from traversing Vietnam on a scooter subsisting on Pho and Banh Mi, a meal in Tbilisi might feel like a king's ransom. Compared to Western Europe and the US, travel in Georgia is very reasonable, but the country is still Europe at the end of the day and compared to much of Asia and some areas in South America you might end up paying a little bit more. But any way you slice it, I still feel the country would be worth it even at double the price.
Note that the first time I visited in 2017 I found everything to be very low cost and the last time I visited last year in 2022 I felt it was moderately low cost. There are probably several factors that contribute to this such as worldwide inflation and growth in the country's tourism industry. The main factor however is probably the huge and sudden wave of Russian immigration due to the military policies of their home country. These migrants are usually more well-off than the average population so prices have hiked to supply the demand making everything more expensive than usual.
But as with everywhere, there are ways to cut costs and ways to splurge. We will be exploring different price points for food, accommodation, and experiences, and what a mid-range budget looks like for Georgia.
I will be writing the costs in Georgian Lari – GEL and these are the conversion rates as of the writing of the post.
1 USD = 2.63 GEL
1 GBP = 3.16 GEL
1 EUR = 2.78 GEL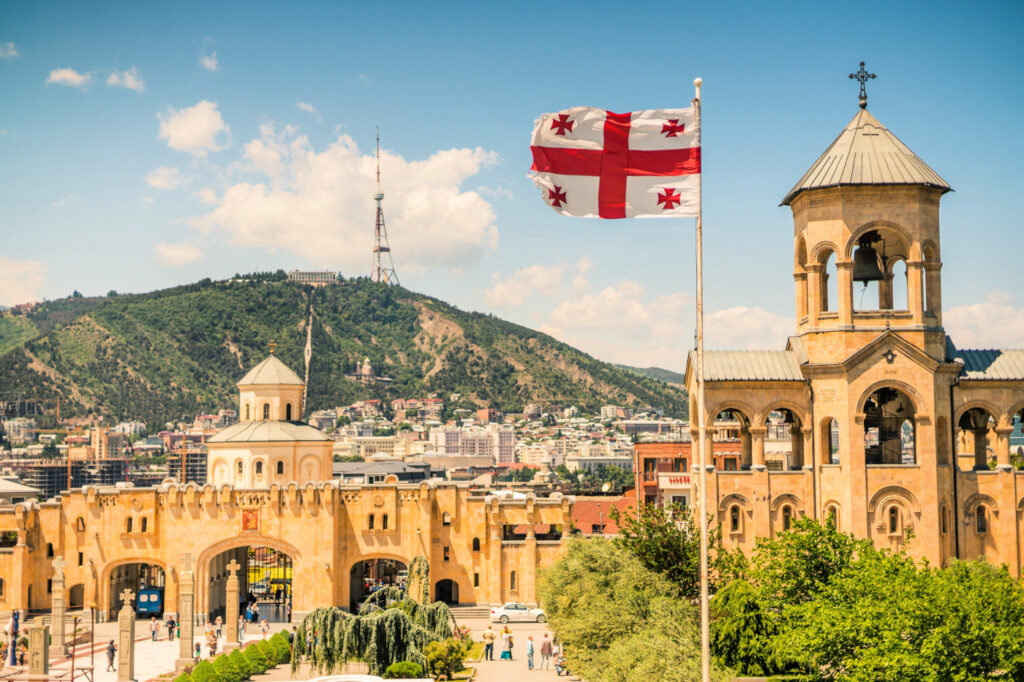 Where to Go – A tourist trail is a tourist trail for a reason, as most of the best things are seen on this route. If you have more time then there are tons of fantastic places in Georgia to explore. If you only have two weeks I recommend seeing the highlights.
Day 1 – Tbilisi
Day 2 – Tbilisi
Day 3 – Kazbegi
Day 4 – Kazbegi
Day 5 – Tbilisi
Day 6 – Sighnaghi
Day 7 – Sighnaghi
Day 8 – Tbilisi
Day 9 – Gori
Day 10- Gori
Day 11 – Kutaisi
Day 12 – Kutaisi
Day 13 – Batumi
Day 14 – Batumi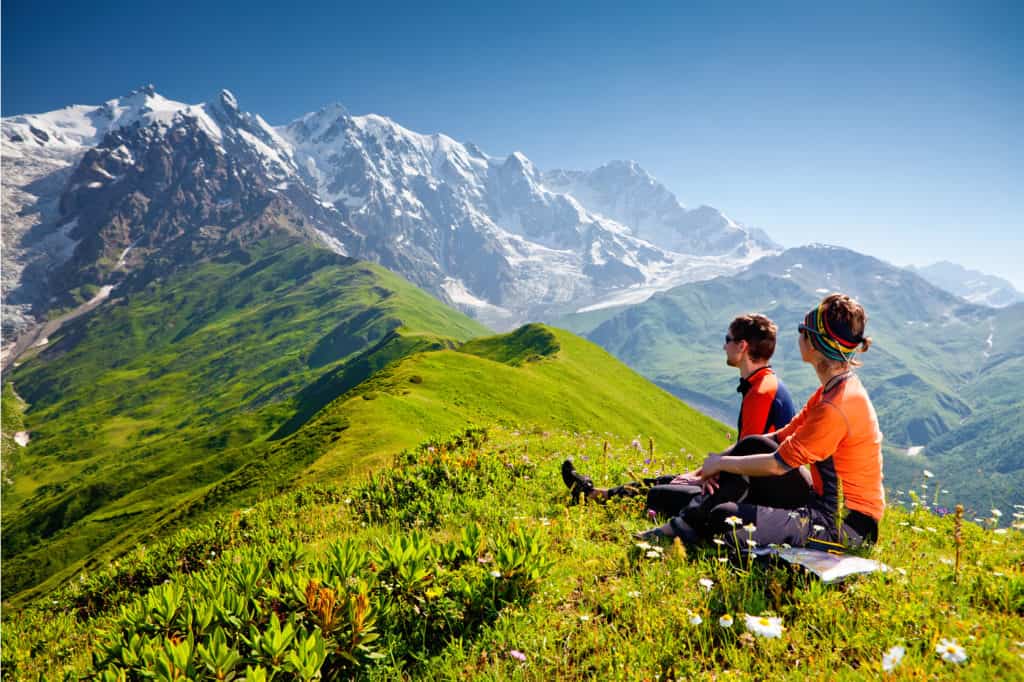 Cost of Accommodation in Georgia
As mentioned above there is no shortage of accommodation options for globetrotters on any budget. From basically free lodging to luxury hotels, this country has it all. The hostels and hotels that lie in the middle are very affordable and boast wonderful hospitality. I'm going to give you different options with different types of accommodations. My recommendations might not be the cheapest or the most luxurious, but what I am trying to do is find you the best bang for your buck.
Let's start on the lowest end of the spectrum. Current and former vagabonds like myself will be all too familiar with Couchsurfing. This platform allows you to connect with locals and crash on their sofa, floor, or whatever they have available. While I haven't tested it out in Georgia, the majority of my stays via Couchsurfing have been really fun with some being downright incredible. There are also a couple of duds and weirdos but that risk is what makes the best stories! And you are also staying for free so beggars can't be choosers.
If the thought of crashing someone's home for free isn't your idea of a good time but you still don't want to fork out the money for a hotel or hostel you can work for it! Using Workaway, find free room and board in exchange for a few hours of work a day. Usually, this is work like manning the front desk or bartending at a hostel, or more rural hosts might put you to work on a farm. Regardless, the work usually isn't too hard, you integrate into the local community and when you're done you have the rest of the day to explore.
The other penny-pinching option would be to Housesitters. Here you would not be sharing a house with someone but taking care of an adorable pet. This works best if you don't have fixed dates set as you are often at the whim of the availability of the homeowner. It also doesn't give you the option of being spontaneous during your trip as you will need to be back at certain times to feed and take care of the animals, so plan accordingly.
If you don't mind shelling out some cash for a place to lay your head but still don't want to break the bank I recommend staying at a hostel. With cheap beds, vibrant social atmospheres, and great facilities, staying in one is a must for any traveler at some point. There are also choices between dorms and private rooms so you can see which style suits you. Here are my picks for the top hostels in each city that I recommended.
Tbilisi – I had a great time at the Envoy Hostel and speaking to the others while staying there everyone seemed to agree. While the Georgian people themselves are very friendly that doesn't seem to have translated to service workers in most cases, but that is not the case here! With super inclusive and sweet staff, majestic views of the fort from the roof, and basic but extremely clean facilities, this place is a winner. Dorm prices start at about 32 GEL and privates from 121 GEL.
Kazbegi – There is really only one hostel in Kazbegi but luckily it is fantastic. Cozy, warm, and common areas to meet other travelers. The host is really like a mother figure and will make sure that you are taken care of. Dorms start at 22 GEL
Sighnaghi – Like Kazbegi the town is quite small without many hostels, however, Guesthouse Maya would be a good stay anywhere. Gorgeous views from the balcony and they even make their own wine! You might be tempted not to even leave. Dorms start from 19 GEL and privates start from 36 GEL
Kutaisi – The best hostel in town is Bao Hostel hands down. Located right next to the main town plaza and just has a calm, relaxing, and welcoming atmosphere. They are also more than generous with the Cha Cha shots so make sure that you are ready! Dorms start at 25 GEL and privates start from 70 GEL.
Gori – Unfortunately Gori doesn't have any hostels, but for a cheaper stay choose the lovely family-run Nista Guest House. They have unique amenities like bikes that you can use to explore the surroundings as well as instruments for late-night jam seshes and serving up delicious breakfasts, you are guaranteed a great time here. Rooms start from 59 GEL
Batumi – With quirky decorations inspired by surf culture, the Batumi Surf Hostel has managed to bring the chill vibes along with it. Centrally located with a lot of areas to hang out and play games and drink wine, this place is a must-stop. Dorms start at 25 GEL and privates from 75 GEL
Overall you can expect to pay around 25 GEL for Dorms in the cities and around 70 GEL for private rooms.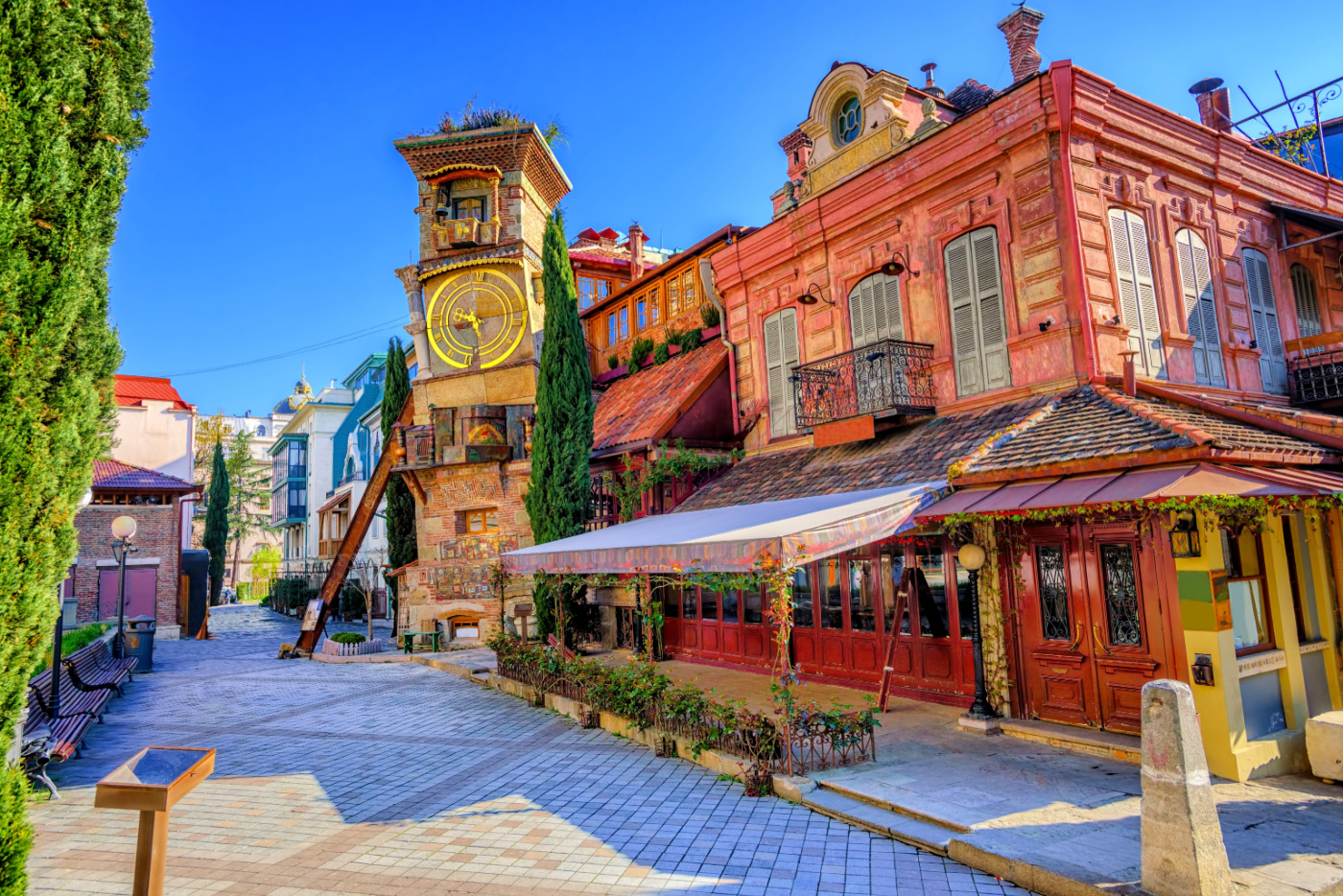 If you want to live in a bit more comfort or simply value your privacy a little bit more, then I've got some hotels that have got you covered. I usually like to stay in a mix of hostels and hotels these days to socialize and then rest and charge my social batteries. Here are some of the best places to stay in Georgia that will leave you fresh, rested, and ready to explore.
Tbilisi – Khedi Hotel by Ginza Project is an oasis of calm and tranquility. Equipped with traditional Georgian handicrafts and handloom art pieces, the chic decor really makes you feel like you've stepped into another world. The best hotel that I have stayed in when in Georgia and its rooms start from about 215 GEL.
Kazbegi – The last place might have had the best rooms in Georgia but the winner of the best view goes to the Capra Hotel. Absolutely jaw-dropping views from the balcony of your room and a cozy wooden aesthetic help shield you from the biting cold. Constructed last year, it still has that new building smell. Rooms start from 150 GEL per night and mountain view rooms from 180 GEL.
Sighnaghi – Located smack dab in the historic center of Georgia's most romantic city, Hotel History is something to write home about. Sit on the trellis balconies and watch the world go by, and stumble into their feather-soft beds after drinking a little too much wine. Rooms start at 140 GEL
Gori – The Hestia Boutique Hotel was a gem of a find. The most helpful owners on the planet, beautiful traditional architecture, it even has a massage chair and pool table, what more could you ask for? Rooms start at a more than reasonable 90 GEL.
Kutaisi – Look no further than Hotel 1887 for a lovely stay in Kutaisi. The rooms had more space than I knew what to do with, and there was always ample light streaming through the window. There is also the choice between a garden and terrace for a delicious breakfast in the morning or a glass of Georgian wine in the evening. Rooms start from 160 GEL
Batumi – More of a serviced apartment feel than a hotel per se, but Tina's Apartments has everything you need. Fully equipped kitchens and open layout rooms more akin to a suite, those are all nice but nothing compared to the panoramic ocean views that greet you at every turn. They are simply spectacular. Studios start at 115 GEL
All in all for a well-reviewed and super comfortable stay, basically the top of the range mid-priced hotels, you will be looking at about 145 GEL per night in damages. For that price, you might be able to get a Motel 6 in a rural area in the states, but I feel like these are just a bit nicer.
If you are like me and like to stay in a mix of places, you will probably average out at 80 GEL per day over the course of a two-week trip.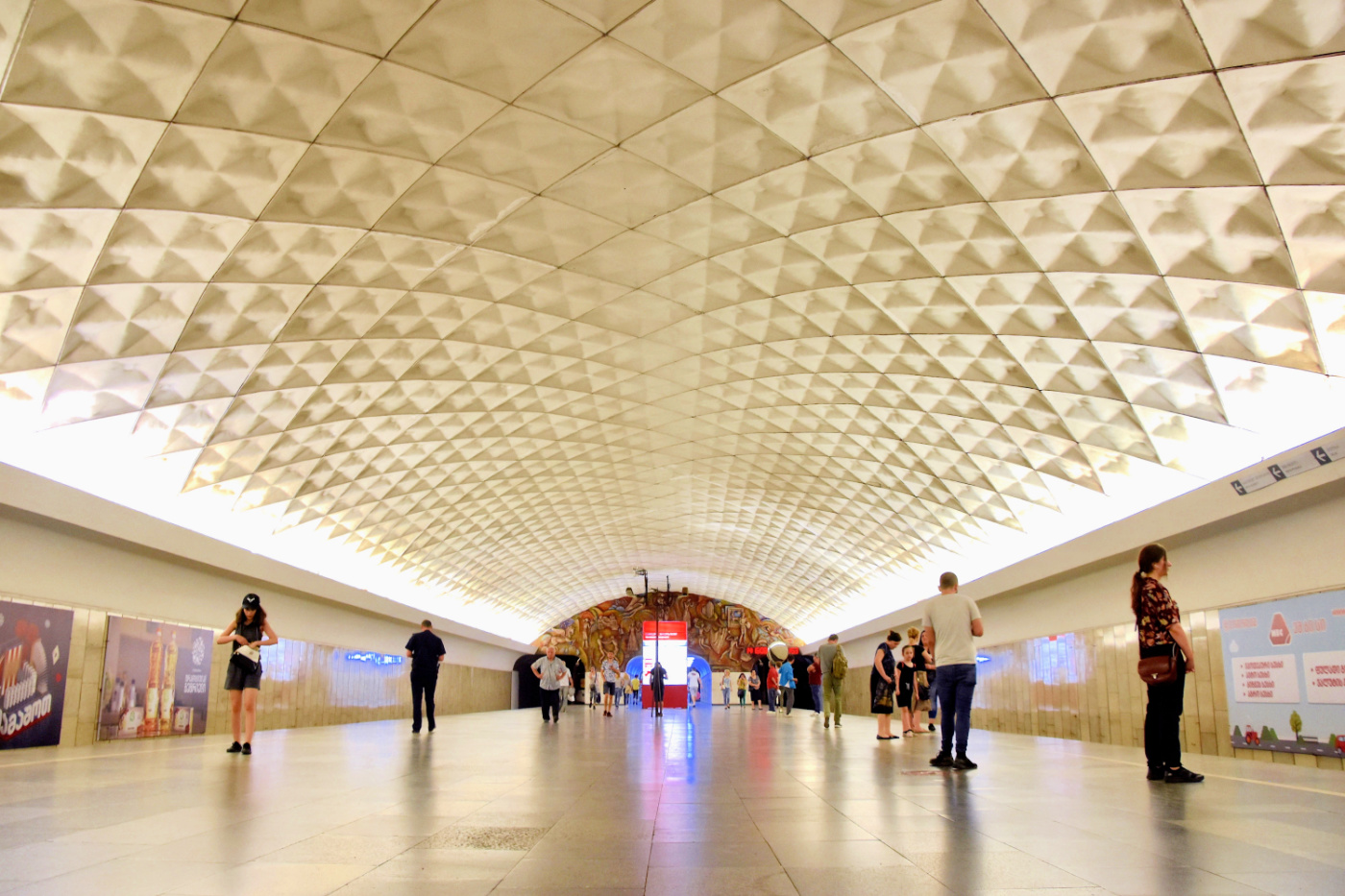 Cost of Transportation in Tbilisi
The costs of traversing this little country are some of your biggest savings compared to other destinations. The only domestic flights go from Tbilisi to Svaneti up in the mountains or Batumi 3 times a week, so unless that is on your agenda you are pretty much landbound. There are several popular ways to get between cities by marshrutkas, which are sharing vans that fly down the roads that make you think you are flying, sharing taxis, and trains.
If you are taking a marshrutka they connect pretty much each city in Georgia and leave pretty regularly. There are no schedules online so I would recommend that you have your hotel call the station ahead of time to see when they leave. When you get to the station they have signs on the front usually to indicate where they are going but unless you can read Georgian, you might be a bit lost. Fear not, just say the name of your destination to the group of middle-aged men standing outside the vans, ( trust me they will be there) and they will kindly guide you on your way.
They are the most cost-effective way to get around, with short trips such as Tbilisi to Gori costing about 5 GEL, and longer like Tbilisi to Batumi running about 25 – 30 GEL. You cannot book your tickets in advance as you have to pay the driver directly, so try to get there a little bit early.
Sharing cabs, in my opinion, are the best way to get from Tbilisi to anywhere that isn't too far such as Gori, Kazbegi, and anywhere in the Kakheti region including Sighnaghi. They usually seat 2 in the back and one in the front, perfect if you are a couple or a solo traveler. The only issue is you might have to wait for some time until the taxi fills up. A seat in one of these vehicles to the destinations above usually costs about 25 Lari. Just show up at the station where the marshrutkas are and ask for the taxis and you will be just fine.
For longer trips take advantage of the train system. It is efficient and quite cost-effective as well. For example, the train from Tbilisi to Kutaisi takes about 5 and a half hours and only costs 14 GEL while the train from Tbilisi to Batumi also takes around the same amount of time and costs 40 GEL.
It has also become trendy to use private transfers with Gotrip. These are a lot more expensive but allow you to make stops for photos and bathroom breaks while also giving you the freedom to not be beholden to any schedule. You also select a driver that speaks your language and sort based on review so you know that you are getting the best one possible. 
In comparison to the shared taxi option, GoTrip charges approximately 185 GEL for a three-seater up to Kazbegi, while a sharing cab costs between 25-30 GEL, or around 85 GEL if you booked all three seats.
Compared to the train which is 14 GEL per seat to go to Kutaisi, a four-seater vehicle starts at 230 GEL, reaching you at your destination in just over three hours saving you two. All that to say the Gotrip cars are super nice to have and if you can fill the cars up the difference is not as stark, however, it is definitely a luxury, not a necessity.
In terms of transport within cities Bolt, Georgia's answer to Uber is king. Very affordable, the average fare around the city for me was between 5-15 GEL. Much cheaper than the taxi I flagged down before I was able to get a local sim. Bolt works in Tbilisi, Kutaisi, Batumi, Gori, and several other places. Smaller towns are very walkable and you shouldn't need to call a taxi, but if you do you can always arrange one through your hotel or hostel.
In Tbilisi, there is also the option of the metro. It doesn't go everywhere but hits a lot of main points while being fairly cheap at 1 GEL per ride. I would suggest getting a Metromoney card, which is a prepaid card that works on the metro, buses, and cable cars.
If you are moving cities via sharing a taxi or train every 2-3 days and using a bolt or two in a day, the daily cost of transportation would work out to about 25 GEL per day.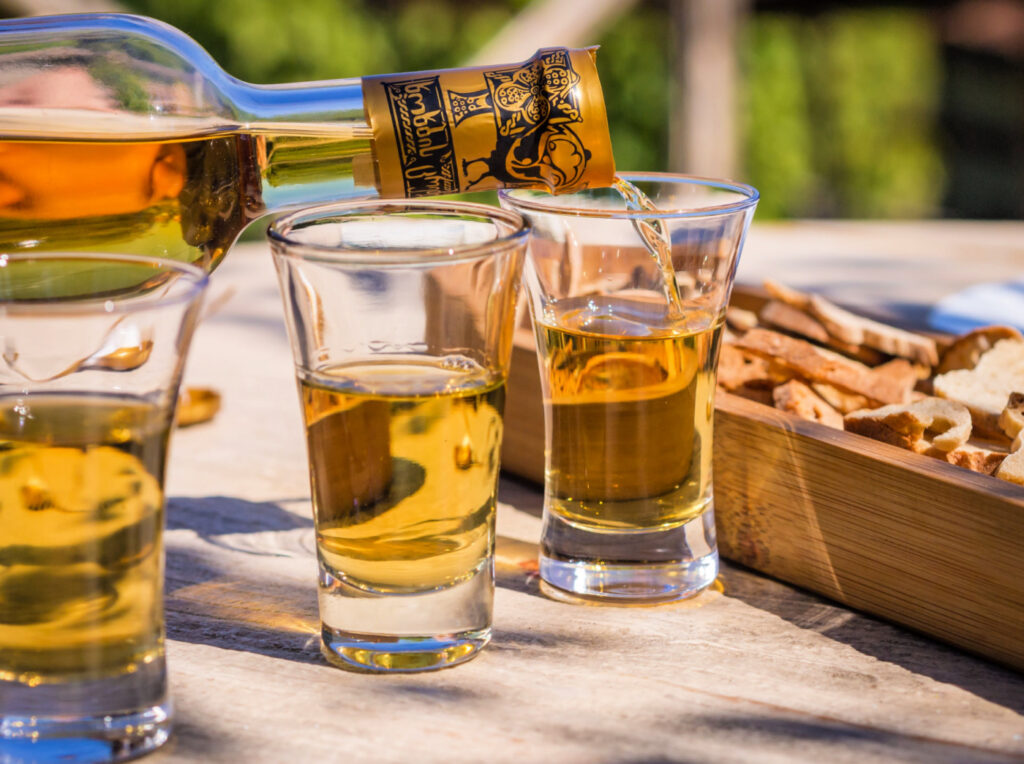 Cost of Food in Georgia
Like most things in Georgia, food can be as cheap as you would like it to be. There are of course expensive venues too however for the quality, they are more than reasonable compared to fine dining options around the world. But if you like your carbs and meat as much as I did, you might end up having to loosen your belt by a notch or two before you leave. From the sinfully decadent Kachapuri (just bread, cheese, and a knob of butter so big it would make your cardiologist cry), the fire-roasted Mtsvadi and the monster dumplings known as Kinkhalis that look like they ate smaller dumplings for breakfast, there are a quite a few dishes here that deserve money being spent on them.
Let's start with the cost of wine, as Georgia is known as the cradle of wine and there are very few meals eaten without it. Many local restaurants make their own wine and they are dirt cheap and taste anything but! For homemade wine expect to pay around 4 GEL per glass usually, although I've even seen a liter go for as low as 5 GEL. If you want a glass of the good stuff it will run you between 12-15 GEL which coming from where I am from is still an absolute bargain.
In terms of food, If you are the type who likes to spend money on activities and try to save as much as possible on food there are a couple of options for food. Local bakeries can give you filling portions of Kachapuri and Lobaini, a hearty bean-filled pastry for just 1-2 GEL. Alternatively, there are grocery stores like Fresco and Carrefour that sell prepared-to-take-away dishes from 3-5 GEL that are honestly much better than you would expect. When I had to spend three days sick in bed after catching a nasty flu, the ready freshly cooked meals were a lifesaver.
At the very low end of restaurants, you can get a main dish for about 6-7 GEL at a place like local dive like Mapshila in Tbilisi. I must have eaten the pork Ojakhuri there about 10 times. You can leave sated for that or tack on a salad or beer and make it an even 10 GEL. You won't find more bounce for your ounce than that.
If you want to go for a more mid-range place I usually spend about 25-35 GEL for a main, maybe a salad and a glass of wine or 3. By the way, try the Shkmeruli in Salobie Bia. Don't ask any questions, just trust me.
If you go to a more fancy place in Batumi or Tbilisi expect to pay anywhere from 60 -100 GEL per person. I've gone over that a couple of times but it wasn't the food, as even cheap wine adds up as I have now come to realize. Generally, Tbilisi is a little bit more expensive for food than other places in the country, but mainly for fine dining only, surprisingly the average meal at the local tavern worked out pretty much the same.
If you have two mid-range meals a day with a light breakfast, occasionally splurging and occasionally eating local,  my wallet came out to around 65 GEL lighter per day of eating. If only my scale followed suit.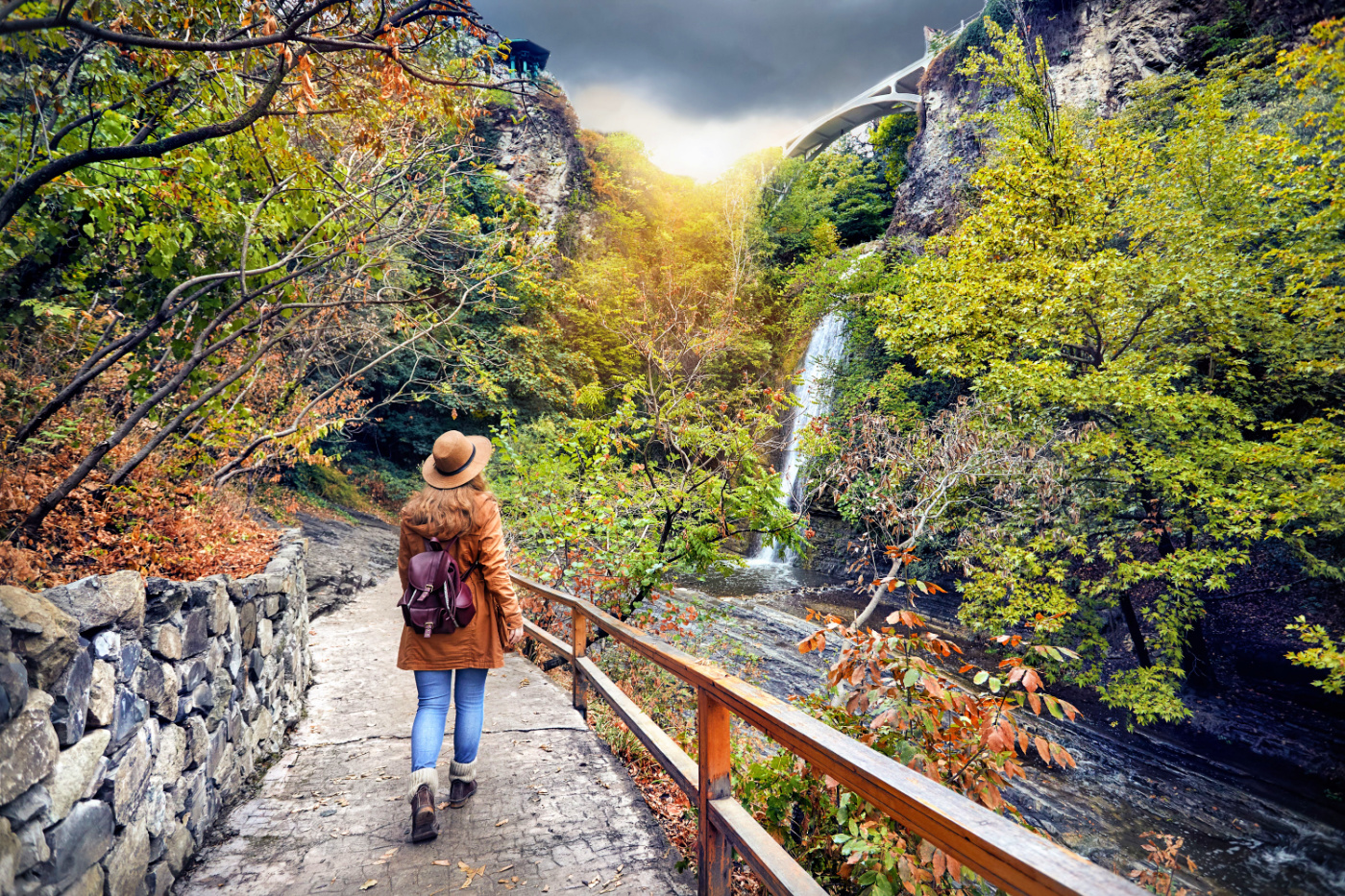 Cost of Activities in Georgia
Whether you want to explore this magnificent country DIY or with a group, both are easily achievable. Visit immaculate monasteries, rugged cave formations, and towering mountains and wonder why this place is not somewhere the vast majority of the world has heard about.
If you are visiting other cities for the day, for example, Mtskheta, DIY is possible and much more affordable by taking marshrutkas and paying just a few GEL. However many of the other sights are in more rural areas so taking a group tour or renting a car with a driver would be your best bet on finding the place. These options also allow you to dot around and see more things in a day especially if time is an issue.
For tours, I love to use Get Your Guide. It allows you to choose from a variety of options, be able to see reviews from other satisfied or dissatisfied customers, and generally just takes away the hassle of trying to find a tour on the ground. Yes, you can also find day tours from around 70 GEL just by walking around and going with the friendly girl handing out tour pamphlets on the street. However these are most of the time overcrowded, with less comfortable vehicles, and in the case of Georgia, probably in Russia. These can be an option if you are on a shoestring budget, but if you can swing it I definitely would suggest using Get Your Guide.
A full-day trip with a tour group leaving from Tbilisi, Kutaisi, or Batumi would cost about 100-150 GEL per person and a private tour with a driver would be around double that. For most of what you are going to see I would say that is a huge bargain. If you want to pop over the border to Armenia on a day trip it would cost you about 240 GEL and with an overnight option around 700 GEL.
Since they are controlled by the government, something that has taken a huge jump in price are entrance fees. Tickets to heritage sights and museums cost anywhere from 3 GEL to 30 GEL. When I visited in 2017 I never saw anything over 20 GEL but the situation has now changed with many sights now charging 50% more.
Another must-do are performances. Tickets to a world-class ballet by the State Ballet of Georgia or the orchestra will only set you back 30 GEL while admission into the iconic adults-only Gabriadze Theater will cost between 50-70 GEL depending on the performance. I must admit that in a vacuum I am neither a puppet nor a ballet fan, however the word I would use to describe both the performances that I saw was magical.
Lastly, if you want to do a private sulfur bath at one of the legendary sulfur bathhouses of Tbilisi, this will cost you anywhere from 60 GEL to 130 GEL depending on the level of luxury you are looking for.
Luckily churches and national parks which are some of the best things to see in the country are free. If you are looking to do a group tour or performance every couple of days and stick to self-exploration for the other you would be looking at a budget of 60 GEL per day.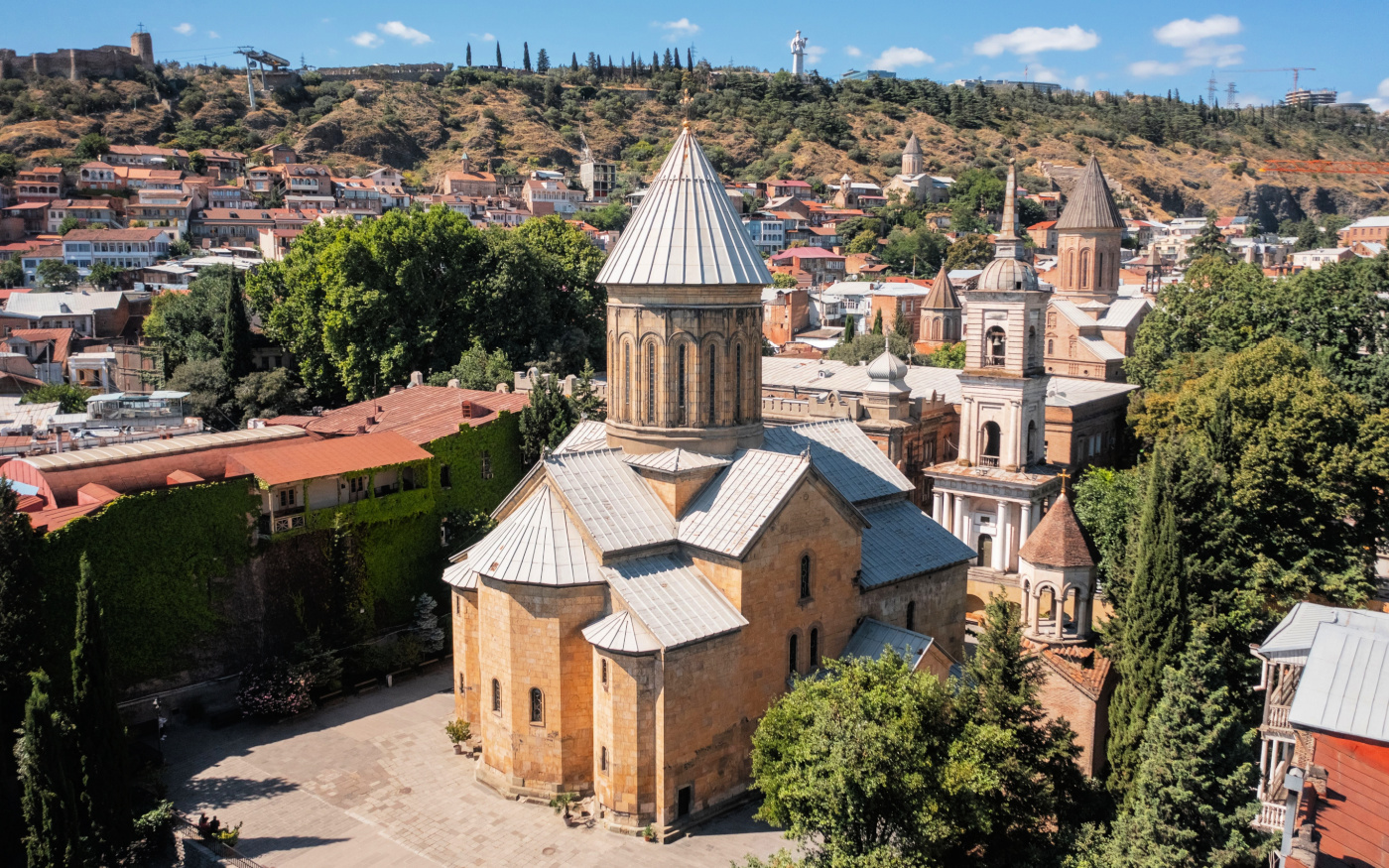 Cost of Travel in Georgia
Now that we have our totals it is time to count them up and see how much it costs to travel on a comfortable mid-range budget in the ground country of Georgia.
Hotel – 80 GEL
Transport – 20 GEL
Eating – 65 GEL
Activities – 60 GEL
Total – 225 GEL per Day
            ~85 USD ~81 Euro ~71 Pounds
A couple of years ago you could easily get by on about 20 USD less than that for a mid-range budget, however, the rise in prices the past couple of years makes that a little harder than before. You can comfortably cut that budget by a lot if you are traveling with a partner by sharing accommodation and food expenses. On the shoestring budget of my early 20's, staying in dorms exclusively and eating bakery and local taverns only, and eschewing most tours for complete DIY travel, you could get by on 70 GEL per day. However, if you want to explore the country for all it has to offer this is a good starting point to base on. For 85 USD you get an insanely good return.