The United Arab Emirates is an amazing country to travel to for those wanting to experience the true essence of Middle Eastern hospitality, culture, and lifestyle. 
Dubai is all about its dazzling lights, skyscrapers, beaches, and expensive toys. Abu Dhabi, the capital and crown jewel of the country, is home to lavish palaces and enormous mega-malls. Fujairah, Ras Al Khaimah, and Umm al Qaiwain are all scenic destinations with plenty of adventure activities, while Sharjah and Ajman are best known for their religious and cultural attractions.
In the UAE, there is something to do for every type of traveler, no matter the type of vacation or adventure they may be craving.
The most recognizable and popular Emirate in the UAE is Dubai. The city is the economic hub of the country and is famed for its futuristic and opulent infrastructure. It is also the most liberal of all the other Emirates boasting an incredible nightlife experience with plenty of lavish clubs, bars, sheesha cafes, fine dining restaurants, festivals, and cinemas to keep you entertained.
However, Dubai is just a part of this beautiful country and not exploring the rest of it would be a real shame. With all Emirates being fairly close to one another, exploring all seven doesn't cost a lot and is very easy thanks to UAE's amazing road network and cheap petrol!
But, while traveling through the seven emirates can be fairly cheap, you can't say the same for the rest of your trip. The cost of travel in the UAE, especially Dubai and Abu Dhabi, can be astronomically expensive. After all, these cities are home to some of the most luxurious and wondrous resorts and hotels in the world, including the iconic, world-famous Burj Al Arab, in Dubai, and the Emirates Palace, in Abu Dhabi. 
Luckily, having visited the UAE plenty of times there are many ways to have an amazing vacation here without having to spend a fortune.
Even in Dubai, there are plenty of reasonably priced accommodation options available for tourists on a budget. Public transportation is superb and affordable and the cost of food is easily manageable depending on where you dine. Also, outside of Dubai and Abu Dhabi, the rest of the Emirates are a lot more reasonable in terms of travel and living costs.
What is the best time to visit the UAE? Winters are by far the best time of the year to visit, with summers being the worst. The main reason for this is heat! Having an arid desert climate, UAE can get extremely hot in the summer months with temperatures reaching and sometimes exceeding 50 ℃ or 122 °F. This coupled with 100% humidity makes it so that summers can only be enjoyed indoors.
The seasons of spring and autumn are also transitional seasons. So, as far as climate goes, the country mainly experiences hot summers and mild winters. The little rain that does fall also happens during winter. As such, the best months to visit are from October to March. I would, however, avoid traveling in December until about the middle of January. This is the peak season for tourism in the UAE and travel costs can be extremely high.
How to go about exploring the UAE? I would suggest starting your journey in Abu Dhabi and working your way northeast. All the major cities are along the coast and are connected by a stunning highway network that makes traveling from one destination to another a breeze.
You can even choose Abu Dhabi, Dubai, or Sharjah as your accommodation base and simply visit all the other Emirates as day trips. As UAE isn't the biggest country in the world, the travel time from Abu Dhabi to one of its furthest Emirates, Fujairah, which is about 250 km away, takes only 4-5 hours one way. So, on a nice day, you could potentially leave for Fujairah early in the morning, arrive before noon, explore the city and its attractions, and then be back at your hotel by nightfall without breaking a sweat!
While there are many different ways you can go about exploring the country, you should take out at least a couple of weeks to enjoy all its major attractions and hot spots.
To help you make the right choices, it's time for me to share with you the types of UAE travel expenses that you should come to expect. I will provide a breakdown of accommodation, travel, and food costs to suit all kinds of budgets and even suggest some tips and insights that will help you save money on activities and tours.
So, let's get to it!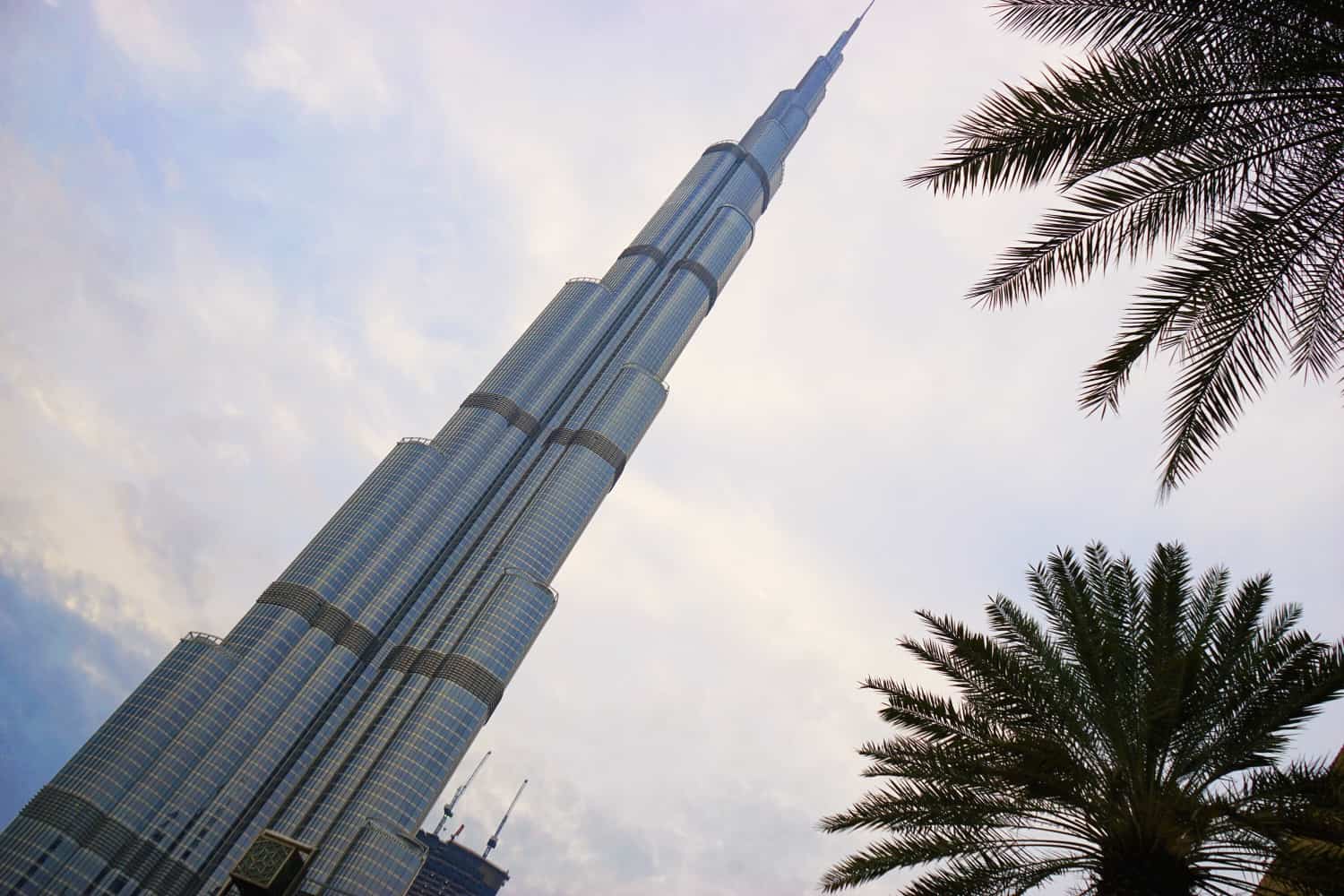 Exploring The 7 Emirates – Where To Go
To get the full UAE experience you need to visit all of the Emirates as each one offers its unique charm, beauty, and allure. However, some emirates or cities like Dubai and Abu Dhabi have a lot more to offer than others.
This is why I would suggest spending an entire week in Dubai and Abu Dhabi and the second week exploring the rest of the UAE.
For a two-week trip, I would recommend the following itinerary:
Day One: Abu Dhabi
Day Two: Abu Dhabi
Day Three: Abu Dhabi
Day Four: Dubai
Day Five: Dubai
Day Six: Dubai
Day Seven: Dubai
Day Eight: Sharjah
Day Nine: Sharjah/Ajman
Day 10: Umm Al Quwain
Day 11: Umm Al Quwain
Day 12: Ras Al Khaimah
Day 13: Al Fujairah
Day 14: Al Ain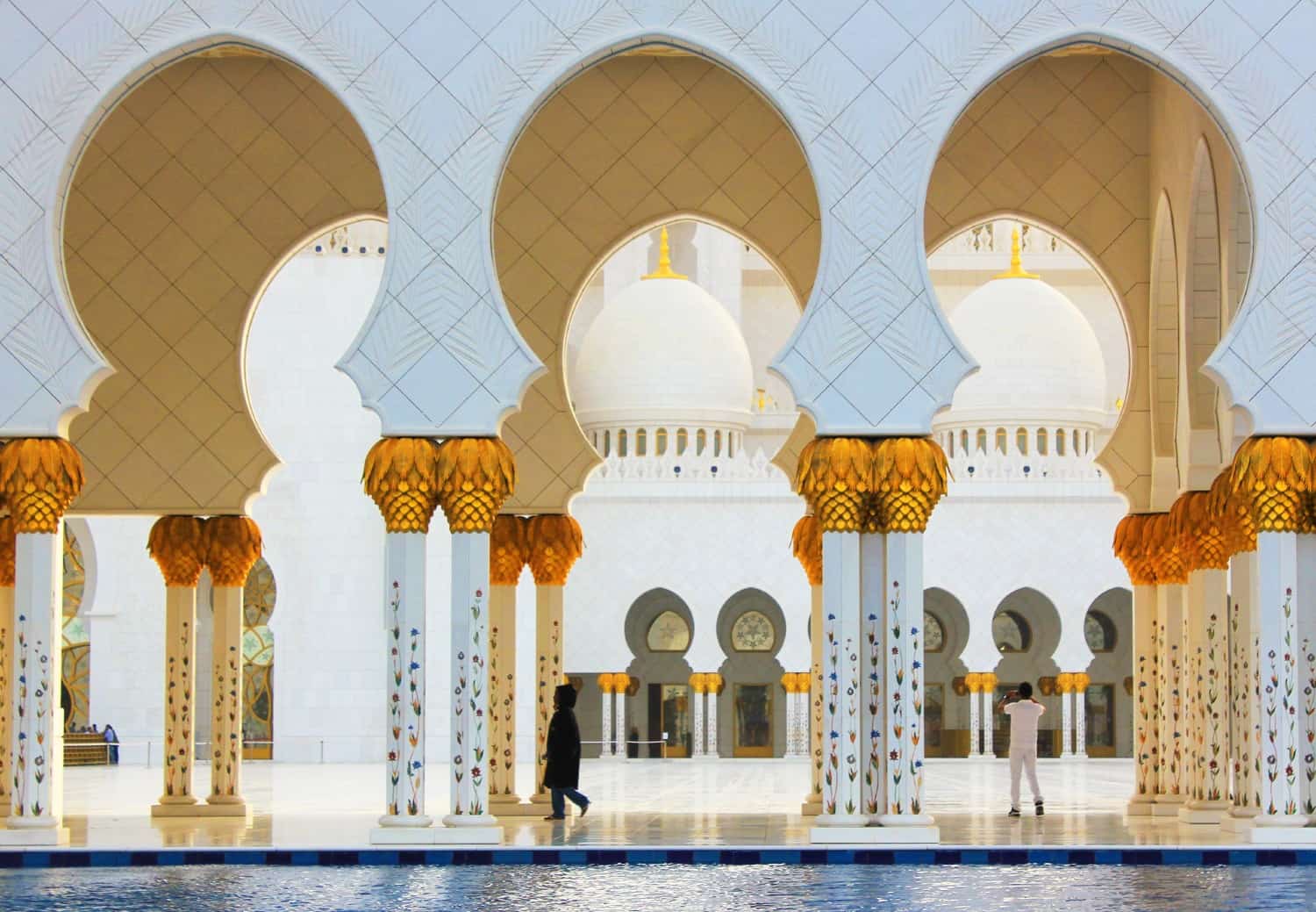 The Cost Of Accommodation In The UAE
When it comes to accommodation options in the UAE, your choices are limitless. From over-the-top luxury hotels and resorts that cost upwards of $5,000 a night to boutique seaside villas and hotels that are a more reasonable $$150-200 a night, accommodation is likely going to be your major expense when it comes to traveling in the UAE.
If you are a solo or budget traveler and are thinking that's too much, don't worry, I have paid less than $30 a night for fabulous shared dormitory rooms in upscale neighborhoods of Dubai, such as Jumeirah Beach, that come with views of the Dubai Marina!
In this guide then, I am not going to focus on the most expensive hotels or the cheapest. My goal is to present to you the best hotel for a particular location based on value alone. This is because while we may all have different travel budgets, at the end of the day, we all want the best value for our money. That is what I intend to deliver!
No matter where you visit in the UAE you will never be too far away from a boutique luxury accommodation or a couch with your name on it. So, to help break this down in a more digestible manner let's start by exploring your cheapest options first.
If you have come to the UAE on a shoestring budget many will tell you you have made a grave mistake. While that may be true, you can still find potentially free accommodation while you are in the country through Couchsurfing. This platform currently has over 66,000 listed hosts in Dubai alone, who are willing to lend you a couch or spare bed in their own homes. Not only does this option cost you nothing, but it is also a great way to learn about the customs, cultures, and traditions of the people that live here and how they go about their daily lives. 
Want to enjoy a more luxurious stay without paying any money? There are ways to do that as well. With a constant need for house-sitting jobs in the UAE, there is always a chance you can end up being the caretaker of a luxury seaside villa or lavish downtown apartment while the owners are away on vacation. Sure you will be looking after their home and pets but what you get in return is luxury accommodation at zero expense!
However, if you are not looking for free options but would rather prefer to have a comfortable room or bed to call your own, there are plenty of options available for that too. The best way for solo travelers to do that is to stay in hostels rather than hotels.
The hostels in the UAE can be a bit of a hit-and-miss though. Also, you will struggle to find many options. So, to help you make the right call here are the best-reviewed hostels in the country.
The best hostel in Abu Dhabi is easily Top House, where mixed dorm rooms are priced at just $19 per person, and a luxury triple room is just $23 per night. While the hostel is some 25 km from the city center it offers a more peaceful vibe away from the chaos of traffic and busy bazaars. 
In Dubai, you won't find a better hostel than York Backpackers, at Jumeirah Beach. Apart from its fantastic location, the hostel offers 10-Bed mixed dormitory rooms at $16-$18 per person and 6-Bed female and mixed dormitory rooms for $18-$25 per person. In a city where hotel rooms can cost a minimum of $200 a night this well-reviewed beachfront hostel is a no-brainer for solo and budget travelers.
Sharjah borders Dubai but is a lot more affordable in terms of accommodation. While there are no hostels in Sharjah, I would recommend booking a Deluxe Suite at Red Castle Hotel, which costs only $34 a night. This 4-star hotel offers many amenities and luxuries including a swimming pool, fitness center, concierge service, free private parking, and a delicious morning breakfast.
It is also best not to stay in Ajman and rather visit its top attractions during the day and then return to your Sharjah hotel. Ajman is essentially an extension of Sharjah and while it has a fabulous marina and other cultural attractions there is little point in spending a night here.
Your next stop is going to be Umm Al Quwain. Unfortunately, from this point onwards you won't find any more hostels but luckily even some of the premium accommodations in these cities aren't that expensive. As these locations don't pull in as many tourists.
For solo travelers and backpackers on a shoestring budget, I would suggest staying in the following hotels when visiting Umm Al Quwain, Ras Al Khaimah, and Fujairah.
The Pearl Hotel & Spa would be my pick of budget hotels to stay in in Umm Al Quwain. With a double room starting at just $62 a night this luxury hotel is located on the beachfront and has an amazing swimming pool and spa. It is the perfect place to enjoy Umm Al Quwain's oasis lifestyle without breaking the bank.
To get the full Ras Al Khaimah experience you have to spend a night at The Dunes Camping & Safari. It is here that you will be able to connect with UAE's natural desert landscape while still living in luxury and style. Although expensive, at over $100 a night, this is an experience I thoroughly enjoyed and one that I would certainly recommend squeezing into your budget. 
When visiting the mountainous region of Al Fujairah, why not stay in style at the TIME Moonstone Hotel Apartments? Starting at just $41 a night you can get an entire apartment all to yourself located in the heart of Fujaira's city center.
So, to sum up then, if you plan on staying in a hostel in the major cities of Dubai and Abu Dhabi you are looking at about $20 for a dorm or around $30-$50 for a private deluxe room.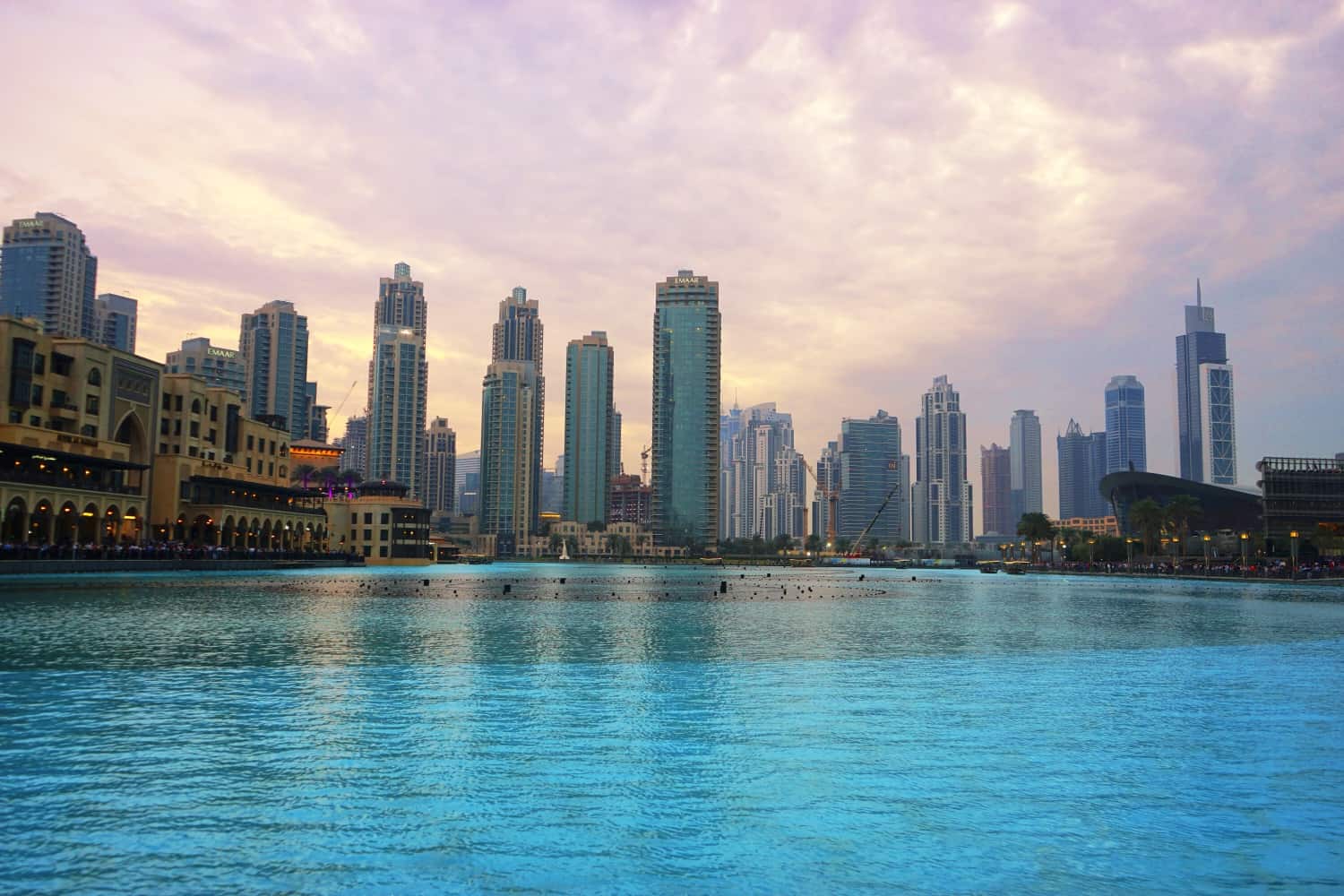 But what if you are not a solo or budget traveler and all you want is a comfortable and well-reviewed hotel that has great service, amazing amenities, and overall great value for money? Don't worry, I've got you covered on that as well.
When I travel to the UAE I try to stay in a mix of well-reviewed low-price hostels and boutique luxury hotels and resorts that are under $150 a night, have amazing reviews, and superb service. 
When traveling to cities like Abu Dhabi and Dubai you will be spoilt for choice when it comes to accommodation options. However, while having options is great, finding out the best option for you can be trickier than you would imagine.
These are my top options for where to stay while traveling in the UAE: 
Abu Dhabi
Conrad Abu Dhabi Etihad Towers ($128 a night for a queen room with a sea view) – Start your UAE vacation by living like royalty at one of Abu Dhabi's most spectacular hotels. I stayed here on my last trip to Abu Dhabi and wow what an experience it was! This 5-star resort is massive and resembles a palace more than a hotel. It includes multiple restaurants, bars, swimming pools, spas, and even a private beach. The location was also amazing as I found myself just minutes away from some of Abu Dhabi's top attractions including the Presidential Palace and Marina Mall. The room had views of the Gulf Coast and the furnishing and bedding were modern, stylish, clean, and comfortable.  
Dubai
Address Dubai Marina ($163 a night for a deluxe room) – Continue your theme of affordable luxury living by booking yourself in for a few nights at Address Dubai Marina. This luxurious hotel is located right alongside the famous Dubai Marina and is linked to the Dubai Marina Mall. The highlight of this hotel for me, apart from its modern and exquisite decor, is the city view from its beautiful infinity pools and the delectable food and beverages served at its in-house restaurants and bars. The Address Dubai Marina is yet another UAE hotel that pampers its guests in luxury and comfort while offering top-notch service and hospitality. 
Sharjah
Pullman Sharjah ($120 a night for a king room with breakfast included) – Sharjah may not be as popular as Dubai or Abu Dhabi, but for smart travelers, it can be the perfect Emirate to stay in for extended periods. The same luxury experience that you could have in Abu Dhabi and Dubai for hundreds of dollars, you can enjoy in Sharjah for a lot less. The Pullman Sharjah is an example of just that. This luxury 5-star hotel always amazes me with the value it provides. For one, it has an excellent location that is close to Dubai International Airport and many of Dubai's and Sharjah's best tourist attractions. Sharjah's biggest malls the Sahara Center and Sharjah City Center are also just minutes away from the hotel. Then there are the amenities and features that the hotel offers which include a swimming pool, fitness center, spa, and an all-you-can-eat mouthwatering buffet breakfast.  
Umm Al-Quwain
Vida Beach Resort ($112 a night for a deluxe double room) – Those wanting to enjoy a more reclusive beachside resort experience away from the big cities will love Vida Beach Resort in Umm Al-Quwain. This is my go-to hotel when I just feel like escaping city life and reconnecting with nature. A short drive from Umm Al-Quwain's public beach area, this private beachfront resort allows you to relax and unwind by its outdoor pool or take a dive in the pristine Gulf Coast waters. The spa experience here is amazing and the food options aren't bad either. Great place for solo travelers and families alike!
Fujairah
Doubletree By Hilton ($75 a night for a double room) – The mountainous regions of UAE offer a welcome change of landscape from the seemingly never-ending dunes. During the winter months, this region sees an influx of tourists who come to enjoy the cooler weather and the change of scenery. While accommodation options were limited in the past, brand-new hotels such as the Doubletree By Hilton now offer guests a luxury living experience in the heart of Fujairah city.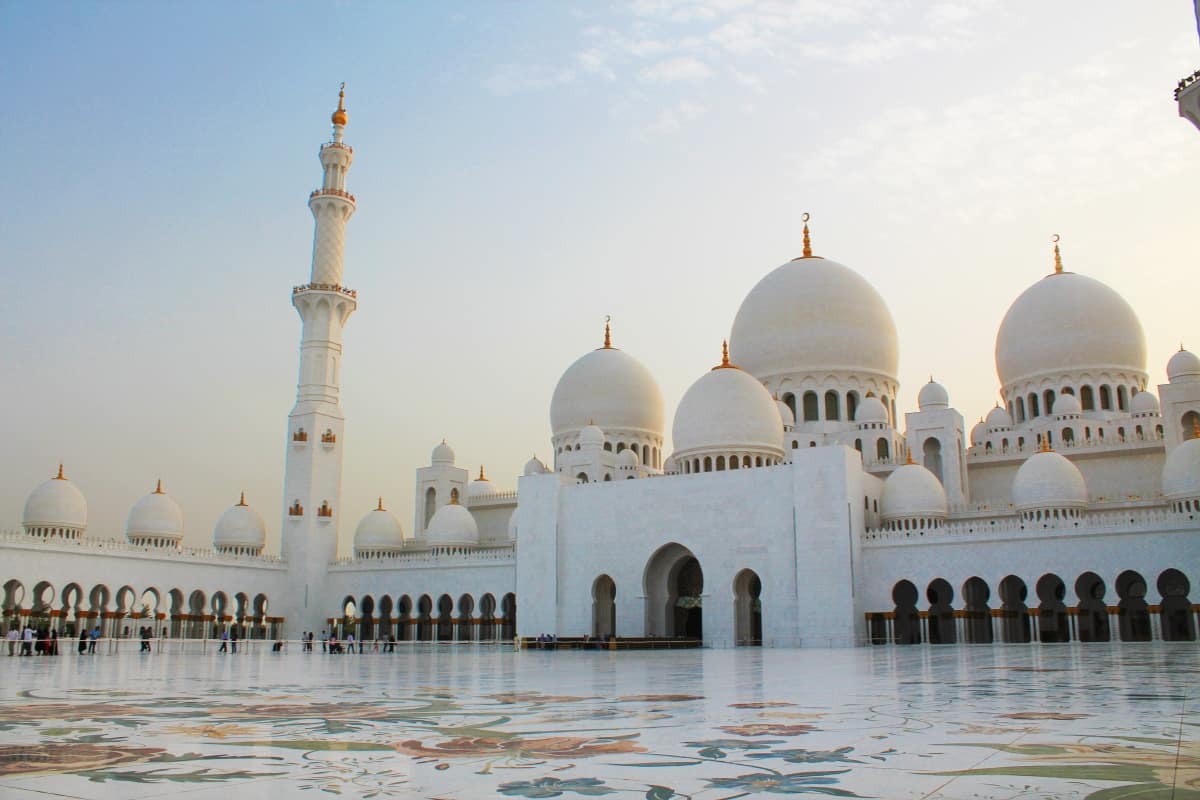 The Cost Of Transportation In The UAE
Exploring all of the UAE is extremely easy. All the Emirates are connected via large highways and since all the Emirates are close by there is no reason to use any form of transport other than a car or bus.
With cheap car rental options, low prices of fuel (l90 cents a liter), and many top car brands to choose from, renting a car is by far the best way to explore the UAE. I prefer to get a practical newer model Yaris or Civic that costs on average $20-$25 a day. By renting a vehicle I can explore the country at my own pace. Also, with an excellent road network and strict traffic laws driving in the UAE isn't that difficult as long as you avoid rush hours.
However, if you don't feel comfortable driving in the UAE or simply want to avoid the hassle of driving and maintaining a car during your vacation, the public transportation systems in cities like Dubai, Abu Dhabi, and Sharjah are state-of-the-art and surprisingly affordable.
Public transportation in the UAE is managed by the Roads & Transportation Authority (RTA) and includes buses, taxis, water taxis, trams, and the metro which are all air-conditioned, comfortable, and run like clockwork. 
To avail of UAE's excellent public transport services, tourists will have to buy a transport card or Nol card as it is called in Dubai. This Nol card can also be used to pay for taxi fares, parking fees, bus fares, and metro fares, and even used to buy tickets and pay for items in certain stores.
I purchased my Nol card online and I quickly found it to be the most affordable, convenient, and sometimes even the fastest way to get around. While there are four types of Nol cards, the one that you would need to purchase as a tourist would be the red one. 
Here is a breakdown of the public transport costs you can come to expect when traveling in the UAE:
Metro fares vary from less than $1 to $10 depending on how many zones you travel.
Local bus fares can cost as low as $0.50 and go up to $2 depending on the number of stops traveled.
Inter-Emirate public bus travel will cost on average $7-$10.
Water Taxis, Dubai Ferry, Abras, and the Dubai Tram all cost less than $1 to $3 to use.
That's not bad at all, right?
However, if you prefer to take public taxis to travel within an emirate you will be looking at an average travel cost of $35 a day. Uber and Careem are also available and quite big in the UAE. Uber operates mainly in Abu Dhabi and Dubai and Careem operates in Sharjah and Ajman. However, in my experience, Uber and Careem fares are usually the same or higher than normal taxi fares and you don't get much in the way of comfort or service either.
Abu Dhabi and Sharjah also share a similar automated public transport system. However, for the rest of the Emirates, public transport options are limited to long-distance coaches and local taxis.
The average cost of transportation is: $30 per day
The Cost Of Food In The UAE
The UAE has one of the best culinary experiences you could ever hope to experience in a country. Being a melting pot of many different religions, ethnicities, and cultures you will find endless options for food, especially, in the three major Emirates; Abu Dhabi, Dubai, and Sharjah.
As far as the cost of food goes, that depends on where you eat and what food you choose. I am a big fan of Middle Eastern food so when I travel to the UAE my staple diet consists of shawarmas, rotisserie chicken, hummus, and pita bread. This authentic Arabic food tastes fantastic, requires no prep or cooking, and is available everywhere you go.
For a quick snack, nothing beats a chicken or mutton shawarma which is essentially a wrap full of juicy meat, dressed with pickles, and draped in garlic sauce. Vegetarians are also not left out as they can enjoy a falafel shawarma instead that has no meat but tastes just as delicious. The best shawarmas cost only $2 and taste even better with hummus, which is a traditional side dish or appetizer made from grounded chickpeas.
A full rotisserie chicken can be purchased from most supermarkets and shawarma vendors as well. This filling meal costs only $7-$8 and can be paired up with salads, bread, and cheese for a wholesome and delicious lunch or dinner.
So, you could potentially live on a $10-a-day budget for food in the UAE if you wanted to. However, I would not recommend that.
The UAE is home to some of the most amazing restaurants in the world and not partaking in at least a few of the culinary experiences this country has to offer is missing out on a huge part of what makes UAE so special. While fast food and groceries are inexpensive, fine-dining restaurants can cost upwards of $100 a meal or more.
So, a mixture of eating out and making your meals is the best way to go about your food budget in the UAE. Eat healthy wholesome meals that can be bought from supermarkets during the weekdays and splurge on dining out during the weekends.
Alcohol is available in most of the Emirates except for Sharjah, which is a lot stricter on alcohol prohibition. However, while it is available, it is quite expensive with a normal pint of beer costing between $6-$8 and cocktails starting at $12 and going all the way up to $30 or more. You also can't buy alcohol from stores or consume alcohol in public. It is only served in select licensed restaurants and clubs and that too mainly in Dubai.
The average cost of food in the UAE is: $30 per day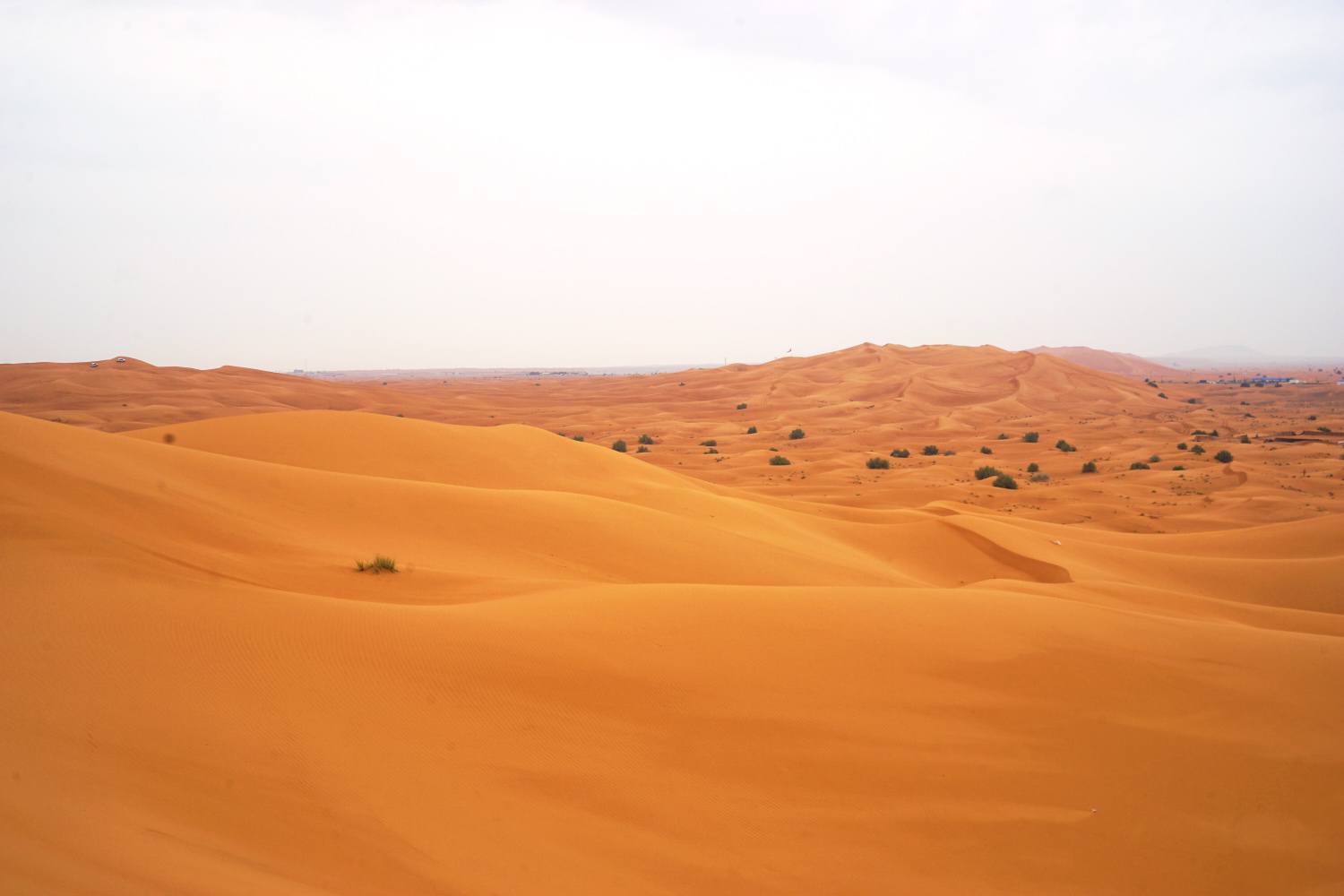 The Cost Of Popular Activities & Tour Options In The UAE
Even though the UAE is predominantly a desert, it has amazing beaches, a mountainous region, and beautiful oases for tourists to explore.
However, the UAE isn't known for its natural beauty but rather for its indoor man-made marvels. Within the vast concrete jungles of UAE"s mega-cities you will find indoor rainforests, ski resorts, amusement parks, zoos, and so much more.
I would highly recommend using Get Your Guide for finding and booking the best activities and tour options in the UAE. I booked this desert safari adventure in the red dunes of the Lahbab Desert for about $30 through Get Your Guide and the experience was worth every cent. 
With so many options choosing what to do can become a real problem. So, here are some popular tour options and activities that I would highly recommend you partake in:
There are also plenty of other things you can do that don't cost any money at all such as window shopping in one of UAE's many malls, enjoying its public beaches, and taking evening strolls by the corniche.
Visiting museums and other cultural attractions also costs next to nothing and is a great way to learn about the history and stories of these lands.
The average cost of activities in the UAE is: $40 per day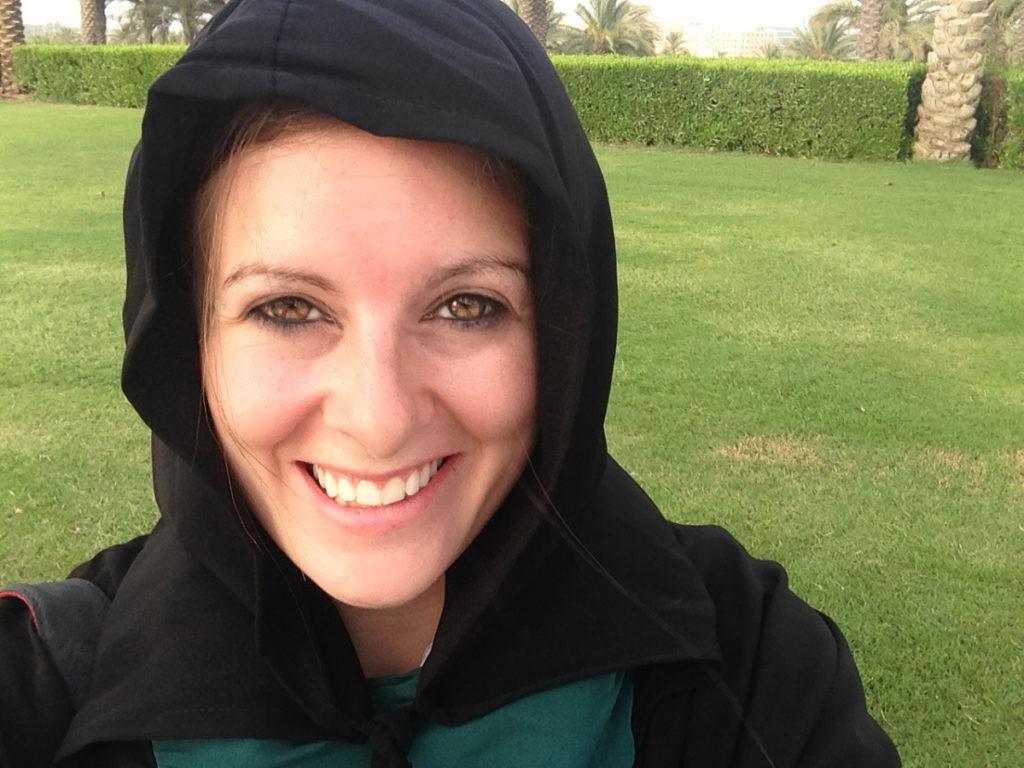 How Much Does It Cost To Travel In The UAE?
Now that I have taken into account all UAE costs, it's time to tally up my UAE travel expenses. This should give you a good idea of what UAE budget you should have when traveling across this epic country.
Accommodation: $80 per day
Transportation: $30 per day
Food: $30 per day
Activities: $40 per day
Total daily expenses for UAE: $180