Bolivia was the second fantastic country we visited on our multi-month tour of South America, and it absolutely blew us away.
This landlocked country is so underrated.
You've got a full array of scenery in Bolivia, from the Amazon Rainforest and glass-smooth Lake Titicaca to the towering Andes Mountains and the otherworldly Atacama Desert. And speaking of otherworldly: you can't forget the Uyuni Salt Flats, which were truly one of the most incredible sights of our entire trip. Our greatest discovery from Bolivia was perhaps that you could spend months in the country and still have so much left to explore.
Leaving Peru by coach, my husband and I arrived at our first stop: Copacabana, on the shores of Lake Titicaca. From there, we spent two adventurous weeks zigzagging across the country, before crossing the border at Portezuelo del Cajón into Chile. Our weeks in Bolivia were busy and action-packed, but so worth it.
So, what were our highlights?
I personally love seeing animals in their natural habitat, so the Amazon was an absolute must for us. Having said that, it did take up a whopping five nights of our itinerary, so if you're short on time, you may want to opt for a scaled-down version. Trekking through the Amazon rainforest and taking a boat through the Pampas, though, are experiences I will never forget, and not all for positive reasons! More on that below.
When we weren't animal-spotting, we made our way from chilled-out Isla del Sol to bustling La Paz, checking out beautiful Sucre and incredible Uyuni when it came time to finish up in the country. Is La Paz the busiest place on earth? It was certainly one of the most chaotic cities I've ever stepped foot in!
In Bolivia, as with our entire trip through South America, we entered overland and travelled that way throughout, aside from a rickety flight into the Amazon.
So how much does all of this cost?
This is, after all, a breakdown of how much I spent while travelling in Bolivia.
In Bolivia, more than other countries, we booked several tours, where accommodation, food, guides, and activities were included. We found these packages to be of good value, although I'll confess that they did bump up our daily expenses a little.
I recommend shopping around at local agencies for prices but also, be sure not to scrimp — you still want to use reputable companies (I'll give some tips on how to find them later on in the post). My husband and I researched online first to get an idea of what to expect, package- and price-wise, and once we talked to someone in person, we usually found there was room for bargaining, depending on how busy the tours were. When not taking tours, we opted for accommodation in the $25-$60 per night range, which was enough to have us staying in some of the best-rated properties in the country.
Just as in my Chile budget breakdown I'll be referencing costs in dollars and the native currency, opting for U.S. dollars simply because the vast majority of my site's readers are from the States. The Bolivian Boliviano (BOB) is the currency of Bolivia, and at the time of writing, in late-2021, $1 equates to around 7 BOB.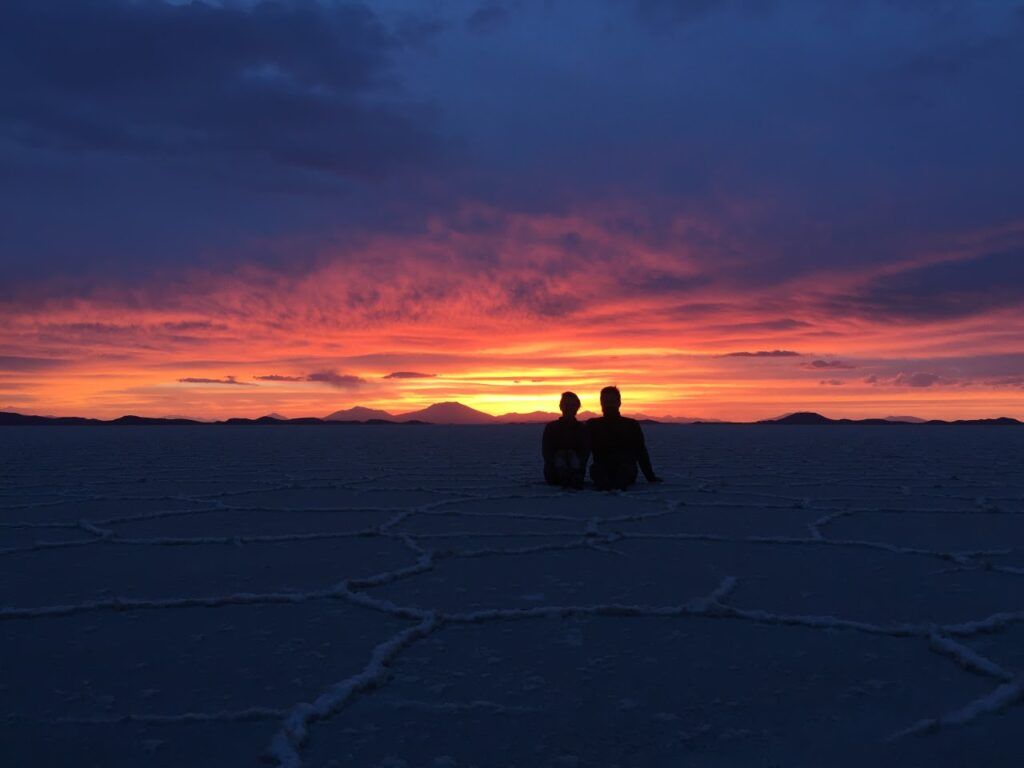 BACKGROUND
Let's move on to where we spent our time in Bolivia. Here's a rundown:
Copacabana: 1 night
Isla del Sol: 2 nights
La Paz: 2 nights
Rurrenabaque: 1 night
Amazon & Pampas: 4 nights
Sucre: 2 nights
Uyuni: 2 nights
With more time, we would have checked out the garden city of Cochabamba, the cultural hub of Santa Cruz, and Potosí, one of the highest cities in the world. Another trip…
Before I carry on: just to confirm, I paid for everything myself –- as always, this is a comp- and press trip-free post.
WHAT'S INCLUDED IN THIS POST
The budget breakdown that follows covers accommodation, transportation, activities, food, and miscellaneous costs.
We travelled overland via coach to get from place to place in Bolivia, and used local travel agencies and our hotels to book the journeys. Or, we went direct to the coach station and bought tickets there. More on these journeys later on.
Our Bolivian experiences were incredible, from trekking across scenic Isla del Sol and seeing pink dolphins, to battling mosquitoes in Madidi National Park. Our money went pretty far, too.
Read on for more details on our Bolivian escapade.
THE COST OF ACCOMMODATION IN BOLIVIA
For the most part, top-notch and reasonably priced accommodation in Bolivia was easy to find. From quirky suites to stylish city boltholes, the options were numerous. Some places included a quality breakfast; others charged an additional fee of around $4 per person.
The one slight exception? The Amazon. Tourism was less developed there than other parts of the Amazon (Peru, Brazil…) and the rest of Bolivia, and so accommodation was more basic – but still perfectly acceptable.
The specific places we stayed in Bolivia were:
Copacabana: This quirky, eye-catching cabin on the shores of Lake Titicaca just a stone's throw from the market had glorious views out to the water and sat atop a hill. Our arty suite featured a living area, kitchenette, colourful mosaic tiles, and had bags of charm. We enjoyed lazing in the hammock, admiring the scenery. Coming in at $58 a night, this was great value for a studio apartment.
Isla del Sol: After a day walking across the island to reach this peaceful hilltop inn, we were ready to relax. Our spacious room had dual aspect windows, with wonderful views as far as the eye could see. Funky wooden furniture, a vibrant bedspread, and a first-rate included breakfast topped things off. A little off the beaten track, but that made it all the more special. Oh, and a bargain at just $24 a night.
La Paz: Back in the big smoke, we enjoyed this stylish, central hideaway – welcome respite from the chaotic city (not to mention a comfy place to lay our heads when the altitude got too much). Clean and modern, with a bright and airy top-floor terrace bar and restaurant, we loved our large room at just $31 a night. Sitting in the Witches Market and El Rosario area of the main district, we were in an excellent spot. Above and beyond staff helped us with onward bookings and restaurant tips, and breakfast was just $4 a person.
Rurrenabaque: This dinky town served us well for one night – a pitstop before heading into the Amazon. We didn't often stay at places with a shared bathroom, but options were limited. This value-for-money guest house came in at a mere $14 a night, and we couldn't complain. That included a breakfast of eggs and tropical fruit, too. Our simple, comfy room had a mosquito net, and the staff were super friendly. There was an outdoor pool and good wifi, as well.
Amazon & Pampas: Although these were two different places, we booked a tour that covered the whole trip, so I'm going to talk about them together. Our five-day four-night adventure included return flights on a teeny (and a little bit bumpy) plane from La Paz to Rurrenabaque, two nights in the jungle and two in the pampas. Plus food, transport in-between, water, and an English-speaking guide (essential). Like I said before, tourism was still in its infancy, and the quality of our accommodation was average. Having said that, there were mosquito nets, and the food was home-cooked and tasty. Sit yourself down and do your research before committing to this trip – it's not for everyone. Although I struggled at times, I'm really pleased we did it. We're such animal lovers – how could we pass up the opportunity?
We booked through this ecotourism company and paid $500 each. That may sound a lot, but when you think about everything that was included… And remember, flights were built into the cost, too.
Our ecolodge at each place was simple, but considering we were in the middle of the jungle and the pampas, we couldn't complain.
Sucre: At a super reasonable $25 a night, this capacious, central guest house featured a sitting area, comfy bed, and was just a five-minute walk from Plaza 25 de Mayo. Very clean and comfy, the owners couldn't have been more helpful when we arrived earlier than expected.
Uyuni: Similar to the Amazon, we enjoyed a tour through Uyuni, with transport, accommodation, food, and an English-speaking guide included. We booked our three days two nights with this well-regarded company and paid $180 a person (cheaper than online because we booked in-person). One night was spent in a salt hotel – novel, but when would we get to do that again? The other was spent in a simple hostel with outdoor hot springs for relaxing in while gazing up to the clear, starry sky – bliss.
OUR TOTAL COST OF ACCOMMODATION IN BOLIVIA CAME TO $1592. THAT'S AN AVERAGE OF $114 PER DAY, OR $57 EACH.
THE COST OF TRANSPORTATION IN BOLIVIA
We mainly used air-conditioned tourist coaches to travel around Bolivia. These were comfy; some had large reclining seats, TVs and blankets!
Like I mentioned earlier, we either booked tickets direct at the bus station, via a local travel agent, or through our hotel. We shopped around, to find the best deal.
If you have a bigger budget, you could choose to fly between some places. For example, there were flights from La Paz to Sucre for about $80 per person. The only time we chose to fly was between La Paz and Rurrenabaque. We could have gotten a bus, but we hadn't read good things about the journey, and it took around 18 hours.
Here's a breakdown of our journeys:
Return boat from Copacabana to Isla del Sol: 56 BOB per person
Coach from Copacabana to La Paz (with a raft journey across the Tiquina strait!): 56 BOB per person
Local bus from La Paz to El Alto airport: 10 BOB per person
Return flight from La Paz to Rurrenabaque: Built-in to the package price mentioned above.
Coach from La Paz to Sucre: 126 BOB per person
Coach from Sucre to Uyuni: 70 BOB per person
OUR TOTAL COST OF TRANSPORTATION IN BOLIVIA CAME TO 616 BOB or $88. THAT'S AN AVERAGE OF $6.30 PER DAY, OR $3.15 EACH.
THE COST OF ACTIVITIES AND ENTRANCE FEES IN BOLIVIA
Jaguar and anaconda spotting were two of the activities we threw ourselves into in Bolivia. As well as seeing other amazing animals and reptiles like caiman and capybara, we wandered historic, characterful cities, and spent time at one of the most amazing natural wonders – the Uyuni Salt Flats.
Here's a rundown for you:
La Paz Mi Teleférico cable car: 7 BOB person return. Enjoy a spectacular aerial view of the crowded city. Keep an eye out for the cemetery.
Amazon two-night tour: price already included in the accommodation section — we booked through Mashaquipe Eco Lodge. After a boat ride along the Beni and Tuichi rivers, we reached our digs in the Madidi National Park jungle and the adventure began. From daytime hikes with monkeys swinging overhead and pitch-black evening walks (watch out for the tarantulas), to seeing colourful macaws fly around Caquiahuara Cliff, we packed a lot in. Sadly, we didn't see any jaguars… just a paw print. Now, the mosquitoes were problematic, so be sure to take the right clothing and plenty of repellant (although I still got eaten alive).
Pampas two-night tour: price already included in the accommodation section, as, yet again, we booked through Mashaquipe. The majority of this trip was spent cruising along on a small boat, up and down the Yacuma River. Keep your eyes peeled for pink dolphins and turtles, and you won't be able to miss the gnarly, menacing-looking caiman. We loved seeing toucans and herons, too. Our anaconda-spotting trip was unsuccessful, in that we didn't see any, but looking back, maybe that wasn't such a bad thing?! Again, mosquitoes were an issue, but what can you do?
Madidi National Park entrance fee: 200 BOB per person. Not included in the cost of our tour.
Protected Area Pampas del Yacuma entrance fee: 150 BOB per person. Excluded from the cost of our tour.
Uyuni two-night tour: price already included in the accommodation section. Wow, we loved our two nights here. When we first arrived and were told winds had made the salt dirty, we were really disappointed. We needn't have worried, the scenery was still spectacular – it's hard to put into words. As far as the eye can see, it's salt. I kept thinking it was ice! Our guide was meticulous with photos – it's all about perspective, as you can see with the images above. Don't miss staying out on the Flats until sunset, where we watched in awe, thinking it couldn't get any better… and then it did. Pictures don't really don't it justice. As we made our way to the Chilean border over the three days, we saw more amazing sights: flamingos, the 'tree of rock', Laguna Colorada, Sol de Mañana geysers (don't get too close), Dali desert, and Laguna Verde.
Incahuasi Island, Uyuni: 30 BOB per person. A worthwhile pitstop for Salt Flat views and cacti.
Salar de Uyuni and Eduardo Avaroa National Park entrance fee: 150 BOB per person. Not included in the cost of our tour.
Hot springs, Uyuni: 7 BOB per person. Lovely and warm and really clear. We enjoyed relaxing there with a glass of wine.
Something that may be of interest that we opted out of because I was a bit of a scaredy-cat was biking the North Yungas Road, outside of La Paz – also known as the Road of Death. You can maybe understand why I didn't fancy it?!
We thoroughly enjoyed a handful of free activities, too:
Making our way across Isle del Sol (Island of the Sun) in the southern part of Lake Titicaca. We were lucky to have the most glorious sunny weather for the walk. The scenery was pretty spectacular, as was the sunset, as we supped on a glass of Bolivian wine (surprisingly quaffable).
Wander the outer walls of San Pedro Prison, La Paz. I have a bit of a thing for crime and prisons – this one may not be of interest to all! The prison sat right in the centre of the city and is known for being a self-governed society. In years gone by, you could pay to sneak in for a tour…
Wandering the charming streets of Unesco-designated Sucre and the pretty town of Copacabana.
OUR TOTAL COST OF ACTIVITIES (EXCLUDING TOURS) IN BOLIVIA CAME TO 1088 BOB or $155. THAT'S AN AVERAGE OF $11 PER DAY, OR $5.55 EACH.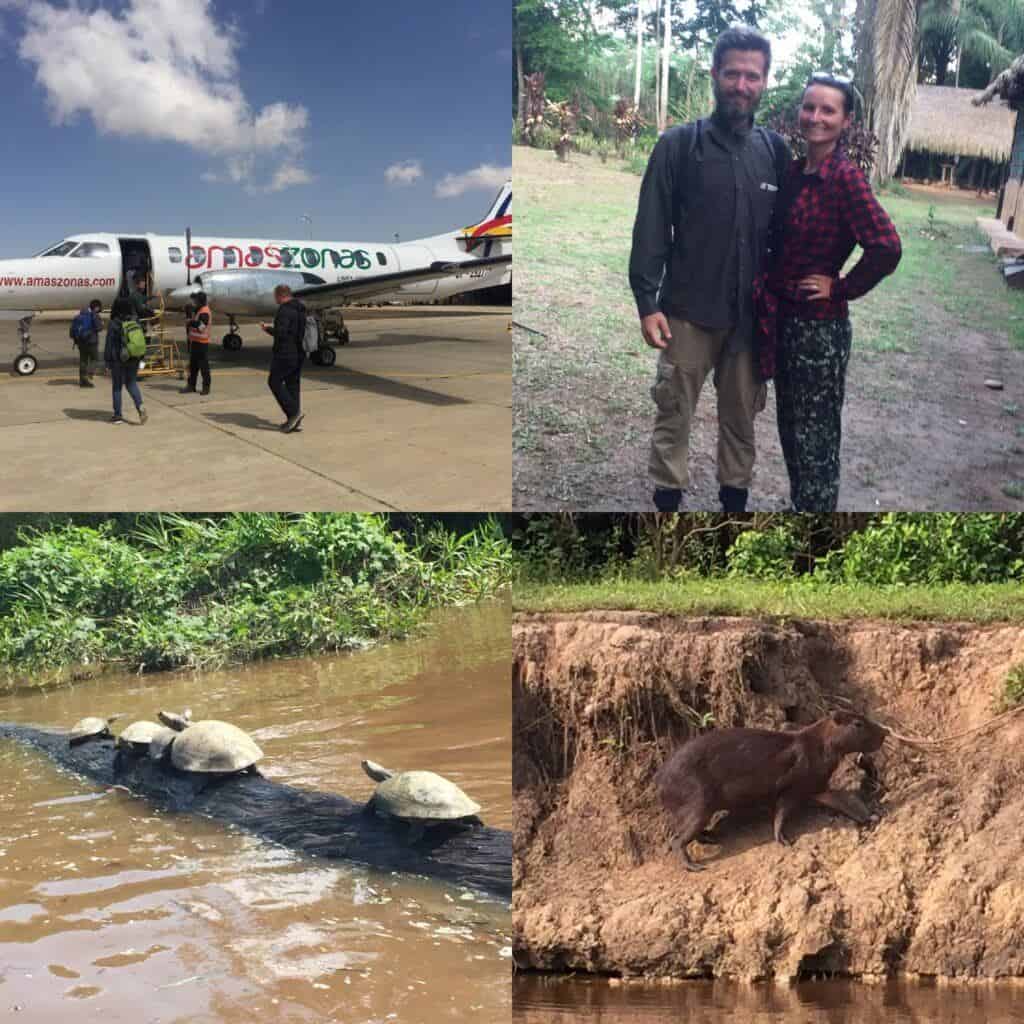 The Cost of Food in Bolivia
One word: choripan. Grilled chorizo between bread or a roll, with salad and hot sauce – soooo tasty. We ate our body weight in these from street food stalls, and they cost less than $1 each on average.
Aside from that, we generally ate on the cheap and cheerful side from street food stalls and local restaurants, but that didn't mean our meals weren't tasty – quite the contrary.
For six nights on our tours, our food was included, so that kept costs down. Or maybe that's just psychological?!
Breakfast:
Top breakfasts were included on our tours, and at some of the places we stayed, setting us up for the day. These generally consisted of delicious fruit and fried or scrambled eggs and a roll. Yum!
Lunch:
As well as choripan…
Salteñas: Similar to empanadas, these baked savoury pastries were stuffed with meat and spices and totally delish. Cheap too, at around $1 each or less from street food vendors.
Sandwich de chola: Tasty and filling, these sarnies were filled with roast pork and crackling, pickled veg and a spicy chilli sauce. They came in at around $2-$3.
Dinner:
Trout: The helpful lady on reception at our accommodation in Copacabana recommended a lakeside place to eat. Along the waterside, there was a row of covered stalls with small kitchens and plastic tables and chairs, each selling pretty similar things. We were advised to go to number 12, and both enjoyed very tasty grilled trout that was good value, too (70 BOB for us both). We also loved a similar dinner over on Isle del Sol at hilltop Inti Jalanta, where we watched that sunset I mentioned earlier.
We always like to eat local specialities. Other popular Bolivian dishes we tried weren't for the faint-hearted, including Pique Macho (meat/chorizo with tomatoes, onion, peppers, piled on top of chips) and Tucumana (a heartier take on Salteñas). We didn't tend to spend more than $4-5 per person on dinner.
Average daily food cost (excluding tour days): $12.60 per day, or $6.30 each
Drinks:
Bottled water all the way, plus local beers. A large water cost us about 7 BOB, while beers came in at around $2 a pop.
Average daily drink cost (excluding tour days): $9 per day, or $4.50 each
I love, love, love a good sandwich and spicy food, so I was in my element in Bolivia with choripan and sandwich de chola.
OUR TOTAL COST OF FOOD AND DRINK IN BOLIVIA (EXCLUDING TOURS) CAME TO $173. THAT'S AN AVERAGE OF $21.60 PER DAY, OR $10.80 EACH.
Don't You Dare Forget Travel Insurance!
If you've read any other posts on Never Ending Footsteps, you'll know that I'm a great believer in travelling with travel insurance. I've seen far too many Go Fund Me campaigns from destitute backpackers that are unexpectedly stranded in a foreign country after a scooter accident/being attacked/breaking a leg with no way of getting home or paying for their healthcare. These costs can quickly land you with a six-figure bill to pay at the end of it.
In short, if you can't afford travel insurance, you can't afford to travel.
Travel insurance will cover you if your flight is cancelled and you need to book a new one, if your luggage gets lost and you need to replace your belongings, if you suddenly get struck down by appendicitis and have to be hospitalised, or discover a family member has died and you need to get home immediately. If you fall seriously ill, your insurance will cover the costs to fly you home to receive medical treatment.
I use SafetyWing as my travel insurance provider, and recommend them for trips to Bolivia. Firstly, they're one of the few companies out there who will actually cover you if you contract COVID-19. On top of that, they provide worldwide coverage, don't require you to have a return ticket, and even allow you to buy coverage after you've left home. If you're on a long-term trip, you can pay monthly instead of up-front, and can cancel at any time. Finally, they're way cheaper than the competition, and have a clear, easy-to-understand pricing structure, which is always appreciated.
With SafetyWing, you'll pay $1.50 a day for travel insurance.
The Total Cost of Travel in Bolivia
So how much can you expect to spend on an incredible trip to Bolivia? At the end of these budget breakdowns, I always like to pore over my receipts, tally up my every expense, and tell you guys exactly how much my travel adventures cost.
My trip to Bolivia cost:
Accommodation: $57 per day
Transport: $3.15 per day
Activities: $5.55 per day
Food and drink: $10.80 per day
Miscellaneous: $1.50 per day
Grand total spent in Bolivia: $78.00 per person per day.
Overall, in Bolivia, I spent a little more than I did in other Latin American countries, but, we did enjoy two pretty big tours in the country, so we still felt we got good value for money. Bolivia was an experience and a half, and one I would highly recommend. Those salt flats – what can I say? Best sunset ever, and I've seen a fair few good ones over the years.
What do you think? Is Bolivia more or less expensive than you were expecting?