When I arrived in Turkey, I had a list of three things that I simply had to do while I was there.
1. Explore Istanbul and its neighbourhoods, its food, its mosques and its awesomeness.
2. Take a hot air balloon ride over the fairy chimneys of Cappadocia.
3. Visit the bizarre landscape of Pamukkale.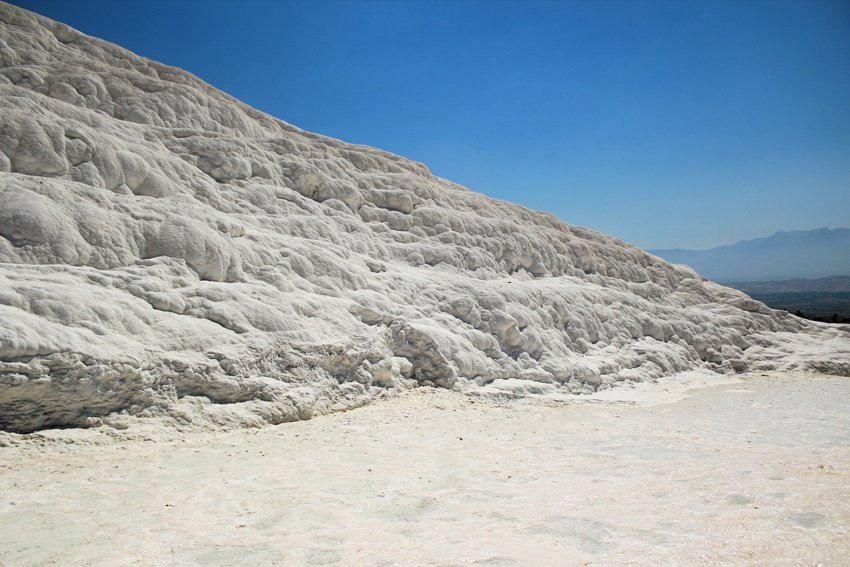 As you know, I love visiting unique and bizarre destinations and Pamukkale would have to be my strangest one yet.
Pamukkale means "cotton castle" in Turkish and it's not hard to see why. Stretching over a mile and a half, the dazzling white travertines and hot springs of calcium carbonate look incredibly out of place against the very green Turkish countryside. To say that Pamukkale stands out would be a huge understatement.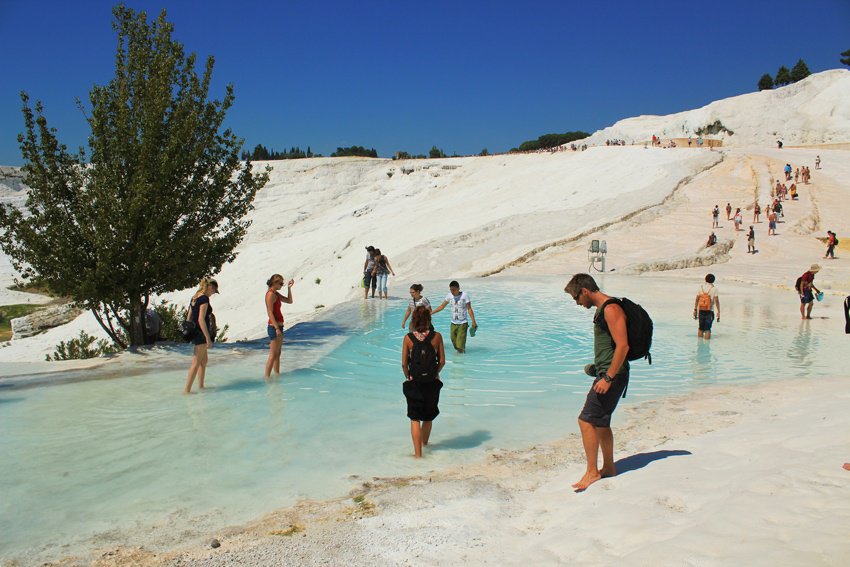 After falling in love with Istanbul within approximately three minutes of arriving, I knew that Pamukkale was going to have to be seriously impressive in order for it to be a highlight from my time in Turkey.
We were visiting as a detour on our way down to Fethiye and fortunately our minivan driver dropped us off at the lower entrance. There are two entrances to Pamukkale — the upper one, where the tour buses vomit dozens of tourists onto the top few terraces every couple of minutes or at the bottom, where much fewer people enter.
By starting at the bottom and spending the majority of our time hanging out in the pools there we found it exceptionally easy to escape the crowds. Dave lazed around in the warm waters and amused himself watching me stumbling around like a baby giraffe, attempting not to fall into a pool.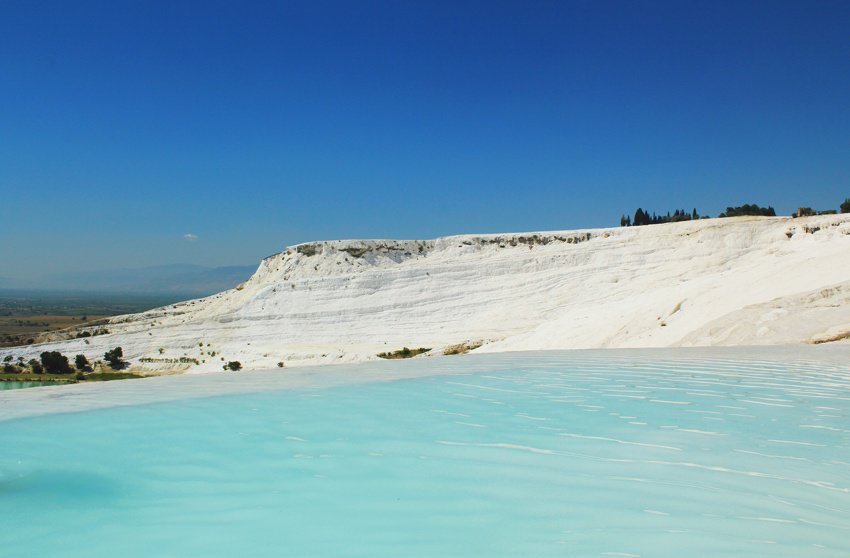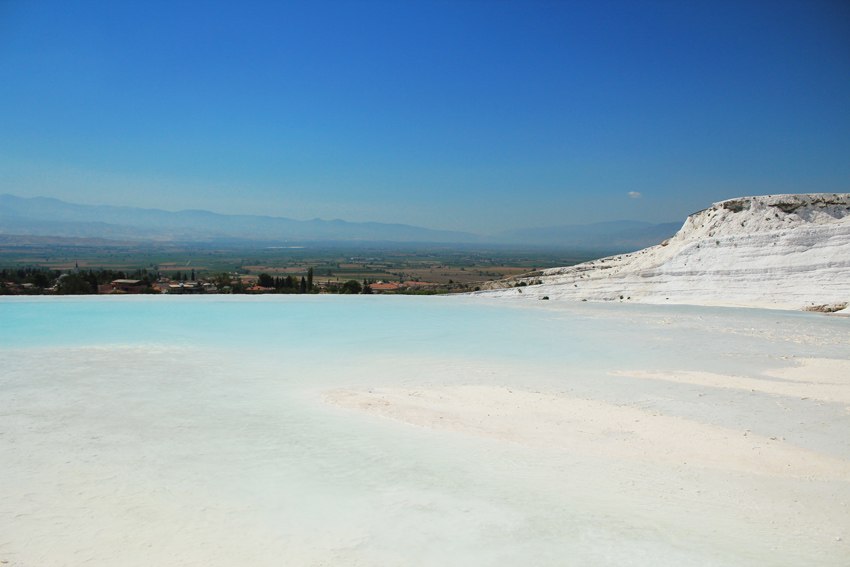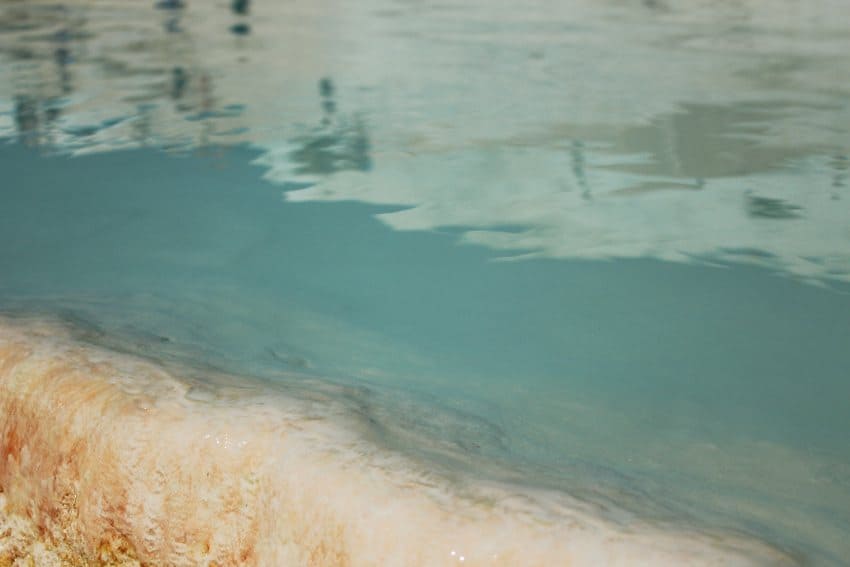 As much as I like to avoid crowds and tour groups as much as possible, after a few minutes in Pamukkale I actually found myself doing the exact opposite.
For the Russian and Eastern European women visiting Pamukkale it was simply not enough to just paddle in the pools and take photos of the terraces. No, instead they draped themselves seductively over the terraces and pouted beneath waterfalls in bikinis while their boyfriend trailed around after them taking photo after photo after photo…
I laughed. A lot.
This was a strange place.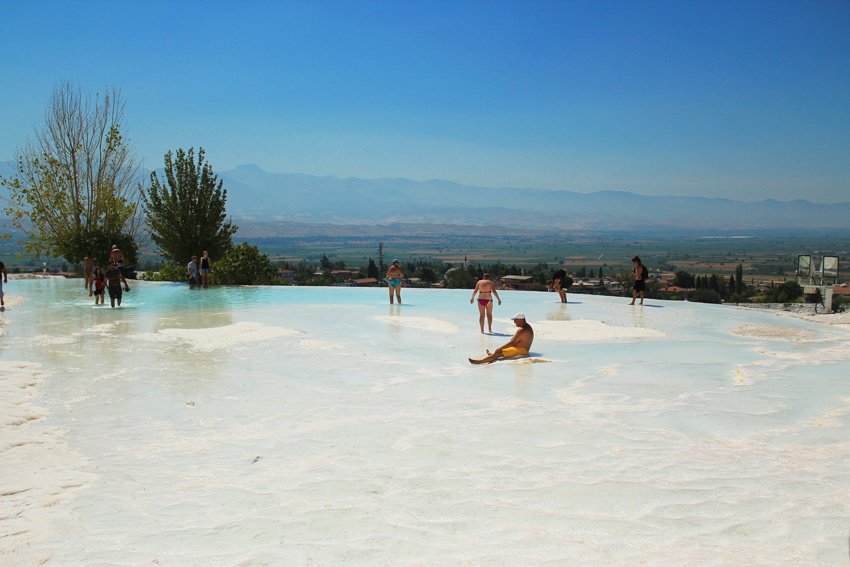 Aside from all of the ridiculous posing, I actually really enjoyed my time at Pamukkale. Splashing about in the water helped to cool me down on a hot summer's day and the landscape was gorgeous and unlike anywhere else I've visited.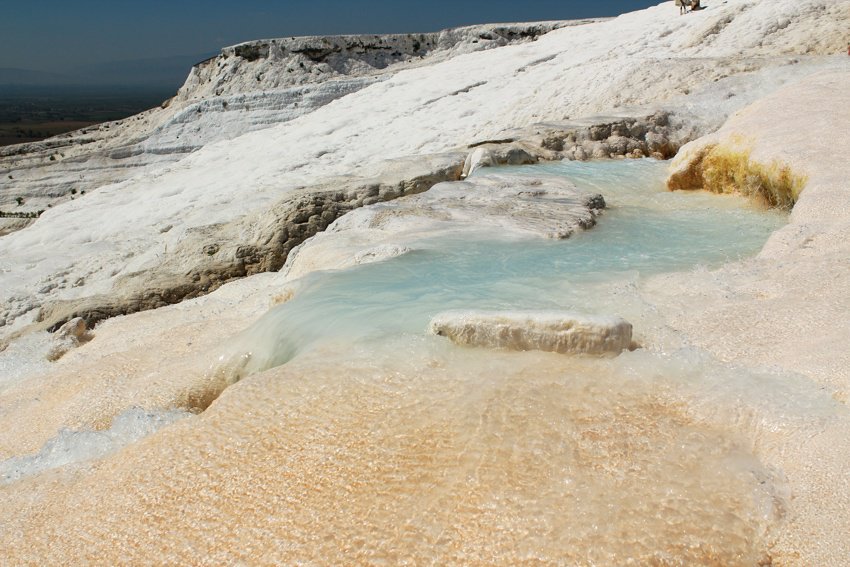 The highlight for me would have to be the terraces at the very top. You were unable to swim in these pools as they are formed naturally (the lower ones were man-made) and so the terraces themselves were much more pristine, the difference in colours caused by different minerals in the water.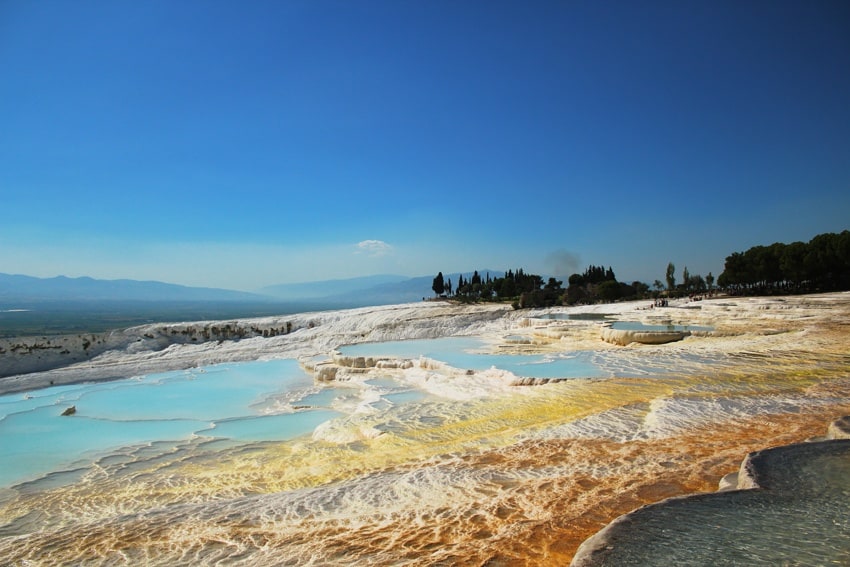 As we finished up our exploration, Dave pottered off to look at some ruins and I took the opportunity to nap for an hour a while before wandering around some of the dry terraces. Water is regularly diverted from one side of the valley to the other in order to give the calcium carbonate a chance to harden and form travertines.
With our time in Pamukkale drawing to a close, there was just enough time to leave the park through the top entrance, realise it would take over an hour to walk down to the bottom in 40 degree heat, give up and pay a ridiculous amount of money to take a cab back down.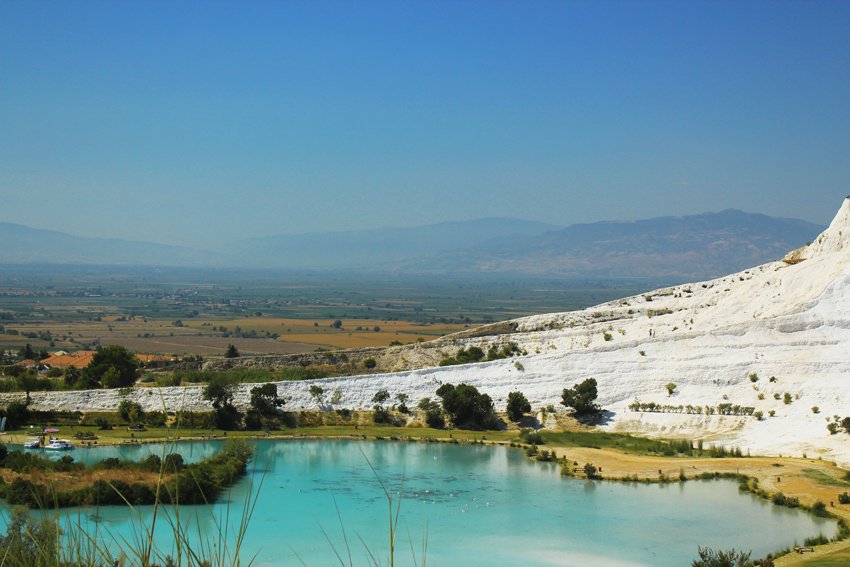 Usually when I finally manage to visit a place that I've always wanted to see, I find myself leaving feeling disappointed, that it hadn't met the high expectations I'd created in my mind as I'd imagined over and over how amazing it would be.
It was with great surprise then, that I found Pamukkale to be so much more awesome than I'd expected. Wandering barefoot over the travertines, paddling in the pools and cooling off under the waterfalls made for a fun few hours — and the bizarre setting helped to make it even more enjoyable.
Even with the crowds and the crazy posing, it was definitely worth going out of our way to visit.
Related Articles on Turkey

🇹🇷 20 Things to Do in Istanbul, Turkey
💰 The Cost of Travel in Turkey: A Detailed Budget Breakdown
🧕🏼 What's it Like to Travel in Turkey as a Solo Woman?
🏛 A Hater of Ruins Explores Ephesus