Boasting a plethora of interesting qualities, Istanbul has something for everybody. Istanbul is the fifteenth largest city in the world and is teeming with rich culture and fascinating history.
Its location is rather unique, straddling the Bosporus Strait, situated in both Europe and Asia. Although Istanbul isn't technically the capital of Turkey, it's still the country's largest city and, for all intents and purposes, acts as Turkey's economic, political, and historical hub.
Istanbul was discovered as Byzantium in the 7th Century BCE by Greek settlers. It was later made an imperial capital by Constantine, the Roman empire, and went on to be named Constantinople after himself. The city was renowned for its power and influence and soon became an integral part of the Silk Road, leading to Istanbul's rich cultural diversity.
Over many centuries, the city changed hands and played a key role in several different religions and empires until finally being renamed Istanbul in 1930 after the Turkish War of Independence.
Thus, it's no wonder that Istanbul went on to be named "the European Center of Culture" in 2018, attracting millions of tourists both that year and every year. In addition to its rich history and heritage, Istanbul offers up unique architecture and breathtaking landscapes littered with bustling streets and other intriguing sights, sounds, and smells.
Striking an unusual yet enthralling balance between fascinating history, a fast-paced lifestyle, and modern culture, Istanbul is a city that is sure to enrich your mind and delight your senses.
How Many Days to Spend in Istanbul
If you are planning on visiting Turkey – which you absolutely should – you would be remiss to skip the bustling city of Istanbul. While some tourists may want to hang around for a while to really take everything in and immerse themselves in the culture, three days in Istanbul is enough for visitors who are just passing through.
This will allow you to visit some of the most popular must-see attractions in the city while enjoying Turkish culture, cuisine, and people.
Of course, you may have specific interests when visiting Istanbul – whether you are particularly interested in churches, mosques, and other religious sites or perhaps you have an affinity to interesting architecture.
Luckily for you, we've put together an Istanbul itinerary that encompasses a little bit of everything in order to give you a true taste of Turkey's pride and joy. So come along with us as we delve into some of the fabulous things you can do and see with three days in Istanbul.
Day One in Istanbul
When visiting Istanbul, Sultanahmet is one of the most broadly recommended neighborhoods in which to stay. Home to a long list of must-see tourist attractions, Sultanahmet can be explored on foot. Here are some must-see attractions in the area that you can explore on your first day in Istanbul.
Sultanahmet Square and the Blue Mosque
During the Byzantine era, the Sultanahmet Square was the sporting center of the city back when it was known as Constantinople, including Greek chariot racing.
Today, visitors can explore and enjoy the beautiful old, cobbled walkways surrounded by luscious green lawns, pretty flower beds, water fountains, and several other interesting sites.
If you're in the mood for an educational stroll, join one of the walking tours that departs from the Sultanahmet Square – this is a great way to start your three days in Istanbul.
Built during the Ottoman era, the Blue Mosque is an official UNESCO World Heritage Site and is a quick walk from Sultanahmet Square. Visitors can enjoy the beautiful blue, hand-made tiles and the awe-inspiring stained-glass windows. The mosque contains the tomb of Ahmed I, a hospice, and a madrasah, and is a must when visiting the city.
The Basilica Cistern
Enjoy some reprieve from the Turkish heat in the fascinating Basilica Cistern located underneath the city of Istanbul. Built during the prime of the Byzantine era, the Basilica Cistern was constructed to provide the Great Palace with water. It is 143 meters long and 65 meters wide, making this the largest cistern open to the public in Istanbul.
The roof is supported by 336 marble columns of nine meters in height, and visitors can wander through the cistern in and amongst the towering columns. The Basilica Cistern is sure to be unlike anything you've experienced before and is a must when visiting Istanbul.
The Breathtaking Hagia Sophia
Hagia Sophia is an incredible representation of the historical synthesis of different cultures and religions that have passed through and inhabited the city of Istanbul over hundreds of years. Originally built as a church and later used as a mosque, Hagia Sophia was a highly valued architectural site for both the Byzantines and the Ottomans.
Named a UNESCO World Heritage Site in 1985, Hagia Sophia was briefly designated a museum in the 1930s before having the decision reversed not too long afterwards, reclassifying it as a mosque.
Not only is Hagia Sophia an important component of Turkish, Ottoman, and Byzantine history, but it also boasts extraordinary architecture. Today, you can enter the building free of charge and explore the incredible building and revel in its all-encompassing history and beauty during your three days in Istanbul.
Istanbul's Archeological Museums
Learn more about the rich history of Istanbul at the Istanbul Archeological Museums. This is a compound of museums – the Archeology Museum, the Museum of the Ancient Orient, and the Tiled Kiosk Museum. The compound is located within walking distance of Sultanahmet Square, making it easily accessible and a great thing to add to your Istanbul itinerary.
The Archeology Museum houses an estimated one million different artifacts from the imperial lands, representing a huge variety of cultures and people. This museum was the first regular-type museum to emerge in the Ottoman Empire.
Built in 1472 CE, the Tiled Kiosk Museum is the oldest of three museums in the complex. Believed to have been designed by a Persian architect, the entrance is lined with extraordinary tiles leading to a 14-marble pillar arcade. Visitors can explore the six rooms and middle salon that display a magnificent collection of tiles and mosaics from several different periods.
Finally, the Museum of the Ancient Orient is described as one of the best examples of neoclassical architecture in Istanbul. Built for the sole purpose of being a museum, it houses a fascinating collection of artifacts from Anatolia and the nearby regions. Some things to look out for are the statue of Shalmaneser III, the Ptah-Seker Statues, and the Egyptian Grave.
Museum of Turkish and Islamic Arts (Türk ve Islam Eserleri Müzesi)
Learn more about Turkish culture at the Museum of Turkish and Islamic Arts. The museum is filled with incredible collections of tiles, rugs, and calligraphy that are fascinating depictions of Turkish and general Islamic culture and history. Artifacts come from a plethora of different Islamic regions all over the world throughout a broad range of periods.
The museum is known for its impressive rug collection as well as other artworks – these include things like ceramic and metal objects, terracotta, and stone artifacts as well as magnificent glassware. The museum also has a courtyard that depicts a valuable ethnographical collection reflecting what life was like in 19th century Istanbul. Don't forget to visit the Holy Relics section when you visit the Museum of Turkish and Islamic Arts during your three days in Istanbul.
Top Tip: We recommend that you check out the Istanbul Museum Pass to make things easier and more cost effective when visiting some of the museums and other sites on our list.
Gulhane Park and Topkapı Palace
Visit a fascinating collection of artifacts dating back to the Ottoman Empire at the Topkapı Palace in Istanbul. It contains a massive collection of books and manuscripts and was the palace from where at least 30 different sultans ruled during the Ottoman Empire's 600-year reign.
During this time, the design and architecture of the palace was altered by the different sultans that passed through, resulting in a mix of European, Islamic, and Ottoman influence. The palace is expansive and contains, among other things, several different courtyards and the sultans' living quarters, the harem.
Found directly adjacent to Topkapı Palace, Gulhane Park is a beautiful and historical outdoor site in Istanbul. During the era of the Ottoman Empire, Gulhane Park formed part of the outer grounds of Topkapı Palace. A series of reforms were announced from within Gulhane Park – such as the Tanzimat Edict and Reforms – increasing the notoriety of the park today.
Today, visitors can enjoy the incredible expanse of the park and the beautiful sights it has to offer. You can take a stroll down one of the many beautiful paths or visit the tea garden and enjoy some traditional Turkish tea. This is a great place to stop off during your first day in Istanbul if you'd like to take a break or have a picnic in the fresh air.
Day 2 in Istanbul
Your second day in Istanbul will take you not far from the Sultanahmet neighborhood, but there is still just so much to see in the area. Enjoy seeing the city from a different perspective and revel in cultural experiences of the Turkish baths, bustling bazaars, and more incredible architecture on your second day in your Istanbul itinerary.
Cemberlitas Baths
Built by Sinan in 1584, the Cemberlitas Baths, also known as the Cemberlitas Hammam, was constructed under the reign of Ottoman emperor, Sultana Nurbanu. The architecture is astounding, offering up commanding columns and beautiful rays of sunlight streaming the windows. Generally known as the most famous Turkish baths in Istanbul, this is certainly something to add to your Istanbul itinerary.
Turkish baths were a huge part of the culture for hundreds of years, dating back to the Ottomans. However, as cities started undergoing modernization, the baths were pretty much rendered over time, but they have largely remained open to the public as historical sites.
These baths are open to both men and women, however, they are separated by gender. This isn't the case for all Turkish baths, however, so if you'd prefer to visit a unisex one, there are a few other options in the city.
You can buy skip-the-line tickets online for €60 per person.
What can you expect from a Turkish bath?
The experience may not be like anything you've experienced before, so it's a good idea to have an idea of what to expect. Most often, you will be provided with a thin cloth called a peshtemal to cover yourself.
There are a few different experiences to choose from, including different types of scrubbing and/or massages, depending on your preference and budget.
Cemberlitas Hammam is frequented by both tourists and locals alike, so this is an awesome way to really immerse yourself in Turkish culture. The baths generally last about 45 minutes, depending on the package you choose.
Visit a Few Bazaars
Bazaars are an integral component of Turkish shopping culture, and their busy atmosphere makes for an awesome experience if you're visiting Istanbul.
It may not come as a surprise to you that bargaining, also known as haggling, is a massive part of Turkish culture, and you better be ready to get involved. Here are a few tips:
Determine what you think the item in question is worth
Try not to show too much enthusiasm.
Let the shopkeeper give the first quote
Make sure you get a discount if you buy more than one thing
Don't be afraid to walk away
While haggling is a traditional part of Turkish shopping culture, remember that you are a visitor in Istanbul. Participate in the culture and don't let yourself be scammed, but be respectful of the merchants' trade and don't push the boundaries.
On your second day in Istanbul, we'd recommend paying a visit to two bazaars that are located nice and close to one another – the Grand Bazaar and the Spice Bazaar. Try to avoid the mid-afternoon rush though. The best time of day to visit these bazaars is relatively early in the morning or in the late afternoon.
Grand Bazaar (Kapalı Çarşı)
The Grand Bazar is an absolute must when planning your Istanbul itinerary. The streets are bustling with activity and the cultural diversity oozes from every nook and cranny. Visiting the Grand Bazaar, however, can be an overwhelming experience if you don't know what you're in for. The bazaar is made up of over 60 streets, 3,000 merchants and 20 different entrances.
Bearing this in mind, we'd recommend taking your time, sticking close to whoever you're visiting with, and just enjoying all the wonderful sights, smells, and sounds.
Whether you're planning on looking to make specific purchases or simply perusing the different stalls, we'd recommend having a look at a map of the bazaar to get an idea of where to find specific kinds of stalls, as well as where the most convenient entrances are. This is the best way to ensure that your visit to the Grand Bazaar is enjoyable rather than stressful.
Spice Bazaar (Mısır Çarşısı)
Treat yourself to a fun and interesting outing when you visit the Spice Bazaar during your three days in Istanbul. Also known as the Egyptian Bazaar, this is the perfect way to expose yourself to the incredible world of Turkish spices – including things like saffron and pepper – as well as traditional teas and other treats such as Turkish delight.
The bazaar was built in the 17th century and just like so many other sites in Istanbul, is oozing with rich culture and history. Located near Eminonu Square, the Spice Bazaar is easily accessible and will fit right into your second day in Istanbul. It's also near the Grand Bazaar if you'd like to do both in one go.
Touring the Bosphorus
Take a break from walking the streets and hop onto this boat to tour the Bosphorus. From the water, you'll be able to see Istanbul from a completely different vantage point and take in its unique skyline from afar.
There are many different cruise and tour options available – some short ones if you want to save cash or don't have much time; or, you may choose to spoil yourself on an extended cruise all the way up to the Black Sea while enjoying a delicious traditional meal onboard.
Most of these outings will include a guide who will fill you in on some of the incredible history of Istanbul and the Bosphorus itself.
Museum of the History of Science and Technology in Islam
Learn more about the fascinating history of science and technology in the Faith of Islam at this fascinating museum. It includes a collection of works, devices, and tools and includes 12 sections including, among others, war technology, clocks, astronomy, and medicine.
The museum is relatively new, having only been opened in 2008 by an Islamic science historian with an immense passion for his work. The museum is incredibly interesting and is a must-see during your three days in Istanbul.
Day Three in Istanbul
After spending two days exploring the city's main attractions and getting a feel for what life is like, we've put together a fun mixture of historical and cultural sites for you to visit that will be perfect for the last of your three days in Istanbul.
Kariye Müzesi (the Church of the Saviour in Chora)
Built during the Byzantine Era, the Kariye Müzesi was originally a Medieval Greek Church. Much like many other churches built during this time, it was converted to a mosque in the 16th century by the Ottomans. It was briefly made into a museum in 1945 but was restored to a mosque as recently as 2020.
In the building, you will be able to view some of the oldest surviving mosaics and frescoes in the city, depicting incredible artworks that truly are an incredible testament to the time from which they came. For the sake of its incredible beauty as well as its long and interesting history, the Church of the Saviour in Chora is a great place to visit during your three days in Istanbul.
Fener and Balat
While they have become largely interchangeable in recent years, these are actually two different neighborhoods situated nearby each other. They have largely become known for their interesting and pretty buildings full of color and interesting architecture. However, they both have fascinating histories that will make a stroll through their streets well worth your while.
Having gone through many years of settlement of different groups of people during different eras, the neighborhood now has a large population of Greek people while Balat has a significant Jewish population – the reasons for these demographics (in both neighborhoods) date way back to the Byzantine Era. With many interesting sites to see in both Balat and Fener, these are great neighborhoods in which to walk around and immerse yourself within local culture to get an authentic feel for life in Istanbul.
Walk the walls of Constantinople
Ordered to be built by the infamous Constantine the Great, the Walls of Constantinople were erected to protect the city from invasion. Back then, they surrounded Constantinople completely, preventing entrance from both land as well as invaders from the sea of Marmara, but also the Black Sea which is connected by means of the Bosphorus Strait.
Over the years, the walls were modified and fortifications were added by leaders who came after Constantinople, mostly during the rule of the Ottoman Empire.
Today, you can do walking tours of walls, visiting specific parts that are still properly intact. You can do this from just outside the neighborhoods of Fener and Balat which is actually one of the best places to access this historical site.
Süleymaniye Mosque
Istanbul is filled with many beautiful mosques that are worth seeing, but Süleymaniye Mosque is one that ought to be at the top of your list of things to add to your Istanbul itinerary. Not only will it amaze you with its sheer size – the central dome standing at a whopping 47 meters high – but its interior is breathtakingly beautiful, boasting an incredible use of light and other design features.
Built by the legendary Turkish architect, Mimar Sinan, in 1549 over a period of eight years, this mosque was a tribute to Sultan Süleyman the Magnificent. Having withstood hundreds of years of use as a mosque as well as other trials tribulations – including a fire in 1660 and being utilized as a weapons deposit during World War I – the Süleymaniye Mosque truly has stood the test of time and has a lot to show for its history. When visiting, you can check out many different attractions, includinga beautiful courtyard, numerous tombs, a library, and its own little bazaar.
When you do visit, make sure to dress appropriately. The mosque is a place of worship, so both men and women should dress modestly and cover their heads. Women are also required to wear a headscarf. Don't worry if you don't have one; the mosque provides scarves at the entrance.
It's also important to be respectful and quiet inside the mosque. Remember that it's still an active place of worship, and people come here to pray. Avoid taking loud phone calls or engaging in noisy conversations.
And finally, the mosque is closed to visitors during the five daily prayers, which can last for up to 45 minutes at a time. Make sure to plan your visit accordingly.
Finally, take your time and admire the mosque's beauty. The Süleymaniye Mosque features stunning tilework, intricate calligraphy, and a grand dome that dominates the skyline of Istanbul.
Whirling Dervishes at Hodjapasha Hamam
Enjoy a night out like you've never experienced before when you visit the Hodjapasha Hamam to see the magnificent Whirling Dervishes: a depiction of an ancient Sufi traditional dance that incorporates Turkish music, beautiful traditional outfits, and an overall wonderful cultural experience for visitors. This is a wonderful way to spend your last evening in Istanbul — tickets are priced at just under €30 per person.
What to Know Before Visiting Istanbul
Visiting Istanbul for the first time will undoubtedly be an exciting experience. However, it's a notoriously busy city, and in addition to that, the sheer number of incredible tourist sites as well as UNESCO World Heritage Sites to see may make your trip seem a little overwhelming.
This doesn't need to be the case. First, don't try to see absolutely everything in the city if you're there to enjoy three days in Istanbul. Plan your time carefully and try to do a little bit of everything – our guide to spending three days in the city, including some of the best things to do and see, is sure to satisfy your needs and be a good start to creating your Istanbul itinerary.
We're going to talk you through some of the most important things to know before visiting Istanbul, including some helpful travel tips, to ensure that you make the most of your time in the city.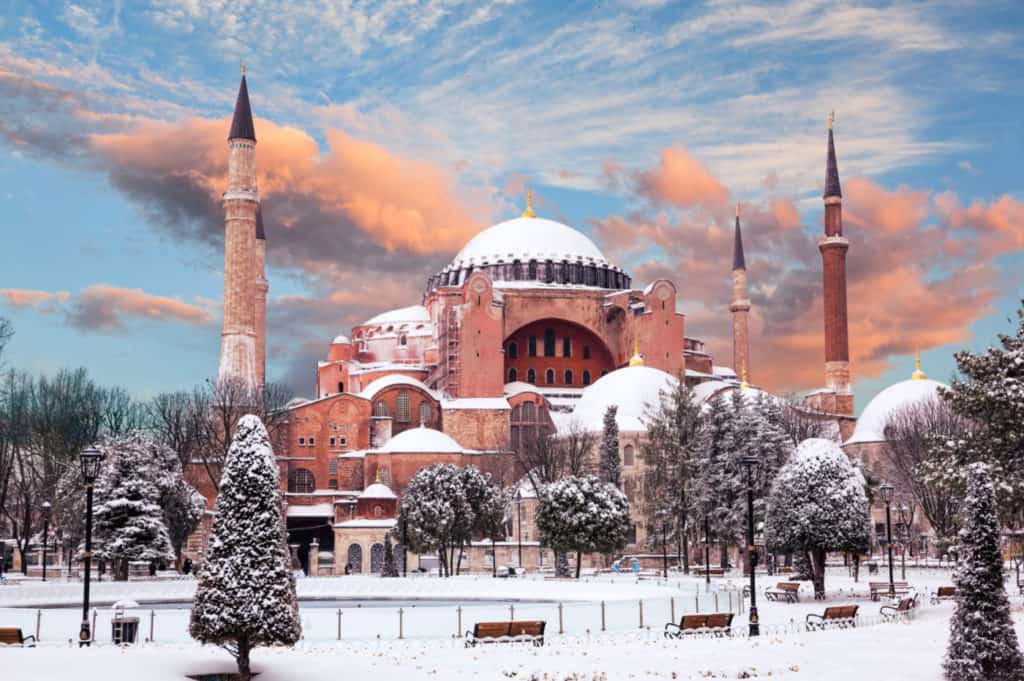 The Best Time of Year to Visit Istanbul
When it comes to considering the best time to visit Istanbul, it really comes down to a few main factors:
Weather
The number of tourists visiting
Accommodation and tourist attraction prices
Istanbul has a relatively mixed climate, reaching high temperatures in the peak of summer while still managing to have pretty cold winter days, too. Like most places, the best time to visit the city is during the shoulder seasons, which would be between March and May and September and November.
During these periods, the temperatures sit, on average, between 60 and 70 degrees Fahrenheit, and while Istanbul may still be busy, the crowds are far more manageable. Between these two periods – that is, from June to August – average temperatures tend to sit between 70 and 80 degrees Fahrenheit and the crowds are sure to make your head spin. You'll spend a lot more for accommodation, and you're sure to have to pay an arm and a leg to visit local attractions.
Alternatively, choosing to visit outside of both the peak and shoulder seasons comes with both pros and cons – that is, everything will be way cheaper, but you'll have to put up with cold, dreary weather which will severely limit the things you'll be able to do.
It all comes down to your priorities and personal preferences, but our recommendation is to aim for the shoulder seasons when planning your three days in Istanbul.
How to Get Around Istanbul
You'll be glad to hear that Istanbul has a very reliable public transportation system, with buses, trams, and the metro available to visitors. For the ultimate convenience, we'd suggest getting yourself an IstanbulKart. They're available for purchase at the major transportation terminals around the city, including the airport as well as the Sultanahmet and Eminönü transit stops – two of the main areas we've advised you to visit during your three days in Istanbul.
The card is prepaid and will allow you access to all public transport in the city, including buses, trams, and the metro. The card is easy to use, it's easy to reload, and it will even score you some discounts on tickets.
Other than the IstanbulKart, you may choose to use cabs or simply walk from place to place. Of course, this depends on where you're going. Cabs are expensive, so we wouldn't necessarily recommend that. When it comes to walking, this can be a great way to properly experience neighborhoods and the city as a whole, so it can be a really fun idea. We'd simply suggest planning ahead to make sure you know how long the walk is, as well as checking up on general safety of the area.
Where to Stay in Istanbul
When planning your Istanbul itinerary, planning where to stay really is about location, location, location. For a short stay in a bustling city with so many things to see, you really want to make sure your accommodation is in a central part of the city, nearby important attractions with easy access to transportation.
Without a second thought, we'd recommend that you stay in Sultanahmet. Here are a few quick reasons why:
It's a busy and bustling neighborhood
You'll have quick and easy access to multiple modes of transportation
It's a great area to walk around in
Accommodation is affordable
There are loads of attractions within the area
Back in the Byzantine era, Sultanahmet was the heart of Istanbul – known as Constantinople at the time – leading to the area now being the home of numerous important cultural and historical sites. In fact, the very first day of our above suggestions for day one in Istanbul is focused on Sultanahmet with all of the attractions based in the area. Even the second two days list attractions and sites that are easily accessible by means of transport from the area.
Safety Advice For Visiting Istanbul
Istanbul is a pretty safe city, but you still need to be wise and make sure that you're always aware. It really comes down to trusting your gut and not putting yourself in unsafe situations. Unfortunately, tourists do tend to be targeted in big cities simply because they tend to stand out, they're vulnerable, and they're often unassuming. Don't fall into this trap.
Here are some tips to avoid being scammed or becoming the victim of crime during your three days in Istanbul:
Avoid wandering the streets alone at night
Don't flash valuable belongings around
Insist on using metered taxis
Don't leave food or drinks unattended and don't accept consumables from strangers.
Be aware of yourself and belongings in crowded areas
When visiting Istanbul, you're probably most at risk of opportunistic mugging, scams, or pickpocketing. But as long as you follow the above advice, you should be fine.
Final Thoughts On How to Spend Three Days in Istanbul
Istanbul is an eclectic city filled to the brim with culture, history, and incredible sights, sounds, and smells. If you have limited time and are wondering how many days to spend in Istanbul, we think that you can see enough of the city in three days to really get a feel for it and enjoy the experience that it has to offer.
Visit the city's beautiful mosques, churches, and museums to get a feel for Turkish history and the heritage of so many different groups of people who have called Istanbul home. Explore the quaint and diverse neighborhoods and take in the incredible architecture and design of the city's buildings. Visit unique attractions such as special Turkish baths and expansive bazaars to immerse yourself in the culture and past of this old city.
So, what are you waiting for? Start planning your three days in Istanbul right away and get ready for a trip you are unlikely to forget.