Turkey is one of the most underrated countries in the world.
Hardly anybody mentions it when they talk about their favourite spots in Europe or Asia, but to me, it has so much to offer its visitors.
Istanbul is a phenomenal city, with mosques scattered throughout the skyline, an incredible food scene, and so much history to delve into. The ruins of Ephesus are some of the most impressive I've seen and exploring the site of Troy was breathtaking. I even chartered a yacht for 10 days along the coastline of Turkey and saw some of the most beautiful, untouched parts of the country.
Turkey's home to some breathtaking landscapes, too — whether it's taking a hot air balloon ride at sunrise through Cappadocia or splashing through the other-worldly salt pools of Pamukkale. On top of that, you've got some incredible cuisine to delve into — Turkish breakfasts are my favourite on the planet — and friendly locals to get to know.
Oh, and I haven't even mentioned the beaches.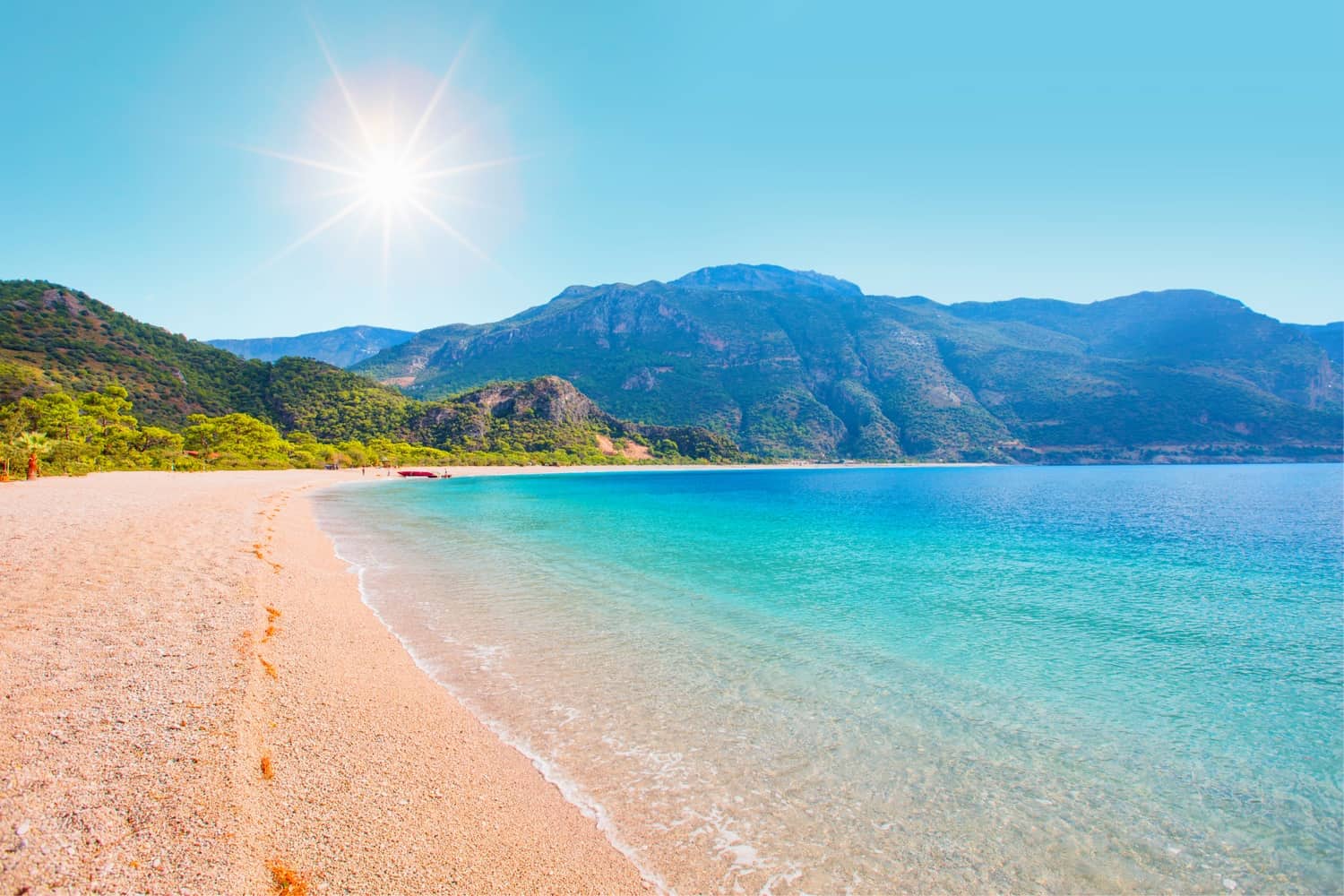 I've been fortunate to have spent six weeks travelling in Turkey and I've managed to see a hell of a lot of the country over that time.
I spent two weeks exploring the different neighbourhoods in Istanbul, then travelled overland to Fethiye with stops in Cannakale, Troy, Selçuk, Ephesus, and Pamukkale. From Fethiye, I spent 11 days sailing a yacht around the southwest coast of the country, visiting Göcek, Gökkaya, Kekova Roads, Kalkan, Karakaören, Kaş, Kayaköy and Uçagiz. I then finished my time in the country with a week-long stay in the small village of Kadikalesi, close to Bodrum. On my return visit, I crossed off my biggest oversight from the first trip: Cappadocia.
I've been recording every single cent I spend in the countries I visit from day one of my travels, because I want to prove that seeing the world is inexpensive and achievable. I want to be able to give a realistic and accurate look at how much you can expect to spend in each and every destination you visit.
Today, it's Turkey's turn.
Keep on reading for more detail on how much you can expect to spend on a trip to Turkey in 2023.
How to Save Money on Flights to/From Turkey
If you live in Europe or the Middle East, you're in luck! You won't have to worry too much about the cost of flights to Turkey, thanks to the wide range of budget airlines in the region. As always, I recommend heading to Skyscanner to snag yourself a bargain — they're the only aggregator I use to find cheap flights.
Unsurprisingly, you're going to find it easier to score a great deal if you have flexibility in your plans. As an example, if you don't mind which airports you fly into and out of, you may find it cheaper to fly into Istanbul or Ankara over Cappadocia. You can use Skyscanner to find the best airport option by entering Turkey as your destination, rather than an individual city. Additionally, I like to set my departure date in Skyscanner to be across an entire month — this will bring up the cheapest dates to fly and ensure you land the best possible deal.
As with almost every country on the planet, you'll find it cheapest to fly to Turkey outside of high season, which coincides with the European summer vacation dates (June to August). In Turkey, May and September are categorised as the shoulder season, with October to March marking the low season, where you'll find the cheapest prices. If you do have the option of visiting in the shoulder season, I highly recommend it. No only will the weather be perfect but prices will be lower, crowds will be thinner, and accommodation will be emptier.
But what if you're not European?
There are several ways to get to Turkey from other parts of the world. My North American readers can score direct flights from New York, Los Angeles, Chicago, San Francisco, Washington D.C, and Toronto, whereas my Australian and Kiwi readers are going to be looking at a layover in Southeast Asia or the Middle East first.
Regardless of whether you go for a direct flight or opt to have a layover to break up the journey, you're going to have a long and tiring journey ahead of you. Fortunately, getting to Europe can be reasonably cheap these days, and I wouldn't expect you'd need to pay more than around $400 for a return ticket from North America or $1000 from Oceania. Allow me to introduce you to one of my favourite websites in the world: Secret Flying! I'd estimate that 80% of the flights I book these days are due to a deal I've found on Secret Flying.
But if you strike out and can't find anything on Secret Flying, get your search kicked off with Skyscanner using the tips I mentioned above.
How to Save Money on Accommodation in Turkey
I know I have a ton of readers who are all about that backpacking life, so I want to kick off this section by running through some of the accommodation options that are out there for budget travellers.
Couchsurfing is a great way to save money while taking a deep-dive into life in Turkey. You'll stay with a local for free, sleeping on their couch, and learning about their day-to-day life in the country. It's not the most comfortable of travel experiences, of course, but you'll learn more about what it's like to be Turkish than you would by staying in a hostel or hotel. You can browse a list of Turkish Couchsurfing hosts on the Couchsurfing site.
It's also a good idea to take a look housesitting. Essentially, housesitting involves taking care of someone's house and pets while they're away, in exchange for free accommodation. This option is ideal for long-term travelers or retirees with the flexibility to go and stay where needed, as dates and destinations cannot be chosen. Despite this limitation, housesitting is an excellent way to reduce travel costs, stay in beautiful home, care for cute animals, and experience living like a local. For those interested in getting started with housesitting, Trusted Housesitters is the best site, as it has the highest number of listings by far.
And finally, if you're travelling long-term and don't mind getting your fingers dirty, you could look at WWOOFing or WorkAway as a way to cut down your costs while working on a farm in exchange for accommodation and food. It's not the most glamorous of experiences, but getting to live for free in a foreign country is an incredible experience, so if you're backpacking around Europe, this may be the way forward for you.
I'm suspecting, though, that for most of you, you're not interested in the free accommodation and just want somewhere clean, safe, and affordable to rest your head each night. If that's the case, there are several options available for you.
The first of these is hostels. In Turkey, you'll come across hostels all over the country, from the big cities to the small villages to beachside hideaways. They're one of your best options for saving money, and aren't just for the backpackers.
Hostels in Turkey are much cheaper than equivalents in Western Europe, with the big exception being Istanbul over the summer, but even then, it's still nowhere near outrageous. You can expect to spend around €15-12 for a dorm bed in most spots in Turkey, including Istanbul.
When it comes to private rooms in hostels, you can expect to spend around €40-60 a night for a clean, basic room in a good location, so if you're travelling with friends or a partner, you may find it cheaper to grab some privacy over settling for two beds in a dorm room.
If you're put off by the thought of nights spent in hostels, you shouldn't be! Private rooms are usually quiet and clean, and most hostels are modern, safe, and centrally located. They tend to have a little more personality than generic hotels, and the staff are fantastic at offering travel advice. As long as you check the reviews of any hostel before booking it to make sure nobody refers to it as a party hostel, you're all good to make a booking there. I use HostelWorld to find the cheapest hostels.
And, of course, there are always hotels, which will usually start at around €50 a night. You'll have slightly more luxury and comfort in hotels, so it's up to you to work out whether this is worth the additional expense. I always use Booking to find guesthouses and hotels when I travel.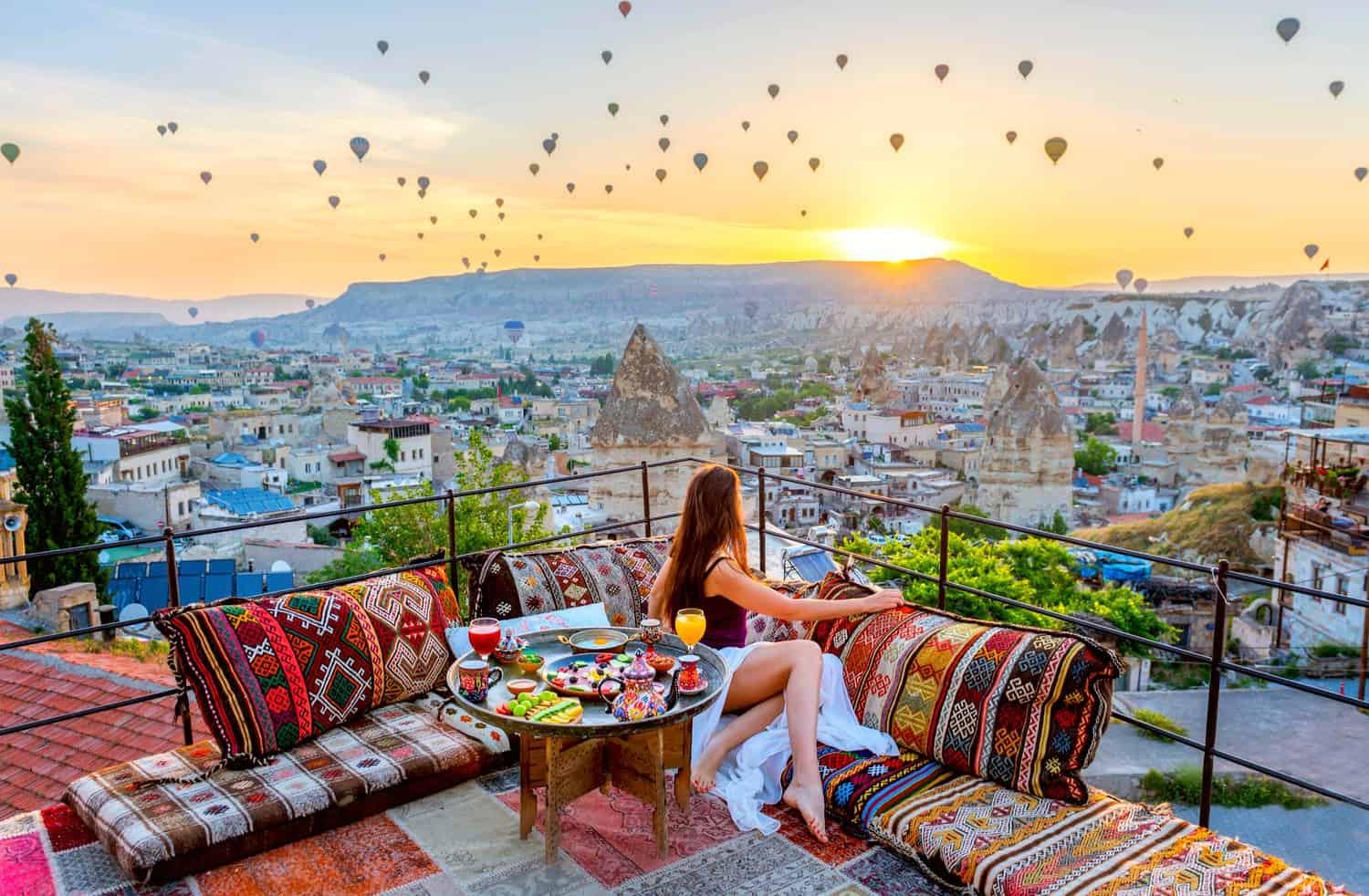 My Accommodation Recommendations for Turkey
So if you're not a budget traveller and just want to stay in a lovely, well-reviewed hotel or guesthouse that's good value for money and has all the things you need from a place to lay your head, I've got you! When I visited Turkey, I opted to spend most of my trip in well-reviewed guesthouses. For around €50 a night, you'll be able to stay in an excellently-reviewed hotel, in a central location with friendly staff.
Istanbul: Hotel Poem ($170 a night) — Where to stay in Istanbul? It's such an enormous city that I spent two weeks hopping from neighbourhood to neighbourhood, trying several on for size. My favourite area ended up being Sultanahmet and the best hotel? Easily Hotel Poem. With a life-changingly good homemade breakfast (I warned you I'm going to talk about Turkish breakfasts a lot!), gorgeous rooms, an incredibly central location, and helpful staff to assist you with planning your itinerary, it's easily one of the best spots in all of Istanbul. It's more expensive than other spots on the list, but I do think it's worth it.
Selcuk: Hotel Mary's House ($109 a night) — If you're going to be staying in Selcuk, it's most likely because you want to spend time exploring Ephesus! Well, the owner of Hotel Mary's House works as a tour guide, so is only too happy to answer all of your questions and tell you more about the history of this area. Throw in an excellent breakfast, a fantastic location close to the best restaurant in town, and a peaceful courtyard, and you've got everything you need to make the most of your time in Selcuk.
Bodram: Oalis Boutique Hotel ($87-120 a night) — I make so many of my decisions around where to stay based on the proximity of the best restaurants, and that's exactly why I'm recommending Oalis Boutique Hotel! You're minutes away from some great eateries, just one minute from the beautiful beach, yet in a quiet area for when you need to get some sleep. As an added bonus, the rooms are so lovely and the hotel so well decorated!
Fethiye: Ten Apart Hotel ($40-80 a night) — Ten Apart Hotel's selling point is its swimming pool: it's beautiful! But not only that, you're a 5-10 minute walk from the beach, close to some great local restaurants, and have a big balcony to relax on throughout the day. With friendly staff and a quiet neighbourhood thrown into the mix, too, there's no reason not to choose to stay here.
Cappadocia: Ansia Hotel ($135 a night) — Ansia Hotel offers such great value for money, given that it has one of the best views of the Cappadocia balloon releases from its rooftop terrace. Mehmet, the lovely owner, will be able to help you out with hot air balloon tickets if you want to experience the area from the air. And the hotel's location is in Uchisare, which is so much nicer than Goreme! And the breakfasts? The final cherry on the top. And you guys know how much I love Turkish breakfasts! This is one of the best.
How to Save Money on Transportation in Turkey
Transportation is fairly inexpensive in Turkey, so you won't need to worry about it upping your travel budget by too much. Still, it's a large country and travel days can sometimes be long and tiring. Let's look into the different options and how much you can expect to spend for each.
We'll start by looking at how to get around the cities and towns you visit.
Several cities in Turkey (Istanbul, Izmir, Ankara, and Bursa) are large enough to have a metro system, and they're all easy to use and inexpensive. Taking the metro is usually my favourite way to get around, as I find them less baffling than buses and minivans, so I primarily use the metro in these cities. Prices start from €0.30/$0.40 for a single ride.
I'm also a huge fan of the tram in Istanbul, and riding them through the city was such a fun and wonderful experience. If you plan on spending a lot of time exploring Istanbul by public transport, it's worth investing in an Istanbulkart for 50₺ (€2.50/$2.70), as it gives you almost half-priced rides on the metro, trams, buses, and ferries across the city.
Outside of the main cities, I like to use the local dolmuşes to get around. Dolmuş (pronounce dul-moosh) is the Turkish word for a minibus, and they're one of the best ways of getting around the cities, as well as travelling short distances between towns and villages. Dolmuşes are more comfortable than the buses while still remaining affordable, and significantly cheaper than taking a taxi. You'll spot them all over the country and can catch them from stops with a blue-and-white D signposted above them. You'll typically around 3₺ for an intercity ride and up to 20₺ for longer journeys.
The buses in Turkey will take you pretty much anywhere you need them to, are reasonably comfortable, and exceptional value for money. They're the cheapest option for travelling both short and long distances across the country, and usually offer air conditioning, Wi-Fi, and a snack on board.
So what about driving?
Driving can be a wonderful way to explore Turkey, as long as you're a confident driver with a lot of experience. Turkish drivers can be a bit wild at times, jumping red lights, overtaking on corners, and generally speeding their way around the country. You'll want to exercise a lot of caution while on the road, but you'll more than likely be fine. Turkey has fewer traffic-related fatalities than the U.S., so you won't be putting yourself in grave danger by opting to hire a car. Prepare to use your horn a lot. They drive on the right in Turkey and manual transmission is far more common.
I head to RentalCars.com to compare the prices of car rentals.
I typically recommend avoiding flying within a country, as flights tend to be pricey and time-consuming when you include, packing, travelling to and from the airports, passing through security… and all of those wonderful experiences that travel involves.
However, in Turkey, flying can sometimes be the best option.
Domestic flights can be extremely inexpensive and with a country as large as Turkey, you'll likely save time — especially if you want to travel from, for example, Istanbul to Cappadocia. It takes 12 hours by bus but just 90 minutes by plane. I took a flight from Izmir to Istanbul when I noticed it was just $40 to do so, and it saved me so much hassle by doing so. (It would have been 10 hours by bus, but was just one hour by flight).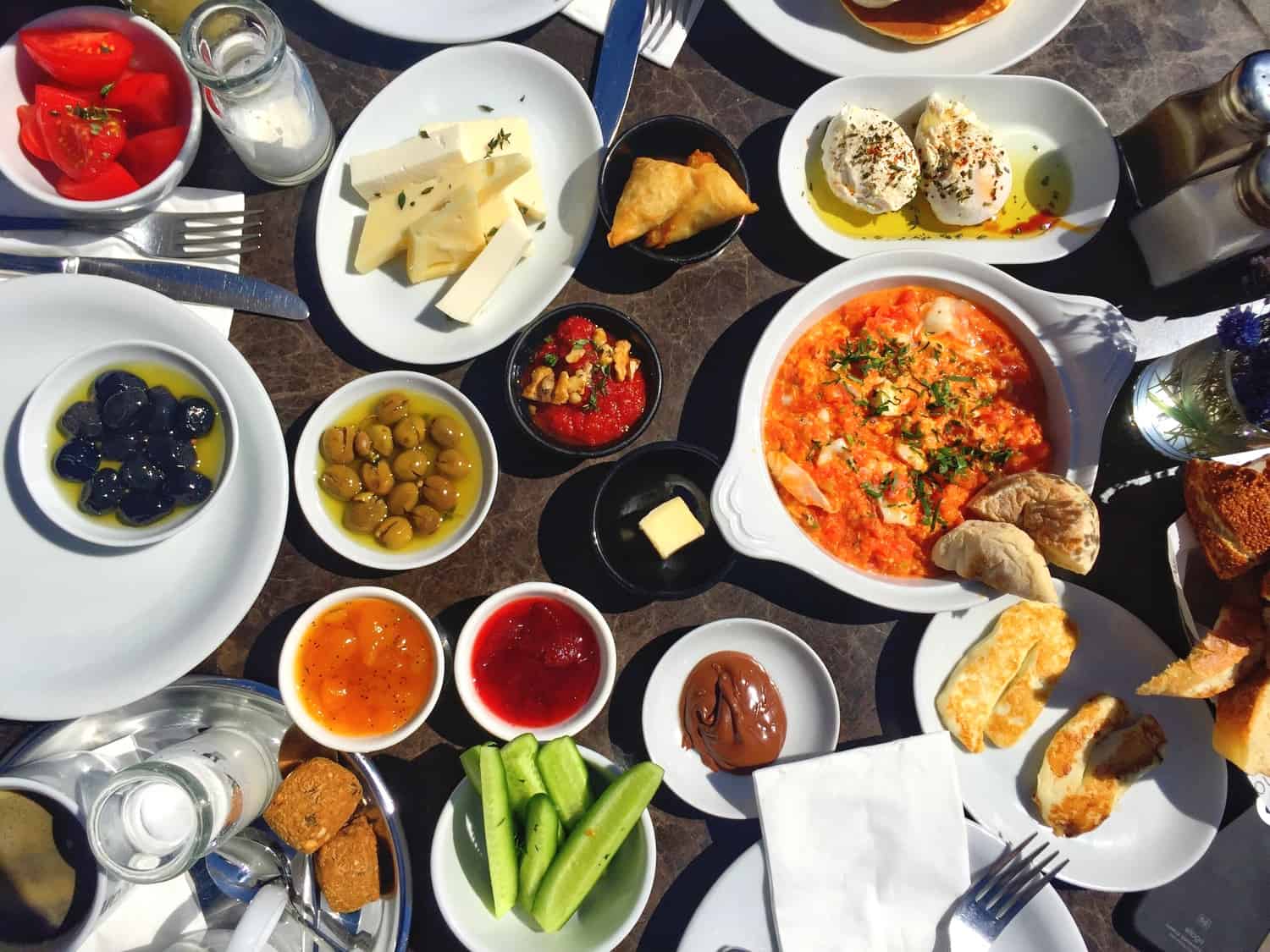 How to Save Money on Food in Turkey
Good news: not only is food in Turkey delicious, but it's exceptionally cheap, too! There are plenty of ways to save money on food and drink while you travel around the country. Let's start with those options first.
If you're on a tight budget, you'll likely save money by cooking rather than eating out, so if you're willing to sacrifice some of your meals, this is an excellent way to stay on track with your budget. Hostels will usually offer a shared kitchen, and if you're opting for an Airbnb, the owners will often give you access to the kitchen. If that's the case, you can head to a local market (a great cultural experience) and stock up on ingredients.
Many hostels and hotels offer free breakfasts within their room rate, so if that's the case, I always recommend eating later in the morning and eating a lot, as you may find you're too full to have lunch. But, as I've mentioned several times in this post already, Turkish breakfasts!!!! The breakfasts in Turkey are so fantastic that I'd recommend having them outside of your accommodation as often as possible.
The real budget-buster when it comes to food and drink in Turkey is, unfortunately, alcohol. There are huge taxes on alcohol, to the point where Turkish drinkers pay more than double the price for alcohol than locals in the EU. Not only that, but the local beer, Efes, is, um, kind of terrible. I usually recommend skipping out on the alcohol while you're in Turkey, but if you're determined to have a drink while you're there, expect to spend more than you'd like — as in more for your beer than your meal.
Unfortunately, the tap water in Turkey isn't safe to drink, so I'd recommend investing in a GRAYL water purifier to ensure every drop of water you drink is safe and clean — I used mine to drink the tap water in Turkey, but also in places like Mozambique and the Congo and didn't once get sick! Not only will you keep yourself safe, but you'll also cut down on your plastic consumption through not buying water bottles, and will save money in the long-term.
So let's take a look at some of the best local eats you should try in Turkey, along with the typical cost of these meals.
When it comes to breakfasts, the options in Turkey are going to change. your. life. A traditional Turkish breakfast consists of fresh bread, olives, cured meats, tomatoes, spicy sausages, feta cheese, honey, and lots of delicious tea. You can expect to spend around 200₺ (€10/$11) for an epic breakfast in Turkey.
A smaller version of the Turkish breakfast comes to around 75₺ (€2.50/$2.88)
Menemen is another great Turkish dish comprising scrambled eggs, tomatoes, peppers, onions, and spices, and served on top of a slice of fresh, crusty bread. You'll pay 60₺ (€2.10/$2.30)
Lunches are just as fantastic and you'll be spending a lot of time snacking on kebabs and pides, with lamb a common option for meat. If you're vegan or fancy skipping out on the meat, you'll be able to opt for fresh salads and crusty bread at most restaurants across the country. But let's talk about pide, as that's one of my favourite Turkish dishes. It's a type of Turkish pizza, but with the pizza-esque toppings served on flatbread. One of my favourite toppings is lamb, spinach, and local sheep's cheese. You can expect to spend around 35₺ (€1.30) on pide and 50₺ ($2) on kebabs and kofte.
Dinners are — you guessed it! — always delicious. If you're going to be spending time in Istanbul, I recommend hunting down one of the city's most iconic treats: balik ekmek, which is a sandwich containing grilled fish, onions, and tomatoes. It's one of the best cheap eats in the city and only 60₺ ($2). You have to try this while you're in town!
And when it comes to desserts and sweet treats, you're not going to want to stray far from baklava (80₺ ($3) per kg) and Turkish delights — you can get these all over the country and they're so much better than the stuff you've likely tried at home. I recommend picking some up from the Istanbul Spice Bazaar and opting for the pomegranate flavour for a fun take on the treat. You'll be looking at around 400₺ ($12) for 1kg of extremely high-end Turkish delights.
You can always ask the locals for food recommendations, too! Ask at your accommodation for recommendations on the best budget eats, or simply walk around and see which restaurants are full of locals.

How to Save Money on Activities in Turkey
We've covered accommodation, transportation, and food, but let's face it: you're not going to have the trip of a lifetime if you skip out on entrance fees and activities! Here's a detailed breakdown of some of the entrance fees you're likely to encounter while travelling around Turkey:
Entrance to Tokapi Palace: 500₺
Entrance to Hagia Sophia: free
Entrance to the Blue Mosque: free
Entrance to the Basilica Cistern: 300₺
Entrance to Ephesus ruins: €10 (200₺)
Entrance to Goreme Open Air Museum: 150₺
There are plenty of free activities to participate in, too, while you're in Turkey, and I know that I had a fantastic time simply wandering through the cities, exploring local markets, sunbathing on beaches, and making the most of the museums that don't charge for entrance. The Blue Mosque, in particular, is incredible to walk around and totally free to enter, and the neighbourhood of Sultanahmet is so wonderful. You can still gain a lot from Cappadocia by wandering through the city without jumping on the expensive hot air balloon rides or taking tours of the caves.
Markets are always a great way to get a taste of the local culture without spending any money, and simply heading out for a stroll through some of the more local neighbourhoods will introduce you to lesser-visited parts of the country. My favourite market was the Spice Bazaar in Istanbul — amazing! So many flavours and scents to experience. The Grand Bazaar is another spot that you're not going to want to miss while you're in town.
I do recommend booking your Cappadocia balloon ride in advance, however, if you do plan on heading to this Insta-famous spot. Places do sell out several weeks in advance, so it's best to book as soon as you know when you'll be in town. You can double-check current availability for the rides using the widget below:
If, like me, you love taking tours to get to know a country better, I recommend heading to Get Your Guide for inspiration. They have a whole range of activities and tours available, in Turkey. These are the highest-reviewed ones: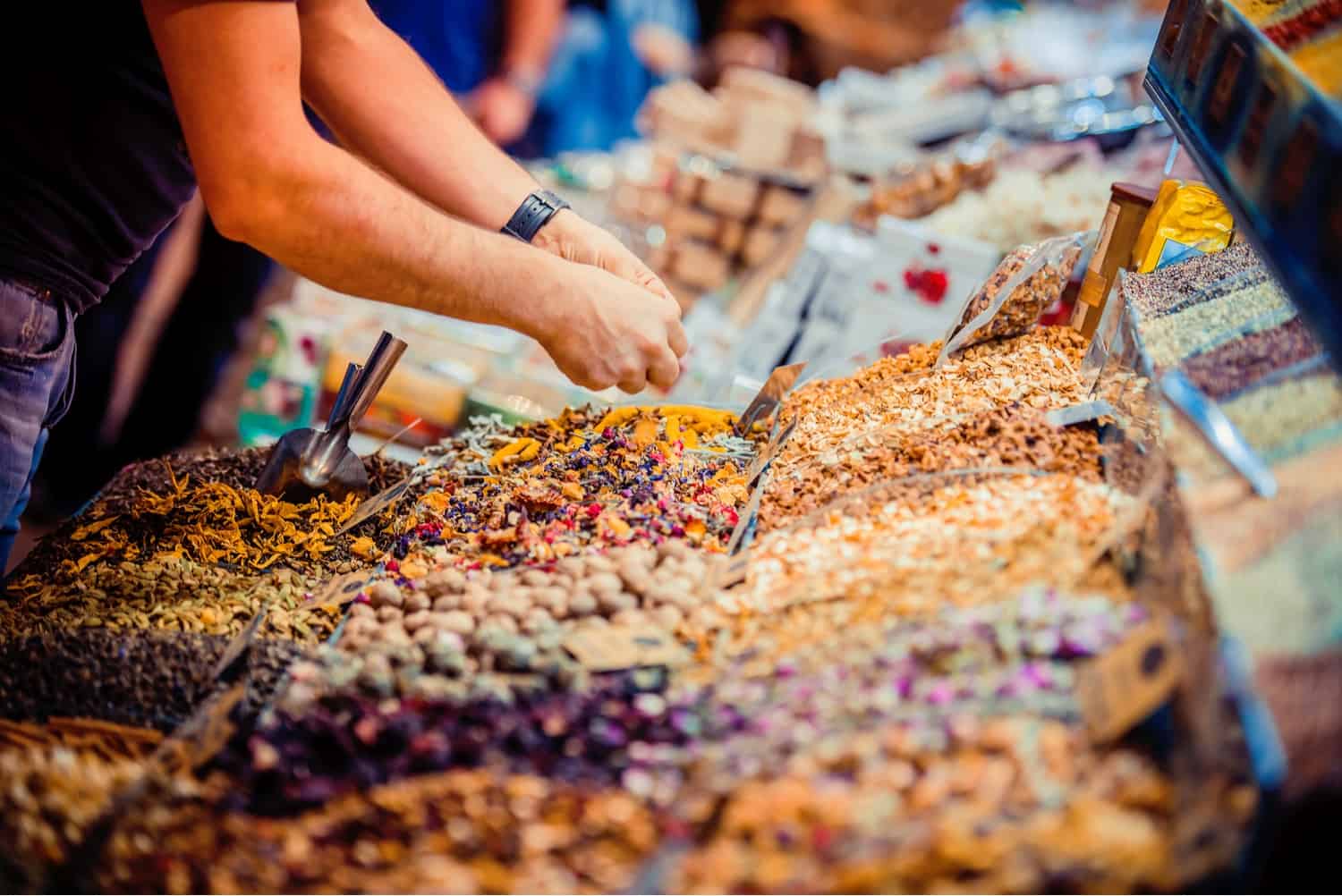 Miscellaneous Items to Buy for a Trip to Turkey
A Turkey guidebook: A guidebook will give you an in-depth look into Turkey's culture, suggest the perfect itineraries for the amount of time you have, and offer recommendations for where to eat and what's worth doing. Fodors receive the best reviews for their Turkey guidebook, published in 2022.
A dry bag: Turkey is all about the water, so I highly recommend packing a dry bag to take with you. A dry bag has saved me while travelling on so many occasions:
On a kayaking trip from Koh Yao Noi to Koh Nok, a freak wave splashed over me, as well as my camera and phone. Had I not had them in a dry bag, the water damage would have likely destroyed them.
On a ferry ride in Thailand, the boat sprung a leak and began to sink. I was able to put my laptop, camera, hard drive, passport, and money in my dry bag, seal it up, and know that they'd stay safe and dry if the worst were to happen.
I chartered a yacht in Greece and relied heavily on my dry bag while I was there. When mooring in tiny bays, I was able to fill my dry bag with my camera, towel, and sunscreen, jump in the sea, and swim to the nearest empty beach without worrying about keeping my belongings dry.
I also think dry bags are fantastic for solo travellers on beach days. It's tough going to the beach when you're travelling alone because you'll need to bring nothing with you, risk getting robbed while you're in the ocean, or stay on the sand at all times. If you have a dry bag, you can fill it up with your valuables and take it for a swim with you, rather than leaving them on your towel and hoping nobody will grab them.
I love all things Sea to Summit, and after trying several of their dry bags out, my champion is the Ultra-Sil 8L — it's durable, thin, lightweight, and has never let me down.
Travel insurance: If you've read any other posts on Never Ending Footsteps, you'll know that I'm a great believer in travelling with travel insurance. I've seen far too many Go Fund Me campaigns from destitute backpackers that are unexpectedly stranded in a foreign country after a scooter accident/being attacked/breaking a leg with no way of getting home or paying for their healthcare. In short, if you can't afford travel insurance, you can't afford to travel.
Travel insurance will cover you if your flight is cancelled and you need to book a new one, if your luggage gets lost and you need to replace your belongings, if you suddenly get struck down by kidney stones and have to be hospitalised, or discover a family member has died while you're overseas and now you need to get home immediately. If you fall seriously ill, your insurance will cover the costs to fly you home to receive medical treatment.
I use and recommend SafetyWing for travel insurance in Turkey, as they're one of the few companies out there who will actually cover you if you contract COVID-19. On top of that, they provide worldwide coverage, don't require you to have a return ticket, and even allow you to buy insurance after you've left home. Finally, they have a clear, easy-to-understand pricing structure, which is always a bonus.
How Much Did I Spend on My Trip to Turkey?
I always like to share my own personal expenses when travelling in a country, as I think it helps you figure out what you should be expecting to pay each day while you're there. A list of expenses is great and helpful, of course, but putting them all together in order to come up with a reasonable estimate can be trickier.
Here's what I've spent on average over my six weeks in Turkey:
Accommodation: €70 per day
Transportation: €4 per day
Food: €18 per day
Activities: €2 per day
My average daily cost of travel in Turkey was therefore: €94 per day. Not bad at all!
Related Articles on Turkey

🇹🇷 20 Things to Do in Istanbul, Turkey
📆 How to Spend Two Weeks in Turkey: An Itinerary for First-Time Visitors
🧕🏼 What's it Like to Travel in Turkey as a Solo Woman?
🏛 A Hater of Ruins Explores Ephesus
👽 Pamukkale: One of the Strangest Landscapes on Earth
[Photo of Oludeniz Beach and Pamukkale via: muratart/Shutterstock; of the Istanbul skyline: Logutenko/Shutterstock; of Cappadocia: Valerija Polakovska/Shutterstock; of Turkish breakfast: Anna Soelberg/Shutterstock; of Istanbul spice market: Yulia Grigoryeva/Shutterstock]