Miami makes for the perfect long-weekend getaway. Miami provides the goods, from incredible food to world-class beaches and a nightlife that flows well into the following morning.
The beaches in Miami are hard to top, anywhere in the US. The dazzling coastline offers an abundance of potential activities from volleyball, rollerblading, outside gyms and plenty of evening BBQs. Not to mention the people watching in South Beach is an adventure all on its own.
The evening's party vibe is what attracts most travelers to Miami, especially those seeking a fun weekend away from regular life. The local nightlife is a vibrant experience with famed nightclubs, international DJs, traditional music and lively bars that awaken from their afternoon slumber every night.
Besides tanning on the beach and partying into the early hours, Miami has a delightful food scene with amazing Latin American cuisine made with the authentic touch of Miami's Cuban community. Begin your day sipping on Cuban coffee before upgrading to Cuban cocktails.
Potentially the most exciting aspect of Miami's food scene is the subtle difference between particular communities. Whether that be Cuban, Ecuadorian, or Puerto Rican, one staple dish will taste different, but just as good, wherever you go.
There is also more to Miami than sun, sex and sand. The depth of history in the city is underrated and unexplored by most travelers seeking a simple vacation of beaches and cocktails.
The art scene continues to grow alongside the colorful, historic art deco buildings that line the beachfront. From open-air galleries to contemporary art events, Miami is a cove of growing artistry.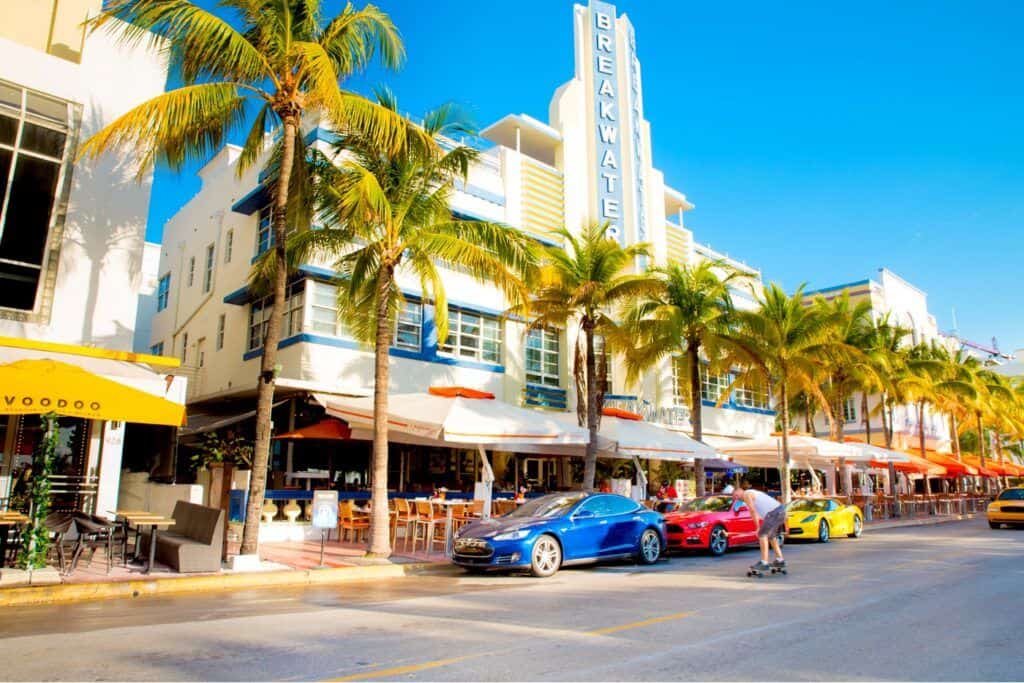 Where to Stay
Staying in Downtown Miami or in the Wynwood district will place you close to many grand adventures in the city. However, for the best Miami experience, stay in South Beach. Here you can walk outside and be right among the exciting atmosphere, with the beach, restaurants and bars all within walking distance.
If you need a good sleep at night, stay a few blocks inland from Ocean Avenue.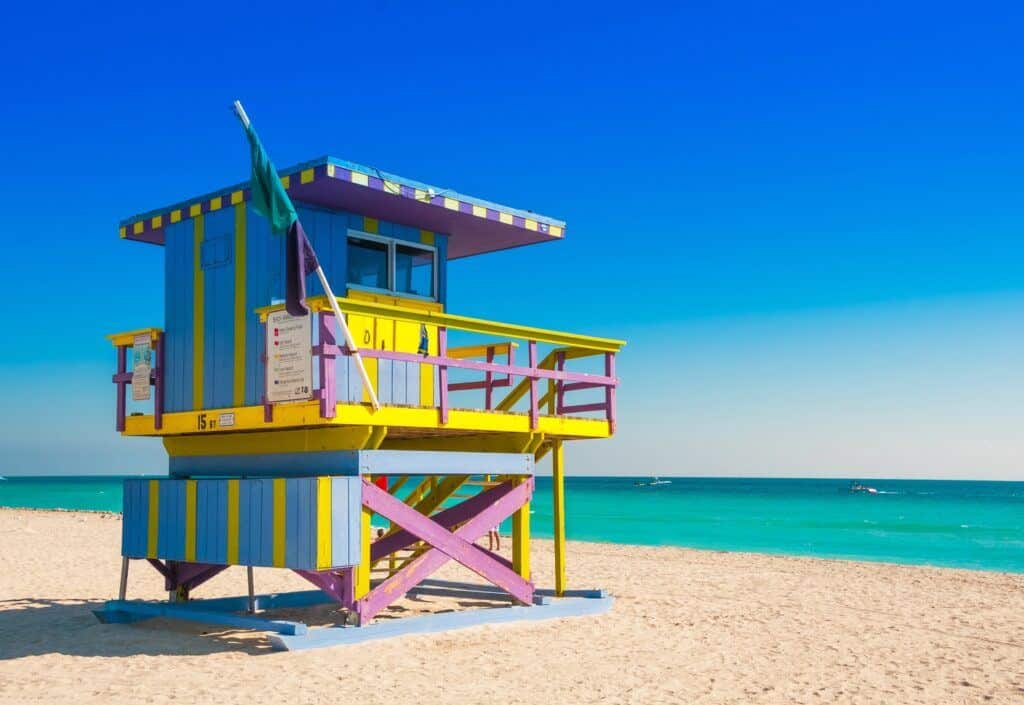 When to Go
Miami is a year-round destination, a city that never sleeps. Peak season is during the northern hemisphere winter which can raise the cost of hotels and flights. However, what better way to escape the cold than by enjoying the warm Miami sun?
March is extremely busy on the back of Spring Breakers rolling into town. But April and May offer a better balance of pleasant weather and lower crowds. The summer months bring a lot more rainy days along with stifling temperatures that may limit your desire to explore on foot.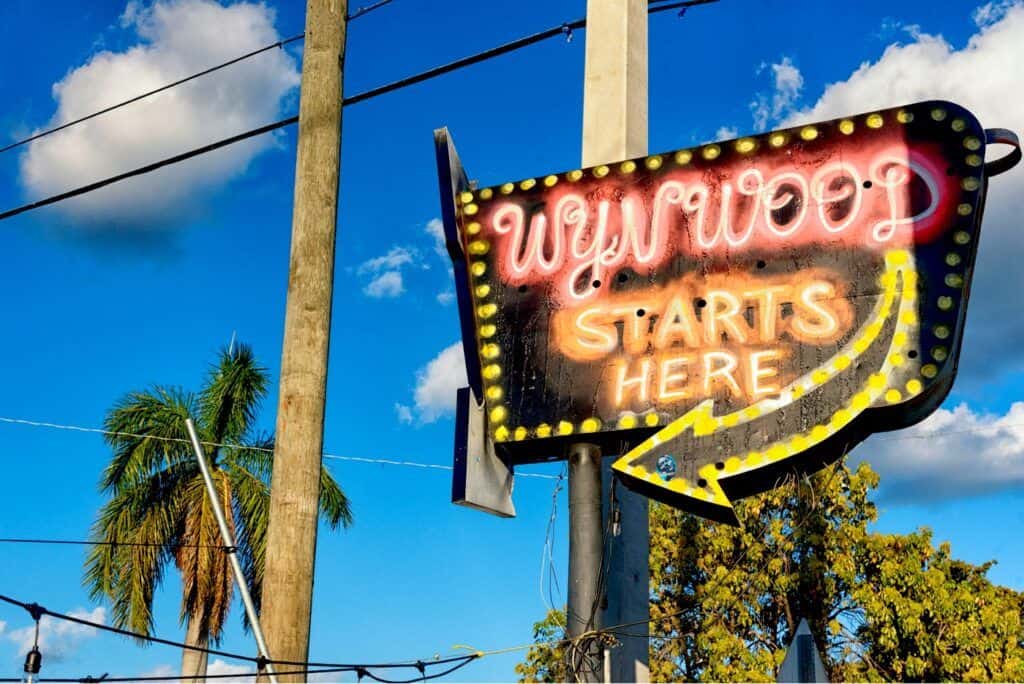 Day 1: Arts and Culture
Welcome to Miami! Depending on how much time you have to enjoy your first day here, it's best to start by exploring Miami's interesting history and soaking up the city's amazing arts and culture.
There's no better spot to begin than within the Wynwood Arts District. Begin your day of sightseeing by fueling up at the Salty Donut before discovering how local artists have transformed the area from a neighborhood of abandoned factories into a revolving art exhibit.
Wynwood is full of delightful cafes, dozens of galleries along with local boutiques and thrift stores. But the real highlight is the Wynwood Walls, the beating heart of the neighborhood. The walls are all outdoors with pedestrian-only access so you can stroll around without a care in the world.
After Wynwood, make the short 15-minute journey over to Little Havana for a unique insight into the strong local Cuban community. Here you can explore Latin American art, thriving restaurants serving authentic, homemade dishes and cafes slinging Cuban coffee to cigar-wielding patrons.
Calle Ocho is the center of all that goes on in Little Havana. One of the most famous parts of Miami, where you can find locals playing endless dominoes, an age-old tradition that is as much about socializing as it is about the game.
As you walk around stop by Los Penarenos Fruteria, a tropical fruit store that has been in operation since the 1960s. Grab yourself a delectable juice and make your way to one of the many cigar shops in Little Havana. El Titan de Bronze is a prominent store where you can see how the cigars are hand-rolled.
Before returning to your hotel, make one last stop at an iconic Little Havana bar called Ball & Chain. Here you will find a spacious outdoor patio, the perfect spot for sipping on their specialty mojitos. Live Music is a constant on the patio so you can easily kick back and spend a few hours here. If you stay long enough, you can be salsa dancing with locals all night long.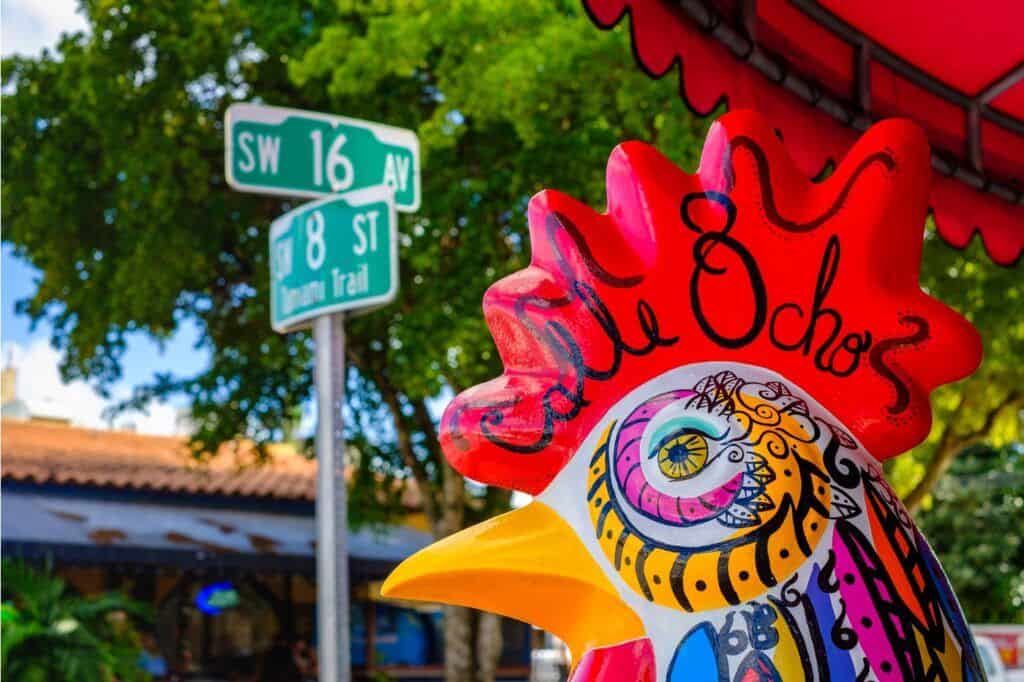 Alternatively…
Exploring Little Havana and Wynwood on your own two feet is a fantastic way of getting to know Miami. While there are a bunch of outstanding restaurants to pick from throughout the day, why not leave it up to the experts? Join a Little Havana Food Tour to explore the incredible food culture of the neighborhood while also discovering the underground art scene.
Where to Eat
If you didn't sign up for the food tour or still have room in the belly, then a stop at Old's Havana is a must for anyone seeking a scrumptious Cuban sandwich when in town. Other dishes worth trying are the pollo frito, a mojo-marinated chicken and the braised pork tamale.
On night one in Miami, treat yourself with a visit to Over Under. An electric watering hole, featuring expertly crafted cocktails, boozy frozen drinks and a delicious menu that won't burn a hole in your pocket. The Jamaican-style veggie burger is lathered in a special dressing so good that any avid meat-eater could be converted.
Day Two: South Beach
When people think of a trip to Miami their minds immediately wander to a stretch of white sand beaches, and walking paths filled with rollerbladers. Yes, South Beach!
This could easily be your first stop in Miami, but we've placed it on day 2 of our itinerary so you can have a full day experiencing one of the best beaches in the USA.
Once you have found a spot on the beach, it's time to take in that hot Miami sun and the views all the way to the horizon. When you can, take a picture with one of the many colorful lifeguard stands that dot the length of the beach.
If you're feeling energetic, you can grab a volleyball and have a game on the glistening white sands underneath the turquoise sky. Now that's a Miami experience.
Directly behind you will be the wonderful Lummus Park, the perfect escape when you need a break from the sun. With an abundance of towering palm trees, there will be plenty of shade on the luscious grass. Break open the book or rent a bike and ride the paths.
Now you could spend all day switching between the hot white sands and the shady park, but there is so much more to South Beach. From Lummus Park, walk 10 steps and find yourself on Ocean Drive, one of the best streets to walk down in all of Miami.
With vibrant, throwback architecture, these Art Deco buildings house a variety of restaurants and bars that are great for people watching. Once you're fueled up, rather than return to the beach, it's time to go for a stroll down Ocean Drive.
Full of boutique stores, once you have your fix simply make your way one block inland and stroll the eclectic Collins and Washington Avenue. The former has designer shops in droves, with the latter providing the vintage goods.
If you feel like roaming around South Beach and learning about its fascinating history, along with its arts and culture, then why not join a walking tour? Or even better, get off your feet and onto a bike with this wonderful 2-hour Art Deco bike tour?
Once you're back from your tour, it is time to take in the Miami sunset. When in South Beach there's no better spot to watch the sun go down than at South Point Park. Right near the Port of Miami you can watch the cruise ships come in and out of the harbor with amazing views towards the Downtown Miami Skyline.
From your comfy perch in the park sit back with friends, family and a cheeky bottle of bubbly and watch the sun fall behind the skyline lighting up the horizon with bright warm colors.
Now, it is time to return to your hotel, freshen up and get ready for an incredible time experiencing the iconic nightlife of South Beach. Now keep in mind that Miami operates on a slightly different clock than much of the world.
Although the stretch of bars and clubs along Ocean Drive are abuzz from the early evening, they don't reach their peak until after midnight. Depending on how you like to party, it's worth timing your run a little later here in Miami.
After a wonderful dinner in South Beach, it's time for the fun to begin. With the sun down and the moon up, residents of South Beach dress to the nines and expensive cars slowly cruise down the strip.
The whole stretch of Ocean Drive presents endless options for enjoying a late night cocktail and some dancing. From Sweet Liberty Drinks, to the cheap drinks at Time Out Market and the sprawling dancefloor at Mac's Club Deuce, you can't go wrong.
But if you want to hit up multiple establishments and maybe make a friend or two, then sign up for the South Beach Pub Crawl.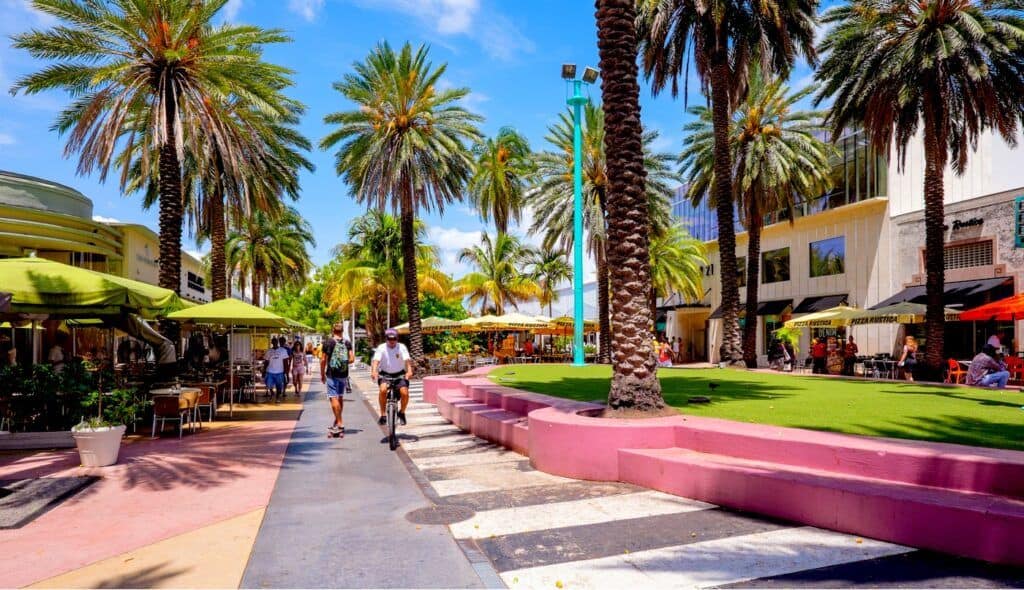 Alternatively…
Finish up early at the beach and make your way to the pedestrian shopping street called the Lincoln Road Mall. Home to almost all stores, from major brands to local boutiques, shop till you drop as you walk by many cocktail bars, restaurants home to a ton of different cuisines and the odd food truck serving anything from donuts to seafood.
Rather than sit back and relax at South Point Park, jump on a sunset cruise and see even more of South Beach. Watch the sun fall behind the Miami skyline from your motor cruiser but only after you've cruised along Biscayne Bay. On your late afternoon adventure you will see the iconic Star Island, home to Al Capone's mansion along with the Venetian Islands.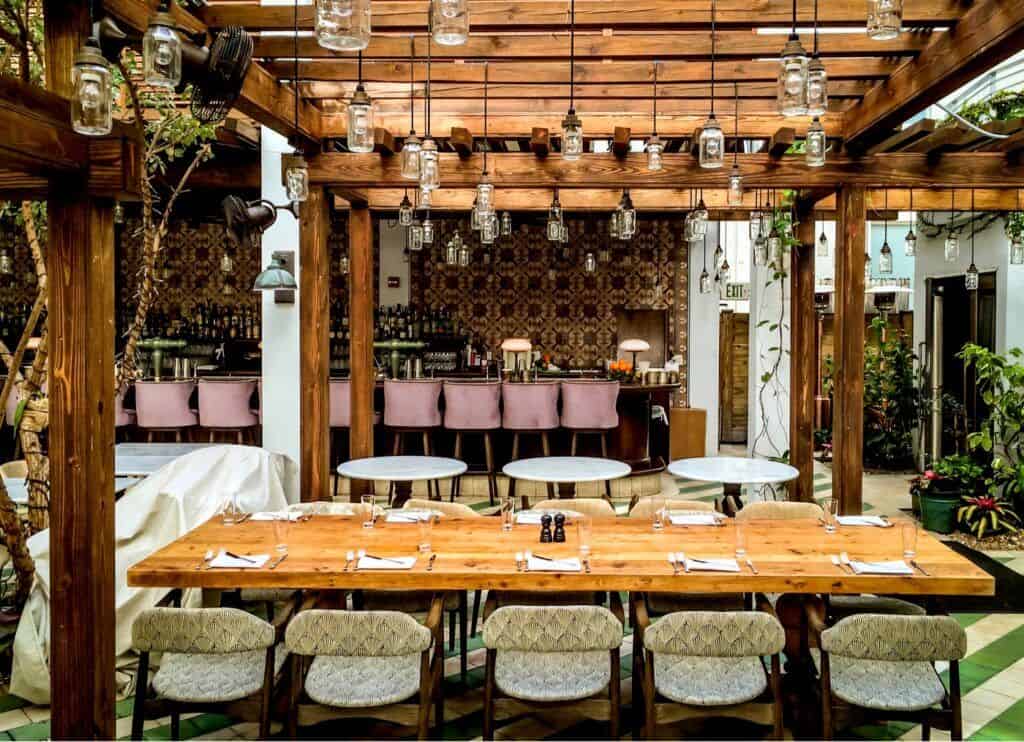 Where to Eat
Start your first morning in Miami with a bomb by having brunch at Cecconi's. This longtime brunch haunt has been a go-to for locals since Cecconi's opened its doors. On arrival you will be treated to a complimentary Bellini or mimosa and from there you can enjoy their Weekend Feast, an upscale all-you-can-eat buffet. Chow down in a magical courtyard with the early sun poking through the canopy. Book ahead as seats fill up quick!
Although you may come back at night for some of the best value cocktails in Miami, Time Out Market is also a brilliant spot for lunch on day two in Miami. Time Out Market combines many of the best chefs and restaurants under one roof, giving you a taste of all things good without having to leave the building.
Espanola Way is a small pedestrian street that wonderfully mimics a Spanish village. With bright twinkling sky lights lining the street, it is a great place to have dinner. Tapas Y Tintos serves up some of the best tapas and seafood paellas in Miami. Wash it all down with their authentic Spanish sangria served in a terracotta vase.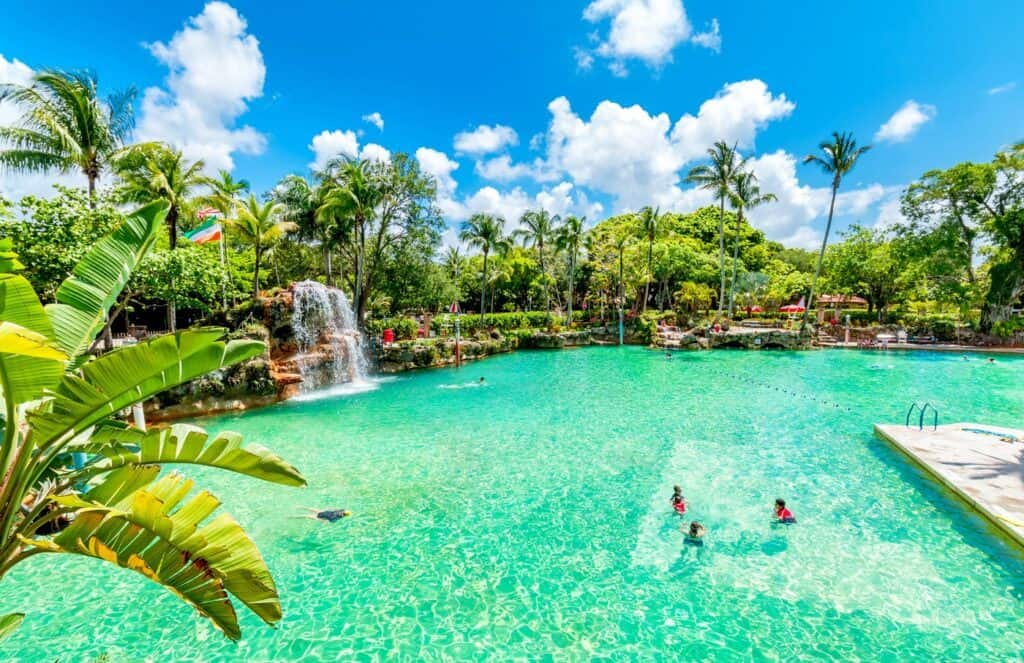 Day 3: Coral Gables
With potent influence from the architecture of the Mediterranean, Coral Gables just might be the most gorgeous neighborhood in the country. Offering endless leafy boulevards, flanked by terracotta roofs and shady parks, Coral Gables is the polar opposite of yesterday's adventure to South Beach.
A highlight for any trip to Coral Gables is a visit to the famous Venetian Pool. Now you can escape from the midday heat while also enjoying your own slice of history. The pool dated back to the early 20th century and was created naturally from a rock quarry which filled up with fresh water from underground.
Realistically, you could spend all day at the Venetian Pool and at only $13 it is one of the best inexpensive activities in Miami. Arrive early as only a limited amount of tickets are issued each day.
Next up, it's time to trade a natural pool for an unnatural beach. Make your way to Matheson Hammock Park where you will find a pristine man-made beach right at the end of Biscayne Bay. But rather than relaxing under the sun, there is still time for plenty of fun. You will have the option of renting a kayak and exploring the bay, or trying your hard at stand up paddleboarding. If you feel like going for a stroll, join a nearby trail and exploring the shady woodlands right behind the beach.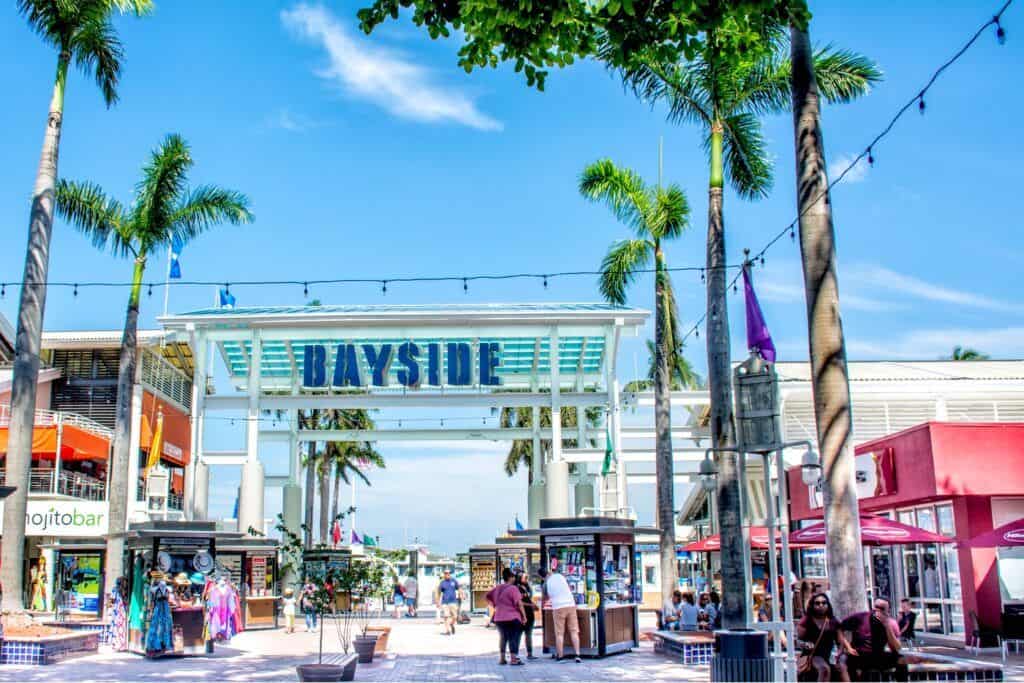 Alternatively…
Downtown Miami has transformed significantly over the last two decades. Now it is packed with things to do and if you aren't up for going to Coral Gables, this is the perfect backup plan.
There are multiple museums such as Museum Park and Frost Science Museum, great for young and old alike. Art lovers will enjoy the extensive collection at PAMM, which is home to classic and new art from international and local artists.
Finish up with a visit to the Bayside Marketplace. Directly on the water's edge, you will find great restaurants and shopping while it is also the starting point for multiple cruise tours including a trip to the iconic Millionaire's Row.
Where to Eat
After treating yourself to an epic brunch at Ceccini's yesterday, begin your last morning in Miami with a simpler but just as tasty breakfast at Las Olas Cafe. Serving authentic Spanish and Cuban breakfast. Here you will find amazing Cuban coffee and with the walk-up window you can grab your food and be on your way in no time at all.
Once you have spent time in Coral Gables and gone swimming in a historic natural pool, you may be thinking, how am I going to afford to eat out in this neighborhood? Thankfully, there are a few restaurants that serve up delicious cheap eats every day. Izakaya Japanese is a great place to go for fresh, inexpensive lunch with their popular midday bento box going for only $10.50. For families, make your way to the Yard House where for under $10 you can have a hearty midday meal in oversized booths. There are also 200 types of beer to choose from.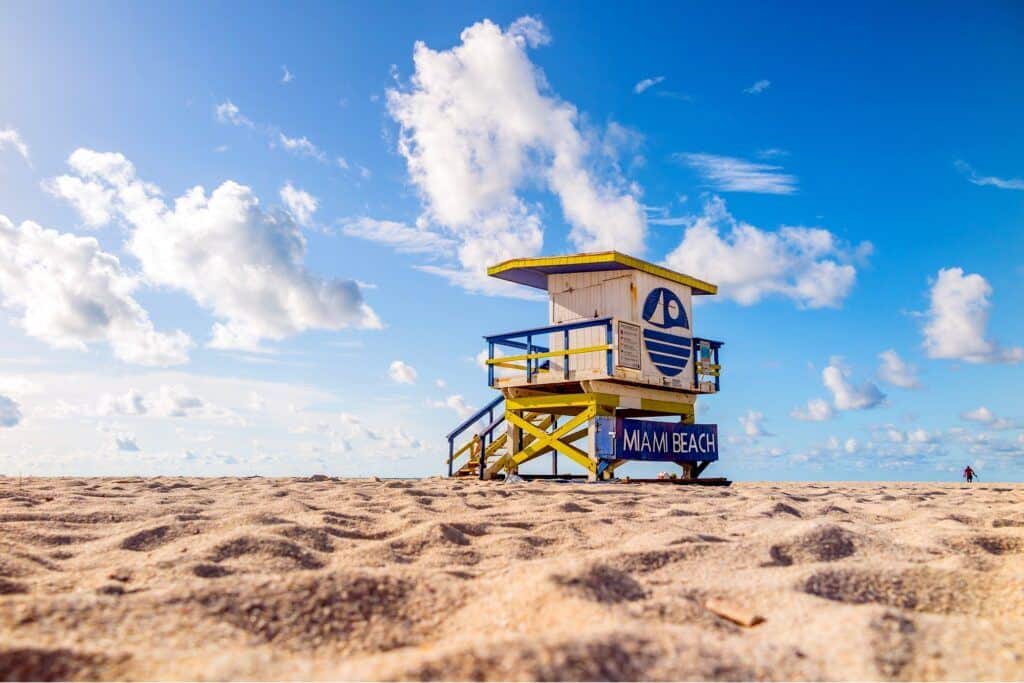 Final Thoughts
A three-day venture to Miami is the perfect way to enjoy this electric destination. Sure, there is always more to see and do but when it comes to enjoying a long weekend or a quick escape from the city, Miami is an excellent choice.
You can enjoy nothing but 72 hours of sunshine and boozy frozen drinks or you can mix it up with insightful food tours and sunset boat journeys. It is all up to you.
But with so many tasty eateries, art galleries and local communities, it is well worth exploring Miami beyond the parade of white sand beaches.