Belgium is a country that's often overlooked by its more popular neighbors; those tourism big-hitters of France and Germany — and even the Netherlands.
But you know what?
That's a huge mistake, in my eyes. Because Belgium has tons to offer up to those who choose to visit.
And I'm not just talking about Bruges here. It probably won't surprise you to discover that the vast majority of travellers to Belgium opt to spend a few days in Bruges then venture back home. And if you're a long-time reader of the site, you'll recall that I, too, am guilty of that particular travel crime. Yes, way back in 2010, I visited Belgium for the very first time and chose to spend a whopping two days in Bruges before taking the train straight out of there.
In 2023, however, I finally made my return, and this time, I vowed to dedicate a full two weeks to exploring Belgium and all that it has to share. It helped me realise that I'd made a mistake by writing off this country as Boring-Outside-of-Bruges; the truth is: it's anything but.
Yes, you've got Bruges. But you've also got the capital, Brussels, a quintessential metropolis that's the home of the European Union. Then there's Ghent, a quirky Flemish city that's a haven for hipsters. And Antwerp? Well, it might just be the cutest city in Europe. I even fell hard for Leuven — a picturesque spot that's full of breweries and architecture.
What else did I love?
Well, the food is fantastic in Belgium, like the country's frites, a portion of crispy French fries (you guys know I love a potato) drenched in your favorite sauce. And I'm sure you've heard of Belgian waffles before. They're not like the waffles you get over in the U.S.; they're made with a lighter batter, bigger squares, and deeper pockets, so that the ice cream can melt even more inside. Scrumptious is, perhaps, the only way to describe them.
And, of course, Belgium brews some of the best beer in the world.
In fact, this teeny-tiny country brews ten times more per head than the global average, and is home to a whopping 400 breweries. If you drink, you're definitely going to want to visit a couple of them on your trip. I opted for the family-run Cantillon Brewery, which brews its beer lambic-style, and damn, it was tasty!
Getting around in Belgium is super-easy. An efficient public transport system connects you to all corners of the country in hours, so navigating from place to place is a breeze. You could stroll across the cobblestone streets of the border city of Mons one minute, then be in Liège, over on the opposite side of the country, in less than two hours by train.
I started my most recent trip in the capital city of Brussels, where you'll most likely be kicking things off. I spent a few days exploring the city, visiting the European Parliament buildings, catching panoramic views from the Automium landmark, and drinking beers with newfound travel friends. From there, I made my way to the northwest of the country, stopping by Ghent to see what the fuss was about, and man, did Saint Bravo's Cathedral impress! I followed on to the lovely Bruges for a second visit, and was blown away by the picture-perfect canals and delicious Belgian chocolate that I remembered from a decade ago. Throw in a few days in Antwerp and several in Leuven, and before I knew it, I was back in Brussels, having completed a fabulous loop of the country.
But that's enough waffling (sorry) about the merits of travel in Belgium — because this article is all about the costs.
I've been recording my travel expenses throughout my 12+ years of continuous travel, and have now published over 60 budget breakdowns, covering every country I've visited over that time. Today, it's Belgium's turn.
Because while Belgium isn't the cheapest destination in the world, there are still ways to stay on budget and save money. I'll be sharing tons of them in this article.
So without further ado, it's time to give you a full breakdown of the cost of travel in Belgium. Let's break it down bit by bit.
How to Save Money on Accommodation in Belgium
We'll start with accommodation.
Now, how much you'll spend here will entirely depend upon your travel needs. If you're the most budget of budget travellers and exploring the world on a shoestring? There's free accommodation options for you! If you're going solo and keen to make friends in the best hostels in the country? You'll be looking at €28 a night for a bed in a dorm. Travelling on a mid-range budget and looking for value over luxury? A boutique hotel can set you back just €86 a night. And if you're looking for the best hotel in town, no matter the price? You could pay as much as €400 a night.
To kick things off, we're going to start with the cheapest accommodation options in Belgium, then make our way up the scale. Because, as I mentioned above, there are several ways to score free accommodation in this country!
If you're no stranger to budget travel, I'm sure you've already tried out Couchsurfing: the site that allows you to sleep at a stranger's place for free. Sometimes it'll be a couch; sometimes you'll get a bedroom to yourself. But hey, either way, it's somewhere to sleep. A huge bonus is getting to hang out with a local, often having them show you their city. You can't get much more of a local experience than that!
For those of you who aren't willing to sacrifice your comfort for free accommodation, then housesitting is absolutely the way to go. This is an option that's more for mid-range-to-luxury travellers, as you could find yourself housesitting a mansion, if you strike it lucky (friends of mine housesat a chateau in France once!). All you need to do is search for a homeowner in the country you'll be visiting, see if they'll be travelling on the dates you'll be there, then apply to look after their home (and usually their pets) while they're away. Trusted Housesitters is the only housesitting site worth checking out.
Another interesting option for free accommodation is WorldPackers. Volunteer to help locals with their businesses and projects; in return, you'll get housing, food, and occasionally other added perks. You could be doing anything from sitting at a hostel's reception to working on an organic farm. Readers of this site get a $10 discount for WorldPackers with the promo code neverendingfootsteps. And if you do want to work on a farm, WWOOF is another great platform specializing in these types of gigs.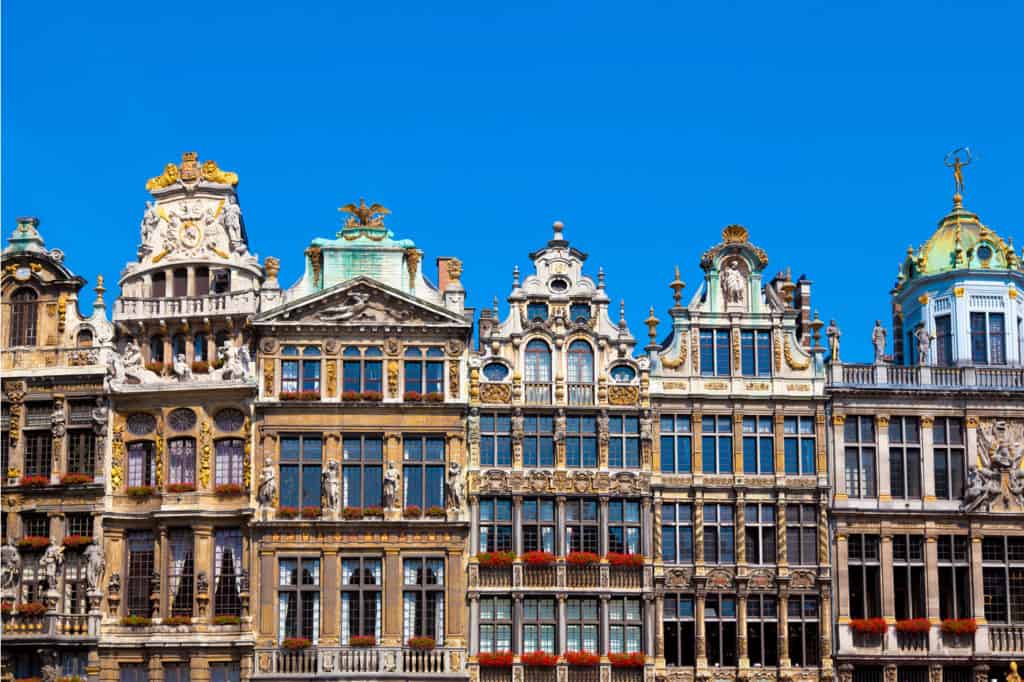 But what about if you don't want to score free accommodation, and want to simply save some money on your trip to Belgium. Well, I mentioned above that hostels are a great way of doing so, with the added bonus that they make it so easy to meet other travellers!
Belgium is home to some wonderful hostels. Here's a breakdown of my favourite ones in the country.
Okay, but what if you're not a budget traveller and just want to stay in a lovely, well-reviewed hotel or guesthouse that's good value for money and has all the things you need from a place to lay your head? I've got you! When I visited Belgium, I opted to spend half of my days staying in backpacker hostels and the other half in well-reviewed hotels. For around €100 a night, you'll be able to stay in an excellently-reviewed hotel, in a central location with friendly staff.
The Best Hotels in Belgium
When I'm travelling, I'm always conscious to book the absolute best accommodation out there. I can easily spend several hours researching accommodation for every stop along my way, ensuring I've chosen the place in the best location with the friendliest staff, and the greatest value for money.
My biggest tip? When you head to Booking to find a hotel, ignore the default results that are sorted under "Our Top Picks" — that's a list of all of the hotels that pay Booking the highest commission (so sneaky!), some of which have some pretty poor write-ups. Instead, opt to sort the properties by "Top Reviewed". That way, you'll be able to see which options genuinely have the best reviews.
But all that to say, when I was planning my trip to Belgium, I put in the hard work so you don't have to. Here's where I recommend staying:
Brussels: B&B Avenue Deschanel (€115 a night for a large double room)
The luxurious B&B Avenue Deschanel is owned by the friendliest people, and the spacious rooms have a fantastic view of the Josaphat Park and the Mât de Lalaing monument. The rooms themselves have sparkling chandeliers, which add to the lavish vibe, and come with a kitchenette space for those times when you've eaten one too many Belgian waffles.
Ghent: The Merveilleux B&B (€150 a night for a double room)
Located right in the heart of Ghent, only 200 meters from the City Hall, is the gorgeous Merveilleux Guesthouse. This beautiful spot offers visitors air-conditioned, well-decorated rooms with upscale furnishings and a tasty buffet breakfast every morning. The attentive staff that works there are some of the most helpful you'll ever come across.
Bruges: La Clé Brugge Guesthouse (€125 a night for a standard king room)
The La Clé Brugge Guesthouse knocks it out of the park in terms of design. Going for more of a cozy modern vibe, this guesthouse really will make you feel that you're in a home away from home. Every room has a desk, a private bathroom, a flat-screen TV, and tile/marble flooring. It's only a 10-minute walk from the main square, and the owners are tremendously accommodating.
Antwerp: Women of the World Apartments (€123 a night for a fully furnished apartment)
These adorable three-bedroom apartments are well worth a look at when you visit Antwerp. They're fully equipped with everything you need to have a great stay, such as a kitchen packed full of modern amenities, two bathrooms, and a terrace with lush garden views. The Cathedral of Our Lady is only an 11-minute walk away, so you're not too far from the hustle and bustle.
Leuven: B&B Lodging at 8 (€102 a night for a deluxe double room with balcony)
Leuven is relatively small, so accommodation options aren't all that plentiful. Still, B&B Lodging at 8 is the most wonderful option, in a lovely, local neighbourhood, and with the most delicious breakfast in Belgium. Throw in the free tea and coffee, plush towels, and beautiful balcony views, and you've got yourself an excellent stay in Leuven.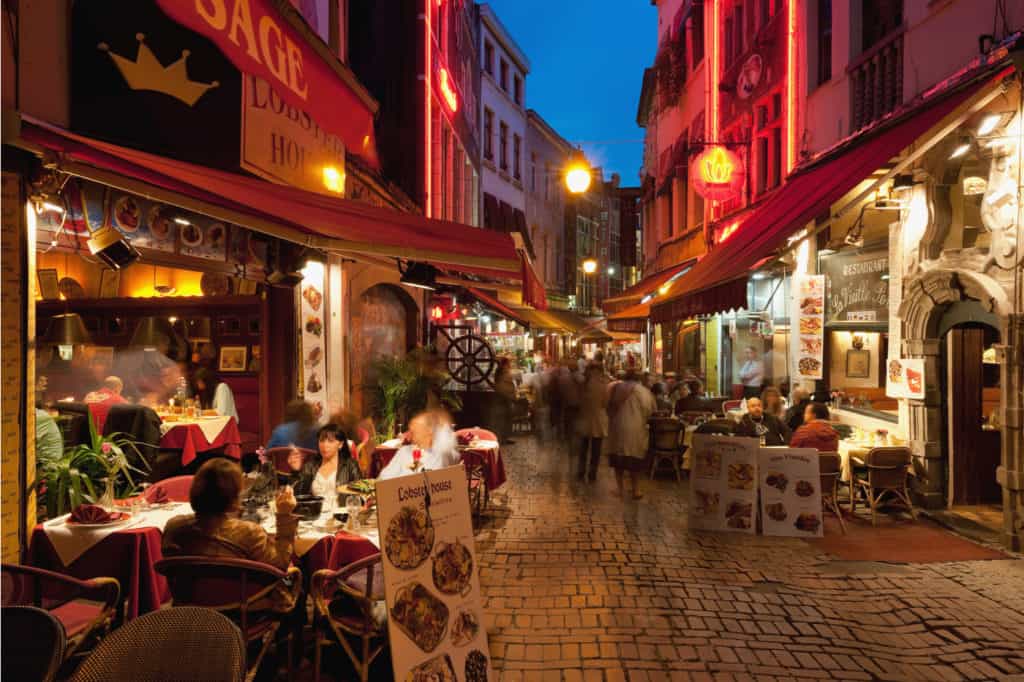 The Cost of Transportation In Belgium
I mentioned in the introduction that getting from A to B in Belgium is so easy. Like the vast majority of Europe, the country's public transportation system is modern as can be. And I took full advantage of this, by taking the trains, buses, and trams while I was there.
Because Belgium is such a small country, there's no option to take internal flights, which is a big bonus for your wallet and the environment.
Belgium has a comprehensive bus network that stretches across the country. My personal favourite bus company, however is Flixbus. Flixbus has Wi-Fi and power sockets onboard, so makes your journey a little more comfortable for like, one extra Euro, compared to the slightly-more-basic Infobus. I made sure to check the bus prices on 12Go before booking.
Wondering how much the most popular bus journeys in Belgium will cost you? Here's a price list.
Bus from Brussels to Ghent with Infobus: €6
Bus from Brussels to Bruges with Flixbus: €10
Bus from Brussels to Antwerp with Flixbus: €4
Bus from Ghent to Antwerp with Flixbus: €5
Bus from Bruges to Antwerp with Flixbus: €11
Note: Bus prices change drastically during high seasons, so keep an eye on them.
Uber is available in Belgium, but it's only the taxi version, so sometimes you're better off just hailing a taxi. Personally, I wouldn't use either unless you need to because they're far too expensive compared to other forms of transport. For example, if you were to get a taxi from Brussels Airport to the city center, which is an 18-minute drive. That would cost over €30, whereas a bus or train would be a fraction of the price.
Bla Bla Car is huge in Belgium at the moment. It's a carpooling app where you pay someone heading in the same direction as yourself a fee while hitching a ride. Some would call it glorified hitchhiking. If you get from A to B safely, who cares.
Brussels has inter-city transport tickets available called STIB-MIVB Tickets. When you buy one; you can use trams, metros, or buses in the city for an hour after being activated on the first form of transport you use. They cost €2.60 from any GO vending machines, or kiosks. There's an option to purchase 24-hour ticket too. They cost €8. I recommend you stick to the metros when in the capital. Four metro lines in Brussels operate every five minutes during busy times, every ten minutes after 8 pm, and every five minutes on the weekends.
My favorite way to hop between cities is by using trains. Don't get me wrong, buses are fine, but I love getting up, walking around, and choosing a new window to stare out of to pass the time.
The national rail line in Belgium offers multiple journeys daily between its major cities. Trains are a bit more expensive than buses, but you have the luxury of arriving that bit sooner. I used trains to get to each destination I visited simply for convenience.
Check out the rough train prices for the popular routes,
Train from Brussels to Ghent: €13
Train from Brussels to Bruges: €18
Train from Brussels to Antwerp: €11
Train from Ghent to Antwerp: €14
Train from Bruges to Antwerp: €20
Train from Brussels to Charleroi: €14
Omio is the best website to book trains in Belgium. It's a lot more convenient than having to go to the train station earlier than departure time to book tickets that could be sold out.
I wouldn't recommend you hire a car when you visit Belgium. It's not worth considering how connected the main cities are and how cheap public transport is. The only situation you should do it in would be if you wanted to go out into the countryside somewhere for a road trip. Otherwise, given you'll be looking at a price of around €50 a day for car hire, it's simply not worth it.
The Cost of Food In Belgium
Belgian cuisine has a lot of influence from its German and French neighbors but also keeps its charm. Prepare yourself for a lot of potatoes, leeks, and mountains of food.
The cost of eating out in Belgium really depends on where you're eating and what you like to eat. If you're one for eating cheap, you buy some inexpensive delights off a street stall for a couple of euros or eat at fast food joints, which are inexpensive compared to a sit-down meal in a restaurant. One big thing to watch out for in Belgium is eating outside popular tourist attractions. You could end up with a hefty bill if you're not careful. This is the case for most major European cities. The food isn't even that great in these places half of the time, anyways.
Breakfast in Belgium is relatively light. It's a continental breakfast containing bread with some cheese, eggs, jam, and a cup of coffee. If you decide to eat out for breakfast, you can pay anywhere between 4 and 10 euros for this. A cheap alternative is at some coffee shops they do great deals, such as a croissant and a coffee for €1.50.
Typical breakfast prices in Belgium
A pastry from a bakery – €1.50 to €2
Bread and white cheese (tartines) – €2 to €3
Cereal, fruit, and yogurt – €3 to €5
Most Belgians will stick to sandwiches with some meat and cheese for lunch. These can be bought at various corner shops in the cities and will set you back €2 to €3. If you want to do things even cheaper, you could go into a supermarket and buy fresh bread along with the meat, and it could only cost €1.50 to €2.
Belgians are proud of their frites, also known as French fries. They go absolutely wild for them. Frites are often served with mussels or eggs and are also a common lunch that you can try out. Honestly, I ate them 90 percent of the time I was there because they were just that good. A cone of frites from a van at the side of the street typically costs between €2.50 and €3.
Typical lunch prices in Belgium
Mussels and French fries – €15 to €25
Takeaway meal from a fast food joint – €5 to €10
Steak tartare sandwich – €6 to €12
Kebab at a street food stall – €3.50 to €5
Dinner is where the magic happens. Belgians adore this time of the day. It's their time to let their hair down and indulge in a feast. Eel stew is a popular plate among locals, and it doesn't sound too appetizing; it's supposed to be actually quite good but expensive, anywhere from €14 and up. Shrimp croquettes are readily available at a lot of street food stalls. The vendors usually have two prices when selling them, one price for a cold one (€2.50) and another for it to be cooked (€4). They're pretty big in size. Two of them could tame your hunger for a couple of hours.
Typical dinner prices in Belgium
Flemish stew – €13 to €19
Waterzooi soup – €6 to €13
Kebab at a street food stall – €3.50 to €5
Do you like waffles? Well, you better because they're everywhere in Belgium, and they're not just served up for dessert. Waffle stands are on every corner, no joke, and wow, are they good? It's how they're made with the deep pockets and all you can put inside. Ice cream, maple syrup, butter, you name it. Expect to pay between 2.50 and 3 for a waffle. No matter the price, I promise you, you'll have one every day when you're there.
Beer is just a part of Belgian culture. When Belgians finish up after a long day of work, they love nothing more than a nice pint. Duvel is one of the country's well-liked beers. You can pay anywhere from €3 up to €6 for a bottle. I sampled plenty of other local beers when I was in the country, some cheaper, others more expensive. Many people buy their beer in a supermarket and head to a park for drinks with friends. Supermarket beers are more reasonable. They can cost as little as €1.50, and that stuff is strong, let me tell you.
We know not everyone drinks beer. Wine lovers should expect to pay between €3.75 and €6 for a glass of house wine. Those who love spirits, they're more on the pricier side, starting from 6 euros and up, including a mixer.
Food budgets for different types of travelers
If you're happy to cook in your AirBnB, you can spend as little as 12 euros per day or even lower, depending on how much you eat and what you eat. Those who are vegetarians, for example, would be by on a lot less than someone who eats meat with all of their meals.
Maybe you're not a drinker; if that's your case, you're going to save a good chunk of your money. Expect to spend around €17 each day. Since you're not drinking, this gives you more money to spend on the food you like.
Are you one for fancy restaurants? A visit to one of these can cost a fair whack in Belgium. You can spend anywhere from €40+ on a meal, and that's before you even look at the wine menu.
The average cost of food per day is: €17
The Cost of Activities In Belgium
Every traveler's favorite part of their trip is the activities they do. Belgium offers many great experiences to visitors. Even if you spent months in the country, you wouldn't get through them all.
The Atomium in Brussels is an oddly designed landmark consisting of nine massive atoms, all of which are connected to each other, that was built for the Brussels Fair in 1958 and has since been the face of the country. Take a lift up to the top for a self-guided tour through the educational museum and learn about the story behind the structure. The views up there are insane. Entrance tickets cost €16, and you should book your tickets in advance, especially in high season.
You can't visit Belgium without visiting Bruges. The city is like something from a fairytale with its vintage-style houses and adorable canals that you can take a boat ride down, similar to Venice in Italy. Tours are readily available to Bruges from Brussels, Ghent, and Antwerp, but I recommend you stay there for a couple of days if you have time. That way you'll get a real feeling for the place and save a little bit of money because the tours cost between €40 to €50 for a tour whereas if you just took a train and paid for accommodation, it would be cheaper.
History buffs should take a full-day tour of Ypres, where the World War 1 memorial site is. Walk through the battlefields of Flanders, seeing bunkers and remains of the horror that occurred there. Stop by the renowned poppy fields and take in the Flemish countryside. It's an expensive tour costing €92, but well worth the money if you're interested in this type of thing.
The awe-inspiring town of Dinant sits on the banks of the Meuse River and is well worth a visit when you're in Belgium. Seeing this picturesque beauty will blow your mind just because of its unique location wedged between a dramatic cliff and a river. The town is an hour and 20-minute drive south of Brussels, and the best way to get there is by train, which costs €9. Luxembourg is not too far from Dinant, so many people end up doing the two in one day.
Those who are admirers of castles need to see the Castle of Vêves a short ride outside the village of Celles. Famed for its round towers and elegant interior, the castle is one of the country's precious displays of medieval architecture. To get there, you must take one train to Dinant and another to Gendron-Celles and walk 24 minutes to the castle. A one-way train journey is €12, and entrance tickets to the castle itself are €9.
Other must-have experiences in Belgium
The average cost of activities per day is: €35
Total expenses per day when traveling to Belgium
After giving you a full breakdown of the potential costs when traveling to Belgium, it's time to give you a rundown of your total travel expenses for each day.
Accommodation – €30 (budget traveler) or €115 (mid-range traveler) per night
Transportation – €12 per day
Food – €17 per day
Activities – €35 per day
Total expenses for each day – €94 (budget traveler) or €179 (mid-range traveler)
Of course, this will be based on what type of traveler you are. Some people prefer to splash on accommodation but cook all of their meals in an apartment, but for others, experiences will be prioritized, and they may just stay in a hostel. Everyone is different. No matter what way you do it, you're sure to have an amazing time in Belgium.