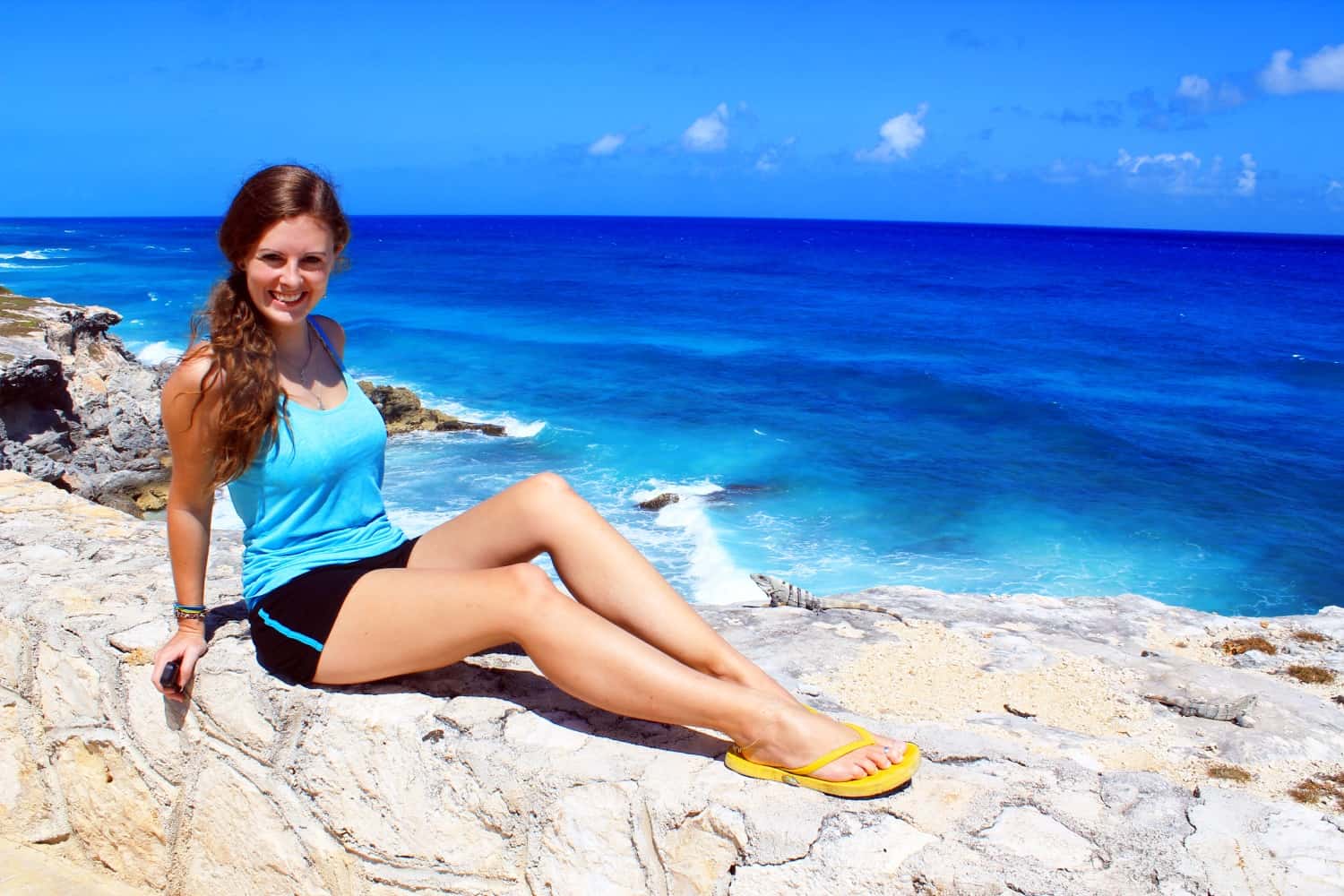 I arrived in Playa del Carmen expecting to fall in love, but ended up sorely disappointed. After a quiet Christmas in Guanajuato, it felt like mild culture shock to arrive in one of the biggest tourist destinations of the Caribbean coast, full of loud parties, thousands of tourists, and a plethora of English-speaking locals.
We decided then that we'd be using Playa del Carmen as our base for exploring the Yucatan. We spent our time climbing the ruins of Coba and Chichen Itza, sunbathing on one of the best beaches in Tulum, swimming with sea turtles in Akumal, and eating our way through Valladolid.
The one thing that had been missing from our explorations? An island.
Isla Mujeres is found a few miles off the Caribbean coast, accessible via a short ferry ride from Cancun. The island is long and skinny — four miles in length but only 600 metres in width — and is a laid-back former fishing village, full of colourful buildings, surrounded by crystal clear waters, and a place where the primary method of transportation is a golf cart.
Hey, guys! Have I ever told you I get seasick?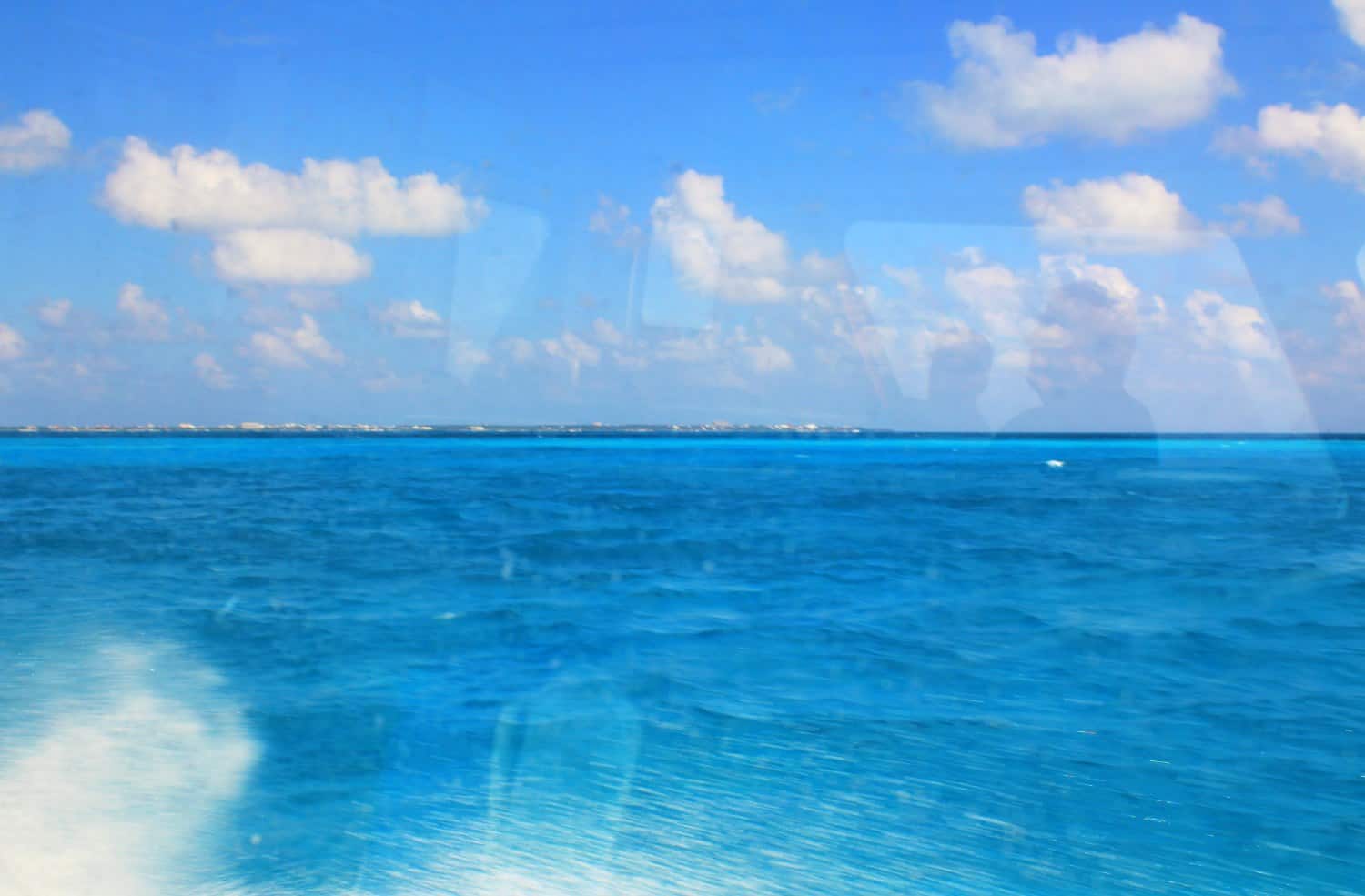 The twenty-minute-long ferry ride over from Cancun wasn't as bad as I'd expected, but like most minor movements, left me feeling like the world was spinning and i wanted to get off. If you're mega-prone to motion sickness like me, pop a few pills before you leave.
Our trip to Isla Mujeres was a Christmas present from Dave, so we were mid-range-ing it up for a few days in the phenomenal Casa Barco. For $88 a night, we were staying in the best-rated property on the island, with fantastic staff, a great location in the heart of town, and a lovely swimming pool
Isla Mujeres is split into three distinct areas: the north, where we were staying, is the touristy part of town. You'll find tons of restaurants and busy white sand beaches with the clearest water you've ever seen. Head further south and the middle of the island is where you'll find the locals. It's much quieter here, with small, family-run cafes and expat communities making up the majority of the land. Head further south still and there's little development: small guesthouses, vibrant turquoise waters, and a small Mayan site to explore.
We opted to stay in the north because, well, we are tourists.
Oh, and because this beach was a five-minute walk away.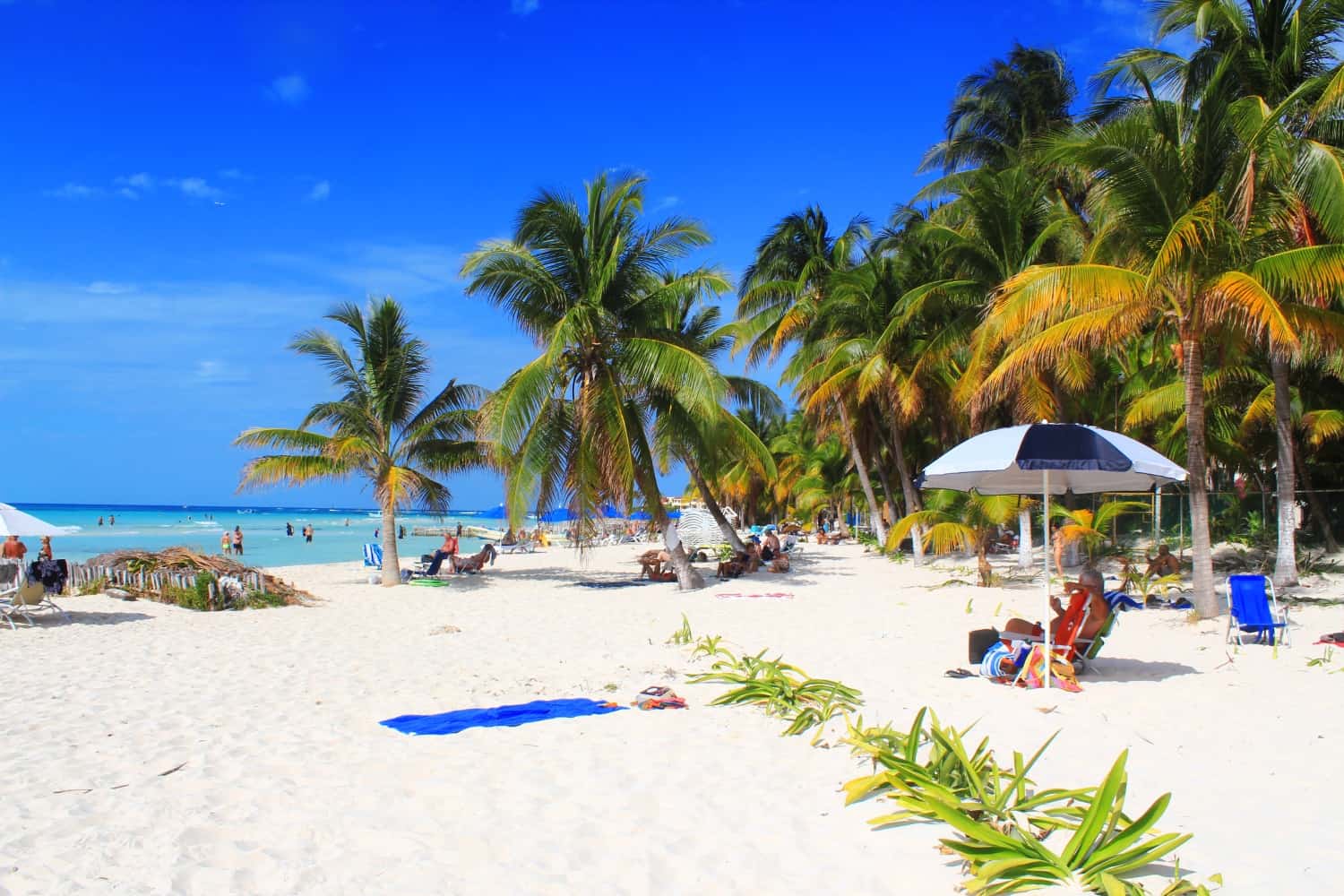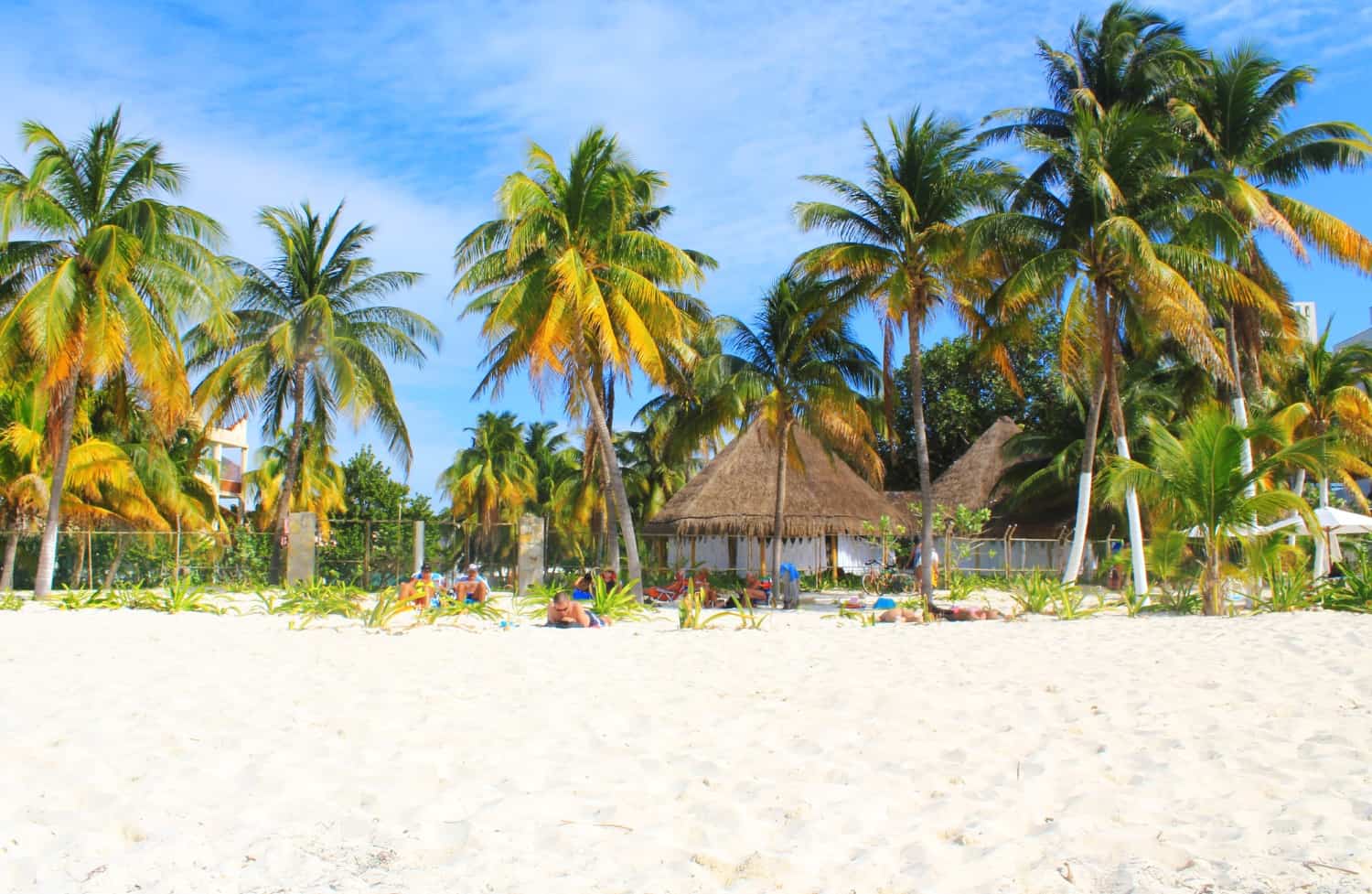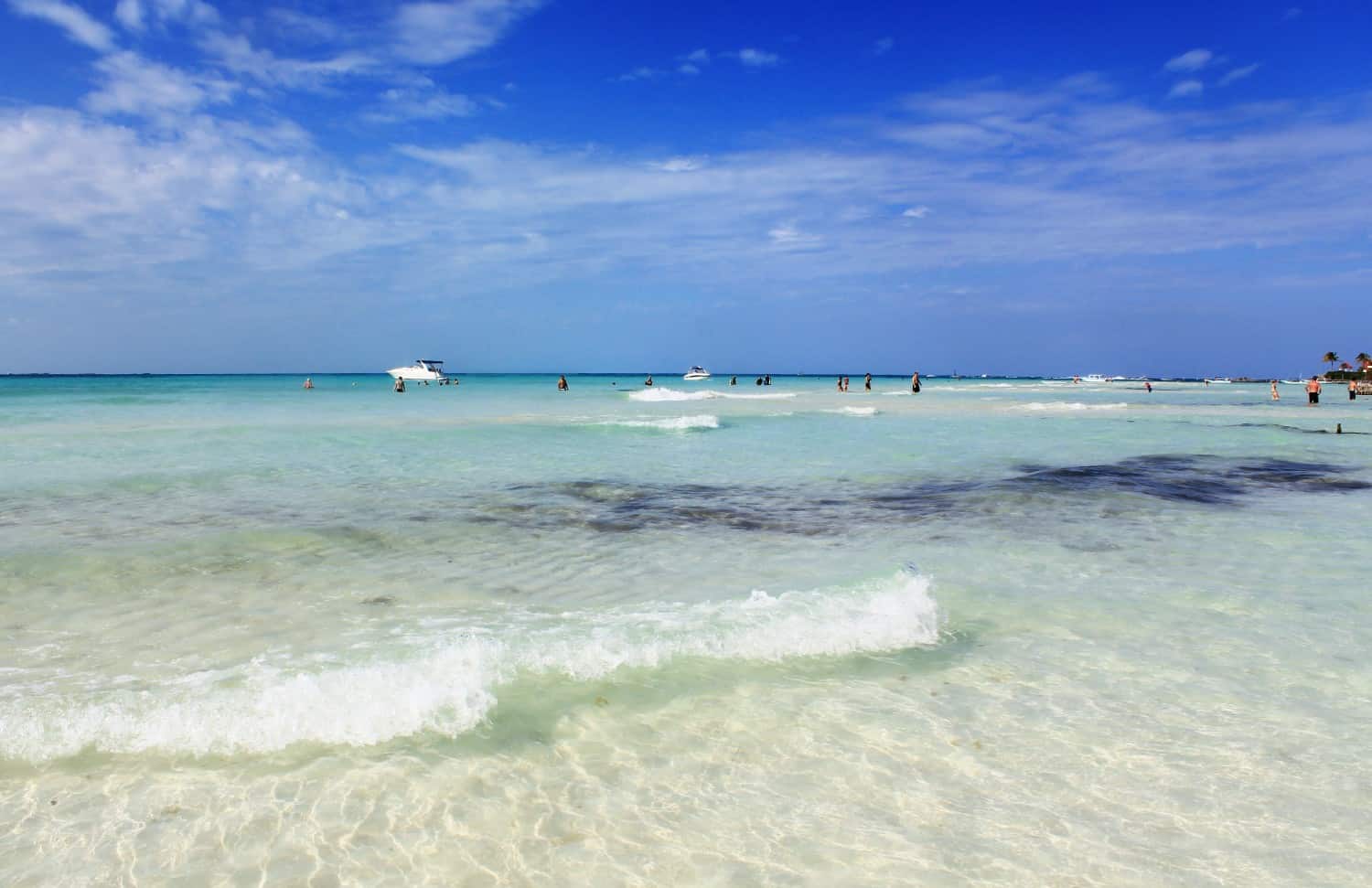 Swoon!
So what's there to do in Isla Mujeres?
Eat Street Food
You guys know I'm not exactly the most experienced of eaters, but while I was in Mexico, I was approached by a Latin American food magazine about writing a series of articles about Mexican street food. I was terrified, but treated it as the perfect excuse for widening my food-based horizons and sampling dishes I'd usually shy away from.
This also meant that the majority of my time in Isla Mujeres was spent trying to work out how to describe food.
The meat was… brown! It tasted… meaty! And cooked. It tasted like it was cooked. And meaty. I… liked it?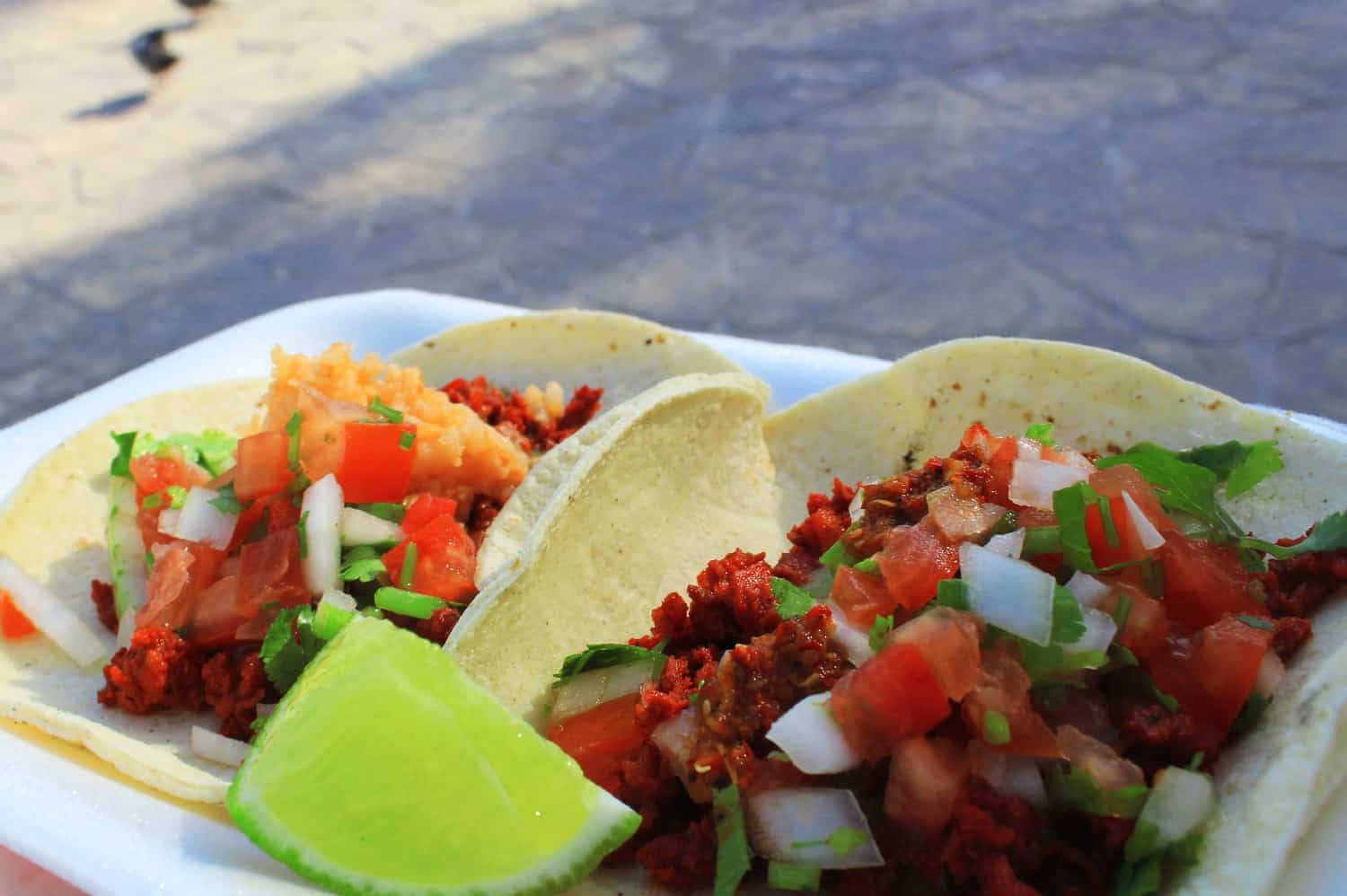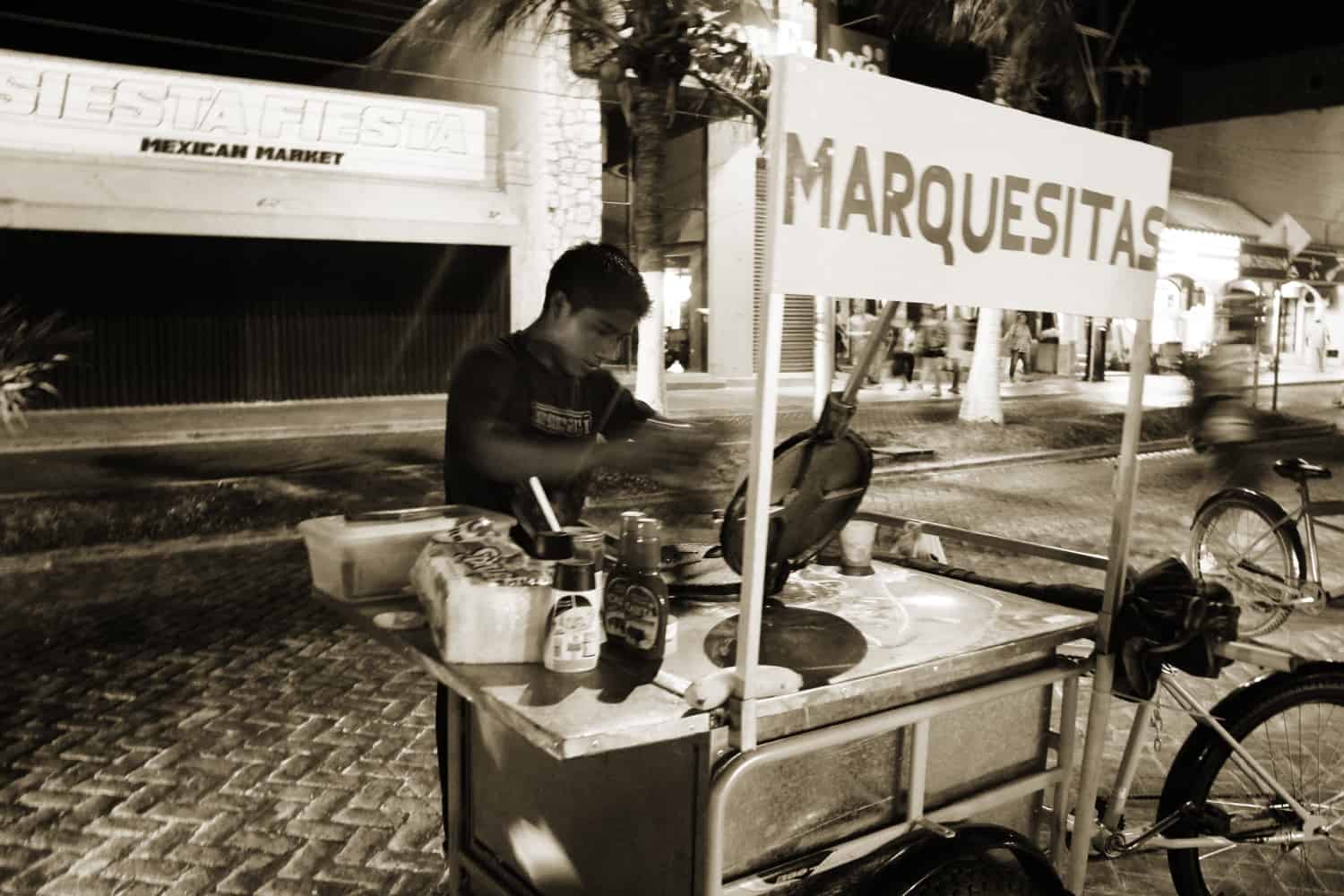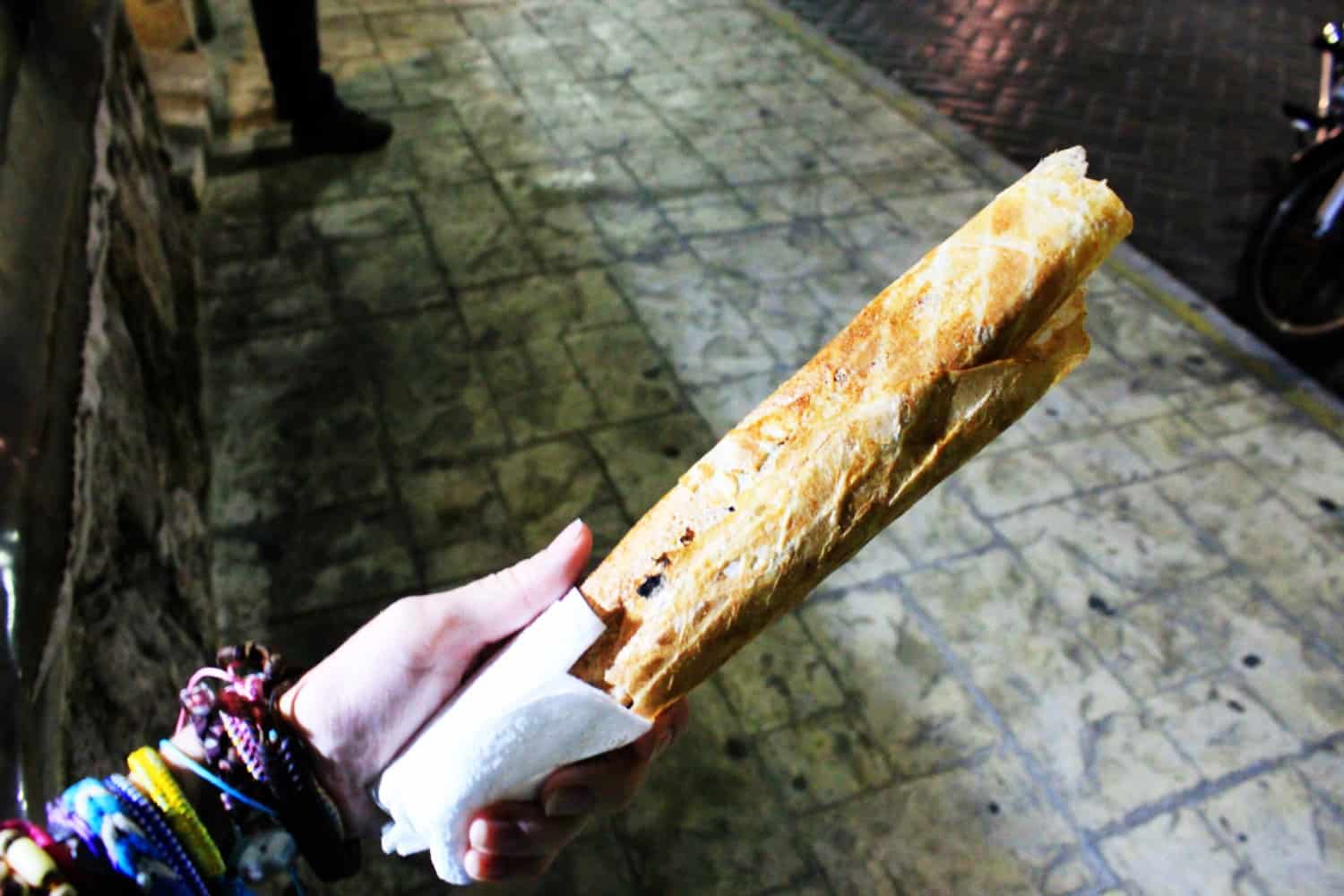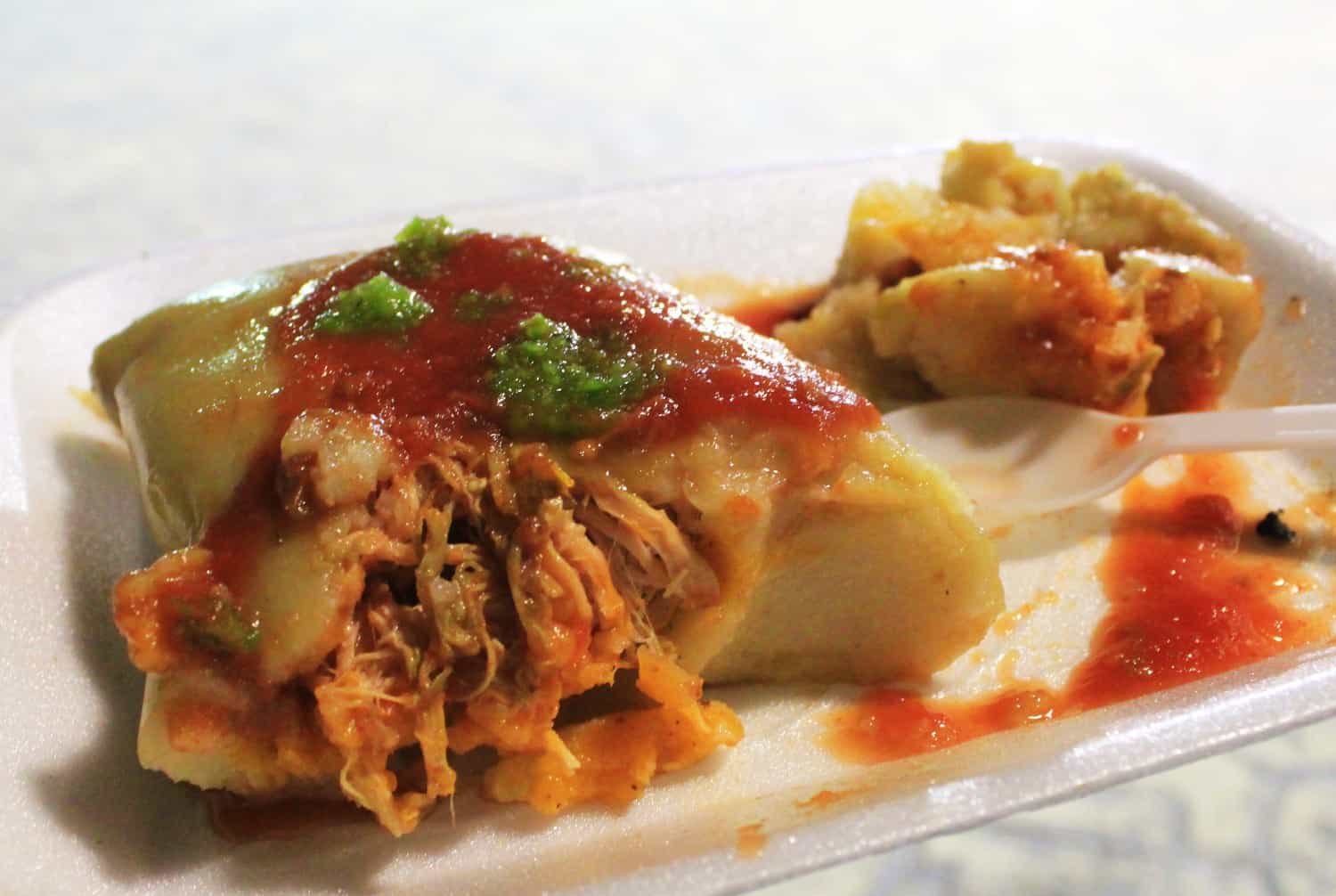 Rent a Scooter and Go Exploring
Isla Mujeres is perfect for exploring on two wheels. We toyed with the idea of renting a golf cart, but at $55 a day compared to $25 for the scooter, we opted for the latter.
I grabbed a GoPro and a selfie stick and we set off to explore!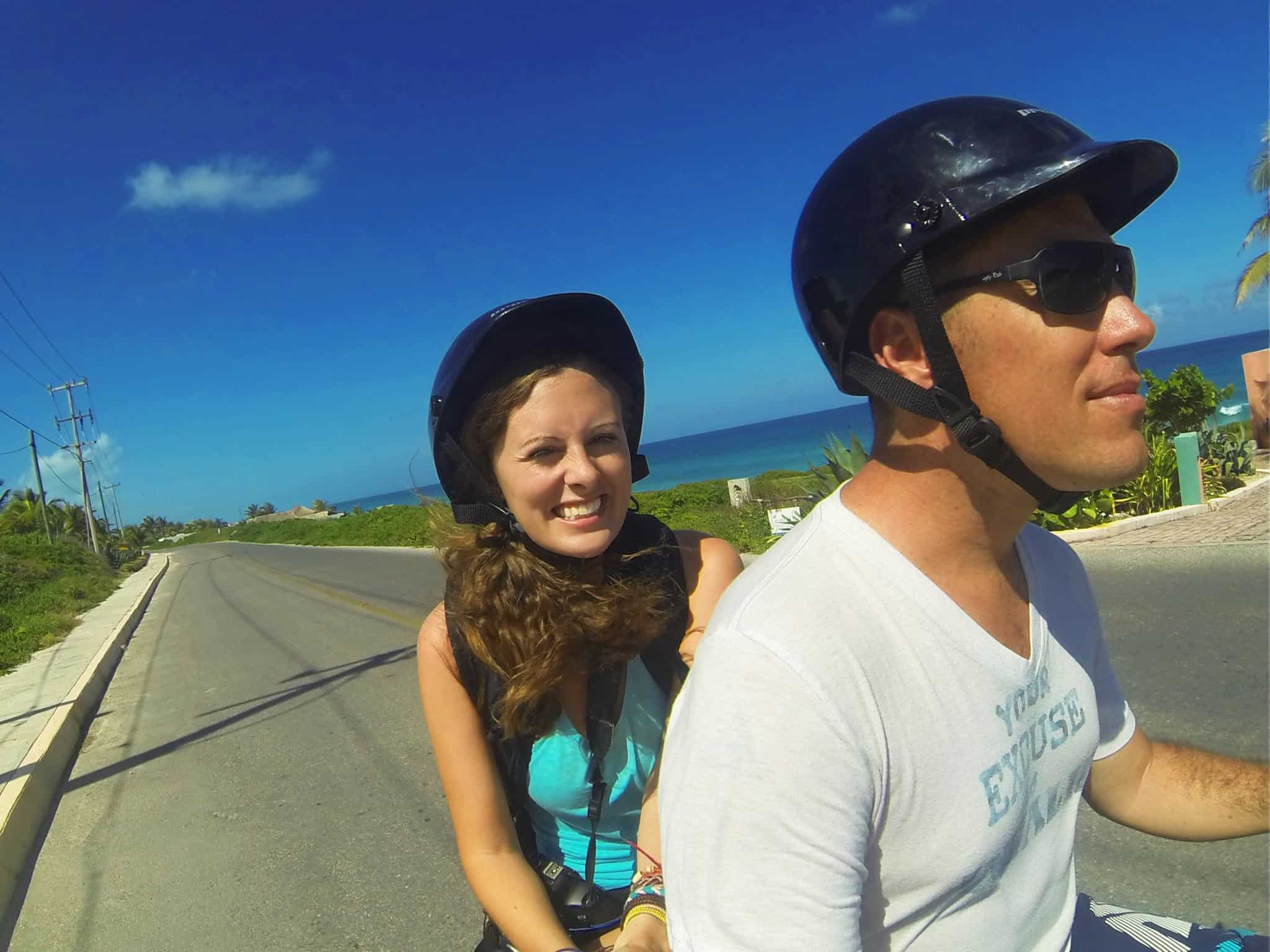 Snap Photos of Garrafon Natural Reef Park
Our first stop was Garrafon Natural Reef Park, located near the southern tip of the island. There, you can go ziplinging and snorkelling, and there's a swimming pool and hammocks to hang out in. We toyed with the idea of going in, but decided to spend our time scootering instead. Plus, they offer dolphin swimming activities, which we're both firmly against, and we didn't want to support it.
Instead, we stopped for a while to marvel at the ridiculous colour of the water as people ziplined their way over it.
(If you follow me on Facebook, you'll recognise this spot as the source of my cover photo!)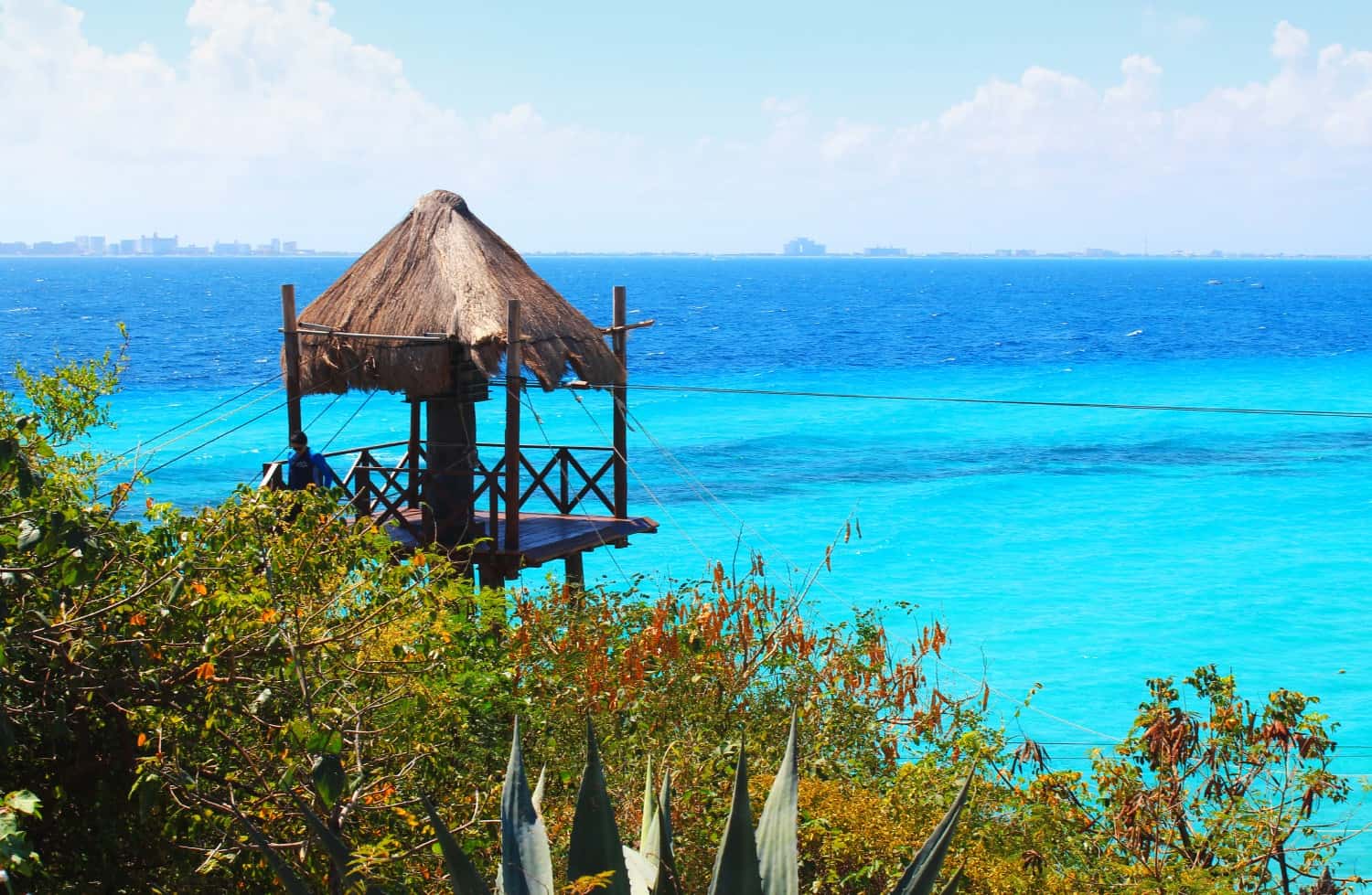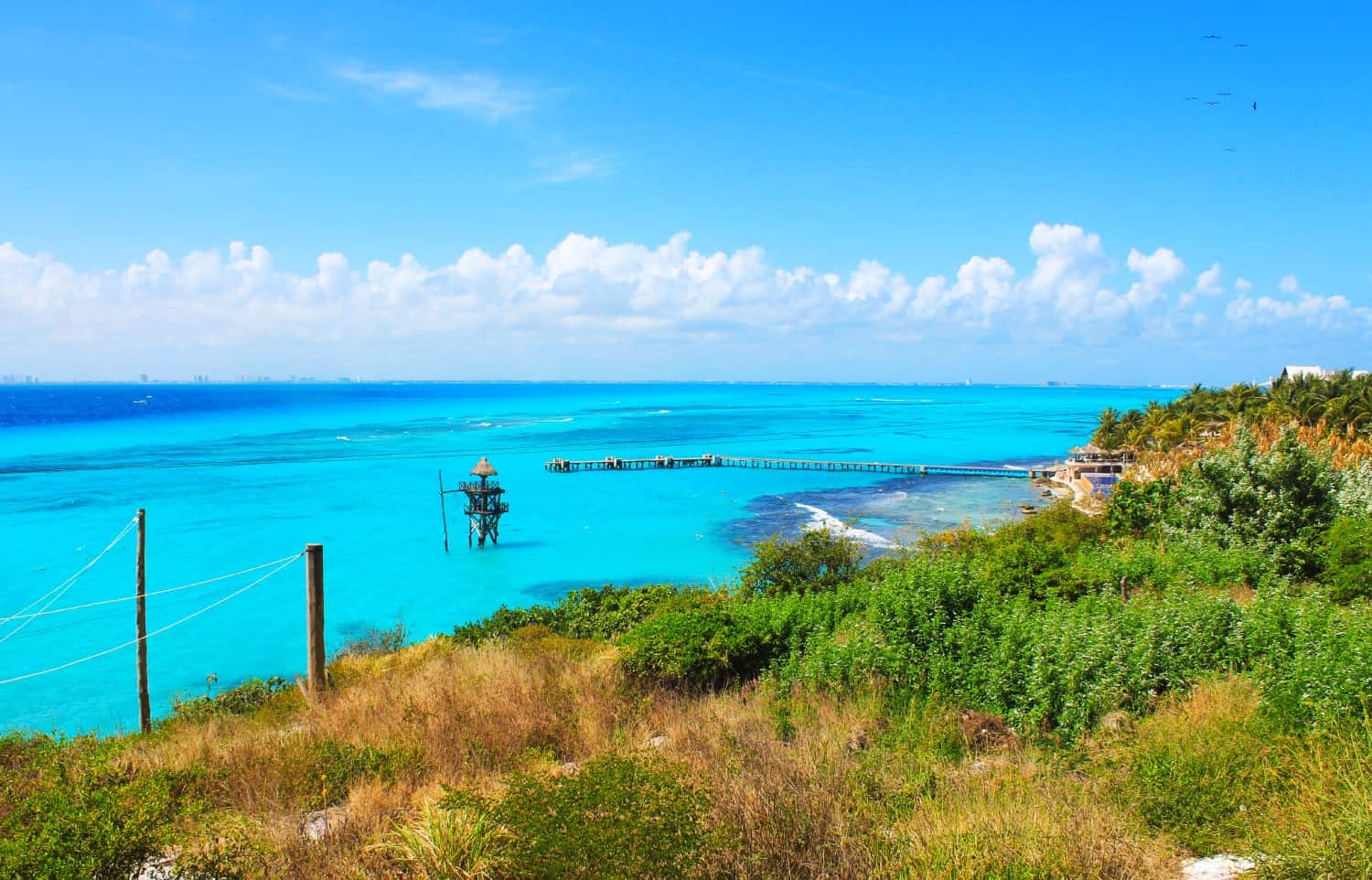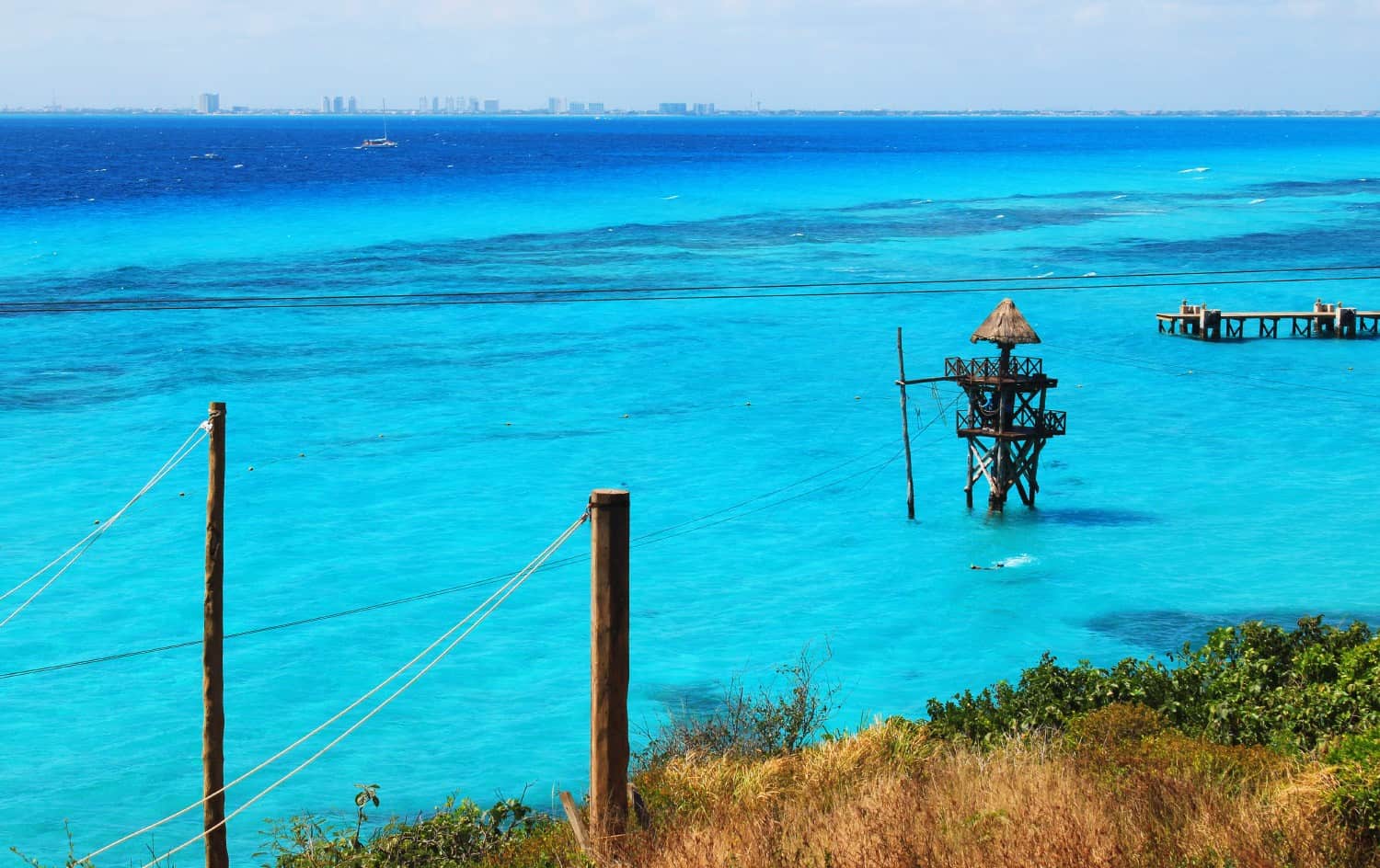 Check out
Joysxee Yland
Joysxee Yland is a floating eco-island comprised from 150,000 plastic bottles. For around $4, the owner will you give you a tour of his home. He wasn't around when we rocked up, so we settled for taking some photos instead. While I'd hate to spend my life floating and vomiting, I think this is such a great way to promote recycling and conservation!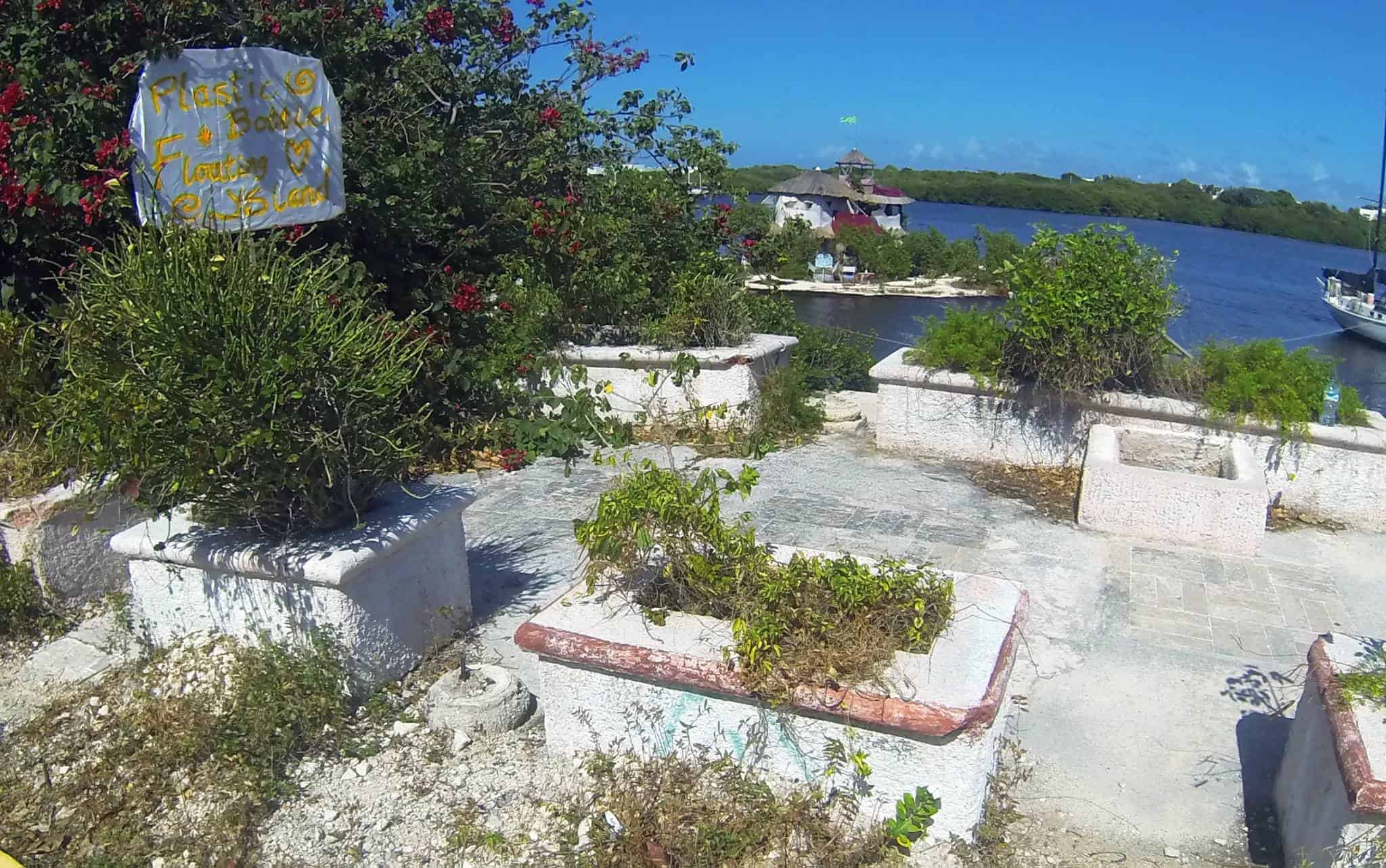 Ride to the Southernmost Point of the Island
Because it's there where you'll find the iguanas.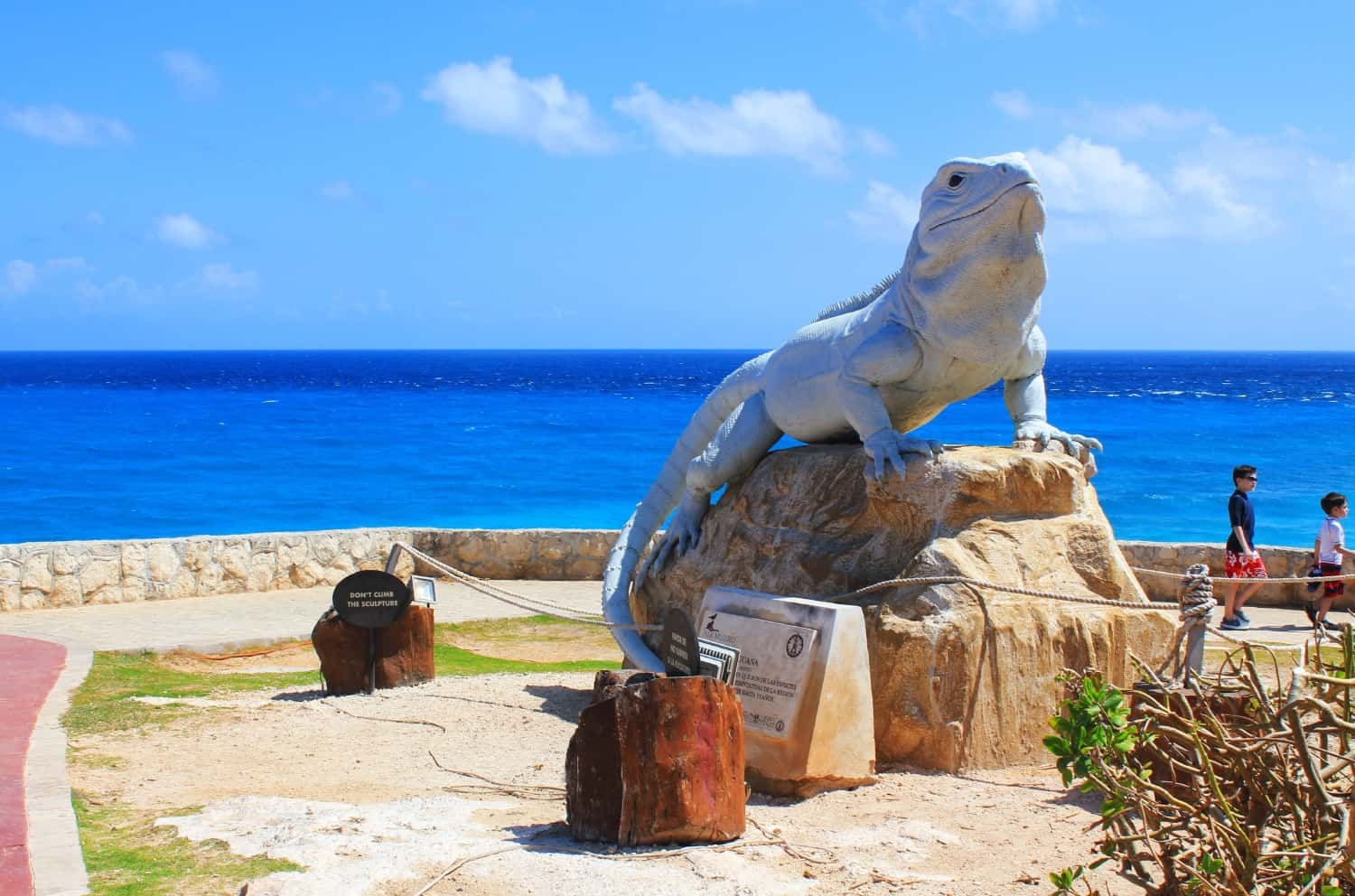 Both fake and real.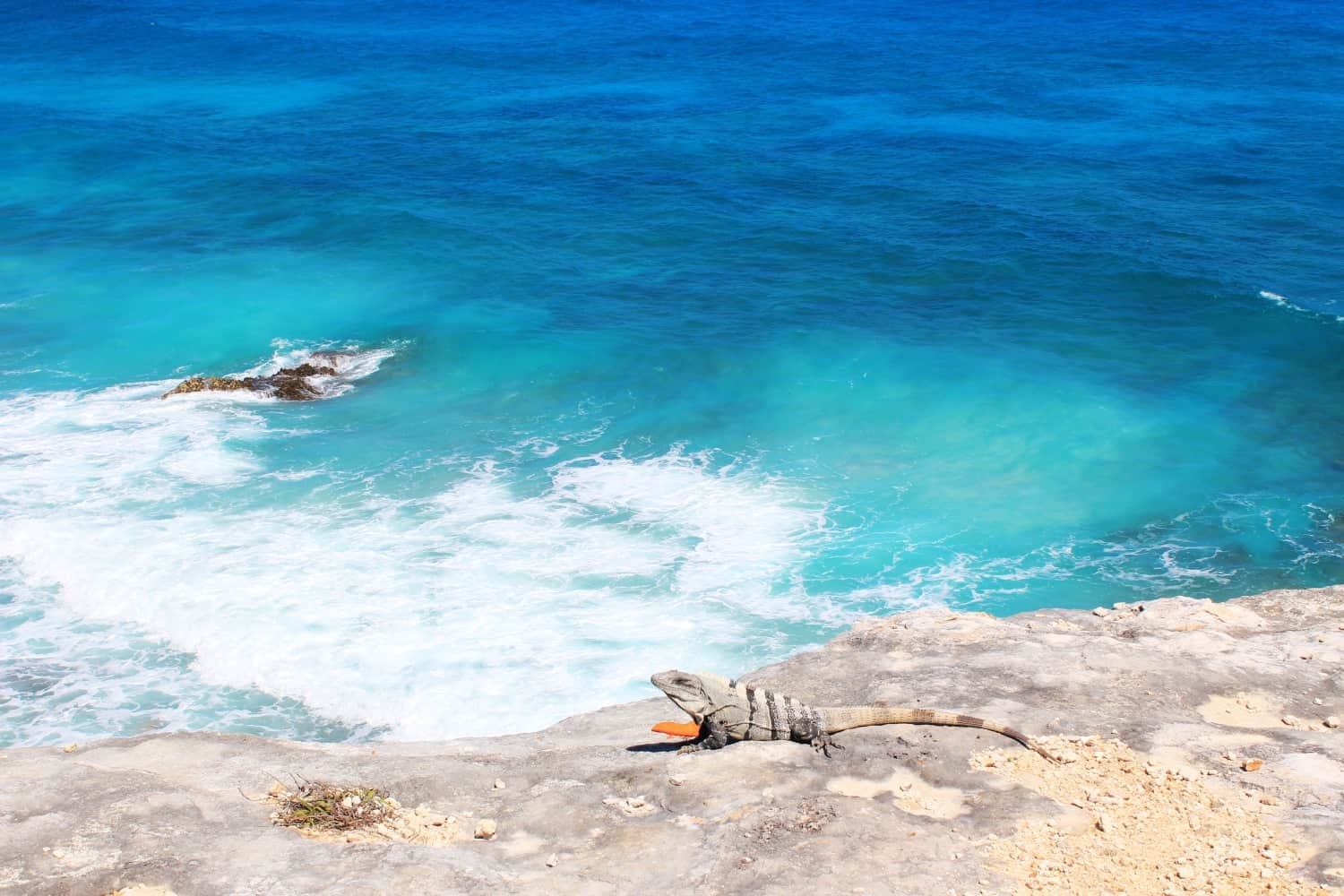 Explore the East Coast Beaches
The east coast of the island is all about sheer cliff faces and rocky beaches. Unlike in the north, we didn't see a single person on any of these ones. Scooter along the main coastal path and stop off whenever you spot somewhere beautiful (likely every few minutes!)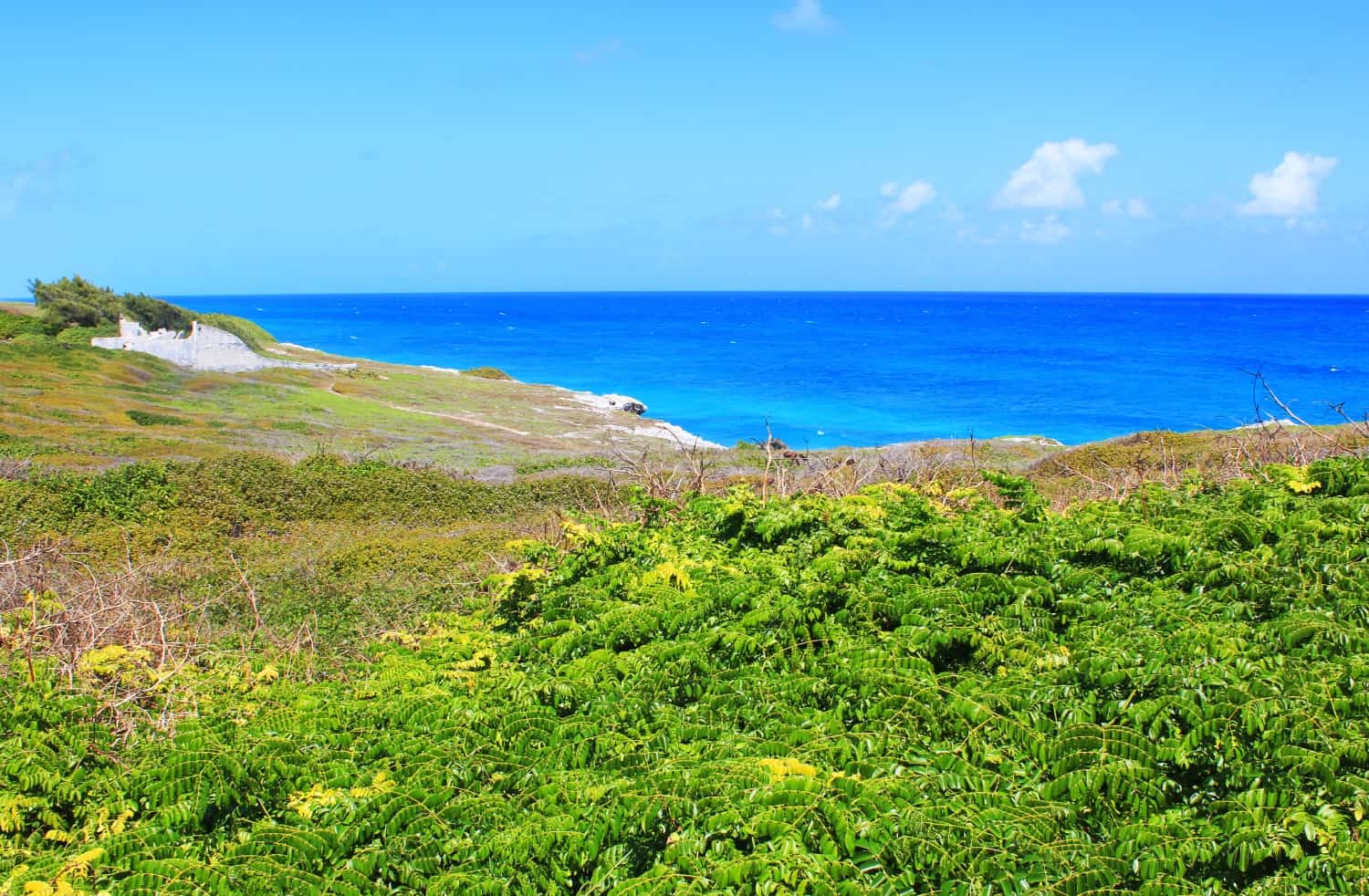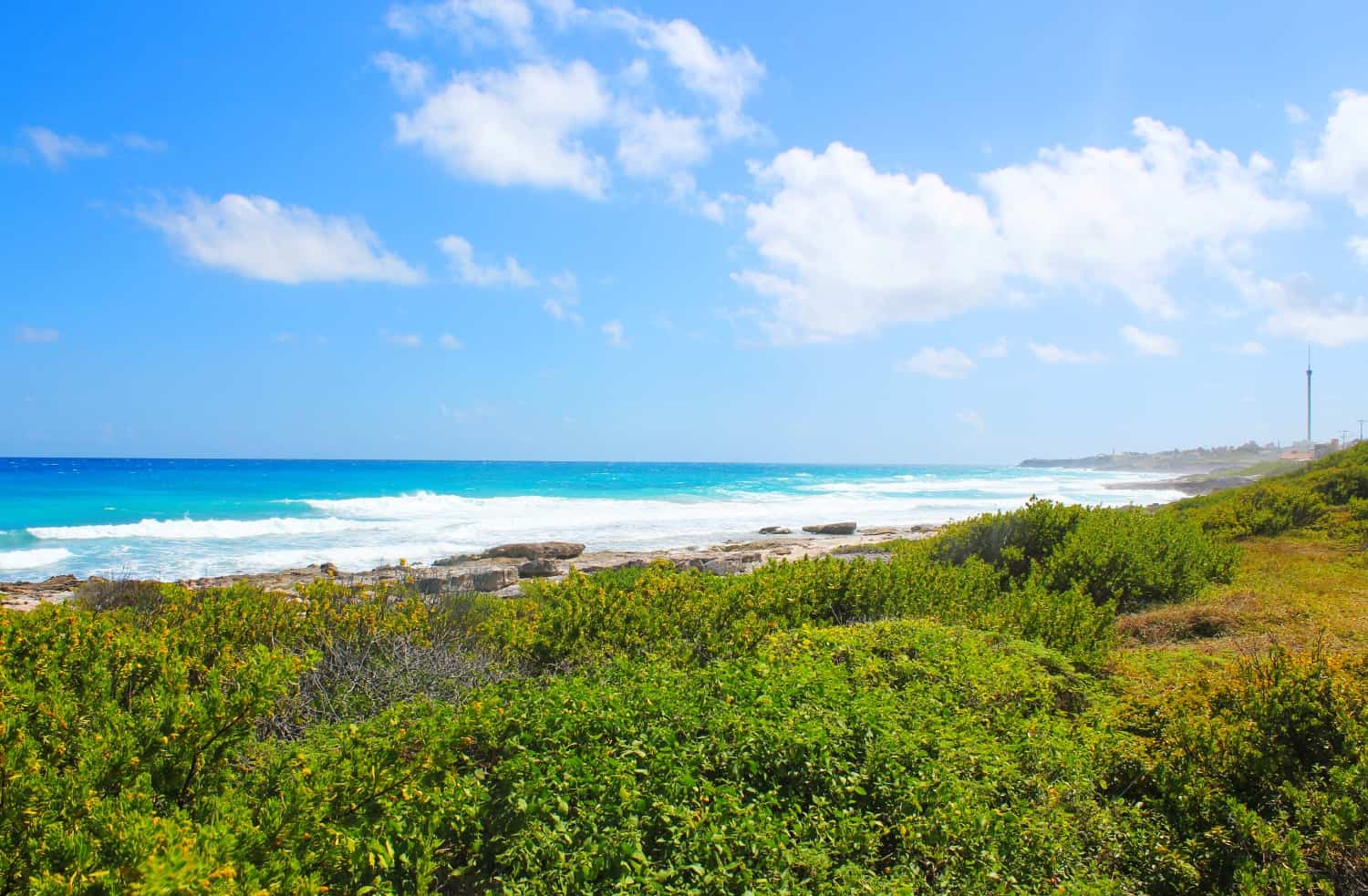 Grab Lunch in the Colonias
As you're heading back up to the north, take a left turn when you hit the middle of the island and you'll find yourself in the colonias, where the majority of the locals live.
We stopped off at Mango Cafe for delicious fresh fish tacos for lunch before hitting the road once more, and I highly recommend it. This part of the island was full of vibrant colourful buildings and had a very different feel to the north.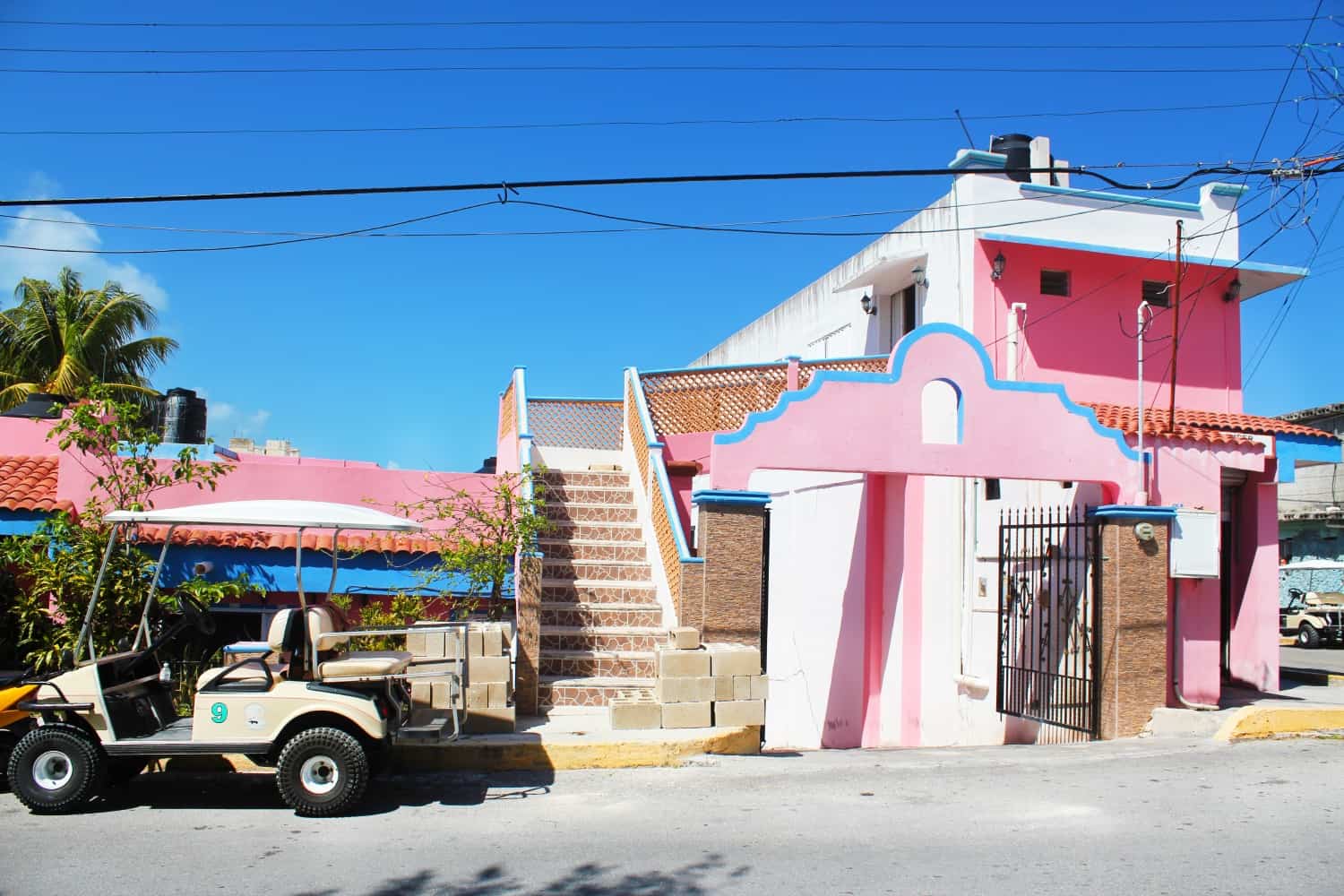 People Watch in the Town Square at Night
After watching the sunset on Playa Sol, head to the town square for some street food and people watching. The food options here range from corn on the cob to tacos to tamales to huge slices of flan for less than a couple of dollars each.
Dave and I would often grab a few tacos and settle down on a bench to watch the locals chat outside the church, while their kids would dance on the wooden makeshift stage.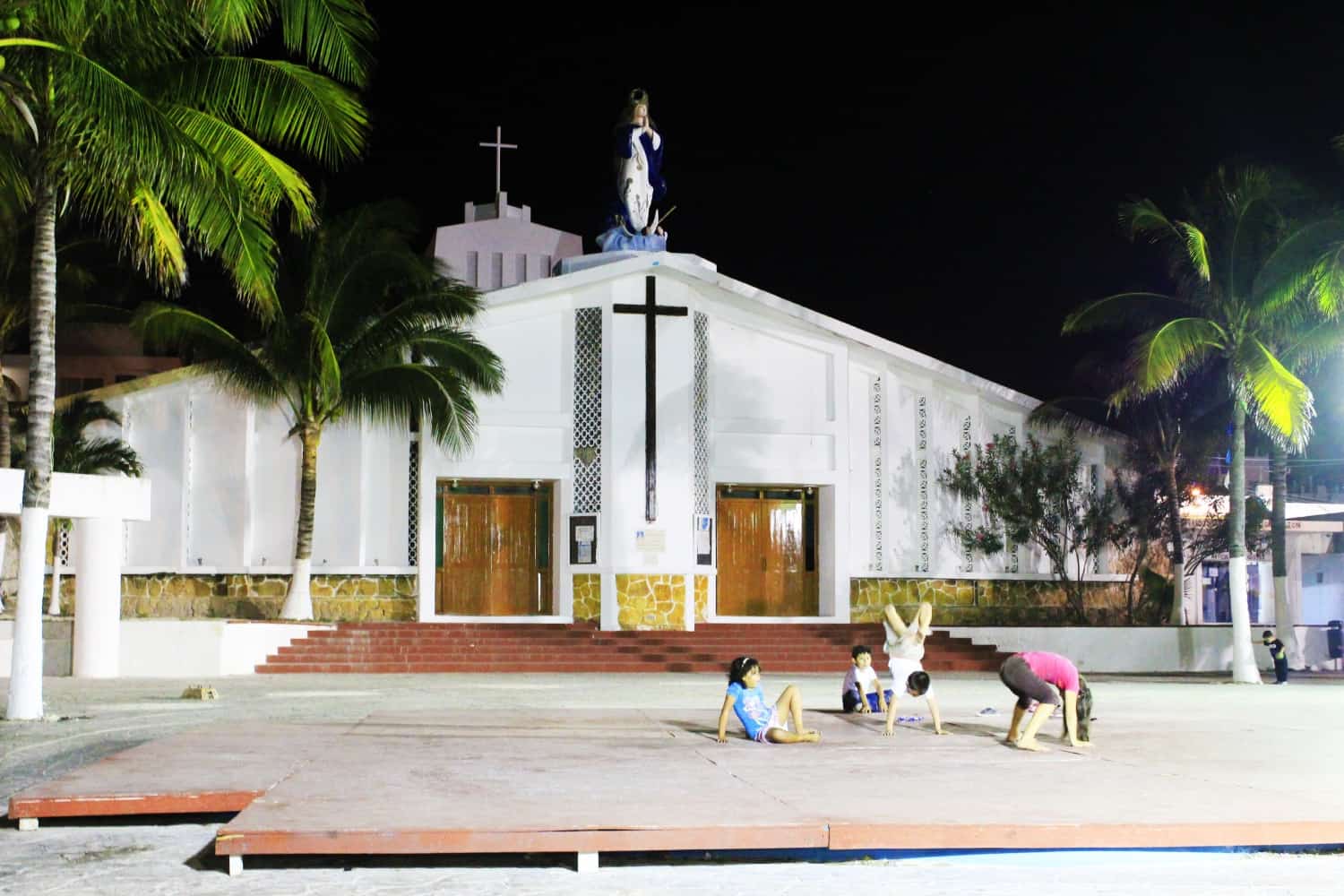 The Things I Should Have Done
Our trip to Isla Mujeres was all about relaxing and soaking up those final moments in Mexico before we moved on to Belize.
There were things I really wanted to do, but could never seem to get my ass into gear enough to actually arrange anything. It's that kind of place.
Whale watching is something I'd be sure to check out next time I'm there. During May to November, the southern coastline can sometimes see as many as 400 whale sharks visiting at once!
There's a turtle farm you can visit, too, where hatchlings are kept and protected until they're released into the sea, drastically improving their chances of survival.
And how can I forget the underwater museum of sculptures?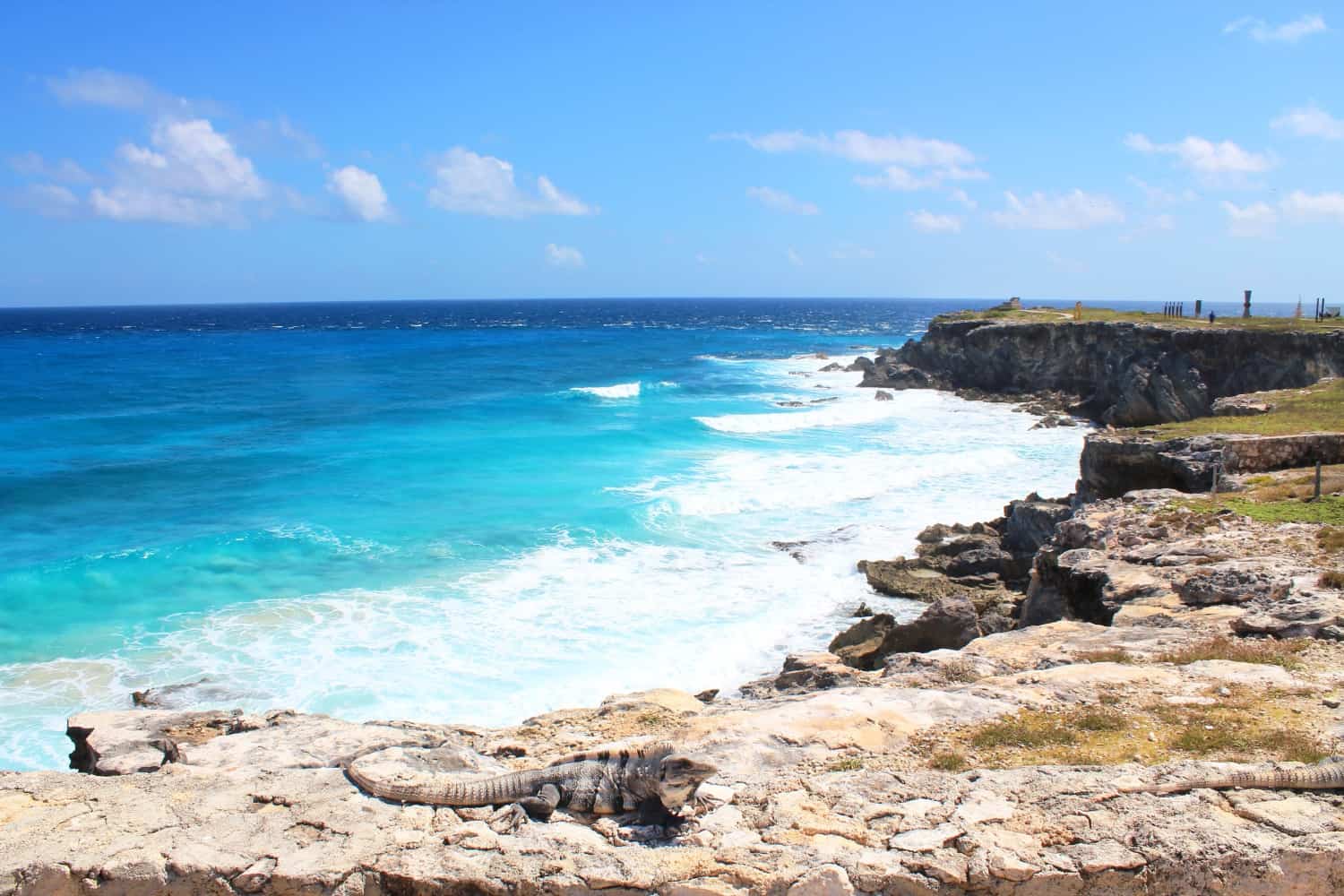 Overall
Isla Mujeres isn't an undiscovered paradise that's free of tourists — after all, it's only twenty minutes from Cancun! But it is a relaxing getaway if you're looking to explore somewhere where life moves at a slower pace. The buildings are colourful, the food is good (although double the prices of most places on the mainland), the beaches are beautiful, and the water breathtakingly blue.
Plus, there's a giant iguana statue.
Have you been to Isla Mujeres? Where's your favourite island getaway?
Related Articles on Mexico

💰 The Cost of Travel in Mexico: A 2023 Budget Breakdown
🏖 28 Incredible Things to Do in Puerto Vallarta, Mexico
🏝 24 Incredible Things to Do in Playa del Carmen, Mexico
🌈 Guanajuato: The Prettiest City in Mexico
🐚 Tulum and the Best Beach Ever
🧐 A Love-Hate Relationship with Playa del Carmen
🙈 That Time I Stayed in a Hotel Without Walls
🏡 Finding An Apartment in Sayulita