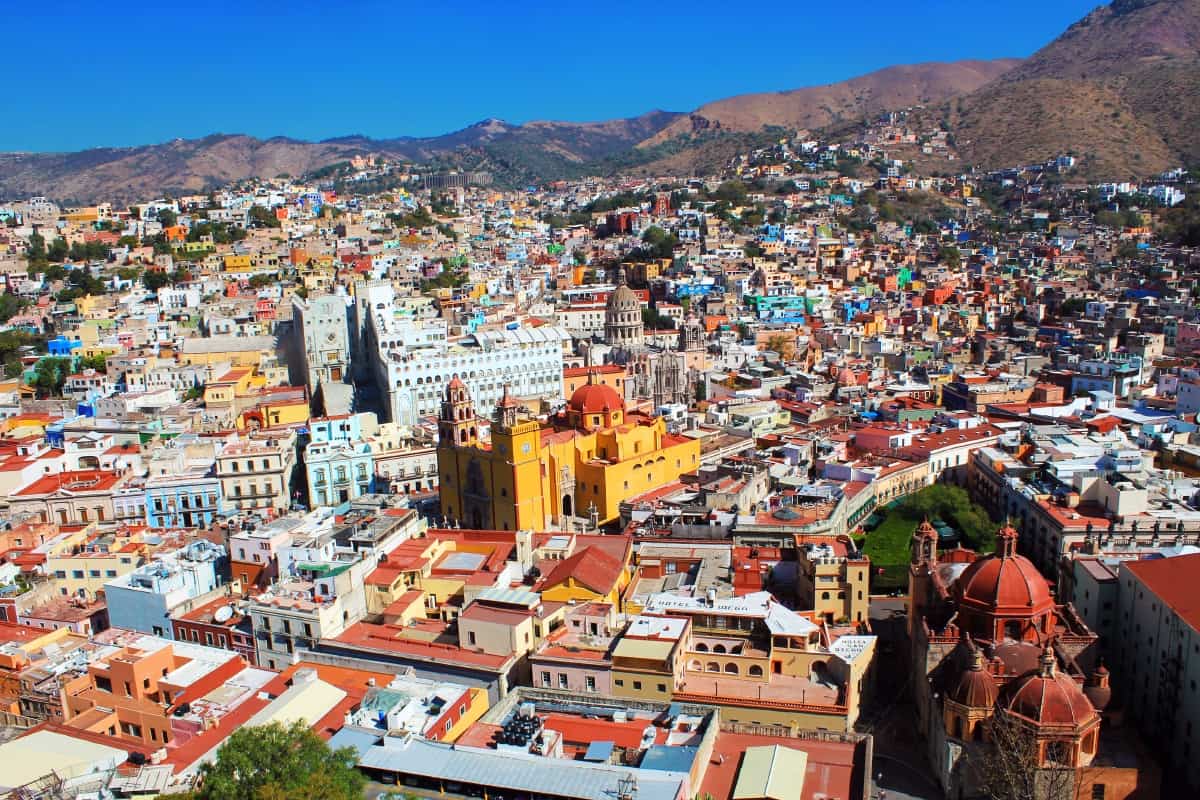 After spending three months in the little surfing beach town of Sayulita, I was ready for a change. I was ready for more food options; to be able to step outside without breaking into a sweat; to no longer have to reside within a cloud of DEET because dengue rates were terrifyingly high. I always write about how I'm not much of a city girl, but after a few months spent living on a beach in Mexico, I was craving somewhere bigger. Somewhere… colder.
And bloody hell, was Guanajuato cold.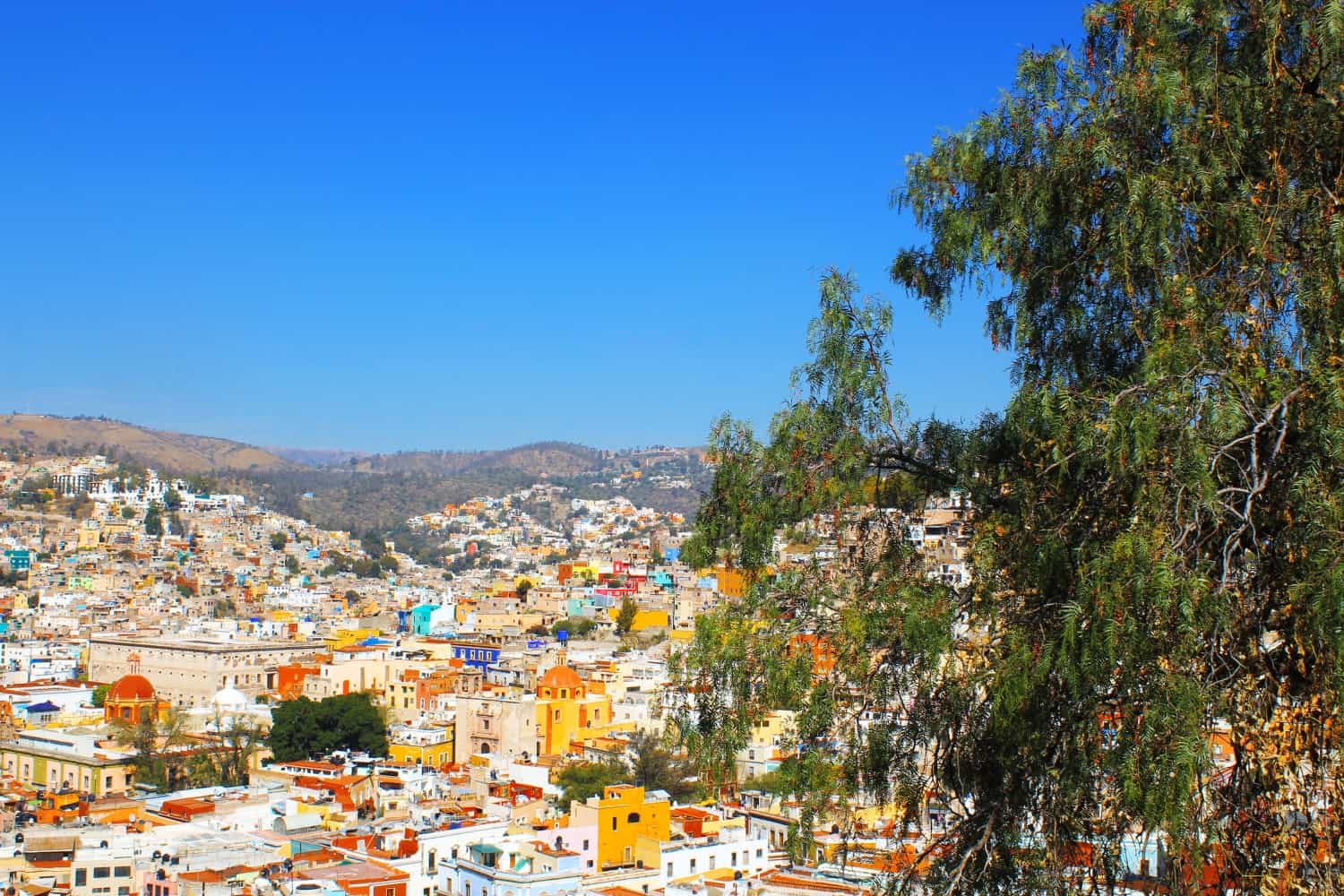 It may look sunny in the photos, but it was freezing.
Dave and I arrived in our new home on an overnight bus, eyes twinkling with wonder as we gazed up at the colourful buildings. Our journey had been one of luxury and, after spending the night snoozing on comfortable leather seats that fully reclined, I was eager to explore.
Except there was this strange stabbing pain in my head and a few hours after checking in to our Airbnb apartment, I was throwing up in the bathroom. Dengue was obviously my first thought, given that three people I knew in Sayulita had contracted it during the time I'd been there. Or could it be food poisoning? I spent my first day in Guanajuato alternating between lying in bed and running to the bathroom.
"How high up are we?" I asked Dave, hit by an epiphany.
"High, I think," he replied, rubbing his temples. He was looking as bad as I felt.
A quick google told me we were 2,000 metres above sea level, roughly a mile and a quarter up. Was this altitude sickness? Could it really be this bad?
It was then that I started worry about what lay ahead for my time in South America. Some of the places I was planning on visiting were well over 3,000 metres high. Some of my friends were currently in those places and were laughing at me reacting so strongly.
Needless to say, I arrived in Guanajuato feeling a little bit pathetic.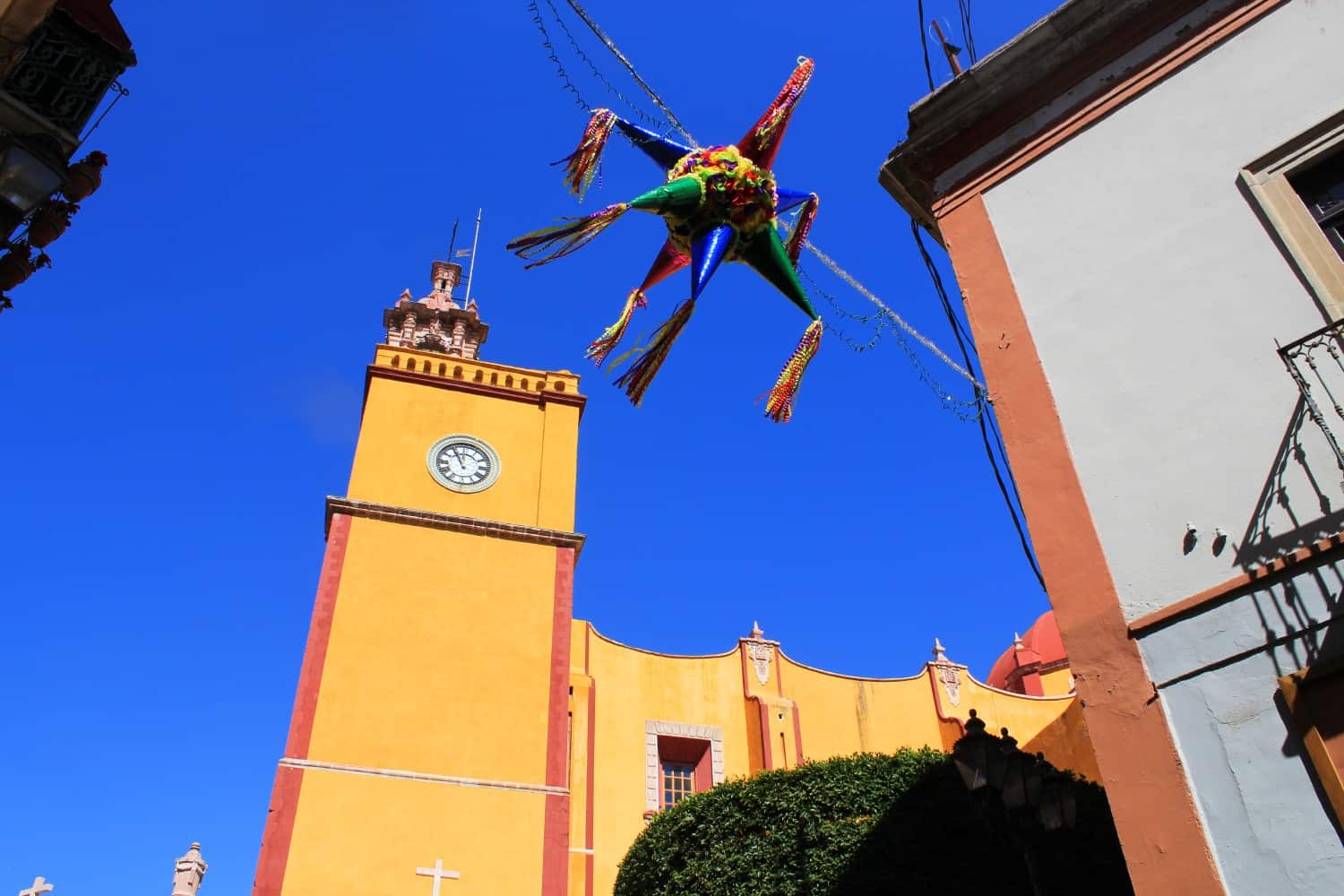 Fast forward a few days filled with non-stop gulping of water and my headache had faded and I was stepping outside with a grin plastered across my face.
This city was crazy-beautiful and, even better, IT WAS ALMOST CHRISTMAS!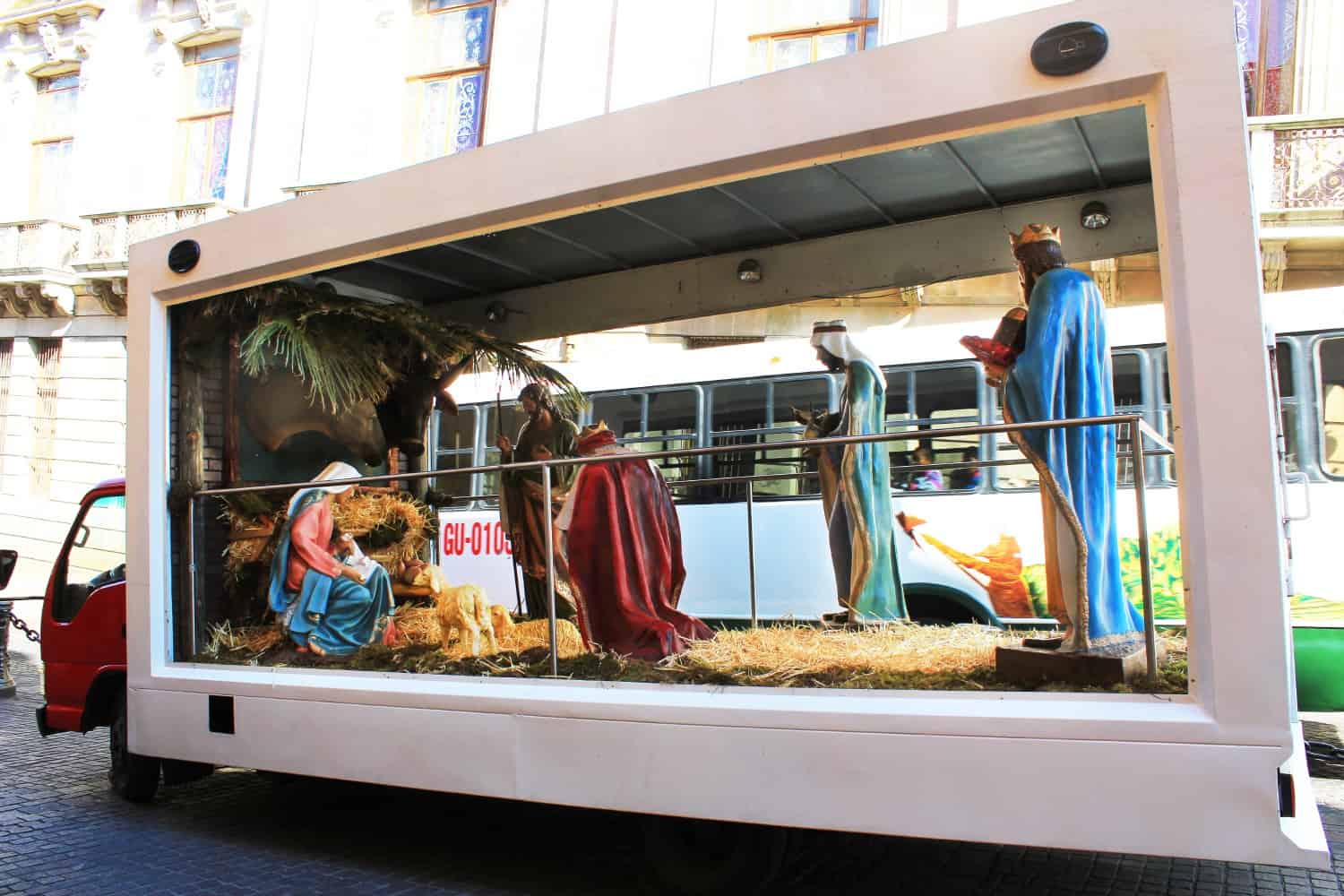 There was a nativity lorry and everything.
One of the first things I love to do when I arrive in a new city (after a nap) is find higher ground, so I made my first port of call El Pipila, the red-stone monument that towers over the city, celebrating the local hero of Guanajuato. El Pipila helped Mexico gain independence!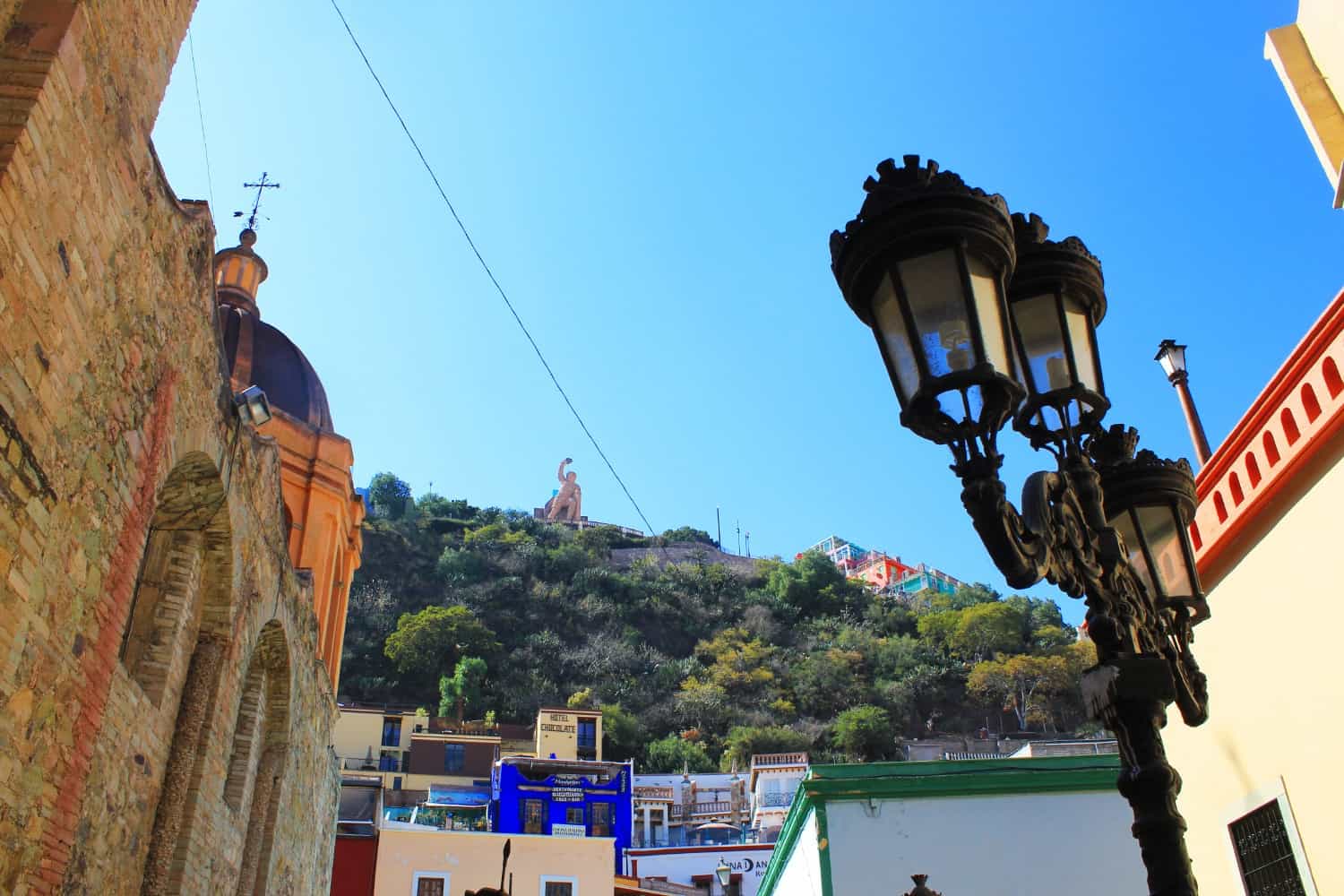 The walking was surprisingly tough going, thanks to the altitude and my lack of fitness. But when I finally reached the top, breathless and sweaty?
It was all worth it.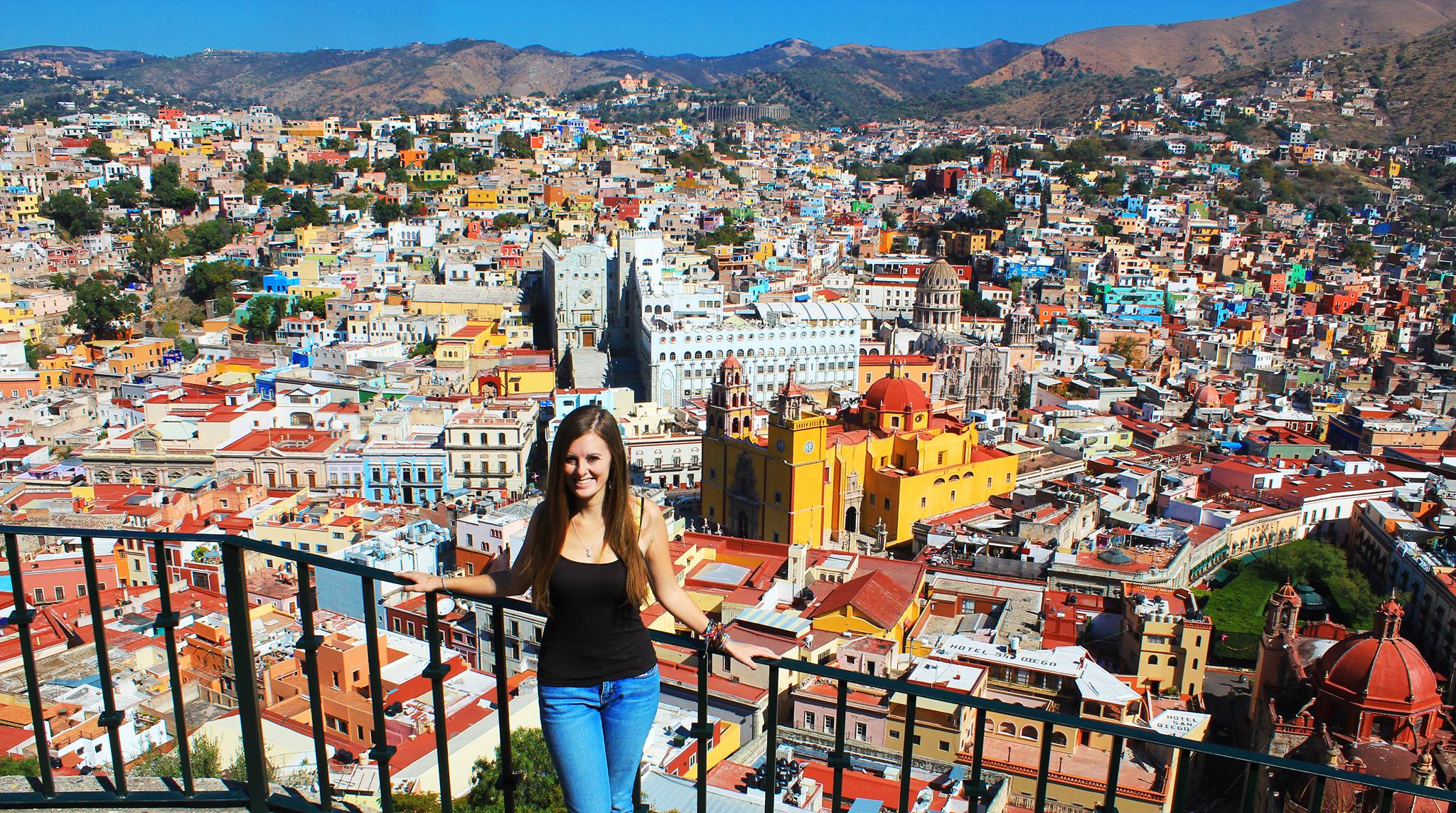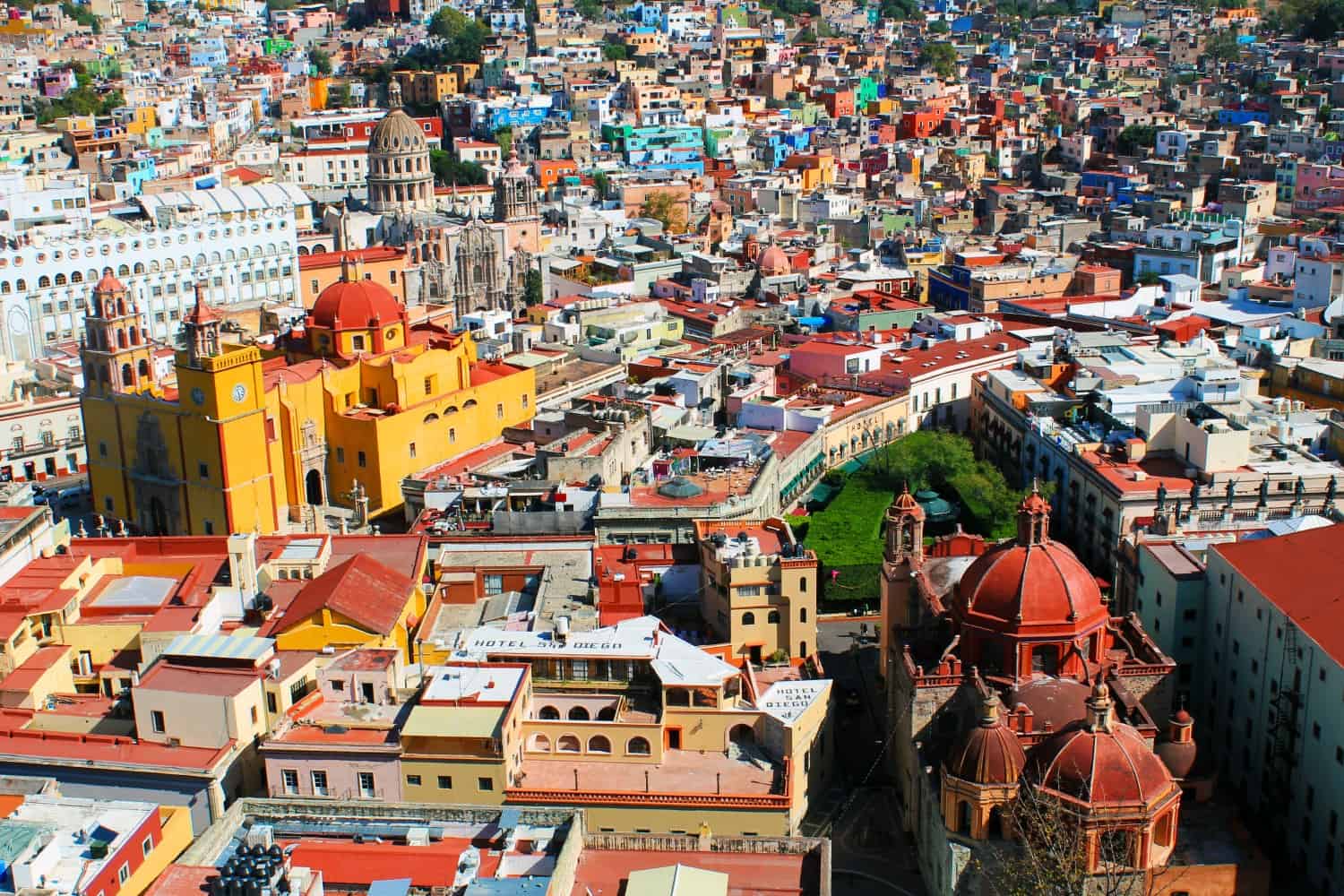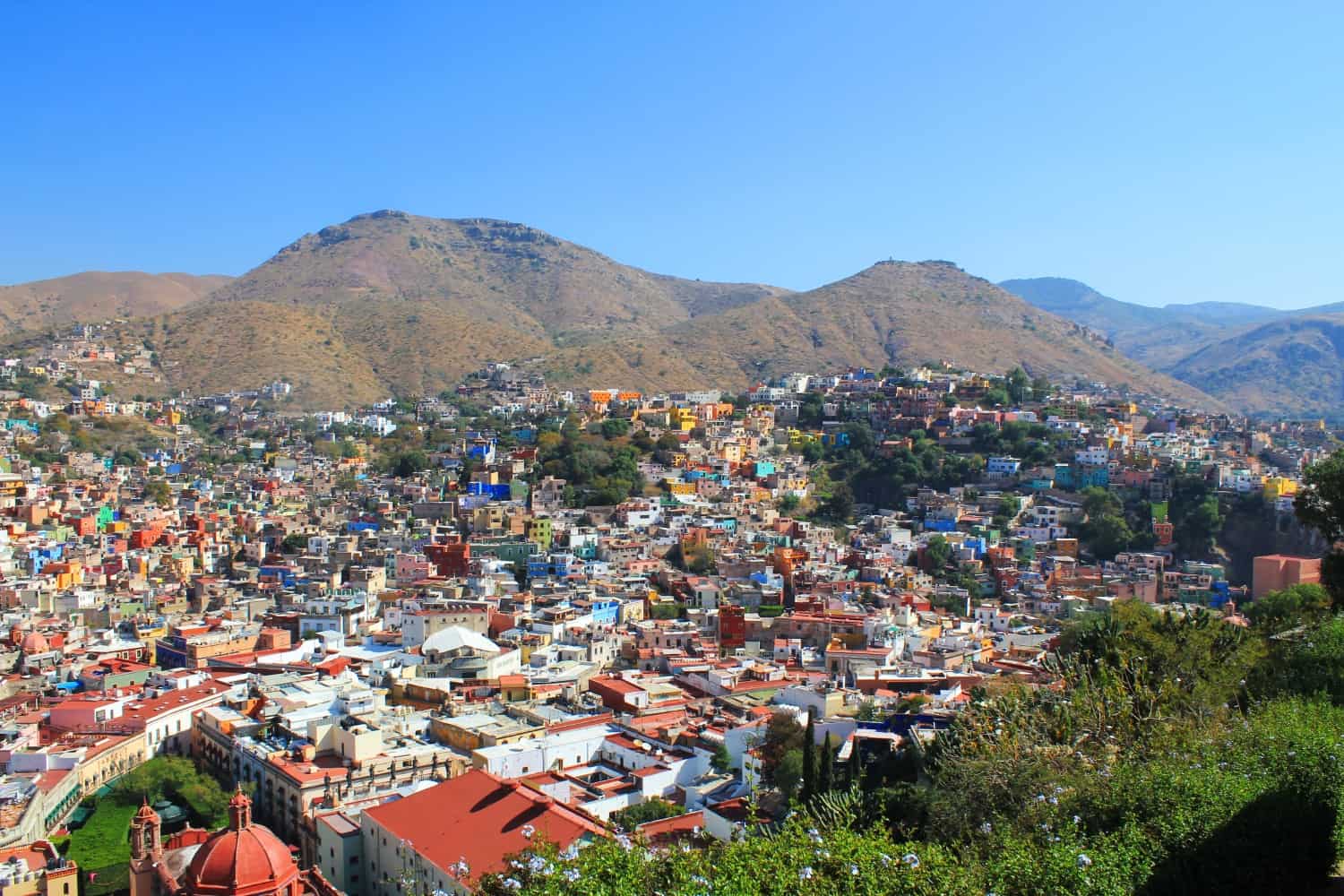 Damn.
Guanajuato was seriously gorgeous, and I immediately decided I wanted to make it my home base, altitude sickness or not. I visited Chefchaouen a few years ago and declared it to be the most photogenic city in the world. Suddenly, I wasn't so sure.
The apartment we were staying in has to be one of my favourite Airbnb apartments ever. For just under $40 a night, we had a beautiful apartment with a large kitchen, and a roof terrace overlooking the colourful city. Dave and I spend so much of our time staying in guesthouses that simple things like an oven or a sofa or not having to work in bed fills us with euphoria.
In fact, the only thing I was struggling with in Guanajuato was the food. A lot of the restaurants in town had closed for Christmas and finding somewhere to eat usually involved a half an hour walk down a load of alleyways until we ended up at a tourist restaurant eating a bland cheese sandwich. Breakfast was especially hard because we couldn't find anywhere that opened before 11 a.m.
We did manage to find an amazing taco stand close to our apartment where we had brain tacos, but other than that, it was a bit tricky finding decent food.
Fortunately, we found an enormous Mega supermarket, which meant we could cook and not have to worry about the lack of restaurants. And because Guanajuato is surrounded by mountains, our walk involved passing through tunnels like these.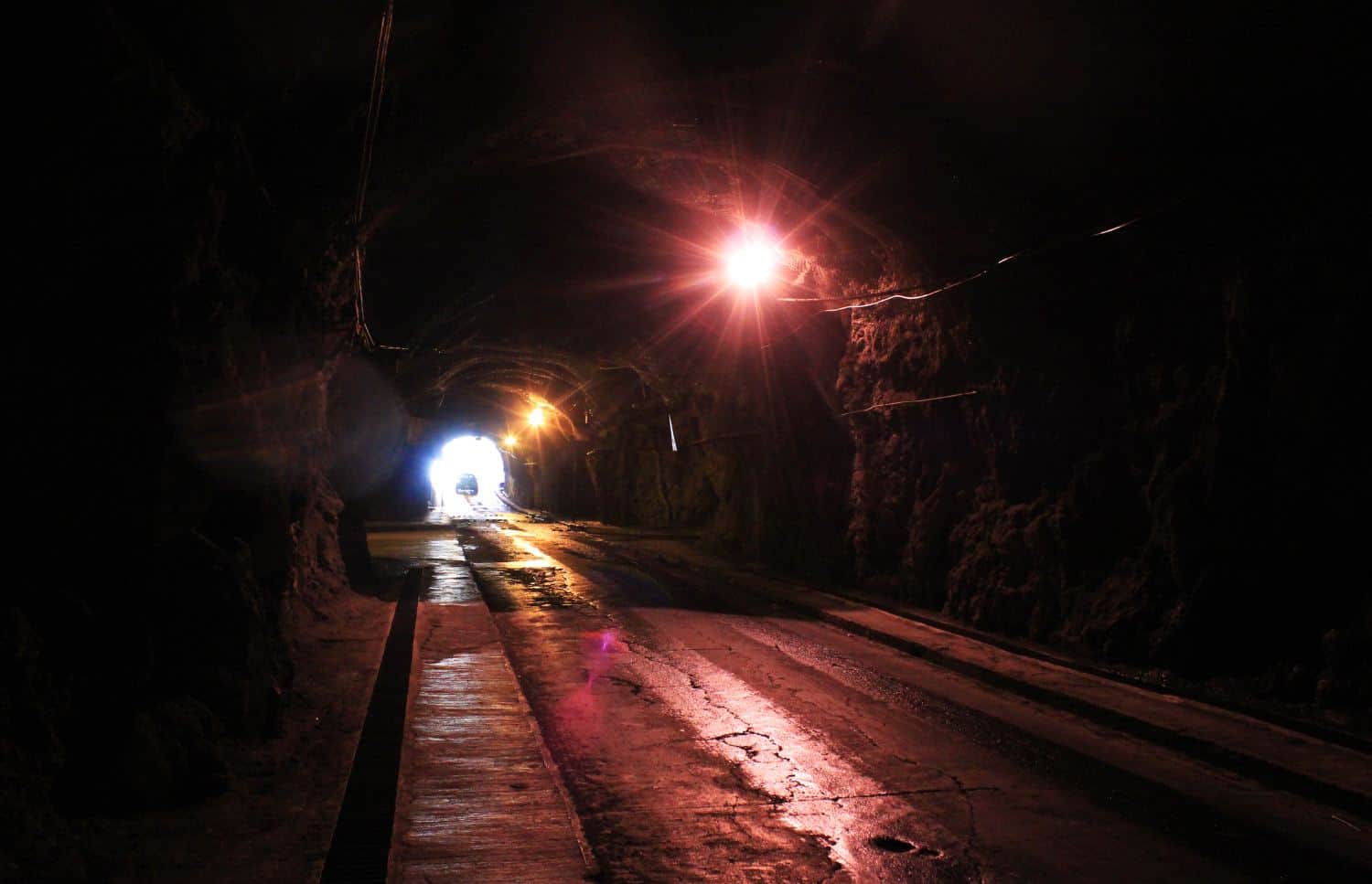 Speaking of tunnels, we wandered through them once more several days later on our way to visit Guanajuato's biggest tourist attraction: El Museo De Las Momias — the Museum of the Mummies. All I knew was that every article I'd read about Guanajuato had told me I had to visit, and, well, that there'd be mummies.
But I left feeling conflicted and uncomfortable. I know Mexicans have a relaxed attitude to death — I loved the joyful way the Day of the Dead was celebrated in Sayulita — but something about this museum felt ethically dubious.
In the early-1800's, there was a huge cholera outbreak in Guanajuato. It killed so many people that the city began to run out of space in their cemeteries. In an attempt to solve this, a local tax was introduced, requiring relatives to pay a yearly fee in order to keep the bodies buried. If the tax wasn't paid, the bodies were dug up and removed from the cemetery. As the bodies were exhumed, the cemetery workers discovered that some of the bodies had been naturally mummified. The bodies were kept in storage until the workers realised they could charge people to check out the mummies. Now it's a museum.
The room filled with mummified children hit me hardest. Tiny babies wearing dresses and lying in glass cases with their mouths stretched open. There was even a woman who died while giving birth and her mummified foetus was about six inches tall. There was a person who had been buried alive, found with her hands held over her face. A guy who'd been stabbed to death, with a large wound in his stomach. We were encouraged to take photos, but it all felt a bit weird.
What do you think? Am I just too sensitive and awkward when it comes to death? Is it ethically sound? After my visit, I wouldn't call it a top tourist attraction or tell anyone to visit. I found the whole thing incredibly uncomfortable.
It feels a bit weird for me to post any photos here, but if you want to check them out, here's a Daily Mail article with some.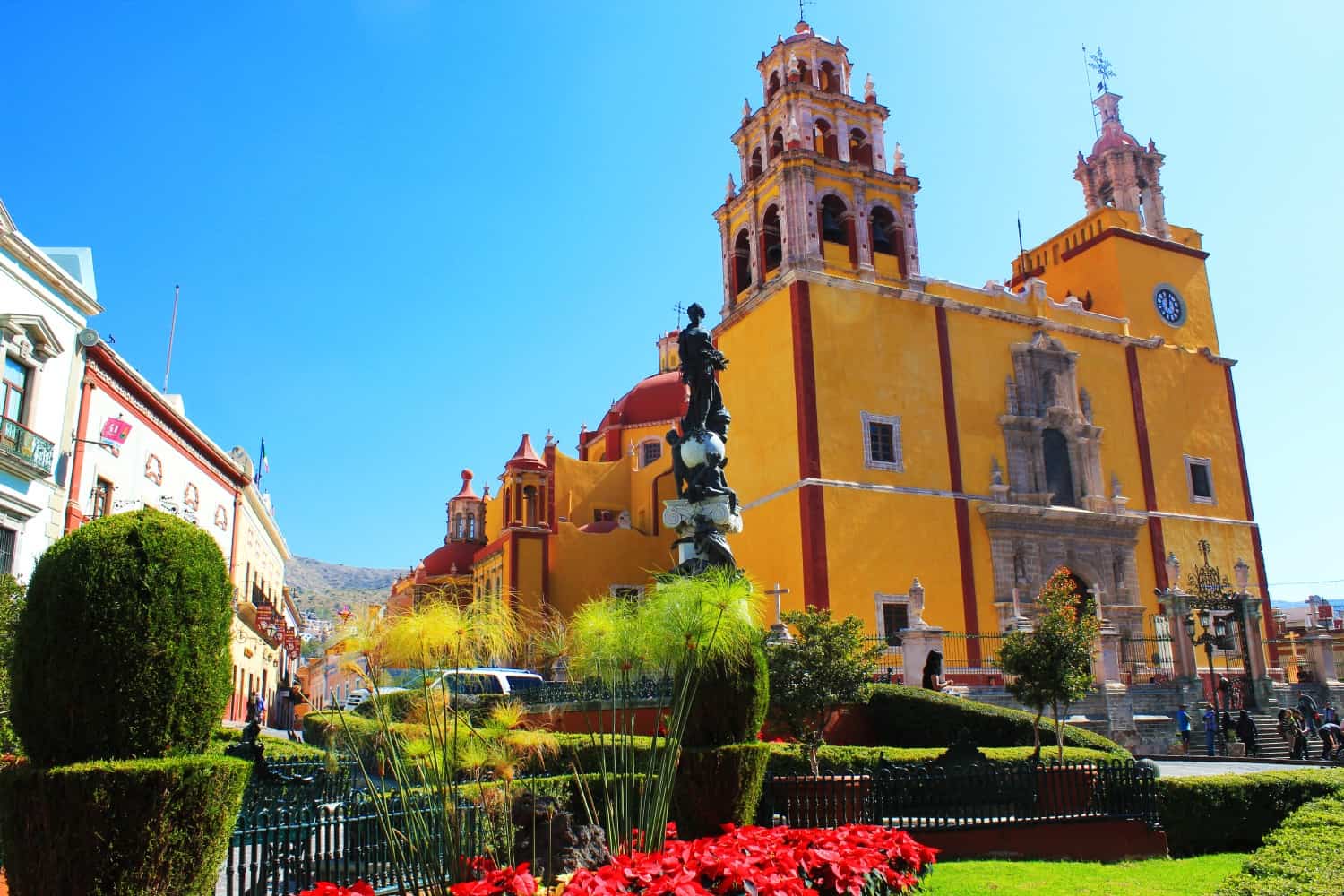 Back to a more cheerful topic: Christmas! Christmas is always a funny time of year to be away from home, and when I'm hanging out in a different country, it always ends up feeling like just another day.
Dave was struggling to deal with homesickness this year. In fact, it was the first time I'd ever seen him homesick. He wanted to be with friends and family; to be hanging out with his nephew. He didn't want to be in Mexico eating a poorly-cooked Christmas dinner. Especially one he was allergic to.
Yep, in true Lauren fashion, I ran to the supermarket to buy a huge joint of meat, only to realise a few days later that it was stuffed with bell peppers.
Dave is allergic to bell peppers.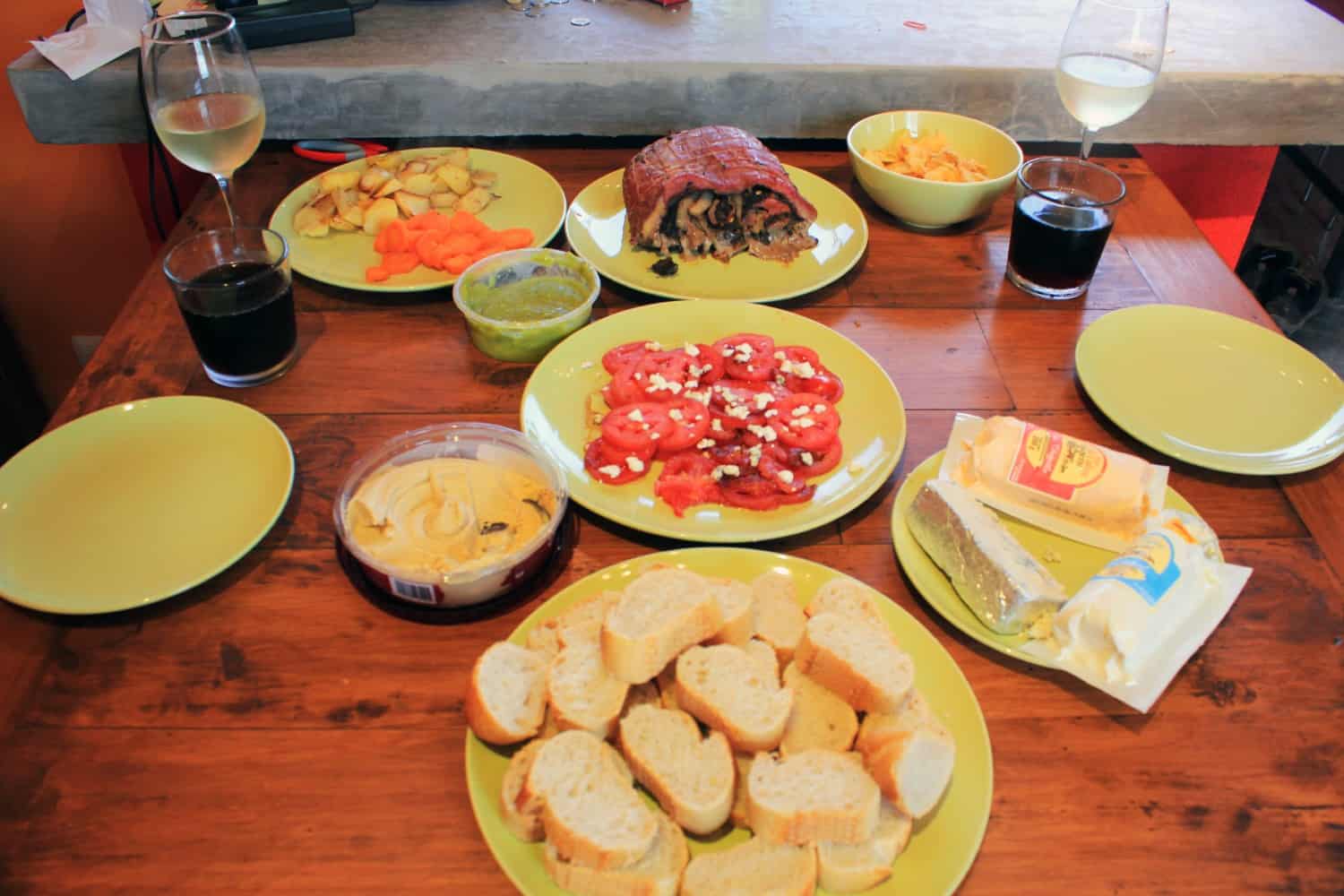 Merry Christmas, baby! Here, have some stomach cramps.
Despite Dave's homesickness and despite my best efforts to poison him, we ended up having a lovely Christmas that was full of cliches.
I rocked out to Christmas tunes all day and we ate far too much food. I forced Dave to watch Home Alone and Pirates of the Caribbean while snuggled up on the sofa, and we finished off the evening watching the sunset from our roof terrace, glass of wine in hand.
I was loving Guanajuato.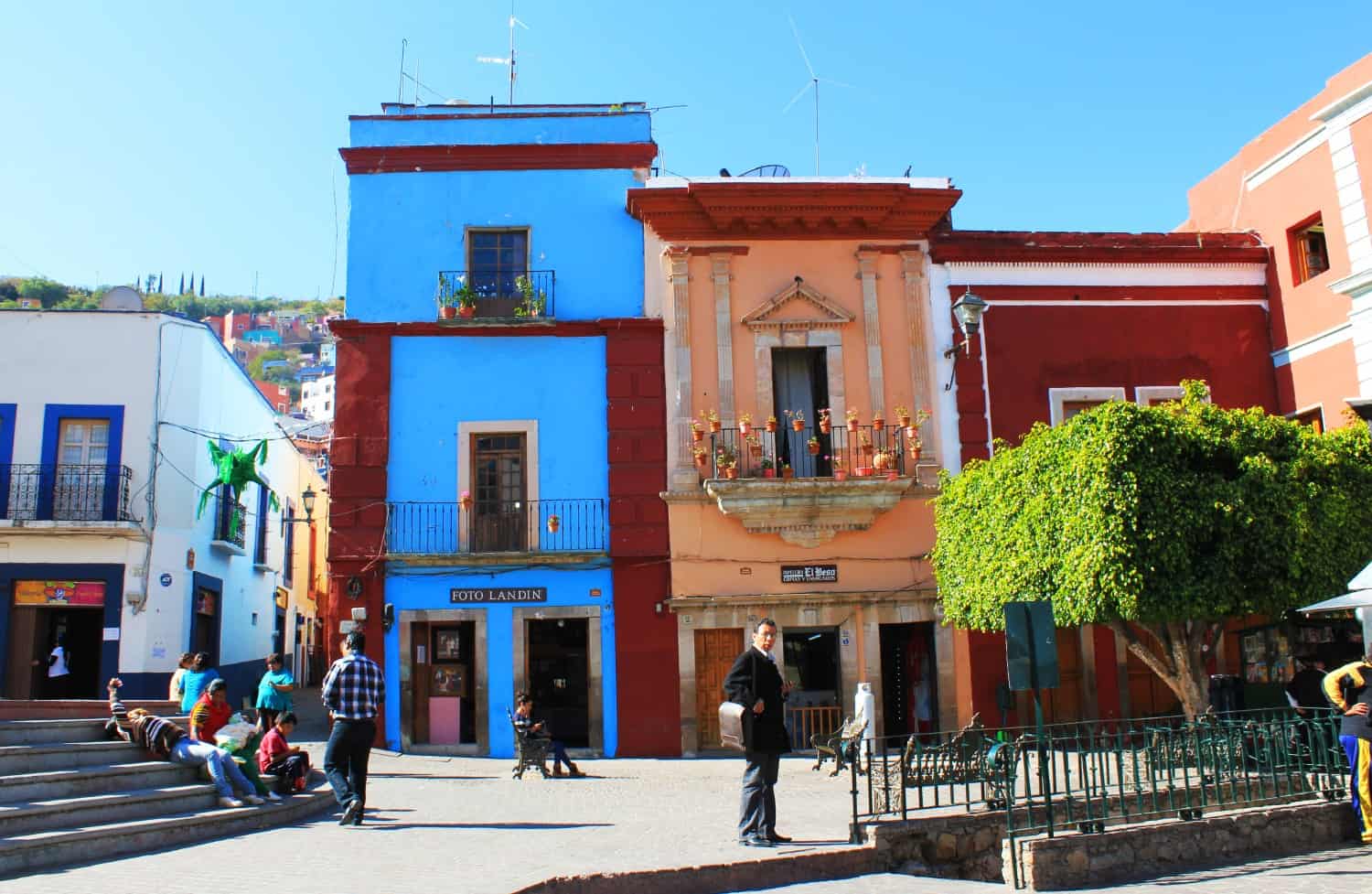 Then we made a big mistake and changed apartments. I'm a firm believer that the location of your accommodation can make or break your stay, and our second apartment was almost an hour's walk out of the centre.
In different circumstances it would have been lovely. It had a stunning view of the city from way up in the hills, and it felt like the perfect writing retreat — peaceful and isolated with few distractions. With Guanajuato currently experiencing the lowest temperatures it'd had in years, the apartment turned out to be the coldest I've ever stayed in. The freezing temperatures were all the locals were talking about, and they repeatedly told us it wasn't normal. My problem: I don't own any winter clothes!
Even worse than shivering while wearing the contents of my backpack: everything had closed for Christmas and the only place open was a tiny store that sold potatoes, eggs, and not much else. We survived on omelettes for a week.
And it was a shame, because our apartment owners were so incredibly lovely. When they saw how cold we were, they brought us a warm stewed fruit punch, they invited us into their home to have breakfast with them, and they even lent us their cat to play with. They were so kind, but I was so goddamn cold.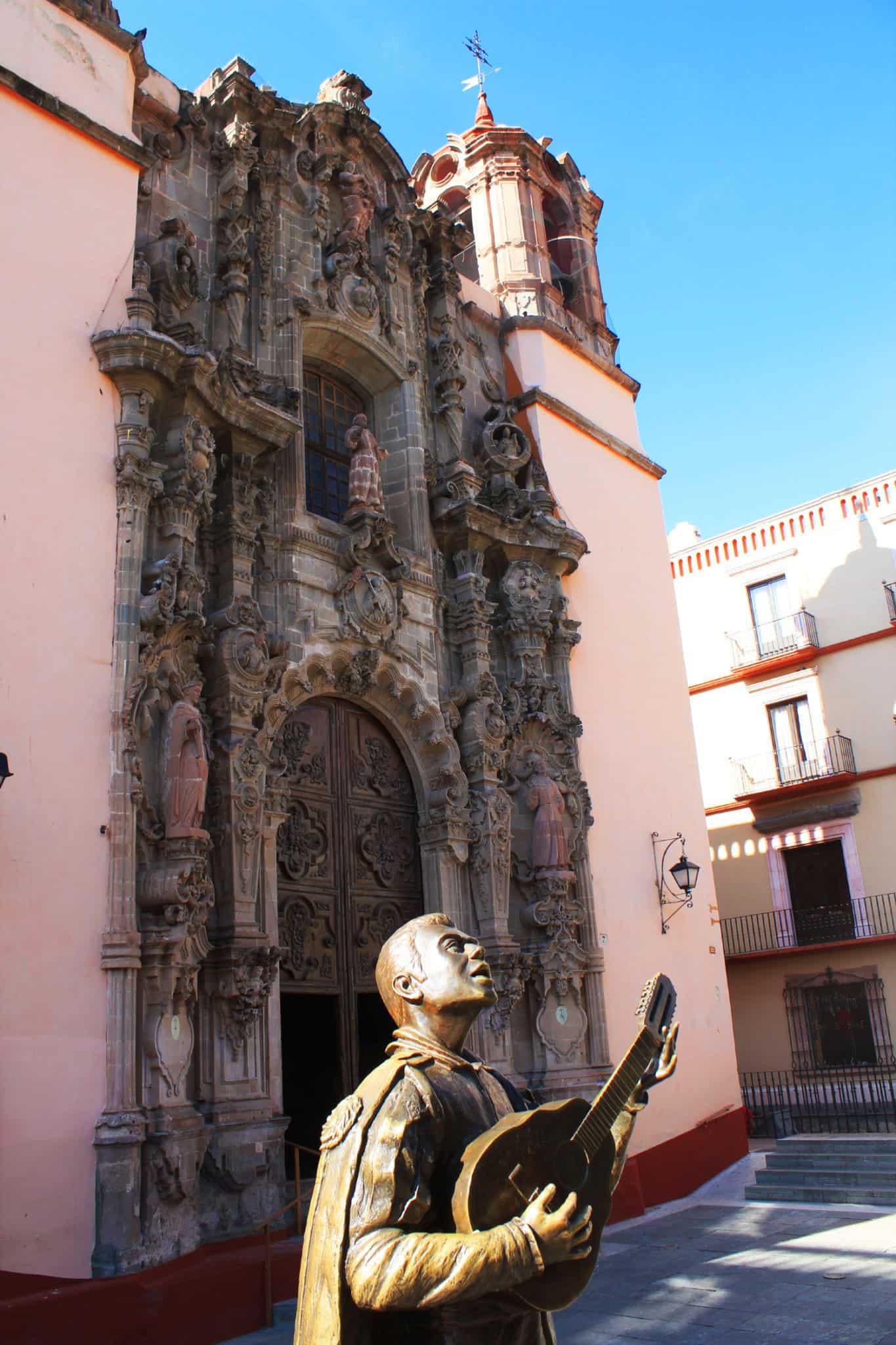 So, overall, a mixed experience from my time in Guanajuato. It's the prettiest city I've ever been to, I loved our first apartment, and I enjoying getting lost down colourful alleyways. Since leaving, I regularly talk about heading back in the summer to base myself there for a month or two. For this trip, though, it was time to leave. I wasn't prepared for the cold, I wasn't enjoying living off of eggs, and, once again, I was craving somewhere new.
We had grand plans for the rest of our time in Mexico. We were going to base ourselves in Oaxaca for a month; we were going to eat all the food in Puebla; we were going to explore Mexico City; we were going to head south to clamber over obscure Mayan ruins.
Instead, from our bed, beneath piles of blankets, we booked a flight to Cancun.
We were in need of some warmth.
We were heading straight back to the beach.
Where's the prettiest city you've ever been to?
Related Articles on Mexico

💰 The Cost of Travel in Mexico: A 2023 Budget Breakdown
🏖 28 Incredible Things to Do in Puerto Vallarta, Mexico
🏝 24 Incredible Things to Do in Playa del Carmen, Mexico
☀️ Isla Mujeres: My Mexican Island Paradise
🐚 Tulum and the Best Beach Ever
🧐 A Love-Hate Relationship with Playa del Carmen
🙈 That Time I Stayed in a Hotel Without Walls
🏡 Finding An Apartment in Sayulita
Save This to Pinterest