Literally meaning 'Resplendent Island,' Sri Lanka has been a popular holiday destination for just over a decade now. The country has a complex cultural history, stretching back thousands of years. Even today, you can visit incredible remnants of ancient kingdoms scattered across the nation's interior, enveloped by lush jungle.
Sri Lanka's spices, gems and most importantly location made it an attractive target for successive European colonization, beginning with the Portuguese (of which little evidence remains) and continuing with the Dutch and British, who have left behind remarkable if problematic remnants of their occupation. Up in the highlands, acres of tea plantations cover the hills, producing enough tea to make Sri Lanka the fourth-largest tea maker in the world.
Dollars and euros will take you far here, which is why many people rely mostly on hiring drivers to take them between destinations. The country also has a robust public transportation network as well, however, so that those game for throwing themselves into the web of buses and trains that traverse the country can easily manage.
Day One: Colombo
Almost all trips to Sri Lanka begin in Colombo, the former capital of the country and still its largest city. Start off in a leisurely manner with a visit to Viharamahadevi Park, built by the British colonial administration but now a public green space for all. It is dominated by a large golden buddha which faces the white neoclassical façade of the expansive Town Hall. You'll notice this contrast of Western and Eastern is present throughout Colombo, which provides some grand examples of colonial architecture alongside more traditional Sri Lankan iconography.
If you want to learn more about the complicated past of the country, we heartily recommend a visit to the Colombo National Museum, which is located just a few steps away from Viharamahadevi Park. The various halls take you on a journey through thousands of years of history via artefacts from different periods. Trust us when we say you'll find this to be an invaluable reference point for when you visit the ancient monuments of the country later on in your Sri Lanka itinerary.
Keep heading south and you'll come to Independence Memorial Hall, an elaborately designed structure of sculpted pillars and wooden carvings, flanked by statues of lions. Different aspects represent different local handicraft traditions. Presiding over the building is a statue of Sri Lanka's first prime minister, D. S. Senanayake.
Finish your day with dinner at Paradise Road, a Colombo institution housed in a building conceived by Sri Lanka's most famous architect, Geoffrey Bawa. While the cuisine at the Gallery Cafe is standard Western fare, the al fresco dining experience in the evening, when the pavilion is delicately lit by atmospheric lights, is a wonderful way to finish your first day.
Where to stay in Colombo: The city has several five-star, hundred-room hotels, but we went with a more boutique experience and stayed at the Taru Villas Lake Lodge. The rooms are lovely and spacious, and the location is ideal for strolls in Viharamahadevi Park or a visit to the Gangaramya Buddhist temple.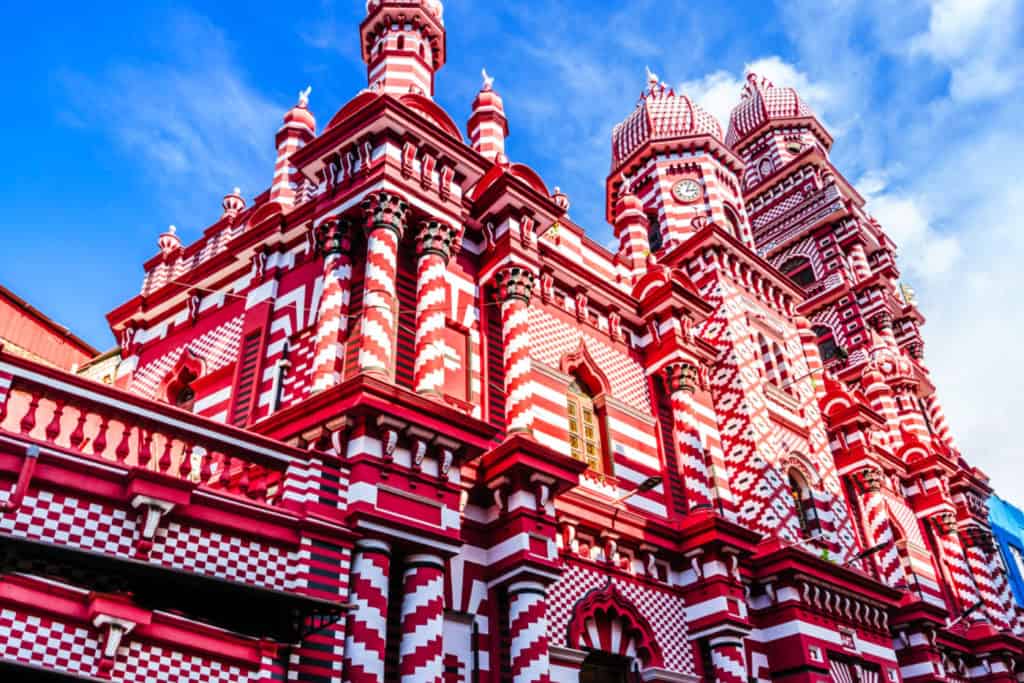 Day Two: Colombo
Now that you've had a gentle introduction to Sri Lanka's history and culture, it's time to really get stuck into Colombo's modern-day bustle. Dive into the alleyways of the Pettah district, which thrum with locals doing their daily shopping at food markets, clothing bazaars and other general stores. It's chaos, glorious chaos!
Squeezed in amongst these commercial establishments are some striking religious edifices, such as the red and white candy-striped Jami-Ul-Alfar Mosque and the Sammangodu Sri Kathirvelayutha Swamy Kovil, a Hindu temple whose façade is completely covered with statues to various deities. While Sri Lanka is predominantly Buddhist, these buildings are a poignant remind of its multireligious, multiethnic, multicultural past and present.
Colombo generally provides you with tons of sometimes jarring contrasts. Just a short walk west of the scrum of Pettah, for instance, is the genteel Fort district. Once upon a time, this is where the first Europeans made their base. Now, the area is Colombo's central business district, where glass skyscrapers meet remnants of the colonial past, such as the 17th-century Dutch hospital and the iconic Cargills building.
After a hectic day, take the load off at Galle Face Green. This evening hangout spot is a narrow strip of beach next to the sea where you can dip your toes in the water, before retreating to one of the nearby makeshift bars for a chilled bottle of Lion beer. Make sure you don't miss trying the street food from one of the stalls beside Galle Face Green. We're a big fan in particular of Nana's, especially their kottu: roti bread chopped together with egg, gravy, onion, chili and meat.
Day Three: Dambulla
Sri Lanka's oldest kingdoms tended to flourish in the center of the island, which is where some of the country's most historic sites are located. If you're rushed for time or want to spend part of your 14 days in Sri Lanka at the popular beach resorts on the east coast, you can book tours like this one from Colombo that will take you through some of the highlights in a day. If you're not in a hurry, however, make the excursion yourself and devote a little more of your trip to exploring the past.
A world away from the liveliness of Colombo, Dambulla is a quiet, rural town that is also a perfect base from which to explore several of Sri Lanka's unique treasures. The easiest way to get here is to hire a private driver to take you the three-hour journey. While more expensive than hopping on and off buses and trains, it's much faster and still pretty affordable.
Dambulla is home to a famous cave temple complex, containing statues of the Buddha as well as Hindu deities. Legend has it these caves have been used for worship since the 1st century BC era, but most of what you see today was added several hundred years later. Though we initially assumed that the bright colors adorning the roofs, walls, and statues had somehow been miraculously preserved at this UNESCO World Heritage Site, they are actually regularly repainted and restored to maintain their original appearance.
The complex isn't extensive, and you can easily cover all five caves in an hour, though there is a short hike up a hill to reach the area. One really important thing not to forget is that, like all religious places in Sri Lanka, you will be refused admittance if you do not cover up your shoulders and your legs. Some popular tourist haunts have spare garments to lend, but why would you risk it, eh?
Where to stay in Dambulla: This cute guesthouse boasts some of the nicest hosts we've ever met. The room was simple but clean, and the hearty breakfast kept us going well into the day. Even though you're surrounded by greenery and wildlife, it's only a short walk to the small-town center, where you can find shops and restaurants. Plus, the owners will help you organize trips to the nearby points of interest.
Day Four: Sigiriya
Dambulla is an interesting place to start your exploration of old Sri Lanka, but Sigiriya takes the experience to a whole other level. This fortress was hewn from the solitary column of rock in a flat landscape all the way back in the 5th century AD. Its name translates as 'Lion Rock', due to the fact that the original gateway was built to look like a gigantic lion. All that remains today of this stone beast are the front paws, which frame the steps leading up to the summit.
It's a fair old climb up to the top, but there's usually a slowly moving queue to ascend, which means plenty of time to take breaks. On the way up, you'll see thousand-year-old graffiti as well as some rather saucy frescoes.
At the summit is the castle itself, a ruined shadow of its former glory now home to the occasional monkey rather than royalty. There's still enough of the tiered structure remaining, however, for you to imagine just what a feat of construction this must once have been. Plus, there are great views of the land below, including of the remains of the water gardens that adorn the avenue leading to the lion gate.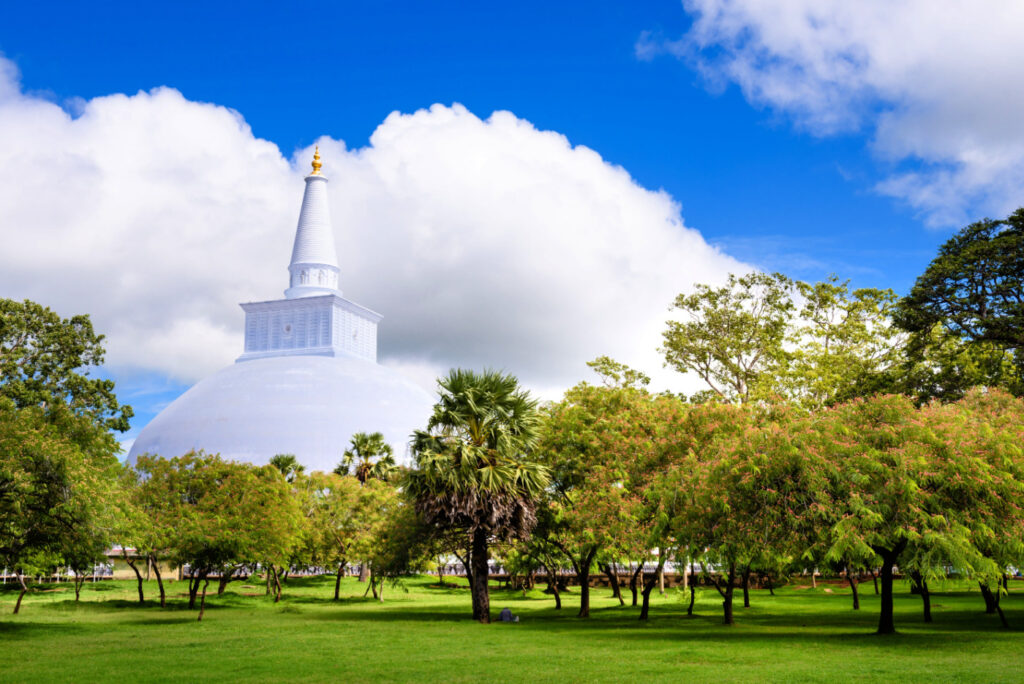 Day Five: Anuradhapura
Another day, another day trip, this time to Anuradhapura, the seat of the ancient Sri Lankan monarchy. The royal city began life in the 400s BC but was steadily enlarged upon over the following centuries.
This was one of our favorite parts of Sri Lanka with a ton of things to see. It's spread over a fairly large area – after all, this was once an entire city – so you probably won't be able to see it all in a day. Among the many scattered monuments and ruins, however, there are a few you absolutely can't miss.
First is Ruwanwelisaya, a restored stupa originally built in 140 BC. The enormous dome is 951 feet in circumference, 338 feet high and completely painted white, aside from a golden tip which flashes in the sun. You have to remove your shoes to visit, which, in the height of summer, means hopping across burning brick floor – at least, that's what we sockless people were forced to do, much to the amusement of the local Sri Lankans, who were completely unfazed by the heat of the ground.
A short walk away is the Jaya Sri Maha Bodhi, girdled by a protective fence. Legend has it that this sacred tree was grown from the cuttings of the tree under which the Buddha found enlightenment.
Both Ruwanwelisaya and the Jaya Sri Maha Bodhi are well frequented by religious devotees. In the same area but less crowded is Jetavana, a ruined monastery that is arguably more atmospheric. At its center is the tallest stupa in Sri Lanka, rising to 400 feet. This one has also been restored but remains unpainted, exposing the terracotta-colored brickwork. Around its exterior you can still see the beautiful remnants of the original white carvings from the 200s AD.
If you want to see another example of the Anuradhapura monastic complex, head to Abhayagiri, though in our opinion it's not quite as impressive. It is, however, located not far from the Twin Ponds (Kuttam Pokuna), two ornately crafted pools where kings and queens were once said to bathe.
Day Six: Polonnaruwa
The final point of Sri Lanka's so-called Cultural Triangle is Polonnaruwa. Another wonderfully preserved old city, it was made the capital of Sri Lanka after Anuradhapura fell to invasion in the 11th century. (And yes, we really did get out money's worth at the Colombo National Museum!)
Indisputably the most impressive remains of this kingdom are in what is known as the Sacred Quadrangle (Dalada Maluva). Our personal favorite is the vatadage, an utterly unique circular shrine that retains some of its intricate carvings. Nearby are a further two shrines, the hatadage and the atadage, which are less striking but still hold interesting examples of Buddhist statuary. Rounding out the area is the Nissanka Latha Mandapaya, which had us snapping away frantically because of its beautifully carved lotus pillars.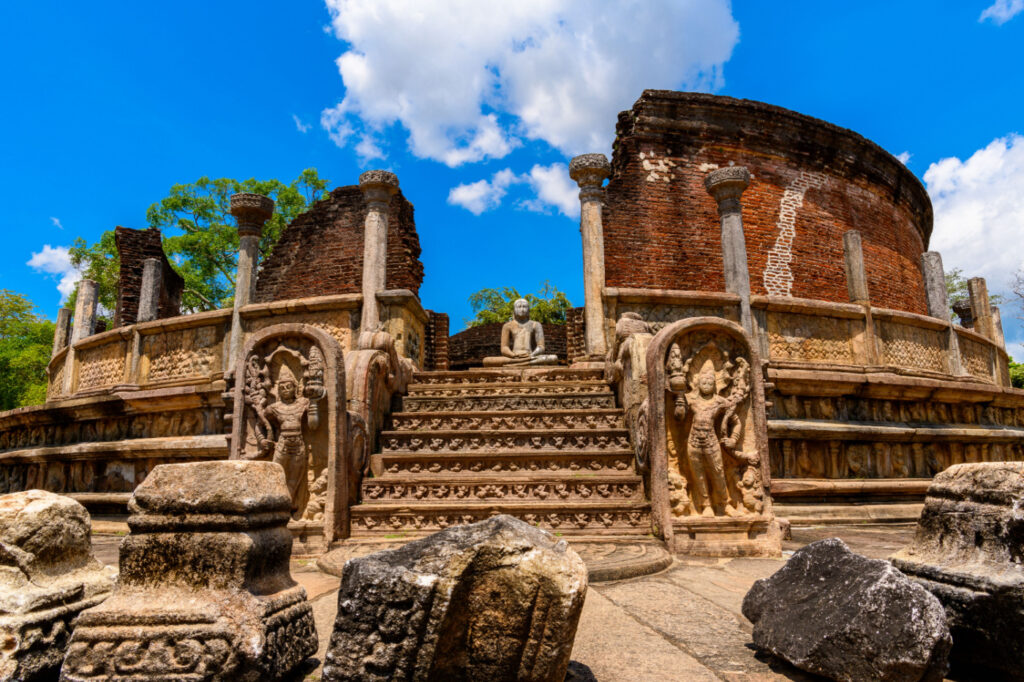 If you haven't yet had your fill of stupas, you can visit Rankoth Vehera, which was built in imitation of the Anuradhapura structures. More unique to Polonnaruwa, however, are the distinctive Buddha sculptures that have been persevered. Gal Vihara contains four different depictions of the Buddha carved from granite, while the Lankatilaka Temple boasts one giant headless Buddha built from brick.
Of course, not all the megastructures of Polonnaruwa were dedicated to religion. A clutch of the citadel buildings for the royal family remain, including the imposingly large palace walls, the council hall with its artful carvings and the luxurious bathing pool.
Day Seven: Kandy
After the extended sojourn in the countryside, it's time to get back to city life. Like Anuradhapura and Polonnaruwa, Kandy was a former capital of Sri Lanka. Unlike those other two cities, it remains a major city – albeit one of just a couple hundred thousand people.
One of Kandy's most famous spots is the Temple of the Tooth, which was built to house the sacred relic of the Buddha's tooth and is part of the former Royal Palace. If you visit during the right time of year (end of July, beginning of August), you can buy tickets to see the hugely elaborate annual procession when the tooth is taken through the streets of the city, accompanied by religious bigwigs, colorfully caparisoned elephants and traditional performers. It's a fantastic (if somewhat overlong) experience.
Kandy's other claim to fame is its artificial lake, built by the last Sri Lankan king before he was deposed by the British. Today, it makes for a calming escape to nature right in the heart of the city.
Where to stay in Kandy: Downtown Kandy is a bit of a mess, so it's better to stay in one of the guesthouses in the hills above the city and then tuktuk around. The beautifully higgledy-piggledy pink building of the Villa Rosa is a fab option. While fantastic views are a given, it was the traditional-style decoration that really wowed us.
Day Eight: Kandy
There's nothing more genteel to do in Kandy than promenade through the city's botanical gardens, located in a suburb called Peradeniya. As far back as 1371, this site was used as pleasure gardens for royalty. It was substantially redesigned by the British in the 1800s along the lines of London's famous Kew Gardens and now contains over 4,000 species of plants and flowers.
Also in these same outskirts are a clutch of three small temples dating from around the same period, each with unique features and much more peaceful than the Temple of the Tooth. Our favorite is Lankathilaka, a vision in white built atop a hill with views across the surrounding landscape. By contrast, Embekka is much more understated but boasts some exquisite, well-preserved carvings. Gadaladeniya is probably the least interesting of the trio, with its faded frescoes and poorly maintained stone structures, though there appear to be efforts in place to stop the main shrine from tumbling down completely.
Day Nine: Into the Highlands
One of the absolutely unmissable Sri Lankan experiences is to take a scenic train ride up country, into the tea hills. Hanging out the side of the old-timey carriages as you pass the lush countryside is an unparalleled, glorious sensation.
There are several trains running daily from Kandy to Nanu Oya, though only one has an observation car attached where you can see directly out onto nature as you travel along. Fair warning: the zig-zagging ride is not for the motion sick. Depending on which train you take, the journey will take between 3.5 and 4 hours.
Once you've dropped your bags off at your hotel, head out again immediately to see where one of Sri Lanka's famous exports is made: the tea plantations. There are lots throughout the region around Nanu Oya and the nearby city of Nuwara Eliya, all offering similar tours through their production facilities as well as attached shops. We recommend asking your lodging for nearby options for simplicity's sake.
Get some rest in the afternoon if you can because you'll probably need to venture out again at 10pm in order to get to Adam's Peak.
Where to stay: Hilldale Retreat has fantastic views over the verdant countryside and surrounding tea hills. It's a small hotel, so the staff are really attentive. There's also a pool, though since it's not heated it's only for those who like a bracing swim.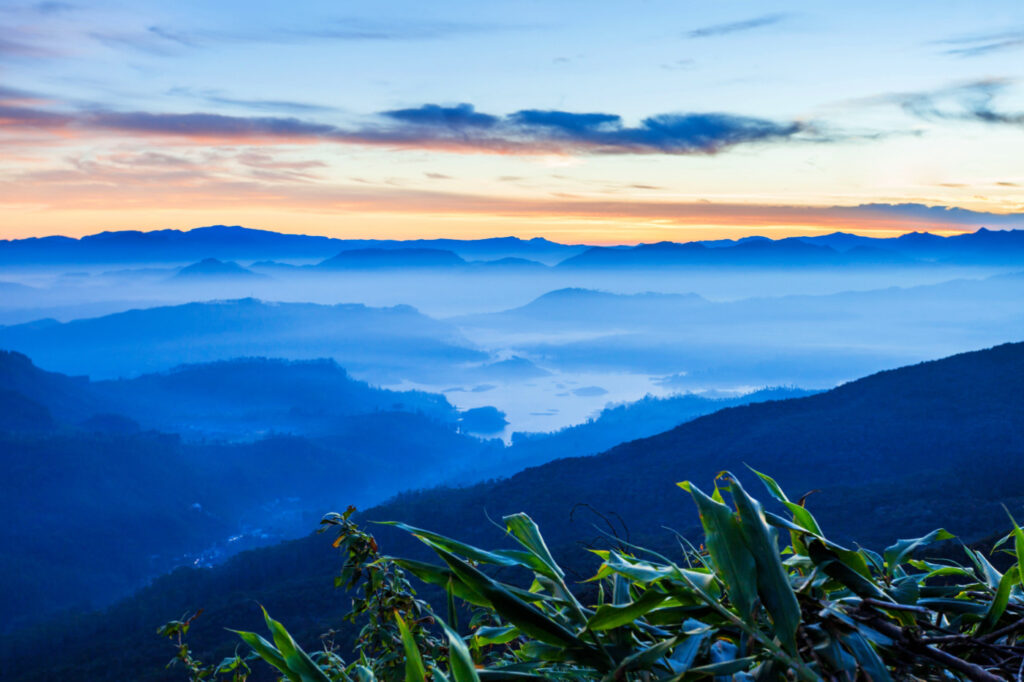 Day Ten: Adam's Peak
Adam's Peak has many legends associated with the 'footprint' at its summit. Buddhists claim it was left by the Buddha, Muslims that it was created by the biblical Adam after being cast out of heaven, and Hindus that the depression is a sign that Shiva once walked here.
Partly thanks to the competing religious claims and partly because it's a spectacular mountain, Adam's Peak is one of the most popular pilgrimage sites in Sri Lanka. Tradition dictates you need to be at the top for sunrise – plus, that is when you will get the best views.
When you need to arrive at the base depends on the time of year, how fast you can climb and the route you take, but in general you should aim to get there somewhere between 1am and 2am. Then, it's a bleary-eyed hike for around 3 to 4 hours up some fairly steep steps, followed by a chilly wait for the sun to come up. It's all worth it though for the first glimpses of those glorious rays poking out from the horizon, slowly revealing the lush surrounding landscape.
If you're like us, you'll want to spend a while just relaxing and waiting for the sun to fully rise, before making the descent. Spend the rest of the day catching up on those zzzs or relaxing with a beer and a book.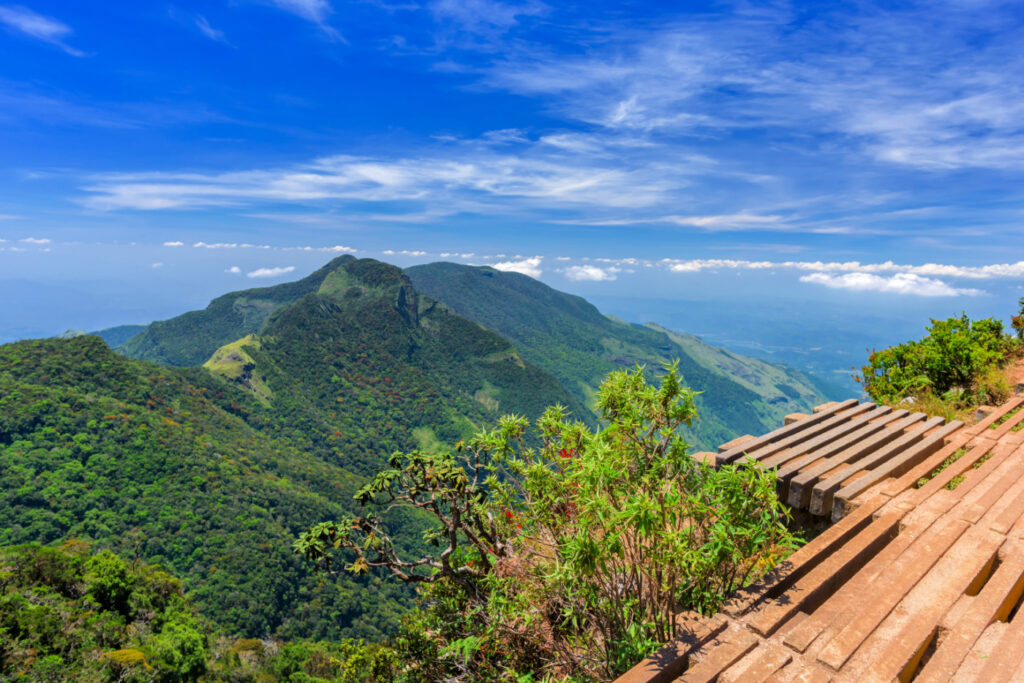 Day Eleven: Horton Plains
We're a glutton for punishment, so the day after Adam's Peak, we headed over to Horton Plains for another hike. Fortunately, this one involves fairly flat walking, as you drive up most of the incline to the car park.
Inside the national park, you follow a largely gentle circular route through grassy plains interspersed with streams and unique plants that can only be found here. There's a pretty but not particularly inspiring cascade called Baker's Falls, but the main attraction – apart from the natural beauty – is World's End, a plateau that comes to a sudden sheer drop. Most of the time, the views from this spot are shrouded in mists, with the occasional peak jutting out mysteriously – which is why Horton is sometimes referred to as Cloud Forest National Park.
On a good day, they say you can see Adam's Peak and the east coast of Sri Lanka. Honestly, we've no idea if that's true, but what an atmospheric piece of scenery!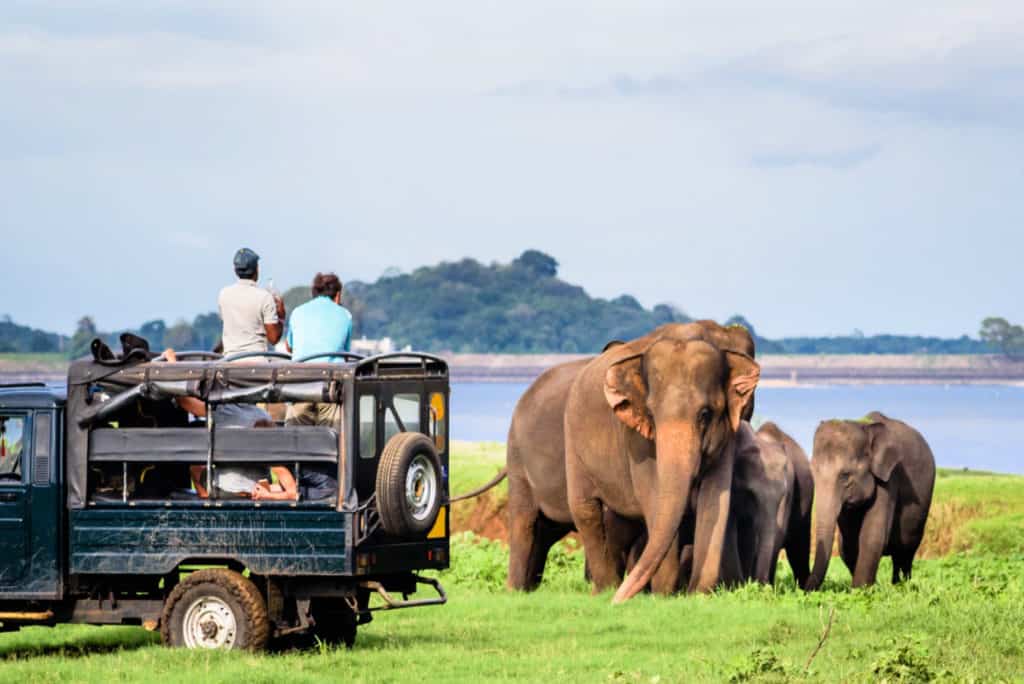 Day Twelve: Yala Safari
There are several places you can visit to see Sri Lanka's most impressive wildlife species, but Yala wins the popularity contest because it's where you're guaranteed to see herds of elephants going about their business, whether that's frolicking in watering holes, caring for young or attempting the occasional rutting session.
You can organize your own guide with a 4×4 to take you through the environment or book via a tour company like this one that I went with. This is the bread and butter for many locals, so they are all very knowledgeable about the best places to go depending on the time of day to catch a glimpse of the animals in their natural habitat. Aside from elephants, we also saw crocodiles, buffalo and the elusive leopard, as well as too many species of bird for anybody but the most avid ornithologist to remember.
It's possible to book a whole-day trip, but honestly two to three hours is the ideal amount: just enough to see the wildlife in their natural habitat without it all becoming overly repetitive or your bones being jolted to jelly over the rough terrain.
These tours are popular, so if you do want to ensure you get a place on one, I recommend booking online and in advance. You can check availability for my tour provider below:
If you haven't got too much luggage with you, we recommend taking your bags with you to Yala and then continuing on to Galle after your safari, as this will save you some time on travel.
Day Thirteen: Galle
Galle is one of the best-preserved remnants of the Dutch presence in Sri Lanka, which lasted 1658 until 1796. The chill vibe here makes it the perfect place to end your stay on the Resplendent Island.
The first thing to do when you get here is explore the streets, wandering between colonial remnants like the old church and the cutesy curio shops lining Pedlar Steet. Break your day with lunch at Galle Fort Hotel, once an 18th-century villa, now a gorgeous property with excellent seafood and one of the most extensive gin menus we've ever seen outside of London's trendiest bars.
In the afternoon, clamber over the old fortifications that enclose the town. Now carpeted with grass, these robust stone ramparts and bastions are picturesque in their own right but are also a great place to snap views of the sparkling blue sea.
Make sure you also take the time to head out to the photogenic lighthouse on the headland. It's located next to the unusual Meeran Mosque, which was commissioned in 1904 and built to fit with the existing aesthetic. As a result, it looks more like a Catholic church than an Islamic place of worship.
Where to stay: We decided to treat ourselves to a five-star experience at the Fort Printers to finish our trip – and it did not disappoint. This is a gorgeous little spot, right in the middle of Galle Fort, with attentive staff and stylish, clean rooms. The cherry on top is the breakfast, served in the pretty courtyard beside the pool.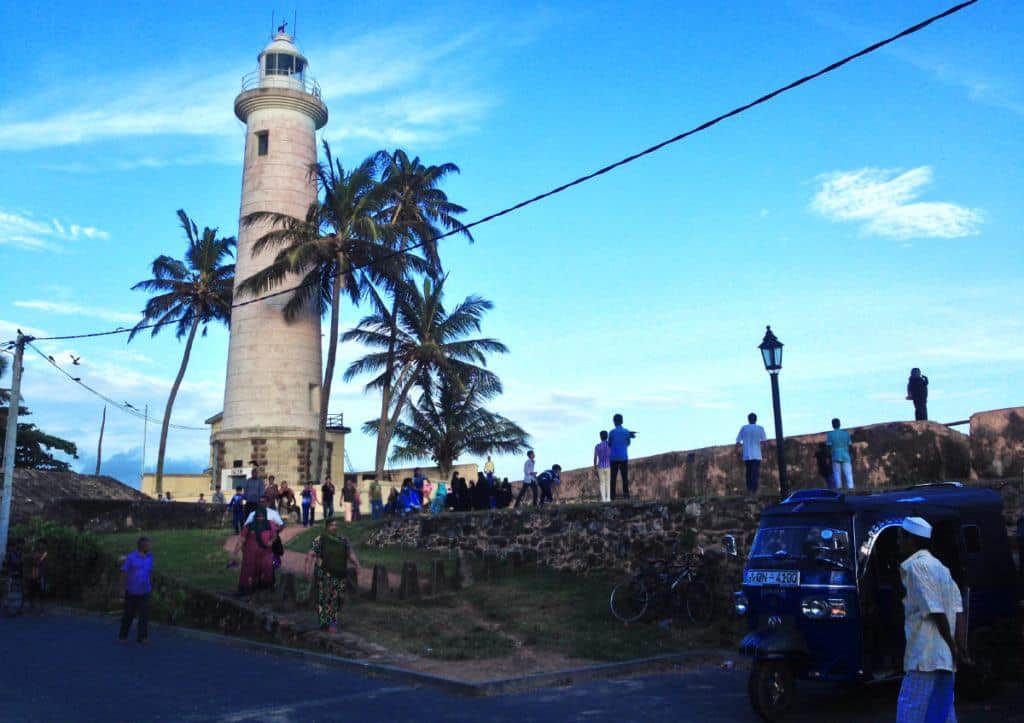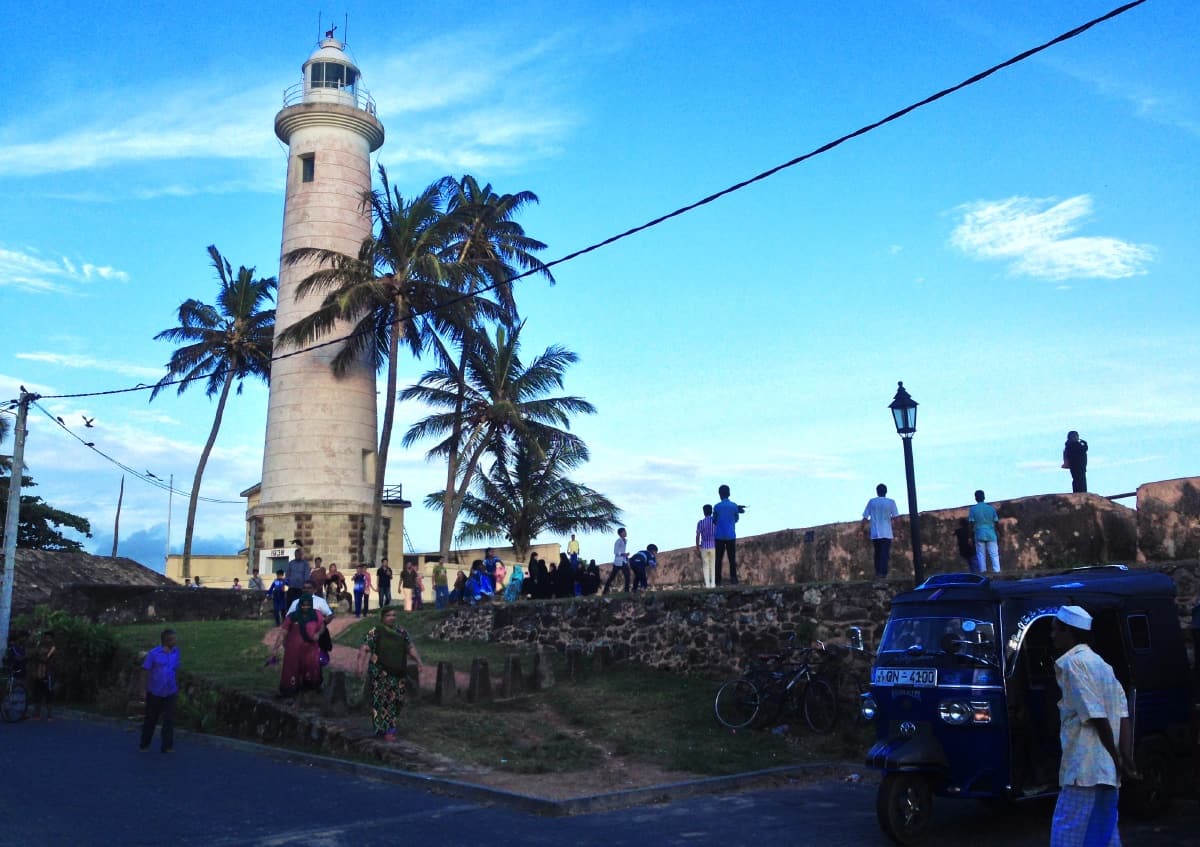 Day Fourteen: Galle
Having been in Sri Lanka for two weeks galivanting through multicultural cities, ancient kingdoms, and national parks, you've earned yourself a well-earned rest. Spend your last day in the country soaking up some sun at one of the beaches surrounding Galle.
Unawatuna Beach is a beautiful expanse of sandy coast just a short tuktuk ride away from Galle Fort. The shore has a couple of restaurants and bars to keep you fed and watered as you absorb some vitamin D.
For a more hidden spot, you can scramble down a discreet path a little further along the coast to get to the less frequented, slightly stonier Buena Vista Beach. This hidden cove is also known as Jungle Beach because it's completely concealed by the surrounding foliage.
Since most international flights leave from Colombo, you'll have to make your way back to the capital either today or tomorrow. If you have time, book dinner at Nuga Gama, a rustic-style all-you-can-eat buffet restaurant. While it's located within the five-star Cinnamon Grand Hotel, it's been designed to emulate a village eatery and offers all the main Sri Lankan specialties cooked in traditional style. All that and the price is just 5,900 Sri Lankan rupees per person (equivalent to about $16). Make sure you try the hoppers: delicate pancakes made from a rice flour and coconut milk batter, traditionally filled with a fried egg and spicy sambal.
And That's How to Spend Two Weeks in Sri Lanka!
For first-time visitors to Sri Lanka, this is a perfect itinerary to get the most out of your two-week stay. Of course, there's so much more to see and many ways you can mix up the trip. For example, if you have longer to explore or are just more of a beach person than a hiking or history person, the east coast of Sri Lanka has some amazing seaside resorts. While Batticaloa is the largest, Arugam Bay is our favorite for surfing, while at Pasikuda Beach you can walk out into the azure sea for a kilometer before it begins to flow over your waist.
While we haven't made it to Jaffna yet, the area is increasingly becoming popular as an alternative view on Sri Lanka. Much of the northern part of the country was tragically destroyed during the civil war, but the Tamil culture here offers an experience that is distinctive from other parts of the island.
No matter where you go, the people are always incredibly friendly, helpful and genuine. Sure, Colombo residents aren't afraid to jostle at the markets in Pettah, but then again, neither are we!