The first thing that occurred to me when I visited Bratislava was, "wow! This city is actually quite small!"
Although Bratislava is the capital and the largest city of Slovakia, the population is only around half a million. This isn't much compared to other European cities; however, Bratislava absolutely makes up for it with its beauty.
I dare say the small size even makes the city even more enticing! The historical centre of Bratislava is very picturesque and gives off what I'd call a small-town vibe. During my stay there, the city centre was actually very peaceful and quiet, which is something you don't typically encounter every day in the capital cities of Europe. While most city centres are bustling with life and tourism, Bratislava could be described as calm and leisurely.
Don't get me wrong, there are tourists, of course –- after all, there are many beautiful places to visit and learn about, from Bratislava Castle to Michael's Gate to the UFO Observation Deck (I know, UFO! Strange, right? Bratislava is full of surprises). However, exploring Bratislava definitely won't be as overwhelming and busy as visiting other European cities. And there are great benefits to that!
You'll have more time to discover what the city has to offer without worrying about queues and busy times, and you'll also have many opportunities to take pictures with gorgeous monuments without anyone ruining your background. I don't know how about you, but that sounds very alluring to me. After all, you don't get the chance to snap a perfect travel photo every day.
What's more, Bratislava is full of beautiful places that will enchant you with their ancient atmosphere and monumental beauty. With its castles, statues, churches and colourful buildings, Bratislava could be considered the gateway to Eastern Europe – and what a gorgeous gateway it is!
Personally, I believe there's no better way to start exploring Eastern Europe than in Bratislava.
Plus, the city is bordered by Austria, Hungary, and it's just a stone's throw from the Czech Republic. This means there will always be many international people who can help you navigate if you get lost, and you can also visit three other countries during your stay because they're all so extremely close to Bratislava.
If you're on the lookout for that ancient European atmosphere, Bratislava won't disappoint. The Old Town is breathtaking, and it includes many important buildings worth checking out, such as the Old Town Hall, Primatial Palace, Milbach Palace, Keglevich Palace, Balašov Palace… I mean, how many palaces can you actually fit into one city?! A lot, apparently. Bratislava has so many palaces it made my head spin – during my visit, I didn't know where to look next! All the buildings were just absolutely stunning.
And have I mentioned there's a beautiful blue church in Bratislava? It looks like it's been taken out of a fairytale and planted there to make the city even more magical.
Bratislava offers many modern attractions as well. From the Kamzík Television Tower to Multium and the Botanical Garden, there's plenty to do in the capital city of Slovakia. As small and picturesque as it is, Bratislava is still a modern city full of modern attractions, so don't worry – you'll definitely stay entertained throughout your visit.
Here are the 15 best things to do in Bratislava!
Visit Bratislava's Beautiful Castle
First and foremost, Bratislava Castle (Bratislavský hrad in Slovak) is an absolute must-visit attraction. Out of all the castles and palaces there are in the capital city of Slovakia — and there are plenty — Bratislava Castle is the most important.
Located on a rocky hill and overlooking the Danube, the castle is white, rectangular and absolutely huge. Thanks to its strategic position between the Alps and the Carpathians, the site of the castle has been used for thousands of years. The first time someone built actual settlements there – that we know of – was over 5,500 years ago! What's more, many rulers and kings spent their time in the castle throughout history, one of them being the famous Maria Theresa.
Nowadays, you can visit the castle and learn more about its history. There's a Slovak National Museum in the building, as well as a Treasure Chamber, a Music Hall, an exhibition on Slovak history and much more. One of my favourite attractions is actually a small statue that's on display there – Venus of Moravany. This small statue of a woman's body dates back to 22 800 BC, which is so long ago I can hardly comprehend it, and it's something every Czech and Slovak person learns about at school. Trust me, I know. I'm Czech. This artifact is extremely important to us because of its historical relevance.
Another great thing about Bratislava Castle is the amazing view you get from up there. The castle overlooks all of Bratislava! It's definitely worth the climb.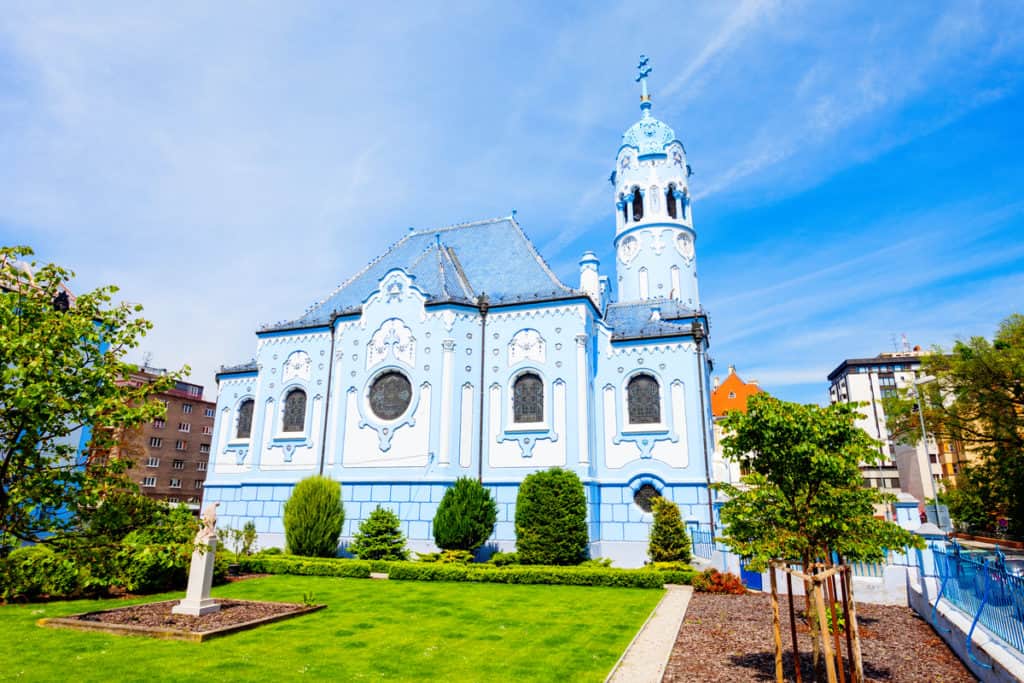 Marvel at the Blue Church of Bratislava
"Well, that's a first," I told my friend when we found ourselves standing in front of a church that was completely blue. Europe is full of gorgeous churches that are a dozen times older than you, however, it's rare to find a church that's painted in such an unusual colour. The Blue Church is one of the buildings in Bratislava that truly make you feel like you're in Eastern Europe – the pastel colours are simply immaculate.
Officially called the Church of St. Elizabeth (Kostol svätej Alžbety in Slovak), the building is a Hungarian Secessionist Catholic church built at the beginning of the 20th century. Thanks to its Art Nouveau style, it looked much older to me when I was peering up at the main tower. The church looks so magical I half expected a fairy to appear at the entrance.
Alas, there was no fairy and my naive dreams turned to dust. I still had a great time exploring the church and marvelling at its beauty, though. The interior is painted in pastel blue as well, which only adds to the experience. Hand on heart, I genuinely think this church is the most beautiful church I've ever been to and I walked past it every morning on my way to Bratislava's old town.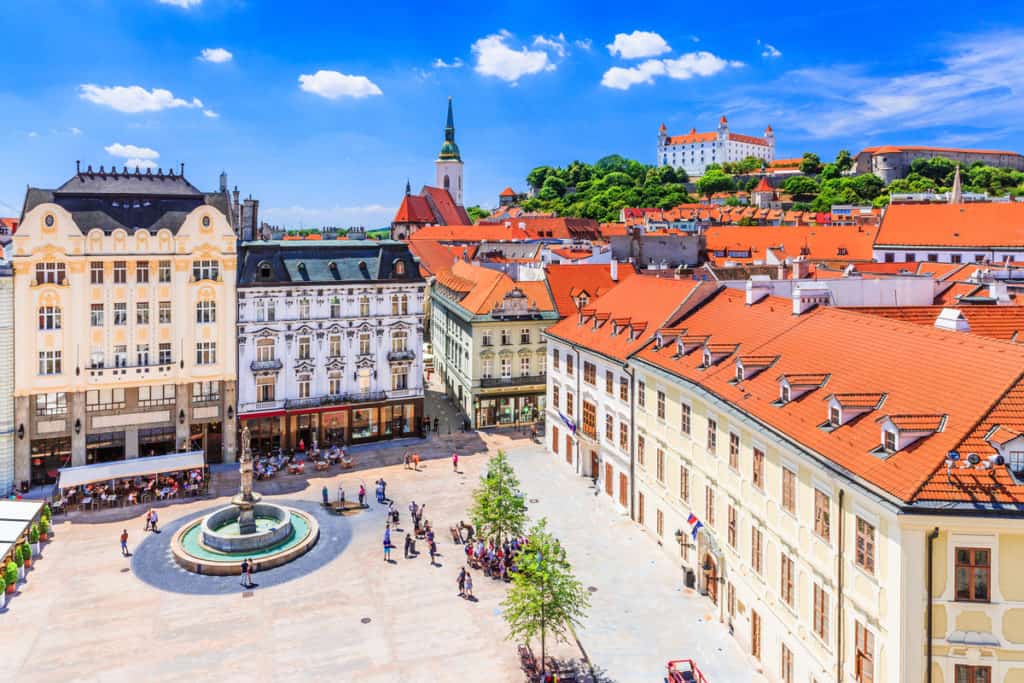 Soak Up the Atmosphere of the Main Square
The old town of Bratislava is easily the most beautiful part of the city. I spent most of my time there, taking photos of the pastel-coloured buildings.
When you reach the Main Square at its centre, you'll find yourself surrounded by old buildings that are truly stunning to behold. Main Square is considered to be the very centre of Bratislava, which means you'll probably stumble upon it one way or another – and from there on, it's very easy to find whatever landmark you are looking for. It's actually a great meeting point for groups!
One of the main landmarks that can be found on Main Square is the Old Town Hall (Stará radnica in Slovak), which was built in the 14th century. It's actually one of the oldest stone buildings that still stand in all of Bratislava! Apart from the fact that the Old Town Hall is beautiful to look at, it's also the home of the Bratislava City Museum where you can learn more about Bratislava's history as well as torture devices. I know, it's a strange choice to display torture devices in a Town Hall, but what can you do? Have a look and try to remain calm, I suppose.
When you climb to the very top of the Town Hall, you'll get a great view of the Old Town. The buildings look just as beautiful from the top as they do from the bottom, so don't hesitate to snap pictures!
Another interesting landmark in the Main Square is the Roland Fountain (Rolandova fontána in Slovak). It was built by Maximilan II in the 16th century, making it the most popular fountain in Bratislava.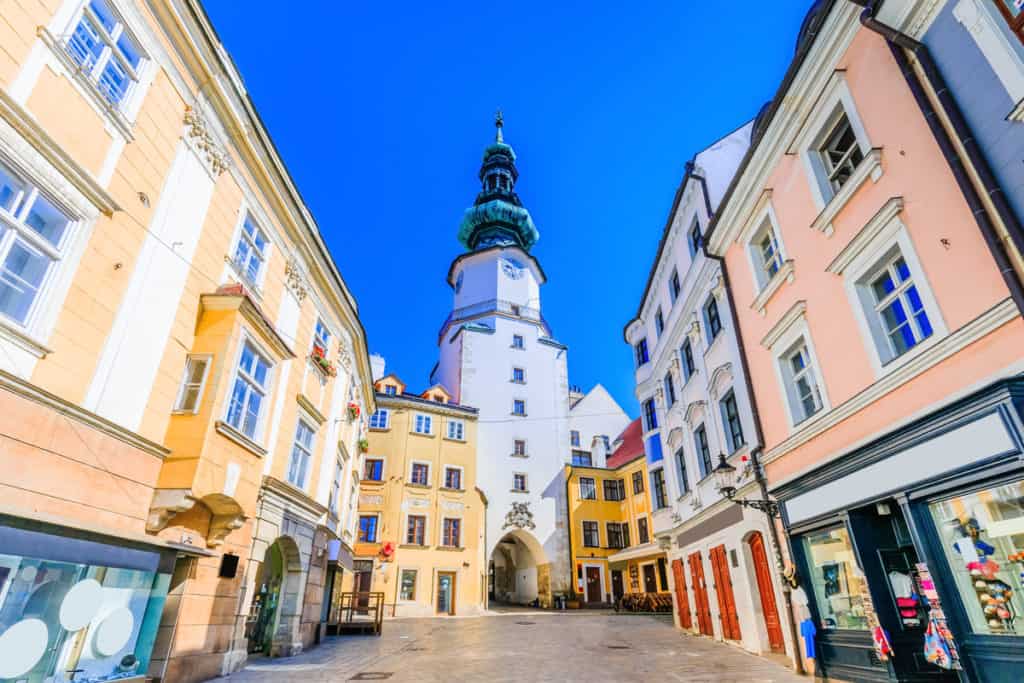 Stroll Through Michael's Gate
If you're looking to explore the Old Town of Bratislava, you're undoubtedly going to walk through Michael's Gate (Michalská brána in Slovak) at some point. This 14th century gate is a very famous landmark in Bratislava due to its historical value – it's the only medieval city gate in the Old Town that still stands. Back in the old days, there used to be walls surrounding the town and protecting it, and Michael's Gate was one of the four gates that allowed people to enter and leave the town.
What's more, the gate used to play an important role in the coronation process. It used to be one of the places kings had to pass through on their way to take an oath.
Nowadays, the gate is a popular tourist attraction. There's a museum inside where you can learn more about the medieval fortification of Bratislava, as well as what weapons have been used here throughout history. However, the Museum of Weapons has been officially closed from December 2020 due to renovation. The closure is supposed to last for about two years.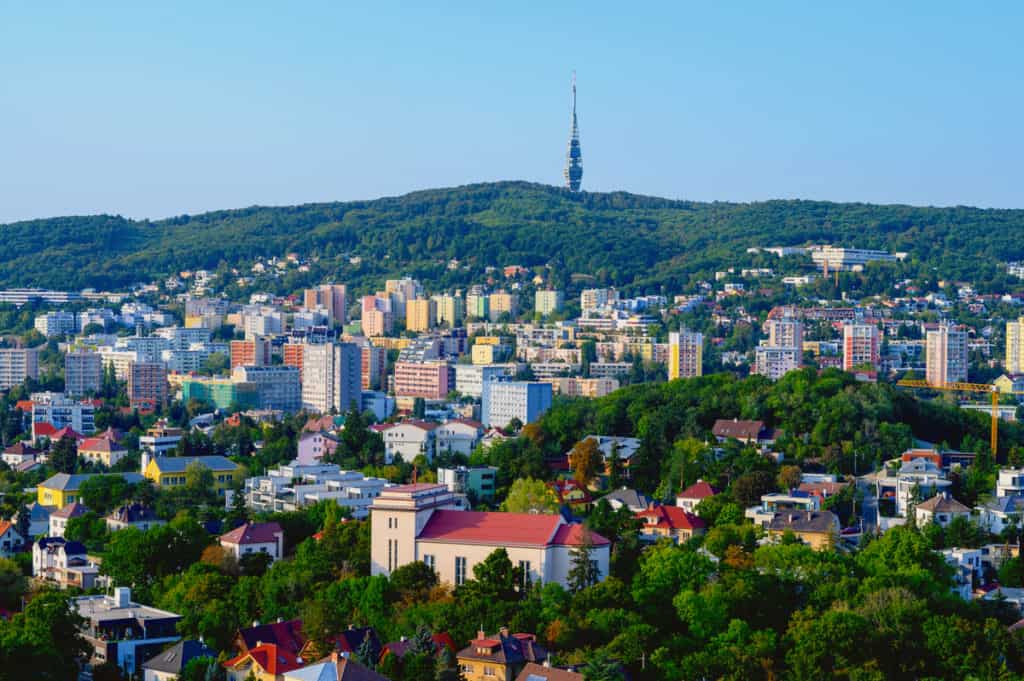 Grab Some Great Views of Bratislava and Beyond at theKamzík TV Tower
Like many other capital cities in Europe, Bratislava has its own television tower that offers an amazing view of the city as well as its surroundings. The Kamzík TV Tower sits atop the Kamzík Hill, and it has a restaurant at the very top where you can sit at rotating tables, enjoying a 360-degree view of Bratislava!
If you're not in the mood for lunch, don't fret – there's an observation deck that lets you enjoy the view as well. When I visited, I absolutely loved seeing so much of the country with its green hills that are a part of the Little Carpathians.
The tower is located 437 metres above sea level due to its position on the Kamzík Hill, and it's also 196 metres tall. As you can imagine, this brings you very high when you reach the top. On bright days, you can actually see the borders of Austria, Hungary and Czechia!
Although you have to stray quite far away from the historical city centre to reach the tower (it's roughly an hour and a half on foot), the amazing view is completely worth it.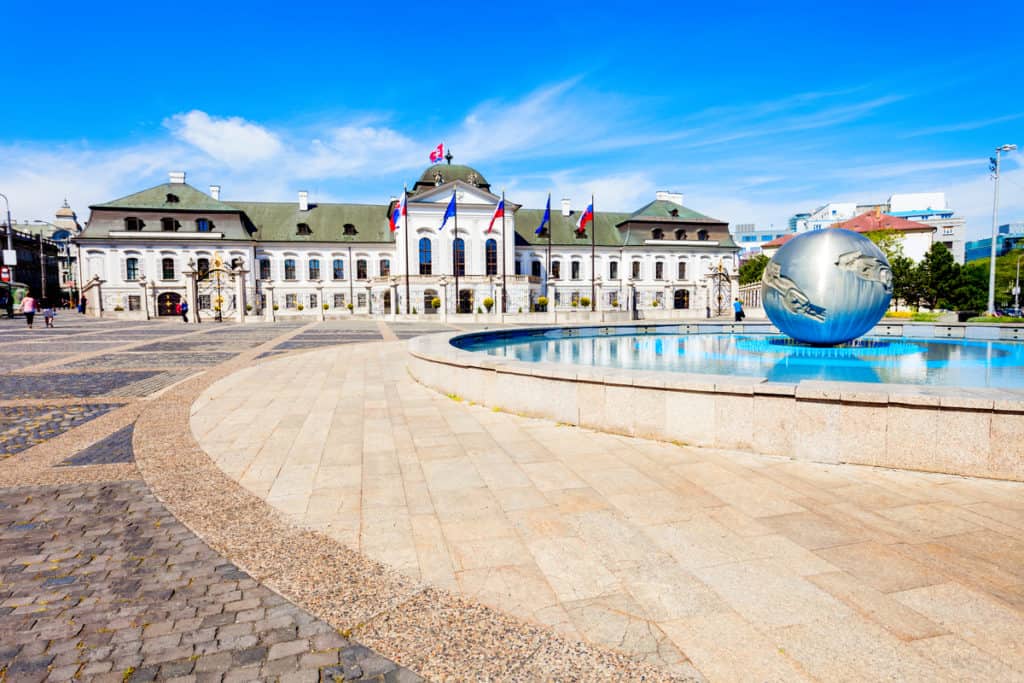 Grassalvokich Palace: Home of the Slovak President
Out of all the palaces in Bratislava, Grassalkovich Palace (Grasalkovičov palác in Slovak) is one of the most vital ones. It's the residence of the president of Slovakia, and let me tell you… If I was the president, I really wouldn't mind living there. Not at all. The place looks spectacular.
Grassalkovich Palace can be found at Hodžovo Square (Hodžovo námestie in Slovak), which is only a 10-minute walk from Michael's Gate. Hodžovo Square is considered to be one of the main places foreign politicians visit, and it's also a great meeting point for anybody who stays in Bratislava. There's a gorgeous fountain in the middle of the square, which makes it easy to remember and navigate from.
Grassalkovich Palace itself was built in Baroque and Rococo styles, which certainly gives the building a sense of monumentality, and there's a huge garden adjacent to it. While it's usually not possible to go inside the palace, you can definitely take a lovely stroll in the garden and watch the process of changing of the guards behind the palace gates.
Personally, I love watching changing of the guards no matter where I go – there's something hypnotising about it. It's almost like a dance.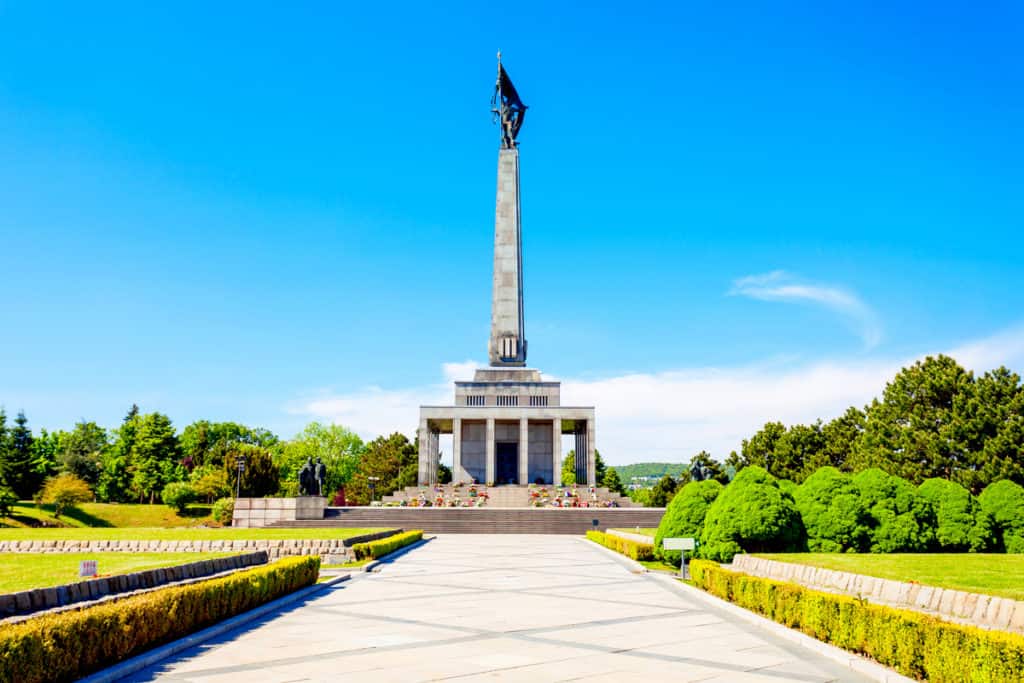 The Slavín War Memorial is Well-Worth Visiting
Slavín War Memorial is a 30-minute walk away from the Bratislava Old Town, and this site on the Slavín hill offers some great views of the city. Not only is the view itself worth the walk but the memorial is also a vital piece of Slovakia's history, making it a definite item on your travel itinerary.
The atmosphere around the memorial is very solemn, respectful and quiet. After all, this is the place where over six thousand Soviet soldiers were buried to rest in peace. The soldiers who are commemorated here belonged to those who put their lives on the line while liberating Bratislava from the German regime at the end of World War II. In 1960, Bratislava celebrated its 15th year anniversary of liberation by the Soviet army, which is when the monument was inaugurated.
No matter if you'd like to have a moment of peace and quiet, learn more about the history of liberation of Bratislava, or remember the fallen soldiers, Slavín War Memorial at Slavín Hill is the perfect place to go during your stay in the capital city of Slovakia.
I was in awe when I saw how large the monument actually is, and I'd say this place is one of the most important landmarks you can visit in all of Bratislava.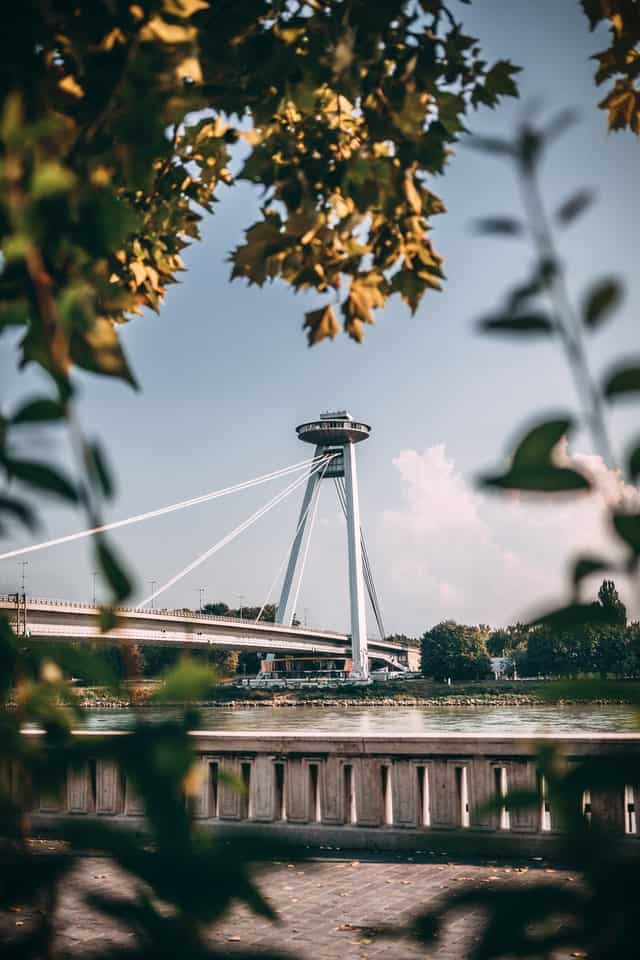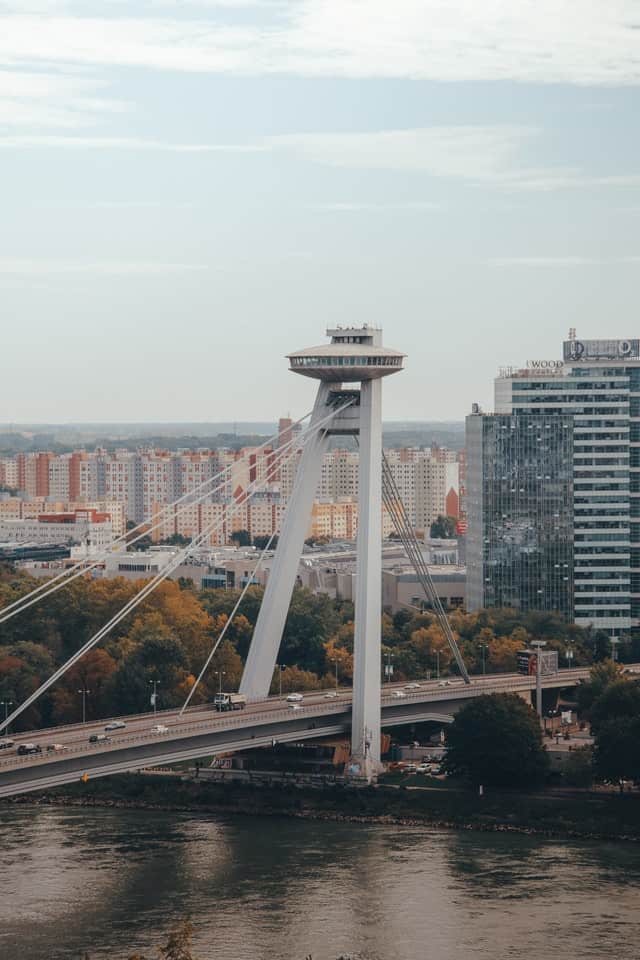 Of Course You Should Check Out the Infamous UFO Bridge
"Oh my god, that's a UFO!" I pointed at a weird rounded structure glowing in the night.
"Nope, that's just a bridge," my friend shrugged her shoulders.
"Are you sure?"
"Positive."
Could have fooled me. The UFO Bridge, officially called the Bridge of the Slovak National Uprising (Most Slovenského národného povstania in Slovak), is a modern bridge crossing the river Danube in Bratislava. The most interesting part about it is the observation deck on one side, which is shaped like a UFO and is held up by a high pylon. This certainly makes for an intriguing sight (surely, I'm not the only one who's pointed at it with my mouth wide open like a six-year-old child?).
If you'd like to go up to the observation deck, you definitely can. An elevator will take you from the ground floor straight to the top in only 45 seconds, which is kind of crazy if you ask me, and you'll be able to see the city down below from the height of 95 metres. It's a great opportunity to have a look at Bratislava Castle, Kamzík TV Tower and many more sites from a completely different point of view!
What's more, the observation deck is open daily between 10 AM and 11 PM, which means you get to see the Bratislava glowing in the night if you decide to visit after the sun goes down. There's also a restaurant with delicious meals to offer, so why not make a dinner of it as well?
The entrance fee differs based on how many times you'd like to visit the observation deck, if you're having something to eat in the restaurant, and how old you are. However, the usual fee per adult is 8,90 € per one visit to the observation deck.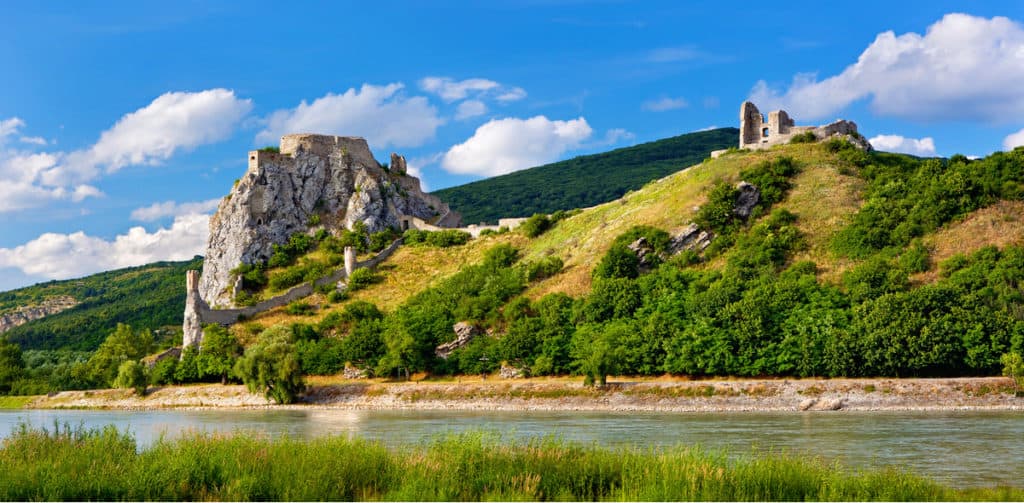 Take a Private Tour of Devin Castle
Devin Castle is one of those landmarks close to Bratislava that should absolutely be on your itinerary. Although the castle is now in ruins, exploring its remnants and spending the day surrounded by beautiful nature is a great idea if you want to discover more of Slovakia's countryside.
Take a 3-hour private tour of Devin Castle where you can learn lots of fascinating information about the castle's history, as well as have a taste of some local products! During your visit, your guide will shed some light on what Devin Castle looked like before it was destroyed by Napoleon's army, and you'll get to have a view of gorgeous landscape that spreads all the way to Austria, including the two important European rivers Danube and Morava.
The entrance fee and hotel pickup are included in the price, which is 98 € per person. Devin Castle is located just 20 minutes away from Bratislava, so why not go on a proper private tour? You're bound to have an interesting afternoon in nature, and you'll learn plenty of new information along the way.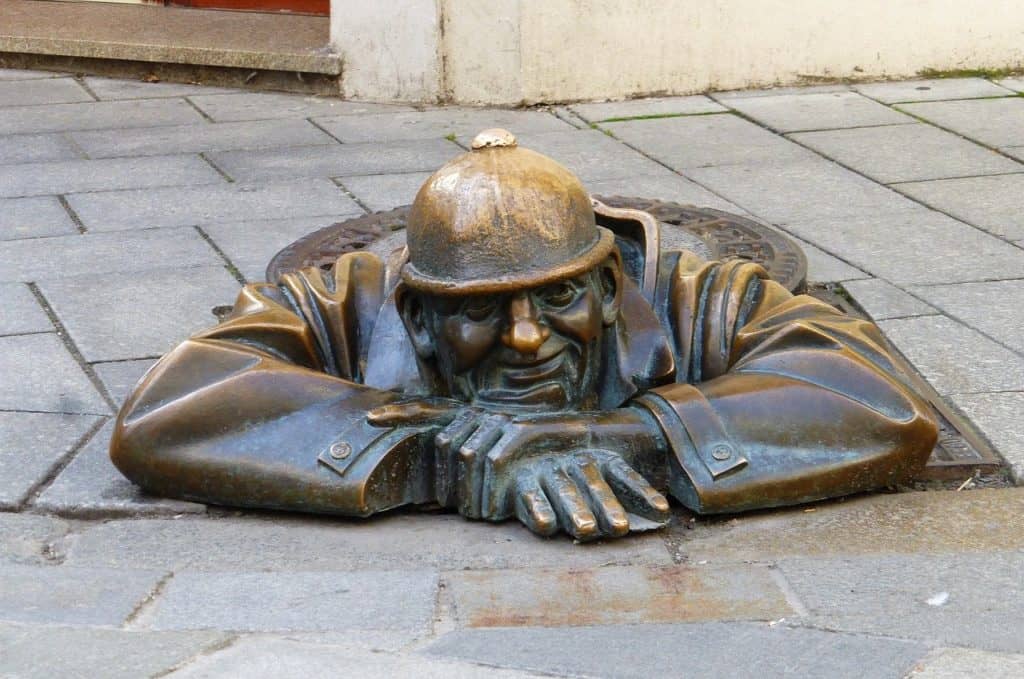 Take a Fun Selfie With the Many Statues in Town
If you're strolling through the Old Town in Bratislava, chances are you will find human-sized statues scattered throughout the place. Honestly, these statues belong to the list of things I love most about Bratislava because they add a touch of humour and good vibes to the city centre.
My absolute favourite is a statue called "Čumil – Man at Work". Čumil could be literally translated as "The Starer" – someone who stares at people instead of working. You can find Čumil on the ground where he's looking up from the gutter. The statue is quite funny because it supposedly represents the usual attitude of Slovak workmen during their shift.
More statues include "Paparazzi" who's taking pictures of people with his camera, "Hans Christian Andersen", "Shone Naci" who's greeting you with his hat, and "Napoleon's Army Soldier" leaning on a bench you can sit on. People often take selfies with these statues because they're so funny, and I definitely wasn't an exception during my visit – I'm now a proud holder of a picture with Čumil and Napoleon's Soldier.
There's something about amusing statues built for entertainment that just hits right. The tourist feels compelled to take a picture as if hypnotised. You won't hear complaints from me, though! I love looking at my pictures from time to time and remembering my time in Bratislava.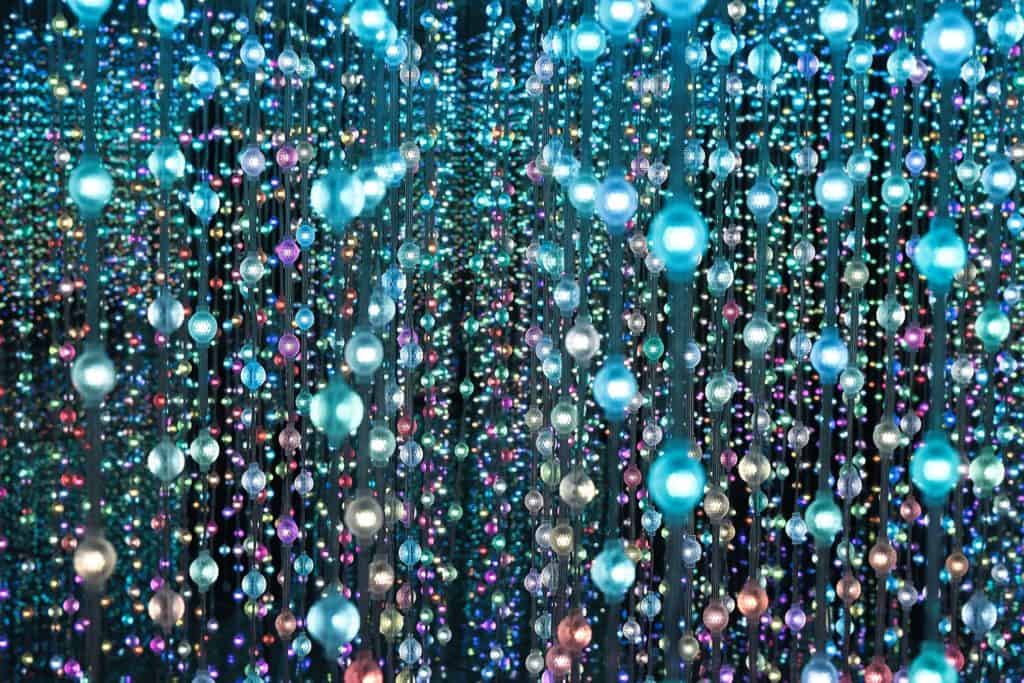 Experience the Illusion of Infinity at Multium
Bratislava isn't just ancient castles and historical landmarks. There are many places designed for entertainment only as well! Multium – Space and Mirror Gallery is the place you go to when you're looking for some fun and a new interesting experience that will awe you.
Multium uses mirrors to create absolutely mind-blowing illusions that will have your jaw drop as soon as you see them. There are six separate spaces, and each of them contains one professionally crafted illusion. My absolute favourite is Universum. While I was there, I had the magical feeling of being suspended in space surrounded by stars.
If you're looking to learn more about how mirrors work to create illusions and if you'd like to explore very unusual spaces that you don't get to see every day, Multium is the place to go. The entrance fee is 5 € per adult and 3 € per child. There are also some family bundles you can check out.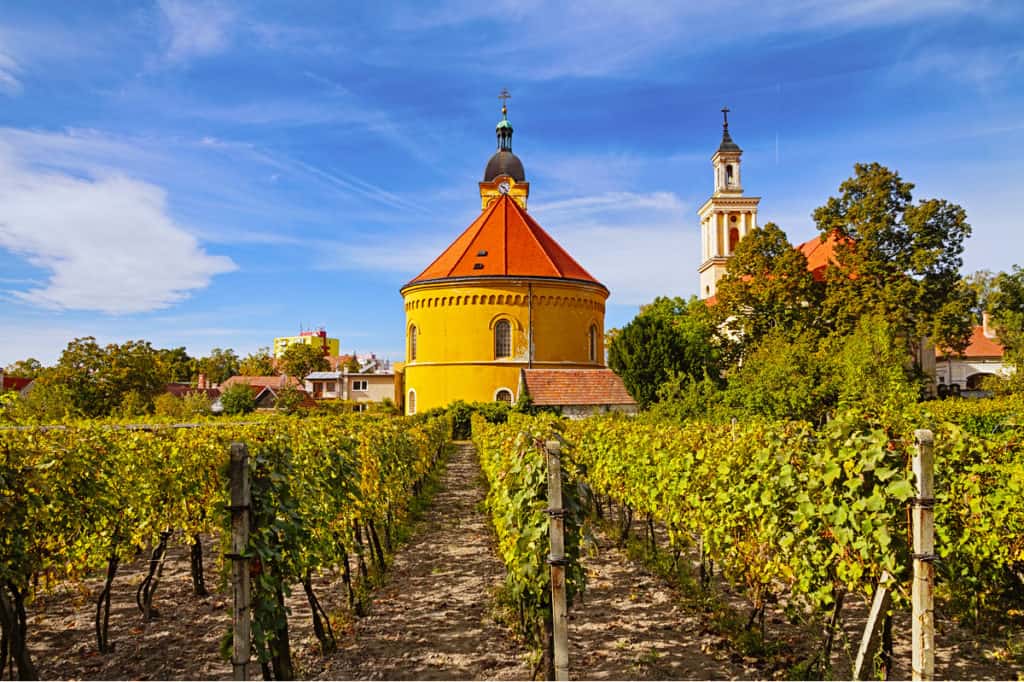 Go Wine-Tasting on a Modra Day Trip
If there's something Slovak people pride themselves on, it's definitely their wine. With wineries and vineyards all over the country, basically everybody is a seasoned taster of wine by this point. Slovaks know high-quality wine when they see it.
If you're a lover of wine, why not try out a proper wine-tasting experience near Bratislava? This tour takes you to the picturesque small town Modra near Bratislava where you can visit a proper Slovak boutique winery. Honestly, Slovak wine is probably the best wine I've ever tasted, so this tour is definitely a yes from me.
While you're in Modra, you're welcome to taste 10 different kinds of wine that were all locally produced, explore the wine cellar and relax in the garden with a glass of your preferred wine! Plus, Modra is surrounded by the Little Carpathians so you're going to have a view of beautiful mountains as you enjoy your drink. Sounds dreamy, doesn't it?
The family who owns the winery is more than willing to share information and stories with you, especially when it comes to your interest in how they produce wine. They have a lot of expertise – their winemaker is often a judge in prestigious international wine competitions!
Some food and water are also included in the price. You do have to go to Modra by yourself, though – but don't worry, transportation in Slovakia is affordable and easy to use. The wine-tasting experience is just perfect for any wine enthusiasts who would like to get to know more of Slovakia's countryside and have a short trip out of Bratislava.
The experience costs 25 € per person.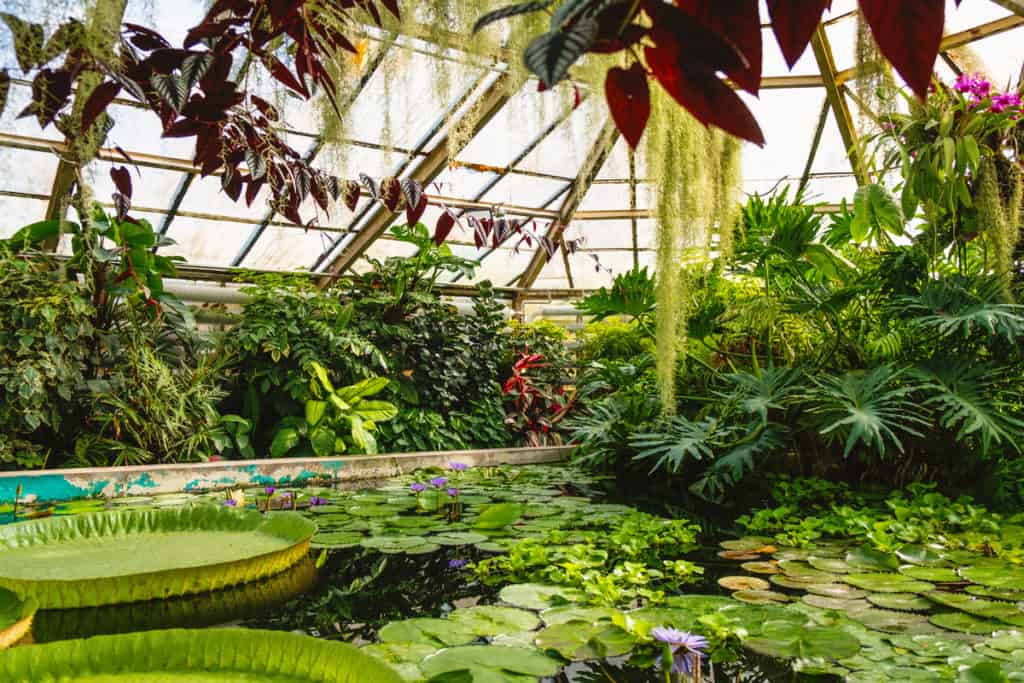 I Love the Botanical Gardens of Comenius University
Bratislava has one botanical garden only, and that's the Botanical Garden of the Comenius University (Botanická zahrada UK in Slovak). Personally, I love visiting botanical gardens no matter what city I'm in because they offer a moment of peace and quiet. It's just you, nature, interesting information and silence.
Exactly what you need after days spent exploring tourist attractions and shopping malls, if you ask me.
Open between April and October each year, the place is actually the oldest botanical garden in all of Slovakia. They have over 4 thousand different species of plants, and you can learn about plants both indoors and outdoors. The exhibitions include a cactus greenhouse, a Japanese garden, a palm greenhouse and… wait for it… a rosarium! There are over 120 species of roses on display, which has obviously made the rosarium one of the most popular places in the botanical garden.
The entrance fee is 3 € per adult and 1,5 € per child, student and senior.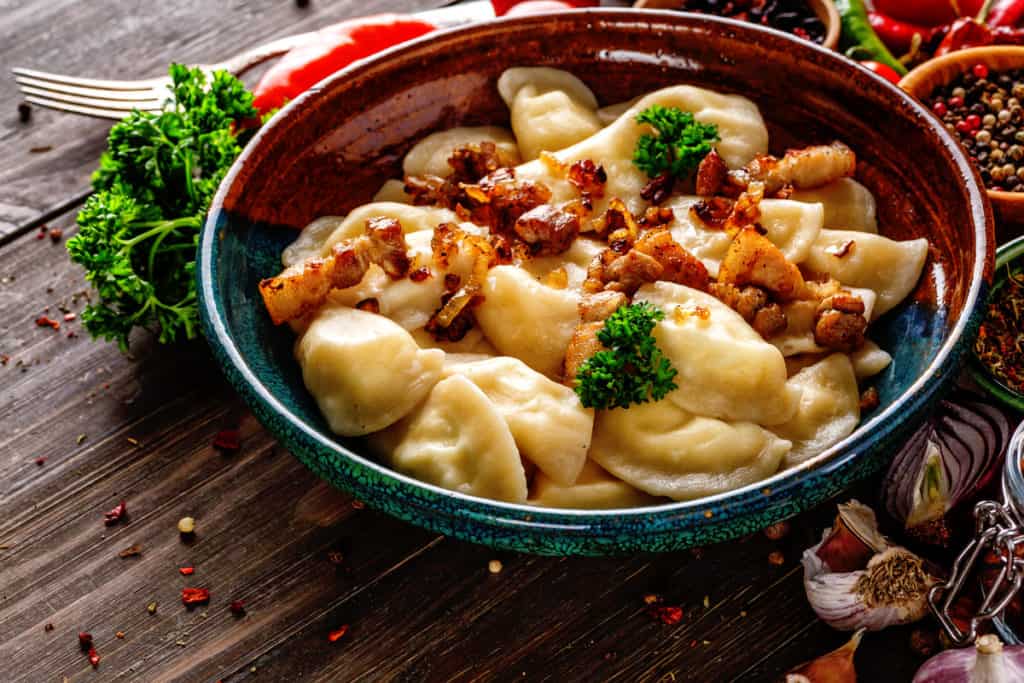 Try Traditional Slovak Food in Dolnozemska Krcma
Visiting Slovakia without eating any Slovak food would be a terrible shame. Eastern European food has got so many interesting flavours to offer! And who wouldn't want to try out pirohy? If I could, I'd eat pirohy all day long.
Dolnozemska Krcma is a restaurant that serves traditional Slovak dishes, and it's incredibly easy to find it – it's right in the Old Town! You can eat some delicious food while watching the ancient streets of Bratislava and having a great time with your family and friends.
The meals on the menu include pork garlicky schnitzel with Slovak potato salad, rooster paprikash a la Dolnozem with butter dumplings, and yes, pirohy with bryndza cheese and sausage are available as well. There is not much in terms of veggie options, however, you can always have homemade poppy seed dumplings as your main course instead of a dessert, right?
And of course, you also get to taste traditional Slovak alcohol called Palinka. Careful, it's strong and it makes you feel like your throat is on fire. I speak from personal experience.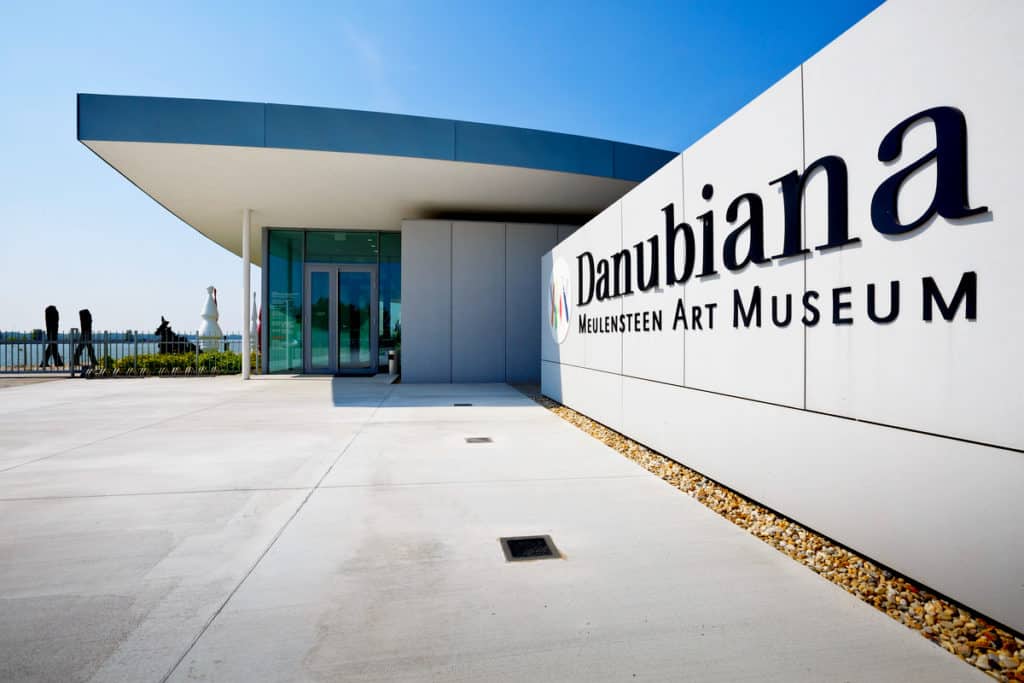 Discover the Danubiana Meulensteen Art Museum
Just 20 kilometres south of Bratislava, the Danubiana Meulensteen Art Museum makes for an excellent day trip. The collection of sculptures and paintings in the museum is breath-taking. I could wander around the building and look at the amazing art all day. A large portion of the art displayed is abstract, which gives you enough space to let your imagination run wild and interpret the art in many different ways.
No matter if you're deeply interested in modern art or if you'd just like to explore what the museum has to offer in general, the Danubiana Meulensteen Art Museum won't disappoint.
The official website of the museum says:
"The Danubiana's unique location on the borders of Slovakia, Hungary and Austria, and its harmonious combination of museum architecture and the surrounding Danube River landscape offer visitors unique views of the artwork as well as the flora and fauna which change with the seasons. The sculpture park features the works of renowned artists such as El Lissitzky, Magdalena Abakanowicz, Jim Dine…"
Many more well-known artists have their work displayed in the museum. So why not visit and see it all for yourself?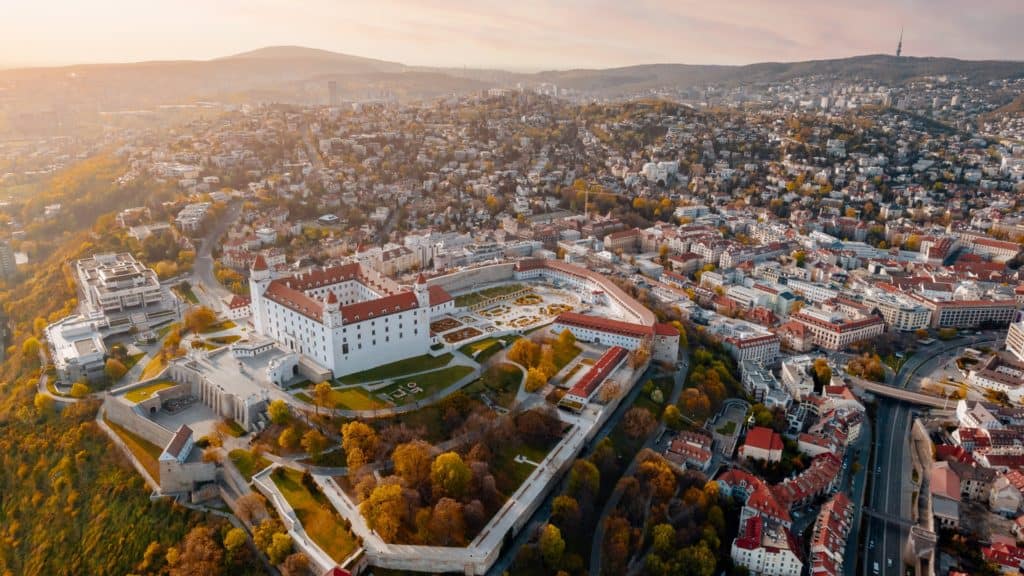 And That Was Bratislava!
Bratislava is quite small for a capital city, however, there are still plenty of things to do. Restaurants, castles, museums, palaces and observation towers are just some of the places you can visit during your stay.
And what's more, Bratislava's main selling point isn't its size – it's the absolute picturesque beauty of it. Walking down the streets of Bratislava makes you feel like you've been transported into the European past, except you also get to enjoy all the benefits of the 21st century. That's a great combo in my humble opinion.
So what are you waiting for? Bratislava Castle, Michael's Gate, Multium, the Blue Church and many more fascinating places await you in Bratislava.
Pack your bags and get ready to step into an Eastern European fairytale!