Cuba is entirely unique.
From the crumbling facades of Havana old town to the lush valley of Vinales and the pristine beaches of Varadero, there's a lot to fit into two weeks in Cuba. You will fall in love with the salsa rhythms of the warm Caribbean evenings, find modern paladares with some amazing Cuban cuisine, and explore a surprisingly biodiverse country full of secret waterfalls and dense jungles.
But it's the people of Cuba that are the most welcoming. Spending just 14 days in Cuba gives you a sense of an entirely unique culture that's resourceful and resilient, but above all, happy. A turbulent history of revolution, communism and trade embargoes has given this island a 'stuck-in-time' feel that many of us in the Western world long for.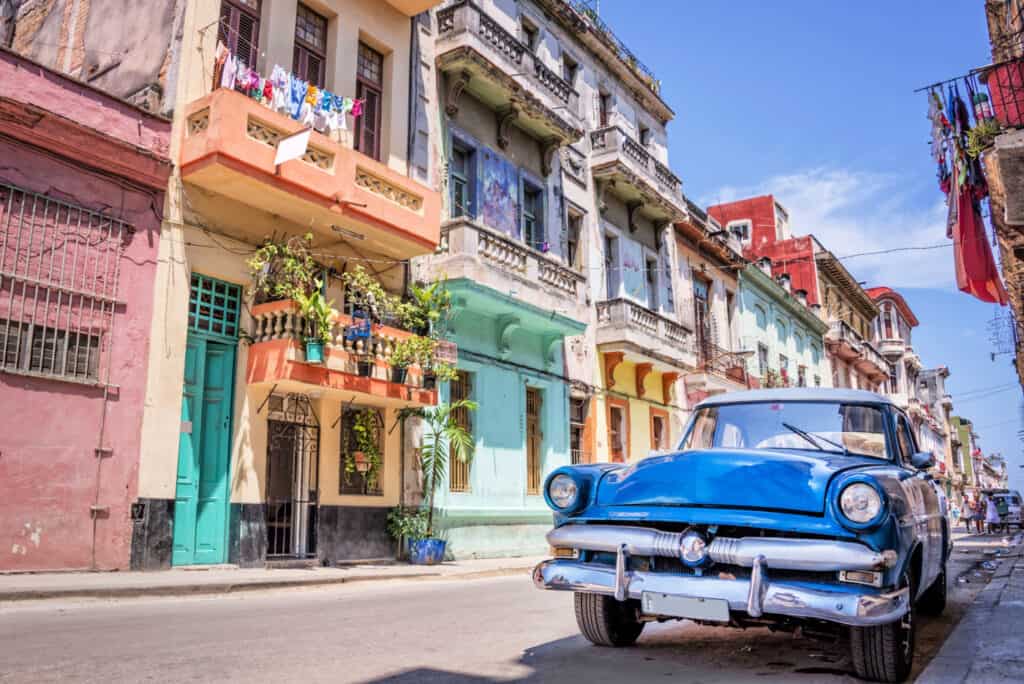 Getting Around in Cuba
Of course, it isn't exactly a small country, and you couldn't possibly fit everything into just two weeks in Cuba. Especially with the Cuban transport and road network being the way that it is. But if you focus on specific places that each show a different aspect, you can get a great insight into this wonderful country.
Cuba doesn't have a fantastic rail infrastructure like Japan or the cheap overnight buses of South America. Getting anywhere takes a long time, it's best to hire a local driver or book buses through a hotel if you're traveling around Cuba for two weeks. 
Rather than trying to fit a lot into your Cuba itinerary, enjoy spending a little time in each place. Of course, the slow pace of life does have its benefits; Ernest Hemingway came for a short visit and stayed twenty years!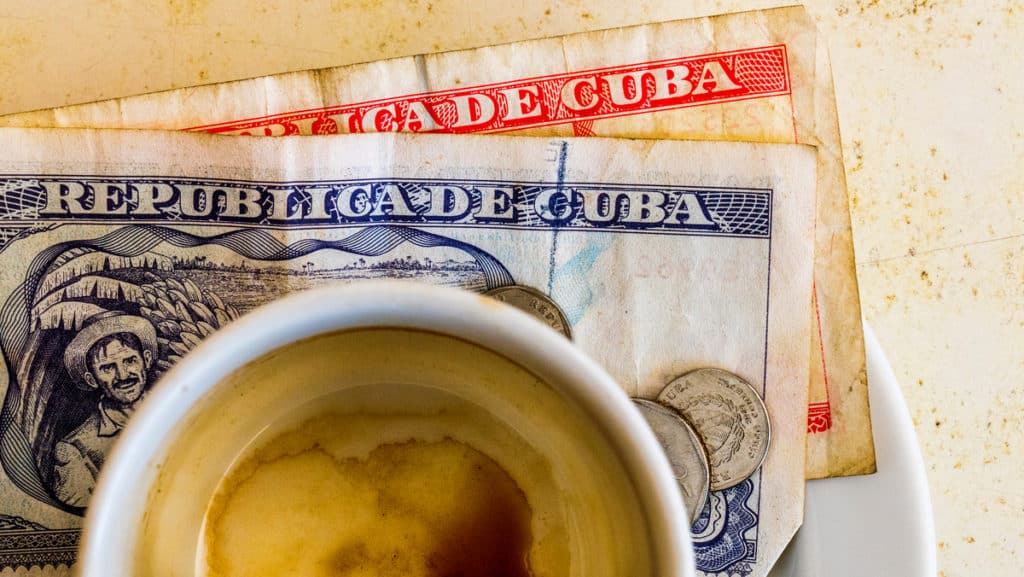 Money in Cuba
There used to be a tourist currency (CUC) and a local currency (CUP), but thankfully this confusing system has been phased out by the government leaving just Cuban pesos as the sole currency. You can't buy Cuban currency outside of the country or with an American bank account so make sure to take enough cash to exchange. ATM's can be found in the cities, but are few and far between in remote areas and in various states of disrepair. Cards are not widely accepted either due to the lack of reliable internet connections. I have a detailed guide to travel costs in Cuba if you're keen to read more.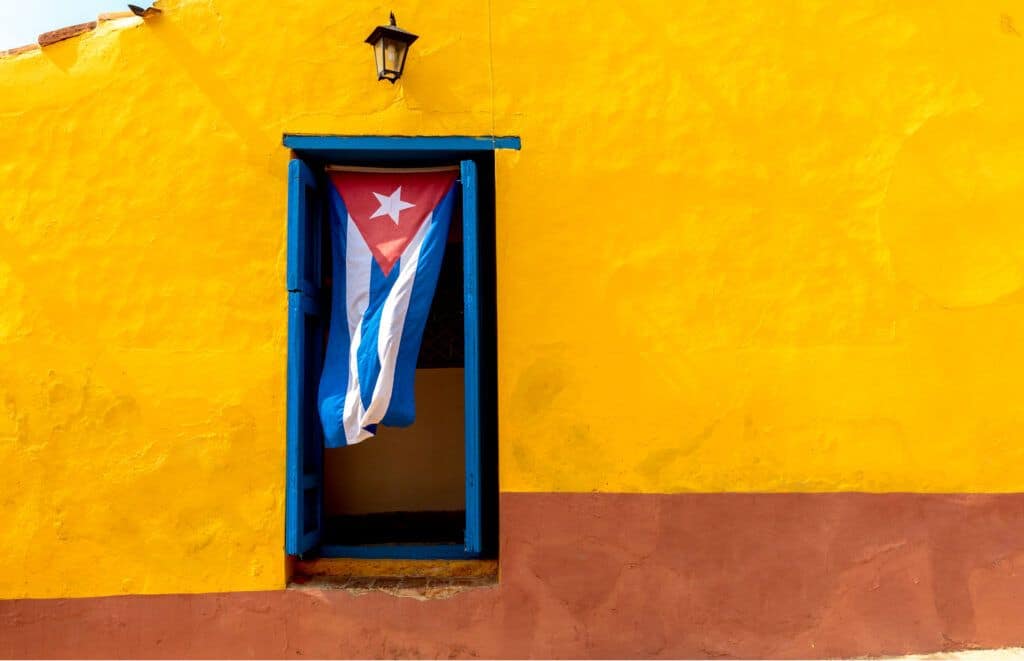 How to Spend Two Weeks in Cuba
Our Cuba itinerary starts with 3 nights in Havana, then heads out to cigar country in Viñales for a 3-night stay. We then spend 2 nights in Cienfuegos, 2 nights in Trinidad, and take time out with a 3-night beach retreat at Varadero. Finishing with the last night in Havana, to ensure we can easily make it back to the airport on time!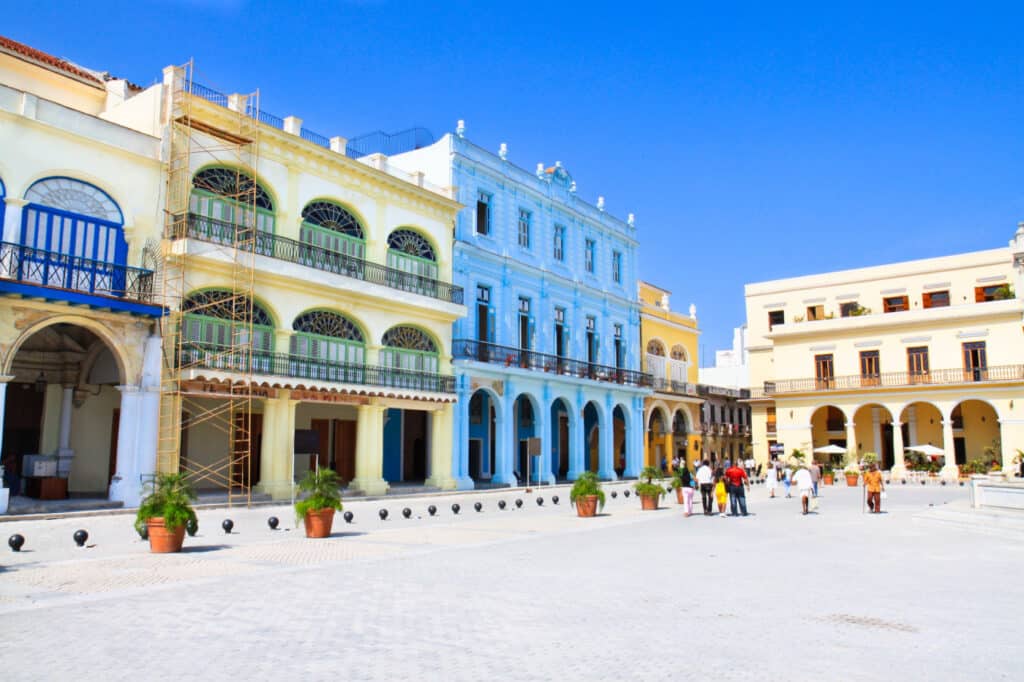 Day One: Arrive in Havana and Acclimatize
Cuba can be a bit of a culture shock. Even if you're an accomplished traveler, Cuba has unique oddities that separate it from the rest of the world. Firstly, say goodbye to being connected 24/7, or maybe even at all.
Although there is some Wi-Fi in big hotels (like Hotel Inglaterra in Havana), the rest of the country remains disconnected. Wi-Fi hotspots in places like Vinales see crowds of teens huddled around them, desperate to stay updated with the outside world.
So, you can forget about getting any updates unless you want to relive the dial up speeds of the late '90s, but it does have its benefits. Cuba gives you a chance to disconnect from modern life and get back to seeing a place through your own eyes rather than distorted through a screen.
Spend the first day easing yourself into the pace of life in Havana. I recommend staying in the old town. It's touristy, but it's also close to everything. In my mind it's not worth wasting time bartering with taxis or getting lost on public buses when you can stay right in the heart of it all.
Wander the cobblestone streets and head over to the old town square Plaza Vieja. Built in 1559 this square is full of the crumbling facades and colorful paintwork that make Havana so iconic. Pop up to Cámara Oscura for an unusual view of the city, then head over to retro 50's bar La Vitrola for some of the best cocktails around. The food is a mix of Spanish tapas and traditional Cuban cuisine.
A great place to stay in the old town is Residencia Santa Clara. The rooftop terrace is great for evening drinks, with great views over the city. The hosts are wonderful, and they make you feel like you are part of the family. 
The house itself is well designed, spacious and each room comes with a bathroom with a rainfall shower. I love that the hotel offers such a generous breakfast, and the coffee is super strong!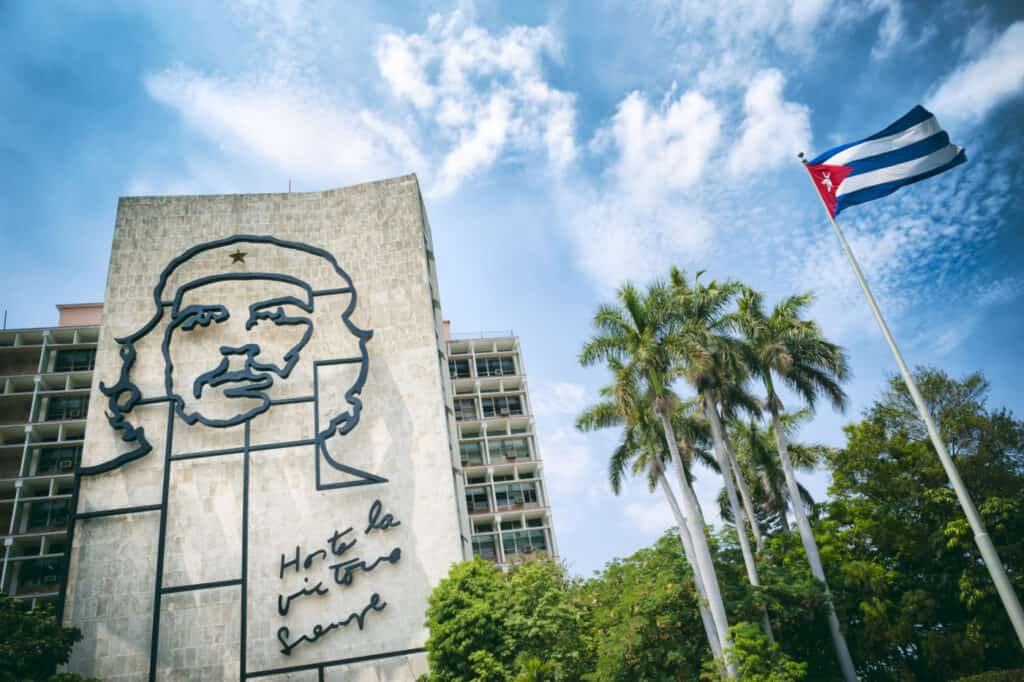 Day Two: See the Sights of Havana in a Vintage Car
A great way to get your bearings and fit in a lot of the more spread-out sights in Havana is by taking a classic car tour. Pick the best-looking vintage car from the parade at Parque Central and tour the city in style. And yes, my choice always is a bright, Barbie pink!
Seeing the city in the way easily beats the Havana hop-on-hop-off bus that's also available in nearly every other capital city.
We were so enamored with our 1950's Ford Thunderbird that we neglected to check that the driver could speak English on our second visit to Cuba. And so, my biggest tip here is that if you want an informative tour, always check your drivers spoken language and tour route before you hop in!
The driver will usually take you out to Vedado, past many beautiful colonial buildings and wide boulevards. A stop at Plaza de la Revolución is a must to grab snaps of the great monuments to the imposing revolutionaries of Cuba. These include the iconic portrait of Che Guevara, heroic guerrillero Camilo Cienfuegos, and the José Martí Memorial. The square serves as the base of the Cuban government and hosts large-scale political rallies and events like the pope's famous visit.
You will also likely visit a small park with a familiar Liverpudlian seated on a bench. Although he never visited Cuba, John Lennon Park was created by the communist Cuban leader Fidel Castro as an ode to a "fellow dreamer". There's also a full-time security guard loitering around the bench, looking after Lennon's iconic glasses.
Back at Parque Central you can't miss the grand golden cupola of the National Capitol of Cuba. The whole area is full of baroque buildings that wow at every turn. Spend the evening next door, catching a show at the Grand Theater of Havana. The impressive architecture of the palatial theater built in 1838 is worth the entry fee alone.
Day Three: Visit the Museums of Havana
For your third day in Havana, dig a little deeper by visiting some of the best museums in the city. The Museo Nacional de Bellas Artes holds some of the most important art in Cuba. There are 24 rooms with more than 45,000 works, there are also art pieces from the ancient world with collections from Rome, Greece, and Egypt.
Head over the road to El Floridita Bar for a quick refreshment at one of the most famous bars in the city, you might not get a table as this place gets super busy, but the interior is worth a look if you're nearby.
Remaining on the drinks theme, Havana Club Museo Bar is the place to learn all about the globally exported tipple. Havana Club Rum is a big deal in Cuba, learn all about the rum-making process, from the sugar cane itself to a scale model factory. Tasters are usually free too!
You can also visit the Museum of the Revolution housed in the former presidential palace. This museum pays homage to the country's greatest revolutionaries as well as Fidel Castro's famous yacht. Another option that's great for children is the Natural History Museum or 'Museo Nacional de Historia Natural de Cuba' located in the center of Havana at the Plaza de Armas. It's full of natural wonders and a great place to learn about the diverse life on this island.
Spend the late afternoon climbing the bell towers at La Catedral de la Virgen María de la Concepción Inmaculada de La Habana. Get some great views over the city and explore one of the best churches in Havana. It's advised to wear long pants as a mark of respect, or wraps are provided to cover bare legs.
Havana has some of the best food in Cuba, so don't miss eating at one of the many great restaurants, or paladares, while you're in the city. Try Ropa Vieja (shredded beef) at La Lluvia de Oro restaurant or for some of the best traditional Cuban cuisine visit Los Mercaderes.
For evening drinks there's no better place than La Bodeguita Del Medio. It's one of the most famous watering holes in Havana, with walls covered in messages and pictures of famous visitors. There's only one thing to drink here, a mojito. A popular spot with the mint cocktail loving author, Ernest Hemmingway, this place is usually busy with tourists, but the music and the friendly staff always make everyone feel welcome.
Of course, for a real slice of Havana life, visit the Malecón at sunset. Spot couples out on a date, families taking an evening walk and businessmen on their way home from work. All walking along the promenade taking in the last sun kissed views of the city before nightfall.
You can arrange your onward travel by bus through a hotel or tourist information point or arrange a collectivo (share taxi) or private driver through your casa particular.
Day Four: Stop at Las Terrazas on the Way to Vinales
On the way to your next casa particular in Vinales, stop off at Las Terrazas. Started in 1968 as an ecotourism project, the area contains over half of Cuba's native birds; it's home to 117 species of birds in total, and 12 of them are endemic.
Fidel Castro enlisted Camilo Cienfuegos's brother to build 1,360 kilometers of terraces to combat erosion, resulting in a self-sustaining community with roads, homes, and schools. Locals include an entire artist colony, who live and work in the area full time.
The community planted an astonishing seven million trees between 1968 and 1978. Then it was designated a Biosphere Reserve by UNESCO in 1984. It's the perfect stop for lunch and a hike. Las Terrazas is located in the Artemisa province in the Sierra del Rosario mountains, on the way from Havana to Vinales.
Many tourists never stop here, but locals often visit Las Terrazas as a day trip from Havana. Visit community projects like the Aire Libre café, the Casa-Museo Polo Montañez and the Moka Hotel. There's also Cuba's first zipline, with six lines surrounding the local village, and horseback riding along the San Juan River.
If, like us, you love hiking, the Sierra del Rosario has some amazing options. Climb Taburete Mountain, visit the ruins of the San Ildefonso and El Contento coffee plantations, or take the easy six kilometer hike up to the Santa Serafina Coffee farm. It's best to hire a local guide for all of these though, as the trails aren't marked and it's pretty easy to get lost!
Then travel onto your casa particular in Vinales to relax for the night. Stay in the heart of town to be close to everything. Casa Esperanza Tuta features air conditioning, private bathrooms, and mountain views. We loved the hosts – they went above and beyond to make our stay as comfortable as possible. And the continental breakfast, with locally grown fruit, is amazing.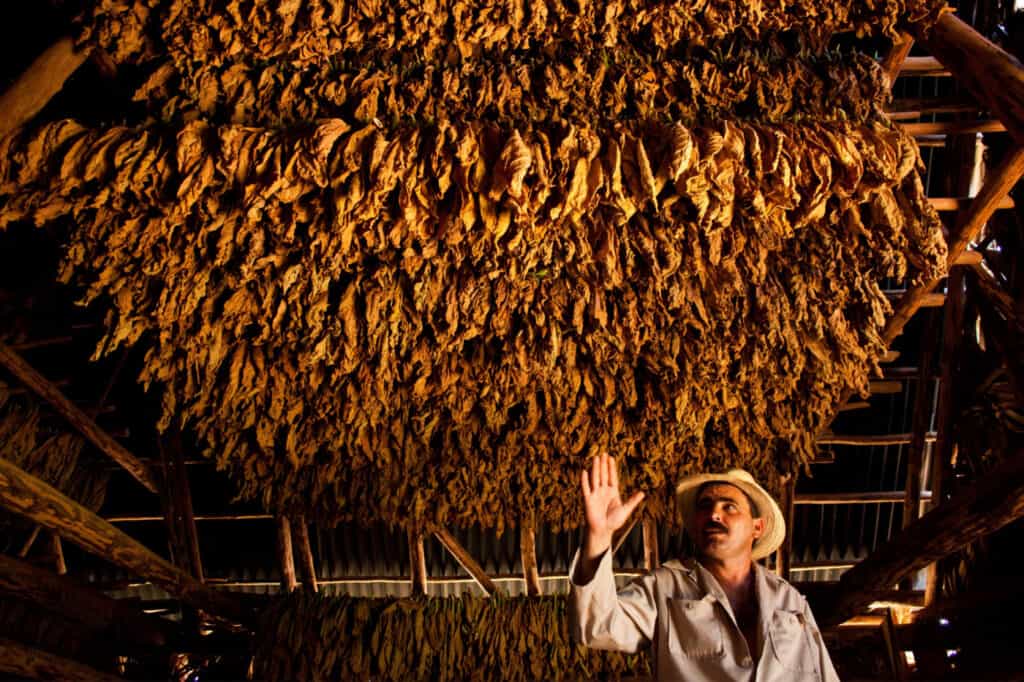 Day Five: Discover Where Real Cuban Cigars are Made
Vinales is a beautiful part of Cuba to visit, with its lush green valleys and large limestone outcrops. These towering cliff-like structures are known as mogotes, they can rise as high as 300 meters in this area and dominate the landscape.
Vinales is best known for its tobacco and coffee plantations, take a tour to find out how the locals grow, harvest, and produce these vital commodities. These aren't the polished, flashy coffee tours of Costa Rica or the organized tours of coffee plantations in Colombia.
These tobacco and coffee tours are the real workers taking you around their farms. There's usually a healthy amount of rum involved! And of course, at the end you have the chance to buy their products straight from the source (at heavily discounted prices, which I can highly recommend).
Avoid buying fake cigars from street sellers in places like the Malecon in Havana and get them here instead. Cuba is of course well known for its cigars, but if you've never tried the coffee be prepared for a kick! It's some of the strongest coffee in the world.
A mixture of how the beans are grown and how the coffee is made makes for an intense caffeine hit. Even the most avid caffeine addict might get a shock from the strength of Cuban coffee.
In the afternoon hire a bike to explore Vinales, you can visit the nearby Mural de la Prehistoria and see the many beautiful views of the valley. Explore the backstreets and get a sense of the quiet country life in Cuba.
Return to your casa to enjoy a beautifully home cooked meal. There are usually three choices; chicken, pork or lobster, served with rice and a tasty assortment of local vegetables and fruit. You will probably get to try them all if you're in Cuba for two weeks.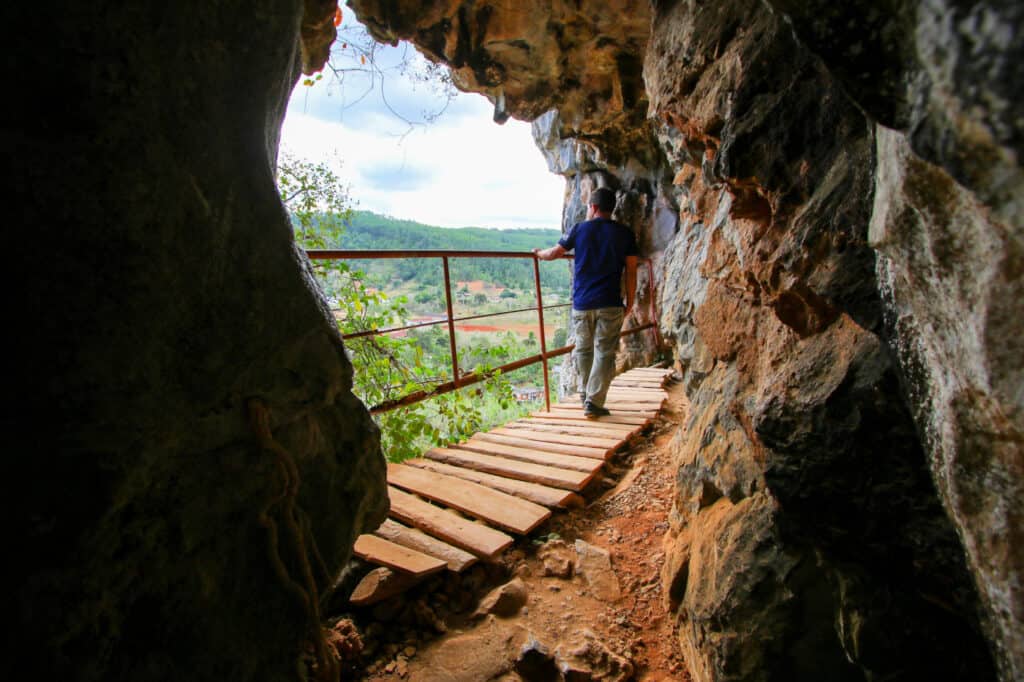 Day Six: Go Caving in Vinales
On your last day in Vinales, you could do other farm tours or simply relax around town. But for something a bit different, take a day trip from Vinales to visit the largest cave system in Cuba.
Gran Caverna de Santo Tomás is just a 30-minute drive away and is composed of more than 46 km of galleries in eight different levels. Take a 90-minute guided tour to see the stalactites and stalagmites, underground pools, and other interesting rock formations.
Your casa particular should be able to arrange a driver, and maybe even the tour. Cubans are entrepreneurs and everyone knows each other in these small towns. Don't be surprised if you find one person doing multiple jobs; tour guide, driver, cook, entertainer!
In the evening make sure not to miss the music and dance venues that line Cisneros Street. 3J Bar Tapas is a great place to grab a rum, pull up a rocking chair, and watch the world go by.
Vinales is the perfect place to get a sense of Cuban life outside the city. There may not be an amazing internet connection or public transport, but everyone is smiling, and help is never too far away.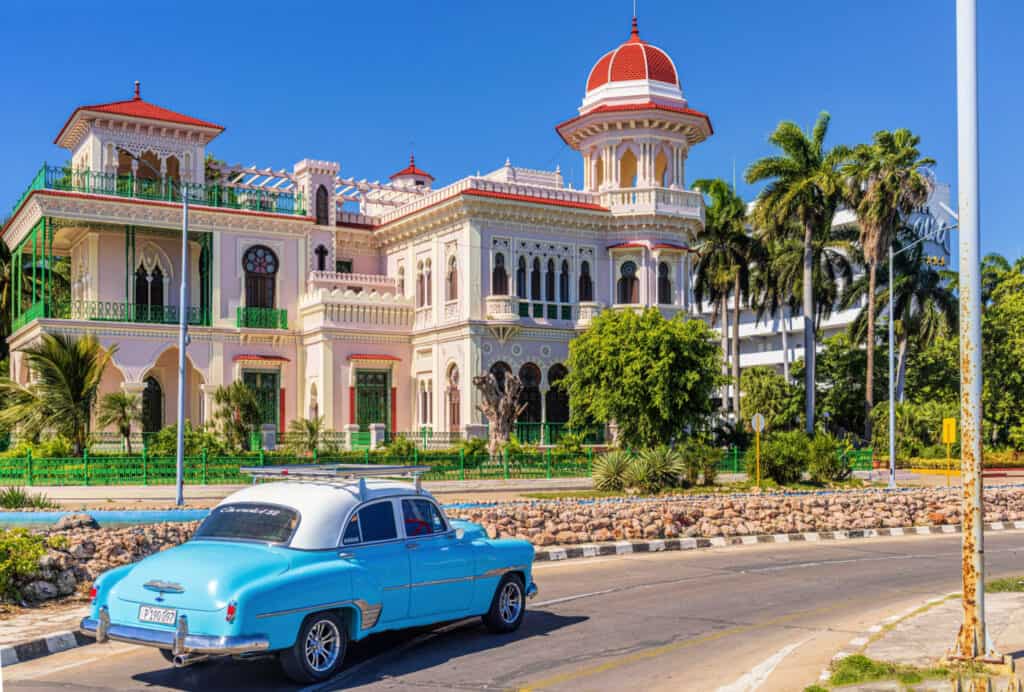 Day Seven: See the Architecture in Cienfuegos
Next up is a visit to Cienfuegos, which translates to 'One Hundred Fires'. The city was founded in 1819 by French immigrants from Bordeaux and Louisiana, and you will notice the buildings have strikingly different architecture to the rest of Cuba.
There is an unusual combination of Baroque, Gothic and Moorish styles. Visit the Jose Marti Park and the central plaza on your first day to get a taste of the city. Many say it's the most beautiful main square in Cuba.
A visit to La Reina Cemetery is also a must while in the city. Declared a national monument in 1990, the impressive statues and headstones make it one of the most interesting places to visit in the city.
In the evening head to the well-known Te Quedaras restaurant for traditional Cuban food, great drinks, and a lively atmosphere. We loved the pina coladas, and the Cuban music playing well into the night.
Stay at the Casa Buena Vista for bright airy rooms right in the center of Cienfuegos. The eclectic design, with everything from old vinyls to patron saints stuck to the walls, made us fall in love with this home from home. The terrace and lively bar are also fantastic for meeting other guests.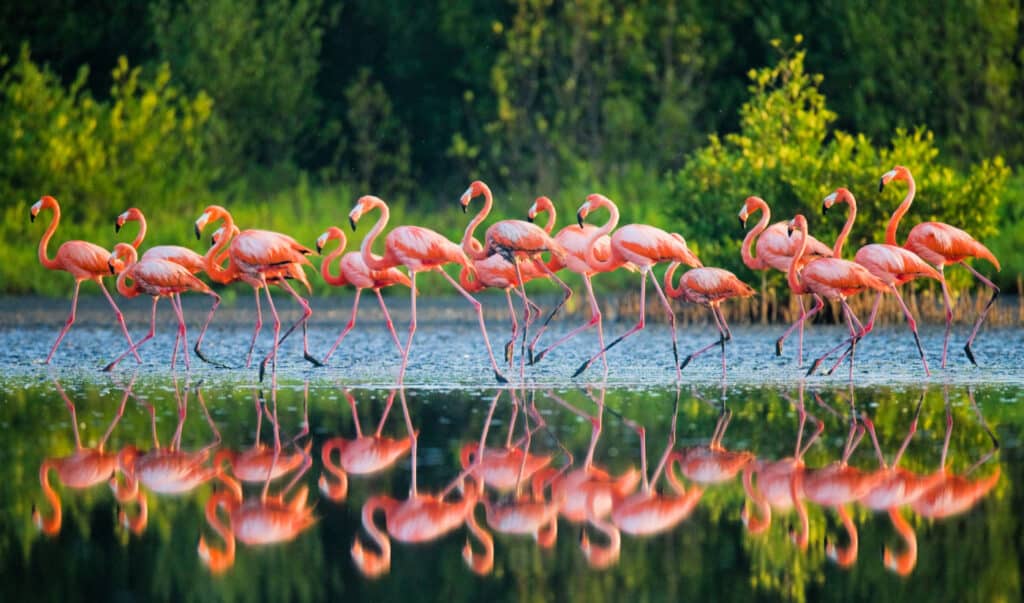 Day Eight: See Flamingos and Bathe in Waterfalls in Cienfuegos
On your second day in Cienfuegos, explore the surrounding area with its diverse landscapes and abundant wildlife.
For a chance to spot pink flamingos head to Laguna Guanaroca, just a 30 minute drive out of the city. Take a guided tour of the lake to learn about the local wildlife, flora, and fauna that make this part of Cuba their home.
Another option to get out of the city for a while is a visit to El Nicho, a beautiful and popular swimming hole fed by waterfalls. A round-trip taxi will cost you about U.S. $30 from Cienfuegos center. It's a great way to cool off in the summer heat and hang out with the locals.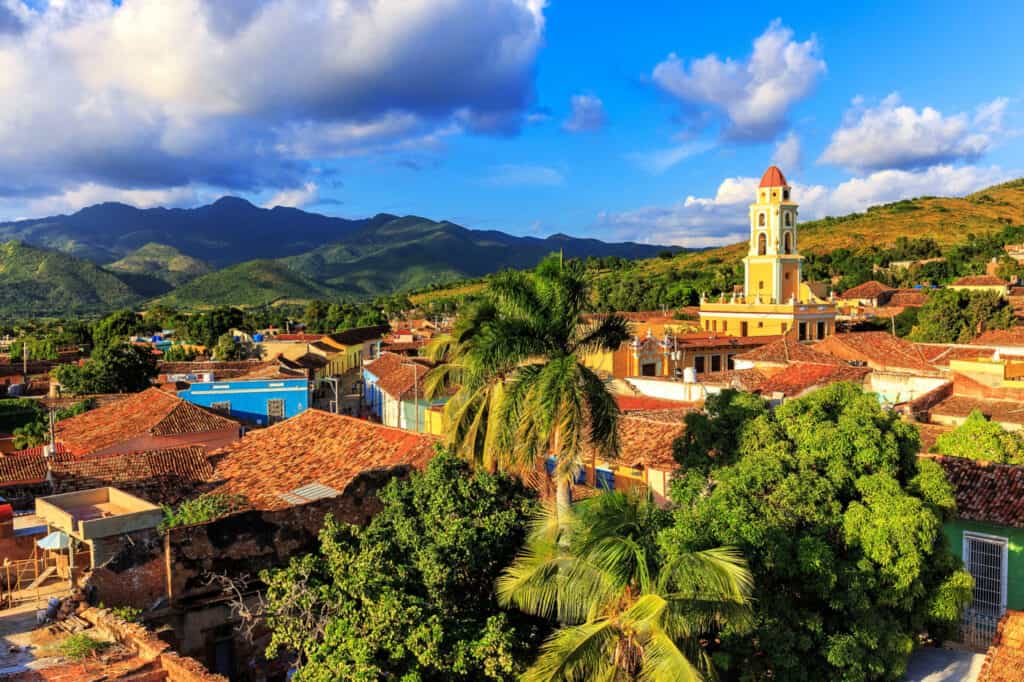 Day Nine: Visit the Historic City of Trinidad
Travel east to Trinidad on day nine, and the furthest point on your trip around Cuba.
Trinidad is the Cuba you've always imagined. Colorful houses, straw hats and cigar toting locals. It's the second oldest city on the island. Trinidad was founded in 1514 and declared a UNESCO World Heritage site in 1988.
Visit Plaza Mayor to see the beautiful 17th-century structures and get to the heart of the local culture. Grab a coffee and watch the world go by as you soak in the atmosphere in this lively, picture-perfect town. Or take a walking tour of the area.
Get some of the best views over town from Museo Nacional de la Lucha Contra Bandidos. Then in the evening visit one of the music venues hidden in an underground cave, like Disco Ayala.
Stay at Casa Barmarin, located in the pedestrian area of ​​Trinidad, right between the markets. The tranquil gardens and rustic rooms are stylish and full of eco-friendly little touches, but the casa still retains its Cuban charm. A highlight is the outdoor terrace and seating area, the perfect place to unwind from a busy day's sightseeing.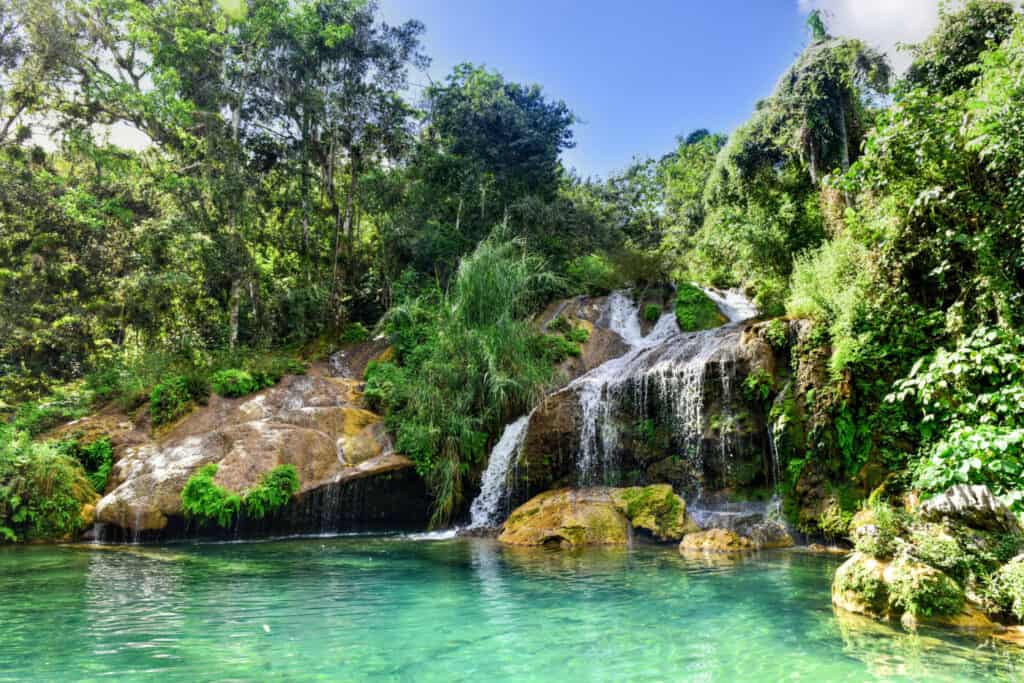 Day Ten: Day Trips from Trinidad
There's plenty to do outside of Trinidad too. If you're feeling energetic, visit the stunning mountains of Topes de Collantes. Take a seven kilometer round trip hike to Salto del Caburni, a 60-meter-high waterfall with impressive views of the surrounding area.
Another great thing to do near Trinidad is to take a steam train ride to visit the abandoned sugar plantations at Valle de Los Ingenios. It was the center for sugar processing and refinery and brought a lot of wealth to Trinidad during the 17th and 18th centuries.
There were 56 sugar mills in total powered by more than 11,000 slaves, bringing with it Afro-Cuban heritage like Santería, a syncretic religion between Catholocism, and Yoruba beliefs.
If you can, fit in a visit to the untouched reefs at Playa Ancon, and chill by the sea. Head back to Trinidad to try some of the local catches at the best paladares, like fresh snapper at Restaurante San José, or grilled octopus at Vista Gourmet.
In the evening try a Canchánchara, a potent rum cocktail, at the Taberna La Canchánchara. It's one of the four drinks that Cuba's best known for along with the mojito, daiquiri, and Cuba libre.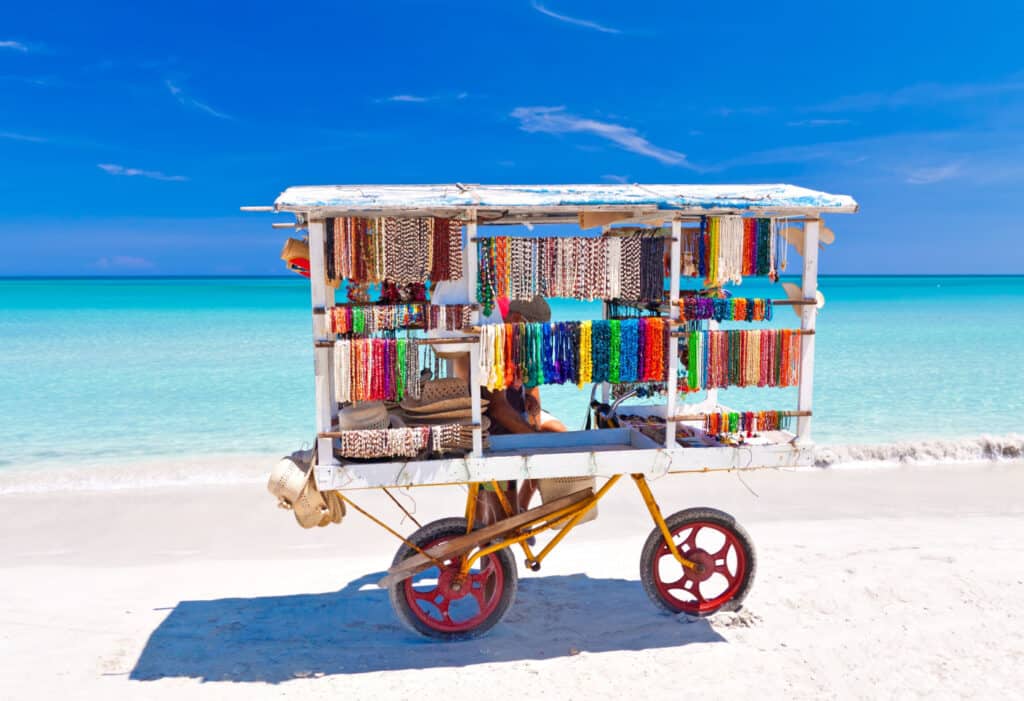 Day Eleven: Take a Trip to the Beach in Varadero
Spend the last few days in complete contrast to the rest of your trip to Cuba by visiting the largest tourist resort in the Caribbean. Located on the 20-kilometer long Hicacos Peninsula, Varadero boasts over 60 hotels (mostly all inclusive). It's famous for its white sand beaches and is a vital part of Cuba's tourism industry.
Playa Varadero offers all of the western comforts the rest of Cuba lacks, like public toilets as well as conveniently located cafes and beach loungers. It's the perfect place to unwind and relax in total peace and quiet, with a mojito in hand of course!
But it's not all beaches and cocktails. Visit the landscaped gardens of Parque Josone, the old Hershey chocolate factory, or the nearby town of Matanzas to get to know the area better.
Stay at the relaxed Casa de Betty y Jorge right in the middle of Varadero. This place has everything you need for a peaceful stay, plus there's a great Italian restaurant next door. One of the highlights of this casa is the location, you can easily grab a bite to eat in town and head out to Varadero Beach.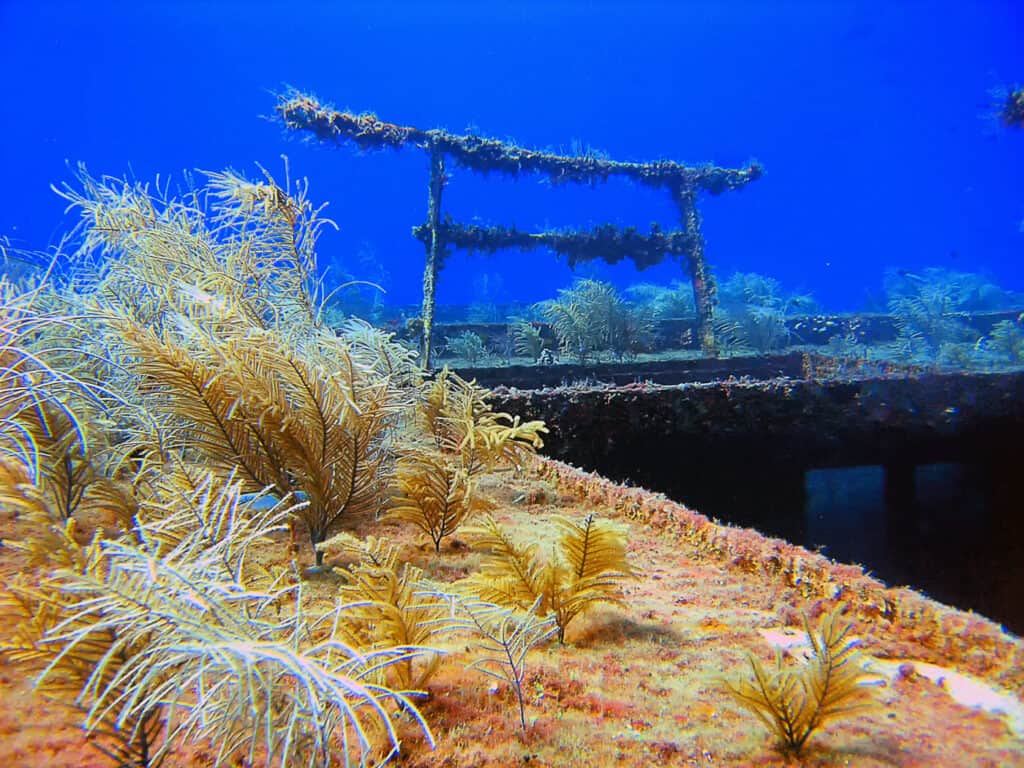 Day Twelve: Go Scuba Diving in Varadero
For me, one of the main reasons to go to Varadero is scuba diving. Visit Cayo Piedras del Norte located five kilometers north of Playa las Calaveras to dive a sunken towboat, a missile carrying gunship, an airplane and the Coral Negro yacht.
The marine park here was created during the 90's and has since attracted a plethora of sea life. You can also snorkel some sites or take a glass bottom boat tour of the area.
There are some fantastic dive sites dotted around the many cayes and coves surrounding Varadero. Tours are easy to book from your hotel reception, and don't break the bank either.
Fill your day with all of the underwater wonders of Cuba, this is the Caribbean after all.
Day Thirteen: Off the Beaten Path Things to do in Varadero
If you get tired of the pristine beaches and out of this world diving, there are plenty of other things to do in Varadero too.
Visit 47 pre-Columbian cave drawings in Cueva de Ambrosio. Only recently found in 1961, they are thought to be around (an astonishing) 2000 years old. Then head to the Varahicacos Ecological Reserve to uncover 2,500-year-old human remains as well as ancient pictographs.
You can also take a day trip to explore the cenote at Cueva Saturno or visit the amazing coral reef at Playa Coral, just a 30-minute drive away in Carbonera.
The great thing about Varadero is the crowds of tourists don't tend to leave the resorts, so you can have the beautiful surrounding area all to yourself!
Day 14 Havana: Spend the Last Night Sipping Mojitos and Salsa Dancing in Havana
Head back to Havana for a fitting end to your time in Cuba. It's hard to fit in everything this city has to offer and there are a few extra things to do on the last day here. Visit the Almacenes San José Artisans' Market, one of the best in the city, for local handicrafts and produce to take home as souvenirs.
After a day checking off anything you missed the first time around, get the ferry over to Casablanca. There are fantastic views over the old town, and the neighborhood feels very different to the rest of the city. My favorite spot is the Christ of Havana statue.
Visit La Cabaña de Che Guevara (Che Guevara's modest house) and the Fort of San Carlos of the Cabin. Don't miss the "Cañonazo", a nightly event in which ceremonial soldiers re-enact the historical firing of the cannon that once announced the closing of the city gates. Try to arrive around 8pm for a good view as the cannon is fired at around 9pm.
Another option is to head to one of the most famous spots in Cuban musics' history. The Legendarios del Guajirito Buena Vista Social Club is the place to be on your last night in the city. If you haven't heard the album or seen the film don't worry, you will be familiar with the Buena Vista Social Club by the time you leave Cuba. Eat before you arrive as the food is nothing to write home about, but the music and dancing is a great way to end your time in Cuba.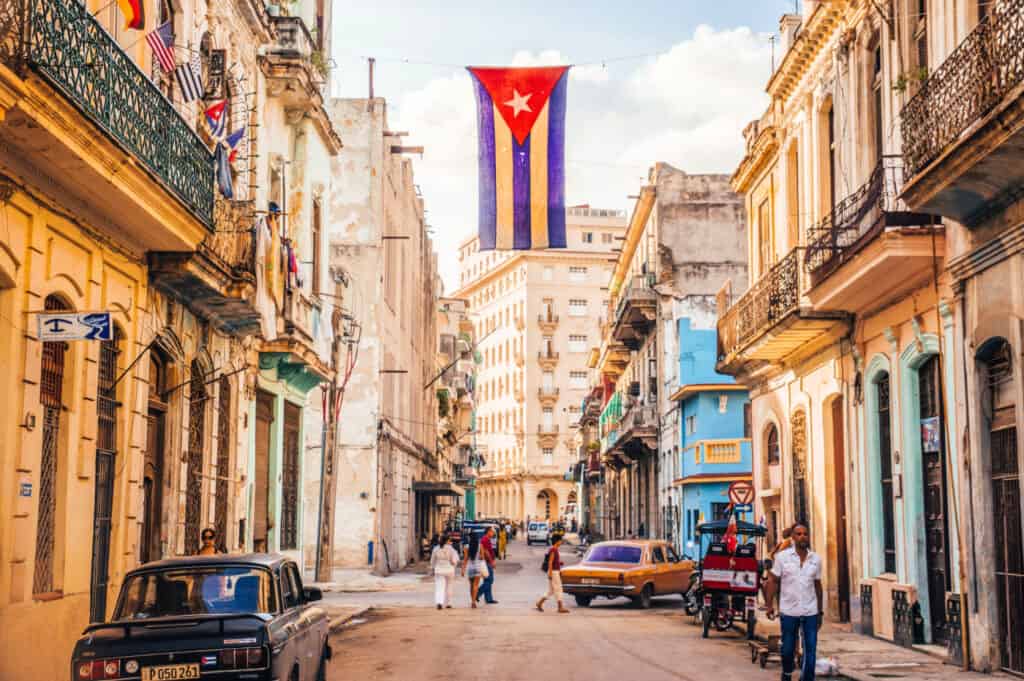 That's How to Spend 14 Days in Cuba!
This is an easy way to spend two weeks in Cuba. Fit in some of the major sights, a few off the beaten path adventures, and some cultural highlights.
You could cut down some beach time in Varadero if you have less time or alternatively spend more time in Trinidad. But remember, if you are going it alone don't try to fit too much in. Allow plenty of time for last minute changes and "Cuba time", things might just take a bit longer than you were expecting!