For eighteen years, Richmond, Virginia was the scene of my upbringing.
I was raised in an area of the city known as the museum district. So aptly named for the Virginia Museum of Fine Arts that was just a ten-minute walk from my front door. My memories growing up in the house on Floyd Ave consist of summers catching lightening bugs, breakfast every Sunday morning at 821 café, getting high underneath the train tracks downtown in high school, folk festivals, dancing in the Richmond Ballet's production of the Nutcracker, and Hebrew School.
Although my family is culturally and religiously Jewish we all managed to adopt very southern traits. Whenever my Bubbe (grandmother) got cut off in traffic her go to curse was "Sugar foot molasses, God bless a milk cow damnit! That bastard came out of no where Leigh!"
You can't find a more country curse than that.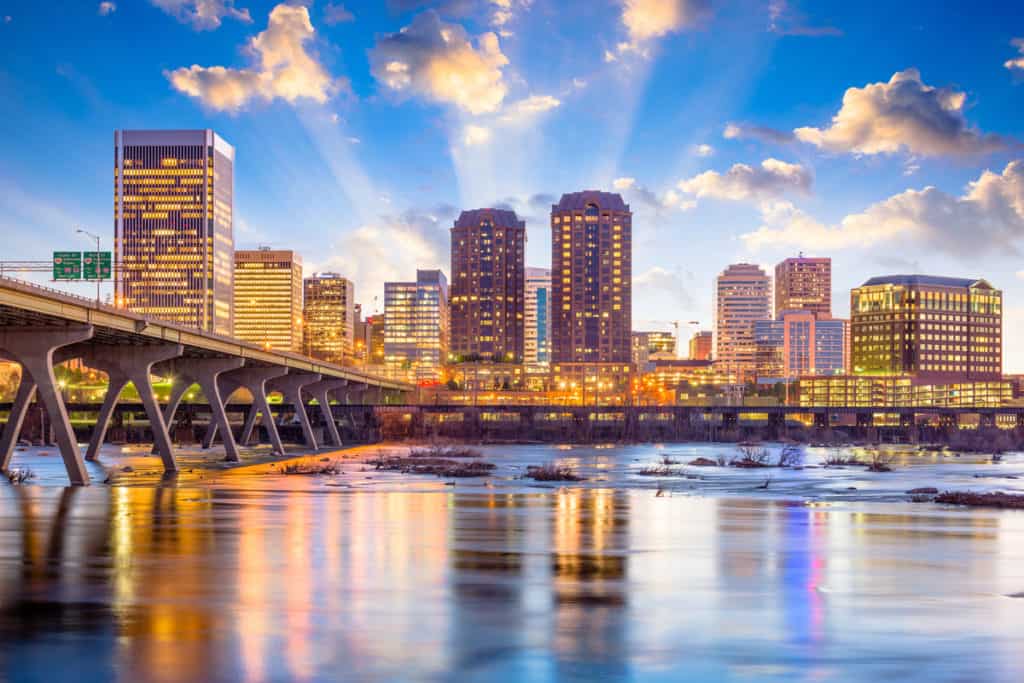 If you're an American History buff, this city is going to be one of your favourite trips of all time. Few people remember that Virginia was in fact the birthplace of the entire United States. Some of the country's most foundational moments took place within the city of Richmond.
John Smith sailing down the James River.
Partrick Henry delivering his famous "Give me liberty or give me death!" at St. John's Church in 1775.
Also some of the oldest African American slave cemeteries are located right in the downtown area.
Richmond has worked endlessly to incorporate it's past with its present. The result is a city filled to the brim with historic, social, and cultural significance.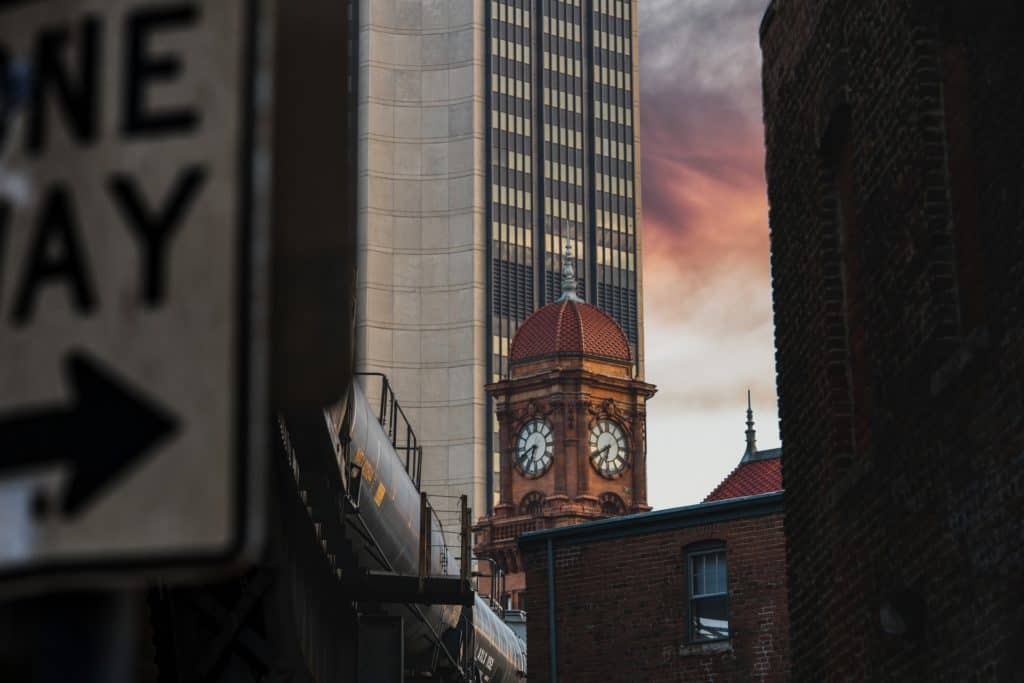 American history can even be found in Richmond hotels.
The Graduate Hotel on West Franklin Street downtown has Arthur Ashe's glasses on display. Arthur Ashe, the famous African American tennis player, was a Richmond native and recently had a boulevard named in his honour.
The Jefferson Hotel in downtown Richmond is a five star luxurious hotel experience. Since the late 19th century this place has held its title as one of grandest hotels in America. Indeed, the star studded guest list seems to have no end: thirteen U.S. Presidents, Scott and Zelda Fitzgerald, Gertrude Stein, Charlie Chaplin, Ray Charles, Frank Sinatra and Elvis Presley and more. Although this hotel is fabulous it does have some high prices to match its high level of opulence.
Airbnbs in Richmond are one of the best ways to get the feel of what it's like living in a historic Richmond home, in addition to saving some serious coin. I would definitely check out places near the fan or in the Museum district since both neighborhoods are centrally located.
As far as getting around town goes, you need a car. I cannot stress this enough. The bus system is an option but not one I would take. If you are road tripping it down here then you have nothing to worry about. For those of you flying in from out of state or overseas, I would definitely rent a car at the airport.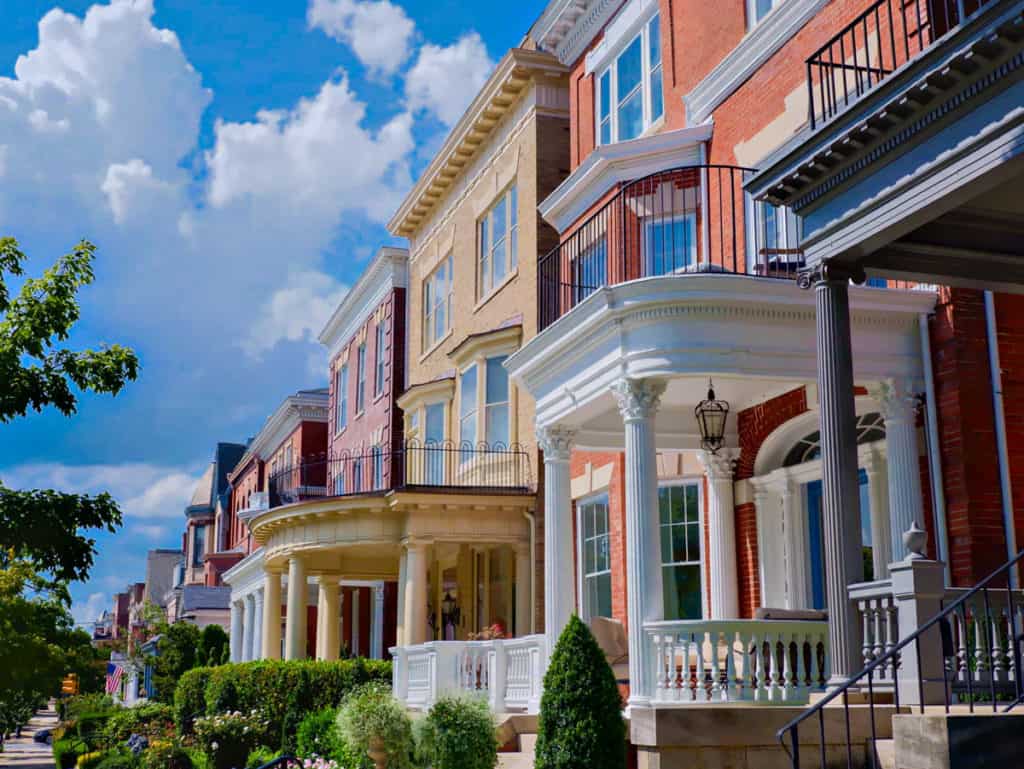 One of the biggest surprises in Richmond is, in fact, the people.
Although Richmond is technically below the Mason-Dixon line and was the capital of the Confederacy during the Civil War line, the people you find there are not as classically southern as you might expect. There is a surprisingly liberal undertone to the city.
Right smack in the middle is Virginia Commonwealth University, more commonly known as VCU. This is one of the best arts schools in the country and has brought a youthful artistic vigour to the city. If Richmond VA were a person she would definitely have a country grunge vibe; heavily tatted but rocking cowboy boots.
Although I haven't lived in the south for almost six years people still catch my drawl and occasionally I let a "y'all" slip from my tongue (especially when I've had a few drinks). Once a southerner always a southerner, it is an undeniable truth.
The following itinerary was crafted to show you how the city opens its heart to the world, and now to you.
How to Spend Your First Day in Richmond
First up: Breakfast at 821 Cafe!
If you grew up in the United States you know how significant the diner is to the American spirit.
Starting from the time I was ten years old till I left for college, my Dad used to take my sister and me to 821 Café for breakfast.
This diner has fed every single VCU student ever and you can quote me on that.
Located in the heart of the University, this diner serves breakfast and lunch from 10am-8pm. Even today, when I go home to visit, I always need to make a stop at 821 for their veggie omelette or a plate of Nutella stuffed French toast.
Their home fries are some of the best in the city and if you happen to be a vegan, welcome to paradise. My friend lived off their vegan breakfast burritos for a whole year.
Not only is the food at 821 Café fantastic, but also the environment of the diner is a mix of Richmond's vibrant young art culture and the old-fashioned chrome diner vibe of the 50s. The tables and mugs are all mismatched and you end up drinking your coffee out of something that looks like it came straight from your grandma's garage sale. Lots of Santa heads. It's what makes the experience so great.
Well, this combined with the unbeatable food.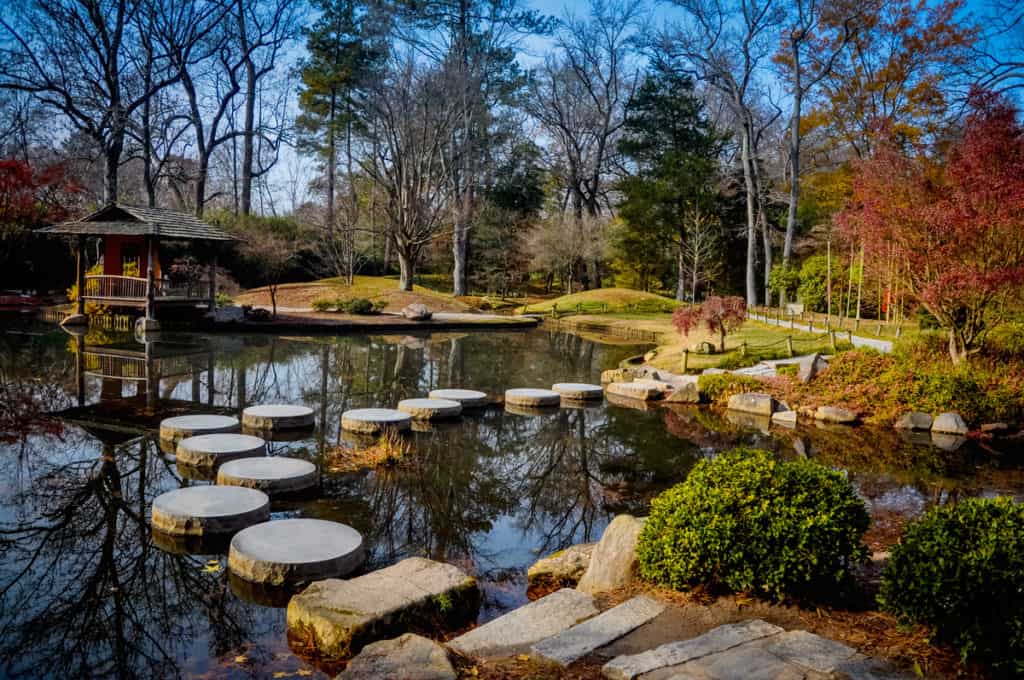 Spend Your Morning at Maymont Park
Maymont Park is a staple childhood memory of anyone who grew up in Richmond.
The city acquired the property from Major James H. Dooley and his wife Sallie in the 1920s. The Dooley's had occupied the house for over thirty years. Their Victorian home was left to the city and has been perfectly maintained in all its authenticity and opulence. Mrs. Dooley's narwhal tusk vanity still sits in her boudoir and costs more than college tuition at an Ivy League.
The park is 100 acres of bounding fields and rolling hills.
Take a blanket and book and have a moment of peace and tranquillity. You can also take a stroll through the beautiful Japanese gardens and walk across the koi pond. Many a wedding has been held in the Italian gardens with its beautiful wild roses.
I remember climbing the one hundred year old trees just by the gazebo in the Italian gardens.
There are also wildlife habitats with bears, foxes, dozens of birds, as well as a nature centre with otters, snakes, and fish native to Virginia.
This is one of the best places to spend a morning in Richmond, especially if you're traveling with kids. 
Grab Your Lunch at Mama J's 
After your tranquil morning it's time to eat again! Eating will be a highly recurring activity on this trip because there are just too many good eats in Richmond.
Family cooking is a staple of the south and I don't think there is a more beloved kitchen than Mama J's located in the historic Jackson Ward district. Every Sunday after Church you can see a parade of Church ladies in their big brimmed and flamboyant Sunday hats heading over to eat at Mama J's.
This is Richmond's best soul food dining experience.
Velma Johnson, affectionately dubbed Mama J, serves all the soul classics like fried chicken, crab cakes, pork chops, short ribs, fried catfish sandwiches, candied yams, and fresh collard greens. If you're still standing after your meal you need to have a slice of Mama J's famous cake.
My all time favourite is chocolate raspberry but there are literally dozens of other options. Every slice of cake comes heated up with a glass of milk. It's the definition of divine.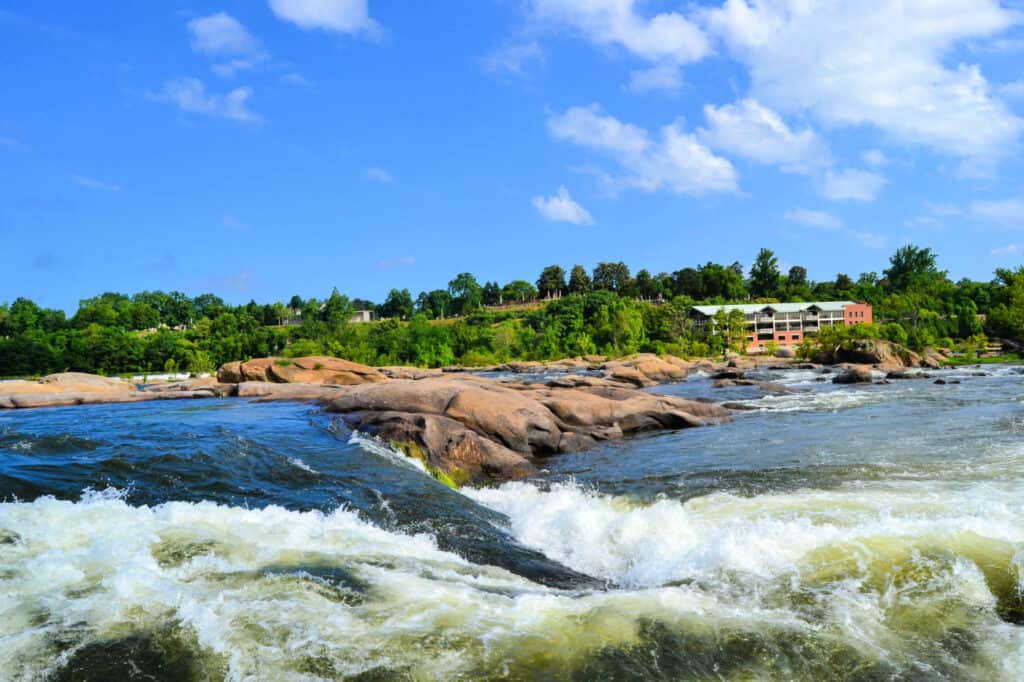 Spend an Afternoon at the River
Now that you're nice and stuffed we should get you moving to walk off some of that food baby.
Don't worry it wont be anything too strenuous, none of the hiking trails in Richmond are uphill.
One of the best hiking trails in the city is definitely across the footbridge and onward into Belle Isle. This was the island that John Smith (as in John Smith of John Smith and Pocahontas) documented his initial expedition to discover the new world.
Later on, during the Civil War, Belle Isle would once again be occupied as a prisoner of war camp. Nowadays, the island is visited by a number of people from families to college students all enjoying a day at the river.
Don't forget to pack a swimsuit if you feel like taking a dip.
One of my favourite parts of the river is the old pump house about half way down the main trail. At low tide, you can climb onto the giant and perfectly smooth river rocks, have a beer, and get some sun, or even have your own private swimming area at high tide. Just keep in mind that it is illegal to bring glass bottles to the river.
Also if you're road tripping with your dog this is the ideal place to let him or her run around or even playing a little bit of water fetch. This is definitely one of my top recommendations for this entire itinerary.
Next Up: Millie's
Millie's is one of the best-kept secrets of the Richmond eating scene. So far out of the way that only locals know of its location and amazing food.
Although this place looks like a hole in the wall diner, do not be fooled. Millie's has one of the most pleasantly unusual seasonal menus and a great wine list. They change their dinner menu every week and never miss the mark on serving delicious food. I can still taste the remnants of their strawberry shortcake on my lips and the last time I ate there was well over a year ago. This is definitely some unforgettable food.
It's first come first served at Millie's so I would suggest showing up earlier rather than later to avoid the dinner rush. Also the next stop on the itinerary closes around 9:00 so tout suite! 
The Veil Brewing Co. 
In the last decade Richmond has seen a significant increase in its number of breweries.
It is no secret that beer is the house wine of the south (well second to maybe sweet iced tea) and Scott's Addition has more than a few brewery options to suit any palate. 
This area of the city used to be abandoned warehouses and empty parking lots but in the last year there has been a ton of money poured into Scott's Addition. Now it is a haven of food and drink.
Some of Richmond's best up and coming restaurants and party venues are in this area including the Veil Brewing Co. 
Plenty of outdoor seating combined with dozens of different on draft beers and some of Richmond's best food trucks making this place one hell of a good time. 
It is also dog and kid friendly so if you're looking for a nice place to throw back a frosty cold one and enjoy the end of your day this is the spot.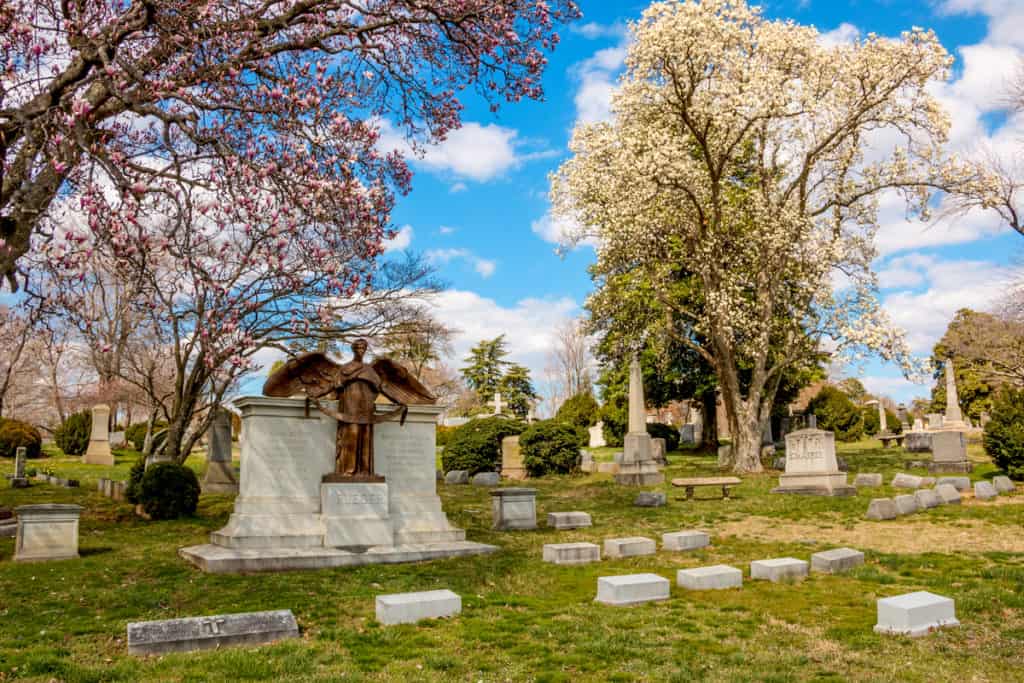 How to Spend Day Two in Richmond
Hiking Hollywood cemetery
One of my mom's favourite places to take the dogs on a jog is at Hollywood cemetery in Oregon Hill. The entire cemetery grounds are an impressive 135 acres of rolling hills, lavish gardens, and towering trees.
Established in 1847, there is a plethora of famous names laid to rest in those hollowed grounds, including several US Presidents, Supreme Court justices, and beloved American authors.
The most lavish grave in Hollywood Cemetery is definitely the tomb of President James Monroe, a gothic style birdcage surrounding his large granite tomb located in the President's Circle. However, I always like to see the tomb of the famous Virginia vampire who is rumoured to live in the mausoleum of WW Pool. There are many versions to this folktale but one thing is certain, that grave lives up to its eerie reputation. Go ahead and take some pictures if you're brave enough to get close.
Lunch at Perly's
After working up a bit of a sweat and certainly an appetite are you ready for a little taste of the Jewish south? Welcome to Perly's.
This Jewish diner and deli is owned by Richmond restaurant legends Johnny and Katrina Giavos and their partner Scott Coleman.
The Giavos family owns and operates a number of restaurants in Richmond. Every single one of their restaurants feels like home and Perly's is no exception.
Scott's family photos from the 50s line the walls and the entire diner has the look, feel, and smell of a true New York deli. Their matzo balls and latkes taste like they got my Bubbe cooking in their kitchen and this is also the best place in the city to find a kosher hot dog with all of the fixings.
Be warned the portion sizes are really large.  My personal recommendation is to split the food.
Order the Jewbano sandwich with sliced tongue and beef brisket and round off your stomach with some kasha varnishkes or perhaps a black and white cookie for dessert.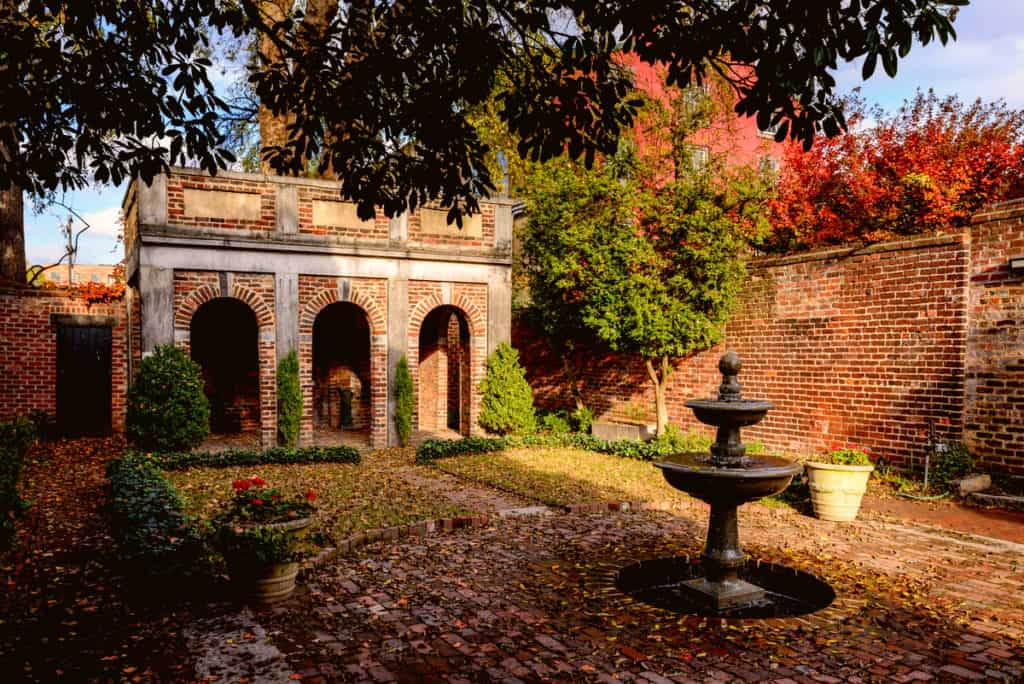 Visit to the Poe Museum 
For those of you who are serious Edgar Allen Poe fans welcome to the largest collection of Poe memorabilia and artefacts in the world.
This museum founded over one hundred years ago functions as both a museum and shrine to the famous American authors legacy.
The Enchanted Garden in the middle of the home was designed to reflect the spirit of Poe's famous poem "To One with Paradise."
Flowers that were mentioned in the poem have been planted all around the garden.
The bricks used to create the garden's walkways were taken from the building where Poe first began his writing career.
In elementary school my class took a trip to the Poe Museum and we got to see some of his most personal artefacts like his childhood bed and ate lunch in the Enchanting Garden.
Get a Tattoo
Richmond is home to some of the best tattoo artists in the country.
I think it's because Richmond is home to one of the best arts schools in the country.
If you're looking to walk away with a physical souvenir of your trip or have wanted to get a tattoo for ages but never took the plunge definitely make an appointment at the iconic River City Tattoo Co.
My best friend has been getting tattoos here since we were in High School. Their artists are experts in American as well as Japanese traditional tattooing styles and are some of the most coveted artists in Richmond.
Almost everyone I know has some form of body art from these guys. Personally speaking this is the place I get all my piercings done. I will say again that you need to make an appointment for tattoos. I would recommend calling ahead of your trip to talk to the artist and discuss what you plan on getting.
Dinner at The Roosevelt 
Let's finish off your day with a nice dinner in Richmond's oldest neighborhood, Church Hill. Here lies The Roosevelt: a nationally acclaimed spot for eating and drinking.
The menu is a mix of southern cooking with a modern flare all housed within a restored turn of the century building.
Start with some of their cornbread with whipped maple butter, or my personal favorite, the crispy lamb belly with grilled plums and pickled enoki mushrooms. Then move on to their unforgettable roasted chicken and finish off your dining experience with a slice of their currant sake cake. This is approachable high dining at its best.
Anytime my parents need a guaranteed win for a birthday dinner this is the place to go. Visit their website to make a reservation!
How to Spend Day Three in Richmond
Kuba Kuba
Say the name Manny Mendez in Richmond and someone will say, "the guy who owns Kuba Kuba right?"
Manny has fed the city of Richmond since 1998.
He is the neighbourhood guy that everyone knows and definitely knows his food.
Kuba Kuba is the jewel in Manny's crown serving a multitude of dishes inspired by his family recipes from Cuba.
You can find all the favourite classics on the menu like platanos, Cuban sandwiches, and my personal favourite huevos rancheros with soft Cuban bread, Monterey jack cheese and enchilada sauce. You can also sample some of his own creations like the Bar'b'quban and the Kubanaso, similar to a Cuban sandwich but with a spicy Spanish chorizo. 
If you want to go for breakfast on the weekends show up early because this is the weekend brunch spot in town. Also if you go for breakfast wash down your food with a cup of café con leche and have them throw in a shot of condensed milk. This coffee will fix your whole life.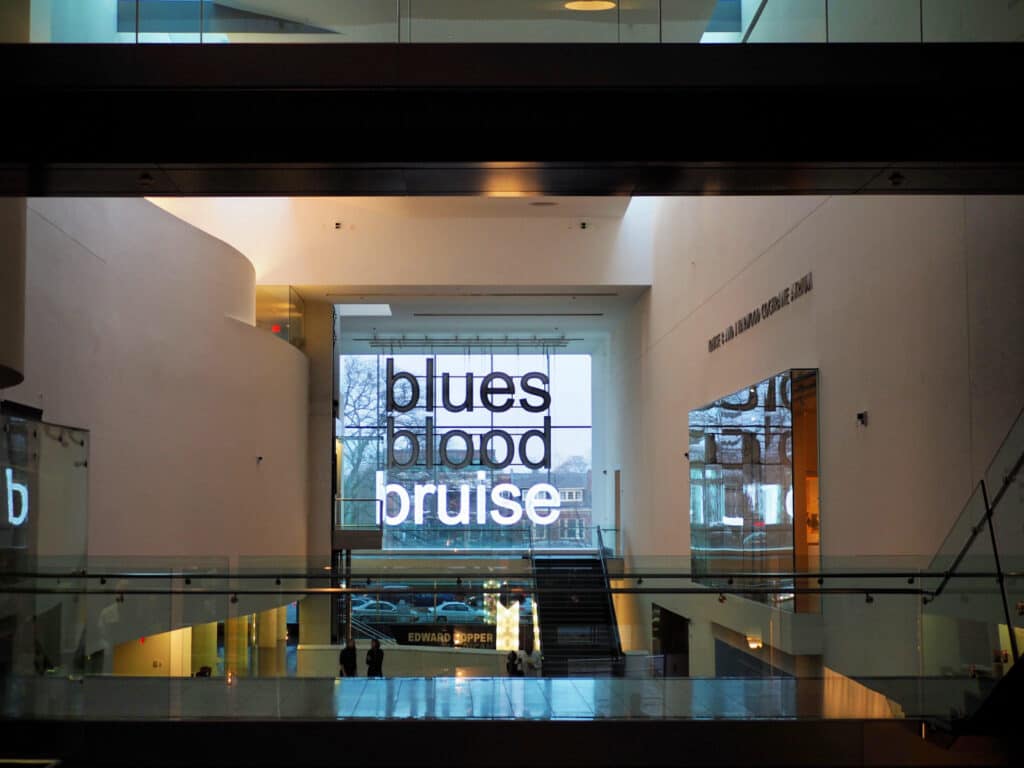 A Morning of Art at the Virginia Museum of Fine Arts
One of the best places to have a morning full of culture and relaxation is at the Virginia Museum of Fine Arts.
This internationally renowned museum has been an icon of Richmond art and culture since before I was born. I can say without a shred of doubt that this museum holds a special place in the heart of every Richmonder.
There is also a wonderful café and restaurant on the top floor that overlooks the entire grounds.
Some of the museum's best exhibitions I have personally attended include the high fashion masterpieces of Yves Saint Laurent, the life works of Rodin, the remains of ancient Egyptian cities dug up from the bottom of the Mediterranean.
It never fails to astonish me the level of artistic renown and thought to be found at the Virginia Museum of Fine Arts. Even the famous artist Kehinde Wiley (the man who painted Obama's presidential portrait) consented to have his world famous sculpture "Rumours of War" placed on the front lawn of the museum.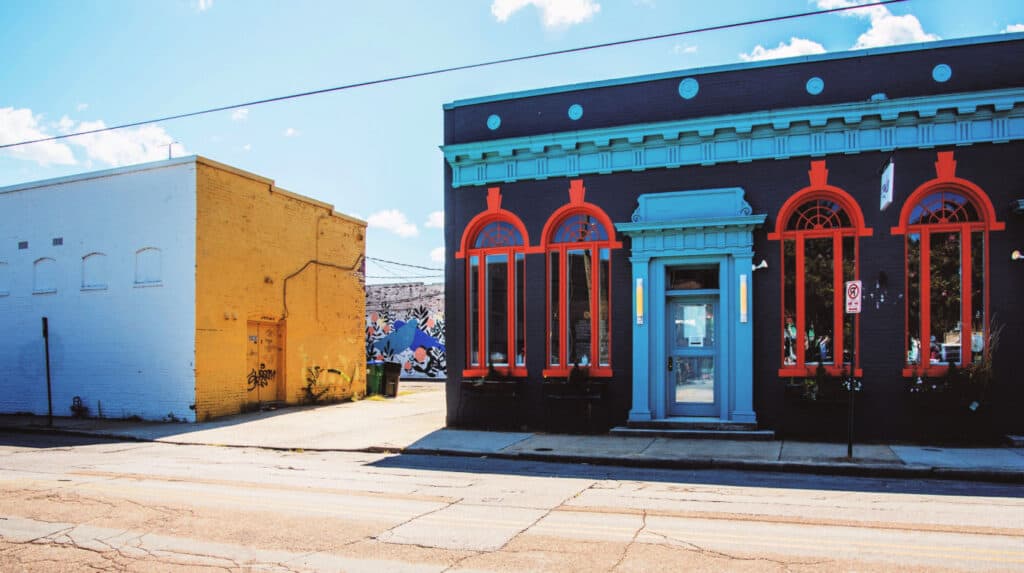 Shopping in Carytown
Carytown is the main shopping centre located on West Cary Street not too far from the Museum.
In middle school the "cool thing" to do on a Friday or Saturday night was have an evening of frolicking and fun in Carytown. In that long stretch of road you can find some of best little boutiques that carrying all sorts of local, vintage, and even some shocking items.
Be sure to make a pit stop at World of Mirth toy store and try on all their funky sunglasses and hats. Then head over to Mongrels and stock up on dirty birthday cards, or perhaps a Ruth Bader Ginsberg saint candle, or maybe even some of their profanity-laden pins.
However my all time favourite boutique has got to be Bygones Vintage Clothing. This little spot specializes in vintage clothing from 1900-1969 and has plenty of options for both men and women. This is where I buy all of my vintage eyewear and costume jewellery because you cannot beat the authenticity or the price.
Getting a Pre-Dinner Drink at The Q Rooftop Bar
The Q Rooftop Bar at the Quirk Hotel is one of the most beautiful outdoor bars in all of Richmond.
If you are visiting during the spring or summer I highly recommend not missing out on this place. They have a fabulous drink list and the view is unbeatable.
When my sister and I visit home at the same time we always take one or two evenings to dress up and head on over to the Q Rooftop Bar for a mint julep.
The rooftop is first come first served but they offer priority seating for hotel guests, so you may want to also check out Quirk Hotel for your stay in Richmond. 
Dinner at Stella's
The Richmond food scene is definitely kept within the family.
Do you remember me mentioning Johnny and Katrina Giavos the owners of Perly's? Well, Katrina's mother, a woman we all know as Yaya Stella, has her own restaurant on Lafayette Street appropriately named Stella's.
Yaya Stella was born in German occupied Thessaly in 1942. In the 50s Stella married and immigrated to the United States with her late husband Stavros. They first opened Richmond's iconic Village Café, still family owned and operated till this day, and in 1983 the first Stella's was opened on Harrison Street. Only later did she move the restaurant to Lafayette and opened a blossoming chain of grocery stores stocking all her beloved classics.
This is some of the best Greek food you could ever hope to find on the east coast of the United States. Everything you could ever want, from Dolmades, Stella's homemade hummus, grilled whole fish, and keftedes.
Stella's is one of the hottest spots in town for dinner on weekends and sometimes weekdays so definitely call to make a reservation. You don't want to leave this delicious experience to chance.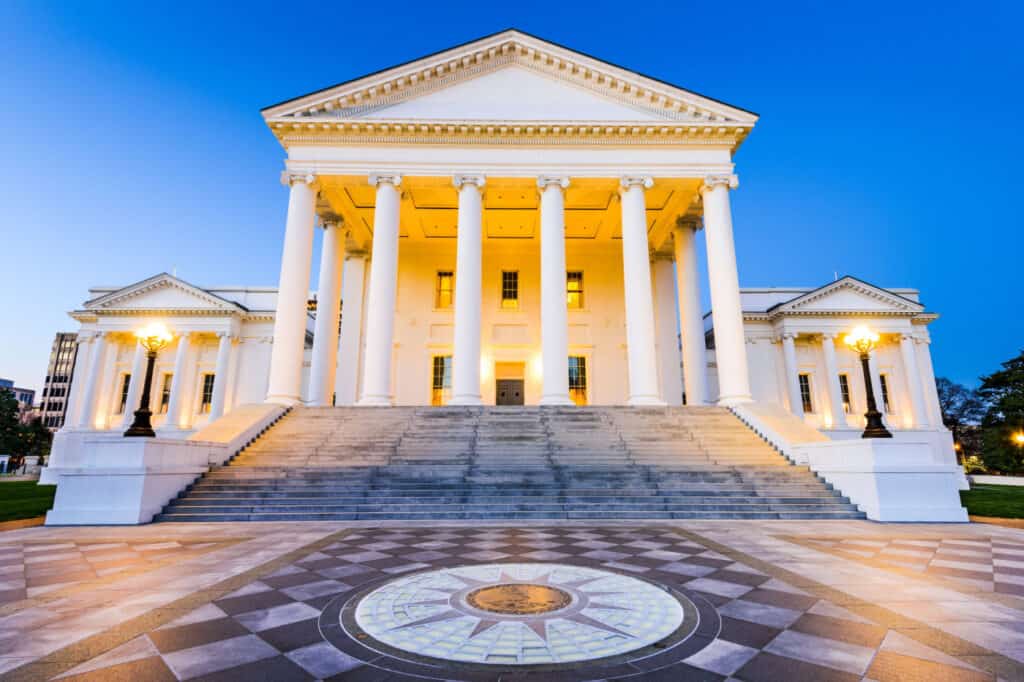 I have had the distinct privilege to have travel the world and become exposed to all types of cultures.
However there is no place on earth like the American south.
From the history to the food culture it is not a travel destination to be missed. On top of this you can't find a nicer people in any part of the United States. Southerners meet no strangers, always hold the door for the last person, and never come to a house empty handed.
Richmond, Virginia will certainly welcome you and your family with open arms and a full plate.