Egypt is a fascinating country that's intense, vibrant, and world-renowned for its historical architecture and relics. Bearing in mind that the age of the Pharaohs in Egypt took place between 3150 BC to 30 BC, it's not hard to imagine that history is one of Egypt's greatest attractions. The immense pyramids and spectacular temples found across the country attract thousands of tourists each day, who come to explore Egypt's past.
But there's far more to this country than its historical riches.
Egypt has a fascinating culture, incredible coastal destinations riddled with colourful coral reefs, desert landscapes like no others, and lush oasis along the Nile.
With just two weeks in Egypt, you'll want to tick off all the best travel destinations, starting with Dahab for 2 days, then the quiet Nuweiba for another 2 days, followed by Cairo for 4 days, an escape to Siwa for 2 days, and a trip down south to Luxor for 2 days, and Aswan for 2 days to finish it off. You'll be busy, but it's absolutely doable!
What to Know Before Traveling to Egypt
Egypt is culturally very different from the west, and it's bound to be a bit of a shock at the start, especially if you venture outside of the most touristy destinations and decide to stay in more humble lodgings.
There's so much to discover in Egypt, and it really is one of those destinations that leaves a lasting impression and impact on you. It's also extremely cheap, you can get falafel wraps for as little as 5 Egyptian Pounds and find (admittedly far from luxurious) accommodation from 3 dollars upwards. That said, there's also lots of grand resorts and Hilton Hotels around Egypt, so if you want to splash out a bit more and experience Egypt in style you can.
There are a few things I wish I'd known when I set off on my adventure in Egypt, most of which are simple practical tips. So here they are!
Firstly, Google Maps doesn't work in a lot of the cities in Egypt, particularly Alexandria. There were many occasions when I spent an hour wandering around looking for a shop or restaurant that didn't exist, and likely never did. It's pretty reliable in Cairo, but bear in mind you might have to ask for directions more than usual and don't assume that everything on the map is really there.
Secondly, public transport in Egypt is pretty great for getting between cities and towns, but rather crap for local transportation. In Cairo all my Egyptian friends use Uber to get around, and they laughed at me when I suggested we get the metro. Uber isn't expensive either, so it's worth saving yourself the hassle of trying to figure out the transport routes and schedules if you're only visiting each place for a few days.
When it comes to safety, Egypt is pretty safe to wander around by day, but it's best to stick in groups at night. Always make sure you know where you're going, and stay a bit alert and you shouldn't have any problems.
With that being said, it's time to jump into the itinerary.
Day 1: Relax in Dahab and Snorkel in the Red Sea
Dahab is a quirky town along the Red Sea. It's a little bit hippy and unusual, but it often ends up being people's favourite destination in Egypt because of the tranquil atmosphere and relative progressiveness of the place.
The town runs along one long street that has countless stores selling harem pants, local products, and flip flops. There's a lot of hip and cool people in Dahab, and a great number of foreigners.
People come to Dahab to relax and rest. Most people save it for last, and enjoy some downtime after visiting Cairo, but I think that starting in Dahab is a great way to ease yourself into Egypt.
On your first day, walk around the town, try haggling (seriously, you have to haggle for everything in Egypt or you'll end up spending five times as much as the product is actually worth) for some souvenirs, then take a cool dip in the Red Sea.
It's worth renting or buying a snorkel set whilst you're here, and you can rent them for as little as 20 Egyptian Pounds a day. As we said, Dahab is along the Red Sea which is home to vibrant coral reefs and exotic marine species – don't be surprised if you see an eel swimming past you!
Dahab's best beach spots are either in the town itself or a short walk away, so it's easy to get around. The Lagoon is a popular beach that is about 15 minutes' walk from the centre of town, it's long and sandy and a great spot for kitesurfing (it can get a little windy!).
Where to stay: This stunning little apartment just outside of Dahab is the perfect place to come and relax and reset. There's a cute outdoor area with a hot tub, lots of sun loungers – the optimal place to read a book or enjoy some star gazing. The apartment is quaint and cute, elegantly decorated with boho-chic decor. You can't go wrong at Villa Can Kiko.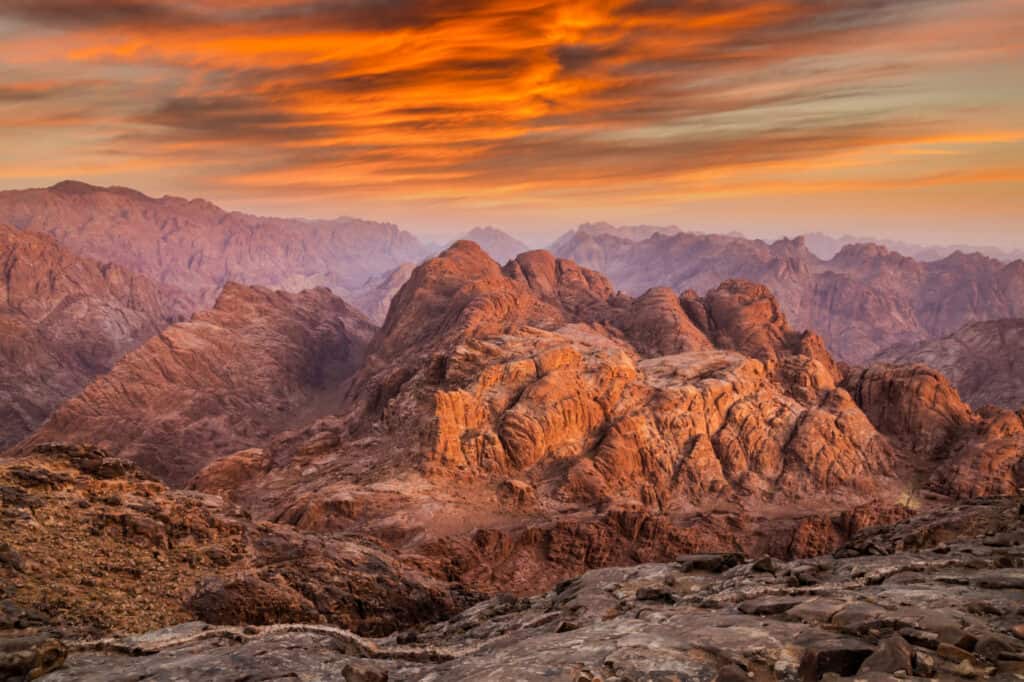 Day 2: SCUBA Dive and Go Up Mount Sinai
If there's one thing you absolutely have to try whilst you're in Dahab, it's diving. I went with a small, local tour company called Aqua Divers. They were super friendly and professional, and great at giving us support once we were in the water too!
You'll likely go diving at the iconic Lighthouse spot in Dahab, it's in town but don't let that put you off – the corals are spectacular, and it feels safe and comfortable if you're a first-time diver.
You don't need any prior experience to dive, amazingly, it isn't even a requirement that you know how to swim when you go on a diving tour as the guide can hold you up from your tank! If you want to take on a more challenging dive, look into a tour to the Blue Hole.
That night, take a tour up Mount Sinai and visit St. Catherine's Monastery. The tours leave at around midnight and you start to hike up the mountain at about 3am, arriving at the top of the mountain in time to watch the sunrise over the barren mountains in the distance. Bring lots of warm clothes, it's freezing up there!
Mount Sinai is a place of legend as much as it's a beautiful hike, the mountain was traditionally known as Jabal Musa, which translates to Mount Moses. It's said to be the same location as the biblical Mount Sinai, where Moses received his Ten Commandments.
Day 3: Plan to Do Nothing in Amazing Nuweiba
Very close to Dahab there is a little town known as Nuweiba. The town is very local, but the real beauty and treasures of this area are further along the coast, where simple wooden cabins line the tranquil, turquoise waters of the Red Sea. There is camp after camp, each as dainty and quirky as the next.
If you do decide to take on a SCUBA dive and Mount Sinai in a day and a night, you're going to be exhausted! Lucky for you, there's not much to do in Nuweiba but enjoy the gorgeous white sand beaches and lounge around in hammocks.
I think the itinerary for this day should be to relax, snorkel, and sunbathe. Soak in the incredible natural surroundings and watch the gentle waves roll in as the sea breeze cools you down. Nuweiba is one of the most restorative and peaceful travel destinations in Egypt, so enjoy this little bit of downtime.
Where to stay: While you're in Nuweiba, you have to stay in a wooden cabin or Bedouin tent on the beach. They're positioned at the edge of the shore, just metres away from the Red Sea. Dayra Camp is a popular option, visited by young adults who come from Cairo looking to relax and escape the loud crowds and intensity of the city. It's got a somewhat hippy feel to it, and it's not exactly luxury accommodation but it's cheap, cool, and a great spot.
There's nothing quite like waking up on the shores of the Red Sea and going for a cool dip. The food wasn't amazing, but you get breakfast and dinner included so you can't complain!
Day 4: Go Hiking in the Colored Canyons
Nuweiba is surrounded by desert mountains and deep canyons that are the home of Bedouin communities that still live in traditional ways in this harsh landscape today (though most of them have phones and cars now!).
The most famous hiking spot in the area is the Colored Canyon, and Nuweiba is the closest town. The canyon is 800 metres long and 30 metres deep. The twisty and colourful walls of the canyon were formed by the erosion of water on the sandstone and limestone. You'll need to take a tour, and there's the option of exploring the area on a camel ride tour too!
It'll likely be cheaper and easier to arrange a tour through your accommodation or a local tour company once you're there.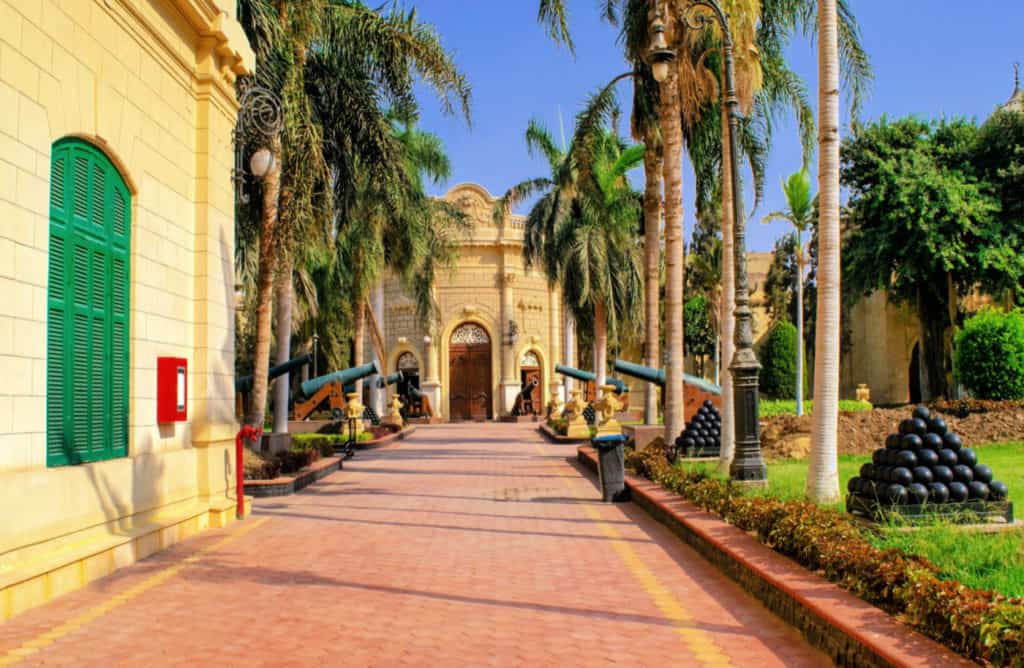 Day 5: Walk Around Cairo and Practice Haggling
It's time to leave the tranquillity of the coast and head into Egypt's busiest and most iconic city, Cairo. It'll overwhelm all your senses and give you a glance of a more modern version of Egypt.
It's known as the City of a Thousand Minarets and that's by no means an exaggeration, there are mosques round every corner and the sound of the call to prayer rings loudly throughout Cairo five times a day, inviting you to stop and reflect.
Downtown Cairo is intense and energising. Overcrowded and loud (Egyptians love tooting their car horns), you're about to experience the essence of this city. Head to the iconic Tahrir Square, that was the epicentre of the Egyptian Revolution in 2011 amongst many other protests and uprisings.
There's a statue of Omar Makram in the square and the unforgettable Egyptian Museum of Antiquities that has exhibits with artefacts that span more than 200,000 years of Egypt's history.
Once you're done at Tahrir Square, walk down the road to Harb Square. The square is named after Talaat Harb, an Egyptian entrepreneur, and there's a commemorative statue of him. The square was once a hotspot for luxury dining and shopping. Sadly, most of the famous buildings have been abandoned, but the stunning French neoclassical buildings, like the old Groppi tearoom and Cafe Riche, remind us of Cairo's colonial past.
Little streets lined with bustling cafes and some of the city's best restaurants surround Harb Square and make a great pit stop for some lunch or a drink!
After, get a bit lost and walk through the vast maze that makes up Cairo's downtown, there's always people around and it's super safe during the day.
To finish off, visit Abdeen Palace. It was built between 1863 and 1874 on the site of the ruins of Abdeen Bay's old house. There are plenty of museums, like the Arms Museum, on the bottom floor. Oh, did I mention it's the main office and official residence of the president?
The city centre is also the perfect place to practise your haggling skills. If the prices aren't written on the product or on the menu, expect to be charged considerably more than locals! Haggling is a part of the Egyptian way of life, and you can do it pretty much anywhere. It's a little daunting but you can't visit Egypt and not give it a go! Top tip, always ask for the price and negotiate before you consume street food, otherwise you'll likely get ripped off.
Where to stay: The Houseboat65 Hotel offers something a little different. You get the best of both worlds here: the privacy and intimacy of an apartment and the perks and great service of a luxury hotel.
I particularly love the views of the Nile. You'll feel like you're in a dream as you sit on the waters edge sipping your morning coffee and watching little boats float by. It's also the perfect place to escape the noise of the city without compromising on location!
This stunning property gave me the perfect balance between modern and traditional. I relished all the well-thoughtout details around the property and was delighted by the undeniably Egyptian feel of the place.
The colorful carpets, low-down coffee tables, and stunning decorations made it feel warm, welcoming, and homely. It's the perfect place to relax after a long day exploring Egypt's most fascinating city.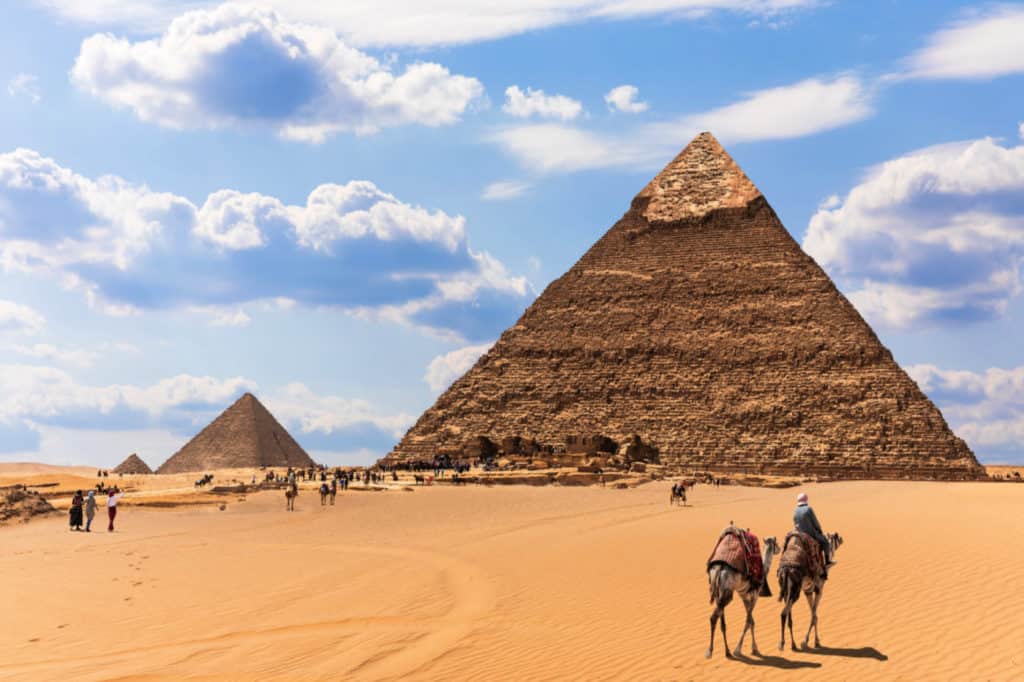 Day 6: The Pyramids of Giza
The Pyramids of Giza are just outside of Cairo in the city of Giza. They're probably the first thing that comes to your head when you think of Egypt, and no trip to the country would be complete without a visit to the pyramids.
Built in 2550 BC, the three pyramids and the sphinx at the site are immense and mesmerising. There's nothing quite like it anywhere else in the World, and it's fascinating how well preserved the site is compared to other world-famous destinations like Machu Picchu.
You could once climb to the top of the pyramids, but sadly that's not an option anymore. But, if you're lucky, a guard might just let you past the ropes that surround each pyramid so you can get up close to the marvellous structure. Standing by it, you'll realise that each individual stone that makes up the pyramid is almost as tall as you! You're going to spend days after hacking your brains trying to figure out how they layered them on top of one another.
Before you go, here are a few tips and things to bear in mind. I'd highly recommend going as early as you can in the morning. There's no shade and it gets very hot by midday. Make sure you bring lots of water as you won't be able to buy any there and wear a hat.
Now, you won't have seen this in the documentaries or read about it in travel magazines, but prepare to be harassed by vendors and men with camels as you walk around. It's a bit annoying, but don't let it ruin your trip.
Lastly, there's very little information about the pyramids on site, so if you want to know about their history go on a guided tour, here's one option: Tour of the Pyramids. Be careful about hiring guides at the entrance, many of the people outside calling themselves official guides are definitely not official guides.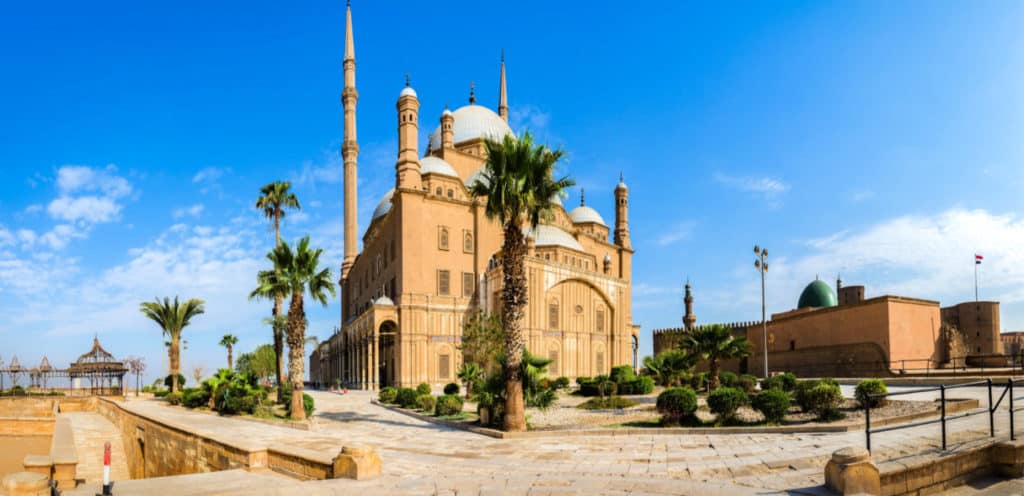 Day 7: Tour Moez Street and the Cairo Citadel
You can't skip the Cairo Citadel, also known as the Citadel of Saladin. Known as "Islamic Cairo," the neighbourhood sits at the top of the Mokattam Hill and dates back to the Middle Ages.
The citadel was named after famous warlord and Sultan of Egypt, An-Nasir Salah ad-Din Yusuf ibn Ayyub, Saladin for short. Back in 1176 he ordered the construction of what is Cairo's modern-day citadel, which was designed to protect Cairo from the Crusaders and be the epicentre of the Egyptian government. It's now a UNESCO World Heritage Site!
The citadel housed Egyptian rulers for more than 700 years. Within the citadel itself there are three museums and three mosques. You could easily spend the whole morning there. From this high up vantage point, you're also treated to panoramic views of the city below, so don't forget your camera!
Next stop, Moez Street. Enter at the Bab el Fotouh entrance to the north and end at the south entrance at the Tentmakers' Market and get ready for a spectacular sensory overload!
The street was named after Al Moez Ldin Allah Al Fatimi, the fourth Caliph of the Fatimid Dynasty who reigned from 953 to 975. It has a local feel to it, and other tourists are scarce (that's how you know you're experiencing a more authentic area of Cairo).
There are adorable stalls and shops on either side of Moez Street. You can watch local artisans at work making leather bags, printing fabrics, and cooking up fresh and hot falafel wraps. It's one of the best (and cheapest) places to buy souvenirs to take home!
But it's not just shopping that brings locals and tourists to Moez Street, the UN reported that this street has the greatest concentration of mediaeval architectural treasures in the world. Some that stand out above others are Al Hakim Mosque that was built in 992 AD, the Ottoman era Sulayman Agha Al-silahdar mosque, and the Beit El Seheimy museum (a prime replica of Ottoman architecture).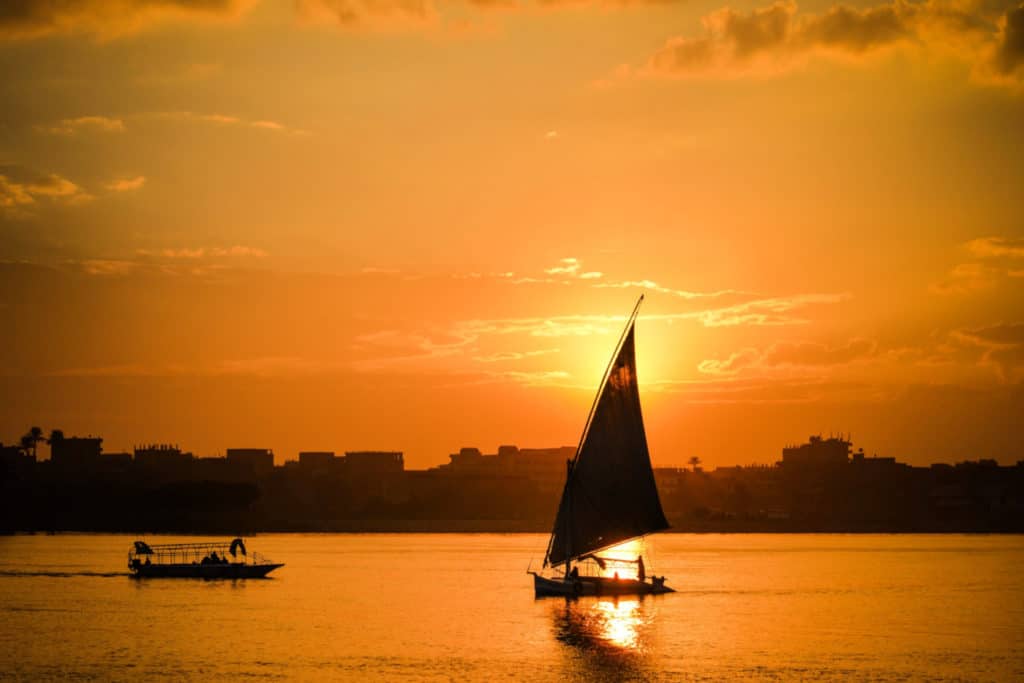 Day 8: Wander Around Zamalek, Then Go on a Nile Cruise
The majority of Cairo's most beautiful sites and best treasures are best discovered by getting a little lost. The city is so ancient and full of spectacular architecture and century old mosques, gates, and monuments that it would be impossible to put them all on the map.
There are areas of the city, like the trendy neighbourhood of Zamalek, that are safe to wander around and well worth a visit. Also called the Gezira Island, the neighbourhood is dotted with cute and boutique shops. Just a short drive away from downtown Cairo, this little neighbourhood built on a tiny island on the Nile is fancy and tranquil.
It's home to most of the city's embassies and the 614-foot-tall Cairo Tower that sits on the southern part of the island. For some of the best views of the city, pay a small fee and climb to the top of the tower! The Museum of Modern Egyptian Art and Cairo Opera House in Zamalek are also worth visiting.
In the evening you can go on a Nile cruise and watch a belly dance show as you float down the river! Egypt is the birthplace of belly dancing, and it's still considered an integral part of the culture today.
Their celebrations are often accompanied by belly dance music and some families even hire belly dancers for weddings and grand celebrations! On your Nile cruise, you'll be spoilt with a traditional Egyptian meal and a belly dance show. It's one of Egypt's most unique experiences, so don't miss out. There's a well-reviewed tour option here.
Day 9: Soak in the Siwa Hot Springs and Go On a Bike Trip
Small, traditional, and charming best describes the town of Siwa. It's one of the most culturally shocking places in Egypt, as conservative Muslim attire and customs are still strictly followed. Despite that, there's a laid-back feel to the place and it's safe and easy to visit as a foreigner. Siwa is near the border of Libya and within the Sahara Desert.
Prepare to see kids as young as seven driving cars and directing carts led by donkeys pulling either food or an entire family behind them. There is also a very evident separation between men and women in Siwa, whose local culture follows strict social norms and is still governed by gender expectations. Women aren't often seen on the streets unless they're foreign, yet Siwa is perfectly safe and it's not uncommon for women to live or travel they're alone.
It'll also be a pleasant break after Cairo, which can be a little overwhelming because of how noisy and chaotic it is. You can get a night bus between Cairo and Siwa too, so there's no need to waste a day of your holiday on transport!
The hot springs in Siwa are believed to have healing properties and the mud in the area is thought to be great for your skin. Nature's spa, they´re relaxing and rejuvenating. Most of the hot springs in Siwa are outdoor pools within hotels or camping grounds that you can visit as a non-guest for a small fee.
Many of the hot springs are open till late at night, so you can decide whether you want to go during the day or spend the evening soaking in the warm water beneath the stars (or you can do both of course!).
Siwa is also known for its stunning salt lakes that are a short bike ride from the town, you're talking about 30 minutes or so! I'd recommend going on a cycling trip in the morning before it gets too hot and spending the afternoon or evening in the hot springs, soaking your sore muscles and relaxing.
You can rent bikes from various bike shops in town. From there, you can venture to Siwa Lake or to the Salt Pools. Siwa's legendary salt pools are notoriously easy to float in because of the high concentration of salt in the water, and their desert surroundings make them unique. Some of the most famous are Cleopatra's pool (the name is a bit misleading as there's actually no evidence that she ever visited!) and Siwa's moon pools.
This day offers the perfect balance between adventure and relaxation!
Where to stay: Accommodation in Siwa is very simple and down-to-earth. It's not exactly luxurious, but it's comfortable and it does the job. I stayed here, and really enjoyed it! The pictures don't do the garden justice, and the owners were extremely kind and welcoming. There's an outdoor fire too, so you can sit under the stars at night and watch the flicker of the flames. The kitchen is very basic, but the included breakfast is served in the garden, and it is always filling and delicious!
Next, head to the south of Egypt. There's the option of taking a cruise down the Nile from Cairo to get there, but that might require skipping a destination or adding a few days onto your holiday.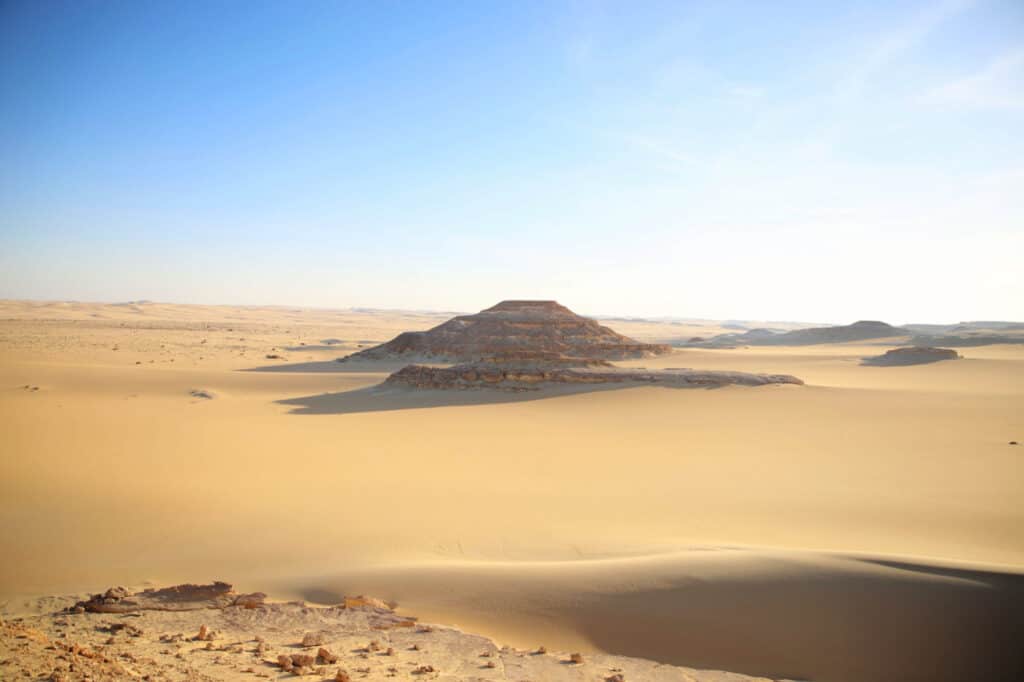 Day 10: Camp in the Sahara
It would be mad to go to Siwa and not take an overnight tour into the Sahara. Just to be clear, you can only do this by tour. The Egyptian Sahara is not safe to explore independently, and the desert is heavily monitored by the military due to its border location between Libya and Egypt.
There are lots of different tour options you can pick from, and you'll very likely be able to arrange it through your accommodation. The standard tour is done in groups of about 10, and it involves a 4×4 ride over the desert dunes at high speed (a great dose of adrenaline!), a visit to two small oases in the middle of the desert, one of which has a hot spring, and then an overnight stay at a campsite in the depth of the Sahara.
I was very lucky the night I went as it was a full moon, so as we sat and watched the sunset over the desert I turned and saw the moon rising on the other side. It was surreal and magical. There's nothing quite like the quiet and tranquillity that you experience in the desert.
Once you're at the campsite, you'll meet up with other groups on similar tours and share a meal together, then there tends to be a little music and the option of dancing before everyone heads to bed.
Admittedly the tour involves sleeping in a tent, so if you're not a camper this might not sound very appealing, but seriously it's worth giving up a little luxury for a night to go on this once-in-a-lifetime adventure.
Day 11: Visit Elephantine Island
Aswan is home to out-of-this World temples and Egypt's Nubian people and culture. Historically, parts of Southern Egypt, including modern day Aswan, and adjacent areas of Sudan were known as Nubia. Today, they remain a distinct indigenous and ethno-linguistic group.
The desert Elephantine Island is home to the Nubian Village which is colourful, cute, and quaint. It's a great place to get a little more insight on Nubian culture and meet Nubian craftsmen. Bear in mind the souvenirs you'll find in the village are more expensive than usual, but if you find something special, it's worth paying a little extra – remember to haggle!
The village is just a few hundred metres downstream from Aswan, and it's reachable by Felucca or by public ferry (a cheaper, haggling and hassle-free option) which costs just 5 Egyptian Pounds.
Once you arrive, randomly choose from the different sand paths that criss-cross through the village and get a little lost. It's a very small town, and Nubians are very welcoming, helpful, and friendly so it's safe for you to aimlessly wander. The town is also known for its delicious tagines!
Where to stay: This humble but comfortable property on Elephantine Island is run by a super friendly and welcoming family. There's a little balcony in most of the rooms, and it's right by the Nile so the views are incredible. If you're looking for some peace and tranquillity, Bayt Zaina is the perfect place to come.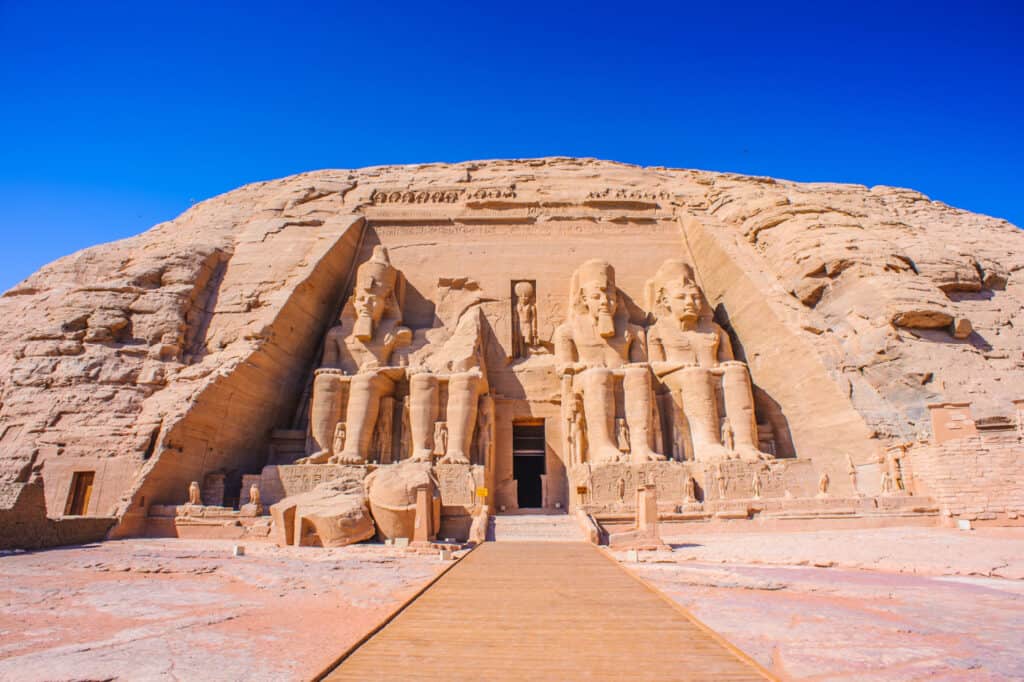 Day 12: Visit Abu Simbel and Ride a Felucca
Abu Simbel is three hours by bus away, but it's worth every minute. There are two temples on the site that were built by the Egyptian king Ramses II. The Great Temple of Ramesses II is protected by four momentous 20-metre seated pharaohs (which are thought to be depictions of the king himself!) sculptures and smaller standing sculptures that are thought to depict his family (children, mother, and wife).
The temples weren't discovered (well, rediscovered) until 1813 when Johann Burckhardt came across them on his adventures in Egypt. Incredibly, the temples were carved into the sandstone cliffs along the Nile.
During the 1960s, the temples were almost lost as the water levels of the Nile rose after the Aswan High Dam was built. Luckily, the marvels of engineering were able to salvage them!
As you walk through the main entrance, you'll walk straight into a long chamber lined with standing pharaohs and scenes of the king's prosperous life, like his victory at the Battle of Kadesh, that will awe and humble you.
The temple has three 56-metre-long chambers overall, each unique, and a shrine in its innermost sanctuary. Here's one tour option, Abu Simbel Temples Tour. They´ll pick you up bright and early from your hotel (at 4 am), and get you back to Aswan by 1. That gives you three hours to explore the temple, which should be plenty of time!
After, have a quick nap and freshen up before heading down to the Nile and going on a Felucca ride. This century-old way of getting between the little islands dotted along the Nile surrounding Aswan is a must-do. The best time to go is during the sunset, when the Nile is lit up in red and orange hues and there's an extra magical feel and tranquillity to the town.
If you've got any extra time whilst you're here visit the Philae Temple. The walls of the temple are riddled with cryptic hieroglyphs and carvings of ancient Egyptian gods. One of the hieroglyphs at Philae Temple is dated, so archaeologists have been able to officially declare that they were the last written Egyptian hieroglyphs. Can you believe they're dated back to August 24, 394 AD?
The temple was actually built by a Macedonian king from the Ptolemaic dynasty who disguised himself as Egyptian, worshipped Egyptian gods, and built Egyptian monuments in order to take over the country and rule Egypt!
Day 13: Karnak Temple and the Valley of the Kings
Luxor is the perfect travel destination for history fans. It was once the capital of the New Kingdom in Ancient Egypt. It's geographically intriguing too, as the Nile runs through the town centre and the barren cliffs of the West Bank are right behind it. You can get to Luxor by train from Aswan, it takes about three hours and costs around 55 Egyptian Pounds if you go on the second class carriages.
The city has a sleepy feel to it, and it's divided by the Nile into the West Bank and the East Bank. You can get from one side of Luxor to the other via motorboat, there are always lots parked on the edge of the Nile.
The Karnak Temple and the Valley of the Kings are two of the most famous places in Egypt. They're located on the West Bank of Luxor.
The Valley of the Kings was the final resting place of many of the pharaohs of the New Kingdom. Royal tombs line the steep cliffs of the valley – one of the most famous is that of King Tutankhamun that wasn't discovered until 1922. Throughout time, some of the tombs have been robbed and raided, but the hieroglyphs and brightly coloured paintings still remain, testifying to the adoration and importance of each of the ancient pharaohs.
You can't go to Luxor and miss the Karnak Temple. It was constructed as a cult temple in honour of Amun, Mut and Khonsu, and it was constructed over 2,000 years, somewhere between 2055 BC to 100 AD. It is thought to be the largest religious building ever constructed. If you have time, head over to the Temple of Hatshepsut afterwards.
Where to stay: This quintessentially Egyptian hotel on the West Bank feels homely, luxurious, and old-fashioned all at once. It's absolutely gorgeous, and there's a super lovely pool you can cool down in too! I'd highly recommend staying at Djorff Palace whilst you're in Luxor.
Day 14: Visit Luxor Temple
Luxor Temple is on the East Bank, it was built around 1390-1352 BC by Amenhotep, and later changed and expanded by other influential figures from ancient Egypt like Rameses II. At the rear of the temple, there's even a shrine in honour of Alexander the Great.
It has always been closely linked to the act of worshipping and was even used as a Christian church for some time! The immense statues of pharaohs, red-brick walls of the temple, sky-high columns and fascinating history of this incredible archaeological site make it one of Luxor's most visited attractions. Your second day in Luxor promises to be inspiring.
And that's how to spend two weeks in Egypt! This itinerary gives you a bit of all the best things – from time relaxing along the Red Sea and exploring the corals, to days in quaint and traditional towns, visits to historical sites and a few days in Egypt's biggest and busiest city, Cairo.