After spending five months travelling in Egypt, stopping for about two of those in Cairo, I got a real sense of how varied, unpredictable, and totally chaotic the country is. The messiness that characterizes every aspect of Egypt, from its streets riddled with cars, donkeys, and people (who never walk on the sidewalk!), to its complex cultural norms that seem to often contradict one another, but are followed rigorously by most, came to be what I loved about it.
Despite how traditional Egypt may appear on the surface, if you stay for a while and you meet the right people, you'll discover a hidden world of rebellious Egyptians who subtly defy tradition and are willing to fight tirelessly for a more tolerant and modern version of the country they love.
Egypt has attracted history fans for decades, and whilst the pyramids were mind-blowing and the ancient temples are spectacular, those weren't the things that kept me in Egypt. If you're willing to throw yourself into the chaos and go beyond the usual tourist attractions, you'll learn about the politics and social norms that have shaped Egypt into what it is today.
I mostly stayed in the north of the country, and I began my trip in Dahab, along the Red Sea, where I spent my days diving, chilling at beach bars with spectacular views, and haggling at stalls. Though many save this destination till last, I think this laid-back town, that is touristic yet still authentic, is the perfect place to start. Essentially because it's quintessentially Egyptian, but a less intense and chaotic version of every other destination.
To be honest you can skip the other destinations along the Red Sea, like Hurghada, without missing out on much. These big resort cities don't give you much insight into the real Egypt and they're more expensive too – so unless it's an all-inclusive holiday you're after I'd head straight to Cairo.
The destinations that I was most captivated by were Cairo, because of how diverse it is, and Siwa, because of how much culture is packed into such a small place.
Before we get into the intricacies of what you can expect to spend in Egypt, it's worth noting that it is a super budget-friendly destination. Egypt is by no means expensive, and you can travel there from as little as $20 a day, with no luxuries included of course.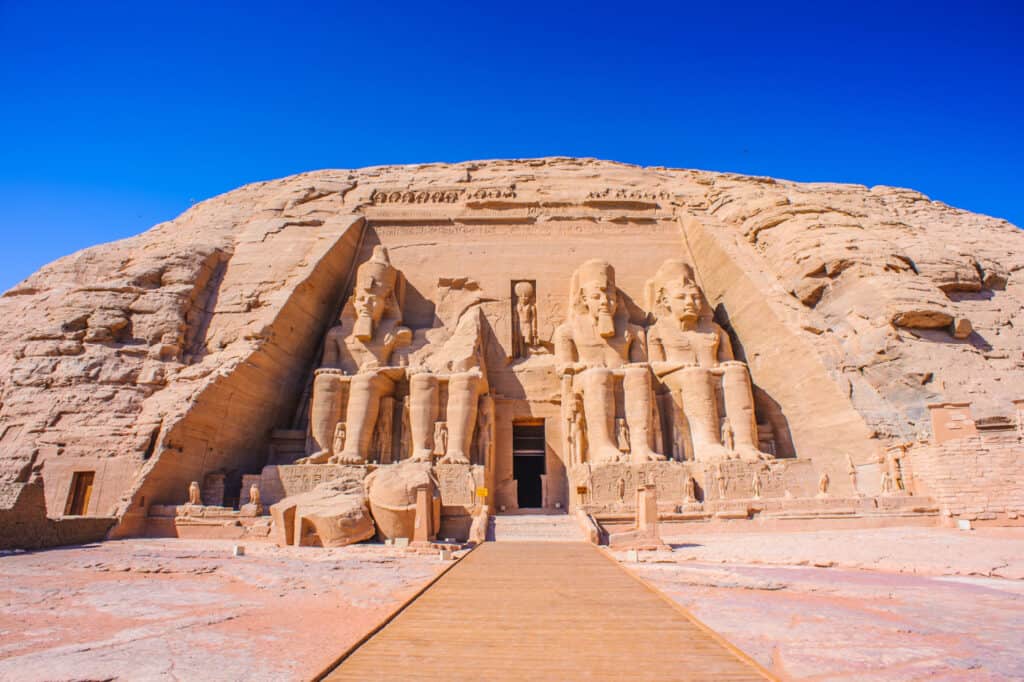 The Cost of Accommodation in Egypt
Like in most countries, what you'll spend on accommodation really depends on the type of property you're looking for. Egypt has a range of options, from hostel dorms starting at as little as $5 in cheaper destinations, to fancy hotels in the center of Cairo, like Hilton, that will cost you upwards of $100 a night.
The great thing about Egypt is that because it's such a budget friendly country, even if you want to stay in higher end accommodation during your trip you won't necessarily have to spend hundreds of dollars to do so. You can easily find double rooms in luxurious hotels for as little as $50 a night.
Whether you want to exchange a few hours of work for your bed or you're looking to splash out, you won't struggle for options. If you're on the tightest of tight budgets, there are several options that'll land you with free accommodation while you're in the country.
Admittedly, Egypt isn't the best destination for volunteering. There are some options on sites like WWOOFing, but they're limited. When I looked there was one in Dahab and one outside of Cairo. But it's worth having a look — you never know what you might find!
Other sites worth checking are Workaway and WorldPackers. When I was looking, there weren't many orientated around social or environmental work, but there were some options for working at hostels and hotels in marketing and secretarial roles. Readers of this site get a $10 discount for WorldPackers with the promo code neverendingfootsteps.
But when it comes to volunteering it might be easier to figure it out once you're there. You can look for local organizations and wait for opportunities to reach you by word of mouth – Egypt still doesn't have the most wide-spread online presence.
Another option for those looking for free accommodation is Couchsurfing. If you haven't heard about it before, how it works is that you stay on someone's free sofa, or in their spare room, completely for free!
Now, it's a bit of a trade off because you never know what your host will be like until you're there (although each host has a profile with reviews left by other travelers), but I've met lots of friends through couchsurfing.
If you're a female traveler and you're in Egypt by yourself (as I was), I'd be a bit more wary of using Couchsurfing. I hate the idea that being a woman holds us back from anything, and I always travel with a sense of freedom and independence, but the reality is that Egypt is very different culturally speaking and the interactions between men and women follow a completely new set of rules that can be hard to understand. That doesn't mean you shouldn't couchsurf, just to be a bit more selective about who your host is. Perhaps opt for a female host and check to see if other females have left reviews on the contrary.
There are plenty of Couchsurfing hosts in Egypt, especially in the big cities – so a free night's sleep isn't out of the question!
Housesitting is another option. This is where you'll take care of somebody's house for free while they're away, and usually look after their pets, too. It's best for long-term travellers or retirees as you can't pick and choose dates and destinations, so you need to have a lot of flexibility as to where you go and at what time of year. If you do have that freedom, it's a wonderful way to cut down your travel expenses, soak up some home comforts, and live like a local for a while. Trusted Housesitters is one of the best sites for getting started with housesitting.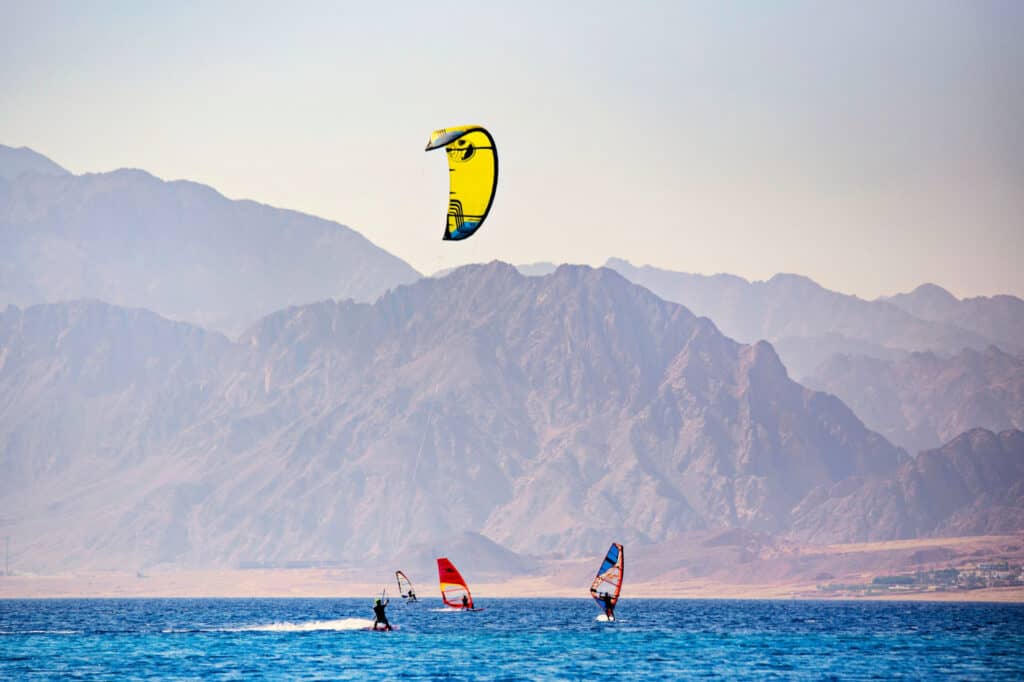 The Best Hostels in Egypt
There are lots of hostels in Egypt, and they became my go-to choice of accommodation after staying in a series of very disappointing Airbnbs (which tended to be at least double the price, not clean at all, and very basic).
Curiously, the rules at hostels in Egypt are a little different. People with Egyptian and Arab passports aren't allowed to stay in mixed dorms like other travelers, and there are a lot more all-female dorms than in other countries. It's also complicated getting private rooms with Arabic travelers unless you're married. These rules reflect the religious values that still dictate the country's laws.
All that said, let's have a look at some of the top hostel picks in Egypt's most famous cities.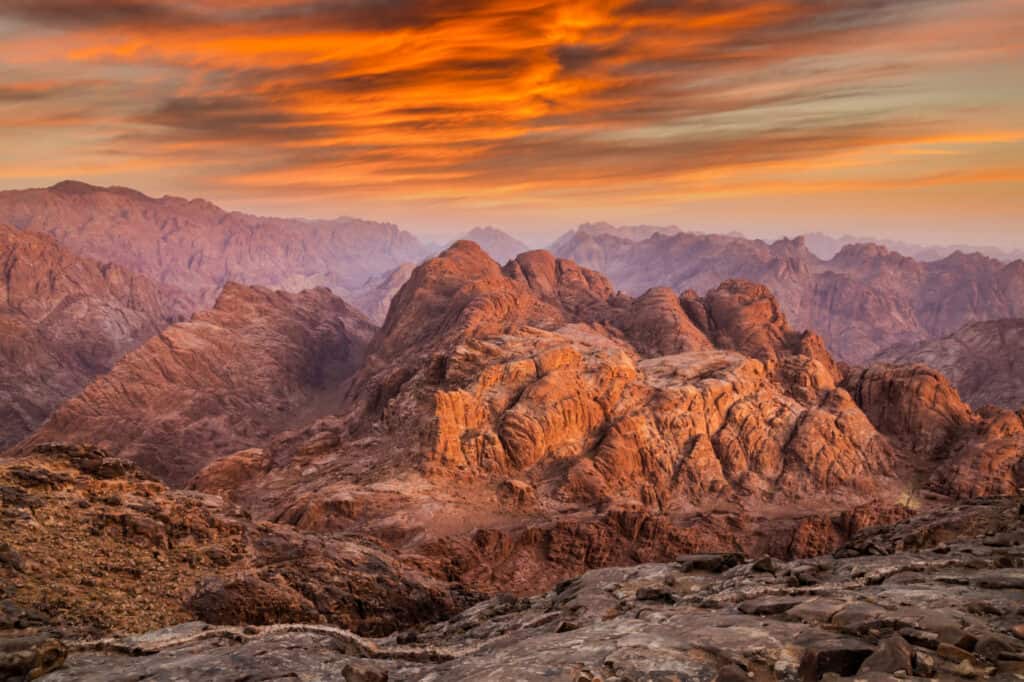 The Cost of Hotels in Egypt
When I'm travelling, I'm always conscious to book the absolute best accommodation out there — well, as long as it doesn't amount to hundreds of dollars a night. I can easily spend several hours researching accommodation for every stop along my way, ensuring I've chosen the place in the best location with the friendliest staff, and the greatest value for money.
My biggest tip? When you head to Booking to find a hotel, ignore the results that are sorted under "Our Top Picks" — that's a list of all of the hotels that pay Booking the highest commission, some of which have some pretty poor write-ups. Instead, opt to sort the properties by "Top Reviewed". That way, you'll be able to see which options genuinely have the best reviews.
Dahab: This stunning little apartment just outside of Dahab is the perfect place to come and relax and reset. There's a cute outdoor area with a hot tub, lots of sun loungers – the optimal place to read a book or enjoy some star gazing. The apartment is quaint and cute, elegantly decorated with boho-chic decor. You can't go wrong at Villa Can Kiko.
Nuweiba: While you're in Nuweiba, you have to stay in a wooden cabin or Bedouin tent on the beach. They're positioned at the edge of the shore, just metres away from the Red Sea. Dayra Camp is a popular option, visited by young adults who come from Cairo looking to relax and escape the loud crowds and intensity of the city. It's got a somewhat hippy feel to it, and it's not exactly luxury accommodation but it's cheap, cool, and a great spot.
Cairo: The Houseboat65 Hotel offers something a little different. You get the best of both worlds here: the privacy and intimacy of an apartment and the perks and great service of a luxury hotel.
I particularly love the views of the Nile. You'll feel like you're in a dream as you sit on the waters edge sipping your morning coffee and watching little boats float by. It's also the perfect place to escape the noise of the city without compromising on location!
This stunning property gave me the perfect balance between modern and traditional. I relished all the well-thoughtout details around the property and was delighted by the undeniably Egyptian feel of the place.
Siwa: Accommodation in Siwa is very simple and down-to-earth. It's not exactly luxurious, but it's comfortable and it does the job. I stayed here, and really enjoyed it! The pictures don't do the garden justice, and the owners were extremely kind and welcoming. There's an outdoor fire too, so you can sit under the stars at night and watch the flicker of the flames. The kitchen is very basic, but the included breakfast is served in the garden, and it is always filling and delicious!
Elephantine Island: This humble but comfortable property on Elephantine Island is run by a super friendly and welcoming family. There's a little balcony in most of the rooms, and it's right by the Nile so the views are incredible. If you're looking for some peace and tranquillity, Bayt Zaina is the perfect place to come.
Luxor: This quintessentially Egyptian hotel on the West Bank feels homely, luxurious, and old-fashioned all at once. It's absolutely gorgeous, and there's a super lovely pool you can cool down in too! I'd highly recommend staying at Djorff Palace whilst you're in Luxor.
Accommodation cost summarized : Overall, you should budget around $10 a night for hostel dorms and around $15-$20 a night if you're planning on staying in private rooms in hostels or basic hotels. If you're planning on renting apartments or staying in rooms in slightly nicer hotels it should come to about $40 a night.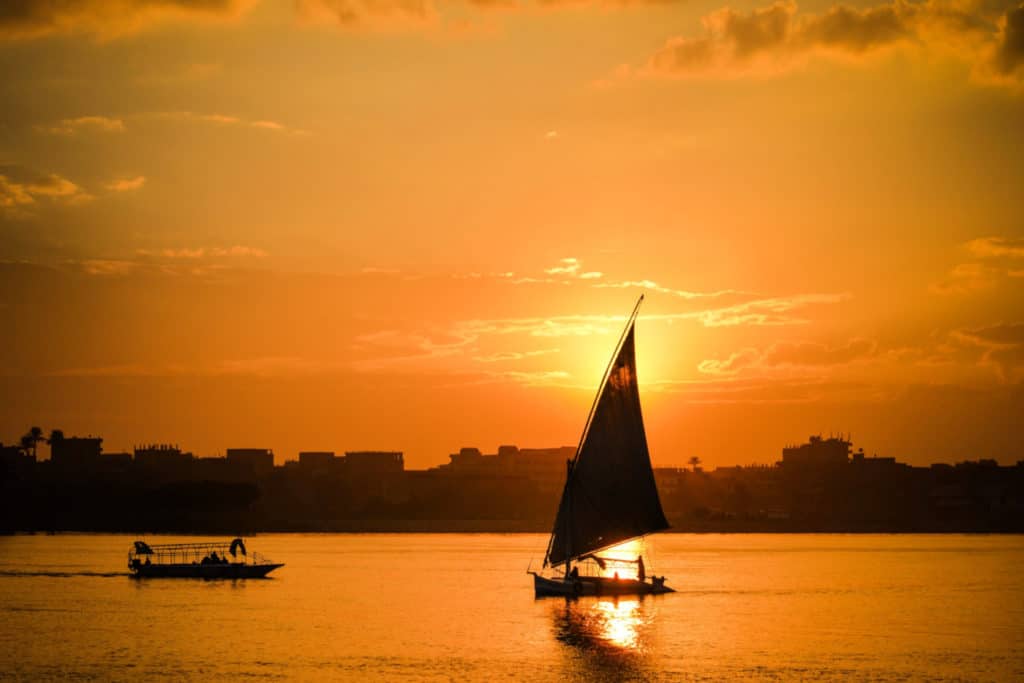 The Cost of Transportation in Egypt
There's lots to see in Egypt, and there is an array of ways to get around the country, from buses to boats. Egypt is a pretty big country, so if you're in a hurry you might want to consider some domestic flights to get from Cairo to other popular destinations further south, namely Luxor and Aswan.
Let's break the cost of transport down to give you a better idea of how much getting around will cost in Egypt!
Local transport cost: Depending on where you are in Egypt you can look into different local transport. I found that in Alexandria the local buses were pretty efficient and easy to figure out (especially since they essentially just run along the seafront, connecting the peripheral areas of the city to the city center). The buses, which look more like minivans, cost about 8 Egyptian Pounds at the time (less than 50 cents).
However, in Cairo I completely gave up on using public transport. The city is huge, and there's often bad traffic on the roads so it was complicated figuring out the bus routes, and you'd often spend way longer than expected getting from one destination to the next.
On the other hand, the metro is absolutely rammed and the one time I used it I got off feeling sweaty, claustrophobic, and overwhelmed. My Egyptian friends laughed at me when I told them I had used the metro – they all use Uber to get around. I soon gave up on the public transport in Cairo and did the same.
Even at night Uber's are a safe and affordable option. You can expect to pay about $2-$3 for a 30-minute ride depending on the time of day. They also have motorbike options on Uber in Egypt. They're cheaper and whizzing through the traffic on a scooter is definitely a thrill!
Regional transport costs in Egypt: Egypt has a very varied landscape, which makes an array of transport options possible. Depending on where you're going, it's worth considering looking at flights, boat trips, and night buses to travel across Egypt. Here are some common routes and approximate prices:
Alexandria to Cairo by train: The most comfortable way to get from Alexandria to the capital is by train. Travel with Egyptian National Railway, they're safe and comfortable.
Overall, the journey takes just under four hours. You can get your ticket at the station at the ticket desks or self-service machines (but be careful, they don't always work) or you can book them on the Egyptian National Railway website, although that doesn't always work either…
The trains run more or less every hour, but stop running at around 8pm. They leave from the Alexandria station and terminate at the Cairo Ramses station. You can choose between the express and ordinary trains, and select 1st, 2nd, and 3rd class tickets.
The drawback of this transport method is that as of 2023, foreigners will have to pay an additional foreigner fee on their tickets. So, whilst 2nd class tickets used to cost just $7, they're now $20. Yikes.
Cairo to Luxor by cruise: If you want the true Egypt experience, take a cruise between Cairo and Luxor. It's by far the most luxurious mode of transport – and it's sure not to disappoint.
You can take fast cruises that don't stop along the way and get you between these two iconic cities in a matter of days, but for the true cruise experience, splash out on a cruise with Movenpick. The journey takes around 12 days overall, with stops at destinations like Tell El Amarna and Abydos along the way.
Admittedly I never took a Nile cruise because I was a bit short on time when I travelled to Luxor, but I regret not doing so. Everything from food to the day tours you'll take are included, and cruises start at $700!
Dahab to Cairo by bus: Dahab is a very small town, so the easiest way to book your ticket is to head to the main road that runs along the outskirts of the town. There is one main bus station there and a few small terminals that correspond to specific bus companies. You can ask around for prices and bus schedules to see which is best for you!
You can take the bus by day, but I recommend doing it as an overnight bus (that way you save some money on accommodation, and you don't miss out on time you can use for sightseeing!). The journey takes about nine hours in total. Tickets cost somewhere between $10-$25 depending on what company you travel with, and the best choices are East Delta Travel or Go Bus Egypt. Both companies operate basic buses which are comfortable enough, but don't expect a lot of leg room or a full night's sleep.
The one downside of this journey is that there are various checkpoints along the way where they stop the bus and ask to look at the passenger's luggage and passports. So, if you get woken up in the middle of the night, don't panic – it's just another checkpoint. It's also worth finding out which stations they terminate at in Cairo when you're choosing between bus companies.
Aswan to Cairo by flight: You can also do this trip on a cruise boat along the Nile, but it takes much longer. The fastest (and often cheapest way) is to fly. Flights start at $50 and the price varies depending on whether it's peak tourist season or not, and how far in advance you manage to book your ticket. However, if you're booking at quite last minute and you fly with a budget airline you shouldn't need to spend more than $100.
EgyptAir and Air Cairo are the companies that have the best economy tickets for this trip. You can look on Skyscanner to find price comparisons across a range of companies in one place!
Cairo to Siwa on an overnight bus: For just 275 Egyptian Pounds (just over $11) you can get from Egypt's busiest city to one of the most remote desert towns. The night bus from Cairo to Siwa is the most convenient way to get to this out of reach destination. Each night a bus leaves from Cairo at 10pm, and arrives in Siwa the next morning. How long the journey will take is a little ambiguous, but estimate around 12 hours.
Buses depart from the Turgoman station and Cairo Gateway Bus Station and the company you'll be travelling with is West Delta. It's worth booking your ticket the day before directly at the station if you can, just to avoid disappointment.
Hiring a car and why not to do it: You can hire a car in Egypt, but I strongly suggest you don't. The roads are absolute chaos and you're more likely to end up getting in an accident than enjoying the fun road trip you might have envisioned.
If you're still determined to rent a car, I'd recommend getting to Egypt first and seeing the roads for yourself, then deciding whether you'd be comfortable driving there.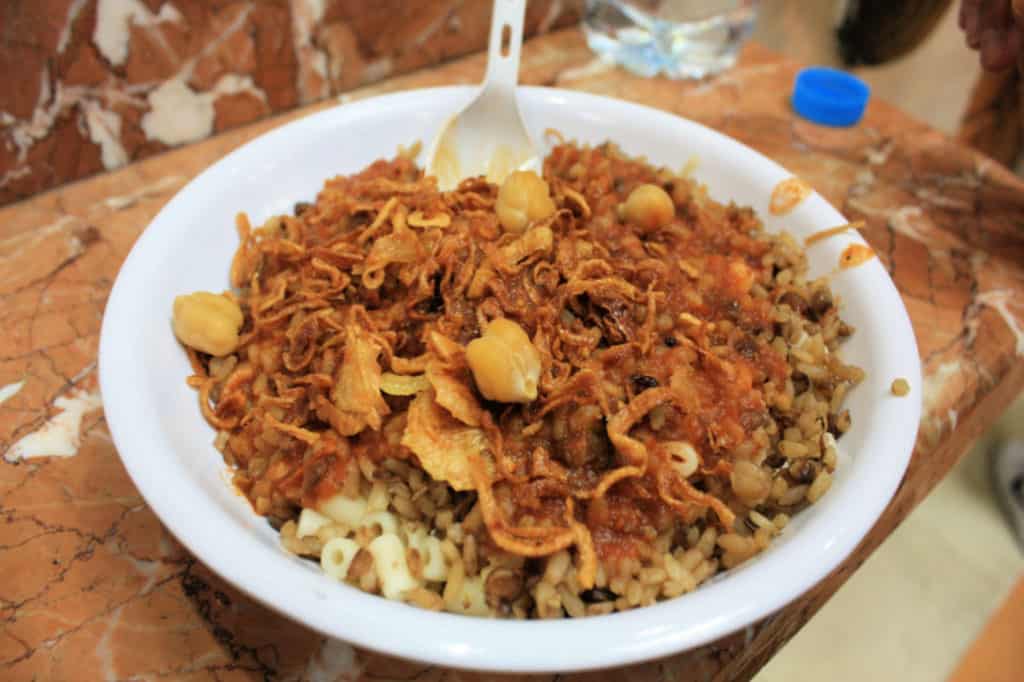 The Cost of Food in Egypt
Food is incredibly cheap in Egypt. In fact, if you dine at local restaurants or street stalls it'll be the least expensive part of your trip. The food is a little greasy at times, but it's always hearty and delicious. It's super easy to be vegetarian, and even vegan, in Egypt as they have a range of veggie-friendly dishes that are easily available even in remote towns.
In Egypt you eat most dishes with your hands and a piece of aish baladi (a flatbread similar to a pitta) to help scoop the food up. Of course, if you're in a restaurant or you're eating a more messy and intricate dish, you will be given cutlery.
One of the staple foods in Egypt is falafel. Unlike in other Arab countries they're made with faba beans instead of chickpeas, making them more dense and heavy. You can get a falafel wrap in Egypt for as little as 5 cents, but they average about 25 cents from a street cart or local stall.
A peculiar dish worth trying is koshari. It's a carb-filled and hearty meal made up of a mix of pasta and rice, topped with fried onions, chickpeas, and an assortment of other toppings that are then covered in a vinegary tomato sauce. It doesn't sound very appealing but somehow it works! A pot of koshari from a local restaurant will cost you about $2.
If you're in Cairo, some of the best koshari spots are Sayed Hanady, Koshary El Tahrir, and Koshari Abou Tarek.
Egypt also has a range of incredible dips that are perfect for a light lunch. My favorites are hummus and baba ghanoush, which are perfect for scooping up with some warm aish baladi. You'll pay about $1 for a pot of either.
Breakfast: Egyptian breakfasts don't disappoint and are typically buffet style. Plates of falafel, eggs, a salty and creamy cheese mixed with tomatoes, olives, dips like hummus, and lots of aish baladi are laid out before you. This mezze platter style makes Egyptian breakfasts fit for a king! You can expect to pay around $3-$5 for a traditional Egyptian breakfast, depending on portion sizes.
Another breakfast favorite worth trying is shakshuka. In this dish eggs are poached in a tomato sauce made with tomatoes, garlic, green pepper, bell peppers, onions, olive oil, and topped with herbs like coriander. It makes sense then that the name of the dish is derived from the Arabic for "shaken together" or "mixed".
It's usually served in the pan and you can then scoop it up with bread straight from the skillet. Expect to pay around $2 for a shakshuka in an economical local restaurant.
Lunch: For lunch opt for something like a shawarma or kofta kebab that you can get when you're out and about and eat on the move.
You can spend as little as 50 cents for lunch in Egypt, if you go for an on-the-go wrap style lunch, or as much as $10 if you decide to eat at a nice restaurant and order a big main plate.
Dinner: After a day exploring, enjoy a sit-down dinner. Try bamya, an Egyptian style okra and lamb stew in a tomato sauce. The name makes sense since the word bamya means "okra" in Arabic. The dish is usually served with rice!
You'll typically pay around $3-$5 for a hearty and filling dinner in Egypt at a local restaurant, though prices at hipster restaurants in Cairo's city center range around $10-$15.
Alcohol: Alcohol is one of the most expensive things in Egypt. That's largely due to the fact that there's a large Muslim community in the country, and there are high alcohol taxes that make it expensive to import anything. You'll pay about $2 for a small bottle of beer from a local shop, $2-$3 for a can of mixed spirits, and about $20 for a bottle of spirits and some $7 for a mid-range bottle of wine.
Most restaurants don't sell alcohol, and during Ramadham there are few bars that sell it and you'll need to show your foreigner ID to be served! Trust me, if you lay off the alcohol you'll save yourself a lot of money.
Overall cost breakdown of food: If you decide to cook simple food with locally sourced ingredients in an Airbnb expect to spend about $5 a day on food. Similarly, if you're eating out and getting your meals from street carts and local restaurants you can spend as little as $5 a day and eat really well.
Eating at mid-range restaurants that are frequented by tourists will bring your costs up to around $20-$30 a day, whilst dining at fancy restaurants and sampling luxurious meals will cost around $50 a day. If you're drinking beer on the daily and having a glass of wine with meals, add on about $15.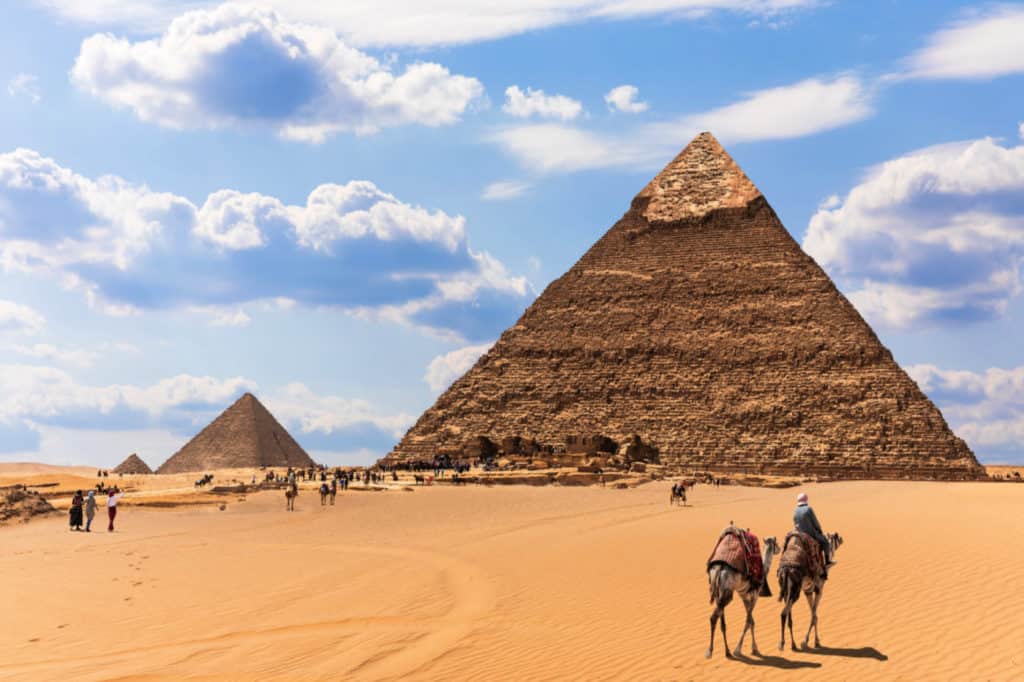 The Cost of Activities in Egypt
There's loads to do and see in Egypt, and sometimes it's logistically a lot easier to do it with a tour. Most of the time, a simple day tour to a well-known site will cost you around $30. If there's an entrance fee for the site, or your meals are included this could go up to around $50. Either way, even the most popular and sought after tours in Egypt are pretty budget friendly.
Remember that if you're booking in person, you should always haggle to get the price down!
Here are five of the most popular tours to give you an idea of prices.
Visiting the pyramids of Giza: You can't come to Egypt and miss out on seeing the pyramids. Whilst it's quite straightforward to visit this iconic site by yourself (you can take an Uber from Cairo to the entrance, and then back again afterwards), taking a tour is beneficial as there isn't any actual information about the pyramids across the site. Consider this half day tour here for just $35.
Nile dining experience: There are various tour agencies that run sunset river cruises down the Nile, but this one comes accompanied by a traditional Egyptian meal and a belly dance show! I thought it was fabulous, and very fairly priced at just $30. I'd recommend doing it in a group.
Diving in Dahab: My favorite Egyptian experience was diving in Dahab. The coral reefs and marine life are absolutely spectacular, and I was just meters away from the shore. I did it with a local diving agency called Aqua Divers and I found them to be very friendly, professional, and reassuring.
For a single dive at the site known as the Lighthouse I paid $25. They give you an entry course first to check you're prepared and know the essentials when it comes to safety and communicating underwater.
Trip to Abu Simbel from Aswan: Aswan and Luxor are famous for their temples, and few are as impressive as Abu Simbel. There are two temples on the site that were built by the Egyptian king Ramses II. The Great Temple of Ramesses II is protected by four momentous 20-meter seated pharaohs and smaller standing sculptures that are thought to depict his family (children, mother, and wife).
However, the site is pretty far away from the city of Aswan itself (about three hours by bus), so it's worth taking a tour for a hassle-free experience. I booked this one for $70 and had a pleasant experience. If you're a bigger group it gets cheaper!
Hot air balloon ride in Luxor: Soaring over Luxor in a hot air balloon as the sun rises over the milky Nile River and the barren landscape is a once in a lifetime experience. I didn't have much time in Luxor so I decided to combine my hot air balloon trip with a tour that included the most famous Luxor attractions (Luxor Temple, Karnak Temple ,The Valley of the Kings, Hatshepsut Temple, and the Colossi of Memnon). I paid $180 for this tour (a little more on the expensive side), but it was worth the time and planning it saved me. If you're in a rush, this is the tour for you.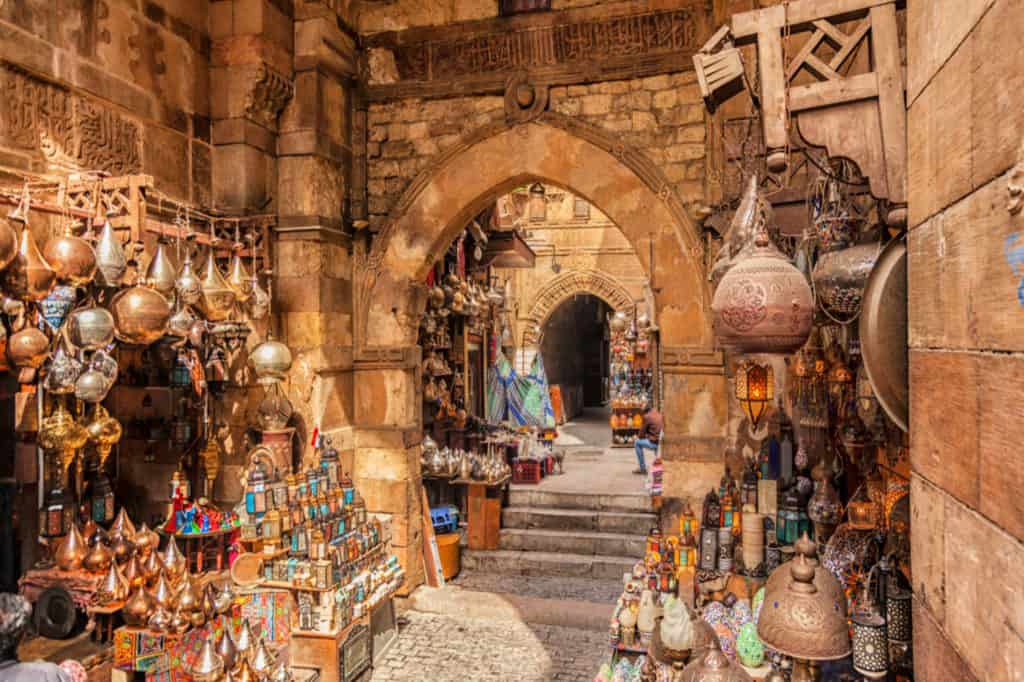 How Much it Costs to Travel in Egypt
Overall, if you stay in the cheapest hostel dorms, stick to eating wraps from food stands, and opt for cheaper tours, you can travel Egypt for as little as $25 a day comfortably. If you spend humbly but you don't hold back, you'll average about $40 a day, and if you do a lot and stay at mid-range hotels you're looking at $50 a day.
It'd be hard to spend more than an average of $100 a day in Egypt, but if it's luxury you're seeking then that's a comfortable amount to budget for. When I was there, I found there were days where I spent as little as $10 a day, and others where I spent around $50. All in all, Egypt is a great budget destination!