There was something about Myanmar that didn't excite me. I'd made plans to visit every year for the four I'd been travelling — often announcing it on the site — but never followed through.
I think I expected it to be too challenging. I'd heard the Internet was unusable and for some reason my planned trips would always coincide with a heavy workload. I'd heard the buses and trains were uncomfortable and unsafe. I'd heard power cuts were frequent and long-lasting. I'd heard of friends who lived there and ended up with dysentery. I'd heard it was (aside from Singapore) the most expensive country in Southeast Asia, and offered poor value for money. I'd heard, I'd heard, I'd heard.
And because I knew the majority of travellers head to the same four places — Yangon, Bagan, Mandalay, Inle Lake — it felt like my trip would be just like everyone else's. I guess it just didn't feel all that worthwhile.
Eventually, after three cancelled visits, I finally made it. I discovered most of my preconceptions were wrong, and it fast became one of my favourite Southeast Asian countries.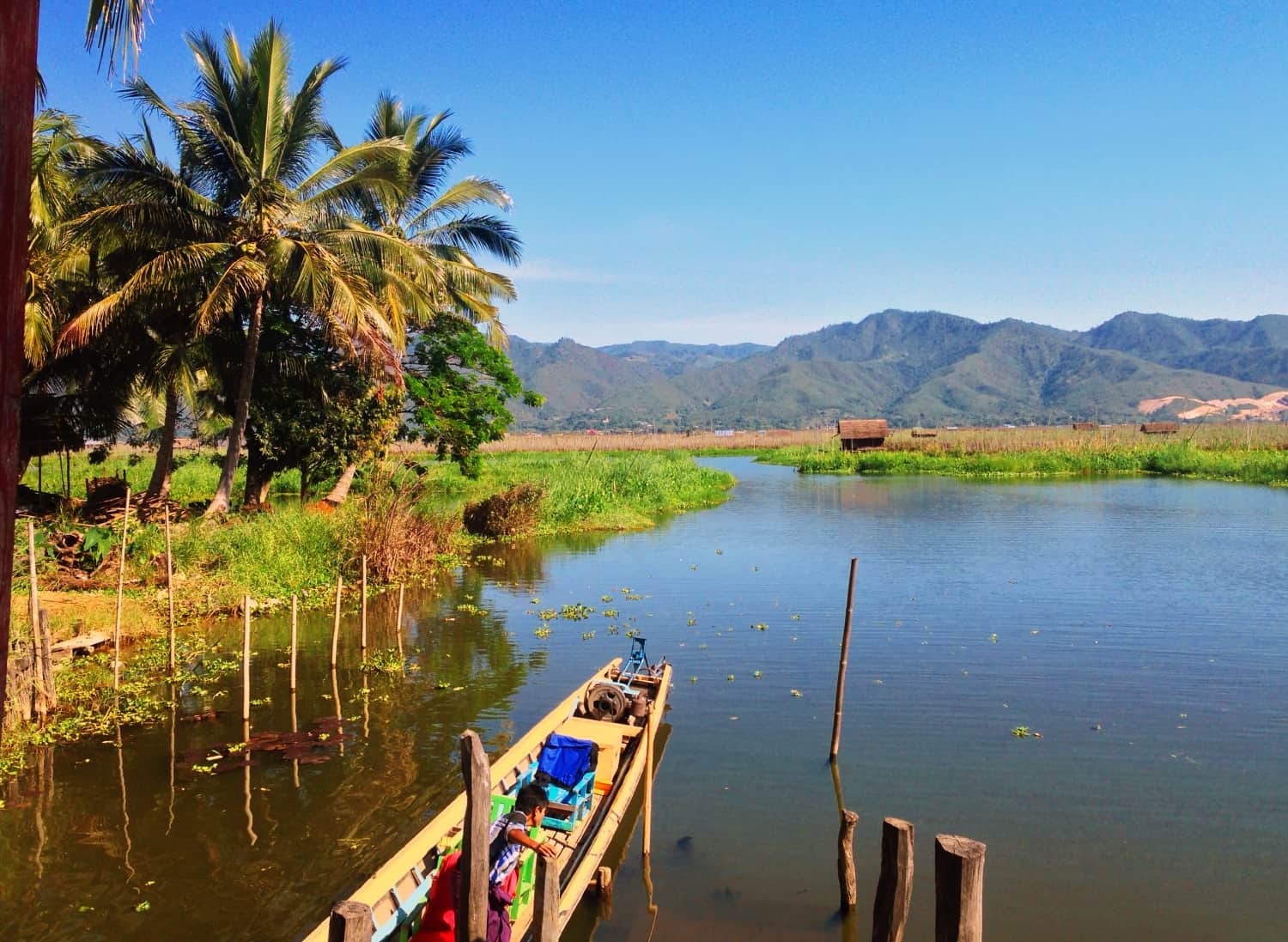 Two Weeks is Enough to See the Highlights
Because I had such misguided preconceptions, I didn't prioritise my Myanmar trip. I allocated less than two weeks to the country, and planned to visit the highlights. This was my route:
Yangon: 2 nights
Bagan: 4 nights
Kalaw: 3 nights
Inle Lake: 1 night
Yangon: 2 nights
Some notes:
I decided to go to Kalaw over Mandalay as I hadn't heard many good things about it (there I go listening to other people again).
I was originally planning on walking the three-day trek from Kalaw to Inle Lake but backed out at the last minute because I was still suffering from mono and sleeping all the time.
I should have spent one night in Kalaw, and spent the extra two days in Bagan and Inle Lake.
My trip was for 12 nights. If you planned for 14, you could squeeze a couple of days into Mandalay. Overall, I think I received a great introduction to Myanmar — enough to feel like I started to get to know the country a little, and enough to leave me craving to return.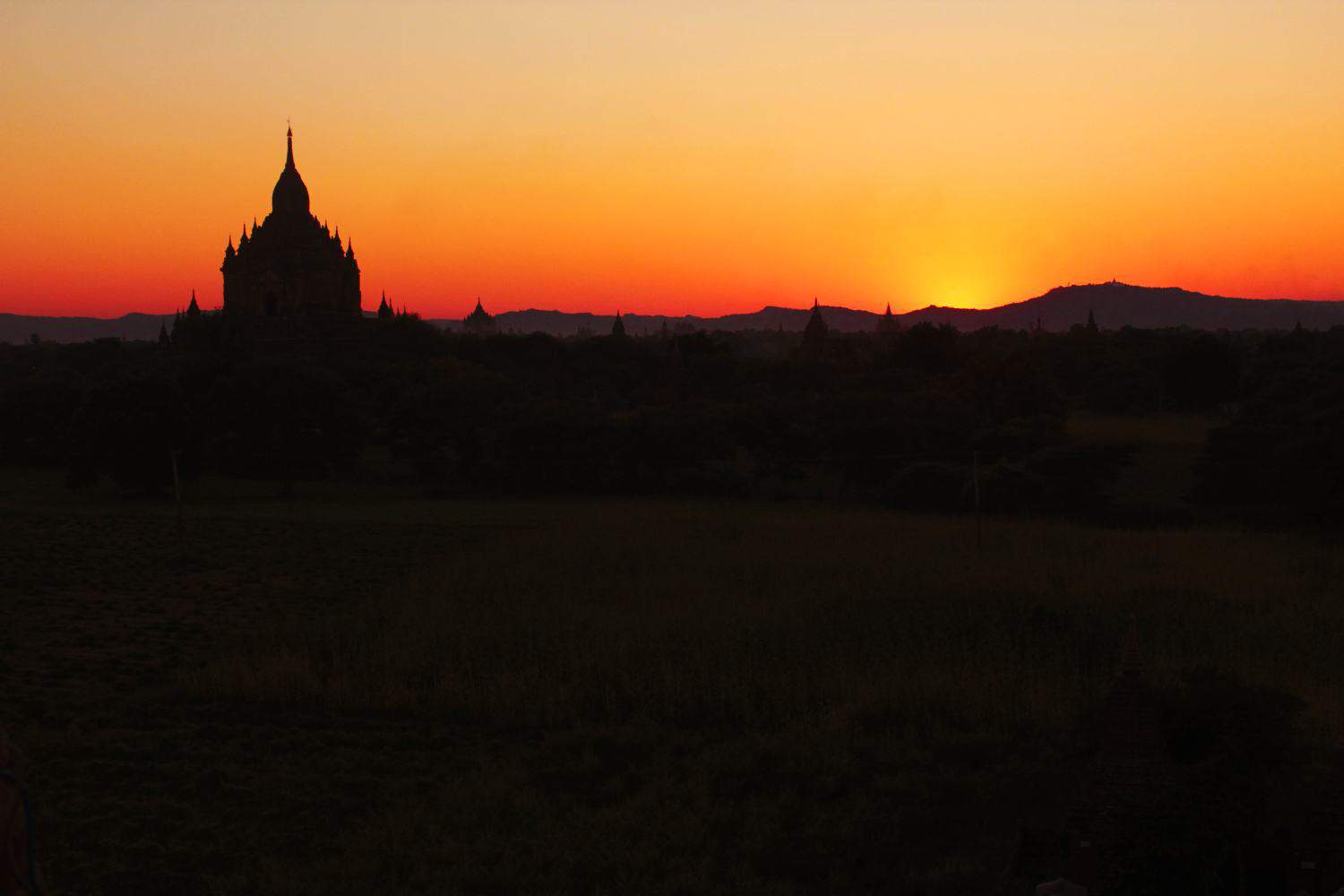 It's Cool That You Can Apply for Your Visa Online
Okay, maybe I'm the only person who thinks it's cool, but it made the whole visa application process so much easier from Chiang Mai. It used to be that you had to travel down to Bangkok and apply in person from the Myanmar embassy. I hit up MyMyanmarVisa.com (I know, it totally sounds like a fake site), filled in my details — fun part: they require you to upload a passport photo of yourself, and that was interesting trying to take a photo of one of mine with my phone so it looked legit — paid $50, and it was approved within three days.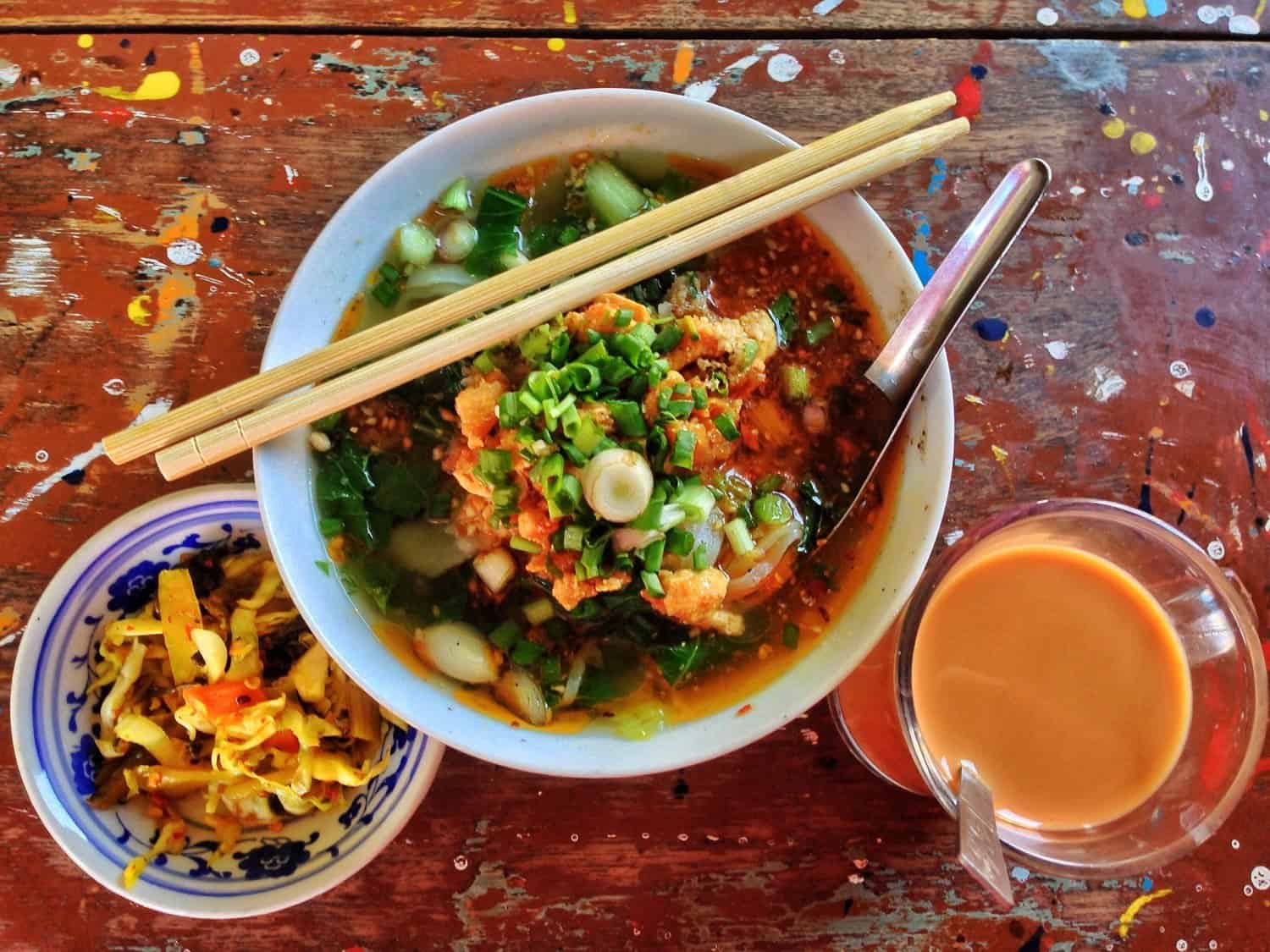 It's Actually Not That Expensive
I was under the impression that I'd be blowing through $50-100 a day as I travelled through Myanmar but this really wasn't the case.
Accommodation
Accommodation was the most expensive aspect but even that wasn't too bad, hovering at around $35 a night for somewhere clean and comfortable with hot water and Wi-Fi. I'm not a super-mega-budget traveller these days, and it was definitely possible to do it for cheaper. I look for budget guesthouses that are clean, quiet, and central over dorm rooms and hostels. And, of course, being able to split costs with Dave makes nicer rooms more justifiable.
Additionally! I'd heard it wasn't possible to book guesthouses online — that you had to phone them while you were in the country — but we booked most of them online. We'd usually head to Travelfish to find somewhere that looked nice, and then book it on Agoda. Easy.
Yangon: Chan Myae Guesthouse — We paid $32 per night for a room here and loved it so much that we returned at the end of our stay. The airport pick-up was helpful, the room was clean though basic, the staff were ridiculously friendly, and the Internet was pretty good. The free breakfasts were the worst of my life.
Bagan: Bagan Princess Hotel — We paid $35 a night for a room here and it had the worst Internet of my life. After a four night stay, where I left my laptop on and connected the entire time, I'd managed to download 10 of around 350 incoming emails. Other than that, I liked the guesthouse. Especially because I managed to leave my passport in my room after checking out (more on that soon), and the staff did everything within their power to help me out. The rooms weren't the greatest — a bit dingy and dark, but the swimming pool was perfect for relaxing beside after a hot day exploring Bagan. The free breakfasts were terrible.
Kalaw: Honey Pine Hotel — We paid $36 a night for an immaculately clean room with decent Wi-Fi and pretty views. The staff were lovely, the breakfasts were awful. There's a large roof terrace and library on the top floor — great for reading in the sunshine. Only complaint was that our room was a little cold.
Inle Lake: Inle Star Motel — We paid $40 a night here. It was perfectly located, right next to where you catch the boats to head out on the lake. Our room was clean, noisy during the day, and the breakfasts… well, this was the first place we came across that had a local breakfast option as well as a "Continental breakfast", but I didn't like it because it contained peanuts. Sigh. All good, would recommend staying here.
Transportation
We travelled solely by bus, paying $18.50 for Yangon to Bagan; $12.00 for Bagan to Kalaw; $7.50 for Kalaw to Inle Lake; and $22.00 for Inle Lake to Yangon.
Entrance Fees
It felt like every day I was shelling out for some kind of entrance fees. In Yangon, it was all about the Pagodas (most entrance fees were $3, Shwedagon Pagoda was $8). You have to pay $15.00 to get into Bagan (now $20), and $10.00 to access Inle Lake.
Activities
Bit of a mixed bag here. Want to take a sunrise hot air balloon ride over Bagan? We were quoted $380 each, for a 45 minute ride. Insane so we skipped it. Other activities weren't too bad: a sunset evening cruise + full-day cruise on Inle Lake came to $15.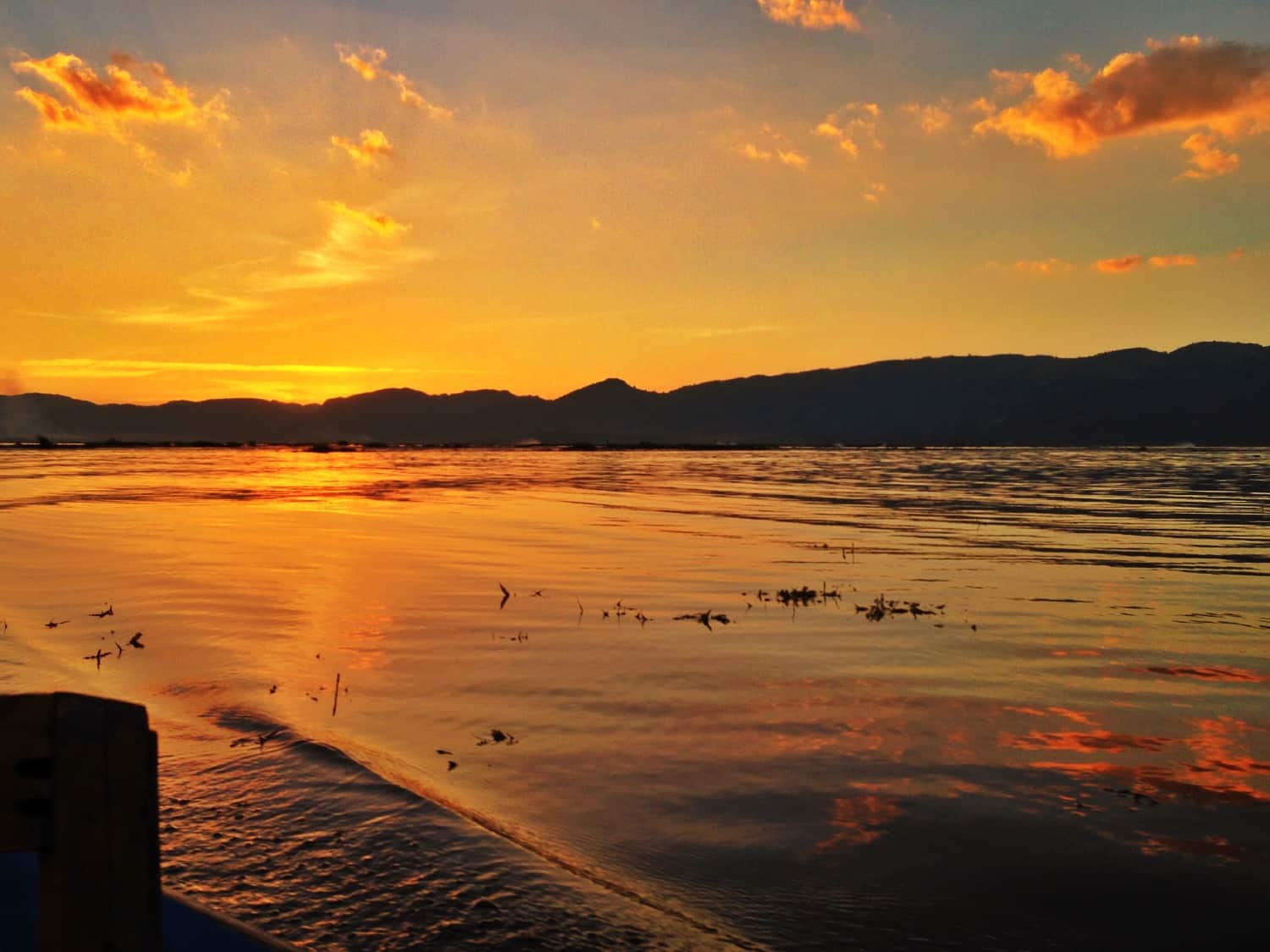 Your US Dollars Have to be Pristine; We Mostly Paid in Kyat; There are ATMs but You Probably Can't Use Them
Change your money into US dollars before you go into the country. I took about $750 in with me and ended up spending around half that. Take more than you think you'll need. When changing your currency, mention that you're going to Myanmar. At the place I went to in Chiang Mai, they had a special drawer of pristine notes for this. If your notes aren't pristine, they'll be rejected. Dave and I had several notes turned down — one because it had a slight bend (not like it had been folded or anything, it just didn't lie flat on the desk), and the other because there was a small grey smudge on it. I kept my notes in an envelope inside a book to keep them flat.
There are now ATMs in the country, but my bank (Natwest in the UK) and Dave's banks (Bank of Melbourne and Citibank in Australia, Wells Fargo in the US, and ANZ in New Zealand), still have banking sanctions in Myanmar, and you won't be able to use them there. I think this is the case for most Western banks.
I was expecting to pay for everything in US dollars, but it ended up being the opposite. I paid for accommodation in USD, and everything else was Kyat. On my first day, I offered a woman $1 for a bottle of water and she burst out laughing. I usually changed my USD at our guesthouses for convenience more than anything else. Also, sometimes they may only have small denominations and you'll end up carrying this in your purse: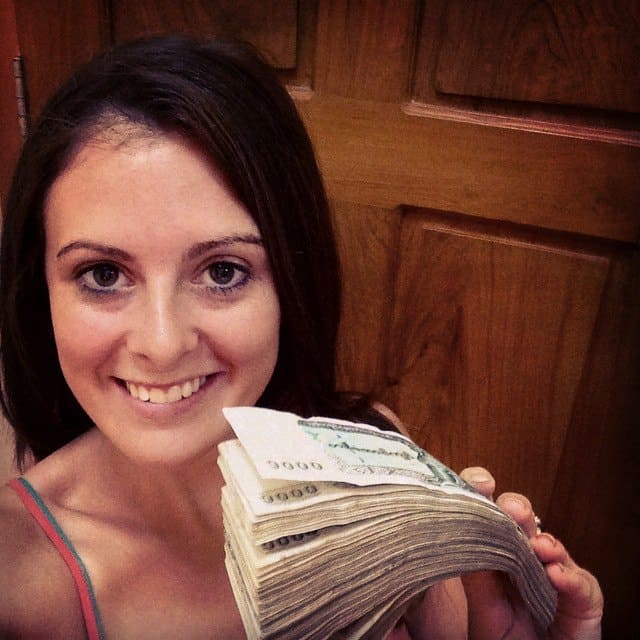 The Buses Are the Best
I really didn't expect to say that the best bus journeys of my life were in Myanmar, and especially because most of them were overnight. The VIP buses are so nice! The seats are enormous, you get a free meal and bottle of water, and it was so freaking comfortable. I slept the whole night both times, which never happens. I recommend booking with JJ Express — the best company we travelled with — and booking more than a few days in advance.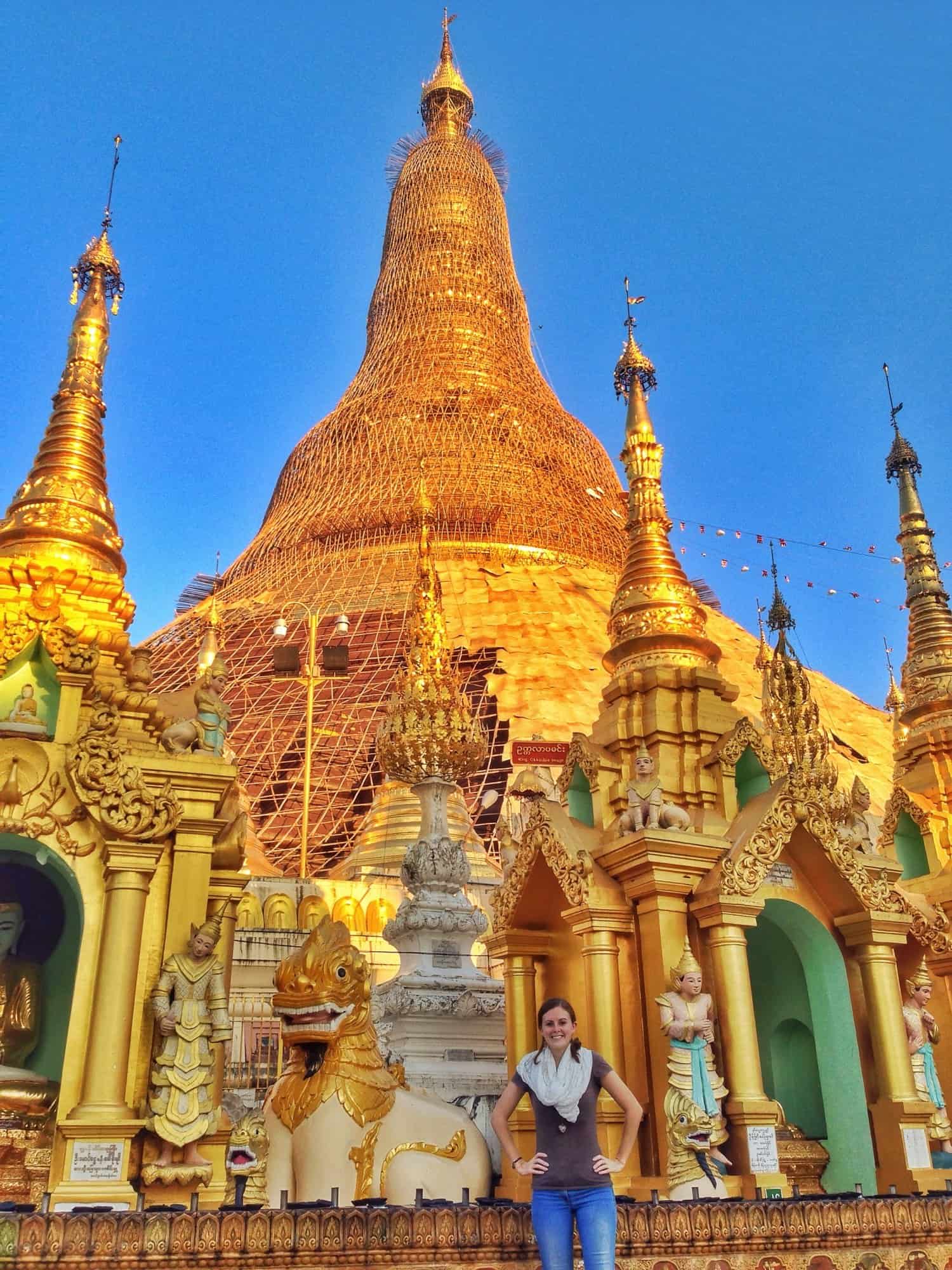 No Power Cuts
I'd heard a lot about frequent, long-lasting power cuts, but we didn't experience any during our two week visit. We were there in November, the start of high season, so I was surprised we remained powered up.
The Internet Wasn't Even That Bad
In Bagan, it was awful but other than that, it was pretty usable. I was able to check emails, upload photos, and sit on Facebook. I got around 1mbps download speed but I found it fine to use. I was expecting to spend my time in Myanmar offline so this was a pleasant surprise. Of course, we were only in tourist areas.
The Guesthouse Breakfasts are Uniformly Terrible
That photo up there is of a breakfast I was given at my guesthouse in Yangon. It's a banana toastie. That's weird, right? Also, cucumbers with ketchup and mayonnaise on top. Also weird, right? On the next day, it was an omelette with carrots, peas, and sweetcorn.
I didn't have a single good guesthouse breakfast in Myanmar, so don't use the free breakfasts as a selling point. They were all revolting. Instead, head outside and look for a steaming bowl of mohinga instead.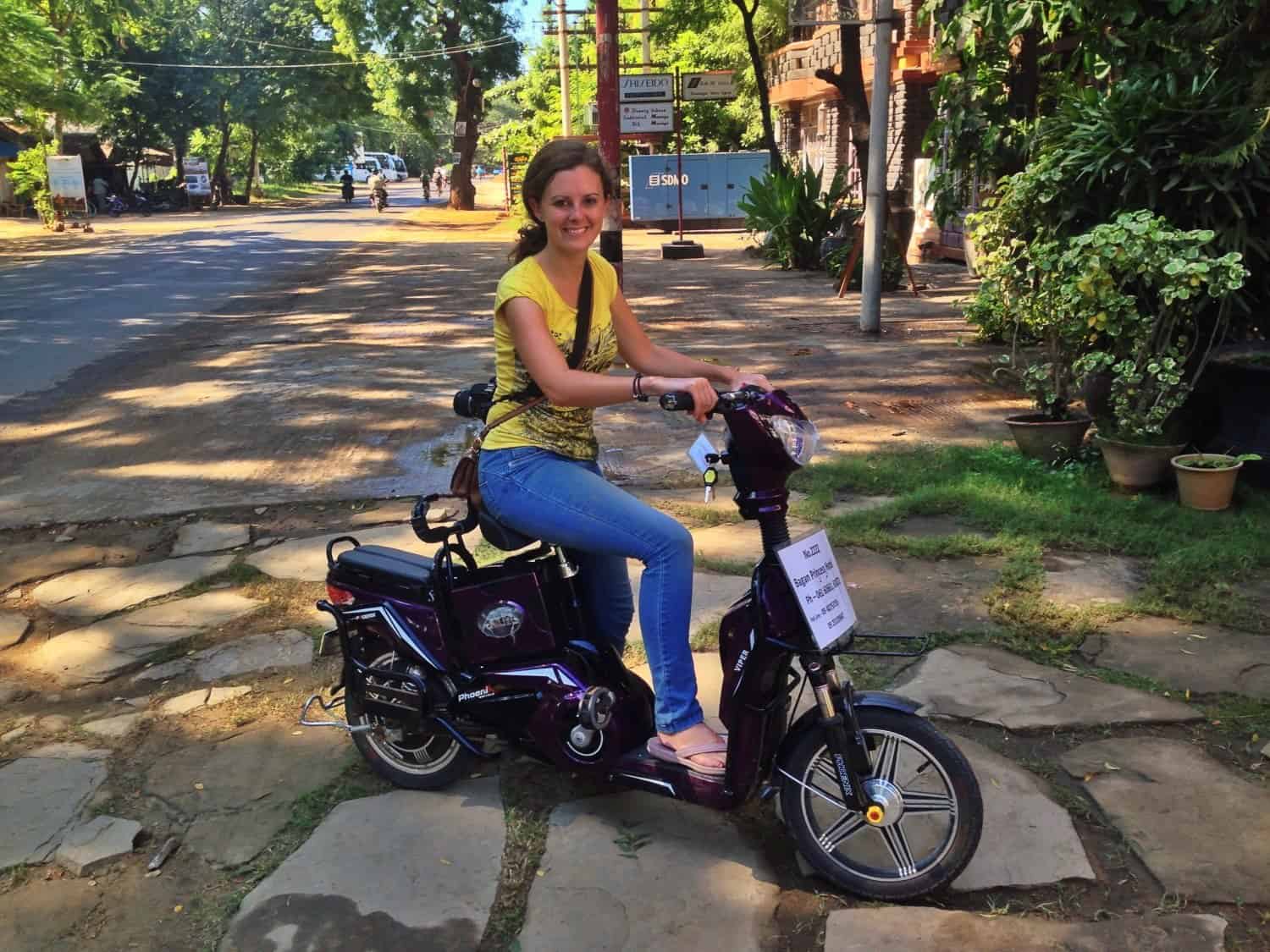 It Didn't Feel Very Touristy
Every year, I read about how more and more people are visiting Myanmar, and I kind of expected it to be overcrowded and packed with tourists. It really didn't feel like that, and it was so easy to escape the crowds.
The super popular places, yes. Shwedagon Pagoda was full of people at sunset, but Sule and Botataung were quiet in comparison. The well-known pagodas were crazy-busy at Bagan, but you often only needed to walk 50 metres to the next one and you'd have it all to yourself. Inle Lake can feel a little like a conveyor belt of tourists on boats, chugging along the same route and stopping at all the same stops, but if you decide to spend the day in Nyaung Shwe (the town with all the guesthouses, where you'll likely be staying), everyone will be on the lake and you'll be wandering down empty streets.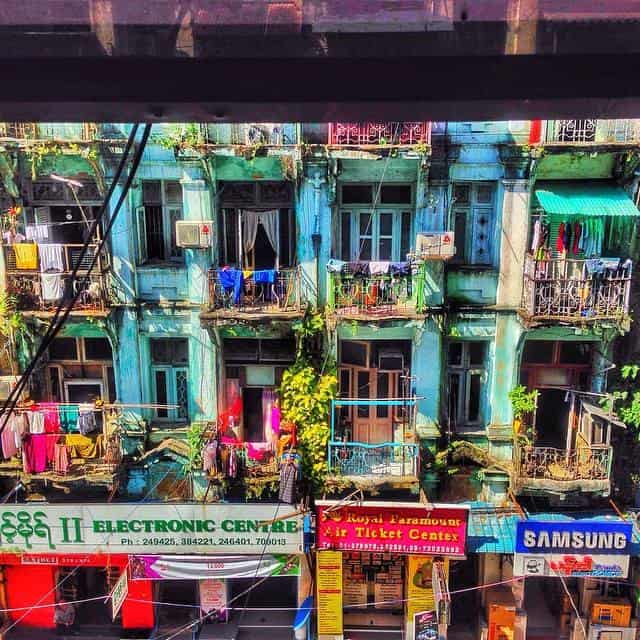 I didn't Get Sick!
I was fully expecting to get sick. I especially expected to when Dave and I had a street food meal in Yangon where the meat was stone cold. Nope, we were fine.I even ate meat and fruit, which is usually a brave move. Can I give you any tips? Have soup wherever possible. Eat on the streets instead of in restaurants. It worked for us.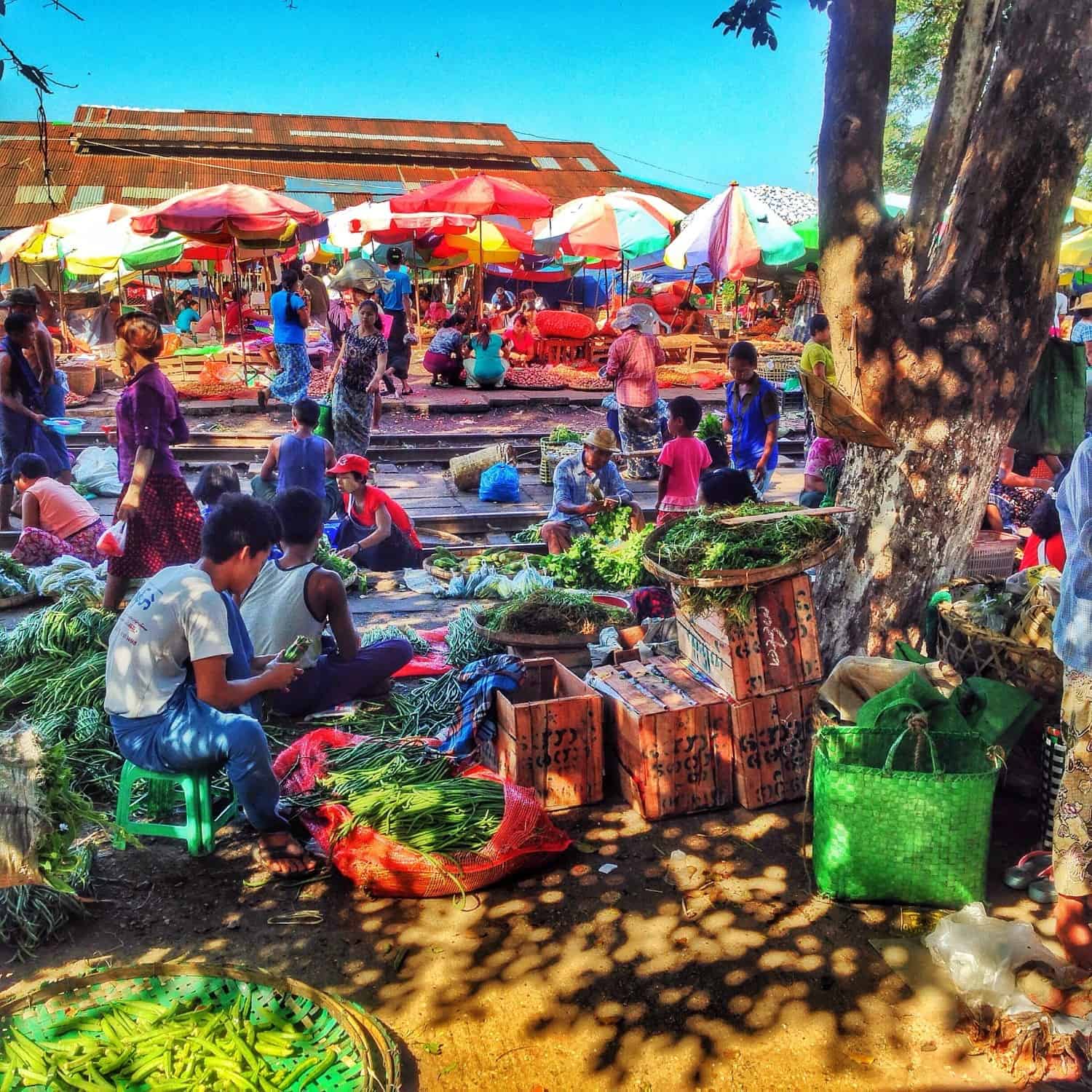 Yangon is Great
Yangon was swelteringly hot, full of crumbling, colourful Colonial facades. The roads were chaotic but, unlike in most other Southeast Asian cities, there wasn't a scooter to be seen (they're illegal in Yangon). I developed an obsession with Shan noodle soups, my staple for much of the trip.
Walking around, Yangon felt like someone had taken my favourite parts of some of my favourite places and mashed them all together: the colonial architecture reminded me of Penang; the buses of Belize; the clouds of incense of Kathmandu; the trains of Sri Lanka.
We began our explorations on Yangon's rickety Circle line (19 cents for a three-hour ride!), bouncing over the tracks and gazing out the window at lush grasses, hundreds of factories, and bustling markets that took place in railways stations, quickly shifting out the way when we rolled through.
My favourite part was pagoda-hopping my way across town, starting at Sule and ending in Shwedagon by way of the icy air conditioning unit at Botataung. Did I mention Yangon was hot? And that I was covering up by wearing jeans and a sweatshirt? It was worth the sweat, though. I was quietly awed by the shimmering golden stupas breaking up the city roofs. So much gold.
Bagan: So much Fun, Better Than Angkor Wat?
God, I loved Bagan so hard. Hands down, the most spectacular place I've been. I found it more incredible than Angkor Wat. We only had four days in Bagan but I could quite happily have spent an entire month there.
Rent an electric bike if you visit. They're loads of fun, and make it so easy to get away from the tourists. One of my fondest memories from Bagan was just driving in one direction for half an hour, stopping next to a cluster of pagodas, and having them all to ourselves for the morning. Some of them were just as amazing as the popular ones but nobody seemed to be visiting them.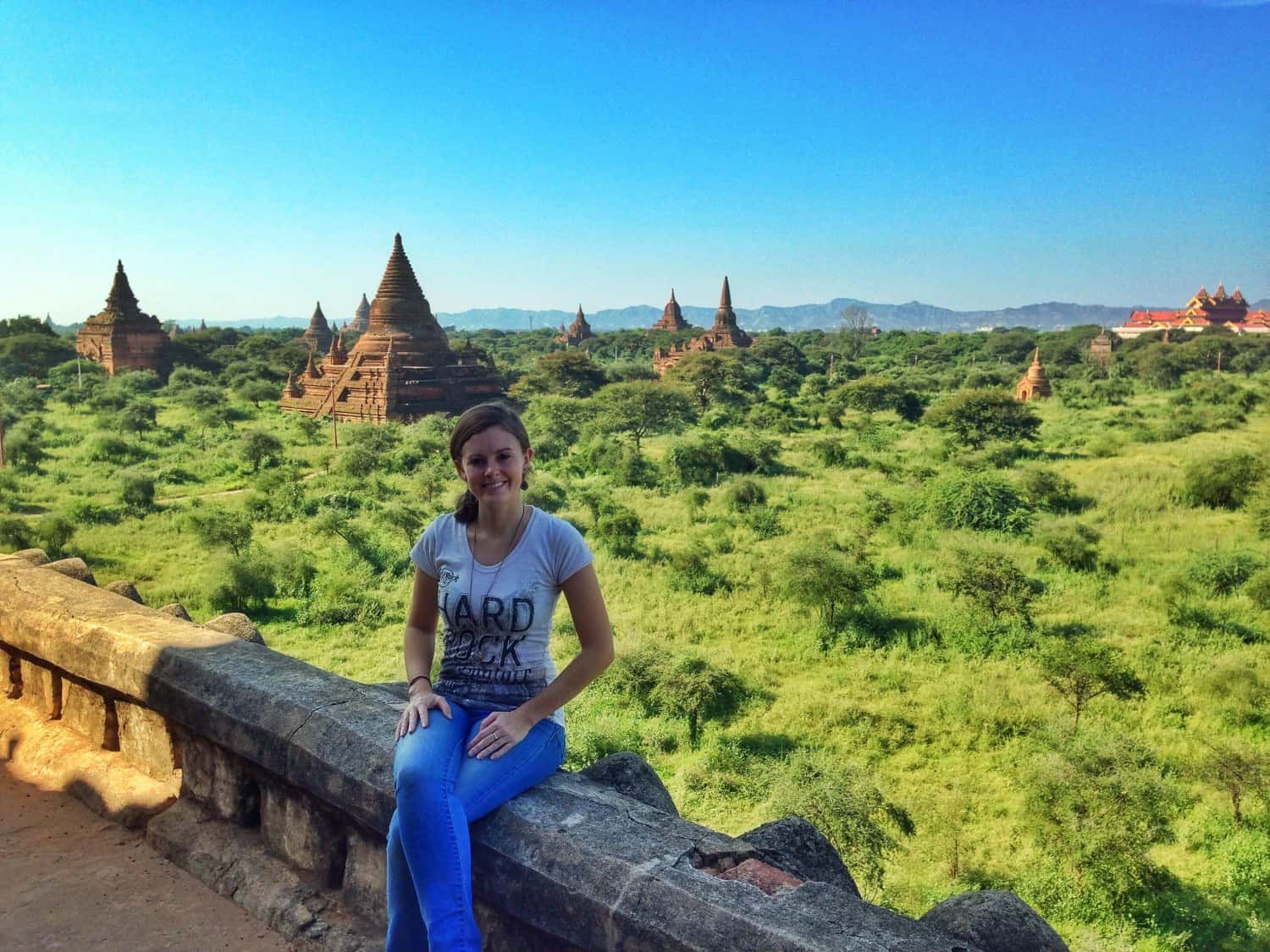 Kalaw: Cold, Beautiful, Amazing Food
Everyone comes to Kalaw to hike. Our bus ride from Bagan was packed with people but when it came time to leave, we were the only foreigners on the bus. Everyone who comes to Kalaw leaves on foot.
After so much action in Yangon and Bagan, my mono caught up with me and I spent three days in Kalaw asleep. Once a hill station for the British to escape the heat, it's now a pretty mountain town with a ton of hiking trails. Dave hiked, I ate.
Many of the descendants of the Indian and Nepali rail workers who migrated to Kalaw during British rule live here today, and I had some of the best Indian and Nepalese food of my life in several of their tiny restaurants.
Most people head to Kalaw and walk straight out again, but I recommend spending at least a day here, if only to eat everything in sight.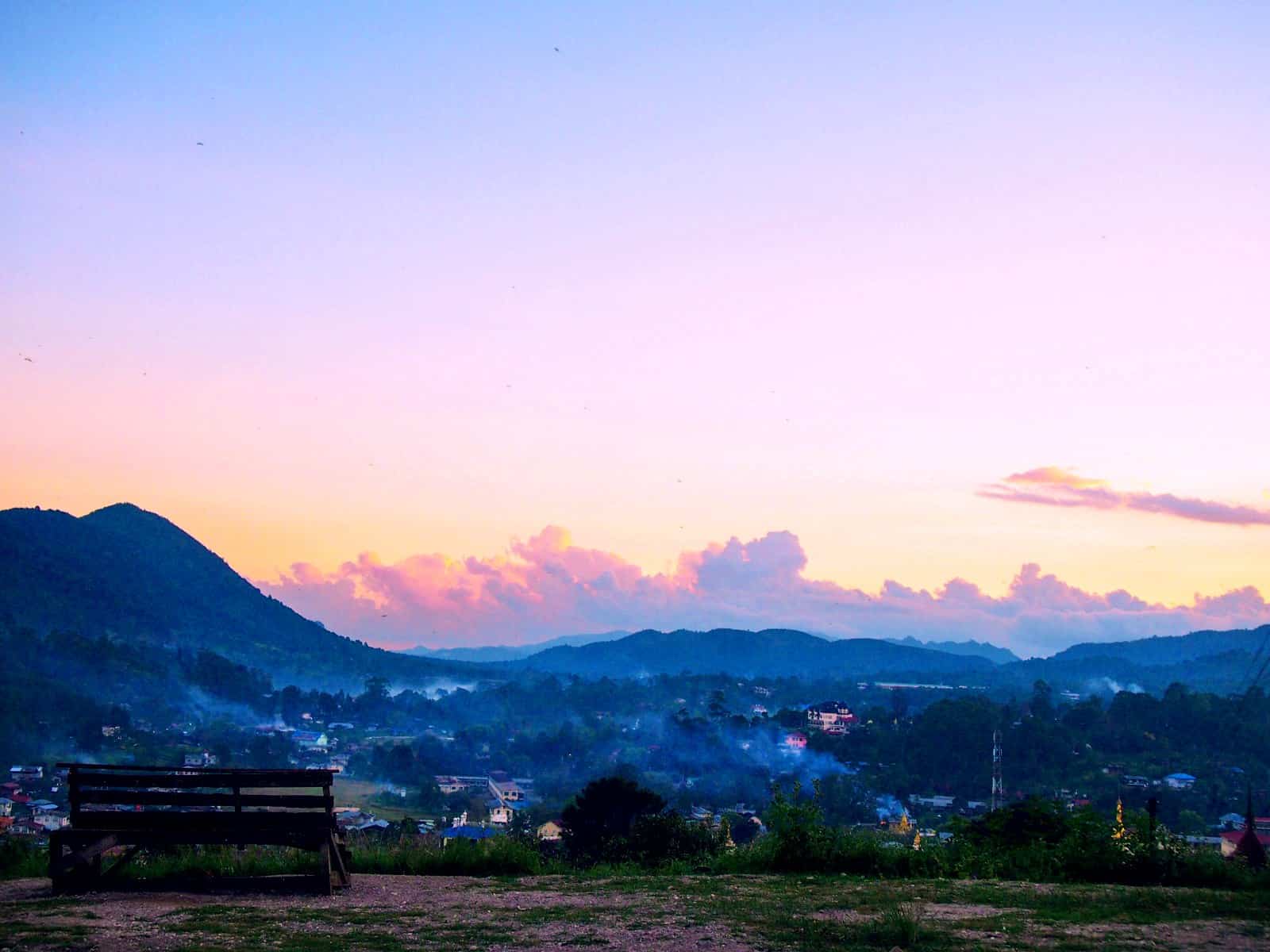 Inle Lake: So Much Better Than Expected
Everyone we met in Myanmar said to skip Inle Lake. It was mega touristy, they told us, and there's not that much to do there. We booked one night, which gave us two full days to explore. I guess that's all you'd really need, but I could have stayed for three nights or so.
From the awkward sunset tour, where Dave, I, and the boat driver sat single file in silence for an hour, to the fun day on the lake, I loved every second. Our day tour was spent exploring stilted overwater villages, a silver factory (boring), a lotus weaving factory (really interesting), cheroot-making factory (I immediately developed an addiction to rose-flavoured cheroots), Phaung Daw Oo pagoda (didn't go inside because my scandalous shoulders were exposed. It looked pretty from the outside, though), the "long neck" Padaung tribe (skip! Please don't support this!), and the Jumping Cat Monastery (there were no jumping cats). All in all, I normally hate this kind of tour. I hate being shuttled from stop to stop to stop, where everyone tries to make you buy things, but I didn't feel pressured into it at all. Fun day! I wish I'd bought some cheroots.
I guess this post could be summarised as: Myanmar is awesome. Don't form an opinion of a place before you arrive. I love, love, loved my time there, and can't wait to return. Next time, I'd head to Yangon and Bagan, and then to some of the lesser-known places. So, go to Myanmar. It's wonderful.
Related Articles on Myanmar (Burma)

🛵 Bagan by Electric Bike: A Travel Highlight
🚤 How to Spend Two Perfect Days on Inle Lake