Tasmania is probably my new favourite place in the world.
I fell for it harder than I have anywhere else. More than I did Thailand, Cambodia, the Philippines or Slovenia. It is just so ridiculously gorgeous.
Before I write about my time in Tasmania in detail, I'd first like to share a few of my favourite photos from my week spent on the island. Hopefully they'll convince you to visit one day, it truly is a wonderful part of the world.
We began in Hobart, state capital of Tasmania and all-round wonderful city that provided a welcome relief from the major cities in Australia. I hadn't warmed to either Sydney or Melbourne but fell in love with Hobart in seconds. There were no towering glass skyscrapers here. Instead the streets were lined with old Georgian buildings; former warehouses and port buildings converted into small restaurants, cafes and craft shops. The weather was fantastic, which, as I was told repeatedly, is a bit of a rarity for the city.
While the temperatures on the ground were soaring, breaking records and starting bushfires, at the top of Mount Wellington, 1200 metres high and overlooking Hobart, it couldn't have been more different. Struggling to open the car door against the gale-force winds, I noticed the temperature gauge in the car reading 1 degree Celsius before taking a deep breath and running out to the viewpoint in shorts and a t-shirt. I managed to take just five photos before surrendering to the icy air, staggering back to the car in defeat.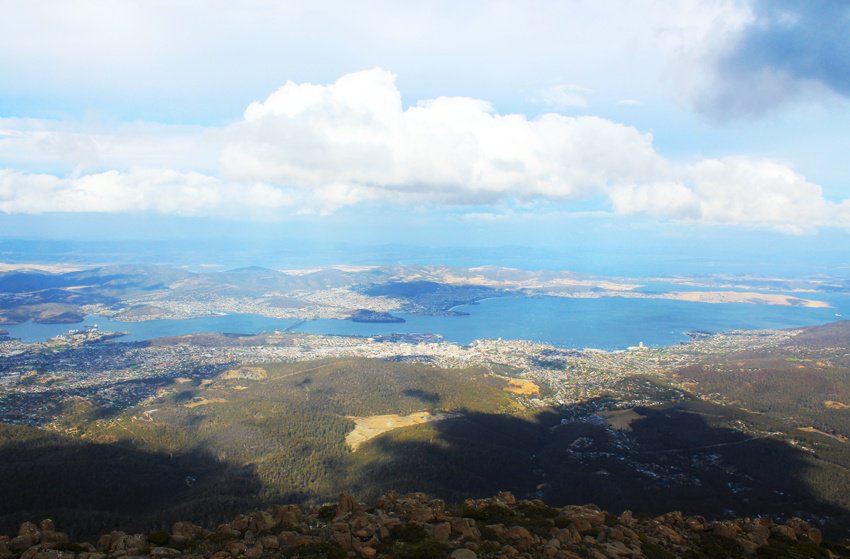 The following morning, we left Hobart for Bicheno and found ourselves taking double the estimated two hour drive to arrive. The reason? The scenery was just so incredible. Every turn-off featured another deserted beach and I wanted to stop at all of them.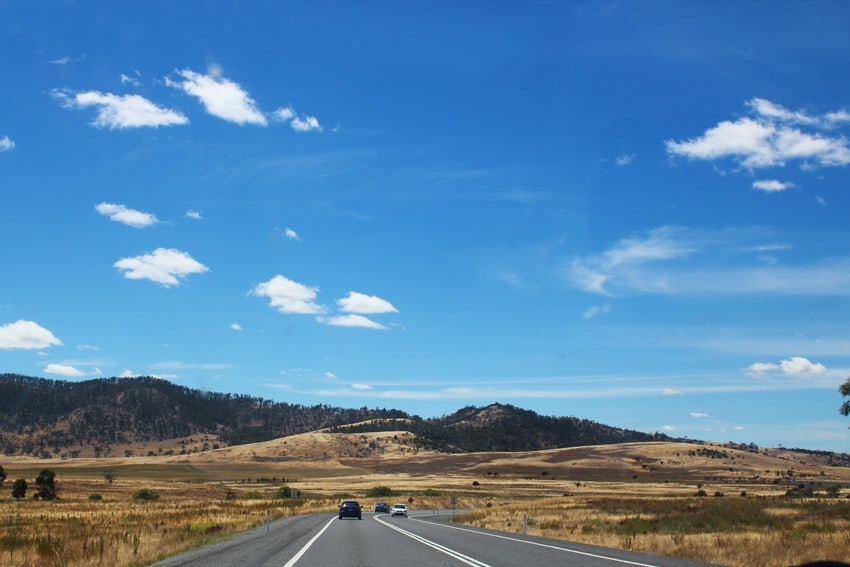 This was our first discovery.
Following a sign marked "beach" on the side of the road, we weren't expecting much from our detour but ended up astounded with our find. This was one of the best beaches I'd ever seen and I couldn't believe that Dave and I were the only two people on it.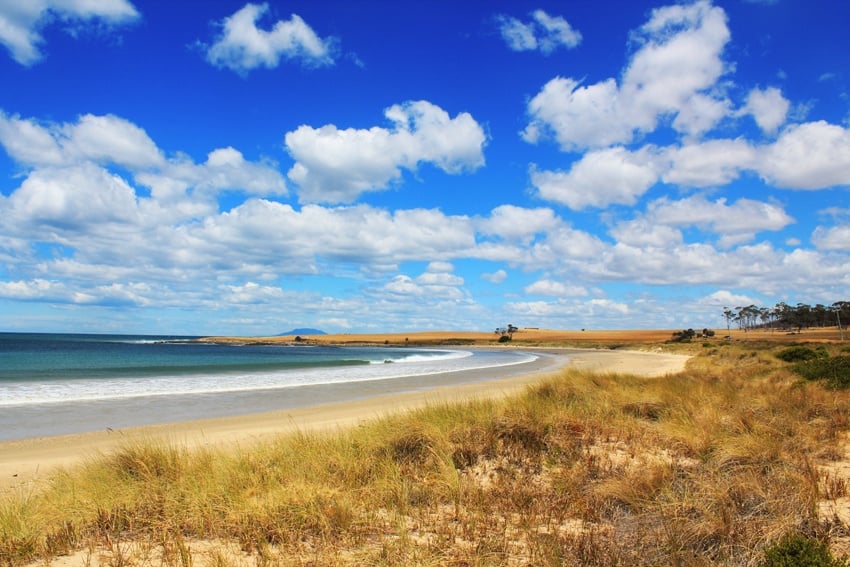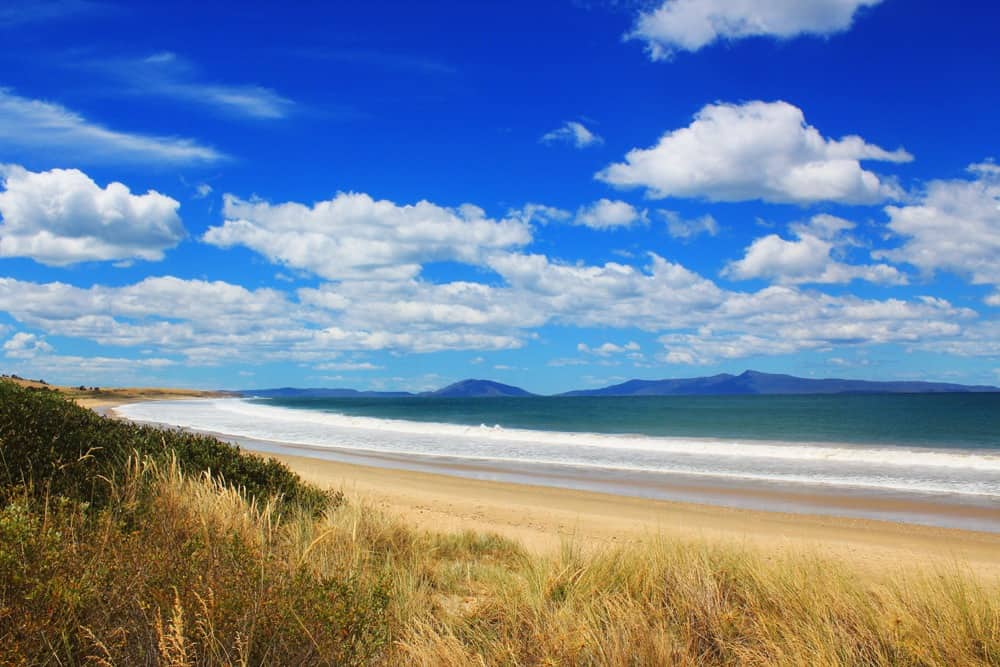 We arrived in Bicheno and, after finding ourselves with not all that much to do, decided to check out Bicheno Blowhole. This was going to be my first blowhole experience…
Looking back, having now experienced several "blowholes" since Bicheno, I can now say that this one was by far the best I've been to. Human sized rocks surrounding the hole meant that I could spend a couple of hours sunbathing while watching occasional columns of water erupting over unsuspecting tourists. Fun.
The bush fires I mentioned previously had been ravaging through Tasmania for a week prior to our arrival and had almost convinced us to cancel our trip to the island. Parts of the island were closed off, including Freycinet National Park, the place I was most excited about visiting.
Amazingly, the weather decided to co-operate with our plans and cooled down significantly after we arrived. We couldn't believe our luck when Freycinet National Park re-opened the day we arrived in Bicheno.
I was ridiculously excited to explore the National Park. It's where the gorgeous Wineglass Bay is located, somewhere I've wanted to visit for years. Not even the fact that it would involve a two hour hike to get to the viewpoint could dampen my spirits.
Shockingly, the walk ended up being more of a struggle than I'd anticipated but the views were more than worth it. Wineglass Bay was so, so beautiful.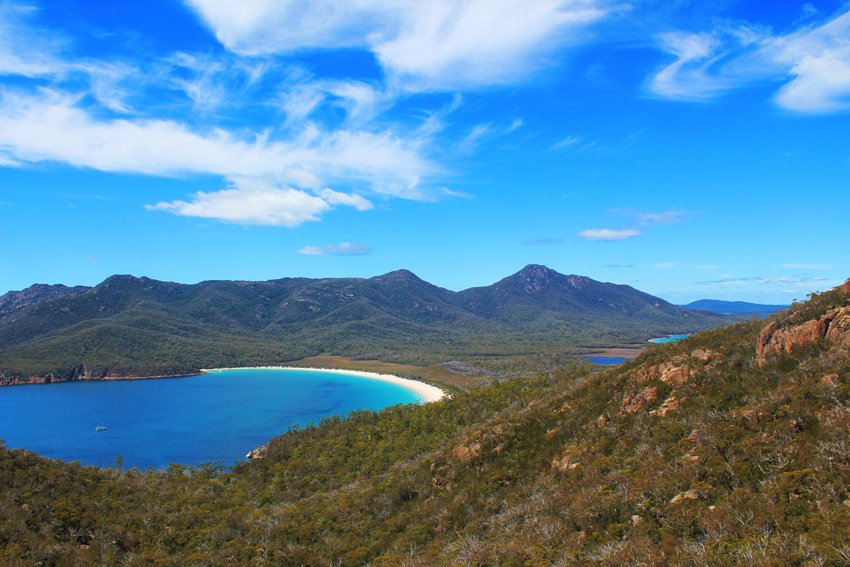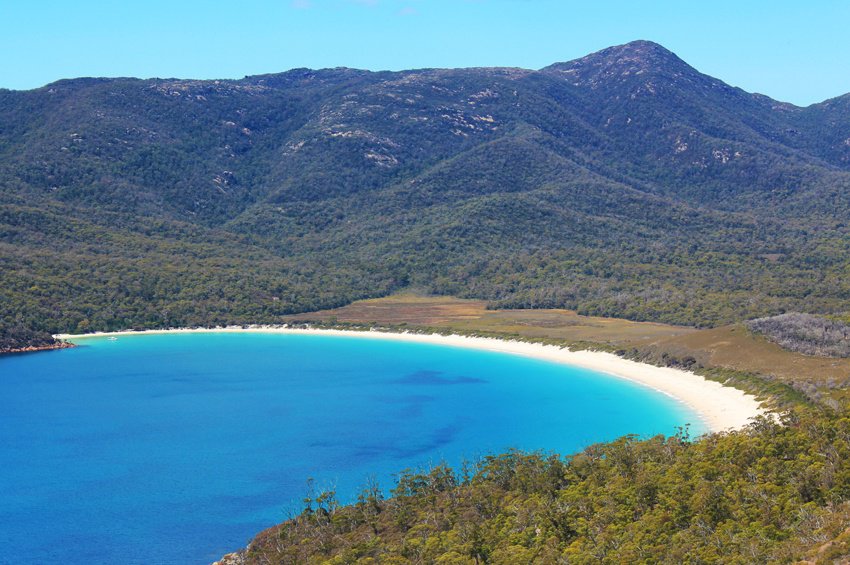 After finishing up in Freycinet, it was time to head up the coast to St. Helens. Our drive took us past even more ridiculously gorgeous beaches, with us choosing to eat our breakfast of Vegemite sandwiches at this beach…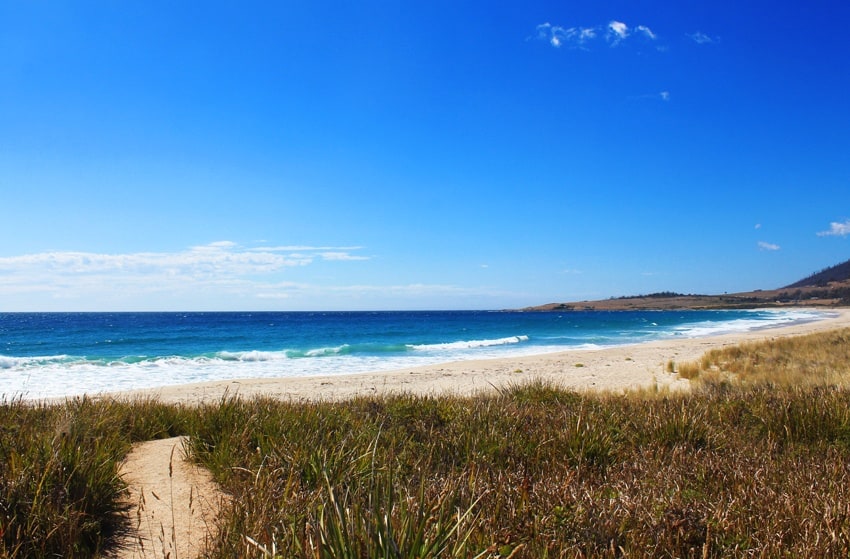 And our lunch here!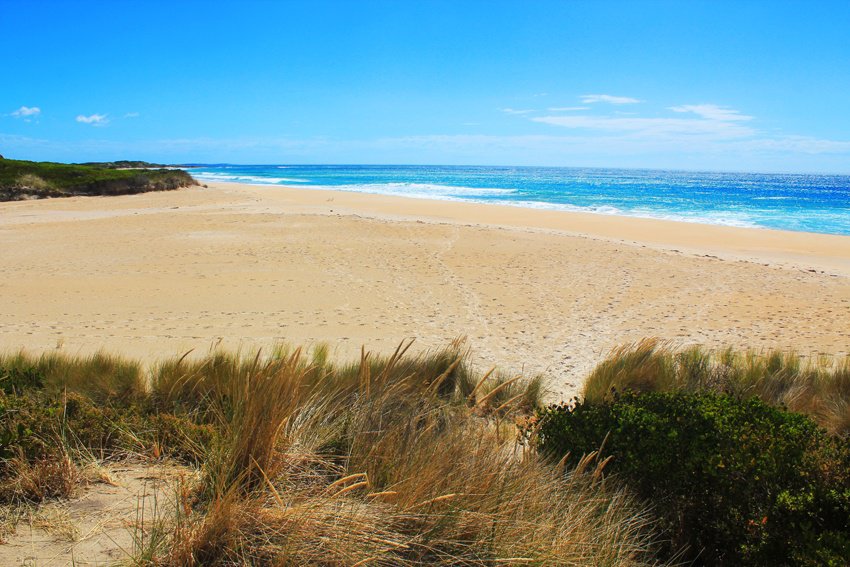 The spectacular scenery of Tasmania isn't limited to the coastline. Driving inland on the way up to St Helens had us passing through rugged mountains, great expanses of green and yellow fields laced with tall forests and sparkling highland lakes– I was absolutely taken in by its beauty.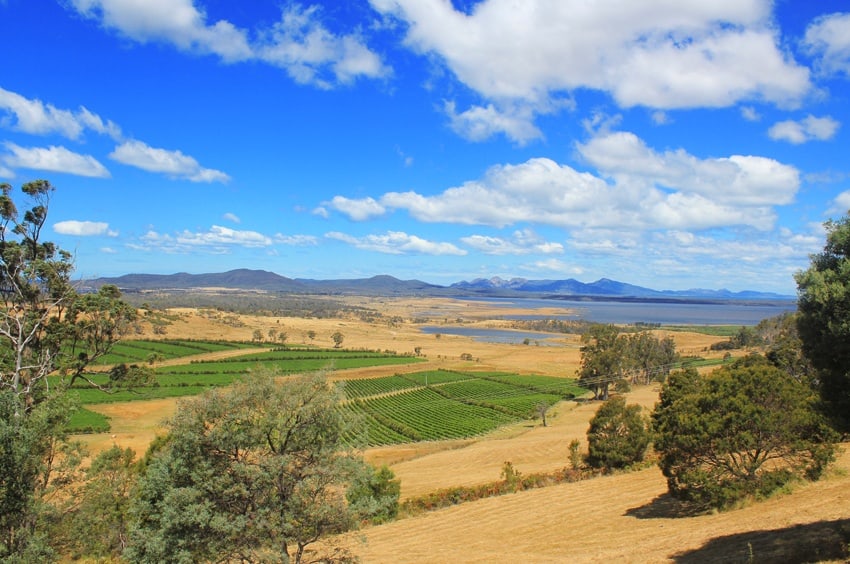 Even with us stopping and taking photos every 4 seconds, we arrived in St. Helens several hours too early for check-in. Knowing that Tasmania has never let us down with its beaches so far, we got back in the car and drove along the coast.
A few minutes later, we stumbled upon Binalong Bay.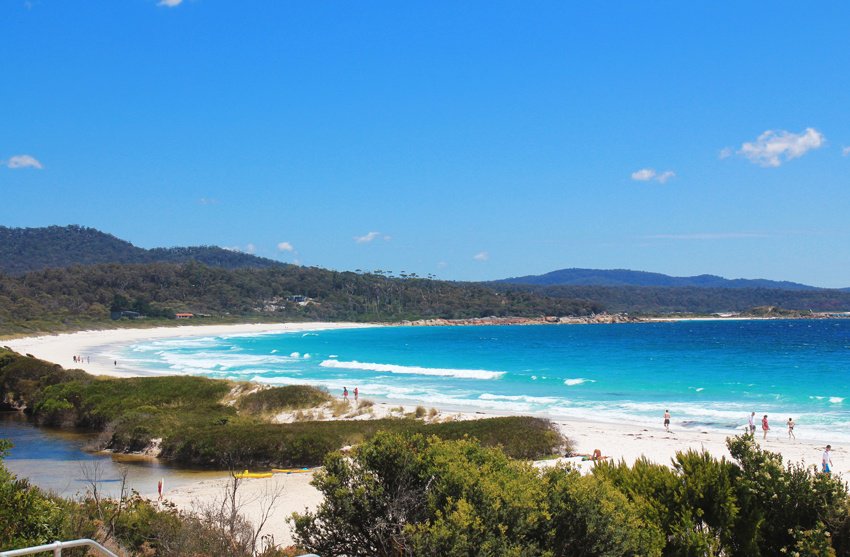 And it had some of the whitest, cleanest sand I've ever seen…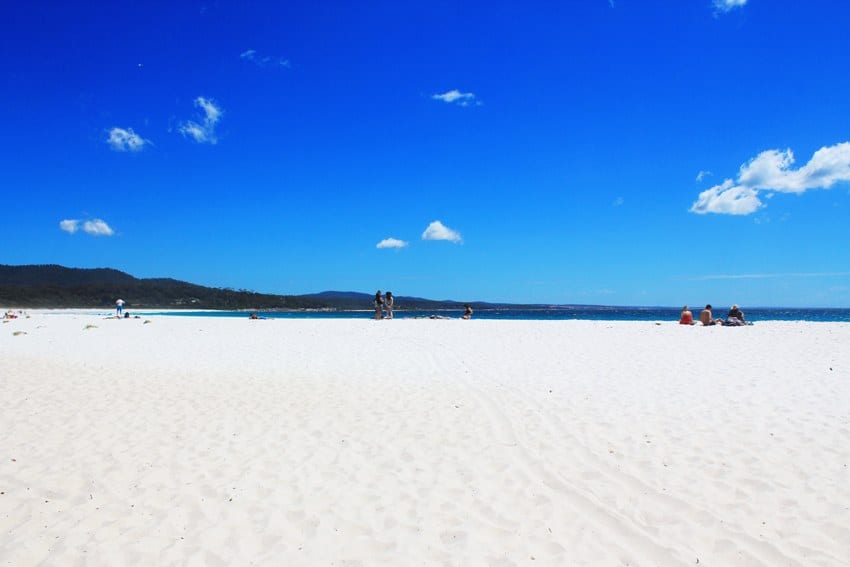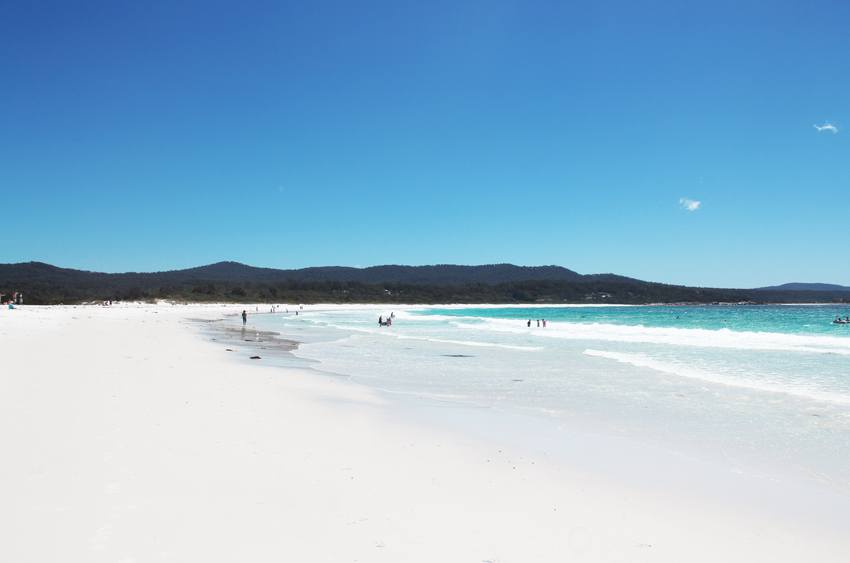 I spent a week in Tasmania and I could have spent so much longer. In the future, I plan on returning and spending months there. I didn't expect to fall so deeply in love. Tasmania was one of the most beautiful places I've ever visited with incredible landscapes and yet most visitors to Australia choose to ignore it.
If you're planning a trip to Australia don't be one of them.
Go to Tasmania.
Where to Go in Tasmania
Tasmania is an incredible island, and it can be tough narrowing down where to visit. Here's a rundown of my favourite places:
Hobart: What an adorable city! Hobart is the perfect place to spend a few days visiting coffee shops and art galleries, and eating delicious food by the harbour.
Cradle Mountain: Feel free to skip Cradle Mountain if you're not a hiker, but it's worth doing if you're keen to do some walking. It's easy hiking here, with a boardwalk for much of the route, but it's still spectacular.
The East Coast: Choose to drive the east coast rather than taking an inland route. The east coast is home to so many ridiculously beautiful beaches, and you won't find a single person on them. Plan to spend three times as much time driving as your GPS predicts, and stop off at all of the beaches. Each one offers something special.
St Helens: St Helens has some incredible beaches. Binalong Bay is the star of the show here, but drive a few minutes along the coast and you'll be rewarded with some gorgeous beaches with far less people on them.
Freycinet National Park: Aim to spend at least two days here, exploring and hiking the area. Wineglass Bay is a must-visit, especially if you only have one day.
Related Articles on Australia

💰 The Cost of Travel in Australia (2023): My Detailed Budget Breakdown
🇦🇺 30 Incredible Things to Do in Melbourne, Australia
🐠 Nerves and Nausea Over the Great Barrier Reef
🥑 Fitzroy is Home to the Best Brunches Ever