After six months in Mexico, my visa was days away from expiring and I knew it was time to leave.
But I wasn't ready.
We'd come to Mexico as part of an ambitious and lengthy journey across Latin America. Over the space of a year, we'd be travelling through every country in Central America and the most South American ones, too. We were hoping to round it all off with a trip to Antarctica.
Mexico had been just the start of this journey. We'd figured we'd check out a few places for a couple of months, then start travelling south, but we'd fallen hard for the country and never really got around to planning our departure.
Six months later, it was our visas, not our hearts, that were making us leave.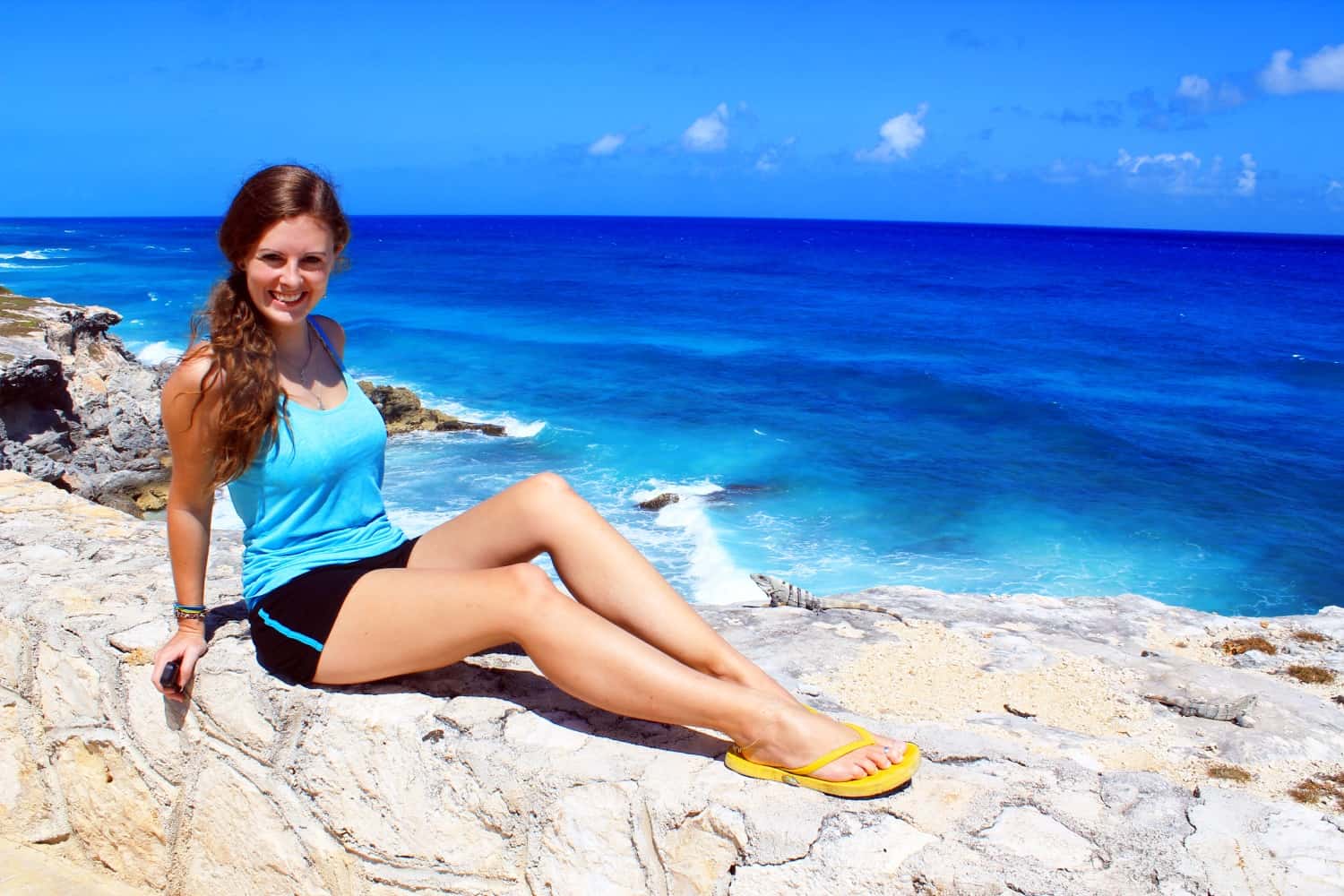 Next stop: Belize.
There was only one direct bus from Cancun to Belize and it left at 10:15 p.m.
And if that sounds like a recipe for not much sleep, that's because it was. Add in a 4 a.m. border crossing on top of that and there was little chance of us arriving in Belize feeling fresh and rested.
Oh, and don't forget to throw an intense questioning session at the Belizean immigration at 5 a.m. either!
Let's just say my first experience of a Latin American border crossing was both tiring and memorable.
We pulled up at the border right on time and piled out of the bus. Fortunately, Dave had researched what crossing the border involves several days before and was well aware of the money-making scheme they have on the Mexican side.
Basically, there's a man sat in a small room who tells you that you need to pay a 300 peso ($16) exit fee. What most people don't know is that if you flew into Mexico, you've most likely already paid this fee — for the vast majority of people, it's already been included in your airfare.
We'd printed out a copy of our tickets that itemised this fee, so were able to escape double-paying, but nobody on our bus had even heard of this rule. If you can't prove you've already paid, there's no way of getting out of it at the border.
I thought that would be worst of the crossing and settled in for a nap while everyone else on the bus argued to try to get out paying the exit fee.
An hour later, we were moving again, and pulled up on the Belizean side to get our passports stamped.
"How long did you spend in Mexico?" a woman snarled at me.
"Six months," I told her.
She flicked through my passport to check.
"Did you work while you were in Mexico?"
I shook my head. "No."
"How could you afford to spend six months there?"
"I'm taking a gap year," I told her, which is my usual backup plan for whenever I receive questions at immigration. I've actually never been asked before, but the story I've perfected is that I'm a student, I'm taking some time out after studying to travel, and then I'll be heading back to the U.K. to get my PhD. I look mega-young for my age anyway, so it's not like it's totally farfetched.
And having said that, I mean, I'm not doing anything wrong by entering these countries while working online. I work for companies that are based in the U.K., I'm paid in pounds, I'm not taking jobs from any of the locals in the countries I visit — I'm just spending my money there.
But that's not a conversation I want to get into with an immigration official at the border, and especially not at 4 in the morning.
"How long are you going to be in Belize for?" she asked.
"Two weeks."
"Where will you be visiting?"
"Belize City, San Ignacio, Placencia, and Caye Caulker."
"Are you going to be working in Belize?"
"No."
"Did you work in Mexico?"
"No."
"Where do you work?"
"I'm a student."
"Where are you going after Belize?"
"Guatemala."
She placed my passport down on the desk and began asking Dave the exact same questions.
Everyone else on the bus had passed through immigration with a stamp and nothing more, but for some reason, Dave and I were held up for half an hour with her intense questions.
Eventually, the woman grumpily smeared a stamp across our passports and waved us through.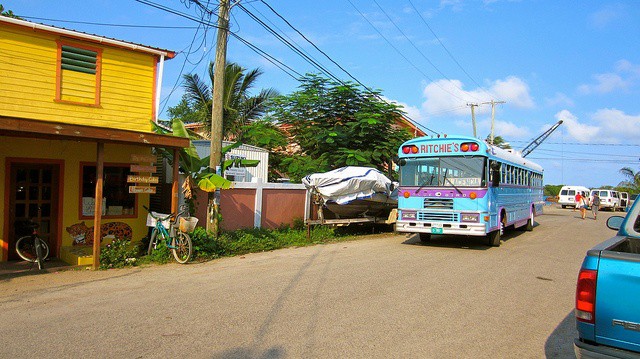 We rolled into Belize several hours later, dusty, sweaty, tired, and with the knowledge that our travel day was far from over.
The main bus station in Belize City looked like a parking lot with a small ticket office and a waiting area behind iron bars. Despite our early arrival, the station was still swarming with people, and loud hip-hop music blasted out from a handheld speaker in a guy's lap.
As Dave and I shrugged at each other, a friendly guy approached us and asked where we needed to go. When we told him San Ignacio, he directed us to a battered old American school bus that was painted in a bright shade of turquoise. We pushed our way on board, shoved our backpacks onto the wooden shelves above our heads and squeezed onto the damp leather seat.
All around us were laughing families, sleeping children, and teenagers playing loud, distorted music on their phones to each other.
Instead of Spanish, the predominant language here was English, with Creole widely spoken, too. It felt odd to be able to tune into the conversations around me after flailing with my Spanish for the past six months, and I almost felt guilty for doing so. Like I was eavesdropping on conversations I shouldn't.
Belize felt more like the Caribbean than Mexico ever did — there was more of a laid back vibe, the music was all about the reggae, the food, I had heard, would now be primarily rice and beans. Belize was noticeably poorer, too, with rundown buildings lining the roads that our beaten-up bus juddered along.
A bead of sweat rolled down my back and I regretted the outfit I'd chosen for a night on the bus: jeans and a hoodie didn't seem quite so sensible in the sweltering Belizean heat.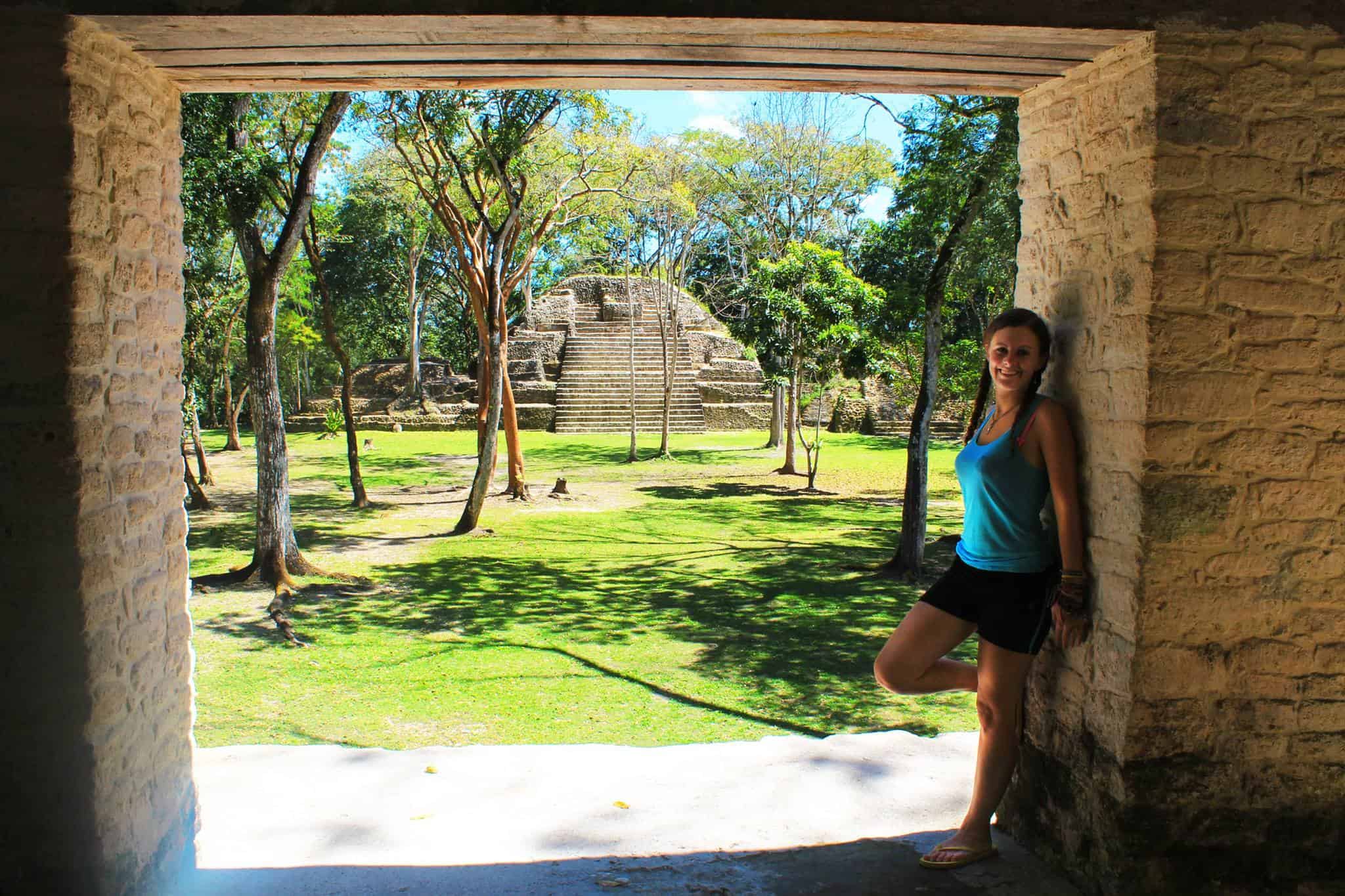 Our bus to San Ignacio was going to take several hours, so I slumped down in my seat and tried to tune out the chaos.
That was a little tougher than I'd hoped. We were only a few minutes out of the bus terminal when a large woman pulled herself up from the front of the bus, turned around and passionately began to shout about the lord Jesus Christ to an enraptured audience. The entire bus burst into applause when she finished, including all the teenagers.
We screeched to a halt.
I shot Dave a quizzical look as dozens of people began rushing to the other side of the bus, smartphones in hand.
Traffic had stopped, people were stood outside their homes and staring down the road, sirens were wailing.
It wasn't until we continued driving several minutes later that I managed to see what had startled everyone so much.
A dead body.
It was sprawled across the road, towel over their head, t-shirt ripped to shreds. I spotted a leg twisted out at an awkward angle. As we inched closer, I winced as I saw a thick smear of blood and organs stretching from one side of the tarmac to the other. A smashed scooter was resting by the side of the road.
I felt sick.
It was a sobering experience, especially as Dave and I opt to spend so much time on scooters as we travel.
I hoped it wasn't an omen for the rest of my time in Belize.
We arrived in San Ignacio a little worse for wear, but I was instantly revitalised when I stepped off the bus. I only needed to take a few steps before I was engulfed in a swarm of butterflies.
There were butterflies everywhere!
As we walked to our guesthouse, all I could see was butterflies. And as we were staying a little way out of town, by the time we got to our guesthouse, all we could hear was silence.
I was overjoyed to be in a brand new country. Especially with one as butterfly-filled as this.
We got to our room, chucked our bags on the floor, and prepared ourselves for what was about to be an epic two weeks.
Related Articles on Belize

💰 How Much Does it Cost to Travel in Belize?
🇧🇿 Stepping Back in Time at Cahal Pech
🐒 Xunantunich: My Favourite Mayan Ruins
🚌 San Ignacio to Placencia via the Worst Travel Day Ever
🙅🏼‍♀️ The Belize-Guatemala Border and the Worst Bribe Attempt Ever