San Antonio has a certain charm that you have to experience firsthand to truly appreciate it. From its beautiful historic sites and vibrant culture to exquisite restaurants, San Antonio brings out the best of the Lone Star State.
The city is the most visited in all of Texas, and with so much to explore, you'll need a plan of attack if you want to get the full San Antonio experience.
San Antonio, Texas is a city that has been around since the 18th century. It was originally known as San Antonio de Béxar and was founded by Spanish colonists in 1718.
The city quickly became an important trading center due to its strategic location at the crossroads of three rivers – the San Antonio River, the Medina River, and the San Pedro Creek. Today, it's home to a rich history of culture and art, making it an ideal location for any visitor looking to experience the Lone Star State.
I lived in San Antonio for a little over two years and I loved every second of it. It's one of the most family-oriented cities I've ever been to and brings something special to the table that you wouldn't find in any other city.
There's always something to do, from exploring the city's vibrant culture and art scene to enjoying the best Tex-Mex cuisine. I swear, you could live here for five years and still not try all the tacos in this city.
Spending three days here is the perfect amount of time to get a real feel for the city. It's a big city but the way it's laid out makes it feel more like a small town.
When visiting the city, I strongly advocate renting a car if you can. The public transit system is not the best, I love Texas, but we struggle in this area. And driving gives you much more freedom and often allows for faster travel times – unless your lodging happens to be located downtown where many places are within walking distance.
Then again, the whole city is just around 20 minutes away by car!
Whether you're looking for the best margaritas in town or visiting historical sites like The Alamo, here's how to make the most of your 3 days in San Antonio: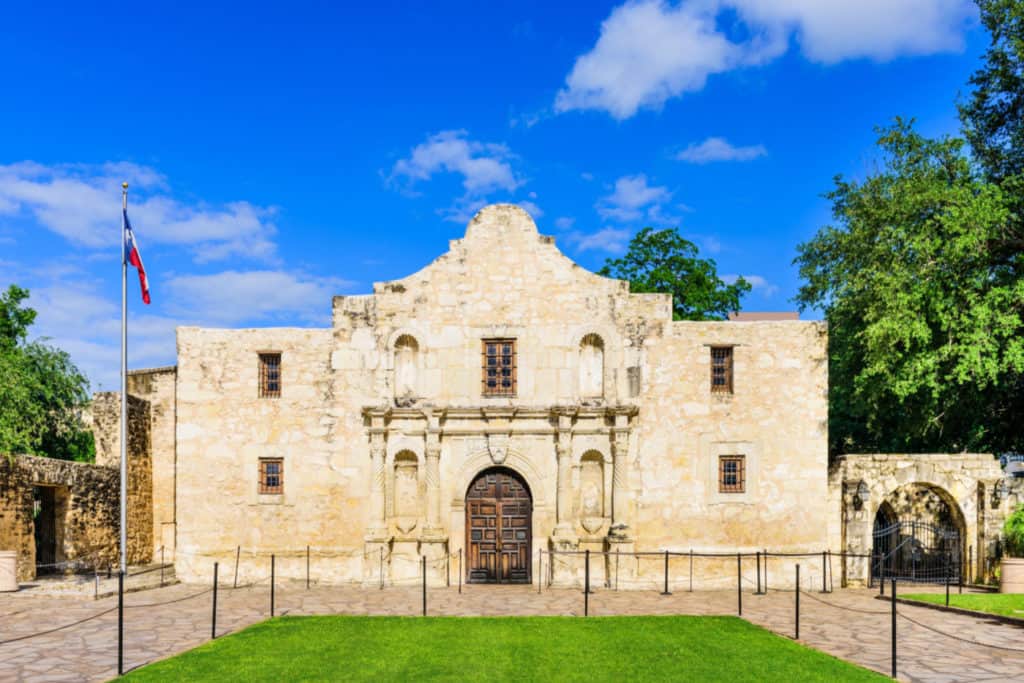 Day 1: Historical Sites & City Highlights
San Antonio is a very important historical city and played a large role in the Texas Revolution. Visiting the historical sites will take you through much of the history and culture behind this great city.
Start your day strong by visiting one of the most popular sites in all of Texas: The Alamo. This site is a crucial part of Texas history and was the site of the famous Battle of the Alamo in 1836.
Immerse yourself in the historic atmosphere; take a tour or simply stroll around. You will learn about the 13-day siege led by Davy Crockett and his 200 men who fought under the rallying cry of "Victory or Death". On March 6th, their fight ended with all defenders perishing under the Mexican forces after only 90 minutes of battle.
Visiting The Alamo won't cost you a dime, and touring the entire site takes only approximately one hour. Don't forget to bring your camera so that you can capture memories of this incredible place both inside and out!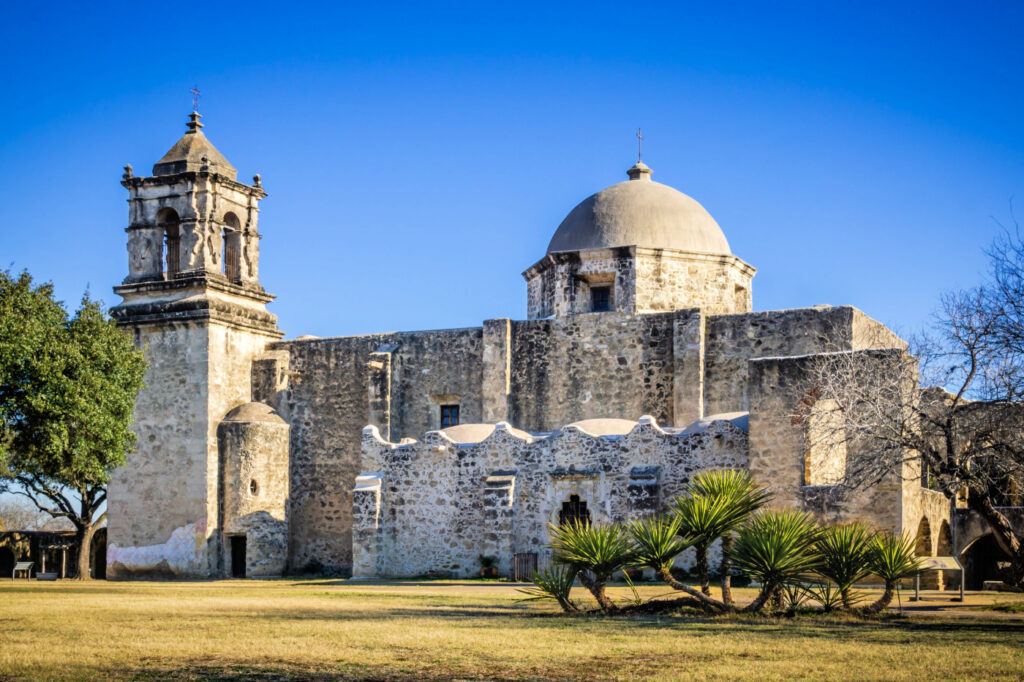 After exploring the Alamo, join a tour headed out to the San Antonio Missions National Historical Park. This park protects and preserves four of the five Spanish missions which were originally constructed during the 18th century. You will also get to experience a bit of nature, as you can explore miles of trails through woodlands and along riverbanks.
Mission San Jose is the best-preserved Spanish mission in San Antonio. It was founded by Franciscan missionaries in 1720 and is a great example of colonial architecture. The site also contains a National Historic Landmark church, so be sure to check that out too!
On this tour, you will be taken along the eight-mile mission trail and learn about the history of all four missions in San Antonio and why it's now a UNESCO World Heritage Site.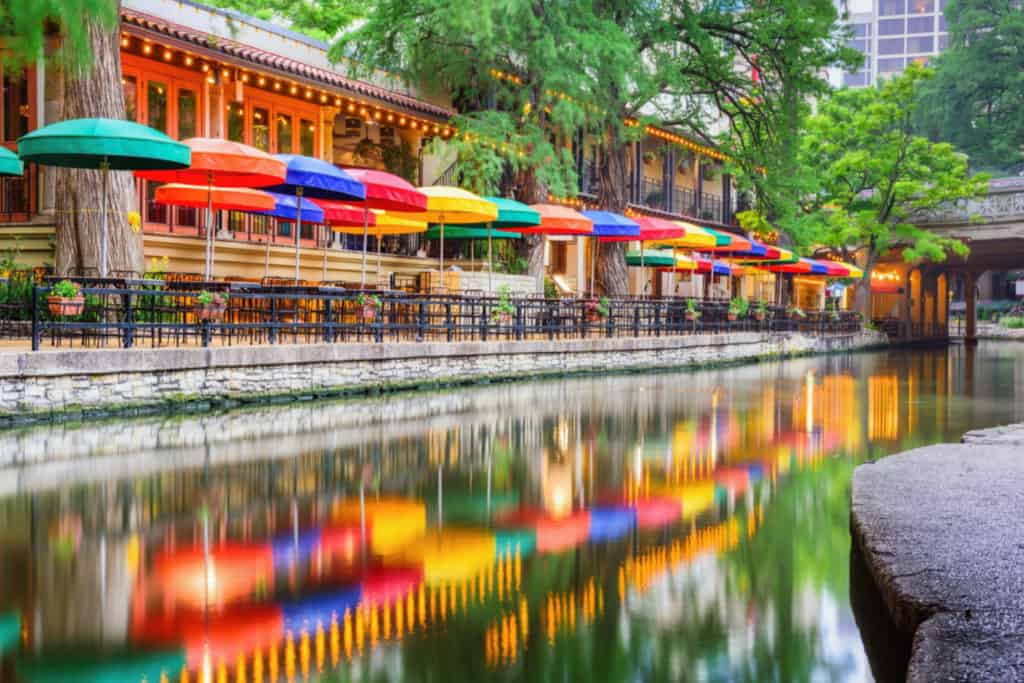 After taking in some history, head downtown for some food and culture.
Take a stroll through the famous River Walk, which is a beautiful stretch of riverfront lined with restaurants, bars, and shops. You can spend hours just walking around this area or grab some Mexican food at one of its many popular restaurants.
You can walk the canal with a drink in hand or take one of the iconic boat tours for a more relaxed experience.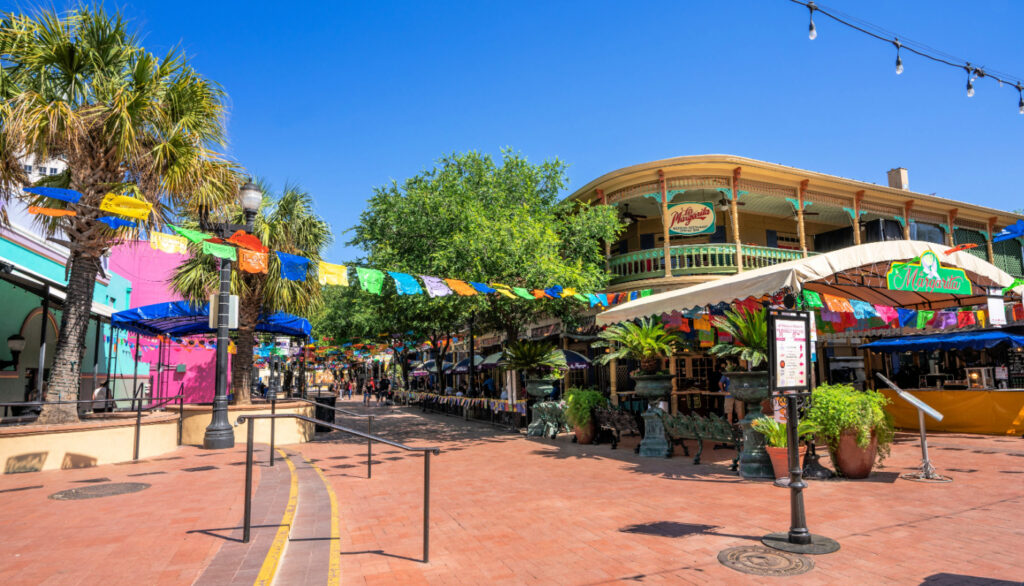 After filling your belly, take a stroll to the San Antonio Historic Market Square. This area is a huge open-air market filled with local vendors selling everything from handcrafted jewelry and textiles to traditional Mexican cuisine.
After a long day of exploring, you'll have worked up an appetite to appreciate the incredible street food around here. From churros to elote in cups, it's like being taken back into an abuela's kitchen—something that can't be beaten!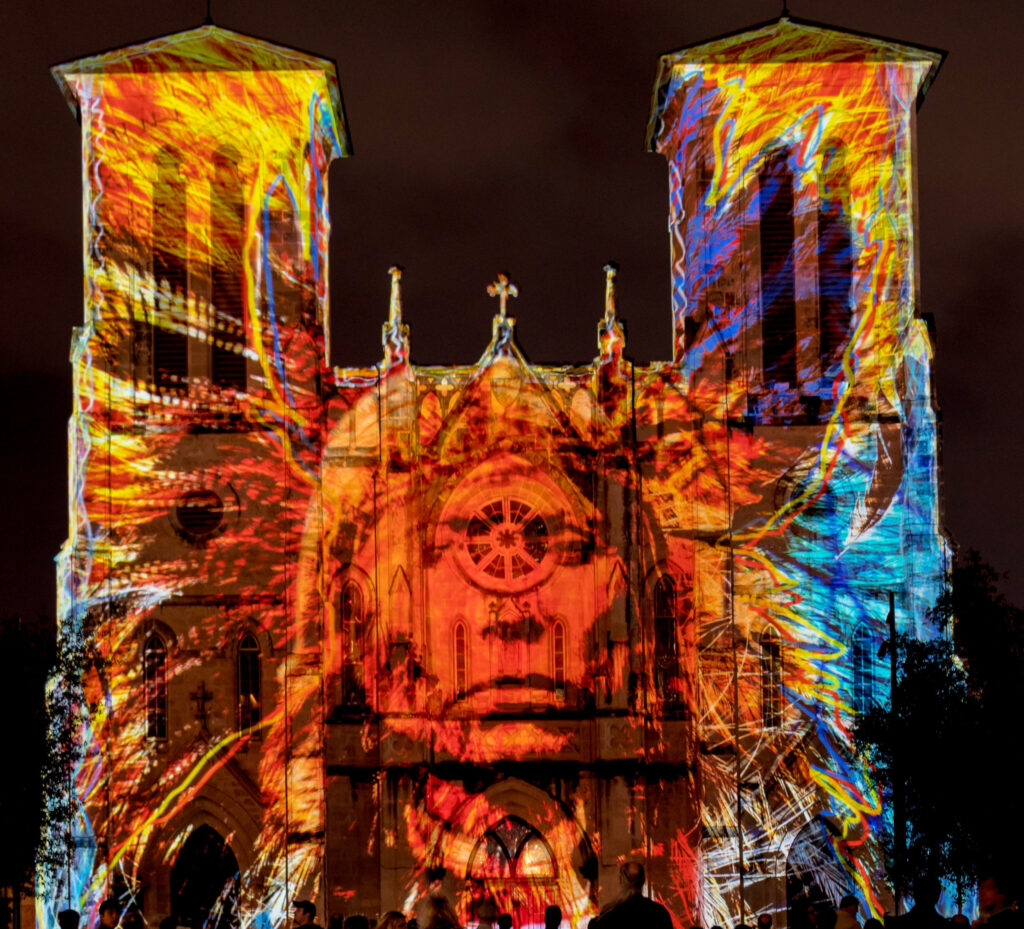 End your day at the San Fernando Cathedral. Every week, the city of San Antonio puts on a spectacular light show to celebrate its history. This free event takes place every Tuesday and Friday through Sunday at 9 pm., 9:30 pm., and 10pm.
For almost three centuries now, since 1731, the astonishingly beautiful San Fernando Cathedral has been standing as a landmark of Texas's rich cultural heritage—making it one of the oldest continuously functioning religious sites in all of Texas!
Day 2: Nature & Outdoor Activities
Start your morning at one of my favorite coffee shops near Brackenridge Park, Commonwealth. It's the cutest little French bistro with a cozy atmosphere and delicious coffee. They have outdoor seating and their homemade croissants are to die for!
After grabbing some caffeine, head to The Japanese Tea Gardens. This beautiful oasis is located in Brackenridge Park and features Japanese-style bridges, a koi pond, and several waterfalls. It's the perfect place to relax and take some photos!
For a delightful tea break, be sure to stop at Jinju House Cafe. The views of the beautiful surroundings will take your breath away!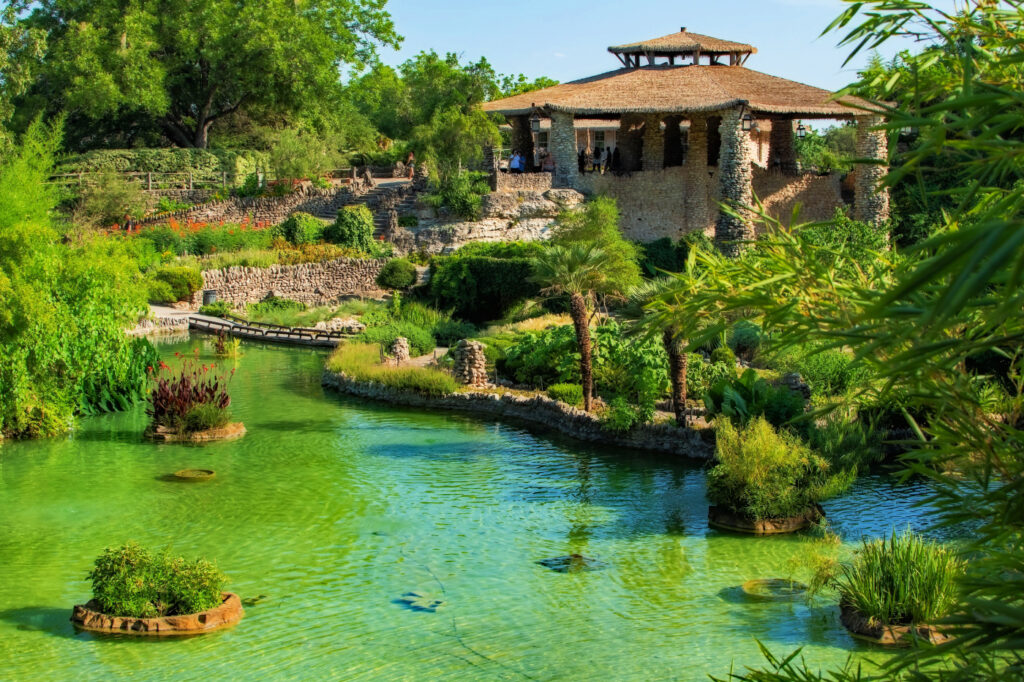 From the Tea Garden, you can head to the San Antonio Botanical Garden, which features a variety of plants and flowers from around the world. This peaceful garden also has several walking trails that provide great views of downtown as well as the Texas Hill Country.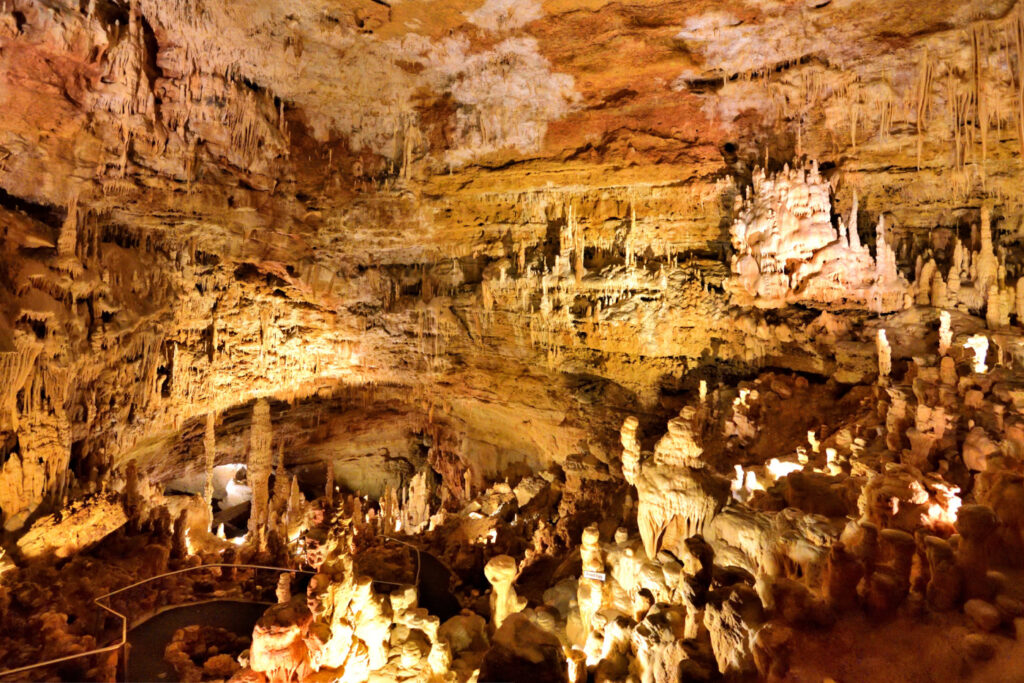 After a morning of peaceful exploration, take a 30-minute drive outside the city to visit the Natural Bridge Caverns. This is seriously one of the coolest places to explore in San Antonio. It's an enormous system of underground caves, and you can take self-guided tours through the different levels.
When you're done with the caverns, drive back into town and take a stroll through San Antonio's historic King William Historic District. This area is filled with well-preserved Victorian homes that were built during the 1800s and have been designated as a National Historic Landmark. It's such a beautiful neighborhood and will show you a different side of San Antonio.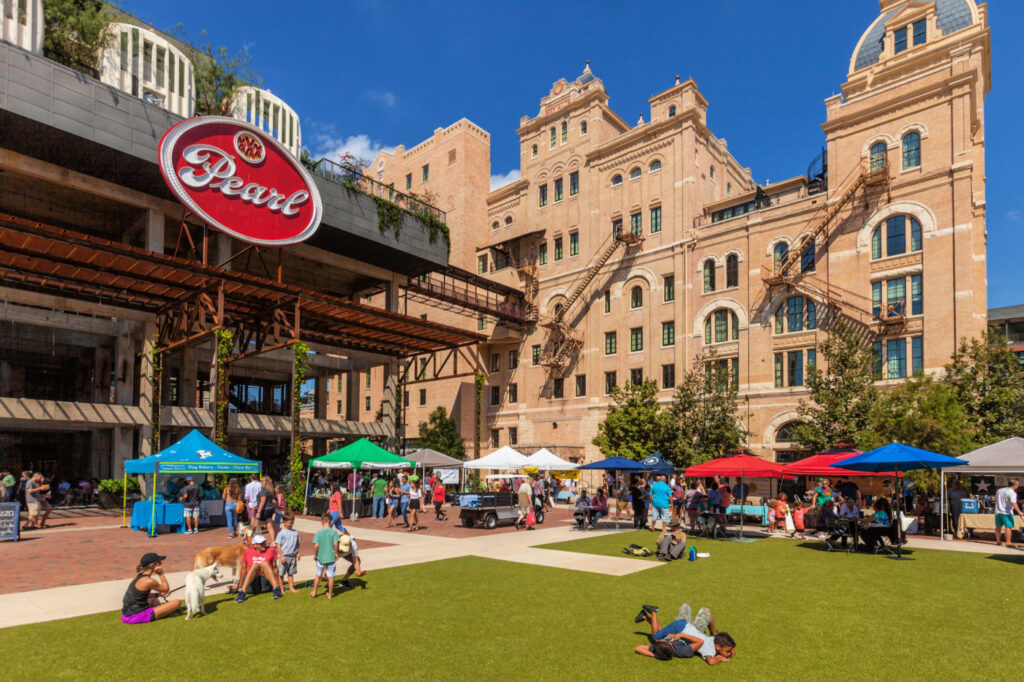 Day 3: Arts & Culture
On your final day in San Antonio, make your way to the Pearl Brewery, an old brewery that has been redeveloped into a culinary and cultural hub for the city. On the weekends, they have a fantastic farmers market with local vendors selling delicious produce, baked goods, and handmade crafts.
You can grab a coffee from Local, they use homemade Mexican vanilla in their drinks and it's the bomb, or grab a freshly made juice from one of the many stands. I love how much San Antonians have started supporting local businesses in the past few years!
Stroll through the different vendors, participate in their yoga sessions, or just hang out on the grass and listen to great music. You will see lots of families and dogs enjoying their time here—it's a great place to spend the day!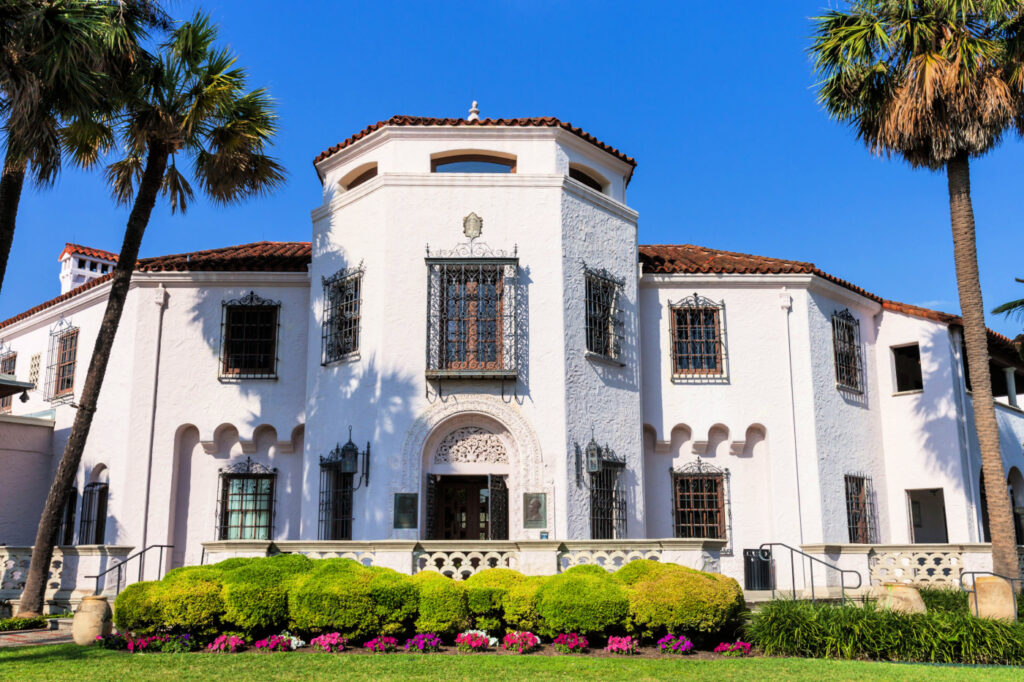 Once you're done exploring the Pearl, head over to the McNay Art Museum for an afternoon of art appreciation. This is one of the most impressive museums in all of Texas and features an extensive collection of modern and contemporary art.
The McNay Art Museum proudly houses a stunning assortment of 22,000 pieces. As you journey between the rooms, you'll discover one remarkable masterpiece after another—from Van Gogh's captivating Women Crossing the Fields to works by renowned European artists such as Picasso, Matisse, Cézanne, Munch and Rodin.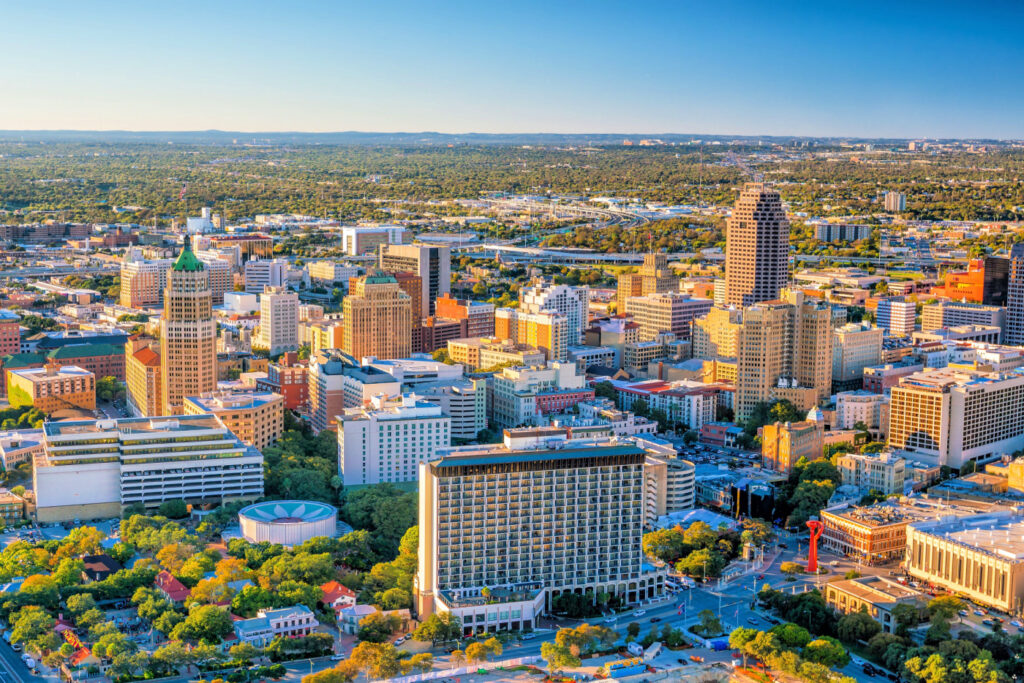 To end your trip to San Antonio, head to the Tower of Americas. It's the tallest building in all of Texas and offers 360-degree views of the city that you won't want to miss! Take an elevator to the top floor and enjoy a romantic dinner or drinks at the Tower's Chart House restaurant.
Make sure to make a reservation in advance as this place fills up regularly!
A jam-packed itinerary like this will definitely give you the full San Antonio experience—the city's incredible culture and history along with its wonderful attractions. Whether you want to explore the outdoors, appreciate art or indulge in some delicious food—San Antonio always has something special waiting for you!
But before you go, there are a few things you should know.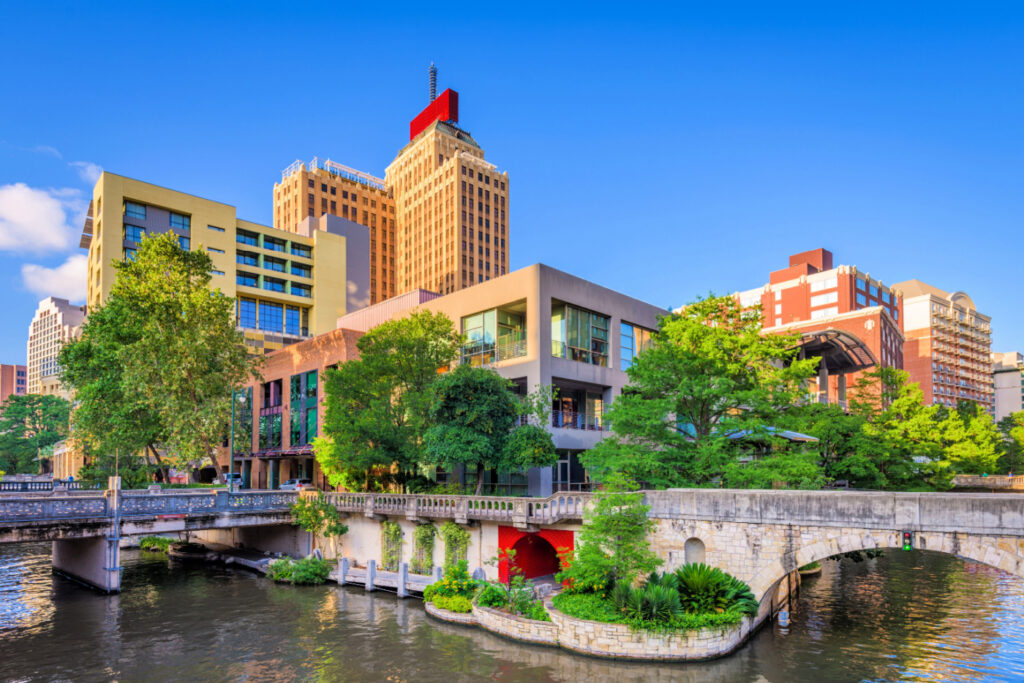 Where To Stay in San Antonio
San Antonio has some of the most beautiful hotels in the state. From historic landmarks to boutique hotels, they really know how to host their guests.
Here are two of my favorites in the city.
The Menger Hotel: This hotel is one of the most historic buildings in all San Antonio. Built in 1859, the Menger Hotel is a must-see in the city and has been featured in several movies.
Located in the heart of downtown and was once the hangout spot for Teddy Roosevelt and his Rough Riders. It's been a San Antonio favorite for over 140 years. It's right across from the Alamo and River Walk so you will be within walking distance of all the city's main attractions.
The interior is filled with eye-catching art and antiques, while the rooms are modern and comfortable.
Menger Hotel is perfect for an authentic San Antonio experience!
Hotel Contessa: Hotel Contessa is perfect for a romantic getaway! It's located right along the River Walk, so you'll have stunning views of the river and city.
The hotel also features a rooftop terrace with remarkable views of downtown San Antonio, making it perfect for an evening cocktail or romantic dinner.
But what I love best are their luxurious guest rooms that feature modern amenities like flat-screen TVs and high-end bedding. If you're looking to treat yourself without spending too much during your stay, this is the place to be!
Best Time of Year to Visit San Antonio
San Antonio is beautiful all year round, but keep in mind. This is Texas and Texas is freaking hot a lot of the year so if you can avoid the scorching summer months, I'd recommend you do so.
The best time to visit is during the spring and fall months when the weather is mild and comfortable. That way you'll be able to really enjoy all that this city has to offer without feeling like you're melting away!
If you want to get the full experience of the city you should visit during one of the many festivals.
My favorite one is The San Antonio Fiesta. It's a 10-day event that celebrates the city's vibrant culture and history. There are parades, live music, and plenty of delicious food. It usually takes place every April.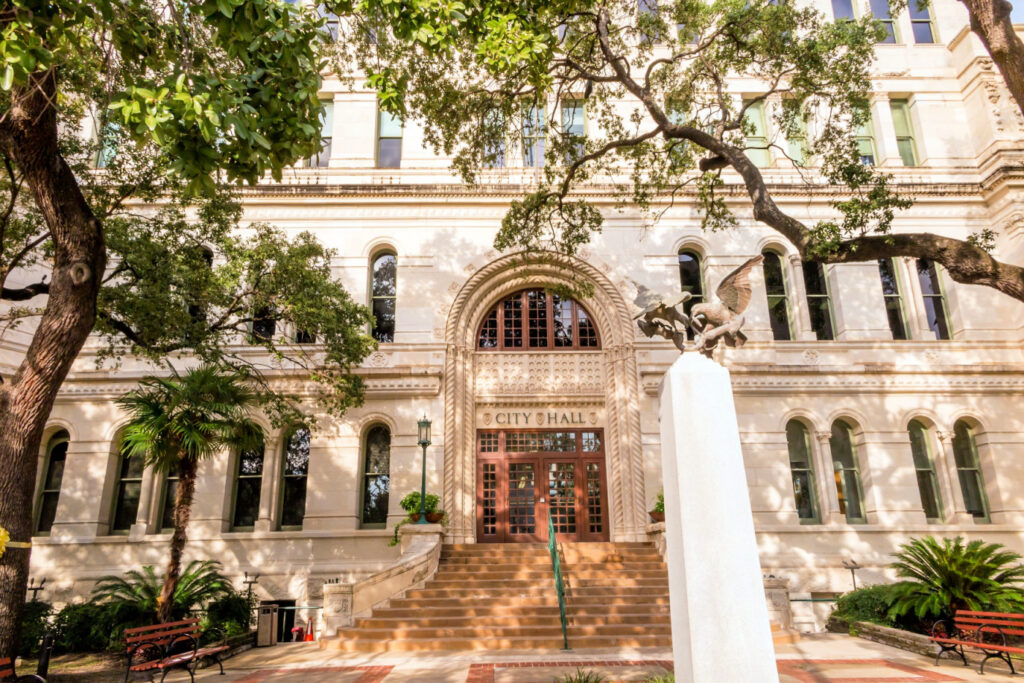 Safety Tips for San Antonio
San Antonio is a very fun and safe city, but like any other metropolis in the world, there are certain safety precautions you should take.
For starters, avoid carrying large amounts of cash with you—use credit cards when you can. Also, don't leave your valuables unattended—keep them close by at all times.
If you plan to visit the River Walk area, be aware of your surroundings and watch out for pickpockets.
Always have a map or GPS handy in case you get lost, and make sure that someone knows where you are going and when they should expect you back.
I've really never felt unsafe here but always best to err on the side of caution.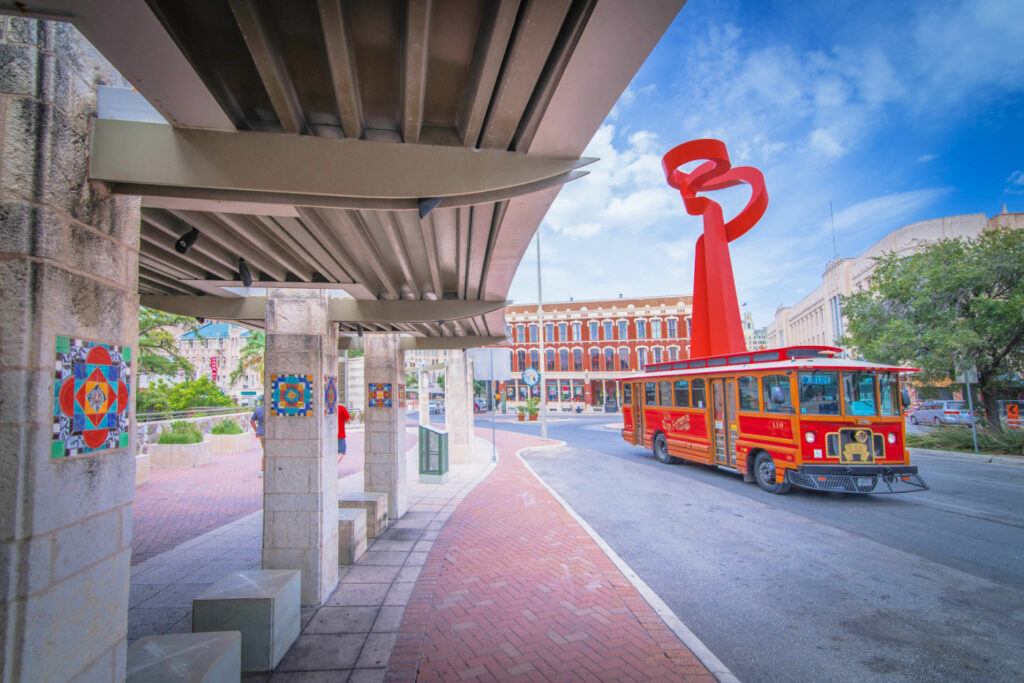 Getting Around San Antonio
San Antonio is pretty spread out so like I mentioned before you will likely need to use some type of transportation to get around.
The most popular way to get around the city is by car; rental cars are available at all major airports in the area. You can also grab an uber or a Lyft but recently I have seen the prices in both of the applications skyrocket.
Public transportation is available but it can be difficult to navigate and is not the most reliable. The VIA Metropolitan Transit offers bus routes throughout the city as well as a tram service that runs along the River Walk.
If you want an easier way to get around downtown, then I recommend renting a scooter or bike—they are available throughout the city and you can find them near all of the main attractions.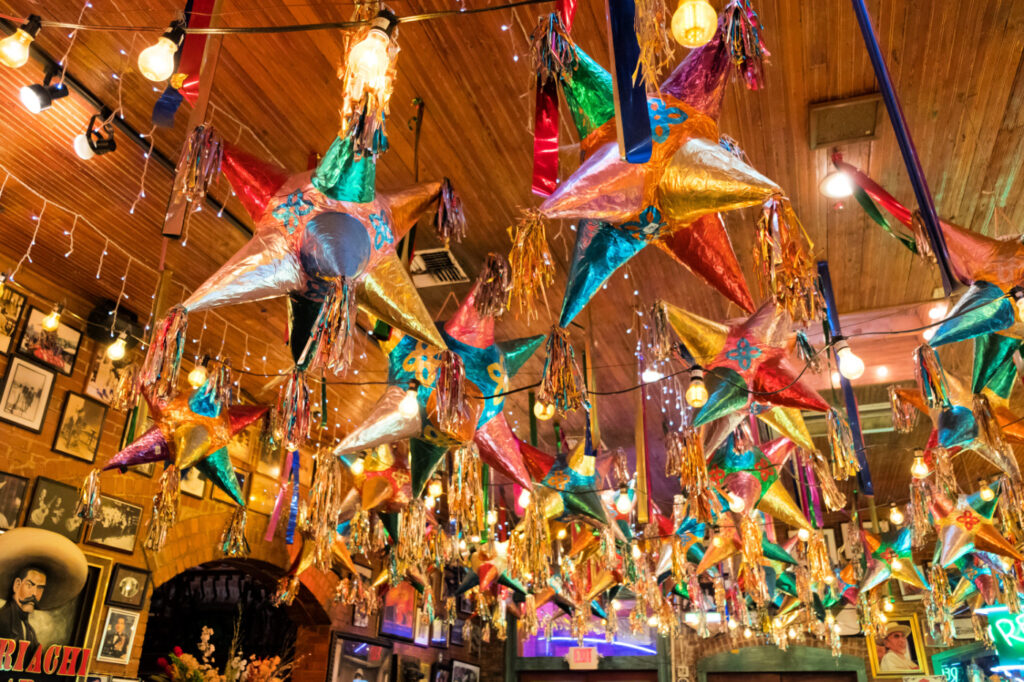 Best Places to Eat in San Antonio
San Antonio is well known for its delicious Tex-Mex cuisine. From tacos to tamales, the city has it all!
La Fonda on Main: One of the oldest restaurants in San Antonio and has been serving up Mexican-style dishes since 1932. It's a great spot for a casual lunch or dinner. They have a great patio to enjoy a tasty margarita and some tacos.
Mi Tierra Café y Panadería: This place is a must-visit for anyone visiting San Antonio! It's a 24-hour restaurant that serves delicious Mexican food. Plus, it's located in the heart of downtown and has amazing patio seating so you can people watch as you eat.
The Original Donut Shop: This is the place to go if you have a sweet tooth! They serve up some of the best donuts I've ever had and they're always fresh and delicious. Not only do they have incredible donuts but they also serve the best breakfast tacos, coffee, and other pastries.
Chris Madrid's: Ah my absolute favorite! This is the go-to spot for the best burger in town. It's seriously the size of your face and has more cheese than you could imagine. Come here with an empty belly and prepare to be amazed.
Best Margaritas in San Antonio
If you want to get the full experience of San Antonio, then you need to try some margaritas!
The Friendly Spot Ice House: This is an outdoor bar with plenty of seating and a great atmosphere. Their margaritas are made with fresh lime juice and top-shelf tequila—it's the perfect way to cool down on a hot summer day.
La Gloria: This bar is located on the River Walk and has a great atmosphere. The margaritas here are strong and come in all different flavors—from strawberry to mango. Plus, they have some of the best Mexican street food around!
La Fogata: My go-to margarita spot! This place has a great happy hour and some of the best margaritas in town. And they put pretty flowers in all of their drinks for your picture-perfect Instagram post!
Sangri on the Burg: A little bit away from downtown but worth the trip. This bar has amazing house margaritas and a great selection of beer and wine. They have frozen wine and frozen margarita flights—perfect for a hot summer day!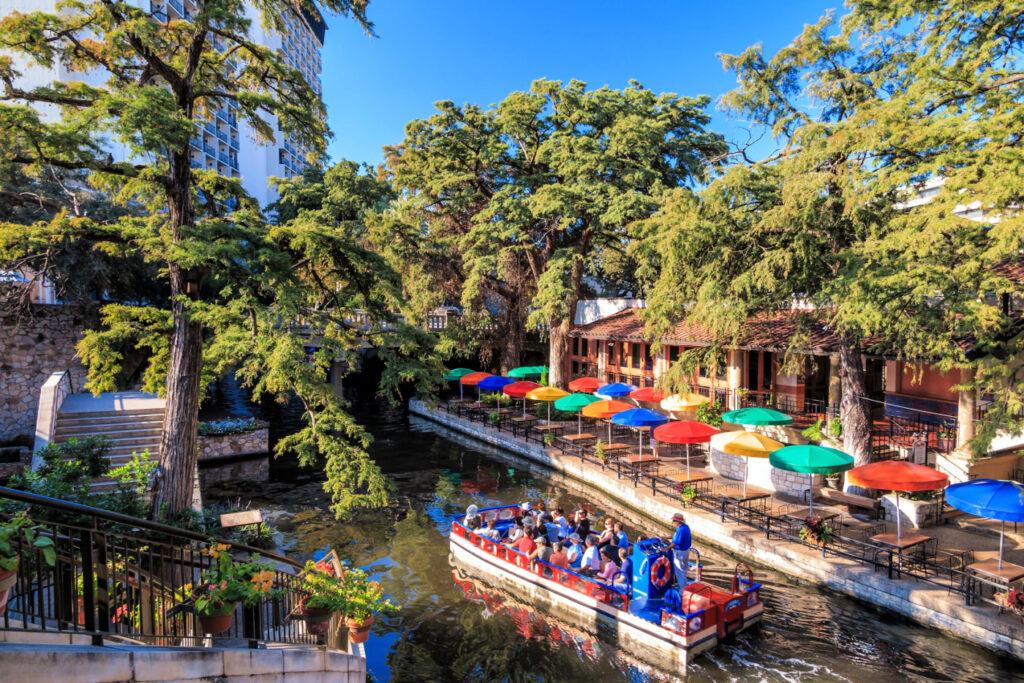 These are just a few of my favorite spots in San Antonio, and I could go on for days about the amazing attractions, food, and drinks.
I'm sure you can tell that over the years, San Antonio has really captured my heart and I am always so excited to go back.
I love being able to tell people about all of the amazing things that this city has to offer and I hope you enjoy your time there as much as I do.
Whether you are looking for a cultural experience, an outdoor adventure, or just want to eat your way through the city—San Antonio is sure to make your next three days unforgettable.