As a passionate traveler, I dreamed about seeing the world before finding my favorite place under the Sun and staying there. When I first came to Zagreb I fell in love with the city, with its vibe, with the nature surrounding it, and with its people who are the biggest treasure of the city. I felt like I could live here, and here I am, 4 years later, still enjoying Zagreb with no expiration date.
Zagreb is a city with a laid-back and easy-going atmosphere. You can walk anywhere, stop for coffee or talk to the people while waiting for the tram. It comes down as a cultural shock to many foreigners when they see hundreds of people of all ages sitting in cafes with friends, sipping on coffee and chatting. "Do these people work? How do they have time for this kind of hanging out in the middle of the week in the middle of the day?" The answer is they don't have time and they do have busy lives, but they love spending time with friends relaxing so they find time to grab a coffee and have a laugh.
And it is not just the younger generation that enjoys coffee and relaxation culture. You will see a lot of older folks on the farmers market talking to each other, older ladies having coffee together or walking their dogs in the park, while older gentlemen are reading newspapers or playing chess. Once you spend some time in Zagreb you will easily adapt to this culture and you will take it with you wherever you go.
The history of Zagreb starts in ancient times. Some sort of settlement was always here, but the city as we know it today was established in 1850. when two neighboring towns merged and the population started to grow. Zagreb was part of the Roman Empire, Austro-Hungarian Empire, Yugoslavia, and in 1991 Zagreb became the capital of the newly created independent republic of Croatia. Later on, Croatia became part of the European Union as well. With such a rich history and buildings dating back to the 11th century, Zagreb is a perfect place for all history buffs.
Nowadays, Zagreb is the economic hub of the region, with numerous international companies opening their headquarters here. It also attracts digital nomads with a newly introduced digital nomad visa that allows them to stay for a year or longer. However, it has always been a beautiful tourist destination in the heart of Europe, well connected to neighboring countries and the Adriatic coast.
Things to do in Zagreb
In Zagreb, everyone will find something they love to do. The city has a variety of activities and attractions available, no matter if you like museums, nature, nightlife, food, or shopping. Planning your visit ahead of time is a great way to spend your time effectively.
The city center is the right place for any tourist to start exploring. In the pedestrian zone, there are almost no cars, and the trams can take you to the heart of the city from where you can walk anywhere easily. Tram is very simple to use, you can buy tickets on the newspaper stand or inside the tram. The one-way ticket that lasts 30 minutes costs 4 kuna on the newsstand and 6 kuna inside the tram. The same price is for the busses too.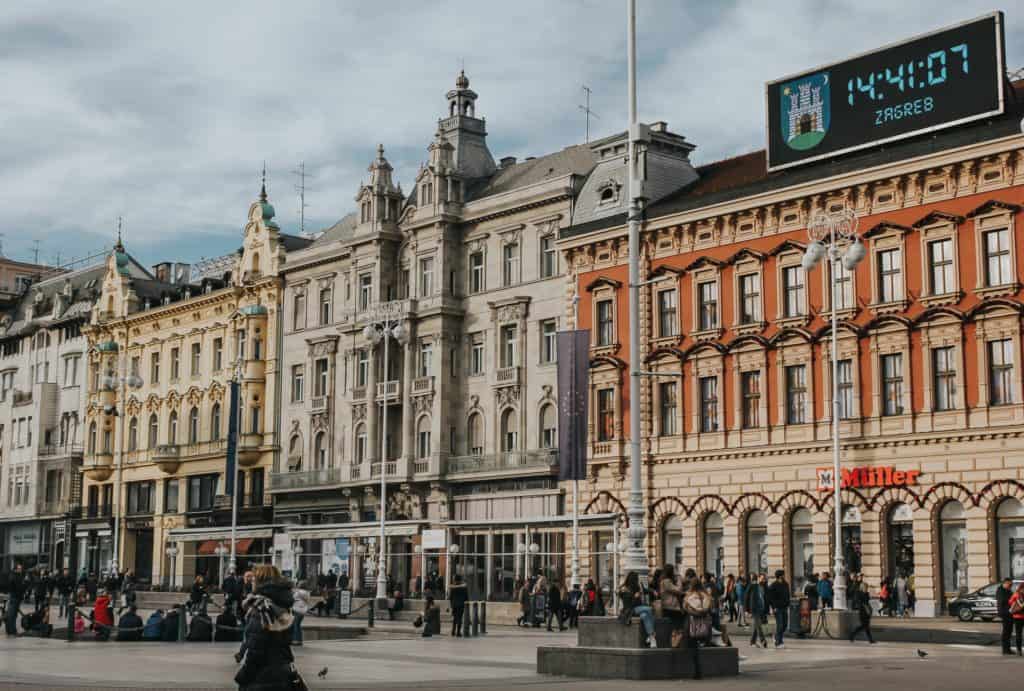 Ban Jelačić Square: Where Zagreb Visit Starts
Ban Jelačić Square is the main square from where many tours are starting. If you take a walking tour of Zagreb you will most probably meet your guide by the statue on the main square. When locals meet with their friends in the evening they often "meet under the horse's tail" or "under the clock", so you can experience crowds in this square often, especially in the evening.
The square is surrounded by beautiful buildings, most of them built in the 19th century. They display a variety of architectural styles, from Biedermeier to Art Nouveau and Postmodernism. Except for the statue, the square is also known for the Manduševac Fountain, which was built above a natural spring that provided Zagreb with drinking water until the 20th century.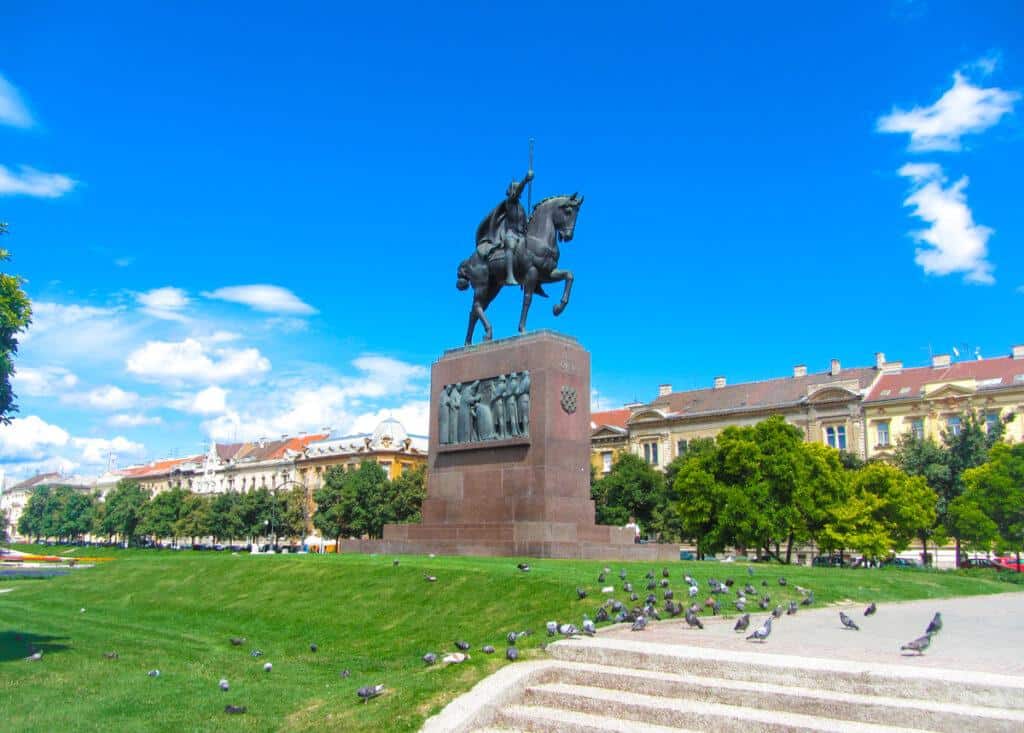 Check Out King Tomislav Square; It's Different in Every Season
Only 10 minutes walk from the Ban Jelačić square, King Tomislav Square is another place in the city that is named after a famous Croatian ruler. The square also has a statue with a king on a horse, and it is looking at the main train station in Zagreb on one side, and the art pavilion on the other. Between the statue and the art pavilion is a stunning flower garden with a fountain, a place where many locals like hanging out. Here you will see people sitting on benches, walking dogs, kids playing, and tourists taking photos.
In wintertime, right before Christmas, this square is the largest ice skating rink in the city. Christmas time is truly magical in Zagreb and you will fall under the Christmas spell and feel festive even if you don't usually celebrate Christmas. When I visited this square on the opening night for the Advent Festival, they had a "Nutcracker on Ice" performance and fireworks.
In spring this square is a symbol of the city, with magnolia trees blooming and people coming from all over the city to take photos in front of the beautiful flowery trees. Zagreb was postcard-like at that time.
Kaptol Cathedral: the Most Remarkable Landmark of Zagreb
Zagreb Cathedral of the Assumption of the Blessed Virgin Mary is a Zagreb landmark that everyone simply calls Kaptol or Zagreb Cathedral. This monumental sacral building was built in neo-gothic style by King Ladislaus. He started construction on the cathedral in 1093, and it was finished after his death in 1217.
The cathedral was several times partially destroyed and rebuilt again. The last time it was damaged was just recently, in an earthquake that struck Zagreb in March of 2020. The inside of the cathedral is as impressive as the outside, and the entrance is free. Be aware that this is a cathedral that is used for masses and the best time to visit is in the early afternoon before the evening mass.
Go out in the evening in Tkalčićeva Street
Certainly one of the most popular streets for going out, for tourists and also for the locals. Here you will find all kinds of restaurants, pubs, bars, nightclubs, etc. For the best beer experience visit "Mali Medo" pub that serves craft beers and delicious food. If you want to try "rakia" which is a traditional fruit brandy that all Balkan people love, there is "Rakhia bar" in Tkalčićeva street as well.
You can basically "Eat and drink around the world" when you enter this street. From Arabic, American, Indian, and Chinese food, all the way to traditional Croatian food, every restaurant here offers unique specialties. Followed by cocktails, coffee, tea, and sweets.
The history of this street is very interesting. It used to be a stream that divided the two oldest Zagreb settlements, Gradec and Kaptol. Later on, between 1899 and 1941, almost the entire street was a brothel. It was the first "proper" red-light district of Europe.
At the beginning of the street, you will find the old sundial that always shows the right time. At the same place, there is the statue of Marija Juric Zagorka, a famous Zagreb journalist and writer. Don't miss out on a photo op at the entrance to Skalinska street from where you can see a beautiful Zagreb cathedral.
Have a drink in Radićeva Street
This street is parallel to Tkalčićeva street and also has bars, pubs, restaurants, boutiques, and souvenir shops. Radićeva and Tkalčićeva streets are connected with Krvavi most street, which means "bloody bridge". The name of the street comes from the bridge that used to connect Kaptol and Gradec. On that bridge, there were so many fights that they used to call it "bloody bridge" because of it, and the name stuck to this day even though the bridge is long gone.
Radićeva street starts at Ban Jelačić Square and if you walk up the hill it will take you to the Upper Town and the Stone Gate. This famous monument is the eastern gate to the medieval town and the only remaining entrance of Zagreb's old fortifications. The legend says that a shrine praising the Mother of God miraculously survived the 17th-century fire when the entire city burned down. You can see it on display, but be respectful because many believers come here to pray.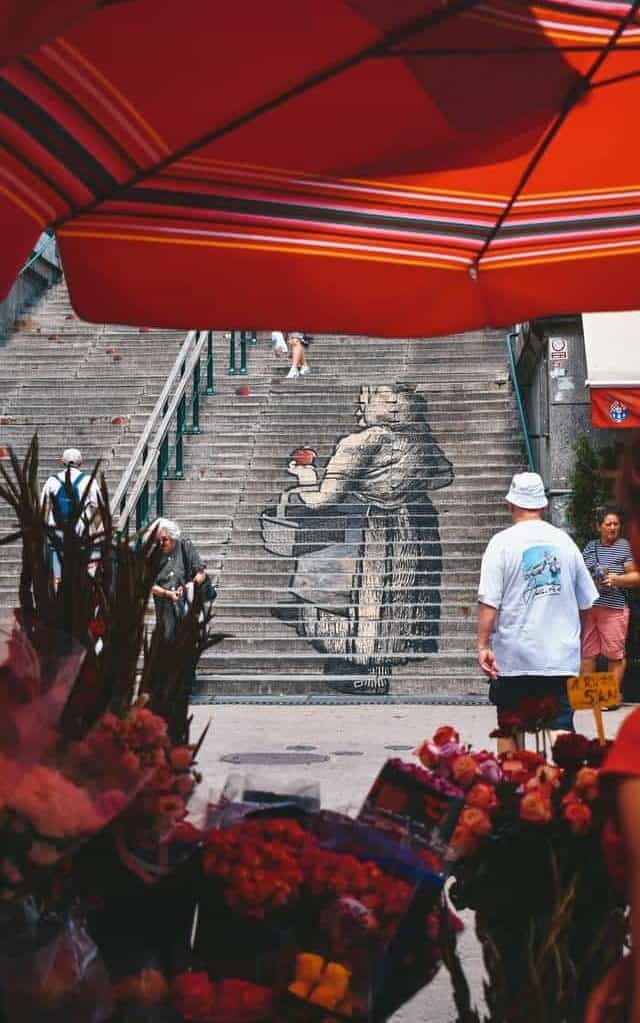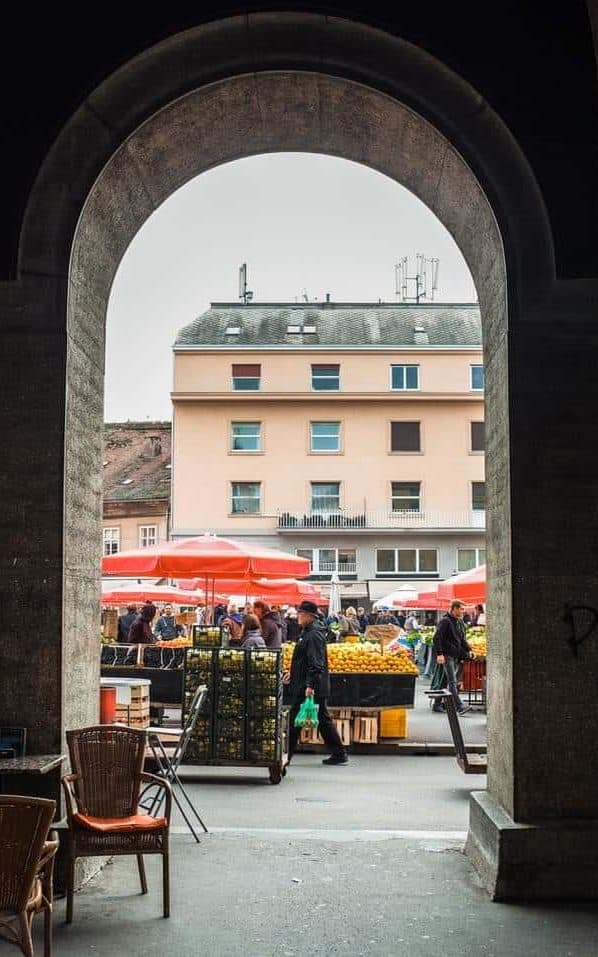 Shop locally at Dolac market
If you are riding trams in Zagreb you will see a lot of locals, especially older ladies, who are going home from the Dolac market in the morning with bags full of fresh produce. Maybe in other cities, a farmers market wouldn't be so special, but this is the main farmers market in Zagreb, with over 80 years of tradition.
Here you can buy everything from local produce, cheeses, meat, cornbread, sweets, oils, tea, fish, and even handmade souvenirs. One part of the market is devoted only to flowers, where you can buy lavender in late summer.
The market is easily accessible from Kaptol, Tkalčićeva street, and Ban Jelačić Square. If you can't climb the stairs, there is an elevator on the north side, inside on the street level.
Buy flowers at the Flower Square
Like many places in Zagreb, this square has a common name that everyone uses and also the official name that nobody knows. Officially this is Petar Preradović Square, named after the famous military general and poet whose statue is set in the middle of the square. Commonly this is the Flower Square that locals love to visit on their evening walks. The name comes from the flowers that have been sold on the square since the 14th century. They are very affordable, one rose is only about 20 kuna, so if you like tradition make sure to buy a flower here and give it to a friend or a loved one.
This is part of the pedestrian zone and numerous bars and cafes have their "outdoor lounges" set up on the street. The square is home to the only Orthodox Church in Zagreb, built at the end of the 19th century. Just around the corner between the cafes, the most popular contemporary sculpture in Zagreb, The Grounded Sun by Ivan Kožarić, has been intriguing passers-by for years now.
Some even try to push this unusual bronze sphere thinking it will roll away. Kožarić's sun inspired another artist, Davor Preis, to create the Zagreb Solar System, in which metal spheres representing the planets are placed in locations all around the city. The sizes of the planets and the distances separating them are all in exact proportion to Kožarić's original sun. If you are traveling with kids, trying to find all nine planets can be an interesting scavenger hunt you can do together.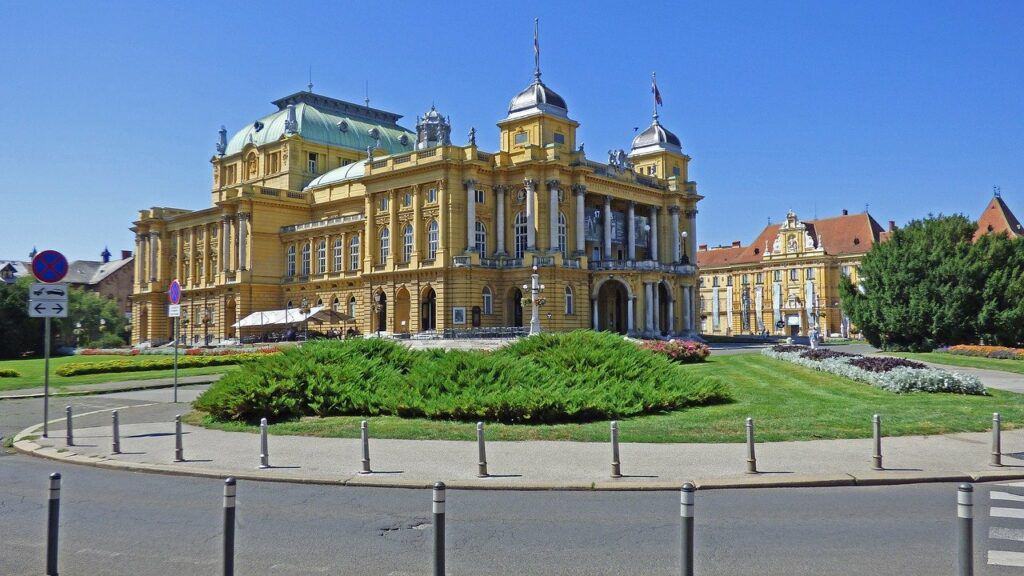 Visit Republic Square for museums and theater experience
The Republic Square is within walking distance from Ban Jelačić and Flower Squares. It is best known as the location of the Croatian National Theater. You can refer to it as a "museum square" as well, because several museums are located here, including the Museum of Arts and Crafts, Mimara Museum, and Croatian School Museum. Flower Square is connected with Republic Square by Nikola Tesla street, which is another street filled with fashion stores, bars, and restaurants. In Nikola Tesla street you can have one of the best coffees in Zagreb, in the coffee roastery and bar Quahwa.
If you come to Zagreb during the theater season try to get a ticket to watch one of the world-class shows in this theater. The theater building was built by the famous Viennese architects Ferdinand Fellner and Herman Helmer, who designed forty other theatres in Europe. Built in a characteristic neo-baroque style, the theater was officially opened in 1895. Here you can enjoy the national opera, ballet, and drama companies, with a repertoire that ranges from classics to contemporary pieces.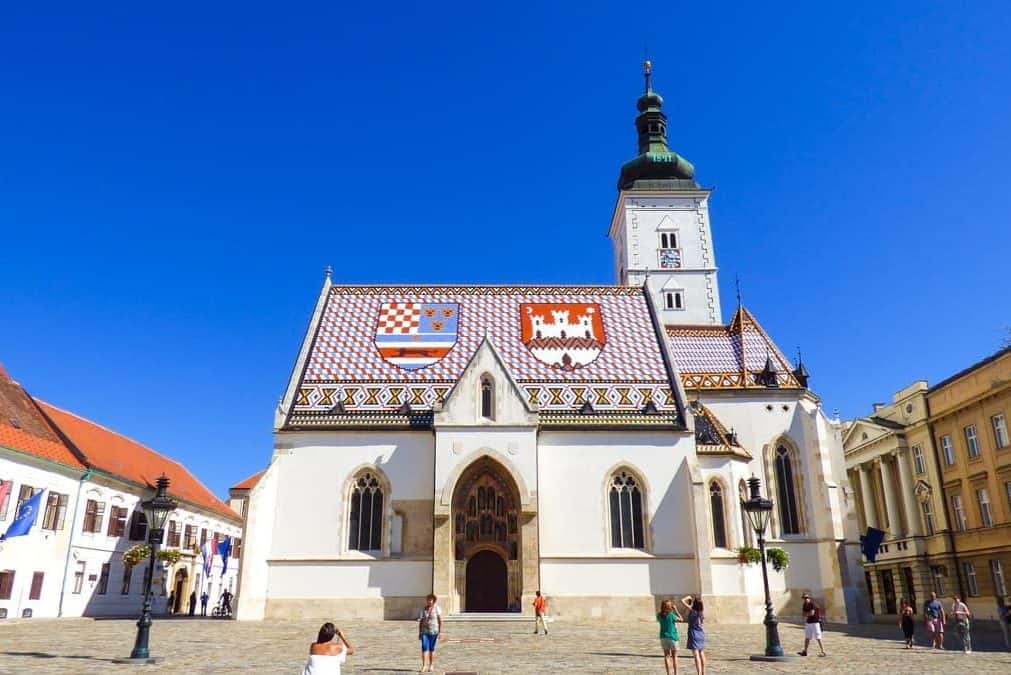 9. Explore the oldest part of Zagreb, the Upper Town
The Upper Town is called that because it is located on the hill above the city center, which is called Lower Town. It is the oldest part of Zagreb, with narrow cobblestone streets, impressive views, and centuries-old buildings that tell their own stories. To get to the Upper Town you can use the stairs or the Funicular, which is the shortest funicular ride in the world.
If you find yourself in the Upper Town just before dark, look for Josip and Saša, two men who manually light gas lamps in the entire Upper Town. It takes them around 3 hours to light all 214 gas lanterns.
Some of the attractions you will find here are the Zagreb Cathedral of Assumption, Saint Mark's Church, Parliament building, Strossmayer promenade, Museum of Broken Relationships, Lotrščak Tower, and many more. The best panoramic view of Zagreb's cathedral is from the Gradec plateau, located behind St Catherine's Church. Other great viewpoints are from the Strossmayer promenade and the Lotroščak tower.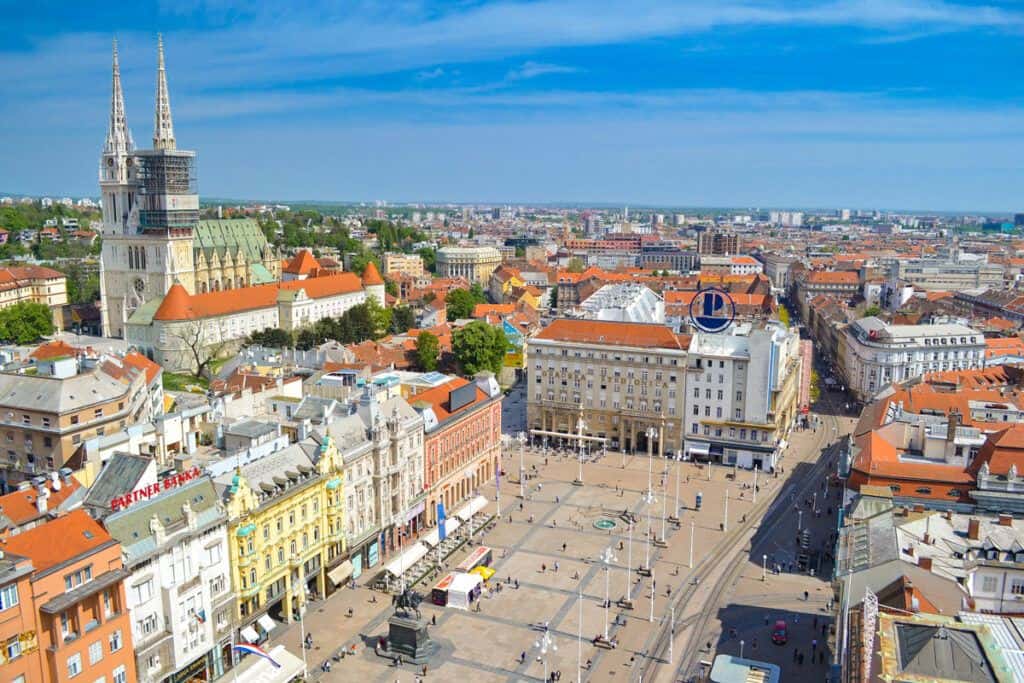 Get the best view of Zagreb at Zagreb 360° Observation Deck
One of the most visited Zagreb attractions is the Zagreb 360° Observation Deck. It is located on Ban Jelačić Square, on the 16th floor of the skyscraper. You will get to see the entire city, including Zagreb cathedral, Upper Town, Lower Town, Medvednica mountain, and more. You will be standing 182 meters above sea level, which is very high for Zagreb. It is accessible to strollers and wheelchairs, and also has a bar on the top floor.
You can buy tickets at the entrance or online, and the price for the family is 150 kuna. If you buy individual tickets, an adult ticket is 60 kuna, kids up to 150cm tall are 30 kuna, and kids younger than 3 can enter for free.
Go on a 4-Hour Cycling Tour
Link: https://www.getyourguide.com/zagreb-l803/best-of-zagreb-4-hour-cycling-tour-t99486/
Cycling in Zagreb is a very popular activity, and many locals use bicycles in their everyday lives when they go to work, go shopping, or just for recreation. The city has bicycle lanes everywhere and it is easy to navigate even on your own if you are visiting Zagreb for the first time.
For those who love guided tours, a cycling tour is a good option if you want to see Zagreb in a short period, or if you want to familiarize yourself with the city when you first arrive. The guide will take you to all the main locations in the city, like the Lower Town and Upper Town of Zagreb, the Croatian National Theater, Parliament and Government house, and so much more.The guide will also tell you about the city's history, and all the fun and interesting facts about the city that only a local would know. After cycling in the old town you will head over to the new part of Zagreb, where you will experience completely different architecture and vibe.
Hop On Hop Off Panoramic bus, another "fast" way to see Zagreb
Link: https://www.getyourguide.com/zagreb-l803/hop-on-hop-off-panoramic-bus-zagreb-city-tour-t176994/
Many tourists visit Zagreb only for a few days, on their way to the coast. Although Zagreb deserves a special visit and can entertain you for at least a week, I understand why time on vacation has to be wisely spent. That is why Hop On Hop Off tours are very valuable.
On an open-air bus, you will drive around all the best landmarks in the city. You can listen to the audio guide in 10 languages and you can get off the bus whenever you want and get back on when you are done with the location. This is especially useful to families with little kids that get tired of walking all day.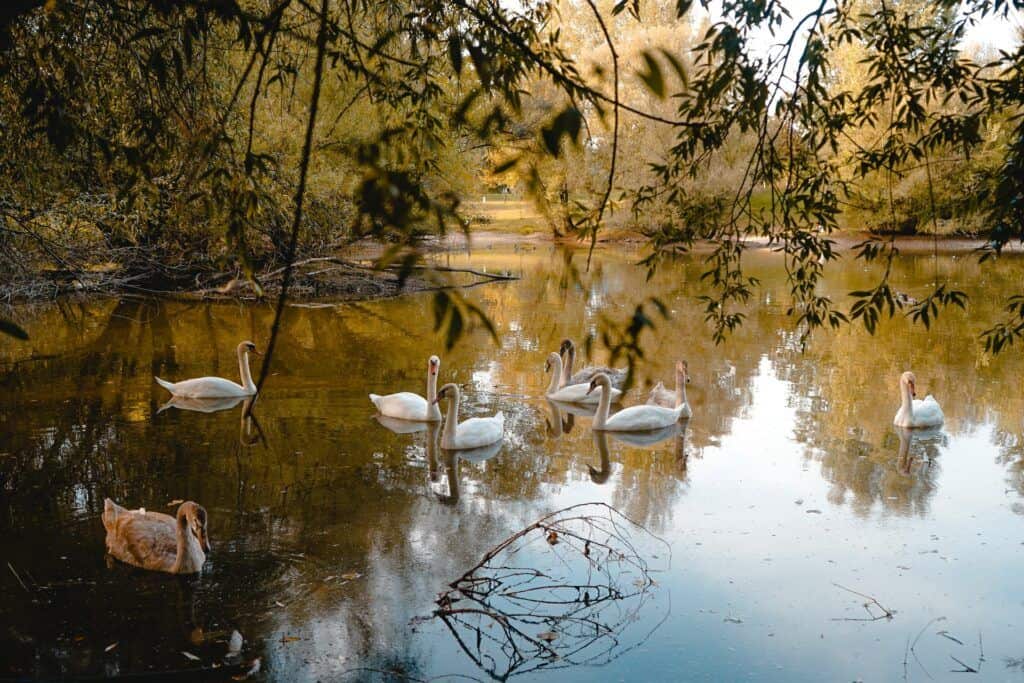 A walk in nature at Maksimir Park and Zoo
Only a 15 minutes tram ride from downtown Zagreb, Maksimir Park is a perfect escape from the city crowds. Large forest with five lakes and a zoo have hundred-year-old oak trees, meadows, and streams. It is a beautiful and peaceful place where you can spend a day walking, picnicking, and enjoying listening to birds singing.
This is the first public park in southeast Europe and one of the first in the world. It is home to over a hundred bird species, including the endangered spotted woodpeckers (Dendrocopos medius). The zoo is located within the park, and unlike some other zoos in the world this one is well kept and animals have enough space for themselves and many veterinarians to take good care of them.
The Zoo was founded in 1925, and it covers 7 hectares, of which 5.5 is land, and the rest is water. It is home to more than 350 animal species with more than 7800 animals from all over the world. Year-round there are different educational programs organized in the park that you can join with your little ones. The entrance is 30 kuna for adults, 20 kuna for kids 7 to 14 years old, and 10 kuna for kids 2 to 7 years old.
Hike Sljeme and see medieval fortress Medvedgrad
Zagreb has its own great outdoors, Medvednica mountain, or as locals call it Sljeme. It is attractive year-round, with several hiking trails starting just outside of downtown. If you are not much of a hiker you can still visit Sljeme by taking tram number 14 from Ban Jelačić Square, and then switching it to bus number 140 at the Mihaljevac tram stop.
The bus will take you up to the ski resort, which is open for skiing the whole winter. On top of the mountain, you can have lunch at one of few traditional restaurants, and soak in all the beauty that these incredible views are offering.
Those who are hiking can take a route that will take them to Medvedgrad fortress. The name Medvedgrad translates as "bear town", this is because there was a huge population of bears on the mountain a few centuries ago. The fortress was built in the 13th century because of the Tatars invasion, and it was used as a military settlement. The entrance is 15 kuna per person, and a guided tour of 10 or more people is 25 kuna per person.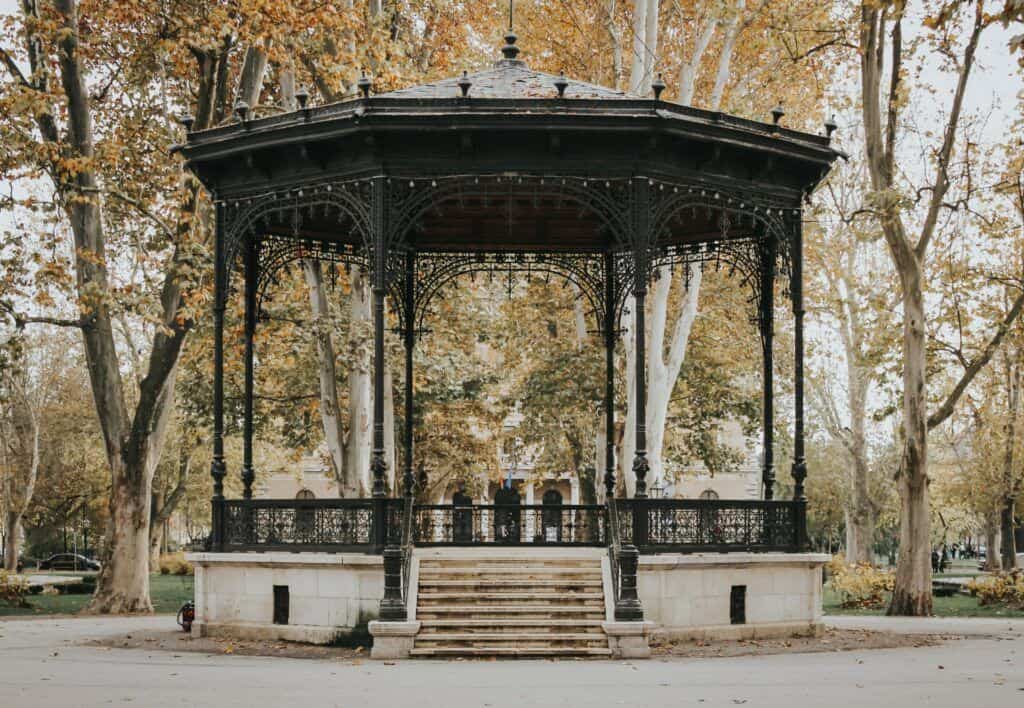 Relax at Zrinjevac park in the heart of the city
Zrinjevac Park is really hard to miss, because of its location between King Tomislav Square and Ban Jelačić Square. Whenever you walk on this frequent route you will pass through this park. Zrinjevac is surrounded by art galleries and stunning architecture and is close to many downtown hotels.
The official name of this park is the square of Nikola Šubić Zrinski, and it was built in the 19th century. The park is a unique promenade that features tall plane trees, flowerbeds, and beautiful water fountains. In the center of the park is a music pavilion where often you can listen to live concerts or visit temporary seasonal festivals held in the park.
Botanical garden, the most beautiful walk in the city
The botanical garden is a short walk from King Tomislav square, and it is a fairytale-like park that belongs to the Faculty of Science. Walking through the park is an incredible journey, because of all the beautiful plants from all around the world. All the plants are labeled and you can see the origin and learn more about it. The entrance costs 10 kuna and professional photography is now allowed, but you can snap photos with your phone or a small camera.
Taste local food on this 4-Hour Food Tour
Link: https://www.getyourguide.com/zagreb-l803/food-tour-taste-zagreb-t144807/
Zagreb has an amazing food scene, and restaurants like Vinodol, Stari Fijaker, and Pod Zidom which are for decades best-rated local restaurants with traditional food. Depending on how long you are planning to stay in Zagreb are also how many different dishes you can try.
If you take a food tour you will get to experience traditional and modern Croatian food, the best food shops, markets, and restaurants with a local guide. You will visit 6 different spots where you will try food and beverages, including Croatian wine and beer.
Laugh and cry at Museum of Broken Relationships
Link: https://www.brokenships.com/
Located in the Upper Town, the Museum of Broken Relationships is a unique place, entirely dedicated to failed love relationships. The exhibits include objects and brief stories about what the objects represent. Some of the stories are sad, some are funny, and some are beautiful. The time will fly by while you are reading about the lives of unknown people from around the world and finding your own story among all of theirs. The ticket is 40 kuna and you can buy it online.
This exquisite place started as a traveling exhibit of donated items. The popularity the exhibit gained was enormous so the authors decided to find a permanent location, and the decision fell on the Upper Town. In 2011 the museum received the Kenneth Hudson Award for Europe's most innovative museum. Nowadays it is one of the most visited museums in Croatia. In 2016 the second location opened in Los Angeles, USA.
Learn incredible things at Technical Museum Nikola Tesla
Link: https://tmnt.hr/hr-hr/
When you hear the words technical museum if you are not educated in the technical field you might think that this place is not for you, but it couldn't be further from the truth. The Technical Museum Nikola Tesla in Zagreb is dedicated to space, transport, energy, mining, agriculture, fire fighting, and more. The exhibits are easy to follow even to those who don't know anything about the technical field. It is especially interesting to children, who enjoy a visit to the planetarium, and sections with old planes and cars.
To me going into the underground mine was an incredible experience. I always imagined mines to be scary places with no air, but the mine below the museum is nothing like a horror movie from my mind. The entrance to the museum is 20 kuna and the mine tour is included. You will have a guide to explain everything about the history of mining in Croatia in both English and Croatian, and then you will follow him through the 400 meters long mine characteristic for northern Croatia.
Another fascinating part of the museum is the Nikola Tesla cabinet. The entire exhibit is about a world-famous Croatian scientist who invented alternating current, the first hydroelectric power plant, X-rays, Tesla's induction motor, measurement of flux density, wireless transmission, and so much more. The room starts chronologically following his life from birth till he arrived in the United States and started with his first inventions. You will see some of the objects he used during his experiments and you can watch a video that is explaining the exhibit.
Atelier Meštrović, overlooked museum dedicated to the famous sculptor
Link: http://mestrovic.hr/atelijer-mestrovic/
Ivan Meštrović was the most famous contemporary Croatian sculptor, who lived in Yugoslavia, Italy, Switzerland, and the United States. At the end of his career, he worked as a professor of sculpture at Syracuse University and the University of Notre Dame in South Bend, Indiana. During his life, his work was influenced by old masters, Secession, Rodin's naturalism, and expressionistic style.
In his career, he created a great number of public monuments located all around Europe and the United States. While walking around Zagreb you can look for his artwork, which is located in Upper Town, in front of the Croatian National Theater, in the front yard of the Academy of Fine Arts, and some other places.
While he lived in Zagreb he bought the house in the Upper Town where he resided and worked. Today that house is turned into a museum dedicated to him, Atelier Meštrović. This is the place where you will see his artwork from different periods and made out of different materials like wood, metal, and stone. It is a very inspirational and educational museum that everyone who loves art will enjoy. The entrance is 40 kuna for adults, and a family ticket is 60 kuna.
Go to Zagreb!
I learned a lot about this place while visiting and I hope you have the same enthusiasm as I do for traveling to this incredible city. My favorite part about Zagreb, except for the awesome calming vibe, is the access to nature and the closeness of attractions that are outside of the city. Don't forget to pack your comfy walking shoes and bookmark this page for your next trip to Zagreb.