Tallinn is often overlooked as a tourist destination in Europe. Although it is getting more and more visitors every year, it is still far from how many visits get to cities like Prague, Vienna, or Rome. This is a good thing for you if you want to see the city before everyone else.
Walking around Tallinn is amazing because everything is close by, the city is clean and safe, and the architecture is stunning. It is a combination of Scandinavian and Russian architecture, with a hint of western Europe, mostly Germany. In the Old Town, you will see all kinds of churches, buildings, and other historical locations. It is one of the most photogenic cities that I've been to.
The vibe is also inviting, with locals who are very helpful and who love to interact and tell you about their city. The only person that didn't speak English that I ran into was one taxi driver. He also overcharged me, but as everywhere, asked for the price before entering the price. It was my rookie mistake because I didn't expect it to happen since he drove me only for a mile.
Still, nothing can change my opinion of this beautiful city and its people. Try out their food, beer, and especially marzipan candies. Visit the small galleries around the old town, and look for street art. This city will crawl under your skin, for sure.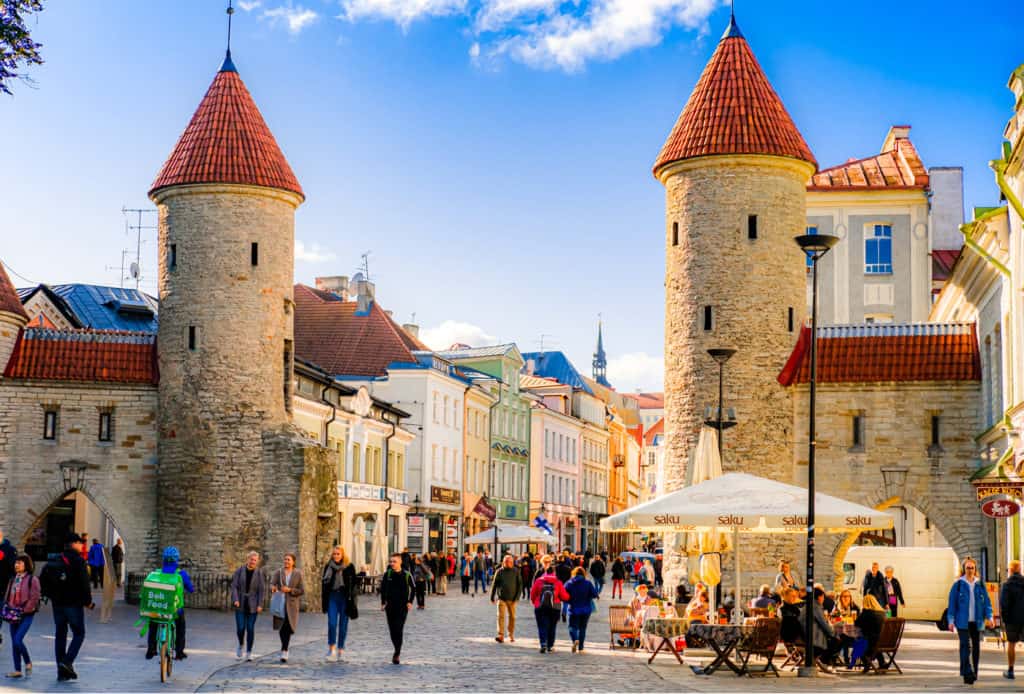 Bastion passages in the Old Town
The Old Town is surrounded by the walls of the centuries-old fortress. You can observe the walls while walking through the park surrounding the city. I got lost while taking photos, so make sure to use google maps or some other app for navigation, because after a while everything looks the same.
You can explore mysterious passages that were built in the 17th and 18th centuries, the same time as the fortress was built. They were used by soldiers to move around without being noticed by the enemy. Note that these passages can be visited only with the guide. The ticket is €8.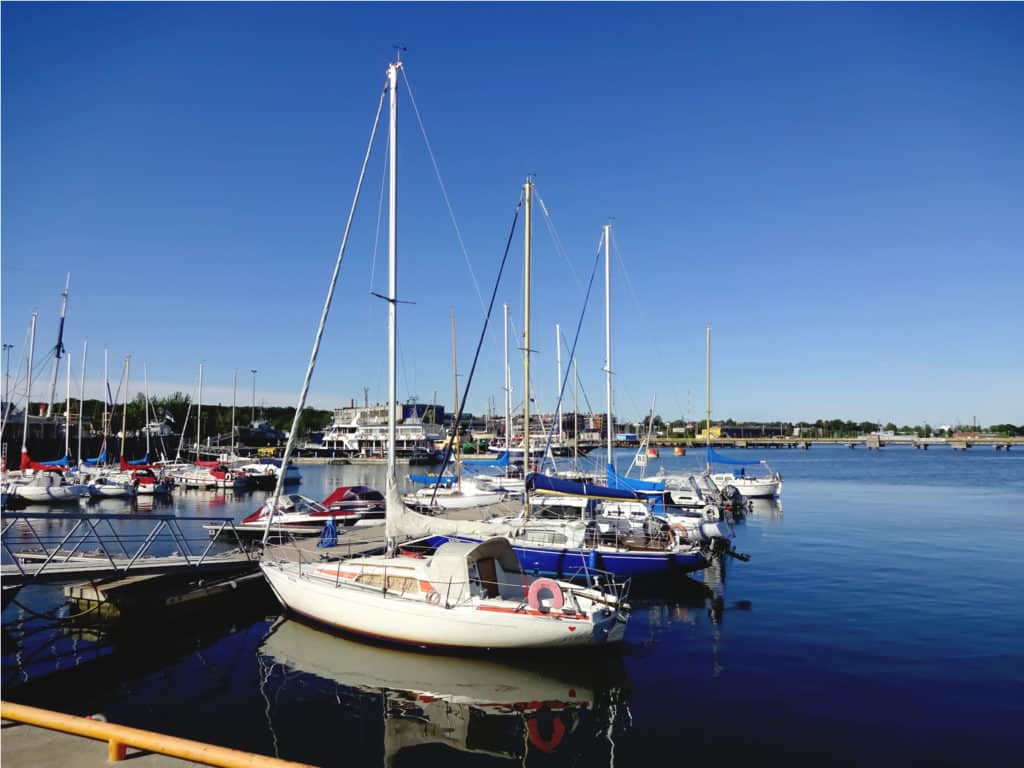 Lennusadam Seaplane Harbor, a maritime history epicenter
Estonia is a coastal country with over 2300 islands. No wonder why they have a strong maritime culture. At this historic harbor, you can enter a 1930s Submarine EML Lembit. It is one of few submarines of that era in the world, so this is a very unique experience.
Another attraction here is the Suur Toll icebreaker that you can enter as well. The view from the top is beautiful with the Baltic sea spreading in front of your eyes. Inside you'll see the steamer's captain's cabin, crew cabins, and officers' mess.
Numerous historic artifacts are on the display in the museum. The museum is inside the building that was supposed to be home to seaplanes for Peter the Great's Naval Fortress. It was used until World War II. It is the first structure of its kind in the world, columnless thin-shell concrete domes.
The ticket for the entire facility is €50, but you can buy individual tickets: for just the ships it is €6; for ships, hangar, and the temporary exhibit is €16; and for the harbor and the submarine it is €22. There are family tickets available as well.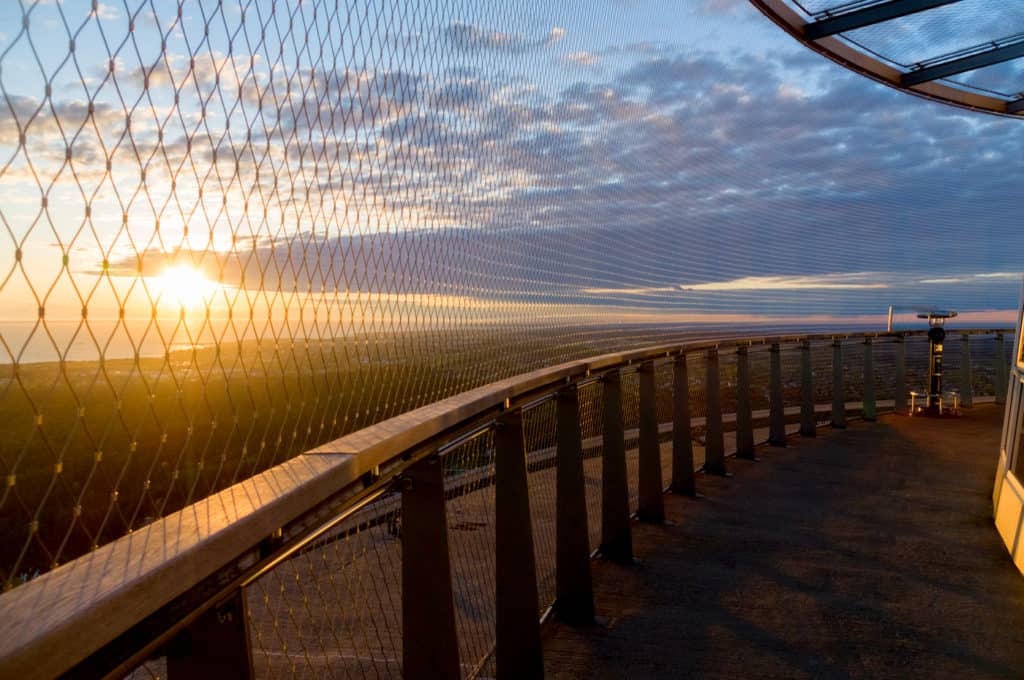 TV tower, the tallest building in Estonia
A little outside of the city, this 314-meter tall construction that looks like a needle, will allow you to see the entire area if you climb to the top. The observation deck is on the 21st floor, but don't worry there is a high-speed elevator that will arrive at the top in 40 seconds.
They offer a "Walk on the Edge Experience", where they will strap you into a harness and let you walk on the edge of the outdoor terrace, similar to the one in Toronto, Canada. The ticket for the attraction is €30, and the ticket for the entrance is €15.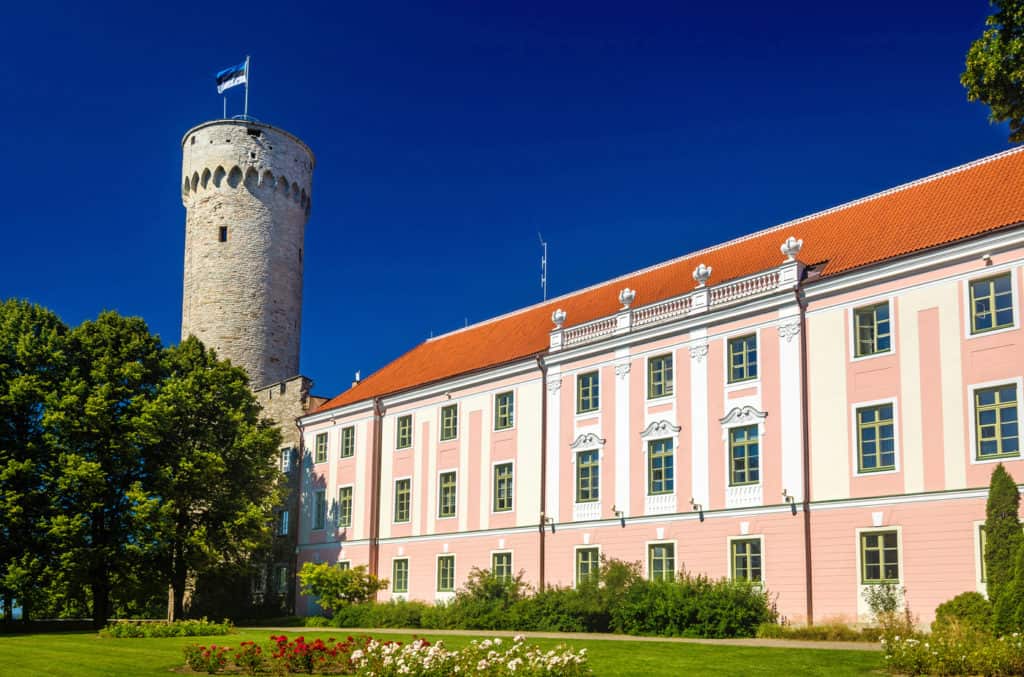 Toompea Castle
The first time the castle was mentioned in history books was as early as the 9th century. Since then it has been the center of political power in which many rulers have changed. Nowadays it is the home of the Estonian parliament.
The styles of the castle have changed over time too, and the most recent one is a baroque style from the time of Catherine the Great. It is possible to visit the castle but you have to book ahead of time. Guided tours are free and they are held on weekdays in English, Russian, and Estonian.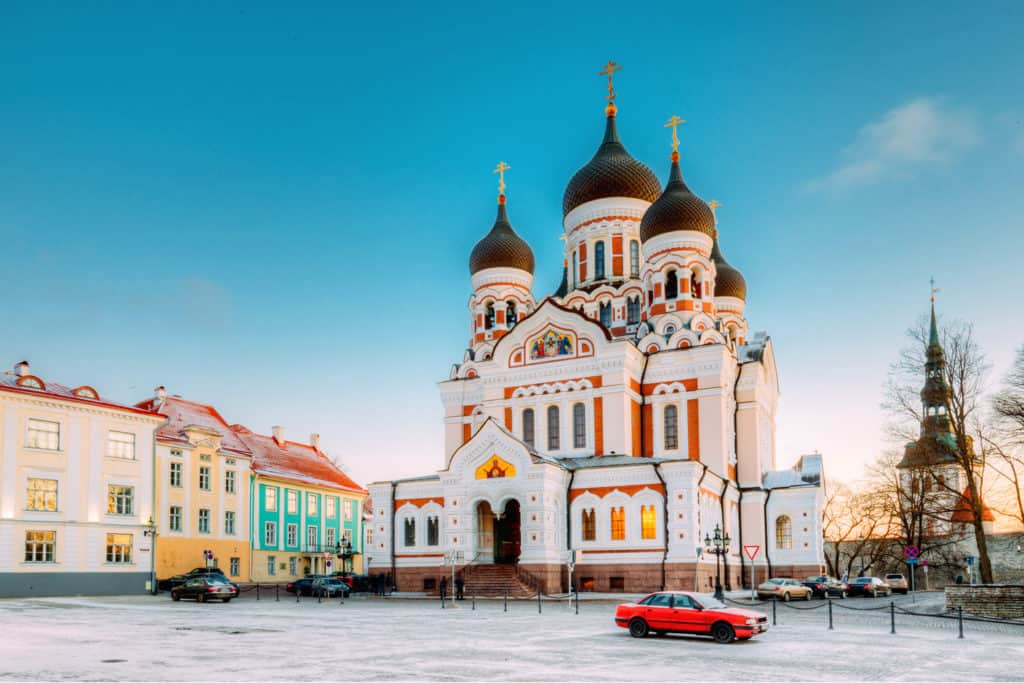 Alexander Nevsky Cathedral
Across the street from Toompea castle, there is a 120 years old orthodox church, dedicated to Alexander Nevsky. It looks like it was transported somewhere from St. Petersburg directly to Tallinn because it doesn't really fit into the surrounding architecture.
This red and white church is built in Russian Orthodox style with onion-shaped domes, crowned by huge crosses. It has 11 bells, one of which is the largest bell in Tallinn and has 15 tones. Inside is also colorful, and often busy with visitors.
My guide wasn't very pleased with the church, which I later learned is the feeling of most Estonians who resent Russian rule from the first half of the 20th century. It is best if you avoid talking to Estonians about Estonian-Russian politics altogether. The entrance is free, and it is worth taking a look, especially if you haven't been to a Russian church yet.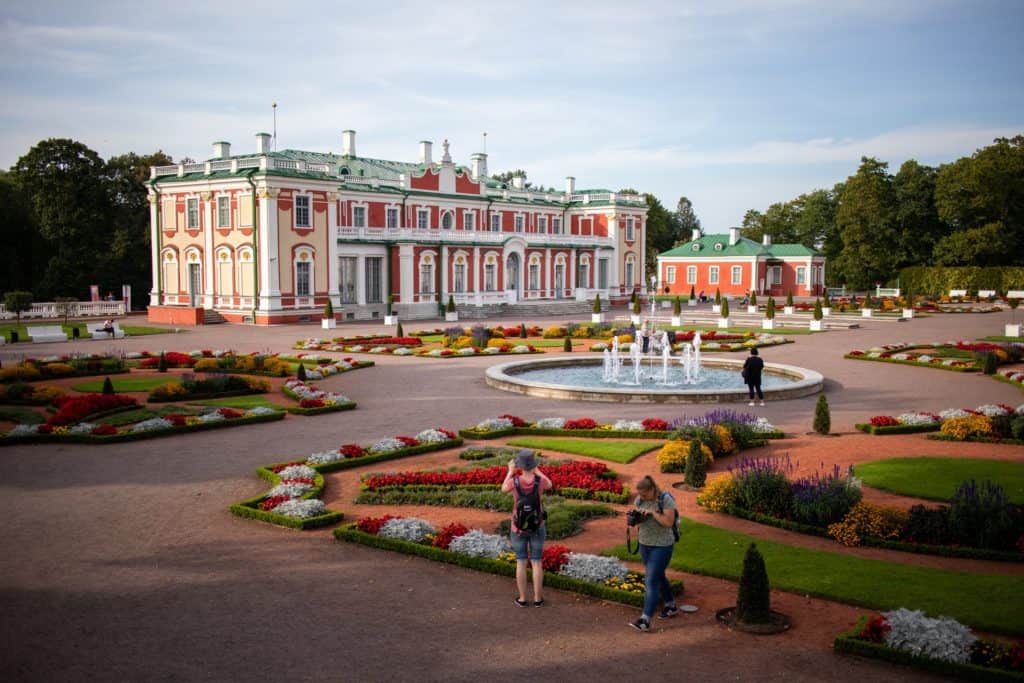 Kadriorg park
This is the second location I have found that resembles St. Petersburg. The palace and the park were built by Peter the Great and Catherine the Great in 1718, in the same style as their summer palaces in Russia. This beautiful park is only 4 km from the Old Town and you can walk there or take tram numbers 3 and 1, or busses numbers 60 and 5.
The park is impressive, with geometric flower beds, luxurious swan ponds, a Japanese garden, an English landscape park, and oak trees. The smell of flowers combined with Tallinn's mild climate will make you wanna stay here forever, or at least until you finish the book you bought with you.
The palace is today home to the Estonian Art museum, where you can see artworks from famous international artists of the 16th to 20th century. Near the palace, there is another building, which is the office of the current president of Estonia.
Other beautiful buildings in the park are also museums, including Children's Museum Miiamilla, Kadriorg Museum – Library, Mikkel Museum, Peter the Great house Museum, Museum of Eduard Vilde, and Kumu Art Museum. If you want to visit all of them, reserve one day only for this place.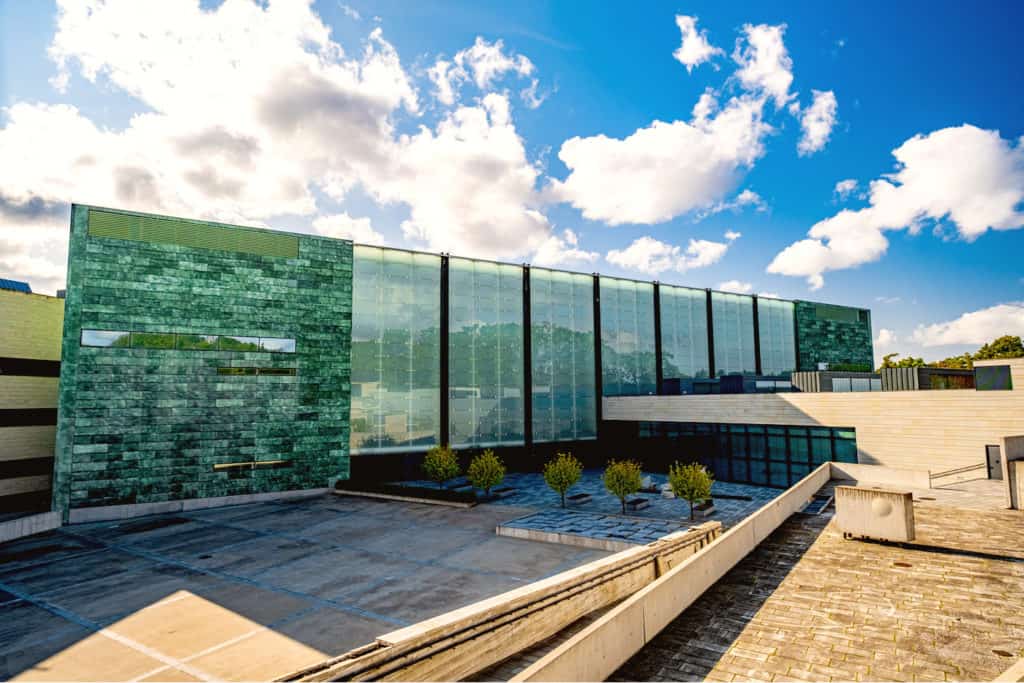 Kumu Art Museum
If you choose to see only one museum in Kadriorg park, I would recommend Kumu Art Museum. This modern award-winning museum houses an impressive contemporary art collection. It is also a popular space for educational programs and events.
Besides temporary exhibits that change every few months, there is an amazing permanent exhibit on the third floor that features Estonian artists from the 18th to the second half of the 20th century. You can see art of Johann Koler, Kristjan Raud, and Konrad Magi, among others. The tickets are €10 only.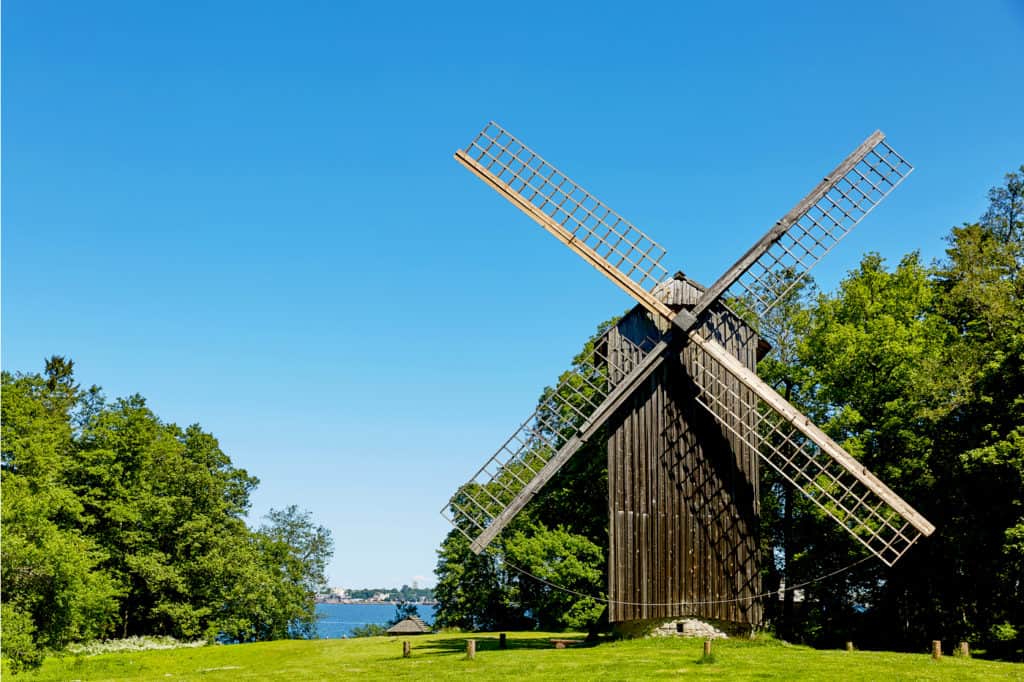 Estonian Open-Air Museum
Whenever there is an opportunity to see authentic museums like this open-air museum I jump! It is a walk through the past centuries, followed by stories and beautiful culture. It is also a nice walk in the fresh air and the best thing to do on a sunny day in Tallinn.
The museum is less than 8 km from Tallinn Old Town, and you can get there by bus or taxi. The museum is open year-round but the ticket price is different, in summer it is €10, and in winter it is €8. Exploring 14 farms in this complex you will learn about life in Estonia from the 18th to 20th century.
This huge 72-hectare land has 74 buildings, including a schoolhouse, inn, fishing sheds, homes, windmills, and even a fire station. You can try authentic food in the inn, like bread, fish, mushroom soup, and grits with turnip. If you are interested in joining different activities there are options of folk dances, yesteryear, midsummer bonfires, and horseback riding.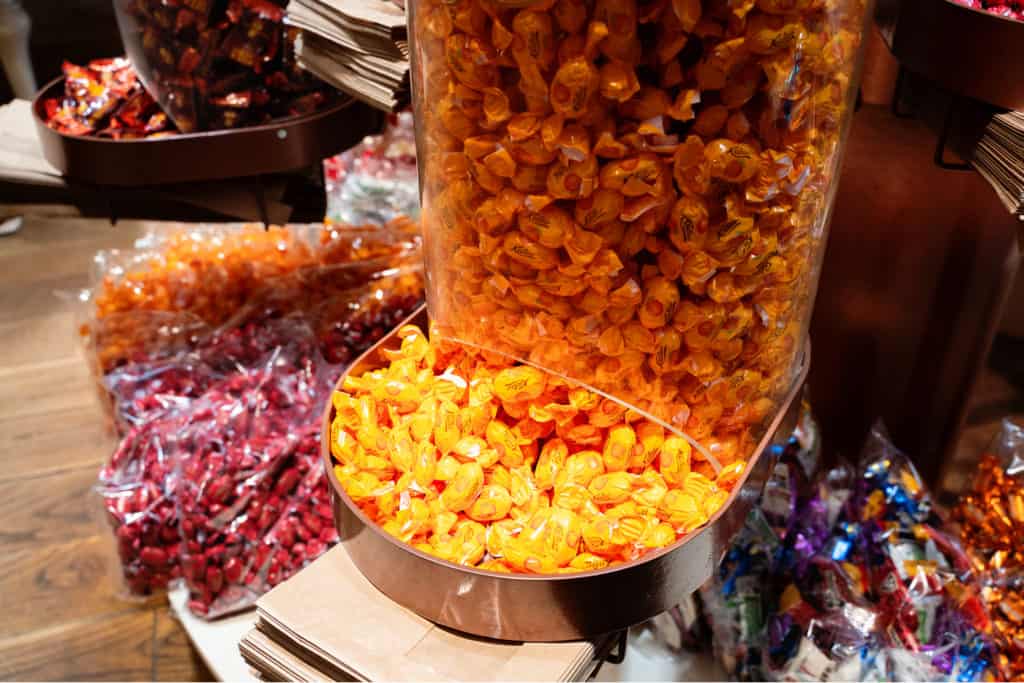 Kalev Chocolate Shop And Workshop
I stumbled upon this place accidentally, I didn't know it was famous. As soon as I came in I realized that it is a special place because I haven't seen anything like that in my life. Little figurines made of marzipan, all kinds of souvenirs and gifts sold on the counter, a gallery of marzipan, and chocolate artwork.
The shop is connected to a cafe where you can have coffee, tea, hot chocolate, and a side of cookies, cakes, and marzipan. The shop also offers a two-hour-long workshop where you can learn how to shape and paint marzipan, and create all kinds of chocolate truffles.
Although Germans would say they invented marzipan, here you will hear a different story. Kalev was a man who worked in Raeapteek pharmacy, and he was the creator of almond-based sweets. The shop looks like a cute little museum, and it is located on a picturesque street in a historic building in the Old Town.
St Olaf's Church
St Olaf's church is the tallest medieval building in Tallinn, and it was named after Norwegian king Olaf II Haraldsson. The first mention of the church was in the early 13th century, but it is believed that it was built in the 12h century. It was a hub for merchants, craftsmen, and locals.
Estonian reformation started in 1523 in this church, by the teachings of Zacharias Hasse. The church has suffered through several fires caused by lightning that has struck the tower. Today the tower is 123.8 meters tall. You can climb the tower to see the views of the city, and the entrance is €2 for adults and €1 for kids.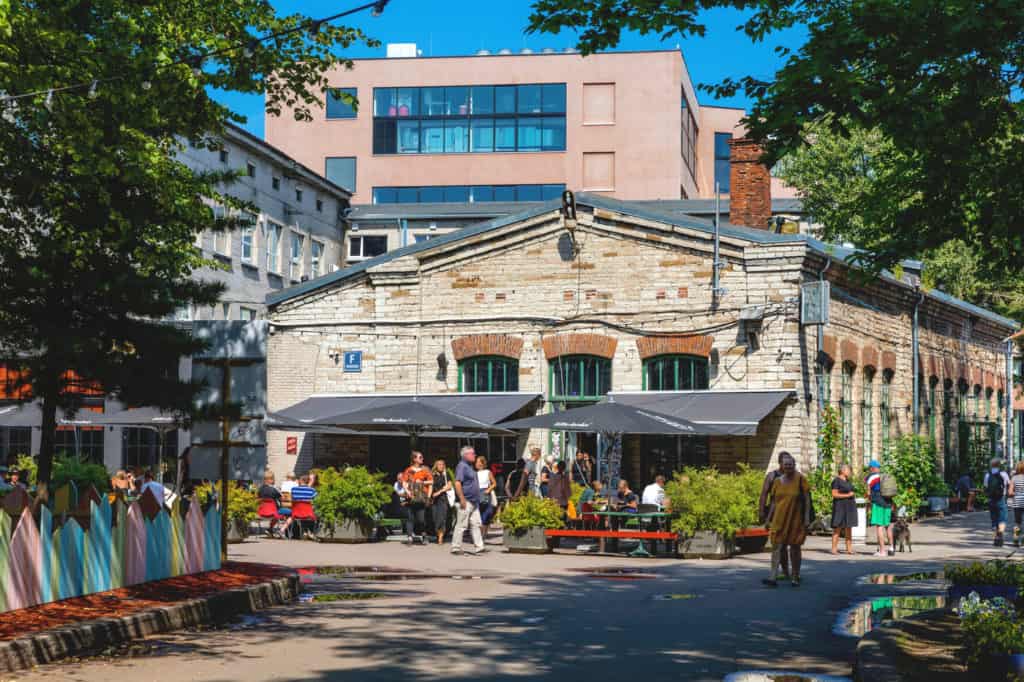 Telliskivi Loomelinnak
The Telliskivi Creative City is the new addition to the city, and basically a new heart of the city's creative scene. It is located in the former industrial complex, in Scandinavian architectural style. It is the largest leisure center in Estonia that many locals are visiting daily, since several startups, NGOs, and companies are located here.
The streets are filled with eateries and cafes, shops with unique Estonian design brands, three theaters, and several galleries. On Saturdays, you can shop at the flea market, and year-round you can attend cultural events that are happening here.
This place is home to the most beautiful graffiti wall in the city. A wall that was painted by 12 artists from different countries. If you take a walking tour you will get some insights into the origins of the idea for this wall.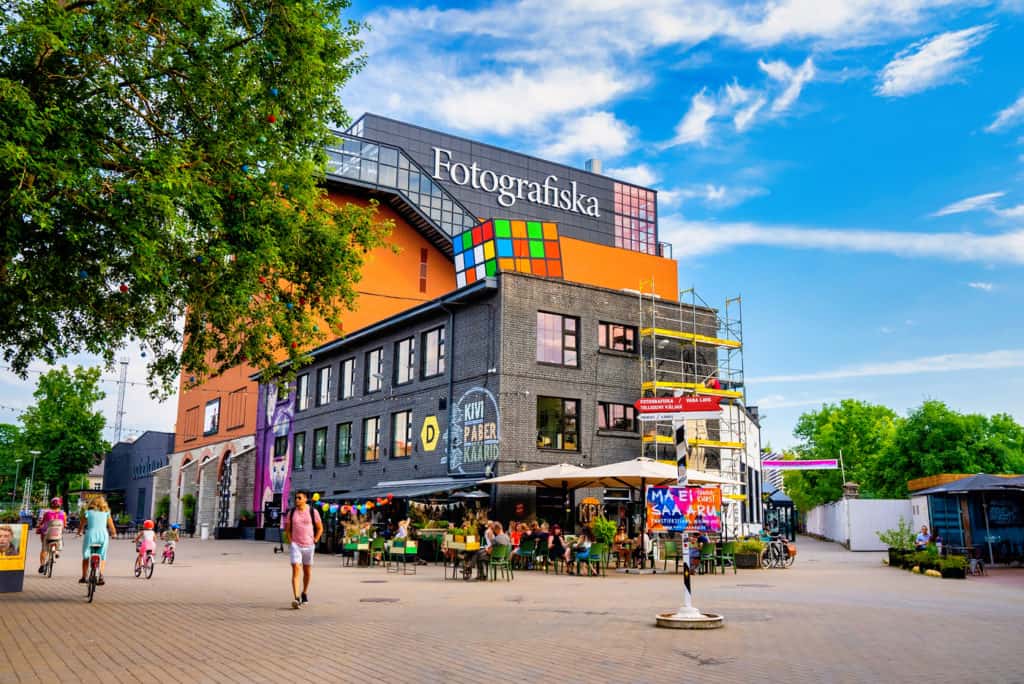 Fotografiska
While exploring Telliskivi Loomelinnak you can visit the famous Fotografiska Museum. The museum is internationally famous and it has originated in Stockholm. The interior is filled with a cafe, restaurant, event area, gallery, and fine art shop. This museum is moving around the globe, and after Tallinn, it is going to visit New York and London.
They describe themselves as an open-minded meeting place with great photography, sustainable food, and live music. The regular ticket for adults is €15, and if you join a group of 10+ people to go on a guided tour, the price is €65 per person.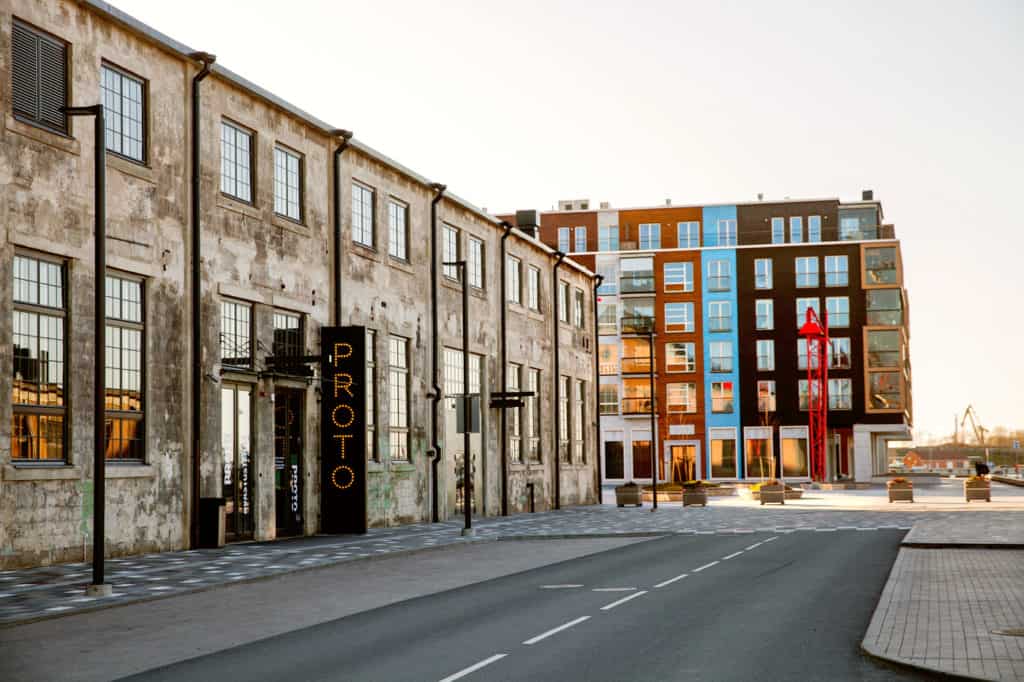 PROTO Invention Factory
Located on the shore, this is an amusement park with a long tradition. Explore the fantasy inventions world and enjoy interactive exhibits. Although this is mostly children's attractions, all ages are welcome and it is something everyone would enjoy. Some of the inventions are self-driving cars, exploring the ocean floor, drilling into the center of the earth, and so much more.
Kids love the science section where they can send the rocket into space, race at the racetrack, and fly above the heads of the others. Adult tickets are €14 per person, while the family ticket is €32. Kids younger than 6 can enter for free accompanied by a paying adult.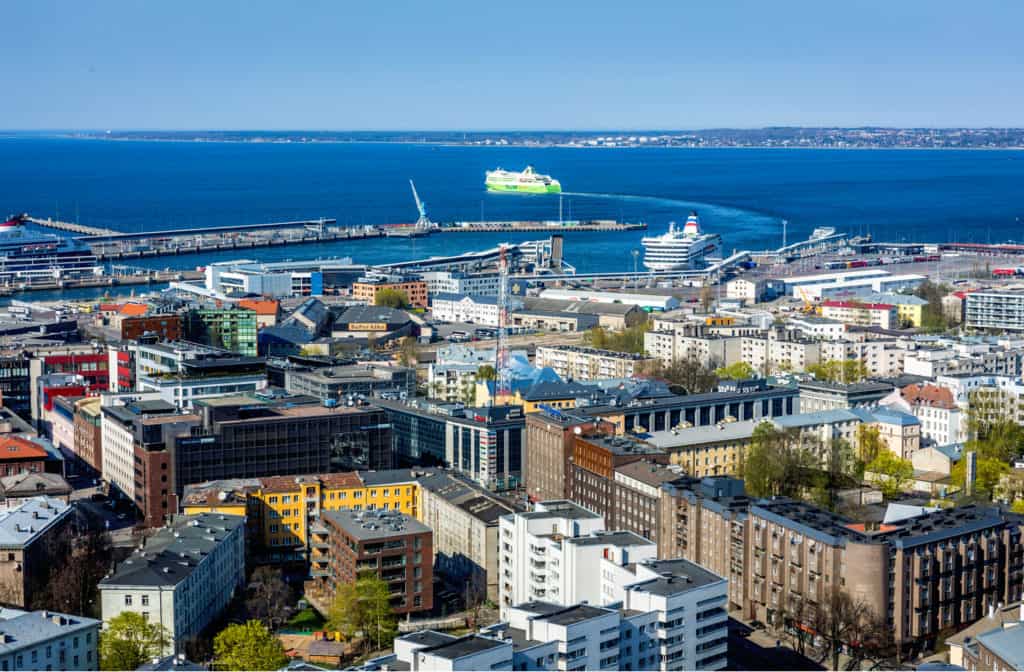 Skywheel of Tallinn
London has the London Eye, and Tallinn has the Skywheel of Tallinn. With attractions like this one Tallinn is competing with popular tourist destinations. The wheel will take you 120 meters above the ground, and you can enjoy the scenery from above. The view shows the skyline of the city, the Baltic Sea, and the coastline, as well as Lake Ulemiste.
27 gondolas are closed and safe for riding in all weather conditions the entire year. Every gondola has wheelchair access and it fits six people total. One adult ticket is €10 or one family ticket is €28, but if you want to experience a "sparkling ride" where you will also drink Champagne while enjoying the view, the ticket is €27 per person.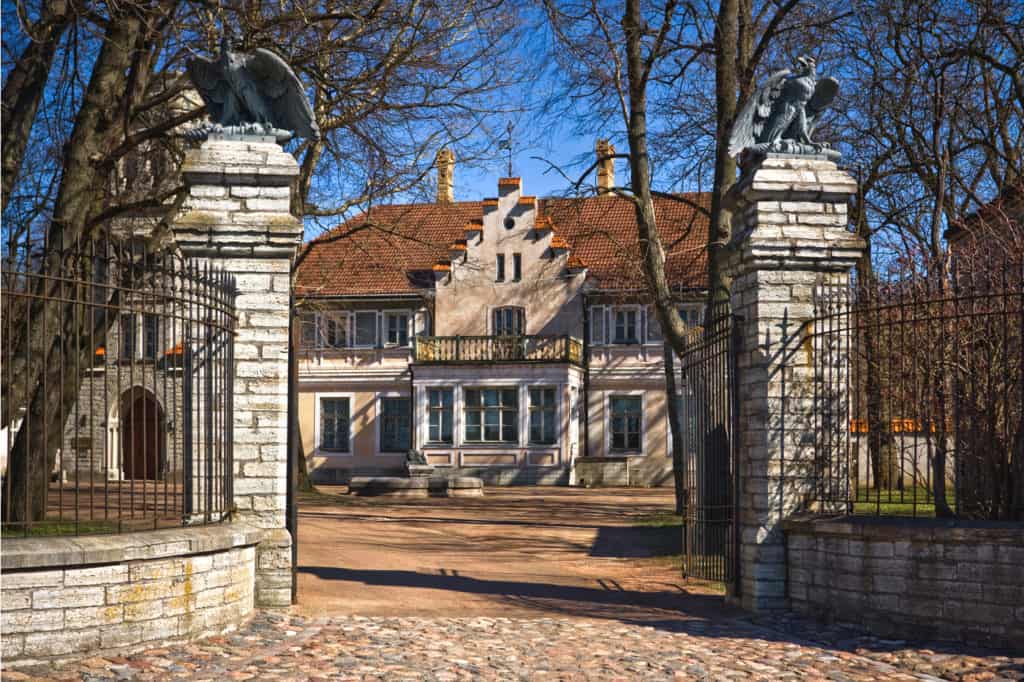 Estonian History Museum
The Estonian History Museum is located in the city center and it consists of several different buildings which are all separate exhibits. It includes the Great Guild Hall, Maarjamae Palace, Film Museum, and Theater and Music Museum.
A very interesting tour where I've learned a lot about Estonian history was "My free country". The cost of a guided tour per person is €45, and you will learn of Estonia's fight for independence from Russia and everything they as a nation ensured in the past 100 and more years.
The Great Guild Hall is 600 years old and attractions by itself, and let alone the exhibit it houses 11000 years of history on Estonian grounds. This gothic-style building was finished in 1410, and it served as a Town Hall at the time. Tickets for Great Guild Hall are €8 per person, Maarjamae Historica Center is €10, and Theater and Music Museum is €6.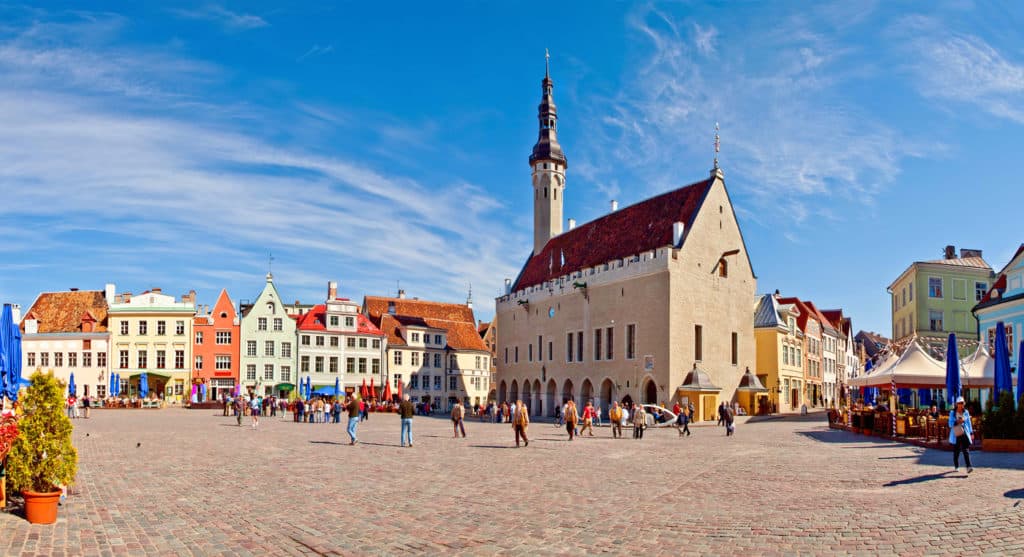 Town Hall and Town Hall Tower
This gorgeous building on the main square, Raekoja plats, was built in the late 13th century. In the written sources it was mentioned in 1322 for the first time, and the form it has today was finished in 1404. It is the oldest surviving Town Hall in all of the Baltic and Scandinavia.
Until 1970, the building served as a Town Hall, and since 1975 it is only a ceremonial building that is used for concerts and as a museum. The groups are guided and the museum is open only for a few hours every day. Tickets are €5 per person or €10 per family.
Interestingly, the visit to Town Hall doesn't include a visit to a Town Hall Tower, which you will need a separate ticket for. To climb the tower, be prepared for a narrow spiral staircase that is at least a few centuries old, and that you have to be very careful how you step on.
You can't just pass by somebody, one of you will have to step aside and wait for the other to pass by him. When you get to the top and see beautiful views of the old town you will know it was worth it, but going down will still worry you. I felt an adrenaline rush while climbing this tower.
Bohemian Kalamaja
A walking distance from the Old Town, you will stumble upon a bohemian quarter, that once was an industrial area. Before it developed into an industrial area and home to factory workers at the beginning of the 20th century, it used to be a medieval fishing village on the shore of the Baltic sea.
Although one of the oldest districts in Tallinn, Kalamaja is now a hub for everything trendy. It is like a hip village inside a regular city, with a lot of greenery, popular cafes and restaurants, and a center for creative minds. The most authentic part of the area are preserved old wooden houses that are known as "Tallinn Houses".
Attractions and landmarks in this district are Energy Discovery Center, Seaplane Harbor, PROTO Invention Factory, Fotografiska Museum, as well as Telliskivi Creative City. Add a variety of pubs and bars and you will get a city within a city.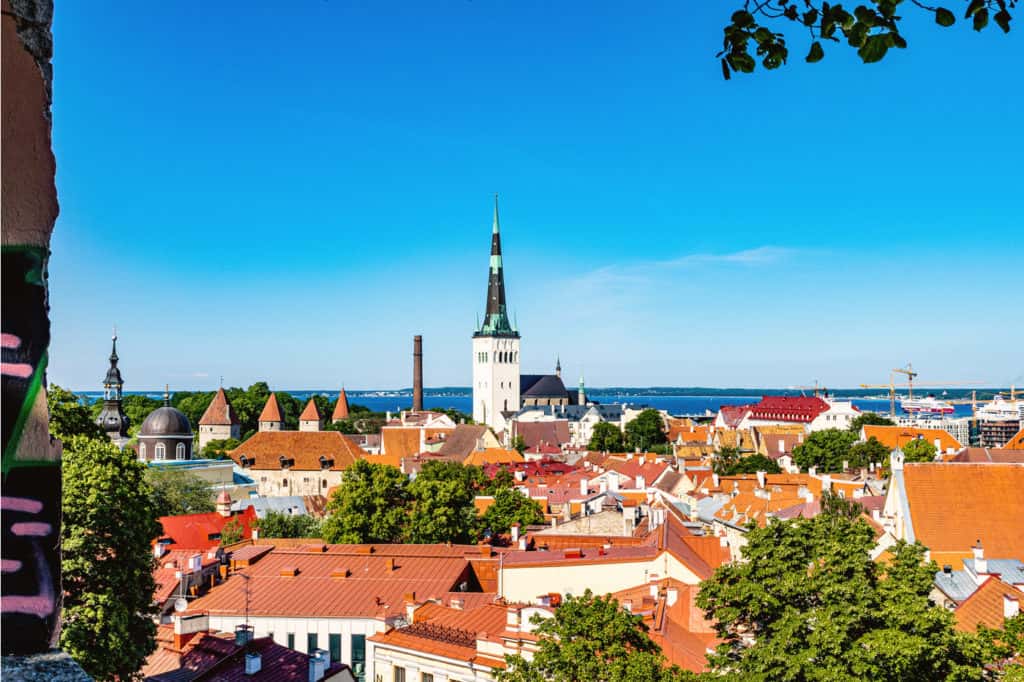 Kohtuotsa Viewing Platform
If the views and panoramic photos are important to you, put this attraction on your list for the trip to Tallinn. When you come here you will get the opportunity to take a perfect postcard-like photo of Tallinn with the entire Old Town below your eyes.
This popular photo spot is nestled on the east corner of Toompea hill. In the summertime, the cafe is open here and in the evenings you can come here to listen to music, soak in the views, and go dancing. While you are taking photos look for the seagull named Steven, he is the friendliest seagull in the world and loves taking photos.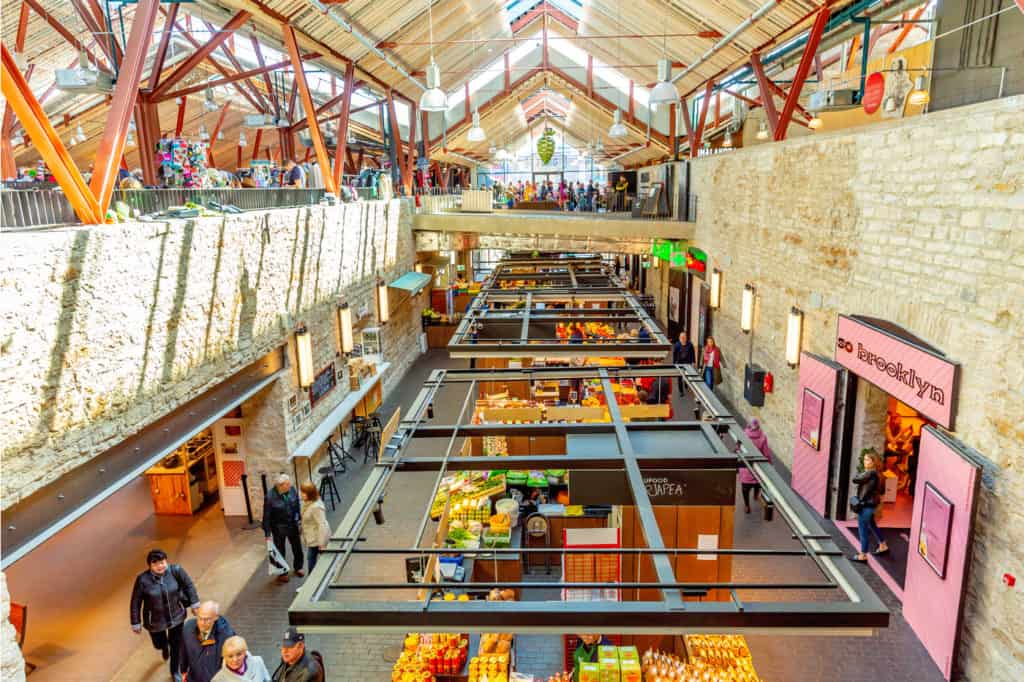 Balti Jaama Market
The city's biggest open-air market is located close to the city center and offers fresh produce, pastries, souvenirs, handmade products, as well as second-hand products. Often you will find some real gems here, including antiquities, €1 books, lace, vinyl records, etc.
The produce and meat market is open every day from 9 am till 5 pm, but if you want to buy fresh produce go there before noon. The street food corner is open until 8 pm, as well as the shops on the second floor.
Everything you need you can find here, including a fitness center, a hairdresser, boutiques, shoe stores, bicycle parking, and a lot more. Visit this market if you want to see how locals live, interact with each other, and how friendly they are to the foreigners.
Viru KGB Museum, a hotel with two faces
In the Soviet Union, which Estonia was part of at the time, hotel Viru was used as a KGB center, as well as a regular hotel. You can see various items and artifacts from the 70s and the Soviet era in Estonia, and you can learn about controlling and spying on Soviet Russia on its own citizens.
The story of communism in Russia and across the Soviet Union was very complicated and nothing was as it seemed on the paper. Before your visit to ex-Soviet countries try to familiarize yourself with some facts, like what was allowed and what wasn't allowed, how was life for non-Russians, etc. Tickets for this museum are €11 for adults and €5.50 for 10 to 15-year-olds.
Jägala Waterfall
For those who like hiking and the outdoors, near the city of Tallinn, there is a gorgeous natural area where you can go to see the most famous waterfall in Estonia, Jägala waterfall. It is located in the lower course of the Jägala river before the river flows into the Baltic sea. The waterfall is 8 meters high and 50 meters wide, making it a perfect location for photography and relaxation.
You can visit the waterfall in any season, but it is especially beautiful in wintertime when water freezes. In the fishing season, the lower part of the Jägala river is one of the richest locations for large trout and salmon fishing in Estonia. Hike to the waterfall, and make this a day trip with a picnic as a perfect getaway from the busy city.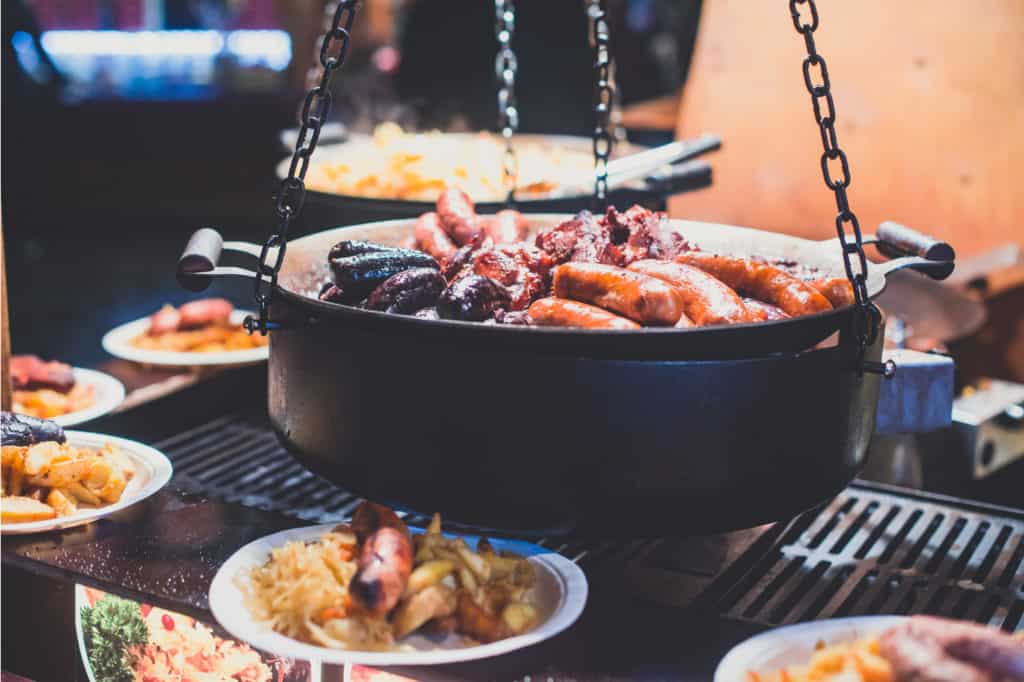 Estonian Food, Drinks, and History Tour
A trip to a new country wouldn't be complete without trying out all the food and drinks produced locally. Tasting different traditional dishes will help you understand the culture. On this tour, you will understand the history of the country through its culinary exhibits.
You will visit museum-like restaurants, try several dishes, and at least 3 different local drinks. Get familiar with the cuisine of Hanseatic merchants, Estonian peasants, Soviet workers, and find out what locals love eating nowadays. In the end, taste amazing desserts.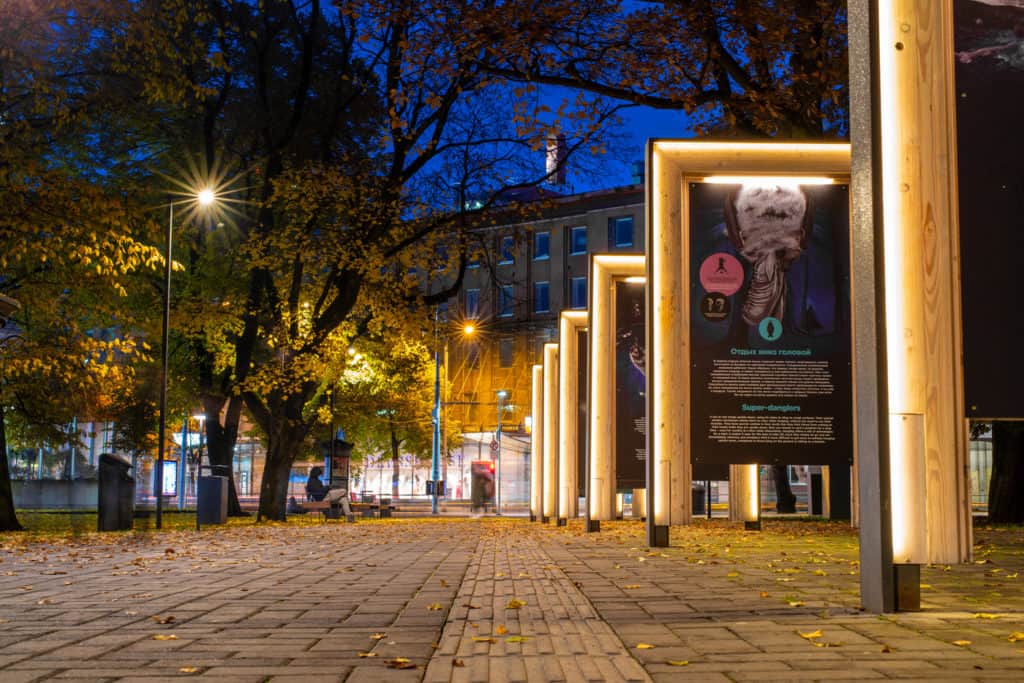 Estonian Museum of Natural History
Do you like nature? If you do, don't miss out on this one. More than half of the country is covered in untouched nature, which is incredible for wildlife. Estonia is one of the rare countries in Europe with so much nature preserved.
The museum contains about 320 000 different species, including plants, beetles, butterflies, birds, and mammals. There are over 300 000 photos and videos in the museum collection, followed by scientific research and discoveries.
The museum offers natural education not only for children but for adults as well. Sign up for one of their programs and learn about animal and plant life in the area. Tickets for this museum are €10.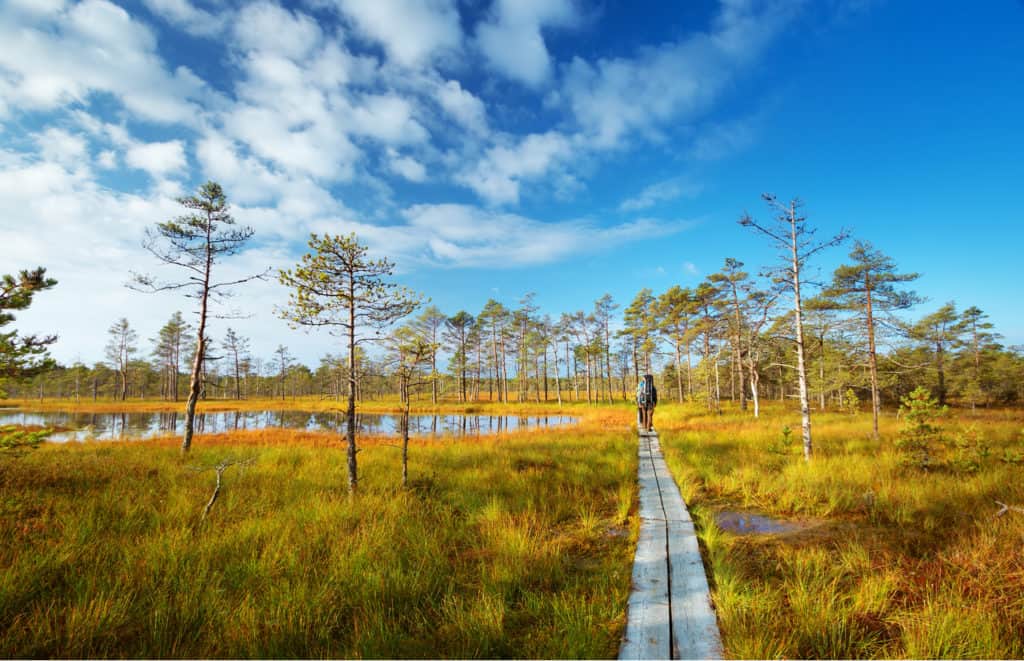 Lahemaa National Park, a day trip from Tallinn
Another amazing natural area just a short drive from Tallinn is Lahemaa National Park. For those who are visiting Tallinn for only a few days, trips like this are too ambitious, but if you are staying at least a week, consider coming here for a day trip.
The park is only 70 km north of Tallinn, and it is the largest national park in Estonia and all of Europe. Forest covers more than 70% of the park, and it is very rich in natural life. Here you can see wolves, boars, red deer, bears, and lynx.
There are numerous hiking trails and you can choose the one that fits your time and moderation. If you don't want to wander the forest alone, book a tour from Tallinn, as many tourist companies have this trip on their offer.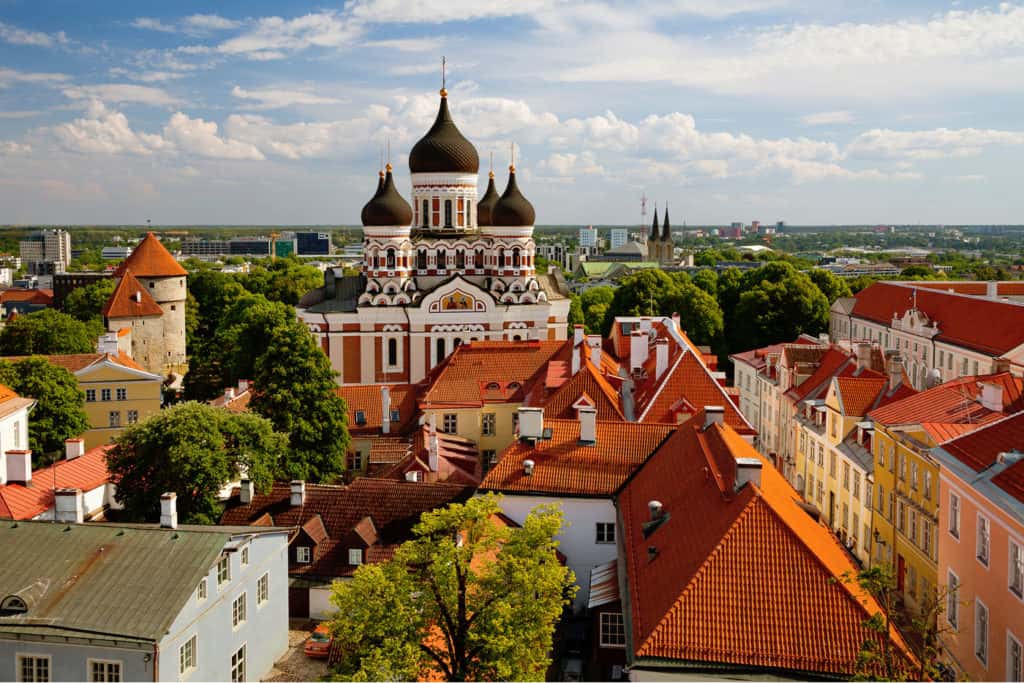 St Mary's Cathedral, the oldest church in mainland Estonia
St Mary's Cathedral is the oldest church in Tallinn, dating back to 1233. Originally it was a catholic church but now it belongs to the Estonian Evangelical Lutheran church. Inside you can see some impressive artworks and historic artifacts. There is a 69 meters tall bell tower that you can climb as well if you want to enjoy the views of the Old Town.
The original church was built by Danes and it was made out of wood, but in the 17th century, it was destroyed and rebuilt again. The dome dates back to the 15th century, and the spire is from the 18th century. The entry ticket is €5.
KGB Prison Cells and Vabamu Museum of Occupation and Freedom
History buffs will love this one. These horrific cells represent the darkest part of Estonia's history when the country was under Soviet oppression. The original cells that were used for interrogation of the "enemies" still look very spooky.
Walking through these halls will give you goosebumps, and looking at the exhibit to understand the background of everything will make it easier for you to understand what happened here.
The ticket to the cells is €5, while the ticket to Vabamu and the KGB is €14. Vabamu is a museum dedicated to the freedom of Estonia. It completes the story about the Soviet Union and KGB. You will see stories about crimes against humanity and personal stories of many witnesses from that time.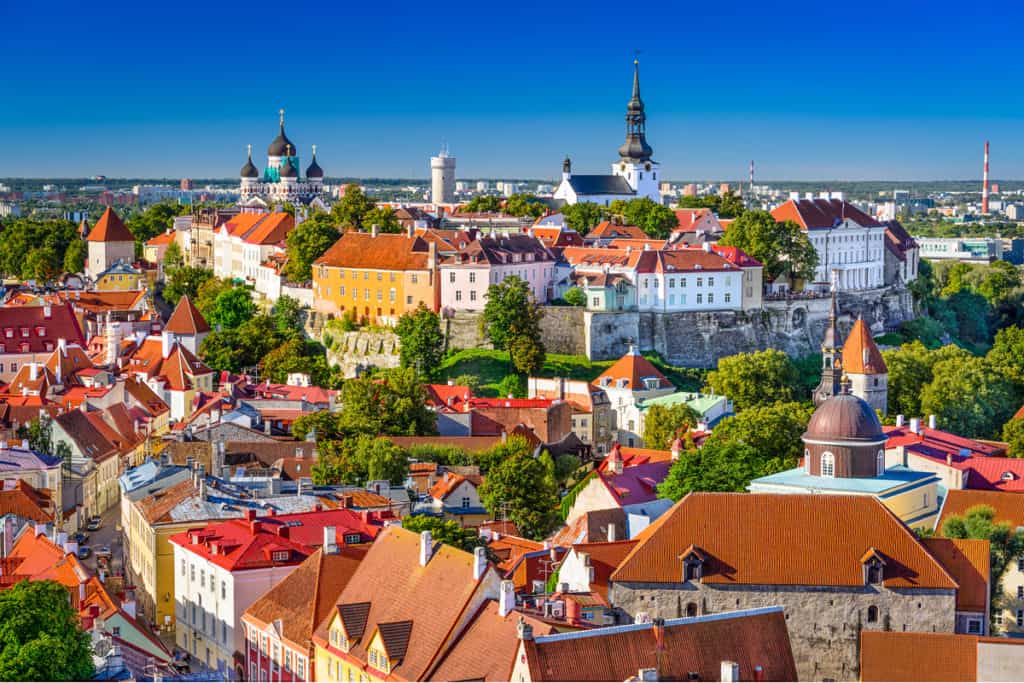 And That Was Beautiful Tallinn!
Tallinn is the city of positive vibes and economic hub for all the digital nomads from Europe and beyond. It is affordable, has great internet, and many places you can work from, so it is a great place to work and travel. It looks like a miniature Scandinavia with a little bit of Russian spice.