In my opinion, the Balkans is the hidden gem of Europe.
This area is home to a fascinating — yet tragic — history that effectively erased it from tourist maps in the 1990s. Back then, the former country of Yugoslavia broke into several smaller territories, but the separation wasn't peaceful. Bosnia and Herzegovina undoubtedly suffered the most. The Bosnian War raged between 1992 and 1995, leaving this beautiful country in ruins.
Tourists rediscovered the country in the 2000s, often raving about the nature, mountains, clean water, and camping opportunities. But visiting urban areas in Bosnia and Herzegovina is an experience worth having. And the best place to start is Sarajevo.
Sarajevo has the vibe. It isn't the prettiest ex-Yugoslavian city I;ve spent some time in, but it's the one I always come back to.
My love affair with Sarajevo started back in 2007, when I lived there for six months. I would often go out and explore its street when I had free time. Baščaršija is hands down my favorite place in the city, thanks to small cafes, delicious coffee, and the oriental vibe.
Ferhadija Street is my go-to food place, but I also recommend that you find a local bakery close to your accommodation. Pastry shops are everywhere in Sarajevo, so you can grab something to eat on the go at any time of the day. A plain kifla quickly became a part of my daily menu.
Sarajevo has developed significantly since 2007, but it is not as crowded as other European capitals. I adore the fact that you can see and feel different cultures all around the city.
Time moves differently in Sarajevo, and you will notice this right away. People love coffee here, so don't be surprised to see full cafes around noon. They also enjoy socializing, and you won't find a lot of loners slurping on their drinks somewhere in a corner.
Making new friends is easy in Bosnia and Herzegovina. Younger generations speak English well. Don't be a stranger and introduce yourself. Bosnians will treat you like an old friend even if they know you only for a day or two.
The architecture tells a tale of different empires and monarchies that ruled over Sarajevo. Each left its mark and made the city prettier and more unique. It is the place where east and west meet, and the combination is just magical. The perfect example is Baščaršija, which mostly features ottoman buildings, but you can see Austro-Hungarian style surrounding it.
The City Hall is the most striking building in Sarajevo, and I can understand why. The colors and details are phenomenal, but the interiors are even more majestic.
Sarajevo is well-known because of an unfortunate event that pushed the entire world into a conflict – the assassination of Archduke Franz Ferdinand. The Latin Bridge where the murder happened is a must-see for tourists and history buffs. Those who want to find out more about this period can visit a nearby museum.
If you are ready to begin your tour of Sarajevo, here are some of my favorite spots in the city: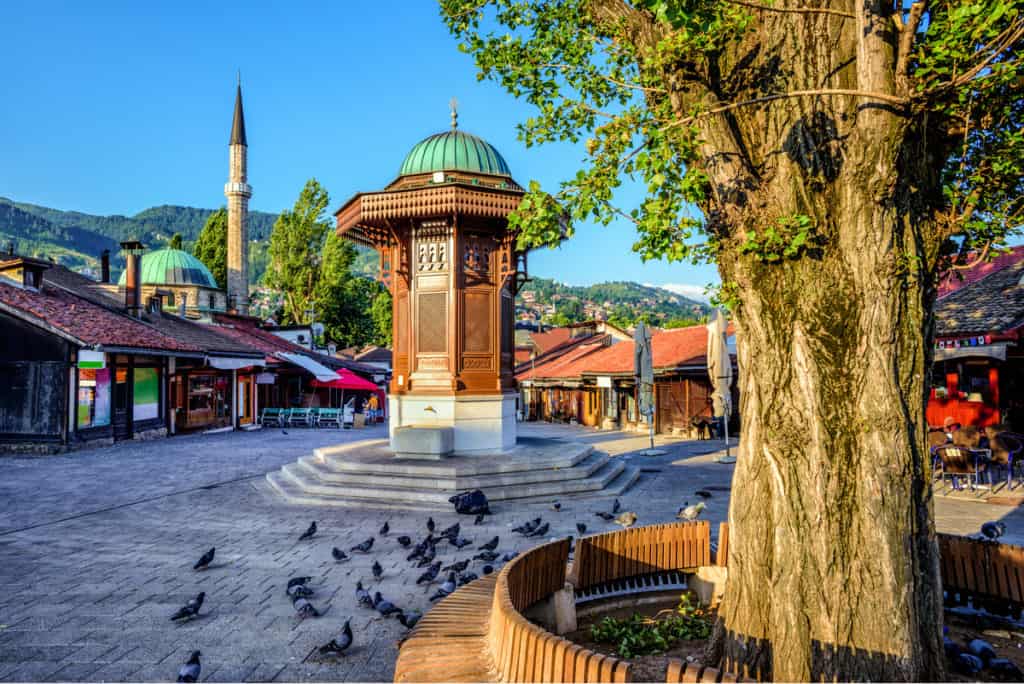 Explore Baščaršija
Baščaršija is the historic center of Sarajevo. This part of the city was built in the 15th century, and it quickly expanded. So it is no wonder it is the main tourist attraction today. The cobbled streets look magical at any time of the day. It is my first stop whenever I visit, mainly because of the mood. Charming little restaurants and cafes line the narrow streets. Here you can try out the famous local dishes, such as ćevapi, burek, and baklava.
Sebilj, the symbol of Sarajevo, is at the very heart of Baščaršija. It is a water fountain, often seen in cities that used to be a part of the Ottoman Empire. There were hundreds of these fountains all over Sarajevo. However, only one remained to this day.
If you want to taste authentic Turkish coffee, you should order one in a cafe close to Sebilj. It is an unforgettable experience. The drink is served in a cezve (or džezva in Bosnian), and you drink it from a tiny cup called fildžan. Of course, there will be a small piece of Turkish delight to sweeten things up.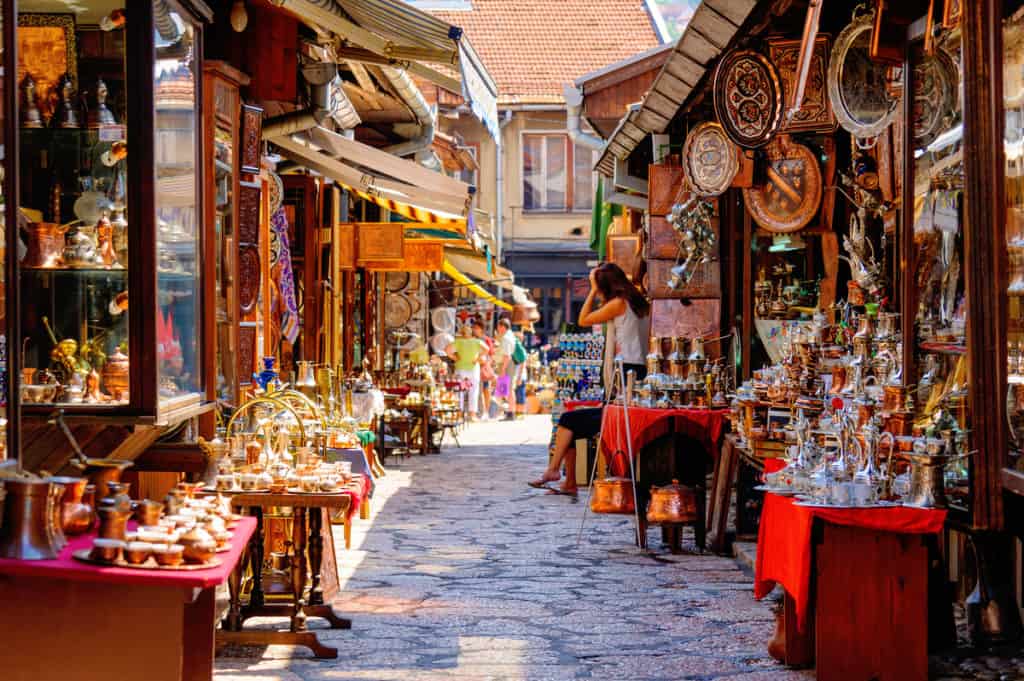 Browse around Kazandžiluk
Those visiting Sarajevo for the first time and are on a quest for a souvenir will probably find something interesting in Kazandžiluk. There are plenty of tiny stores in this part of Baščaršija that offer handmade goods.
The previously mentioned džezva, which is essentially a long-necked coffee pot, is an excellent choice. These are made of brass or copper and look unusual and elegant at the same time.
The atmosphere here is reminiscent of Turkish markets, with craftsmen doing their work as people walk by. They will be happy to demonstrate how various items are made if you ask. You can learn something new in Kazandžiluk and get to know the Bosnian culture while having a great time.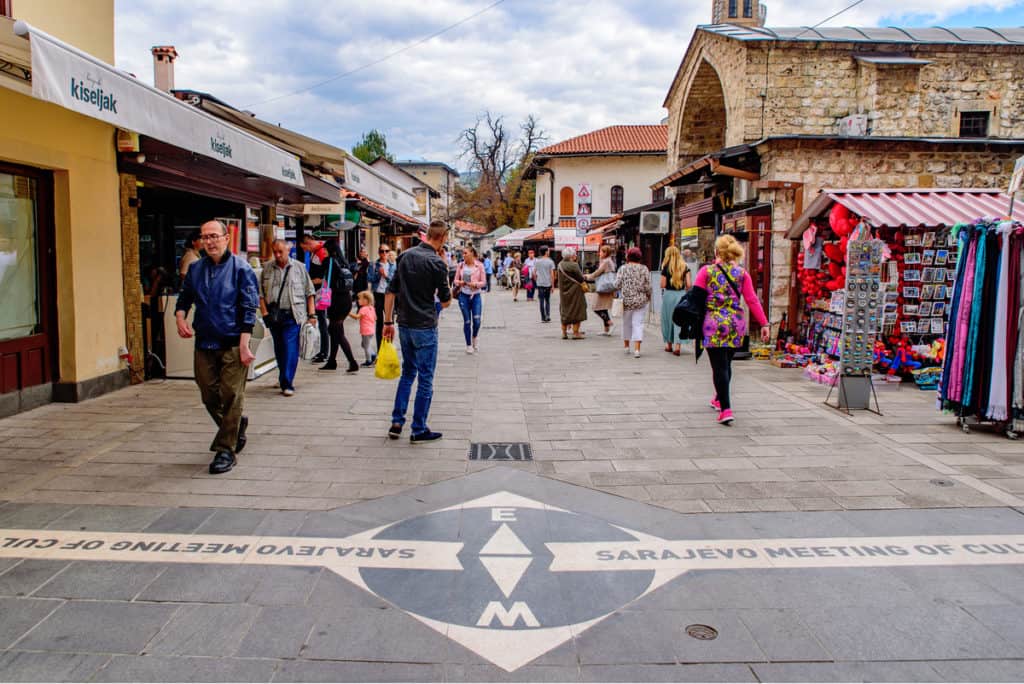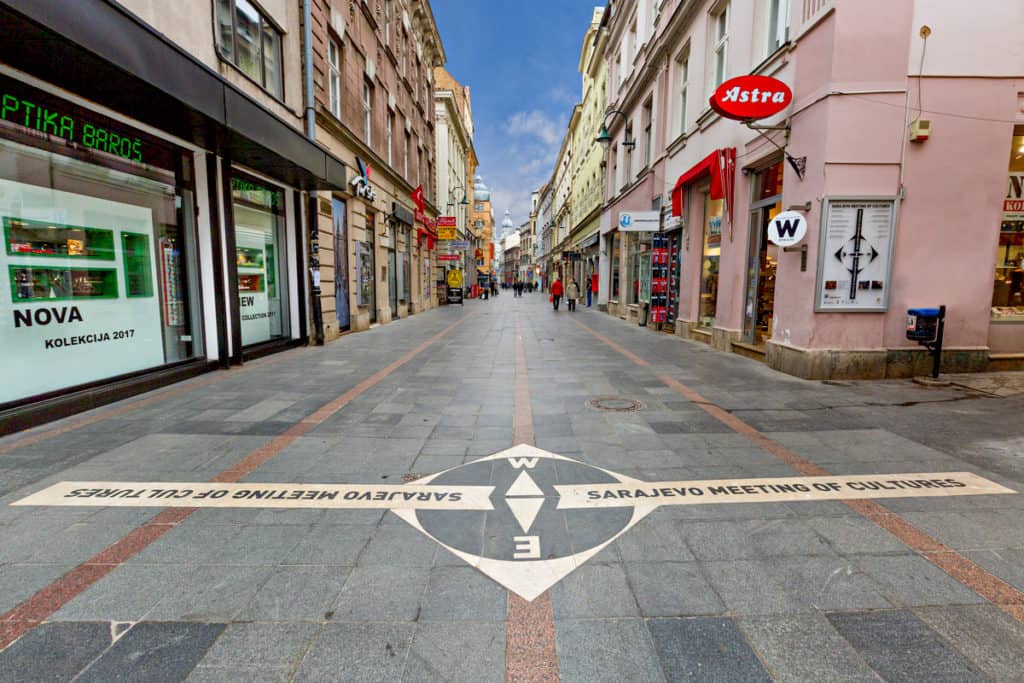 Meet the East and West
I've talked a lot about how Sarajevo is the perfect blend of cultures. From architectural styles to delicious food – you will find both eastern and western influences everywhere you look. But there is also a particular spot in Sarajevo where these cultures meet. I know it might sound a bit blown out of proportion, but it isn't.
Take a walk from Baščaršija towards Ferhadija street and look down. You will see a spot that says "Sarajevo Meeting of Cultures." Stand in the center and turn your gaze towards Baščaršija. All the buildings you see are inspired by eastern architecture.
Look the other way, and you will see European styles like neoclassicism, gothic revival, and neo-byzantine that were dominant in the Austro-Hungarian Monarchy.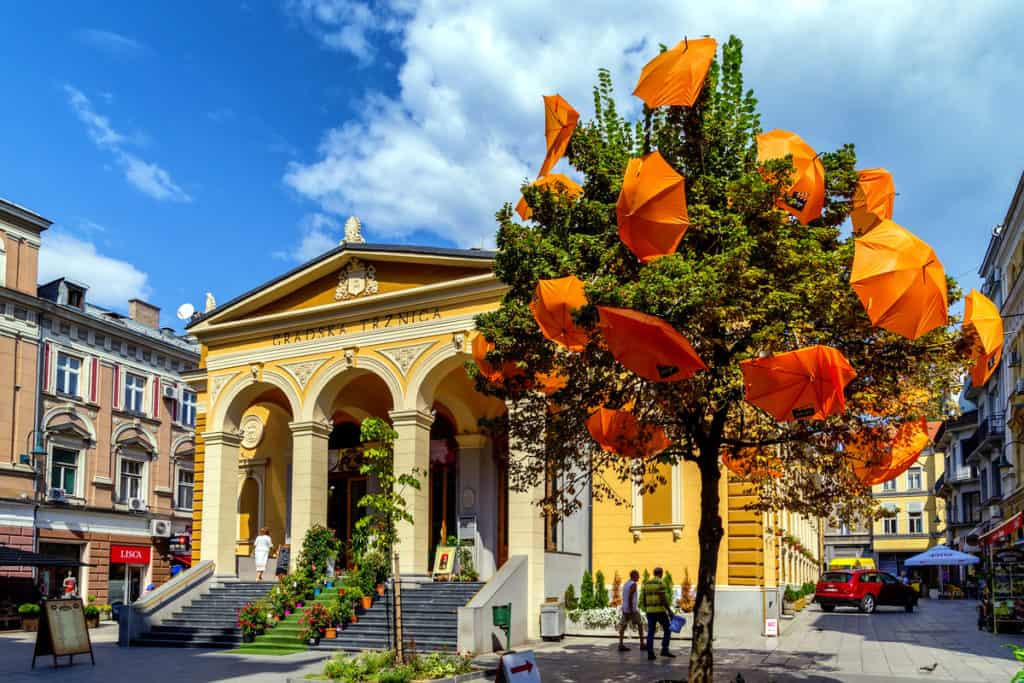 Take a stroll down Ferhadija Street
Ferhadija Street is the most famous pedestrian zone in Sarajevo. It starts at Sebilj and ends at the Eternal Flame. It is not a long walk, but you will essentially be walking through the history of Sarajevo. Ferhadija Street features buildings dating back to the 16th century. These were built by Ottomans, as well as Austro-Hungarian architecture.
My favorite fact about Ferhadija Street is that you can see a mosque, a catholic church, an orthodox church, and a synagogue close together. It is a lovely reminder that Bosnia and Herzegovina is a multicultural country. Finally, the Eternal Flame waits for you at the very end of the street. It is a memorial for the victims of World War II.
Just a quick note for my fellow foodies – Ferhadija Street has some of the best restaurants in the city. If you are feeling adventurous, start exploring the local dishes right here. On the other hand, there are plenty of establishments that offer international food too. Either way, you will find something delicious to eat in Sarajevo.
Visit Sarajevo Clock Tower
Towering over the city, Sarajevo Clock Tower is an important landmark that you have to see. You can find it right next to the Gazi Husrev-beg Mosque. There were more than 20 similar clock towers all around Bosnia and Herzegovina in the Ottoman Empire. Some are still around, but at least a couple of these clock towers are out of order.
It is estimated that Sarajevo Clock Tower was constructed sometime in the 16th century. It is the only public clock that shows lunar time and is set manually.
Also, the clock mechanism was replaced in 1874. Gillett & Bland, a company from London, made it. There are only two such clock mechanisms in use today – one in Big Ben and one in Sarajevo Clock Tower. Pretty cool for a tiny European country, right?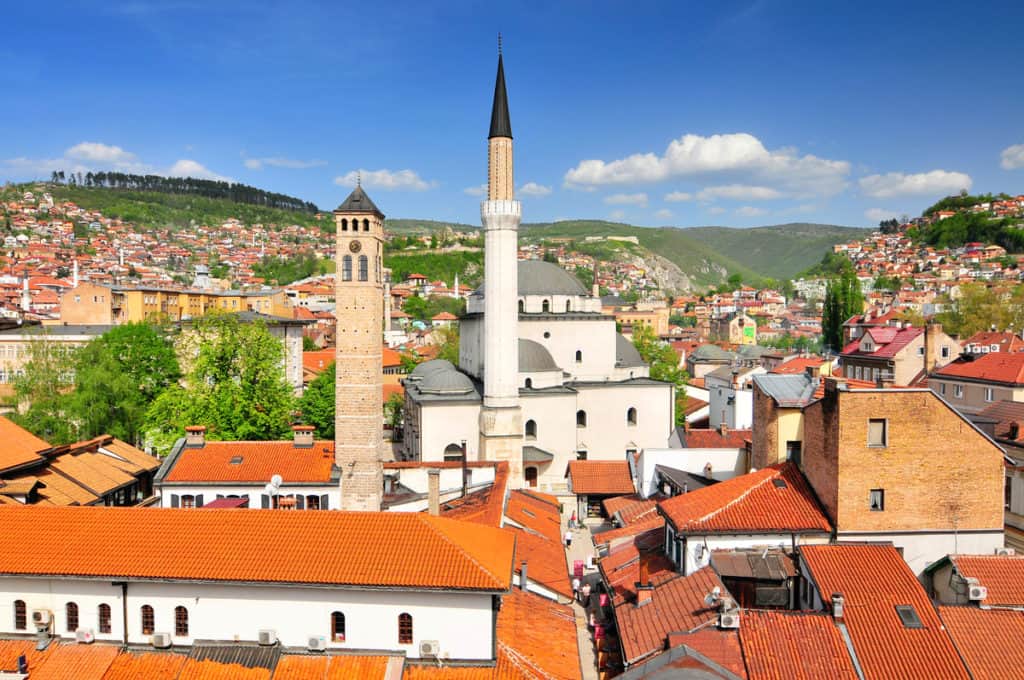 See Gazi Husrev-bey mosque
Gazi Husrev-bey mosque is the main mosque in Sarajevo. Built in 1531, this mosque is the perfect example of the Early Istanbul Style. You can find it in Baščaršija, so it is near the heart of the city. The accessibility, along with the importance of the building itself, makes it a favorite among tourists.
Besides the fact that the Gazi Husrev-bey mosque is a National Monument, it was also the first mosque ever that had electric illumination. We can thank the Austro-Hungarian Empire for that.
The mosque was heavily damaged during the Bosnian War, but you wouldn't be able to tell. It was one of the first buildings in Sarajevo that was reconstructed as soon as the War ended.
Of course, tourists may explore the area around the mosque, but getting an indoor tour could be tricky. There is a schedule that changes often. So it is better to ask about it before you arrive. But don't worry, the grounds around the mosque are pretty interesting too.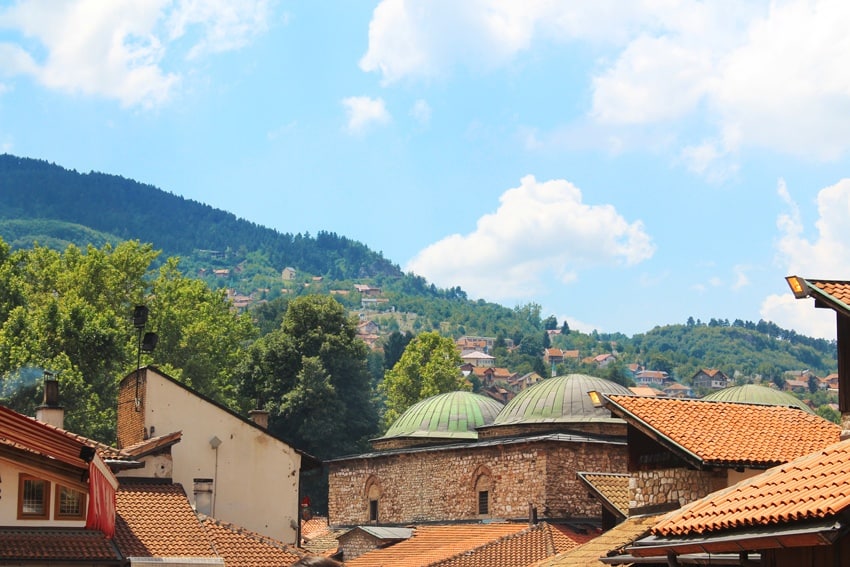 Experience a RealBezistan
Bezistan is a covered market that was quite common in the Ottoman Empire. Sarajevo has a well-preserved bezistan, also known as Old Bezistan and Great Bezistan, located just a short walk away from the Clock Tower. Gazi Husrev Bey built the marketplace in 1540 while he was the governor of Sanjak of Bosnia.
Considering that this bezistan had a caravanserai (a type of an inn), it is clear that it played an enormous part in the development of tourism in Sarajevo. Unfortunately, the old caravanserai burnt down in 1879. However, you can view what was left of it if you go towards Hotel Europa.
Visitors can still find small shops as they venture into bezistan. This place is very significant to the people of Sarajevo who come here to buy various goods. It is a captivating place with a lovely atmosphere, so taking a short walk through this marketplace is a great idea.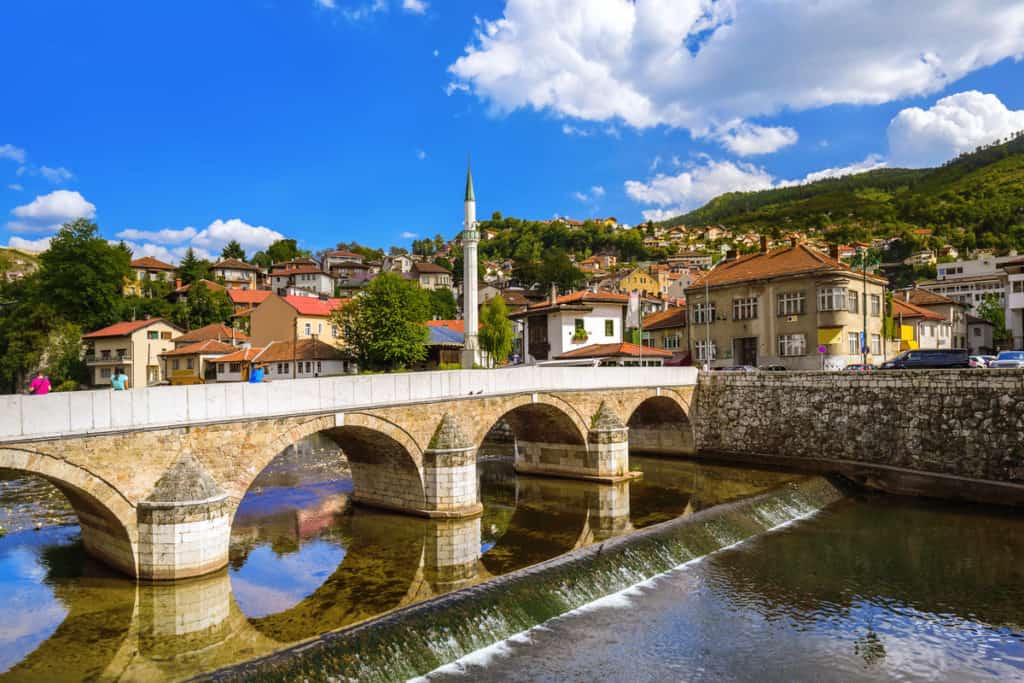 See the place where WWI began
History buffs, listen up! I loved learning about the past in school, and Latin Bridge was one of the first sites I went to during my first trip to Sarajevo. This city has three more stone bridges on the river Miljacka. However, Latin Bridge is probably the one with the most historical significance.
The north side of the bridge was the site of the assassination of Archduke Franz Ferdinand of Austria by Gavrilo Princip on June 28th, 1914. This event sparked the international conflict that turned into World War I.
This bridge was named Princip's Bridge in 1918. The name stuck until 1993. Then it was renamed in honor of the people of Dubrovnik who lived in this part of Sarajevo.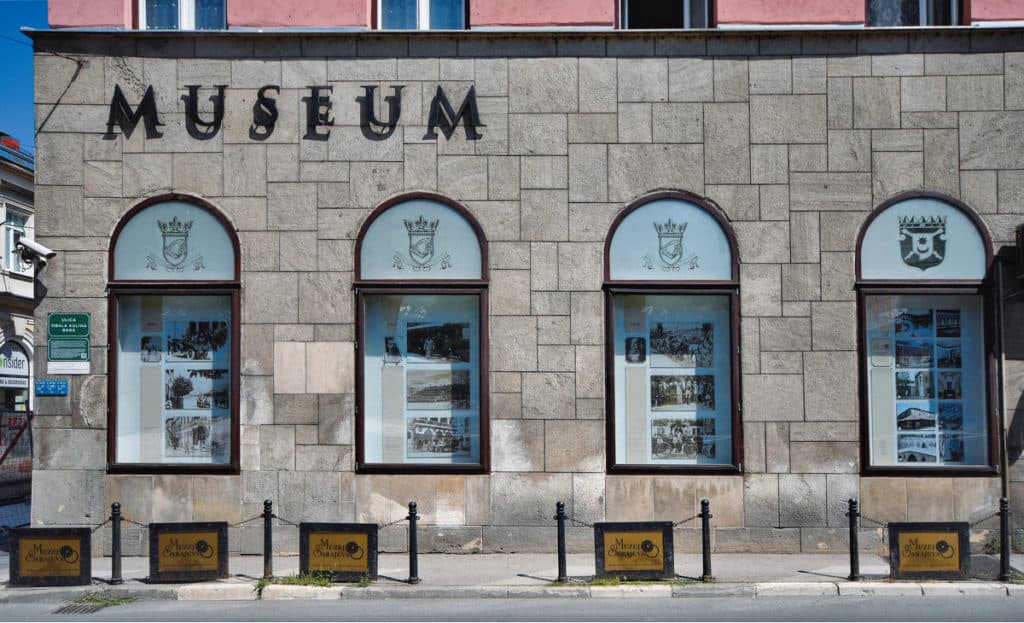 Dive into history at the Museum of Sarajevo 1878–1918
Located just a stone's throw away from the Latin Bridge, the Museum of Sarajevo 1878-1918 tells a story about life in Bosnia and Herzegovina during the Austro-Hungarian Monarchy. Inside you will find a single permanent exhibition that is divided into several sections.
Visitors can see photographs, documents, and various items related to the Austro-Hungarian rule and its impact on Bosnia and Herzegovina. But the main draw is the replica of Gavrilo Princip's gun that was used for the assassination of Archduke Franz Ferdinand.
It is a common misconception that the original gun is displayed right here in Sarajevo. Unfortunately, you will need to go to Vienna's Museum of Military History to see it. It has been a part of their collection since 2004.
The museum is open from Monday to Saturday, and the entry fee is 4KM. It is a part of the Museum of Sarajevo, so you can get cheaper tickets if you visit all of their locations, such as the Jewish Museum, Despić House, etc.
Spend an afternoon in the National Museum of Bosnia and Herzegovina
Bosnia and Herzegovina is a stunning country, and you can learn more about it at the National Museum right here in Sarajevo. Almost all significant archeological findings are displayed here. The museum was established in 1888 and is the oldest one in the country.
Here you can get lost for a couple of hours and immerse yourself in the fascinating world of archeology, ethnology, and natural history. The Department of Natural History has an amazing exhibit – the cave. You can experience how it feels to pass through a cave and learn about the animals who live there as well.
All the exhibits are great, but I also love spending time in the botanical garden. You can find it in the central part of the museum. It is well maintained, with several different sections dedicated to the flora of Bosnia and Herzegovina. I highly recommend visiting the botanic garden in spring when everything is in bloom.
The museum is open every day of the week except on Mondays. The tickets cost 8KM for adult visitors and 3KM for kids and teenagers. You can save some money if you go to the museum between 06:00 PM and 07:00 PM. Adults pay only 3KM, while kids get in for free.
Learn about the history of Jewish people
If you happen to be on Ferhadija Street, find a small passage that leads to the Jewish Quarter. Sephardi Jews arrived in Sarajevo in 1566 after an exile from Spain and decided to make Bosnia and Herzegovina their new home.
They became prominent citizens of Sarajevo pretty quickly, thanks to their trading skills. And so, the oldest synagogue in Bosnia and Herzegovina was built right here in 1581. The synagogue is home to the Museum of Jewish People, where you can learn more about Sephardi Jews and their impressive history.
The museum is open all week except on Saturdays. The tickets cost 3KM for adults and 1KM for young visitors. Museum of Jewish People is a part of the Museum of Sarajevo. If you plan on visiting other branches, it might be clever to buy one ticket for all five locations. The price is 10KM.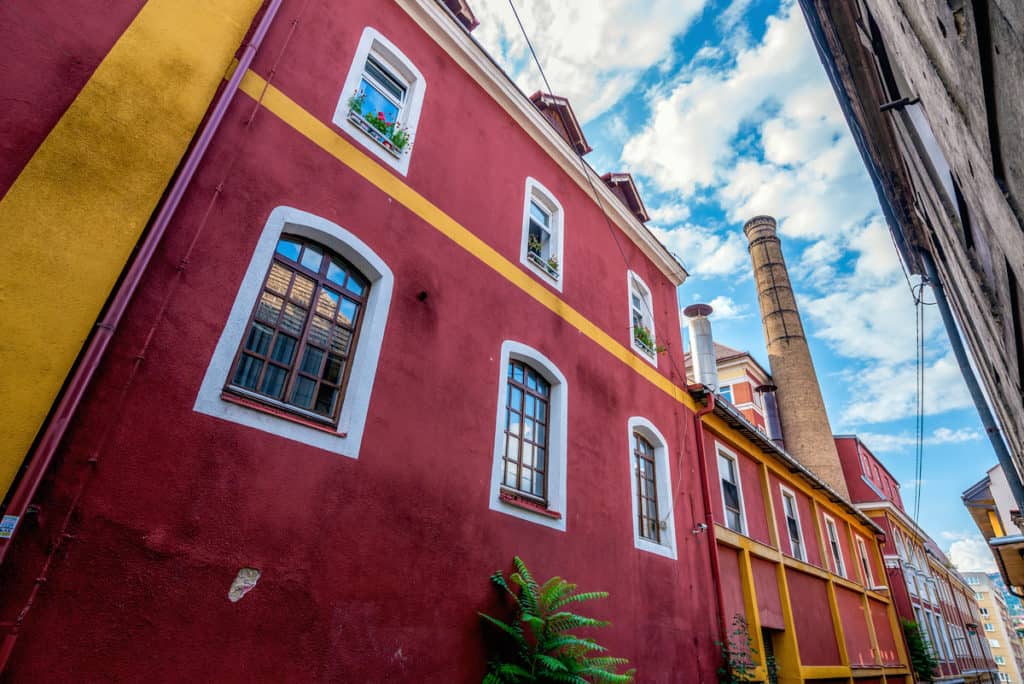 Drop by the Sarajevo Brewery
This location is a dream come true for all beer fans. Founded in 1864, Sarajevo Brewery is the oldest factory in the country. The brewery produced beer during both the Ottoman Empire and Austro-Hungarian Monarchy. It is evident from the architecture of the building.
Even though this is a factory, Sarajevo Brewery is located near the city center. It is just a short walk away from the Latin Bridge. You can easily include it in your itinerary because there is no need to find public transport to get there.
The absolute highlight is the museum which is housed within the brewery. The exhibits are divided into periods, and visitors can see various items related to beer production. I enjoyed seeing how packaging and bottle design changed throughout the years.
The museum is open from Tuesday to Sunday, and the entry fee is 3KM. I wanted to visit the brewery itself while I was there, but that turned out to be a bit complicated since it requires a reservation. However, the brewery also has a pub and a restaurant. There you can order a meal and a pint of beer, so I wasn't too disappointed.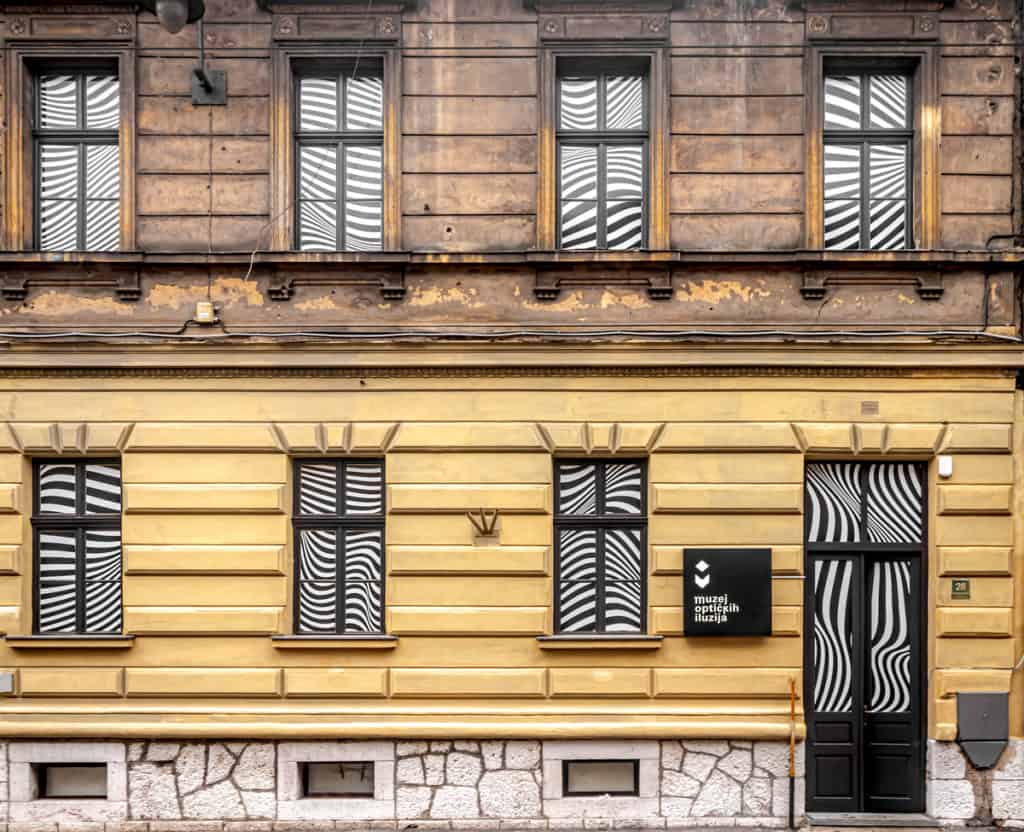 Take stunning pictures in the Museum of Optical Illusions
The Museum of Optical Illusions is a brand new thing in Sarajevo. My friends who live in the city flooded the social media with awesome photos taken right there, and I had to check it out. The place is massive, but you will get to see everything within an hour.
The interactive exhibits are not only amusing but also educational. Visitors can learn a lot about perspective and perception. And also make the coolest photos ever to share with their friends and family. Here's some examples.
I particularly enjoyed the UV room and endless disco. But there are around 100 illusions within the museum, and everyone can find something entertaining. The Museum of Optical Illusions also features exhibits that are closely related to the history and culture of Bosnia and Herzegovina, but with a cool twist.
This place is open every day of the week, and visitors can enter the museum every hour. So contacting the museum in advance is highly recommended. But I didn't mind waiting a bit to go inside. The tickets cost 12KM. Students have a discount and can buy tickets for 9KM.
Go underground in Sarajevo Tunnel Museum
If you were alive in the 1990s, you have probably seen Sarajevo all over the news. The city went through a very tough period during the Bosnian War. Sarajevo was under siege, and getting food, medical aid, and weapons were impossible.
The United Nations took control of Sarajevo Airport, but it was still risky to walk around the airstrip with boxes full of supplies. Citizens of Sarajevo didn't lose hope and created a tunnel underneath the airstrip. It was a dangerous way to deliver all the necessities into the city. People accepted the risk and saw the tunnel as a connection to the rest of the world.
When the War ended, the tunnel became a museum. Visitors can go into the cellar that served as the entrance to the tunnel and venture inside. Only 20 meters of the tunnel is open at the moment, but it is enough to experience the dread and uncertainty.
The Tunnel Museum is open every day of the week. The entrance fee is 10km for adults and 5KM for students. Keep in mind that the museum is on the outskirts, so you will probably need transportation to get there.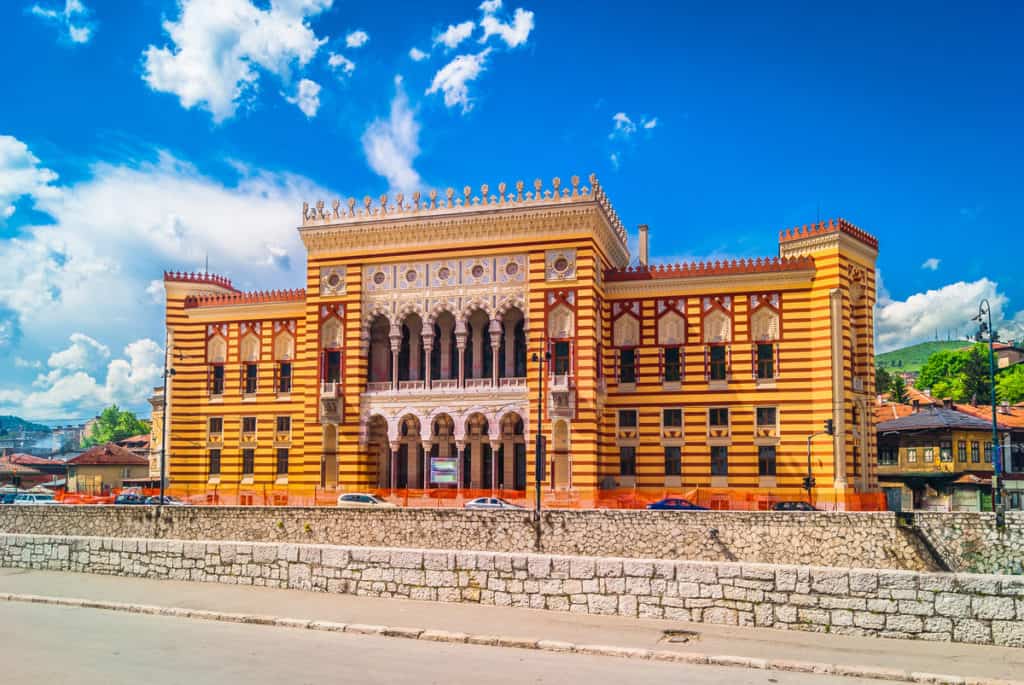 Enjoy the architecture of the City Hall
I've mentioned that Sarajevo has incredible architecture all around, and the perfect example of that is the City Hall, also known as Vjećnica. It is the most impressive building constructed in Sarajevo during the Austro-Hungarian period.
The City Hall is hard to miss. Located next to River Miljacka, the building almost looks like a cake. City Hall was completed in 1894 and finally opened two years later in 1896. It was designed by Czech architect Karel Pařík, who is also responsible for several other buildings in Sarajevo.
It is also considered as one of the symbols of the city thanks to the striped facade and intricate detailing. It became the National and University Library of Bosnia and Herzegovina in 1949, but there aren't many historical books there anymore.
The reason is the War that happened in the 1990s. The City Hall suffered a great deal of damage during the Siege of Sarajevo. Luckily, the building was restored to its former glory. Several European countries helped out, as well as the city of Barcelona.
The interiors are equally magical, with long staircases, stained glass, and carvings. Today, the City Hall hosts various events and exhibitions. Visitors may go inside and explore the interiors, but I recommend that you attend a concert at the City Hall, if possible. The experience is simply unforgettable.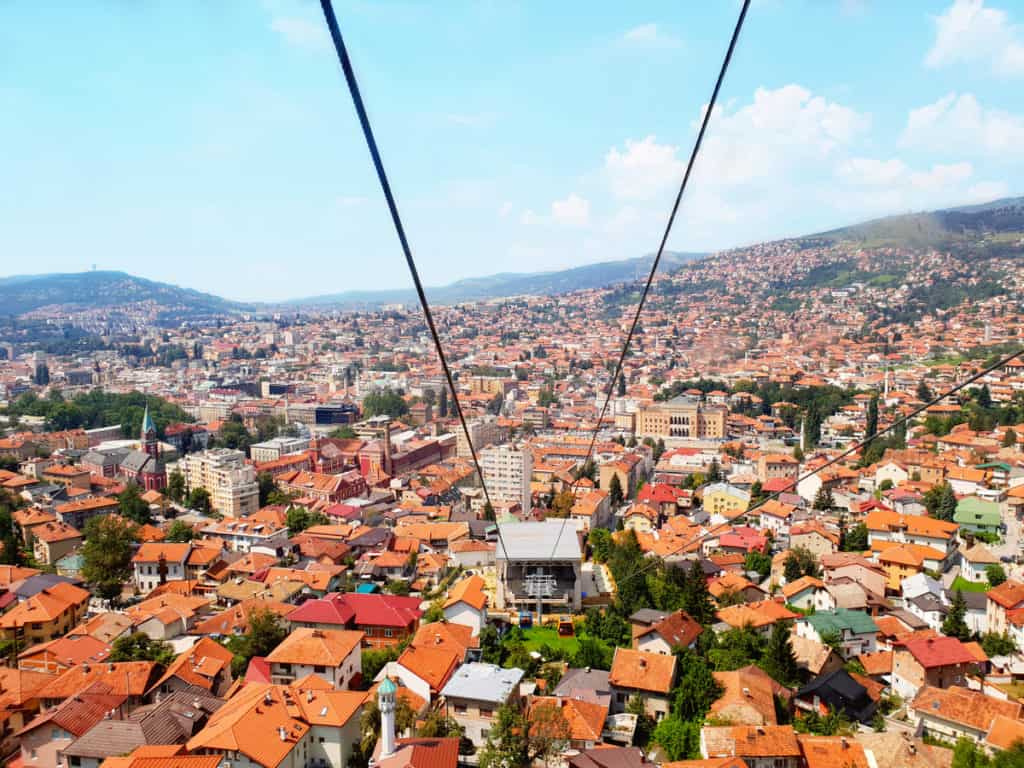 View Sarajevo from a cable car
If you want to view the city from another perspective, I recommend that you take a ride in Sarajevo Cable Car. It connects the old town to Mount Trebević. People of Sarajevo adore this place and often go there when the weather is nice.
The cable car was constructed back in 1959, but parts of the network were destroyed during the Bosnian War. Since it was a significant part of life in Sarajevo, the cable car line was reopened in 2018.
The ride is nine minutes long. You can see breathtaking views of the city, as well as the surrounding nature. I love the fact that five gondolas represent Olympic circles which is an adorable tribute to the '84 Winter Olympics.
Mount Trebević is a picnic location, especially during national holidays. If you are not into spending a whole afternoon hiking or throwing a frisbee, pack a blanket, a book, and something to eat into your backpack and enjoy the fresh air.
Go off the beaten track and see an abandoned Winter Olympics relic
Since I am a fan of unusual tourist attractions, it is clear why an abandoned bobsleigh track is on my must-see list. Sarajevo hosted the '84 Winter Olympics, so a lot of buildings were constructed for that purpose. One of them is the bobsleigh track on Mount Trebević.
The area itself was often under attack during the 1990s, and that is more than evident. However, graffiti artists claimed this place later on and created something unique and worth visiting. If you want to snap amazing photos for your social media, get ready for a hike and head straight for the bobsleigh track.
It is colorful and eyecatching, thanks to street art. It creates a wonderful contrast against the cold and gray concrete. Even though you won't see any bobsleighs zooming down the track, skateboarders occasionally use it.
Keep in mind that this climb will be a good cardio exercise. Wear comfortable shoes, bring some water, and use sunscreen. The climb itself is not too demanding, and you can reach the track in no time, especially if you have a hiking buddy.
Go into Despić House
I am a fan of old houses, especially those that still have authentic furniture inside. It is such a great way to travel back in time and see how people lived centuries ago. And you can do so in the Despić House, a branch of the Museum of Sarajevo.
Despić House is close to the Latin Bridge, and you can't miss it. The impressive building stands out from the surroundings with its vivid orange facade and impeccable details. The Despić family was one of the most prominent and wealthiest families in Sarajevo.
They started small, with a single workshop and became international merchants who sold their leather goods and furs in Istambul and Vienna. The family was heavily involved in the culture of Sarajevo, and they even organized the first theater shows the city has ever seen.
Today, Despić House is a museum. The interiors showcase three different periods of Sarajevo history. For instance, I saw an abundance of Ottoman-style furniture as I entered the house.
But as I ventured further in, there is an unmistakable European influence seen all around. The Despić family loved to travel, and they often brought souvenirs from far away countries. So pay attention during your tour of the house and try to spot Egyptian art, Persian rugs, and other details.
Despić House was a gift from Pero Despić, the last heir of the family who moved to Denmark in the 1960s. Pero wanted to preserve the life of a Serbian family in Sarajevo. As a result, Despić House became a breathtaking landmark that tells a story of unity and diversity.
The house is a part of the Museum of Sarajevo, so there is an entrance fee. Tickets for adults cost 3KM, while those for kids are 1KM. You can visit Despić House from Monday to Saturday.
Seek advice at the Tomb of the Seven Brothers
Pretty much everyone in this part of Bosnia knows about the legend of the seven brothers. These men weren't real brothers, but they all had the same fate – executed for a crime they didn't commit and buried in the same place.
The tomb was constructed in 1815 after people started seeing strange lights in this part of Sarajevo. Since then, locals have come here to seek advice. It is a pretty simple monument, with a row of seven windows, each representing one of the brothers.
The legend says you need to pray first and then offer selam. Keep in mind your religion is not important here, and you can pray in any way you want.
But here comes the fun part! Once you complete step number one and step number two, you need to listen to the people passing by on the streets. The first words you hear will be the advice or guidance you looked for.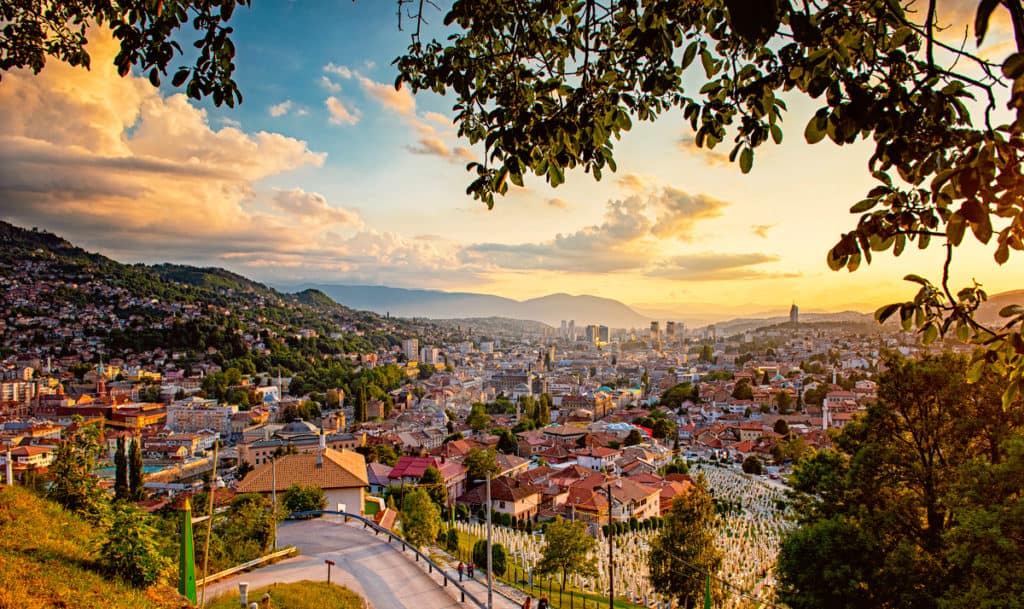 Conclusion
That was Sarajevo! It is a European capital like no other, surrounded by lush nature that is just a short drive away from the urban area. If you want to experience a whole different culture and dive into the history of this part of the Old Continent, include Sarajevo on your travel wish list.