Rome is majestic. Rome is magical. It's that special kind of place that instantly captures the heart and fires the imagination.
I wanted to visit Rome from when I was a child, and when I arrived there as an adult, I knew it had been worth the wait. It drew me in, instantly, and I knew a real love affair had begun.
Going back for another visit was inevitable, and then a third, which made me feel as though I had come back home. It's a wondrous feeling, and since then Rome has remained on my "Go Back To" Bucket List.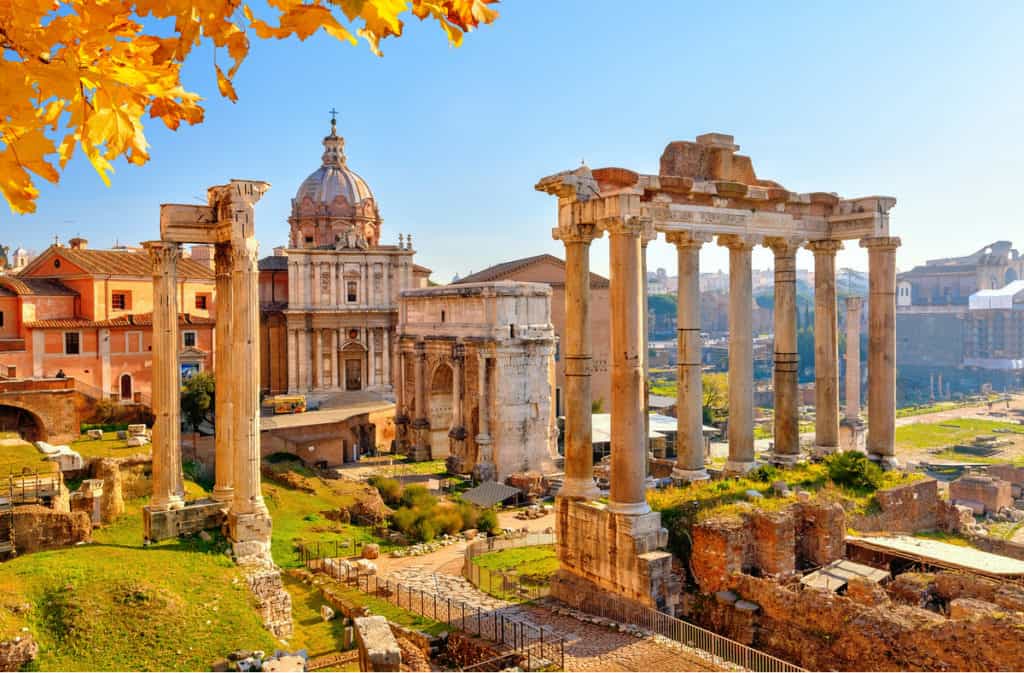 Why Rome?
Also known as the Eternal City, Rome contains a rich heritage that's hard to beat. Everywhere you look, there's a reminder that you're walking through the corridors of history, and those reminders come in the form of stunning fountains and monuments, surreal ruins, magnificent architecture, and of course, the food.
Add to that how Rome itself is small enough for any visitor to stroll around without feeling tired out, and yet big enough that you feel a 'city vibe,' and you've got yourself a few days of just the right kind of vacation.
If there was one thing I loved doing in Rome, it was taking those long, leisurely strolls through it's beautiful streets. That's when I discovered how much more there was to this sought-after tourist destination, than just its history and architectural feats. Beyond its historic center, there were entire neighbourhoods bustling with their own unique vibes, people, a thriving nightlife, stunning hotels, gorgeous boutiques, and world-class restaurants.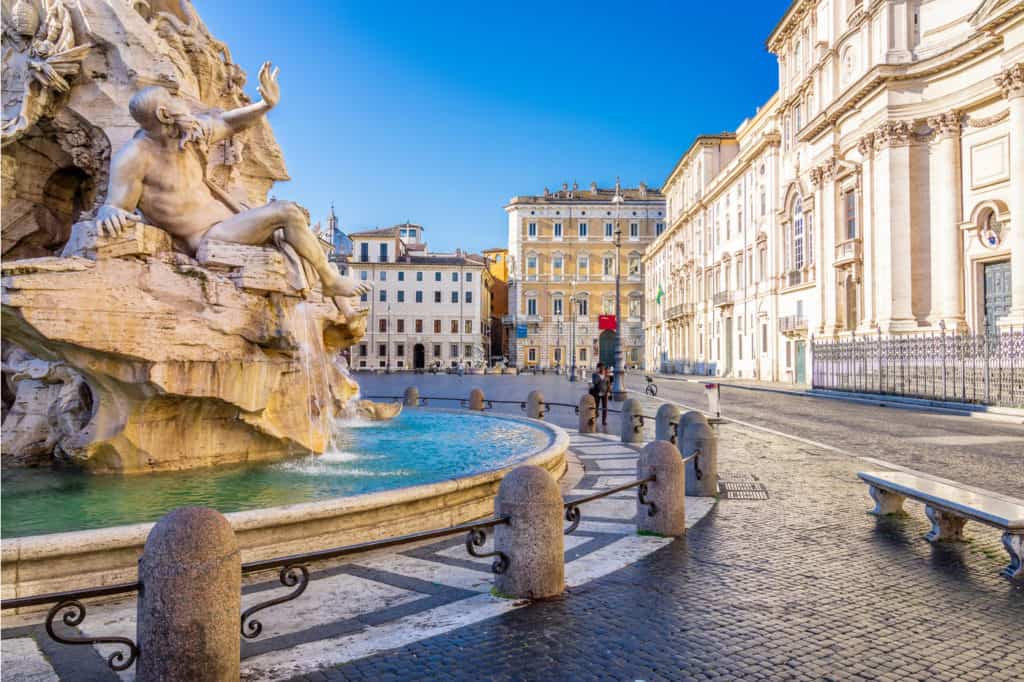 The Winding Streets of Piazza Navona and Via Della
Known to be one of the most beautiful and romantically captivating districts, the Piazza Navona & Via Della should definitely make it your list of must-stops. It's a hub for locals and tourists alike, and there's a ton to see and experience there.
If you love to discover the local drinking culture as much as I do, as well as check out bars, taverns and drinking holes, then take a stroll down these winding streets. Each one is dotted with gorgeous pubs and bars, pretty cafes, and some lovely restaurants too.
There's a vibe and excitement in and around Piazza Navona, a sort of 'let down your hair' feel that not many can resist. I recommend stopping at Pantaleo for beautiful cocktails presented by some mean mixology experts. For an aperitivo, head to Etabli. It's chic, and a cut above the other spots. The Piazza Navona really is a great place to spend your first evening in Rome, and just soak up the sights, sounds and culture.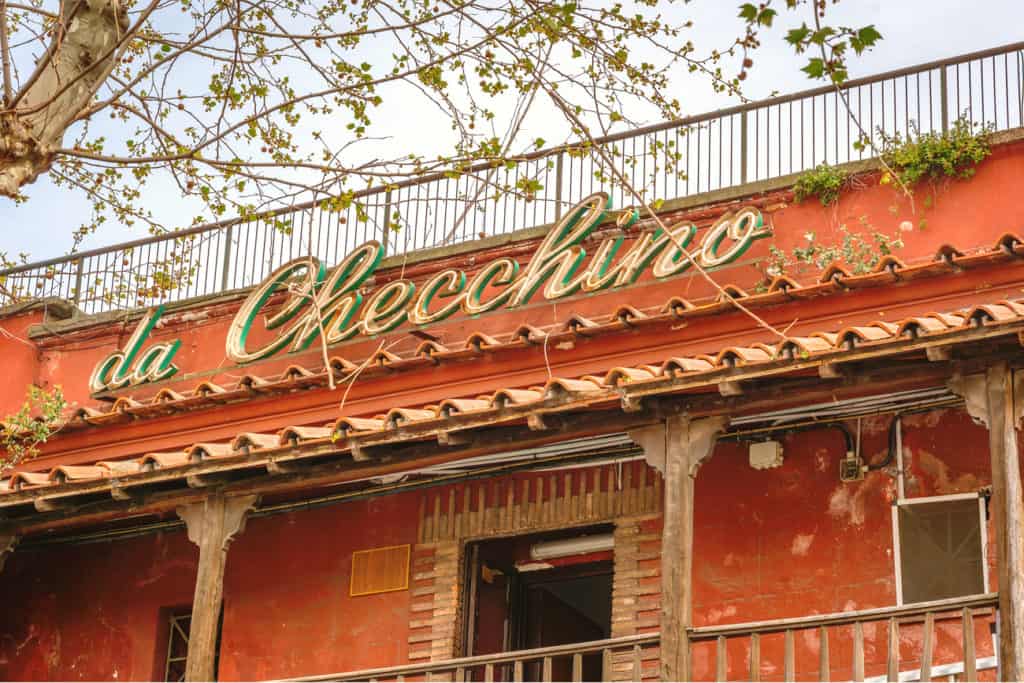 Party it up in Testaccio
If you want to know how the Romans party, Testaccio is where you go. It's home to Rome's largest butchery, but don't let that fool you. Testaccio is the party spot in the entire city.
An early warning: Wear comfy shoes, or those cobblestone streets will destroy your fancy heels. Once you're sure of your footing, just walk around and take it all in. The first time I visited, I was amazed at the sheer number of bars & nightclubs in every alley and street.
If there's one bar I'd recommend here, it's Ch1887. This gorgeous spot is tucked away on the second floor of the 130-year-old restaurant Checchino. It may not be the easiest to find, but it's totally worth going in search of. Trust me when I say you'll get to taste some of the most unique and delicious cocktails you can find in Rome.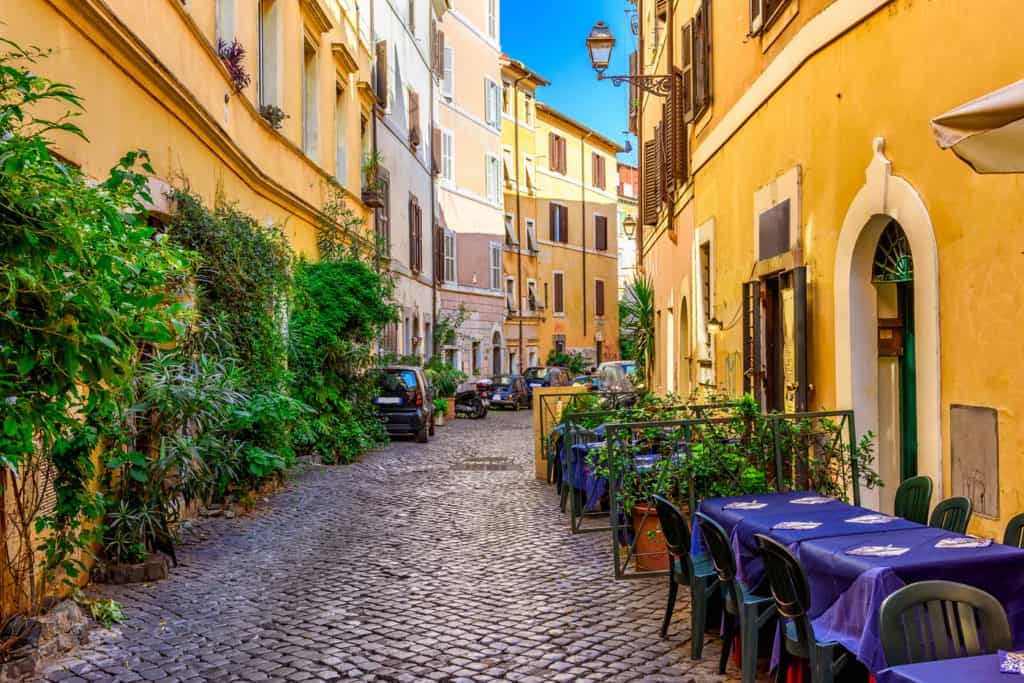 Trastevere
Trastevere is one of the best neighborhoods you can visit in the city. What I saw when I first got there, was a neighborhood full of colorful buildings with balconies and narrow cobblestone streets. In other words, it's built around that old Roman theme you see in the movies, or read about in books.
There were definitely more tourists around than locals, but it still remains quiet during the day. Moreover, most of Rome's famous landmarks, like the Colosseum are just a short walk away.
So, it's really the perfect spot for you to either stay in, or visit on your way to the bigger attractions. Plus, if you are a nightlife lover, it's going to be well worth your time.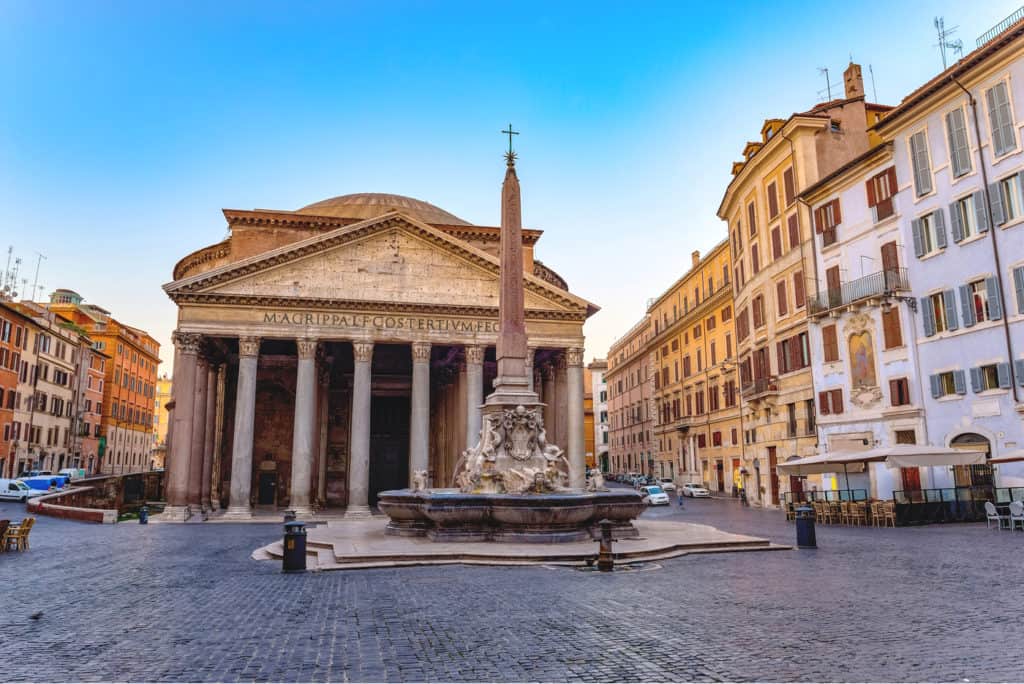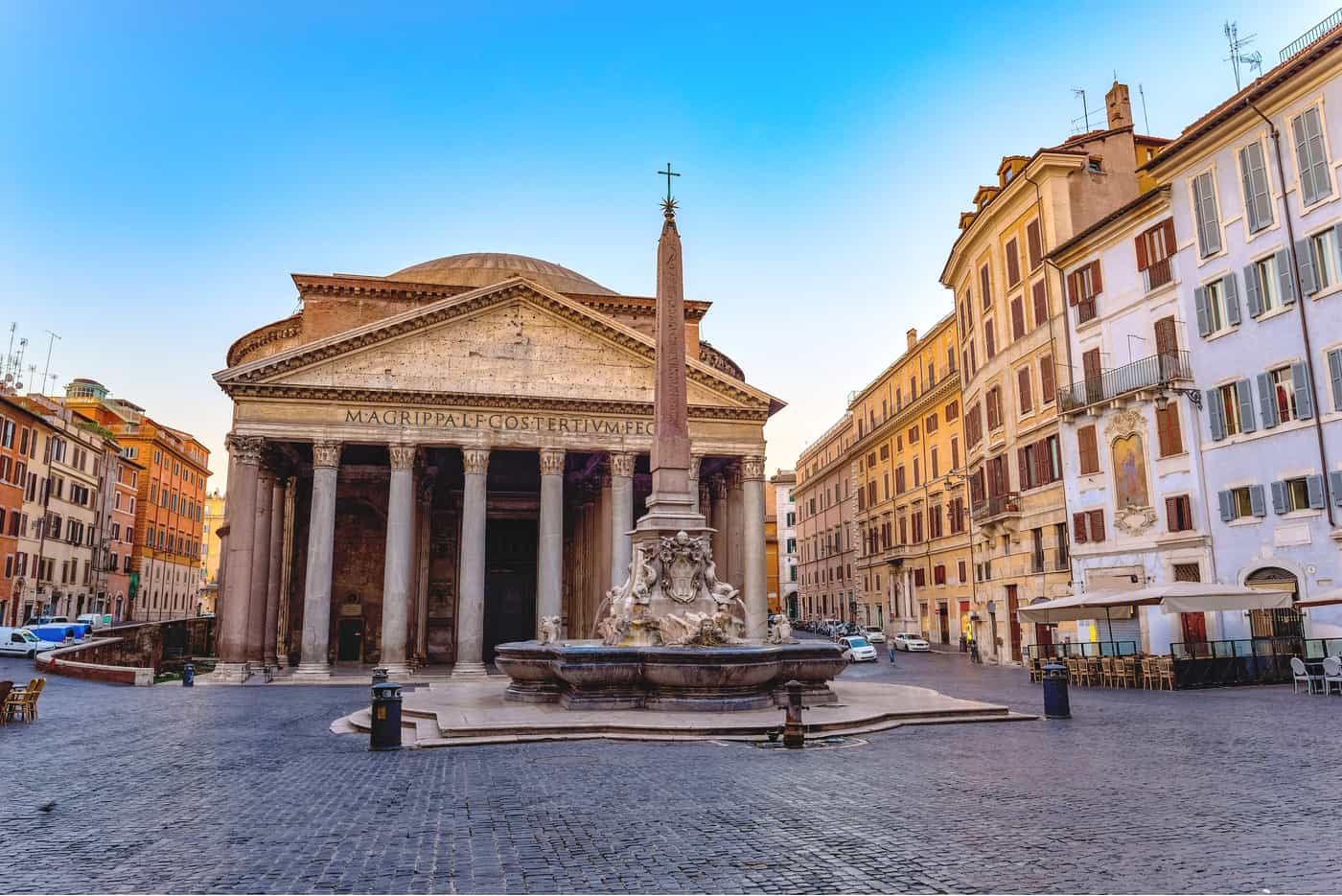 The Pantheon
The Pantheon is one of the oldest buildings you'll get to see in Rome. It was originally built in 27 BC as a temple to the Roman gods. However, it got torn down due to a fire, and was rebuilt in the year 120 AD. Yet, the built design and structure were not changed.
If you have even the slightest fondness for brilliant architecture, you can enjoy admiring the massive sixty-ton columns, and the tall bronze doors that were once plated with gold.
The Pantheon is a popular venue for weddings, and a much-visited tourist spot. Be sure to take your camera with you for some stunning Instagram-worthy shots.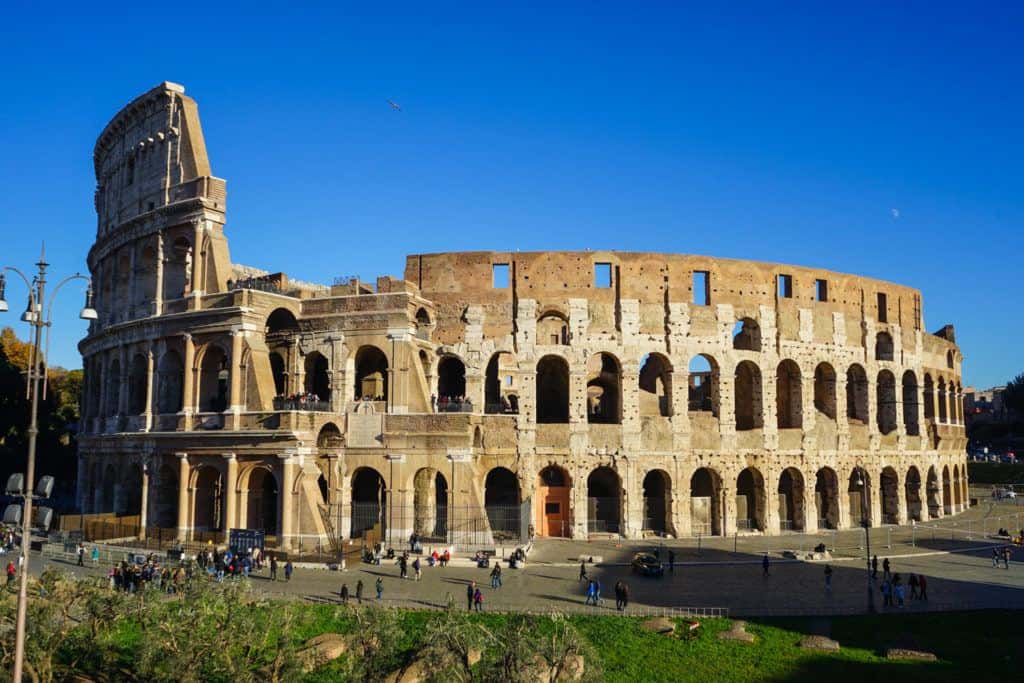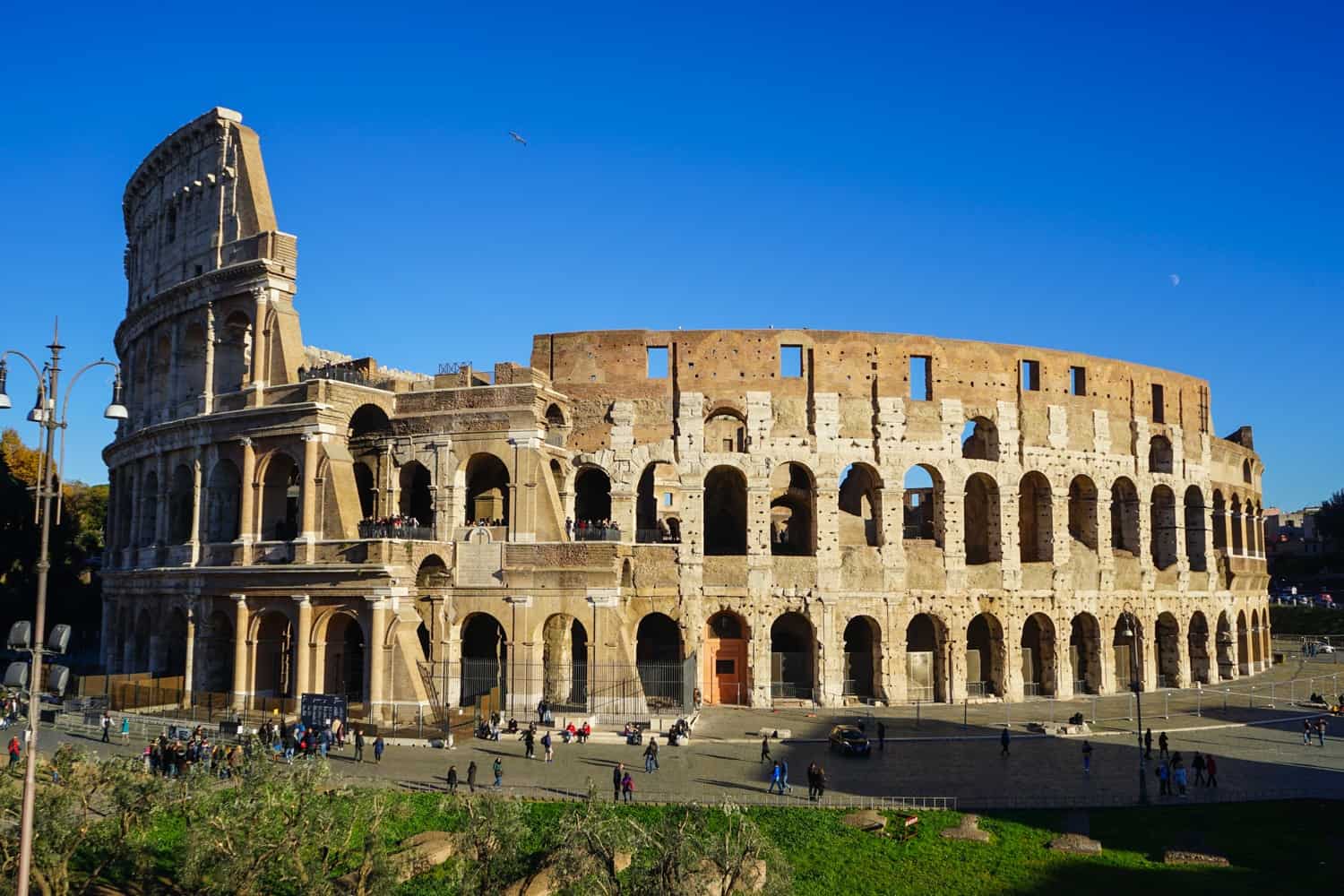 The Colosseum
I've been to Rome a number of times, but I still can't imagine a trip without visiting the Colosseum. It's one of the most iconic and renowned landmarks in the world, and words are truly not enough to do it justice. It's an experience, and one I highly recommend whether you're a history buff or not.
If you love history, then you'll know The Colosseum was where those legendary Gladiators fought. Think Spartacus, or Russel Crow in the classic Gladiator film of 2000.
The Colosseum is a true relic of history, and has stood for over two millennia and survived everything from fires to devastating earthquakes. It is also one of the most frequented spots in Rome, and draws thousands of visitors daily. So, planning a visit there needs some strategy.
You'll want to get there early, but even if you do, prepare to wait in line. Opening time is around 9:30AM or 10:30 AM depending on the season. Entry is allowed till just an hour before closing time, which is sunset. If spectacular views is all you want, then opt for a regular ticket that will take you directly to the Public Spectator floors. A basic ticket is €16 plus €2 if you book online. Under 18's get in free, and if you're an EU citizen and between 18-25, you won't need to pay more than €4 total.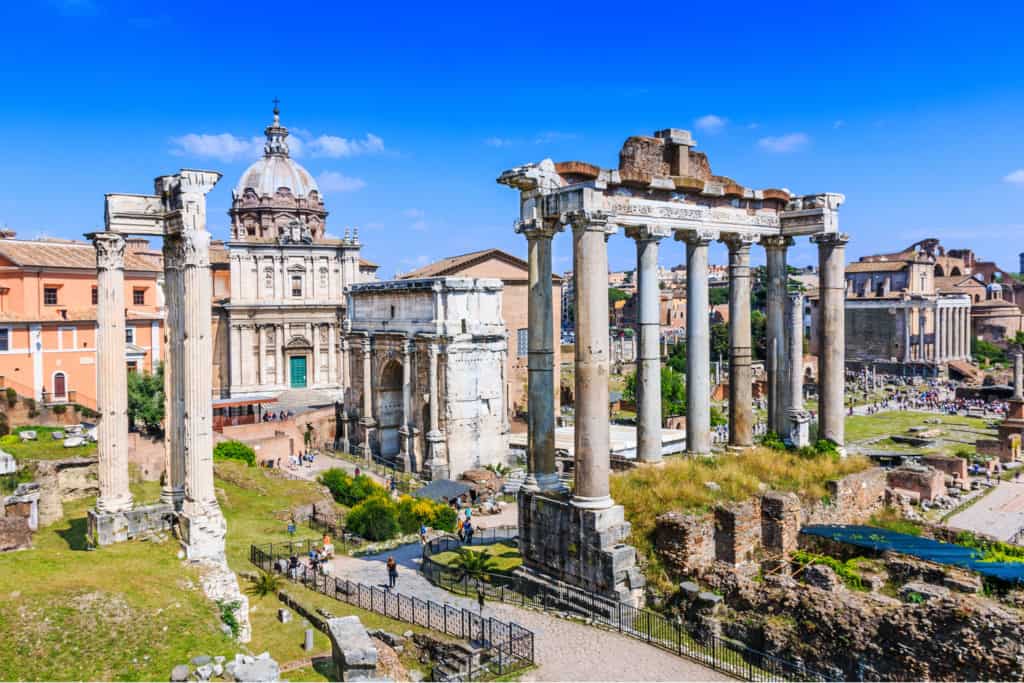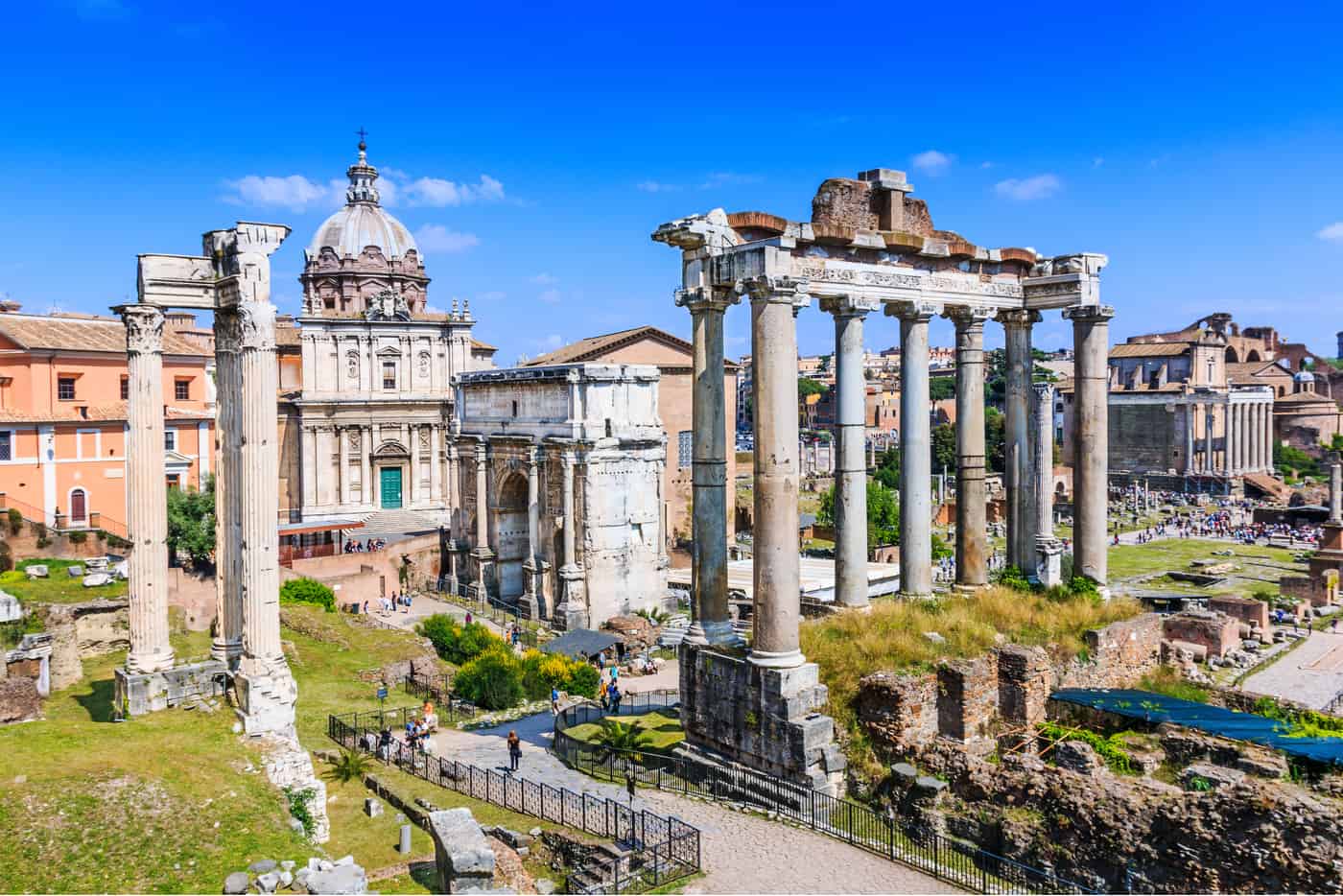 Roman Forum
The Roman Forum was another historic center for Rome. It's a busy place, and sprawls like a mismatched tapestry of ruins that never seem to end. Beautiful, if strolling around ancient sites is your thing.
The Roman Forum has a significant role in Rome's history. From a massive marshland it evolved into the center of social and political activities, a thriving marketplace, and also the hub for smaller gladiator games, celebrations, worship, and public gatherings. All that makes for a compelling visit, because once there, you're literally walking where Roman legends like Julius Caesar did.
My preferred entry point for the Roman Forum is from Palatine Hill (which by the way is another spectacular tourist spot in itself) It's a short walk to the Forum's main thoroughfare, which pretty much leads you to everything else.
If you like religious history, or are religious, a few spots worth stopping by would be the Basilica di Massenzio, the Basilica Giulia, and the Chiesa di Santa Maria Antiqua for some truly stunning early Christian art.
Ticket prices are between €9.50 and €22.00 depending on how far into the Forum you want to go. Be sure to wear comfortable shoes, and carry your water. If you get hungry, there are plenty of restaurants and cafes around to keep you well fueled.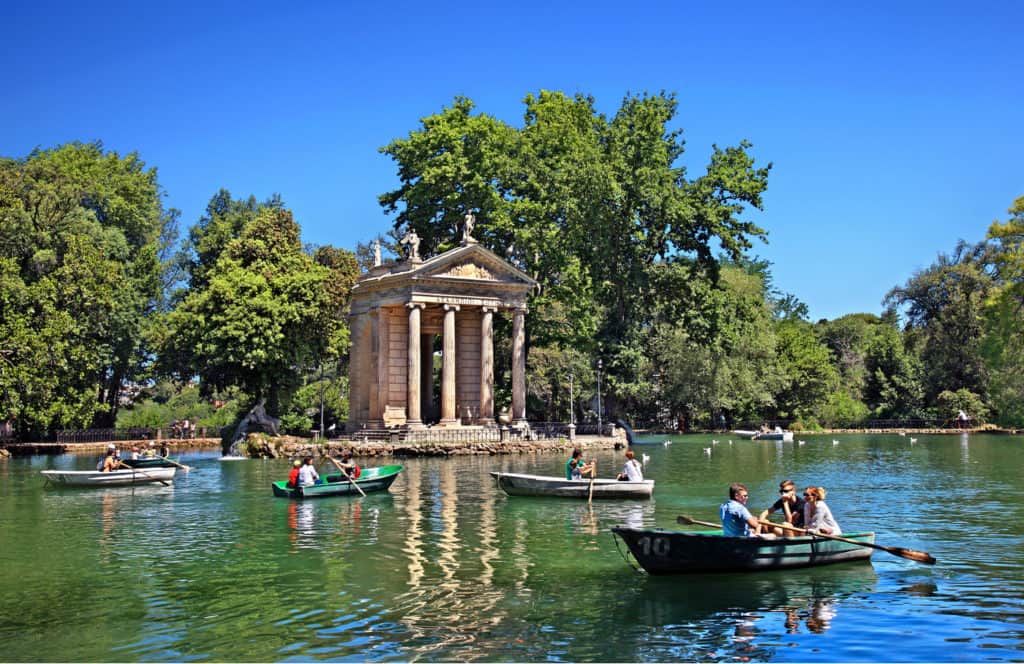 Villa Borghese
This is a great way to spend an afternoon soaking up some more Roman history, and enjoying a picnic after.
It's a beautiful park and very family friendly, so a great spot if you've got young ones in tow. Get there early if you can, and enter from behind the Spanish Steps for an instant and spectacular view of Rome in morning light.
Marvel at the world-famous paintings and sculptures, and just take it all in. If you want to tour the art gallery amidst some peace and quiet, visit it at night, although I recommend a proper guided tour if you really want to sink your teeth into all that beautiful art history.
If you're at Villa Borghese and it's approaching dusk, go up to the Terrazza del Pincio for one of the most spectacular panoramic views in Rome. You get a clear view of the magnificent St. Peter's Basilica in the Vatican, as well as a direct view of the Piazza del Popolo, and the Prati district.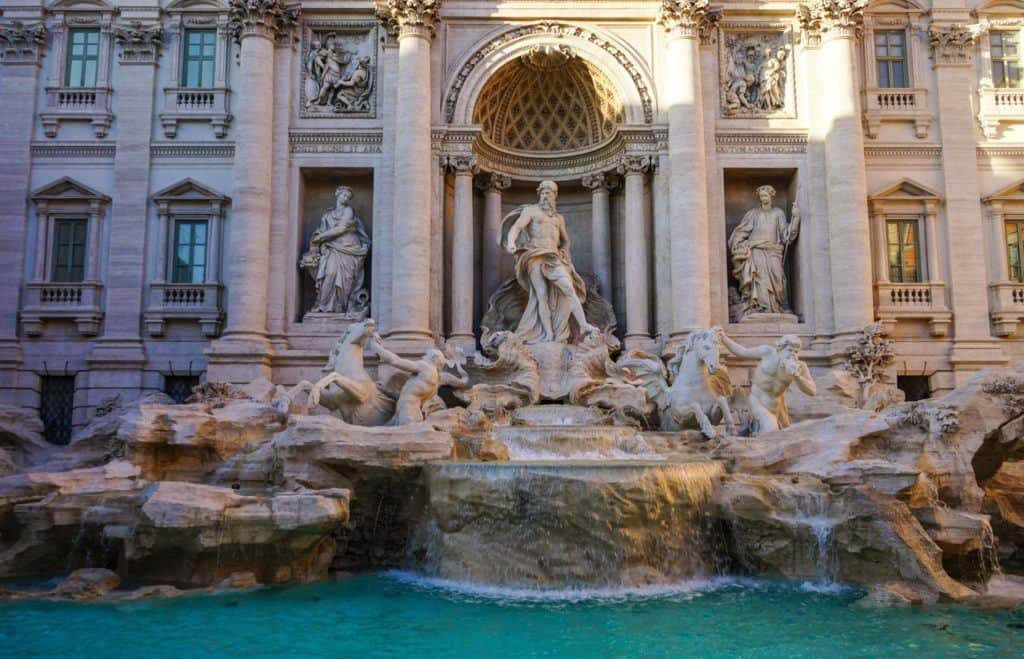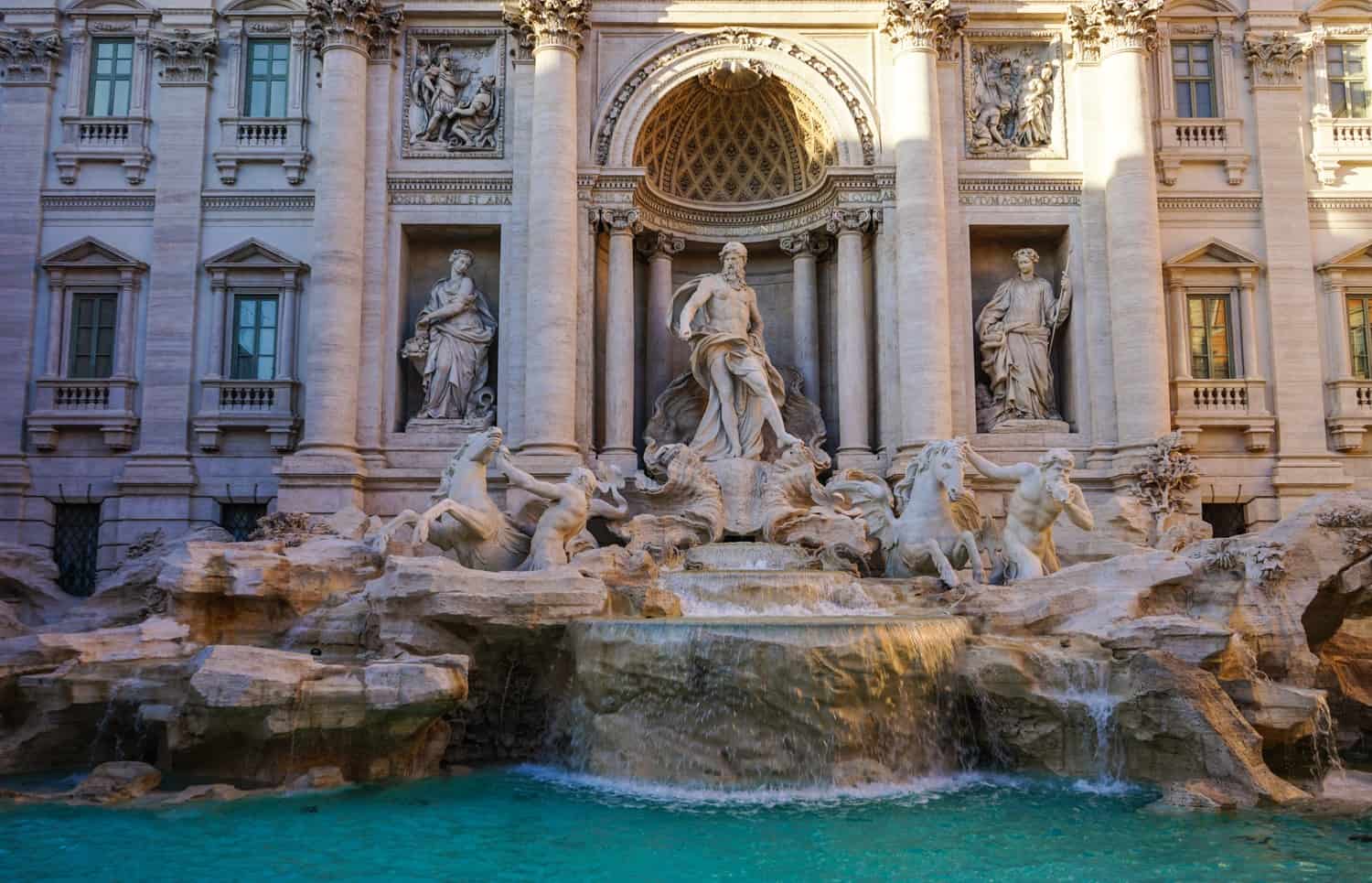 The Trevi Fountain
Not far from Villa Borghese is Centro Storico, and another must-visit spot and the historic heart of Rome. It boasts a well known temple turned into a church. In Rome, Centro Storico is known for its excellent displays of art, and timeless architecture.
Other than that, Centro Storico also features the world-famous Trevi Fountain that once supplied water to the ancient Roman fountains and baths. The fountain stands at a whopping 26.3 metres in height and 49.15 metres in width making it the largest Baroque fountain in Rome.
If you love myths (and a little harmless fun,) then toss a coin into the fountain. As legend goes, one coin means you'll visit Rome again, two means you'll fall in love with a gorgeous Italian, and three coins: you'll marry the one you just met.
Some Panoramic Views
Rome was built on seven hills, and through the passing of time it has expanded into the countryside and is much larger than its original size. This resulted in the city gaining several vantage points that offer stunning views and from every angle.
Two of the best times to get the full extent of these views, would be early morning, or at dusk. There's something about the first and last light that creates a visual feast unlike any other. Not to mention how that kind of light makes for some amazing photographs.
My top three picks for some of the best panoramic views of Rome would be:

Piazza Venezia
Sitting in the very heart of Rome, the Piazza Venezia is a massive monument and one of the best spots to get a clear 360 view of the city. Get a ticket, which costs €7.00, and take the elevator to the terrace. The viewing platform closes at 5:30PM in summers, and 4:30PM in winters. A last entry is allowed around half an hour before closing.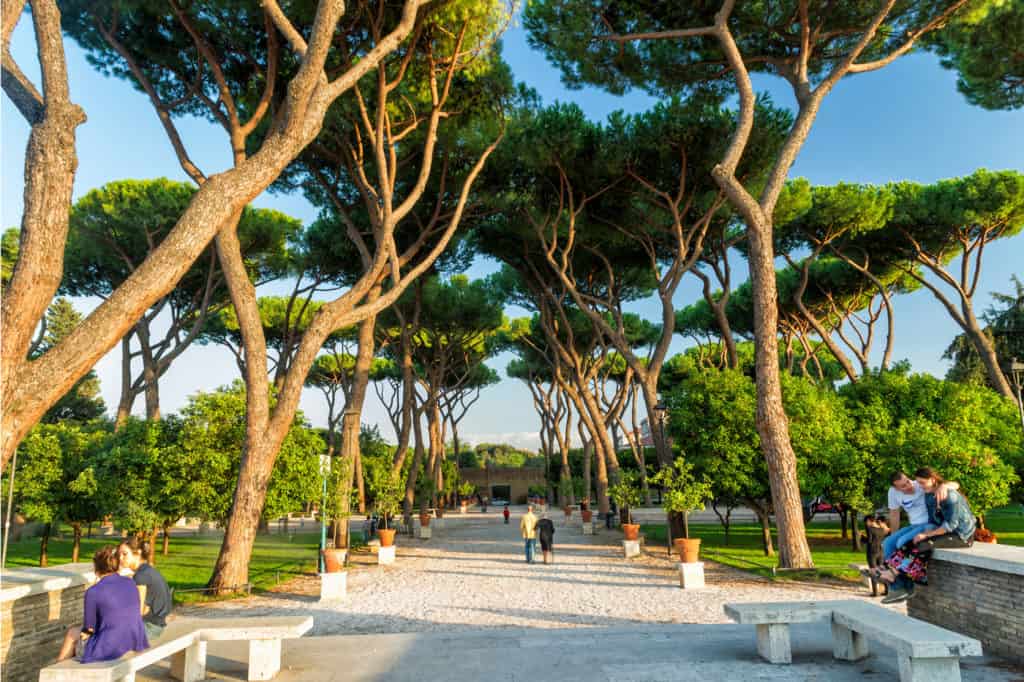 Aventine Hill: Orange Gardens
The Aventine Hill is one of Rome's original seven hills, and home to the simplistically beautiful Basilica di Santa Sabina, and its adjacent convent. It's worth stopping for a visit here, and then on to the serene gardens on the hill for those incredible panoramic views of Rome.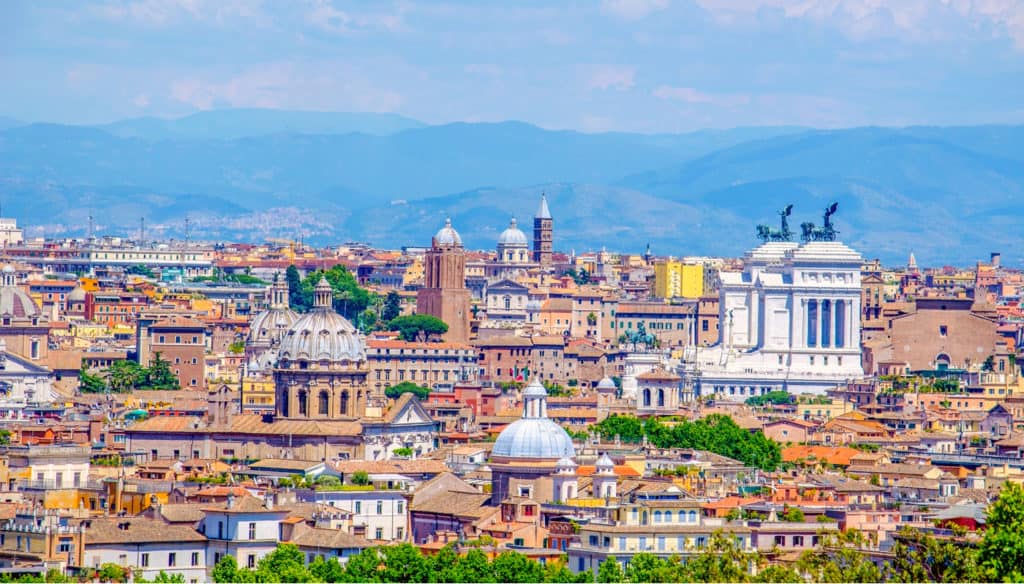 Janiculum Hill
Also known as Gianicolo in Italian, this hill is undoubtedly one of the most beautiful and romantic spots in the city. It is among my favorite places to visit in Rome, where I enjoy some downtime, as well as slow walks with all those breathtaking views everywhere I look.
To go up Gianicolo, take the Bus 115, 870, or 710. Bus 115 travels through Trastevere and makes for a scenic ride. The best time to go up Janiculum Hill is either at sunset, or at noon. Each afternoon you can hear the daily cannon round that's fired, and has been fired for over 150 years.
While you're up there, take some time to stop by the Manfredi Lighthouse, and visit the beautiful marble Fontana dell'Acqua Paola for pictures.
Shopping in Rome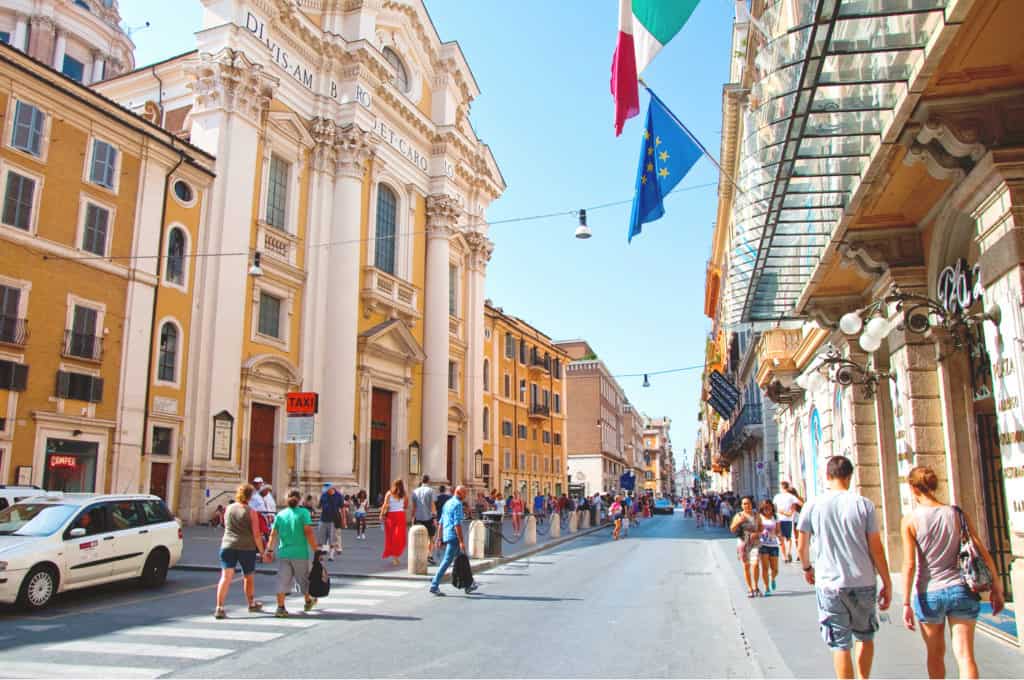 Via del Corso
If you're looking for great shopping spots in Rome, then straight up visit Via del Corso. This place would be like any other town's Main Street. It stretches all the way from Piazza del Popolo to Piazza Venezia and in a straight line.
Corso is packed with alleys and side lanes, and an abundance of boutiques and shops. Things aren't exactly cheap here, but if there's one store I'd recommend stopping to pick up a souvenir, it's the Christmas Shop at the Galleria Alberto Sordi, where you can pick up your own personalized Christmas ornament.
The Galleria itself is stunning in architecture, and is dotted with pretty cafes and boutiques. Fair warning, it's all high-end stuff, but you may find a few things worth buying.
If you visit Via del Corso, make sure it's during the day. That way, you can shop till you drop, as well as enjoy live performances by street musicians and dancers.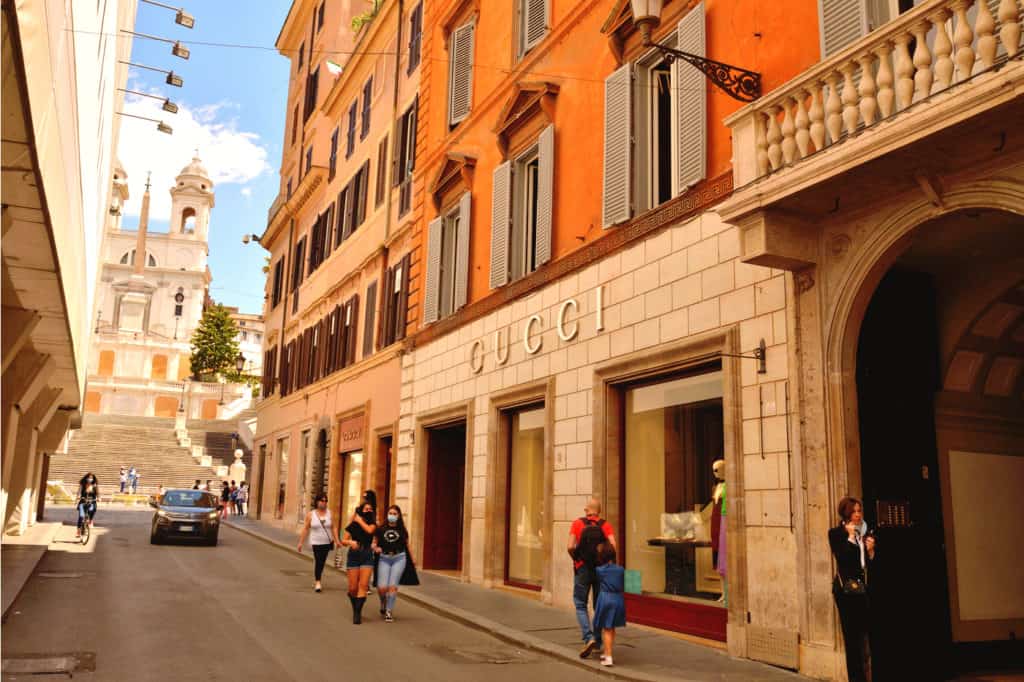 Via Condotti
Via Condotti is the mothership of high-end brands in Rome. It's a massive street, and themed around ancient Rome, with an array of fashionable boutiques and flagship stores.
We're talking Valentino, Harry Winston, Louis Vuitton, Bulgari, Prada and the likes. There's no shortage of luxury products at Via Condotti, and the same can be said for tourists. So, if you don't enjoy noise and bustle, this might not be for you, unless you visit at night.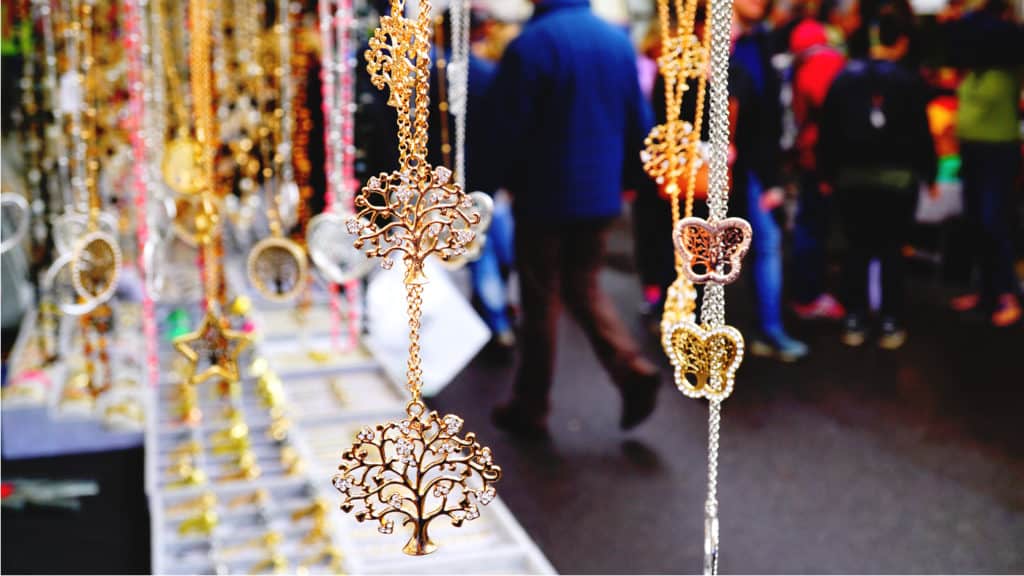 Porta Portese
Among all markets in Rome, Porta Portese is the largest market covering 2km of land. Open every Sunday from 6:00AM to 2:00PM, this is where you go if you're looking for really good deals and bargains. To get to Porta Portese, ​​take metro line B to the Mariconi station and then switch to bus No. 170.
A few things to keep in mind about Porta Portese. First off, it's almost always crowded, so keep your valuables secure and watch your pockets. You'll also need to bargain here, despite the market being relatively affordable. Still, tourists can be spotted a mile off, and prices do tend to get hiked up on the spot. So, bargain and you will likely end up walking away with a pretty decent deal.
At Porta Portese you'll find everything from funky street-wear, to shoes and accessories, but for the most part the things sold here are not of the best quality, so keep that in mind before you go. However, if bargain items and bric-a-brac are not your thing, then I'd advise you to skip visiting this spot.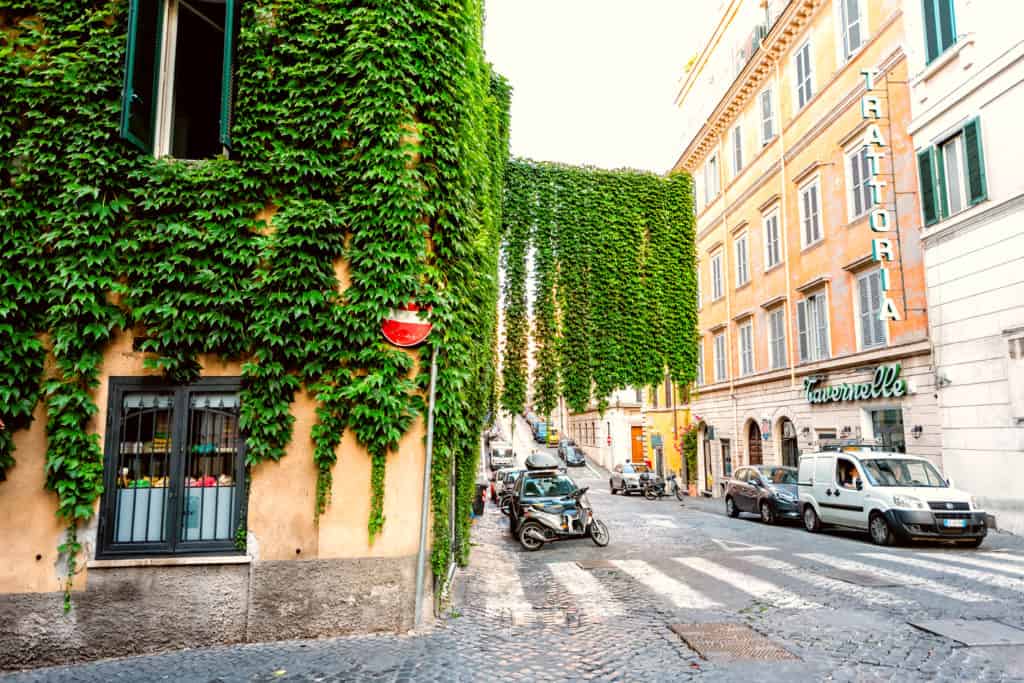 Via del Boschetto
This market is the heart of Rome's fashion, and a haven for vintage lovers. Here, you'll find upscale boutiques, and custom tailors along with numerous vintage and antique stores.
These shops at Via del Boschetto feature high-quality leather shoes, Colpo di Tacco, and Perlei jewelry from emerging Italian designers. Plus, the prices are budget friendly for most buyers and tourists.
Via del Boschetto is just a short walk from the Colosseum, and it's also known for its historical monuments. I find it to be the perfect combination of modernity and antiquity in a single place, and well worth a visit.
What and Where to Eat in Rome
Everyone knows you can't visit Rome without sampling traditional Italian and Roman cuisine.
For me, discovering authentic Italian cuisine was an adventure, and sometimes hilarious because the Italian food we find outside Italy is sometimes nowhere close to the real thing. I may or may not have been outwardly disbelieving when I first tasted a few Italian dishes in Rome, till I realized it was the real deal, and all else was some sort of fusion cooking.
Osteria Bonelli
Osteria Bonelli is a well known restaurant for offering the best traditional Roman food. It's a busy spot, so you'll need to book your table at least a day before. However, once inside you'll love the casual and friendly atmosphere, and flavorful aromas.
Try their house specialty, or do what I always do. Ask your server to recommend a dish. They'll love you for it, and you definitely enjoy your meal in true Roman style.
The Sofa Bar & Roof Terrace Restaurant
Hands down one of the most beautiful restaurants I discovered in Rome. As its name suggests, The Sofa Bar & Rooftop Terrace has two different seating themes. Indoors, and up on the roof that offers a marvelous view of the city. Come summer, and the restaurant moves their entire bar to the terrace, and it's a fun experience to sip on a glass of red, or some craft beer under the stars.
You get a beautiful view from up there, and you can enjoy all that while feasting on some of the best seafood you will find in Rome. One of my favorite dishes here is their prawn pasta, so give it a try if you're there.
Quick tip: This is a fancy place and perfect for a celebration or a romantic dinner. I suggest you spend your last evening in Rome dining here in style and catching one final glimpse of the city all lit up at night.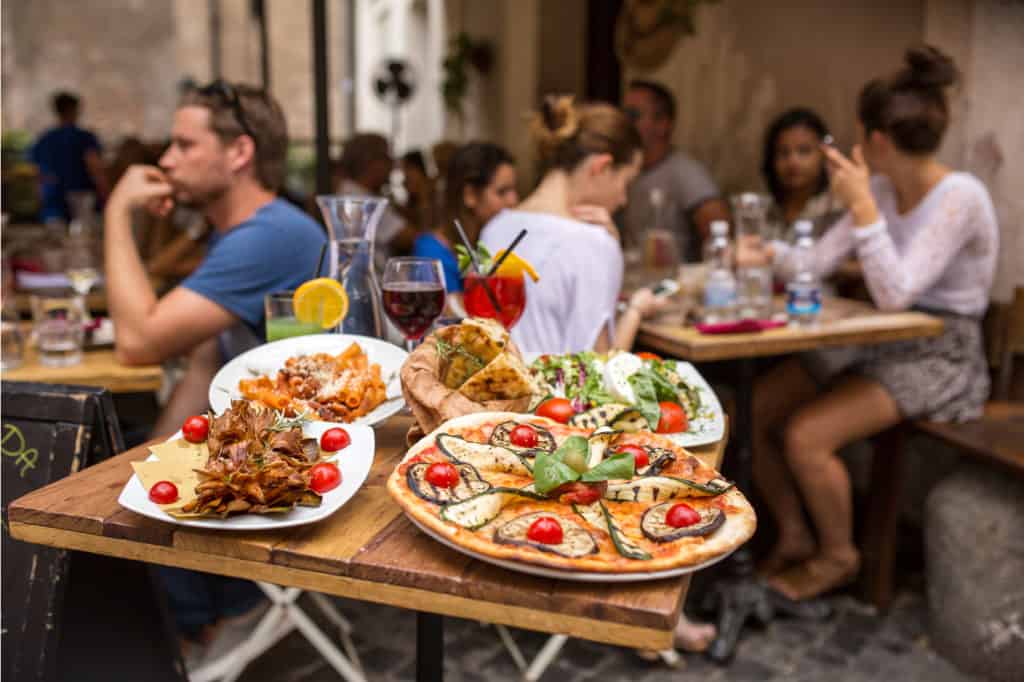 Street Food Tour
By far one of the most fun experiences you can have in Rome is taking a Street Food Tour. If you're visiting for the first time, and have a group of friends with you, I highly recommend you take this fabulous guided walking tour.
On this tour you will taste your way through Rome's vibrant and flavourful street food scene, and sample everything from street baked pizza, and suppli while you take in the sights and sounds of the Eternal City buzzing all around you.
The Rome Street Food Tour takes off from Piazza Campo de' Fior either at lunch or dinner time, and lasts approximately two and a half hours. Ticket prices are around €42.00 per person, depending on the size of your group. Your ticket price will include free entry at every stop on the tours, (there are about four stops in all) and light food tasting along the way.
If you're vegan and wondering how a food tour would work for you, there is an option you can avail and enjoy a Vegan Food Tour through Rome's Monti neighbourhood.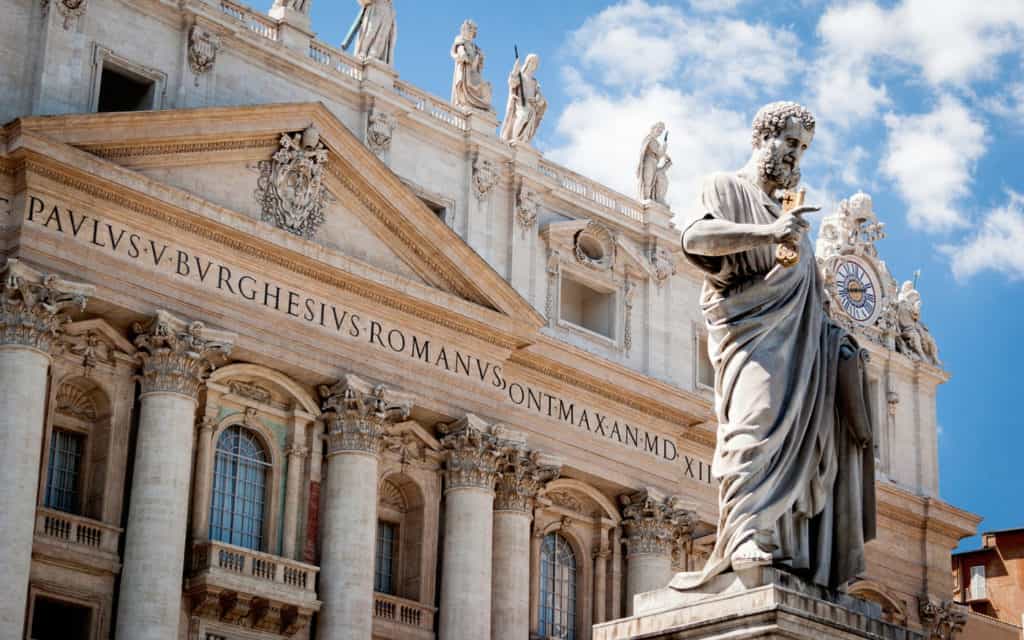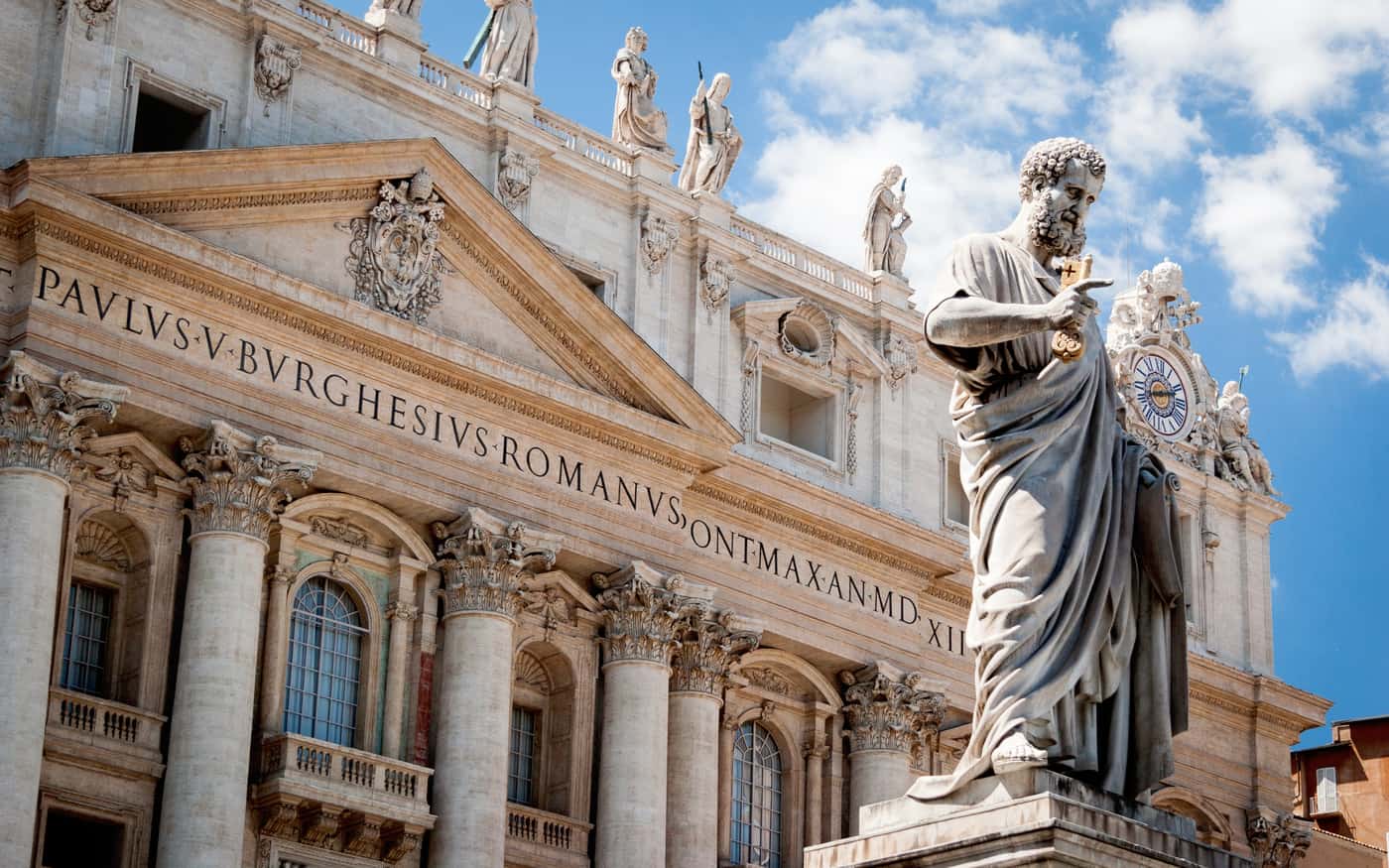 Vatican VIP Experience: Exclusive Breakfast & Tours
Far from the madding crowds that flock to the Vatican, a guided tour is always the better option. There are plenty on offer, but the Vatican VIP Experience is one worth taking.
You start off with an Italian-American breakfast buffet served either in the Vatican cafeteria, or the beautiful Cortile della Pigna (the Pinecone Courtyard.) After that, a guide takes you through Raphael's Rooms, the Gallery of Maps and the Gallery of Tapestries.
Next comes a tour through the stunning Sistine Chapel, for the much sought-after glimpse of Michelangelo's famous The Last Judgement, followed by a visit to the majestic and must-see St. Peter's Basilica via a private entrance. This is one of the reasons I'd recommend the tour. Regular visits to the tourist-packed Basilica can eat into your time. The VIP Experience removes the fuss, and let's you enjoy your experience the way you should.
If you'd like to see the Vatican Gardens, as well as a guided tour of Vatican City by coach, you can opt for the addition on your ticket when you book the VIP Experience. The total cost per person for the Vatican VIP Experience starts from €99.00.
Take a Guided Tour
If you're visiting Rome for just a day or two, but want to see as much as you can, I'd say go for the guided tours. Most of them cover a lot of ground, and you hit all the major landmarks and top attractions. Prices vary for each tour, but there are plenty of resources available online that offer decent tours at affordable costs.
Aside from the bigger tours, there are the custom-made ones, as well as one-time experiences for you to enjoy on a shorter visit.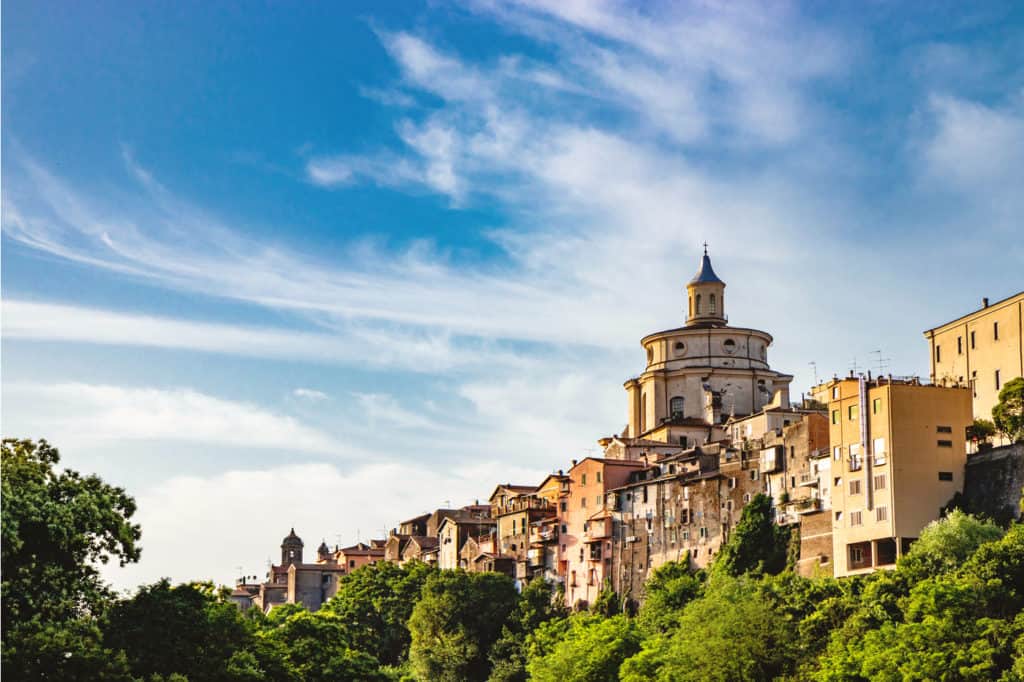 Take an Exclusive Cooking Class
Enjoy the picturesque Roman countryside nestled between two valleys in Zagarolo, and sharpen your cooking skills under the guidance of a local chef. It's fun, food and wine all in a day, and the kind of place great memories are made.
The Cooking Class price starts at €80.29 per person.

Go Swimming & Kayaking from Castel Gandolfo
Set above Lake Albano is Castel Gandolfo, and the kayaking tour is something every nature-lover should opt for. It's a chance to get away from the bustle of the city and enjoy some peace and calm.
The tour guides are friendly and extremely knowledgeable about the area and its history. Once you're on the water and rowing, you'll know why it was worth the visit. This is another one of my favorite things to do in Rome, and just be while out on those tranquil waters.
The Kayak Tour is priced at €42.00, and offers a free cancellation upto 24 hours in advance.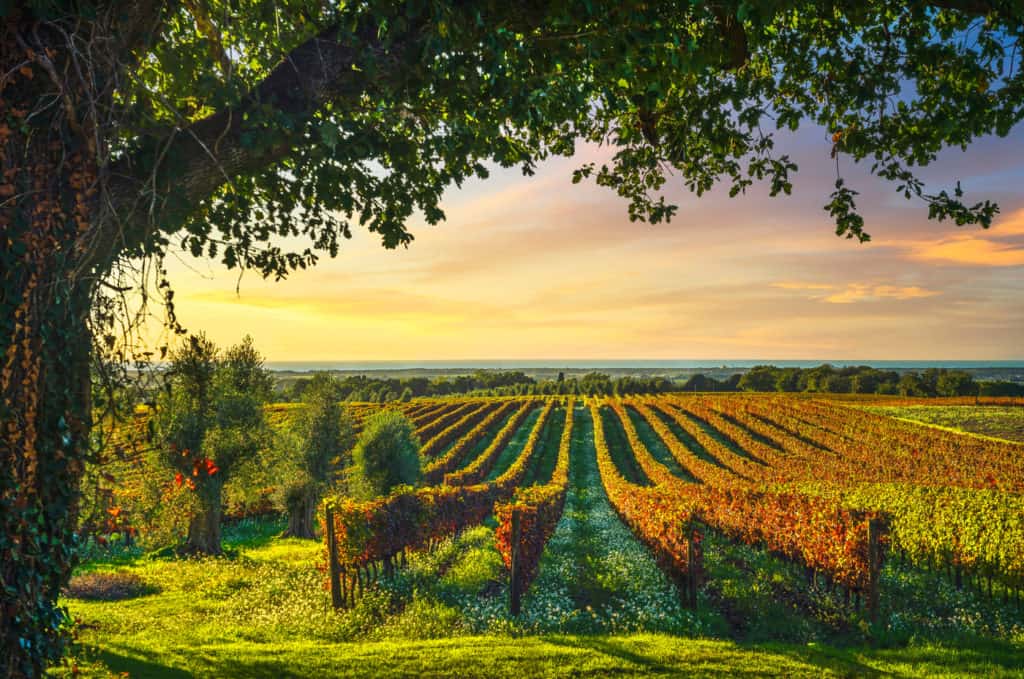 A Private Wine Tour
If you love wine, another wonderful way to spend half a day is to take a wine tour. This one will take you just south of Rome to the Frascati area, where you'll be given the grand tour of beautiful vineyards, as well as a wine cellar.
It's a great way to experience Italian wine-making, and learn how local wine production works. You'll also get a proper guided tasting of some fine Italian wines.
The tour price starts from €200.00 and includes a roundtrip transfer.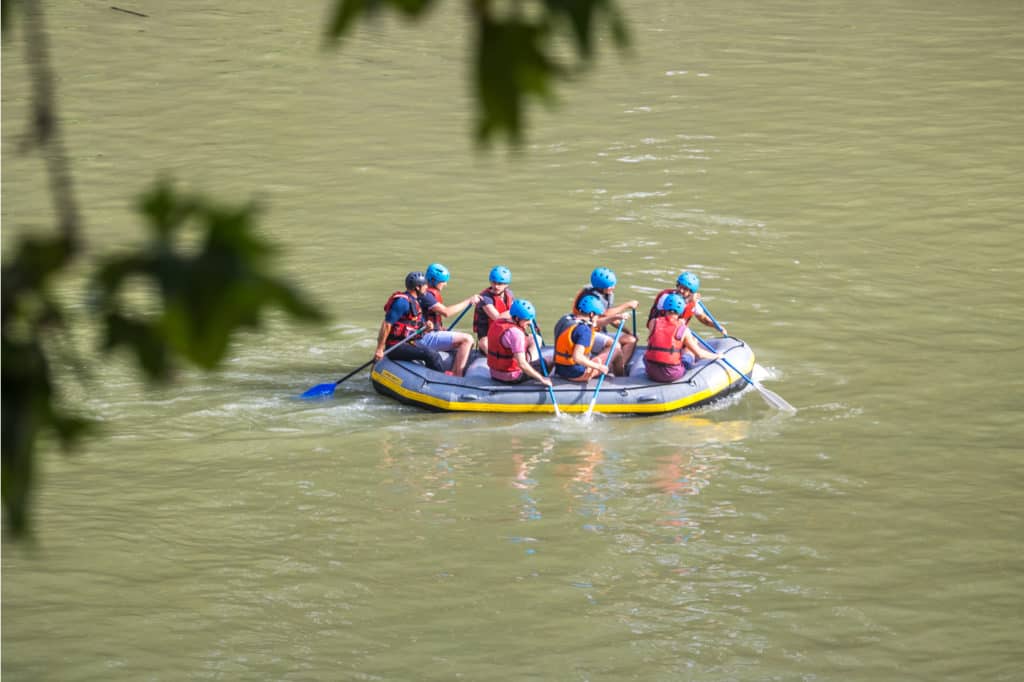 Urban Rafting
For a completely different perspective of the beautiful Eternal City, and something all the outdoorsy types would enjoy, I'd recommend the Urban Rafting Tour. It's fun and an adventurous way to discover all Rome has to offer.
You'll be given a certified guide, and with them you hop aboard a white-water raft and head down the Tiber. After that it's one thrill or another, from sailing under landmark monuments, to speeding through rapids, and stopping at beautiful spots like the Castel Sant'Angelo, and Isola Tiberina.
Tour prices start from €48.79 per person, and includes protective gear (life-jacket & a waterproof bag,) as well as snacks.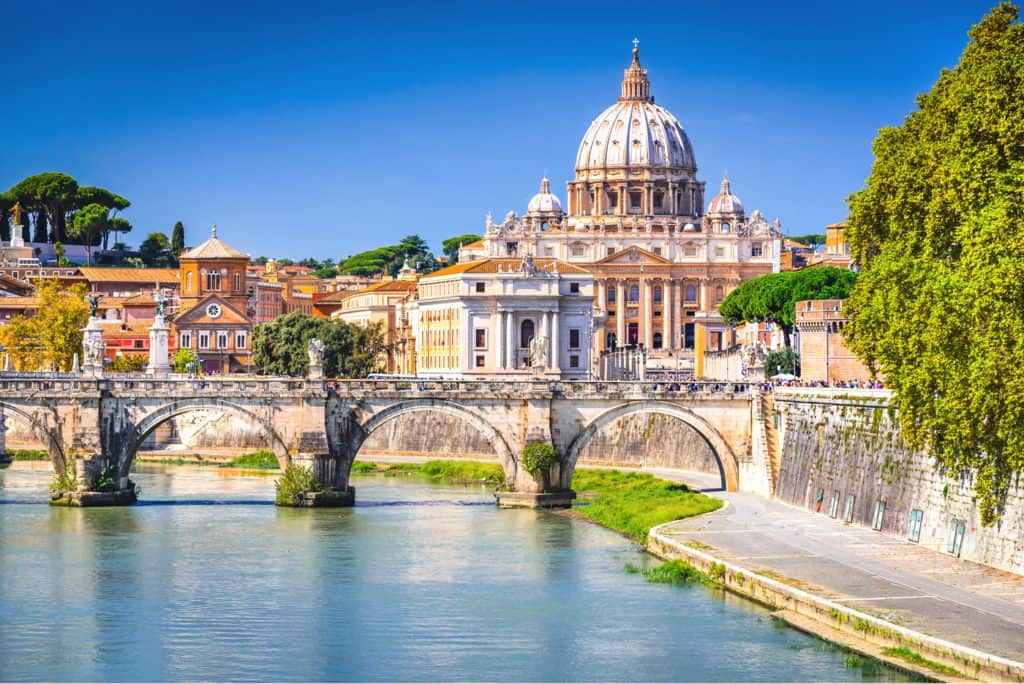 That pretty much rounds up all the amazing things you can do in Rome, and the unique experiences you can have while you vacation there. It really doesn't matter how long you stay, you'll always find a ton of things to do and see, even on the shortest trip. The whole idea of visiting Rome is to experience its magic, and that can happen within the first hour you're there. Trust me.
Related Articles on Italy

🇮🇹 Top Things to Do in Milan
💰 The Cost of Travel in Rome: A 2023 Budget Breakdown
🚤 53 Best Things to Do in Venice
🛬 How to Make the Most of a Layover in Venice
🍕 The Absolute Best Things to Do in Florence, Italy
🍹 21 Incredible Things to Do in Bologna, Italy
🍝 23 Magical Things to Do in Siena, Italy
🍷 16 Amazing Things to Do in Lucca, Italy
🎉 Liberazione: What to Expect From Italy's Liberation Day